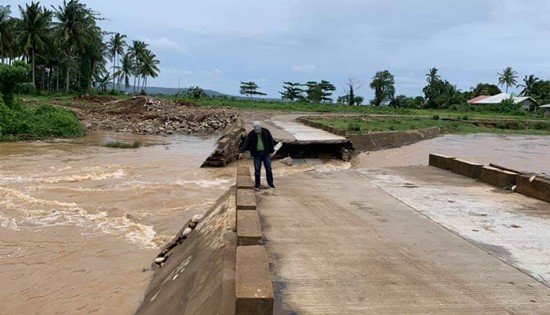 DPWH Biliran District Engineer David P. Adongay Jr. inspects the washed out Detour/ Spillway along Caraycaray River in Naval town on August 27, 2019. The detour/ spillway in Caraycaray river was cut off by floodwaters due to heavy rains on August 26, 2019 during the onslaught of typhoon "Jenny".
DPWH-Biliran DEO to restore cut off Caraycaray detour/spillway immediately
By DPWH Biliran
August 29, 2019
NAVAL, Biliran – "The restoration of the cut-off Caraycaray detour/ spillway in Naval town will start immediately once the water along the river subsides," Alfredo Bollido, Assistant District Engineer said.
The Assistant District Engineer of DPWH-Biliran District Engineering Office (DEO) clarified issues surrounding the damaged of Caraycaray detour/ spillway and their solution to immediately restore the said detour during his radio guesting at Sibya sa Probinsya Program at Radyo Natin FM on August 28, 2019.
According to Bollido, DPWH has already coordinated with the contractor and has come up with a solution to restore the said detour/ spillway effectively and efficiently.
"Steel I-beam will be used to restore the spillway/ detour along the river with a length of 20 meters," Bollido said.
Bollido revealed that the idea was suggested by Engr. Nilo Saavedra, Project Engineer of JFAP Baltonado Construction - the contractor for the repair of Caraycaray Bridge project.
"To make the structure sturdy, steel sheet piles will be driven on each side of the steel I-beam for support," he added.
The I Steel Bar or I-Beam is another term for the wide flange since it resembles the shape of the letter I. It is popular for its superior quality and is very effective in proving support to structures.
Bollido also added that a proposal to use a box culvert was also taken for consideration, however, although it is durable, the construction would take longer which will prolong the burden of heavy equipment and vehicles with heavy load to travel about two hours from Biliran-Cabucgayan-Caibiran-Cross Country Road in going to Naval and vice-versa.
"The restoration can start anytime soon once the weather is good and the materials are available, which is to be provided by the contractor," Bollido said.
DPWH-Biliran DEO targets to make the detour passable again before the Naval town fiesta which falls on the 1st week of October.
The detour/ spillway in Caraycaray river was cut off by floodwaters due to heavy rains on August 26, 2019 during the onslaught of typhoon "Jenny".
The district office has already posted an advisory for heavy equipment and vehicles with heavy load to take Biliran-Cabucgayan-Caibiran-Cross Country Road in going to and from Naval-Tacloban and other parts in Eastern Visayas.
The detour/ spillway along Caraycaray river serves as a detour for heavy equipment and vehicles with heavy load and soon for all type of vehicles once the construction/replacement of Caraycaray bridge starts.
David P. Adongay Jr., District Engineer said that the replacement for Caraycaray Bridge was already bid out and will be implemented by the DPWH Regional Office VIII by September this year.
"As of now, DPWH-Biliran District Engineering is already coordinating with the contractor for the immediate repair of the recently damaged detour, considering that the repair of the bridge itself is to be started soonest, so that transportation to and from Naval can return to normal," said Adongay.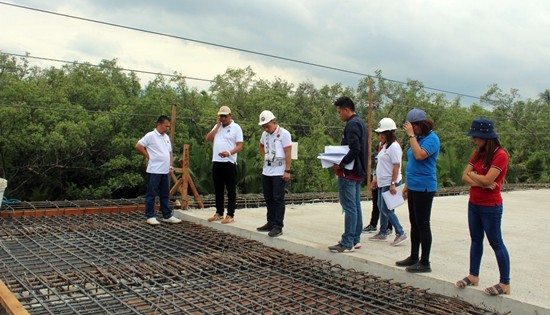 DE Gerald Pacanan spearheads the regular field inspection with the Leyte 2 Inspectorate Team.
DPWH widens major bridge in Leyte
By DPWH 2nd LED
August 29, 2019
CARIGARA, Leyte – To accommodate greater number of motorists, the Department of Public Works and Highways (DPWH) Leyte Second district engineering office is presently widening the P75 million worth of Carigara bridge in Carigara, Leyte.
According to District Engineer Gerald Pacanan, the 106.25 meters bridge with a width of 9.4 meters is targeted to be completed before the year ends.
The bridge is being widened from two lanes to four lanes to accommodate and provide a safer travel to both locals and tourists going to and from Tacloban City to Ormoc City.
"With the region's past experiences on calamities, we see the need to modify this bridge to make it more resistant to seismic activity or ground motion and to conform to the latest DPWH bridge-design standards with enhanced load-bearing capacity," he added.
For 2019, Leyte 2 is tasked to implement 87 projects worth P1.57 billion covering road and bridge improvement projects and construction of other government facilities.
DOLE's Project Angel Tree benefits 55 child laborers in Ormoc
By NORMA RAE S. COSTIMIANO
August 29, 2019
TACLOBAN CITY – The Project Angel Tree of the Department of Labor and Employment once again brought gifts to some fifty-five (55) child laborers during the celebration of World Day Against Child Labor on August 16, 2019 at Pongos Hotel, Ormoc City.
DOLE Regional Office VIII partook in the celebration to show support to the fight against child labor together with the Department of Social Welfare and Development Regional Office VIII, City Government of Ormoc, ECLIPSE Inc. and Philippine Association of Social Workers Inc., with the theme "Children shouldn't work in fields, but on dreams!".
Present to grace the one-day occasion were Ormoc City Mayor Richard I. Gomez, DSWD Director Maria Angela S. Gapalan, ECLIPSE Inc. Executive Director Jenny Marx Diancin, DOLE-Technical Services and Support Division Chief Cristina T. Longjas and DOLE West Leyte Field Office Head, Mr. Edgar B. Tabuyan.
In her inspirational message, Ms. Longjas, who was representing DOLE RO VIII Director Yahya A. Centi, encouraged all the child laborers to not give up on their dreams especially their education.
"More than giving you these educational supplies, it is our dream to see you finish your studies and become successful in the future. What we want to instill in your minds is that education is important, so please do not give up even when you experience difficult times", said Longjas.
DSWD Director Gapalan on the other hand thanked all the partner agencies for their usual support to their various initiatives against child labor such as the Strategic Helpdesks for Information, Education, Livelihood and other Developmental Interventions (SHIELD) Project.
"Let me take this opportunity to thank our partner agencies for being so cooperative and supportive because I believe we can really fight child labor if we will just put our acts together," Director Gapalan said.
Aside from the gift-giving, different topics and information relevant to child labor were presented. Director Diancin of ECLIPSE Inc., presented the overview of the World Day Against Child Labor while Ms. Carmela Pullantes, DSWD Project Development Officer III, gave an orientation on child rights. Child Labor Initiatives of Ormoc City was also shared by Hon. Lalaine A. Marcos, Committee Chair on Social Services.
DOLE RO VIII, through its Project Angel Tree, provided the identified child laborers with school bags filled with pens, notebooks, papers, crayons and other educational supplies. The venue was filled with happy faces as the children received the educational assistance.
Another gift-giving activity will be conducted for the child laborers in Kananga, Leyte and Tacloban City on September 6 and 17, respectively.
Project Angel Tree is a component of the DOLE Child Labor Prevention and Elimination Program which provides an array of social services that range from food, clothing, educational assistance or school supplies, and even work and training opportunities made available by sponsors or benefactors ('angels') to child laborers and their families. It aims to improve the economic and social conditions of child laborers and their families and increase the number of allies and advocates of child labor prevention and elimination.
DPWH to repair and widen Palo-Carigara-Ormoc road section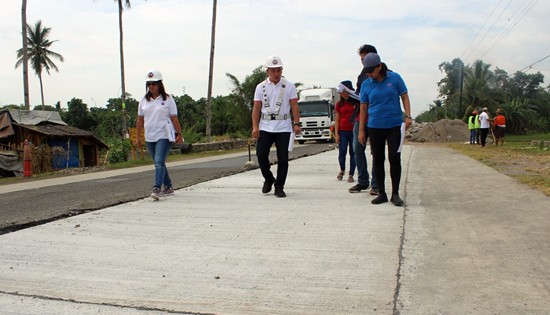 By DPWH 2nd LED
August 29, 2019
CARIGARA, Leyte – The Department of Public Works and Highways (DPWH), Leyte Second District Engineering Office is currently working on the rehabilitation and widening of the Palo-Carigara-Ormoc road section.
According to District Engineer Gerald Pacanan, the P298 million appropriation will rehabilitate and widen intermittent section of this primary road.
"This rehabilitation will be along Brgy. Hibucawan in Jaro, Leyte, while widening of roads from 2-lane to 4-lanes will be in the town proper of Tunga, Brgy. Abango in Barugo to Brgy. Sagkahan in Carigara, and Brgy. Culasian to Pinamopoan in Capoocan, all along the Palo-Carigara-Ormoc road section," said Pacanan.
"The road widening will also be implemented in the portion of Capoocan road section from Zone 1 to Zone 2," he added.
Meanwhile, six bridges are up for expansion along Palo-Carigara-Ormoc road section, the Tunga bridge in Tunga, Leyte; Atipolo Daco bridge in Capoocan, Leyte; and Carigara, Ponong, and Cotcot bridges all in Carigara, Leyte.
Overall, the Leyte second district engineering office maintains 47.7 kilometers of roads.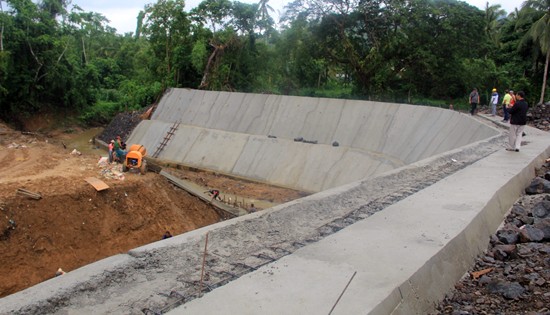 Ongoing construction of flood control structures in Brgy. Sinidman.
DPWH kick-starts P100-M flood control projects in Calbayog City
By CHENZI MAY D. UY
August 29, 2019
CALBAYOG CITY – Department of Public Works and Highways Samar First District Engineering Office (DPWH-SFDEO) has started construction of three (3) flood control structures along two rivers in Calbayog City, Samar.
A net amount of 100 million pesos will be spent on these projects based on the approved General Appropriations Act (GAA) of 2019.
Two of said river control structures, totalling 417.5 linear meters, are being constructed along sections of Jibatang River, specifically in barangays Capacuhan and Cabugawan. The other one, which measures 240 linear meters, can be found along the river in Barangay Sinidman.
Jibatang River is a 34.13-kilometer-long stream that traverses twenty-six (26) barangays in Calbayog City. Based on interviews with locals, recent typhoons such as Typhoon Amang in 2015 and Typhoon Usman in 2018 have brought non-stop torrential rains that caused the flood waters rising up to two meters or above.
Needless to say, river control structures are critical to the protection of lives and properties within the immediate vicinity of the river. In 2018, DPWH built a total of 1,760.50 linear meters of flood control structures along Jibatang River alone, but more such structures are still needed to further mitigate flooding incidents in nearby villages.
The currently ongoing projects will directly benefit around 1,365 locals in Cabugawan and Capacuhan and over 800 people in Sinidman.
Project implementation is right on track, and the district office is expecting completion within the prescribed timeframe.
K12 curriculum makes no homework policy impossible - ACT
Press Release
August 28, 2019
QUEZON CITY – As legislators and officials speak out against homework, the Alliance of Concerned Teachers (ACT) Philippines raised that homework has become an inevitable part of teachers' and students' work due to the 'unrealistic' K12 curriculum, which the group says begs to be reviewed thoroughly to address the program's many problems.
"K12 was an experiment that tried to integrate a little bit of everything in a complicated manner, while leaving no ample time for mastery of subjects and development of critical thinking. Further, the range of topics and competencies set by the K to 12 curriculum are impossible to cover within formal class hours, resulting to added and beyond-school hour work for both teachers and students," explained ACT National Chairperson Joselyn Martinez.
Martinez further explained that K to 12 follows an outcome-based education (OBE) framework where students' learning is measured by their outputs. This, says Martinez, demands that students produce several and varied forms of outputs for the assigned topic of the day, which teachers are required to design and facilitate via their daily lesson logs (DLL).
"For example, our DLL should indicate that a certain topic should be covered within, say, an hour. Such should entail a discussion or input part from the teacher and multiple activities to ensure learners are engaged, like reporting, skits, writing, poster-making, and many others," shared Martinez.
Martinez added that research work, which is done outside of class hours, has also been made heavier on both teachers and students under K to 12 due to the still severely lacking learning materials despite its 7-year implementation.
"Students have more than one class and therefore are required to cover several topics and competencies daily. No amount of 'budgeting of work' can force students and teachers alike to accomplish more than what is realistically doable in a set period of time, hence the need to take home their school work," explained Martinez.
For teachers' part, Martinez said that they too are pressured to issue homework to ensure the completion of their DLL, as it is part of their performance evaluation.
It is this context, continued Martinez, that forces teachers and students alike to render overtime school work.
"So hear us when we say that we are not issuing homework to burden our students. It is demanded of us by the K12 program, so much that our performance evaluation system ensures its implementation. It is therefore unfair for DepEd to claim that they are 'discouraging homework' through several policies, because the agency's main curriculum is the culprit behind this added work," declared Martinez.
The group further denounced the proposed bill which included a penalty of Php50,000 and/or 1 to 2-year jail sentence to teachers who will require homework from students, saying that it passes on the blame to teachers who are 'as much a victim to the faults of K12 as students.'
"The K to 12 curriculum is impractically-paced and does not serve the needs and aspirations of not only our students but of the nation. This is at the heart of the problem when we talk about quality education," hit Martinez.
ACT urged Congress that more than the homework issue, it should do a comprehensive assessment and review of the K12 program, including its curriculum to see its many flaws, which are seen to cause further decline in the quality of education.
P5.1 million livelihood grants to benefit 314 Leyteños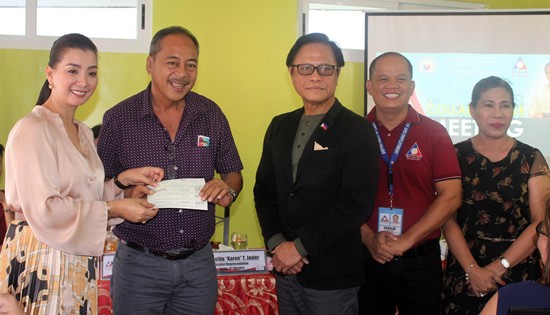 By NORMA RAE S. COSTIMIANO
August 27, 2019
TACLOBAN CITY – The Department of Labor and Employment Regional Office VIII has released a total of P5,135,882.00 livelihood funds to the local government units of Barugo and Jaro last August 16, 2019 during its collaborative meeting with the local chief executives of the 2nd Congressional District of Leyte at Haiyan Hotel and Resort, Tanauan, Leyte.
Aiming to strengthen the existing collaboration with the LGUs in the implementation of DOLE programs in the region, Regional Director Yahya A. Centi, along with the management committee of DOLE RO VIII and heads of DOLE-Regional Coordinating Council (RCC), discussed with the new representative, Congresswoman Lolita Karen T. Javier and the LCEs of the said district the various programs and services of the department.
"It is with great pleasure that we are able to meet all of you for a significant purpose. We believe this meeting will produce positive results which will put us in a win-win situation – us being able to deliver our programs and services successfully and you being able to address the needs of your constituents especially in the reduction of poverty", said Director Centi.
Congresswoman Javier expressed her gratitude for all the essential information shared by the DOLE-RCC relative to programs and services which can be availed by her constituents.
"It inspires me a lot to know that we have people like you in the government to partner with in terms of helping our people. Personally, I'd like to thank Director Centi and his entire team for giving us, especially our new LCEs, the opportunity to know what DOLE is all about," said Cong. Javier.
During the said meeting, DOLE RO VIII grabbed the chance to award livelihood grants for the beneficiaries of LGU-Barugo and LGU-Jaro.
Ma. Rosario Avestruz and Rigo Arbas, mayors of Barugo and Jaro, respectively, were both happy to receive the livelihood checks.
Charged under the DOLE Integrated Livelihood Program (DILP) funds of the region, LGU-Barugo received a total of P3,323,487 for the implementation of three (3) projects for the 187 beneficiaries Pedicab Drivers of Barugo and Barugo Integrated Carpenters & Fisherfolks Association.
On the other hand, LGU-Jaro availed livelihood funds for its three projects amounting to P1,812,395 with 127 beneficiaries from the informal sector, Macanip Integrated Farmers Association and BARRACO Agricultural Cooperative.
Mayor Avestruz, who delivered the closing remarks, challenged her co-LCEs to maximize the programs and services offered by the national government agencies such as the labor department.
"I'd like to encourage my fellow chief executives to be more active in accessing the various programs of our partner organizations. We should be happy that we have DOLE and other agencies to assist us in catering to the different issues and concerns of our clients", said Mayor Avestruz.
Mayors of the following municipalities were present during the collaborative meeting: Barugo, Burauen, Capoocan, Dagami, Dulag, Jaro, Julita, Pastrana and Tunga.
Also in attendance during the half-day meeting were the following DOLE-RCC Heads: Executive Director Joel B. Maglunsod of NMP; Atty. Amelia B. Docena of NLRC; Director Gemma R. Poloyapoy of NCMB; Mr. Reynaldo Soliveres of RTWPB; Ms. Juliet Z. Tan of OWWA; Ms. Catherine D. Dasigan of NRCO; and Ms. Michelle C. Basal of ECC.
Save the Children Philippines ambassador Katarina Rodriguez run for children at #RunWithMe2019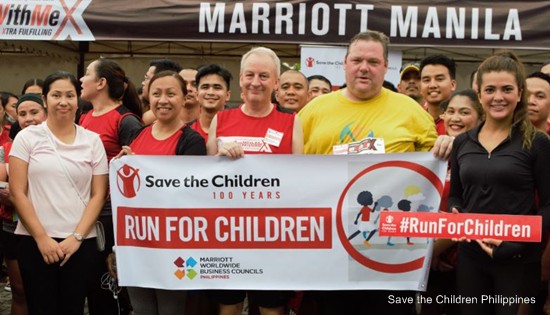 Press Release
August 25, 2019
MAKATI CITY - Save the Children Philippines is proud to be the beneficiary of Manila Marriott Hotel in today's #RunWithMe2019. Run With Me is Resorts World Manila's annual celebrity-led fun run for charity that brings people from all walks of life together in a race for charity. Save the Children Philippines is the beneficiary of Manila Marriott Hotel.
The funds raised by Manila Marriott Hotel during the #RunWithMe2019 will support the programs of Save the Children Philippines.
Katarina Rodriguez, Save the Children Philippines ambassador lead more than a thousand runners who believe every child deserves to celebrate birthdays and grow healthy, educated and safe from violence.
August 25 is a special day for the organization also as it marks the birthday of Save the Children's founder Eglantyne Jebb, a remarkable woman who drafted the Declaration of the Rights of Children that became the basis for the United Nations' Convention on the Rights of the Child (UNCRC).
"Birthdays are special events for children, we should make sure every child, especially those in the deprived and marginalized situations have a healthy start in life," said Rodriguez.
Save the Children Philippines is a lead child-rights organization in the Philippines in development and humanitarian work.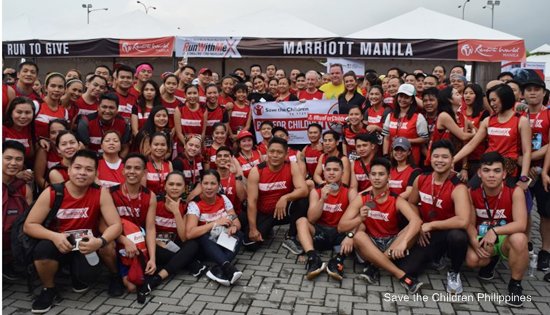 The completed widening of Looc Bridge in Almeria town amounting to P21.898M.
Widening of Looc bridge in Almeria town completed
By DPWH Biliran
August 23, 2019
NAVAL, Biliran – The first bridge widening project implemented by the Department of Public Works and Highways (DPWH)- Biliran District Engineering Office (DEO) is now complete.
The widening of Looc Bridge in Almeria town worth P21.898M is now serving the travelling public with at least an average of 500 vehicular users per day in this part of Biliran Circumferential Road (BCR).
According to David P. Adongay Jr., District Engineer, the said project is designed to accommodate more traffic volume and provide a wider and safer road for the increasing vehicular users along BCR.
"The completed project will increase the capacity of the existing roads and improves the safety aspect of said sections," he said.
The said road section also leads to the only Provincial Hospital and to the Port of Naval.
The widening of Looc Bridge involves the construction of two additional lanes of the bridge with a width of 3.66-meter, one lane on each side of the 24-meter length existing This is funded under the FY 2018 DPWH Infrastructure Program.
Major scope of work of the project includes sealing, application of tack coat, asphalt overlay and thermoplastic stripping materials.
The project was prioritized because the approach road of the bridge going to Kawayan, Biliran side was already widened.
This is the second bridge widening project implemented in this province. The first bridge widening is Anas Bridge in Naval, Biliran which is presently implemented by the DPWH Regional Office under FY 2017 budget.
DPWH-Samar I completes flood control structures along Panlayahan Creek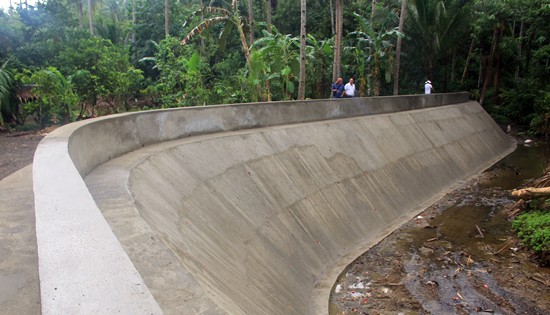 By CHENZI MAY D. UY
August 23, 2019
CALBAYOG CITY – Torrential rains cause surface water to overtop the channels of Panlayahan Creek, which spill onto the adjacent road and nearby settlements.
Needless to say, the flooding is a perpetual problem for some of the residents of Barangay Panlayahan in Calbayog City, Samar.
To address the plight of Calbayognons in this part of the city, DPWH-Samar First District Engineering Office (SFDEO) has constructed reinforced concrete flood control structures along said creek, totalling 213 linear meters.
The project, amounting to P20 million, was completed way ahead of schedule. It is one of the first projects awarded under the General Appropriations Act (GAA) of 2019 completed by the DEO.
4 perish in Calbayog City encounter
By DPAO, 8ID PA
August 23, 2019
CAMP LUKBAN, Catbalogan City – A total of four (4) combatants consisting of two (2) soldiers from 43IB and two (2) terrorist New People's Army died in an encounter at the vicinity of Brgy Olera, Calbayog City, Samar, today, 7:15 A.M.
Seven (7) members of the terrorist NPA led by Salvador Nordan aka Badok/Gahi under Sub-Regional Committee Emporium while collecting extortion money and food stuff from the populace, armed with high powered firearms were caught in the act by troops of 43IB which resulted to the encounter that lasted for almost two (2) hours.
Government troops held their ground thereby prompting NPA terrorists to run away in different directions leaving behind their two (2) dead comrades. The troops recovered in the scene, two (2) dead NPA terrorists and two (2) M14 Rifles, while the 43IB troops initially sustained three (3) Wounded-in-Action (WIA) who were immediately evacuated for proper treatment. Two of the WIAs were later declared dead on arrival at the nearest hospital. With the consent of their next of kin, their remains will later be interred after being accorded due honors for their heroism. There were also other NPA terrorists who were wounded from the encounter.
Meanwhile, troops coordinated with local officials and PNP-SOCO for the identification and proper disposition of dead bodies of NPA terrorists. The Tactical Operations Wing Central (TOWCEN), Philippine Air Force provided air support and casualty evacuation to the entire operation.
Maj. Gen. Pio Q. Diṅoso III AFP, Commander, 8ID, Philippine Army in his statement said, "It is very sad to note that with the sacrifice of two soldiers, two more NPA terrorists who are victims of deception also died for a senseless cause, wasting their lives in their failed armed revolution. I encourage the remaining New People's Army to abandon their armed struggle, lay down their arms and return to the mainstream of society in the comfort of their families and friends. The Stormtroopers Division is willing to help NPA terrorists who wish to surrender and avail the Enhanced Comprehensive Local Integration Program (E-CLIP) being offered by the government."
"In the pursuit of Executive Order 70, the Regional Task Force to End Local Communist Armed Conflict in Eastern Visayas focuses on its effort to address the root causes of insurgency through the Whole of Nation Approach" Diṅoso added.