CHD-EV call for a regional effort for Rabies Treatment
BY CHRISTINE AC. CAIDIC
June 4, 2004
CATBALOGAN, Samar - The Center for Health Development in Eastern Visayas (CHD-EV), thru the Regional Epidemiology and Surveillance Unit, reported that there were three (3) cases of rabies from the 1st to the 20th Morbidity Weeks of 2004. Of these cases, all were males and were bitten by dogs. These cases did not undergo for post exposure treatment and died.
Rabies is a preventable disease. Oftentimes its consequence is death. This avoidable human death is a major concern for the health workers, the local officials and the public as well.
The three cases detected for this year might surpass the 20 cases detected in the year 2003 if all concerned sectors in the society will not do their respective parts. It is advised that all human rabies cases should undergo post exposure treatment even for the previous years.
If Local Government Units are concerned for the health of their constituents, it is advised that they allocate funds for the purchase of vaccines for post exposure treatment for rabies cases. The high cost of human anti-rabies vaccine can be lessened if preventive measures will be reinforced.
On the other hand, dog vaccines are cheaper and are effective. These expenses can also be reduced if focus on dog vaccination is given by responsible owners. Dog owners should be aware and be responsible in leashing their pets and giving them regular vaccination.
The absence of political will to implement the ordinance on stray animals also contributes to the increase on human and canine rabies cases. Mass dog vaccination should be implemented in every barangay to cover more than 80% of the total dog population in the region. A rabies-free region can be attained if every sector in the community will work as one in this concern.
Eco-tourism feasibility study of Pinipisakan Falls presented to stakeholders
By RICKY J. BAUTISTA
June 2, 2004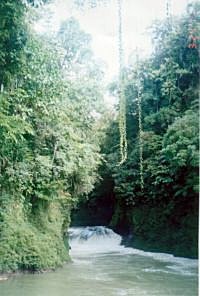 CATBALOGAN, Samar – A team from the Center for Environmental Studies and Management (CESM) has presented, Friday (May 28), the draft report of the Pinipisakan Falls feasibility study before the stakeholders in Las Navas, Northern, Samar.
On November 2003, the United Nations Development Programme (UNDP) through the Department of Environment and Natural Resources (DENR) commissioned the CESM Natural Resources Management specialist Nonoy Pollisco Jr., and Eco-tourism and Land Use specialist Ma. Theresa Quimpo to prepare the Eco-tourism Feasibility Study of Pinipisakan Falls in Barangay San Isidro, Las Navas town as part of the Samar Island Biodiversity Project's Samar Island Natural Park (SINP).
Pinipisakan Falls in San Isidro village, which is located within the SINP, is located approximately 15 kilometers downstream of the Catubig River, 5.2 kilometers from the town of Las Navas and 79.2 kilometers from the provincial capital of Catarman, Northern, Samar. The site can only be reached by travel by boat cruising the Catubig River.
The CESM consultants in their report said the eco-tourism is guided by the principles of sustainable management of natural and cultural resources, environmental education and conservation awareness, empowerment of local communities and development of products that will satisfy visitor needs and position the Philippines as a globally competitive eco-tourism destination.
"Eco-tourism is a low-impact, environmentally-sound and community-participatory tourism activity in a given natural environment that enhances the conservation of bio-physical and cultural diversity, promotes environmental understanding and education, and yields socio-economic benefits to the concerned community," the report said.
Methodology of the Study
Accordingly, the general objective of the study is to characterize, evaluate and determine the feasibility of eco-tourism development in the Pinipisakan Falls within the Samar Island Natural Park that can sustainably be managed and provide livelihood to local communities and at the same time promote biodiversity conservation.
Firstly, the CESM consultants conducted a situation analysis by gathering information and assessment on biophysical attractions, socio-economic, biological and land use by conducting a series of interviews and dialogues with the stakeholders and key personalities in the area.
Then, they (CESM) conducted analysis and synthesis, eco-tourism development planning, economic study and environmental impact, and finally, the presentation of the draft report to stakeholders.
Identified attractions and budget
During the presentation, which was also attended by local government officials, the presenters identified several underdeveloped tourist attractions. These includes the Grotto, picnic area and the 3-tiery waterfalls of Pinipisakan Falls, wooden houses and bridges, existing flora and fauna along the trail, dome-shaped "cathedral" and "chandelier" type formations inside the "kilometer 3" caves, circular-shaped Kinagatusan Lake and the wild Catubig River.
"This place could be the next apple of the eye of the local and foreign tourist visiting the province," said provincial tourism officer Frumenz Lagrimas adding that the provincial government of Northern Samar is now using Internet. "We will be putting this new development in our official website," Lagrimas said.
It was learned during the open forum that the overall budget needed for the facelift and total improvement of the project, which covers around 400 hectares is about P4 Million. The rest will be shouldered by the UNDP and the village residents assured to augment manpower that will help improved the place. Lagrimas said that maybe by July or August they could start putting up bridges and some semi-permanent structures for an easy access to the project site.
"As of now, the province earmarked amounting to P670 can be also be used to augment the needed amount for the project," Lagrimas said speaking in behalf of the Northern Samar Governor Raul Daza.
A draft report showed that the plans for development runs as follows: Hanging bridge over level one of the Pinipisakan Falls – P70,000/meter; sign boards and trail improvement in the Botanic Garden in Grotto-Picnic – P700,000; Catwalk and railings along cliff side to access Levels 2 & 3 waterfalls – P2,500/meter; Convention Halls and Picnic Tables (plan of the Las Navas Mayor Arlito Tan); renovation of the Wooden Bridges amounting to P10,000; upgrading of Boat landings in Brgy. San Isidro worth P540,000; Trail development in San Isidro worth P50,000.
Another budget allotted is for the development of the "Kilometer 3" Cave amounting to P20,000; Potable Water System Development estimated to worth P50,000 to P200,000; Solid Waste Disposal and Controlled Dumpsite Development (no amount indicated) and the Capacity Building on how to handle guided tours, tour guide trainings, business and livelihood project management amounting to P1.5 Million.
The turned out of the feasibility study was positive with most of the stakeholders vowed to help and cooperate to the government to attain the vision of bringing and or making the town of Las Navas a center of tourist attraction in the province of Northern Samar. "There should a holistic planning after the report," said Manolito Ragub, the Regional Technical Director for PAWCZMS-DENR-8 based in Tacloban City.
After the open forum moderated by Ms. Annie Milan of SIBP, the following lapses were recommended by the stakeholders and requested the CESM consultants to include these in their final report: Constitutional arrangements, costs or budget, return investment, capacity (of the stakeholders) in a given time, target markets, protection and security aspects (of the visiting tourists), site characterization, management aspect and environmental education.
It was learned that the Catbalogan-based Samar Island Biodiversity Project who is strongly pushing the Philippine largest park, the Samar Island Natural Park has also to submit their formal written comments on the report this week to the CESM who conducted the feasibility study. The team of consultants also vowed to submit their final report soon this year.
SIBP starts hiring Samar Island Natural Park rangers
By RICKY J. BAUTISTA
June 1, 2004
CATBALOGAN, Samar – The Samar Island Biodiversity Project (SIBP), a foreign-funded eight-year project of the Department of Environment and Natural Resources (DENR) recently started the recruitment for the 17 slots Park Rangers that will police the newly proclaimed Samar Island Natural Park (SINP).
On May 24, 2004, close to 250 applicants from the different municipalities in the region took the qualifying examinations for the prestigious positions as Community Development Officers I and II and Park Rangers.
Of those who took the exams, 72 applicants made it and were interviewed and screened one by one last May 26 and 27 at the SIBP office by a team of selection committee composed of the DENR, PAWB people in the region and from SIBP key officials.
SINP Superintendent and concurrent SIBP Project Manager Herminigildo C. Jocson said all the applicants who submitted their respective credentials and biodatas' were all professionals and 80% of them are residents of Samar Island.
On one hand, SIBP Co-Project Manager Evelyn Amit-Corado said that there will be a total of 17 slots for the Park Rangers, two for the CDO I and one position for the CDO II.
"That is why, we're very strict and careful in our screening of applicant, they were all qualified but the best should be chosen for the limited slots," Corado said.
Corado said that SIBP have already started constructing Park Rangers Stations throughout the strategic areas within the Samar Island Natural Park.
"These chosen rangers will also undergo a month of rigid training before their deployment in their respective assignments," Corado said.
The duties and responsibilities of these rangers, once hired, will conduct effective patrol within and the immediate vicinities of the SINP to detect and prevent illegal logging activities such as removal and or destruction of timber forest products, poaching, occupation of restricted areas; coordinate with the DENR and other local enforcement agencies to arrest violators; coordinate with the advocacy officers of SIBP in the conduct of advocacy, information dissemination, social outreach activities and mobilization of communities for the protection of the Park.
The Park Rangers will also be given the task of organizing training and supervising local leaders, community forest guards, assist in the conduct of biological, social monitoring and assist in providing relevant information to tourist visiting the Park.
Meanwhile, the SINP, which is having a protected area of 333,300 hectares and a surrounding buffer zone of 125,400 hectares, was declared by President Gloria Macapagal Arroyo as the Philippine largest protected area under NIPAS through Presidential Proclamation No. 442 last August 13, 2003.
It also serves as catchments for and headwaters of 25 major river systems that provide clean and sufficient water supply to over 1 million island residents for their homes, business and farms.
"Most of the 200,000 upland residents in about 400 forest-edge communities depend on the forest for their daily sustenance including food, medicine, fuel, housing and other materials for livelihood," Forester Jocson said in one of his lectures.
Saying it will be zoned for multiple use, Jocson said, SINP would span to 37 municipalities and 1 city across the three Samar provinces.
Culion Foundation Covers Nine Samar Towns
By CHRISTINE AC. CAIDIC
May 27, 2004
CATBALOGAN, Samar - The Culion Foundation, Inc. (CFI) is now here in Samar to include nine (9) municipalities as priority coverage of its project. The 28-year old non-stock, non-profit social development organization, was originally established to help the Department of Health at the then Culion Leper Colony in Northern Palawan to help persons afflicted with leprosy get cured of the disease.
With the discovery by the World Health Organization in the 1980's of the multiple drug therapy (MDT), the only known cure leprosy to date, the realization of the Foundation's general vision, which is to eliminate leprosy as a public health problem in Culion was facilitated. It was in 1997 that CFI began to expand its geographic coverage in leprosy control to Cebu, Siquijor, and Tawi-Tawi.
Inspired by the successes of the Foundation's Intervention in Culion and in other parts of the country, the CFI Board of Trustees adopted in 2000 a new Five-Year (2001-2005) Strategy Plan. Under this plan, the CFI's project assistance priorities have been expanded to include, aside for leprosy, the control of other communicable and infectious diseases that are prevalent in specific priority regions and provinces, which include among others Eastern Visayas and Samar Province.
Starting July this year, the three-year project entitled "Control of Prevalent Communicable and Infectious Diseases in Selected Provinces in Eastern Visayas" will be implemented with the financial assistance from Spain.
For Samar Province, the municipalities of Catbalogan, Daram, Gandara, Matuguinao, Pinabacdao, Sta. Margarita, Sta. Rita, Tarangnan and Calbayog City are included as priority coverage of the project.
To officially commence the project, the CFI has scheduled the conduct of a Strategic and Operational Planning Workshop on July 13-15 2004 in Tacloban City to be attended by key representatives from local offices/organizations which will be involved in the project's implementation.
With another health-concerned Foundation working in Samar, particularly for the elimination of leprosy, this is another opportunity of looking forward to a collaborative and coordinative efforts from all newly elected and re-elected local officials to give focus on the health needs of the Samareños .
Rising Fil-Am boxers Donaire brothers face Mexican sluggers in June 18 fight
By RHONY FRANKLIN LAIGO
May 26, 2004
PHILIPPINE NEWS SERVICE -- Two good-looking Filipino boxers this time will have their chance of showing their championship caliber on June 18 when they go up against Mexican sluggers in the All-Stars Boxing's "Battle of the Rising Stars" at Quiet Cannon in Montebello, California.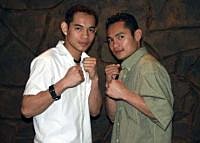 The two brothers, Glenn and Nonito G. Donaire Jr., will face Rafael Chavez and Cesar Martinez respectively in the co-featured main events of the 7-card boxing night under the auspices of All Star Boxing Promotions of Ed Holmes and Pete Hironaka.
Just like Filipino boxing hero Manny Pacquaio, the brothers also hail from General Santos City who have made San Leandro in Northern California their new home. Their father, Nonito Sr., has been their trainer and coach, who used to box when he was in the Philippine Army. Pacquaio had sparred with Glenn before and who might have gotten his side-to-side moves style from Glenn himself.
In a news conference held Monday at Hot Spot Restaurant and Sports Bar in Downey, Holmes was so impressed with both Filipino boxers that he assured boxing aficionados of knockouts during the fights.
Glenn, 24, who stands 5-foot-5, is the current WBO Asia Pacific Champion, flyweight division. He carries an 11-win, 1 loss record with seven knockouts. He, however, still disputes his only loss to Gabriel Elizondo on September 23, 2002 in San Antonio, Texas after flooring his opponent twice in the first and in the third but still lost a unanimous decision in the six-round match.
Known for his killer left hook that usually sends his opponents to the canvass, Glenn is ranked number 7 in the world by the World Boxing Organization, who also has a strong overhand right. His younger brother Nonito Jr., 21, 5'6", is ranked eighth in the same WBO flyweight division but has since moved up to bantamweight. A southpaw, his knockout punch is his left hook.
In their younger years, both brothers were qualifiers in the Olympic trials. In the 2000 Olympics, Glenn lost a "controversial" 10-5 decision to Biran Viloria, also a Filipino based in Hawaii, during the February 2000 US Olympic Trials.
The two brothers have traveled from West to East of the nation, fighting in several national boxing championships including the Kansas City Silver Gloves, the Baldwin Park Blue & Gold Championship, USA Boxing national championship in Marquette, Michigan and were champions in several of these events.
Nonito Jr., known as "The Flash," is the former WBO Asia Pacific Champion in the bantamweight division and has a 7-win, 1 loss record with five knockouts.
According to Holmes, who is a Latino, he said he's never been this excited in his five year stint promoting fights. He said what impressed him is that the brothers are ready and willing to face anyone, unlike even champions, he said, who are afraid to fight some challengers.
Holmes said Nonito Jr. is ready to fight now. His fight against Martinez from Mexico City will precede the match between Glenn and Chavez also of Mexico City, the main event. Another Filipino flyweight, Hector Simon of Nevada, will face Robert "Scrappy" Ortiz in a rematch earlier won by Ortiz in one of the scheduled undercard fights.
"There is no fighter willing to fight anytime," Holmes said of the Donaire brothers. He added that Glenn, who is only a 112 pounder, "fights like a middleweight. You will see both knockouts."
When asked why he was promoting the Filipino fighters more than his fellow Latinos, Holmes said "It's because when I saw them, I wanted to promote them. I have seen Glenn fight. He moves like (Muhammad) Ali and has the power of Joe Frazier while Nonito is unbelievably fast."
The boxing matches will begin at 7 p.m. at the 1,500-capacity Quiet Cannon multi purpose complex. Tickets are $35 and $50 each. The $100 per seat tickets had been sold out.
Lack of public's support, funds hampers cops anti-drug drive in Catbalogan
By RICKY J. BAUTISTA
May 25, 2004
CATBALOGAN, Samar – Not only the lack of operational funds but also the lack of support coming from the public, especially village officials, now hampers the Catbalogan's finest fighting for the rampant proliferation of illegal drugs.
Police Senior Inspector Carlos Gaudencio Vencio, Catbalogan PNP Chief of Police, yesterday admitted that since he assumed office last March 22, 2004, they have been intensifying their campaign against illegal drugs but most of the times they can not come up with their objectives because they don't have the trust and cooperation of the village officials.
In one instance, a chief executive of one of the barangays in Catbalogan who tipped off the presence of a drug pusher in his village surprisingly cautioned or leak-off the upcoming raid of the police, probably to avoid the wrath of the kin of the drug suspects target by the authorities.
"This scenario often resulted to negative result, para kaming tanga pag ganyan, mabuti na nga lang nandyan kayo," PSI Vencio pointing to the media said.
Aside from that, the policemen here had been long time clamoring for additional funds to be used in their anti-illegal drugs campaign. Vencio said there are times that members of the Municipal Anti-Narcotics Unit (MANU), Provincial Anti-Narcotics Unit (PANU) and the Philippine Drug Enforcement Agency (PDEA) have to contribute some amount for their operation expenses in their campaign against drug dealers.
"If we have our on-the-spot buy-bust operation, we cannot help but to contribute funds that will be used as 'marked money' especially during buy-bust operation," PSI Vencio said.
At present, he said, the police have to spend their own money in the fuels of the motorcycles, patrol cars, snacks, and other operation expenses just to arrest illegal drug violators. However, he clarified, that this was already been brought to the attention of their superiors at the higher headquarters for the possible action.
Meanwhile, PSI Vencio and his men in cooperation with the PDEA agents, conducted raid/search operation in Purok 2, Barangay 6 of this town that resulted to the arrest of one suspected drug pusher and confiscation of some drug paraphernalia.
Arrested was identified by the police as one Sonny Boy Mendoza y Espiritu, 35, married and a resident of same place. He was caught surprised when the police stormed his house around 4 p.m. of May 20 upon the tip of a police asset.
Items recovered by the raiding team includes two (2) pieces plastic sachets containing white crystalline substance suspected as shabu, one plastic containing shabu residue, two pieces stainless scissors used in repacking shabu, and one roll of aluminum foil used in sniffing shabu. Police said two other suspects' eluded arrest sensing the arrival of the raiding policemen.
The raid which was accompanied by the media, barangay officials and representative from the Department of Justice, was conducted by virtue of Search Warrant No. 04-09 dated May 19, 2004 issued by Executive Judge Sinforiano Monsanto of RTC Brach 27 in Catbalogan, Samar.