Anti-Corruption Forum an eye opener; Prominent leaders express concerns of the people
By RODEL J. RAMOS
May 24, 2004
The Anti-Corruption Consultancy Forum held at Mayette's Restaurant recently started with these words; "The Philippines was once a paradise blessed by God with abundance of natural and human resources. We were a happy and contented people then. Then corruption engulfed the nation like a monstrous storm. Injustice, poverty and all kinds of crimes prevailed. We found ourselves, more than 7 million highly educated Filipinos scattered all over the world like the 'Wondering Jews', many working as servants, some sell their bodies to feed their families back home. Investors and businessmen left in droves and unemployment went sky high. We are gathered here today, seeking for answers."
Paul dela Cruz, President of the Philippine Press Club of Ontario (PCC-O) acted as facilitator. The participants introduced themselves and were asked their reasons for attending the forum.
There were varied but related reasons given for attending. Some just wanted to listen and be informed of issues and developments. Others came to be more involved in activities to reduce, if not eradicate corruption in society.
There were those who expressed their deep concern for the Philippines and would therefore want to help towards its progress. While a number of people asserted that corruption is a political issue (hence the solution must also lie in politics), there are also those who insist that we must start with ourselves before turning the blame outward.
It was also raised that corruption should not be treated as a "motherhood" issue but as a concrete problem needing specific solutions.
The guest speakers, Marvin Bionat, a graduate of Harvard and came all the way from Boston and Connie Sorio, gave presentations after the participant introductions.
Marvin presented film clips and statistical data on the costs of corruption in the Philippines and worldwide. He also introduced a global web-based movement called www.talsik.com and cited possible courses of action that could be taken to address various aspects and manifestations of corruption.
Connie sought to provoke discussion by asserting that corruption being a political issue, the main responsibility for it lies with government, which has the machinery and resources. She added that perhaps the reason that there is no direct translation of the word "corruption" in the Filipino language is that it is not inherent in Philippine society but possibly brought in by colonial powers.
After the presentation and some questions and answers, Paul de la Cruz asked them to discuss their ideas on possible ways of resolving the problem of corruption in the Philippines. Then, they were asked, "What can we do?"
Among the specific solutions proposed was to compare corruption situation in many other places of the world and discuss methods used to get rid of this problem.
The role of the media in disseminating information as well as exposing anomalous transactions was identified as a very important tool in the fight against corruption.
Other proposals includes educating the people, e.g. on who to vote for, not to sell their votes and through greater use of technology such as the Internet.
The creation of a "watchdog committee" or movement based in North America that will focus on addressing issues of corruption, was also emphasized, as inspired by the talsik.com initiative.
The importance of consistent follow up activities to this initiative was also raised (should avoid "ningas cogon"). Thus, continuous discussion of ideas as well as acting on concrete proposals should be foremost in the anti-corruption agenda.
Since there is already an existing movement began in North America (talsik.com), it seems reasonable to encourage participants to actively participate in this virtual forum. In the process, we can coordinate and join forces with overseas Filipinos worldwide in various efforts to combat corruption in Philippine society.
Meanwhile, efforts must continue towards educating the Filipino community and us. Also in working in solidarity with other groups in other countries (bilaterally or multilaterally) who have similar objectives.
The group will meet again to work on the action plan and its details.
Prominent leaders in the community who honored the occasion were Deputy Mayor Art Viola of Upper Niagara on the Lake; Gene Lara, of Silayan Community Centre and NDP representative; Knights of Rizal Regional (KoR) Commander of Canada, Lapulapu (Popoy) Cana and his wife, Lady Ligaya Cana, Lino Reyes, KoR, Lady Rose Cruz, President of Ladies of Rizal; Rafael Nebres, President of Philippine Chamber of Commerce (PCCT); Rod and Linda Recomanta, representing the business community;
Pempe Saavedra, President of Philippine Independence Day Council (PIDC) and Board Member Mark Pascual; Levi Frias, President, Filipinos for Peace and Justice Restoration; Hermie and Mila Garcia of Philippine Reporter; and Jess Cabrias of Atin Ito;
EFE "Gene" Dorotheo Commander of the American Legion-Veterans and his wife; Ret. Col. Rafael Abad, Concerned Group of Scarborough; Ramon Cruz, Anti-corruption activist; Willie Reodica, Scarborough Councillor Candidate; Atty. Rogie Wong of Balita-legal section;
Mike Paez, Mithi Esguerra, Bayani Edades, Joy Olayta, Nina Escano, and Eleanor Sagadraca represented the youth.
Jesus and Jay Calicdan, Live-in care Giver representatives; Active women's group Clementi, Pat, Rowena, directors of PYFFA, Bing Agamata, Esther and Jose Orozco, Carol Mati Monsour, Eva Rios, Lina Felix, Elsie Alvarez, Sue Pedres, R. Cinco. All of those who attended contributed a lot to the success of the consultative meeting in working together to fight corruption in the Philippines.
Main organizers of the event in Toronto are: Terry Olayta of PYFFA, a representative of Talsik in Toronto and Rodel J. Ramos of Taliba and Filipino Action Network. Maria Deanna Santos recorded, analyzed and summarized the minutes and essence of the forum. Lannie Aguinaldo of Settlement & Education In Partnership with York Region Catholic Services (SEPYR) provided the projector and other equipment.
Those who are concerned on corruption and want to get involved with the issue can email Terry Olayta t_olayta@yahoo.com, tel. 416-783-8740; Deanna Santos, mdsantos@yorku.ca, tel.905-741-1769.
CWD announces completion of P32-M Caramayon Dam this year
By RICKY J. BAUTISTA
May 23, 2004
CATBALOGAN, Samar – The Catbalogan Water District (CWD) yesterday announced that the water supply system of Caramayon Dam worth P31.994 million would be soon inaugurated within this year.
CWD district manager Tomas W. Bautista, in an interview, said once this project funded by the Local Water Utilities Administration (LWUA) has been completed before this year end, this will benefit some 8,000 water consumers in Catbalogan.
"As of now, only 80 percent of the Catbaloganons avails the water services of our office," Bautista said.
Under the project agreement signed by the CWD and the LWUA, the water district has requested LWUA to finance its water supply system project in order to provide more safe and potable water to its service area starting the year 2005.
It was learned that the LWUA is willing to extend a Level III financial assistance amounting to P31.994 million which shall be funded partly by the Asian Development Bank (ADB) under its Small Towns Water Supply Project.
Up to this moment, the CWD is still at its work installing a spring intake box, booster pump station, 450-kilowatt generator set and standby pumps, storage tank, pressure relief valve, gate and blow-off valves, 3030 cum diesel fuel tanks and provision of 3-5 Hp booster fuel tanks, 50-millimeter diameter tubing fuel transmission lines, 5.1 km transmission and distribution pipelines with diameters ranging from 200 to 250 millimeter, complete with various fittings.
It can be recalled that the work was temporarily stopped last April 2002 when the laborers doing the excavation work in Sitio Caramayon, where the project is located, were ordered to stop by a group of armed men believed to be members of the New People's Army.
The alleged rebels, in their letter signed by one Ka Sinto, demanded a ten percent share from the total amount of the project. But the CWD refused to pay saying it is impossible for them to give in to the demand of the revolutionary movement since the amount is just enough for the project.
"(And besides), all expenses incurred in the project are subject to Commission on Audit liquidation," Bautista said.
When asked how it was resolved, "Nadala sa pakiusap," he says.
He said it was through the efforts of the village officials who acted as mediator between the CWD and the rebel movement. "Anyway, para din naman sa kabutihan ng mga tao ang project na ito eh," the CWD top brass, said.
Meanwhile, Bautista did not exactly tell the exact date of the completion and inauguration but assured the public the project would be operational within this year.
A media darling Redaja captures provincial seat; Gov. Tan, Ex-Rep. Figueroa back to their posts
By RICKY J. BAUTISTA
May 21, 2004
CATBALOGAN, Samar – The Chief Executive of this town, Mayor Jesus B. Redaja who earned the distinctive brand as 'darling of the press' for his consistent help and support to many Catbalogan-based media practitioners through the provision of livelihood and other sustainable income-generating projects, unwittingly captured the vice-gubernatorial post, the next highest position in the province of Samar, during the May 10 elections.
Redaja, who never experienced loss in his political stint, gathered a landslide vote of 100, 054 voters against his closest rival former provincial board member Lawyer Felix "Boy" Babalcon Jr. The two other bets – Julius Mancol and Nicasio Leoncio Jr. – were very far behind the two.
Running under the Liberal Party, in tandem with the incumbent Governor Milagrosa T. Tan, Redaja has been admired by the Samareños apparently because of his record-breaking accomplishments as a 3-termer mayor of Catbalogan, the provincial capital of this province, and being so accommodating to anyone visiting his office seeking for help.
Wearing his favorite stripe-shirt in most of his public affairs, "It is only him (Redaja) who is able to appear personally before the media, particularly for the TV and radio public affairs programs, to make important announcements and updates or clarify certain national and local issues," says Chito Dela Torre who anchors a Magazine type TV program Waray-Waray La (WWL) aired in a local television cable in Catbalogan and a prominent writer-columnist of several local papers.
For these, Dela Torre said, Redaja stands out as a private media advocacy (and media darling), an identities which the media people in this town believe could carry on even if he is already holding a much higher office.
Meanwhile, despite of her untiring detractors digging his alleged non-Filipino citizen, Samar Governor Milagrosa Tee Tan has, still, managed to retain her seat against her four male opponents in the gubernatorial post.
Ignoring the threats brought about by her pending cases before the Comelec and in the Ombudsman Visayas, she defeated former DENR Undersecretary Mario "Mayet" S. Roño by a wide margin 130,252 – 78,761 or a difference of 51,491 votes in favor of Tan. Mayet is the son of the late former Samar Governor Jose S. Roño, who ends his political career when he lost to Tan in the 2001 elections.
The three other gubernatorial bets – Calbiga Mayor Melchor "Mito" Nacario, Claro Piczon and Renato Llamado – who promised the public of a new style of governance once elected, were turned down by the voting as what their number of votes shown. Comelec tallies showed that one of these three bets tailed Tan by at least a margin of 129,998 votes. A fact that made history in a local politics here.
As of now, an insider from Tan's camp disclosed that the governor is not even bother about her cases lodged against her, especially now that she won again.
On April 23, this year, a certain Procefina L. Ariguis, a resident of Barangay Bagacay, Hinabangan, filed a petition for disqualification before the office of the Provincial Election Supervisor office here against Tan but until to this writing, the Comelec had not yet acted or released any decision regarding the petition.
According to the petition, tan was born on February 25, 1958 in Palompon, Leyte, of a Chinese father and a Filipino mother, and when she was 17 years old, "her father, Tee Chin Ka Enrique Tee, also known as King Kee Siong, applied for naturalization as a Filipino citizen under Presidential Decree No. 836 and, accordingly, he was issued a Cerificate of Naturalization on 23 January 1976."
Meanwhile, Laban ng Demokratikong Pilipino's (LDP) bet Congressman-elect Catalino "Cata" Figueroa also finally regained his seat after their third rematch with Rep. Eduardo "Eddie" Nachura in the second district of Samar.
"I won this year electoral contest not because they (Samareños) loved me, but because of their so much hatred against the incumbent," Figueroa said without giving any elaboration.
Figueroa was obviously referring to his closest political rival Nachura who fought him many times in the past elections.
Final and unofficial tallies of the Commission on Elections showed Figueroa impressively gathered some 74,078 votes compared to Nachura's only 54,167 votes. Figueroa sneaked in almost all of the towns in the second district except in Jiabong and Villareal towns which is considered the bailiwick of Rep. Nachura.
Nachura, on the other hand, calmly showed his respect to the public and congratulated the Comelec proclaimed winner. "Deri ko guinbabasol an mga Samareños han ako kaperdi pero karuyag ko la ipasabot ha ngatanan nga ha akon duha ka termino, nagging epektibo gud ako nga iyo representante ha House of Representatives," Nachura said in a vernacular.
The elected provincial board member elect were the following: (2nd district) Antonio D. Bolastig III, Fe Arcales, Boy Tiopes, Arcadio Quijano and Concepcion De Luna. In the 1st district were Susano Salurio, Cesario Ricafort, Rogelio Casurao and Rosenaida Rosales.
With a failure of election in Barangay Mancol, Calbayog City whose registered voter is more than one hundred, the last position for the board member in the first district is to be contested between Renato Uy and Teresita Dean in a scheduled special election, because of their mere difference of only 101 votes in favor of Uy.
Except for Uy, all the winners were proclaimed by the Board of Canvassers shortly after the tabulation was finished and reviewed by the Comelec.
DENR confiscates P3.4 M lumber, equipments in the last 3 months
By RICKY J. BAUTISTA
May 20, 2004
CATBALOGAN, Samar – Operatives of the Department of Environment and Natural Resources Regional Office 8 (DENR) in cooperation with the 8th Infantry Division based here has confiscated a total of 45,354.18 board feet of illegally sawn lumber with market value estimated to P1,130,855 and equipments used in cutting tress worth to P2,300,000 in the last three months of this year.
The operation, however, resulted to the killing and wounding of an identified soldier in the side of the government.
In a record released by Ms. Evelyn Corado-Amit, the Co-Project Manager of the Samar Island Biodiversity Project (SIBP) based in Catbalogan disclosed that the total amount of the lumber and equipments seized by the department reached to P3,430,855, all in all.
This official document released to the different media practitioners in Samar Island during the "Media Night" held in Igot Cove, Barangay Maulong, Catbalogan, Samar last May 13 bore the names of people identified as sources of the confiscated lumber and equipments.
It was learned that in the month of February 2004, at least 1,740 board feet and an Isuzu type vehicle was confiscated from a certain Socorro Julita Jamanilla and Felimon Tubalado in the vicinity of Barangay Tenani, Paranas, Samar. In separate incidents in the month of March 2004, the department seized or recovered abandoned lumber of various sizes in an undisclosed areas in Basey totaled to 16,522.24 board feet; a total of 21,764.69 board feet of illegally sawn lumber and P2,100,000 worth of equipments were also seized from a certain Ramon Co in Paranas; and, at least 5,217.25 board feet were confiscated from a certain Ciriaco Lim in Catbalogan, both operation was conducted in the month of April, of this year.
Earlier, the government intensified their campaign against environmental degradation, forest destruction and other illegal logging activities in the region, particularly in Samar Island.
And, in an effort to be both effective in this particular mission, a Memorandum of Agreement (MOA) was signed between two agencies, the DENR and the 8ID, agreeing to jointly and mutually cooperate in the operation, upliftment and conservation of Samar Island's remaining forests and other related resources, in general and the cessation of all destructive and illegal extraction of the Islands forests' resources. The agreement was signed by Major Gen. Glenn Rabonza in behalf of the Philippine Army and Director Leonardo Sibbaluca in behalf of the DENR.
Election-related violence kills 10 in 2004, more in 2002
By Marvin Añonuevo and Max Daquilanea
May 12, 2004
CATBALOGAN, Samar - If investigations tell the truth, nearly 20 persons in Leyte and Samar were shot to death in the hotly contested synchronized Barangay and Sangguniang Kabataan elections in year 2002 and in this year's national and local elections. The killings were attributed to intense rivalries, particularly in the First District of Samar, that characterize the burning contest for elective posts. Unofficial reports placed at ten the number of election-related deaths this year, involving supporters of political candidates in Samar and Leyte islands. Excluded from this number were killings that began in December 2003.
On February 28, at about 8:20 p.m., Tarangnan (Samar) mayor Anieto C. Olaje was shot to death inside the Ipao Sports Complex in Brgy. Policarpio, Calbayog City, 4 bullets hitting the three-termer mayor while eating with a police officer assigned to him as a "bodyguard", during a 4-cock derby. The mayor's wife, Flordeliz, reportedly saw her husband's two assassins getting away on a motorcycle.
On March 1, unidentified armed men shot down a bodyguard of Samar's First District Rep. Reynaldo Uy, Senior Police Officer 3 Edgar Anibon, while the victim was driving his motorcycle at Brgy. Hamorawon in Calbayog City.
Ten days later, on March 11, two barangay chairmen of Calbayog City, Luciano Laylay and Gerry Llever were felled by bullets.
At 5:30 p.m. one Saturday in Cebu City, unidentified men gunned down mayor Roy Jumao-as of Hindang, Leyte, a former cop of that city, as he was getting out of a taxi cab along Jakosalem Street. His son Jake who was out to fetch him was also shot down.
Last April 3, at about 3 p.m., 36 days after the slay of Olaje, 2 unidentified gunmen shot at close range Tarangnan vice-mayor Francisco Montero, at San Bartolome Street in Catbalogan as he was about to board his service vehicle.
According to observers, Olaje was a supporter of former First District Rep. Rodolfo Tuazon while Montero, who, by succession, became mayor upon Olaje's death, was said to be a supporter of incumbent Rep. Reynaldo Uy of that district.
Violence in 2002 polls
In connection with the July 15, 2002 polls, 8 violent deaths were reported while more than 5 others were wounded, mostly with gunshots. These worsened the election picture which was also characterized by ballot snatching during the canvass of votes, tearing of ballots, various forms of harassment, and threats from several armed groups mostly identified as supporters of certain politicians and candidates.
The 2002 synchronized Barangay and SK elections were supposed to be non-partisan but that character was deprived by those fatal shootings and abuse of the people's peace.
The first fatality in the 2002 election period was municipal election officer Wilfredo Gulane who was shot allegedly by the barangay chairman of Buenavista, Daram.
Twelve days to the elections, Eufemio Patente, a re-electionist barangay chairman of Jacopon, Daram, was shot in the early morning of July 3, by one who denied participation later over a local radio station. This was followed soon by the shooting of Ereneo Medalla, a 64-year old supporter of Patente's slay suspect.
In Northern Samar, a shootout occurred inside a polling precinct in the elementary school of Bobon town, resulting in the death of 3 – Renato Carpina, a former provincial warden who lost in the 2001 mayoral elections; Oliverio Villamor; and Oscar "Fausto" Gepollo, Carpina's bodyguard. Bobon mayor Elena Balite (whose husband Jose was an ex-mayor of the same town) was reportedly present in the incident.
Other victims were Roselita Sale and Tony Brilliante who were shot on July 15 at about 6:45 a.m.
Other incidents included the shooting, with a "bardog" homemade shotgun, of barangay councilor Romeo Diaz in Metayones, Sta. Margarita, Samar; the shooting of 28-year old Nilo Pesidas of Burabod II in Gandara, Samar allegedly by barangay chairman Tito Padang; and the chasing, with a .38 caliber revolver, of barangay chairman Federico Orlanda allegedly by Arman Babon in another barrio. There were also reported threats from barangay chairman Fernando Jabinar of Salvacion, Jiabong, while the tearing of ballots was allegedly done by barangay chairman Roberto Gabane in Mercedes.
Failure of elections
Reportedly the incidents of violence and election terrorism foiled the conduct of elections in 5 barangays (Cag-anahaw, Patong, Olera, Higasaan, and Langoyon) in Calbayog City and in 14 other barangays in 7 towns of Samar. Added to the cause of failure of elections were massive vote-buying, preponderance of flying voters, harassment, and disenfranchisement of voters. In Maligaya, Matuguinao and Canligues, Paranas, no board of election tellers members served on election day due to some forms of harassment from certain persons.
NDF-EV scores Red-baiting paid ads
By RICKY J. BAUTISTA
May 8, 2004
CATBALOGAN, Samar -- The National Democratic Front-Eastern Visayas (NDF-EV) immediately condemns the full-page, Red-baiting paid advertisement by a so-called People's Broad National Democratic Alliance (PBNDA) published in regional daily newspaper based in Tacloban City, which according to them, could only have been "manufactured by the dirty tricks of the Army's 8th Infantry Division."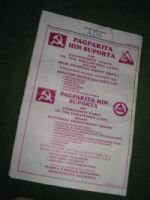 The whole back page paid ads that appeared in the May 7, 2004 issue of LSDE.
In a press statement NDF-EV Media Liaison Officer Roy Santos said this is just "a cheap tactic and an act of desperation for maliciously linking the progressive party-list groups and the militant organizations in the legal mass movement to the revolutionary armed movement."
By doing so, Santos accused Gen. Glenn Rabonza, commanding general of the 8th Infantry Division of sending out the license for the increased persecution and physical harm and elimination of the progressive party-list groups and militant mass movement.
"The revolutionary movement that is comprised by the Communist Party of the Philippines, New People's Army and the National Democratic Front, neither believes nor participates in the reactionary elections, nor endorses any political candidate or party. Genuine change and democracy can only be brought about by doing away with the reactionary ruling system and establishing the people's democratic government. The reactionary elections now and in the past only show the bankruptcy of elite democracy. The progressive parties as well as other candidates are in fact overwhelmed in a political system that is dominated by the corrupt, pro-imperialist and anti-people representatives of big business and landlords," Santos said.
Santos added that it is not only in Eastern Visayas but throughout the country that the Armed Forces of the Philippines is going berserk in its wild attempts to foil the imminent resounding victories of the respective progressive party-list groups in the May 10 polls. It is the AFP that is principally responsible for the escalation of violence during the reactionary elections in threatening and physically attacking the progressive party-list groups.
The NDF underscored the AFP by directly belittled them by saying "its minions are cowards and backstabbers" for allegedly resorting to witch-hunting and physical violence because they can neither openly confront nor douse the popularity among the people of Bayan Muna, Anakpawis, Gabriel Women's Party, Anak ng Bayan, Migrante, Suarah Bangsa Moro and other militant groups in the region.
In a statement dated May 6, 2004, Fr. Santiago Salas, spokesperson of the NDF-EV, warns Gen. Rabonza and the 8th Infantry Division that they are already answerable before the Joint Monitoring Committee (JMC) for the reported abduction of a Bayan Muna organizer in February in Can-avid, Eastern Samar; the abduction and continued disappearance since Feb. 21 in Baybay, Leyte of Bayan Muna members Rolando Fortaleza and Jacqueline Paguntalan; the illegal arrest and detention last March 10 of Anakpawis organizer Joy Batis Paloma in Carigara, Leyte; and the harassment of the Bayan Muna provincial headquarters last April 13 in Catarman, Northern Samar.
The NDF-EV also counsel the mass media to be responsible in considering and running such paid advertisements that could possibly invite violent attacks on the innocent leaders and members of legitimate organizations.
NPA denies May 3 ambush in Leyte
By RICKY J. BAUTISTA
May 8, 2004
CATBALOGAN, Samar -- The New People's Army in Eastern Visayas "absolutely denies" ambushing elements of the Philippine National Police in Alang-alang, Leyte in the early morning of May 3, this year.
In a press statement dated May 4, 2004, Jose Somoroy claimed to be the spokesperson of the Efren Martires Command of the Eastern Visayas Regional Party Committee (EMC-EVRPC) said there was no NPA atrocities in the town of Alang-alang at that particular date and time of incident contrary to what government authorities claimed.
To recall, the police reported that an unidentified group of men, fully armed with high-powered firearms, ambushed some policemen riding in two motorcycles in the vicinity of Alang-Alang, Leyte. The report said the incident killed one policeman and wounding of three innocent civilians.
Sumuroy, instead, blamed the police for pinning responsibility for the ambush on the NPA because of the presence in the area of posters and other campaign paraphernalia by Anakpawis, a progressive party-list group.
"The PNP is towing the anti-communist and fascist line of National Security Adviser Norberto Gonzales in linking Anakpawis and other progressive party-list groups to the NPA," the EMC spokesperson said adding that "(It seems that they are) implying that the Anakpawis and the rebels are one and the same, the PNP encourages the harming and killing of the unarmed and defenseless Anakpawis members by the reactionary state. In fact, Anakpawis and other progressive party-list groups are not connected with the NPA and the armed struggle but peacefully vying for Congress in the May 10 elections."
He added that it is not surprising that the PNP found Anakpawis campaign materials "because the progressive party-list group is very popular among the masses, such that their election posters are all over the region." Sumuroy asserted that the PNP is merely chiming in with the AFP's vicious black propaganda and numerous violent attacks in the region and nationwide against the progressive party-list groups like Anakpawis, Bayan Muna, Gabriela Women's Party and Anak ng Bayan.