UNESCO Ambassador is Cerritos Rotary Guest
By Johnny M. Pecayo/PNS
Publisher and Editor-in-Chief, MANILA-U.S. TIMES
January 20, 2004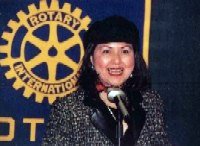 CERRITOS, CA – Upon special arrangements made by Ernie Delfin, incoming millennium president of the Rotary Club of Cerritos, Dr. Preciosa Silverio Soliven, who has been appointed by President Gloria Macapagal-Arroyo as the Secretary General of the UNESCO National Commission of the Philippines with the personal title of Ambassador, was Cerritos Rotary Club's special guest of honor Monday.
Young looking business executive readily and proudly admits she is 65 which drew the Rotarians to comment instantaneously, "Wow, really?" "She doesn't look her age." This simple revelation of her age easily drew rapport among the Rotarians and guests.
"Me and my husband, Max Soliven, of the Philippine Star, and our children spent years in Saigon," says Ambassador Soliven, introducing the members of her family to the captive audience. Like her husband, who is the Chairman of the Board and publisher of the Philippine Star, Dr. Soliven also writes a column in the same newspaper publication, entitled "A Point of Awareness."
Founder of the O.B. (Operation Brotherhood) Montessori Center, Inc., the largest Montessori school in the world, with four complete schools, preschool, grade school, high school, and Montessori Teacher Training College, and with over 4,500 students, Dr. Soliven discussed the evolution of O.B. Montessori in the Philippines and the pivotal role it plays in the "conditioning of young children from their formative years, at age 1, 2 and 3, to become independent as they grow up.
"With its headquarters located at #3 Eisenhower Street, Grenhills, San Juan, Metro Manila, OBMCI has branches in Santa Ana, Manila; Las Pinas City, Rizal; with two branches in Angeles City, Pampanga, one in Villa Gloria Subdivision and the other one in MacArthur Highway, and it continues to branch out.
She told her audience that O.B. Montessori was founded over a century ago, by Dr. Maria Montessori, the first Italian woman to become a doctor.
"But more than teaching the children, my crusade in putting up my school, is to teach and train teachers," Dr. Soliven said, who herself was trained in two AMI Montessori Teacher Training Centers in Perugia (1964-66) and Bergamo, Italy (1968-69), as well as in London.
She mentioned that in Region 3, comprising of six provinces, OBMCI trains not only the young children, but their mothers as well. She cited the beauty of seeing 20 village mothers, in white graduation dresses, marching onstage along with their children. "They were trained to put make up to look beautiful, and were also trained to be productive as a wife, to help augment the income of her husband. This is what we call Montessori 'pagsasarili' (self reliant) which creates a multiplier effect," she related.
"We have so much to thank America for introducing to us the public school system," she told the audience, comprising of 90 percent Americans.
Dr. Preciosa S. Soliven is the author of three books: The UNESCO-sponsored "Pagsasarili Mothercraft Literacy Course for Local and Overseas Filipino Working Women," "Half a Millennium of Philippine History," and the UNESCO-sponsored "CONCEP Manual: Planning the Young Child's Education.
"She ended her message with these parting words: "Filipinos must be united. They must learn to pray. We must help each other.
"She also mentioned that one of the primary reasons she was in California was to attend the much-talked about wedding of Lea Salonga, one of her former students, to Robert Chien, at the Queen of Angels Cathedral in Los Angeles, California.
Among the Filipinos spotted by the MANILA-U.S. TIMES who attended the regular Monday meeting of the Rotary Club of Cerritos, were: Marinella Soliven and her husband, John; Atty. Maria Erlinda Sarno and her visiting sister-in-law from the Philippines; and visiting Rotarian from Pasay West, Rogelio Serrano, president of I.H. Enterprises.
Loren Pushes Bills Increasing Benefits for Teachers and Policemen
By Philippine News Service
January 18, 2004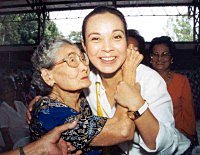 Senator Loren Legarda is pushing for the approval of her bill proposing expanded benefits, rights and privileges for teachers and non-teaching personnel. She also expressed support for a bill providing for a Magna Carta for the Philippine National Police, increasing the benefits and privileges of policemen.
In Senate Bill No. 579, proposing an "Integrated Magna Carta for Teachers and Non-Teaching Personnel," Legarda proposed that the expanded benefits and rights should cover "all teachers and non-teaching personnel in all levels of public and private schools and state universities and colleges.
"The bill proposes shorter working hours for teachers and school personnel, with compensation for work beyond the prescribed regular hours. At the same time, the bill provides for annual upward salary adjustments for teachers and school personnel "to mitigate the effects of inflation as measured by the consumer price index."
In the proposed measure, Legarda likewise suggested more academic freedom for teachers and school officials, security of tenure, guaranteed sick and vacation leaves with pay, and others.
In her explanatory note to the bill, Legarda said, "the State must guarantee the promotion and protection of the rights of teachers and non-teaching employees not only to ensure a reasonable and dignified standard of living for themselves and their families comparable to those in other occupations requiring similar or equivalent qualifications, but also to maximize their contribution to a nationalist and scientific education."
Earlier, Legarda also expressed support for Senate Bill No. 2486, providing for a "Magna Carta for the Philippine National Police," and increasing policemen's rights, privileges and benefits. The same bill also provides that "policemen's salaries shall keep pace with the rise in the cost of living," including quarters allowance, hazard pay, amelioration pay, health care pay and all other allowances as may be provided by law.
Meanwhile, Legarda deplored the "false and black propaganda" directed against her through text messages and other means, accusing her of working against the economic interests of teachers and policemen.
"My record in the Senate proves that this is utterly false," Legarda said. She appealed to the public not to believe the black propaganda directed her by "shadowy characters."
Loose Truck kills one
By BRYAN M. AZURA
January 16, 2004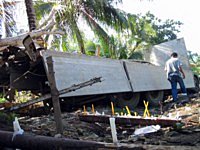 JIABONG, Samar – A man selling "tahong", a local shell, in a barangay few kilometers away from this town to earn a living, ended up losing his life after a loose truck rammed into their nipa hut (stall made from local materials) along the Maharlika national highway at about 3:10 in the afternoon of January 15, 2004.
The victim, identified as Emilio Jabunero y Dacutan, 28 years old and a resident of Barangay Jia-an, this town, died instantly after a 30-ton, 18-wheeler truck smashed into several nipa huts along the national highway.
According to witnesses, the fully loaded truck parked for a while at the top of the sloppy road when it suddenly moved downward eventually hitting the sheds including Jabunero.
Lucresia Jabunero, the mother of the victim said she was not expecting that this would happen to her son because he was just selling shells to road passers.
The owner of the truck with plate number GLR575 was at once recognized as Albert Tan, proprietor of the Tanking Mega Steel in Catbalogan, Samar. The vehicle was loaded with steel bars and flat iron and was on its way back to Catbalogan when the accident happened.
According to the driver who introduced himself as Phillip Abamo, 23 years old and a resident of Brgy Guinsorongan, Catbalogan, the truck was not able to move on at peak of the hilly road so he decided to stop. "Guin lihog ko an akon kabulig nga bangilan para diri magdalus-dos an truck (I requested my helper to put a blocker so that the truck will not slide down.)," he said remorseful. However, just while he was about to start again, the engine of the truck stopped causing the brakes to loose and eventually slid downward hitting Jabunero and four nipa huts serving as display areas for the local shell tahong.
The body of the victim was unrecognisable as he turned into pieces after tons of steel bars crashed into him. The driver in turn admitted to authorities that the truck was overloaded by 5 tons as it carry 30 tons way beyond the 25-ton limit of the truck. "Guba naman gud iton timbangan ha San Juanico Bridge amo ito nga diri na gud nababantayan iton amon timbang (The weigh bridge in San Juanico Bridge is not working already so our weight could not be determined anymore)," says Abamo.
Jiabong Police is still investigating the incident but it assured the family of the victim that appropriate charges would be filed in court against the driver and probably the owner of the truck.
A cousin of the fatality, Aurelio Jabunero Jr., 46 years old, was also hit in the face by the crashing truck but fortunately was able to escape. He suffered minor injuries.
Army brushed aside NPA Threats
By Capt CROMWELL I. DANGANAN, (INF) PA
January 16, 2004
CAMP LUKBAN, Catbalogan, Samar - Despite constant threats by the New People's Army (NPA) of more attacks, the 8th Infantry Division, Philippine Army brushed aside the threats.
The 8th Infantry Division led by Maj Gen Glenn Rabonza is one in the belief that the NPA terrorists are now resorting to desperate acts because they have tremendously weakened in strength. Many rebels have surrendered since last year, majority of them exposing unacceptable rules and regulations while inside the movement. "I wasted my life inside the movement," said Ka JR/Bunsoy who recently surrendered to 43rd Infantry Battalion in Leyte. "Magpapakita ng maganda sa una. Sa paglaon, hindi na pantay-pantay ang trato. Masiba ang mga lider sa pera na galing sa extortion, sa mga naghihirap na mga mamamayan," he added.
Fresco Garsola y Jayona Jr alias JR/Bunsoy, 18 years old, surrendered with his M16 rifle last December 26, 2003 to Bravo Company of 43rd Infantry Battalion who are presently conducting SOT operations at Brgy Luneta, La Paz, Leyte.
The NPA terrorists and their cohorts may try to stage terrorist attacks in the region in the coming days. But the Philippine Army again belittled this and took it as a bluff by the NPA. "They can wage war if they want to," said MGen Rabonza. "And we will give it to them."
The 8ID Commander said that the Army is not fazed by the roller coaster ride to terror of the CPP-NPA-NDF. "We have not only good fighting men, but the support of the masses. This is our advantage over them. I have ordered all unit commanders to prepare and fight to the hilt if need be, to thwart any attempt by these NPA terrorists. They are now out rightly violating the rights of poor citizens," added Rabonza.
The 8th Infantry Division is credited for the continued surrender of NPA members. The fruits of their labor to reach out to communities with potential NPA influence have gained positive results. The people now know that they should help the government and the AFP in particular to fight terrorism. They will not allow the NPA to further destroy their future and those of their loved ones.
Loren bats for extra pay for School Personnel on work done during vacation
By PHILIPPINE NEWS SERVICE
January 16, 2004
Senator Loren Legarda said that teachers and non-teaching personnel of schools deserve more benefits, including additional payment for work done during summer vacation and other school breaks.
In her effort to recognize the big role of school personnel in nation-building, Legarda has filed Senate Bill No. 579 for the enactment of the Magna Carta for Teachers and Non-Teaching Personnel.
Under Legarda's proposed magna carta, school personnel would also be entitled to regular salary increases, and protection from exploitative practices like forcing them to do work not contained in their appointments. Their security of tenure would also be better protected.
The vice presidential running mate of Koalisyon ng Nagkakaisang Pilipino (KNP) standard bearer Fernando Poe Jr., Legarda said she filed S.B. No. 579 after consultations with various groups, including those from the academic sector.
"We have been told, for example, that teachers are often required to work during vacation without additional pay for such tasks as doing inventories of books and teaching aids, and even to clean up rooms," Legarda said.
"Teachers should be given overtime or additional pay for such duties when they are done outside of regular school days, in the same manner that all workers deserve extra pay for work done during holidays," she stressed.
The bill has been referred to the education and finance committees of the Senate.
Last week, Senator Francis Pangilinan had to clarify that there was no bill pending before the education committee proposing that teachers should not be paid during summer and Christmas vacations, contrary to allegations being propagated via "poison text messages."
Section 26, Chapter III of Legarda's proposed magna carta read in part: "Teachers who are required to work during semestral breaks or summer vacations shall be paid an additional compensation on a pro rata basis."
Section 27, on the other hand, calls for an annual upward salary adjustment of school personnel to "mitigate the effects of inflation as measured by the consumer price index."
Teachers and employees shall also be entitled to compensation for injuries "physical and nervous" sustained in relation to work, under SB 579.
"Teachers who inhale chalk dusts everyday are most susceptible to respiratory ailments like tuberculosis. However, you would be shocked as to the range of ailments that result from their profession," Legarda said.
"For example, would you believe that not a few teachers develop inflamed tendons in their hands from writing voluminous reports, lesson plans and the like? How about stress from dealing with boisterous children? These are trade hazards for whom teachers should be compensated for," she pointed out.
In her explanatory note for S.B. 579, Legarda said that teachers and their non-teaching counterparts are vulnerable to harassment and other forms of violations of their democratic and socio-economic rights.
She cited as example reports that many teachers in public schools are also tasked to man school canteens on top of other tasks not contained in their job appointments.
Presence of Armed Men in His Town Worries Gandara Mayor
By ELI C. DALUMPINES
January 15, 2004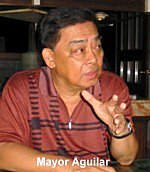 CATBALOGAN, Samar – Mayor Juan Y. Aguilar of Gandara town, some 50 kilometers northwest from Samar's capital, expressed his deep concern before the media over the presence of a group of armed men in his town believed to be a private army of a certain politician in the 1st district.
Aguilar, in a recent interview, aired his apprehensions that this group might sow violence in this year's elections. He cited that the group has already killed two of his barangay captains last year, not to mention those who were terrorized for openly supporting him.
The mayor informed that the existence of the said armed group was first reported during the 2002 Barangay Election where his town became the hotbed of intense political rivalry between the camps of Cong. Reynaldo Uy and former congressmen Rodolfo Tuazon whose wife, Paz, was defeated by Uy in the 2001 congressional race.
To recall, the barangay election in Gandara last 2002 was marred by violence when a shooting incident occurred in Brgy. Burabod I, reportedly perpetrated by a group allegedly associated with Uy's camp.
"But what troubles me is the rumor that most of those who compose the group are notorious criminals," Aguilar noted.
In line with this, the mayor issued a call to the feuding political leaders not to employ violence in the upcoming elections as this will instill fear on the part of the public, thereby affecting the conduct of the said political exercise.
Police authorities in the province disclosed earlier that there were reported sightings of armed men equipped with high-powered firearms lurking in the vicinity of Brgys. Jasmines and Samoyao, interior barangays of the said town.
Another Brutal Murder by NPA Hitmen
By Capt. CROMWELL I. DANGANAN, (INF) PA
January 14, 2004
CAMP LUKBAN, Catbalogan, Samar – An estimated ten (10) New People's Army (NPA) hit men brutally gunned down a militiaman resulting to his instantaneous death in his residence at Brgy Maligaya, Sta Rita, Samar last January 7, 2004 at around 6:00 p.m.
The victim was Cafgu Active Auxiliary (CAA) Antonio Tapac, assigned with 52IB based in Brgy San Eduardo of same town. He received information that there were suspicious armed men seen within the vicinity of said barangay then immediately rushed towards his residence to warn his family. He was barely five (5) meters away from his house when he was fired upon by more or less ten (10) NPA hit men armed with high-powered firearms. The victim suffered numerous gunshot wounds and died instantly.
A male civilian resident was also reportedly wounded during the incident. The assailants are not yet identified and are still at large. This is another tragic incident in recent weeks of brutal killings by NPA hitmen.
A similar incident happened on New Year's Eve last December 31, 2003 when Cpl Monacho, also of 52IB, was killed in his residence and wounded two (2) of his children and the violent incident last November 9, 2003 when TSg Dacles and his son were treacherously murdered in Catbalogan, Samar.
In his statement, MGen Glenn Rabonza, 8ID Commanding General said, "I strongly condemn this treacherous killings and excessive use of force to sow fear in the hearts of the people of Samar and once again call upon our citizens, people's organizations and so-called human rights groups to condemn this terroristic acts."
At present, 52IB is conducting pursuit operations to go after these lawless elements who are terrorizing the people.
NPA Hit Men Kills Soldier Anew in Samar
By Capt. CROMWELL I. DANGANAN, (INF) PA
January 2, 2004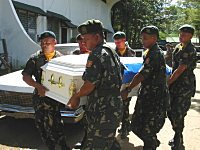 CAMP LUKBAN, Catbalogan, Samar – Six (6) New People's Army (NPA) hit men brutally gunned down a soldier resulting to his instantaneous death and the wounding of two (2) of his sons in his residence at Brgy Tominamos, Sta Rita, Samar in the evening of December 31, 2003 at around 7:50 while the family was celebrating New Year's eve.
The victim was Cpl Alfredo Monacho, assigned with 52IB based in Brgy San Eduardo of same town. His two (2) sons were also wounded as a result of the tragic incident. One of his sons was seriously hit at his right breast and was brought to EVRMC while the other was hit at his thigh and brought to St Paul's Hospital in Tacloban City.
Witnesses disclosed that Cpl Monacho was with his family celebrating New Year's Eve when the violent incident happened. Said armed men intruded into his house, mercilessly peppered bullets to the victim's body instantly killing him and wounding his two (2) sons. The perpetrators immediately fled after the incident and are still at large. Empty shells of Cal .45 ammunition were recovered from the incident.
This is another tragic incident in recent months of brutal killings by NPA hit men. It can be recalled that a similar incident happened last November 9, 2003 when a soldier and his son were executed in Catbalogan, Samar. These terroristic acts clearly demonstrate their disrespect for family values and total disregard of human rights and children's lives.
This is also a blatant violation of the CPP/NDF's Declaration of Ceasefire, which took effect last December 20, 2003 to last until January 4, 2004, requiring all commands and units of the NPA and the people's militia to be in defensive mode in observance of the holiday season.
MGen Glenn Rabonza, 8ID Commanding General, reminded the personnel to be extra vigilant and instituted measures to prevent another violent action by the Communist Terrorists.