Tornado destroys village 50 die in Southern Leyte

By Philippine News Service
December 21, 2003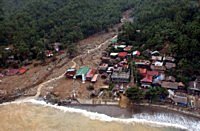 TACLOBAN CITY, Leyte – After heavy rains loosened the soil and triggered landslides that killed 200 in Southern Leyte, a tornado destroyed a remote barangay on a nearby island, leaving at least 50 people dead and 394 families homeless.
The tornado's powerful, twisting windstorm in contact with the ground and a cloud base swept away at least 60 homes in Barangay Pinut-an, San Ricardo, Panaon island about the same time a massive landslide struck the neighboring towns of Liloan, San Francisco and San Vicente Friday night.
A report from Mercedes Aberilla of the provincial social welfare and development office (PSWDO) in Maasin City said the dead in Barangay Pinut-an included former San Ricardo mayor Vicente Mejia, husband of the incumbent mayor.
The toll in Barangay Pinut-an could rise because a number of people remain missing.
In San Francisco, rescue teams recovered and identified at least 33 people; others remain unidentified. Their bodies were laid on the town plaza, awaiting embalming.
Health authorities supervising rescue operations here are complaining of a lack of formalin to mask the stench of decomposing bodies.
To prevent the spread of diseases, relief officials said they would bury unclaimed bodies after three days.
Pleas for help
School teacher Servando Tiu said the voices of victims asking for help could still be heard over some buried homes at the landslide site.
Local authorities said that five days of nonstop rains also brought about massive landslides in other remote barangays in the three towns of Panaon island, though there were no reports of immediate casualties.
The rains also caused Subang Daku, Southern Leyte's largest river, to overflow, spilling its murky waters on the low-lying towns of Liloan and San Vicente and destroying an ongoing flood control project worth millions of pesos.
Survivor's tale
At 10 a.m. yesterday, a survivor from Barangay Punta, San Francisco, was transferred from Sogod District Hospital to the Integrated Provincial Health Office in Maasin City.
Edgardo Subang, 49, said that at 5 p.m. Friday, he heard a loud explosion that sounded like it came from underground. It was followed three hours later by two other explosions.
The second and third explosions did him in, for as he was trying to get clothes from his mother's home, he felt the ground moving quickly toward the sea. He was almost hit by the galvanized iron roof of a falling two-story house.
Caught in the darkness of night with debris from house materials, earth and soil aggregates swirling around him, he was swept to sea more than a hundred meters from where the houses had been.
Pain gripped his entire body, but he kept his head above water for hours, shouting for help. He swam with only his right arm and foot. His left arm and foot were broken.
He was rescued around 1 p.m. Saturday. His wife Merlita Subang, a clerk of the town's legislative council, was still missing, but their only child, a college student, was in Maasin when the tragedy happened.
Identified
Fatalities in Liloan numbered 22 dead, 10 missing; in San Francisco, 33 dead, 65 missing; and in San Ricardo, 50 dead.
They include Petrocinio Benito, 60; Franklin Monter, 27; Boy Malaza, 16; Sinfrosa Subang, 60; Liza Dangoy, 25; Dryll Gaddi, 10; Rogelio Casi; Junrey Gitigan, 20; Glotilde Moreno, 60; Merlinda Sibonga,38; Arnel Sibonga, 23; Caridad Labandia, 50; Romeo Reniz, 40;
Vincent Ortega, 20; Ruby Reniz, 35; Elizabeth Zamora, 20; Abel Maquinano; Ching Galvez; Perly Jane Albino; Marie Maquinano; Genevieve Reyes; Angel Albino; Rachel Maquinano; Renelito Pang; Junrey Pang; Mary Jane Labandia; Baby Zamora; Romeo Mondala, 40; Editha, Mondala, 43; Hesalyn Mondala, 15; Merlinda Mondala, 8; Romeo Mondala Jr. 6;
Reynaldo Yap, 39; Marlyn Yap, 40; Froilan Yap, 13; Jun Ray Yap, 9; Marjorie Baby Yap, 6; Maria Mabalcon, 59; Pedro Mabalcon, 36; Pablo Mabalcon 21; Jimly Mabalcon, 10; Jesus Mabalcon, 31; Jason Mabalcon, 19; Jestoni Mabalcon, 11; Teresita Oranio, 59; Erelene Oranio, 15; and Chrisel Oranio, 9.
Fire Razes 15 Houses in Catbalogan
By BRYAN M. AZURA
December 12, 2003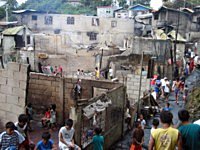 CATBALOGAN, Samar – For the third time this year, this capital town of Samar again experienced the fury of fire when 15 houses turned into ashes early morning of December 12, this year at Purok-1, Casantolan, Barangay Mercedes.
According to the residents of the area, the fire started at about 12:15 midnight when everybody was in deep sleep. "Siguro mga saka-oras pala ako nga nakaturog han makabati ako hin lalaki nga nagkukuru-o hin sunog (I only slept for about an hour when I heard a man shouting 'fire.')," said Arnold Aguilar. "I immediately awoke my household and evacuated the area," he narrated in local dialect. Fortunately his house was not included in the fire.
In the spot report of the Catbalogan Bureau of Fire Protection, the fire was believed to have originated from the house of a certain Simplicio Navales. While the BFP does not have any clue yet as to what's the cause of the fire, the residents of the area think it was really motivated.
Navales is known among the neighborhood to be not in good terms with his wife due to jealousy. Nearby families have been witnessing some heavy quarrels between Navales and his wife for sometime now. "Pirmi kami nakakabati hito ha ira nagaaway. Guin duduhan ito niya it iya asawa nga may-ada kabit sanglit guin sunog an ira balay (We usually hear them fight. He believes his wife has another man so he burned their house.)," said a woman who asked not to be named.
Some of the witnesses saw Navales jumping off from their house to the river when the fire started. He was nowhere to be found since the fire occurred.
The fire was reported to the fires station at about 12:45 midnight and was confined at about 2:20 in the morning. Strong winds and accessibility were attributed to the difficulty of firefighting. One house had been intentionally destroyed so that the fire will be contained making the total number of houses damaged from 15 to 16.
All the four fire trucks of Catbalogan BFP had been deployed. Fire trucks from Gandara, Sta. Margarita and Calbayog City fire stations, as well as the Chinese Volunteer Fire Brigade of Catbalogan responded to the fire call.
Meanwhile, there was no casualty that had been reported. The investigators as of press time did not verify the damages of properties yet.
Mayor Redaja and Cong. Nachura clash on Catbalogan City Hood
By BRYAN M. AZURA
December 12, 2003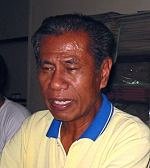 Mayor Redaja
CATBALOGAN, Samar – "He started the joke, I'll finish it," were the strong words of Catbalogan Mayor Jesus B. Redaja referring to Congressman Eduardo "Eddie" Nachura of Samar's 2nd District on the revived Catbalogan city hood issue.
Redaja apparently became irked on an article in the very recent issue of ATON INI, a newsletter published bimonthly by the Office of Congressman Nachura regarding the "real score why Catbalogan is not yet a City." The article implied that the latter's office had been doing its best in the 11th Congress so as to pass House Bill 9403, the bill converting the municipality of Catbalogan into a City.
The article noted that while the bill was in the Committee on Local Government, he (Nachura) was given a list of requirements for the approval of the bill. It claimed that he immediately sent these requirements to the office of the Mayor of Catbalogan but it took the latter to submit the needed requirements long. "When it was eventually submitted, it lacked the Map of Catbalogan, Municipal Development Plan, Ordinance on Zoning and Land Use Plan and a document from the Municipal Engineer attesting that the local government has plans for facilities on garbage and drainage systems," the article said.
However, Mayor Redaja belied all these saying that when they submitted the requirements, everything was in there. "There was no lacking in the requirements when we submitted it to Congress," Redaja tells local mediamen in dialect. "As a matter of fact," he added, "Nachura is not even the initiator of the city hood of Catbalogan. It is the LGU officials that initiated this."
The chief executive of this town also denied claims of Nachura that he constantly communicated the office of the Mayor. "We did not receive any communication whatsoever from him except this November 2003," he told.
The town chief also expressed that neither the LGU nor the lack of requirements that should be blamed because obviously it's the turn of events that's the main factor of this. He was referring to the chaos happening that time due to the rumored impeachment of then President Joseph Estrada. These rumors did not take so long because by November 2000, the year when the HB 9403 was filed, the impeachment trial started that eventually led to the ouster of Erap.
Unfortunately, just while the crisis was going on, Republic Act 9009 was passed into law increasing the required annual income of a municipality applying for city hood from P20 million to P100 million starting June 30, 2001. This eventually disqualified Catbalogan to apply for city hood in that its annual income could not go higher than P60 million.
However, with the push from other town-applicants, Catbalogan once again joined the quest among others to become a city. In September 9, 2003, ATON INI reports "Congressman Nachura and some other Congressmen submitted Resolution No. 29 exempting Catbalogan and some other municipalities from the required annual income of P100 million." Once more, the article called on the concerned municipal officials of this town to be responsible on the needed documents.
Redaja, on the other hand, answered, "we [the LGU] have always been religious in submitting all the necessary requirements because this has been the desire of everyone ever since. I myself am looking forward to the transformation of my town into a city because this also means development and an increase in Internal Revenue Allotment (IRA)," he said.
The mayor further exposed that "at one time the congressman even asked him not to pursue the city hood because it would be of no use to him (mayor) anyway. Never did he initiate that this town be a city." "One of the disgusting discoveries we made," Redaja added, "is that Nachura is not even one of the co-sponsors of Resolution No. 29. Much more, he did not re-file the bill in the 12th Congress."
Just at the start of December, this year, Mayor Redaja sent separate letters to Senators John Osmeña and Aquilino Pimentel appealing for their support on House Joint Resolution No. 29. These letters reached the offices of the senators but have not been replied yet as of news time.
Asked why Nachura is putting much blame on his office, Redaja answered, "Possibly it's because of the rumors going around the 2nd district that I'll run for the congressional seat come 2004." Redaja however disclosed that he has not made any decision yet. He promised on the other hand that the public would know of his political plans before the first half of December ends. see related story
Reds Eye More Seats in 2004, Military Authorities Bared
By ELI C. DALUMPINES
December 12, 2003
CATBALOGAN, Samar – Military authorities here disclosed recently plots of the left to field more candidates in this coming May 2004 elections in an effort to secure more seats in the governments.
Lt. Col. Romeo Gapuz, commanding officer of the army's 34th Infantry Battalion stationed in San Jorge town, some 35 kilometers northwest from Samar's capital, said the political arm of the left has already been conducting massive mobilization drive to organize its mass base in preparation for the upcoming elections.
According to Gapuz, the army project that before the year ends the number of NPA affected barangays in Eastern Visayas will reach 491, which represents 14.8% of all the barangays in the region, this, despite the army's reported success in checking the NPA activities in this area.
He said that while the armed forces is winning the armed struggle, the enemy, on the other hand, is showing success in the political mobilization as shown by its growing mass base.
The army commander expressed his misgivings over the lack of support of some government agencies and local government officials in addressing the problem of insurgency. The army's primary role in addressing the problem should only be to combat the communist's armed component that is the New People's Army but at present, he noted, they are left entirely alone to address all aspects of the problem including its political and organizational components.
Col. Gapuz urged the concerned officials to be vigilant and proactive especially now that the election is forthcoming. "The 2004 election is our last bastion against the enemy's takeover. Baka di na tayo aabot sa 2007", he warned.
However, he vowed to secure next years election from violence saying that the army has already come up with a plan on how to prevent violent activities from erupting during the conduct of elections.
8ID Opens New Candidate Soldier Class
By Cpt. CROMWELL I. DANGANAN (INF) PA
December 8, 2003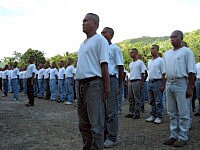 CAMP LUKBAN, Catbalogan, Samar – The 8th Division Training Unit, under LtC Romeo Argenio opened the Philippine Army Candidate Soldier Class 71-2003 for new recruits, today, 08 December 2003 at the 8ID Grandstand, Camp Lukban, Catbalogan, Samar.
In attendance was the 8ID Commanding General, MGen Glenn J. Rabonza, who was the Guest of Honor and Speaker. In his message, MGen Rabonza said, "This is another challenge to the training committee to mold these men into fine soldiers." He added, "The transition from a civilian life to a life of military service is a delicate stage in any soldier's career. This responsibility lies heavily on the shoulders of 8DTU – take good care of these men."
It can be recalled that a total of 2,115 applicants took the Phil Army Aptitude Test Battery Exam conducted last August 2003 in three areas of Region 8 where 992 passed. From there they hurdled the interview made by the 8ID CS Screening Board then went through the comprehensive medical and dental examination. Of the 385 new recruits, 244 are natives of Samar and Leyte. They have passed the necessary requirements to qualify for training and shall be enlisted to the regular force once they've completed the 19-week course. Last November 29, 240 new privates graduated from their Candidate Soldier's Course and are now deployed in the different units of the Command.
6.6 Earthquake jolts Samar Island
By RAY P. GASPAY
2:15 p.m. November 19, 2003
CATBALOGAN, Samar – The Office of the Civil Defense in Tacloban City received reports that one (1) person have died when an earthquake of magnitude 6.6 in richter scale struck early this morning in Samar island. The victim was identified as a certain Marvin Laguin, 5 years old, and a resident of Brgy. 9 in Can Avid, Eastern Samar and died when he was hit by a falling wall.
The quake also caused some major cracks to the Can Avid State College building prompting to suspend the holding of classes of the said school, and a landslide of the north diversion road in Brgy. Dinaluan, Taft, Eastern Samar which make the area still impassable to vehicles as of press time.
The whole province of Eastern Samar is experiencing a total blackout since early this morning due to some fallen electric transmission poles caused by the strong earthquake.
posted 3:20 a.m. November 19, 2003
CATBALOGAN, Samar, Philippines - A strong earthquake of tectonic origin with a magnitude of 6.6 in Richter scale hit near the vicinity of Catbalogan, Samar November 19, 2003 at about 1:15 a.m. Philippine Standard Time.
Based on the report from the Philippine Volcanology and Seismology (Phivolcs) based in Palo, Leyte the surface epicenter of the tremor was established at 11.9ºN latitude, 125.1ºE longitude or at 37 kms. northeast of Catbalogan, Samar.
The origin of the quake (depth of focus) was at 191 kms below the surface epicenter (earth's surface) and its intensity was felt at Intensity 6 in Borongan, Eastern Samar; Intensity 5 in Catbalogan, Samar and Calbayog City; Intensity 4 in Catarman, Northern Samar, Tacloban City and Dimasalang, Masbate; and Intensity 2 in Legaspi City.
No damage to properties and casualties were reported as of press time.
PRESS STATEMENT of the 8ID Commanding General: On TSg Dacles Murder by the NPA
November 12, 2003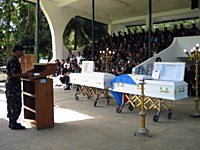 CAMP LUKBAN, Catbalogan, Samar – The Communist Terrorists are once again on a rampage killing three (3) victims in a span of five (5) hours in Catbalogan, Samar. The first incident involved three (3) New People's Army (NPA) hit men who brutally gunned down a soldier and his ten-year old son last Sunday, 09 November 2003 at around 2 o'clock in the afternoon at Brgy. (13) Patag, Catbalogan, Samar, then at around 7 o'clock in the evening of the same day, a former barangay chairman was executed at one of the stalls in the Catbalogan Public Market.
The victims were TSg Jesus Dacles, assigned with the Division Headquarters in Camp Lukban and his son, Jhonjhon, ten years old, who have just attended the Sunday Worship Service at the Pentecostal church located at said barangay. TSg Dacles was with his family when the violent incident happened. The other fatality was identified as Felimon Silao, a former barangay chairman and a resident of Purok 2, Brgy. 13 of Catbalogan.
According to the autopsy conducted to Tsg Dacles, it was found out that he suffered eighteen (18) gunshot wounds and was declared dead on the spot. According to witnesses, his son Jhonjhon was also mercilessly killed as evidenced by the two (2) gunshot wounds in the head and upper body inflicted on him. His wounds show indications that he was shot from close range and not as a result of a crossfire. He was pronounced dead on arrival at the Samar Provincial Hospital here in Catbalogan.
TSg Dacles and his son were murdered according to eyewitness reports by Communist Terrorists Members (CTM) Bernabe Linay alias Gagoy, married, about 35-40 years old and a resident of Brgy. Peña; Ernesto Laboc alias Malcolm of Brgy. Totoringon; and a certain alias Bambie all of Catbalogan, Samar. Said CTMs are regular members of the Arnulfo Ortiz Command, CF-S, EVRPC. Criminal charges are being filed against the perpetrators of this cruel incident.
"This incident confirms that the CPP/NPA is a God-less organization and do not value human dignity. The cold-blooded murder and excessive use of force to sow fear in the hearts of the people of Samar is a trademark of a terrorist organization. Indeed, the Communist Terrorists resort to terroristic acts with total disregard of human rights and children's lives."
"As Commanding General of the 8ID, I condemn this murder of TSg Dacles and his son in the strongest possible terms. I call upon our citizens, people's organizations and so-called human rights groups to condemn the NPA as well."
"I would like to further assure the people of Region 8 that the 8th Infantry Division in close coordination with the Philippine National Police will relentlessly pursue these lawless elements who are terrorizing our people."
MGen. Glenn J. Rabonza, AFP, Commanding General, 8ID, PA
Class '78 to host SNS Centennial Grand Alumni Homecoming 2004
By RICKY J. BAUTISTA
November 3, 2003
CATBALOGAN, Samar – The Class 1978 graduate of the Samar National School (SNS) will host Grand Alumni Homecoming 2004 at the same time will celebrate its 100th year since it was founded in 1904. With the theme: "Kaadlawan Na! Rayhak Pasidungog!" the Samar High School / Samar National School Alumni Association will hold its Grand Alumni Homecoming 2004 this coming April 19-25, 2004.
Host Class President, Atty. Medino L. Acuba, said the theme was formed as part of rejoicing and giving honor to their beloved Alma Mater SNS as an Academe Institution, where, according to him, is celebrating its 100th year since it was founded in 1904. "At this very early days, we have so many initial plan activities to the homecoming next year, among which, was the preparation of the souvenir program – Samarnon 2004 and Alumni Directory which shall cover the pre-festivities; the usual literary articles on the Golden Batch '54 and silver jubilarians Batch '79; the prize donors and greetings from fellow alumni, friends and advertisers."
He further adds that this souvenir program will be distributed at least 3 days before the opening of the alumni homecoming week. The commemorative and the search of the 100 Most Outstanding Alumni of the Samar National School (formerly Samar High School) are among the highlights of the centennial celebration. Other activities are not yet finalized as of this writing, lawyer Acuba said. Through this electronic means, he took opportunity in inviting his fellow alumnus now working and residing in the United States and in other countries to attend and or to support the activity through advertisement cum greetings placement in the souvenir programs, raffle draws, and giving of awards to winners of whatever contests it may be held during the events.
The deadline of ad placement to the souvenir program will be closed on or before January 31, 2004. The donation of any cash assistance is, however, extended up to the day of the event. To interested party or parties for an ad placement, payments can be in any form of cash, check or postal money order payable to SNS Class 78' or further queries may be obtained at Class 1978 or its representatives or thru e-mail address snsbatch78@bitsnbytes.com.ph
The SNS Class 1978 officers are: Atty. Medino L. Acuba, President; Vice-Presidents: Eduardo V. Aroza (Catbalogan), Webina Uycoque-Abaigar (Manila), Mildred Dimaculangan-Aseron (Manila), Maridi Villarin-Avila (Canada), Josephine Vasquez Calagos (Australia) and Alfonso Japzon (Califomia-USA); Secretaries- George P. Alvares, Martin G. Fenelere, Lailani Laureta-Doncillo and Charito Misagal (Manila); Treasurers- Leah Daguman-Cinco, Maricar Saludario, Milagros Cinco (Manila) and Sol E. Acampado (New Jersey-USA); Auditors- Zosimo Isanan, Elvira Jacob-Ilao, Arlene Rodriguez-Jabinal and Nelly Gerente-Mahinay; Business Managers- Edwin Rodulfa, Mario Perez, and Zaldy Mahinay; PRO- Antonio Nabaunag, Deo Daguman, Nelly Ann Macopia, Rosalinda Luceriano-Bayani and Imelda Cortan-Dabuet; Board of Directors- Marion Calagos, Christine Casurao-Caidic, Maria Gabiana-Ortiz, Ferdinand Bacay, Arthur Vaughn Zosa, Christine Mijares-Cardona, Dativic Rosales, Teresita Timan-Abunal and Nilda Bolledo-Velasco; and Board of Trustees- Medino L. Acuba, Ernesto Sison, Sylvia Serfino, Charo Nabong-Cabardo, Ofelia Llosa, Ernesto Miel and Alex Labine.