By ROMUEL A. NACAR
May 5, 2004
CAMP LUKBAN, Catbalogan, Samar – The security preparations of the Philippine National Police for the May 10, 2004 National and Local elections are all set and aimed at neutralizing the factors that will threaten the peace and order situation in the country. Efforts are also in place to maintain peace in areas affected by intense political rivalries through peace covenants among candidates and police operations to prevent election-related violent incidents.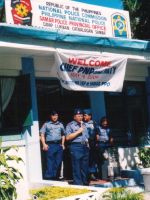 PNP Chief Police Director General Hermogenes E. Ebdane, Jr. in his recent visit to Samar Police Provincial Office yesterday, May 4, 2004, said that the conduct of peaceful election should be an interplay of teamwork among concerned agencies. The PNP and AFP take charge of the peace, order and security concerns while other agencies like COMELEC, DECS, and other groups should take charge of credible result.
"The PNP must maintain neutrality and be an apolitical organization by staying away from partisan politics." Ebdane told the Officers and men of Samar PPO led by Police Senior Superintendent Conrado V. Calvario, Samar PNP Provincial Director. He added that checkpoints operations should be placed in high gear to seriously implement the gun ban and other prohibitions during the campaign period.
Aside from security preparations for the election period, the PNP came up with another directive requiring all PNP units to further upgrade the security measures on vital installations and critical infrastructure to include counter-actions against possible attacks by the terrorist groups, particularly the Abu Sayyaf. Documents found recently by the PNP Intelligence Group in the possession of ASG members recently contain hit list codes and bombing targets particularly communication and transportation facilities, government installations, power plants, water supply lines, houses of worship, recreational areas and business centers.
In Samar province, the Samar Police Provincial Office under Police Senior Superintendent Conrado V. Calvario, Samar PNP Provincial Director, have already undertaken several courses of action in preparations for the coming elections, among them the activation of the Provincial / City / Municipal Election Monitoring Action Center (PEMAC / CEMAC / MEMAC) to monitor and dispatch on all election matters; conduct of information drive, motivational enlightenment and value formation among PNP personnel to set their mind in the forthcoming 2004 elections; conduct of mobile patrol/checkpoint along strategic areas; organization of platoon size of reserve personnel for immediate deployment; close coordination with the 8th Infantry Division, Philippine Army and the Comelec; and conduct a fortnightly political assessment of the provincial peace and order situation.
Since the start of election period, the Samar Police Provincial Office had established a total of 10 Comelec checkpoints province-wide which has resulted in the arrest of 20 persons, confiscation of 15 loose/unlicensed high-powered and low-powered firearms and several rounds at ammunition, and the filling of 13 cases in court.
AFP Vice Chief says situation in 'Samar not so alarming'
By ELI C. DALUMPINES
May 3, 2004
CATBALOGAN, Samar - Despite a number of reported killings in the province resulting from election-related violence, the situation in Samar is not yet on a level that will cause alarm to the entire nation, Armed Forces Vice Chief of Staff Lt. Gen. Rodolfo Garcia said.
According to Gen. Garcia, compared to some provinces in Northern Luzon and Central Mindanao, Samar remains relatively calm and manageable except for some sporadic cases of violence triggered by the intense rivalry of some political leaders in the province.
As of press time, the death toll resulting from this election-related violence since December of last year has already reached 26, most of which happened in Samar's 1st District. This is not to mention those who were seriously injured which, according to reports, is double that number.
The AFP Vice Chief, however, assured that the armed forces is ready to assist the Commission on Elections (Comelec) and the Philippine National Police (PNP) in securing this year's elections.
Meanwhile, Gen. Garcia commented that the communist New People's Army (NPA) deserved the terrorist tag in the light of recent developments one of which is the imposition of permit to campaign (PTC) fees while harassing candidates who refuse to pay. This, he said, is tantamount to extortion.
The recent victim of NPA extortion was Jiabong re-electionist Mayor Chanita Gabieta who was detained by the rebels for about three days in a hinterland barangay of the said town more than a week ago.
Gabieta, together with her party mates, was released after allegedly paying P400,000.00 to the rebels. She, however, denied the report.
Gen. Garcia blamed the local candidates for giving in to the rebels' demand instead of coordinating with the army to provide them with security escorts in conducting campaigns to rebel-influenced barangays of the province.
He likewise condemned the rebels for this act which, according to him, is just a little short of kidnapping for ransom done by the Abu Sayaff Group (ASG).
Highway robbery incident victim killed
By ALVIN DEVARAS
April 17, 2004
CATBALOGAN, Samar - At around 5 a.m. of April 14, 2004, a hold-up/robbery incident transpired in Calbayog City victimizing three private individuals on board a private vehicle from Manila on their way to Ormoc City.
Edgardo Roble of Isla Verde, Ormoc City together with his driver Ramon Pollesco and a certain "Macmac" while on their way to Ormoc City from Allen, Northern Samar on board a gray Pajero van were flagged down by three unidentified hitch hikers at the vicinity of Bgy. Dapdap, Allen.
Upon reaching the vicinity of Bgy. Cagmanipis, Tinambacan District, Calbayog City, the hitch hikers declared hold-up subsequently pulling out their firearms, two (2) M16 rifles and an Uzi machine pistol. The suspects took the wallet of Roble containing P7,000.00 cash and ATM card as well as Roble's Rado watch and other personal belongings.
The suspects immediately alighted and strafed the vehicle killing Roble and wounding Pollesco then hurriedly escaped to an unknown direction using the Pajero vehicle and taking with them Macmac.
Pollesco was brought to St. Camillus Hospital in Calbayog City while the cadaver of Roble was brought to one of the funeral parlors in Calbayog.
An Samar Naman movement formed
By ALVIN DEVARAS
April 17, 2004
CATBALOGAN, Samar - A Catbalogan-based civil society group called "An Samar Naman Movement" was recently organized in Samar province, with its initial 160 members vowing to protect the major resources for the prosperity of Samar, the environment, the people, and the taxes which the government collects from the people. To date the number of membership escalated to more than 12,000 according to its founding director Imelda Bonifacio.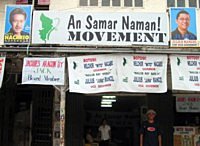 The group was organized by founding members, among whom are, Melchor "Mito" F. Nacario of Calbiga; Julius Mancol of Calbayog City; Egan Gabon of Motiong; Imelda Bonifacio of Matuguinao; Pedrito "Pedray" V. Lancanan of Basey; Benjie Bernales, Boy Bohol, Goyo Piczon, and Luisito Uy all of Catbalogan. Nacario is the incumbent Mayor of Calbiga and Provincial Chapter President and National Executive Vice-President for external affairs of the League of Municipalities of the Philippines.
Elected as its pioneering officers representing the different sectors of the society are: Goyo Piczon as chairman, Remy Laurel and Egan Gabon - vice-chairmen, Merlinda Babatio - secretary-general and Imelda Bonifacio - treasurer.
An Samar Naman was purposely organized to empower the local populace and impose the people's will on government by actively pursuing reforms particularly keeping an eye on corruption, environment, economy, peace and order, health, welfare of the sick and elderly and education.
"Our power, our vote. Our arms, ballpen. Our opportunity, the coming elections," is the guiding principle of the members of the organization.
Meanwhile, to properly guide the members in the advent of the elections, the movement initially drafted the following rules which it calls as its "Ten Commandments for Responsible Voting":
(1) thou shall vote according to the dictates of your conscience; (2) thou shall respect the decision of others in choosing their candidates; (3) thou shall seek to know the moral integrity, capabilities and other personal qualities of the candidates you will vote for;
(4) thou shall strive to understand the issues, platform and programs of candidates and political parties seeking your vote; (5) thou shall not sell your vote; (6) thou shall not vote for candidates using guns, goons, and gold;
(7) thou shall not vote for candidates with record of graft and corruption; (8) thou shall not vote for candidates just because of utang na loob, popularity or pakikisama;
(9) thou shall not vote for a candidate living an immoral life; and (10) thou shall not put the welfare of the country above all else in choosing the candidate you will vote for.
The an Samar Naman holds office at the second floor of BBB Bldg. along Del Rosario Street, Catbalogan, Samar.
Local media group launches Candidates' Forum for television
By RAY P. GASPAY
April 13, 2004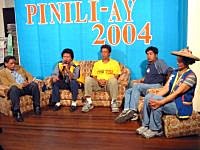 CATBALOGAN, Samar -- The Catbalogan Cable TV Media Advocates Nucleus (CCATMAN), a local media group based here in Catbalogan, Samar launches the first for a series of forum for local candidates running in different elective positions, last night at the Samar Reporter office in this municipality.
Dubbed as Pinili-ay 2004 – The Candidates Forum, the program which is aimed to discuss the different political issues for the coming May 10 election will run for television in twelve (12) episodes starting April 13 until May 8, 2004.
Hosted by renowned TV host-journalist Chito dela Torre, the program is telecast daily thru the facilities of Decobeam Cable TV Services and with the participation of the Philippine Information Agency (PIA-Samar), Samar Reporter, 92.1 HotFM-Catbalogan and the Samar News.com.
Samar High School Alumni in the US mobilizing support for their Alma Mater's Centennial Celebration
By CESAR TORRES
April 5, 2004
SAN FRANCISCO, California -- The alumni of the Samar High-Samar National School in the US West Coast and all over America has been mobilizing for the past several weeks to support the activities connected with the Centennial Celebration and the Annual Grand Alumni Reunion which is scheduled on April 19 through April 25, 2004.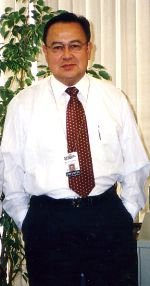 Mr. Sonny Cabrales Jr. of Class '64
Anastacio "Sonny" Cabrales, Jr., Valedictorian of Class '64 has been at the forefront of the mobilization in the USA. As lead of the Book Donation Project to their high school (and possibly to Sonny's hometown of Calbiga) Sonny has generated more than $1,000 by requesting his fellow Calbiganons in Southern California to contribute to the Samar High Alumni Fund even during their novenas in preparation for the annual Calbiga fiesta in Los Angeles. He has personally contributed $200 to the fund drive. In addition, just last week, he shipped three balikbayan boxes of books to the Samar High School Library, at his own expense. His fellow alumni, especially members of his Class of '64, such as Adelia "Ditdit" Varela-Ramos and Federico Ty are now coming forward to offer their support.
Another alumnus who has been a constant supporter of all Samar High activities is Max G. Alvarez, Valedictorian of Class '57. An accomplished and famous Filipino journalist in the US and the Philippines, Max has become the foremost publicist for the Samar High-Samar National School in the US. He has been writing and publishing all materials that have been presented to him by the alumni organizers in Catbalogan, Samar: Sylvia Cadiz-Serfino, Charo Nabong Cabardo, Lourdes Calubid-Badulid, and Atty. Medino Acuba. Max is being supported by his classmates in the US and Canada: Jenny Castro-Enriquez, Dolores Froilan-Fernandes, Zenaida Cabrera, Igmedia Ingo, and Cesar Torres.
Ms. Dolores Froilan and husband, Terry Fernandes, of Canada, are donating the P7,500 cash prize to the Centennial Outstanding Administrative Staff Worker.
Other Samar High-Samar National School alumni who has been tapped for support are Mrs. Paz Figueroa-Japzon who is donating the P10,000 prize to the Most Outstanding Centennial Teacher, Mr. Benny Cojuangco of Class '58, Ms. Gilda Cabrales del Pilar, Ms. Soccoro "Coring" Ygat-Segado, Ms. Bebot Nabong-Samson and husband Tony Samson, Ms. Zenaida Zeta-Teoco who was a Miss Samar High School Queen during her high school days, Mr. Nario del Rosario who chairs the ad hoc "Samar High-Samar Nationl School Alumni Association of North America", Mr. Ben Corrales, former Region VIII Regional Director of Science and Technology, Mrs. Beatrice Rosales-Duran, Mr. Jesse Ty, the Margate Brothers (Joseph, June and Walter), Mr. Peter Padul now President of the Samareños of California, Ms. Florita Obsequio-Oca, Mrs. Oswalda Ricaldo Leyson, Ms. Felisa Tandinco-Hilbano, and Ms. Rosenda "Baby" Lim-Paus and Mrs. Ester Ocenada-Benigno who donated more than $200 to the alumni fund raising in February 2000.
But Leah Yangzon-Estera and husband, Ben Estera, have been unwavering in their support of the Samar High activities in North America.
A Steering Committee to plan, manage, and oversee the Centennial Celebration has been organized with Atty. Medino Acuba of Class '78 and Mr. Antonio Caveiro, the School Officer-in-Charge, as the co-chairs of the Committee. Other members include: Sylvia Cadiz Serfino, Secretary; Ophelia Suarez-Llosa, Treasurer; Carlito Labine, Silver Jubilarian; Lourdes Calubid-Badulid , Alumni Coordinator; Charo Nabong-Cabardo; Rocky Tizon; Ernesto Tizon; Ernesto Miel; and Cesar Torres.
To memorialize the Centennial Celebration, a SHS-SNS website (http://shs-sns.gopages.net/index.htm) has been authorized by the Steering Committee. Ms. Kezia Lounel C. Badulid is the interim webmaster and administrator. Massive support was extended to this website creation by the alumni in America which was channeled through Class '57. A Pentium III computer was shipped to the Philippines. Peripherals, printer, scanner, etc., were acquired. Financial support was also extended to support the creation of the website.
A special issue of the Samar High's school paper, The Centennial Samariñan, is being put out with Class '57 at the lead. However, Ms. Christine Casurao-Caidic of Class '78, the Host Class, and Ms. Mariecris Sabugo of Class '97 and Mr. Amador Hurtado of Class '57 are helping coordinate the publication in Catbalogan.
E-mail Cesar Torres at Cesar1185@aol.com.
By RAY P. GASPAY
April 4, 2004
CATBALOGAN, Samar - Newly designated municipal mayor of Tarangnan, Samar Francisco B. Montero was shot dead by still unidentified suspect at about 2:00 pm yesterday, April 3, 2004 in the vicinity of corners Rizal Avenue and San Bartolome Street, this municipality.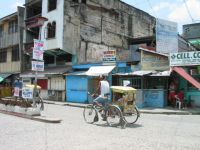 The crime scene. Victim was shot where the pedicab is located
According to the initial investigation conducted by the Catbalogan Police Station, the victim was shot while crossing Rizal Avenue together with his nephew Erwin Montero by an unidentified gunman wearing a dark jacket and a black crush helmet and riding together with a companion in a black single Honda motorcycle, and immediately fled to unknown direction after the incident.
The 54-year old victim suffered a fatal gunshot wound on the nape and was rushed to the Samar Provincial Hospital but died few minutes later while undergoing medical treatment. Police identified a .45 caliber pistol used as a weapon as evidence to the empty shell recovered at the crime scene.
A pursuit operation was immediately conducted by the Catbalogan Police Station to identify and arrest the suspects, while police stations along the highway were requested to conduct checkpoints for their possible arrest.
Montero, who is seeking for re-election under the Liberal Party was an elected vice-mayor but he assumed the mayoral post after Mayor Anieto C. Olaje died in an ambush in Calbayog City on February 28, 2004. Olaje was shot dead by two assailants while having his supper inside a cockhouse.
Eddie Nachura Guest of Honor of Samareños of California
By BENNY COJUANGCO
March 17, 2004
SAN FRANCISCO, California, USA -- Congressman Antonio Eduardo "Eddie" Bermejo Nachura, of the Second District of Samar, after years of repeated invitations, has finally made it as the Guest of Honor of the Samareños of California on the association's 35th annual reunion which coincided with a Valentines celebration on February 14, 2004.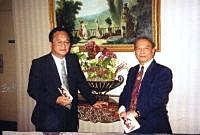 The affair which was held at the Sheraton Gateway Hotel in Burlingame, California, a suburb of San Francisco, was attended by approximately 250 Samarnons and their guests. Heads of various Samarnon and Filipino organizations in Northern California graced the occasion. A special guest was San Francisco Consul General, Delia Menez Rosal whose mother hails from Calbayog City. The Consul General and Congressman Nachura danced the curacha.
Reputed to be the most preeminent Samarnon leader in this generation, Nachura spoke of the provisions of the Overseas Absentee Voting law and the Dual Citizenship law which grant new rights and privileges to overseas Filipinos, even to those who have acquired American citizenship or the citizenship of their adopted countries. He pointed out that in addition to remitting financial assistance to their loved ones in the Philippines, the overseas Filipinos can have a tremendous impact on the process of policy-making and implementation if every now and then they can have their ideas presented to the appropriate officials and bodies in the Philippines.
Nachura reminded the Samarnons that there is so much that they can do to help their fellow Samarnons back home, especially in the area of education. A former Underscretary of Education, and a sought-after professor of law and lecturer in the most popular colleges in the Philippines including the UP, Nachura proudly shared with his audience his program of massive educational assistance to the youth in Samar. At one time, he informed the group, he had 360 college students pursuing various degree programs in Samar and in Tacloban. Some 72 "Nachura Scholars" have already finished college. One of them, Joann Solayao, graduated cum laude in education from the soon-to-become the Samar State University. The honor graduate's mother is a humble laundry woman who is married to a stevedore in the port of Catbalogan.
Nachura also pointed out the massive environmental destruction of the jungles and forest cover of Samar by powerful Filipinos who did not even hail from Samar. He assured the group that together with other concerned Samarnons including the Catholic Church, he vows to fight for the protection of the forest reserves of Samar.
Speaking without notes, Congressman Nachura regaled his audience with his mastery of the various policy issues concerning the Philippines and Samar. He ended his discourse to a thunderous clapping of hands.
Nachura was introduced by former UP Political Science Professor Cesar Torres who was president for five years of the Samareños of California. In his introduction, Torres shared his sentiments to the group that Congressman Nachura makes up for all those unflattering impressions concerning the Samarnons. He referred to Nachura not only as the best example of a Samarnon role model but also to all Filipino youth: an intellectual, a brilliant thinker, a popular law professor, a legal luminary, an author of books and legal journals, a bar topnotcher, and a legislator who has gained the respect and admiration of his peers in Congress when they elected him chair of the Committee on Constitutional Amendments and the Committee on Higher and Technical Education and House Prosecutor on the impeachment of President Joseph Estrada.
Peter Padul, President of the Samareños of California, expressed his gratitude to Congressman Nachura for taking out from his busy schedule in Samar and the Philippines just to accept the invitation as Guest of Honor of the annual gathering of the Assocation.
Arriving on February 12, 2004, and visibly exhausted from his hectic and continuous attention to the myriad problems in Samar and the Philippines, Nachura politely declined the invitation to speak before a forum organized by Filipino journalists in San Francisco, a radio interview of a Filpino radio station, and a gathering of Filipino veterans and seniors. But he did pay his respects to the home of Samar High School Alumni Association Chairman, Nario del Rosario and his wife, the former Evie Piczon, where he proposed the construction of a Faculty Lounge in the Samar High School campus in cooperation with the Samar High alumni. If things go according to plan, Nachura believes that the Faculty Lounge can be inaugurated in December 2004.
From San Francisco, Congressman Nachura flew to Los Angeles on February 16, 2004 where he was given a massive media coverage by the Filipino media on the initiative of Max G. Alvarez and his friend, Bobby Reyes.