Rep. Eddie Nachura Says ConCon Election Probable in 2005
By BOBBY M. REYES
February 22, 2004
LOS ANGELES, California, USA - Rep. Antonio Eduardo B. Nachura (Liberal Party-LAKAS Second District, Western Samar) spoke yesterday before the 688th meeting of the Media Breakfast Club (MBC). The meeting was held at the Social Hall of the Filipino-American Community of Los Angeles (FACLA) in the Historic Filipinotown of Los Angeles, California.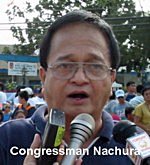 Congressman Nachura is the chairman of the House of Representatives' Committee on Constitutional Amendments. He spoke before a motley crowd of Filipino-American journalists, community leaders and World War II veterans. He said that his congressional committee conducted consultation meetings with the public in the cities of Bacolod, Baguio, Butuan, Cagayan de Oro, Cebu, Davao, Iloilo, and Naga and twice in Metro Manila. He said the public is in favor of having a constitutional convention (ConCon) with the delegates being chosen in an election possibly in 2005.
Mr. Nachura said that among the issues that the public wanted tackled by the ConCon are the adoption of academic qualifications for elective officials, the Federal Republic system of government and other issues. He posed a challenge to the Overseas Filipinos to participate in the coming process to amend the 1987 Freedom Constitution of the Philippines.
Taking advantage of the Valentine's Day decorations still displayed at the FACLA Social Hall, Representative Nachura spoke also of love. Yes, love of country. He said that he has met a lot of Overseas Filipinos who still professed love of the motherland and who would like to return home to manifest this love.
He briefed also the MBC forum participants of the Absentee Voting and Dual-Citizenship Laws. He emphasized that Overseas Filipinos who reacquire Filipino citizenship do not have to pay income tax on their foreign earnings. They shall be taxed only on income derived from Philippine sources. Yes, he said that inheritance and estate taxes would apply also to dual citizens on Philippine properties that they would acquire or inherit. He said that there is the derivative benefit of reacquiring Philippine citizenship. This means that minor children below 18 years of age automatically become also dual citizens.
During a question-and-answer portion of the Town Hall-style meeting, Representative Nachura cited three major undertakings that he has initiated. He said that he introduced measures that improved the productivity of the rice-sufficiency program not only in his district but also on the entire Western Samar province. There are more than 200,000 hectares devoted to rice growing but only five-percent is irrigated. His pet legislation created a two-hectare demonstration rice farm where farmers were taught modern technology that more than doubled the rice-production output (up to 175 cavans of rice per hectare) with the use of small irrigation pumps and certified seeds.
He said that the second thrust of his program was in education where in his province 60% of elementary pupils drop out after the fourth grade. He said that only 20% to 25% of elementary students managed to go to high school. His legislative track record includes the creation of nine barangay high schools and 350 scholarships for the poor but deserving students. Seventy-two scholars that he has sponsored already finished college. And among them is a cum laude graduate whose parents were a laundry woman and a stevedore in the port of Catbalogan. He is currently working on the first state-owned university to be established in Samar.
The third thrust of his program was in road construction. He has sponsored legislation and obtained funds from the national government to have the road cemented from Tacloban City (Leyte) to Calbiga (Western Samar). Together with the other congressmen from Samar, they are working on extending the road-improvement from Calbiga to Catbalogan to Catarman and Allen in Northern Samar.
Congressman Nachura was a topnotcher when he took the Bar exam as an alumnus of San Beda College of Law, where he graduated with honors. He became a law professor in his alma mater and seven other colleges and universities. He became the dean of the Arellano Law School of the Arellano University from 1992-1994.
Mr. Nachura arrived in Los Angeles from a speaking engagement in Northern California where he was a guest of the Samarnons of America. Former University of the Philippines Prof. Cesar Torres of San Francisco arranged with MBC charter member Max G. Alvarez the congressman's appearance at the MBC forum.
Nachura Agreed to Construct SNS Faculty Lounge Before 2004 Ends
By CESAR TORRES
February 22, 2004
SAN FRANCISCO, California, USA - In a luncheon last February 13, 2004, tendered by Mr. Apolinario del Rosario and his wife, the former Evie Piczon, for Class '56 Valedictorian, Congressman Eddie Nachura, an agreement was arrived at whereby Congressman Nachura will endeavor to provide a building in the Samar High campus which will be designed as a Faculty Lounge for use of the Samar High teachers and staff.
The Faculty Lounge will be equipped by the alumni with a conference table, swivel chairs, sofa, air conditioners, coffee makers, and other amenities including magazines and other periodicals. It will also serve as a conference room for the teachers.
Congressman Nachura is confident, that barring any unforeseen event, the Samar High Faculty Lounge can be inaugurated in December 2004.
Present during the luncheon invitation by the del Rosarios was Cesar Torres.
The plan to construct a Faculty Lounge for the Samar High faculty has also been announced to the alumni in Los Angeles during a press conference arranged by Class '57 Valedictorian, the Southern California newspaperman and writer, Max Gelera Alvarez.
Mr. del Rosario is a Golden Jubilarian. He is going home to attend the Centennial Celebration in April.
Mr. Torres proudly informed Congressman Nachura that Mr. del Rosario has been one of the pillars of the Samar High - Samar National School Alumni Association in North America and has been Mr. Torres' constant supporter in the Samareños of California where Mr. Torres was President for five years.
The asssociation invited Congressman Nachura as its Guest of Honor during its annual Valentines Party last February 14, 2004 at the Sheraton Gateway Hotel in Burlingame, California.
Mr. del Rosario has pledged his contribution to the Books for the Samar High School Project now being coordinated by Mr. Sonny Cabrales of Los Angeles, another Valedictorian, this time of Class '64.
4 Fil-Am Papers Collaborate to Present Symposium on Political-economic Impact of May 2004 Elections
By Philippine News Service
February 22, 2004
JERSEY CITY - A one-day symposium entitled, "Quo Vadis, Philippines? The Political and Economic Outlook of the Philippines after the May 2004 Elections," will be held on Saturday, April 17, 2004, at the Sheraton Newark Airport Hotel, on 128 Frontage Road, Newark, NJ.
In an unprecedented display of cooperation by the Filipino-American newspapers in metropolitan New York, the symposium will be hosted by the Filipino-Asian BULLETIN, in collaboration with the Filipino Express, Filipino Reporter and Pilipino Times.
Two experts on politics and business from Manila will be the key resource speakers at the symposium. In addition, Philippine Ambassador to the United States Alberto del Rosario was contacted to speak on behalf of President Gloria Macapagal-Arroyo's administration.
Both New Jersey Governor James McGreevey and US Senator Jon Corzine (D-NJ) have also been invited although confirmations of their participation have not been received at press time.
FAB publisher Manny Quisumbing Jr., chairman of the symposium organizing committee, disclosed that former Misamis Oriental Governor Homobono A. Adaza and Mr. Fernando Martinez, president of Eastern Petroleum Company and chairman of the Independent Philippine Petroleum Companies Association (IPPCA) will fly from Manila just to address this gathering.
Adaza, one of the top opposition leaders in the Philippines, will discuss the seething political climate prevailing in the country. He will also describe the various possible scenarios resulting from the outcome of the May 11, 2004, presidential election.
Martinez will cover the economic and business angle. A successful businessman with contacts in government and the private sector, Martinez is a businessman who leads the IPPCA. Members of the latter control about 25% of the country's oil business.
"It will be interesting to find out which presidential candidate – Arroyo, Lacson, Poe or Roco - is best qualified and prepared to solve the country's energy supply problems," Quisumbing said. Mr. Martinez' insights will be very informative, he added.
Adaza is considered as one of the best political analysts in the Philippines today. Most of his political predictions have come true. He was credited of personally convincing the late President Ferdinand E. Marcos to call for a snap election in 1986 that eventually led to the ouster of the dictator-president. A supporter and member of President Corazon Aquino's administration, Adaza later became disenchanted and critical of what he described as the "naiveté and inefficiency of the Aquino government."
A well-known defense attorney in the Philippines, Adaza currently represents the junior officers accused of rebellion against the Armed Forces of the Philippines in what is now known as the Oakwood Mutiny.
Invitations to the symposium will be sent to investment firms on Wall Street, export-import companies, members of the diplomatic and business communities with interests in the Philippines, and the various Filipino-American organizations in the New York-New Jersey, and Greater Philadelphia, areas.
"This symposium will draw a lot of interest not only among Filipino-Americans but also among the international business community doing business in the Philippines," he added.
Many Filipino-American "baby boomers" who are thinking of retiring soon may also find the symposium informative. Those asking themselves if they should go back to their homeland or just move to sunny Florida or California will hopefully find it easier to decide whether to stay here or go home after attending this meeting, Quisumbing said.
Seats for the symposium are very limited and those interested to attend are urged to make the necessary advance reservations.
Tickets to this symposium, which cost $50 each, will include lunch and resource materials that would be provided to all participants. For tickets, please call (201) 200-1006 or (201) 200-1192 in northern New Jersey, (609) 261-5437 in South Jersey, and (718) 271-9461 in New York City.
KALAHI Funds for Region 8 Released
By Cpt. CROMWELL I. DANGANAN (INF) PA
February 8, 2004
CAMP LUKBAN, Catbalogan, Samar - In line with the government's efforts to uplift the living conditions of our populace in the depressed barangays to the Kapit Bisig Laban sa Kahirapan (KALAHI) Program of Her Excellency President Gloria Macapagal Arroyo launched the KALAHI Memorandum of Agreement (MOA) Signing last January 22, 2004 at the Ritz Tower de Leyte in Tacloban City which was participated in by Sec. Victor A. Domingo, the Presidential Assistant for Eastern Visayas; Hon. Susana P Abaya, the Undersecretary of the National Anti-Poverty Commission; MGen. Glenn J. Rabonza, the Commanding General of the 8th Infantry Division, Phil Army; Mr. Buenaventura C. Go-Soco Jr, NEDA Regional Director; Municipal Mayors and Barangay Chairmen in Region 8.
The MOA signing formally started the implementation of the KALAHI Programs to depressed barangays in the Region in order to address their minimum basic needs. Part of the ceremony was the initial distribution of cheques by no less than USec. Abaya to different remote barangays in Region 8 for the implementation of their Developmental Projects. The checks were released thru the efforts of the 8th Infantry Division in order to fast-track the barangay projects as part of the Command's Internal Security Operations (ISO) Campaign in the Region.
The recipient barangays were from insurgency-affected area, which is being assisted by the Special Operations Teams (SOT) of the Philippine Army. A total of 189 affected barangays in Region 8 are programmed to be assisted by the 8th Infantry Division for this Calendar Year. Each recipient barangay will be awarded by the national government a total of Three Hundred Thousand Pesos (P300,000.00), as determined by the local populace to implement their development projects. Among the barangays who were initially issued cheques are the following:
1. Brgy. Binangaran, Calbiga, Samar

Generator and Street Lights - P80,000
Land Acquisition - P50,000
Spring Development - P170,000
2. Brgy. Daligan, Calbiga, Samar
Multi Purpose Pavement - P130,000
Spring Development - P170,000
3. Brgy. Buluan, Calbiga, Samar
Multi Purpose Hall - P100,000
Concrete Pathway - P130,000
Public Toilet 2 units - P70,000
4. Brgy. Beri, Calbiga, Samar
Spring Development - P170,000
Public Toilet 2 Units - P70,000
Repair School Building - P60,000
5. Brgy. Salvacion, Jiabong, Samar
Spring Development - P300,000
6. Brgy. Lobo, Catbalogan, Samar
Const. of 35 unit household toilet - P115,675
Const. of Spring Well Water System - P121,336
The KALAHI Program is a clear manifestation of the holistic approach to combat insurgency in affected areas, which seeks to converge efforts of the government agencies, and ably supported by different sectors of our society aimed to unite and rally our constituents especially in the far-flung barangays to eradicate poverty and achieve development in the countryside.
Gloria rice a key to RP's economic recovery
By Philippine News Service
February 7, 2004
MANILA, Philippines – Agriculture Secretary Luis "Cito" Lorenzo said today that Gloria Rice, a hybrid rice variety from China, could trigger an economic boom in the Philippines.
Lorenzo said, in an interview with Radio DZRH this morning, "The Gloria Rice could easily double the country's rice production. Before, our farmers used to harvest 60 to 80 cavans of rice per hectare in one season. With the Gloria Rice, as farmers from Rizal, Mindoro Occidental, reported harvest was as high as 292 cavans per hectare."
He pointed out that Gloria Rice would enable farmers to earn P70,000 to P100,000 per hectare compared to their present income of only P10,000 to P20,000.
"The increase of our farmers' purchasing power will help improve their living conditions, enable them to buy farm equipment, send their children to school, and live in decent homes," Lorenzo said.
Lorenzo pointed out that the increase in production would also translate into higher rice supply for the country.
"During the start of the Macapagal-Arroyo administration, our country's self-sufficiency in rice was estimated at only 84 percent. In her first year in office, we reached 87 percent, and around 94 percent last year. We expect that we could achieve a 97 percent to 100 percent rice sufficiency this year," Lorenzo said.
"With a 100 percent self-sufficiency," he added, "we won't have to import rice anymore, and could even export rice to markets overseas, enabling the country to be a dollar earner."
The DA secretary said that Gloria Rice tastes good, "like the Japanese fancy rice." Because of its good taste, Gloria Rice is sure to have wide market abroad, especially in California, USA, he added.
"The different varieties of the Gloria Rice that we are using are also highly resistant to pests and rice diseases. That is why we could easily produce them at a much lesser cost," he said.
A total of 600,000 hectares have been targeted for the Gloria Rice program as part of the government's P60 billion agriculture modernization program. As of now, about 100,000 hectares have been planted to Gloria Rice, he said.
President Gloria Macapagal-Arroyo has earmarked about P60 billion for agricultural modernization, including building of irrigation systems and propagation of the hybrid rice.
President Gloria Macapagal- Arroyo earlier said that the hybrid rice is a vital component of Philippine food security.
The hybrid was introduced into the Philippines in 2002 as part of a technological assistance and technology transfer package obtained by the President from the People's Republic of China.