Northern Samar Students Visit People's Camp
By Cpt. CROMWELL I. DANGANAN (INF) PA
February 7, 2004
CAMP LUKBAN, Catbalogan, Samar – The 8th Infantry Division Headquarters here in Camp Lukban served as host to the 4th year High School students of Baro-Baybay Academy Mission School who visited the "People's Camp " last January 31, 2004 as part of their field trip.
Twenty students, along with the school's Head of Office, Mrs. Ethel Presado, came all the way from Lavesarez, Northern Samar to visit and personally indulge their senses marveling at the facilities and equipment inside camp. Their trip involved the visit to the different combat support units of the 8th Infantry Division who enlightened them on their wide range of roles in supporting the combat units in order to enhance the performance and capabilities of the Philippine Army deployed in Eastern Visayas. Highlights of their trip were the actual glimpse of a 105mm Howitzer Cannon, a free ride inside an Armored Personnel Carrier and a preview of Candidate Soldier training.
Wrapping up their field trip was the visit to the 8ID Conference Room, where the students were briefed on the Command's mission and Area of Responsibility. They were also shown documentary films depicting the various programs of the Philippine Army in its quest for a lasting peace and prosperity in the country.
The students were very much delighted and gratified by the hospitality provided by the 8th Infantry Division as they learned lots of things, especially since it was their first time to visit an Army Division Headquarters. Their appreciation were very much evident in their smiles and cheers, as they ride towards home, knowing fully well that they had just came through a memorable experience they won't forget.
GMA swears in Ermita and other AFP Generals
By Philippine News Service
February 6, 2004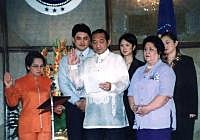 MANILA, Philippines – President Gloria Macapagal-Arroyo today sworn into office Defense Secretary Eduardo Ermita and some generals and Senior Officers of the Armed Forces of the Philippines (AFP).
Executive Secretary Alberto Romulo joined the President at the Rizal Hall of Malacanang Palace during the oath taking ceremony.
The President also administered the oath to Justice Undersecretary Manuel Antonio Teehankee as Presidential Adviser on International Arbitration and Trade Law.
Among the AFP officers sworn in by the President were Vice Admiral Ariston delos Reyes, Lt. Gen. Alberto Fernando Braganza, Lt. Gen. Efren Abu, Rear Admiral Gilmer Batestil, Maj. Gen. Edwin Vargas, Brig. Gen. Ricardo Brillantes, Brig. Gen. Marcel Agustin Panares, Brig. Gen. Roberto Sylim and Brig. Gen. Jeffrey Sodusta.
AFP Chief of Staff Gen. Narciso Abaya with Philippine Air Force (PAF) commander Lt. Gen. Nestor Santillan, and Philippine Navy (PN) Flag-Officer-in-Command Vice Admiral Ernesto de Leon also witnessed the oath-taking of the promoted AFP officers.
Last Jan. 28, 2004, the bicameral Commission on Appointments (CA) confirmed the appointment of Ermita, along with Press Secretary Milton Alingod, Foreign Affairs Secretary Delia Domingo-Albert, Budget and Management Secretary Emilia Boncodin, and the new inducted AFP officers.
Shocker at UP: Fees for pre-school kids hiked by 550%
By Alliance of Volunteer Educators
February 6, 2004
MANILA, Philippines – If you want your son or daughter to get pre-school education at the University of the Philippines, better get ready to shell out P30,000 per year.
This was revealed by the Alliance of Volunteer Educators (AVE) after concerned parents approached the group and sought its help.
"We demand a stop to this planned extortion," said AVE secretary general Dr. Amang R. Magsaysay, referring to the effectivity of the fee hike this coming school year 2004-2005 at UP Diliman's Child Development Center (UP-CDC).
This is a grim reminder of how the government treats public education. It is underfunded and the buck is passed on to parents," Magsaysay said as he deplored that "no consultation were made with the parents who will bear the brunt of the increase in the fees.
Gradual increase
P-CDC, which is under the College of Home Economics, is being tapped as experimental school of the Family Life and Child Development (FLCD) department for its college and graduate students. In August last year, the department proposed a "gradual increase" in fees from P2,750 per semester at the start of this school year to P5,000 in the second semester and P8,000 per semester next school year for non-UP dependents. For UP dependents, the hike would be from P2,000 to P4,000.
However, the UP Financial Policies and Operations Committee (FPOC) proposed that the fees for non-UP dependents be hiked to P15,000 or P7,000 more than the CDC proposal. UP President Francisco Nemenzo approved the increase on November 24, 2003.
"In behalf of the children at UP-CDC who will be displaced, we appeal to the UP administration to reconsider its decision, review the entire rate schedule and consult with parents," Magsaysay said, adding that "the House and Senate committees on education should convene representatives to discover the extent of the policy refusing adequate state funding for public education."
"If this pushes through, this would surely disenfranchise kids from lower and middle-income families while the national government and UP would be able to continue getting research inputs on early childhood education almost for free," Magsaysay lamented.
"Lest we forget, the government is using UP as its primary research institution for all spheres of public policy including early childhood education. Government gets so much from UP but our national officials seem unmindful of UP's plummeting state subsidies," said Magsaysay.
AVE said that "if the UP administration would have its way, it would stop subsidizing all UP students altogether simply because the government has stopped giving it sufficient funds. That way, the people may soon directly fund UP themselves and the government getting a free ride from it."
"We wonder if high tuition fees would be the hallmark of UP as a national university. We also fear for the college students whose tuition fees may reach dizzying heights if we consider the mindset of both the national government and the UP administration," said Magsaysay.
Earlier, parents at the UP Integrated School, UP-Diliman's elementary and high school department decried President Nemenzo's administration for its decision to cut academic classes from five days a week to only four days. It also dissolved one section per grade level purportedly to save on cost.
"If these things are happening in UP which gets the biggest chunk of the budget for state universities and colleges (SUCs), how much more in other public schools?" Magsaysay lamented.
Probe possible misuse of Ched trust funds for GMA scholarship - AVE
By Alliance of Volunteer Educators
January 29, 2004
MANILA, Philippines – NON-government group Alliance of Volunteer Educators today backed calls for a full-dress probe into the possible technical malversation by President Gloria Macapagal Arroyo of the trust funds held by the Commission on Higher Education (Ched).

The group said the President herself should also welcome the investigation if she believes she had not committed any irregularity in tapping the Ched fund, adding that an investigation open to the public would even give her a venue to be vindicated.
"We appreciate the President's move to allot P500-million for the less privileged students. Indeed, if pushed through, the scholarship fund will greatly give a boost to the education of thousands of youths. However, the timing is suspect," pointed out AVE secretary general Dr. Eulogio R. Magsaysay.
"What was this trust fund doing before? Why only now?," he asked. He said that while the intention might be good, the end does not always justify the means.
Magsaysay said that Ched should also be made to explain why a big amount such as that allocated for the trust fund had not been used before.
At the same time, he said that the Ched trust fund could have been misused by the President when she allocated P500-million for a scholarship fund showcasing her name.
"Does the President have any right to use the Ched trust fund? This is a question that needs to be answered by a full-dress investigation," said Magsaysay.
He likewise warned opposition leaders against taking advantage of the issue. "If they really want to save the Ched trust fund from misuse, they should immediately start an investigation.
Statements and press conferences have never been known to stop graft and corruption."
The AVE leader pointed out that the Ched had earlier lamented that the national government reduced funds for state scholarships in previous years. "This new GMA scholarship fund thus looks a sudden development and perhaps aimed at being campaign tool for the President."
According to the Ched website: "the number of beneficiaries of the CHED student financial assistance programs in academic year 2001-2002 is 40,294 reflecting a 10.21 % decrease compared to 44,876 in AY 2000-2001. The decrease is due to low budget ceiling from the DBM.
"Instead of allocation of fresh funds for a GMA scholarship, Malacañang may have misused the Ched trust funds," said Magsaysay.
AVE likewise warned other government officials especially at the local level to keep off provincial Special Education Funds.
"These precious funds may now be targeted by politicians who badly need money for their selfish political ends," said Magsaysay.
"If they do so and are caught with their hands in the cookie jar, we intend to take them to court and make sure they rot in jail for stealing money for schools, teachers and students," he added.
Bulacan Gov. Josie dela Cruz, who intends to run again for the same post in May, faces malversation and graft charges for her alleged misuse of the province's SEF.
Set to join the May partylist polls, AVE intends to campaign to stamp corruption besetting the education sector as well as providing highest budgetary priority to education.
Group welcomes P1-billion for new teachers but says "budget is not enough"
By Alliance of Volunteer Educators
January 29, 2004
MANILA, Philippines – A nationwide association of educators today praised the Senate's decision to allocate P1-billion from the 2004 national budget for the hiring of close to 10,000 new public school teachers but quickly said it was not enough to cover the huge shortage in the number of teachers.
"It may be late in the day and clearly insufficient but this is a welcome development," said the Alliance of Volunteer Educators in a statement.
AVE executive vice president Avegale Chua said that the P1-billion fund is a step in the right direction towards resolving the crisis of Philippine education but clarified that "more funds are needed."
"We hope that by 2005, more state funds would be directed to education and not to non-productive expenses like debt-service payments and war," she added.
"Sen. Manuel Villar and other pro-education legislators should open their colleagues' eyes to the remaining 39,000 backlog on the number of teachers in the nation's public elementary and high schools," Chua said.
The AVE leader lamented that "while many government officials boast of putting education first and sharing every child's dream of finishing college studies, most if not all of them do not turn their words into action. They have not been found in the forefront of ensuring that education receives the highest priority in the national budget."
"As another step in the right direction, the people should put in Congress pro-education legislators who truly fight for improvements in schools. We should also junk those candidates who have opposed reforms especially those providing fresh funds to state colleges and universities," Chua said.
The Senate's allocation of P1-billion also guarantees hiring of 1,675 principals for public school nationwide.
A new teacher, classified as Teacher 1 in public school payrolls, receives a basic monthly pay of P8,605 excluding allowances and bonuses.
AVE has manifested before the Commission on Elections its intention to join the party-list elections. It intends to run on a pro-education, pro-teacher and pro-student platform, and hopes to put education on top of budget deliberations in the House of Representatives.
Shooting Incidents in Gandara Town Blamed on Partisan Politics
By ELI C. DALUMPINES
January 26, 2004
GANDARA, Samar – The popular maxim that "blood is thicker than water" has been proven false, at least in this town, as police authorities blamed the recent shooting incidents here involving close relatives on the town folks' strong adherence to partisan politics.
"Dinhi, basi han amon na-obserbahan, mas mabug-at pa ha mga tawo an ira partido kontra ha ira pamilya", Gandara Police Station Chief, P/SInsp. Delfin Nuñez noted citing the many instances where killings happened between nearest kin.
According to Nuñez, anyone who belongs to a party other than his own is considered an enemy.
Early this month alone, three shooting incidents involving barangay officials were reported by Gandara PNP, allegedly perpetrated by private armed groups of politicians in Samar's 1st congressional district, the police officer claimed.
He however noted that based on their investigation, those who were involved in these incidents are just relatives who belong to opposing political parties.
The first incident happened in Brgy Hiparayan where one Vic Erilla was shot to death while on his way to his farm. But it was reported only last January 14 by Erilla's son Eric who is the SK Chairman of the said barangay and an ardent supporter of Mayor Juan Y. Aguilar.
The young Erilla noted that his father was issued a threat days before the killing from Hiparayan Brgy Captain Jericho Torres, who is still a close relative of the Erillas.
On January 12, a barangay kagawad of Brgy Sta Elena named Victorio R. Galvan, also a supporter of Aguilar, reported to the police that a group of armed men strafed him with an M16 Rifle while he was working in his farm.
Galvan, who suffered only minor bruises, identified the suspects as alias Ebot Salas, Armando Casaljay, Wakwak Casaljay and three others who are identified with the camp of a political leader in the district.
The last incident took place in Gandara Public Market where unidentified assailant using a .45 caliber pistol shot Brgy Chairman Torres. Torres, however, escaped unharmed by jumping into the river.
Aguilar's opponent and a known protégé of Cong. Reynaldo Uy, Antonieto Cabuenos, in earlier reports pointed to the alleged goons of the mayor as the perpetrators. But police authorities ruled out the charge saying it was more of a personal vendetta since Torres, who is known to be Cabuenos' supporter, was believed to be the brains of Erilla's murder.
"The NPA is not so much of a problem in this town because the people here don't bother to entertain rebels anymore. It is more of securing the residents, especially those in the interior barangays, from the private armed groups that confronts us considering our limited strength," Nuñez admitted.
However, he said he has already coordinated with the army's 34th Infantry Battalion which is operating in the area to assist them in running after these groups.
Cory Asked to Pray for Teachers Serving in Polls
By Alliance of Volunteer Educators
January 23, 2004
MANILA, Philippines – The Alliance of Volunteer Educators (AVE) today asked former President Corazon Aquino to include the safety of public school teachers in her prayer drive for peaceful and honest elections.
AVE Executive Vice President Avegale Chua said teachers, especially those serving in the May 10 elections, need all the help they can get as political pundits predict a mad dash by different candidates and parties to ensure their victory in the polls.
"On teachers' shoulders rest the integrity of the voting and counting at the precinct level. They may be targeted by unscrupulous parties for their selfish ends," said Chua.
Teachers have again put on the spotlight following the Supreme Court ruling against the use of automated counting machines in the May elections.
"Teachers need our prayers now and in the elections. Let us pray for teachers so they may survive this ordeal of being pressed in between warring political forces," she said.
She explained that "electoral fraud may be committed if the various political forces feel really insecure on Election Day. There may be illegal stuffing or snatching of ballot boxes or plain harassment of teachers. We do not want this to happen."
Chua likewise said that AVE would start a novena of masses in a major Manila church for the intentions of public school teachers serving in the elections.
"These masses would be open to the public," Chua said who revealed that AVE would seek an audience with new Manila Archbishop Gaudencio Rosales and other Catholic bishops to ask for their blessings.
She said her group would also ask other faiths and religious leaders for intercessory prayers "because teachers need all the help they can get."
Chua said that AVE "would ask the Good Lord to grant teachers strength, patience and the determination to preserve the integrity of each ballot. We would also ask protection from evil forces who may be raring to wreak havoc on teachers and the electoral process through shameless fraudulent acts."
Sabarre turns golden, and, still dancing
By RICKY J. BAUTISTA
January 20, 2004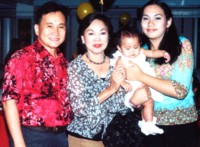 CATBALOGAN, Samar – The only and famous artist in residence of Eastern Visayas, Odon Sabarre, celebrated his golden birthday last January 13, 2004 in Good Morning Complex, in Tacloban City, Leyte with a "big bang."
It coincided also with the baptism of his first granddaughter, Alliah Josephine (now 7 months), daughter of Pearly Dawn, who is a Mutya han Samar 1997 title holder and a cover girl to different national magazines such as in MOD, Vanity and Chic Magazines, to name a few.
No less than the Archbishop of Palo, Msgr. Pedro Dean officiated the rites.
The "ninangs" and "ninongs" were Leyte Governor Remedios Petilla, Samar Governor Milagrosa T. Tan, Congressman second district of Samar Eduardo 'Eddie" B. Nachura, Board Member Vangie Esperas, PNP-8 Regional Director Chief Supt. Dionisio Coloma, professionals Nelia Uy, Tina Reyna, Peter Yap, Dr. and Dra. Leo and Judith Amparado, Dra. Sonia Lim, Leon Uyping, Henry Gosyco, Evelyn Diu, Susan Yap, Isabel Liao, Betty Villegas, Dra. Charit Abriol Santos, Chester Canonigo, Jellah Ripalda, Mark Cordero, Virgil Banez, Letty Beriso, Dettie Panis and Excel Sabarre.
Other guests included Tacloban former mayor & Mrs. Uldarico Mate, Board Member Fr. Ben Aniceto, Ching Loreto, Socorro Emnas, Belinda Lee, Wisdy Lim, Dr. Romualdo Cabaluna, Dr. and Dra. Alfred Lim, Rosa Chan, Mila Cadiz, Tita Chan, Memang Uyping and other distinguished officials & guests of Region 8.
There was also a special performance given by Sabarre's Dance Scholars from Leyte and Samar. After the very enjoyable presentation of talents of the young ballet dancers, some Ballroom enthusiast, including their respective dance instructors (DIs) in the city filled the dance floor.
The Golden Boy Odon, who is the Region 8's pride in dance, keeps himself busy teaching ballet, jazz and aerobics.
At the moment, he handles the Leyte Dance Scholarship Program on Saturday at 9:00 a.m. 10:30 a.m. in People Center and "Fitness at the family park" in Tacloban City every Saturday and Sunday at 6:00 a.m. and is attended by hundreds of people who are health conscious in body and mind. Gov. Remedios Petilla of Leyte is sponsoring this activity.
And still on Saturdays, he goes to Catbalogan, Samar to catch his regular 2-5 p.m. Dance Program. And after that, he will ready himself for another Dance Session Calbayog City at around 1:00 p.m. - 3:30 p.m. on Sundays.
Congressman Eddie Nachura and Governor Mila Tan sponsor both Dance Programs in Samar.
Meanwhile, the celebration of his 50th birthday was a night of merriment, joy and laughter. In his speech, Odon thanks the Good Lord for all the Blessings He has bestowed on him. He also thanks everyone in the hall for the untiring support extended to him and his scholars. The ABS-CBN Tacloban and other media entities in the region covered the event.