Lansadera
By JAZMIN R. BONIFACIO
July 19, 2007
CALBAYOG CITY, Samar – Barangay elections is fast approaching and Samar provinces town folks believe that they will be entering, again, into a season of `kidnappings' or locally known as `tago or hakot', a dirty tactics used by some political candidates in the recent immediate past national and local election.
While doing my fieldwork on electoral politics in the First and Second Districts of Samar, I was flabbergasted to find out the extent and sophistication played by some politicians prior to and during election day.
It has been observed that the May 14, 2007 election in Samar was marred by a more brazen way of cheating such as; massive vote buying, massive disenfranchisement, misreading or non-reading of votes in his or her favor, ballot switching, mis-tallying of votes, terrorism or coercion of electors, the use of fake ballots, the preparation of ballots before election day, the allowing of voters to bring out ballots from the precincts the systematic way of cheating called `Lansadera'.
On vote-buying
In the places I went to like Catbalogan, Gandara, Sta. Margarita, Calbayog City, and some other towns, voters seemed to have grown inured to vote-buying. The pay-offs were getting bigger and better with every election. For many voters, especially the poor, elections at least provide the opportunity to make some easy money. And with those candidates who refrained from it often lost. Thus, even candidates who appeared to be well-meaning in the quest for public service succumbed to them accepting it as a fact of Philippine politics that one just had to learn and live with it otherwise…
And as what has been observed days before the elections pay-off, money had already been prepared – thus local banks tend to run short of bills or sometimes have a bank ran at best.
A critically tense period comes on the night before the elections. Everyone waits and watches the other's movement, candidate's, leaders, relative or trusted aide hands out the cash to the voters assigned to him, making sure that their opponents from the other camp cannot make a counter-offer.
In hotly contested areas in Samar like Gandara, Sta. Margarita and Calbayog City and some island towns in Samar namely Tagapul-an, Almagro, Sto Niño, etc., election eve is `ora de peligro' in so many ways. Armed men allegedly being maintained by politicians candidates move about in shadows effectively disrupting the vote-buying, at least of one side. This includes outright intimidation, bribery, terrorism, coercion of electors and sometimes actual execution occurs.
Seemingly, but most obvious, these was not done to the electoral populace particularly and singularly but included as well those nominated, selected, chosen and designated guardians and protectors of the people's constitutional right of suffrage-clean and unmolested.
Free and fair elections are fundamental in any democratic policy because without elections, it will be impossible for us to claim that the people are sovereign. It is from these words that our rule, regulations and policies for elections were patterned and promulgated and made into order and to be followed.
Here are some of the interviews we randomly conducted (names withheld for obvious reasons).
M.A., 51 yrs old – `…a candidate has so many ways to ascertain that you vote for him…OPEN BALLOT has long been practiced in our barangay and armed goons of incumbent candidates local officials looms in the surrounding scene supervising the operation…a voter, while voting, is allowed to be accompanied by a chosen poll assistance orderly to help you out write your candidates & after finishing shows it to the poll chairman if everything you wrote down is correct as required…or you are to follow certain writing arrangement of candidates from the senatorial, congressional, gubernatorial etc., to the last name required…or you are to write the middle name of the candidate or just write the middle initial of a candidate they are paid to vote for, or will be paid after they have voted and again to be shown to the poll chairman and or a poll watcher…these all have been done in this election.'
D.C., 56 yrs old – `…guin gamit san liberal an LANSADERA…where a genuine and official ballot is made to be spirited out of the polling place with the alleged connivance of the Board of Election Inspectors (BEI). The ballot is filled up by someone in a specific place and then given to a registered voter and who goes to their assigned precinct gets a ballot and pretends to write his candidates but cast the ballot previously filled out secretly, gets the ink in his nail; thereafter, he brings the blank ballot he received (and did not use) back to the safe house where it is also filled up. These went on and on till the last paid voter has voted.'
T. B., 34yrs. Old – `…hakot ngan tago ginhimo liwat nira labi na san mga tricycle drivers… (fetch & hide) took place in Calbayog City a day before elections. It begins with an epigrammatic message like…`pinakadto ka ni Mayor'…with no further explanation you are whisked away to a house, resort, or a hotel where you are to wait for the mayor. Through out the wait-in-captivity the willing victims are treated like kings, meals are served, drinks and all other needs you cared for are provided with friendliness till the last hour of the election. As you go out from the place you will be given envelopes containing money – the least P2,000 or P3,000 pesos and an indelible ink placed unto the proper finger nail of one who had cast his/her ballot and made to pretend they have just came from voting.'
J. C., 63 yrs old – `…damo san mga botante han NP in wara didto san listahan san local Comelec nga igin paskin sa kada mga presento… some electors, mostly from the NP loyalist, did not find their names in the list of voters posted by Comelec in the polling precincts. The list of voters provided by the local Comelec was different from the one posted outside polling places which in turn also differs from the Voters Registration Record (VRR) with the chairman. This faulty information caused confusion, delay in the voters and some never even had a chance to vote… during the counting at the precinct level, cheating is done through the misreading of the ballots. Sometimes, the names on the ballots are not read, at other times, names not written thereon are read, thus, votes are illegally added to or subtracted from the tally.'
Meanwhile, as the dusk of the 14th progressed deeper unto the night & turned to dawn at the 15th of May, witnessing the cheating done at the precinct level compared faintly to the cheating occurring at the municipal/city halls in most places we went too.
Unreturned ballot boxes, missing ballot boxes, all individual ballots in some ballot boxes obviously evident at a glance that it was all written by one hand, numerical ballot returns on the official ER's did not compare the same with the actual numerical count of ballots in the ballot boxes.
It was observed that some ballot boxes from the precinct were brought to a gym or an specific house and there were opened…allegedly, this was dagdag-bawas a technique made fashionable during the advent of the computer counted electoral returns on the 1986 & 2004 elections – again this 2007 several news dailies bannered this election phenomenon and made into a `hot pandesal' in the early morning broadcast.
In the resultant unprecedented electoral results, with the so called Liberal party candidates affiliated to Lakas-CMD, won in all electoral posts in the municipalities, city and congressional district – a first ever in Samar.
Really, herding voters, buying voters, force and intimidation with threat to life of voters won the elections for the people, for the candidates, and the government of the Philippines!
`…Quo Vadis' my dearest Philippines?...'
Unless and until…`cheating by the people, for the people and of the people'…remains unchecked by a more or less credible Commission on Election democracy in the Philippines will always be an endangered specie – and the hush hush `POPULAR WILL' will be subverted!
City of Borongan? Yes!!!
By SENTAY BELIZAR-QUITORIO
June 27, 2007
BORONGAN, Eastern Samar – Weeks ago people in this municipality were confronted by a dilemma of apprehensions and ambivalence, whether to vote "YES" or "NO" for its city hood.
"YES" won!
About 43.33% (13,650) of the 31,505 registered voters voted, where 10,176 (74.5%) said "YES" while 3,426 (25.1%) voted "NO" with a margin of 6,750 in favor of the city hood.
Immediately the local officials prepared for a celebration at the town plaza that night of June 20, with fireworks and programs with speeches of thanksgiving for the support.
It was noted though that the plebiscite last June 20, 2007 has caused some divisive atmosphere. The affirmative group composed of elected and appointed officials of the LGU gave the following answers to the basic questions:
Q: Will there be increase of taxes if Borongan becomes a city?
A: In truth, local taxes might even be reduced (No further explanation on this statement). If Borongan becomes a city there will be no increase of taxes in the next five years according to the provisions of RA 9394 (the Act creating Borongan as a city subject to the ratification by the people through a plebiscite). However if Borongan will not become a city this year, a schedule of tax increase is set next year, 2008. Instead of an additional problem on tax increase, cityhood will be an advantage, because tax increase will be ruled by the provisions of the Act.
Q: Will there be an increase of prices of the basic commodities?
A: The increase of prices is not dependent on the cityhood, but rather on the law of "supply and demand", competitions of entrepreneurs and businessmen, prices of gasoline and oil products and others. There is even a possibility to decrease the prices if businessmen and investors will flock in and we will be able to produce our own needs which we still buy from other provinces because of lack of capital.
Q: What are the advantages of becoming a city?
A: 1. Increase of IRA (Internal Revenue Allotment) from Php60M to Php240M. This minimizes the possible increase of local taxes, because there will be enough funds to use in serving the public.
2. A greater opportunity to get more funds for development from other financing Institutions because of the "sweet smelling" and "good sound" to be called "City of Borongan". This is because for them (institutions), a city has a better standard of "good governance" (How can this be proven?)
3. Greater possibility of inviting more investors, and eventually more job generations and by opportunities, and the law of "supply and demand" more producers and increased competitions in the market will reduce the prices of products and commodities and services.
4. We will have more funds for social services such as Senior citizens, Children and Women, Youth, Persons with Disabilities, Single Parents, Indigents. The possibility of having a city hospital, with enough supply of medicine. More scholars and funds for education sector.
5. Taxes from Real Property goes to the City Government and the province will not get a share anymore. This means that Barangay will also have an increased share of funds. The environment will be more protected and will establish a sanitary land fill with modern systems of solid waste management. More funds for peace and order programs, to eradicate illegal drugs and other illegal activities and intensify the fight against crime. Funds for Infrastructures such as drainage system and farm-to-market roads.
Q: What about corruption?
A: It will depend on the commitment and honesty of both elected and appointed officials who will implement "good governance and an active and vigilant people to watch." The local government will exhaust all possible means of transparent governance through the Tri Media (radio, print and TV and even the Net).
Meanwhile, some people wanted to speak their minds and honestly answered the "WHY YES or NO".
Non-non Apura, Barangay Cabong (an ex-seminarian and college graduate): "The Local officials have not shown clear and concrete directions as to plans for the next 5 to 10 years. What to do and what to be are very important questions. If there is a plan well…there are no hard documents to prove their claim. How can they prove their readiness to cope with the demands of cityhood? No drainage, No clear Environmental Protection Plan, No livelihood capability, No skills…NO STABLE ELECTRICITY".
Marlon Arago, Government Employee (DOLE): "No alternative industries, livelihood, no other source of income except government. We will be obliged to raise revenue because of lack of alternative employment. People will be burdened by taxes and increased prices of basic commodities"
Paquito C. Padro alyas Tita Daryl (casual employee): "I like seeing Borongan becoming a city so that I will not go to Manila anymore…para mag shopping at para sosyal na ang Borongan.
Grace, student ESNCHS: "Parang nakakahiya maging city kasi palaging brownout, wala tayong airport, and pangit nga mga roads, parang walang tamang plano pa, baka sila-sila lang ang maghati-hati sa more or less P275M na IRA…'yong sabi nilang allotment galing sa ..ewan ko po"
Anonymous: "It is good to become a city, because we will have more chances to develop, but people has to be vigilant, that the money does not go to the pockets of the officials and implementers of projects through the SOP (standard operating procedures where a portion or percentage of the fund goes to the chief of office or official elected or appointed who are implementing the project) or the elected officials might adapt the congressional pork barrel idea, so they have a clear share of the funds and very often does not give reports as to how these funds were spent. We might see mansions, luxury cars and expensive lifestyles of officials than roads and bridges, sanitary land fills and alleviated poverty indicators."
Dr. Reinerio Zamora, chief Provincial Health Office: "If we cannot be a city now, then when? We might not be qualified under the new requirements, we can work together for a real progress…all other development plans will be carried out if we will unite and work."
Antonio Sacmar, Board Secretary, Sangguniang Bayan: "Yes to cityhood and yes to progress of Borongan…but we have to cooperate by being vigilant as a people to ensure that funds are wisely and honestly spent for no other reason but development and for the welfare and interest of the majority."
The local church in cooperation with NMFREL/PPCRV sponsored a forum where both "YES" and "NO" to city hood of Borongan were given the opportunity to present their questions and clarification. This was aimed at putting some clarity to arguments of both sides to help the people make a wise decision. The following arguments and questions came out:
Concrete plans as to what to do with the P275M. How much should be allotted to the following services: health, social services, infrastructures, education, environment, livelihood activities and programs and other employment alternatives?
How can we participate in your transparent governance and good governance nga asya iton iyo attraction hiton mga investors, what about your plans for electricity and other concerns of investors? How can we participate in checking how much "SOP" do you demand for every project implemented?
You said taxes and prices of commodities will not increase, then, where shall we get more revenues nga magigindemand if we do not have other employment alternatives except government employment?
Please furnish every Boronganon a plan for cityhood. Ngan kon diin ngatanan nga plano para han paggamit han dugang nga IRA mahibaruan han tawo.
In your answer to the question on corruption, nasering la kamo nga "madepende ine han sincerity, honesty and commitment han mga opisyales…ano iton iyo karuyag sidngon hine deri talaga kami makakalaum hin totoo ha iyo? ha IRA?.
Yana dida hit annual funds kada chief mayda na niya traveling allowance, kada elected official mayda daman. Mayda daman niyo plano nga pag adapt han pork barrel nga ideya tikang ha congresso, Kon diin an iyo pagkuha han "SOP" ha kada project deri nahibabaruan han tawo…takay and iyo senisering nga transparency?
Heroes of the May 14 elections
By Philippine Information Agency (PIA 8)
May 25, 2007
TACLOBAN CITY, Leyte – People of Eastern Visayas do not to wait long or look far to be able to find a hero or to be reminded of how thin the line is between being a hero and being a villain.
To know that the odds are so high that only through the perishing of your life will the minions survive, that's love. That's heroism.
This is what struck the author upon learning the heroic deed of the three members of the Board of Election Inspectors of Barangay Tula, Paranas, Samar. Chairman Hilario Abalos, poll clerk Socorro Paconio and third member Salvacion Cañete risked their lives protecting and saving the accountable election documents during the May 14, 2007 elections.
Barangay Tula is a remote barangay of Paranas, Samar which is composed of 365 people in 56 households. It could be reached by boat crossing the rapids.
The day before the elections, the members of the Board of Election Inspectors, bringing with them the ballot box and the election paraphernalia, took the boat going to Barangay Tula. Because of strong currents, the boat capsized but the teachers held on to the election paraphernalia and waited for thirty minutes before they were saved.
Indeed, a hero is someone who understands the degree of responsibility that comes with his freedom. The three teachers as soon as they reached dry lands, laboriously and patiently dried the election materials so that the voters at Barangay Tula could use them the following day.
And so it came to pass that the voting in the Barangay was successfully implemented. On the way home to the town proper of Paranas, the three teachers bravely crossed the rapids again.
Once more, the boat capsized, but this time, the three teachers have safely wrapped the ballot box and the election returns with a plastic bag. That is how the sacred votes of the people of the remote barangay Tula were saved.
The Commission on Elections in Region 8 headed by Regional Director Zacarias Zaragosa lost no time in recognizing the heroic deeds of these three teachers. On May 20, Comelec 8 invited the three teachers to the Comelec Office in Tacloban and gave them awards of Commendation.
Paranas Elections Supervisor Lemuel Yangao and Police Inspector Emmanuel Arteche of the Paranas PNP accompanied the three teachers during the simple awarding ceremonies.
There are other heroes besides Mr. Abalos, Ms. Paconio and Ms. Cañete, during the last elections in Region 8. Take the case of a politician who did well during her entire government service but opted not to run anymore "so that the people will not be exposed to too much corruption."
A hero, indeed, is the politician who despite of being left alone stood beside his political comrade knowing that his local government has been taken cared of all these years by the same comrade. True, real heroes are men who fall and fail and are flawed, but win out in the end because they've stayed true to their ideals and beliefs and commitments.
Heroes are the voters in Region 8 who stood by their principles and voted for the candidates of their choice despite temptations of gold and threats of guns.
And why are we writing about these heroes? Because of the realization that courage is more exhilarating than fear and in the long run it is easier.
We do not have to become heroes over night. Just a step at a time, meeting each thing that comes up, seeing it is not as dreadful as it appeared, discovering we have the strength to stare it down.
Winning the war against hunger and poverty
By JAZMIN BONIFACIO
May 2, 2007
TACLOBAN CITY, Leyte – Millions of Filipinos still go hungry despite recent government claims of economic gains. A recent survey by the National Nutrition Council here in the region revealed that hunger incidence in the Philippines has increased to 16.9% reflected a similar situation in the region and all over the Visayas area. And said increased indicates a consistent increase in the prevalence of hunger incidence of not being able to eat in a day.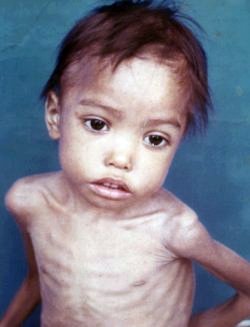 Records of the Operation Timbang here showed that for 0-5yrs old children it was seen here in the region, the provinces of Samar, Northern Samar, and Leyte scored high in the incidence of underweight children. OPT records showed that Northern Samar has 29.85% underweight children. Samar came out next at 29.78% then Leyte at 19.89%. Eastern Samar came in fourth at 19.29 followed by Biliran at 17.86% and Southern Leyte with the least incidence of underweight children at 10.86%.
At the city level Calbayog indicated at 16.75%. Ormoc came in third at 18.09% and Maasin City, awarded as one of the most child-friendly municipalities during the recent National Nutrition Awards, showed a 7.85% incidence of underweight children.
And for the total number of malnourished children, records of OPT for 2005 show that Northern Samar have a total of 22,514; Samar have 21,366; Leyte have 37,518; Eastern Samar have 11,633; Biliran have 4,128 and Southern Leyte have 4,840.
It was learned that among the cities here in the region, Ormoc has the most number of malnourished children numbering to 5,028. Calbayog City came next with a total of 4,335 followed by Tacloban city with 3,875 and Maasin with only 904.
The Philippine government may seem serious in investing in a Strong Republic that eventually crushes terrorism in our country even at the expense of social services.
Records showed that the proposed national budget since for 2003 amounting to P804-billion earmarked P37.8 billion for the Armed Forces. P5 Billion of the military outlay will go to the AFP's modernization program. P55-million intelligence fund will go to the Office of the President. It also increases the proposed budget of the Dept. of National Defense by P3.7 billion from P38.8 billion to P42.5 billion. On the other hand, the PNP will receive bulk of the P2.2 billion hike in the budget of the Dept. of Interior and Local Government.
While military spending and debt servicing will have the bulk of the national budget, the remaining fund will be shared by other government agencies. At least 70 state colleges and universities will be affected by big budget cuts amounting to P232.72 million. Budget restrictions prompted state colleges and universities to increase tuition and implement other commercialization schemes. Merging of state colleges and universities is carried out as part of cost-cutting measures.
The Dept. of Education gets P1Billion more. However, Dept. of Education maintenance and other operating expenses were cut. A measly P2billion will be allotted to school buildings. This runs counter to Art. 14 Section 5 of the 1987 Constitution requiring the government to give the highest budgetary allocation to education.
Meanwhile, only P1.7 Billion will be spent for housing. According to Kilusang Mayo Uno (KMU) that amount will give P8 for every poor Filipino while 25 million Filipinos do not have decent housing. Health Alliance for Democracy (HEAD) disclosed that public health fund has now been slashed by 25%. And now, the government spends 60 centavos for the health of every Filipino. This P16 billion budget was cut from Heart Center, Chilren's Medical Center, Lung Center and National Kidney institute, while the AFP Medical Center and the Veterans Hospital will receive an additional P26 million.
Indeed, this is how the Macapagal-Arroyo government builds a Strong Republic-crushing the Filipino people's most urgent demands.
Region 8 alone has more people with inadequate nutrition, more living in slum conditions and more without access to water and sanitation. Rural flight leads to another region wide phenomenon linked to poverty, unchecked urbanization. Statistically, migrants out earn their brethren in the fields. But first they must enter an urban milieu that can be openly hostile.
Dozens of illegal slums serving as monuments to misery, neighborhoods with barnyard animals and mucky kids in the streets were no longer the homes of a thrifty working class, but embarrassing eyesores. City hall has repeatedly ordered the squatters out. For this reason, efforts to tackle the issue are now taking on a greater urgency. The city government of Tacloban stand or fall based on their ability to deliver growth at the grass roots-and that's just where the problem is.
Just recently, members of the Volunteer for the Visayans made an effort again to help and win war against hunger and poverty in the city. Ethel Mae Arce, Associate Director of Volunteer for the Visayas said in an interview that they are now focusing on the implementation of their programs to reduce the incidence of hunger and their daily feeding programs towards street children, giving them education and a sustainable livelihood programs to the parents.
Volunteer for the Visayas generated more or less Fifty thousand pesos from their donors and sponsors for these project. Dubbed `Piktaw, Pidal para han kabubuwason han kabataan' is a walk for a cause project for the street children of Volunteer for the Visayas here in the city in collaboration with the City Social Welfare, the Region and Tacloban City Police, and other Non-government organizations supportive to its cause. Its primary aims according to Arce, is to save the lives of these children in the streets. She stressed that `we are engaged in a combination of measures to fight hunger and poverty, working with local governments to identify and serve families at the hunger threshold, and extending livelihood assistance towards the poor family and the children. And in order to address the problem of malnutrition among children here in the city and other towns, Arce said that their office is implementing a daily feeding program which provides a daily ration of food to children under their custody.
Volunteer for the Visayans is a non profit, established non government organization that focuses on community development and international education. Their international volunteers immerse themselves in a culture foreign to their own, while educating the local community about the western world. Volunteer for the Visayans according to Arce is dedicated to raising funds for local projects. Currently, the group is now focusing on working with the City Social Welfare Office here and helping to support a new facility under construction which will be used to house the street children. They collect donations and basic necessities such as used clothing, to be distributed to these children, collects also educational resources to distribute to rural schools where basic books and school supplies are not available.
Thus, they are inviting Filipino philanthropist and the rest of the world to experience life from a Filipino's perspective and experience living in a country burdened by economic hardships, yet still optimistic about the country's existence!
Endangered dolphin specie dies on the shores of Cabay
By SENTAY BELIZAR-QUITORIO
March 30, 2007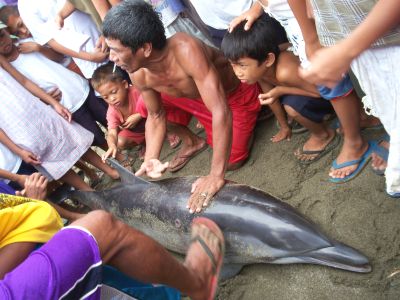 BALANGKAYAN, Eastern Samar – A 6 feet 4 inches long of a dolphin locally known as "lumod" was washed very weak on the shores of barangay Cabay this municipality last March 19 this year.
Romualdo Capatoy a businessman-environmentalist of Maydolong called the office of the Provincial Fisheries and Aquatic Resources for help. Together with the local media the rescue team immediately responded.
A fisherman from the municipality confirmed that exactly 20 minutes after the dolphin was carried ashore it died. "Masyado na kamaluya han lumod, takay deri man kami maaram han amon pagbubuhaton gindara nam ngadto han katab-angan" (the dolphin was very weak, but we do not know what to do we brought it to the fresh waters).
Mr. Henry Alura deputized member/representative of NFARMC (National Fisheries and Aquatic Resource Management Council) also confirmed the endangered specie as weak and sick. Normally according to Alura this sea animal is hard to pin down though trainable, coming near the shore indicates a need for help.
Evident were three fresh wounds which according to Mr. Alura and the fishermen were caused by a blood sucking fish "kimi" which was described further to be loaded with sting. Alura said the wounds are not enough reason to cause the death of the specie, it could be something else such as chronic ailments and the wounds were just contributory factors.
NFARMC deputy/member Alura said the need to strengthen the advocacy to protect such endangered species is deemed necessary. He called on to the local bureau of the Fisheries and Aquatic resources for strong support.
The devolved agency of the Bureau of Fisheries and Aquatic Resources through the Office of the Provincial Agricultural Services said they have no definite first aid measures for cases like this. According to the office representative they do not have medicines and clinic readily available for urgent needs. However, the regional office based in Guiuan Eastern Samar has a better capacity in terms of expertise and facilities to treat similar cases.