Abat's call for 'military junta' known in internet March 29 as 'Philippine Storm'
By CHITO DELA TORRE
May 17, 2005
CATBALOGAN, Samar - True, the plan calling for a change in government leadership via a military junta in the post-Estrada years had long been known. In the internet, that is. (view article)
Perhaps not a million Filipinos had not noticed that. E-mails on this subject matter kept exchanging since February, 2004, particularly among Filipinos residing abroad, shared with those who could access them in Philippine cyberspace.
Some sources at the AFP and the Philippine National Police were allegedly discussing this plan as early as February or March last year, and then again in October and November.
But perhaps the Arroyo Administration, more particularly the Armed Forces of the Philippines, did discover that, say, fourteen months ago, so that when this plan was publicly declared hours before the commemoration of Labor Day, followed by a national television broadcast on its announcement, the government had simply ignored it. Not a thing about that declaration was even mentioned during an en banc Cabinet meeting that President Gloria Macapagal Arroyo called to take up other national concerns of greater priorities.
Jose Jay" Galang Caedo III, identified as president of the Filipino-American Democratic Empowerment Council, described in his e-mail message on March 29, which came under the item "The Coming Philippine Storm", dated March 30, as "old news" the "recent announced proposal" of former Defense Secretary Fortunato Abat (a retired general in the AFP) "for an authoritarian revolutionary government to take power in the Philippines".
Caedo suspected that last year's reportages by the media in the Philippines and in the United States were "part and parcel of this overall effort". He also cited the claim of the Communist Party of the Philippines/National Democratic Front/New People's Army that the various crises which this country has been facing "are not fabricated, artificial, nor staged."
"They are socio-economic-political problems that need immediate redress, and for which neither the Left nor the Right have the monopoly of ideas or solutions. The country is constantly in deadlock in the Senate (and) Congress, and the CPP and Muslim insurgents are stalling economic progress by stirring labor unrest, and bleeding the national Treasury dry," he observed.
He opined that the conditions are "probably ripe for the final takeover of the government by the military/PNP" could have been the reason why Abat spoke out.
The message sender, however, urged Filipinos to pray and call upon the "present-day Philippine military minds to be absolutely careful to learn the lessons of Marcos.
He said: "Abuse of power, and greed will turn the people against you faster than a typhoon. Do what you have to do, kill and imprison the criminals, clean up the government and country, dismantle the hundreds of little private armies and political fiefdoms. Wala na dapat na siga sa Pilipinas. But do not commit the abuses and mistakes Marcos committed. Learn the lessons of history. If you are gambling with the future of the nation, make sure you institute economic reforms that will bring about austerity, progress and prosperity."
Otherwise, he warned, the "people will very soon turn against you". He reminded the military officers about the dictatorships of China, Korea, Japan, Taiwan, Vietnam, and others in Asia, which "only succeeded because they brought back discipline and progress." He added that without prosperity and progress, "the people will have fought bitterly against the dictatorships, and these would not have lasted as long as they did."
He hoped, however, that the military leaders will see that "in their quest for power, they should guard against self-corruption, and the corruption and abuse of power by their subordinates."
"If they do, as what Fortunato Abat claims they will, then okay; but it is very difficult to remain incorruptible when holding absolute power. And those who remain so even in the face of such power truly deserve to be part of the Guardian Class. The other danger I see is that the lower ranks will want to take power for themselves, once they get a little taste of the power. Those who wear the Suns will want to wear the Stars; or take the Stars away," he admonished.
Another e-mail sender, Addi Batica, who is believed to be a Basaynon (native of Basey, Samar where he was known to some as an "activist" before the proclamation of martial law on September 21, 1972), prefaced his message with a query: "Samarnons and military takeover in Pinas, a bloodbath?" last April 1.
Batica shared his thoughts on the alleged inevitability of the reported junta. After suggesting a "formula", that of following the "Guatemalan Model" of 1944, he asked "who knows if, by some miracle - some elements within the military establishment might find common cause with those who are simply sick and tired of the way things are"?
Batica feared, though, "that ours will just be a 'blood-blood' kind of affairs, dinuguan a la carte." He went on to say, "There's a lot of built-up anger behind that Filipino smile and though I hate to admit it, violence is as Filipino as dinuguan. Our history is written in blood, but the sad part about it is - in spite of the amount of blood shed so far, we have yet to see the shadow of redemption lurking in some corner."
He concluded his "personal take" by saying that Filipinos are caught in the crossfire between Right and Left, and that the only thing he is praying for is "a miracle".
Another e-mail sender was reported as commenting that those who want a military junta "will do it", especially if Pentagon and the Central Intelligence Agency (CIA) will support "a Praetorian takeover in the Philippines so that they can watch the piracy in the Straits of Malacca, the discontent especially among the fundamentalist Muslims such as Jemaah Islamiyah, and of course, the national democratic struggle in the Philippines.
The sender, Cesar Torres, said: "We can exchange tons of emails here and nothing can prevent this kind of possibility. After all, power is the ultimate arbiter. As Trasymachus says: 'Might is right!' Look around the world."
He added, "the killing of Marlene Garcia-Esperat is a dramatic example of the exercise of power."
Who really killed Ka Digo?
KA DIGO
By CHITO DELA TORRE
April 30, 2005
PARANAS, Samar - Conching or Conchit does not believe the "kagiosan" snuffed the life out of Ka Digo. Her husband's killers did not act, behave and talk like a "kasama". For her, and many others, his dastardly killing was not "sirot han rebolusyon" (punishment inflicted by the revolution).
Two sympathizers, unwilling to be identified, made these comments a few days before the scheduled burial of Rodrigo Norumor Sugalan, also known as Digo or Ka Digo, on April 14 in Casandig II, Paranas, Samar - the forested village of birth of his beloved who herself is believed to be familiar with how the New People's Army is said to dispense its own form of "justice".
The sympathizers, giving their insights to the media in two separate occasions, said they had heard Concesa Sugalan express her own personal beliefs but she had not pinpointed who could possibly be the killers of her husband who had been a highly respected and recognized community leader with a good track record as an agrarian reform beneficiary, but who had spent many years in the New People's Army after graduating high school in his hometown in Oras, Eastern Samar.
Ka Digo admitted in an interview - more than one year before the different agricultural cooperatives elected him last year as their sole representative and delegate to the Samar Provincial Agrarian Reform Coordinating Committee (PARCCOM) - that he had first sought the approval and blessing of his seniors and peers in the "kagiosan" before leaving them in order to see for himself the good things which the civilian government was said to be already extending to the poor masses of Filipinos.
Conching had known that.
For the many years that she had been living with Ka Digo and their children since his surrender during the time President Fidel V. Ramos through the help of then governor of Eastern Samar Lutgardo Barbo, she had not experienced herself and neither her husband nor any of their children, being accosted, nor being molested, not even warned or advised against, by any his former comrades-in-arms. In all those years since 1992, they moved even more freely in the whole island of Samar than they did years back.
Ka Digo and Conching were in the next, more interior barangay of Tutubigan in Paranas, for the market day (tabo) early morning of April 5. At a nearby store where he was warming up his body with a cup of hot coffee at past six o'clock, three unidentified men surrounded him. Without saying a word, one shot him. When the hitman's gun went on a stoppage for a second shot, his companion drew his own gun and cracked shots, even if their victim was already felled on the ground. The assailants left, but Conching, chasing, caught up with the last of the casually fleeing man, held him by his arm and asked about her husband's "sala" that they killed him.
Told that Ka Digo was "traydor ha kagiosan" (traitor to the movement), she pleaded he had never been, and when the man dared her to a fight, she bravely replied, "ano ko pakaato nga waray ko man armas?" (how could I fight when I don't have a weapon?)
Last February 1, he took his oath of office before Department of Land Reform regional director Tiburcio A. Morales Jr., in the presence of Samar provincial land reform officer Marlu M. Merin and a host of other witnesses, as the province's agricultural cooperatives sector representative in the Samar Provincial Land Reform Coordinating Committee. More than two hours after his oathtaking, he was nominated to succeed as chairman of the Committee, but he declined, in favor of the rising demands for his personal presence coming from numerous cooperatives that have seen him as their hope, his unqualified devotion having been demonstrated as the power-plus factor that kept engendering success after success to his own cooperative - the Casandig Farmers Multi-Purpose Cooperative - of which his vice-chairmanship remained unquestioned.
He had been a "veterinarian" and a "farmers' tutor", and an avid farmer-entrepreneur in his remote village and nearby barrios whose small farmer-producers have grown to succeed with him while learning under his tutelage. He was known to such highly reliable and successful non-government organizations as the VICTO and the PBSP. He was so valuable, greatly to the poor farmers of Samar. Certainly, his death spells a big loss to them, mostly the poor masses, that his sympathizers believed his erstwhile "kasama" (comrades) would not want him die young. He was 48.
PLRO Merin, with his staff and personnel, paid last respects on him twice, the last on April 11, already with a wreath that expresses likewise the grief and commiseration of the entire DLR-Samar organization and the Samar PLRCCOM.
Would the mastermind of Ka Digo's killing have the heart and courage to come out to admit the craven coward's dastardly and heinous act? Many ask.
(Writer's postscript: Accompanying this article is an earlier piece written by him and published widely early in year 2004.)
Meet an ex-rebel commander
(The following article under the same title, lifted from a 2004 file kept by the author, is reprinted here to help readers of Samar News.com know more the subject during his lifetime, and in honor of Ka Digo.)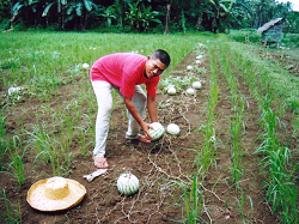 KA DIGO in his high variety pakwan plantation
"Rodrigo Sugalan could make for a valuable movie".
Teresa De Asis was so emphatic when she made this remark right in front of Digo, a humble farmer in the interior barrio of Casandig II which nestles somewhere in a forested section of the town of Paranas in Samar, where tourists can find a beautiful waterfalls and a spring zone more bewitching than others that they have already seen.
On top of her soulful impressions is her having discovered Digo not simply as an ideal personality for her planned feature story and a photo exhibit for next month when the whole Filipino nation observes the 16th year of the Comprehensive Agrarian Reform Program. "The nation ought to know his story."
Rodrigo Norumor Sugalan is a respected name in Casandig, a new home unlike his own in Oras, Eastern Samar. There he tills two small-sized farms whose aggregate area is even less than the ideal maximum of 3 hectares for each agrarian reform beneficiary. One of these is devoted to off-season vegetable farming which produced an appreciable quantity of sweet pakwan last year, to the delight of Department of Agrarian Reform personnel – among them, Teresa, who is now DAR's provincial information officer - in Catbalogan when he brought his harvest for the agri-trade center there.
When visited lately by Teresa, Digo was attending to the store owned by the Casandig Farmers Multi-Purpose Cooperative (CAFAMPCO) of which he is board director. He obliged to an interview which led Teresa to his two other projects – SASSO poultry and swine raising with a bio-digester tank in the making.
Digo joined the New People's Army after graduating from high school in Oras. His having been a battalion commander in the citizen army training in school gave him an edge over his peers in the rebel movement. His skills catapulted him to the post of regional commander in Eastern Visayas, and then in Western Visayas. Through the years, he observed that there are other ways by which reforms could be instituted in government and in society. In 1992, through then Eastern Samar Governor Lutgardo Barbo, he surrendered to President Fidel V. Ramos. For months later, Digo was a regular voice in two radio stations in Borongan, and then, over DYVL in Tacloban City, in a program that crusaded for the return of his former brothers in the rebel movement to the fold of law.
When he became one of the "15-30" Capitol employees in Borongan, he saw this as an opportunity to go through college. With Gov. Barbo's consent, he enrolled in an agricultural course at the University of Eastern Philippines, and did graduate in due time. Upon graduation, he decided to start out a farm. After weighing several options, he left Eastern Samar and found Casandig as his launching pad, and home. There he also became receptive of the CARP and the packages of technology brought in with the program.
A fast-learner, he rose to become a trainor and a "teacher" to his fellow poor farmers. While applying his new learning, Digo would introduce his experience with the farmers in Western Visayas where he and his comrades farmed in order to survive. Some farming practices and techniques there, he found out, could be adopted in Samar.
As a new face in Casandig, he recalled, the villagers used to laugh at his farming ways. That had changed soon after the ways that they had been laughing at demonstrated something better. Since then, he had become one of the local farmers' trusted leaders. Farmers coming from neighboring barrios have now been frequenting their visits to him, not only to see his farms, but also to engage him for his "veterinary" service.
Now, many in Casandig II, and in Paranas municipality, know his past. They call him "Ka Digo". A twist in luck occurred to him. While still a rebel commander, he almost had a bloody confrontation with a military commander in Samar Island. That commander became his "senior" in the cooperative at Casandig II, because the latter is the CAFAMPCO chairman.
He loves to work with the more than 100 members of the cooperative and helps his chairman in campaigning for more farmers, and others, professionals and employees, to join as members.
Well, the cooperative is a millionaire in assets. It has a million-peso tractor that helps add more yields to the farms in the village which is predominantly planted to corn. Its store sells a variety of commodities, including gasoline, soft drinks, beer and others. Its officers and committees follow highly recommended systems that are necessary to keep up the cooperative's success. This is perhaps the only cooperative in Region VIII that has the most number of government agencies and non-government organizations extending appropriate attention on a monthly basis.
Teresa mused once: Could Digo's presence be a reason for this dynamism? What more could unfold in this faraway barangay with him around?
Soldiery is my role, War is my game
By Cpt. CROMWELL I. DANGANAN, (INF) PA
April 12, 2005
CAMP LUKBAN, Catbalogan, Samar - In the wake of February 1974 burning of Jolo, Sulu, newly designated 8ID Commander, Maj. Gen, Jovito S. Palparan Jr, then a Second Lieutenant and barely four months in the military service, led a reinforcement team that repelled the Moro National Liberation Front's (MILF) attack of the Army's 24th Infantry Battalion headquarters at Barangay Tagbak, Indanan, Sulu which earned him his first military award, a Military Merit Medal with Bronze Spearhead Device.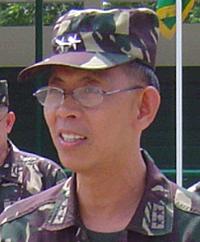 Maj. Gen. JOVITO S. PALPARAN, JR.
8ID Commanding General
As a Company Commander of the 24IB Delta Company, he led the assault of the insurgents' stronghold at Mt. Sinumaan, Patikul, Sulu on January 21, 1978. This exemplary show of courage by the young officer and his men resulted in the dislodge of the insurgents fortified place in the said barangay. His intrepid achievement in crushing the insurgents' position in 1978 earned him the respect of his men and his superiors and he was awarded the Gold Cross Medal and was promoted to the rank of Captain.
As a young captain of the Army, he was designated operations and intelligence officer of Task Force Musang of the 24IB. He held the torch for the soldiers by planning, executing and leading the numerous operations against the Bangsa Moro Army (BMA) of the MNLF in the town of Patikul and other parts of Sulu province. The concerted efforts of the operating troops eventually led to the surrender of top BMA commander, Hakim Sali alias "Snake", nephew of Usman Sali and the one responsible in the massacre of Brig. Gen. Teodolfo Bautista and 33 others on October 10, 1977 in Patikul, Sulu, and hundreds of other insurgents with firearms. That was another mission accomplished for Maj. Gen. Palparan during his junior year in the service.
From combat zone to garrison duties, Maj. Gen. Palparan intelligently conceptualized suitable actions to defeat the enemy of the state. Thus as assistant chief of Operations Branch, OG3, Phil Army, he endorsed the Special Operations Team (SOT) concept of counter-insurgency as an effective weapon or tool to neutralize the insurgency problem in the remote villages throughout the country.
As one of the military officers who believed in the dictum, "Good prevails over evil", he said that "we have to relate the message to the rebels (referring to all enemies of the State) that they could not overcome us no matter how hard they try".
His unquestionable courage in combat promoted him to command the Army's 24th Infantry Battalion twice, first during the height of NPA's terrorism and liquidation activities in the National Capital Region (NCR) in 1987, and second in 1990 to 1993 where he led the clearing operations in Central and Northern Luzon provinces from the influence of communist terrorists.
Apart from being a gallant man who vigorously pursued the SOT and intensified combat operations in the entire Central Luzon area, Maj. Gen. Palparan authored the Philippine Army Doctrine Development Manual (PAM-8-01). This is a training manual that provided a system for the development of doctrine in the PA and provides detailed guidance of doctrine research, writing and test and evaluation. He also contributed in the formulation of policies for the AFP participation in the security and rehabilitation of East Timor. From theory to reality, Maj. Gen. Palparan was designated to lead the 51 members of the Philippine Humanitarian Contingent deployed in Iraq during the later part of 2003. Though his stint in Iraq was cut short, his accomplishments were highly commendable.
As a well-rounded officer in the military who is willing and ready to sacrifice and give total commitment to the service, he commanded Task Force Banahaw in the CALABARZON. He launched Campaign Plan "Halina" in the Southern Luzon provinces, a noted lair of the CPP/NDF/NPA communist terrorists. In seven months, General Palparan steered the Task Force into an achievement that surpassed the performance of the three brigades who are assigned to Southern Luzon Command, thus, his unit was adjudged the "Best Maneuver Unit" during Calendar Year 2000 in the area.
Getting the job done with flying colors, Maj. Gen. Palparan was tasked to head the Army Brigade in Oriental Mindoro. For one year and five months, he was able to reverse the situation in the island where the CPP/NDF/NPA practically dominated the political and social lives of the people through fear and false promises that even the local government officials later obeyed acting on terrorists' orders.
Knowing very well the prevailing situation in the area specifically the setback undergone by the rebels in the province due to massive operations and tactical maneuvers of his men, the different CPP/NDF/NPA front organizations created scenarios to discredit the presence of the Army personnel in the area. This counter action and propaganda from the suffering communist terrorist did not spare task force commander Maj. Gen. Palparan. He was pinpointed by the rebels to be the mastermind in the series of killing among members of their rank even without evidence. The general being a firm believer of this famous line from the Holy Bible "Truth shall set us free" was unfazed in his military career and was not affected by false accusations from the various front organizations of the CPP/NDF/NPA.
Instead he continuously exerted his effort to perform his sworn duty to his country and his people as an officer and a gentleman. He strongly adheres to the provisions of the national fundamental law of the land. He proudly said that "Soldiery is my role and war is my game" as he pursues his arm profession. He earned his first star rank on 01 January 2003 pursuant to Paragraph 3, General Orders 86 GHQ AFP dated 22 January 2003 and was confirmed by the Commission on Appointments on 12 May 2004.
After 31 years of successful stint in the AFP, Maj. Gen. Palparan got his second star rank on 20 October 2004 pursuant to Paragraph 2, General Orders Number 1236 GHQ AFP dated 18 October 2004. His latest promotion is a welcome development after he was assigned as Chief of Staff of the Philippine Army, a position for a two-star general. An outstanding and dedicated officer who believes that lasting peace is the key to economic development, Maj. Gen Palparan is now assigned to lead the 8th Infantry Division, Philippine Army based in Eastern Visayas and Masbate islands.
Santillan to GMA TV-7 crew: 'Sorry gid sa inyo'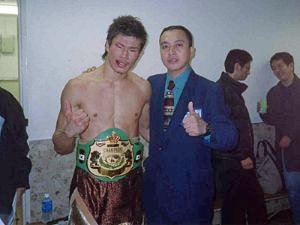 Newly crowned OPBF welterweight champion Kazuhiko Hidaka and Filipino boxing judge Alex Vidal in the dressing room.
By ALEX P. VIDAL/ PNS
March 30, 2005
ILOILO CITY - Unlike Manny "The Pac Man" Pacquiao who made a lot of excuses after he was convincingly shell-shocked by Erik "El Terrible" Morales in a 12-round non-title fight in Las Vegas last March 19, Rev "Gentle Giant" Santillan offered no alibi after relinquishing his Oriental Pacific Boxing Federation (OPBF) welterweight title on a shock 4th round technical knockout (TKO) upset loss to Japanese challenger Kazuhiku Hidaka in Tokyo, Japan also last March 19.
"Sorry gid sa inyo lahat," (I apologize to all of you) Santillan, 27, told the GMA TV-7 team led by "Unang Hirit" anchor Rhea Santos while leaving the ring at the Korakuen Hall, Asia's mecca of boxing.
"Okay lang Rev, huwag kang mag sorry talagang ipinakita mo na magaling ang 'Pinoy; naglaban ka hanggang sa katapusan ( It is OK Rev, don't apologize, you gave your best and you showed that a Filipino is good and that you gave your best. We are proud of you," Santos, 25, answered the crestfallen boxer from Brgy. Tacas, Jaro, Iloilo City who impaired to 21 wins (15 KOs), 2 losses and one draw.
The television network had come to cover Santillan's second defense of the crown he wrested from Hiroshi Watanabe in Nagoya in April 2004.
GMA TV-7 made a special report on Santillan. It had earlier taken several footages of his training in Cebu before the Tokyo disaster.
Special report
Director Melo Esguerra said they would proceed with the special report to be shown in one of their night public affairs programs after the Holy Week despite the debacle.
"At least lumaban s'ya ng husto at hindi sia nag surrender," said Esguerra who praised Santillan's "fighting spirit" despite being blasted to the canvas two times before the fight was finally halted at 2:41 in the fourth round.
The TV crew followed Santillan in his dressing room where the deposed champion dished out another apology in a soft voice: "Sorry talaga. I'm so sorry."
Santillan had defended the title by unanimous decision over Taisei Marumoto in Osaka last August 7, 2004. Against the US-trained Hidaka (21-4, 15 KOs), the 5 feet and 11 inches Ilonggo lefty was overpowered from the opening bell en route to suffering his first knockout defeat both as an amateur and professional.
Santillan was heavily favored to upend the ambitious Hidaka, who had lost on points to Marumoto, Santillan's victim.
"For the first time, nabatyagan ko gid nga napierde 'ko. Medyo masakit pero gina nabaton ko na," sobbed Santillan who suffered a nasty cut over the right eyebrow inflicted by an accidental head butt in the second round.
Referee
Like in the Pacquiao-Morales setto, Korean referee Wansoo Yuh did not see the clash of heads and ruled the wound, which needed eight stitches, as caused by a legitimate punch.
The head butt occurred when Santillan rushed to follow up a left with a right uppercut in the dying seconds of the second round.
In the Pacquiao-Morales duel, Filipino fans made a mountain out of molehills of referee Joe Cortez's similar error while Santillan did not protest Yuh's infraction and gamely admitted he lost to the much prepared Hidaka, 26.
The TKO defeat was so devastating Santillan could not remember how he lost his belt. "Na knockout 'ko? Tapos na ang boksing? Pila ka round?" he quipped minutes after the stoppage.
The slaughter
Santillan first kissed the floor in the third round when Hidaka, Santillan's first ever southpaw opponent, ripped him in the chin with a thunderous left and right combination. He beat Yuh's mandatory count and survived to live another round.
In the fourth stanza, the brave Ilonggo champion, embarrassed and hurt, committed a big mistake when he engaged the muscular Hidaka in a phone-booth brawl and lowered his defense. Sensing a kill, Hidaka refused to be intimidated and peppered Santillan with a flurry of solid jabs and straights as he landed the more telling blows in the fiery exchange that had the partisan fans on the edge of their seats.
A barrage of over right and left blows sent Santillan to Hidaka's corner where he capitulated under the avalanche of punches that came like a tornado. He nearly fell out the ring but managed to beat the second count.
The end
A few seconds later, Yuh, sensing the fight no longer was sport, called it a night as Hidaka pounded the bloodied champion with more unanswered blows to the head.
The previously indestructible Santillan was a picture of bloody mess, his face a crimson of blood. His trainer Brix Flores rushed inside the ring and embraced him, reminiscence when Marco Antonio Barrera was embraced by his teary-eyed trainer-brother to save the Mexican dynamo from Pacquiao's wrath in the 11th round in their mega fight three years ago.
Hidaka, handled by the famed trainer Miyagi "Master" Kurihara of Huntington Beach, California, screamed and cried as the referee declared him the winner by TKO.
Scoring referee Yuh (Korea), judges Alex Vidal (Philippines) and Masakazu Uchida (Japan) registered an identical, 30-26, for Hidaka after the third.