Uplift the beleaguered coconut industry --- ENKONIZE!
By VANESSA DIORES
March 4, 2005
MANILA, Philippines - Food, unemployment and air pollution are some of the major problems confronting the country today. The economic crisis in the Philippines was caused by the non-upliftment of the ailing coconut industry, that was once the gross national product (GNP), were 75% of our populations were both directly and indirectly dependent to this miraculous tree of life.
Hunger, never absent in this imperfect world. In this time of crisis we are ask to save. The paradox of trend with regards to austerity measures is - the more people will save their money the more manufacturers will not produce. Thus, the more manufacturers will lay off workers. In a nutshell, the result will be unemployment. Majority of our population is suffering from hunger, who do not have the income nor means to purchase enough food. These people live in the countryside and in the urban centers mostly in the squatter areas. And these were the same people that were tempted to migrate in exchange of their desire to land a job in the city.
In the face of accelerating prices in our country and the economic difficulties across the globe, it is pertinent to inform our selves of the primary causes of the ailment that beset humanity. Aside from uncontrolled population, unemployment, food crisis and here comes the pollution! Mineral oil the black monster that emerged from the bowels of the earth and engulfed with its tentacles entire nations and succeeded to control the economic and diplomatic destiny of the world is behind this tremor that is precipitating, excruciating poverty to billions of people. In any country, any upward change in the price of petroleum sends its people to hardship and turmoil---Oil is an invisible government. This is not to mention that this monster is the culprit in the deterioration of our environment.
Why not grow vegetable energy?
The Philippine coconut industry as it is today did not come about by an overnight decision of any single policy makers or a body of policymakers. Through the years, the government approaches, all intended to establish and maintain a strong and viable coconut industry. Since 1916, law after law has been passed, each with a different approach. Government policy from Spanish regime up to 1980 or a span of more than three centuries, could be characterized as fragmented, with no specific vision. Government policy during the seventies particularly during the martial law period, up to 1992 or mere 20-year span, has one vision - vegetable energization. Now that we are in the millennium year, still the vision is for vegetable energization. Most of all, the recent implementation of the Republic Act 8749 otherwise known as the Clean Air Act of 1999, the government has to adopt eco-dynamics energization, not only to save the air pollution but to save as well the millions of two-stroke motorcycle units, believed to be the cause of carbon monoxide emission from the incomplete combustion of petrol fuel.
The newly created National Council on Food Security and Job Creation, headed by Secretary Jose "Peping"Cojuangco was task by President Gloria Arroyo to materialize the longtime dreamed plan of the country to embarked vegetable energization and to immediately construct a 30 million Vegetable Energy plant, one for each province.
Because of this long over due planed alternative clean and renewable source of eco-dynamics energization, a cebuano veggie energy expert was topped by the Arroyo Administration to produce his 1974 invention - Enkoco Diesel-like, Gasoline-like Fuel Oil and 2-ST Doubly Stroke Coco Motor Oil this is to offset the expensive cost of the petrol-base fuel oil. The expert is to produce also the coconut by-products to food and feed stuffs.
According to Vick Anthonio Lucero Medel, what a petroleum-base crude oil can produce into fuels and lubricants, Enkoco Eco-Dynamics Energy have the same product lines to produce, using various vegetable, botanical and oil plants as the raw materials. Enkoco 2-ST Motor Oil is high performance coconut-base two-stroke motor oil and is designed to meet Premium Quality Standards. It is formulated from a blend of high quality Coconut Natural Oil (CNO), botanical viscosifier and superior fluorine-base catalytic additive from oil plants to provide good protection against acid deposits, ring sticking, piston tightening and pre-ignition. It has excellent resistance to oxidation and thermal degradation thus giving good protection against wear and corrosion. Enkoco 2-ST Coco Motor Oil is pre-diluted to ensure rapid mixing when added to fuel, Medel said. No wonder after the latest laboratory and actual retesting of Enkoco, by a multi-partite agency, headed by the Department of Environment & Natural Resources last May 2003, the retesting results, (sec) all the tricycles incurred a reduction of CO and HC emission. The average reduction is 54.59% and 51.52% for CO and HC respectively. (sec) This is according to the written report submitted.
While the first world's Vegetable Energy Plant is to be constructed in Tiaong, Quezon Province, UNIVALM the acronym of the inventor, Vick A.L. Medel, is now reentering the market for the Enkoco 2-ST Doubly Stroke Coco Motor Oil, since this product was in the market together with the other Enkoco product lines (gasoline-like and diesel-like fuels) last 1983 until the popular Edsa Revolution took over.
(send your comments to this article)
A call for unity and reconciliation
By CPT. CROMWELL I. DANGANAN, (INF) PA
February 9, 2005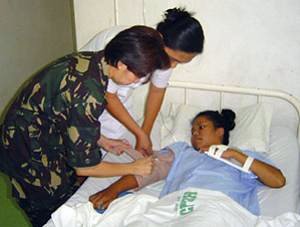 Sunshine Eulalio being attended to by the nurses of the Camp Lukban Station Hospital in Catbalogan, Samar
CAMP LUKBAN, Catbalogan, Samar - Compassion, instead of persecution, is what the recently captured NPA Amazon Sunshine Eulalio has been receiving from the 8th Infantry Division, Philippine Army. No less than a free hospitalization at the Command's Camp Lukban Station Hospital (CLSH) has been provided. Since her "rescue" by elements of the 19th Infantry Battalion during an encounter in Albuera, Leyte from the hands of the Communist Terrorists who are harassing and extorting from the civilian populace in the area, where Sunshine has been wounded, care and sympathy has been given to her in the form of free hospitalization initially in Ormoc City hospital then to the Eastern Visayas Medical Center in Tacloban City and to her new "home", here in Camp Lukban Station Hospital.
Her "rescue" is credited to the unflinching observance of the 8ID troops of the Rules of Engagement and International Humanitarian Law governing armed conflict, where wounded personnel, including the people's enemy, should be given care and compassion, as they are also human beings, with a family also waiting for them. She has been particularly abandoned in vain of her former comrades who have left her "Naalala ko pa and sabi ng mga kasamahan ko noon sa kilusan, hindi kami mag iiwanan, noong na wounded ako sa engkwentro at nahospital, wala man lang ni isang dumamay at tumulong sa akin na kasama sa kilusan, mabuti na lamang at mababait at disiplinado ang mga sundalong nagligtas sa akin. Tunay na walang kinabukasan sa kilusan", Sunshine laments.
From her confinement in CLSH last February 2, 2005, she went a series of surgical operations. Four blood donors from among the soldier students of the 8th Division Training Unit donated their blood for her sake as she has to undergo a major application of External Fixator under General Anesthesia operation on her right arm as a result of her wound inflicted during the encounter with NPA Terrorists last January 29, 2005.
Camp Lukban Station Hospital initially caters to the military personnel and their dependents but has been providing health care to Sunshine during her pre-operations phase and later on recuperation. Despite limited Command resources, substantial amount has been set aside to cover for her medicines and other expenses while she is on the road to recovery.
Thus, Sunshine's mother, Cristita P. Eulalio, has been very vocal and proud of the 8ID's support to Sunshine's hospitalization that she became emotional when asked of what she thinks of her daughter's present condition. "Nagpapasalamat kami ng marami sa Philippine Army sa pagbibigay ng bagong buhay saaking anak gayundin sa lahat ng mga tulong na naibigay nila sa aming pamilya. Tunay na mababait at disiplinado ang mga sundalo na totoong pinahahalagahan ang buhay ng mga kapwa natin Pilipino."
After Sunshine's recuperation, she shall be turned over to the Department of Social Welfare and Development where she will be given a chance to recover her "lost life" while with the Communist movement. Skills training would most probably be provided to her, enough for her to live a normal and happy way of life with her family.
Brig. Gen. Bonifacio Ramos, the 8ID's General Officer-in-Charge, in his statement said, "Now is the time to heal and the time to unite, we are calling on our lost fellow Filipinos who have been deceived into believing their futile cause to open their minds and let the spirit of reconciliation and unity be instilled in their hearts and minds as the only solution to our nation's problems cannot be achieved through force of arms or revolution, but rather by the collective efforts of not only the government agencies but also the non-government entities and most importantly the civilian populace, in our quest for a lasting peace and prosperity for our country. That is the hope of every freedom loving Filipino." (see related news)
Kins of slain Iloilo journalists air gripes in int'l fact-finding probe
By Alex P. Vidal/ PNS
February 1, 2005
ILOILO CITY -- Family members of Ilonggo journalists murdered since 1985 have decried the authorities' failure to solve the slayings even if most of them were "high profile" cases during the Iloilo leg of the International Fact-Finding and Safety Mission in the Philippines spearheaded by the International Federation of Journalists (IFJ) and National Union of Journalists of the Philippines (NUJP) held at the Amigo Terrace Hotel here last January 27.
Emily Ureta, wife of DYKR-Kalibo reporter Rolando, lamented to the panel headed by Gerard Noonan, senior writer of Sydney Morning Herald and IFJ Asia Pacific representative that "justice is very elusive" in her husband's case which was dismissed by the prosecutor's office recently for "insufficient of evidence."
Helen Suede, sister of DYFM Bombo Radyo anchorman Eddie, who was gunned down together with trainee reporter Noel Teneso on July 1, 1985, said she lost a "brother, provider, mentor and father in the person of Eddie" with her brother's killing.
She said her brother was "silenced" because of his expose involving a Government Service Insurance System (GSIS) scandal. The suspect, Helen said, was also murdered inside the jail when he was about to name the mastermind.
"But I don't believe that justice delayed is justice denied," said the teary-eyed Helen.
Tess Arcones, wife of DYFM Bombo Radyo area manager Severino, said when her husband was killed in 1989, "I thought I could not survive because my husband left me with three young children."
Tess was administrative officer at the University of the Philippines in the Visayas (UPV) when Severino was murdered.
"I want justice for my husband because when he was alive, he also gave justice to those who were in need," Tess told the panel which also included Rustam Fachri Mandyun of Indonesian Journalists Association and NUJP secretary general Carlos Conde, correspondent of New York Times.
Chilling
It was Jose Marte Nava, son of Life Today publisher Josef , who provided the most "chilling" testimony in the morning session which was also attended by Iloilo Press Club president Eduardo Jalbuna, DYFM Bombo Radyo area manager Jenil Demorito, Kapisanan ng mga Brodkaster sa Pilipinas (KBP) Iloilo vice chair John Paul Tia of Aksyon Radyo, and KBP-Kalibo chair Augustus Tolentino.
Nava was only 17 when his father was gunned down beside him in a trisikad by unidentified perpetrator evening of Oct. 30, 1988.
"The murder of my father hit me a lot; it was a great trauma on my part and I had to consult a psychiatrist in order to overcome the trauma," narrated Nava, who is now publisher of his father's paper.
Nava protested that the police failed to follow up the case of his father. He learned that there was no formal blotter report about the murder when he tried to dig the records in the Criminal Investigation Detective Group (CIDG) recently.
A week before the killing, Nava said a certain Capt. Arguelles had warned his father about the plot to kill him. Nava said he believed his father, one of the most fearless broadcasters in Iloilo City at that time, was killed by a hired killer.
Document
Noonan said they will document the data and information gathered during the fact-finding, which started in Gen. Santos City last January 26, and collate them with their records in their headquarters in Brussels, Belgium.
Noonan said they held the fact-finding in the country after it was reported that the Philippines was ranked number two next to Iraq in the number of journalists killed in line of action last year.
"The figure is not good for the Philippines since there has been no single conviction since 1986," said Noonan, who had been warned by his colleagues in Australia from conducting a probe in the Philippines.
Noonan said they also considered as "unacceptable from the point of view of the IFJ the tolerance of mayors (in Davao and Cebu cities) of the vigilante killings." He was referring to the series of summary executions in the two cities involving criminals which have been hogging headlines in the country along with the spate of media killings.
Noonan said the killing of journalists "has become a matter of increasing concern to the IFJ" which has a 500,000 membership worldwide.
Frustration
Conde, meanwhile, said they uncovered a "sense of frustration" among family members left behind by martyred journalist during the fact-finding.
"Most of the complaints aired by the kins were the slow pace of investigation and the impact to their lives which have been shattered," Conde said.
Colleagues of slain mediamen also felt a "chilling effect" because of their close relationship with the victims, he added.
"We want to put an end to the culture of impunity that's why we are here to find out what really is happening, and eventually pressure the government to prosecute and solve all the cases involving murdered journalists," Conde said.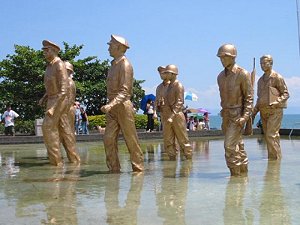 Samar's Role In Leyte Landing
By CHITO DELA TORRE
October 27, 2004
CATBALOGAN, Samar - Not going serious about celebrating Leyte Landing, just because you are a Samarnon? Think again.
What about changing the apocryphal title of the event, from Leyte Landing to simply Liberation? After all, in Philippine history, there has been only one world-recognized liberation, and that was the Philippine Liberation from the Japanese Imperial Army or the Japanese Occupation. Moreover, since the Liberation, books and songs and street corners and even foot trails in Philippine barrios and sitios had been accustomed to the glorious days after World War II - although it happened already in 1945 and Independence under the auspices of the United States of America waved its flag of freedom on July 4, 1946 already - as the Liberation.
Perhaps via that change in the event's designation, Samarnons would realize that General Douglas MacArthur did actually care for Samar and the Samarnons when he "invaded" Leyte on October 20, 1944 (October 19!, according to the people of Dulag, Leyte, because MacArthur's boots were left in Dulag to dry for six decades now).
Samar Island did have a role. Specifically, its southern towns.
General MacArthur recognized and knew beforehand that without the southern towns of Samar Island, his reprisal attacks on the Japanese forces would fail his objectives.
Samar's role was just as important as Australia, New Guinea and the Halmaheras, all routes to the Philippines taken by the famed general. At one moment, Samar had to be "secured...to keep the enemy from building up a preponderance of strength...and to prevent enemy naval craft from attacking shipping in the beachhead area," as he said.
In "THE RETURN TO LEYTE, PHILIPPINES", By General Douglas MacArthur, the penman himself wrote the following lines (italicized below for allusion) which are extracted for this current article (of which the bolder emphases are supplied by the current author to point out the vintage references in appreciating Samar's role):
Operational Plan
"The plan for the ground operations in the capture of Leyte comprised four main phases. Phase one covered minor preliminary landings to secure the small islands lying across the entrance to Leyte Gulf. Phase two included the main amphibious assaults on Leyte from Dulag to Tacloban, and called for the seizure of the airstrip, an advance through Leyte Valley, and the opening of San Juanico and Panaon Straits. The third phase consisted of the necessary overland and shore-to-shore operations to complete the capture of Leyte and the seizure of southern Samar. Phase four contemplated the occupation of the remainder of Samar and the further neutralization of enemy positions in the Visayas."
Implication
Under phase three, southern Samar had to be "seized" - meaning, grabbed, taken away, from the Japanese occupation forces.
To do that, MacArthur's Liberation Forces had to employ weaponry, firepower, naval assault, air attack, and foot soldiers.
All such strategies could only be properly coordinated, to avoid unnecessary deaths to civilian Samareños and Samareñas who were surrounded or held by the enemy Japs. There would be bloodshed, smoke from burning buildings and homes. Coordination had to enlist the participation of local ground forces - Filipino guerillas (certainly not the Japs' allies, the Pulahanes!, although since early the 1900s, while camping in the mountains of the now Western Samar province, were popularly fighting against the United States' rule over the Philippines, but the guerillas led by Bataan war veteran Lt. Manuel Valley who hailed from Guiuan, the southermost town of now Eastern Samar - whose group stayed around the area from Lawaan town to Guiuan, Philippine Constabulary Colonel Luciano Abia whose men all came from his native town of Basey which is just across Tacloban City and participated in the last stage of clearing the coastlines of southern Samar, and three others, those of Samar's ex-governor and former Manila lawyer Gen. Pedro Arteche whose units operated in the Sta. Rita to Zumarraga zone, those under ex-Phil. Army Capt. Pedro V. Merritt who were assigned at the northwestern area of the Island of Samar, and those of Lt. Col. Juan Causing - later combining for a total strength of 10,000 armed men, plus members of the Pulahanes who in 1943 joined the anti-Japs campaign while keeping themselves together in the so-called "Bolo Battalion" of the 93rd Infantry Division following the landing of guerilla supplies brought to Samar by the US Army led by Major Charles Smith) and armed government forces and personnel then in the employ of the puppet local government units (dummied political governing structures under the direct control of the Japanese soldiers) in the different towns of the southern Samar area. The Japs had to be tricked so as to disable them from leaving this "area" about to be seized. They had to be surrounded, and captured. To achieve that, civilians and guerillas had to be told to do their share, to do exactly as planned by MacArthur.
The success of that "coordination" in southern Samar contributed to the successful invasion of Leyte by MacArthur's Liberation Forces. Had not the strategies worked, his invasion would have failed. Had not the people of southern Samar cooperated, had they not acted exactly as planned by MacArthur, there could have been no invasion of Leyte at all.
Of course, the uncaring Samarnons could have ignored MacArthur's phase three calls. They could have thrown defenses around the Japs. They could have simply retreated for cover in the thick tree forests high up in the mountains or in the cavernous recesses that surround the dwelling communities. Or, worse, they could have instead fought side by side with the Japs, and even pummeled down the advancing assault powers of MacArthur's! But, they did not do that!
Even children could have put up defense lines of bamboo cannons - lantaka, or luthang, which children in Samar up to now use for producing loud blasts out of a holed and shelled short-sized, and tilted (about 10 degrees) dry bamboo pole fed with kerosene oil that ignites and explodes when fire is placed on the small slit towards the ground end of the pole after puffing an air through that hole - and reared them with sharp objects at assaulting Liberation soldiers. But they did not do that!
Cooperation was manifest. All Samarnons in that "area" acted accordingly.
Coordination could have only been made possible through intelligence networking, passed on through radio and through channels. Of course, to avoid interception by the Japs, the Voice of America radio broadcasts were not availed of for the highly confidential intelligence information passage. These had to be done through the manpower of fishermen, merchants, teachers, and ordinary barrio people who could lest be suspected, if ever, of being information gatherers or passers. This could have taken place for one year or more, while MacArthur was arguing his points for his "Reno" plan.
Furtherance
Phase four pushed through. The Liberation Forces combed all villages along tactical routes around Samar Island. That could be the meaning of MacArthur's "occupation of the remainder of Samar." Also, the Liberation Forces could have gathered local fighters and combatants, as well as volunteers - women among them! - to set up visible fronts under orders to pump bullets into enemy Japs in sight, and to continue providing food rations and water supply to both the alien liberators and their local counterparts.
"Further neutralization of enemy positions in the Visayas" could have meant keeping the allied and local forces visible and mobile, as if in endless day-and-night patrols, to convey their readiness to shoot down or capture and take into prison the enemy Japs still straggling or conducting ambuscades from undetermined nooks and corners. That would be alarming to the enemies. The Japs would therefore be forced, to save their own pants, to head for caves and forests, there to hide indefinitely.
The "further neutralization" strategy could also have meant deployment of forces along beaches and on piers, wharves, ports and harbors, to keep the Japs from escaping en route to the sea or from going ashore if being chased away from another shore. Native Samarnons more familiar with the seas and movements in waterways could only be employed and deployed to do this war mission.
Which Towns?
Gen. MacArthur did not name the places comprising "Southern Samar".
Until lately, since year 2001, particularly during the leadership of Representative Antonio Eduardo Nachura, there was a cascading move to create from out of the existing province of Western Samar another province to be known as "Southern Samar". It was supposed to be composed of the towns of from Calbiga down to Marabut, including the faraway coastal towns of Villareal, Talalora and Sta. Rita. At about the same time, a similar move was brewing in Eastern Samar, with such towns as Lawaan, Balangiga, and a few more to the southern tip of the Island of Samar, annexed to a "Southern Samar" new province. Could MacArthur have referred to all these towns? Or, did he refer merely to towns that could fall south of Samar after drawing a demarcation line northeastward from the San Jose airport in Tacloban City through Samar Island? If the latter were the actual case, then all those towns, including Basey and Marabut in Western Samar up to Maydolong and down south in Eastern Samar could have participated in MacArthur's "Reno" intelligence and coordination activities.
Donald Chaput wrote (SAMAR in WW II) about the presence of Japanese soldiers only along the western coastlines of Samar Island, from Allen (in Northern Samar now) to Guiuan. These enemy troops were mostly support and service units, with a few assigned to some combat companies.
And so? Samarnons' in this "southern" area should be proud that they had played a very crucially important role in the so called "Leyte Landing". In a way, they had helped save Leyte and the Leyteños. In a way, they had helped liberate the Philippines from the Japanese. In a way, they had helped put an end to the classic World War II. Therefore, they have a reason to celebrate, yearly, as elaborately as Leyteños do.
Otherwise
If these were all not so, by implication, then Samarnons could simply remain on their shores, watching Leyteños and clapping their hands for the celebration in Leyte. Or, they could travel to Leyte and join at Red Beach (now also known as Macarthur Landing), where more than life-size statues of Gen. MacArthur, Gen. Carlos P. Romulo who was MacArthur's old aide who joined him on Bataan in 1942, and "an old stalwart of the Quezon camp" and the "resident commissioner for the Philippines in Washington", President Sergio Osmeña and Philippine Army chief of staff Basilio Valdez stand to remind every visiting WWII veteran from Samar that at their back is a memory hankering for its own recognition.