This COPS awardee is Leyte's pride
By Philippine Information Agency (PIA 8)
July 22, 2009
TACLOBAN CITY – Police Chief Inspector Alden Bacarra Delvo of San Pedro Police Station in Davao City, is one policeman the province of Leyte is be proud of.
PCI Delvo is one of the ten awardees in the recently conducted Country's Outstanding Police in Service, given to the finest men and women of the Philippine National Police by the Metrobank Foundation in partnership with the Rotary Club of New Manila East and the PSBank.
Given to the best and most dedicated members of the police force, this award is an expression of the private sector's appreciation of the police's commitment to maintaining peace and order in the country.
In an interview with Police Chief Inspector Delvo, he intimated that he is from Barugo, Leyte which is the hometown of his father, and that his mother is from Motiong, Samar. In fact, a part of his highschool education was taken in Leyte.
Despite being being busy, he finds time to be able to visit Leyte even if only very rarely, and he is proud to say that he could still speak the Waray-waray dialect.
What makes Chief Delvo an outstanding policeman of the country? For one, the COPS awardees have been nominated by their senior officers.
Chief Delvo's reply was doing all his responsibilities as a police officer with dedication, commitment and loyalty to his country, his organization and the public.
The San Pedro Police Station in Davao City is fronting the Church and is located near the City Hall. Chief Delvo often see the many street children hanging around the Church and he kept on thinking what he can do to help these children and also help lessen the problems of government units and agencies.
Because he is approachable and people-oriented, the street children go to him and then, Chief Delvo found himself facilitating the training of the children to become shoe shine boys. The few shoe shine boys became a 25-member group of shoe shine boys who did their jobs in front of the church. This is what he called Project Oyster.
This act was not left unnoticed. Without his knowledge, Chief Delvo has disturbed and opened the hearts of other people to also help the government in taking care of the disadvantaged sector of society, who would later become his assets and friends.
His concern for the welfare of the youth inspired him to organize the Kabataan Ayaw Sa Druga where he made the barangay captains and other barangay officials to monitor the activities of the young citizens in their respective barangays.
Another one of his "modest undertakings" is the Recon Explorer, a volunteer radio group which he tapped to feed him information. When he organized this group, the members were using hand-held radios. Now that the cellphone and sms are in, the members already makes use of this high tech communication tool.
Chief Delvo became popular not only for his sterling public service, always willing to walk through less travelled roads for the good of the people, but also by his strict adherence to PNP policies which he encourages his men to comply with. He expects his men to produce because "unproductive men should think of retiring or resigning, lest they become unproductive assets of government."
A very committed police officer is always inspired to do his job. Police officers must love their profession, because "it is only by loving your job that you will not need to work a single day in your life," he added.
Serving the PNP and the people for 19 years since graduating in 1995 from the National Police Academy, Chief Delvo was assigned in Mindanao and has since then lived and worked there.
Chief Delvo was the chief facilitator in the hostage-taking drama which took place in February of 2008. A man went inside a convenient store and held hostage the people inside the convenient store. Thanks to Chief Delvo who bravely went inside and made the hostage taker surrender without a drop of blood wasted, and with all the hostages safe.
Truly a protector of people, Chief Delvo's name will always be associated with the rescue of a local businessman by the name of Wilson Ho from the Balbacua Kidnap for Ransom Group where more than one half of the group members were captured.
He also facilitated the falling down of former PO2 Allan Estrada Kidnap for Ransom Group, the Chigo Robbery Hold up group and Posada Robbery Hold Up group.
Truly gifted with a skill in public relations, Chief Delvo is a Masters in Public Administration and a Bachelor of Laws degree holder.
Police Chief Inspector Delvo who is only 41 years old, is married to a Cebuano with whom he has 3 sons, the eldest is 13, the one in between is 10 and the youngest is 2 years old.
Boronganons find jobs in Canada meat shops
By ALICE NICART (PIA Eastern Samar)
July 21, 2009
BORONGAN, Eastern Samar – Never did it happen in the history of Borongan, Eastern Samar when a good number of productive young adults have found their workplace overseas in three batches already.
Thanks to the President Gloria Macapagal-Arroyo Training for Work Special Program (PGMA-TWSP).
It was gathered from a report of the Technical Education and Skills Development Authority (TESDA) Borongan that about 30 young adult males have flown to cold Canada country and are now gainfully employed either as butchers or meat processors.
Mr. Panfilo Garcia, Jr. Pompei for short, used to have a good post at the Congressional Office but he pursued himself to a Butchers' Training in Pampanga, after qualifying in the PGMA -TWSP which TESDA Borongan opened to takers about four years ago.
A brief talk with wife Myra revealed that Pompei's excellent communication skill earned him more bonuses. "Pomps have applied in the Canada's immigration program where he could petition his family. The program is quite stiff that one should pass the language proficiency test. But he perhaps made it to the passing mark; now he is processing our documents," the charming Mrs. Garcia graciously told PIA. "I am thankful to the government program because it opens new and better horizons to interested people", she added.
Darius Uy need not fly to Canada anymore, his family being operator of groceries, gasoline station and school supplies. But the son of the former Borongan Vice-Mayor decided to earn better, so he also underwent the Butchers' Training in Pampanga. For two years now, the former cashier of Anadel's Trading have been sending dollars to his family and not only that, this other guy from dear Borongan town is also processing the immigration papers of his family.
Since 2006, TESDA had been sending Boronganon butchers through the PGMA-TWSP. A number of policemen have tendered their resignation to try their luck in the northern America.
Lake Side, Car-Gill, Olymel and Bovre, all employment agencies of Alberta, Canada have learned to love the industry, patience and perseverance of the Boronganon worker who are likewise good English-speaking people.
Asked what is the common problem Filipino workers in Canada complain about, Myra replied, the "cold climate, besides the good pay is just commensurate to the hard work expected of them, because unlike in the Philippines where factories can pause for minutes, in Canada machines continue to roll that Pinoys have to handle them skillfully," she confided.
"But being good English speakers is something Pinoys can brag of themselves" Mrs. Garcia concluded.
As said by an old woman from Cabong to a stranger who was somewhat lost his way: gabay la ak nim pagpaininglison, dire la ak nim pagpa-tag-alogon kay dire lugod mababaliko it ak dila. (You better speak with me in English rather than in Tagalog, that way, my tongue won't get twisted at all).
4Ps in Pagsanghan town shows that government cares
By NINFA B. QUIRANTE
July 4, 2009
CATBALOGAN, Samar – The inclusion of some 715 beneficiaries in the Pantawid Pamilyang Pilipino Program (4Ps) is an indication that the national government cares for us, said Cecila Aleman of Calanyugan, Pagsanghan, Samar.
Aleman, 59 years old and a grandmother of two children named Jeoffrel 9 and Jessa 8 has cared for the two children since their tender ages left to her care.
The parents of the two kids are Aleman's children who now live elsewhere as the kids do not like to leave their lola anymore.
Lola Sesing, weaves mats as her livelihood. She said in her younger years, she can weave two mats a week and earn P500 then.
The years though have been unkind to Lola Sesing, her speed has suffered and now she can only produce one mat a week giving her and her two apos only P300.
Her unfortunate state qualified Lola Sesing for the program.
Another beneficiary also from Barangay Calanyugan is a blind woman Ludensia Casaljay, 45 with an only child. She got blind some five years ago and her husband left her with one more mouth to feed.
These are some of the beneficiaries included in Pagsanghan's list according to Ms Jean Renola, the 4Ps Municipal Link.
4Ps is a poverty reduction strategy that provides grants to extremely poor households to improve their health, nutrition and education of children aged 0-14 years old. It is patterned after the successful Conditional Cash Transfer Programs in Latin America and Africa.
Pagsanghan, a recipient of the program is a 5th class municipality located northwest of Samar's capital town. It can be reached through a 30-minute river cruise from Barangay Concepcion, Gandara (situated in Maharlika Highway).
While Pagsanghan is not found on the top ten list of the poorest municipalities in Eastern Visayas, it ranked number six (6) in the list of the top twenty nutritionally depressed municipalities as gleaned from the National Nutrition Council (NC) 8 data. A town is considered nutritionally depressed when it has a high nutrition prevalence vis-a-vis its population.
The town has an access to an all weather road constructed in the late 1990 during the second term of then Governor Jose Rono. The 14 kilometer stretch at present has highly deteriorated due to neglect in maintenance. The same road said Mayor Violeto Ceracas has transported then Senator Gloria Macapagal-Arroyo to this municipality rich with molluscs, crustaceans and other marine products. Pagsanghan townsfolk said the road does not receive attention from the provincial government.
Pagsanghan is basically an agricultural community, said Jun Borata, Municipal Planning and Development Officer (MPDO). Townfolks rely on farming, fishing and livelihood brought about by their abundant nipa palms. Nipa has opened a trading partnership between the town and Bantayan island in Cebu and has provided livelihood for its barangays.
With this brand new program, 4Ps Pagsanghan folks like Lola Sesing and Ludensia are hopeful that more programs from the national government will be able to augment the initiatives being pushed by the LGU.
The real Best in the East
Even Bruce Lee would've challenged Pacquiao
By ALEX P. VIDAL / PNS
June 2, 2009
SAN DIEGO, California – The best in the East.
This titanic title once belonged to the legendary kung fu maestro Bruce Lee who as the pride of the East even the best boxer in the world dared not to see him eyeball to eyeball in his heyday in the early 70's.
But after dismantling Ricky "The Hitman" Hatton in the IBO light welterweight duel dubbed "The Battle of the East and the West" in Las Vegas, Nevada on May 2, Manny Pacquiao is now reputed as the best warrior in the East in contact sports – including mixed martial arts and wrestling.
Had Pacquiao lived in the era of Bruce Lee or vice versa, the founder of Jet Kune Do combat form and Chinese's cultural icon would've challenged the Filipino lefty to a no-holds-barred duel to determine the real king of combat sports in the East.
Bruce Lee had humiliated seven-time world karate champion Ken Norton in their own version of the battle between the east and west.
And although the current darling of the Ultimate Fighting Championship (UFC) is Lyoto Carvalho Machida who is partly from the East, Pacquiao still stands alone unmolested in the totem pole of prizefighting, making him the most sought-after world champion in any multi-million dollar showdown.
Machida, who recently upset Rashad Evans in a clash of unbeaten fighters in UFC 98 billed as the "Ali-Frazier bout of UFC", also wants to be known as the best in both the East and West.
Although a Japanese-Brazilian, Machida, the current UFC light heavyweight champion and Shotokan karate specialist, claims to be a product of eastern full contact sports institutions having trained Muay Thai in Thailand and participated in New Japan Pro Wrestling in Tokyo before hitting pay dirt in the UFC.
As this developed, another pride of the west, Shane Mosley, have also expressed willingness to engage Pacquiao in a slugfest "in a catch weight".
Mosley's Challenge
Mosley's challenge came after light middleweight upstart Julio Caesar Chavez Jr. dared Pacquiao to a showdown before the end of 2009. Top Rank promotion had also mentioned Miguel Cotto's name as Pacquiao's possible opponent.
"There are conflicting reports from the Pacquiao camp an upcoming fight between me and Manny Pacquiao. I want it to be known that I want to fight Pacquiao and I want to fight him now. I'm willing to meet at a catch weight to make that happen," Mosley said.
"I know this is what Freddie Roach wants as well, as he has previously stated this to press. I am the best fighter in boxing and I am ready to reclaim the title of number one pound-for-pound fighter."
To end the guessing game, it was the 30-year-old boxer-cum-politician from Gen. Santos City, Philippines who broke the iceberg by declaring he was interested and ready to face flamboyant Floyd Mayweather Jr. on October 17.
Mayweather, meanwhile, is scheduled to fight Juan Manuel Marquez on July 18 at the MGM Grand in Las Vegas, Nevada and the Golden Boy Promotions announced the winner will possibly challenge Pacquiao, who is currently the best boxer in the world pound-for-pound.
Violence against children in schools still prevalent
By JONNIE H. BUENAVENTURA (PIA 8)
May 28, 2009
TACLOBAN CITY – The Plan Philippines, an international humanitarian, child-centered development organization, recently sponsored a forum dubbed as "Fostering a Caring School Environment" which centered on the abuses sustained by children inside the school, at Leyte Park Hotel, Tacloban City.
Plan Philippines commissioned the Philippine School of Social Work (PSSW) of the Philippine Women's University to undertake a study on violence against children (VAC) in public schools in areas covered by Plan programs.
A total of 2,442 children from 58 public schools in Masbate, Northern Samar and Camotes Island in Cebu participated in the study and the result of the study showed that at least 5 out of 10 children in Grades 1-3; about 7 out of 10 in Grades 4-6; and about 6 out of 10 in high school, have experienced some kind of violence in school.
The study showed that verbal abuse is the most prevalent form of violence experienced by children in all school levels. This includes being ridiculed and teased, being shouted at and being cursed or spoken to with harsh words.
Children peers, more than the adults, are the perpetrators of violence in schools.
According to Mikee Cojuangco-Jaworski, Plan Philippines Child Rights Ambassador and daughter of business tycoon Peping Cojuangco and now President of Philippine Olympic Committee (POC), whatever effort a mother does in order to protect her children against harm and from all forms of abuse, still the school authorities specially the teachers have a vital role in fostering children for they act as the second parents of the child and most often the child follows what the teacher says.
"I believe that teachers care and molding the children in becoming leaders of the future is beyond compare. However, there are few teachers who hurt their students because they believe that it is just a form of discipline but indeed, the child suffers trauma from the abuses sustained from the perpetrators," she said.
Mrs. Jaworski revealed that the Philippine Olympic Committee (POC) chaired by her father conducted a study and it turned out that only 5% of the youth (35 years old below) population engage in exercise, 92% of the Philippine population gain national pride thru sports (the likes of Manny Pacquiao -boxing, Wesley So -Chess, Paeng Nepumoceno -Bowling etc.), 7% of the youth are into drugs and 30% of the youth is engage in sex trade.
According to Iris Ann Umacob, Child and Adolescent Psychologist, when students or children in schools experience abuse there performance and self-esteem decline which results from not going anymore to schools.
Ms. Umacob urged Department of Education (DepEd) officials to look into the matter and make strict monitoring from the start of the classes to the end because dropping of students is not seen from the first few months in the school but it can be observed during the 2nd quarter of the school year onwards.
PGMA's "One Town One Scholar" Program makes pedicab driver and son cry
By Philippine Information Agency (PIA 8)
May 8, 2009
TACLOBAN CITY – A pedicab driver and his son shed tears upon being told that the son is among the first set of President Gloria Macapagal-Arroyo's "One Town One Scholar" Program.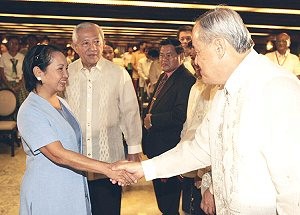 President Arroyo shakes hands with Mayor Roque Tiu of Tanauan, Leyte, during the ceremonial awarding of the scholarship certificates for some 1,500 One Town One Scholar Program for 2009-2010.
"I was anxious when a neighbor told me last night that my son Argie and I are being requested by the Mayor to see him at 8:00 o'clock in the morning today," Mr. Mabag, a pedicab driver from Cabuynan, Tanauan, Leyte, said.
At exactly 8:00 o'clock in the morning, Mr. Mabag and his son Argie were at Mayor Roque Tiu's office.
Mayor Tiu then told the father and son that Argie's application to be a "One Town One Scholar" has been approved by CHED and that the Mayor will accompany him to Manila to receive the scholarship certificate from no less than President Gloria Macapagal-Arroyo at the Malacanang Palace.
"I was shocked and at the same time surprised to see they shed tears," Mayor Tiu said confiding that he was taken aback at the reaction of the father and son.
He said that CHED Region 8 called him up early evening of Monday informing him that Tanauan's "One Town One Scholar" will represent Region 8 in the awarding of scholarship certificates at Malacanang on Wednesday, May 6.
Mayor Tiu who just bought a ticket to Manila for Thursday May 7, immediately called up the ticketing office to change his flight date and bought another ticket for Argie.
"I never expected to be able to pursue a college education," Argie said. "Thanks to President Gloria, my dream to become a professional so that I could help improve the economic standing of my family will be realized," Argie said crying.
Admitting he has never been to Manila, Argie said he is not afraid because he will be with the Mayor. He is excited to see President Arroyo at Malacanang, he confessed.
Argie said he learned about the "One Town One Scholar" program of President Arroyo from Mayor Tiu during the graduation exercises last March.
Knowing that his parents cannot afford to send him to college because his father is just a tricycle driver who every now and then would cook bread and native delicacies to augment the family income, Argie wrote an application letter and he took the written exam given by the local government unit.
Argie, who graduated as an honorable mention in his class, the first batch of graduates from the Cabuynan Annex of the Tanauan National High School, topped the written exams and interview conducted by the LGU, together with an equally bright student from his school.
Mayor Tiu said that after he recommended Argie to CHED, he decided to take in the other bright student applicant as a scholar of the Local Government Unit.
As a PGMA's "One Town One Scholar" grantee, Argie will receive a scholarship for a four or five year college degree program, including free tuition and transportation and living allowances, not exceeding P15,000 per semester for School Year 2009-2010 and every year thereafter.
Northern Samar commemorates 109th Anniversary of the Battle of Catubig
By TERESITA B. CARDENAS (PIA Northern Samar)
April 18, 2009
CATARMAN, Northern Samar – The municipality of Catubig, Northern Samar observed the commemoration of the 109th anniversary of the Battle of Catubig by holding a parade and followed by a program which was held at the Municipal Auditorium on Wednesday, April 15, 2009.
In her welcome address, Catubig lady Mayor Hon. Cristina L. Vicencio said that "from the installation of the National Historical Institute marker in 2007, to the commemoration of the Battle's 108th anniversary, to this 109th observance of our people's victory over the American invaders, all of us are witnesses to the relentless efforts of former board member Mrs. Leta Luto de la Cruz to ingrain this historic event in the civic consciousness and nationalistic sentiments of every Catubignon and Las Navasnon."
She further stressed that the occasion should be a time to reflect on those glorious days in April 1900, so that Catubignons may be reinvigorated into joining hands in order to start anew "where we have backslid, to work all the way toward the progress of this land which these selfless men and women a century ago protected. "
Governor Raul A. Daza also in his message said that the Battle was a glorious choice made by Domingo Rebadulla and the Catubignons when they stood to fight the Americans. The principled decision was made even if they had to risk their lives, and thus once more validate the Filipinos' love of democracy and freedom.
"Principle over comfort is ideal in preserving freedom not only during their time but also in our time. Today we are not only under a threat from the Americans and Spaniards but Filipinos against Filipinos. Every 15th day of April of every year, we relive the spirit of the Battle of Catubig, especially how the loyal and patriotic Catubignons risked their lives. We should always keep in our hearts, the freedom and their heroic acts, so let this be a binding to all of us and endure not only during their generation but the future generations," the governor said.
The Battle of Catubig was re-enacted in a historical drama played by the youth groups of Catubig. After which was the awarding of recognition to Outstanding Catubignons. The 2009 Outstanding Catubignons were given to former congressman, the late Atty. Romualdo T. Vicencio, for his efforts to improve the living standard of the Catubignons; Dr. Pacita R. Uy, for her singular effort and perseverance as a working mother, in the process producing seven professional children, five doctors of medicine, one certified accountant, and one mechanical engineer; Arch. Arnulfo P. De Asis, for his singular achievement as a high-caliber architect and upscale building contractor; Atty. Mar P. De Asis, for being the first Catubignon to become president of a state university; and to Miss Sherylee Hiramia Sustiguer, for bringing honor to the municipality as the first Catubignon and Nortehanon to win a beauty contest at the national level.
During the program the first Catubig Historical Club Officers were inducted by Gov. Raul A. Daza, with Mrs. Leta Luto-De la Cruz as the president; Dr. Juanito E. Tentativa as the vice-president; Mr. Neciforo E. Rubenecia, Jr. as secretary; Hon. Maria C. Montealto as treasurer; Mr. Abner M. Orsolino as auditor; Miss Luisa O. Rebadulla as PIO; Board of Directors: Ms. Hope Llorey B. Glorioso, Mr. Romualdo L. Hipe, Ms. Trinidad T. Espina, Mr. Rico D. De Asis, Hon. Zenaida P. Uy; Mr. Manrico Embile as consultant; and Dr. Rodolfo T. Galit, Sr., Dr. Lydia E. De la Rosa and Hon. Ma. Cristina L. Vicencio as advisers.
A closing prayer highlighted by candle lighting at the Battle of Catubig Shrine which was led by the parish priest, Rev. Fr. Cecilio P. Lucero concluded the program.
Related readings: The Battle of Catubig
Pangulong Gloria Scholarship boosts employability of the 5,776 scholars in Region 8
By Philippine Information Agency (PIA 8)
April 6, 2009
TACLOBAN CITY – The Pangulong Gloria Scholarship Program which is being implemented by the Techical Education and Skills Development Authority, is seen as a tool that would increase the employability of Eastern Visayas folk.
As of March 29, 2009, there are already 5,776 scholars have benefited from the Pangulong Gloria Scholarship Program in Region 8, TESDA 8 Director Juan M. Sabulao Jr informed.
Of the total number of Pangulong Gloria Scholars in the Region, about 303 have graduated as of March 29, 2009.
The Pangulong Gloria scholars in Region 8 are studying in the various TESDA accredited vocational-technical schools scattered in the 6 provinces in Region 8. In Leyte province, there are 1,594 Pangulong Gloria scholars; 318 in Biliran; 407 in Southern Leyte; 544 in Samar; 1,242 in Eastern Samar and 1,671 in Northern Samar.
These scholar are taking upshort courses on Bartending, Building Wiring, Call Center Agent, Carpentry, Commercial Cooking, computer hardware servicing, consumer electronics servicing, food and beverage services, health care services, household housekeeping, Java, Korean language, machining, medical transcription, massage theraphy, masonry, pipefitting, plumbing, shielder metal arch weilding, automotive servicing, driving, haircutting, small engine servicing, among others.
Right after graduation, these graduates undergo assessment tests for them to be given certification, an important requirement for employment or for further training.
The Pangulong Gloria Scholarship Program is TESDA's response to President Arroyo's directives on government-business-labor initiatives against the global crisis, Director Sabulao said.
Ang Pangulong Gloria Scholarships is TESDA's platform to link job training directly to job recruiters, displaced workers and Overseas Filipino workers.
Director Sabulao said the program is aimed at reducing the unemployment and underemployment rate in the country by helping students and the local populace to get immediate employment not only in their localities but even outside the country.
This is the reason why Director Sabulao really take time to encourage high school graduates to avail of this free skills training under the Pangulong Gloria Scholarship Program.
The training package includes the training cost, institutional incentive package, training allowance and assessment fees.
Availment of the scholarship is on first-come first served basis, Director Sabulao said. This is why he is encouraging interested Eastern Visayans to visit the TESDA office nearest them, right away.
Interested applicants must be at least 18 years old, with birth certificate preferably issued by the National Statistics Office, physically and mentally fit.