Samar lady solon awards deserving servicemen, hails them for heroism
By NINFA B. QUIRANTE (PIA Samar)
July 18, 2008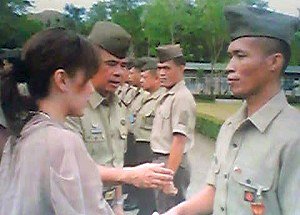 CATBALOGAN CITY, Samar – Lady Representative Sharee Ann Tan of the 2nd District of Samar served as guest of honor and speaker during the awarding of one officer and four enlisted personnel of the 8th Infantry Division (ID) on Monday July 14, 2008.
Congresswoman Tan and 8th ID Commanding General Arthur Tabaquero awarded the deserving officer and enlisted men.
Captain Alfie Ferrer, Sgt. Mario Alfie Bagtong, Cpl. Edwin Buton, Pfc. Arlene Rivera and Pfc. Vicenter Ramirez were given the Anti-Dissidents Campaign Medal and Ribbon for their exemplary and invaluable services to Samar.
The achievement of the officer and enlisted personnel is hoped to give inspiration not only to their fellow soldiers but also to the Samarnons who benefit from the soldiers services.
In her message, Congresswoman Tan applauded the 8th Infantry Division for the strong commitment and dedication as an organization whose strength and resources are committed in ensuring peace and the safety of Samarnons.
"It has become public knowledge that you do not only protect lives and safeguard properties; you do not only take up arms to fight the perceived enemies of the state, but you have also ventured into education to fight illiteracy," Tan was quoted saying.
Soldiers were also known to extend health programs, agriculture and even tree planting activities, these the lady lawmaker added.
Congresswoman Tan also mentioned that the soldiers are into engineering, building roads and bridges.
"You also venture into community organization to win friends and revise negative impressions. Most of you, who are here upholding the standard of the Army are not even Samarnons. But you have pledged to shed your blood and lay down your lives for us, the people of Samar," the lady solon added.
Meanwhile, BGen. Tabaquero expressed his thanks to Hon. Tan for the inspiration.
"We will continue to reach out to hopefully develop a strong linkage and partnership with the local officials and the various sectors of society. We believe that by joining hands and working together, we will finally be able to arrest the insurgency problem in our country," Tabaquero said in response to the inspiration the young Tan exuded. (with report from 8th ID)
Pacquiao might 'sacrifice' WBC super featherweight belt and keep lightweight belt
By ALEX P. VIDAL / PNS
July 18, 2008
LOS ANGELES, California – Now that the World Boxing Council (WBC) Board of Governors in Mexico City has given two-division world champion Manny Pacquiao until July 28 to decide which of his two belts - WBC super featherweight and WBC lightweight - he will relinquish, Pacquiao might jettison the lower division and retain the title he wrested from David Diaz on June 28 in Las Vegas, Nevada.
This became apparent after Pacquiao had indicated he was willing to defend the 135-lb title "against whoever my promoter will tap to face me" before thinking of whether or not invading the light welterweight division governed by Ricky Hatton.
In its July 14 decision released through WBC president Don Jose Sulaiman Chagnon from Mexico City, the Board of Governors voted to pave the way for Humberto Soto, a Mexican, to challenge Pacquiao for WBC super featherweight championship in the event Pacquiao decides to hold on to the title he grabbed from Juan Manuel Marquez on March 15 also in Las Vegas.
The winner between Pacquiao and Soto has been mandated to face Francisco Lorenzo of the Dominican Republic who was ordered to pay a $2,000 fine for "unsportsmanlike actions" in the ring which resulted in referee Joe Cortez's decision to declare him winner by disqualification over Soto in their eliminator bout underneath the Pacquiao-Diaz rumble.
Observers said the WBC ruling of a Soto-Pacquiao setto "might end up moot and academic" once Pacquiao will announce he will "sacrifice" the super featherweight crown for the lightweight throne.
Pacquiao's promoter Bob Arum, as well as his coaching staff led by Freddie Roach, have announced that the 29-year-old boxing icon is already comfortable in the lightweight division where he is reportedly most destructive as compared to the lower divisions.
Pacquiao will be back in the United States for the non-title fight of Bernabe Concepcion against Adam Carrera on July 26 in Las Vegas and is expected to make the official decision.
20,000 East Samar families to avail of power subsidy
By ALICE NICART (PIA Eastern Samar)
July 18, 2008
BORONGAN CITY, Eastern Samar – In congruence to President Gloria Macapagal-Arroyo's program to mitigate the impact of the increasing cost of electric power, Eastern Samar Electric Cooperative (ESAMELCO) is eyeing to likewise implement the "P500 power subsidy" to some 20,000 families who have consumed not more than 100 kilowatt since May 2008.
This was learned from Ms. Beth Acol, ESAMELCO Administrative Division Chief in a phone interview.
Acol said that the program has long been thought of also by the Cooperative immediately after the President acted on the problem.
"Maybe, since our top managers are still busy doing the same thing in other cooperatives, we can finalize this subsidy thing this July," Ms. Acol said. She also stressed that the P500 will not be given in cash but will be offset on installment basis from the families' succeeding monthly billing, until the full amount is exhausted.
"Maupay na gad it. Maiibanan it ak baraydan hin P100 kada bulan ngada hit ak paka bug-os hin P500? Kaupay dawla!". (That is better! My monthly bill will be deducted of P100 until I am able to complete the P500 government subsidy. That's good!). Emma Bacale of PC Village exclaimed. As a "puto" vendor in the neighborhood, P100 is good money for the mother of three, whose husband works as a driver.
PGMA fulfills promise in 2003, inaugurates P54 M bridge in Samar
By NINFA B. QUIRANTE (PIA Samar)
July 16, 2008
CATBALOGAN CITY, Samar – President Gloria Macapagal Arroyo fulfilled her promise in May 10, 2003 – that of providing the much needed bridge for Matuguinao town.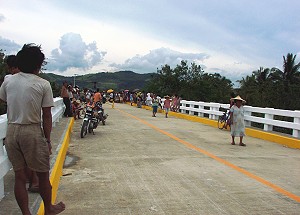 The 72 linear meters Sto. Niño Bridge in Gandara, Samar costing the government some P54 million for its completion. (Photo by Vino R. Cuayzon)
On Tuesday, amidst the loud cheers of some 2000 Samarnons, she unveiled the bridge marker.
PGMA in her pronouncements is keen on developing the countryside. With the inauguration of the Sto. Niño Bridge in Gandara, Samar, residents in the interior most towns in Samar will now have a better chance to uplift their living conditions.
Mayor Carlos de la Cruz vividly remembers that in May 10, 2003 PGMA visited their remote town and that was when the President made her promise. He was still the Vice Mayor then.
As the incumbent Mayor, dela Cruz profusely thanked the visitor in his speech and said that finally his town would be able to keep up with other economically stable areas in Samar.
The Sto Niño Bridge although located in Gandara town seems to benefit more Matuguinao residents as its completion will connect them to other Samar municipalities.
Although the bridge is more than what they could from the President, Mayor dela Cruz added that fuller access to his town would mean rehabilitation of the deteriorating road to the heart of Samar.
Some 19-20 kilometers separate Matuguinao from Gandara, the bridge was one of the most difficult part of the Gandara-Matuguinao Road project costing as much as P54 M.
Construction done by B. Vicencio Construction lasted for two years, said Vicky Miranda, a senior staff of the construction company.
In an earlier interview with DPWH Assistant Regional Director Laureano B. Suan, Jr., he said that the national government will be in major infrastructure construction spree until the President's term end in 2010.
The Sto. Niño Bridge serves mostly farmers, students and local entrepreneurs. The construction of the bridge will not only provide better access to the people of Matuguinao and those residing in Barangays along the Gandara-Matuguinao Road, but will also improve the peace and order situation in the area, known to be the lairs of communists in the Samar area.
Mayor dela Cruz said that they would now be able to transport their farm produce using land transportation where cost is much cheaper than the usual mode which is a motorboat ride for four hours.
PGMA was accompanied by Samar Governor Milagrosa Tan, Second District Representative Sharee Ann Tan, DPWH Secretary Hermogenes Ebdane and Presidential Assistant for the Visayas Vic Domingo.
Barangay Chairman Rudito Go said that he was able to pass on to the President's aide some priority projects needing assistance.
In the brief visit, residents were disappointed that PGMA did not say anything, although she obliged for photo ops and smiled and waved to the cheering crowd. (with report from Raymond/lmr)
Katas sa VAT Pantawid Kuryente reaches Samar province
By NINFA B. QUIRANTE (PIA Samar)
July 16, 2008
CATBALOGAN CITY, Samar – Samarnons do not have to envy Metro Manilans as they enjoy the P500 power subsidy through President Gloria Macapagal-Arroyo's "Katas sa VAT: Pantawid Kuryente".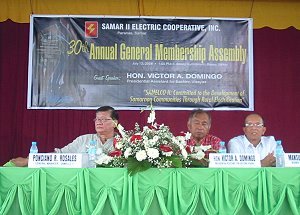 On Saturday, at the Samar Electric Cooperative (SAMELCO ll) 30th Annual General Membership Assembly held at Basey Gymnasium, General manager Ponciano Rosales announced that Samarnon households who consume 100 kwhr and below per month will enjoy the program.
It was in June when Metro Manilans were told to avail of the project.
Rosales said that unlike in Metro Manila where they receive the cash of P 500, in Samelco ll, the amount will be credited to the consumer's account.
If a member consumer only consumes P300, the balance of P200 will be deposited for the succeeding month.
Elenea Berongoy from Basey who is about to pay P496.99 for her 78 kwhr consumption feels relieved that her one month electric consumption will be considered free.
Rosales said that this is an additional burden for his staff but because this would surely benefit poor Samarnons, he welcomed the PGMA program.
Meanwhile, Bunye, the Press secretary then stressed this subsidy of P500 pesos is "a one-time assistance" which was clear from the very start.
The President launched the electricity subsidy for low-consumption households project on June 3, 2008, where two billion pesos was allocated to provide cash transfers intended for the four million poorest of the poor and those using up to 100 kilowatt electricity consumption.
LTFRB region 8 implements new fare adjustments
By MARIVIC ALCOBER (PIA 8)
July 16, 2008
TACLOBAN CITY, Leyte – The new fare adjustments as approved took effect and was implemented by in Eastern Visayas on July 14, the Land Transportation Franchising and Regulatory Board Regional Office 8 through its Regional Director Arthur I. Saipudin disclosed.
According to Director Saipudin, for Region 8, the approved adjustment is P1.00 for the first five kilometers (kms) and an additional P1.00 for the succeeding kilometers for Public Utility Jeepneys (PUJs).
In Tacloban, the previous fare was P6.00 for the first five kilometers and through a provisional authority which took effect May 21, 2008, it became P6.50 for the first five kms, and now the approved rate is already P7.50.
On May 19, 2008 the Board issued a Consolidated Order granting a P.50 provisional fare increase to PUJs due to the sharp increase of oil prices.
The general observation was that during the month of June, oil companies have been increasing their prices by P1.50/liter and have still been increasing this month of July, Director Saipudin said.
It was also reported that for this year alone, there have been seventeen (17) oil price increases, with prices of diesel now standing at P 52.00/liter.
Because of these consideration that LTFRB Chairman Thompsonn Lantion approved the fare rate adjustment for Public Utility Jeeps, Director Saipudin said.
Sto. Niño hinterland barangay eagerly awaits for PGMA's Samar visit on Tuesday
By Philippine Information Agency (PIA 8)
July 14, 2008
CALBAYOG CITY, Samar – "We are excited over the President's visit because this is an opportunity for us to thank her for fulfilling the promise she made when she was campaigning in 2004 to finish the Sto. Niño Bridge component of the Gandara-Matuguinao Road Project."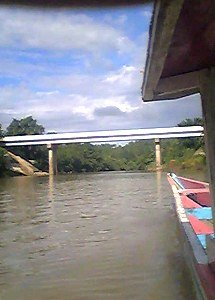 The Sto. Niño bridge linking the Gandara and Matuguinao towns in Samar. (photo by Jun Arceño)
Thus, said Sto. Niño Barangay Chairman Rodito Uy candidly said, speaking about the scheduled visit of President Gloria Macapagal Arroyo on July 15, to inaugurate the Sto. Niño Bridge.
There is a very good reason for the people of Sto. Niño and the people of the municipalities of Gandara and Matuguinao to be jubilant and excited over the coming of President Arroyo, Chairman Uy disclosed.
"We have waited for many long years for the bridge that will connect the two municipalities to be completed," Chairman Uy said. The project used to be a provincial project but because of meager funds, its progress was too slow.
Visiting Matuguinao while campaigning for the 2004 elections, the President promised the people of Samar to help complete the project.
President Arroyo, by fulfilling her campaign promise brought back the trust of the people in government, Chairman Uy said. She also kept the flame of hope to continue burning in the hearts of our people, he added.
Chairman Uy empathically said that the project has a very great impact on the people. It connected the town of Gandara composed of 69 barangays to the town of Matuguinao, with 20 barangays.
The Project will benefit the farmers, the students and business entrepreneurs, Chairman Uy said. The municipality of Gandara has about 34,000 population while Matuguinao has 5,361.
It used to take the people of Sto. Niño two hours by boat to reach the town of Matuguinao. Today, it will take them only 40 minutes.
With the completion of the Bridge, the farmers will have easier access to market their products in Gandara, in Calbayog or in Catbalogan, Chairman Uy added.
The 72.195 meters Bridge will not only spur economic activities in the area, but will also increase literacy and more importantly improve the peace and order situation in the area, Chairman Uy said further.
The Sto. Niño Bridge was implemented by the Regional Project Monitoring Office of the Department of Public Works and Highways within the Samar 1st District Office, Calbayog City's area of jurisdiction.
The Project had a contract cost of P40.2 Million plus an additional amount of P14 Million was released to improve abutment "A" approach, making a total project cost of P54.2 Million.
One more airline company starts flying to Calbayog City
By Philippine Information Agency (PIA 8)
July 14, 2008
TACLOBAN CITY, Leyte – Another airline company will soon fly to Calbayog from Manila, Mayor Mel Senen Sarmiento who is also the Chairman of the Regional Development Council of Eastern Visayas, disclosed.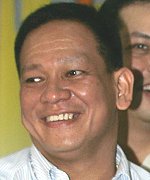 Mayor Mel Sarmiento
Mayor Sarmiento said that the maiden flight to Calbayog of the Philippine Airlines (PAL) Express on July 15, will be a historic one as for the first time, two airlines will be flying to Calbayog.
Mayor Sarmiento sees this as a manifestation of a positive development in the Region. At present, only the Asian Spirit is flying the Calbayog-Manila and vice versa route three times a week, he said.
With the new player's 4 times per week flight, Calbayog City will already have one per day flight and could already claim to easy accessibility.
Further, Mayor Sarmiento is hoping that the entrance of a new aviation player will accelerate economic activities and result to economic growth not only in Calbayog but in the entire region.
For one, accessibility will trigger more investors and tourists, Mayor Sarmiento said. More visitor arrivals will mean more business to the Hospitality Industry, to include the hotels, travel agencies, restaurants, and allied business.
Calbayog City is a first class city in the province of Samar. It lies along the coastal region of the province stretching about 60 miles from the northern tip of the island and 180 miles from southern boundaries. Calbayog is comprises 157 barangays and is the largest city in Eastern Visayas. According to the 2007 census, it has a population of 163,657 people in 28,912 households.
Belonging to the new breed of public servants, Mayor Sarmiento has made impressive gains for the City of Calbayog. Becoming the City Mayor in 2001, Mayor Sarmiento successfully reversed a P144 Million deficit in the local government.
With his experience in the private sector and with the adoption of the City Development Strategy process, Mayor Sarmiento's administration has moved Calbayog City forward as could be glimpsed by the increased tax collection efficiency to 97.65% (from 6.87% in 1997), increased local revenue by 5.4%, and a 130% increase in revenues from business collections.
San Carlos City officials observes Tanauan's implementation of land use based barangay development planning
By Philippine Information Agency (PIA 8)
July 14, 2008
TACLOBAN CITY, Leyte – The officials of San Carlos City, Negros Occidental are scheduled to visit Tanauan, Leyte on July 16 in order to observe the implementation of the Land Use Based Barangay Development Planning (LUB-BDP) of the municipality.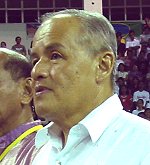 Mayor Roque Tiu
Tanauan Mayor Roque Tiu informed that the San Carlos City delegation will be headed by no less City Mayor Eugenio Jose "Bong" Lacson and Vice Mayor Gerardo P. Valmayor, Jr.
The visitors will be welcomed by Mayor Roque Tiu and the local municipal officials and employees amidst the presentation of the town's PASAKA Festival which recently won the fifth place in the Pintados-Kasadyaan Festival of Festivals and which in the past has won second place in the nationwide Aliwan Festival in Manila.
They will be briefed on the LUB-BDP by the Municipal Implementing Team and the GTZ Tacloban with the end-in view of providing the delegation first hand knowledge about the process for possible replication in the City of San Carlos.
After lunch, the group will be brought to the actual replication being done at Barangays Cabalagnan, Maribi and Pago where the visitors can interact with the Barangay officials on the actual process of replication.
The Municipality of Tanauan is a pilot municipality, together with the municipalities of Tolosa, Tabon-tabon, Dagami and Pastrana all in the province of Leyte, for the Land Use Based Barangay Development Planning and has been featured in the latest issue of Ang Punong Bayan magazine for municipalities with the theme "Celebrating municipalities' innovations and excellence: Best buy in local governance."
Entitled Ang Galing Mo Mayor! A Tribute to Innovation and Excellence in Participatory Local Governance, the magazine lauded the town's Land Use Based Barangay Development Plan which has been piloted in one barangay and is now being replicated in all the 54 barangays of Tanauan.
So far, more than 50 percent of the 54 barangays of the town have already replicated the process and have their own Barangay Development Plan.
Through this system of Development Planning, the barangay people are able to identify not only the use of the land in their barangay, but they are also able to determine the geohazards which are present in the barangay. Hence, they are able to plan ahead so that they will be able to mitigate if not fully prevent the damage of disasters.
By using the Land Use Based Development Planning, the barangays are able to determine which portion of the barangay is safe for residential locations and which parts are the best for productivity and what priority projects the barangay must undertake. The people will even know which lot to buy and what purpose the land is best used for.
The best thing however, is that through this kind of planning, the barangays are empowered to plan for themselves and undertake projects which the barangays will finance with support from the other government entities. This teaches them to be self-reliant and not be so dependent on the municipal government, the provincial or the national government.
With disasters occurring every so often, this type of planning will also hopefully be adopted by other barangays and municipalities in the Visayas area.
Mayor Tiu added that by using the LUB-BDP, the economic aspect is also incorporated in the process and in the plan. All the barangay Plans will be incorporated in the Municipal Development Plan, thus, promoting and achieving participatory governance which is the real essence of good governance.
BFAR to fishery technicians: Teach fishermen to become fish farmers, not just fishers
By NINFA B. QUIRANTE (PIA Samar)
July 12, 2008
CATBALOGAN CITY, Samar – Bureau of Fisheries and Aquatic Resources (BFAR) Regional Director Juan D. Albaladejo urged the fishery technicians to teach fishermen to become fish farmers not just fishers.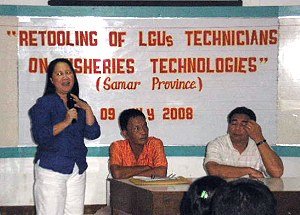 Dir. Justerie M. Granali, BFAR-8 Asst. Director, stressed the importance of latest Fisheries Technologies to Agricultural Technologists. (photo by Norberto Berida)
This he pronounced in his address to some 45 fisheries technicians who attended the Retooling of LGU-Fisheries Technicians sponsored by BFAR RO 8, BFAR-Samar and BFAR-Regional Fishery Training Center at the Samar State University (SSU) Mercedes, Campus on Wednesday.
Although Albaledejo admitted that there are some problems in the fishery sector partly due to overfishing, climate change and high cost of fuel still he announced that during the first quarter of the year, fishery in the region posted a growth rate of 10.7%. He attributed 60% of which to aqua culture.
Presently, he said that there are 15 locators (investors) in marine culture, most are found in the San Juanico area near Tacloban City.
Samar fisherfolks, he added, must be taught to become fish farmers by engaging in aquaculture, seaweeds and mollusk farming.
Small fisherfolks will also be taught to develop mangrove nurseries, seaweeds production, marine fish cages and even fish processing, added BFAR RFTC 8 Training Director Norberto Berida.
BFAR Fishery Officer Rolando Ay-ay also added that they had employed fish seeding in the rivers and other water forms of Samar.
As to the destructive modes of fishing, the full implementation of the Municipal Fishery Ordinance (MFO) in all Samar towns is expected to address the problem.
As to rising fuel cost, Berida said that they advise small fisherfolks to sail to the fishing grounds using 'sail' or layag. It is only when they had done with fishing will they use their 3 or 5 HP motorboats, he offered.
Another suggestion is to organize all fisherfolks and request fuel subsidy from the national government as enjoyed by the transport sector, said one speaker Cylet Lluz.
Despite the odds in fishery, Albaladejo seems not to run out of ideas to boost the fishery industry.
His team is also trying to address the dying mussel industry due to pollution and siltation. He stressed that mussel stakes should be spaced enough for sea-water to wash out whatever impurities seem to stagnate.
Another technology, the raft method said to be originally developed by Gerardo Malinao is now being adapted by most fisherfolks.
All things considered, the fishery experts are bent on providing fish or marine products in the market for human consumption.
South Leyte LGU sets aside P1.1 million fertilizer subsidy fund for rice farmers
By BONG PEDALINO (PIA Southern Leyte)
July 12, 2008
MAASIN CITY, Southern Leyte – The local government unit (LGU) of Southern Leyte province has set aside over a million pesos from its own coffers to subsidize the fertilizer needs of its rice farmers during this cropping season.
This was learned from Daniel Mayorca, provincial Agriculturist, who disclosed that as of now he has been preparing the guidelines for this LGU-led initiative.
When fully implemented the soonest time possible, the subsidy can go a long way in helping farmers cope up with the high cost of fertilizers now prevailing in the market, which has gone up nearly P2,000 per bag from a slightly over P 1,000 each bag only a couple of months ago.
Mayorca said that while he was in the process of finalizing the guidelines, he was also waiting for a go-signal from Gov. Damian Mercado on which municipalities, in addition to this city, will be listed as priority for distribution.
But as to the number of individual farmers who stand to benefit from this kind of agricultural assistance, Mayorca estimated about 1,500 persons, tilling an average riceland area of one-half hectare per person.
Under such an estimate, some 700 hectares of ricefarms can be developed with input intervention from the province, he added.
The P 1.1 million provincial fertilizer subsidy is open only to rice farmers, Mayorca stressed, apparently in an effort to boost rice production in the province as a way of stemming the tide of skyrocketing prices of the staple food.
Mayorca also said he has been considering integrating the practice of using organic fertilizer even as the subsidy assistance will be ongoing, adding that in fact this has been done by a farmer in Sogod town, so as to make use of farm wastes rather than burning them.
Meanwhile, Mayorca revealed that he has been tasked to make a comprehensive rice development program for the province.
He said the task was assigned to him by the Provincial Small Enterprises and Development Council in a meeting that he had attended.