Petition for the return of Balangiga Bells launched
By R SONNY SAMPAYAN (USAF-Ret)
May 27, 2005
BALANGIGA, Eastern Samar - On May 8, 2005, the Diocese of Borongan and the Balangiga Parish launched a petition addressed to the Helsinki Commission, the United States Congress and to President Bush calling for the return of the Balangiga church bells that were removed in 1901. On May 17, 2005, the GLOBAL petition was launched on the Internet.
On March 26, 2005, during the Wyoming Veterans' Commission meeting, the commission courageously voted to return the church bells. One of the Commissioners who strongly opposed the return of the bells in 1998 made a statement to support the return of the church bells. In his statement, retired US Air Force Lt Col Joseph Sestak said, "Returning the bells is the right thing to do in light of the present international climate and the fact that many nations are now returning artifacts or booty to the nations from which they came."
Also in attendance of the meeting was Jean Wall, the daughter of Private Gamlin, a soldier who survived the ordeal in Balangiga. Jean Wall appealed to those who opposed the return of the bells and said: "I don't think my father and his comrades who survived that horrible ordeal at Balangiga would be proud of any other decision but to send the bells home and close the book on that chapter of our history." "I am sure that the majority of Americans today, both military and civilian, want to act upon those ideals that America was founded on in a manner that sets an example of compassionate and democratic society," she added.
Before the December 3, 2004 and March 26, 2005 meeting in Wyoming, Bishop Medroso has been "troubling heaven by making shameless cries." Bishop Medroso added, "For me what happened on September 28, 1901 was not a freak accident," he said. "It was the work of history. And history oftentimes has a way of joining two people together, two countries, and two races. The encounter, the bloody combat, the senseless loss of lives of our dear ones, the hate, the nightmares, all these are part of the unfolding of history.
"But so also is the struggle to understand each other, to let go of hate and animosities, to extend the open hands for pardon and forgiveness, to embrace one another as brothers and sisters. "The Bells of Balangiga have stood as the mute yet faithful witness to the history of the two countries: America and the Philippines; history of two communities: Wyoming and Balangiga."
The general public is welcomed to electronically sign the petition and make a special thanks to the Wyoming Veterans' Commission, simply go to http://www.petitiononline.com/bells05/ Comments are welcomed but please avoid using inflammatory language.
Military operation hampers "bayanihan" project in Villareal
By ALVIN T. DEVARAS
May 22, 2005
Sponsor: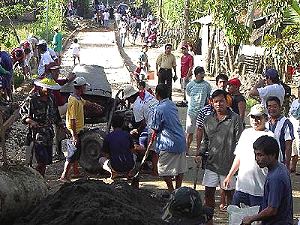 VILLAREAL, Samar - Local populace of this town complained on the continued military "psy ops" against suspected local criminals, leaders, and members of militant groups as well as suspected New Peoples Army (NPA) members, sympathizers and supporters in Samar.
Residents claim that this military operation affects the on-going "bayanihan" project spearheaded by Villareal Mayor Renato "Boy" Latorre, Bayan Muna-Samar provincial chairman. According to them, this 8-km road project initiated by the local residents in coordination with Villahanon Association in Metro-Manila (VAMM), Villahanons-International and Gugma han Samar Cyberspace Movement that started sometime in 2004, is temporarily stopped by because some of the volunteers refrained from reporting to work for fear that they might be suspected as supporters of the terrorist group after the military alleged that red fighters are among the volunteers.
Residents also said that they were forced to momentarily impede said project as Mayor Latorre, who is the over-all supervisor of the road construction project, left for manila for fear of his life after the series of abductions and killings of prominent militant personalities in Eastern Visayas.
Residents are saddened with this sudden stoppage of construction work and panicked that donors might as well cease extending financial and material support. According to them, the project was made possible because of the financial, material donations and free labor volunteers with a very minimal counterpart from the local government of the municipality.
For 40 years they have dreamed of having a concrete road network that they believe would deliver them from long time economic stagnation. They claimed that their municipality has been neglected by previous and present national and provincial elected officials and it is only during the administration of Latorre that a project like this was initiated without the help of the national and provincial governments.
The 8th Infantry Division, based in Brgy. Maulong, Catbalogan, Samar, vehemently denied the allegations. Maj. Gen. Jovito S. Palaparan, 8ID's commanding general, counters that these are just all staged by individuals or groups wanting to destroy the good image of the Army in the region.
Villagers dessert Calbiga hinterlands
By BRYAN M. AZURA
May 21, 2005
Sponsor:
CALBIGA, Samar – Hundreds of residents evacuated from upland barangays of this town in separate occasions to allay fears of alleged atrocities and threats of armed men in their respective villages.
This was learned after the local government finally divulged that it is experiencing problem as to how they could attend to the needs of the evacuees.
The escaping people were from barangays Tono, Literon, Caamlongan, Guinbanga, Hindang, Bulwan and Binanggaran. These people alleged that they decided to leave their own homes and barangays due to fears and actual atrocities being made by armed men. There were claims that the armed men are members of the government troops.
The local government however could not identify the perpetrators of the asserted violence in the above-mentioned barangays. "These are just mere allegations so there really is no ground whatsoever to pinpoint that these are caused by military," said an official who asked not to be named. "Any uniformed men with weapons can be suspected as military," he said.
The 8th Infantry Division meanwhile belied the allegations saying that these are just perpetrated by those who want to destroy the good image of the Army in the region and even in the area. Capt. Cromwell Danganan, chief of the Civil Military Operation of 8ID said that there is no way the military can do this. " The Philippine Army is strictly following the guidelines set by Major General Jovito Palparan to gain the trust and confidence of the locales," he stressed. Palparan is the commanding general of the division based in Brgy. Maulong, Catbalogan, Samar.
The Philippine Army had been had been implicated also in the killings and assaults against members of cause-oriented groups.
In a media conference with the Catbalogan Media Adocates Nucleus (CCATMAN), Palaparan pointed out that the Army in the region has nothing to do with all the crimes being committed against members of caused oriented groups like Bayan, Anakpawis, Courage and other organizations.
To recall with, some barangays in the municipalities of San Jorge and Tarangnan had been desolated because of the same threats and harassments perpetrated by armed personnel also claimed to be military. An investigating led by the local government of San Jorge and members of the 34th Infantry Batallion based in the said town is on the process to dig is as to who should be held liable for these dispersals.
As of the moment, town's officials of Calbiga are worried the government could not provide the basic necessities of these evacuees. Food had been the primary concern because the municipality has no sufficient funds. Congressmen Catalino Figueroa of Samar's 2nd District and Eastern Samar's Marcelino Libanan donated P10,000 each for the refugees.
Majority of the people are now temporarily residing with relatives and friends in the town. Others are reported to live in the neighboring towns Pinabacdao and Villareal.
PNP, others, seize hot logs in Tacloban
By ALVIN T. DEVARAS
May 21, 2005
Sponsor:
TACLOBAN CITY, Leyte - At around 7:00 AM of May 11, 2005, joint elements of the Anti-illegal Logging Task Force (ALTF), Department of Environment and Natural Resources (DENR-8), Maritime Group (MARIG-8), Tacloban City police and Police Regional Office (PRO-8), seized and confiscated 75,847.14 board feet of illegal lumber.
The apprehending team was directly supervised by ALTF chief Gen. Dacudag; PNP Regional Director, C/Supt. Dionesio Coloma Jr.; PNP Tacloban chief, Supt. Arnulfo Cruz; MARIG-8 chief, S/Supt. Domingo V. Castro; and, Mr. Felipe S. Calub of DENR-8.
The shipper, identified as Mario Saragoza utilizing a "batil," transported the hot items on a wooden sea vessel marked M/V Robin-I owned by Rodolfo Robin that arrived Tacloban City port at around 7:00 pm of May 8, 2005 from Tandubas, Tawi-tawi. Said vessel also docked at port of Culasi, Roxas on March 18, this year. The Philippine Port Authority-Culasi granted the captain of the ship, Estacio Patino, and his fourteen-crew members, clearance before finally proceeding to Tacloban City.
Allegedly, the hot lumber/flitches were supposed to be delivered to a consignee identified as Mr. Nelson Padua, a local businessman and proprietor of Nel's Lumber who is also a dealer of tan barks sourced from Mindanao. M/V Robin was supposed to dock at a wharf owned by Mr. Padua located in Brgy. Anibong and in Brgy. San Jose. However, the shipment was instead diverted to the city's port due to shallow waters in both wharfs.
Although the shipment was complete with necessary papers and had gone through the regular process and duly signed by the DENR secretary of Autonomous Region of Muslim Mindanao (ARMM), the apprehending team proceeded with their confiscation and seizures citing the failure of the shipper to specifically declare the point of destination.
Meanwhile, Gen. Dacudag maintained that the shipment was illegal citing president Gloria Macapagal Arroyo's declaration for a total log ban moratorium nationwide last December 8, 2004. He also cited the memorandum dated January 28, 2005 issued to all DENR regional directors canceling all permits for the commercial disposal of prior cut logs.
Most of the seized items are dipterocarp species with an estimated market value of P2,275,414.20. The apprehending team also confiscated a high bim trailer owned by Susan Sy supposed to be used for hauling said lumber/flitches.
LGU spearheaded tilapia seeding in San Jose De Buan
By SIBP
May 20, 2005
CATBALOGAN, Samar - Through the initiative of the Samar Island Biodiversity Project (SIBP)and the Local Government Unit of San Jose de Buan and the Bureau of Fisheries and Aquatic Resources (BFAR) Province of Samar, approximately 100,000 telapia fingerlings were seeded along the San Jose de Buan River on May 11, 2005. The seeding was spearheaded by the Mayor of San Jose de Buan, Honorable Ananias S. Rebato with Vice-Mayor Bertino Orale, Hon. Vivencio Llantos and MAO Apra D. Obinguar and other municipal officials.
The BFAR Provincial Office in Catbalogan, Samar, gave the fingerlings while SIBP and the Local Government of San Jose de Buan provided the assistance needed in the release and transport of the fingerlings from Babatngon, Leyte to San Jose de Buan, Samar. The seeding is part of the BFAR, SIBP and LGU thrust to improve the life of the upland residents. During the seeding, Engr. Ay-ay encourage the people of San Jose de Buan to venture into Tilapia culture as alternative livelihood.
No less than SIBP Project Manager Manolito D. Ragub, supported the realization of the seeding as a commitment of the project to improve the socio-economic status of the upland communities. Mayor Rebato on the other hand expressed his appreciation for the assistance extended to his constituents including the Abaca demo farm located also in the municipality of San Jose de Buan which aims to improve the technology of producing and processing of Abaca industry in the area. This was made through the joint efforts of SIBP and FIDA.
The Mayor added that he envisioned of making San Jose de Buan to be self sufficient their protein need in the future through this Telapia seeding. Mayor Rebato called for the cooperation of his constituents to support this noble initiative by way of stopping illegal fishing practices like using "tuble", electrocution of fish and using small eye nets which endanger their river ecosystem.
Is mining really banned now in Samar?
By CHITO DELA TORRE
(April 28, 2005) CATBALOGAN, Samar - The local media are left in a quandary, and so are several concerned citizens: if indeed mining is a big no in Samar, why does the government continue to accept and publish applications for mining?
Two top officers of the 25-member Catbalogan Cable Television Media Advocates Nucleus (CCATMAN) have been asking for two weeks now if there's teeth to a recent pronouncement by a highly placed official of the Department of Environment and Natural Resources that definitely no mining operation will be allowed in Samar (news). Their prodding seemed to have reached only deaf ears.
CCATMAN president Ray P. Gaspay, also website publisher of Samar News.com which caters to some Filipino communities abroad, and board chairman Bryan M. Azura, station manager of 92.1 Hot FM radio here, did not succeed in their attempts to get an explanation from the Mines and Geosciences Bureau (MGB) which holds office in Tacloban City.
The bureau chief in the region could not be put on the other end of the telephone line by his office staff to answer questions raised in a live broadcast of Binalyu-ay Ha Udto, a daily radio program of Catbalogan's one and only FM station.
Gaspay and Azura have been supportive of local anti-mining efforts, particularly in light of the moratorium on mining called for by the Samar Sangguniang Panlalawigan. The moratorium ordinance, calling for a stop of mining activities for 50 years, was authored by Board Member Joseph Escober.
Sometime in March, DENR Undersecretary De Castro told Azura that the DENR will no longer allow mining operations. Later, the CCATMAN learned that applications for Mineral Production Sharing Agreement (MPSA) by Ferro Management & Consultancy Group, Inc. in the areas of Motiong, Jiabong, Catbalogan and Calbayog City were received by the MGB and one was published last April 7 in the Leyte-Samar Daily Express newspaper.
Advocacy Wanting
Asked about any next move, Gaspay and Azura remarked: "How can the media move with success when even the government authorities themselves are being ignored?"
Nevertheless, Gaspay said, the CCATMAN will try to consult its own members again whether they could first get an "advocacy orientation" from the SIBP. The advocacy strategy, he said, will hopefully enable the media to define its collective stand which may yet reinforce local exhortations by government officials and the civil society groups.
Perhaps the mining executives themselves who are operating or granted permits to operate in Samar should make contact with the CCATMAN to explain their side of the issues involved, other media officers hinted during the radio broadcast a week earlier.
Flashback
Months ago, non-government organizations behind the Samar Island Biodiversity Foundation (SIBF) and providing elbow support for the Samar Island Biodiversity Project (SIBP) which is crusading for final legislation declaring by law over 330,000 hectares of Samar Island as a natural park, disclosed in a forum with the CCATMAN that mining activities have already been going on despite the moratorium.
According to Don Mabulay, president of An Tandaya, one of the miners is the Bauxite Resources Inc. which is headed by Benjamin Guingona, brother of former Vice-President of the Philippines Teofisto Guingona.
Earlier, SP member Susano Salurio told the media that last July, 2004, the provincial board passed a resolution asking then DENR Secretary Elisea Gozon to cancel the franchise of Bauxite, per the recommendation of DENR regional executive director Leonardo Sibbaluca, while the Regional Development Council in its own resolution urged President Gloria Arroyo that the firm's permit to explore be stopped. Salurio said that the SP has also pushed with the filing of temporary restraining order (TRO).
Salurio said that he and Atty. Yong of the provincial government of Samar, suggested to the 38 punong barangay from San Jorge who were attending the recent Lakbay Aral in Luzon to pass resolutions denouncing mining attempts in barangays Gayondato, Bangon, Matalud and Cagtotolo in their town as they will surely be "greatly affected later".
Salurio warned that the Blanca Aurora Falls, one of the dazzling tourist attractions in San Jorge, will soon be dead because poison from mining will cause its death and that of the tributaries up to the next town of Gandara.
The barangay chieftains assured Salurio that they would pass a resolution through their Liga (the association of barangay chairmen).
Divisive Drive
"Why does the government allow (mining) against the will of the people?" Salurio asked the media.
Informed by Gene Navilon of Radyo Ng Bayan DYOG-Calbayog of the presence months ago of a mining equipment in San Jose de Buan, Salurio was prompted to comment that the local government unit seemed to be pro-mining.
Salurio said that someone in that interior town received an occupancy fee of P350,000 and that a certain Sangguniang Bayan member even behaved like a foreman for the "exploration stage" of BRI whose technical people - geodetic engineer Joel Pedrano, a certain mister Vargas, a driver and another man - were already hiring local manpower at P200 a day.
The four, he said, had even already gone to the upper part of San Jorge also to conduct a survey. Hence, he said, he told the village chiefs to stop them.
CCATMAN secretary Rommel Rutor suggested in that forum that the Church should also explain why it remains divided on mining. He cited as a case of division the weekly broadcast of a pro-mining program over Radyo Diwa in Tacloban which is run and managed by a section of the Church.
Don's 4 fronts
In that same forum, Mabulay announced that a so-called "4 fronts" were being launched by the An Tandaya and SIBF.
Mabulay said these are as follows: One - advocacy within government agencies and offices, including the MGB, that it is "their duty"; two - media advocacy, which will be systematic in its dissemination in order to create public debate and a pronounced public opinion; three - information education campaign among Samarnons, particularly on the damaging and disastrous effects of mining; and four - discourage potential investors.
Mabulay hinted that one way to discourage investors is to enable them to realize that the mining business here is not profitable. "BRI is only a business firm," he said.
By PURIFICACION S. DALOOS
(April 21, 2005) TACLOBAN CITY, Leyte - Earth Day, which began in 1970, is now being celebrated every 22nd day of April by millions of people worldwide. This year 2005 is its 35th anniversary, and around the world, hundreds of thousands of non-governmental organizations, governments, teachers, and faith groups among others, are making part to declare that they are part of something extraordinary: a worldwide movement to protect our planet, our children and our future.
This year, Earth Day Network's theme is "Protect Our Children and Our Future". This is to call on all concerned sectors to extend their part in ensuring that children everywhere are healthy, educated and free from oppression.
This Earth Day, hundreds of major events will take place around the world. In the Philippines, Department of Environment and Natural Resources Offices throughout the country spearhead various activities for the celebration. This is in line with Proclamation No. 553 issued by then President Corazon C. Aquino on April 16, 1990.
In region 8, activities include: coastal clean-up along Ormoc Bay; pintakasi for the clean up of Barangays 70 in Rawis and 77 in Marasbaras, Tacloban City; ecological solid waste management symposium in Ormoc City, ecological solid waste management summit for the province of Leyte; environmental awareness campaign for the Miss Eastern Visayas Earth contestants, press conferences, featuring earth day information in the DENR's regular radio program Huni Han Kagugub-an over DYDW, among others.
These activities involve the local government units of Ormoc and Tacloban City; industries and private establishments like the Nestle Philippines, Fast Cargo; non-government organizations like the Pollution Control Officers Association of the Phil., the media; government agencies like the Philippine Information agency and others.
Regional Executive Director Leonardo Sibbaluca, lauds the cooperation of all sectors on the Department's environmental programs. He also urged all citizens throughout the region to take part in the celebration by coming up with relevant activities in their respective communities.
Earth Day serves as an occasion to pay tribute to Mother Earth as well as to renew dedication to current efforts to enhance awareness and concern of the world-wide environmental crises.