DENR-8 monitors entry of Bird flu virus in Eastern Visayas wetlands
By RICKY J. BAUTISTA
October 20, 2005
TACLOBAN CITY - As of now, authorities finds the ground zero of the air-borne disease but the government, through the Wildlife section of the Department of Environment and Natural Resources (DENR) regional office here continue its close monitoring on the possible entry of the deadly Bird flu virus in Eastern Visayas.
Meanwhile, Secretary Michael T. Defensor of the Department of Environment and Natural Resources (DENR) has recently suspend the issuance of wildlife import permits for all wild birds including their by-products to prevent the entry of possible Bird flu virus in the region.
In his unnumbered memorandum, he directed all regional directors in the country to be more "vigilant" and adopt necessary measures in preventing the possible transmission of the highly pathogenic avian influenza (HPAI) virus in the country.
"I am suspending the issuance of Wildlife Import Permits for all cage and pet wild birds, including their by-products or derivatives originating from countries where the avian influenza have been recorded," Secretary Defensor said.
These countries, according to him, are Cambodia, China, Hongkong, Japan, Laos, Indonesia, Pakistan, South Korea, Thailand, Taiwan and Vietnam. He added that the entries of wild birds coming from other countries, particularly Indonesia, are the ports of General Santos City, Davao City and Zamboanga City.
"These areas must be closely monitored," the Secretary told the local Wildlife Monitoring Teams of the department.
In an interview, top official of DENR-8, told media that, as of the moment, their provincial counterparts in the region conducted monitoring activities but yielded "negative" results.
Marcelo Macanda, DENR-8 Wildlife section head, however, said they are closely monitoring the region's "entry points" of the deadly virus carried in by the migratory birds from neighboring Asian countries.
"We are now monitoring one village in Guiuan, Eastern Samar, and the bays of Cancabato, Capoocan and Ormoc bays, as these areas are the possible entry points of migratory birds," Macanda said.
He said, these birds usually migrated here in the Philippines in the months of November-December-January-February, "that's why, we have this world (simultaneous) monitoring activities in the month of February," Macanda said.
To this effect, DENR-8 Regional Director Leonardo R. Sibbaluca reminded his provincial field offices to conduct daily surveillance on possible entry points, areas where migratory species congregate, and observe the high incidence of wild bird mortality.
The DENR top brass further said, "undertake public awareness campaign and enjoin the local government units, local communities, pier and airport authorities, customs officials and the DA bureau of animal industry in implementing the said measures."
"I am also advising the community to avoid catching or not to have contact with birds especially the migratory birds, which might be a carrier of the bird flu virus (for this virus is dangerous to local birds and even to human beings). I appeal to report and coordinate with authorities for possible symptoms of this virus," Sibbaluca disclosed.
Gov. Tan mum on solving perennial flooding in Samar
By ROGER C. SORIA
October 17, 2005
CATBALOGAN, Samar – Despite a series of appeal to the office of the Governor for a positive action to solve the perennial flooding in the four towns of Samar's first district, still the office of the governor, failed to assure the Technical Working Group (TWG) in pursuing to conduct topographic surveys in the affected areas which is a requirement in the preparation of a Technical Study.
The TWG earlier learned from the residence of Gov. Tan that the governor had already instructed the provincial engineer to conduct the surveys. Much earlier, Gov. Tan expressed to Samar Vice-Governor Jesus B. Redaja her assurance that she would have the provincial engineer's office in this job instead of granting the P155,500 requested last July 12, 2005 by Samar II district engineer Pablo Z. Aragon Jr. of the Department of Public Works and Highways.
However, the provincial engineer's office of Western Samar has no knowledge about any order from Governor Milagrosa T. Tan regarding the continuation and completion of the topographic surveys of the Ngoso and Nacube creeks in the flooding areas of the First District of Samar.
The revelation has surprised Engr. Ray P. Gaspay, president of the Catbalogan Cable Television Media Advocates Nucleus (CCATMAN), and other officers of this media group which is a member of the Technical Working Group which the Samar Sangguniang Panlalawigan created last March 31 to look into the perennial flooding problem in the TAGASAPA (towns of Tarangnan, Gandara, San Jorge and Pagsanghan).
The Samar I and Samar II engineering districts, even if funds were not made available, nevertheless conducted the topographic surveys, but with the assistance of Gandara mayor Antonieto Cabueños and the local government unit of San Jorge. When their personal funds were exhausted, the survey teams decided to stop their work and wait for the governor to release the requested amount.
Engr. Gaspay and the other CCATMAN officers sent some of their media members to the provincial engineer and to their surprise, they found out that Gov. Tan has not yet directed that office to conduct the surveys of the creeks.
On July 27, members of the TWG and its project team, with Vice-Gov. Redaja as TWG vice-chairman and team leader, assisted by PARSSO Chito Dela Torre as team coordinator, passed a resolution appealing to Gov. Tan for her to release the P155,500 to the DPWH. That resolution, signed also by San Jorge vice-mayor Marcelina Yu and other officials of San Jorge and Gandara, including two representatives from the Samar State College of Agriculture and Forestry who were sent by SSCAF president Dr. Socorro Bohol, was marked "received" by the Governor's Office at the Capitol after Vice-Gov. Redaja caused its sending to that office. Redaja told Dela Torre that Gov. Tan assured to mobilize the provincial engineer's office for the survey.
Vice-Gov. Redaja echoed to Gov. Tan the representation made by Engr. Aragon at its much earlier meeting at the Samar Island Biodiversity Project office here that no less than Cabinet Officer for Regional Development (CORD) Secretary Gabriel B. Claudio had instructed DPWH regional director Jaime Pacanan to submit a program of work addressing the flooding problem in the TAGASAPA zone. He also told the governor that Sec. Claudio had personally expressed to him his support to the TWG's efforts to solve the problem to thus restore the "lost rice granary of Samar".
Earlier, too, Engr. Aragon briefed media men and PARSSO Dela Torre on the original proposal he made to have a dredging and canal done from barrio Pajo in Tarangnan to the Samar Sea. A resolution to this effect was also sent by Pajo barangay chairman Judy Gabriela and his councilors and by the Pajo Agri-Developers Association thru its president Nonito Berdida to Presidential Adviser on Poverty Alleviation and Presidential Assistant for Eastern Visayas Secretary Victor A. Domingo, after the same was presented at length during the August 12, 2004 first consultative conference which Department of Agrarian Reform regional director Tiburcio A. Morales Jr. had with members of the media, non-government organizations, people's organizations in Samar.
As this developed, Dir. Morales had asked the Regional Development Council (RDC) to take action on the flooding problem.
In his latest letter to RDC Chairman Rosette Y. Lerias (Southern Leyte governor), Dir. Morales pointed out the situation confronting the more than 2,000 agrarian reform beneficiaries in the TAGASAPA zone.
Dir. Morales told Gov. Lerias that in Tarangnan: "Farmers in these areas have been greatly affected by the upsurge of water into their ricefields which perennially (has) hounded them through the rainy season, resulting (in a) further damage to their rice plantation. The communities of Brgy. Pajo have suffered the most effect and in fact have urged their own Sangguniang Bayan to intercede in their behalf for a possible solution to the problem."
As regards Gandara, Dir. Morales said: "Due to its geographic location especially of the numerous creeks which easily overflow during heavy downpour, and being a lowland area, farmers in this area are very much affected by frequent flooding which severely damages their rice plantations and other crops. Hence, the Sangguniang Bayan of Gandara has enacted numerous resolutions requesting financial assistance from different sectors to study and identify the cause of perennial flooding and the construction of drainage canal to control the floods."
In San Jorge, he told Gov. Lerias in his letter: "Thirty-two (32) barangays of this town have lost floods a yearly average of 159Million Pesos in capital from harvests of rice, corn and vegetables products to an aggregate area of 2,543 hectares. According to Municipal Agricultural Officer Bienvenido Diongon, each time that water inundates the agricultural areas in san Jorge, the damage to 1,597 hectares of rice costing P44,716,00.00. Hence, the local government thru various resolutions addressed to different agencies/sectors has requested financial assistance to identify the cause of perennial flooding and the construction of drainage canal to control the floods."
As for Pagsanghan town, he said: "Perennial flooding has destroyed the livelihood of farmers living in this area. Ricefields and other crops are totally overrun by the flood every time heavy downpour occurs. Hence, economic development and stability of production of the farmers were greatly affected. To resolve this matter, the local government has enacted numerous resolutions requesting financial assistance from different sectors to study and identify the cause of perennial flooding and the construction of drainage canal to control the floods."
Director Morales hopes that the RDC will calendar the TAGASAPA flooding problem in its meeting and recommend funding assistance from the national government to put an end to this specter that denies farmers and ARBs of a plentiful harvest.
There's so much to learn in "little Singapore," say EV accountants
By RICKY J. BAUTISTA
October 15, 2005
MARIKINA CITY - As if they were listening from their old professor do a talking on a numbers-related subject during old days, the 32 government accountants from Eastern Visayas admitted there's much to learn, especially in the course of financial management, in this city called "the little Singapore."
These accountants, all members of the Association of Government Accountants of the Philippines Eastern Visayas chapter (AGAP-EV), were on this city last October 12, among other top progressive cities in the country, to observe the financial management strategy and electronic New Government Accounting Sytems being implemented.
Mayor Mardides "MCF" Fernando explained to the group of accountants that they were effective and, in fact, cited for the best practices in financial management and analysis implemented and now being replicated to other cities. After their metro tour, the group are expected to end their on-site seminar today, October 15.
The tough lady mayor said Marikina was branded as the "little Singapore" as it attributes discipline, self-sufficiency, effective governance, work ethics, environmental soundness, economic dynamism and corrupt-free government like Singapore, it was learned.
With this in mind of the city officials, an observer said, "no wonder why this city easily won the 2003 Metro Manila Most Competitive City award besting other highly top rated cities in the country today."
City Accountant Erlinda Gonzales who discussed all about the city's financial management, investment opportunities and quality of infrastructures said the city has garnered the moniker as the shoe capital of the Philippines, "little Singapore" and holder of several trademarks such as "best livable city in the country" today.
Gonzales said, they were now investing much efforts to be called as the country's "Knowledge City." In fact, Gonzales stressed, they recently distributed books as gifts to those children ages 4-7 in support to the National Book Development Board (NBDB), the country's lead government agency in the promotion of book development, readership and literacy program.
The 32 AGAP-EV members, led by its regional president Renato L. Limsiaco Jr., observed how the city officials led their employees and constituents following their slogan "discipline, good taste and excellence."
Mario Villanueva, chief of city tourism here said Marikina City is like "a little Singapore," bustling in holistic progress, a vibrant community where the citizens have pride of place, pride of self and mutual concern for the common good.
"We earned that title because of the culmination of the work we've all done in the last ten years," he said.
He said, in 1992, new directions towards progress and economic stability were set under the leadership of former mayor, now top brass of the Metro Manila Development Authority (MMDA) Bayani Fernando. "By hard work, he was able to transformed into what it is today now," Villanueva told this publication.
Many people think that this city, like Singapore, is a small place but actually its not. As a business area, Marikina is twice the size of Makati City, the country's premier business and residential district. Marikina has 2,150 hectares, twice that of 1,000 hectares of Makati.
Villanueva recalls that this city used to be one of the biggest constituencies in the region. It used to include Santa Mesa in Manila, the whole Diliman and Katipunan and the areas which are now occupied by the University of the Philippines, Ateneo and Maryknoll.
"Thanks to the dynamic efforts of our former mayor (MMDA Chairman Bayani Fernando) Marikina has been reduced to its present size now," Villanueva said.
Marikina ranked No. 1 in the three of the seven competitive drivers of growth, specially infrastructure, responsiveness of the LGU and quality of life, besting its closest competitors Pasig, Davao and Cebu cities.
And where it lacked on points, Marikina's city officials made sure it made up in other aspects - for instance, where Marikina doesn't have a seaport or an airport, this factor was determinedly negated by road and vehicle density, which in turn made possible by aggressive infrastructure development and excellent traffic policies.
Meanwhile, after they were oriented on the city history and financial management lessons, the delegates from Eastern Visayas were accompanied by two polite city clerks - Sally Manuel and Clarisse Dumulon - in their city tour which include Marikina City Hall, Marikina River Park, Marikina Shoe Factory, the Shoe Museum (where hundreds of shoes and sandals of former first lady Imelda Marcos was displayed), Doll Museum and Market Mall.
OTOP-Philippines picks sisi for Zumarraga with DAR's support
By TERESA DE ASIS-TIJOL
October 13, 2005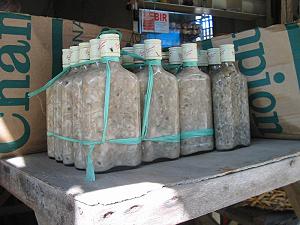 Salted sisi are commonly sold in bottle by most dried fish vendors along sidewalks and bus terminals in Catbalogan.
ZUMARRAGA, Samar - This island town of Samar, 6 of whose barrios have recently been recommended by the Department of Agrarian Reform to be added to the country's 1,682 agrarian reform communities (ARCs), may soon rise as the best manufacturer of salted sisi or sea oysters which is abundant in its surrounding sea water.
Thus said chief agrarian reform program officer Nenita Abinguna as she expressed the support of the Department of Agrarian Reform to President Gloria Macapagal Arroyo's "One Town One Product Program" (OTOP-Philippines) that seeks to promote entrepreneurship and create job opportunities, as implemented by the Department of Trade and Industry.
Abinguna, who heads the DAR's beneficiaries development and coordination division, was recently in the company of DTI representatives for a town hopping on OTOP-Philippines, spoke in behalf of provincial agrarian reform officer Marlu M. Merin.
She said during a conference here that the DAR's support will be in terms of community organizing and human resource development, particularly trainings.
"The focus of DAR's intervention is on areas declared as Agrarian Reform Communities, or ARCs, since the fund for Agrarian Reform Beneficiaries Development, or ARBD, received by DAR is solely for ARC development-related activities," Abinguna explained.
She said that OTOP-Philippines is "so timely" for Zumarraga because DAR has recommended this town for inclusion as an ARC, particularly covering barrios Arteche, Alegria, Sogod, Ibarra, Bioso and Tubigan, with the necessary documents already submitted to the National ARC Deliberations Board of the DAR Central Office.
"Once these barangays are launched as an ARC, this year," CARPO Abinguna said, "expect for an outpouring of DAR interventions. Livelihood projects, especially for women which are a felt need of this community as expressed by honorable mayor Neliptha Figueroa in this conference, will soon be addressed, of course upon the initiative of the local government unit and coordination of other government agencies."
"Once organized and then strengthened and given the proper training on processing, packaging and marketing, as enshrined in the OTOP, the sisi producers can earn a name for Zumarraga as the best manufacturer of sisi products. In a little more time from now, pouched, bottled or canned salted sisi, sisi paste and sauce will be out in the market, competing in sales not only in the Philippines but globally."
OTOP-Philippines' implementation is spearheaded by DTI. It was inspired by Japan's successful "One Village One Product Program" and adopted in the Philippines as an effective tool for poverty alleviation, particularly in the rural areas.
The town hopping series consisted of orientations, seminar-workshops and action planning conferences on the program, conducted by DTI officials for representatives from the DAR, Dept. of Agriculture, Dept. of Environment and Natural Resources, Dept. of Interior and Local Government, Dept. of Science and Technology, and Technical Education and Skills Development Authority, as stakeholders.
The group identified sisi as the OTOP-Philippines product for Zumarraga because of the abundance of this sea oyster which, when processed, sells like hot cakes and promises a good market, as proven in recent regional and national trade fairs organized by the DAR, DTI and other government agencies.
DENR-SIBP wins National Research Award
By SIBP PR
October 12, 2005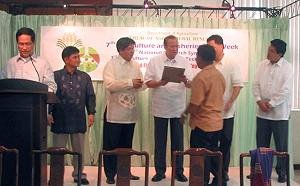 SIBP Project Manager Manolito D. Ragub receives the First Prize Plaque from Senator Ramon B. Magsaysay Jr.
During the 17th National Research Symposium held at RDMIC Building in Quezon City last October 4-5, 2005, Project Manager Manolito D. Ragub presented the paper entitled "Biological Resource Assessment (BRA): Samar Island Natural Park; Floral Resources and has won the most coveted First Place in the Basic Research category.
It may be recalled that the same paper was initially presented during the DENR In- house review and was elevated for the regional event during the 17th Regional Research and Development Symposium held at COA Candahug last August 24-25, 2005 and was recommended as one of the regions bet to the National Competition for best Research Paper.
This is the first time DENR won in the said research competition sponsored by DA, Bureau of Agricultural Extension. Director Ragub on his part was so happy that he had bring prestige not only to the Project and DENR but the entire Region 8 as well.
Manila-based Samareños forge to uplift Samar's economy
By RICKY J. BAUTISTA
October 09, 2005
CATBALOGAN, Samar – Samareños working and residing in Metro Manila have forged themselves into one group and now determine to help out the "sad plight" of their native province' economic condition.
Nena Fernandez, a native of Samar province now residing in Teachers Village, Quezon City announced that a new non-government organization based in Metro Manila has recently formed to drums up interest on how to turn around the plight of the island.
She said they wish to do that by encouraging local government officials, private sectors and various stakeholders to work "hand-in-hand" to attain this goal.
Fernandez said they will try to convene those people through (scheduled) meetings and orientations and "set in a motion (for a) three -year planning stage for investments, bring in those investments by year 2010, and move the various stakeholders to help build the economy now."
"We need to act (now) and make a conscious decision to help build the local economies of Samar, not tomorrow, not later, but now," Fernandez, one of the organizers of the Consortium for the Advancement and Development of the Local Economies of Samar (CANDLES) said.
The CANDLES, also a "venue" for talks on Samar's development and investments updates, invited other non-government organizations in the metropolis and in abroad to "share-a-hand" with them.
"It is the Consortium's privilege to invite you to participate in this major event in the island. We hope you may be able to join us in this exciting opportunity to turn around the local economies of Samar," Fernandez said in her globally e-mailed letter.
Relative to this, the group invited every concerned NGO's to send a delegate or representatives to the forthcoming "Trade and Investment Conference" to be held at the University of Eastern Philippines, in Northern Samar on November 9-11, this year.
Fernandez said the activity with a theme "Move the Economy, Samar" is a 3-day major event in the island that concerned all about the development of the province.
"These will a gathering of the most brilliant and visionary minds in the fields of government, economics, education, trade & industry, and development work," she said.
According to the statistics released by Fernandez, about 62% of Samar households live below the poverty threshold, 86% of Samar children aged 5 to 6 years old is out of school, and 87% of Samar households have had deaths that are preventable.