There was Balikatan in Guinsaugon – Gov. Lerias
By NINFA B. QUIRANTE, PIA Samar
March 7, 2006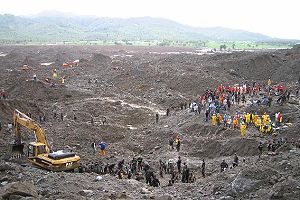 Scene during the first few days of rescue and retrieval operation at ground zero involving several different nationals.
CATBALOGAN, Samar – "Real Balikatan took place in Guinsaugon, St. Bernard, Southern Leyte!"
This was one of the messages underscored by Governor Rosette Lerias during the memorial service on March 3, 2006 for those who died in a mudslide catastrophe on February 17, 2006.
Speaking before a big crowd in Barangay Tambis 2 just across the mudslide area, the Governor in a quavering voice thanked all nationals who were present during the rescue and retrieval operations. She thanked the Americans, Indonesians, Malaysians, Spanish, Turkish (whose name was difficult to pronounce) Taiwanese and all Filipinos belonging to LGUs, NGOs and NGAs who worked, "arm in arm, hand in hand and shoulder to shoulder with the local residents for the purpose of saving lives."
"Help for the people came from land, air and sea." said the courageous governor who has proven her true leadership mettle in the midst of the tragedy.
"It broke my heart," referring to the incident, "but the Christian that I am, I am not to question the will of God" she said in a tearful voice.
"The biggest lesson for all is humility," she stressed, "No fame, no wealth can we be proud of, we have to serve the Lord in this life we live," she added.
She said they did the best possible human means to retrieve the dead bodies. The retrieval operations was called off on Sunday after more than a week of trying to dig for survivors.
Guests led by Senator Richard Gordon, PA Vic Domingo, Leyte Governor Jericho Petilla and Cong. Roger Mercado laid wreaths of flowers and lighted candles in a 12-foot wooden cross erected in memory of the close to a thousand people who were buried under millions of tons of mud from a gaping portion of Mount Caabag.
Two helicopters hovered above to bless the 'burial site' while relatives, friends and other kibitzers troop across the river to the site to offer candles.
Lerias apologized for others who have helped and were not mentioned because doing so, " would take forever," she sighed.
Throughout the requiem mass celebrated by Msgr. Precioso Cantillas, tears flowed unabated, more so when singer spouses Lemeuel and Jopie dela Cruz sang The Prayer (popularized by Celine Dion-offered Jopie).
An elderly was unable to control herself and fainted, Red Cross volunteers immediately rushed the grieving mother to the tent-hospitals.
The messages delivered had a common tone: unity and oneness in times of disaster and to the words of Gen. Robeson of the US Marines: a revered sense of commitment and appreciation for the preciousness of life.
Guinsaugon tragedy: Acceptance and moving on
By BONG PEDALINO, PIA Southern Leyte
March 4, 2006

In this aerial photo, tons of mud covered the whole village of Guinsaugon in a mudslide that killed more than a thousand of its residents.
BRGY. GUINSAUGON, Saint Bernard, Southern Leyte – A Holy Mass, a memorial service highlighted by statements of lasting support, solidarity, and brotherhood, offerings of prayers, candles, flowers in a medium-sized wooden cross, and a sprinkling of holy water by helicopter around the vast expanse of this now-barren, now non-existent village.
All these activities were held here under the scorching heat of the noonday sun, March 3, in a collective effort to accept what had happened and to try coping with a post-disaster life and moving forward.
But tears and a howling cry from those who lost their loved ones pervaded the air right after the Mass and shortly before the program started, a sign that outbursts of emotion were still clinging to relatives and immediate families as reality starts to seep in.
One woman who was crying endlessly collapsed in the middle of the program and had to be taken out by an ambulance.
"God is good and merciful even if the world and the universe is gone," Bishop Precioso Cantillas of the Diocese of Maasin, who celebrated the Mass, intoned during the homily. "There is beauty behind the ugliness in calamity – the beauty of unity, communion, and brotherhood."
Bishop Cantillas also put a perspective of faith in the midst of human pain and suffering: "This is a clear invitation from the Lord to come back to Him . . . to a heavenly life for all of us."
Senator Richard Gordon, the concurrent National Chairman of the Philippine National Red Cross (PNRC), said the real tragedy would occur "if we do not learn from this. Live life with a sense of duty. . . . Prove to the world that every help is worthwhile with dignity . . . today is a mere beginning, we move forward."
Other guests also shared their thoughts and comforting words. They included Anthony Golez, the Deputy Administrator of the National Disaster Coordinating Council (NDCC); Gov. Carlos Jericho Petilla of Leyte Province who was also representing the various LGUs nationwide; Presidential Assistant for Eastern Visayas Vic Domingo; Representatives of Indonesia and the United States; Major Gen. Bonifacio Ramos; and Mayor Maria Lim and Vice-Mayor Felix Lim of Saint Bernard.
Rep. Roger Mercado and Gov. Rosette Lerias also expressed messages of inspiration and all-out support to what lies ahead in the rebuilding of scattered lives.
Tenor Lemuel de la Cruz and Soprano Jopie de la Cruz rendered meaningful songs.
The final tally as of February 28, or four days after the search and rescue was officially declared closed: dead bodies retrieved – 154 (death in hospital – 2; identified bodies – 55; unidentified bodies – 82; unidentified body parts – 15) and the missing persons – 973.
The commemorative ceremony was meant to put closure to the endless counting and to face the future with courage and strength despite the heart-breaking burden of the February 17 disaster.
In his talk, Rep. Mercado stressed the need to respect nature and to plant trees. "Nature is grieving for the loss of trees," he said.
And Gov. Lerias capped the day with a fearless vision: "A new life, a new community, is to rise for the remaining residents of Guinsaugon."
Taiwan NGO helps orphaned survivors of Guinsaugon
By Philippine Information Agency (PIA 8)
March 4, 2006
TACLOBAN CITY, Leyte – A Taiwanese non government organization, whose representatives were at St. Bernard together with the representatives of Taipeh Economic and Cultural Office in Manila are serious in helping the orphaned survivors of the Guinsaugon tragedy.
In a communication received by PIA 8 through Mr. Henry Yaokasin, the president of the Tacloban Filipino Chinese Chamber of Commerce and Industry, it was learned that the Taiwanese NGO is asking the cost of tuition fees and the monthly subsistence of the orphans. It appears that the Taiwanese NGO will provide for those needs of the orphans for five years.
Among the survivors are 21 high school students who survived the tragedy because they were in school at the nearby municipality of San Juan during the tragedy. They have lost both parents and the other members of their family. They are now taken cared of at the municipality of San Juan.
The Dharma Drum Mountain Social Welfare Foundation through its President Howard Hao-Tso Lee has signified its intention to help the orphans during the luncheon press conference conducted by PIA last Sunday.
Mr. Lee was with the 35 Taiwanese Rescuers who helped at the rescue and relief operations at St. Bernard. Leading the group were Mr. Joseph Chang, the first Secretary on Home Assignment, Department of East Asian and Pacific Affairs, Ministry of Foreign Affairs, Republic of China and Mr. Benjamin Hong, Executive Assistant, Political Affairs Division, Taipeh Economic and Cultural Office in Manila.
Taiwan was among the countries which first responded to the call for help at the St. Bernard landslide tragedy. Aside from the 35 rescue team who brought with them 10,000 medical emergency kits, food, water and other things for use during the relief and rescue operations at Southern Leyte, Taiwan also promised to donate $100,000.00 donation to the Philippines.
The Taiwanese rescuers brought with them three kinds of specialized equipment for use in search and rescue operations in the disastrous area. These include specialized remote control cameras that can burrow deep into the rubble and detect signs of life; sonar detectors that can detect heartbeat and breathing within a two-kilometer wide radius; and heat sensing equipment that can detect body temperatures also within a two kilometer wide radius.
Visayas media condemn raid on Daily Tribune
Some journalists in the Visayas who were participants to the First Visayas-Wide Media Summit sponsored by the Center for Community Journalism and Development (CCJD) that was held on February 24-25, 2006 at the University of San Agustin in Iloilo City strongly criticized the action of the police in raiding the publication office of the Daily Tribune newspaper in the early dawn of Saturday (February 25, 2006).
The participants issued this statement:
Statement on media repression
25 February 06, Iloilo City
We, participants to the First Visayas-Wide Media Summit strongly denounce the police raid on the Daily Tribune early dawn February 25, 2006 and the confiscation of copies of the newspaper.
We demand that the Arroyo government end all other acts and threats to curtail the exercise of Press Freedom and the People's Right to Know.
Ironically, it happened on the daybreak marking the very historic event – EDSA 1 – when we have toppled a dictator and ended his long years of repressive rule.
Nobody, not even Pres. Gloria Macapagal-Arroyo has the right to stifle the basic rights to freedom of expression and access to information, especially not in these trying times.
We remind her of the provisions of the Philippine Constitution and the Universal Declaration of Human Rights that categorically guarantee the freedom of speech, of expression and of the press.
"Everyone has the right to freedom of opinion and expression; this right includes the freedom to hold opinions without interference, and to seek, receive and impart information and ideas through any media, regardless of frontiers." – Article 19 of the Universal Declaration of Human Rights
"No law shall be passed abridging the freedom of speech, of expression, or of the press, or the right of the people peaceably to assemble and petition the government for redress of grievances." – Philippine Constitution, Bill of Rights, Sec. 4, Art. III.
We call on our colleagues and all who cherish freedom and democracy to oppose all moves by this administration and any other government agencies to curtail the rights and liberties we have struggled so hard for.
SAGUPA-SB condemns killing of Florencio Agunos
Press Release
By SAGUPA-SB
February 23, 2006
TACLOBAN CITY, Leyte – Samahan han Gudti nga Parag-uma ha Sinirangan Bisayas (SAGUPA-SB), the regionwide alliance of farmers in Eastern Visayas, strongly condemns the kiling of farmer- engineer Florencio "Ka Puring" Agunos, 66, of Bry. Rizal, Kananga, Leyte. Ka Puring was shot dead last February 17, 2006 and was declared dead on the spot after sustaining 19 gunshot wounds from .45 caliber pistols.
Agunos along with his wife, Irenea and two grandchildren, 10 year-old Karen and 13-year-old Leo, were watching television at around eight o' clock in the evening when they heard people calling out their names.
"They asked for water. Puring was the one who nudged me to give them water. One of them, the one who asked for water, was sporting a flat- topped haircut and was wearing green and yellow-striped shirt," Irenea said.
According to Irenea, when she handed them the glasses, the men asked for her husband. Upon hearing his name being called, Puring went to entertain the visitors. But before he could reach the first step of the flight of stairs leading to where their visitors were waiting, bullets rained upon him and their granddaughter, 10-year-old Karen (not her real name).
Lito Gacusana, Secretary General of SAGUPA- SB could not think of other people who would plot of silencing Ka Puring but landlords and elements of the Armed Forces of the Philippines, particularly those belonging to the 19th IB, who have long opposed and criticized Ka Puring's pro- farmer stance.
"Ka Puring was behind many collective actions like 'tiklos' and 'balik-uma'---all for the benefit of farmers who have longed for lands to till. He spearheaded the construction of irrigation systems in farm lands were services of the National Irrigation Systems (NIA) are nil," said Gacusana.
"Ka Puring has no known enemy but the landlords and the military men they employ either as triggermen or as goons. Ka Puring's efforts extended from organizing farmers to heading campaigns for higher wages of farm workers in 'tubuhan' or sugarcane plantations in Kananga and Ormoc, lower land rent in haciendas in Ormoc, San Isidro and Kananga, scrapping of usury, among others. We think of nobody but the despotic landlords and the mercenary members of the AFP who would oppose these efforts," added Gacusana.
"We will forever remember Ka Puring because he has never turned down anybody who needed his expertise, especially in the field of irrigation and indigenous health services. Despite his age, he has shown dedication to extend help, even to farmers in Samar. The perpetrators of his brutal murder will not take that away from those who knew Ka Puring's contribution to our hopes for genuine reforms," Gacusana lamented.
SAGUPA- SB, along with Alyansa sa Mag-uuma Alang sa Tunay na Reporma sa Yuta (ALMARYU) and Alyansa sa Mag-uuma at Mamumuo sa Kananga, Leyte (AMAMU) where Ka Puring sit as council member, demand justice for the latest victim of state terrorism.
Leyteños calls for rescue: AFP, LGU's, NGO's, media and international rescue teams responds!
By LtC. MANUEL FELINO V. RAMOS, GSC (INF) PA
February 22, 2006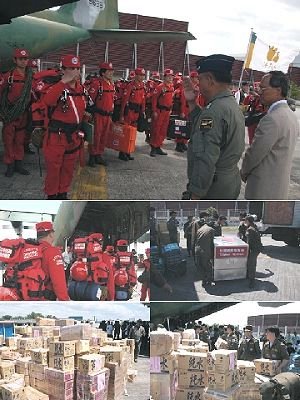 CAMP LUKBAN, Catbalogan, Samar – The national government declares Barangay Guinsaugon, Saint Bernard, Southern Leyte under state of calamity after it has been stricken with a massive landslide on February 17, 2006 at about 10:00 am which buried the whole barangay with mud causing numbers of deaths, injured and many are still missing.
Notwithstanding the dangers, the army's 43rd Infantry Battalion was the first to respond to assist the victims of the disaster which struck said barangay. Said efforts were personally commended by Southern Leyte Governor Rosette Y. Lerias. Along with it, the province immediately organized massive rescue, relief and recovery operations to augment with the 8th Infantry Division troops.
The tragedy has caused so much damage and casualties that the 8th Infantry Division has to add and request more troops including other units of the Armed Forces of the Philippines while other NGOs and Civilian Organizations are under its operational control, with MGen. Bonifacio Ramos as over-all ground commander, like: MEDICAL TEAMS from 8RCDG/PAARU and NAVFORCEN, RELIEF TEAMS from 804/805CDC, 8RCDG, 8TH PRMG, NAVAL ASSETS - RPS 71, 38, 141, 339, 334, AIR ASSETS – TOG8, OTHER VOLUNTEERS from Scan International, RATSS/PAF/ARUF, Sogod Rescue, Red Cross, RDCC7/PDCC, PEO, PNOC, EVRC. Total number of personnel on rescue is 214 and more volunteers were arriving in the scene to include the national media and international rescue teams from foreign countries like the US Naval Vessel and the Malaysian Humanitarian Mission with their respective personnel, equipments, relief goods and medicines.
As of February 18, 2006 (8:12 pm), the total recovered dead bodies – 56, injured – 20, missing – 1,408, survivors – 410. In CY 2006 municipal survey, total population of Brgy Guinsaugon is 1,857 with 321 households. It was also found out that during the tragedy, there were on-going classes of the elementary school located within the vicinity of the said barangay which has a total population of 246 students that were likewise buried. Evacuation centers have registered a total of 1,448 evacuees in Catholic Church Convent with 121, St Bernard Central School with 1048 and Cristo Rey Regional High School with 279. Said evacuation centers hold other evacuees from the barangays near Barangay Guinsaugon who were advised to leave the area for possible landslide affectation.
On the other hand, on February 17, 2006 at about 2:45 pm, troops under 20th Infantry Battalion who conducted KALAHI project evaluation for the barangays under the Municipality of Bobon, Northern Samar and were supposed to be pulled-out same day to augment the rescue operations in Leyte, encountered undetermined number of Communist Terrorists (CTs) at the vicinity of Brgy Santander, Bobon, Northern Samar. Fire fight lasted for about 25 minutes after which the CTs withdrew in northwest direction of said barangay leaving one (1) soldier killed in action – PFC. Gleann G. Soteo while wounding undetermined number from the enemy side as per confirmation from the civilians in the area. Hot pursuit operation is still on-going.
With the big task at hand confronted by the 8th Infantry Division, it has still performed well its mandated mission in combat and non-combat activities as manifested by the successive events of the same day. Clearly, with these people-oriented activities, no single support was seen from any legal front organizations like the Bayan Muna, Gabriella, SB-Katungod, etc to extend help or assistance to the landslide victims when they are needed most. Likewise, the New Peoples Army being anti-people and anti-development took advantage on the re-directed attention of the Philippine Army who was focusing their efforts on community development and the rescue operations to possibly save lives
This is a clear indication that the CPP/NPA/NDF clear motives were the total destruction of human lives as they can only be heard when their own comrades and supporters claims allegations of Human Rights Violations.
Cong. Figueroa aiming for the establishment of Samar Cultural Center
By RICKY J. BAUTISTA
February 22, 2006
CATBALOGAN, Samar – A House Bill that will provide for the establishment of a Historical and Cultural Center in the province of Samar, recently passed the final reading in the lower house of congress thru the efforts of Samar 2nd District Congressman Catalino V. Figueroa.
The said bill, which was originally tagged as House Bill 2823, has been transmitted to the Senate for appropriate action, and by this time marked as House Bill 4554 after amendments were put in place based on the recommendation of the House Committee on Basic Education and Culture.
"This is an important step towards recognizing the artistic talents of Samareños", Congressman Figueroa informed, and likewise added that if the senate would positively act on it, "Samar will finally have a venue wherein all its artists will be able to converge and hone, not only their own artistic skills but even those who are striving to be recognized in their respective fields", he explained.
The establishment of a Samar Historical and Cultural Center is being eyed as an avenue that will pave way for the roots and history of the province to fully known and recognized.
"It has been a long dream of the people of Samar to have its own historical and cultural venue. This, I hope, shall be the fruition of their long-cherished aspirations," Cong. Figueroa added, and further explained that the said move will serve as fitting tribute to the men and women of Samar who have made waves not only in the province but in other places as well, "and for them to have achieved many things without the appropriate support from the government is highly gratifying, and this is basically the reason why this measure was drafted, filed and subsequently approved in the 13th Congress."
At present, the solon is now coordinating with several groups in the Samar, seeking for their suggestions as to the best place to put up the center. Congressman Figueroa is eyeing for the center to be constructed in the province capital town.