Phil. Army hits NPA in Samar anew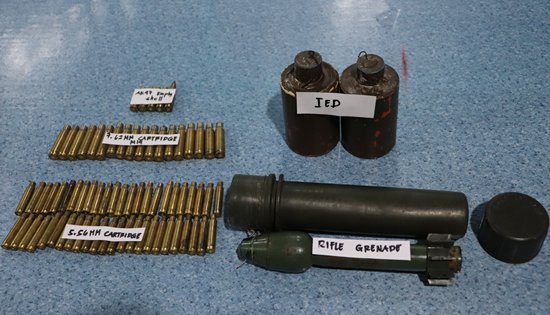 By DPAO, 8ID PA
November 21, 2018
CAMP LUKBAN, Catbalogan City – Troops of Charlie Company, 14th Infantry (Avenger) Battalion, Philippine Army encountered more or less 10 CPP-NPA-Terrorists (CNTs) in the area of Brgy Concepcion, Paranas, Samar on November 20, 2018 at 7:50 p.m.
While the troops are conducting combat operations in the area to confirm presence of armed men in the said barangay, they were fired-upon by armed CNTs that prompted the firefight that lasted for 10 minutes that forced the CNTs to scamper to different directions.
During clearing operations in the area, soldiers recovered from the encounter site two improvised explosive device, one rifle grenade, empty magazines and empty shells of AK46, M16 and M14.
"Our troops are still in the area conducting pursuit operation while we continue to validate and confirm information regarding the casualties of the fleeing CNTs, on the other hand, our engaged troops are safe with no casualty", said Lt. Col. Jimmy V. Jimenez, Commanding Officer, 14IB, 8ID, PA.
Lt. Col. Jimenez further explains that the Stormtroopers through the Avenger Battalion will continue to intensify offensive against the CNTs in the area of Samar "to degrade their armed components to further eradicate the CNTs by 2019 in our Area of Operations". "Rest assured that our Battalion will remain to be vigilant in performing our mandated task to serve the Waraynons and in Securing the Island of Samar", Lt. Col. Jimenez added.
DPWH to rise P372 M worth of school buildings in Leyte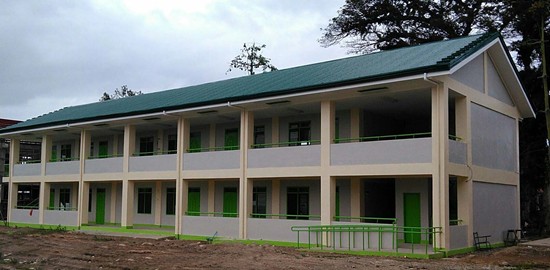 By DPWH-2LED
November 21, 2018
CARIGARA, Leyte – In support to the education program of the government, the Department of Public Works and Highways (DPWH) Leyte Second District Engineering Office will implement a total of P372 million worth of 29 units of school buildings or 159 classrooms under the Department of Education's (DepEd) Basic Educational Facilities Fund (BEFF).
Out of 29 school buildings, 25 units are already on-going while 4 units are processing its contract documents.
There are four (4) units each in the municipalities of Carigara and Jaro, three (3) units each in Burauen and Capoocan, two (2) units each in Barugo, Dagami, Dulag, Julita, Mac Arthur and Pastrana, and one (1) unit each in La Paz, Mayorga and Tabontabon.
District Engineer Carlos Veloso said that these classrooms will be in multi-storey structures that will utilize and provide conducive learning environment for the increasing number of students under the K-12 program.
Veloso expressed the willingness of the department to aid the DepEd in its continuous aspiration to educate and guide these young men and women in the country.
The BEFF is an annual budget of the Department for its School Building Program, which covers the improvement and maintenance of school facilities.
'Pork barrel politics' very much alive in Congress - BMP
Press Release
November 21, 2018
QUEZON CITY – Militant labor group Bukluran ng Manggagawang Pilipino (BMP) assailed members of the House of Representatives claiming that "pork barrel politics is still alive and kicking". This, after Senator Ping Lacson disclosed at a press briefing Monday that insertions by congressmen have stalled the budget hearings.
The group further disclosed that the practice of pork allocations is more prevalent this year because of next year's midterm elections.
The Supreme Court in 2013 ruled that pork barrel is unconstitutional after allegations that Janet Lim-Napoles and several legislators siphoned public funds to bogus and ghost non government organizations.
In a statement, Leody de Guzman, chairperson of the group and senatorial aspirant said, "We are certain that these congressmen are aware of the 2013 SC ruling and yet they have continued the anomalous practice of allocating funds and projects to perpetuate their dynastic rule over their respective districts".
"Their mandate is to legislate laws, oversight and deliberation. Budget insertions by congressmen for their pet projects has the same effect on the entire fiscal process as with the previous practice of direct and blatant congressional pork barrel. Both practices strengthens political patronage, where grave abuse of discretion most likely leads to graft and corruption," he adds.
BMP says it is not surprising that the public perceives Congress as a corrupt institution, filled with traditional politicians who earn their living through kickbacks, horse trading, and authoring laws for corporate interests.
"Obviously, our legislators are severely detached from the people that they rely more on sharing their loot of the national coffers to their constituents. It is a share in the public pie that only increases if they enjoy the good graces of the Executive branch," De Guzman opined.
The concrete needs of the people, the labor leader asserted "towards wholistic and genuine national development should be the primary basis in the allocation of government funds, not the selfish motives of politicians who label completed projects as part of their achievements. Credit should be accorded to where it is due, to no other than the taxpaying public who do not owe anything, not even "utang na loob" to these unscrupulous trapos".
"Labor reminds our legislators that the ink on the five-year old Supreme Court ruling has not dried. The people's righteous anger against the pork barrel is still alive and fresh on our collective memory. If they fail to exercise prudence, this indignation by the voting population will be reflected in next year's elections.
De Guzman, meanwhile, emphasized that the congressional craving for budget allocation to their districts is goaded by the austerity measures of the budget department to the much needed social services, which is essential to providing decent lives to the workers and the poor.
It has been reported that the several departments will suffer from severe budget cuts. The DepEd's proposed Basic Education Facilities Fund for 2019 will lose P69.4 billion compared to 2018, while DOH's Health Facilities Enhancement Program (HFEP) fund was clipped of P30.3 billion under its cash based budgeting system.
"It is utterly disgraceful that we have congressmen who fight tooth and nail for every penny of budget allocation to advance their selfish political motives, while the public suffers from runaway inflation caused by anti-poor tax reform packages," he lashed out.
The BMP says the taxpaying public have been hit by a triple whammy. "First, the poor are overtaxed with VAT and excise taxes on petroleum. Second, the budget cuts to national government agencies providing social services to the people has led to a shift in fund allocation towards the discretion of self-serving government officials. Lastly, these politicians will profess to being pro-poor as they use public funds to woo the voters into reelecting them into office".
Soldiers who were wounded-in-action receive assistance from DOLE
By DOLE-8
November 20, 2018
CATBALOGAN CITY – Three soldiers from Eastern Visayas who were wounded-in-action during the Marawi siege receive livelihood assistance from the Department of Labor and Employment Regional Office 8 on November 15, 2018 at the 8ID Stormtroopers Clubhouse, Camp General Vicente Lukban, this city.
In a simple turnover ceremony, Jessa Jean Noguit, Norma Nablo and Gemma Aban, wives of PFC Jerson C. Noguit, CPL Maximo Nablo, Jr. and CPL Edgie Aban personally received the agri-business projects amounting to more or less twenty thousand pesos (P20,000) each with big smiles on their faces.
"I am so thankful that we are given this kind of aid by the government. This will be a big help to our family and we will do our best to make this business grow," Mrs. Noguit said.
Said livelihood assistance was a joint effort of DOLE and 8th Infantry Division of the Philippine Army. DOLE RO8 Director Yahya A. Centi, Assistant Division Commander, BGen. Eliezer L. Losanes and DOLE Samar Field Office Head, Mr. Edgar B. Tabuyan graced the activity and personally awarded the livelihood grants.
Director Centi expressed his heartfelt thanks to the Philippine Army for being an active partner of DOLE in advocating its programs and services to the public particularly in the grassroots level.
"I'd like to recognize the efforts of our friends in the PA for being so enthusiastic in helping us bring our programs especially the DOLE Integrated Livelihood and Emergency Employment Program (DILEEP) closer to our clients. Serving the public becomes lighter when you know you have strong linkage with other government agencies", said Centi.
The awarding ceremony was followed by an orientation seminar conducted by DOLE to capacitate the different operating units of 8ID implementing Community Support Program (CSP).
Teachers submit Salary Increase petition to Senate as 2019 budget is deliberated
By Alliance of Concerned Teachers
November 19, 2018
QUEZON CITY – Teachers from the Alliance of Concerned Teachers (ACT) headed to the Philippine Senate today to submit their petition for salary increase, which garnered around 25,000 signatures.
"The clamor for a substantial pay hike remains to be loud and strong, as evidenced by the thousands of education workers as well as parents and other supporters from 17 regions who signed the petition. The strongest justification of its urgency is the still-at-peak Philippine inflation," declared Joselyn Martinez, ACT National Chairperson.
The upper house is currently deliberating the 2019 National Expenditure Program and ACT is pushing for legislators to take into account the demands of teachers and education workers for immediate economic relief and better standard of living.
"The government claims to prioritize social services but the budget proposal released by the Department of Budget and Management (DBM) tells a different story," lamented Martinez. She added that the shift from obligation-based to cash-based resulted in a 6.4% decrease in the actual amount of the budget allocation for the education sector, which is in contrary to DBM's claim that it increased by 12%.
"We urge the Senators not only to heed our demands but to do what is constitutionally mandated of them," Martinez pressed, citing Section 5 Article 5 of the 1987 Constitution which states that:
The State shall assign the highest budgetary priority to education and ensure that teaching will attract and retain its rightful share of the best available talents through adequate remuneration and other means of job satisfaction and fulfillment.
"We are exhausting all possible means to advance our calls, which is why teachers will also go on a Sit-Down Strike on November 29 to show the government that we are united and resolute in our demand for decent salaries," declared Martinez. The group first made the announcement in a forum last week.
"The protests, which could take on various forms, will continue as long as education workers suffer and the education system crumbles. We will carry on the fight," concluded Martinez.
ACT is calling for a P30,000 salary for Teacher I, P31,000 for Instructor I, and a P16,000 minimum pay for all government workers. They are also demanding for a P3,000 increase in the Personnel Economic Relief Allowance (PERA) in light of the erosion of the values of salaries due to the TRAIN-induced inflation.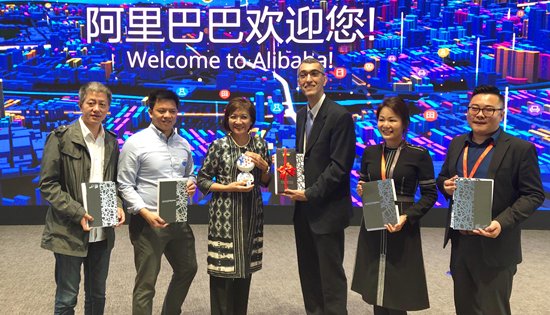 From left: Steven Zheng of Alibaba.com; Ray Alimurung, CEO of Lazada Philippines; Undersecretary Nora Terrado; Farhad Sami, Senior Director for International Policy and Public Affairs of Alibaba Global Business Group; Gladys Chun, General Counsel and Head of Government Affairs at Lazada Group; Tony Yin, Global Business Development Manager at Alibaba.com.
PH exporters visit Alibaba campus in China
By DTI-TIPG
November 19, 2018
MAKATI CITY – Department of Trade and Industry (DTI) Undersecretary for Trade and Investments Promotions Group (TIPG) Nora Terrado headed the recently concluded 60-man Philippine delegation in their technical visit to the headquarters of Chinese e-commerce giant Alibaba in Hangzhou, China on November 4, 2018.
The visit was conducted on the sidelines of the first China International Import Expo, where the Philippines participated. Known as the "Alibaba Campus," the headquarters accommodates around 9,000 employees.
Led by Farhad Sami, Senior Director for International Policy and Public Affairs of the company, Alibaba representatives toured the Philippine delegates to the 150,000-sqm open office space that has a campus-style layout.
As the world's leading e-commerce platform, Alibaba shared with Filipinos its best practices on providing fundamental technology infrastructure and marketing reach that help small and medium businesses grow.
For many, the rise of Alibaba and its recent influence on the global market have ushered a new retail era and changed the consumer behavior of mobile-connected individuals worldwide.
During the visit, Lazada Philippines CEO Ray Alimurung presented how Filipino entrepreneurs could benefit from doing business in the digital economy.
"The Southeast Asian e-commerce market is ready and it's growing fast," he said. "Now is the time [for Filipino business owners] to research, test, and learn the e-commerce market," he added.
Meanwhile, Terrado hoped that the visit to the Alibaba Campus had been insightful for the Filipino exporters. She also encouraged Filipinos to continue to use online platforms such as Alibaba in order to enter the Chinese market – especially now that China's demand for Philippine agriculture products like fresh fruits is growing rapidly.
"For years, Alibaba has shown how internet can provide small companies with infrastructure and marketing reach, which help merchants and brands grow and compete more effectively in the global market," she said. "Through this tour, we seek to learn and adapt the company's ways of doing business within e-commerce and cross-border transactions."
Inflation rate in Eastern Visayas climbs to 6.9% in October 2018
By PSA-8
November 16, 2018
TACLOBAN CITY – The Inflation Rate (IR) of Eastern Visayas continued to increase at 6.9% in October 2018. This IR is 0.4 percentage point higher compared with the 6.5% IR a month ago, and 3.6 percentage points higher than the recorded 3.3% IR in the same period last year. The regional inflation rate was 0.2 percentage point higher than the 6.7% national average in October 2018.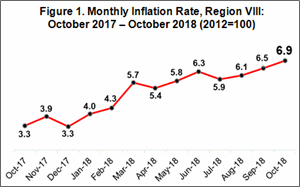 Leyte and Southern Leyte posted the highest increase of 0.8 percentage point each. Leyte registered 7.1% IR in October from 6.3% in September, while Southern Leyte recorded 4.0% IR in October from 3.2% in September. Biliran recorded a 0.3 percentage point increase from 5.1% in September to 5.4% during the reference month.
On the other hand, 0.2 percentage point decrease in IR were noted in Northern Samar and Samar settling at 6.3% and 8.1%, respectively. Eastern Samar registered a 0.1 percentage point decrease, from 8.9% in September to 8.8% in October. It is still, however, the highest IR among the provinces during the reference period. Southern Leyte, meanwhile, posted the lowest at 4.0%.
Among the commodity groups, housing, water, electricity, gas and other fuels registered the highest increase of 2.2 percentage points. It was posted at 8.3% in October 2018 from 6.1% in September 2018. This can be attributed to the huge increase in the index of electricity, gas and other fuels.
The transport index also registered an increase of 1.4 percentage points in October 2018 (8.6%), from 7.2% in September 2018. Contributing to the uptrend were the gains seen in the index of operation of personal transport equipment and transport services.
The heavily weighted food and non-alcoholic beverages eased to 8.9% in October 2018 from its previous month's rate of 9.2%, a decrease of 0.3 percentage point. This can be traced to slower price increases of fruits, fish, oils and fats, and vegetables.
Education further deflated to 16.4% in October 2018, recording a 0.2 percentage point decrease from the -16.2% a month ago, attributed to the decrease in the index for tertiary education.
The Purchasing Power of Peso (PPP) of the region remained at P0.80 in October 2018. This PPP implies that goods and services worth 100 pesos in October 2018 only costs 80 pesos in 2012.
All provinces sustained their PPP from last month, except Leyte and Southern Leyte, which registered a 0.01 centavo decrease each in PPP compared with their figures in September 2018. Leyte and Biliran recorded the strongest PPP at P0.82. Southern Leyte ranked second at P0.80, followed by Eastern Samar at P0.78. Northern Samar and Samar posted the weakest PPP at P0.75.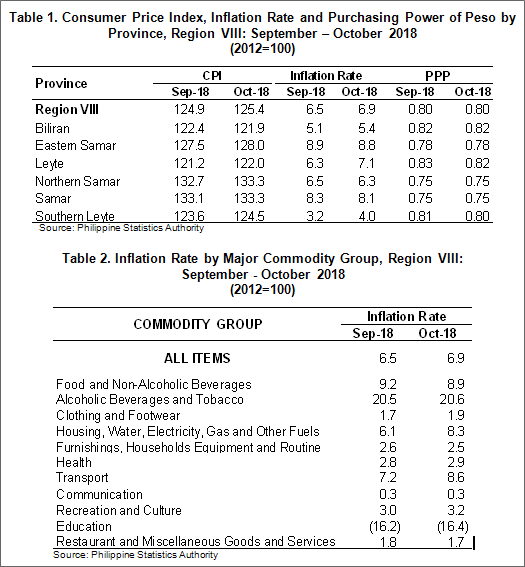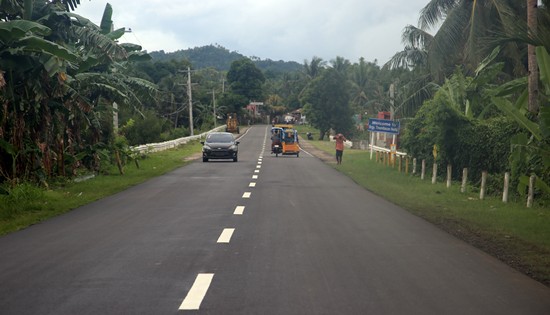 Preventive maintenance of road asphalt overlay along Daang Maharlika (SM) (Sn Isidro - Sn Juanico Br.) - K0719 + 219 - K0720 + 964; K0720 + 990 - K0721 + 000, Samar.
DPWH completes P27-M asphalt overlay in Calbayog
By MAE ANGELICA R. COMOTA
November 16, 2018
CALBAYOG CITY – The Department of Public Works and Highways Samar First District Engineering Office (SFDEO) completes the preventive maintenance on a major road section along Daang Maharlika.
The project covers 3.542 kilometers of asphalt overlay starting from Brgy. Malopalo to Brgy. Tinambacan in Calbayog City. It has an allocation of P27 million sourced out from the 2018 Regular Infrastructure Fund and is under contract with B. Vicencio Construction.
SFDEO's maintenance personnel installed thermoplastic pavement markings along the newly-preserved road to provide accurate road markings that will reduce vehicular accidents.
This particular road section connects Manguino-o Port to the city proper and experiences a high volume of traffic. Most of the vehicles plying along the highway are trailers and trucks carrying cargo from Cebu.
Both public and private vehicles also use this road to transport people from north to south of the country.
With the completion of this project, the aforementioned road users are provided with a faster, safer and more convenient travel experience that will contribute to the continued economic boom of the city.
DPWH-Biliran DEO completes access road connecting Brgy. Villa Consuelo and Brgy. Libtong, Naval, Biliran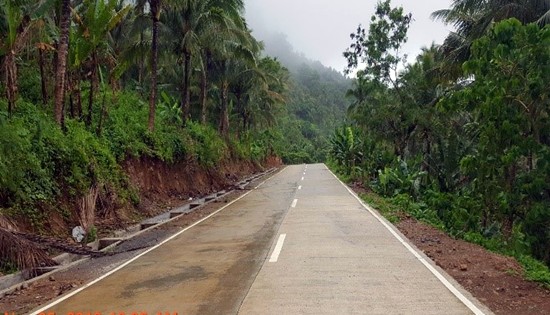 Press Release
November 16, 2018
NAVAL, Biliran – The Department of Public Works and Highways (DPWH) Biliran District Engineering Office completes first phase of the construction/ improvement of access road from National Road Junction (NRJ) of Villa Consuelo connecting Brgy. Libtong Road in Naval, Biliran.
The project involves the construction of two lanes road with a length of 1.20-kilometer and a width of 6.70-meter with construction of drainage costing P30M.
Brgy. Villa Consuelo and Brgy. Libtong is known for its coco sugar products and potential for ginger powder processing, turmeric, banana chips, cacao and coffee among others, hence prioritized under the 2018 implementation.
According to District Engineer David P. Adongay Jr., the said project involves reconstruction of 7.0-kilometer road and 30-linear meter bridge to be implemented on a multi-year basis up to year 2020.
The completion of the project will provide a better and faster transport of the agribusiness: food and resource-based processing in Brgy. Villa Consuelo and Brgy. Libtong Naval, Biliran. This will benefit more or less 1,000 road users.
Through better road linking trades and industries, more locals will be encouraged to do business that will eventually help improve the economic situation in the province.
Duterte appointees, associates also running in party-list race
By KONTRA DAYA
November 12, 2018
QUEZON CITY – Kontra Daya observed that there are party-list groups whose nominees are recent incumbent government officials, including some who are still believed to be supportive of the President despite their controversial removal from public office.
The first nominee of Pambansang Nagkakaisa sa Paggawa at Agrikultura is Socrates Piñol, provincial board member of North Cotabato and brother of Department of Agriculture (DA) Secretary Emmanuel Piñol.
The first and third nominees of Gawing Una Tagumpay ng Ordinaryong Mamamayan are worth noting, as the first nominee, Rex Anthony Villegas, is a former board member of Nayong Filipino who was fired due to a complaint by another board member who happens to be a niece of President Duterte. The third nominee, Maria Katrina Nicole Contacto, is a legal counsel of Duterte in the latter's disqualification case in the 2016 elections. She is also chair of the Youth Affairs Committee of PDP-Laban.
The Hugpong Federal Movement of the Philippines has as first nominee Peter Laviña, former administrator of the National Irrigation Administration (NIA) who resigned amid corruption allegations, according to news reports.
Similarly, ABAKADA Party-list's first nominee is Jonathan Dela Cruz, former board member of the Government Service Insurance System (GSIS) who was fired due to alleged contract anomalies.
The first nominee of Bahay para sa Pamilyang Pilipino, Inc., Naella Rose Bainto-Aguinaldo, was appointed member of the Career Executive Service Board by Duterte in 2017. She also happens to be the wife of Commission on Audit (COA) Chairperson Michael Aguinaldo.
For the Global Workers and Family Federation, the first nominee is Ermie Lagman Garon, a commissioner of the Philippine Commission on Women (PCW) representing the business and industry sector and is a member of the People's National Movement for Federalism.
The first nominee of Rebolusyonaryong Alyansang Makabansa, Inc. (RAM) is Aloysia Tiongson Lim, wife of Metro Manila Development Authority (MMDA) Chair Danilo Lim.
Based on its public pronouncements, the Duterte Youth Party-list is apparently supportive of the President and runs on a platform of countering another youth party-list group that is known to be critical of the administration. It is the only party-list group that has used "Duterte" in its name. The Commission on Elections (COMELEC) must examine if such group is legitimately seeking to represent the youth or is merely using the name of the President for political gain. The group is also associated with Duterte appointee Ronald Cardema of the National Youth Commission which raises questions on the role of the government agency in the affairs of the party-list group.
Calls to COMELEC
COMELEC Spokesperson James Jimenez said in a media interview that the poll body scrapped the review of party-list groups due to the ruling of the Supreme Court in 2013 – i.e., that nominees do not have to be part of the marginalized and underrepresented sectors they claim to represent.
However, Kontra Daya asserts that COMELEC can still look into several issues related to the party-list groups. For example, the poll body can conduct a public hearing on party-list groups and the track records of their nominees in order to clarify their decision to run in the 2019 elections.
Some nominees appear to have become overnight members and nominees of their party-list groups, particularly during the period of the filing of candidacies, thus raising questions regarding their track record and advocacy. This may be the case for party-list groups whose nominees only recently resigned from government just in time for the filing of their certificates of nomination and acceptance.