DPWH completes P40-M barangay road projects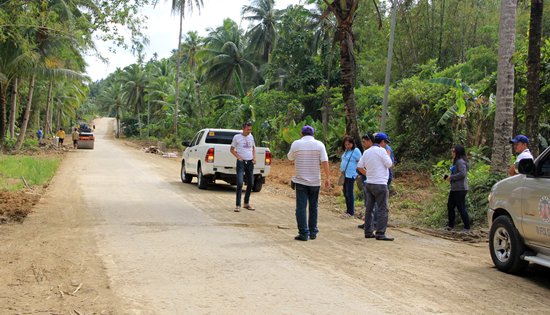 By JASON T. DELOS ANGELES
January 26, 2019
CALBAYOG CITY – The Department of Public Works and Highways Samar First District Engineering Office completes the rehabilitation and improvement of two road projects in Oquendo District, Calbayog City, with a combined appropriation of P40 million.
The first project connects barangay Cagbilwang to Mawacat, covering the rehabilitation of 1.67 km concrete road. The second road project links barangay Mawacat to Panlayahan involving the improvement of 1.66 km concrete road.
The Cagbilwang to Mawacat road leads to the famed Mawacat falls, a tourist attraction in the barangay which is a source of income for the residents that serve as tourist guides.
On the other hand, the Mawacat to Panlayahan road helps the local farmers in transporting their agricultural goods.
"Before, our road was so rough and muddy. It's hard for us to travel and to transfer our agricultural products like coconut and rice, but now we have a better and wider road when we go to Calbayog proper vice-versa, we thank DPWH for this project," said Mr. Alfredo Diaz, sangguniang barangay member of Mawacat.
Murang kuryente: Posible?
Groups oppose using of Malampaya funds to cover NAPOCOR debts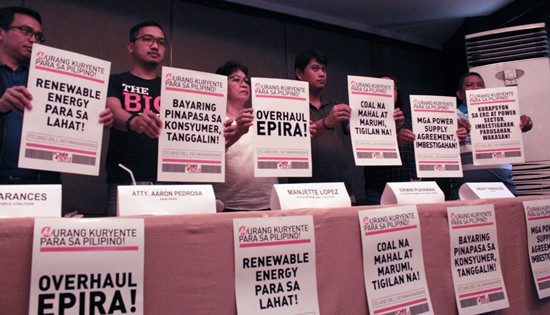 Consumers, CSOs urge legislators to address true cause of costly energy in the Philippines
Press Release
January 25, 2018
QUEZON CITY – A coalition of civil society organizations, coal-affected communities, and power consumers finds current pending legislative proposals insufficient to reduce the high cost of electricity.
The Power for People (P4P) Coalition in a press conference today warned that energy reforms are not enough "without overhauling the Electric and Power Industry Reform Act, the complete removal of pass-on provisions, expanding subsidies for impoverished consumers, rejecting the entrance of more coal in the energy mix, and combating corruption in the ERC."
"While we are glad that the problem of costly energy is front and center in the chambers of Congress, it will only continue to be felt by consumers if fundamental changes are not introduced and made into law," said P4P convenor and Center for Energy, Ecology, and Development (CEED) Executive Director Gerry Arances.
The Coalition zeroed in on the Murang Kuryente Bill which aims to use the Malampaya fund to cover the stranded debts and contract costs incurred by the National Power Corporation.
"Filipino consumers should not be paying for these stranded debts and costly contracts in the first place," said Arances. "The Malampaya fund could be more properly put to use in order to benefit ordinary end-users directly, like in expanding the coverage and increasing subsidies for households which use small amounts of electricity through the lifeline rates," Arances claimed.
"To put things in perspective, the P123 billion to be sourced from the Malampaya fund to pay off NPC's debt is already enough to provide 3.5 million households with one 200 W solar photovoltaic (PV) system each," he added. "Instead, while consumers may not pay for it in their bills, they are paying for it with the benefits they could have reaped from the Malampaya fund."
The Freedom from Debt Coalition (FDC) decried the use of the Malampaya fund as it would be still be citizens "bailing out" independent power producers (IPPs) for bad, costly deals they made with NAPOCOR and Power Sector Assets and Liabilities Management (PSALM), which acquired its assets and debts.
"We have continually called for the renegotiation of contracts entered into by the Ramos administration with local and foreign IPPs, as they have been found to be supplying electricity at a much higher price than other power producers," said FDC's Manjette Lopez. "Consumers have been at the losing end, paying for the price of these unnecessarily costly contracts ever since they were brokered, and PSALM has repeatedly over the years negotiated on behalf of IPPs for higher rates to be passed on to the public," she continued.
Atty. Avril De Torres of CEED warns of a similar situation being repeated with the increase of coal's share in the country's energy mix. "A study has found that all coal-fired power plants to go online in the Philippines will become stranded assets, and many of those operating are already in various levels of stranding," said De Torres. "Despite this, the administration remains adamant in pursuing more coal projects, with 3,500 MW of coal to go online this year alone," she continued.
"Not only this, but through Executive Order 30, the government is fast-tracking the approval of these projects," said De Torres, citing how almost half of the awardees of Certificates of Energy Project of National Significance (EPNS) are coal projects. "Without sober, scientific reflection of the economic costs of these projects, we will only have a repeat of consumers having to pay more for uncompetitive and costly power contracts in their monthly bills," she concluded.
"With renewable energy technology being more and more affordable and supposedly accessible for communities, it is appalling that the government is neglecting its potential to deliver cheaper electricity for the people," said Philippine Movement for Climate Justice National Coordinator Ian Rivera. "It is unjust how the Malampaya fund, instead of being used to fund initiatives by communities to set up and operate their own renewable energy systems, is being used to pay for contracts and debts involving dirty energy projects, the very things which are killing Filipinos with pollution and killing the planet with emissions."
P4P: Genuine "Murang Kuryente" Bills Needed
The Coalition then called for legislative action which will "address the heart of the issue and put consumers at the center of the solutions".
"The core of the problem is the idea that citizens should be paying for the costs that generation and distribution companies do not want to pay for," said Sanlakas Secretary-General Atty. Aaron Pedrosa.
"Poor Filipinos - especially women - bear the brunt of the high costs of electricity," said Inday Gonzales of Oriang Women's Movement. "That we have to adjust our daily expenses to account for the debts and costly contracts entered by the government and power producers is simply an injustice that cannot continue," she continued.
"Whether it is the universal charge, value added tax, or even the system loss charge which Congress presently aims to reduce, these are charges which should not be taken on by ordinary consumers but by the companies themselves," Pedrosa continued. "Overhauling EPIRA and disallowing any and all pass-on provisions are necessary first steps to truly address the problem of high costs. The question is whether the Congress has the courage to truly take on the corporations and their own vested interests in pursuing this agenda," he stressed.
Leody De Guzman of the Partido Lakas ng Masa Coalition spoke on behalf of consumers affected by high prices which are also exacerbated by additional daily burdens.
"Sunod-sunod ang atake sa bulsa dulot ng TRAIN Law, panibagong dagok na naman sa pamilya ng manggagawang Pilipino ngayong taon ang pagtaas ng presyo ng kuryente," De Guzman noted. "Tama na ang pamamayagpag ng anti-mahirap na EPIRA at mga monopolyo gaya ng Meralco. Kailangan na itong lagutin bago tayo ang lagutin nito," he concluded.
Energy think tank alarmed over abundance of big ticket coal projects in pipeline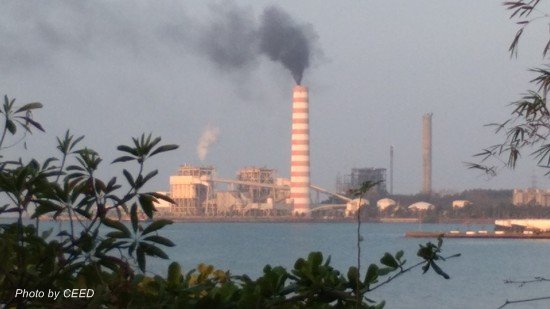 Abundance of coal to negate efforts on reducing energy costs, group says
By CEED
January 23, 2019
QUEZON CITY – An energy think tank is alarmed over the sheer number of major coal projects to go online this 2019, saying that coal threatens to raise electricity costs for the next ten to twenty years, on top of its negative effects on the environment and climate.
The Center for Energy, Ecology, and Development (CEED), one of the convening organizations of the Power for People Coalition, expressed concern as the abundance of coal "will undermine any current attempt to reduce the cost of electricity for ordinary consumers."
"Despite the global push to reduce carbon emissions and shift to renewables, 81% of major projects to go online for 2019 in the Philippines are to be sourced from coal, amounting to almost 3,500 MW of dirty and costly energy," said CEED Executive Director Gerry Arances.
"As early as 2017, it has been reported that all proposed and committed coal plants are projected to become stranded assets, with many plants currently in operation already in various stages of stranding," Arances continued. "It is ironic that after years of consumers paying for stranded debts and contract costs of the National Power Corporation, we are on the verge of replicating the same problem with the current onslaught of coal projects in the pipeline," he said.
Arances said that the foreseen devaluation of coal projects will be shouldered by consumers, who will end up paying for the projects' contract costs.
"As many as four bills are in the present legislative agenda aiming to decrease the costs of electricity," Arances said. "But we run the risk of being blindsided by hidden and externalized costs in pending coal projects if they are left unhindered."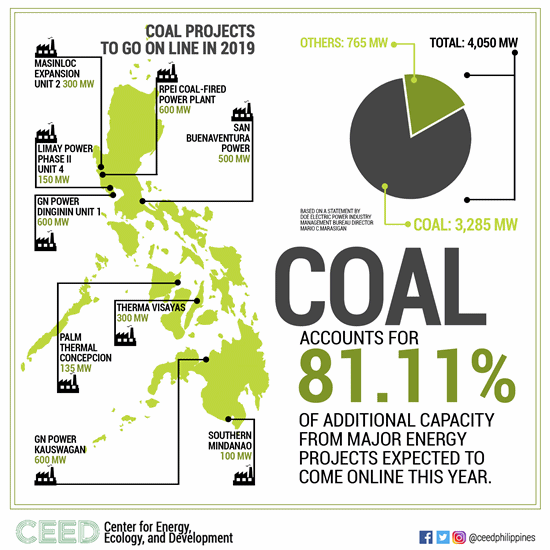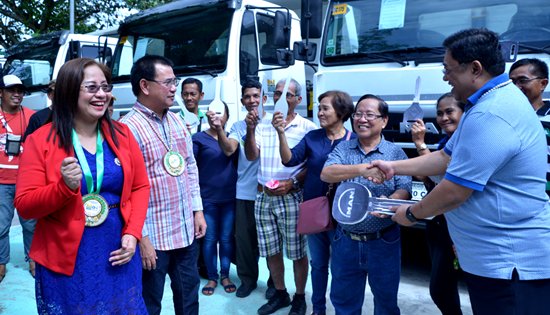 Agrarian Reform Secretary John Castriciones (right) turns over the symbolic key to one of the chairmen of 18 agrarian reform beneficiary organizations (ARBOs) who are recipient of the 18 six-wheeler dump trucks in Eastern Visayas during the turnover ceremony. Looking on are DAR Assistant Regional Director Ma. Fe Malinao and Leyte Governor Leopoldo Dominic Petilla. (Jose Alsmith L. Soria)
DAR Secretary turns over farm machineries, inaugurates building in EV
By JOSE ALSMITH L. SORIA
January 21, 2019
TACLOBAN CITY – Agrarian Reform Secretary John Castriciones turned over on Thursday 18 six-wheeler heavy-duty dump trucks to the same number of selected agrarian reform beneficiary organizations (ARBOs) in Eastern Visayas, and inaugurated the newly-rehabilitated building at the Department of Agrarian Reform (DAR) Regional Office-8 compound on the same occasion.
Castriciones in his message emphasized, "If we want our country to be progressive, let us strengthen the agriculture sector". Thus DAR is providing ARBOs the necessary equipment particularly for their agri-enterprise activities.
Provision of the necessary support services is one of the components of the Comprehensive Agrarian Reform Program (CARP) to improve the quality of lives of the agrarian reform beneficiaries (ARBs).
Regional Director Sheila Enciso disclosed that the said dump trucks amounted to P81-million funded under the Agrarian Reform Communities Connectivity and Economic Support Services (ARCCESS) project.
According to her, of the 18 dump trucks, six units were given to the province of Leyte for MAALSADA Farmers Irrigators Service Agriculture Cooperative (FISCO) in Alangalang; Omaganhan Farmers Multi-Purpose Cooperative in Tabango; Hacienda Maria Multi-Purpose Cooperative in San Isidro; Merida Agriculture Diversified Services Multi-Purpose Cooperative in Merida; Brgy. Agutayan Farmers Association in Hilongos and Pastrana ARC Farmers Organization in Pastrana.
Four units were given to the province of Eastern Samar for the San Gabriel ARB Association in Borongan; San Pablo Agrarian Reform Cooperative in Taft; Growers Integrated Farmers Association in Salcedo and Canloterio Farmers Association in Maydolong.
Northern Samar was also given four units for the Centralized Farmers Association in Mondragon; Victoria Agrarian Reform Community Cooperative in Victoria; San Jose Farmers Association in San Jose and Northern Samar Rice Producers Multi-Purpose Cooperative in Palapag.
Two units were given to the province of Western Samar for the Legaspi Farmers and Fisherfolk Association in Marabut and Villahermosa Oriental Farmers and Fisherfolk Association in Pagsanghan.
Biliran and Southern Leyte provinces were give one each for the Lico Agrarian Reform Cooperative in Naval, Biliran and San Francisco Multi-Purpose Cooperative in San Franciso, Southern Leyte.
Five units however were put on hold pending compliance of the requirements by the concerned ARBOs.
Undersecretary for Support Services Emily Padilla who was with the Secretary during the said occasion challenged the concerned ARBOs to use the dump trucks in uplifting the lives of the more than 20,000 members of the 18 farmer organizations.
She likewise stressed to the recipient ARBOs that all farm equipment provided by the agency will be geo-tagged so the office could monitor them.
According to the Secretary, the government hopes these ARBOs will succeed in developing their awarded lands and contribute to national development.
Rice production and trading, organic fertilizer production and trading, vegetable production and trading, coco coir and geotextile production and abaca trading are just among the agri-enterprise these ARBOs had ventured in.
Reynaldo Peja, Chairman of the MAALSADA FISCO, one of the ARBO recipients which is into rice trading, thank the President and the DAR and said, the dump truck would enable their cooperative now to deliver rice as far as Ormoc City and other areas in the region.
Meanwhile, as the DAR inaugurated a newly-rehabilitated building where the regional office will be transferred, Castriciones challenged the employees to be united and "work as a team to be able to achieve our objectives the way it should be done".
The newly-rehabilitated building used to be a dormitory that was severely devastated during the onslaught of Typhoon Yolanda on November 8, 2013.
With a contract price of P25.5-million, the rehabilitation started on December 2017 after the provincial government of Leyte granted DAR a usufruct for 25 years to the land where the building is erected, the area being owned by the provincial government of Leyte.
Governor Leopoldo Dominic Petilla said during the occasion, though the usufruct is free, he appealed to DAR officials to always consider Leyte for whatever programs and projects it has for the ARBs.
With the distribution of dump trucks, Petilla was happy that six farmer organizations in his province were among the beneficiaries of the multi-million pesos worth of machineries.

(R-L) Agrarian Reform Secretary John Castriciones, DAR Undersecretary Emily Padilla, Leyte Governor Leopoldo Dominic Petilla and DAR-8 Regional Director Sheila Enciso cut the ceremonial ribbon during the inauguration of the newly-rehabilitated dormitory which will now serve as the new DAR-8 office. (Jose Alsmith L. Soria)
Illegal lumbers seized in Marabut, Samar
By DPAO, 8ID PA
January 21, 2018
CAMP LUKBAN, Catbalogan City – A joint anti-illegal logging operations by Samar Provincial Environment and Natural Resources Office (PENRO), Community Environment and Natural Resources Office of Sta. Rita (CENRO-Sta. Rita), 805th Regional Mobile Force PNP, Marabut Municipal Police Station and elements from the NISU 53, NT G2, Joint Task Force Storm resulted to the seizure of illegally cut lumber in Brgy. Osmeña, Marabut, Samar on January 16, 2019 at 4:45 AM.
A total of 12,000 board feet of abandoned forest products of dipterocarp specie were recovered at the said vicinity with an estimated market value of P960,000.00. Said lumbers were turned-over to CENRO-Sta Rita for proper disposition and documentation.
The success of the operation was attributed to the information provided by the populace of Brgy. Osmeña against the illegal loggers operating in their area.
Maj. Gen. Raul M. Farnacio AFP, Commander, 8ID/Joint Task Force Storm, commended the residents of Brgy. Osmeña for cooperating with the local government agencies and the military in locating the abandoned illegal lumbers.
In his message, the 8ID/Joint Task Force Storm Commander said that "the shared responsibility shown by the populace reflects their awareness in protecting their community from the catastrophic effects of illegal logging to the environment."
"The 8ID/Joint Task Force Storm as one of the deputized agencies of the Department of Environment Natural Resources relentlessly supports the National Greening Program of the government through the enforcement of the anti-illegal logging operations in Eastern Visayas for the protection and preservation of our ecosystem," Farnacio added.
Mindanao workers hold protest against Makati-based banana firm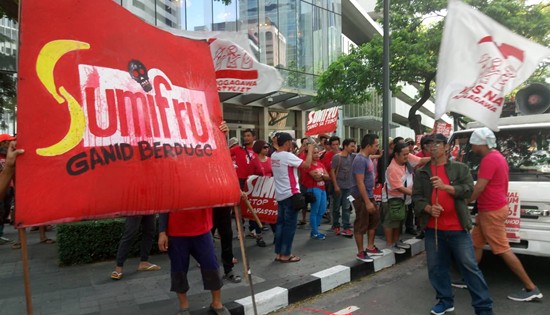 Press Release
January 18, 2019
MANILA – Over 200 workers of banana company Sumifru Phils. Corp. held a protest today in the company's main office in Makati for neglecting court's order recognizing them as regular workers.
The workers under their union Nagkahiusang Mamumuo sa Suyapa Farm (NAMASUFA) have been camping here in Manila since November last year in a bid to press the company as well as the Department of Labor and Employment to enforce the court's order, and escape the military harassments because of Martial law in Mindanao.
Paul John Dizon, NAMASUFA President, revealed that since their labor dispute erupted on October 1, 2018, one of their members was already killed, 2 escaped from slay trials, at least 20 had been mauled, their protest camps burned, belongings were looted, and their house including the union's office were burned down. The workers attributed all these atrocities to Sumifru in cahoots with the state forces and enabled through Martial Law.
"Instead of abiding by the law, they mauled, robbed, and killed! For more than a decade the company denied us our regular status and better benefits, now that the Supreme Court had already ordered last 2017, this is how they treated us!", Dizon lamented.
As a sign of protest, the workers threw paint bombs to the replica logo of Sumifru and called on Paul Cuyegkeng, the company's owner, to abide the law.
Sumifru Phils. Corp. is an agricultural company engaged in sourcing, production, shipment and marketing of various fresh fruits, primarily the export of quality Cavendish bananas, pineapple, and papaya. The company operates in more than 12,000 hectares in Mindanao.
In Compostela, Compostela Valley where the protesting workers came from, the company operates in more or less 2,200 hectares with 9 packing plants, with total production capacity of at least 19,000 boxes per day or 7 million boxes per year. The company's gross daily income is P19 million per day in Compostela operations alone.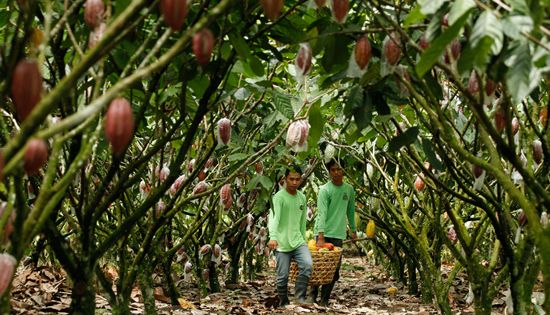 Puentespina Farms is now among the 16 Heirloom cacao growers worldwide that are recognized by the Heirloom Cacao Preservation (HCP).
Cacao from Davao's Puentespina Farms gains heirloom status
By DTI-TIPG-EMB
January 18, 2019
MAKATI CITY – The beans grown by Davao City's Puentespina Farms, manufacturer of the world-renowned Malagos Chocolates, have been recognized as "Heirloom Cacao" by the US-based organization Heirloom Cacao Preservation (HCP) Fund.
Charita Puentespina, founder of Puentespina Farms, said the farm was the 16th recipient of the international distinction. Other heirloom farmers were from Bolivia, Ecuador, Hawaii, Costa Rica, Belize, Nicaragua, Vietnam, Tanzania, and Madagascar.
"We are elated to be part of this very small group of farmers who have been given this designation as Heirloom Cacao," she said.
Puentespina's beans underwent an extensive evaluation by HCP's tasting panel before its heirloom status was announced in San Francisco on January 12, 2019. According to HCP, the chocolate was praised for its flavor, low acidity and "touch of fruits."
HCP's mission is to "identify and preserve fine flavor cacao varieties for the conservation of biological diversity and the empowerment of farming communities." It is an initiative of the Fine Chocolate Industry Association founded in collaboration with the US Department of Agriculture/Agricultural Research Services.
Primarily grown by small farms in the lowland tropical regions, cacaos are good for the ecosystem because they are grown in the shade along with other fruit trees like bananas, coconuts, and forest trees. Helping preserve heirloom cacao also helps the livelihood of the farmers who grow them.
"We want our products to be worthy of the heirloom designation that has been given to us," said Puentespina.
Meanwhile, the Malagos Agri-Ventures Corporation has issued a limited edition bar of Malagos Heirloom Chocolate 72% Dark Chocolate to celebrate the certification.
ACT petitions CA to prohibit PNP profiling, harassment of teachers
By Alliance of Concerned Teachers
January 17, 2019
QUEZON CITY – The Alliance of Concerned Teachers (ACT) filed a petition before the Court of Appeals today to seek remedy to the ongoing profiling operations being conducted by the Philippine Nationals Police (PNP) against their organization. ACT asks the CA to nullify all existing PNP directives to profile its membership and order the prohibition of the conduct of all operations that harass its leaders and members.
"This is just a first step of a host of legal actions that we will undertake against the illegal profiling, intimidation and harassment that the PNP carries out against us teachers. The profiling operations are evidently illegal as they violate our constitutionally-guaranteed rights to free expression, association and privacy, as well as pertinent laws," declared Joselyn Martinez, chairperson of ACT Philippines.
ACT included PNP Director General Oscar Albayalde, Police Intelligence Director Gregorio Pimentel, Department of Interior and Local Government Secretary Eduardo Año, as well as ten police regional directors of Cordillera Administrative Region, National Capital Region, Regions I, III, IV-A, IV-B, V, VI, X and XIII as respondents to the case.
"The expanse of the reports we received regarding the profiling operations reveals its nationwide character, which shows that the top officials of the PNP and the DILG should be held liable. Anyway, the fish was already caught in their mouths as instead of categorically denying and denouncing the operations, they have justified it and laid ACT members vulnerable to further harm by red-tagging our organization," explained Martinez.
The Petition for Prohibition with Urgent Prayer for the Issuance of Temporary Restraining Order and/or Writ of Preliminary Injunction cited first-hand accounts of ACT leaders and members who were victims of illegal profiling, person-specific surveillance and harassments perpetrated by police and military officers in the Cordillera Administrative Region, National Capital Region, Regions I, III, IV-A, IV-B, V, VI, X and XIII, as well as death threats issued against leaders at the height of the profiling issue.
"We are determined to frustrate these vile acts of the state forces against teachers through our solid unity and hold the perpetrators accountable, be it through the parliament of the street, lobbying or legal battle as our fight is not just for the sector but a fight to uphold democracy, against tyrannical forces," underscored Martinez.
She added that 'while we face this battle against repression, we equally invest our energies to intensify our struggle for decent salaries. No amount of intimidation and harassment can distract us from or dampen our resolve to forward our legitimate demands," Martinez averred.
Petitioners of the case include the ACT Philippines, ACT National Capital Region Union, ACT Region III Union and the Manila Public School Teachers Association. They are joined by their legal counsels from the National Union of People's Lawyers.
Pursuing troops discover enemy encampment in Samar
By DPAO, 8ID PA
January 17, 2019
CAMP LUKBAN, Catbalogan City – As of this day, the pursuing troops from 63rd Infantry (Innovator) Battalion, who were after the escaping group of CPP-NPA Terrorists (CNTs), were given an information by a concerned resident, on the presence of enemy personalities at Brgy. Bay-ang, San Jorge, Samar and discovered the abandoned enemy encampment last January 14, 2019 at 5:00 P.M.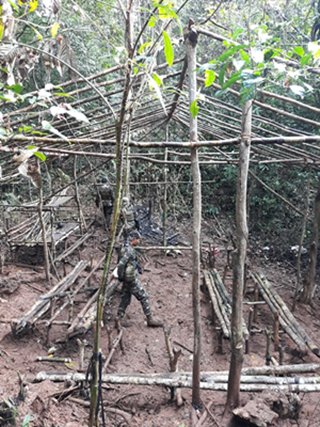 Said operation resulted to the discovery of the following: four bulwagans (Multi-Purpose Hall), one big mess hall, one classroom with medical facilities, one training ground, four caves with one supply room, one comfort room (Ladies' CR), five kitchens, six comfort rooms, 13 posts, laminated sacks, one C type claymore mine, oil container with gas, 122 bunkers, two generators (Honda), two M16 magazines (long), one .45 cal. magazine, assorted wires (300 meters), 10 pcs. water containers, one command switch for IED, eight assorted light bulbs and subversive documents.
Maj. Gen. Raul M. Farnacio AFP lauded the residents of Barangay Bay-ang for cooperating with the military troops in tracking down the enemies encamped in their locality. Likewise, MGen. Farnacio urges the CNTs to lay down their arms, live a normal and peaceful life with their families and avail the Enhanced Comprehensive Local Integration Program (E-CLIP) offered by the government.
In his message, the 8ID Commander said that "this captured enemy encampment is a big blow to the CNTs and on their plan to conduct atrocities in the region. It bespeaks of 8ID's relentless efforts in internal security operations and in safeguarding the remote communities that are often abused and exploited by the CNTs."