Palm Grass releases Paglangyaw, a Cebuano song for those who left (migrants)
Press Release
February 20, 2019
CEBU CITY – Palm Grass, Cebu's only heritage hotel, brings the public another testament of its love for Cebu arts, releasing an original Cebuano love song, 'Paglangyaw', a "maoy" song that grieves for the absence of a beloved, but is also hopeful of love's fulfillment.
'Paglangyaw', Cebuano for "leaving", was written with the countless Cebuanos, Filipinos in mind – those who have to leave or are forced to leave for foreign shores in search of a better future.
Words of the song are written by Palm Grass incorporator and Cebu heritage advocate A. Guivelondo, who is also the lyricist of Palm Grass songs, "Kinasing", "Kuyogiko" and other songs inspired by Cebu history that have yet to be released.
Multi-awarded poet Adonis Durado translated the "Paglangyaw" song lyrics into English for its music video.
The "Paglangyaw" music was composed by the song interpreter herself, GMA-7 The Clash finalist Joannah Sy, with co-music composer and arranger, singer-songwriter Jeff Escarda. Kalye Musika recorded and mixed the song.
The Paglangyaw music video by Hong Kong-based video production boutique Visualize That Event/Asia-Pacific Focus Features' Prospero Laput shows the social cost of migration.
"The video is a homage to those left behind by Overseas Filipino Workers (OFW's)," Video Creator Prospero Laput said.
Laput added, "The song itself longs for someone who goes abroad to work. But when I listened to it, it made me think of those left behind. In a story, it sounds cliche that eventually someone will cheat, but that's the only way to show the strength of the person, a woman in this case – her will to overcome the pain of betrayal, to refocus her love and energy to her son, and along with her supportive family, really moved on. That's the story I wanted to tell."
Music video script was written by award-winning scriptwriter, Decelle Marie Suarez, a University of the Philippines-Cebu Mass Communications student.
For her part, song interpreter Joannah Sy said, "Paglangyaw is a hugot song for those who are in an LDR (long distance relationship) and are really trying their best to hold on to each other. As the singer of the song, I found it very emotional because I, too, have experienced being away from my loved one. And it's true that it's really hard to be away from the person you love the most so that it seems like half of your life is taken away from you."
The song and music video were officially launched last February 14, 2019 at Palm Grass Hotel's GugMaoy Valentine's Day, an event for those who are in love and those who grieve for love.
'Paglangyaw' will soon be heard in FM stations in Cebu City. The song's music video is available at Palm Grass facebook page: Palm Grass The Cebu Heritage Hotel and YouTube Account https://bit.ly/2IjsNik
Palm Grass will be releasing more Cebuano original songs that raise awareness on the story of Cebu and Cebuano heroes.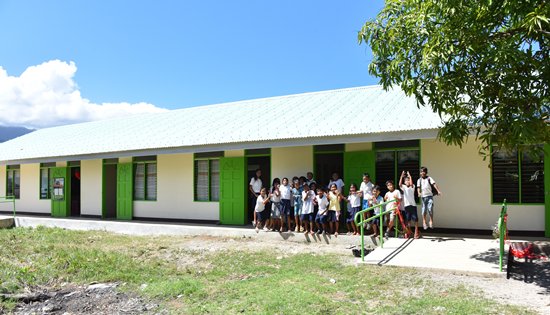 Pupils are joyful over the new classrooms turned-over to Katipunan Elementary School in Caibiran, Biliran. The P4M new 1-storey, 3-classroom school building will be occupied by kindergarten, grade 5 and grade 6 pupils.
DPWH-Biliran DEO turns-over 1-storey, 3-classroom school building to Katipunan Elementary School in Caibiran, Biliran
Press Release
February 20, 2019
NAVAL, Biliran – The Katipunan Elementary School has now sufficient classrooms to accommodate pupils from kindergarten to Grade VI with the Department of Public Works and Highways (DPWH) Biliran District Engineering Office turning over new school building facility.
The completed 1-storey, 3-classroom school building worth P4M was turned-over on February 11, 2019. The event was graced by Congressman Rogelio J. Espina and Caibiran Mayor Eulalio G. Maderazo.
DPWH-Biliran DEO was represented by Engr. Supremo Victor Sabitsana on behalf of District Engineer David P. Adongay Jr.
The turn-over ceremony started with the ribbon cutting ceremony followed by the turn-over of the key of responsibility.
Mr. Vivencio B. Dela Peña, School principal said that the new building would be occupied by kindergarten, grade 5 and grade 6 pupils.
"Ngayun na occupied na yung bagong building, silang lahat andun na, so lahat ng kakulangan ng classrooms, complete na," said Mr. Dela Peña.
"Yung problema naming sa classrooms, answered na po," Dela Peña added.
According to Dela Peña, they are expecting more enrolees for the next school year with the addition of the new building in their school.
Presently, Katipunan Elementary School has a total population of 186 students from 204 population in the previous year.
"Hopefully with bagong building namin, siguro by next school year babalik na yung dati naming estudyante na nag transfer from other school kasi maganda na yung building namin," said Dela Peña.
"Salamat kay Congressman dahil ang kakulangan ng building sa aming school ay napunan na and also to DPWH for including Katipunan Elementary School as their recipient sa mga school na nangangailangan ng building," Dela Peña added.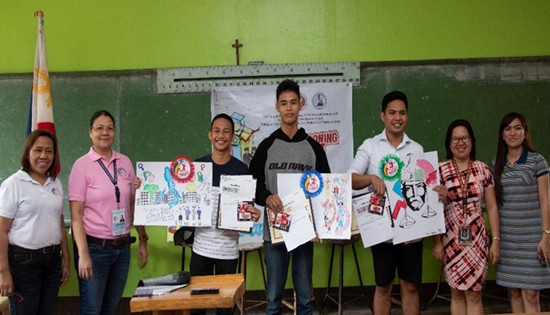 Ms. Zonia C. Salazar, Supervising Statistical Specialist of PSA-RSSO 8; Ms. Mae R. Almonte, Chief Statistical Specialist of PSA-RSSO 8 SOCD; First Placer JB Hariz B. Alido; Second Placer Narciso Aljun S. Cemanes; Third Placer Fritz A. Dapdap; Ms. Thea C. Galos, Director of EVSU-UQAAC; and Ms. Hanna Rachel A. Gohil, Instructor I of EVSU.
Males dominate the first ever data cartooning contest in Eastern Visayas
By PSA-8
February 18, 2019
TACLOBAN CITY – Three males bagged the highest awards in the first ever Data Cartooning Contest in Eastern Visayas organized by the Philippine Statistics Authority - Regional Statistical Services Office VIII (PSA-RSSO8), in collaboration with the Eastern Visayas State University (EVSU) and the Philippine Statistical Association, Inc. - Region VIII Chapter (PSAI-Region 8) last Friday, 15 February 2019, at the Eastern Visayas State University Engineering Building.
Among the 13 BS Statistics and BS Math students from EVSU, JB Hariz B. Alido was awarded first place. Completing the top three winners were Narciso Aljun S. Cemanes - second place, and Fritz A. Dapdap - third place. Winners were awarded with cash prize, certificate, and USB flash drive.
Data cartooning is illustrating data concisely into a visually appealing and informative picture. It is one of the most exciting ways to express insights and knowledge in interpreting data by sketching or drawing comical images. The objective of this activity is to encourage the youth to express their views on the importance of statistics, to appreciate the vital statistics generated by the PSA from the civil registry documents, and likewise to promote the importance of civil registration in the lives of every Filipino.
The first ever Data Cartooning Contest is one of the activities of PSA-RSSO 8 in celebration of the 2019 Civil Registration Month with the theme, "Inclusive and Responsive Civil Registration and Vital Statistics (CRVS): Working Smarter Through Innovation", and also in support to the 112th Founding Anniversary of the EVSU. This contest was conducted as a dry run in preparation for the First Regional Data Festival in November 2019.
Ms. Mae R. Almonte, Chief Statistical Specialist of PSA-RSSO 8 Statistical Operations and Coordination Division (SOCD); Ms. Thea C. Galos, Director of EVSU - University Quality Assurance and Accreditation Center (UQAAC); IDr Alejo G. Surpia, Instructor I of EVSU; and IDr Aaron M. Rebato, Instructor I of EVSU, sat as board of judges. Criteria of the competition included, originality/uniqueness (20 points), relevance and implications (30 points), visual quality and creativity (30 points), and accuracy of data presented (20 points).
17 former rebels get 65K financial assistance in N. Cotabato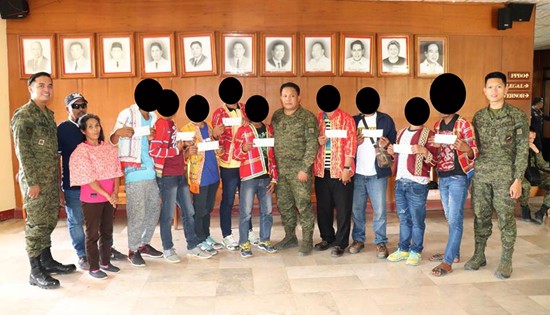 By 19th Infantry Battalion, 8ID PA
February 15, 2019
AMAS, Kidapawan City – Seventeen former rebels who surrendered to the Army here received P65,000 each from the government through the Enhanced Comprehensive Local Integration Program (E-CLIP).
The distribution of checks was done during the Provincial Peace and Order Council (PPOC) meeting at Cotabato Provincial Capitol with 901st Infantry Brigade commander Brigadier General Larry Mojica and other Army field commanders, DILG Provincial Director Ali Abdula and Governor Emmylou "Lala" Taliño-Mendoza.
Colonel Ehrlich Noel Paraso, Commanding Officer of 19th Infantry Battalion (19IB) based in Arakan, Cotabato said that 13 of the 17 were formerly regular members of the CPP-NPA Terrorists (CNTs) who surrendered to 19IB troops.
"These are the first batch of Indigenous Peoples (IP) rebels who surrendered amidst our intensified combat operations in Arakan Valley Complex last year. The former rebels were compelled to return to the folds of law due to infighting and corruption within the NPA organization", Paraso explained.
"I did not expect that all of this financial assistance will be given to me. This is truly a big help to my family", said Alias Omar, one of the beneficiaries.
The beneficiaries received P65,000 each or P15,000 as immediate assistance and P50,000 as livelihood grant.
Paraso also confirmed that the financial assistance for "Alias Jimboy", one of the beneficiaries, who was killed by the NPA, was already received by his kin.
Alias Jimboy was treacherously slain by his former comrades while visiting his family in Magpet town on August last year.
TUCP says low pay, poor benefits, low regard, work abroad causing shortage of construction workers
By Associated Labor Unions
February 15, 2019
QUEZON CITY – Treated poorly with low pay, meager benefits, unsafe and unhealthy working conditions, poor access to certification are some of the reasons why the country is having shortage of Filipino construction workers amid a great number of potential construction manpower, said the labor group Trade Union Congress of the Philippines (TUCP).
President Duterte the other day said there is delay in government's P8 Trillion government's Build, Build, Build infrastructure program from 2017 to 2022 due to shortage of construction workers.
"We are currently experiencing "skill and brain drain" phenomenon because of this bad treatment of our construction workers. The nation is losing fast its vast and excellent reserves of construction manpower to higher pay and attractive benefits offered by companies abroad," said TUCP President Raymond Mendoza.
Based on different government statistics, the TUCP estimates there are 3 million construction workers nationwide and only around 1 million of them are certified.
"It's true that we have shortage of construction workers. Though we have plenty of certified, skilled and world class construction workers but due to meager salary, poor benefits, unsafe and unhealthy working conditions and lowly regarded workers they prefer to work abroad after a few months of training and actual field experience here because they are dignified there, they are given higher salary and benefits there, and are given free decent housing and paid vacation," said TUCP President Raymond Mendoza.
Mendoza said the government's expensive, inadequate training facilities and access to certification programs for construction jobs also contributes to shortage of workers in the industry.
"We have a vast pool of highly, multi-skilled and fine craftsmen but also because of lack of training facilities and poor access to certification programs we do not tap them to become potentials for the country's build, build, build programs. Many of them even have to pay, fall in long line and travel far just to access national certification," Mendoza.
The TUCP is also proposing to raise the minimum wage for construction workers from the current minimum of P500 a day to a minimum P800 a day, improve their benefits, and raise their working and resting living standards.
"Construction workers even purchase their own personal protective equipment used in working, buy their own drinking water, pay for their food intake during work break to replenish strength, and given a dirty and bad sleeping quarters during the whole duration of the construction project," Mendoza.
Project owners and contractors also try to improve their profits by cutting costs on safety equipment devices and protocols causing workplace accident deaths, diseases and injuries.
"There seems to be no pride and no dignity being a construction worker nowadays. But President Duterte's Build, Build, build program is an opportunity to address that and raise the dignity of our construction working people through a functioning and sustained government policy," Mendoza added.
DPWH-QAU conducts inspection of infra projects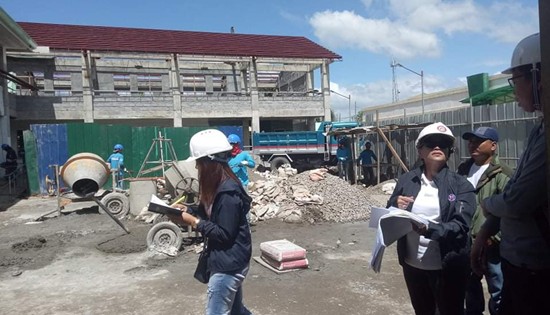 By DPWH 2nd LED
February 15, 2019
CARIGARA, Leyte – The Department of Public Works and Highways (DPWH) - Central Office, Quality Assurance Unit (QAU) conducted a two-day project inspection of the infrastructure projects implemented by the Leyte Second District Engineering Office last February 13-14, 2019.
Among the projects inspected and assessed were the reconstruction of flood control project of Himanglos River in Poblacion I & II, Barugo, Leyte, and the flood control and flood mitigation structure projects in Binahaan River in Brgy. Tingib, Pastrana, Leyte.
Also included are the 3-unit 2-storey 6-classroom school building at Granja Kalinawan NHS, Jaro, Leyte, and the 1-unit 3-storey 9-classroom school building at Atty. Roque A. Marcos Memorial School in La Paz, Leyte.
The team also inspected road projects such as the preventive maintenance of road asphalt overlay along Maharlika Highway, Dulag, Leyte, and the rehabilitation of paved roads along Kiling-Tanauan-Tabontabon-Julita road and Jaro-Dagami-Burauen-La Paz road.
Representatives from the QAU were Dominic Lacson and Divino Nabe, both Engineer III, and Myracelo Valle, Engineer II.
The QAU is a quality audit that conducts regular assessment to continuously monitor and assess the on-going and completed projects undertaken by the district. The auditors aim to check whether all infrastructure projects are implemented in compliance to plans and standard specifications. Corrective measures are recommended for corrections and compliance on QAU findings.
DPWH-Biliran DEO conducts quality testing on construction materials
By NIKOLAI MERACAP
February 14, 2019
NAVAL, Biliran – The Department of Public Works and Highways (DPWH) Biliran District Engineering Office (DEO) Quality Assurance Section (QAS) conducted various test on construction materials. Proper method of sampling and testing of construction materials were observed as it contribute greatly to the accuracy of test result.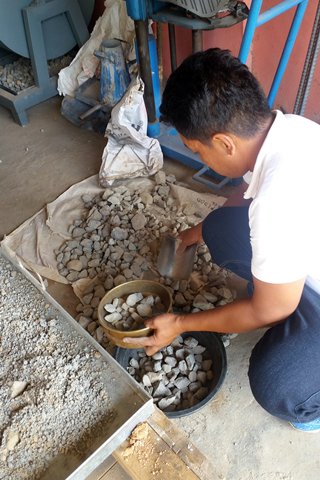 Sampling is equally as important as the testing and the sampler used every precaution to obtain samples that will show the nature and the condition of the materials which they actually represent. Sampling of construction materials for quality tests were conducted on various projects by the contractor and DPWH-Biliran DEO materials in-charge to ascertain that all materials incorporated into the work meet the minimum requirement by the DPWH.
Test are made in the field or at the laboratory to determine the quality or suitability of the materials proposed to be incorporated in DPWH projects. All samples submitted were tested in accordance with American Association of State Highways Transport Officials/ American Standard Testing Materials (AASHTO/ASTM) test methods and procedures and were governed by AASHTO/ASTM Standard Specifications as adopted by DPWH.
Quality tests on soil, fine and coarse aggregates were performed at the district laboratory. Sieve analysis was conducted on aggregates samples to determine the grading of materials proposed for use as aggregates. Result from the test was used to determine compliance of the particle size distribution with applicable specification requirements & to provide necessary data for control of the production. Specific gravity and absorption test were also performed by the laboratory technicians on the fine and coarse aggregates, both are important properties that are required for the design mix of concrete. Other test such as soundness, abrasion, organic impurities and mortar strength test, all of which are significant test needed to warrant good quality of materials used were all conducted.
Concrete cylinder and beam samples were also tested for its compressive and flexural strength with the use of the compression testing machine. The result of this test may be used as basis for evaluating the integrity of the structures constructed on site; determination of compliance with specification, control of evaluating effectiveness of admixtures and similar uses.
Reports related to quality control implementation were submitted to monitor the status of each project together with problems encountered in the field and corrective measures to correct any noted deficiencies or defects due to malpractice and noncompliance to the DPWH policies and standard specifications.
DPWH strengthens partnership with contractors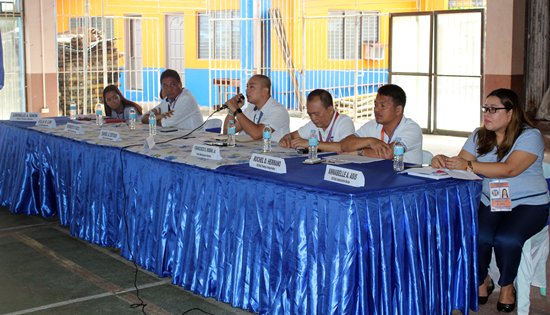 By DPWH 2nd LED
February 14, 2019
CARIGARA, Leyte – The Department of Public Works and Highways Leyte Second District Engineering Office strengthens partnership with contractors through a recent pre-construction conference.
According to District Engineer Gerald Pacanan, the start of the regular coordination meeting is an initial step to a closer partnership between DPWH and contractors.
"The DPWH and contractors are partners. Without you, we cannot execute our projects, and without us, you will have no projects. So, we are here to help each other," expressed Pacanan.
With the new administration, he stated that it is high time to evaluate, supervise inventory and expedite project implementation.
"Let us do away with time suspension. However, if we cannot avoid that, let us prepare the necessary documentation at the earliest possible time," he added.
He mandated the Project Engineers to settle concerns and have close coordination with the contractors. At the same, the district office must also conduct strict monitoring on projects. Pacanan further instructed to prioritize public safety by providing early warning signs on the on-going projects to avoid any untoward incidents.
He then emphasized that the office must adhere with the quality policy of the department which is "to implement the right projects at the right cost with the right quality delivered right on time by the right people".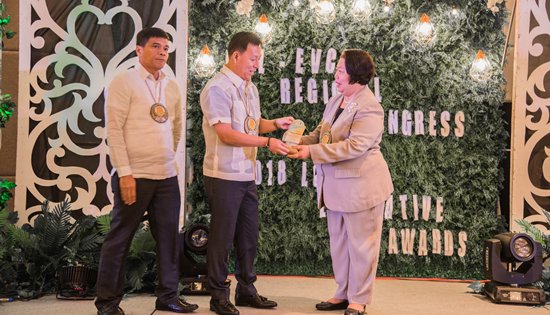 PCL-EV President Wilson Uy with DILG-8 ARD Valente Bajet awards plaque to Usec. Marivel Sacendoncillo.
DILG-8 recognizes outstanding Sanggunians at regional awards ceremony
Press Release
February 13, 2019
TACLOBAN CITY – "The Sanggunian is the brain of the local government and the Sanggunians who are present today are doing a great job at providing the brains of the local government; that is, being the source of ideas and innovations translated into policies and programs."
This was the pronouncement of the Department of the Interior and Local Government (DILG) Undersecretary Marivel C. Sacendoncillo, as she recognized the accomplishments of the best performing Local Government Units (LGUs) in Eastern Visayas during the Regional Awards Ceremony of the 2018 Local Legislative Award at Robinsons Summit Hotel, Tacloban City on February 7.
"The LGUs should not only look at the needs of the people but also search for opportunities that they can maximize to pursue development in their respective communities," Sacendoncillo added.
She told the Sanggunian members to be serious in the jobs that they entered into because the people will not remember them by just being honorable but by the things that they were able to do to contribute to the betterment of their communities.
In the categories of Highly Urbanized Cities and Independent Component Cities, the Cities of Tacloban and Ormoc emerged as the regional winners, respectively. Both cities were lone entries in their respective categories.
Baybay City made it as the regional champion in the Component Cities Category followed by the Cities of Catbalogan and Borongan which were both regional finalists.
In the 1st-3rd Class Municipalities Category, Basey, Samar notched the top spot while Sogod, Southern Leyte and Naval, Biliran were recognized as runners-up.
Furthermore, Balangiga, Eastern Samar took the lead in the 4th-6th Class Municipalities Category. Following the winner were the municipalities of San Isidro, Leyte; San Juan, Southern Leyte; Cabucgayan, Biliran; and Motiong, Samar (regional finalists).
The LGUs were assessed by the Regional Award Committee (RAC) which is headed by the DILG Regional Director with the Philippine Councilors League (PCL) Regional Council Chairman as the Vice-Chairman. Members of the committee also include the Regional Directors of the Department of Agriculture (DA), the Department of Social Welfare and Development (DSWD), the Department of Budget and Management (DBM), the Department of Environment and Natural Resources (DENR), and a Philippine Chamber of Commerce and Industry (PCCI) representative.
The RAC evaluated the finalists through the Awards Criteria totalling 100 points: (a) Responsiveness of the Legislative Agenda (30 points); (b) Availability of Legislative Documents (18 points); (c) Effectiveness of Performance of the Sanggunian (30 points); (d) Efficiency of the Performance of the Sanggunian (13 points); (e) Legislative Citations and Awards (5 points); and (f) Capacity Development for Legislators and Staff (4 points).
"The regional winners will now vie for the national legislative award. The National Award Committee (NAC) will be coming in the region and reevaluate the nomination," PCL Regional Council Chairman Wilson Uy said in his closing remarks.
Usec Sacendoncillo, OIC-Assistant Regional Director Valente P. Bajet and PCL Regional Council Chairman Uy awarded a plaque of commendation and a cash award worth P10,000 to the regional champions in every category.
Approximately 300 participants from different LGUs, government agencies, and the DILG regional and field offices attended the said event.
Eastern Visayas welcomes 2019 with 4.0% inflation rate
By PSA-8
February 11, 2019
TACLOBAN CITY – Eastern Visayas welcomed 2019 with a 4.0% Inflation Rate (IR). This IR is 0.4 percentage point lower compared with the 4.4% IR a month ago, and equal to the IR recorded in the same period last year. The regional inflation rate was 0.4 percentage point lower than the 4.4% national average in January 2019. Among other regions, Eastern Visayas ranked fourth from the bottom.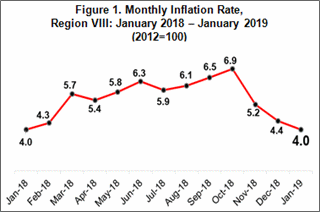 Four provinces in the region registered lower inflation rates in January 2019 compared with their figures in the previous month. Eastern Samar and Northern Samar posted the highest decrease of 2.2 percentage points each. Southern Leyte recorded a 0.7 percentage point decrease, while Biliran registered a decrease of 0.3 percentage point from their figures a month ago. On the other hand, increases in IR were noted in Samar (0.7 percentage point) and Leyte (0.4 percentage point). Samar recorded the highest IR at 6.3%, while Biliran posted the lowest at 1.4% (Table 1).
Among the commodity groups, alcoholic beverages and tobacco registered the highest decrease of 3.0 percentage points. It still, however, posted a double digit inflation rate and the highest among all items at 17.4% in January 2019 from 20.4% in December 2018. The decrease in IR can be attributed to the huge decrease in the index of alcoholic beverages.
The heavily weighted food and non-alcoholic beverages eased down to 5.3% in January 2019 from its previous month's rate of 6.0%, a decrease of 0.7 percentage point. This can be traced to slower price increases of majority of the food items. Fruits index registered a negative inflation rate at 1.3%, from 2.1 percent in December 2018.
Inflation rate for transport also went down by 0.5 percentage point, from 3.0% in December 2018 to 2.5% in January 2019. This can be traced to the slower IR seen in the index for operation of personal transport equipment.
Meanwhile, furnishings, household equipment and routine maintenance of the house increased to 4.5% during the reference month, 0.5 percentage point higher compared with the 4.0% IR in December 2018. Increases were observed in the indices for goods and services for routine household maintenance; and furniture and furnishings, carpets and other floor coverings.
Health index also recorded a slight increase at 3.9% in January 2019 from 3.7% a month ago. IRs for housing, water, electricity, gas and other fuels; clothing and footwear; and restaurant and miscellaneous goods and services inched up by 0.1 percentage point each settling at 3.9%, 2.2% and 1.6%, respectively during the month in review.
The Purchasing Power of Peso (PPP) of the region was recorded at P0.80 in January 2019, slightly weaker than the P0.81 PPP a month ago. This PPP implies that goods and services worth 100 pesos in January 2019 costs 80 pesos only in 2012.
Biliran and Eastern Samar registered a 0.01 centavo decrease each in PPP compared with their figures in December 2018, while Southern Leyte recorded a 0.01 centavo increase from its PPP a month ago. The rest of the provinces sustained their PPP last month. Leyte recorded the strongest PPP at P0.83. Biliran and Southern Leyte ranked second at P0.82, followed by Eastern Samar at P0.77. Northern Samar and Samar posted the weakest PPP at P0.76.
Employers, business, contractors faces up to daily P100K fine for workplace safety violation
By ALU-TUCP
February 10, 2019
QUEZON CITY – A more stringent workplace safety and health rules were issued last week by the Department of Labor and Employment to avoid a recurrence of serious workplace accidents that caused deaths and serious injuries to workers.
For example, contractors and business-owners whose offices, construction work sites and other workplaces devoid of comfort rooms and whose employees are without safety gear are facing up to P100,000 per day fine.
This is part of the new Occupational Safety and Health (OSH) Law issued by the Department of Labor and Employment that have taken effect this month, placing stiffer penalties on erring employers and non-compliant business owners to workplace safety and health standards.
According to workers' group Trade Union Congress of the Philippines (TUCP), Republic Act 11058 otherwise known as An Act Strengthening Compliance With Occupational Safety and Health Standards which President Duterte enacted into law in November last year is an offshoot of tripartite collaboration between government, employers and labor sectors in improving compliance to workplace safety and health standards in the light of preventable workplace fires and construction mishaps a few years ago which killed and injured workers while at work.
"It's painful to think that scores of workers had to die and so many working people had to be maimed to raise the level of compliance to workplace safety and health standards. Let us not forget this law is built on workers untimely deaths and injuries. We strongly hope there would be higher compliance to safety standards and reduce workplace accidents and mishaps with this new improvised workplace safety and health standard and regulations," said TUCP President Raymond Mendoza.
Mendoza said around 170 workers have died over the period of three years beginning May 2015 to May 2018 due to businesses and employers non-compliance to workplace safety and health regulations and building fire safety standards.
"Employers and businesses basically wants to improve their profits by ignoring workplace safety and health standards thereby risking and compromising the health and safety of their employees. It's always the workers who were made to sacrifice due to non-compliance and poor enforcement of regulations," Mendoza said.
The Kentex rubber factory fire incident in May 2015 which killed 74 workers and seriously wounded several others, the HTI fire in Cavite economic zone, the Holiday Inn fire, Resorts World fire and the series of construction mishaps which killed many construction workers.
On February 2017, five workers perished at HTI fire factory in Cavite, 38 fatalities, mostly casino employees, were recovered after a gunman set Resorts World Hotel rooms in Pasay City afire on June 2017. On December 23 the same year, 38 more workers were trapped to their deaths following a fire the destroyed NCCC Mall in Davao City.
Five construction workers were pinned to death after a substandard bunkhouse which they sleeping in collapsed shortly after midnight on March 6, 2018. Two weeks later, five casino employees were burned inside Manila Pavillion Hotel fire.
Under DOLE Department Order 198 otherwise known as the Implementing Rules and Regulations of Republic Act 11058 entitled An Act Strengthening Compliance with Occupational Safety and Health Standards and Providing Penalties for Violations Thereof, the daily administrative fines are as follows: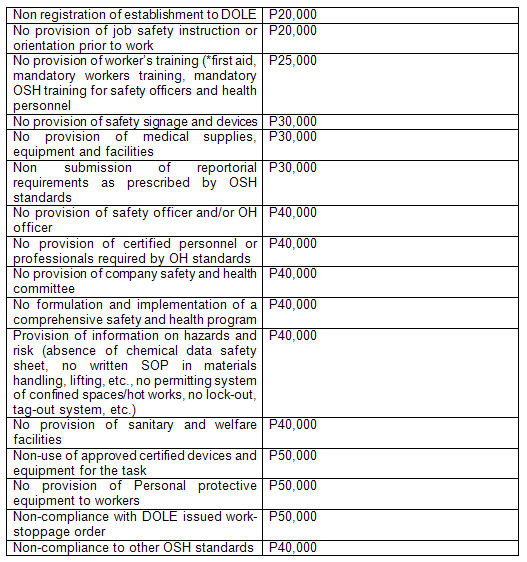 The DO also states that when the violation exposes the worker to death, serious injury or serious illness, the imposable penalty shall be one hundred thousand pesos (P100,000) a day, Should there two or more non-compliances, all penalties shall be imposed provided that the total daily penalty shall not exceed P100,000.
Executive Director Maglunsod assumes NMP leadership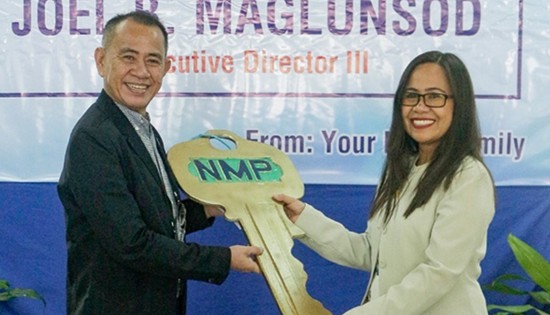 By National Maritime Polytechnic
February 8, 2019
TACLOBAN CITY – The National Maritime Polytechnic (NMP), a premier government-owned maritime training and research institution, moves into transition of leadership as Executive Director Joel B. Maglunsod takes the helm of the Agency's directorship effective 01 February 2019 with the issuance of Certification of Assumption of Duty on the same date.
The turn-over of NMP flag and the Symbolic Key took place in the morning of 04 February 2019, right after the flag raising ceremony inside the NMP Administration Building, Cabalawan, Tacloban City. The NMP flag symbolizes the assumption of leadership while the Symbolic Key stands for the authority and accountability that comes with the holding of office as Executive Director of the NMP.
During the ceremony, Deputy Executive Director III, Mayla N. Macadawan who assumed the functions and responsibilities as the NMP Officer-In-Charge by virtue of DOLE Administrative Order No. 35, s. 2019 dated 04 February 2019, expressed her confidence that the new NMP ED would be able to steer the Agency in pursuit to the delivery of its mandate and functions.
"During my very short stint as NMP Officer-In-Charge, I am very happy to help and assist NMP in the way that I can. Though I had very limited powers during those times but somehow we were able to surpass whatever challenges that we have encountered" said DED Macadawan.
She also expressed her gratitude to former NMP ED, Dr. Romulo V. Bernardes, who resigned on 23 November 2018, for mentoring her and for all his contributions to the Agency.
"I always say that family is not always about the bloodline, it is about someone who hold your hands in times of need. In NMP, we are always treating each other as a family. I am really lucky that I was able to work here in a short span of time as the NMP Officer-In-Charge" she added.
In his acceptance speech, Executive Director Maglunsod said, "Ako sa totoo lang hindi naman ako umaayaw sa trabaho. Kasi sa kanta pa ni Rico J. Puno, "Ang umaayaw, hindi nagwawagi, ANG NAGWAWAGI ay yung HINDI UMAAYAW. Ang importante na makatulong parin tayo sa mahal na Pangulo at sa mga manggagawa."
"Taos-puso kong tinatanggap ang trabaho natin at magtatagumpay tayo sa collective efforts natin. Kailangan kung ano man ang mga nakikita nating problema ipaabot agad sa senior officials ninyo at kung hindi kayo inintindi ideretso sa DOLE Hotline 1349, pag hindi sinagot dun sa Hotline 8888," ED Maglunsod disclosed.
He also shared some issues and challenges confronting NMP as well as the maritime industry in general, including among others: Development and packaging of new courses (Training for Harbour Pilots and Crane / Winch Operators); Acquisition of training ship and towing tank; Attraction of massive trainees; and Maximizing the Use of NMP resources.
ED Maglunsod also emphasized the need to sustain cooperation and collaboration between and among maritime stakeholders to be able to respond to the ever growing needs of the Filipino seafarers.
Attended by the NMP employees, the activity was also graced by the members of the DOLE Regional Coordinating Council (RCC) RO-8 namely, Atty. Cecilio I. Baleña, OIC Assistant Regional Director of DOLE RO-8, Ms. Pamela Babalcon of National Conciliation and Mediation Board (NCMB), Ms. Mary Catherine O. Pastor of Overseas Workers Welfare Administration (OWWA), Ms. Meriam R. Balmocena of Philippine Overseas Employment Administration (POEA), Ms. Catherine O. Doblon of National Reintegration Center for OFWs (NRCO), Ms. Michelle C. Basal of Employees Compensation Commission (ECC), Engr. Ma. Elena Limen-Diez of Occupational Safety and Health Center (OSHC). Also present were former NMP ED, Dr. Romulo V. Bernardes and Ms. Arlene Maglunsod, wife of ED Maglunsod.
Meanwhile, NMP continues to upgrade its facilities and provide maritime trainings required pursuant to the STCW Convention as amended in 2010 including value-adding courses towards improving the qualifications of Filipino seafarers for their employment acceptability and enhanced competitiveness. It also regularly conducts maritime studies to come up with policies for the improvement of the manpower sector of the industry.
Those interested in NMP research undertakings may visit the NMP website (www.nm.gov.ph) and access the e-Research Information System Portal which is designed to gather inputs for NMP's research, dissemination of NMP completed researches and other articles pertaining to maritime research.
For more information about NMP trainings viewers may visit the agency's facebook page (www.facebook.com/nmptrainingcenter) where all related information on NMP trainings are available.
Further, NMP encourages seafarers to avail of the NMP-OWWA (Overseas Workers Welfare Administration) Seafarers' Upgrading Program (SUP) which entitles the beneficiary to receive financial assistance for training costs from the OWWA.
Woe to the state that considers teachers its enemies - ACT
Press Release
February 8, 2019
QUEZON CITY – The Alliance of Concerned Teachers (ACT) expressed alarm over Philippine National Police's (PNP) announcement that intelligence operations on their organization will continue following the Court of Appeals (CA) dismissal of ACT's petition to declare PNP's profiling of its members unconstitutional.
"This is precisely what we were worried about – PNP is now taking CA's decision as a nod to their illegal operations. It has emboldened state forces to continue and intensify their attacks against our organization," stated Raymond Basilio, ACT Secretary General.
Earlier today, PNP and the Department of Interior and Local Government (DILG) welcomed the ruling of CA, adding that they will continue surveilling on 'enemies of the state.'
"They used to have a hard time getting their stories straight when asked about the profiling, but now the truth's out. They consider teachers, as well as anyone else who dare fight for their rights and welfare, as enemies of the state. What they fail to realize, however, is they've also exposed themselves to be the real enemy of the people," said Basilio.
ACT said that such a stance taken on by state forces has "no place in a democratic country like ours."
"Democracy puts primacy on civilians and their rights, which the state has an obligation to uphold and protect. Police forces, on the other hand, has a duty to 'serve and protect' the people, not to suspect and make enemies out of them," concluded Basilio.