Eastern Visayas posts $211.36 million trade surplus in January 2019
By PSA-8
April 17, 2019
TACLOBAN CITY – The region posted a $211.36 million surplus in the total Balance of Trade in Goods (BoT-G) in January 2019, in contrast to the $41.77 million deficit in the same period in 2018.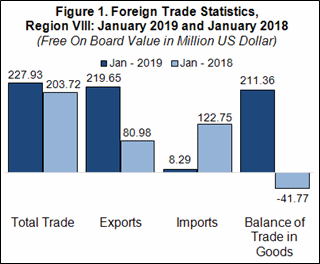 The region's total trade in goods in January 2019 increased to $227.93 million from $203.72 million in the same period in 2018, an increase of 11.88 percent.
Total value of exports amounted to $219.65 million, almost three times (171.25 percent) higher compared with the $80.98 million in January 2018. Total value of imports, meanwhile, was recorded at $8.29 million, significantly lower by 93.25 percent compared with the $122.75 million imports posted in the same period in 2018.
The region's total volume of exports in January 2019 posted at 131.86 million kilograms was valued at $219.65 million. The commodity group of copper and articles thereof was the major export during the month in review with total revenue of $137.41 million. This accounted for 62.56 percent of the region's total export revenue in January 2019. Hong Kong was the top export market destination with $73.90 million total export revenue, which shared 33.64 percent of the region's total exports.
The region's total imports of $8.29 million in January 2019recorded a total gross weight of 58.50 million kilograms. Nuclear reactors, boilers, machinery and mechanical appliances; parts thereof commodity group was the major import during the month with total revenue of $1.47 million, this comprised 17.76 percent of the region's total imports in January 2019.The top import supplier of the region was Vietnam with total import bill of $2.35 million, which comprised 28.31 percent of the region's total imports.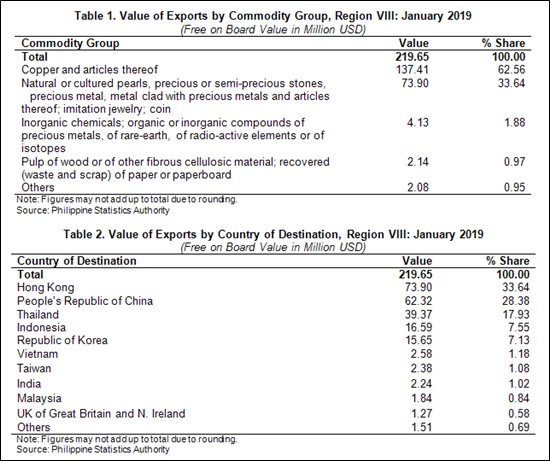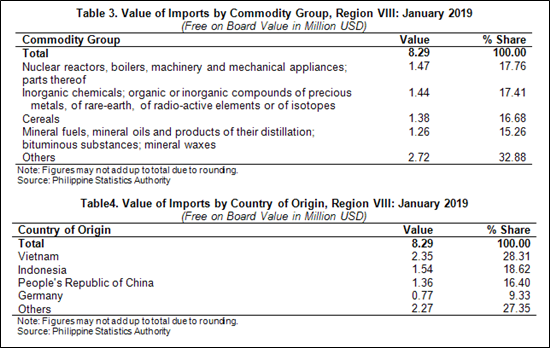 Communist NPA Terrorist sets off IED that killed one 9-year old boy in Northern, Samar during the Holy Wednesday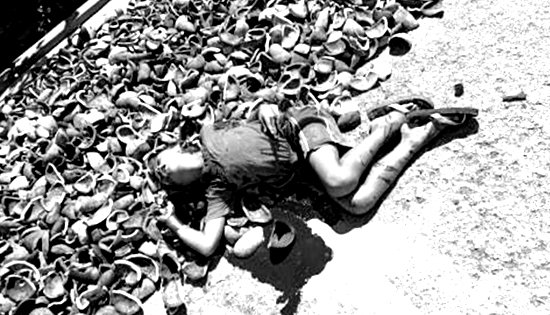 By DPAO, 8ID PA
April 17, 2019
CAMP LUKBAN, Catbalogan City – One 9-year old boy was killed when Communist NPA Terrorist (CNTs) lobbed an Improvised Explosive Device (IED) in Brgy San Miguel, Las Navas, Northern, Samar on April 17, 2019 Holy Wednesday at 9:40 o'clock in the morning.
The incident transpired when the troops of 20th Infantry Battalion were conducting security patrol in the said barangay to check on the reported CNTs conducting extortion, were harassed by undetermined number of suspected Communists NPA Terrorist (CNTs) by throwing Improvised Explosive Device (IED) that resulted to the killing of Armando Remolde, 9 years old and a resident of said barangay.
The 8th Infantry (Stormtroopers) Division, strongly condemn the terroristic act perpetrated by the Communist NPA Terrorist belong to Eastern Visayas Party Committee (EVRPC). The use of IEDs has long been outlawed by the Comprehensive Agreement on Respect for Human Rights and International Humanitarian Law (CAHRIHL).
Maj Gen Raul M Farnacio AFP, 8ID Commander in his message said, "This barbaric act of CNTs is a blatant display of total disregard of the lives of the Samareños. They are really Godless because they conducted terroristic act during the time when the people are having their reunions with family members from other provinces or abroad who are spending their vacations here to pray together and observe the Holy Week," Maj Gen Farnacio said.
"The 8th Infantry (Stormtroopers) Division extends deepest condolences to the bereaved family. 8ID will not falter and will stand firm in its resolve to bring justice for Armando and pursue all efforts towards lasting peace and development in Eastern Visayas." Maj. Gen. Farnacio added.
Inflation rate in Eastern Visayas drops continuously to 2.1% in March 2019
By PSA-8
April 17, 2019
TACLOBAN CITY – The Inflation Rate (IR) in Eastern Visayas continued to drop to 2.1 percent in March 2019. This IR is 1.0 percentage point lower compared with the 3.1 percent IR a month ago, and 3.6 percentage points lower compared with the 5.7 percent IR recorded in the same period last year. The regional inflation rate is 1.2 percentage points lower than the 3.3 percent national average in March 2019.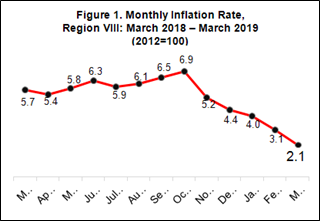 The provinces of Samar, Biliran, Eastern Samar and Leyte registered lower inflation rates in March 2019 compared with their figures in the previous month. Samar recorded the highest decrease of 1.5 percentage points, from 3.4 percent in February 2019 to 1.9 percent in March 2019. Meanwhile, increased IRs were noted in Southern Leyte and Northern Samar, settling at 2.1 percent and 1.3 percent, respectively in March 2019. Biliran posted the lowest with negative IR at 0.7 percent, while Eastern Samar recorded the highest IR during the month in review at 3.7 percent (Table 1).
Among the commodity groups, alcoholic beverages and tobacco registered the highest decrease of 5.8 percentage points, from 9.2 percent in February 2019 to 3.4 percent during the month in review.
Housing, water, electricity, gas and other fuels commodity group also went down by 1.8 percentage points, from 3.6 percent in February 2019 to 1.8 percent in March 2019. This can be traced to the deflation seen in the index for water supply and miscellaneous services relating to the dwelling, and slower IR in the index for electricity, gas and other fuels.
The heavily weighted food and non-alcoholic beverages declined to 3.0 percent in March 2019 from its previous month's rate of 4.0 percent, a decrease of 1.0 percentage point. This can be attributed to the slower price increases of majority of the food items. Fish registered the highest decrease of 1.7 percentage points, from 5.7 percent in February 2019 to 4.0 percent in March 2019. Fruits index continued to register a negative inflation rate at 4.7 percent. Non-alcoholic beverages, meanwhile, recorded a 2.7 percentage points decrease from its double digit IR last month, settling at 7.4 percent in March 2019.
Meanwhile, transport increased to 2.0 percent during the reference month, 1.6 percentage points higher compared with the 0.4 percent IR in February 2019. This can be traced to higher IR in the index for operation of personal transport equipment.
IR for restaurant and miscellaneous goods and services commodity group inched up by0.1 percentage point settling at 2.0 percent during the month in review.
The Purchasing Power of Peso (PPP) of the region remained at P0.80 in March2019. This PPP implies that goods and services worth 100 pesos in March 2019 only cost 80 pesos in 2012.
Biliran registered a 0.01 centavo increase in PPP compared with its figure in February 2019. The rest of the provinces sustained their PPP last month. Biliran recorded the strongest PPP at P0.83. Leyte and Southern Leyte ranked second at P0.82, followed by Eastern Samar at P0.78. Northern Samar and Samar posted the weakest PPP at P0.76.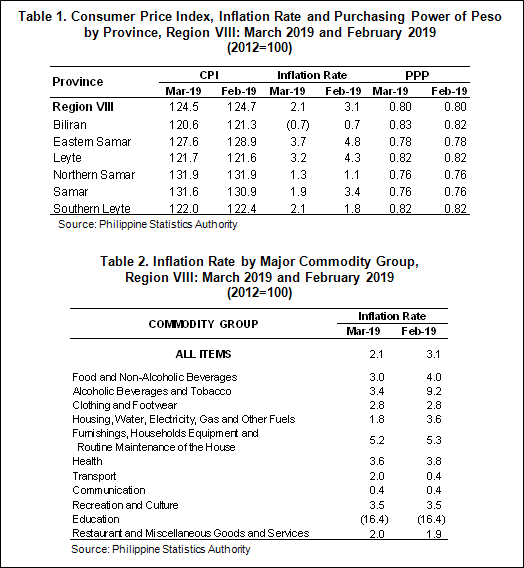 DTI implements online services for product certification, ICC sticker verification
By DTI-OSEC-PRU
April 15, 2019
MAKATI CITY – To facilitate ease of doing business through streamlining and automation of frontline service transactions, the Department of Trade and Industry (DTI) has started to process product certifications under the Bureau of Philippine Standards (BPS) through an online portal. The Product Certification Information Management System (PCIMS) features an end-to-end online and paperless processing of Import Commodity Clearance (ICC), Philippine Standard (PS) Safety and Quality Certification Mark License. It also provides an inventory management for Security Papers and ICC Stickers.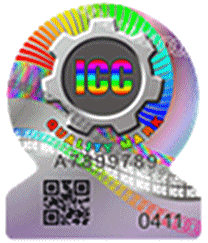 "DTI has made it easy for entrepreneurs and the business community to process certifications and avail of frontline services in the comforts of your home or anywhere. No need to be present at any DTI office," said DTI Secretary Ramon Lopez.
"However, we want to assure you that this does not end here. This will be a continuing process of reform and automation. We will continue to review and streamline processes in BPS as well as in other bureaus. The ultimate ease of doing business is enabling people to do things and all transactions online," he added.
BPS started implementing the use of PCIMS in its ICC processing in October 2018 parallel to the manual processing of ICC applications. By January 2019, PCIMS was fully implemented and BPS ceased its manual applications for ICC processing.
The PCIMS has the following features: 1) online and paperless filing of applications; 2) certification fees can be paid at any DTI office; 3) first-in, first-out processing; 4) real-time tracking of application status; 4) auto email of Statement of Account, Notice of Non-conformance, Show Cause Orders; 5) Certificates may be claimed at any DTI Office; and 6) auto reminder of surveillance schedules and PS license expiration.
To access the PCIMS, a registration form may be requested through email at bps.scd@dti.gov.ph. Application of product certification may be accessed through www.qualityproducts.dti.gov.ph.
"Businesses will definitely benefit with this shift to online transactions. Apart from the convenience and less time spent on application, it is also cost efficient. We've estimated about P3,600 in savings per application, from P4,170 spent per application down to P557. That's big savings for businesses," shared Sec. Lopez.
Likewise, DTI is shifting its ICC sticker verification through a mobile application to assist DTI market enforcers and monitors during market enforcement activities, as well as consumers in verifying a certified product.
This digital method using any smartphone will detect the fake ones from the real ICC and PS stickers.
The mobile application will be able to confirm legitimate ICC stickers in products sold in the market through the QR code accompanying each sticker. BPS started issuing ICC stickers with QR codes in July 2018.
Currently, the ICC Verification System is on its pilot testing and can be fully used by 24 April 2019. It will be available for download at Google Play Store on the same date.
Lawyers push back
Petition vs. AFP red-tagging filed before the Supreme Court
By Public Interest Law Center
April 15, 2019
QUEZON CITY – A group of human rights lawyers tagged by the Armed Forces of the Philippines (AFP) as a communist front filed today a petition before the Supreme Court seeking its protection from attacks and threats to life, liberty, and security. Petitioner the National Union of People's Lawyers (NUPL), through and with its national executive board, asked the Court to order the military to desist from threatening NUPL members and to disclose and destroy whatever information the military has illegally obtained against them.
The Public Interest Law Center (PILC), counsel for the petitioners, explained that the Petition for Issuance of the Writ of Amparo and Habeas Data, was sought by NUPL because of the continuing and escalating threats and harassment its members have experienced in relation to their duties as legal counsels in various cases they are handling.
According to Atty. Rachel Pastores, PILC managing counsel, "The right to counsel is one of the pillars of our justice system. And it is clear that this concept is totally lost on the military. By wrongly and maliciously branding the lawyers of activists, human rights violations victims who have spoken up against military and police abuses, and other critics of the Duterte administration as communist fronts, terrorist protectors, and even as NPA combatants, the military institution is showing its contempt not just for the legal profession but against the very foundation of our judicial system which is crucial in a supposedly democratic society."
Atty. Pastores further explained that "very few lawyers have taken up the cause of the marginalized and underprivileged. And those who have chosen to do so have become targets themselves. NUPL members have been harassed, intimidated, vilified and subjected to surveillance operations. We are now asking the Supreme Court to put a stop to all these."
Named respondents in the suit are President Duterte, National Security Adviser Hermogenes Esperon, Jr., National Defense Secretary Delfin Lorenzana, Chief of Staff Gen. Benjamin Madrigal, Brig. Gen. Fernando Trinidad, Maj. Gen. Erwin Bernard Neri, Lt. Gen. Macairog Alberto and Maj. Gen. Antonio Parlade, Jr.
"This petition is just a small step towards making the military and this administration accountable for its actions. This is only the first of many legal actions that we have planned. We will not stand idly and cower in fear. We will continue with our duty as people's lawyers", added Pastores.
A new milestone in Philippine Halal Industry
By DTI-TPG
April 11, 2019
MAKATI CITY – The Department of Industry Trade Promotions brought the Philippine Halal Industry in the map of the US$ 3.2 trillion world halal market. Speaking before the just concluded World Halal Conference (April 3-4, 2019) in Kuala Lumpur, Malaysia, Department of Trade and Industry (DTI) Undersecretary Abdulgani M. Macatoman told the conference that the Philippines is embarking on a massive policy revitalization to boost the Philippine Halal Industry in order to become a big player in the halal market in the areas of halal food, pharmaceuticals, tourism, and Islamic Finance.
Rather than falling behind in the Fourth Industrial Revolution where human capacity is greatly enhanced, he said that the global halal industry should initiate an economic revolution to maximize its benefits for the improvement of the standard of living of mankind. He further said that halal market is not only for the estimated 2 billion Muslims, some one-fourth of world population, but for every person who desires healthy food and ethical standards in food consumption and business relationships.
The DTI Trade Promotions and Special Concerns Group, headed by USec. Macatoman, seeks strong policy direction for international recognition of halal food products from the Philippines by seeking wider international recognition of Philippine halal certification with certifying bodies in other Muslim countries. At the moment, of the nine certifying bodies recognized by the Philippine Halal Board, only three are recognized in Malaysia. The Gulf countries are still selectively accepting halal foods, condiments, and pharmaceuticals made in the Philippines.
In this connection, USec. Macatoman obtained commitment from the Ministry of International Trade and Industry of Malaysia (MITI) to intensify halal trade between the Philippines and Malaysia. At the same time, he separately convinced the Halal Development Council of Malaysia to support efforts in improving acceptability of halal foods from the Philippines by improving local certification efforts in the country. Together with MITI, they will convince JAKIM, the central certification body of Malaysia, to recognize more certifying bodies from the Philippines. This entails providing training in certification and auditing procedures to prospective certifying bodies in the Philippines under the Philippine Halal Board to enhance unification of our halal certification standards with that of Malaysia.
A major implication of international recognition of halal certification from Philippine certifiers impinges not only on halal food trade but also in tourism. In order to tap Muslim tourists arriving in Malaysia to include the Philippines among their destinations, Philippine restaurants, hotels and other tourism facilities in the country should be convinced to obtain halal certification. Because of this, the DTI Second National Halal Industry Conference will be held in Clark this May 2-3 in order to heighten awareness to halal certification of food and tourism facilities to ensure more Muslim tourist arrivals in the forthcoming Asian Games in December of this year.
NMP holds Sportsfest 2019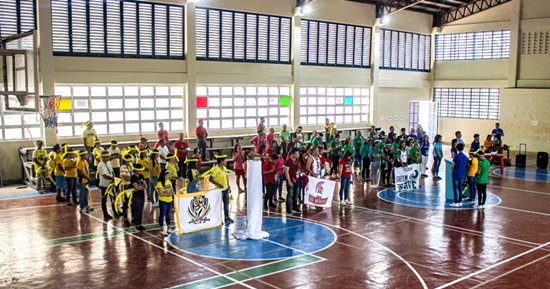 By National Maritime Polytechnic
April 10, 2019
TACLOBAN CITY – Considering that a healthy workforce is among the primary concern of the government, the National Maritime Polytechnic (NMP) thru its Sports Committee officially opened the NMP SportsFest 2019 on 05 April 2019, part of its slate of activities for the NMP's 41st Founding Anniversary.
The sportsfest was aimed to foster friendships and teamwork among NMP personnel which will ultimately translate into greater enthusiasm, efficiency and productivity in the discharge of their respective duties and responsibilities in the Agency.
Divided in four (4) teams, NMP employees and Job Order Workers (JOWs) spent the whole afternoon competing in a fun and joyful atmosphere. The different teams (Yellow Tigers, Red Warriors, Green Wave, and Blue Hounds) together with their gorgeous muses paraded in NMP grounds.
During its formal opening at the NMP Gymnasium, NMP Executive Director, Joel B. Maglunsod thanked the committee who organized the said activity.
"Bago natin simulan ang paligsahang ito, gusto ko munang pasalamatan ang mga tao o committee na nag organisa sa kasayahan na ito. Pinahahalagahan namin ang lahat ng iyong mga pagsisikap at bilang kapalit, ipinapangako namin na magkaroon ng kasiya-siya at friendly na kumpetisyon hangga't maaari!", said ED Maglunsod.
On a personal note, he also shared what he loves about events such as the SporstFest.
"Ang aking pinakagugustohan sa mga kaganapang tulad nito ay kapag umapak tayo sa larangan ng atletiko, lahat tayo ay nagiging pantay-pantay. Pinapasok natin ang isang larangan na kung saan ang opisyal na rango at ang estraktura ng organisasyon ay hindi kinakailangan, tayo ay nagiging pantay pantay na indibidwal na nagpapakitang gilas upang magbigay aliw at maaliw at higit sa lahat, upang subukin ang ating kakayahan sa pakikipagtagisan sa bawat isa.
The much awaited lighting of torch came next, symbolizing peace, unity, and friendship participated in by the heads of the four (4) organizational units of NMP, namely: Maritime Training ad Assessment Division (MTAD), Maritime Research and Development Division (MRDD), Administrative, Financial and Management Division (AFMD), and Office of the Executive Director (OED). It was followed by the participants' oath of sportsmanship led by Mr. Andrew D. Soledad, Chairperson of the NMP Sports Committee.
Under the sports program, all teams will engage in a friendly basketball men and volleyball mixed competition to be held at the NMP Gymnasium every Tuesday and Thursday from 3pm-5pm. The awarding of winners will be conducted during the 41stAnniversary Celebration of NMP tentatively slated on 03 May 2019.
Meanwhile, NMP continues to upgrade its facilities and provide maritime trainings required pursuant to the STCW Convention as amended in 2010 including value-adding courses towards improving the qualifications of Filipino seafarers for their employment acceptability and enhanced competitiveness. It also regularly conducts maritime studies to come up with policies for the improvement of the manpower sector of the industry.
DPWH-Biliran DEO completes access road project in Brgy. Agpangi connecting Sitio Pongon in Naval town
By DPWH-Biliran
April 10, 2019
NAVAL, Biliran – The construction of a two-lane access road project connecting the National Road Junction (NRJ) of Brgy. Agpangi to Sitio Pongon in Naval town is now completed.
The project is under the convergence program of the Department of Public Works and Highways (DPWH)- Biliran District Engineering Office (DEO) and the Department of Trade and Industry (DTI) in support of the agribusiness in the Province of Biliran.
District Engineer David P. Adongay Jr. said that the place has potential for coconut-based and cassava-based processing thus prioritized for implementation. This project includes the construction of 1-kilometer two lane road with slope protection and road opening.
According to Adongay, the construction and opening of roads is a necessity.
"One of the significance of the opening of the access road leading to industrialized zones is to ensure that the road facilities will aid the growth of trades and industries in the province where it has potentials for manufacturing in areas outside the urban center," said Adongay.
The completed P22.9M access road project under 2018 funding will provide a wider, safer and faster transport of the agricultural products.
Meanwhile, Engr. Rosario B. Rosete, Chief of the Planning and Design Section revealed that the office is conducting preliminary and detailed engineering activities for a road stretched in Sitio Pongon for possible funding under FY 2019 GAA.
DPWH-Biliran DEO implements a total of five projects leading to trades, industries and economic zones under 2018 funding. Four of these, were completed in 2018. These are the P17.2M access road Caraycaray-Cabungaan-Libtong, P23M access road Villa Caneja-Anislagan Ceramics Producers Association (ACPA), P27.8 NJR Villa Consuelo connecting to Libtong Road and P32.2M Villa Caneja connecting to Kahukaw, all in Naval town.
"With good roads already in placed leading to these trade centers plus good supply of waters, no doubt Biliran Province will become one of the industrialized province in Region VIII," Adongay said.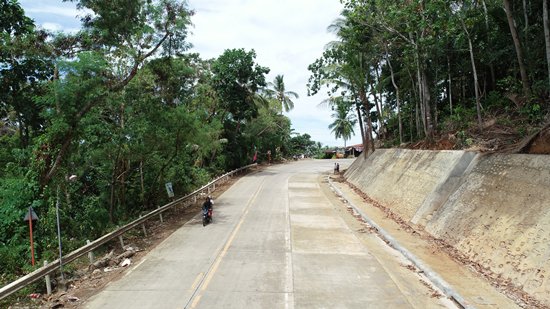 Completed covered drainage canal with slope protection structure at Brgy. Talahid Section. This project is under 2018 funding with a contract cost of P74.5M implemented at Brgy. Atipolo, Naval, Biliran and at Brgy. Talahid to Brgy. Matanggo, Almeria, Biliran. The project has an accomplishment of 90% as of March 31, 2019.
DPWH-Biliran DEO posts 90.36% accomplishment of 2018 infra projects
By DPWH-Biliran
April 10, 2019
NAVAL, Biliran – The Department of Public Works and Highways (DPWH) Biliran District Engineering office now posts 90.36% accomplishment of its 2018 carry-over projects as of March 31, 2019.
District Engineer David P. Adongay Jr. orders contractors to fast-track all these projects for completion on or before June, 2019 as his commitment to Regional Director (RD) Nerie D. Bueno during RD's visit to the Province on March 20, 2019.
Adongay always reminds project engineer to closely monitor their project so as to ensure that quality will not be compromised despite the haste in the implementation.
"Hindi ibig sabihin na pinabibilisan yung implementation ay mako-compromise na yung quality ng projects, dapat nandoon pa rin yung quality'' said Adongay.
With almost three months left to finish all its 2018 projects, Adongay reports 46 projects completed and 14 on-going out of its 60 projects.
Meanwhile, Adongay said that projects for 2019 implementation are all bid out and just awaiting for the approval of the FY 2019 General Appropriation Bill (GAB). DPWH-Biliran DEO allocates P1.2B fund for 2019 project implementation including region-wide projects based on National Expenditure Program (NEP).