Save the Children Philippines steps up assistance to displaced children in earthquake-hit areas in Mindanao
Press Release
November 13, 2019
MANILA – Save the Children Philippines has delivered family hygiene kits and plastic tarpaulins to ease the suffering of children and their families affected by the series of strong earthquakes in Mindanao.
A total of 1,051 family hygiene kits and 130 plastic tarpaulins have been distributed to children and their families in the most affected towns of Makilala and Magpet in North Cotabato to protect them from contagious diseases while in cramped evacuation centers and while temporary taking shelter in makeshift tents outside their damaged houses.
The humanitarian team of Save the Children Philippines will set up temporary learning spaces and distribute teaching kits starting this week to ensure displaced learners can resume classes.
Lawyer Alberto Muyot, chief executive officer of Save the Children Philippines said the resumption of classes is critical to address psychosocial stress of affected children because it re-establishes their routines.
"Keeping children safe inside learning spaces is critical in times of emergencies. Children know that education gives them power to build a better future," said Muyot in a statement.
Initial figures from the Department of Education (DepEd) showed that some 3.2 million school-age children have been affected by the series of earthquakes that hit four regions in Mindanao including the war-torn Bangsamoro Autonomous Region in Muslim Mindanao (BARMM) as well as Davao and SOCCSKSARGEN regions. Out of the 3.2 million children, at least 1.6 million of them are in Davao, SOCCSKSARGEN, and BARMM, regions that were affected by the earthquake.
Jerome Balinton, humanitarian manager of Save the Children Philippines, said the three temblors have caused massive destruction and damage to houses, schools, roads and infrastructure and it may take years to complete rehabilitation of the damaged infrastructure. Latest report from DepEd as of Nov. 11 also show that 1,046 classrooms were totally damaged, while some 1,274 classrooms sustained major damage.
"But children cannot wait. The need for psychosocial support, shelter, water, hygiene and sanitation and the resumption of classes in safe learning environments is immediate and crucial to the recovery of children and their families," said Balinton.
At the moment, more than 11,000 families remain in evacuation centers, with limited access to water and sanitation facilities. And with many schools being used as evacuation centers, children's learning is also affected. DepEd report also shows that there are 41 schools used as evacuation centers.
A total of 260,492 people were affected by the three strong earthquakes across Mindanao, with 24 dead. Of the affected population, over 103,000 individuals are in Makilala town.
"The numbers are expected to escalate as most of the affected families live in hard to reach areas," said Balinton.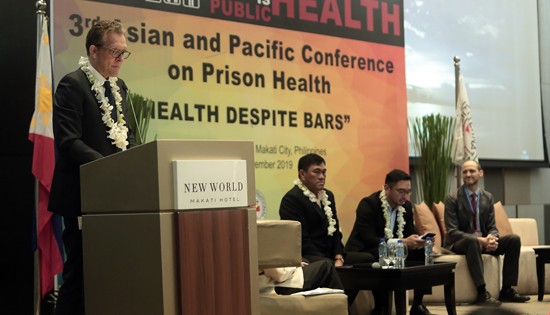 "To break the cycle of poor health outcomes in prisons, we need to go beyond curative care and examine the inmates' living conditions. We must look at prison health care from all angles. We must consider prison health as a public health issue if we are to break that cycle," said ICRC Head of Delegation Boris Michel in his opening remarks. In photo are (from left) Philippine Interior and Local Government Undersecretary Nestor Quinsay, Philippine Justice Undersecretary Deo Marco, and Thomas Hiatt, technical officer of the World Health Organization.
Health despite bars: Asia-Pacific region tackles state of prison health
By ICRC
November 13, 2019
MANILA – With the Asia and Pacific region having over four million prisoners – the highest in the world according to the latest World Prison Population List – tackling the need for quality healthcare among detainees is as complex as it is critical.
"Prisoners deserve the same standards of healthcare as are available to the community, as well as access to health services without discrimination. But often, the inmates' health needs cannot be fully met due to challenges in the coordination among authorities concerned, lack of coherence in policies and procedures, inadequate health staff and facilities, among other reasons," said Dr. Ziad Tohme, who works with the International Committee of the Red Cross (ICRC) as a regional specialist looking into the health-care needs in detention facilities in Asia and the Pacific.
Poor living conditions in many prisons across the world adversely impacts the health of inmates, worsening their pre-existing ailments or leading to new health concerns in prisons.
"Tuberculosis and other communicable diseases are significantly prevalent in prisons, and may spread to the community through staff, visitors and released prisoners who received inadequate treatment. Curative care must be supported by improving food and nutrition, water, sanitation and having activities for better health. It's also critical to recognize that prison managers and other staff are just as responsible for prisoners' health," Dr. Tohme said.
To support authorities in the region strengthen their prison health systems for the benefit of inmates, jail staff and communities at large, the ICRC organized the third Asian and Pacific Conference on Prison Health (APCPH) from 13 to 15 November 2019 in Manila, Philippines.
Titled "Health Despite Bars", the conference provides a platform to health and detention authorities, academics and public health experts, to share research and best practices, as well as challenges. The conference also aims to:
- promote a whole-of-government approach to prison health;
- increase awareness of international standards;
- encourage participants to be active members of the worldwide prison health research and engagement network.
Around 150 participants involved in prison health from 21 countries will discuss topics such as health needs of women and other vulnerable groups, mental health and drug addiction, international standards for prison health.
As a result of the conference, it is hoped that the participants will help improve the health outcomes of detainees through effective management and coordination, promote respect for fundamental rights protecting all detainees, and implement related standards and principles (including "equivalence of care"), contributing to a healthier society.
"We're all involved in providing care to people in custody. Coming to a conference allows us to find out what's working in some places, what's not working so well… share our experiences. The reason why we're all here is to improve care for people who are in detention. We are all passionate about that and so if we can learn from each other that can improve the care of people in custody, that's a great thing," said participant Fiona Montroy, clinical nurse consultant of Justice Health and Forensic Mental Health Network in New South Wales, Australia.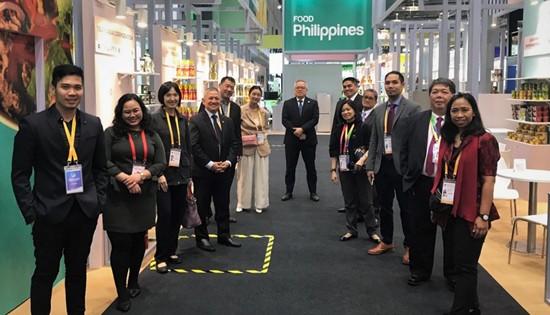 Secretary Ramon M. Lopez led the Philippine delegation to the second edition of the China International Import Expo. In the Photo DTI Secretary Ramon M. Lopez (center) from right of center, DTI-Trade Promotions Group Undersecretary Abdulgani Macatoman, Assistant Director Angelo Salvador Benedictos of the Bureau of International Trade Relations, Assistant Director Agnes Perpetua Legaspi of the DTI-Export Marketing Bureau, Commercial Vice Consul Mario Tani of PTIC-Shanghai, Commercial Vice Consul John Paul Inigo of PTIC-Guangzhou, Ms Rowena Mendoza of CITEM, from left of center, Executive Director Paulina Suaco-Juan of CITEM, Mr Jimmy Tang of Team Asia Corporation, Commercial Counsellor Glenn Penaranda of PTIC-Beijing, Tropicana Food Corporation Representative, Ms Michelle Pontilas of Bureau of International Trade Relations and Mr Rudolph Velasco of DTI-Export Marketing Bureau.
PH sales at Chinese expo more than double at US$300 million
By DTI-TPG-EMB
November 13, 2019
SHANGHAI, China – Philippine (PH) exhibitors booked around US$300 million in sales at the 2nd China International Import Exposition (CIIE), more than twice the US$124 million recorded sales last year. Top sellers were fresh bananas, pineapples, mangoes and durian; not to be outdone were processed fruits and nuts, and other coconut-based products.
"The big jump in sales since the last CIIE proves that the China sees the Philippines as a significant source of agricultural and other products. This motivates us to continue our efforts in getting more exhibitors to the CIIE, as well as improving trade relations and market access through the conclusion of the Regional Comprehensive Economic Partnership (RCEP). Suppliers, on their part, should increase their production to answer the demand of the Chinese market," said Department of Trade and Industry (DTI) Secretary Ramon Lopez.
Sec. Lopez led a 139-strong Philippine delegation, with 32 food exhibitors participating this year. With the huge opportunity in the Chinese food market, Sec. Lopez has advocated for continued, stronger and effective presence in the CIIE through strategic positioning of Philippine products to serve the upgraded requirements of Chinese consumers.
Since it began last year, the CIIE 2019 is a trade fair held in autumn in Shanghai and is the world's first import-themed national-level expo. The total exhibition area of the CIIE exceeds 240,000 square meters and attracts an average of 150,000 professional buyers, with more than 100 participating countries. Amidst these immense numbers, Philippine products – known to be of quality to foreign buyers – received overwhelming approval at the CIIE.
Many Chinese buyers and consumers lined up to try the various food products offered at the Philippine Food Pavilion consisting of 32 exhibitors, including premium tuna products recently launched in the Chinese market by Century Pacific and other products by Philippine global brands such as San Miguel, Monde Nissin, and Fisher Farms.
Chef Bea Nitard of Via Mare used Philippine ingredients to prepare dishes suitable to the Chinese palate. The chef observed that the Chinese are not afraid to try new things and the Philippines should introduce more premium food products to the Chinese consumers. The popularity of the dishes was apparent in the long lines seen at the Food Philippines Pavilion every day.
The Philippine pavilion was formally opened by the DTI Undersecretary Abdulgani Macatoman, with China's Ministry of Commerce Director General Peng Gang. In his opening remarks, Undersecretary Macatoman highlighted the role of the 32 Philippine exhibitors in contributing to the growth of Philippine exports in China's food sector, especially in the fresh fruits category. The Philippines currently exports mangoes, bananas, papayas, pineapples, and young coconuts. But Undersecretary Macatamon observed that with the stronger Philippine-China relations and through China's liberalization program and the CIIE, there will be more Philippine food products sold in China soon.
The Philippine participation was organized by DTI through the Center for International Trade Expositions and Missions (CITEM). It was supported by the Export Marketing Bureau (EMB) and the Foreign Trade Service Corp (FTSC) through the Philippine Trade and Investment Centers (PTICs) in Shanghai, Beijing, and Guangzhou in partnership with the Department of Agriculture (DA), the Agribusiness and Marketing Assistance Service (AMAS), and the Office of the Agricultural Counsellor in Beijing.
With the positive feedback and results generated from the Philippine participating companies and keen interest shown by Chinese buyers, DTI and DA expect a much bigger participation in the next edition of the CIIE in 2020.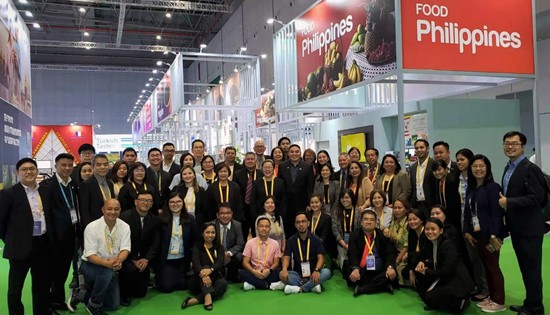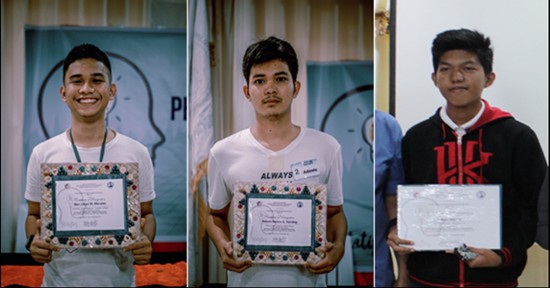 Winners of the 25th PSQ Regional Finals (L-R): Mr. Ben Julian M. Merales, Mr. Adonis Rancie G. Handog and Mr. Filbert M. Abalon.
UPVTC's Comp Sci student is the 25th PSQ regional champ!
By PSA-8
November 13, 2019
TACLOBAN CITY – Mr. Ben Julian M. Merales, BS Computer Science student of the University of the Philippines -Visayas Tacloban College (UPVTC), won the 25th Philippine Statistics Quiz (PSQ) Regional Finals conducted on 12 November 2019 at Leyte Park Hotel, Tacloban City.
Mr. Merales emerged as regional champion, besting 18 other contestants, after scoring 24 points in the three (3) rounds of questions and answers on statistical theories and problems. Completing the top three (3) were Mr. Adonis Rancie G. Handog of the Visayas State University Main Campus - second place, and Mr. Filbert M. Abalon of the University of Eastern Philippines - third place. Winners were given cash prize of P15,000, P12,000 and P10,000, respectively, and certificate of recognition. Likewise, respective winning coaches received cash prize equivalent to half of their contestant's prize aside from the certificate of recognition from the PSQ organizers.
The PSQ is a nationwide annual contest conducted by the Philippine Statistics Authority (PSA) in partnership with the Philippine Statistical Association Inc. (PSAI), in line with the National Statistics Month (NSM) Celebration. It is designed to test the knowledge in statistics of freshmen students enrolled in colleges and universities and to identify and nurture talents especially in the field of statistics. It also aims to contribute to the advocacy in the use of statistics for evidence-based decision making. The results of the contest can also provide indications of the effectiveness of the statistics component of mathematics as a subject in the secondary curriculum.
The 25th PSQ Regional Finals was conducted simultaneously with the 16 regions in the country. Mr. Merales will represent Eastern Visayas to the 25th PSQ National Finals which will be conducted on 29 November 2019 in Metro Manila.
Stakeholders laud DOLE's SPES program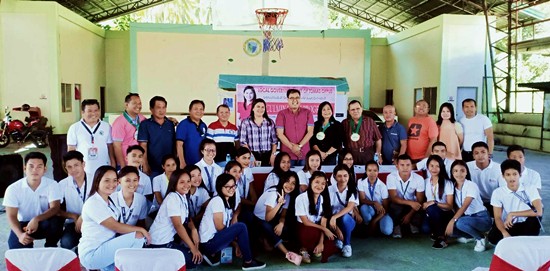 By NORMA RAE S. COSTIMIANO
November 7, 2019
MAASIN CITY – The students of Tomas Oppus, Southern Leyte lauded the DOLE's Special Program for Employment of Students (SPES) during the Culmination Activity conducted by the Public Employment Service Office (PESO) of the said local government unit on October 22, 2019.
Department of the Interior and Local Government Undersecretary Epimaco V. Densing III graced the program and delivered his inspirational message.
"With the DOLE's SPES program, I encourage you to value the opportunities being given by government and gain from it ," said Usec. Densing.
He likewise mentioned that SPES is indeed a very good program which provides students experiences before they actually immerse themselves in the world of work.
One SPES beneficiary cited her appreciation to the DOLE and the LGU led by Hon. Mayor Jessica Marie Excaño Pano. She was thankful for the experiences she gained as a SPES beneficiary which exposed her to the realities in the work setting, enabling her to learn office procedures and meet people of different orientations.
DOLE Southern Leyte Field Office (SLFO) Chief Marites Z. Viñas congratulated the student who have successfully completed their term and inspired them by providing valuable labor market information which can assist them in finding the right jobs.
"Aside from having the education, you need to possess soft skills which are nowadays being considered such as perseverance and time management. These are the current demands of the management in terms of hiring employees, so you must be a smart jobseeker," Ms. Viñas said.
Mr. Peter Edmar Tambis, PESO Manager of Tomas Oppus and an awardee himself during the Search for the 2019 Best PESO, expressed his warmest thanks to DOLE. He requested more funds for SPES implementation to cater for more deserving students.
A total of P156,377.00 has been released by DOLE-SLFO to thirty-nine (39) beneficiaries. Each SPES beneficiary received P4,012.91 as DOLE's counterpart together with their certificates of completion.
SPES is DOLE's employment bridging program during summer or Christmas vacation that aims to augment the family's income of poor but deserving student, our-of-school youth (OSY) or dependents of displaced or would be displaced workers who intend to finish their education. (with reports from Marites Z. Viñas)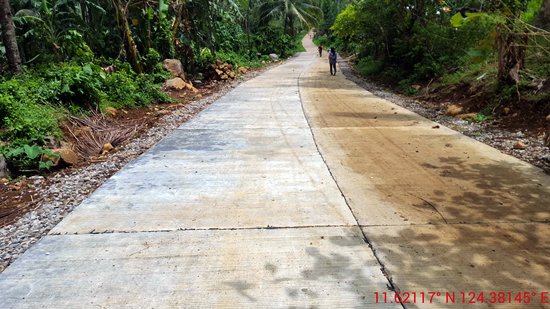 Completed P1.94M construction /concreting of barangay road, Sitio Ansay, Brgy. Union, Caibiran, Biliran under contract with LJPM Builders and Construction Supply.
DPWH-Biliran DEO's 2019 infra projects 61.14% done
By DPWH-Biliran
November 7, 2019
NAVAL, Biliran – The Department of Public Works and Highways (DPWH) -Biliran District Engineering Office (DEO) achieved 61.14% accomplishment of its 2019 infrastructure projects as of October 31, 2019.
With only few months left before the year ends, David P. Adongay Jr., District Engineer said that they are rushing the completion of its on-going projects to meet the district's target accomplishment.
Out of the 92 projects for 2019 implementation, Biliran DEO has completed 39 while 43 are on-going and 10 are Not-Yet-Started (NYS).
Adongay revealed that the district office posts a negative slippage of 6.07% as of October 31, 2019.
"We have already discussed this with the section chiefs and technical staffs and we are doing immediate actions. Hindi pwede pabayaan lang natin na magdecrease ang performance ng district kasi maaapektuhan ang future development ng Biliran," he said.
For 2019, DPWH-Biliran DEO has a total allotment budget of P1.28B.
According to Adongay, budget funding for next year will depend on the performance of the district office in terms of its physical and financial accomplishment.
"Less budget also means we will be forced to terminate few of our job orders which plays a vital role in our day to day operation," he said.
Despite of the haste in the implementation, Adongay ensures that quality of projects will not be compromised.
Adongay reported that 15 infrastructure projects have already been completed this October. These projects include the construction of P3.9M gymnasium at Brgy. P.S. Eamiguel, P1.95M completion of Boy Scout of the Philippines (BSP) building (Phase II) at Brgy. Larrazabal and P981,381.00 construction (completion) of multi-purpose building at Higatangan, all in Naval town.
DPWH-Biliran DEO has also completed the improvement of plaza at Brgy. Bariis in Caibiran town worth P969,350.00, renovation of fencing/ flooring plaza at Brgy. Bacolod in Culaba town worth P969,920.00, completion of senior citizen building at Brgy. Looc in Almeria town worth P945,400.00 and improvement of access road leading to Kawayan port in Kawayan town worth P12.356M.
Moreover, eight flood mitigation projects have also been completed. These projects are located along Bagongbong river in Almeria town (P18.99M), Santol river in Biliran town (P24.850M) and Kaulangohan river (P14.43M) and Binohangan river (P1.94M) both in Caibiran town.
Two flood control projects are also completed along Mainit river (Phase 2) worth P14.2M under Regular Infrastructure Program and P4.87M flood control at Sitio Mainit, Brgy. Villa Vicenta under 2019 local infrastructure program, both in Caibiran town.
Meanwhile, two flood control structures have also been completed at Sitio Anas, Brgy. Atipolo in Naval town worth P14.65M funded under regular infrastructure program and P4.88M funded under local infrastructure program.
Bugtong Elementary School gets new 4-classroom building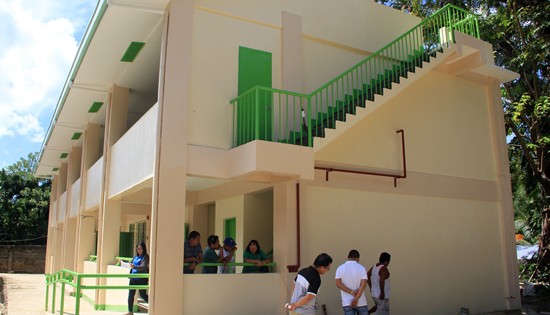 By CHENZI MAY D. UY
November 6, 2019
CALBAYOG CITY – Department of Public Works and Highways (DPWH) -Samar First District Engineering Office (SFDEO) has completed the construction of a two-storey, four-classroom school building in Bugtong Elementary School, Calbayog City. The project drew a total of P12.2 million from the Basic Educational Facilities Fund (BEFF) 2018.
For all 2018 school building projects, DPWH adopted the updated standards and specifications set by the Department of Education. This means the new building now two roof-mounted water tanks and a fire extinguisher in each room, in addition to the standard PWD ramp access, sanitary comfort rooms, and fire alarms. One of the water tanks will serve as a reservoir in case of fire, while the other is for normal water usage within the building.
As per request by the school head, DPWH introduced a volleyball court and a paved walkway into the original design. It can be recalled that the school's volleyball team won Gold in the Calbayog City Wide Meet 2019 and represented the city to the EVRAA Meet.
The provision of new learning spaces primarily aims to decongest existing classrooms so the ideal teacher-to-learner ratio can be achieved. This, in turn, helps to improve the safety, comfort, and learning success of students.
DPWH-Biliran DEO acquires new equipment to accelerate road marking application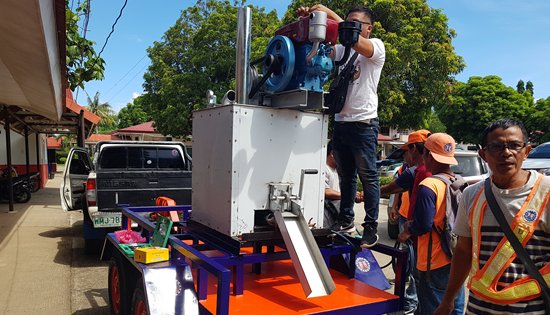 By DPWH-Biliran
October 31, 2019
NAVAL, Biliran – A thermoplastic paint pre-heater and paint applicator has been acquired by Department of Public Works and Highways (DPWH) -Biliran District Engineering Office (DEO) to accelerate work on road marking application along Biliran's national road network.
David P. Adongay Jr., District Engineer said that the procurement of these machines will fast-track the work of maintenance personnel compared to the manual road marking application.
"Using the machine, we can really expect a more quality result with less manpower needed," said Adongay.
Road markings are applied on paved roadways to provide guidance and information to drivers and pedestrians to avoid road accidents. Road surface marking can also indicate regulation for parking and stopping.
The newly acquired equipment has a total cost of P2.18M funded through Engineering Administrative Overhead (EAO).
DPWH-Biliran DEO regularly conducts routine maintenance activities to provide quality service to the public by implementing activities that maintains the quality, safety and integrity of the roads, bridges and other structures under their jurisdiction for the safety convenience of the traveling public.
Design Center's Pinyapel earns D&AD pencil
By DTI-TPG-DCP
October 31, 2019
PASAY CITY – The Philippine-made Pinyapel, a specialty paper made from discarded pineapple leaves, bagged a Wood Pencil at the D&AD Future Impact Awards 2019 in recognition of its potential to create a huge impact on environment and sustainability as it is proposed to be a food packaging alternative to single-plastic. The award will be presented in New York City, USA on November 6. Industry professionals consider the D&AD pencil as equivalent to "career knighthood".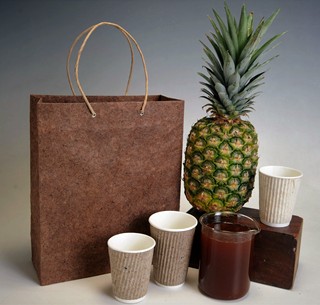 With this recognition of Pinyapel, it will receive a D&AD Wood Pencil, a place on the D&AD Future Impact Accelerator programme, especially designed to accelerate Pinyapel's development in order to deliver tangible impact in their category area within 12 months. The D&AD Future Impact Programme supports great ideas that have the potential to change the world.
Winning a Wood Pencil also provides an opportunity for the Philippine team behind Pinyapel to pitch at the D&AD Festival 2020 to gain support from venture capitalists (VCs) and creatives, a pass to the D&AD Festival 2020, a dedicated space at the Impact exhibition in London, 12-month membership and a year of exposure to a global audience through D&AD and third-party press.
Design and Art Direction (D&AD) is a British non-profit that exists to celebrate, inspire, and nurture excellence in design and advertising in the United Kingdom and worldwide. More than just awards, D&AD has world-class training programmes, accelerator platform, and festival to support the industry towards creative excellence.
"Pinyapel's recognition in the international scene is a big leap in our move to promote Philippine design and innovation excellence. It highlights the Filipino brand of design point of view that is anchored in 'malasakit' which brings an authentic Filipino design perspective on developing impact-driven solutions that address the problems of today and of tomorrow, while protecting the future generations and ensuring a better future for them," said Department of Trade and Industry Secretary Ramon M. Lopez.
Pinyapel was the result of a research and development initiative led by the Design Center of the Philippines on pineapple leaves. After its breakthrough research on developing the material, it collaborated with Nature's Fresh Pineapples for the supply of raw materials; CDO Handmade Paper, for paper sheet processing; and Ideatechs Packaging, Inc., for paper sheet conversion to food packaging applications.
The Pinyapel project was led by the Design Center's materials research and development program, which aims to produce sustainable, cost-effective and commercially viable materials and contribute to strengthening local businesses.
Pinyapel is reflective of Design Center's quadruple bottomline approach to circular design. The project began with the intent of maximizing the use of agricultural waste to improve the livelihood of farmers (prosperity), address concerns on dwindling natural resources and offer alternatives to plastic (planet); collaborate with local enterprises (people); and consequently, show the world what the creative and design mind of Philippines can do (purpose)," said Design Center of the Philippines Executive Director Rhea O. Matute. "With the country's desire for a more value creating economy, Design Center hopes to develop and unlock more commercialization opportunities for impactful ideas like Pinyapel," Matute further shares.
Pinyapel production and use
Pinyapel is a specialty paper that is reinforced and print-viable for secondary packaging applications. It may also be used for gift bags, paper cup sleeves, and corrugated paper.
Production involves harvesting the discarded leaves from pineapple plantation, drying the leaves under direct sunlight, pulping and rinsing the cut leaves, and pounding the rinsed pulp. Reinforcing solutions are used to improve the mechanical properties of the material. Once dry, the paper sheets are either run in corrugating machines for corrugated paper and cup sleeves or cut out for paper bag production.
Pinyapel leaves during production and after consumer use can be used as raw materials to produce brown bags and cardboards.
With the challenges faced by the pulp and paper industry in sourcing pulp locally, Design Center's move to develop Pinyapel and partner with local businesses provided an alternative and sustainable source for paper. It is also seen as an additional income source for farmers in the country's large pineapple production area, with a total hectarage of 63,904 according to the Philippine Statistics Authority's April -June 2019 Quarterly Bulletin on Major Fruit Crops; thus, providing new purpose and value to what was previously considered agricultural waste.
The Design Center's materials research and development program has explored the potential of agricultural waste and otherwise overlooked resources as raw materials for various product applications, impacting the design and value of Philippine products.