Another fire hits Catbalogan, incurs P5M damage
By NINFA B. QUIRANTE
November 17, 2006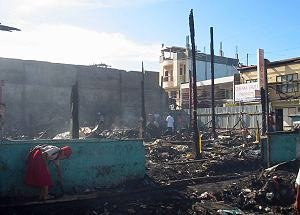 CATBALOGAN, Samar – A big fire totally destroyed Lester Lace Branch 1 Grocery at the corners of San Roque street and Allen Avenue this town at 10:45 in the evening of November 14, 2006.
Ground Commander, Senior Inspector Daniel Salvatierra of the Catbalogan Fire Station said that Dr. Leo Lofranco, owner of Lester Lace Grocery pegged the damage at P5M. This, the fireman said, does not include damages from other establishments and houses that were partially damaged.
Reported partially damaged were a barber shop, a Videoke Bar, a 2-story residential house owned by Abe Abolencia, and another house owned by Felicisima Aguirre.
A fireman, SFO3 Cresente Bacay suffered third degree burns on his right arm in the course of firefighting done by the Catbalogan Fire Unit, the chief reported.
Salvatierra acknowledged the best coordination done at the fire scene saying, "for the first time, crowd control by the PNP was perfect, KABALIKAT (a volunteer communications group) did not intrude too much and the crowd was disciplined."
He also mentioned that fire trucks immediately arrived for back up from the Catbalogan Filipino Chinese Volunteer Fire Brigade, Paranas, Pinabacdao and Calbayog City fire stations.
The fire chief said that two barangay officials named Dionisio Sison, Francisco Aguilar and a civilian named Apple Abuyen came rushing to the fire department to report the blaze.
Salvatierra also mentioned the Catbalogan Water District Manager Uy who was instrumental in constructing fire hydrants that proved very helpful.
The Fire Chief said that this was the biggest fire that hit Catbalogan this year, just a few months ago, the Department of Trade and Industry provincial office was burned with an estimated damage of P3M.
Coordinating agencies ink MOA for the Regional Council for Road Safety
By Philippine Information Agency (PIA 8)
November 17, 2006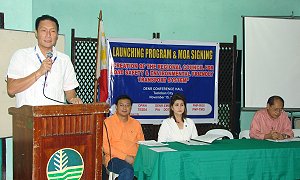 Land Transportation Office-8 regional director Raul Aguilos (left) delivers a message during the launching program and MOA signing of the Regional Council for Road Safety and Environmental Friendly Transport System at the DENR conference hall, November 15. Also in photo are Tacloban city administrator Jimmy "Jim-jim" Yaokasin, PIA-8 regional director Olive Tiu and DPWH assistant regional director Jose Lino Aguilar. (Photo by Vino Cuayzon)
TACLOBAN CITY, Leyte – The Land Transportation Office spearheaded the signing of the memorandum of agreement for the creation of the Regional Council for Road Safety and Environment Friendly Transport System, in simple ceremonies held at the DENR Region 8 Conference Room in Tacloban City on November 15.
LTO 8 Director Raul Aguilos said that with the coordination of all the cooperating agencies, there is a great chance of attaining road safety not only in the City of Tacloban but in the whole Region. He said that the signing of the MOA is made more significant because of the fact that the country is now celebrating the Clean Air Month. He said that with the support of every agency, environment-friendly transport system will also be achieved in the Region.
Asst. Regional Director Jose Lino Aguilar of the Department of Public Works and Highways expressed the full support of his agency in the undertakings of the newly created Regional Council.
In behalf of the City of Tacloban, City Administrator Jimjim Yaokasin informed the group that the creation of the council is very timely considering that the city of Tacloban is now promoting the City of Tacloban as the new convention center in the Visayas.
Ms. Maribel Munsayac of the Environment Management Bureau which is the lead agency in the Clean Air Month celebration informed the body about the activities which will be conducted in connection with the Clean Air Month.
PIA Director Olive Tiu presented the coordinating agencies, the heads and the roles which each agency will play in the achievement of the Council's objectives. Aside from LTO, DENR, DPWH and PIA, the other coordinating agencies are the DENR-Environment Management Bureau, the Department of Trade and Industry, TESDA, Philippine National Police, Department of Tourism, PNP-Traffic Management Bureau, the Department of Interior and Local Government and the city government of Tacloban.
Police Inspector Loreto Espineli, in his closing remarks said that the road accidents which is one of the major causes of deaths in the country will hopefully be mitigated through the endeavor of the Regional Council. LTO Assistant Regional Director Romulo Bernardes acted as the master of ceremonies during the activity which was held at 9:00 o'clock in the morning.
In Samar's first district, it's Final!
Grey versus Uy in 2007 congressional race
By ROMMEL L. RUTOR
November 16, 2066
TACLOBAN CITY, Leyte – Despite his earlier pronouncement that he won't be running against incumbent congressman Reynaldo S. Uy of Samar's first district, San Jorge mayor Joseph "Jojo" Grey is now definite of his bid for the congressional seat in the upcoming 2007 local elections.
the challenger
the incumbent
The decision was made final during a press conference here last October 30, 2006, with Mayor Grey revealing a political paranoia that is hounding the province' first district which accordingly made him decide to go head on with incumbent Congressman Uy.
Grey explained that he could have opted to stay as the Mayor of San Jorge, stressing that he made a vow to his constituents that he will not leave San Jorge until progress and development would be evident in the said town.
"But I have no choice, pinipilit ako ng sitwasyon at nang mga tao na gusto na nang pagba-bago, ayaw niya rin akong tigilan kahit noon pa man sinabi ko na, na hindi ko siya babanggain at totoo sana iyon, pero hindi ko na mapapalagpas ang mga nangyayari ngayon, I discovered that Congressman Uy is masterminding a demolishment job against me kaya pagpasensiyahan na niya ako, pero ito ang nakikita ko na pinaka-magandang paraan para mawala na ang mga patayan dito sa first district ng Samar", Mayor Grey stressed.
The chief executive likewise explained that he is not totally leaving his town and the San Jorgehanons who have been very supportive of his political career, "Ang nakikita ko mas na mabibiya-yaan sila kung ang mayor nila ang magiging sunod na congressman, kaya palagay ko hindi sila magtatampo sa naging desisyon ko", he clarified.
As this developed, Mayor Grey posed his challenge to incumbent congressman Uy, particularly pointing out the contents of the solon's letter to DILG Secretary Ronaldo V. Puno last October 12, 2006. Grey relayed to the media his willingness to publicly undergo a drug test together with his wife and the rest of his family and security personnel, if the solon from Samar's first district will likewise do so.
"Pinagbibintangan niya drug addict ako, sige sabay-sabay kaming magpa-drug test sa harap ng mga tao, kasama ang asawa niya at mga anak niya at kasama ko rin ang pamilya ko", Grey told.
In the same occasion Grey clarified that the allegations of his involvement in various killings in San Jorge and Gandara is purely a political ploy allegedly instigated by Congressman Uy.
He pointed out that even before he embarked into politics in 2004, Samar's first district is already known to be a war zone during and even after election period, "and I want that image eliminated, I am challenging Congressman Uy that within the 45 days campaign period, parehas kaming magpa-custody sa isang ecumenical group, walang cellphone at walang bisita hanggang sa matapos ang botohan", he told.
"With that, kahit na hindi ako manalo sa eleksiyon, ang importante naibigay ko sa mga taga first district ang 45 na araw na walang gulo at walang patayan na eleksiyon, pagpapatunay na hindi totoo ang mga binibintang laban sa akin na mga patayan sa bayan na pinagsisibilhan ko", Grey added.
Initial information gathered by this writer showed that Mayor Grey's bid for the congressional seat will be carried out by former congressman Rodolfo Tuazon, who is reportedly vying for the Calbayog City executive post against Mayor Mel Sarmiento.
Grey is likewise being supported by incumbent Governor Milagrosa T. Tan who is seeking re-election against a prospective rival in the person of Mayor Neliptha Figueroa who is being urged to run for Governor in the 2007 elections.
As the media session with Mayor Grey ended the other week, the town executive burst into tears as he appealed to the people of first district not to believe on the black propaganda being initiated against him by his detractors.
CARITAS International turns over housing project in Caligangan, Liloan town
By REBECCA CADAVOS (PIA Southern Leyte)
November 16, 2006
SOUTHERN LEYTE – A symbolic key was turned-over by Caritas International to the beneficiaries of Catig housing project during the blessing and turn-over ceremony held Monday, November 13 at the municipality of Liloan.
House Representative Roger Mercado who delivered a short message during the affair expressed appreciation to the efforts made by Diocese of Maasin Bishop Precioso Cantillas who requested the Caritas International to assist the Caligangan residents who were then isolated by landslides that hit last February 12 before the Guinsaugon tragedy.
Brgy. Caligangan with a total population of 929 were totally relocated to Brgy. Catig, its adjacent barangay both in Liloan with the realization of the 86 houses or 43 duplex units donated by the Caritas International through the Diocesan Social Action Center (DSAC) and the National Secretariat for Social Action (NASSA), both a religious institution.
"This is the fruit of teamwork, fruit of our wishes", Cong. Mercado said during his message. "The housing assistance given from benevolent donors should be taken care of, maintain its beauty and give our share to make our community better" he added.
Cong. Mercado appealed to the relocated residents that in return they should express love of country through loving their barangays and obey the rules and laws of the government by taking care of the environment particularly by planting trees. Catig beneficiaries can be extended more assistance through livelihood projects for their additional income like entrepreneurial activities through the Self Employment Sa Kaunlaran program, the solon further added.
Based on the data from the Municipal Mayor's Office of Liloan, Catig has a total land area of 1,583 sq. meters while Brgy. Caligangan has 2,955 sq. meters.
The blessing and turn-over ceremony was also attended by Gov. Rosette Lerias, Bishop Cantillas, Engr. Emmanuel Silvestre, Project Coordinator of the proponents of CRS-America & Caritas Internationalis represented by Michael Franks, Caritas Filipinas Foundation Inc. represented by Sr. Rosanne Mallillin, Diocesan Action Center (DSAC) represented by Fr. Eufemio Gohetia, Liloan Vice Mayor Antonio Maamo and Catig Brangay Captain, his council members and the beneficiaries.
PNP to neutralize private armed groups in Samar
By ELI C. DALUMPINES (PIA Samar)
November 16, 2006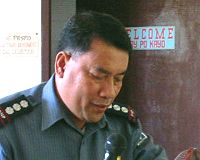 PNP Samar Director SSupt. Abah
CATBALOGAN, Samar – Private armed groups of politicians here may be well-armed and powerful, especially during election period, but the Philippine National Police (PNP) will no longer allow them to terrorize the Samarnons.
PNP Provincial Director SSupt. Asdali Idja Abah, in an interview over the weekend, said the police have already devised schemes to neutralize the private armies of politicians in Samar.
He, however, refused to reveal what these schemes are since divulging them before the public, according to him, will foil such moves. But he stressed that they have already made initial steps to check the activities of these groups.
In line with this, Supt. Abah urged politicians to give the police a free hand in their campaign to end violence which are common in Samar, particularly in the 1st district, during elections.
He, likewise, directed the local chiefs of police in all the towns of the province to refrain from any partisan activities and never to submit to the dictates of politicians.
Supt. Abah informed he already reprimanded the COPs of some towns in the 1st district for failing to confirm reports of a number of killings that took place in the towns of Gandara and San Jorge.
The police director said though that he cannot qualify as of the moment whether those killings were perpetrated by the private armed groups. But the weapons used, he said, will pinpoint such groups as perpetrators.
Supt. Abah cited the case in Brgy. Buenos Aires in Gandara town where the suspects used an M16 Rifle and a .45 caliber pistol in killing a victim who was also a murder suspect.