Eastern Visayas has new police regional chief
By Philippine Information Agency (PIA 8)
May 22, 2007
TACLOBAN CITY, Leyte – The Philippine National Police in Region 8 underwent a change of command Monday morning with PRO 8 Regional Director Eliseo Decena dela Paz turning over the command to the new Police Regional Office 8 Regional Director Abner Dayanan Cabalquinto.
In a turn-over ceremonies held at the PRO 8 grandstand at Camp Ruperto Kangleon at 9:00 o'clock in the morning of May 21, no less than Police Deputy Director General Avelino Ignacio Razon officiated in the Turn-Over of Office Symbol in the presence of some members of the Maguilas Class 76 to which both General dela Paz and Director Cabalquinto belong.
General dela Paz was relieved from his current post in order to assume a bigger one which is that of the Director for Human Resource and Doctrines, a position which will make him a two-star general.
General dela Paz, in his valedictory address, said he will not enumerate his achievements as the Regional Director of the Philippine National Police in Region 8, but instead left it to the people of Region 8 to evaluate and judge his service which lasted for one year, eight months and twelve days.
Judging from the reactions from his men and the people, General dela Paz served the people of Region 8 well and stirred the PNP in the Region into great heights, as General Razon said, it was a job well done.
The incoming Regional Director, Police Chief Superintendent Abner Dayanan Cabalquinto, said that three years after his graduation from the Philippine Military Academy, he was assigned in the Regional Command as a junior officer.
After 28 years, three years before his retirement, he is back at Region 8 but no longer as a junior officer but as a Regional Director.
Director Abner was accompanied by his father who lives in Ormoc, his brothers Lt. General Allan and Rey, his wife and his four children, three of who were born in Eastern Visayas particularly Ormoc City and Tacloban City. The Cabalquinto family originates from Carcar, Cebu.
Army soldier gave his life for an honest election
By LtC FELIX M. MANGYAO (INF) PA
May 18, 2007
CAMP LUKBAN, Catbalogan, Samar – Elements of the Alpha Company of 63rd Infantry Battalion were ambushed by fully armed NPA rebels while on mission to secure the retrieval of the ballot boxes in Silvino Lobos, Northern Samar in the afternoon of May 15, 2007 at around 2:45 p.m.
The troops led by Second Lieutenant Rosuelo were on their way to barangay Giparayan De Turag of the said town when they were ambushed by heavily armed communist terrorists.
A brief firefight ensued that lasted for about 15 minutes but enemy withdrew with their fallen comrades while one army soldier gave his precious life to secure the sanctity of election for the bright future of his children.
The incident was another product of a barbaric mind of the CPP/NPA leadership who intend to hamper and ruin the honest and orderly conduct of the local and national canvassing in the region.
Meanwhile on 3:15 a.m. of the same day, military troops from 46th Infantry Battalion while conducting security patrol encountered ten (10) fully armed communist terrorists in Matuguinao, Samar.
A five-minute firefight ensued that resulted to undetermined number of casualties from the enemy side due to the bloodstain seen in the encounter site while negative casualty from the government side.
The series of encounter with the NPA during the election period shows that the communist party is trying to disrupt the election and create a climate of fear and terror in the region as they were not successful with their collection of Permit to Campaign (PTCs) and Permit to Win (PTWs). Reports reaching defense establishment that the CPP/NPA will resort to kidnapping and assassination of electoral candidates who did not pay PTCs.
MajGen. Armando L. Cunanan, AFP, Commanding General of the 8th Infantry Division encourages the public to be vigilant and help the military forces to watch out for the security of the ballot boxes as we await for the election result.
Court orders release of all 16 men apprehended by Tagapul-an police
By GINA SUELLO-SORILO (San Juanico News)
May 10, 2007
CALBAYOG CITY, Samar – The rest of the 16 men apprehended by Tagapul-an police at Brgy. Manlangit, Tagapul-an, Samar on board the boat "Charina" last April 19 were ordered released last April 27, 2007 by the Regional Trial Court, Branch 32 of Calbayog City. The men, who according to the police were apprehended along with 8 assorted firearms and live ammunition, were detained at the PNP Lock-Up Cell in Catbalogan, Samar.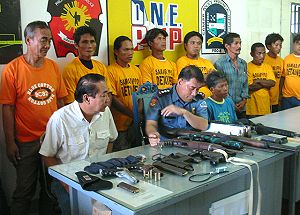 The arrested alleged armed-men and their seized guns were presented to the media on April 20 at the Samar Police Provincial Office during a press conference.
Ordered discharged by Branch 32, RTC Presiding Judge Roberto A. Navidad were Noel M. Sulibaga, Noel L. Picorro, Henry S. Basas, Filmor E. Basas, Arnel P. Rojas, Charlot D. Picorro, Michael S. Maloloy-on, Romulo L. Sanches, Arturo M. Francisco, Michael M. Lucero, Carlito C. Lucero, Rodel S. Villa, Orlando M. Sarco and Jurry S. Mahinay.
Earlier, Charlie L. Picorro, Sanggunian Bayan Member of Tagapul-an and vice mayoralty candidate for the same town and the owner of motorboat "Charina", and Adriano L. Picorro were able to post bail.
The police earlier paraded the 16 last April 20 at the Samar Provincial Office at Maulong, Catbalogan and presented to the media together with an M16 Armalite rifle, 2 US Carbine Cal 30 M, a KG99 Cal 9mm Machine pistol, an Ingram Cal 9 mm, an M1 Garrand, a Cal .45 pistol, a Cal .357 magnum; and assorted live ammunition.
The arresting officers, SPO1 Eduardo A. Base, SPO1 Norberto U. Compoto, PO1 Errol Cid C. Mandreza, and PO1 Bobby M. Martires, all of the Tagapul-an Police Station, as well as Station Chief SPO4 Diogenes G. Balais and the PNP Lock-up Cell Warden were made respondents on a petition by the arrested men seeking Habeas Corpus last April 25 citing innocence of the offence for which they were arrested.
And in an unprecedented hearing upon orders from the court, early morning of April 28 at about 2:00 a.m. under the threat of contempt, the officers in question were ordered to release the men and the motorboat "Charina".
Here, the police questioned the propriety of also releasing the motorboat together with the arrested men; and for this the policemen were detained at the Calbayog Police Station for contempt of court. And on or about 1:00 p.m. of the 28th that same day, the motorboat was released and the Tagapul-an policemen were also freed from their detention.
The Tagapul-an police said they will be pursuing the case of illegal possession of firearms and violation of COMELEC election rules on the earlier apprehended men and are presently waiting for the preliminary investigation.
Read related story: Police seize firearms from vice-mayoralty candidate in Samar
Arrested NPA hitman with Bayan Muna Rep. Teddy Casiño
By LtCol. FELIX M. MANGYAO (INF) PA
May 9, 2007
CATBALOGAN, Samar – Following the recent arrest of the NPA hit man in Leyte in the company of Bayan Muna Representative Teddy Casiño, majority of the Leyteños and Waray-warays are now aware of the glaring tie-up between the Bayan Muna Partylist Group and the CPP/NPA/NDF.
The hit man was identified as Vincent Borja, alias Bebot/Tata. He was arrested during a raid in his hideout, which was disguised as a Bayan Muna Headquarters, in Brgy Linao, Ormoc City by the joint elements of the AFP and PNP in the evening of May 7, 2007 at around 8:30 p.m. The arresting party was surprised to see the unexpected presence of Representative Teddy Casiño in the company of the fugitive.
Borja is the chairman of the Regional White Area Committee of the Eastern Visayas Regional Party Committee (EVRPC) and the concurrent Kilusang Mayo Uno (KMU) Regional coordinator.
He was arrested by virtue of warrants of arrest duly issued by the courts. One warrant was issued by Honorable Judge Apolinario Buaya of Regional Trial Court Branch 35, Ormoc City for two (2) murder cases including the shooting to death of Sgt Guillermo Analasan of 19IB in Kananga, Leyte on November 7, 2006. Another warrant was also issued against him by Honorable Judge Aquilino Inopeques Jr of the Municipal Trial Court, Kananga, Leyte for destruction of property.
During the arrest of Borja, Bayan Muna Representative Teddy Casiño physically obstructed the police and vigorously argued with them. Instead, the arresting team invited Casiño for questioning.
Series of incidents in the past indicate linkages of Bayan Muna and CPP/NPA/NDF. To cite an example is the successful arrest of team leader SPARU and Commander, Front Operational Command, North Leyte Front (NLF) Paterno Opo alias Loloy in his hideout disguised as Bayan Muna Headquarters in Tacloban City last April 6, 2007. Several firearms and hand grenades were recovered including Bayan Muna documents. Similarly, several encounters between the government forces and the NPA yielded voluminous subversive documents that indicate link of Bayan Muna with the CPP/NPA/NDF.
The presence of Casiño and Borja in one hide out is a clear manifestation of the symbiotic relationship between the NPA and Bayan Muna which is being led by Casiño and Satur Ocampo. The latter was also accused of multiple murder relative to the purging of anti-revolutionaries, anti-communists and suspected government informants of CPP/NPA/NDF in the 80's.
Samar gets P9M for irrigation projects
By NINFA B. QUIRANTE (PIA Samar)
May 8, 2007
CATBALOGAN, Samar – Samar province gets a slice of P9M for its irrigation projects from the P1.126B President Gloria Macapagal-Arroyo's Hunger Mitigation Program.
Based on the record of the National Irrigation Administration (NIA) Samar field office, P3M was given to Danao, Calbayog City and P2M for Mabagdok, Calbayog City in District 1; while in District 2 both Tag-alag and San Roque in Marabut were allotted P2M each.
These irrigation projects have started work and are expected to finish this year 2007, added Oscar Salamida, Provincial irrigation Officer.
A total of 25 hectares will be serviced by the new irrigation project while some 60 hectares of farm area will be taken cared of by a repaired or rehabilitated irrigation project.
In addition to the P9M from the Hunger Mitigation Fund, the Comprehensive Agrarian Reform Program (CARP) Agrarian reform Fund (ARF) also funded some P 4.5M irrigation project in Roxas Communal Irrigation Project (CIP), Calbayog City and Calapi Communal Irrigation System (CIS) in Calapi, Motiong.
The renewed funding of the irrigation system is believed to spur the province' agricultural productivity and increase food production.
In Camoruboan, Jiabong where some 35 farmers are enjoying the fruits of a fully irrigated farm land, rice production has been enormous that farmers here have produced 150 bags of palay per hectare.
In Calbayog City where irrigation projects have also been poured, rice yields have increased.
However a great portion of rice fields in Samar have not yet enjoyed the benefits of irrigation.
In data culled from the NIA website, Samar enjoys but only 31% of its potential irrigable land area. Of the estimated 8,140 ha of irrigable area, only 2,511 have benefited from the communal irrigation system NIA offers. Some 5,629 ha have yet to be irrigated.
While Samar is still struggling to produce food needed by its population, it acknowledges that the P9M allocated this year is good enough and its fruits may come in additional yield from the rice farms Samareños untiringly cultivate.
Communist rebels attack Samar town
By NINFA B. QUIRANTE (PIA Samar)
May 7, 2007
CATBALOGAN, Samar – Town folks of Paranas, Samar were jolted from their early evening activities when they heard gunshots - Paranas PNP Headquarters was under attack.
Some 50 armed men believed to be members of the New People's Army (NPA) on board three L300 vans rushed to the two PNP buildings and immediately opened fire.
PO1 Leandro Abaigar who was at the main building retaliated, while Police Inspector Emmanuel Arteche who was then in the adjacent building also returned fire.
Mrs. Tess Tobalado, a teacher from the Wright National high School whose house was located some 50 meters away from the PNP Headquarters said the firefight lasted for about thirty minutes.
Leticia Cabandon who was visiting her brother whose house was just across the building sustained bruises on her knees when she scraped them while trying to drop as the fire fighting became more intense.
Her husband, a candidate for SB in Paranas who was with her, said that the commands he heard were a mixture of Cebuano as in "dugay kayo!", Estehanon Waray as in "unina, mayday pa!" (Samarnons would have said niyan) and some Tagalog who said, "dyaging (jogging) lang tayo!"
Some of them, Cabandon said positioned right on their door step. In their haste to scamper for safety they forgot to close their door. Apart from the lady's scraped knee, their kins inside the house were all unhurt.
Paranas Police Chief Arteche sustained bruises and cuts on his right toe in the process; he also suffered fracture on his left leg. When asked by PIA, he said he did not believe he would live for the rebels were so many. He said he and Abaigar fought it out bravely.
Abaigar's personal account narrates that his presence of mind pushed him to fight; a lady inmate who was just called Rhea Rose helped him reload his gun. As his ammunition ran out, and the rebels were closing in, he said he played dead under the table and it was when the rebels reportedly carted the three remaining M 16 rifles in their armory
Meanwhile, Rhea Rose said that a woman-fighter grabbed her and pushed her outside. The same woman, she narrated ordered her to run, she said she resisted for she thought she would be killed if she ran. The captive-inmate got the chance to run to safety when a new command diverted the fighter's attention. Rhea Rose remained unhurt.
Joseph Canellas, a senior citizen who lives near the municipal hall said that he saw the rebels retreating towards Eagle Park (across the Municipal Building ). He said he saw some that alighted from the van carrying wounded comrades. He said the injury could have been fatal as the bloodstains were enormous from the abandoned vans to the highway which the rebels crossed to retreat.
The PNP building was a total wreck, all glass windows were broken including plastic chairs and the rebels even fired at the only working typewriter the police force had. The typewriter remains useless now, said the remaining PNP personnel who were off duty when the attack was done.
Government troops from the 62nd IB came in after an hour when the rebels had already retreated. The attack came just as Samar is preparing for elections and have just requested an augmentation of PNP elements from the Regional Police Force.
Just on April 27, 2007, Police Senior Superintendent Arcadio Borres Lelis, Chairman of Task Force HOPE (Honest, Orderly and Peaceful Elections) vowed to deploy 100 PNP elements to Samar as the province was listed as among the top Area of Immediate Concern in the region due to history of election-related violence in the past elections and the heavy presence of the communist insurgents.
City mayor clarifies projects during his term
By KIMRO (City Media Office)
May 7, 2007
TACLOBAN CITY, Leyte – Clearing the rumors that Mayor Alfredo "Bejo" Romualdez is just politicking in the guise of series barangay project turnover, he announced publicly that it is required for an outgoing local chief executive to do so.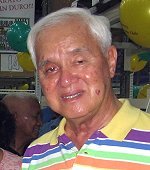 Mayor Bejo Romualdez
In his speech on Wedneday (May 2) before a huge crowd at Plaza Rizal during a project turnover to various barangays in downtown area, he said that, all these are in consonance with Commission On Audit (COA) and DILG rules.
He clarified that as per regulations of the Commission on Audit, any outgoing Mayor is required to turnover and announce publicly all the projects given to the different barangays. This is, to erase any doubt from the public that he had ghost projects and give the public a chance to raise objections or protest publicly if those projects are not actually existing.
"During my incumbency as City Mayor, I am proud to tell you, that there is no single ghost project in this city - saying that all projects have been implemented in all the 138 barangays in the city, the Mayor said.
According to Mayor Romualdez that when he ran for the local chief executive post, the main purpose was to make improvements in the City and boost the economic status of Tacloban.
Romualdez recalled that, when he was a new mayor, the City had only P100 million income per year, but in his next two terms, it escalated to over P600 million.
"We need to further improve Tacloban, not only because it is the capital City of Leyte, but because it is the Center of the Eastern Visayas region", Romualdez said.
Further, the Mayor said, that the very reason he had been giving various projects to the 138 barangays, is that they contributed a lot in generating income for the City government by effectively collecting taxes in their respective areas.
"Gin buligan man ako niyo nga mag riko an Tacloban tungod han pagbayad han buhis, salit ginbalus ko ini pinaagi han mga proyekto", Mayor said in the vernacular.
Among those projects given to various barangays were drainage systems, barangay halls, multi-purpose halls, pathways, water systems, and street lightings.
Local fisherfolks face charges for dolphin fishing
By NINFA B. QUIRANTE (PIA Samar)
April 26, 2007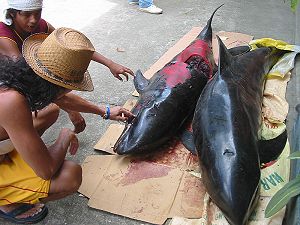 The dolphins are about 2 meters in length.
CATBALOGAN, Samar – Two dolphins attracted a huge crowd of Catbaloganons on Wednesday, April 25, 2007. The dolphins were at the Police Station not for a show, they were evidence.
Earlier, PNP Catbalogan received reports from residents of Barangay San Roque who said a group of fisherfolks caught four dolphins and were beginning to butcher the fish.
Immediately, a joint team of Catbalogan Municipal Police Station composed of SPO4 Edgardo Orbita and PO1 Roberto Jerusalem, under the supervision and direction of police chief PSupt Ramil Ramirez, together with the personnel from the municipal agriculture office headed by its municipal agriculturist Ruth Dasal and Edgardo Guya, agricultural technologist went to the site and apprehended Bebiano Mantilla, Ruel Cordowa, Ignacio Matilla and Manuel Corsame all residents of Sitio Sugod, Brgy San Roque, Buri Island, this municipality and Jose Menoro of Brgy. Payao also of this municipality for illegally fishing a threatened or endangered species known as dolphins as determined by the Department of Agriculture.
Recovered from the scene is an sliced into pieces and slaughtered dolphins. A case for violations of Section 97 of RA 8550 is now being filed at the Provincial Prosecutor's Office in Catbalogan, Samar docketed under I.S. No 03318-07-I.
Catbalogan PNP Chief PSupt Ramil Ramirez said that the fisherfolks, if proven guilty will be facing P120,000 fine and imprisonment of 10 to 20 years.
He also requested the media to disseminate the information regarding the law against fishing these rare kinds of species. He also called on all barangay folks not to feign ignorant to the law.
"Tigilan na nila ang pagsabing di nila alam," (Stop telling us you don't know the law) an exasperated PNP chief aired.
Municipal agricultural technologist Edgardo Guya on his part feels glad that slowly, coastal rural folks are gaining the awareness on the protection of the marine life in Maqueda Bay.
He admitted though that one incident of the sale of a rare whale shark specie also disturbed him for some time.
With the renewed vigor of government agencies in the protection of marine life, MAO and PNP will always join hands in chasing violators of RA 8550 (Fisheries Code of 1998).