Eastern Samar eyes on more tourism projects
By ALICE NICART (PIA Eastern Samar)
February 20, 2007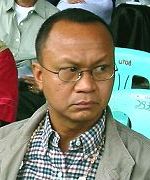 Gov. Ben Evardone
BORONGAN, Eastern Samar – Eastern Samar Governor Ben Evardone is optimistic tourism will boom in this part of the country once the two airports operate a few years from now.
This, Evardone said in his message during the oath-taking ceremony of the Provincial Tourism Council at the Provincial Capitol, Monday.
Evardone was confident to say that tourism is the biggest industry in the world with hotel, food, transportation and communication demands that corresponds to the industry. He was also articulate to recall that the province, particularly Guiuan, is one of President Gloria Macapagal-Arroyo's focus in her Mega Regions Programs, hence the appropriation for the rehabilitation of the World Class Airport with P10M initial budget to fix the apron of the airport terminal.
He also said that the Borongan Airport will likewise be rehabilitated, even as it has not yet began in actual operation. The Governor however reported that according to the Provincial Engineer, Engineer Dindo Picardal, some P60M may be required to fully rehabilitate the Borongan Airport terminal before it can be operational, and this has been remedied, the Governor said.
Since the province is filled with tourism potentials, the ULAP Spokesman urged the municipal tourism officers present to cultivate, preserve and promote their respective tourist attractions and effect some preparations for upcoming tourism activities. He said that the province is rich with beaches, falls, rock mountains and festivals which can certainly attract several tourists to this part of the country. He made special mention of Calicoan Surfing grounds in Guiuan which has fairly drew-in some tourists more than Borongan, but he also expressed hope in general that once the airports are put in place, the province will be open to tourist spill-over from Cebu and Bohol.
He also mentioned that as reported in the past, Asian Spirit has signified their intention to fly Borongan. He said that he has suggested to DOTC Secretary Leandro Mendoza to enter into negotiations with Asian Spirit, i.e. offering government subsidy in some seats be subsidized by LGU; with this offer, Evardone said perhaps the plane owners can accede to it, thereby changing the economic activity in Eastern Samar with the expected influx of local and foreign tourists.
With Guiuan and Borongan airports being workout simultaneously, Evardone said, either of the airport may operate in the province, where they believe they can have market.
San Jorge PNP acquires patrol cars, ambulance and rescue vehicles from Mayor Grey
By RICKY J. BAUTISTA
February 20, 2007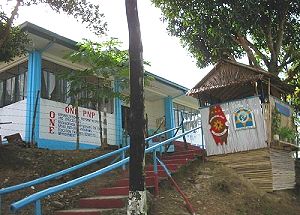 CATBALOGAN, Samar – The San Jorge police force has acquired anew additional patrol car and rescue vehicles to be used in maintaining peace and order in the locality.
In a simple turned over ceremony held January 29, Mayor Joseph V. Grey, through his representative, handed over one unit of Mitsubishi L300 patrol car, one set of police uniform to each of the 15 policemen, two units Mitsubishi L300 rescue vehicles, and one unit ambulance marked "grey for life" to the policemen in part of his peace and order program.
These, he said, was in addition to his monthly rice and gasoline contribution coupled with encouragement for these vanguards to have their dedication and sincere service in his town.
Inspector Chito Cano, the town's police chief told this paper that the vehicles is an augmentation of their existing "old" patrol car and motorcycles owned by some policemen, all used to maintain peace situation and conduct emergency response to remote villages of this locality.
Insp. Cano acknowledged the full support of Mayor Grey through the provision of these items, which according to him, of "great help" in waging war against all forms of criminalities in their area of responsibility.
"Malaki ang pasasalamat naming lahat kay mayor sa mga tulong at suporta na ibinibigay niya samin. Nagpapasalamat din po kami sa mga tao sa kanilang kooperasyon sa amin," the PNP official said in vernacular.
On the other hand, Insp. Cano reported that San Jorge these days is "generally peaceful" and that crime volume in the area is manageable situation.
He said, in 2006 the total crime volume (TCV) is only nine; eight was index crimes and one non-index crime. "The crime solution efficiency (CSE) was placed at 87.5% with average monthly crime rate (AMCR) at 4.889% as compared to 2005 TCV's 18 crimes while CSE is 50% with AMCR 117.34 percent," Insp. Cano said.
In fact, for this year, "we have a zero-crime yet in this locality," he added.
The PNP official attributed these accomplishments to the support coming from the LGU and the community. "We are much luckier since we met the ideal ratio of one police per one thousand populace (1/1000). The town, based in the 2000 census has some 15,340 population and the San Jorge police force has 15 with one police officer.
PDEA agents ordered to "pin down" key witnesses of murder case?
By ROMMEL L. RUTOR
February 18, 2007
Sponsor: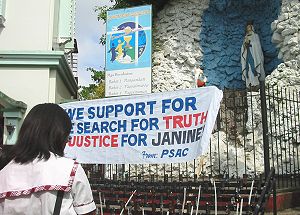 CATBALOGAN, Samar – Fear and apprehension over the safety of the more than 10 witnesses of this town's celebrated Janine Paulin murder case buoyed up, when two of the witnesses reported that alleged agents of the Philippine Drug Enforcement Agency (PDEA) conducted a covert operation last week to pin them down.
Reports obtained by this writer from the Justice for Janine Movement (JFJM) showed that four unidentified PDEA agents were in town allegedly casing-in two of their witnesses by tagging them as big-time drug dealers.
Apparently, the said operation when verified with the local police here yielded negative coordination, but Samar PNP Provincial Director Asdali Idja Abah confirmed to media that his policemen informed him of the PDEA agent's presence last week.
"They normally operate without our knowledge, but once they're done, that's the time that they would coordinate with us, may nakakita sa kanila pero we don't have an idea kung ano ang project nila", Abah said.
"Pero nalaman ko rin sa isang pulis ko, na si Dr. Gualdrapa pala ang target, saka isa pang tao, which incidentally both of them are key witnesses dun sa kaso nong bata na nakita sa nasunog na grocery", he added.
The JFJM disclosed to media, that the alleged four PDEA agents were in town on February 6 until 8 last week due to an alleged order from an unidentified PDEA Central Office official with a rank of "Major", to "pin down" Dr. Felino Gualdrapa and the other witness whose name was withheld for being big-time drug dealers in this town.
The PDEA agents stayed in a house allegedly owned by a policewoman somewhere near the Fame Hotel in Brgy. Muñoz here, and introduce themselves as Seamen in the said neighborhood.
But the said mission was reportedly aborted by the alleged agents themselves when they realized a commonality in their subjects based on the information fed to them accordingly by their locally-based intelligence agent.
"The agents have no idea as to the background of the subjects, but when they realized that their targets are both prime witnesses to our daughter's murder case plus the fact nga nahibaro daw hira nga dire mga drug pusher ito nga mga tawo nga ira ginta-target, they decided to abort the mission", Mary Jean Paulin of the JFJM informed.
Dr. Gualdrapa on the other hand told that he got the info of the PDEA's presence from his neighbors who informed him that for two successive days, suspicious looking persons were seen watching his residence.
"Di man ak maaram nga mga PDEA agents adto, I was only informed later that it was the same group who cased-in another witness hito nga kaso ni Janine, and I vehemently denounce such move by the PDEA, kay unang-una dire ako drug pusher or a user, and with this incident, I believe somebody paid these agents to pin us down. Karuyag ada nira idungan kami ha mga pamatay nga nahitatabo yana, and drugs could be the best excuse for them to justify nga kuhaon ako, kay dire man kami NPA supporter, dire man liwat kami military asset ngan mas lalo nga dire kami pulitiko", Gualdrapa told.
Dr. Gualdrapa is the physician who conducted the autopsy of Janine Paulin's cadaver, that prominently disagreed with the findings of the NBI medico legal representative who joined him in the autopsy examination conducted in November 15 last year.
On the other hand, assigned at the Samar Provincial PNP here, and incidentally brother of one of the witnesses of the said murder case informed that the said PDEA operation was tipped off to him by his co-policemen who know the truth that his brother is not involved in any form of illegal activities.
"Somebody is resorting to out-of-court tactics to silence the witnesses of this murder case, parang gusto nilang palabasin na drug pusher ang kapatid ko para ma-justify kung sakali mapatay siya", he told.
"Pero ito lang masasabi ko, malinis ang kapatid ko, at ako mismo magpapahuli sa kanya kung totoong may ginagawa siyang kalokohan, nakahanda rin kaming iparada sa buong Catbalogan, kung may makakapag-turo sa amin bilang mga drug dealer gaya nang akusasyon ng PDEA", he added.
The said policeman further warned that the PDEA agents, though have aborted their mission, informed that the RSOG allegedly might continue the mission.
Desperate for peace due to unresolved killings
Samar capital conducts walk for peace and justice prayer rally
By NINFA B. QUIRANTE (PIA Samar)
February 18, 2007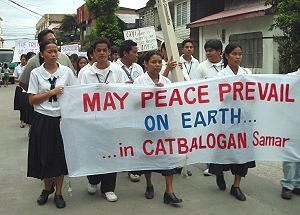 CATBALOGAN, Samar – Desperate for peace due to unresolved killings in this Samar capital, a church-led walk for peace and prayer rally was held in Catbalogan town on February 16, 2007.
The Religious of the Virgin Mary (RVM) congregation sisters, priests, students of RVM school St. Mary's College (SMC), Samar national school students, kins of the victims of killings paraded around town praying the Holy Rosary. The activity ended in a mass at the Pieta Park fronting the San Bartholomew Catholic Church.
Families of the victims particularly parents of Janine Paulin Ong (the girl burnt along with the Lester Lace Grocery), Daram Mayor Benito Astorga's widow Dr. Lucia Astorga and sister Severa Astorga-Buquid, along with other peace advocates could have numbered to thousands.
Organizers said that the prayer rally was not for any particular victim but for general peace in the Samar capital.
It can be recalled that Catbalogan has been plagued by unresolved killings these past few months; the most recent of which was the ambush of Motiong Vice Mayor Francisco Langi, Sr. Said official however survived the attack.
With the increasing incidence of killings and alleged human rights violations, however, not one accused perpetrator has been brought to court, organizers stressed.
On January 16, this year, ANAD coordinator Agoy Daclitan was killed. Then a Jiabong Barangay official Vedasto Gabiana was also shot to death January 25. Barely a few days after, Daram Mayor Benito Astorga was killed in Brgy. Birawan, Daram as he socialized with his people. Two other victims, Doming de Luna and another driver of DBP were also liquidated in the same fashion-motorcycle riding men, spotting the victim, shooting fatally and fleeing unnoticed.
On February 5, one Sixto Elizan, an Urban Poor leader was also killed. Though authorities have collared suspects and suspects land dispute as motive, still the masses believe Elizan joined the ranks of the other victims.
On the national scene, UN High Commissioner for Human Rights Special rapporteur on extra-judicial, summary or arbitrary execution, Philip Alston has reached the Philippines for probe of the killings.
The Administration welcomes the UN team in the spirit of truth and justice. President Gloria Macapagal-Arroyo, since the start, has condemned the killings and has taken every means possible to get the roots of these dastardly acts and bring the perpetrators to justice.
Government efforts in this direction were hampered by the lack of witnesses and the cooperation of the victims' families as well as militant groups.
With the UN somewhat assured of such cooperation, the Administration is confident that the probe will be objective as well as wide ranging to include the alleged acts of murder and terror committed by the revolutionary left against their own kind.
Thousands came to remember Guinsaugon
By Philippine Information Agency (PIA 8)
February 18, 2007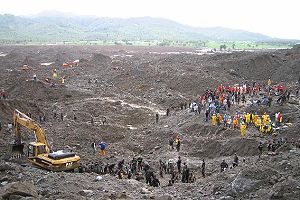 Multi-national rescuers continued to work at ground zero 4 days after the tragedy.
TACLOBAN CITY, Leyte – All roads led to St. Bernard, Southern Leyte Saturday morning, where people from far and near came to Ground Zero, to remember the Guinsaugon Landslide Tragedy which happened a year ago covering to oblivion the entire barangay and claiming the lives of thousands of residents, young and old alike.
Those who came from all walks of life, government officials, relatives of those who perished during the tragedy, survivors, volunteers during the rescue operations, members of the rescue groups, members of the clergy, religious sisters, and others who have been touched by the tragedy and wish to be with everybody in remembering, not the pains and turmoil, but the mystery of bringing together people from all over the world in order to help in the spirit of brotherhood and unity and the glory of working together so that the survivors and the relatives will be able to bounce back with hope after the tragedy.
Bishop Precioso D. Cantillas during his homily said that the world has learned many lessons from the Guisaugon Landslide Tragedy. Those who have forgotten that there is a Creator remembered, those who have more learned to share, those who have been left with nothing learned to appreciate even the smallest help that were given them.
He said people must never forget Guinsaugon and the lessons learned. He said that God allows such tragedy to happen to remind those who are forgetting, but in His Mercy, He allows people to bounce back, this time as wiser people.
Department of Social Welfare and Development Secretary Esperanza Cabral said President Gloria Macapagal-Arroyo sends her good wishes to the survivors and the relatives of those who perished. The President would have been just as glad to see that the survivors and their relatives are now smiling, very far when the President came right after the tragedy.
Secretary Cabral added that the President is also glad that a new Guinsaugon community has risen through the able leadership of Governor Rosette Lerias, Mayor Maria Lim and the other government officials and the generous benefactors both here and abroad. She said that the beautiful new community, with the help coming from all over, is now a complete community.
Moreover, Secretary Cabral smilingly said that the President would be very happy to know that the survivors, the widows and the widowers found strength and love from the rubbles of the tragedy and are now forming new families as they have tied the knots during the Mass Wedding held on Valentines Day.