UN Rapporteur on arbitrary executions visits the Philippines
Press Release
By KARAPATAN
February 10, 2007
QUEZON CITY, Philippines – "We welcome Mr. Philip Alston's visit with optimism," said Marie Hilao-Enriquez, Secretary General of the human rights alliance KARAPATAN on the arrival of United Nations Special Rapporteur (SR) on Extrajudicial, Summary or Arbitrary Executions.
Enriquez says "it is high-time that the UN Special Rapporteur probes the interminable arbitrary executions under the Arroyo government." Just the other day, Feb. 8, Dalmacio "Tay Daki" Gandinao, 74 years old, chair of Bayan Muna Misamis Oriental was gunned down inside his home and in front of his family, in Salay, Misamis Oriental.
Victims' organizations and rights groups such as Hustisya! (Victims of Arroyo Regime United for Justice), Desaparecidos, SELDA and the Ecumenical Movement for Justice and Peace joined KARAPATAN in welcoming the arrival of Mr. Alston. They unfurled a welcome banner for Mr. Alston with the message "Stop The Killings in the Philippines" emblazoned on it. The UN representative is expected to arrive in the Philippines today, 10 February 2007.
Hustisya Head Convener Evangeline Hernandez said, "We, families of victims of extrajudicial killings under the Arroyo regime are thankful that the UN Rapporteur is finally coming to the Philippines."
"We look forward to meeting him and we hope that he will hear us out and help serve justice," said Hernandez who added that "Mrs. Arroyo's government has victimized us again and again by refusing to give us justice and failing to stop the killings in the Philippines."
The victims said they are ready to face Mr. Alston and give their testimonies, while KARAPATAN and its lawyers said they are ready to assist the victims as they always have.
KARAPATAN and its allied organizations expressed hope that "Mr. Alston will maintain his independence despite attempts by government to limit his interaction with victims and human rights defenders who are also under threat by this murderous regime."
Communist rebels ambushed army engineers in Samar
By Maj. FELIX M. MANGYAO, (INF) PA
February 8, 2007
CAMP LUKBAN, Catbalogan, Samar – NPA terrorists strike anew when they ambushed elements of the 543rd Engineering Construction Battalion, last February 02 at 3:30 pm in Barangay Libertad, Matuguinao, Samar 170 kms. northwest of Tacloban City leaving one (1) soldier dead. The said troops were constructing a school building under PGMA's Kapit bisig Laban sa Kahirapan (KALAHI) Program. On their way back to their command post, undetermined number of communist terrorist ambushed the said non-combatant unit of the Philippine Army killing one identified as Pvt. Artemio Catalan. The ambushers also suffered casualties as blood stained in their route of withdrawal.
MGen. Armando L. Cunanan, the Commanding General of the 8th Infantry Division, condemned the killing in the strongest possible terms. According to him, "This terror act of the communist terrorist clearly indicates that they are against education, against better future and against better way of life for our people. While the soldiers are committed even to offer the ultimate sacrifice for the education of our youth, the NPA's are doing otherwise. It is the right of every Filipino children to receive better education from the government."
Relatedly, it is of public knowledge, that the communist terrorist in Samar and Leyte Provinces have been pressuring and threatening by force Barangay Captains in the hinterlands to stop and resist road constructions and other development projects by the government so that they could go freely with their terroristic activities. "This, we cannot allow to happen. We will never allow it to happen," Cunanan added.
As earlier reported, the latest terror acts were the killings of Dominador De Luna and Barangay Captain Vedasto Gabiana. Dominador De Luna is the husband of Samar's 2nd District Board member, Dayday De Luna. Accordinlgly, the victim while riding in his red XRM Honda motorcycle was shot to death by two unidentified motorcycle-ridding assailants believed to be members of the NPA's Special Partisan Operation (SPARO) unit last January 29. While Brgy. Cpt. Vedasto Gabiana was shot in cold blood last January 25 at 7:00 pm inside his sari-sari store in Calapi, Motiong, Samar. Said brgy. captain is known for his hard stance against the communist terrorist movement and as alleged, have consistently refused to give in to the demands of 10% barangay IRA to the communist terrorists.
Soldiers under the 34th Infantry Battalion are now in pursuit operation and continuous patrol in the area to further avoid such terroristic activities. Meanwhile, elements of the PNP are still conducting investigation on the killings of Dominador De Luna and Barangay Captain Vedasto Gabiana.
Marine parks expansion program seen to energize further the fisheries sector
By Philippine Information Agency (PIA 8)
February 8, 2007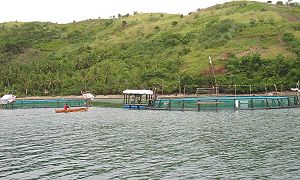 TACLOBAN CITY, Leyte – Even as Region 8 is in the middle of preparations for the first Eastern Visayas Mariculture Parks Congress which will be participated in by both local and international stakeholders, the Department of Agriculture has announced the expansion of mariculture parks in coastal areas across the country in order to energize further the fisheries sector.
The setting up of more mariculture parks with the help of foreign investments mostly from China will raise fisheries production to 4.7 metric tons this year and would create some 190,000 jobs in marginalized fishing communities, Secretary Arthur Yap said.
The Department of Agriculture through the Bureau of Fisheries and Aquatic Resources (BFAR) expects to increase to 41 the existing number of 13 mariculture parks this year by promoting partnerships with local government units or LGUs and foreign investors on the development of fish cage farming across the country.
The Philippines can become a major player in the multibillion-dollar live food-fish export business by developing two fisheries highways linking the network of existing and still-to-be-established mariculture parks nationwide.
Through these fisheries highways, transport vessels can collect high-value cultured fish harvests from mariculture parks en-route to their respective ports of destination like China, Japan, Taiwan and Hong Kong.
The mariculture park concept is similar to an industrial estate where an area in the sea is subdivided into different plots for the farming of fish and other aquatic life using only approved and environmentally sound culture systems.
To date, BFAR's partnership with LGUs has led to the establishment of five mariculture parks in storm-sheltered and environment-friendly coastal areas nationwide.
The mariculture highway in the eastern seaboard will start from Surigao and will connect to Samar and Leyte, which both operate several mariculture parks. The highway will lead further north to Casiguran Sound in Aurora, where a 300-hectare mariculture park is now in place.
The western seaboard highway, on the other hand, will start from Tawi-Tawi where the construction of a P10-million multi-fish species hatchery and a P5-million mariculture park project are currently undertaken in collaboration with foreign financial institutions and the provincial government. This would connect to the parks in Zamboanga and Palawan.
Besides boosting fish productivity and creating more jobs, mariculture parks also ensure environment-friendly practices in municipal fishing by employing only fishing methods compliant with existing environmental laws.
Motiong Vice Mayor survived ambush, wife blames politics
By ELI C. DALUMPINES (PIA Samar)
February 7, 2007
CATBALOGAN, Samar – The wife of Motiong Vice Mayor Francsico Langi, Sr. was convinced that politics was behind their ambush in one of the town's interior barangays Tuesday afternoon (February 6).
Agripina Langi, the vice mayor's wife, in an interview, said she didn't see any reason why the communist New People's Army (NPA) or the rightist vigilante group would do such act as she did not recall any misdeeds committed by her husband which may earn the ire of both groups.
"Wala man 'mi atraso sa taas. Wala sad ko'y nakita nga rason nganong himoon 'to sa maka-tuo nga grupo kay wala ma'y gihimo ang akong bana nga kontra 'nila (We committed nothing that can offend the communist rebels. I didn't see any reason either why the rightist group would do that since my husband did nothing against them), she said in the vernacular.
Police reports said Vice Mayor Langi and his wife were riding on a motorcycle on their way to Brgy. Inalad, Motiong's interior barangay, to attend the graduation rites of the adult literacy class where he was invited as guest speaker when the incident happens.
According to the report, they were traversing along the Paranas-San Jose de Buan provincial road at about 3:20 p.m. of Tuesday when they were fired upon by an unidentified gunman near the vicinity of Brgy. Lokilokon, Paranas.
The vice mayor sustained gunshot wounds on his right hand and in his right shoulder but was immediately treated at the Samar Provincial Hospital. He also suffered a broken right leg after the motorcycle they were riding crushed.
His driver, identified as Jessie Dacanay, died after sustaining several gunshot wounds in the different parts of his body but his wife was left unscathed.
Langi has served as the town mayor for three term before running as vice mayor last 2004.
The Samar PNP led by Supt. Asdali Idja Abah is still conducting investigation to determine the motive behind the vice mayor's ambush.
NPA collector surrendered
By Maj. FELIX M. MANGYAO, (INF) PA
February 7, 2007
CAMP LUKBAN, Catbalogan, Samar – An NPA collector, Samuelito Arquion of Brgy Quezon, Ormoc City voluntarily surrendered with his firearms, One (1) M16 with defaced serial number and One (1) shotgun with three (3) live ammunition to the operating elements of the 19th Infantry (COMMANDO) Battalion under Lt Col Lope Dagoy stationed at Brgy Aguiting, Kananga, Leyte on February 05, 2007, at around 6:00 o'clock in the evening.
Feeling the heat of the intensified and relentless conduct of Internal Security Operations in Ormoc City and Leyte Province, Samuelito Arquion, an active member and designated as collector of the New Peoples Army operating in the hinter barangays of Ormoc City came down to surrender to the military Monday evening. He revealed the NPA in the area now highly mobile, over fatigue and stressful while suffering from shortage of food and supplies since collection of their extortion activities are being hampered due to the sustain operations conducted by the 19th Infantry Battalion. He stressed that the NPAs operating in the Leyte area were on total disarray caused by leadership crisis as a result of the capture and neutralization of their key leaders.
MGen. Armando L Cunanan, Commanding General of 8th Infantry Division commended the valuable efforts of the troops involved in the operations. He urged the people to be vigilant and encourage them to give timely and valuable information to the authorities for the immediate action against the atrocities that are being committed by these lawless elements.
DENR distributes land titles in Bontoc, Southern Leyte
By PURIFICACION S. DALOOS
February 2, 2007
TACLOBAN CITY, Leyte – As part of the Department of Environment and Natural Resources' thrust of improving the socio economic condition of the people through optimal utilization of lands, Free Patent Titles were distributed to qualified beneficiaries at the municipal plaza of Bontoc, Southern Leyte on January 22, 2007.
The total of 660 Free Patent titles distributed to the qualified beneficiaries covers a total area of 671 hectares of alienable and disposable lands in the 25 barangays of Bontoc.
The distribution of Free Patent or land titles was the result of the massive information drive conducted in the different barangays of Bontoc by the personnel of the Community Environment and Natural Resources Office in Maasin, Southern Leyte now headed by CENR Officer Floriano Leonor.
In his message during the distribution activity, Regional Technical Director Ramon S. Unay of the DENR Land Management Service stressed that the DENR is trying to bring its services closer to the people especially in the barangays through its land titling services. "Before, land title applicants would go to our office to apply for title. Now our field personnel through the cooperation of barangay officials gather title applications right in your own barangays." said RTD Unay.
Register of Deeds Chief Crispin Mardoqueo, Jr. brought good news to the beneficiaries that all titles issued in connection with CARP after the enactment of the CARP Law in 1988 are exempt from registration and other fees with the Register of Deeds. Patents issued prior to the enactment of the CARP law, however, shall be charged minimal amount of fees.
Bontoc Mayor Pedro Fustanes, Jr. thanked the efforts of the DENR as well as the Register of Deeds and his town officials for facilitating the land titling services for his constituents. "We should avail of this Land Titling Program of the GMA administration under the DENR which is a great opportunity," Mayor Fustanes said.
RTD Unay also urged the beneficiaries to keep their titles in a safe place. "It is very tedious and expensive to reconstitute a lost or damaged title because it has to pass through court proceedings. Land title is also very important as it secures ownership or occupation over the land. It can also provide as capital because it can be offered as collateral for loans and other legal purposes." RTD Unay quipped.
Patent recipient Rafaela Salva, 64 years old said she is happy to receive her title. She is confident that her adjacent land owner can no longer question her possession. "Now nobody can take away the right from me. I will religiously pay the taxes on said land." she quipped.
Natividad Edillo, 57 years old of Barangay Malbago, said she is very happy because her title was issued even if she has no money to pay for the cadastral cost of the two parcels of land. "I can settle it anytime with the DENR in Maasin", she said.
The Free Patent distribution is the first of series of title distributions to be held throughout the region under the DENR's land titling services.
Government workers receives 10% wage hike
By Philippine Information Agency (PIA 8)
February 2, 2007
TACLOBAN CITY, Leyte – The government service providers have a reason to smile these days. It is payback time as Congress has ratified a ten percent increase in their salaries this year, the first wage increase in six years.
The only thing needed now is the signature of President Gloria Macapagal-Arroyo which is forthcoming because this is her desire in the first place. The measure also provides for a doubling of hazard pay and a 50 percent increase in the subsistence allowance of soldiers, police and brigade workers and prison officers.
This increase has long been awaited by the government workers. Last year, the government raised the cost-of-living allowances for some state employees and in 2005 but the last time the country's 1.2 million civil servants received a salary increase was in 2001.
While their counterparts in the private sector were receiving wage increases almost every year, the last being in October, the government workers continued serving the public and patiently waited for the government's signal for them to be given salary hike.
Giving the government workers a salary increase is a manifestation that the government recognizes the government workers' contributions and sacrifices in order to achieve good governance and in order to provide the best service to the public.
The government assumed a five percent salary increase for state and private sector workers in its annual average inflation target of four to five percent this year, which compares with 6.2 percent in 2006.
Military, police, fire and jail personnel will get a P30 increase in their subsistence allowance and P120 more in hazard pay -- extra money for those doing dangerous work -- under the measure.
Meanwhile, Congress is still debating raising the minimum daily wage by P125 ($2.56) but President Gloria Macapagal-Arroyo is expected to veto this since her economic managers have warned it will push up inflation.
The current daily minimum wage in Manila and surrounding cities is 300 pesos.