Public warned on fake PNP checks
By Philippine Information Agency (PIA 8)
December 16, 2006
TACLOBAN CITY, Leyte – The Philippine National Police in Region 8 warned the public especially the check changers to be very careful in changing checks.
This warning came after an owner of a big store in Tacloban was victimized, changing about P300,000.00 worth of PNP checks which when deposited in the bank turned out to be fake PNP checks.
General Eliseo dela Paz said that he will personally check into the matter. He revealed that about two weeks ago, another businessman in the City became a victim of fake PNP checks. Fortunately for the businessman, the woman who claimed to be the mother of the policeman, whose check she was changing, was arrested and in now in prison.
The woman even showed a fake PNP ID of her supposed son, General dela Paz said. During the investigation, it was found out that the woman is a part of a 7 man team who came to Region 8. This means that there are other teams within the fake check syndicate who are in the other Regions, General dela Paz said.
General dela Paz issued a stern warning to the perpetrators of the crime saying that the Philippine National Police will go after them.
At the same time, he warned the check-changers not to change checks unless the person who supposedly owns the check is the one encashing the check. He said that most of those check changers know who the policemen are, anyway. Therefore, they should not encash checks especially of people they do not personally know.
He added that it is usually during Christmas Season when this syndicate operates because they are banking on the bonuses of the government employees. It is sad, he said, that it is the PNP checks which they chose to fake.
Only last week, several tricycle drivers complained that they were paid fake coins by some unidentified passengers. Possibly, as most of the passengers claim, they were given fake coins which in turn they used in paying their tricycle fares.
Asked how they come to know that the coins paid to them are fake, one driver showed a magnet. The fake coins, he said sticks to the magnet. The real coin is not attracted to the magnet, he added.
Army castigates NPA extortionist at Northern Samar
By 1Lt. MARIO JOSE M. CHICO, (INF) PA
December 16, 2006
CAMP LUKBAN, Catbalogan, Samar – Army troopers from 63rd Infantry Battalion headed by LtCol. Felimon T. Santos castigated the NPA extortionists who have been terrorizing the residents of the hinterland areas of Las Navas in Northern Samar.
Reports reaching 8ID Headquarters revealed that on Saturday, December 9, 2006 at about 9 a.m., operating troops from 63IB led by 1Lt Von Michael Blasé encountered more or less four (4) NPA extortionists belonging to CPP/NPA/NDF-EV headed by the erstwhile priest Fr. Santiago Salas at vicinity of Brgy. Quirino, Las Navas town. The government troops successfully recovered one (1) jungle pack, one (1) hand grenade, P2,000.00 in cash, and numerous subversive documents of high intelligence value.
The successful security operation conducted by the army troopers was basically the result of the heightened involvement of the civilian populace in the renewed fight against the menace of our society, the CPP-NPA-NDF terrorist group. The information being provided by the civilian residents of Brgy. Quirino have contributed a lot in ascertaining the whereabouts of the NPA extortionist whom in the past, have been bleeding the farmers of said community due to their rampant extortion activities, recruitment of minors, and merciless killings of people who do not believe in rotten communist ideology.
Relatedly, an NPA extortionist camp was destroyed without a firefight by the same Army unit at vicinity of Brgy. Deit De Turag at Silvino Lobos town in Norther Samar on December 10, 2006 at about 5:20 a.m.
Operating troops led by 1Lt Ducay was able to destroy the NPA terrorists temporary encampment without a firefight as the communist terrorists scampered away to evade the government troops for fear of imminent defeat to the brave and highly-skilled Army troopers of 8ID.
With this latest development, Maj. Gen. Rodrigo F. Maclang, the Commanding General of the 8th Infantry Division of the Philippine Army, commended the Officers and men of the 63rd Infantry Battalion for their astonishing feat in combat operations in their area of operation. He said to the troops that, "Always exercise humility and courage in all of our undertakings and God will reward our efforts with success!"
MajGen. Maclang also extended his warm appreciation to the local leaders and civilian residents of Silvino Lobos who have been very supportive of the Army's security efforts. He stressed that with their continuous flow of vital information about the communist terrorists, every peace-loving Samarnons' dream of annihilation of the CPP-NPA-NDF communist terrorists group operating in the region will materialize in not so distant future.
DENR issue new mining permits in Southern Leyte
By Philippine Information Agency (PIA 8)
December 16, 2006
TACLOBAN CITY, Leyte – The Department of Environment and Natural Resources has approved the mining permit to explore 4,192 hectares in three municipalities of Southern Leyte for possible copper and gold resources.
The approval of the mining permit application of Buena Suerte Mining Corporation, an affiliate of Australian Oxiana Ltd., gave it the authority to explore 4,192 hectares in Liloan, San Francisco and San Ricardo in the Panaon Island of Southern Leyte.
The issuance of the mining permit of Buena Suerte Mining Corporation which was scheduled to take place on December 11 together with two other mining exploration permits, increased to eight, the number of permits DENR has granted this year.
The other mining companies expected to receive their mining exploration permits are Colossal Mining Corporation and 99ers Inc.
During the formal presentations before DENR Secretary Angelo T. Reyes, the companies are expected to present their environment programs and social preparations for the community. These are in addition to their disclosing their technical and financial resources before they could be granted mining permits.
Reliable sources stated that other exploration permit applications are still pending before the DENR.
An Exploration Permit (EP) is an initial mode of entry in mineral exploration allowing a Qualified Person to undertake exploration activities for mineral resources in certain areas open to mining in the country.
The approval of EP applications is subject to qualifications and requirements set by the Philippine Mining Act of 1995 and other existing mineral policies of the Philippines.
It would be remembered that in October, the Department of Environment and Natural Resources issued exploration permit to MRL Gold Philippines, Inc. and its affiliate Egerton Gold Philippines, Inc.
The government has initiated several reforms to revitalize the Philippine Minerals Industry in compliance with President Gloria Macapagal-Arroyo's declaration of a policy-shift from tolerance to promotion of mining in January 2003.
Army troopers hits NPA extortionists in Basey
By 1Lt. MARIO JOSE M. CHICO, (INF) PA
December 15, 2006
CAMP LUKBAN, Catbalogan, Samar – Acting on a tip coming from civilian residents of Brgy. Mabini in Basey, Samar, Army troopers from 801st Infantry Brigade headed by BGen. Joel Joseph Cabides responded swiftly and engaged in a running gun battle more or less fifteen (15) NPA extortionists of the CPP-NPA-NDF represented in the region by NDF-EV led by the former priest-turned terrorists Fr. Santiago Salas at the forested area of Brgy. Mabini on December 7, 2006 at about 9:00 a.m.
After the firefight, the Army troopers successfully recovered one (1) M-16 rifle with magazines and ammunitions, and subversive documents of high intelligence value. One (1) government trooper was reported to be slightly injured and was immediately evacuated to the nearest medical facility for treatment.
The successful security operation conducted by the 8ID troopers was the third to a series of combat encounters initiated by the Army registered in the hinterlands of Basey, Samar. Since on November 10, 2006, a communist terrorist belonging to the group of ex-Fr. Salas was killed during an encounter with 8ID troopers at vicinity of Sitio Bagti of Brgy Mabini.
The upsurge of Army-initiated encounters can be attributed to the massive information campaign conducted by the Army and the Local Government of Basey headed by its Chief Executive, Hon. Vicente Labuac Jr. The enlightened populace of said town has been cooperating wholeheartedly to ensure that peace and prosperity in their beloved town will be achieved in the very near future.
MajGen. Rodrigo F. Maclang, the Commanding General of the 8th Infantry Division assures the populace of Basey of the Army's relentless support and assistance. He exhorted that with the Army, LGUs, and civilian populace working hand-in-hand in combating the menace of our society which is the terrorist group of CPP-NPA-NDF, we can make our dream of a peaceful environment conducive to economic development materialize the soonest time possible.
SAMELCO II vows to restore electricity to towns hardest hit by "Seniang" before Christmas
By ELI C. DALUMPINES, (PIA Samar)
December 15, 2006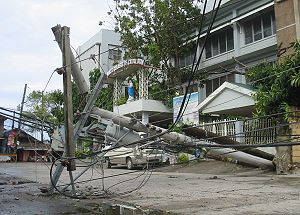 Even this electric post near St. Mary's College of Catbalogan was not spared by typhoon Seniang.
CATBALOGAN, Samar – Christmas may not necessarily be dim in towns hardest hit by typhoon "Seniang" which lashed the province over the weekend as the Samar Electric Cooperative II (SAMELCO II) vowed to restore electricity before December 25.
Dickson Bernales, SAMELCO II Information Officer, in a radio interview over DYMS-Aksyon Radyo Wednesday morning, said they have already dispatched teams of electricians to the towns in the 2nd district that have sustained greatest damage to power lines, especially the portion from Calbiga down to Marabut where the eye of "Seniang" passed through.
Partial result of the survey conducted by SAMELCO II, Bernales informed, yielded over 200 posts toppled down by the typhoon which rendered some part of Samar powerless in the past four days.
He, however, clarified they have no information on the extent of damage wrought by the typhoon to the power lines in the hinterland barangays of the province since they have not receive any feedback yet from the barangay officials.
Along this line, he urged the barangay officials of these upland barangays to give SAMELCO II the information so that they will come up with the exact figure.
Bernales reported though that SAMELCO II has already restored approximately 30% of the electricity in Samar 's 2nd district and about 70% in the capital town, Catbalogan, as of Wednesday.
He further informed that SAMELCO II will convene its accredited barangay-based electricians this Friday to assist them in speeding up the work so that electricity will be completely restored before Christmas, as promised.
Government workers to receive Performance Bonus, DBM says
By Philippine Information Agency (PIA 8)
December 15, 2006
TACLOBAN CITY, Leyte – All government workers will receive P6,000.00 performance bonus not earlier than December 15, 2006.
This is the assurance made by the Department of Budget and Management as it issued Budget Circular No. 2006-4 dated December 13, 2006 stipulating the implementing rules and regulations for President Gloria Macapagal-Arroyo's Administrative Order No. 164 dated December 11, 2006.
In an interview with DBM 8 Director Imelda Laceras who gave PIA a copy of the Administrative Order and the Budget Circular, she said that the Performance Bonus is a one-time reward for the contribution of the government bureaucracy in accomplishing targets it set in terms of delivery of basic services to the public despite operating under a re-enacted budget and in view of the continuing improvement of the country's fiscal performance.
Secretary Rolando Andaya, in his circular said that all personnel of national government agencies, including government owned and controlled corporations and government financial institutions whether hired on permanent, temporary, casual or contractual basis are entitled to receive the Perfomance Bonus in the amount of Six Thousand Pesos (P6,000.00) each.
Local Government Units may grant Performance Bonus to its personnel subject to the Personnel Services limitation under Section 325 of RA 7160 but shall be covered by a separate guideline.
Government personnel who are not entitled to the Performance Bonus are those who are less than one month in service as of November 30, 2006 and those who are absent without leave (AWOL), those who are no longer in the service due to retirement/resignation/separation/death or for whatever reasons.
Also not entitled are those who have not been hired as organic manpower of agencies but as consultants or experts, to perform specific activities or services with expected outputs; student laborers, apprentices, laborers of contracted projects (pakiao) and others whose remuneration are not taken from the budgetary allocation for personal services under the agencies' 2006 budget.
Personnel who were formally charged administrative cases as well as criminal cases which relate to acts or omission in connection with their official duties and functions and found guilty or meted penalties in 2006, except when the penalty is a mere reprimand, are also not entitled to the Performance Bonus.
Director Laceras said that for those personnel who are detailed in other offices, their mother agency will be the one to give them their Performance Bonus. Those who are working on a part-time basis shall be pro-rated corresponding to their services rendered.
Director Laceras added that the government workers must be grateful to the President for giving of performance bonus despite the fact that the government is now working under a re-enacted budget.
Moreover, Director Laceras said that for further information, interested parties may contact the DBM Regional Office 8.