Southern Leyte sends Search and Rescue Team to Albay
By REBECCA CADAVOS (PIA Southern Leyte)
December 7, 2006
MAASIN CITY, Southern Leyte – Southern Leyte Governor Rosette Lerias sent two teams to help in the rescue and retrieval operation in mudslide-stricken municipalities of Albay province.
The mudslide in Albay may have buried at least 1,000 villagers who were crushed by boulders and mud loosened from the slopes of Mt. Mayon by the heavy rains spawned by the super typhoon "Reming".
The teams, composed of five members each, belong to the Southern Leyte Emergency Response Team (Solert). Some of the rescuers were identified also as employees of the Provincial Disaster Management Office (PDMO) here while others were selected Solert members throughout the province.
During their sendoff, Lerias said the Provincial Disaster Coordinating Council had decided to send them in appreciation of the help extended to Southern Leyte when the province itself was struck by killer mudslides early this year.
"It is good when you are able to help" the lady governor said. On Feb. 17, a portion of rain-soaked Mt. Kan-abag disintegrated into a rushing wall of mud, wiping out the entire Guinsaugon village in St. Bernard town from the face of the earth where search-and-rescue teams from all over the country and several nations came to Guinsaugon to help in efforts to rescue more than 1,000 people buried in mud.
Gov. Lerias revealed that Southern Leyteños particularly those hit by the landslides had already experienced what Albay residents had felt now. "We know how they (Albay province) feel because we have experienced it more than anybody else. It's our turn to help them," Lerias said.
Eastern Samar public high schools receive 160 computers
By SAMMY CANDIDO (PIA Eastern Samar)
December 7, 2006
BORONGAN, Eastern Samar – Some 16 public schools in Eastern Samar have one special reason to rejoice nowadays. The Department of Trade and Industry (DTI) recently distributed 160 desktop personal computers to them under its Personal Computers for Public Schools (PCPS) project. Report said that branded desktop computers for each recipient school were completely installed with softwares and peripherals; each school package of computer was pegged at P375,000.00.
According to DTI Provincial Caretaker Eleanor Alido, the PCPS project is DTI's response to the compelling challenges posed by the fast emerging knowledge economy. It aims to enhance the information technology (IT) skills of the Filipino youth as the country's future knowledge workers and promotes IT culture in Philippine classrooms as an avenue to develop skills for the youths to be at par with global standards, she said.
In order to provide a continuous pool of manpower in the IT sector, Alido disclosed that DTI through the PCPS project promoted the need to incorporate IT in the basic levels of education by providing computers to public high schools.
Now on its third phase, the PCPS has already distributed a total of 450 personal computers to 29 public high schools and 14 LGUs since its implementation in 2003.
The recipient schools of the PCPS project will however provide a 9 by 9-meter computer laboratory, refurbishment of the room and the provision of an air-conditioning unit, the installation of proper electrical and lighting facilities, and the needed computer tables and chairs as counterpart to the project.
Teachers and students of the beneficiary schools welcomed the much-awaited arrival of the computers as these will be used in support to the computer education curriculum program of the school. The following schools were the recipients of DTI's computer program: Lawaan National High School, Southern Samar National Comprehensive High School (Balangiga), Giporlos National Trade School, Malabag National High School (Giporlos), Gen. MacArthur National Agricultural School, Hernani National High School, Llorente National High School, Lalawigan National High School (Borongan), Maypangdan National High School (Borongan), Sto. Niño National High School (Sulat), San Julian National High School, Can-avid National High School, Nicasio Alvarez Memorial School (Oras), Samar National Pilot Opportunity School of Agriculture (San Policarpo), Alugan School of Craftsmanship and Home Industries (San Policarpo), and Arteche National High School.
Government-initiated Family Planning program violates women's rights, FPOP claims
By NINFA B. QUIRANTE (PIA Samar)
December 5, 2006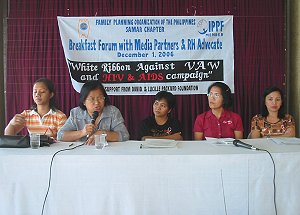 CATBALOGAN, Samar – Would you believe that violence is perpetuated each time a woman is denied access to correct information and quality Reproductive Health (RH) services?
This was the question posed by the Family Planning Organization of the Philippines (FPOP) during the Breakfast Forum with Media Partners and RH Advocates on December 1, 2006 at Cocina de Cabral, Catbalogan, Samar.
FPOP and their RH advocates learned that the government has launched a massive campaign to promote Natural family Planning that are decried by RH NGOs as a blatant attack to the right of women to decide freely on the method of their choice.
In a press statement read by Chi Redaja of FPOP-Samar, Dr. Roberto Alcantara, National President of FPOP cited that: "The scope of the problem is so extensive and the consequences staggering to ignore".
Alcantara added that dwindling supplies of contraceptives in many LGUs have forced women to resort to drastic measures such as abortion. Besides, with close to half of the Filipino women living in poverty, many couples, it said are unable to buy contraceptives which used to be available in government clinics for free.
"Family planning remains to receive low priority among LGUS," the statement continued.
FPOP also observed that very few LGUs have really initiated steps like engaging in social marketing schemes to ensure the stable supply of contraceptives in their communities.
The FPOP supports the pronouncements through the 2003 National Health and Demographic Survey saying that the country has 17.3% unmet need (proportion of currently married women who are not using any family planning method and who do not want anymore children or preferred to space births) and found highest in Region 8, Eastern Visayas (27.8%).
Further, FPOP stressed that the most logical solution to this problem is to focus on all methods that are safe and effective instead of endorsing only natural family planning, considered to have a high rate of failure among modern methods of contraception.
With this scenario, FPOP believes that abortion will be the ultimate action any woman would take.
FPOP's Executive Director, Atty. Rhodora Roy-Raterta confirms Alcantara's statement by citing the Alan Guttamacher Institute findings which confirms a study of the University of the Philippines Population Institute (UPPI) that close to half a million abortions occur in the Philippines on an annual basis.
The statement added that, "As such women expose themselves to unsafe practices when they seek abortion since many are performed in clandestine settings. They can die from complications. In the same manner, women who are not able to time their pregnancies and space their children properly become susceptible to many health problems."
In Catbalogan, Samar a new organization called Samar Reproductive Health Advocates Nucleus (SRHAN) has been scouring parents organization in the hinterlands to advocate the practice of any safe method of family planning to arrest the population boom and at the same time enhance reproductive health within the context of improving gender relations and unmet need.
Solon to young journalists: Do not be afraid to tell the truth
By NINFA B. QUIRANTE (PIA Samar)
December 5, 2006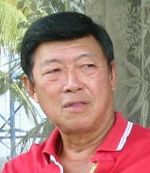 Congressman Figueroa
CATBALOGAN, Samar – House Representative Catalino "Cata" Figueroa of the second district of Samar urged young journalists to tell the truth and live by the ideals of the youth.
Figueroa was the Guest of Honor on the grand opening of the 2006 Regional Secondary Schools Press Conference at the Samar National School, Catbalogan, Samar.
Addressing the close to a thousand student-writers from all over Eastern Visayas, Figueroa assailed most mainstream journalists whom he accused of exposing, attacking and collecting. He reminded the students not to be like them.
The solon told the writers that it is their responsibility to tell the truth to their communities. He was so passionate about this truth seeking behavior that he challenged them all to criticize him, if necessary. He said he welcomes criticisms if they are true.
The solon even mentioned the controversial death of one Janine Paulin who was discovered in the burnt grocery store Lester Lace that some people have asked them to help the parents 'find the truth'. He said he would help them and will never spare any person from the liability or penalty.
Catbaloganons have time and again urged the authorities and the media to unearth the mystery behind the death of the 14-year old girl.
He dared them to expose the truth and offered: "I will take the cudgels for you!"
As he reminded them to be truthful, he also asked them to be responsible saying, "responsible storytelling is the order of the day."
The lawmaker also asked his listeners to carve a future of hope, to wake up and be vigilant.
While he urged them to criticize, he also appealed to them to appreciate the better things that any government official does.
Finally, he advised them to criticize, fiscalize and best of all: to side with the truth!
Army clashed with NPA in Basey town
By 1Lt. MARIO JOSE M. CHICO, (QMS) PA
December 4, 2006
CAMP LUKBAN, Catbalogan, Samar – Operating troops from 62nd Infantry Battalion under Lt. Col. Jonathan G. Ponce of the 8th Infantry Division, Philippine Army clashed anew with NPA extortionists at vicinity of Brgy. Mabini of Basey town on November 30, 2006 at 10 a.m. There was no casualty on the government side while undetermined killed and wounded on the enemy side as evidenced by numerous bloodstains found along the escape route of the terrorists.
Reports reaching 8ID Headquarters stated that said troops acted on a text message from concerned residents regarding the presence of more or less ten (10) communist terrorists belonging to the CPP-NPA-NDF represented in the region by a former priest turned terrorist Fr. Santiago Salas. Allegedly, said communist terrorist band was extorting foodstuffs from the populace of said community.
The encounter was the second to occur this month in the vicinity of Barangay Mabini located at the hinterlands of Basey town in Western Samar. The last one happened on November 10, 2006 wherein a NPA terrorist was killed.
The upsurge in frequency of combat encounters by the Army troopers and the NPA terrorist group was basically the result of the enhanced coordination between the Army and the civilian populace. Undeniably, the people in the hinterland communities were fed up with the extortion and terroristic activities, the constant threats of being labeled as military informants, and their economic hardship due to the grim presence of the CPP-NPA-NDF terrorists in their area.
Maj. Gen. Rodrigo F. Maclang, the Commanding General of the 8th Infantry Division, Philippine Army commended the operating troops of 62nd Infantry Battalion under 2Lt Archie Polenzo for a job well done of protecting the people, and likewise expressed his gratitude to the people of Basey for their wholehearted support to the intensified security operations that the Army is currently performing in their municipality.
Military sow fear to farmers in San Jorge
By JAZMIN BONIFACIO
December 2, 2006
SAN JORGE, Samar – Residents, majority of them farmers of a heavily militarized village here decided out of fear to evacuate into safer ground for survival and local officials have initiated moves to investigate the so called terroristic acts of certain government soldiers.
This was spawned after troops of the military were deployed to remote barangays of San Jorge Samar as part of their counter insurgency campaign programs. Similar to what the Basaynon's and other residents of other towns in Samar, residents of San Jorge allegedly experienced from the hands of the military, residents of Brgy. Sinit-an, Mobo-og, Kalundan and Brgy. Bay-ang complained of human rights violations allegedly committed by the Army of the 34th Infantry Battalion.
The residents complained that they were being harassed, tortured, children were allegedly being terrorized, guns were pointed at them during interrogation and some of them were allegedly forced to utilized as guides during military operations and even forced to admit being members of the New People's Army or NPA.
The reports gave rise to the formation of a Fact Finding Mission conducted by the Commission on Human Rights who went to the town of San Jorge recently to look into the farmer's plight.
Residents as far as Brgy. Sinit-an, Bay-ang, Kalundan and Mobo-og evacuated to the town proper and sought refuge to Mayor Joseph Grey and other local officials of said town.
The following were some of the interviews conducted by local media to the evacuees during the Fact Finding Mission with the names withheld for security reasons:
A 26-yrs. old man a resident of a barangay in San Jorge said that at around 11:00 p.m. when he meet soldiers and at gun point asked him where the NPA's were hiding and because of negative response from him soldiers were forcing him to admit that he was also a rebel and because of not saying something, he was allegedly being castigated by the said soldiers.
A 15yr old boy alleged that while in their farm together with his father, they were approached by the soldiers. "Ginpipirit ako pasumaton kun hain iton mga NPA ngan dara han kawaray ko ginsusumat gin hagyo pagtakdula an akon tiil hin sundang han usa nga sundalo."
A mother of 3 children said, "We were not even able to take care of our rice farm, we were not able to do any seeding."
Meanwhile, Bon Lucero, Vice Chairperson of Bayan Samar expressed strong condemnation to the military atrocities inflicted against the poor and defenseless farmers of San Jorge.