Canadians face military harassment while on fact-finding mission in Philippines
Press Release
By KARAPATAN
November 19, 2006
MANILA, Philippines – Three human rights activists from Canada were detained for several hours on Thursday in the Philippines as part of a fact-finding mission team investigating reports of human rights violations.
According to reports, the team was detained and questioned by elements of the 74th Infantry Battalion (IB) of the Philippine Army in San Narciso, Quezon Province, south of Manila.
The Canadian human rights advocates are lawyer Luningning Alcuitas-Imperial, trade unionist Jennifer Efting, and nurse Cecilia Diocson. They are a part of a 32-member delegation of human rights workers, including doctors and dentists, who traveled to the area to investigate claims of human rights violations.
The Canadians are a part of a Canadian Fact-Finding mission on human rights violations in the Philippines running until November 23.
"The military refused to allow our entry into the area," said Luningning Alcuitas-Imperial (a lawyer from Vancouver with Lawyer's Rights Watch and the Western Canadian Coordinator for the Philippines-Canada Task Force on Human Rights) by cell phone from the area. "They were trying to intimidate us by cordoning off our jeepney and asking us for our passports and tourist visas. They even tried arresting our driver."
San Narciso is home to 3000 local residents with 24 Barangays or villages. Karapatan, a human rights organization in the Philippines, received reports that many of the local farmers have been forced to flee their homes due to heavy counter-insurgency military operations.
"We were warned by the 74th IB commanding officer that he could not guarantee our physical safety and that we would be charged for obstruction of justice if we entered the area," explained Imperial. The Philippine military detained the human rights workers for several hours before the arrival of some local barangay officials, at which time they were released.
According to Imperial, she was able to contact the Canadian Embassy in Manila for assistance. Embassy officials said they would extend protection to the Canadians, but also told them that they did not have the right to be with human rights workers from the Philippines and that "we should have gotten 'permission' from the military before entering the area."
"We assert however, that it is our right as advocates of international human rights, democracy and freedom, to investigate claims of human rights violations and to speak and be with the victims and their families," said Imperial.
Philippine President Gloria Macapagal-Arroyo, her cabinet, and the Armed Forces of the Philippines have openly claimed that the increase of militarization in the provincial areas is a part of Oplan Bantay Laya or Operation Protect Freedom, a high scale military operation which seeks to "crush" the Communist-led New People's Army by 2010.
According to the human rights group Karapatan (Alliance for the Advancement of People's Rights), since 2001, over 760 civilian activists, workers, church people, peasants and others have fallen victim to extra-judicial killings allegedly carried out by elements of the Philippine military. The spate of killings and other human rights violations have brought international criticism of the Philippine government from human rights organizations like Amnesty International and business groups like the Joint Foreign Chambers of Commerce in Manila and executives representing major US clothing retailers like Gap and Wal-Mart.
The Canadian government has not officially condemned the killings or other human rights violations in the Philippines. Members of the Canadian mission will be bringing their findings to a meeting with Canadian Ambassador Peter Sutherland in Manila next week.
The group is also urging Prime Minister Harper to raise the issue during his bilateral meeting with President Arroyo at the Asia-Pacific Economic Cooperation (APEC) summit in Vietnam scheduled this weekend.
Intensive military campaign forces 52-year old rebel to surrender
By ELI C. DALUMPINES (PIA Samar)
November 18, 2006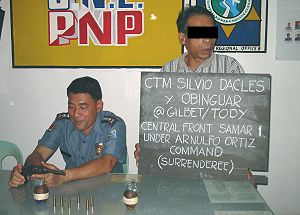 PNP Samar Director SSupt. Asdali Idja Abah presented to the media NPA surrenderee Silvio Dacles y Obinguar during a presscon Wednesday at the Samar Police Provincial Office.
CATBALOGAN, Samar – Feeling the heat of the intensified anti-insurgency campaign conducted by the military in the areas of Matuguinao, San Jose de Buan, San Jorge and Catbalogan, a 52-year old member of the communist New People's Army (NPA) came down to surrender to the authorities Wednesday.
One identified by his comrades as Ka Gilbet, a resident of Brgy. San Nicholas, San Jose de Buan, an interior town in Samar, and a member of the Barangay Organizing Party (BOP) of the CPP-NPA's Central Front-Samar 1 operating in the said town, surrendered before the Samar Police Provincial Office (SPPO) led by Supt. Asdali Idja Abah.
According to Ka Gilbet, the NPA rebels are now experiencing hardships in areas where the military conducted an intensified campaign to wipe out insurgents, particularly the towns covered by the 34th Infantry Battalion.
Ka Gilbet said that the rebels are now suffering from shortage of food supplies since collection of revolutionary taxes are affected due to the presence of the military in these areas.
The newly-surrendered rebel likewise informed that his former comrades are now on the run for fear of the military who are sweeping the hinterlands of Samar.
He recalled how he was persuaded to join the Revolutionary Movement way back in 1996 by a certain Serafin Pacimos (known by his comrades as Ka Yamby and from where the Serafin Pacimos Command was derived), promising good future for him and his family once the armed revolution succeeds.
But since then he was not able to witness what the revolutionary leader promised except the life of constant fear experienced by his family.
"Sumurendir ako kay gusto ko matagan hin mahimyang nga kinabuhi ngan maupay nga kabubuwason an akon pamilya (I surrendered because I want my family to have a peaceful life and a good future)," he said.
Ka Gilbet narrated he traversed the mountains of San Jose de Buan to Las Navas down to Catubig and Catarman last Saturday just to surrender to the police authorities at Samar's capital.
He brought with him two fragmentation grenades and a .38 caliber revolver with 5 live ammunitions which was issued to him by the leaders of the Dalugdog Platoon, a unit under the Arnulfo Ortiz Command.
DTI Eastern Samar warns local retailers from creating abnormal fuel supply
By ALICE E. NICART (PIA Borongan) with reports from SOC ABERIA
November 18, 2006
BORONGAN, Eastern Samar – Some sari-sari storeowners here cause the abnormal supply of diesel and gasoline as perceived by several motorists, tricycle operators and drivers.
The early afternoon yesterday found them standing in a long line of diesel hungry vehicles, tricycles and single motorbikes. This opted the Borongan LGU to meet urgently the local chamber of commerce here with DTI and PNP in order to find out the main reason of the near shortage of petroleum products. What was more surprising was the common observation that nearby towns of Borongan, Taft, Dolores and Guiuan and in far Tacloban did not have the same problem.
Shortly afterwards, the committee moved to the barangays to validate the rumored sellers of gasoline, and... bingo! Right before their very eyes, were indeed sari-sari stores selling bottled diesel and gasoline. About ten illegal retailers were discovered in so short a time of inspection selling diesel at P41.00 per liter while buying the product directly from the gas station at P31.00.
Mrs. Eleanor Alido, DTI Chief who was with inspecting team outrightly cautioned the storeowners to forego of the illegal trade, citing RA 8180, which is the "Oil Production and Deregulation Law". The law among others, prohibits and penalizes the unlicensed retail of petroleum products. Of course they might collect better profit from selling the product, but they must heed at the bigger loss this kind of trade poses on their lives and property should they continue to be unmindful and carefree because the substance is definitely flammable and that certain precautions have to be adapted, Alido said in the interview.
On the other hand, suspecting public likewise think that the petroleum products are kept in cartels in preparation for future profits. This is of course a violation of RA 8182, should there be true findings as such, Alido remarked. Motorists likewise observe and lament that some gasoline stations in Borongan render unfair treatment to their customers claiming that oftentimes, a longer few of five-gallon water containers are preferred to by the gasoline boy than them who are poised in a separate line.
That is why, the DTI lady hopes that the provincial and municipal LGUs organize and mobilize in the near future, the local councils which will oversee the delivery, supply and retail of all petroleum products not only in Borongan, but in the entire province. She said that is also mandated by law that such a council or task force be made functional for the protection of the general public.
It was learned as of press time that another round of inspection is set to be conducted by the same team of price and retail watchers to prevent irresponsible business operation.
Career Caravan attracts 8000 young Eastern Visayans
By Philippine Information Agency (PIA 8)
November 18, 2006
TACLOBAN CITY, Leyte – More than 6,000 young third year and high school students of Eastern Visayans attended the much awaited TESDA Career Caravan which was graced by no less than TESDA Director General Augusto "Boboy" Syjuco.
The students enthusiastically started the queue to the Tacloban Convention Center early morning of Thursday showing their interest in the message which will be delivered to them about the ladderized education, PGMA's gift to young Filipinos.
At about the same time, more than 2,000 young students of Ormoc and environs started going to the Ormoc Astrodome to get ready to listen to the message of Secretary Syjuco and interact with him via teleconference.
Interacting with both the students who were at the Tacloban City Convention Center and the students at the Ormoc city Astrodome, Secretary Syjuco expressed amazement at the enthusiasm of the students and the warm welcome he received in Tacloban which he said is the warmest so far in the seven Career Caravans he has already attended.
Paving the way for a more improved quality of life for the local populace through the implementation of the Ladderized Education Program is the main focus of the Career Caravan, President Gloria Macapagal-Arroyo's gift to the young people of the country.
Secretary Syjuco brought the message of hope which the Ladderized education program really is. He said that under the ladderized program, a poor student whose parents can no longer afford to send him to school after a year or so in college, has already earned competency which he could use in order to land a job.
This he said is very far from the traditional system of education which he said is like going inside a "tubo" and coming out without a skill he can use to find a job. The traditional system, he said is like climbing up and down a mountain only to face another mountain again.
Aside from the convocation with Secretary Syjuco, the Career Caravan also highlighted the conduct of job fair which Director Juan M. Sabulao said was availed by more than 600 applicants, the free assessment for call center applicants, and the Trade Fair.
After announcing his congressional bid in 2007 election
Black propaganda rocks Samar mayor
By RICKY J. BAUTISTA
November 17, 2006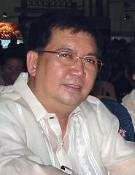 Mayor Joseph V. Grey
SAN JORGE, Samar – By declaring his interest to run for the congressional seat in next year's elections, the Chief Executive of this battled municipality is now experiencing an avalanche of "black propaganda" instigated by his political nemesis in Samar's first district.
But Mayor Joseph "Jojo" V. Grey (Liberal Party) disclosed he is unabated by the present propaganda war and death threats being cooked by his detractors saying "I am transparent in my governance and ready to face any investigation by the public and or in courts that may arise anytime."
Grey came out and broke his silence when he no longer bears the serious and scandalous accusations against him and members of his family. In a press conference held recently, he showed evidences hinting among others that all charges filed against him was all "baseless and merely fabricated" by his opponents.
For one, Grey said, his political foes are herding the relatives of the killing victims in the first district and convinced them to file murder charges against him, "as if ako ang nagpapatay sa mga taong ito, without them knowing it that they are being fooled and used by my political nemesis to advance their personal ploy against me", he said.
At present, two murder cases were filed before the courts in Calbayog City against Mayor Grey last month, and reportedly, an upcoming raps are still being cooked awaiting the nod of the families of the killing victims in the first district of Samar.
The first murder rap was the killing of Rolando Diocton an employee of the Department of Agriculture in this town, who was shot in front of his house by two unidentified assailant last October 3, 2005.
In the affidavit of Leah Diocton, the victim's wife, it was Grey, his son Francis and two others were named as respondents of the murder rap, but Grey said, "Leah Diocton was picked-up by uniformed men at her residence and executed an affidavit of complaint last October 3, 2006. The said affidavit was received by the Provincial Prosecutor's Office on October 4, 2006 and a subpoena against me and my co-respondents was issued October 5, 2006."
"You see, how the papers move so fast? … I am very sure that this has something to do with politics. I just feel pity to those victims, they are victims of double jeopardy, and they did not know it," Grey stressed.
The second murder raps filed against him was the killing of Danilo Adona alyas "wangbu", a mentally ill supporter of Mayor Grey which was found dead in a bridge between Gandara and Sta, Margarita towns.
"This is too much, pati ba naman pagpatay sa sarili kong mga supporters sakin ibenebentang. But they should be ready, once I will cleared for these accusations, I will retaliate by also filing a case against them for destroying my integrity," Grey said.
Prior to this, a 4-page computerized letter with heading "Pagmata ngan Gius San Jorgehanons" (Wake up and Move San Jorgehanons) circulated in the different villages in the first district accusing Grey and his camp as responsible to the series of alleged killings, drug dealings, among others in the municipality of San Jorge.
The "open letter," which also accused Grey of supporting the New People's Army by giving money, medicines, rifles and ammunitions was said to be coming from the San Jorge concerned citizens represented by a certain Arnel B. Dela Cruz of Brgy. La Paz, of this town.
Last month, a malicious tape containing some serious allegations against the mayor and the town's first family was publicly aired by men in uniform during one of the regular barangay assemblies in the town villages.
In a document obtained by this writer, the airing of that "propaganda tape" was confirmed by the barangay officials and residents present during that said military assembly.
Meanwhile, to dispel speculations concerning his alleged involvement in the illegal drugs and killings, Mayor Grey showed a certification coming from the Philippine Drugs Enforcement Agency (PDEA) clearing him of any involvement in any matter concerning drugs, a "no criminal record" clearance released by the NBI central office hinting his innocence and the barangay certification of the non-existence of certain Arnel Dela Cruz in La Paz, in support to his claim that he is telling the truth before the public.
When asked who are behind this propaganda, the mayor said: "The black propaganda is a delusive effort by the officers of men in uniform based in San Jorge who are in cahoots with strong politicians in Samar, who seemed unhappy and afraid of my abjuration to the traditional politics of patronage, corruption and terrorism which sank our province to an abject poverty," Mayor Grey disclosed.