8ID closes NCO Course, opens Platoon Leader's Course
By 1Lt. MARIO JOSE M. CHICO, (QMS) PA
December 2, 2006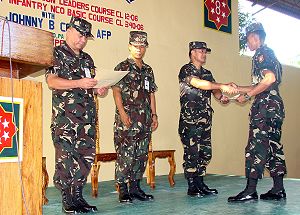 CAMP LUKBAN, Catbalogan, Samar – In pursuit of the Philippine Army's vision of a "Professional, Capable and Responsive Army that is a source of national pride", the 8th Infantry Division had just concluded the conduct of Infantry Non-Commissioned Basic Course Class 340-06 at Headquarters, 8th Infantry Division, Philippine Army at Camp Lukban, Catbalogan, Samar.
The said course lasted for 12 weeks wherein the students undergone various military subjects that equipped them of the needed skills and understanding of their role as members of the armed forces. Among the subjects being emphasized during the course of the training are the Respect for Human Rights and International Humanitarian Law, Marksmanship, Map Reading, Combat Battle Drills, Civil-Military Operations, and other subjects essential in the performance of the multifarious tasks of a soldier.
Among the 42 students who completed the prescribed training for the Basic Course was Private First Class Leopoldo A. Beduya Jr. who topped his class garnering a general average of 90.47%. Pfc Beduya is presently assigned at 8DTU and a native of San Jorge, Western Samar.
Relatedly, the Platoon Leader's Course Class 12-06, a training that would prepare the newly assigned 2nd Lieutenants in the rudiments and challenges of Company Command, formally opened with BGen. Johnny B. Corcha Jr, the Assistant Division Commander of the 8th Infantry Division, as Keynote Speaker.
In his message, BGen. Corcha Jr. said that "Education is a continuing process. We should not stop pursuing it. Every successful leader underwent various education and trainings before they become great!"
The new graduates will report back to their respective field units and are expected to share their newly learned skills.
Catbalogan Mayor Uy vowed to send gang members to school
By NINFA B. QUIRANTE (PIA Samar)
December 2, 2006
CATBALOGAN, Samar – Feeling perhaps the sincerity of the repentant youths who agreed to change for the better, Catbalogan Mayor Coefredo 'Tekwa' Uy vowed to pay for the tuition and matriculation of those who would opt to return to school.
This he pronounced during the 'surrender' of the dreaded gang members 13 Hudas and Walang Awatan Para sa Lahat (WAPS) at the PNP Samar Provincial Police Office Tuesday.
Right then and there, the mayor ordered them to register their names for those who opted to get education in exchange for their pledge to help him in the quest for peace and order in the municipality.
After hearing the mayor's pronouncement on sponsored education, the group applauded the chief executive.
Uy also promised them to hold a Christmas Party wherein they will also meet youth with the same purpose.
Officers of the Alliance for Nationalism and Democracy (ANAD) said that more gang-members will be joining the surrenderees in search for a better life, free of fear and violence. The youth admitted that they really want to change but yearned to be given more productive things to do. Others wish to return to school while some would want to have jobs or livelihood.
The Mayor with PNP Provincial Director Asdali Idjah Aba and Catbalogan Chief of Police Carlos Vencio personally inspected the weapons like sumpak, deadly arrow and pisaw.
For his part, Police director Abah encouraged some youngsters to instead join the Tanod program, he said those qualified will be trained and will be given some allowances.
Mayor Uy also reprimanded the youngsters to refrain from body tattoo because the practice may disqualify them for future jobs.
Other gangs like Butterfly, Selda Uno and many others have also sent feelers for their surrender.
Army troopers scored anew
By 1Lt. MARIO JOSE M. CHICO, (QMS) PA
December 1, 2006
CAMP LUKBAN, Catbalogan, Samar – Army troopers and NPA terrorist clashed anew at vicinity Sitio Surosimbahan of Brgy Taglawigan in San Isidro, Leyte province at about 8:20 a.m. Saturday, November 25, 2006.
Guided by information from concerned residents of said community, the Army troops conducted security operations that resulted to the killing of two (2) unidentified terrorists and the recovery of one (1) M-14 rifle with 12 ammunitions, one (1) M-16 rifle with 18 live ammunitions, 100 rounds linked ammunitions for M-60 machine gun, and one (1) hand grenade, while no casualty was recorded on the government side.
According to the information relayed by the civilians in the area, the NPA terrorist went back at the place of the previous day encounter last November 22, 2006 wherein the government troops encountered more or less twenty (20) NPA terrorists purposely to regroup with their missing comrades.
For the period, the 8th Infantry Division of the Philippine Army under the command of Maj. Gen. Rodrigo F. Maclang, had been winning the battle against the communist terrorists due to the renewed trust and confidence of the people of the Eastern Visayas Region to the Philippine Army.
Catbalogan reels from another fire
By NIMFA B. QUIRANTE (PIA Samar)
November 30, 2006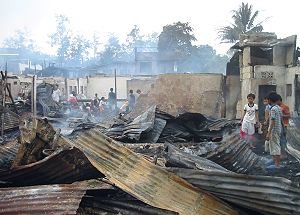 CATBALOGAN, Samar – Barely relieved from the fire and controversy that hounded the presence of a burnt teen-ager from the damaged Lester Lace Grocery in downtown Catbalogan, another blaze has rendered Catbaloganons hurting from a fire that gutted residential houses near the market for three hours on Tuesday (November 28).
Based on a spot report prepared by investigator SFO1 Leonito Inovejas, fire started at 8:40 PM in Purok 1, Barangay 12, this town.
Further, the report cited that the fire started in a two-storey residential house owned by Alibasa Mamaki, made of semi concrete materials and GI roofings.
Estimated damage has yet to be determined and some 39 residential houses have been reportedly burned though not yet confirmed by investigators. Fire reached a general alarm Inovejas wrote.
It will be recalled that on May 3, 2006, a fire destroyed Samar 's DTI provincial office. Then again in September 14, 2006 another fire in San Bartolome Street caused a P 2.5 M damage. On November 14, 2006 another fire causing a P5M damage destroyed Lester Lace Grocery on the corner of Allen and Rizal Sts. The body of a teen-ager named Janine Paulin was discovered amid the debris of the burnt grocery store.
Then again on November 25, another fire in Camp Lukban took place. Unconfirmed reports have it that the fire damaged some firearms left by soldiers in their bunks.
Senior Inspector Daniel Salvatierra in a file interview with DYMS during the Fire Prevention Month in March has then reminded all Samarnons to be very careful; to check on electrical wirings that may cause fire.
As of this writing however, Salvatierra begged off to comment on the frequent fire that has made his team dizzy-busy. He promised however, to give his official statement as soon as his men and equipments have settled down.
Eastern Times editor bags Visayas Best Editorial in National PopDev Media Awards
By MARIVIC A. ALCOBER (PIA 8)
November 30, 2006
TACLOBAN CITY, Leyte – One of the print journalists from the Visayas Rollie "Carol" Montilla, who participated in the 2nd National Annual PopDev Media Awards bagged the Best Editorial Piece. This was revealed by Maeda Ojeda of the Philippine Legislators' Committee on Population and Development Foundation, Inc. (PLCPD).
Montilla, who is the Editor-in-Chief of the local weekly paper Eastern Times is one of the recipients of the awards extended by the PLCPD together with the United Nations Population Fund.
According to Ojeda, the awarding ceremonies of the PLCPD will be conducted in Manila this December. All transportation and accommodation expenses of the awardees will be shouldered by the PLCPD.
Ojeda shared that the categories for the Media Awards are: Best Investigative/Interpretative Report; Best Reportage, wherein bodies of work or series of spot news coverage will be included; and lastly, Best Opinion/Editorial Piece.
On the previous year, only three winners were chosen nationwide, but for this year the search went to the regional level, hence, the winners increased to 12.
The PopDev Media Awards, Ojeda bared, aims to pay tribute to media practitioners nationwide who have produced, written and reported responsible and exemplary news and feature articles on population and development in print during the year. Likewise, the Awards also aims to encourage the media to actively examine population and development issues as social issues that affect the country's development and to heighten public awareness and knowledge on population and development issues.
Some of the entries submitted that were centered on the following population and development issues were on population and education; population and health services; population, economic growth and poverty; reproductive health and rights; family planning; and population, reproductive health policy and governance.
Catbalogan juvenile gangster-members surrender to ANAD, PNP
By NINFA B. QUIRANTE (PIA Samar)
November 29, 2006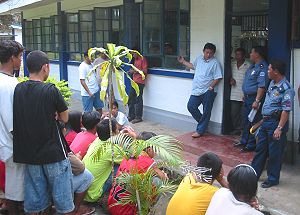 The 25 juvenile gangsters in a briefing with Catbalogan mayor Tekwa Uy and Samar provincial police officers.
CATBALOGAN, Samar – Some 25 juvenile gangsters (and counting) have voluntarily surrendered to PNP authorities here Tuesday.
The 23 boys and two girls aged ranging from 15 to 24 said to be members of the dreaded 13 Hudas and WAPS (Walang Awatan Para sa Lahat) trooped to the Samar Provincial Police Office, Camp Maulong to meet PNP Provincial director Senior Superintendent Asdali Idja Abah.
Accompanied by Augusto 'Agoy' Daclitan, an elderly and coordinator of the so called Alliance for Nationalism and Democracy (ANAD) said that the youngsters expressed their desire to stop their "happenings" and return to school and/or be productive members of the Catbalogan society.
Agoy told PIA that he used diplomacy in convincing the youngsters to turn a new leaf in their lives. He said that he has witnessed how the young would scamper when confronted with equally confrontational youth who seem to be war freaks.
He said he also knew of the youths 'naughty' activities because plenty of complaints have been lodged with these youngsters who loiter the streets and alleys at night. These boys have also been subjected to police chases every now and then.
One member of WAPS Banjo Lama, 19 shared his desire to live a new life free of fear for his dear life. He said he would want to live somewhere else so that he would not meet his foes from the other gangs.
Their former master, Edmon Montejo urged his members to lay down their 'arms' composed of deadly arrow, sumpak and pisaw and to become members of ANAD instead.
ANAD member Pepito del Rosario said that they will train the boys instead to become assets of the tanod or even the PNP instead of wasting their young life to happy-go-lucky endeavors that more often than not turn into deadly riots.
Catbalogan Mayor Tekwa Uy, PNP Samar police director Abah and Catbalogan Chief Carlos Vencio together with Gov. Tan's representative Baby Toledo discussed ways to help best the repentant youngsters.
PGMA visit to Southern Leyte slated next month
By BONG PEDALINO (PIA Southern Leyte)
November 29, 2006
MAASIN CITY, Southern Leyte – President Gloria Macapagal-Arroyo is scheduled to visit Southern Leyte province on December 26 to grace for the turn-over rites of new housing communities in Saint Bernard and Liloan, the two towns hardest hit by natural landslides in February, this year.
This was learned from Gov. Rosette Lerias Friday, November 24, in an interview right after the blessing of a new blood bank building within the premises of the Salvacion Oppus Yniguez Memorial Provincial Hospital (SOYMPH).
The occasion also coincided with the 46th anniversary celebration of the provincial hospital.
Gov. Lerias said she had personally talked with President Arroyo in Malacañang on Thursday, November 16, and the two of them browsed over Ms. Arroyo's busy schedules.
After some time considering the President's tickler of activities, it was decided that she come to the province on December 26 which was the only date left vacant, the Governor said.
The President was half-expecting to turn-over about 100 houses, but when told that more than 500 dwelling units would be given to calamity victims, she was pleasantly surprised on learning these developments, Governor Lerias further said.
In Magbagacay, St. Bernard, some 330 new houses have been constructed for the surviving residents of Guinsaugon. The Gawad Kalinga had built 100 houses, Red Cross 130, and the Japanese government through DSWD and Habitat for Humanity, another 100 houses.
At barangay Fatima in Liloan, the GK Energy Village put up 100 houses, and another 100 from GMA Kapuso and Habitat for the displaced residents of barangay Malangza, while 86 units were built in Caligangan by Caritas and Diocese of Maasin for the affected residents of barangay Catig.
Incidentally, December 26 is a day after Christmas and it had been declared a non-working holiday.
But if the President's schedule pushes through, it will be just another routine day, and a special day at that with the President's presence.