PGMA signs Anti-Red Tape Act
By MINERVA BC NEWMAN (PIA Cebu)
June 18, 2007
CEBU, Philippines – President Gloria Macapagal-Arroyo signed the Anti-Red Tape Act 2007 or RA 9465 as anti-graft experts offered their services to help monitor graft and corruption in government.
Former Tanodbayan Simeon Marcelo and former COA auditor Heidi Mendoza said that there is a need for citizen volunteers to monitor government projects to ensure above board procurement and biddings. Marcelo and Mendoza were guests in a forum here in Cebu that was conducted recently by the Dilaab Foundation, Inc., whose advocacy is good government and the fight against corruption.
Marcelo said "active citizen's monitoring was very effective in Abra province and in Ateneo de Manila and if they were able to do it there, we can also do it here in Cebu."
The signing into law of the Anti-Red Tape Act confirms the government's resolve to stump graft and corruption in the bureaucracy; hasten government transactions and provide stiffer penalties for those engaging in graft and corruption.
RA-9465 states that government transactions such as applications or renewal of permits, licenses and other documentation should be completed in 5 working days especially for simple cases and 10 working days for more complex transactions or requests.
It said that each agency is also required to reply to the client, whether requests are rejected or couldn't be processed with the explanations why it was rejected and what could be done to refile their requests. Signatories in each document the law states, must be limited to a maximum of 5 persons to reduce time and simplify procedures.
The law also directs agencies, GOCCs and GFIs to come up with a citizen's charter that would serve as the guideline in the conduct of employees' duty. This charter will detail the procedures involving public transactions that include types of services; requirements needed to avail of such services; length of time to deliver such service; fees needed and procedures in cases of complaints. Each agency is also required to put up a public assistance complaints' desk.
Those who (a) refuse to accept applications or requests; (b) attend to the clients' needs; (c) fail to give written notice of disapproval of application or requests or impose additional, irrelevant requirements may be penalized for a lighter offense that includes a 30-day suspension without pay and a mandatory attendance to a value orientation programs for the 1st offense.
For the 2nd offense however, a 3-month suspension without pay while dismissal is meted out for the 3rd offense and perpetual disqualification from public office. Perpetual disqualification from public office is also given to those who have been proven to commit grave offense such as fixing or working with fixers.
Other penalties included in the law are: for grave offense, they may also be charged criminally with imprisonment of up to 6 years, a fine from P20,000 to P200,000 or both fine and imprisonment depending on the decision of the court.
Catbaloganons voted YES in cityhood plebiscite
By NINFA B. QUIRANTE (PIA Samar)
June 18, 2007
CATBALOGAN, Samar – The YES votes have it! So Catbalogan City now it is!
A YES vote prevailed in the 263 voting precincts in Catbalogan as the counting folded up past midnight of June 16 at the Catbalogan Sangguniang Bayan Hall.
Officials from the DepEd and Comelec declared the ratification of the Catbalogan cityhood through a plebiscite which some 26,765 Catbaloganons participated out of the 48,540 total registered voters.
The YES votes totaled 25,426 (95%) with a measly 1,339 (5%) voters in the negative.
"Voters turn out was an impressive 55% for a plebiscite like this. Voters usually do not participate well in this kind of exercise. We can thus say that the result was the majority will of the people not just a mere plurality", said Comelec Samar Provincial supervisor Salvador Cruz.
A ten-minute fireworks greeted the announcement, with the LGU officials in a festive mood!
In remote Barangay Bangon, accessible only through a trail-trek for some two hours from Barangay San Vicente, no one voted NO. Chairman of the BEI Alfredo Lontes said that the 127 voters all answered YES to the Question whether they approve the conversion of Catbalogan to a city.
The villagers believe that a road opening will result in the conversion of Catbalogan into a city.
Although an overwhelming YES votes prevailed, there were also NO votes the biggest of which numbered 24 in a precinct.
Earlier, Catbalogan Mayor Coefredo 'Tekwa' Uy felt confident that the 57 barangays in Catbalogan will approve the conversion citing the fiscal gains the town could have once declared a city.
There are four other towns that participated in the Saturday plebiscite nationwide, Ms. Ester Villaflor-Rojas, a COMELEC official who was assigned in Catbalogan for the plebiscite duration said. This included, Bogo, Cebu; Baybay, Leyte; San Juan in Metro Manila and Catbalogan, Samar.
Borongan, meanwhile in Eastern Samar is set to conduct a plebiscite for the same purpose come June 20, 2007.
Both Catbalogan and Borongan are the capital towns of Samar (Western) and Eastern Samar respectively.
Samar mayor who won by only three votes takes oath
By NINFA B. QUIRANTE (PIA Samar)
June 17, 2007
CATBALOGAN, Samar – Brandishing his three votes as his ticket to a hotly contested mayoralty race, Motiong Mayor Constancio 'Jun' Pacanan took his oath of office on the occasion of the town's 59th Foundation Day, Saturday.
The mayoralty race in Motiong proved to be one of a kind.
Nevertheless, Pacanan proudly mentioned his hard-earned victory through the lucky three votes, saying he does not need more for even only one vote could spell the same victory.
Pacanan took his oath of office under Judge Alma Uy-Lampasa of Motiong Municipal Circuit Trial Court (MCTC).
Together with Pacanan were Vice Mayor Estella Dasmariñas, and five other SB members who won in the recent elections. Not all were present though, the media learned that the winners who belong to the opposing parties did not attend the oath taking ceremony.
Pacanan, a relectionist said that he is trying to extend his hand to a reconciliation with the other party.
"Elections are over, let us unite and push Motiong forward," he said in his Waray waray message.
Not only does he extend a reconciliatory note to his fellow Motionganons but even to Governor Mila Tan whom he said belonged to the other party. Pacanan belonged to the line up of the Figueroa spouses, Catalino and Neliptha.
His main reason, he said for allying with the Figueroas is that they promised to support his ambitious INFRES project worth millions.
But the Figueroa spouses lost in their quest for Congressman and Governor respectively.
Though Pacanan won, some supporters and a brother have been charged with the ambush of his arch rival Francisco Langi, whose driver was killed and he himself wounded in early February. The mayor denies having anything to do with the crime.
With his proclamation as Motiong Mayor, Pacanan told the media that he wants to be remembered as the mayor who brought water to his 'thirsty' municipality. His administration is presently undertaking a P28M worth of water system to be classified as Level 3.
Motiong LGU is also embarking on an ambitious INFRES project worth P45M which will connect seven inaccessible barangays.
With these projects are some more on health but he considers the water and road project as his best legacy to Motionganons.
Leyte First District receives 200 thousand books
Press Release
By Provincial Media Relations Center (PMRC-Leyte)
June 17, 2007
TACLOBAN CITY, Leyte – More than 200,000 books are set to be distributed to various elementary and high schools in Leyte's First District through a project initiated by Congresswoman Remedios "Matin" Petilla with the Books for the Barrios Foundation.
Books for the Barrios Foundation is a philanthropic organizations shipping hundreds of thousands of books, educational materials, school textbooks, computers, science kits, toys and games, athletic equipment and consumable school supplies across the country.
The vision to touch the lives of thousands of young minds across the province through sufficient supply of school books would be among the projects to be undertaken by the outgoing lady solon before she ends her term this June.
According to Cong. Petilla, she used her congressional fund to pay for the freight and handling of the more than 200 thousand books which came in a total of 446 boxes.
The books, the lady solon disclosed, could be used as reference materials for both elementary and high schools in the district.
"The books will be distributed kon hain gud iton nanginginahanglan. There are already recommendations and hopefully matagan naton tanan nga schools para magsarahid ini hira ha First District," Cong. Petilla said.
Assessments on adequacy of available school books and reference have already been made by her congressional office to determine which schools in the district could become the recipients.
The more than 200 thousands books are currently being sorted out for distribution before the end of this month.
Cong. Petilla added the Books for the Barrios Foundation first had this project in Carigara town some years back when she was still governor of the province.
The pilot project undertaken in Carigara proved to be successful prompting the foundation to offer another donation this time for the First District of Leyte.
Books for the Barrios is a foundation that started with a simple project which was to organize American schoolchildren to gather, ship and distribute books, computers, typewriters and educational aids from America to the Philippines while helping protect the environment in California by recycling its books and educational materials that are normally just discarded in dump sites.
That vision gave birth to the Books for the Barrios Foundation and have sent over 4 million books across the Philippine archipelago including the Leyte province.
Asian Ombudsman Association elects Ombudsman Gutierrez as Vice-President
Press Release
By OFFICE OF THE OMBUDSMAN
June 17, 2007
QUEZON CITY, Philippines – Ombudsman Ma. Merceditas N. Gutierrez vowed to vigorously pursue reforms in the country's anti-corruption strategies by involving all sectors in the campaign against corruption.
The statement was issued in the wake of her recent election as Vice-President of the 22-member Asian Ombudsman Association (AOA), a regional grouping which aims to improve multi-lateral cooperation among Asian countries in the fight against the social menace.
The AOA was formed on April 16, 1996, in Islamabad, Pakistan upon the initiative of the then Wafaqi Mohtasib (Ombudsman) of Pakistan, Justice Abdul Shakurul Salam, who also became AOA's first Chairman.
The idea to form the AOA surfaced during a meeting of the Board of Directors of the International Ombudsman Institute (IOI). During the said meeting, representatives from Europe, Australia and Pacific, North America, Latin America and Africa noted that they had established regional ombudsman associations, except for their Asian counterparts.
AOA aims to promote the concepts of Ombudsmanship and to encourage its development in Asia; to develop professionalism in the discharge of the functions of Ombudsman; and to facilitate exchange of information and experiences among the Ombudsmen of the region.
AOA's member-countries, aside from the Republic of the Philippines, include the People's Republic of China; Hong Kong (People's Republic of China); Macao (People's Republic of China); India; Indonesia; Islamic Republic of Iran; Japan; Republic of Korea; Malaysia; Islamic Republic of Pakistan; Democratic Socialist Republic of Sri Lanka; Kingdom of Thailand; Republic of Yemen; Republic of Azerbaijan; Socialist Republic of Vietnam; and the Kyrgyz Republic.
As early as 2005, after Pres. Gloria Macapagal-Arroyo appointed her as "Anti-Corruption Czar", Ombudsman Gutierrez had envisioned the need for a comprehensive plan that would unify and streamline the government's anti-corruption plan of action.
Thus, she initiated the establishment of the National Anti-Corruption Program of Action (NACPA) "out of the recognition of the need for a convergence strategy for collective action in a coordinated fashion to achieve national anti-corruption goals with clear and accountable performance targets."
The NACPA is a multi-sector, high-level coordinating mechanism that involves the executive, legislative and judicial branches of government, Constitutional Commissions, local government units, civil society, business sector, academe, mass media and international development partners.
The NACPA aims to serve as avenue for effective consultation and coordination among key anti-corruption players; streamline and strengthen anti-corruption commitments of government, civil society, the business sector and the donor community under a comprehensive strategic framework; social marketing of anti-corruption success stories for greater public support and investor confidence; and development of an anti-corruption performance measurement system.
To achieve these, the Multi-Sectoral Anti-Corruption Council (MSACC), the governing and policy determining body of the NACPA, was formed.
Ombudsman Gutierrez presented the NACPA concept during the recent meeting of the AOA, while other countries also presented the research projects they are currently undertaking.
Aside from Ombudsman Gutierrez, also elected officers of the AOA were Wafaqi Mohtasib (Ombudsman) Javed Sadiq Malik of Pakistan, President; Ombudsman Alice Yuen-Ying Tai of Hong Kong, Secretary; Chief Ombudsman Song Chul-ho of Korea, Treasurer; and Supervision Minister Li Zhilun of China, Gen. Inspection Organization Head Justice Mohammad Niazi of Iran, Administrative Evaluation Bureau Dir. Gen. Satoshi Kumagai of Japan, Public Complaint's Bureau Dir. Gen. Chua Hong Teck of Malaysia and Ombudsman Poonsup Piya-Anant of Thailand as members of the Board of Directors.
Redaja pushes for approval of Catbalogan cityhood in today's plebiscite
By NINFA B. QUIRANTE (PIA Samar)
June 16, 2007
CATBALOGAN, Samar – Re-elected Samar Vice Governor Jesus Redaja urges the Catbalogan populace to troop to the poll centers today to answer a very significant question that has hounded this capital town of Samar for decades.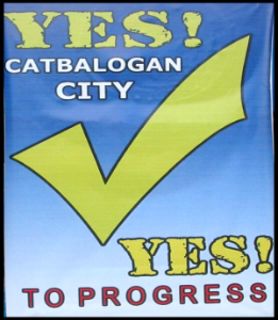 In support to the massive YES campaign of Catbalogan Mayor Coefredo 'Tekwa' Uy and party, Redaja guested on CCATMAN's Panginano-a Daw! radio program over DYMS Thursday, to beckon some 48,000 voters to answer this question: "Do you approve the conversion of the municipality of Catbalogan in the province of Samar into a component city to be known as the city of Catbalogan pursuant to RA 9391?"
Citing a significant increase in the Internal Revenue Allotment (IRA) from P77M to as much as P200M, Redaja said, would spell a lot of difference.
Redaja claims, as a former Catbalogan Mayor he was once as rabid as Tekwa in pushing for the Catbalogan cityhood bid.
Similarly in a forum done in the public market earlier, Uy and company flaunted increased investments, IRA increase, Infrastructure projects, employment generation, enhanced agricultural production due to opening of farm to market roads, improved health services thru purchase of ambulances and modern medical equipments, and additional PhilHealth coverage.
The cityhood, they added will also usher in an enhanced Clean and Green Program, Scholarship programs and environmental protection.
When Antonio Vista, chairman of the local Tricycle Group called Nagkaka-urosa, Aktibo nga Paragtraysikol, Andam, Intresado ngan Disiplinado (NAPAID) raised his concern about the rumored phase out of the pedicabs, the Mayor promised that the pedicabs will never be phased out as it is already a part of Catbalogan culture, but drivers will be given seminars on how to conduct their vehicles properly.
As to increase in taxes, the party cited that RA 9391 ensures a five-year tax-increase moratorium.
Meanwhile, COMELEC Officer Josefina Aguilar said that the COMELEC has already conducted an orientation for the teachers to act as Board of Election Inspectors (BEI) for today's event.
As to Calbayog City's strong opposition to the law, MLGOO Leonardo Zarzata said that the battle between YES and NO is not a personal battle.
The movers have tagged Calbayog City Mayor Mel Senen Sarmiento as the number one kontrabida in Catbalogan's quest for cityhood.
With all the preparations set, Mayor Tekwa said that if Catbaloganons are for progress, they should vote for a YES!
DAR Samar fears end of CARP, urges massive support
By NINFA B. QUIRANTE (PIA Samar)
June 16, 2007
CATBALOGAN, Samar – The Department of Agrarian Reform (DAR) Samar Provincial Agrarian Reform Officer (PARO) Gregorio Fiel, Jr. and other DAR officials fear that come 2008, as the law mandated, the Comprehensive Agrarian reform Program (CARP) will cease to exist.
In a press conference held Tuesday, in the occasion of CARP's 19th Anniversary, PARO Fiel, PARO1 Bernardino Bacurro, Engr. Cresencio Misagal and Iñigo Dacuag faced the local media and expressed the concern.
In Samar, Fiel said some 30 thousand hectares of land have still to be distributed. He admitted though that the paperwork is dragging because of some land owners who have gone abroad. This causes delay in processing of documents, he stressed.
With the remaining one year, he said they would only be able to distribute ten hectares, he added.
The least extension they need, he said is seven years and P10B for them to complete their job.
Everything is not that gloomy though, PARO said, they are counting some congressmen as their allies to support the bill earlier filed for CARP's extension.
There could also be a seat allotted to Alliance for Rural Concerns (ARC) Party list also supportive of DAR and CARP.
Fiel also mentioned two senators, one is Ralph Recto (who incidentally lost) who are supportive to their cause.
As of presstime though, Fiel felt elated when he read in the newspaper about a statement of DAR's Secretary Nasser Pangandaman.
Pangandaman as reported by PDI said that President Gloria Macapagal-Arroyo has promised to certify as urgent a bill seeking to to extend CARP for another ten years.
DAR Samar celebrated its CARP anniversary week through a mass, motorcade and sports activities.
8ID soldiers uncovered NPA training camp in Eastern Samar
By Maj. OTHELO D. YAÑEZ, (FA) PA
June 15, 2007
CAMP LUKBAN, Catbalogan, Samar – Elements of Charlie Company, 14th Infantry Battalion led by Second Lieutenant Estabilo discovered two NPA camps believed to be used a training ground of the New People's Army in Barangay Boco, Can-avid, Eastern Samar on Sunday (June 10).
Reports reaching 8ID headquarters revealed that the troops were responding to a reported presence of fully armed men when they discovered said camps. The first enemy safehouse was discovered near the Cagabaca creek in barangay Boco of Can-avid while the other camp was uncovered not far from the first camp which was located at same barangay.
The first camp can accommodate more or less twenty (20) persons while the second camp is composed of four (4) halls, three (3) kitchens, six (6) out posts, four (4) comfort rooms and a training ground that can accommodate more or less two hundred persons.
Initial reports revealed that the NPA has abandoned said camps due to the intensified pursuit operations being conducted by the military in the area. The troops are still conducting pursuit operations in the area to track down scampering NPA.
Major General Armando L. Cunanan, AFP, Commanding General of the 8th Infantry Division commended the elements of 14IB led by Second Lieutenant Estabilo for their successful operation that resulted to the discovery of the said camps.
He also extends his gratitude to the civilian populace in the area for their cooperation and support they gave to the military.