About 5 solons allocate part of their 'pork barrel' to EVRMC patients
By Philippine Information Agency (PIA 8)
January 23, 2008
TACLOBAN CITY, Leyte – About five solons and one governor in Region 8 have allocated a certain part of their priority development assistance fund (PDAF) to Eastern Visayas Regional Medical Center (EVRMC), Dr. Alberto de Leon, chief of hospital informed the Philippine Information Agency.
Dr. De Leon named the congressmen as Hon. Reynaldo Uy of the 1st district of Samar; Hon. Sharie Ann Tan of the 2nd District of Samar; Hon. Carmen Cari of the 5th District of Leyte; Hon. Bembem Noel of the An Waray Party List; and Hon. Martin Romualdez of the 1st district of Leyte.
Governor Roger Espina of the province of Biliran also allocated a certain budget to the EVRMC.
However, Dr. de Leon clarified that the EVRMC is not allowed to just disburse the funds from the various congressmen and governor. The Memorandum of Agreement is very definite that the allocation is only for the constituents of the respective congressmen, Dr. De Leon bared.
The patient, in order to be able to avail of the funds, must present an endorsement letter from the congressman which specifies up to what amount the patient is entitled to.
This should enlighten the patients who usually request to avail of their congressman's funds at the EVRMC, without showing any proof that they are authorized or entitled to the avail of the fund.
Dr. De Leon called on the public who would like to avail of their congressmen's hospital allocation, to first secure a letter from the Congressman, addressed to the hospital. This will prevent misunderstanding and mix-up in the future, Dr. De Leon said.
Dr. De Leon also clarified that although EVRMC is a government hospital, there is still a counterpart of the patient. For Class C patients who are really impoverish, they are required to pay 25% of the total medical expenses. Class B or the middle income level patients, pay 50% of the total hospitalization expenses while Class A are those who are capable of paying and so they are supposed to pay 100 % of the total cost of hospitalization.
KSFi calls for provincial official's action on women's issues
By MYRA M. TAMBOR
January 22, 2008
CATBALOGAN CITY, Samar – Samar's women organization Katungod Han Samareña Foundation, Inc. speaks up and calls for the elected provincial officials to act on the issues and concern of women and gender issues in the province.
In a letter dated January 17, 2008 addressed to Board Member Casilda C. Lim, as Chairman of Committee on Women of the Sangguniang Panlalawigan, Lim is being requested to sponsor a Board Resolution creating the Provincial Gender and Development Council.
Katungod han Samareña Foundation, Inc or KSFi is determined to push the campaign to mainstream Gender and Development or GAD into the development consciousness of the Local Government Units in Samar into a higher gear. "We feel, now is the opportune time to go for it because we have women leaders whom we believe would appreciate what we are doing", Ms. Nenita B. Felebrico, KSFi Chairperson said.
Samar's Provincial Board has now five women leaders. Former Calbiga, Samar Mayor Luzviminda L. Nacario, PCL Provincial Federation President Perfecta Sabenecio, Former Zumarraga Mayor Casilda C. Lim, a young lawyer, Atty. Eunice U. Babalcon and from the 1st District, Board Members Rosenaida A. Rosales and Pamela M. Portaleza.
KSFi cited that in this call, they are enjoining the lady legislators as a woman and as a legitimate leader of Samareñas to be one with them in this endeavor. The organization emphasizes that Lim as the chairman of Committee on Women is in an enviable position to lead the campaign.
Mainstreaming of gender and development is the government's strategy to implement its policy on gender equality. This was introduced by the National Commission on the Role of Filipino Women or NCRFW in 1994, but unfortunately in Samar most of the local government units according to some sources are not even aware of it.
In 2003, KSFi initiated a campaign to mainstream GAD in selected areas of Catbalogan City though it has limited funding and lacks policy support at the local level. At present, KSFi campaign activities are limited to advocacy and training activities for women among its NGO networks.
The said organization is optimistic that their call will be properly addressed soon. They intend to highlight women's month celebration on March of this year by the creation of the Provincial Gender and Development Council for Samar. "If created this will spur the campaign to mainstream GAD into the development agenda of the Local Government Units from the Provincial down to the Barangay level of the province", Felebrico said.
It will be recalled that the Provincial GAD Council was first organized at the time of the late Samar Governor Jose A. Roño and has been inactive since then. But KSFi insists that they count on the good intentions of the Provincial Elected Officials and their wise judgment to push this goal into fruition so that collectively a difference can be made in the lives of Samareñas.
DENR 8 produces 2 million seedlings under Trees for Life Program
By PURIFICACION S. DALOOS
January 22, 2008
TACLOBAN CITY, Leyte – Over 2 million seedlings were raised in 2007 with 48,957 seedlings planted covering an area of 983.48 hectares and an aggregate of 37.61 kilometer stretch in Eastern Visayas.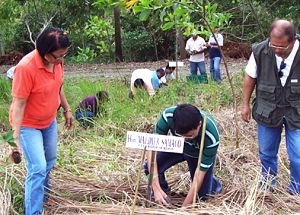 Mayor Maloney Samaco of Maasin City plants a tree seedling during the launching of TFL at the Maasin City Park in Danao, Malapok Norte. Also in photo are (L) LMO III Blesilda Velasco and (R) CENR Officer Floriano Leonor.
"This is our contribution to the Trees for Life Project implemented in 2007 which seeks to raise 20 million seedlings for planting and nurturing all over the country," reveals Regional Executive Director Alfredo S. Pascual of the Department of Environment and Natural Resources (DENR).
RED Pascual likewise disclosed that most of these seedlings were produced and planted by volunteers from the different sectors of society including the military, other government agencies, academe, non-government organizations, local government units, church and civic groups. "These 'adoptors' not only helped us plant the trees, but they also pledged to nurture and maintain the planted seedlings," RED Pascual added.
The planting of the trees followed a "thematic-based" approach involving simultaneous nationwide planting of seedlings in pre-identified planting areas. Under the thematic approach, planting was undertaken in protected areas, watersheds and open upland areas for the month of August; mangrove and coastal areas in September; agroforestry and fruit tree areas in October; and urban parks, school campuses, military camps and subdivisions in November.
In Eastern Visayas, tree planting in thematic areas was launched at the Samar Island Natural Park in Tenani, Samar as the identified protected area/watershed. Identified mangrove and coastal areas was the Biri-Larosa Seascape in Northern Samar which was planted with trees in September. Planting in agro-forestry areas and fruit trees was launched at the IFMA site of the Manobo Tribe in Tacloban City. Likewise, the planting in urban parks and school campuses was launched in Maasin City.
"The Trees for Life Project is one way of combating the effects of global warming," RED Pascual says. "Growing trees serve as our legacy for the future generations. What we have started today should result in something good in the future," RED Pascual adds.
Under its regular activities, the DENR has likewise reforested some 353 hectares in upland and watershed areas in Eastern Visayas with over 0.52 million seedlings in 2007.
All is set to the 13th Boy Scouts Regional Jamborette in Maasin
By BONG PEDALINO (PIA Southern Leyte)
January 21, 2008
MAASIN CITY, Southern Leyte – It's all set for the holding of another Regional Boy Scouts Jamborette in this city within the month, from January 30 until February 3, to be held at the Danao Forest Park.
The site is now "60% to 70% ready," said Mayor Maloney Samaco, in a sideline chat with PIA Wednesday shortly before he delivered his first State-of-the-City (SOCA) address at the city gym.
Some 3,000 to 4,000 scouts and scouters from various places in Regions 7 and 8 are expected to come for the duration of the activity, where challenges and adventures usually await the young for them to enjoy, learn, and have clean fun.
"We just hope the weather will cooperate," Mayor Samaco said earlier in a radio program, referring to the rainy conditions that continue to prevail last week until this writing.
The guest of honor for the occasion will be Makati City Mayor Jejomar Binay, the national President of the Boy Scouts, and he had confirmed his intention to personally come to grace the opening ceremonies and spend the night in the city, Mayor Samaco had said.
A parade to mark the opening ceremonies will be held in the afternoon of January 30, starting from Anatalio Gaviola Public Plaza in the city's center up to the Capitol Sunken grounds, to be followed with a brief program.
This will be the 13th Regional Jamborette, but this is the first time the city will host such event.
In his 13-point agenda, on Youth Empowerment, Samaco included the activation of scouting in all schools with matching trainings.
He also encouraged the same degree of training for girl scouting, appointing his Mother, Engr. Esperanza Samaco to become the "city girl scouting coordinator at a salary of P 1.00 a year."
Danao Forest Park, a reservation of more than 400 hectares of forest lands under the care of the city government, can be reached in about 20 minutes ride time upland from the city proper going north.
Reporting skills training, set for Visayas Media
By MYRA M. TAMBOR
January 20, 2008
CATBALOGAN CITY, Samar – Twenty media practitioners from Visayas Region to attend another reporting skills training to be conducted by Center for Community Journalism and Development (CCJD) on January 31 to February 2, 2008 in Cebu City.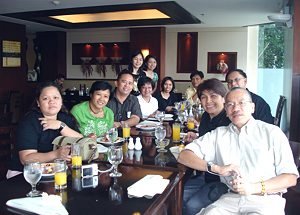 Said training aims to equipped media with the latest reports on human trafficking issue in the region and how the community journalist will be able to use its capabilities in taking part with the efforts of curbing human trafficking in their localities.
Center for Community Journalism and Development cited that the Philippines has been identified as a source, transit and destination country for victims of human trafficking and was placed on Tier 2-watch list on the 2005 United States Department of State Trafficking in Persons Report. CCJD Project Coordinator Girlie Alvarez said that "despite the intensified efforts coming from both the government and non-government organizations to address this problem it is still disturbing to note that the numbers are increasing and seemingly the reasons which account for this dreadful situation have included indifference, erosion of family values and poverty".
With this seminar cum hands-on training, CCJD will try to look into the role of the community journalists in raising knowledge and awareness in different localities of the country and participation of community stakeholders in coming up with solutions to better address the situation. Journalists are expected to be oriented on the different local and international laws and conventions, state of trafficking in persons in the country, best practices in combating human trafficking, ethics and safety in covering human trafficking stories and reporting on human trafficking issues.
From the Samar Island 5 journalists are expected to attend the said training. Samar province has been identified by Visayan Forum an NGO advocating against human trafficking in the country as one of the highway and source of human trafficking in the country. Poverty and lack of employment opportunities is being attributed as one of the factors of this incidence in the said province.
Meanwhile, CCJD believes that community journalists will be of great help in the efforts being conducted to address the said problem. Center for Community Journalism and Development is a facility for journalists working with citizens, communities and institutions for social change.
Eastern Visayas attains 115% rice sufficiency
By Philippine Information Agency (PIA 8)
January 20, 2008
TACLOBAN CITY, Leyte – Region 8 attained a 115 % rice sufficiency in 2007, producing 950,000 metric tons of rice, Dr. Rufino Ayaso III, the Regional Rice Coordinator of the Department of Agriculture informed when he guested at the Panindugan television program of the Philippine Information Agency recently.
Dr. Ayaso said the Region has been consistently increasing its rice production in the past three years surpassing its annual target.
In 2005, the Regions total rice production was 788,000 metric tons while in 2006, this increased to 830,000 metric tons, Director Ayaso informed.
The 2007 rice production of Region 8 achieved a 17.7 percent increase, surpassing its annual target. In 2008, the Department of Agriculture in Eastern Visayas is targeting a one million 64 metric tons rice and in 2010, the target for Eastern Visayas is nine million metric tons.
Director Ayaso said that the Department of Agriculture said that the Region was able to achieve this target by its continuous advocacy on the commercialization of hybrid rice, the planting of Certified Seeds in low yielding areas and the application of location specific technologies.
For this year, Director Ayaso added that the Department of Agriculture will continue to work for the commercialization of Hybrid Rice particularly in Samar provinces where rice production is still low.
The Department of Agriculture will also strengthen the coordination with the Local Government Units particularly in discussing the rice development program of the provinces and strengthening the involvement of rice enhancement programs in the local government units in order to increase rice production.
Director Ayaso said that although the Region has already attained 115 percent rice sufficiency, the availability of rice is not at one time because there are several cropping season in the Region.
Hybrid Rice production in the Region will be encouraged not just in irrigated farms but also in rain-fed fields because the experience showed that there is still an increase in yield of farmers hybrid rice in rain-fed fields. The total yield in rice production is 4 metric tons per hectare of irrigated lands and 3 metric tons in rain-fed lands, Director Ayaso said.
Although the cost of Hybrid Rice seeds is P3,000.00 per hectare versus the lower cost certified rice, the Department of Agriculture is subsidizing P1,000.00. The remainder could be paid in advance by the Local Government Units as loans to the farmers and these are paid after harvesting.
This way, the income of the farmers will increase and the problem of the local government units will also be reduced.
DILG helps small towns avail of MDG fund
By MYLES JOSEPH E. COLASITO
January 18, 2008
TACLOBAN CITY, Leyte – Eleven towns in Eastern Visayas were trained recently by the Department of the Interior and Local Government (DILG) on preparing project proposals for submission to the Municipal Development Fund Office (MDFO), a loan facility for poorer towns.
Participating towns had earlier submitted Letters of Intent to DILG in response to feelers from the office for project proposals that address problems targeted by the Millennium Development Goals (MDGs).
The guest speaker, Paizal Abutazil, Director of the Office of Project Development Services (OPDS) of the DILG Central Office said the MDG Fund was opened for fourth to sixth class towns to help them access financing for projects they could not otherwise afford with their own revenue.
He assured concerns of municipal mayors who attended the opening of the three-day workshop at Hotel Alejandro in Tacloban City on January 14-16, 2008 that interest rates have been made low to suit 4th to 6th class municipalities, in contrast to other financing schemes intended for cities and higher income municipalities.
DILG-8 Regional Director William C. Paler on the other hand, challenged municipal mayors who attended the Opening Rites to take steps to increase their local revenue so their local government could further improve their delivery of basic services. Most LGUs in the country are dependent on the Internal Revenue Allotment (IRA).
Mayors who joined the Open Forum were Hon. Rustico Balderian of Tabon-tabon, Leyte; Arnelito Garing of Cabucgayan, Biliran; Joji Montallana of Jipapad, Eastern Samar; Ricardo Diaz of Palapag, Northern Samar; and Rogelio Tan of Pambujan, Northern Samar.
Participants composed of municipal planning officers, MLGOOs and technical personnel, learned what to include in project proposals, its format, and the financing requirements. The MDG Fund is a joint project of DILG and the Department of Finance which supports loans from 4th to 6th class towns up to 15 Million Pesos aimed at addressing poverty problems, such as those highlighted by results from the Community Based Monitoring System (CBMS) survey that is being advocated by the agency.
The MDGs are the country's commitment to the United Nations Year 2000 Declaration on the fight against poverty and hunger. Poverty indicators can be gleaned from surveys such as the CBMS, which identifies households below the poverty line.
Ombudsman orders filing of graft charges against 2 Customs police
Press Release
By Office of the Ombudsman
January 18, 2008
QUEZON CITY, Philippines – Ombudsman Ma. Merceditas N. Gutierrez today ordered the filing of graft charges against two members of the Customs police who connived to misdeclare a shipment of 50 laptop computers and pass these off as electric lamps.
In a three-page resolution, Ombudsman Gutierrez ordered the filing of charges against Alfredo Cruz, a member of the Public Assistance Unit, and Rizalino Calderon, Customs Examiner, both of the NAIA Customs police.
The case stemmed from a complaint filed by George Sambre, who alleged that on March 30, 2007, a shipment consigned to one Mario Gonzales arrived aboard Cathay Pacific Flight CX-901. The contents of the shipment were declared to be Electrical Goods as shown in the airway bill.
The said shipment was duly examined by one R.D. Calderon, who declared it as containing 50 pieces of portable electric lamps, as evidenced by the Examiner's findings which he signed and was approved by Alfredo Cruz.
However, upon examination of members of the Enforcement and Security Service-Customs Police District (ESS-CPD) of the NAIA District Office, it was found that the shipment actually contained 50 laptop computers.
Moreover, Calderon upon learning that the said shipment was confiscated and was recommended to be placed under a hold departure order contacted the chief of the ESS-CPD and attempted to "fix" the problem. He was, however, turned down by the ESS-CPD chief.
The Intelligence and Enforcement Group of the Bureau of Customs summoned Cruz and Calderon to explain their side, but both failed to appear and were reported to be on leave. Thereafter, a recommendation was made to file charges against them before the Office of the Ombudsman.
The Ombudsman, in turn, directed Cruz and Calderon to file their counter-affidavits and other controverting evidence, which they also failed to do.
In its resolution, the Ombudsman said that Calderon's act of signing the Examiner's Findings was an attempt to cover up the items for some special reason, and constitutes a violation of Section 3(e) of Republic Act 3019 (The Anti-Graft and Corrupt Practices Act).
In the case of Cruz, his act of approving the findings of Calderon made him equally liable for violating RA 3019. Moreover, his attempt to interfere in the confiscation of the laptops constitutes a violation of Section 3(a) of the same act as well as Article 212 of the Revised Penal Code.
In line with this, Ombudsman Gutierrez urged the public to help in the campaign against graft and corruption by reporting any information on perceived irregularities and anomalies in government service thru OMB Hotlines 927-4102 and 927-2404.
NPA members surrender in Leyte
By Maj. OTHELO D. YAÑEZ (FA) PA
January 18, 2008
CAMP LUKBAN, Catbalogan City – The ranks of the CPP/NPA/NDF continue to diminish as another two (2) NPA members voluntary surrendered to elements of 43rd Infantry Battalion in separate occasions in Leyte province.
On January 4, 2008, Narceso Lor alias Elor surrendered to elements of Bravo Company of 43IB in Brgy. Luneta, Lapaz, Leyte with a Caliber .30 M1 Garand rifle. Likewise, on January 12, 2008, Antonio Selvio, a communist terrorist member also surrendered to same elements of 43IB in Brgy. Caabangan, Lapaz of same province with his M16 rifle and ammunitions.
The series of surrender among Communist Terrorists members and supporters shows that they are already fed up and dismayed with the false promises and horrible lifestyle in the underground movement. Moreso, when they learned that their commanders are enjoying a luxurious lifestyle in the city as a proof of the earlier arrest of Iglecerio Peria "Ka Choy" at Sta. Maria cockpit Arena in Bulacan spending revolutionary Tax Collection.
This was attributed through the massive information campaign and tactical operations conducted by the operating elements of 43rd Infantry Battalion in the area.
Major General Armando L Cunanan AFP, Commander, 8th Infantry Division, Philippine Army commended the operating troops of the 43rd Infantry Battalion for a job well done.
He also encouraged other members and supporters of the New People's Army to lay down their arms and return to mainstream society while he extend his gratitude to the people of Leyte for the unwavering support they are extending to our troops operating in the province of Leyte.