When the legitimate becomes immoral
By Fr. ROY CIMAGALA, roycimagala@gmail.com
April 24, 2019
WE have to be careful with this possibility that, sad to say, has become rampant nowadays. It cannot be denied that we are aware of the many blessings we have, and the many rights of our human condition. We have all kinds of talents, we have intelligence and freedom, and varying degrees of wealth, resources, power. We have the right for rest and comfort and some amount of bodily pleasure.
We obviously can use and enjoy them. We just have to make sure that these legitimate things do not become immoral as when we allow them to lead us to sheer self-indulgence, with God completely out of the picture. That's when what is good can become bad.
This danger is always present in our life and we should do something about it. We should not allow God's blessings and the rights we have to simply be spoiled and to spoil us because we feel they have nothing to do with God.
No, sir! God is and should be the beginning, the center and end of all these blessings and rights. They are supposed to lead us to God, to give glory to him, and not just for us to wallow in our shameless pleasure. We should not forget that these things are God-given. They are not simply and exclusively our own.
We have to remember that without God in their use and enjoyment, there is no other alternative but to fall into sin, into some self-entrapment that alienates us from God and others. We would soon lose the sense of balance, restraint and moderation, prudence and propriety, and start our wayward ways. We would just feed our bodily and worldly pleasures while starving the soul. The animal in us dominates.
Without God, we would easily fall into some form of addiction and many other anomalies, like pride, vanity, greed, self-righteousness, rash judgments, etc. We should be quick to feel something is wrong when we realize we are enjoying things without God and simply by our own selves. We should correct that predicament just as quickly.
In other words, just like in anything else we do, we should have rectitude of intention when exercising our rights and enjoying our endowments. To be sure, such practice does not undermine the enjoyment of what is legitimate in our condition.
On the contrary, it would enhance such enjoyment, purifying it and elevating it to the supernatural order which is proper to us as children of God. It would affirm the dignity proper to us as persons and children of God.
With God, we would know how to use and enjoy them with measure, with self-discipline and control. We would avoid being fully at the mercy of our worldly curiosities and other bodily impulses and urges.
Again, let us spread this caveat around. More than that, let us teach everybody the ways and means of how to rectify our intentions when exercising our rights and enjoying the blessings God has given us.
Let us remind ourselves of the importance of developing a life of prayer, to such an extent that we truly have an abiding contemplative spirit, when we would be always aware of God's presence, and see him in everything and in everyone, and get to know his will and follow it as faithfully as possible.
This should not be regarded as alien to our human nature. On the contrary, this is what is essential and integral in our nature. Without God, we as human beings would go on a limb. Sooner or later, we would get into trouble that is made worse because we might not even know we are in trouble.
It would be good if right there in the family, this basic skill of praying is taught and lived, and the small ones would already be initiated into the ways of prayer and prudence.
The current situation of civil society in the Philippines
A Statement of the Aktionsbündnis Menschenrechte - Philippinen (AMP)
Cologne, April 9, 2019
In a letter to the Secretary of the Department of Interior and Local Government Eduadro Año and the Secretary of the Department of National Defense Delfin Lorenzana, the Aktionsbündnis Menschenrechte - Philippinen (AMP) expressed its deep concern about increasing attempts by the Philippine government to discredit civil society organizations, including a number of long-standing partners of our network, by denouncing them as front organizations of the communist New People's Army (NPA). These accusations frequently have deadly consequences since human rights defenders who work for organizations alleged by the security forces to have ties with the communist insurgency are at particular risk of becoming victims of extrajudicial killings.
On March 30, 14 people were killed in a single day in police operations in the province of Negros Oriental. The victims were described by the provincial police director of being communist rebels and accused of owning illegal firearms. Local human rights organizations and Bishop Alminaza of the Diocese San Carlos however maintained that they were peasants, members of farmers organizations, habal habal drivers and church workers respectively. Eye witnesses described the killings as executions with the victims being cornered and unarmed, drawing comparisons to the 'drug-style' killings in the Philippines' brutal war on drugs.
Ever since the breakdown of the peace talks between the Philippine government and the National Democratic Front of the Philippines (NDFP) in late 2017, harassment, defamation and murders of activists, including land and environmental rights defenders, who are wrongly portrayed as state enemies, communist rebels or terrorists, increased considerably.
While this defamation of civil society actors is nothing new in the Philippines, the Duterte government has also taken other steps to systematically hamper their work. In February, a delegation of the Philippine government which had toured Europe had accused several NGOs of acting as fronts for the NPA. These include Karapatan, one of the leading human rights organizations in the Philippines, the Rural Missionaries of the Philippines (RMP), an inter-congregational organization of church people working with rural poor communities, the independent think tank IBON Foundation, and ALCADEV which runs independent indigenous schools in Mindanao. In meetings with the EU and the Belgian government these NGOs were accused of diverting funds they had received from them to the communist rebels. In late March, the EU Delegation in Manila released a press statement that it had so far not been able to verify the allegations but would conduct a financial audit of one of the accused NGOs.
Since the AMP and its members have worked with these organizations for many years, we can attest that the accusations are unfounded and aimed at silencing voices critical of the government.
In November 2018, the Securities and Exchange Commission (SEC) published a memorandum which mandates NGOs to disclose detailed information on their funding sources, current and intended beneficiaries, and amount of funds.3 Based on an undisclosed points system, organizations will also be assessed whether they pose a risk of money laundering or financing terror. If an organization is deemed to be 'high-risk', it will be subjected to 'enhanced monitoring and supervision' measures.
Unlike some other countries, the Philippines so far has no specific NGO law intended to impede the work of civil society organizations. The AMP is therefore concerned about these recent administrative measures which seem to be designed to complicate the registration of NGOs and to limit their access to foreign funding.
The widespread defamation of NGOs, the increased violence they suffer as well as these new attempts to obstruct their work are part of a systematic crackdown against civil society in the Philippines. The Aktionsbündnis Menschenrechte - Philippinen therefore calls upon the Philippine government to:
- Immediately investigate the killings of March 30 in Negros Oriental and to bring possible perpetrators to justice,
- Take all necessary steps to protect human rights defenders from harassment, violence, and killings and protect their freedom of association in accordance with Article III, Section 8 of the Philippine Constitution,
- Direct the Philippine security forces and all government agencies to refrain from making statements that stigmatize human rights defenders, especially statements that suggest that defenders are members of the New People's Army,
- Immediately rescind SEC Memorandum Circular No. 15 (2018),
- Guarantee the right of all civil society organizations to seek, receive, and utilize funding from national, foreign and international sources without undue interference.
We also call on the European Union to:
- Publicly declare its support for all human rights organizations in the Philippines, especially those on which it has received accusations,
- Consider the withdrawal of the trade preferences given to the Philippines under the Generalised Scheme of Preferences (GSP+) unless the government takes immediate steps to protect civil society actors from further harassment and violence.

[The Aktionsbündnis Menschenrechte - Philippinen (AMP – Action Network Human Rights - Philippines) is an initiative of seven major German church-based agencies and human rights organizations to promote advocacy and information work in Germany and the EU regarding the human rights situation in the Philippines. Member Organizations of the AMP are Amnesty International Germany, Bread for the World – Protestant Development Service, International Peace Observers Network (IPON), MISEREOR, Missio Munich, philippinenbüro e.V. im Asienhaus, and the United Evangelical Mission (UEM). The main focus of the network lies on the core human rights issues of extrajudicial killings, enforced disappearances, and fabricated charges against political activists.]
Commemorate the valor of the Filipino people! Defend our sovereignty!
A Joint Press Statement by Tanggol Kasaysayan & ACT for Sovereignty
09 April 2019
Tanggol Kasaysayan and ACT for Sovereignty join the Filipino people in commemorating the valor of Filipino martyrs this April 9 who fought to defend the sovereignty of our country. This is in honor and recognition of our people's deep-rooted history of fighting for freedom and for the promotion of people's welfare. On this day, we remember the suffering and sacrifice of patriotic Filipinos who struggled to frustrate foreign attempts to steal and colonize our territories.
As we commemorate the Philippine Day of Valor, we recognize that we are still confronted with threats and challenges to our sovereignty. We remain to be bound to unequal military pacts with the United States of America through the Mutual Defense Treaty, Visiting Forces Agreement, and Enhanced Defense Cooperation Agreement, which are skewed in favor of foreign interests and leave our country susceptible to attacks from countries antagonistic towards the US government. Meanwhile, China is relentless in its aggressive take over of islands within our shores in the West Philippine Sea as it continues to assert the unrecognized 9-dash line and as China makes itself known as a new global superpower. Through the establishment of artificial islands, China utilizes our sands and the soils from our mountains to create a network of defense for the expansion of its naval bases.
China further chains the Philippines through the funding of various projects in the Philippines. Using the classic template for a skewed contract in favor of China which it has used in other economically struggling countries, the Philippines has pawned off its natural resources and rights to govern critical infrastructures in the country in exchange for huge business loans. Ridiculously high interest rates, shorter lengths of repayment plans, exclusively granting project contracts to Chinese corporations who employ only Chinese workers – these are just some of the unfair provisions in the loan contracts that the Duterte regime blindly agreed to in the interest of 'Build, Build, Build'. Several projects are t be funded by these onerous loans, which include the Chico River Dam project, the construction of Kaliwa Dam, and the reclamation of parts of Manila Bay. Should we fail to repay these debts, China reserves the right to claim our natural resources and to control important public infrastructures to the detriment of the lives and livelihoods of the nation.
The anomalous relations between the Duterte regime and the Chinese government should be exposed. We must learn the lessons of our history – the People must fight for the country's independence and sovereignty at the first instance of threat against it.
These lessons can be observed as we commemorate the Philippine Day of Valor. Unfortunately, even these learnings are in danger of being relegated to oblivion as the state neglects its duty to strengthen our historical consciousness. The state has abandoned its role in propagating and cultivating patriotism. Through the continuing K to 12 program, Philippine History has been removed from High School curriculum and, in tertiary education, it has been transformed from learning about events from the past towards varying interpretations of history, which runs the risk of diluting our understanding of our identity as a nation.
It is high time for us to once again assert the valor of the Filipino people. We shall put into practice the lessons of history about our tradition of resistance against foreign domination. It is time to forward the interests of the people as basis for all international relations. Our national sovereignty and the security of future generations shall take primacy over accumulation of profit and other financial gains for the few from entering anomalous contracts. These, however, will only be made possible by a people with vast and deep historical consciousness who can elevate our commemoration of days like these to reliving the lessons of the past in the face of threats against the welfare and future of our nation. These can be guaranteed through the unity of the Filipino people in advancing a society where the interests of the majority trumps those of the few and those of foreign invaders.
Learn from the lessons of history!
Commemorate the valor of the Filipino people against colonizers!
Fight for Philippine freedom and sovereignty!
The big problem of the rich
By Fr. ROY CIMAGALA, roycimagala@gmail.com
April 2, 2019
WHAT is the big problem of the rich? Christ spelled it out when he said, "It is easier for a camel to pass through the eye of a needle than for a rich man to enter the kingdom of God." (Mt 19,24)
The big problem of the rich, in short, is his attachment to his wealth such that he cannot give himself fully to God. He may give the appearance that he is giving a lot, but if it is not the whole of himself, then it is not total self-giving which God deserves and expects from each one of us.
Let us always remember that God wants the whole of ourselves. He wants our entire heart, not a divided heart. He wants to be everything to us, the first and the last, the Alpha and the Omega. He wants to be given priority over everything else, including our own life.
This is not selfishness on his part, an act of ego-tripping. It is simply in recognition of the basic truth that everything, including our life, comes from him and also belongs to him. We have no right whatsoever to expropriate as our own what actually comes and belongs to God.
We need to understand that our intelligence and will, our freedom and rights that enable us to be and to do what we want, and to be rich in many ways, also come from God and belong to him. They can only be properly exercised when used in accord with God's will and ways.
And to be rich here does not mean only those with a lot of money and resources. It can mean those who are well-endowed in the other aspects of life – power, fame, health, intelligence, luck, etc.
We need to remind ourselves constantly that even if we can say we are the owners of such wealth, resources, talents, power, fame, and indeed of our whole life, we actually are at best only stewards who have to give account to the absolute owner of all these things that we possess.
We have to continually fight against the tendency and the constant temptation to think that all these things are simply are own, that we are their absolute owners. This is not going to be easy, of course, because even within ourselves we have the villain that will always push us to think that way.
That is why we really would need to make use of strong and constant measures to see to it that we are properly detached from whatever form of human and worldly wealth we can own and possess in this life.
It is not that we avoid acquiring wealth in this life. The acquisition of wealth can be an expression of the productivity and fruitfulness that is also expected of us. But we need to always rectify our intentions, seeing to it that everything we do in this department is always for the glory of God and for the common good of the people.
This should be shown in the way we live our life that should be marked by the qualities of simplicity, austerity, humility, generosity, magnanimity, honesty, integrity, etc.
We need to be spiritually strong and tough such that we would be willing to lose everything that we may have acquired with great effort in just an instant. We have to constantly remind ourselves that with God we would already have everything. "Solo Dios basta," as St. Teresa used to say.
Let us never forget that wealth in whatever form, if not related to God, is the worst corrupting agent we can have in life. Everyday, we should devise a plan of protecting ourselves from the strong attraction of wealth that would take us away from God and from others.
Freedom is not 'free'
By Fr. ROY CIMAGALA, roycimagala@gmail.com
March 22, 2019
MY father wrote the valedictory address I delivered during my high school graduation more than 50 years ago. I still remember the opening lines, a play of words that continue to intrigue me even up to now. "Freedom is not free," I said, trying to sound dramatic. "You have to pay for it or it buys you out."
I indeed agreed to that affirmation at that time, but I did not quite capture the richness of its content until I went through many experiences these past 50 years that simply validated it.
Yes, we have to pay for our freedom to be true freedom. In fact, the price is quite high, because it involves nothing less than giving away all we have to gain it. We have to give away many 'freedoms' to gain the real one.
It is indeed a paradoxical thing. To be truly free, we need to be lose our own ideas of freedom that simply are expressions of what our body wants, what the external conditionings would lead us to, etc. True freedom can only come when we manage to unite our mind and will with God's.
That is when freedom will truly serve the cause of truth, charity, mercy, justice and all the good things proper to us as creatures of God made in his image and likeness and, with his grace, are adopted children of his, meant to share the very life of God.
It is this freedom that would clearly put us on the right track toward our final destination which is heaven. It does not get entangled with the things of this world, though it would know how to use them. It is one that can prefer to enter by the narrow gate if only to reach its ultimate goal, rather than by the wide gate the opens up to the by the many allurements of this world, but eventually would lead to our perdition. (cfr. Mt 7,13-14)
It is a freedom that needs to be constantly guarded and guided to make sure it comes from the right source and goes to the right destination. It has to be properly inspired and motivated, as well as properly oriented. Otherwise, as we have been warned in the gospel, it can simply give an opening to self-indulgence, thus imprisoning us into our own world. (cfr. Gal 5,13)
It is a freedom that requires real and total detachment of self and of the things of this world so that we can have the one that gives everything. Christ articulated this point when he said: "Seek first the kingdom of God and his righteousness, and all these things will be added unto you." (Mt 6,33)
We have to be wary of being deluded by the charms of the many forms of false freedom we have in this world. To be able to do this, we have to be ready to follow Christ's indication to deny ourselves, carry the cross and simply follow him. (cfr. Lk 9,23)
Yes, genuine freedom will always involve sacrifice. A freedom in this world that does not involve sacrifice is simply not true freedom. It would be a freedom that would set us up for inhuman slavery even as it dishes out a lot of perks and privileges for a while. We have to be most discerning of the tricks of false freedom.
What is more, we can somehow distinguish between genuine and fake freedom, since the former is usually done gratuitously, without any strings attached, without any condition, without counting the cost nor expecting any reward. As they say, it is done freely despite the steep cost. It is what identifies us with Christ.
Fake freedom usually has ulterior motives. The intentions are not pure. It usually likes to flaunt itself. It will sooner or later corrupt our soul.
"Louder for the People in the Back": Indie vs. Popular Filipino Music
By JESCA C. CANTO
March 18, 2019
Our lives revolve around music. It has indeed played a major role in shaping people's lives, most especially to those who are blessed with the gift of music and are able to share their unique sounds that led them to pursue their passion for it.
In the Philippines, it is widely known that we have outstanding performers in the field of music that even some are fortunate enough to have their talents recognized by either local or international scenes, and we are fortunate enough to go around the world to perform on the biggest stages. Because of this, many artists are inspired to strive and attain that same goal. Even more so when their music is something that catches people's attention because of the messages they convey. But as the years go by, the music industry in the country has become more political in terms that it has a tendency to be more of a business in making money than what music is supposed to be; an expression of art at its proper form.
In today's digital age, music has become more accessible to many whether through online streaming sites or downloading them through music applications like Spotify. It has also given the opportunity to let people share their music, especially those starting out as local indie artists who want their work to be recognized in simple ways such as posting their music on websites like Soundcloud, or promoting their performances in small gigs at local bars.
These indie artists have one goal in common; to express what words cannot say through their passion for music. With this access, many of these artists have published their songs in the form of covers and even unique compositions online. By means of publishing their work, their talents get discovered and are easily shared through word of mouth via social media. None of which would also have happened if it weren't for the love and support that their fans have been giving them that pushes them to continue doing what they do best.
But even through the small success of these indie artists, in reality, it is difficult for most of them to pursue music and get the recognition they deserve. Today, as much as they want to make their music known at its best quality, it is being surpassed by what the popular music industries promote. The Filipino masses are innately attracted to anyone or anything that's famous, most especially when they are seen in their famous movies and soap operas.
Unfortunately, Philippine entertainment industries use this attraction to their advantage, in which it influences them to waste their money on artists who are already famous for their acting career and have them take a chance on making music, whether or not they can actually sing and hit a good note. Later on, you would be surprised that music industries are actually promoting a poor quality album that is filled with auto-tunes and shallow lyrics sung by a person who just so happens to be already famous, rather than investing their time and attention on promoting indie artists who produce songs that have a much deeper substance.
In line of the inappropriateness of promoting such artists in the field, most if not all Filipinos tend to be attracted to the loudest thing, but not necessarily the best thing, especially when it comes to music. Their attention is more on songs that do not have much essence, than those that do. It shows how Filipinos have such a skewed definition when it comes to the quality of the songs that they listen to, simply because of the influence that some artists have garnered through media that is not anywhere related to music.
These indie artists, however prominently talented they are, are being overshadowed by songs from inadequate persons in the industry who are only doing it for their additional source of profit.
Ever since its start in the early 1970s, Original Pilipino Music (abbreviated as O.P.M.) has always been prosperous and it never fails to captivate the hearts and emotions of the people, especially through the way it is arranged and the true implications of the lyrics.
Filipinos nowadays tend to say that OPM is dying, or dead even, because all they see and hear are from our entertainment industries are so-called artists lip-syncing to international songs and not even promote what is ours. Others even say that it's dying because the quality of Filipino music artists they promote today are shallow or just a copy of international celebrities. But little do they know that these indie artists are the ones keeping it alive by giving what's unique and sustaining the true meaning standards of OPM, and it's saddening that not many people appreciate them.
Music in the Philippines has become more of a subject of business than of Art. But even if that is the reality of the industry, it is satisfying to see that here are still thriving artists who still push themselves into pursuing their music knowing that the music business in the country is a hit or miss.
As someone who is enthusiastic for her love and support for Filipino music, it is great to perceive that little by little prosperous and authentic music is being distinguished by its unique quality over other the qualities being promoted in the media, and that people are sharing and promoting these indie artists that deserves to be heard and be proud of. But at the end of the day, the most important purpose music can achieve is to unite its people amidst its differences.
Transparency and accountability
By Fr. ROY CIMAGALA, roycimagala@gmail.com
March 12, 2019
IF we want our life to be good, we need to develop a keen sense of transparency and accountability. These traits assure us that we are on the right path. That is to say, we have nothing bad to hide, and more, we are seeing to it that we are responsible for what God has given us, making these God-given gifts fruitful and productive.
A good sense of transparency will help us develop and sustain our integrity in life. It means that everything that we do is good, that is, morally good. This sense of transparency can only take root when it is based on our faith in God who sets all the laws in our life, and therefore, all that is good for us.
Besides, God actually sees everything. Before him, nothing can be hidden. We therefore have to adapt a lifestyle that would make us do everything in his presence. In fact, we are not simply meant to do things in his presence. It is more to do everything for God's glory. Thus, when we do things without God in mind, let us be warned that we are already doing things wrongly.
We should not base our sense of transparency on human, natural and worldly criteria alone. These latter standards do not capture all the good that is proper to us. At best, they may just be silent about the finer nuances and consequences of what is generally good for us. We have to remember that many mysteries shroud our understanding of things.
But what is bad is that our human laws and worldly standards have started to go against God's will. This, of course, can be due to our limitations in truly understanding God's law. But it can also be due to our sinfulness and malice. Nowadays, I believe it is the latter that has led us to make laws that are openly against God's law.
We can try to do something about this problem by teaching the children to be transparent always, first to God, then to their lawful authorities: their parents, teachers, elders, etc. And with the adults, let us remind them often of the importance and the great many benefits that a working sense of transparency brings.
The same with the sense of accountability. This has to be inculcated in the children as early as when they can be understand it. In the gospel, many are the references that talk about this need for accountability. One is the parable of the talents where a master gave his three servants different amounts to do business with while he went away. (cfr. Mt 25,14-30) The master asked for an accounting when he returned.
We even have to account for the words we speak, as attested in this passage of St. Matthew's gospel: "I tell you, on the day of judgment people will give account for every careless word they speak, for by your words you will be justified, and by your words you will be condemned." (12,36-37)
St. Paul in his Letter to the Romans also said that "each of us will give an account of himself to God." (14,12) And in his second letter to the Corinthians, he said: "For we must all appear before the judgment seat of Christ, so that each one may receive what is due for what he has done in the body, whether good or evil." (5,10)
We have to prepare for this judgment when we have to give account of what we have done with what God has given us. Let's remember that God has given us everything that is good to us, even the way to recover our dignity as children of God once we lose it due to our sins. He has given us life, talents, the theological virtues, mercy, etc.
We should be ready to face God to give an accounting of our life with eagerness, not with fear.
Stop discriminating ACT members in election service!
A press statement by Alliance of Concerned Teachers (ACT)
March 6, 2019
Over the last few weeks, teacher-unionists under the Alliance of Concerned Teachers (ACT) have reported alarming cases of disinformation in various regions, where some local officials of the Department of Education (DepEd) have been declaring the ineligibility of ACT union members to serve as part of the Board of Election Inspectors (BEIs) in the upcoming midterm polls. This is yet another attack against teachers' right to self-organization and a dirty attempt to persecute ACT.
In Central Luzon and Eastern Samar, DepEd officials have purportedly been announcing in meeting with school heads and in teachers' seminars that ACT members are prohibited from being part of the BEI for the 2019 elections. In Laguna, a document that made rounds among teachers detailed the qualifications of BEI members, which explicitly noted that members of the "Allegiance of Concerned Teachers" are not qualified.
The outright singling out of ACT members in election service has no legal basis. No law or policy allows for the wholesale disqualification of BEI members – especially not on the grounds of their affiliation to any organization, as such would be a case of political discrimination prohibited by the law. Furthermore, barring teachers from serving as poll workers is a violation of R.A. 10756 or the Election Service Reform Act (ESRA) which states that public school teachers shall be prioritized in election service.
This is a vicious attack against teachers' economic rights. For underpaid teachers, the P6,000 honorarium they receive as workers during elections is a significant addition to their scant income. The accordance of a just compensation to the difficult and perilous job they take on every elections is a product of their determined and consistent effort to push for the enactment of the ESRA, and to prohibit them now from participating as BEIs is to deny them of their hard-earned victory.
This is a malicious strike against teachers' right to unionize, a clear attempt at union-busting. Such efforts are aimed at forcing teachers to dissociate themselves from our union by stifling their work and compensation.
As the surveillance and harassment suffered by our members continue to intensify, another dirty tactic of vilification and persecution is employed by the state in a futile attempt to enfeeble us and our organization.
We call on DepEd to clarify this issue involving their local officials. DepEd must state for the record if there is such a national order to discriminate ACT members in election service. If so, how is this related to the meeting mentioned by retired DepEd Region 3 Director Torno which was supposedly held between DepEd and the National Police Commission on the government's counter-terrorism campaign? The central office shall effect measures to correct the unlawful and misinformed pronouncements of its local officials.
We also urge the Commission on Elections (COMELEC) to take urgent action to resolve this issue. As the commission with the exclusive authority to appoint or disqualify BEI members, we urge you to provide clarification on this matter.
We demand the immediate termination of all acts of terrorism launched by the state against us in the form of surveillance, harassment, intimidation, and terrorist-tagging of our organization and our members. ACT Philippines and ACT unions are legal and legitimate organizations of teachers, administrative staff, and advocates who have consistently lobbied for and advanced the rights and welfare of education workers. Such are not acts of rebellion or terrorism, but are mere exercises of democracy.
The state, instead of subjecting teachers to intimidation and repression, should honor and dignify teachers for their unparalleled commitment and sacrifice in the fulfillment of their vital role in people's education amid dire conditions.
Spending a Good Lent
By Seminarian LANCE ENAD, lancivspatricivs@gmail.com
February 28, 2019
Venerable Prosper Guerranger OSB tells us that the principal effect Lent should have in us is the renovation of our spiritual lives. In this sense, a person who comes out of a well spent lent should be a better catholic, a person who loves God more, a person more identical to Jesus Christ.
For most of us, spiritual perfection is the work of a life time. If we at least try to conquer a particular vice or defect and to acquire a particular virtue or to make a particular resolution for each lent, we would at least have a stable growth in our spiritual life – in the spiritual life, mind you, according to St. Augustine, not to move forward is to move backward.
It is a pity though how lent is almost not noticed nowadays and how the spirit of lent is chocked by the thorn bushes of the world. That is why it is interesting how in the extraordinary form of the Roman Rite (Tridentine Mass), lent is preceded by Septuagessima season – a prelude to lent – so that the faithful may be better prepared to spend a good lent.
In line with this, here are some things useful to spend a good lent.
Root out a vice or defect. Catholic Spirituality would tell us that each of us have a predominant fault – which is an obstacle in our spiritual life. Lent would be high time to remove these so as to advance in the spiritual life. If for example, one has the vice of intemperance in eating or drinking, lent would be the time to confront this, to purge ourselves of this vice, this capital sin which lead us to much graver sins. It would be a mistake to think that one would give up, let's say, drinking in lent, and would return to unrestrained drunkenness after lent. A man with the vice of intemperance taking lent seriously should come out of it a man who has, or at least is sincerely trying to have, the virtue of temperance not only for this particular lent, or for this particular liturgical year but for the rest of his life.
Acquire a virtue. St. Augustine tells us that virtue is just another form of Charity – here I do not mean philanthropy but Charity, the theological virtue that has God for its object, that is, the Love of God. St. Francis de Sales also tells us that the devout life – the spiritual life – consists in loving God. In this sense, the renovation of our spiritual life would mean that we would love God more, that we will acquire more virtues – not for their own sake but because they are a means to prove our love for God. For instance, a young man, may use this lent to acquire the virtue of chastity – he would have to do some spiritual reading, a lot of prayer, a lot of mortification, a lot of devotion to the Mother of God during this season of lent to acquire this virtue so threatened by the world today. It is to be noted that virtue for us is not merely the fruit of personal struggle alone but virtue is not possible without the grace of God. If each person, at least in a city, decided to acquire a virtue each year, that city would probably become a city of saints.
Prayer and penance. Lent would be the time to form the habit of prayer or for those with this already, to intensify their prayer. The spiritual life is not possible without prayer. Prayer, apart from being the great means of salvation and spiritual perfection, is the means by which we acquire graces. Without grace, the spiritual life is not possible. Lent would also be the time to acquire or to strengthen the virtue of penance. There are so many reasons to do penance (something I discussed at length in my other essays). It would, perhaps, suffice to say here that lent is the best time to unite ourselves to our Lord Jesus Christ on the Cross by means of penance and that the penance, along with prayer, is a pillar of the spiritual life.
Crucifixion time again
By Fr. ROY CIMAGALA, roycimagala@gmail.com
February 20, 2019
WITH new scandals assailing parts of the Church today (mainly in the US), we are reminded that we are into another round of crucifixion time for our Mother, the Church. We should not be surprised anymore by this development. But we should be prepared to handle this predicament properly and learn some precious lessons.
The life of the Church cannot help but reflect the life, passion, death and resurrection of Christ, its founder and its body into which we, Christian believers, are incorporated. Yes, we cannot escape the curse of sin in our life as well as in the life of the Church as a whole.
Like Christ, the Church has to bear all the sins of men, including those committed by its temporal leaders. Christ did all he could to sanctify us. He preached, performed miracles, instituted the sacraments and founded the Church, etc. But in the end, due to our hard-headedness and all kinds of weaknesses, he just had to offer his life to save us. The Church cannot do no less. She has to suffer the same fate.
It is, of course, painful to experience all these scandals, but we should not over-react to the point of making things worse. These scandals, a consequence of human weaknesses that can afflict even our Church leaders, are actually a call for another conversion, which is something that is meant to be a continuing, life-long process for each one of us. Something very good can be derived from these scandals.
We just have to focus more on what we can gain from these scandals in terms of what can favor another conversion rather than on getting hooked on their purely negative aspects. Of course, there will be elements that will rub it in on us. Some sectors of the media will have a field day in this. But this should also be expected.
We just have to be ready to react to all this properly, as shown by Christ himself. And that is simply to suffer together with Christ – a suffering that is in accordance to the will of the Father. In a sense, the suffering caused by the scandals is another concrete way of identifying ourselves more intimately with Christ. In a way, it is a welcome development.
In the meantime, we have to do the continuing task of cleaning up our own selves and the Church as an institution. We cannot deny that weaknesses, temptations and sins will always hound us. We have to identify more clearly the deficiencies in Christian life that give rise to these scandals and come up with the appropriate measures to address them.
Offhand, we can take another review of how the formation of priests and seminarians is done. What improvement can be made in that department? How should priests be more effectively accompanied in their ministry so that their spiritual life would remain healthy as they carry out their heavy responsibilities?
And since transparency is also a goal to be pursued, how should this be done without compromising the basic human rights of all the parties involved? How should Church authorities handle cases where the legal rights of persons are involved? Justice, charity and mercy should go hand in hand.
These, I suppose, are some of the things that have to be looked into if only to minimize the cases of scandals that can unnecessarily disturb the people in general. It cannot be denied that the Church authorities have to install appropriate means and structures to be in step with the rightful expectations of the world.
It's about time for the Church authorities to air out the hidden dirty closets. Transparency and accountability should be lived strictly. It certainly will be a very painful and unpleasant task, but it will definitely be for the common good, and will give due glory to God!
Preparing for Lent
By Sem. LANCE PATRICK C. ENAD, lancivspatricivs@gmail.com
February 15, 2019
February 17 this year, in the extraordinary form of the Roman Rite (Tridentine Latin Mass) Septuagesima Sunday –seventy days before Easter. The two Sundays after this would be Sexagesima Sunday (sixty), and Quinquagesima Sunday (fifty). These three weeks are a prelude to lent –in Latin, Quadragesima (forty). On that day, in the extraordinary form, the Gloria and the Alleluia are omitted, and purple becomes the Liturgical color. This season though is not yet lent but is a means to prepare for lent.
In the Parable of the sower, we see the seeds that are sown into the thorny bushes. They grow yet the thorns choke them. As we know, the seeds are the word of God and the thorns symbolize the world and all the things opposed to our salvation and sanctification. In this we can see the purpose of the Septuagesima: Lent is a very important season and that we ought to prepare ourselves for it to make the most out of it.
On the feast of Epiphany there is the tradition of announcing the movable feasts for the year. In the announcement of the date for Ash Wednesday, the cantor says "the beginning of the fast of the most sacred Lenten season." This shows how the church has regarded lent as a very important season.
An authority no less that Dom Prosper Guerranger O.S.B., in his magnum opus, "the Liturgical year" that the Church wants us to make the most out of lent, a season of penance, that it may produce its work in our souls: "the renovation of our spiritual life."
Oftentimes the distractions, the comforts, and the pleasures of the world render us indisposed to enter into the season of penance. Perhaps, before we know it, lent would arrive and it would catch us off guard. The Church invites us, therefore, to prepare the soil for the sowing. We ought to remove all that could impede or make difficult our observance of lent.
Dom Propser Guerranger O.S.B. tells us: "Now, the Feast of Easter must be prepared for by a forty-days' recollectedness and penance. Those forty-days are one of the principal Seasons of the Liturgical Year, and one of the most powerful means employed by the Church for exciting in the hearts of her children the spirit of their Christian vocation. It is of the utmost importance, that such a Season of penance should produce its work in our souls – the renovation of the whole spiritual life. The Church, therefore, has instituted a preparation for the holy time of Lent. She gives us the three weeks of Septuagesima, during which she withdraws us, as much as may be, from the noisy distractions of the world, in order that our hearts may be the more readily impressed by the solemn warning she is to give us, at the commencement of Lent, by marking our foreheads with ashes."
Although Septuagesima has been abolished by the liturgical reforms. The values behind it, however, remain valid. The devil, the flesh, and the world remain opposed to our salvation and sanctification no matter how these are almost no longer mentioned. We need to prepare ourselves to lent. Lent should be the time for those who do not have a spiritual life to live one, for those who have, to advance. We need to pay attention to the affairs of our soul, to our spiritual life. These would not be possible of we are distracted and choked by the thorns of the devil, the flesh, the world, and all those opposed to our sanctification. Let the remaining weeks be a time to prepare for lent so that lent this year would be the best lent we ever had.
New imagination needed to understand global human rights situation
A Statement by the Asian Human Rights Commission
January 23, 2019
After two world wars, the first world elite realized the necessity of a global human rights movement, and cooperated with each other to bring that about. The Universal Declaration of Human Rights was a product of this imagination and determination not to allow past rights violations to recur. Subsequent UN conventions all followed from this imagination.
Unfortunately, today, that imagination is no longer manifested in the first world. The political elite in developed countries is now dominated by a narrow perspective that does not consider the conditions of the third world, where life is truly nasty, brutal and short. The first world is willingly turning a blind eye to the massive loss of human rights in the third world. Their attitude is almost cynical. This is most clearly noticed in the bilateral ties first world countries have with developing countries, all but ignoring human rights concerns. It is also visible in current UN forums, including the Human Rights Council. As Human Rights Watch noted in a statement earlier this month, when states with poor human rights records were joining the Council as members, "The Human Rights Council should not be a place where violators come to seek shelter. It should be a profoundly uncomfortable place for rights violators; a place where they know they will be held to a higher standard and put under the spotlight for their abuses. Membership has its consequences."
There are several probable reasons as to why the first world has become so indifferent to the human rights violations in the third world. One reason may be the end of the Cold War. When the Cold War prevailed, there was a fear of a territorial shift in favour of Communist opponents. This threat no longer exists, with the elite in the first world and former Communist countries now sitting at the table together. The first world is therefore willing not to make any fuss about the suffering of the ordinary folk living in these countries.
The economic crises affecting the first world could be another reason for its myopia. With first world countries all preoccupied with their own problems, and an increase in isolationist practices, there is little united leadership toward human rights issues shown by the first world.
Aside from any other reasons, it is necessary to note that there is something radically wrong with the imagination and leadership regarding human rights in the third world. It is ironic that while today the first world knows more about the third world than ever before with the advancement in world communication networks, this very knowledge that the world possesses may be producing negative results. It seems as though the more the problems of the third world become known, the more pusillanimous and insular the first world becomes. Perhaps the feeling is that it is not within our power or capacity to deal with such horrendous violence and human rights abuse.
The result of this attitude is that people in third world countries who are fighting to improve their rights are today more isolated than ever before. As governments of third world countries are fully aware that the first world is turning a blind eye to the human rights violations in their countries, they are emboldened to attack their poor and marginalized communities. The present global impunity for human rights abuse creates political leaders who violate the rights of their own people without any fear or shame.
The few fine individuals and intellectuals in the first world who are concerned with global human rights situation are disoriented due to a lack of support in their own countries. Critical discourse is therefore necessary regarding the Human Rights struggles throughout the world. American lawyer Gary Haugen has captured this situation marvellously in his book, The Locust Effect. In spite of a few who are making strong efforts, the general situation of the first world is that it does not care about the global human rights situation anymore.
It is this that needs to become the focus of discussion among those who care for the lives and rights of everyone, in order to fire up new imagination on this issue.
True Devotion
By LANCE PATRICK ENAD, lancivspatricivs@gmail.com
January 18, 2019
In his book, "True Devotion to Mary," – which every serious catholic should read – St. Louis de Montfort explains that True Devotion to our Lady is interior, tender, holy, constant, and disinterested.
Perhaps, we who labor for our salvation can use these characteristics for our benefit. It seems that these characteristics can be used as a checklist for devotion in general.
True devotion is holy. First, this would mean that true devotion (to the Blessed Sacrament, to the saints, etc.) would lead us to God. True devotion to Mary, for example, would lead us to a deeper relationship with Jesus Christ. Second, this would mean that true devotion would lead us to abhor sin thereby loving God more. A person habitually in the state of mortal sin, for example, who prays the rosary devoutly every day, would one day either give up mortal sin or the rosary.
True devotion is interior. This means that true devotion comes from the heart and does not consist merely of reciting prayers and waving hands.
True devotion is constant. This means that true devotion is not impulsive but is stable. A person who has a devotion to our Lady, for example, ought to have a fixed program for his devotional acts and should be faithful to that. This could mean praying the rosary every day.
True devotion is disinterested. This means that a true devotee does not have -or at least is trying to do away- with self-serving motives but is selfless in doing his devotions and is motivated by love.
True devotion is tender. This means that true devotion entails childlike confidence. True devotion to our Lady, for example, means childlike trust in our Lady.
Moreover, St. Louis de Montfort continues to explain that True Devotion to Our Lady, consists in the imitation of our Lady's virtues. I suppose this applies to all other devotions. Devotion to the Sto. Niño for example, would consist in imitating the virtues of our Lord in his childhood –meekness, humility, obedience to the Father, and all those virtues a good meditation on the Childhood of Our Lord will tell us. The Sto. Niño is also viewed as a symbol of the Christian Faith in our country. Devotion to the Sto. Niño then would compel the devotee to study the faith, to be firmer in their conviction to live and die in the catholic faith.
Let the words of St. Louis de Montfort be an examination of conscience for us. Are these characteristics present in my devotion? Am I trying to imitate the virtues of the Child Jesus? Do I study the my Faith? Do I read the catechism? If by the end of your examination you find out that your devotion fails to meet this, resolve to try hard –an harder if needed- to meet this aided by the grace of God. By the end of your life, having done these things, you would have been a better person –that is, more identical to Jesus Christ-, a better catholic, a virtuous person, and, by the graces God bestows upon you because of your devotion, a person meriting a canonization.
Celebrating Sinulog right
By Seminarian LANCE PATRICK ENAD, lancivspatricivs@gmail.com
January 15, 2019
Holy days, have always been, at least on paper, sacred times. In these holy times, anything that could be a distraction from the worship of God is to be avoided –hence we abstain from work (although with exceptions) on Sundays so that we can spend the day for God, with our families, and for rest.
We see in the catechisms and in the preaching of many saints, especially St. John Mary Vianney, the phrase "desecration of Sundays." St. John Mary Vianney often preached against it. Being the pastor of the village of Ars, he lamented how people worked on Sundays and neglected to come to Mass. On Sundays too, dances were held in the town –dances which fostered immorality and other occasions of sin.
Obviously, Sundays and holy days are days for our Lord. Holy days are especially set apart for the worship of God, for doing good works, for the family. Anything that would be an obstacle to those would be an abuse of these sacred times. Any sinful act or vice on these days –parties, or street parties, dances, etc. that endanger purity, that are occasions of sin- would be a desecration of these sacred times.
It is rather lamentable to think how Cebu City on the feast day of the Sto. Niño instead of being filled with grace, becomes a cesspool of sin, vice, and immorality. While we supposedly enthrone the Christ Child, the City becomes a pit of sin –so many souls that are in the darkness of mortal sin commit still more on this day and perhaps so many souls on that day, lose the grace of God.
You, Christian Reader, redeemed by Jesus Christ, would you tolerate how God is offended on the time that should be for him? On birthdays, we always try to be nice to the celebrant. On the day of the Lord, why is it that we offend God all the more. It is like how those engaged in theNi demonic mock God at 3am and how we remember the death of Our Lord at 3pm. God is offended, what is your reaction, Christian soul?
For this reason, it is important to give some advice on how to celebrate the feast of the Santo Niño well.
(1) Attend / assist in the Holy Sacrifice of the Mass. It is Sunday, you are obliged to assist in the Most Holy Sacrifice. Offer this mass for the salvation of souls, for the conversion of sinners, especially for those who will have the misfortune of committing a mortal sin on the feast of the Sto. Niño. Offer this mass as a reparation for each time God is offended.
(2) Pray the Rosary. This is a powerful weapon for our times. The Rosary is a meditation on the life of Our Lord. If you pray it every day, Sinulog would be a great day to pray all the mysteries. If you don't pray it every day, it is high time to begin. Commend your soul and the souls of your loved ones to our Lady so that you will always be kept in the grace of God.
(3) Holy hour. So many graces flow from an hour of prayer before the Blessed Sacrament. Spend an hour before Jesus. Offer it in reparation for the sins committed today and in homage to the Sto. Niño.
(4) Read the Bible. Read the Gospels. How fruitful it is for us to read the life of our Lord! While so many people do not think of God on that day –and so many even offend him-, you reading the Bible make it one person less.
(5) Preparation. Prepare yourself for the feast day of the Sto. Niño. Pray the Novena and meditate on the Childhood of Our Lord.
Sinulog, before it is a festival, before it is a time for culture, is a time for God, a sacred time- we ought not to forget that.
On Duterte's statement that human rights groups are enemies of the state
A press statement by KARAPATAN Alliance for the Advancement of People's Rights
January 10, 2019
Only tyrants and human rights violators consider human rights defenders as enemies, to justify their killing and other worse violations against them. It is actually those in government who order, encourage and perpetuate extrajudicial killings, illegal or arbitrary arrests, rape, torture, and other grave violations, as well as those who engender impunity and poverty and promote the sell-out of our country's patrimony, who are considered by the people as their enemies.
We reiterate - Duterte's sham drug war and its consequences cannot be justified by the government's inability to resolve criminality and its distorted and unscientific analysis on the roots of the problem of the illegal drug trade. As long as the government sees that the solution to social woes is through its kill, kill, kill approach, as long it does not nip corruption in government in the bud by being complicit in the entry and proliferation of illegal drugs in the streets, as long as it doesn't solve the root causes of poverty, it will always face criticism and opposition from the people.
Human rights defense is not the sole purview of human rights groups. Every day, every hour, several communities and individuals uphold and defend their individual and collective rights. The people are defending our rights. As long as Duterte continues to disregard these rights, he will be made accountable by the people.
Hey, sex is sacred!
By Fr. ROY CIMAGALA, roycimagala@gmail.com
January 1, 2019
THAT'S right. Sex is sacred. We should not play around with it. It is serious business, infused with a very serious mission. We should not trivialize it.
Of course, it is easier said than done. The naked truth is that given our wounded condition and the current state of affairs, sex for mere pleasure exercises such tantalizing influence on all of us that we find it hard to resist its allurement.
Why, even highly respected people including some cardinals, bishops and priests are accused of some sexual shenanigans. Of course, these are just accusations and allegations. We have to presume innocence of the accused until proven guilty. But that such accusations are made can only tell how problematic sex is to us.
Also, the other day, a niece of mine who works in a hospital was distressed in telling me that she had to handle a case of a 12-year-old girl giving birth. It's now common among teeners to have boyfriends and girlfriends. We can only imagine the extent of this problem that is yet to be reported.
We cannot exaggerate the fact that nowadays, this problem regarding sex has become a real scourge and a case of infestation. Pornography is rampant and easily accessible. Sexual sins are not anymore confined in the mind and in the intentions. They are deeds and it seems that they have become the new normal. You meet at random a man in the street, and most likely he is afflicted with some sexual aberration.
This is the reality on the ground. Just the same, no matter how bad things look and actually are, there is always hope. We just have to be realistic in carrying out the duty of proclaiming the sacredness of human sexuality and of helping people in developing and living the virtue of chastity.
In this regard, we should try to explain with gift of tongue and in ways adapted to the concrete conditions of the persons concerned, why sex is sacred. We should avoid doing it in such an idealistic way that would scare or turn off people rather than help them gradually not only to have a correct understanding of the nature and purpose of sex, but also start being serious in living a chaste life.
This is, of course, no easy task. We need to be tough, persevering and constantly creative in carrying it out. There are many fronts to face. On one hand, we have to proclaim, to be positive, to highlight the beauty of sex according to God's plan and its benefits to us if lived in true love and chastity.
On the other hand, we have to teach people how to defend themselves against the temptations and how to handle their weaknesses. We have to be adept in teaching them the spiritual and supernatural means as well as the human means for this purpose.
We need to remind everyone that sex is part of our God-given nature and is entrusted with the most delicate and intimate mission of cooperating with God in the creation of another person. Trivializing it and misusing it is actually an act of going against our nature. We dehumanize ourselves by doing so. By misusing it we become more like dogs than human persons.
The art of prayer and self-discipline, interior struggle and spirit of mortification have to be taught. Frequent confession and regular spiritual direction, where brutal sincerity is a must, should be encouraged. All these done in a friendly and confidential manner.
Last but not least is the great help that a deep devotion to the Blessed Virgin Mary, the mother most chaste, can give us. The Marian devotion is a strong shield against sexual temptations.
Avoid tempting God
By Fr. ROY CIMAGALA, roycimagala@gmail.com
December 14, 2018
IT was nice to learn about Blessed Bartolo Longo (1841-1926) who, as the Wikepedia puts it, "was an Italian lawyer who has been beatified by the Roman Catholic Church. He was a former satanist who returned to the Christian faith and became a third order Dominican, dedicating his life to the Rosary and the Virgin Mary."
Other sources provided some more information about him: he was orphaned early in life, he was involved in the nationalist movement of the time that was anti-Catholic, he became a Satanist in his 20's, he went into the occult, attended in séances, experimented on drugs, participated in orgies... There's a lot more, but let's spare ourselves from more unpleasant things.
But since all these did not give him peace, but rather a lot of problems including psychological and emotional ones, leading him to depression, he sought some relief and eventually was led back to the Catholic faith. Later, he became so deep a devotee of the Holy Rosary that St. John Paul described him as a man of the Rosary during his beatification.
His story, for sure, will elicit very reassuring responses from us who often wonder how we can become a saint as we should when we are hounded always by our weaknesses, temptations and sin itself. Sometimes, we think that to become a saint is impossible and that stories of saints are more fantasy and fiction than real. Or at best, saints are very special people who never went into really bad things.
Somehow, his story reminds us that God and his grace can take on anything we can mess ourselves in. There is always hope. As St. Paul said, "where sin has abounded, the grace of God has abounded more." (Rom 5,20) His story calls to mind that as said in the Book of Ezekiel, God does not take delight in the death of the wicked but in his salvation. (33,11)
The writer Oscar Wilde also put it so succinctly: "Every saint has a past, every sinner has a future." In other words, we really have no reason to fear and to worry too much over our delicate condition here in this world.
But for all that, we should also be careful not to fall into the opposite side, which is presumption, or tempting God. That is to say, we can fall into the trick of the devil who can suggest to us that since God is very powerfully merciful and can forgive us our sins no matter how grave they are, then we can just go on sinning, or exert no adequate effort to avoid sin and temptation.
We have to be wary of the wiles of the devil who is good in the rebound if at a certain moment his initial attempts to tempt us fail. Tempting God by putting him to some test, or by presuming that he will forgive us anyway no matter what, is a grave sin and represents a big success for the devil.
Remember the devil tempting Christ himself. "The devil took him to the holy city and had him stand on the highest point of the temple. 'If you are the Son of God,' he said, 'throw yourself down. For it is written: He will command his angels concerning you, and they will life you up in their hands, so that you will not strike your foot against a stone.' Jesus answered him, 'It is also written: Do not put the Lord you God to the test.'" (Mt 4,5-7)
This is what tempting God is all about. When we are tempted by the devil, or by the world, or by our own selves, let's never put God to the test by rationalizing that since God is all merciful, he will always forgive me if I fall to this temptation, or that he will not mind if I sin.
A Statement of Unity on the Respect, Protection and Fulfillment of Human Rights in the Philippines
Human Rights Congress
06-07 December 2018
Leong Auditorium, Ateneo de Manila University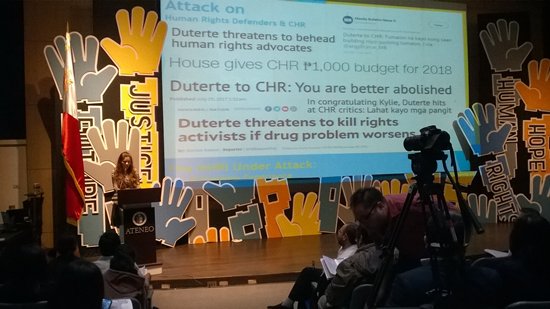 We, human rights advocates from government and civil society organizations, coming from diverse geographic locations, ethnicities, sectors, and ideological positions, on the historic occasion of the 70th year of the Universal Declaration of Human Rights, hereby unite these urgent circumstances with the following points of solidarity:
1) We affirm and uphold the fundamental human rights of every person, as enshrined in the Philippine Constitution, Universal Declaration of Human Rights, the International Covenant on Civil and Political Rights, the International Covenant on Economic, Social and Cultural Rights, and other human rights instruments as well as the role of the State in protecting and fulfilling these rights as duty-bearers;
2) We recognize the complexity and intersectionality of human rights with other basic and cross-cutting issues such as poverty, gender, climate change, peace, and migration;
3) We are alarmed at the worsening human rights situation in the country, exemplified by the thousands of lives lost and damaged in extra-judicial killings; the extension of Martial Law in Mindanao; and the militarization of Marawi City and the country sides;
4) We condemn and continued undermining of the democratic institutions and instruments that protect human rights, such as the Commission of Human Rights, the justice system and media;
5) We denounce the strengthening of a culture of impunity, especially among armed duty bearers; and
6) We deplore the glorification of violence against actors such as government critics, women, and the church as a State discourse, and the silencing of human rights defenders.
Thus, it is with one voice that we call on the State to immediately and comprehensively act on the following:
1) Focus its efforts on addressing basic issues of poverty, inequality, and the people's lack of access to State services such as justice, education, health and decent employment;
2) Ensure the accountability of public officers and duty bearers, starting from the highest echelons of the State, in upholding, respecting, guarding, fulfilling and monitoring human rights in the country;
3) Protect the human rights of all, especially of the most vulnerable, the invisible and the marginalized such as the poor, the indigenous peoples, women, and children, and their right to live in dignity and to nurture their ancestral domains and resources;
4) Safeguard human rights defender coming from government, civil society organizations, educational institutions, faith-based groups, farmers, sectoral leaders, artists, environmental activists, and journalists;
5) Defend and expand democratic spaces and sites for discussion and dissent, instead of threatening them;
6) Include multiple and diverse voices and positionalities in governance, policymaking and public discourse;
7) Empower local communities as safe spaces for human rights to be enjoyed;
8) Dismantle the culture of impunity among the police, military, and para-military and vigilante groups, and enforce respect for the rule of law in communities;
9) Strengthen, not weaken, national and international instruments for the protection of human rights;
10) Apply the full, speedy and just force of the law in arresting, investigating, and charging and convicting human rights violators;
11) Promote a just, humane, and lasting peace in Mindanao that is based not on institutional violence such as terrorist tagging, torture, and illegal arrests but through the immediate lifting of Martial Law, the resumption of peace talks; the full rehabilitation of Marawi City; and grounded, comprehensive, participative, and culturally-sensitive strategies.
In turn, we recognize our role as human right advocates, and hereby commit to:
1) Oppose the legitimization of State violence and war against the poor, exemplified by the sham "war on drugs";
2 Fight the culture of silence, fear and stigma that prevents the reporting and documentation of human rights violations;
3) Harness the power of governance and elections to institute genuine change, and challenge political leaders to deliver a rights-based platform to their communities;
4) Increased vigilance, courage, unity of thought and action, openness to engage in partnership with like-minded stakeholders, within and outside the country, and including State actors, to advance human rights and increase the ranks of human rights champions.
To these principles we agree and commit ourselves on this 7th day of December 2018.
2018 Human Rights Congress Participants
'Make friends with dishonest wealth'
By Fr. ROY CIMAGALA, roycimagala@gmail.com
December 2, 2018
VERY intriguing words of Christ, indeed! (cfr Lk 16,9) We need to go slow, keeping a good grip on our reflex reaction, to know what Christ really meant by them. Otherwise, we can easily misinterpret these divine words.
To be sure, Christ did not say that we should generate our wealth in a dishonest way. "No servant can serve two masters," he said. "You cannot serve God and mammon." We should avoid dishonesty.
What Christ really wanted to say was that since we cannot avoid dishonest wealth given our wounded and sinful condition that often leads us to be dishonest, we just have to make sure that we use that dishonest wealth properly while trying to eliminate dishonesty wherever it is found.
In another part of the gospel, he already warned his apostles, and us, about the naked reality of our life in this world. "I am sending you out like sheep among wolves. Therefore be as shrewd as snakes and as innocent as doves." (Mt 10,16) In short, we have to learn to deal with this condition. We are not yet in Paradise.
Christ wants us to know how to cope with this ugly condition of our life here on earth, and even convert it into something that is good, purifying and redeeming. What usually happens is that the so-called "good people," or those who want to follow Christ or who want to be holy, get so idealistic that they would be at a loss as to how to deal with the ugly reality of our earthly sojourn.
Thus, he made this reproach: "The sons of this age are more shrewd in dealing with their own kind than are the sons of light." (Lk 16,8) These words were spoken after Christ in a parable commended the shrewd manager who made some arrangements after he was given notice of being fired.
Of course, using dishonest wealth properly can be done in many ways. One could be that it has to be returned to where that wealth rightfully comes from. If that is not possible anymore for one reason or another, then it can be used to atone or to make up for whatever damage the dishonest way of acquiring may have caused.
Thus, in that episode of Christ meeting the rich chief tax collector Zaccheus, Christ again commended the rich man for what the tax collector did with those whom he may have cheated. (cfr Lk 19,1-10)
"Lord, I give half of my possessions to the poor, and if I have cheated anybody out of anything, I will pay back four times the amount," said Zaccheus. And Christ answered: "Today salvation has come to this house, because this man, too, is a son of Abraham. For the Son of Man came to seek and to save the lost." (Lk 19,8-10)
Or that dishonest wealth can be used to do some good or to promote the common good of society. In all of this, we should try our best to undo any practice, system, structure, culture or lifestyle that generates this dishonest wealth.
We have to be realistic in dealing with the actual realities of our life. This does not mean that we have to make compromises in our morality. In fact, given the unavoidable unpleasant things in life, we have to be most clear and sharp in distinguishing between what is good and evil, what is moral and immoral.
Only in this way would we know how to deal with dishonest and sinful practices in this life. It would be good to review the principles to guide us regarding the distinction between formal, that is, intentional cooperation in evil, on one hand, and material cooperation, on the other hand. We need to be experts in the latter, given the facts of life.
Priests and paradigm shifts
By LANCE PATRICK C. ENAD**
November 29, 2018
In the battle of ideas between so-called "conservative" and "liberal" Catholics, I am inclined to think that most points of disagreement are questions on emphasis and that the fundamental and mutually exclusive points of disagreement are very few.
If some of you were born and raised during or before the 60's, you might notice that there is a big difference in how priests behaved then and now. Many would perhaps recall that they always ran around in the sotana and that they were rather somehow austere. It would be rare to find a priest today running around in the sotana or even the clerical shirt and seem to behave like everyone else.
It is, I suppose, providential that the sex abuse controversy in the U.S. exploded during the year for the clergy and the consecrated life. This event seemed to be cataclysmic enough to evoke reaction from the Church – which I hope is one of troubleshooting and purging. This invites us to review our theology of the priesthood.
In my conversations with a local theologian with an international caliber, we spoke of the theologies on the priesthood – sacerdos and presbyter, St. Alphonsus de Ligouri, St. John Chrysostom, Vatican II. He mentioned how lofty Chrysostom's theology on the priesthood is – set-apart, sacred, special- and how these ideas can be dangerous since they foster clericalism. He also noted the shift on the theology on the priesthood after Vatican 2.
He noted that there are things that are not necessarily mutually exclusive and how some seemingly disagreeing thoughts are matters of emphasis.
Here, I would like to note that the theology of the priesthood before Vat. 2 has been widely influenced by the thoughts of Chrysostom or similar to his. To my liking, this school of thought seems to emphasize in the priestly life a deep kind sanctity necessary for priests – which I believe, take its roots from the Old Testament, from the demands of the priestly life imposed on Aaron and his sons. Hence the 1917 canon law powerfully insists that "Both the interior and exterior life of clerics must be superior to the laity and excel them by the example of virtue and good deeds." "The rite of ordination before the liturgical reforms then would also emphasize phrases like "imitate what you handle (the sacred)." We can see here that this kind of the theology of the priesthood somehow emphasizes this necessity of the sanctification of the priests and that this kind of thought, although with some disadvantages, disciplined priests back then, gave them a solid spiritual and ascetical program.
It is not my intention to discuss and convince you, dear reader, to adhere to the same thoughts on the priesthood I am seem to prefer since I am still praying and studying about that. Nor do I wish to present a comparison and contrast between one school of thought and another. What I do wish to tell you is that no matter which wing you wish to side, provided that it has nothing against the Faith, there are things which need to be emphasized if we wish to reform priestly life.
Prayer, Penance, a solid ascetical life, etc. need to be emphasized. St. Pius X, the first pope to be canonized since the council of Trent, after St. Pius V, used to say that the two necessary qualities of a good priest are outstanding holiness and solid doctrine – these need to be engraved on rock.
No matter if you want to emphasize that the priest is a shepherd, or that a he must smell like his sheep, or that a he is so special since only he can transubstantiate, only he can act in the person of Christ – not mutually exclusive- we need to emphasize the need for priests to be holy, very holy. A priest preaching a retreat to us seminarians once told us: "better a holy husband than a bad priest." A nun giving a talk to seminarians once said: "being just a priest and a holy priest are two different things."
For the six years of my seminary life, to my despair, these things are not really emphasized. To my despair, I hear seminarians openly and pleasurably having impure conversations. To my frustration, I have heard that some seminarians were living in mortal sin for months, that they had no regard for the spiritual life. To my sadness, I hear of priests keeping mistresses or boyfriends – hopefully false. Sadly, it seems that some priests pray the office no more, do not do mental prayer, and do not studying. Sanctity and Solid doctrine need to be emphasized no matter which camp you are in.
If we want to avoid sex abuse scandals and anything that may disfigure the Church, we have to continually remind ourselves of these things.
**Lance Patrick Enad y Caballero is a seminarian in San Carlos Seminary College, Archdiocese of Cebu, Philippines. Instaurare omnia in Christo! lancivspatricivs@gmail.com
Statement on the 9th year of the Ampatuan Massacre
By HUSTISYA
November 23, 2018
Hustisya (Victims United for Justice) joins the families of the victims of the Ampatuan massacre, in the continuous call for justice nine years after one of the worst massive attacks on journalists and civilians in our history.
Nine years of the pain and suffering is immeasurable for all of us who seek justice. This is doubled by the fact that however prominent this case may have been, it has also become one of the stark realities of injustice and impunity in this country – that, the powerful can simply take away the lives of many, and it will always be easy for them to get away with it.
We join you in remembering the 57 civilians, 32 of whom were journalists. Let us together recite and cry out their names. We refuse to accept they are mere figures. They have names, their lives were gruesomely taken away from them. They deserve justice.
As in the words of a daughter, Reynafe Castillo, "Siyam na taon na ang nakaraan subalit nananatiling buhay sa alaala ko ang karumaldumal na pangyayari sa Ampatuan massacre. Mga bangkay na walang mukha dahil sabog ang bungo, naaagnas at nangangamoy, iyong amoy na dikit sa buong katawan mo (Nine years have passed but the gruesome Ampatuan massacre remains alive in my memory. Bodies without faces because their skulls were crushed, decomposing and, the kind of smell that sticks to your body)."
We remember the continued disappearance of Reynaldo Momay, Reynafe's father, the 58th victim of the Ampatuan massacre, whose body has yet to be found after the incident.
"I remember myself opening the cadavers one by one, looking intensely as I look for my father. My husband and son were with me along with our relatives. Fear was out of sight at that moment. All I know, I want to find him and give him decent burial and to have closure," recalled Reynafe, lamented Reynafe.
Such is the same sentiment of the thousands of victims of extrajudicial killing under the Macapagal-Arroyo regime, only to be insulted and mocked by the comeback of then wheelchair-riding and now catwalking former president and current House speaker Arroyo. The Ampatuans, a known ally of Arroyo, remain a powerful warlord family in Maguindanao and in Mindanao. Zaldy Ampatuan enjoys favorable conditions even while in jail.
Both the hands of the perpetrators – the Ampatuan's private armies and state forces which were enabled and allowed by the government to act as protectors of landlords and warlords – and that of the Ampatuans and Arroyo are both filled with blood of the victims of the carnage.
We are in solidarity to the families of the victims of the Ampatuan massacre. Nine years after, the killings continue, more brazen and brutal. The more recent victims of killings, from the Noynoy Aquino regime to the Duterte regime – activists, farmers, indigenous people, victims of the drug war, civilians and rights defenders – now join you as you cry for justice.
It is true, that families of victims sound like broken records as we gather, cry for justice and remember our loved ones every year. But we will not simply let go of this plight as long as the killings continue. We shall continue to do so, knowing this is how many will hear their plight, and to speed up the attainment of justice. One day, justice will be on the side of the victims.
Ipagpatuloy ang laban para sa katarungan sa mga biktima ng Ampatuan Massacre.
The diabolic in the Chilling Adventures of Sabrina
By LANCE PATRICK C. ENAD*
November 15, 2018
Coming home from the seminary for a short break allotted for the Solemnity of all Saints and the Commemoration of the Faithful Departed, I was surprised to see a very popular series in Netflix – the Chilling Adventures of Sabrina. The advertisements were everywhere and I found the trailer rather charming.
Like most movies nowadays, it came advocating for transgenderism, it was somehow sexualized, it appeared to normalize sinful behaviors like adultery, it somehow made courtship without heading towards marriage a normal thing, and most of the filth you find in films nowadays. Setting that aside, as though this moral decline is an inevitable reality we have to face -as though-, the series overall was charming. There are however, some concerns that must be noted because of its clear relationship with the diabolic.
No doubt, the series was influenced by Satanism –this is quite clear in the blasphemous lines, in the scenes when almighty God is mocked, in the scenes where Holy Mother Church is mocked. Nevertheless, I feel that these things I will mention are things serious Catholics –all should be- should know.
1. Demons are lauded when their names are mentioned. Outside the context of exorcism, one should be cautious with mentioning demonic names. It would be interesting here to note that most horror movies mentioning demonic names are actually real demonic names. According several notable exorcists (Fr. Chad Ripperger being one of them), demons are exalted whenever their names are mentioned.
One of the exorcists of the diocese I'm from would even go as far as never using the names of the demons even if revealed when exorcising since he still believes it gives them some sort of honor even in the context of exorcism. In the series, there was a liberal and almost natural mentioning of demonic names –"for the love of Lucifer," "praised be Satan," etc. This somehow inclines me to think that this series' involvement with the diabolic and satanism is not merely for the purposes of making this series but may even run deeper -to an alarming level.
2. Demons are afraid of the Most Holy Name of Our Lord Jesus Christ. Despite the countless casual mentioning of demonic names in the series, never was there a mention of the name Jesus Christ or the Blessed Virgin Mary. There are statements who clearly allude to the God of the Bible –"the false God"-, or to Holy Mother Church –"the false Church"- but they would never dare to mention the Holy name of Jesus. This made me consider many things concerning the series and the diabolic.
For one who comes from the Archdiocese of the Most Holy Name of Jesus (Cebu), I am particularly happy. It is an honor to be under his banner. This also brought to mind some particular benefits of the devotion to the Holy name of Jesus. It was said that a recitation of the Jesus Prayer is already enough to burn demons –Blessed be His Holy Name!
3. Nudity. There are considerably sexualized scenes in the series portraying immoral sexual behavior or plain nudity. This brought to mind a talk given by Ven. Fulton Sheen concerning the Diabolic. In it, he mentioned that one of the signs of the diabolic is the love of nudity. It is particularly interesting that he mentioned that a friend of his who was a hospital chaplain witnessed some mentally ill and possibly possessed people stripping themselves when he comes with the Blessed Sacrament. He also recounted the story of our Lord expelling demons from a man in the Gerasene territory. This should make us consider that perhaps we are truly dealing with the diabolic here.
4. Absence of Love. The relationship between the followers of the "Church of Night" and the "Dark Lord" is by no means a relationship of love- it is slavery. It always seemed to be more of a business deal rather than a covenant of love. It is only in our Lord Jesus Christ that we can have a relationship of love –a love affair- with God – a loving (Agape/ Caritas) relationship with Love himself- Jesus Christ. This brings to mind very powerful words of Reinhald Schneider, addressed to the Father, mentioned by Pope Benedict XVI in his book 'Jesus of Nazareth': "Evil lives in a thousand forms; it occupies the pinnacles of power… it bubbles up from the abyss. Love has only one form –your Son."
In light of all this, what ought we to do? Perhaps we could begin by reverent mentioning, by means of ejaculatory prayers, the Holy name of Jesus as we go about our occupations. One prayer I would recommend would be the Jesus prayer although the name of Jesus is itself a prayer already.
We could also begin to form a habit, a virtue that compels us to make acts of reparation whenever our Blessed Lord is offended or when the Devil is lauded. We should remove from us all occasions of sin especially sins of the flesh –which according to Our Lady of Fatima is the most successful means the devil uses to bring souls to hell, to remove us from the love of God and to enslave us.
I don't believe I am in the position to tell Catholics not to watch the series. What I will say is that there are some serious things –diabolic- involved here. This should be enough to warn us to be cautious with anything related to the devil and this should hopefully encourage us to deepen our love for our beloved Jesus.
*Lance Patrick Enad y Caballero is a seminarian in San Carlos Seminary College, Archdiocese of Cebu, Philippines. Instaurare omnia in Christo! lancivspatricivs@gmail.com
Sensing the Sacred
By L.P. ENAD*
November 7, 2018
It has been rather alarming that in recent years, if I'm not mistaken, there seems to be unhealthy practices connected to the solemnity of all Saints and the Commemoration of the Faithful Departed.
I have noticed, at least in the cemetery my relatives rest, that there are some families who have been accustomed to stay in their family mausoleums all throughout the day – some would even go as far as spending a night or two in there. That does not seem to be a problem. The problem comes when those two holy days and those holy places we call cemeteries are used for social activities – when mausoleums become places for picnics, for idle talk and gossip, for boisterous laughter, and for some, used for drunkenness -"tagay."
To some, these activities seem commonplace and not at all disturbing. It is, however, important to remember two important phrases: Sacred Time and Sacred Place.
Sacred time. It is rather important to insist that the Solemnity of All Saints and the Commemoration of the Faithful Departed are times of prayer, times to offer suffrages for the souls in purgatory. Turning these times into times of social gatherings, picnics, boisterous laughter, levity, and drunkenness does not help in creating an atmosphere of prayer. I believe the saints who want us to join them and the souls in purgatory who want us to pray for them are pleased to find us acquiring virtues of silence, fasting, and temperance during these times and I'm sure they would be disappointed to find us wallowing in vice and all sorts of things that do not contribute to the spiritual life. These times are also times to sober up and meditate on death and realign our lives to the path of salvation if we find ourselves in the path of perdition or to persevere in the way of perfection if we find ourselves in this path already.
Sacred Place. In the rites of the Church, there is a distinction between a mere blessing and a consecration. Houses are blessed; churches are consecrated. Rosaries are blessed; Chalices are consecrated. One of the places that is so important it deserves a consecration is a cemetery. They are not sanctified by just any priest but always by a bishop or his delegate. The Church has high regard for the place where the bodies of the faithful departed rest as they await the resurrection on the last day. Knowing this should bring to mind the sacredness of cemeteries. These are not just yards where we can have a barbecue, where we can set up an inflatable pool, where we can gossip and talk idly, or where we can have a drinking session that would probably end with each one getting a hangover or vomiting all over the place. We do not do profane things in holy ground. We do not do picnics in holy ground. We do not do social gatherings, get-togethers, or parties on holy ground. Keep sacred places holy.
True enough, family, the meeting of relatives who are far away from each other for the rest of the year is important. Drinking too plays a significant role in our culture as much as picnics, get-togethers, and family reunions do. This, however, is a matter of ordering our values. Do we consider picnics, excursions, get-togethers, reunions more important than God? Do we consider these more important than the very reason we celebrate all saints and remember the dead? As far as I'm concerned God, the sacredness of times and places are of greater value, of greater importance compared to our get-togethers, picnics, et cetera – these are no doubt important for us Filipinos but should not be more important than the observance of sacred times and places. Our time for bonding and socializing should not dim the primacy and centrality of God.
*Lance Patrick Enad y Caballero is a seminarian in San Carlos Seminary College, Archdiocese of Cebu. Instaurare Omnia in Christo! lancivspatricivs@gmail.com
Pride always spoils dialogue
By Fr. ROY CIMAGALA, roycimagala@gmail.com
October 9, 2018
ESPECIALLY in our public discourses regarding ticklish issues, we need to see to it that we are most aware of a persona-non-grata that is called pride. We should keep it at bay, exerting appropriate effort to resist its many strong impulses and urges.
Pride always spoils dialogue. It feeds on our self-interest to the point of making us deaf and blind to the points, let alone, the valid points, of the others. It usually sources its strength more from feelings than from reason, more from our own estimation of things than from faith that gives us the full picture of things and leads us to the common good.
Besides, pride usually has bad manners and employs bad language. It always tries to dominate the conversation, using bullying tactics. It is more interested in scoring more points than in earnestly looking for what is true and fair. Its logic clearly follows the path of selfishness. Charity is a complete stranger in pride. Suffering and humiliations play no positive role in pride.
When one, for example, is accused falsely of something, pride would lead him to react very badly, and even violently. He cannot stand being misjudged and mistreated. His pride-stained sense of justice would immediately give a knee-jerk response along the lines of the tooth-for-a-tooth law of the wild.
Pride leads one to see things superficially. There is no depth in its considerations. It gets entangled in the externals and in the appearances. Besides, it usually assumes a rigid attitude, unable to be flexible and to adapt to different circumstances. It makes a person one-track-minded. A proud person is always closed-minded.
Let's remember what Christ said about new wine in new wineskins. It is a lesson about the need to adapt to different situations without forgetting that we have to put wine into wineskins, that is, without losing focus on what is essential and of absolute value. (cfr Lk 5,33-39) There are things that need to change and things that have to remain unchanged. These days there is a need to know which is which.
Pride is notorious for its highly divisive effects. When pride dominates the discussion, it is possible that both parties can also be both wrong, missing the real point. They can dirty and destroy each other with no constructive result in the end.
We have to be extremely conscious of the workings of pride in us, because it is so embedded in our systems that we often would not know we are being victimized by it. A saint once said that pride is so strongly incorporated in our life that it would only disappear twenty four hours after our death.
The antidote to pride is, of course, the virtue of humility. In the context of our discussions, humility is lived when one is strongly motivated to find truth under God's guidance. The search for what is true and fair in our discourses cannot and should not simply be guided by our own research and reasoning.
Allowing God to guide us, always asking for the light of the Holy Spirit, will help us to find truth and fairness in charity. With God, we would know how to react to any situation in the course of our dialogues, whether things go well or not. We would follow closely the example of Christ who is "the way, the truth and the life."
With Christ, our motives will always be pure, and our ways prudent. With Christ, we would know how to react properly to anything in the course of our exchanges. We would be willing to suffer, and even to die, for the truth. The negative things that we can experience in our dialogues would not dampen our spirit, nor the positive things spoil us.
This kind of humility should be earnestly pursued and developed to prevent pride from spoiling our discussions of any issue.
PCID calls for probe on deaths of 7 youths in Patikul
A statement by Philippine Center for Islam and Democracy
September 19, 2018
The Philippine Center for Islam and Democracy, a Muslim think tank based in the University of the Philippines, is urging the Commission on Human Rights, the Secretary of National Defense, and the Armed Forces Chief of Staff to form a committee that would look into the deaths of seven young men in Sulu and recent bombings in several parts of Mindanao.
PCID is also calling for President Rodrigo Roa Duterte to review the current implementation of Martial law in Mindanao and investigate reported human rights violations not just in Sulu but in other parts of Mindanao.
Rasul says government and stakeholders should act proactively now and establish a national plan that addresses violent extremism, bearing in mind potential problems with the implementation of martial law.
Information indicate that ISIS intends to form a big group composed of remnants of the Maute Group and the Bangsamoro Islamic Freedom Fighters (BIFF), a break-away group of the Moro Islamic Liberation Front (MILF) while taking advantage of situations like the Sulu killings.
PCID is proposing a gathering of stakeholders with the AFP-SND, to create a plan that aims to further improve coordination and relationships of assigned troops in the region and those from the religious and the communities.
Findings show that most deaths in Mindanao are caused by several factors, among them, the absence of coordination by the military with community leaders, miscommunication or lack of information from AFP units operating in the area.
Last Saturday, the AFP reported the deaths of seven young men in Sulu. Based on reports, the AFP tagged these teenagers as "terrorists" which run counter with testimonies of members of the community. Information gathered show that the youngsters were evacuees from a community in Patikul who fled the area due to intense military operation against the Abu Sayyaf Group (ASG).
The priest as mediator
By Fr. ROY CIMAGALA, roycimagala@gmail.com
September 16, 2018
WE have to understand well the role of a mediator. He is like a bridge that connects two ends. A perfect mediator is one where he is both in the one end as in the other. He just cannot be in one end but not in the other, though he may orient or dispose himself to the other without reaching it.
Christ is a mediator between God and man. In fact, he is the sole perfect mediator because he is both God and man. St. Paul testified to this truth of our faith. He said, "There is one God and one mediator between God and men, the man Christ Jesus…" (1 Tim 2,5)
Christ is the perfect mediator because he is not only God but is also man. And he is not only man, but also God. As the Athanasian Creed would put it, Christ is "perfect God and perfect man." He is not half God and half man. The two natures, divine and human, are together in him inseparably without diluting each other. He is not a 'mestizo.'
This truth of our faith is, of course, a mystery. We cannot fully understand it. But we believe it because Christ said so and this is what the Church now teaches. "I and the Father are one," Christ said at one time, pointing to his divinity. (Jn 10,30)
As to his humanity, St. Paul said these relevant words: "When the time had fully come, God sent his Son, born of a woman, born under the law, to redeem those under the law, that we might receive the full rights of sons." (Gal 4,4-5) Only a man could be "born under the law."
This little explanation about the mediator is important and relevant because we, as human persons, patterned after Christ, have to learn the ways of a mediator. Of course, of all men and women, the priests are especially meant to be mediators, because they are at the forefront of the task of reconciling men with God.
With the sacrament of Holy Orders, they are configured to Christ, head of the Church, and participate in Christ's task of mediation in a very intimate way. That is why priests, of all men and women, have to be particularly adept in this art of mediation.
While they are already sacramentally configured to Christ as head of the Church, they have the special, albeit very demanding, duty of truly assuming the mind and heart of Christ. If everyone is meant to be "another Christ," the priests have to be particularly so. They have to lead the way.
This can mean many things. Their mind and heart should be both on heaven even as they are on earth. They should exude the fragrance of heaven even as they can also have the odor of earth, just like what Pope Francis said about priests as shepherds – they have to have the smell of the sheep which they tend.
Like Christ, they have to identify closely both with God and with men. Like Christ, they have to pray constantly so as to be always in touch with God whose will and ways they have to follow.
Let's remember that Christ said: "I have come down from heaven, not to do my will, but to do the will of him who sent me." (Jn 6,38)
Like Christ, priests have to mix well with the people, adapting themselves to them all the way to assuming their sins without committing sin. In this regard, St. Paul said: "God made him who knew no sin to be sin on our behalf, so that in him we might become the righteousness of God." (2 Cor 5,21)
Just imagine what practical considerations can be made from this ideal of priests as mediators like Christ!
A reminder on communion
By Fr. ROY CIMAGALA, roycimagala@gmail.com
September 5, 2018
BEFORE we get carried away by the dynamics of our present life, it is good to remind ourselves that whatever we do or whatever situation we may find ourselves in any given moment, we are meant for communion with God and with one another and that we should keep and foster it, and not just tolerate or suffer it.
Always living in communion with God and with everybody else is not an option that we are free to choose or not. It is a necessity for us, although a necessity that has to be pursued in true freedom. We should live it not because we are told to live it, but because we just want to live it ("me da la gana," in Spanish) and because we are convinced it is what is essential in our life.
While we will always have some differences in our life and contend with all kinds of variety and diversity, we have to remember that all these are not meant to undermine our communion, but rather to foster it.
Our unavoidable differences and conflicts are not meant to be divisive, but rather to be instrumental in enriching our life as a communion. We just have to find a way to live and develop that communion amid and even through these differences and conflicts.
These differences and conflicts are rich opportunities to mature and purify our love and care for one another. They can occasion to develop in us the love that is a reflection and participation of the love that God has for us.
Obviously, the basis, source, power and end of communion is God who has also given us all the means for this communion to be achieved. With God, who reveals himself in full to us in Christ who in turn is made present in the world today in the Holy Spirit, we would know how to enter into communion with everyone including those who for one reason or another we may consider to be our enemies.
It is only through Christ that we can manage to love even our enemies. This is the dynamics of communion. It is to know and to love God and everybody else. It is to love one another the way Christ has loved us. For this purpose, like Christ we should be willing to suffer and die in obedience to God's will. We have to be ready for suffering which will be unavoidable in our life.
We have to be wary of our tendency to react to some issues based on instincts alone, or on our physical, emotional, psychological, cultural condition alone. We have to find a way of reacting to things on the basis of our faith which tells us that whatever we do, we should uphold the ideal of being in communion with God and with everybody else.
In this regard, it would be good if we spend some time processing this truth in our prayer, in our intimate conversation with God from whom we can always ask for the necessary grace and with whom we can start making the appropriate strategies to attain the desired ideal.
Indeed, we have to go through a process of persistent practice until the necessary attitude and skills are acquired. All the effort needed, to be sure, will always be worthwhile. In the end, we can see and judge things better, and make fair decisions that will uphold our need for communion despite our differences.
We have to remind ourselves about the need for communion especially nowadays when we are riven by all sorts of conflicts because of our differences in political views, ideology and other preferences.
100-day maternity leave OK is PH investment for robust future Filipino workers
ALU Statement on passage of 100-day Expanded Maternity Leave bill
September 4, 2018
Workers group Associated Labor Unions-Trade Union Congress of the Philippines (ALU-TUCP) commends lawmakers for passing today Sept. 4, from third reading a bill that expands the paid maternity leave from the current 60 and 78 days to 100 days for women workers in private and public sectors and those working in informal economy regardless of civil status and legitimacy of child.
ALU-TUCP Vice President and Women' Committee head Eva Arcos said the passage of the House Bill 4113 or Expanded Maternity Leave (EML) is a sweet victory for Filipino women workers who have lobbied and belabored for the mandatory welfare for more than a decade.
The bill will be integrated in the bicameral committee meeting with Senate Bill 1305 or the 120-day Expanded Maternity Leave bill sponsored by Sen. Risa Hontiveros which was passed the Senate third reading on March this year.
Arcos said the Expanded Maternity Leave measure is the country's non-cash investment in producing a healthy, intelligent and well-developed future breed of Filipino workers without losing the wages and benefits of nursing moms during maternity period and without sacrificing their health and well-being, Arcos said.
TUCP Party-list rep. Raymond Mendoza said the bill gives mothers a minimum of 100 days to recover from giving birth and at the same time gives time to mother and child bonding, care and nurture that the child needs to become fully developed human being.
Arcos said the passage was made possible after congressmen agreed to limit the maternity leave benefits to four pregnancies instead of the bill's initial provision that the maternity leave benefits afforded to every pregnancy.
International Day of the Victims of Enforced Disappearances: Powerlessness before extra-judicial killings
A Statement by the Asian Human Rights Commission
August 30, 2018
Today, the world commemorates the International Day of the Victims of Enforced Disappearances. Enforced Disappearances is one of the recurring tragedies that is happening throughout the world. Many countries, particularly less-developed countries, now adopt enforced disappearances as the easiest way of dealing with problems that Governments find difficult to cope with. The twin evils of enforced disappearances and extra-judicial killings remain as the two major problems in several Asian countries.
Bangladesh has recorded several hundreds of enforced disappearances of political opponents of the present Ruling Party within the last few months. The matter has been well publicized. But there have not been any serious interventions in order to bring an end to this iniquity. Other countries such as Pakistan, several parts of India, Sri Lanka and the Philippines are among the countries which are prominent in the practice of enforced disappearances.
The complexity of dealing with enforced disappearances is due to the many sections that are involved in causing enforced disappearances. On the one hand, the orders for clearance of the policy of resorting to enforced disappearances involve the topmost layers of governments. Carrying out its resort goes to the military, police and also para-military sections. The moment a Policy of Disappearances is approved by a Government, there begins to develop a secret state within the state. With Government sanction, the open state comes to a standstill and the secret state begins to operate.
Entire legal procedures regarding arrest and detention are virtually suspended. Allowance is made for secret arrests and secret detentions as well as secret torture chambers. Basic functions within the State relating to the judging of guilt and punishment comes to a halt. Judges totally lose their role in dealing with matters of arrests, detentions, and fair trial. The place of the Judges is taken over by ordinary Police Officers, the military and even para-military. Secret decisions are made about the LIFE of a person, and these decisions are IMMEDIATELY carried out.
Although Governments' claim that there will be inquiries into the matter and the guilty will be prosecuted, this hardly ever happens. It is due to the complexity of the operations and the many powerful persons who are associated with these operations. A simple argument that develops at this point is: the Government has authorized and even ordered us to carry out such operations. How can they now demand that we should be punished for carrying out such orders?
Enlightened opinion prevalent today has also failed to address this important issue. Somehow a matter of such great importance goes virtually unnoticed. Any amount of jurisprudential thought on these issues, and international policy development in dealing with Governments which are engaged or have been engaging in disappearances, IS NOT VISIBLE AT ALL.
As another year goes by, there will be many additional victims of Enforced Disappearances. Will there be an attempt, at both local and international levels, to put up severe resistance to end this practice? This includes the restoration of the other factors of: a fair trial and the role of Judges in this equation. This remains as one of the major issues that concern Human Rights in our world today. When the lives of so many people are so blatantly destroyed, how can Human Rights be spoken of with any kind of significance and importance?
THIS IS THE QUESTION THAT PEOPLE ARE ASKING.
The fate of Victims of Enforced Disappearances is one of the urgent concerns voiced today. Victims should be given more protection. Victims should and need to be heard by all sectors of society. A genuine response to their cries for help is what is needed NOW.
Let's always honor our parents
By Fr. ROY CIMAGALA, roycimagala@gmail.com
August 23, 2018
LET'S never forget the fourth commandment. In fact, with the current temper of the times, we have to reintensify our observance of this commandment that seems to be taken for granted nowadays for a number of reasons.
For one, there seems to be a generalized weakening of family life in the world today. More parents are getting alienated from their children and vice-versa due to some developments whose impact on family life is not well considered.
There are some laws that actually undermine family life, such as the law on abortion, etc. And there are now many aspects of our social and professional life that contribute to this weakening of family life.
We have to remind everyone that the honor, respect, obedience we owe to our parents is due first of all by the fact that they are our first connection with God. It was through them that God put us into existence.
We have to remember that we all come from God, and not only from our parents. When we see our parents, we have to learn to see God immediately behind them. They are the first representative of God to us.
Yes, they all have their share of weaknesses, mistakes and sins, some of them grave, but all these do not and cannot detract from the fact that they are our procreators who cooperated with the Creator in bringing us to life.
They may even beget children through the commission of a crime, like rape. But that again does not take away the truth that they have been an instrument of God in putting a person into existence.
A child is not only a biological being. He has a spiritual soul even while he is still at the first stage of fertilization and gestation. That is why a fertilized human egg is not just a matter of cells. He is already a person with a human spiritual soul.
Parents, of course, should try their best to realize deeply the dignity and the serious responsibility they have. They should not play around with their status as parents.
But as far as the children are concerned, they are duty-bound to honor and love their parents. St. Paul already spoke clearly about this duty: "Children, obey your parents because you belong to the Lord, for this is the right thing to do." (Eph 6,1) And, "Children, obey your parents in all things, for this is well pleasing unto the Lord." (Col 3,20)
Children should try their best to make their parents happy all the time. They should avoid as much as possible to give them problems, especially the unnecessary ones. They should be quick to lend a hand in the house chores. They should prepare themselves for the time when they will have to take care of their parents in their old age.
Inculcating this duty in the mind and heart of the children is crucial because this is the first step that everyone learns how to obey other legitimate authorities. Let's remember that we as social beings, let alone political ones also, always have to be subject to some authority, and it is important that we know how to be subject to authority.
Everyone should be reminded that any legitimate authority we have in this life is always a participation in the authority of God. Consider the following words of St. Paul:
"Everyone must submit to governing authorities. For all authority comes from God and those in positions of authority have been placed there by God. So anyone who rebels against authority is rebelling against what God has instituted, and they will be punished…" (Rom 13,1-2)
So, it's clear that the commandment of honoring our parents, our first authority on earth, paves the way to our proper submission to the other authorities in our life.
On the return of the Balangiga bells
A joint statement by Linganay ng Kalayaan, Kilos na Para sa Makabayang Edukasyon, and Alliance of Concerned Teachers
August 13, 2018
The Linganay ng Kalayaan (Bells of Freedom), Kilos na Para sa Makabayang Edukasyon and Alliance of Concerned Teachers-Philippines welcome the news of the impending return of the bells of Balangiga as a positive step towards correcting the centuries-old historical injustice committed by the United States against the Filipino people. This is a victory achieved by the Filipino people that should be considered as part of the long and arduous campaign in the assertion of Philippine sovereignty and independence.
The Balangiga bells form part of the large number of war booties that the American occupation troops stashed away from the Philippines in the long and bloody Filipino-American War of 1898-1913.
The war resulted in the deaths of hundreds of thousands of Filipinos, the large-scale burning of villages and the pillaging of communities by American troops that annexed the archipelago and robbed them of the fruits of freedom that they already had after the Philippine Revolution against Spain.
In the pretext of "Benevolent Assimilation," the American occupation transformed the islands into their Asian outpost as part of their colonial design to create an American Lake in the Pacific region. This they did by creating a submissive colonial bureaucracy and political system, institutionalizing a Western-type of American educational system, and ensuring the continuous economic, political, and military dependence of the Philippines to the United States even after the granting of 'independence'.
In the half century of colonial occupation and in the ensuing long campaign to suppress Filipino resistance against American imperialism, the military campaigns of the United States in the archipelago provided the perfect opportunity for the systematic, organized, and institutional plunder and pillaging of Filipino cultural and historical artifacts and objects that were brought to the United States. A great number of them are now deposited in museums, historical collections, archives, and government and military installations scattered in various American territories.
The Balangiga bells was the most notable of these artifacts that was symbolic of the tradition of collecting colonial war booty American aggression. These should be returned to the Filipino communities that legitimately owned them. The collection of war booties should also be viewed as part of the historical injustice committed by the occupation troops and should be acknowledged as such.
The United States should complete the correction of historical injustice committed against the Filipino people after the return of the bells, by ensuring that all the other war booties be properly returned to the Philippines. Most importantly, historical injustice resulting from the war crimes committed by the United States in the colonial occupation of the Philippines must finally be acknowledged by the American government by way of formally apologizing to the Filipino people.
Historical injustice committed by American colonial institutions continues to this day by way of the Visiting Forces Agreement, the Enhanced Defense Cooperation Agreement, and the Mutual Defense Treaty that ensures the persistence of colonial ties between the two countries. These provide yet another series of institutional mechanisms that make available the conditions for the continuation of plunder and pillage of local communities by foreign military troops. The lessons of history must provide the Filipino people the right path of asserting Filipino independence and sovereignty the way the people's resistance in Balangiga heroically showed us. Never again should another series of colonial wars of aggression be experienced in the country.
Return the Balangiga Bells and all the War Booties Now!
Historical Justice for the Filipino People!
No to Another series of US Wars of Aggression!
Valuing life
By Fr. ROY CIMAGALA, roycimagala@gmail.com
August 8, 2018
NOW that Pope Francis has made it a Church doctrine that the death penalty is inadmissible, we have to review the basis for the true value of human life.
We cannot exaggerate the value of human life, since it is a life meant to have an eternal relation with God, its creator. Even if that life is deformed physically and morally, God will always love it and will do everything to save it. That is why abortion and euthanasia or mercy killing are wrong. They go against the fifth commandment: Thou shalt not kill.
And capital punishment, while approved or at least tolerated in the past, is also wrong, because no matter how bad or criminal a person is, his life can still be saved by the infinite mercy of God. From the Book of Ezekiel, we read: "As I live, said the Lord God, I have no pleasure in the death of the wicked, but that the wicked turn from his way and live." (33,11)
The reason behind its approval or tolerance in the past is the protection of the common good. But this reason does not hold water anymore since there are many other ways the common good can be protected today without resorting to the death penalty.
Besides, given the many imperfections of our legal systems, we cannot risk the loss of life just because of a guilty sentence of the judicial process. The abolition of the death penalty would, of course, challenge us to be more determined in reforming the offender. This may be the area where many of us are still hesitant to tackle.
Human life is, of course, not just any other life here in the world. Plants and animals also have life but they do not have a spiritual soul as their principle of life. Theirs is a soul that is simply a product of a combination of earthly elements that would enable them to grow, move, act in some manner. But it is a soul that disappears with their death.
Human life has a spiritual soul as its principle, and as such, it can survive death. It is immortal and is, in fact, meant for eternal life. It is a soul that comes directly from God and is forever in a relation with God. It is not a soul that is transmitted by human reproduction.
In some passages of the Bible, there is a reference to a distinction between soul and spirit. This is mentioned for example in 1 Thessalonians 5,23: "May your whole spirit and soul and body be kept blameless at the coming of our Lord Jesus Christ."
My take in this distinction between the spirit and the soul is that the spirit refers to our spiritual soul that needs to be nourished by its union with God, while the soul refers to those aspects of our soul that are akin to the soul of the plants and the animals with whom we also share characteristics.
To be sure, we only have one soul, and it is spiritual, though that soul may be affected and conditioned by the similarities it shares with the plant and animal soul. It is this spiritual soul of ours that makes for the basis of the real value of human life.
Having said that, we can also say that out of love for God and for all men, human life can be sacrificed as what happens in the cases of martyrdom and in the crucifixion of Christ himself. As Christ said, this is the greatest proof of love. "Greater love has no one than this: to lay down one's life for one's friends." (Jn 15,13)
In fact, we have to look forward to our own death and somehow give our life up little by little by denying ourselves and carrying the cross to follow Christ daily.