Souls of prayer
By Fr. ROY CIMAGALA, roycimagala@gmail.com
February 11, 2017
We really need to be souls of prayer. This is what is proper to us. It's a fundamental need because when we pray we connect ourselves with our ultimate life source who is God. Our need for prayer is infinitely more than our need for air and food. Before anything else, it is what truly makes us a human person and a child of God.
That is why Christ preached abundantly about it, and encouraged us always to pray. He himself, who is both God and man, prayed all the time. He prayed before he started his public life, when he began his day of work as well as at the end of the day, when he performed miracles, when he had to make big decisions.
In the end, he clearly told us to pray always and not to lose heart when he talked about the parable of the persistent widow (cfr Lk 18,1ff). He also told us about the basic characteristics of our prayer – that it should be sincere, confident, humble and constant.
We have to be wary of our great tendency to be dominated by worldly and temporal concerns such that we fail to pray. That would be a disaster since that would be like being deluded that we are doing well in life when in fact we are failing big time.
We have to start to pick up the rudiments of prayer and begin the process of becoming authentic souls of prayer, such that wherever we are, whatever situation we may be in, somehow we are always praying, we are always in touch with God.
This should not be difficult because we know that God is always around. He is everywhere. Besides, he is always solicitous of us. He cannot fail to love us. We may fail him and earn his anger, but that anger would only be for a while, since his mercy is forever. We can always manage to pray any time any place if we just would have the proper disposition.
Definitely, we need to exercise our faith and be willing to exert effort and make sacrifices. That is how we can aspire to make our prayer alive always. We should put ourselves in God's presence always so we avoid anonymity in our intimate conversations with him.
What can also help is to train and use our imagination in our prayer. In fact, we have to use all our human powers and faculties – our intelligence and will, our feelings and memory, etc. – in our prayer.
And we should be ready to handle the unavoidable difficulties in our prayer. There will be times when we would feel dry and uninspired or when we would be tempted to think that our prayer is going nowhere.
Those difficulties are actually opportunities to improve our prayer and to grow in our spiritual life. If we persevere in praying, using all the means that are always available, we will see how this improvement and growth are taking place, and be filled with joy and satisfaction.
Uninformed or misinformed?
By Fr. ROY CIMAGALA, roycimagala@gmail.com
February 7, 2017
APPARENTLY an American actor expressed the view recently that if he does not read the newspapers, he obviously would be uninformed of developments around. But if he reads them, he most likely would also get misinformed, considering the way the papers are now, he said. He found himself in a dilemma.
This is the challenge we all face at present. The truth is that we have to get informed, but informed properly. We simply have to find ways of how to get out of the state of being uninformed and misinformed.
This will require some skills, of course. But the basic and relevant virtue to live here is that of prudence. That's what would enable us to judge whether we should read the papers or not, now or later, or to "smell" whether a piece of information is good or not, useful or useless, relevant or irrelevant, true or false.
Nowadays, the need to be most discerning is getting urgent precisely because of the proliferation of useless information, not to mention, misleading and deceptive ones and fake news that are laced with all sorts of biases and prejudices of those who make them. It's not only political partisanship that occasions this phenomenon. It's deeper than that. It's now ideological partisanship.
This virtue of prudence, of course, presumes some criteria to guide our judgments. In this regard, it has to be made clear that we have to start with God's moral law. We just cannot set aside this indispensable requirement and plunge immediately to merely earthly and temporal values like practicality, profitability, popularity, etc., to guide us. That would be like sailing a boat without the North Star, or the GPS.
Prudence, of course, presumes a certain hierarchy of values that we should respect, uphold and defend. It should be vitally connected with wisdom that in the end connects us with God and all others, as well as all things in the world, through love and truth.
We have to make sure that our prudence is not only motivated by secondary criteria, like efficiency, effectiveness, practicality, profitability, convenience, etc. If these criteria do not lead us to a closer relation with God, with others and the rest of the world, but would rather reinforce our self-absorption, then it would not be true prudence.
We might enjoy some perks that these secondary standards may give us, but it would not be true prudence when it fails to lead us to our proper relationship with God, others and the rest of the world.
Of course, true prudence springs first of all from our intimate personal relation with God, the source of all good things, of all truth, of all love. Without that foundation, our prudence would be limited to mere appearances of prudence that would be nothing other than the prudence of the world and the prudence of the flesh, if not the prudence of the devil.
Again, we cannot overemphasize the need to be vitally united with God for us to be truly prudent and able to discern all types of information that are being fed to us these days.
In the name of Jesus
By Fr. Roy Cimagala, roycimagala@gmail.com
January 12, 2017
WE should form the habit of frequently invoking the name of Jesus. If there's any name that we should call most often, it should be that of Jesus. It is the most important and necessary name we can call, as attested by St. Paul himself who said:
"God greatly exalted him, and bestowed on him the name which is above every name, that at the name of Jesus, every knee should bend, of those in heaven and on earth and under the earth, and every tongue confess that Jesus Christ is Lord, to the glory of God the Father." (Phil 2,10-11)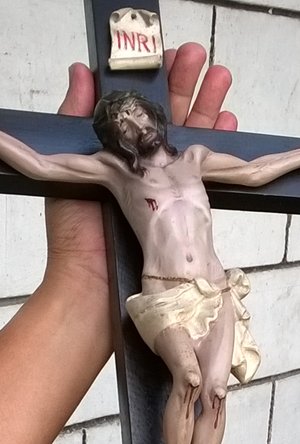 Calling his name, for sure, is never just an empty form of pietism, or some kind of superstition. Calling his name corresponds to a basic necessity of ours who always need to be helped, enlightened, strengthened and ultimately redeemed.
We are assured that Jesus always listens to us and promptly attends to our needs, although in ways that may be different from our own expectations. It's not in Jesus to be indifferent to our needs, no matter how unworthy and undeserving we are. His great love for us will always lead him to intervene always in our life.
The name of Jesus means "God saves." Invoking that name will always remind us of our need for salvation, that is, our ultimate salvation from sin, from death, from all pain and suffering. It's not simply liberation from some transitory hunger or worldly need. It's liberation to eternal life.
If invoked with faith and love, if done with great piety, calling the name Jesus can only give us a lot of good. It can even give us an immediate relieving and calming effect.
I remember that one time, I had some muscle pain in my legs and in my back. A 'manghihilot' was recommended to me, and he told me to have strong faith and to follow him in calling the name of Jesus as he did his therapy. I must say that it worked.
But more importantly, we need to call Jesus' name when we are faced with big challenges and difficult, if not irresistible, temptations. Somehow doing so generates a certain kind of spiritual strength that would enable us to handle these situations effectively.
When we feel our weaknesses stirred up, or when, for some mysterious reasons, we seem to be strongly drawn or lured to do something sinful, calling the name of Jesus would really help. More than just recovering our senses, we can feel a strong mysterious spiritual force that will enable us to do what we ought to do.
And if, in spite of everything, we still manage to fall, then calling Jesus' name facilitates our repentance and reconciliation with God and with others. We do not actually need to go far or do extraordinary things for us to be helped, guided, enlightened, strengthened and redeemed. We just need to call Jesus' name, and the process of healing starts.
Some people question whether it is practicable to be truly holy in the middle of the world that is full of sin and temptations. The answer to that is a resounding, 'yes.' Christ would not command us to be holy if that is not doable. And the practicability of holiness can start simply by calling the name of Jesus – with faith, love and piety.
The lives of saints can attest to this. And even our own personal experiences can prove it. Calling Jesus' name can immediately soften our mind and heart that can tend to harden due to the pressures of life, not to mention, the temptations and sin around.
Calling Jesus' name will always remind us to be good to others, to be charitable, understanding and compassionate with them. It will prod us to think well of the others, to be quick to serve and help them. It will push us to do a lot of good, never saying enough.
Calling Jesus' name will help us to be quick to ask for forgiveness if we commit a mistake as well as to forgive others. It will lead us along the way of humility and patience.
Calling Jesus' name will strengthen us so we can tackle the many and endless challenges and problems of life. It will help us to handle situations when we are insulted, mocked and offended. It will encourage us to identify with him on the cross when we suffer all kinds of injustice.
Calling Jesus' name will also show us what else to do to follow him all the way to the end.
Prostitutes entering heaven
By Fr. ROY CIMAGALA, roycimagala@gmail.com
January 8, 2017
LEST you get scandalized, it was Christ himself who said so. Let us cite the exact quotation: '"Which of the two did what his father wanted?' 'The first,' they answered. Jesus said to them, 'Truly I tell you, the tax collectors and the prostitutes are entering the kingdom of God ahead of you.'" (Mt 21,31)
Of course, the context was the precious lesson Christ wanted to highlight as to what would comprise fulfilling God's will. He mentioned about two brothers. The first was asked to work in the vineyard, and said no, but later on, changed his mind and went to work. The second said yes, but actually did not go.
The precious lesson Christ wanted to impart is that what really matters is doing and not simply saying to do God's will, even if at the beginning one declines to do God's will. An important part of this lesson is the need for repentance and conversion in our life.
So the prostitutes referred to in this particular episode are those who repented and who actually did what Christ wanted them to do. They did not enter as prostitutes, but as sinners who have repented.
A significant lesson we can also gather from this particular story, and one that should serve as a constant warning to all of us, is that we have to be most careful when we think we are already good enough because of certain good things we have or have done, but still have failed to be very faithful to God's will.
This is the lesson embedded in that saying that "the good is the enemy of the best," that is the very germ of that most insidious spiritual illness called spiritual complacency and lukewarmness. That's when we think we are good enough. There's no need to be better.
We have to understand that conversion is a continuing need for all of us. We can never say that we are good enough and that we do not need further conversions. We should not forget that we are all sinners even in the best condition of our earthly life.
For this to happen, we need to be humble, which can be the result of the keen awareness of our sinfulness. It's when we think we are sinless or with little and negligible sin that we fail to realize the need for conversion.
We should never allow whatever good we have done to lull us to think that we are good enough and that we don't need another conversion.
I refer more to people who have been doing good all these years, but somehow are stuck at a certain point in their spiritual life. Doing good for them has become a kind of set routine that is turning to be more mechanical than spiritual, leaving an impressive shell but slowly being deprived of substance, desensitizing them from the urge for another conversion.
The mark of true saints is precisely this hunger and thirst for repentance and conversion. Whatever good they did humbled them instead of leaving them proud. They knew who and what was behind all the accomplishments they made, and were more keenly aware of their inadequacies, their mistakes, faults, infidelities, etc.
It's not that they led a miserable life of having a dark outlook in life and a negative attitude toward their own selves. They were a happy lot, whose joy sprang from their living and faithful union with God, their father, but aware of their total dependence on God.
It's their driving love for God and souls that keep them feeling always the need for penance and conversion. It's not just fear of sin and evil that provokes this hunger. It's love of God and souls. It's this love that made them see more things that they need to do. It's this love for God and souls that would make them feel that they have to go further than what so far they have accomplished.
This love has no limits. It does not have the word 'enough' in its vocabulary. It always urges them to do more to be more and better.
That is why it is often given as a spiritual advice that one forgets himself completely and just thinks of God and the others. Not only that, but also that one's true growth and development toward human maturity and Christian perfection is measured to the extent that one thinks of God and the others and does things for them.
It might be good to replicate in oneself a true act of contrition that is involved in a conversion of a prostitute.
Good news and the fake news
By Fr. ROY CIMAGALA, roycimagala@gmail.com
December 13, 2016
There's a new scourge in the media today. It's called the fake news. It had its most devastating display during the last US presidential election where one candidate was touted practically by all the major news sources to be the winner, hands down.
The outcome was, of course, different. The upset was shocking. And the world woke up to the realization that it has been fed, maliciously or not, systematically or not, with fake news.
That this phenomenon happened certainly deserves a more in-depth study. How could such powerful news agencies, pollsters, etc., fail to read the mind of the people in general? What an epic, big-time fail it was!
There can be many, endless reasons behind it. But offhand, what I can say is that there certainly was a very devious virus of bias and prejudice involved among the media people that now include millions of netizens with their blogs and social media accounts.
It was a virus that found its host in the passion-filled arena of the political warfare, where the light that was shed blinded more than made people see things properly. It generated what may be termed as agenda-dictated journalism, where self-serving slanting of data and the objective assessment and the fair treatment of the issues were set aside.
Words were inflated or deflated to serve the biases and prejudices of those in media. More than words, ideologies corrupted the minds of people to the extent that the people could not judge things properly anymore and resorted instead to a simplistic black-and-white tack on the issues.
These ideologies tried to be the core basis for the people's faith and reasoning. But we know that for all their valid points, no ideology has exclusive right to be the sole holder and owner of what is true, right and fair in our human affairs. It's amazing that many people now turn to ideologies as the bedrock of their beliefs.
God, his word, his will and ways – in short, the Good News – are all but dismissed completely. They are considered irrelevant, a drag and an unnecessary baggage in resolving issues political or otherwise.
Many people have not come any closer to the realization that in fact God has to be in the middle of all our earthly affairs, be it business or politics, etc. No ideology, no personal convictions can replace him.
In short, we have to listen to the Good News God has given us through Christ and now in the Holy Spirit that animates the Church and its many instrumentalities. We have to understand that this Good News is the foundation of whatever opinion, view, philosophy, ideology that we may use to pursue our temporal affairs.
In other words, God's word is the first and last word. Any word we coin and use in the fields of our sciences, arts, technologies, politics, business, culture, etc., should begin and end with God's word. Otherwise it will have no proper foundation and orientation.
St. Paul has amply warned us about arrogating our words to be simply our own. "Let no man deceive himself," he said. "If any man among you seems to be wise in this world, let him become a fool, that he may be wise. For the wisdom of this world is foolishness with God…Let no man therefore glory in men." (1 Cor 3,19-21)
That's simply because God's word or the Good News, as described in the Letter to the Hebrews, is "living, and powerful, and sharper than any two-edged sword, piercing even to the dividing asunder of soul and spirit, and of the joints and marrow, and a discerner of the thoughts and intents of the heart." (4,12)
Its primary purpose is to bring us back to God through our temporal affaris. And so more than just giving us some helpful earthly knowledge, it gives us the ultimate spiritual knowledge we need to return to God, even through the very contentious field of politics.
Christ himself said: "Heaven and earth will pass away, but my words will not pass away." (Mk 13,31) We need to echo that response of St. Peter who, when asked if the apostles would also go away from Christ when he talked about himself as the bread of life, said: "Lord, to whom shall we go? You have words of eternal life." (Jn 6,68)
We certainly have to sit down and see how we can be more aware of grounding and orienting our words with God's word, the Good News. Otherwise, we will be wallowing in fake news.
Heroes and saints
By Fr. ROY CIMAGALA, roycimagala@gmail.com
December 8, 2016
HEROES need not be saints, but saints are always heroes in the sense that whatever their vocation and mission, they always live them with heroicity even if their heroic lives may not be publicly known in some political, social, historical or cultural terms.
Saints can even live their heroicity hidden from the public eye, and often they live it by going against the current obtaining in a certain society. They can be unpopular, in fact, as St. Paul once said: "We have become the scum of the earth, the garbage of the world..." (1 Cor 4,13)
Heroes obviously can be saints too, as long as they live their vocation and mission in strict and heroic obedience to God's will and ways. They definitely have done some acts that we consider as heroic. They serve a certain purpose in the world.
But what we usually consider heroes are defined more in political, social, historical and cultural terms, and need not accord with the spiritual and supernatural criteria of sainthood.
In fact, there are many heroes now who can hardly qualify as saints, precisely because their heroism may go against spiritual and supernatural standards. Heroes work for some worldly values like nationalism, save-and-rescue operations, efficiency and effectiveness, etc. Saints work only for the fidelity to God's will.
While heroes are always involved in some extraordinary events, saints need not get involved in those kind of events. Most of them become saints simply doing very ordinary things but doing them extraordinarily well, that is, with great love of God and of others, with extreme fidelity to their vocation and mission.
Most saints live their heroic lives in secret. They don't show off their goodness, imitating Christ who said: "When you pray, go into your room and shut the door and pray to your Father who is in secret, and your Father who sees in secret will reward you...And when you fast, do not look dismal, like the hypocrites, for they disfigure their faces that their fasting may be seen by men..." (Mt 6,6&16)
Saints live their heroic lives consistently, in season and out of season, when times are favorable and when they are not. They hardly are influenced by the opinions of people. They can go against the general trends, if need be. Theirs is in strict obedience and fidelity to God's will.
The distinction between heroes and saints is crucial because we need to realize that we have to aim more at becoming saints than at becoming heroes. If we happen to end up both saints and heroes, then that's good. It's quite a privilege. But if given a choice, we have to opt for sainthood rather than for being a hero.
What is truly important is that we are with God rather than with our own selves. We have to aim at heaven rather than some earthly advantage. "What does it profit a man," Christ says, "to gain the whole world and forfeit his soul." (Mk 8,36)
This does not mean that we have to belittle the value of the world. Not at all. The world and the things in it, our temporal affairs, are important and even indispensable in the pursuit of sanctity. But the world and things in it are simply means. They are never the end.
Thus, the call to holiness and sanctity is universal. It's meant for everyone, while the call to be heroes is quite selective. Not everyone can be heroes, but everyone is expected to be a saint. The occasions to become saints are always available, while those to become heroes are few and far between.
That is why even with his apostles, Christ would just choose practically anyone at random, including the one who would betray him later. And the reason is simply because all of us come from God and belong to him.
To become a saint is not so much a matter of the kind of skill, talent, position, etc. that one has. It's simply a matter of a total self-giving to God and to others, irrespective of the conditions and circumstances one may be in.
In this regard, we have to develop the appropriate passion. That's simply because to become a saint just cannot happen without fully involving all our faculties, including our passions. Let's remember what Christ told us about the greatest commandment: "Love the Lord your God with all your heart and with all your soul and with all your mind." (Mt 22,37)
To become a saint is to achieve the fullness of our humanity. Our fullness is not to become a hero simply.
Stop the killings! End impunity! Human rights for all!
A Statement from Network Against Killings in the Philippines (NAKPhilippines) forwarded by the Asian Human Rights Commission
November 23, 2016
There has been an epidemic of summary killings and extrajudicial executions across the Philippines for decades now. From 1998 to December 2015, a total of 1,424 were documented to have been killed by the so-called Davao Death Squad in Davao City. More such killings, often perpetrated by so-called "riding in tandem" killers and death squads, had taken place and continue to take place in other cities such as Tagum, Digos, General Santos, Cagayan de Oro, Zamboanga, Cebu and in other cities in the Visayas and Luzon.
In the first five months of the Duterte administration, however, the killings have only gotten worse, with nearly 5,000 people killed in its brutal war on drugs in that short period. More than 2,000 died in police operations while the rest were killed by unidentified assailants, or what the police calls "deaths under investigations" that appear to be death squad killings. A number of children were among those killed.
President Duterte campaigned on a platform of reducing crime and illegal drugs. But instead of fixing the country's long-standing rule-of-law problems, he and his top officials incite and encourage law enforcers to commit even more killings and even more abuses. While some of these killings are being investigated both by the police and the Commission on Human Rights, no one has been charged, signaling what appears to be complete impunity.
The Duterte administration has likewise taken steps to erode human rights and civil liberties. The president's allies have filed bills in Congress to reinstate the death penalty and to lower the age of criminal liability to nine years old. He has floated the idea of suspending the privilege of the writ of habeas corpus and imposing martial law. He has likewise approved the burial of the dictator Marcos in the Libingan ng mga Bayani despite opposition from those who suffered under the dictatorship.
President Duterte has been trying to discredit institutions that can check official abuse of power, such as the Philippine Commission on Human Rights and non-government groups critical of the killings. He has attacked the United Nations and the Human Rights Council as well as western countries whose representatives have expressed concern about the human rights situation in the Philippines. He also wants the Philippines to get out of the International Criminal Court (ICC) after other countries with despotic regimes have done so.
Unlike previous administrations that have denied complicity in past extrajudicial killings, the Duterte government encourages these abuses and even promises protection to the perpetrators, taking an already egregious human rights situation to a whole new and more dangerous level. It is time for these killings to stop and for the killers to be brought to justice.
We organized ourselves into the Network Against Killings in the Philippines (NAKPhilippines) because civil society needs to take a firmer, stronger and principled stand against extrajudicial killings and the continued erosion of universal human rights in the Philippines. Like the human rights advocates that have campaigned against death squad killings since 1999, we are outraged by these violations and are committed to do what we can to stop the killings, demand accountability from government, assert human rights for all, and protect human rights defenders.
NAKPhilippines is an independent, non-partisan and broad alliance of various individuals, NGOs and civil society organizations concerned about human rights, civil liberties and rule of law in the Philippines.
Today, on the 7th anniversary of the Ampatuan Massacre, we hold a National Day of Prayer and Solidarity for Victims of Extrajudicial Killings and Their Families at the Shrine of the Mother of Perpetual Help, Redemptorist Church, Baclaran, in Manila. This is our way of acknowledging the pain and anguish of the families of thousands of victims of Duterte's war on drugs and to press for our continuing demand for accountability and justice.
Beware of privileges and entitlements
By Fr. ROY CIMAGALA, roycimagala@gmail.com
November 17, 2016
AS school chaplain, I get to talk with students who are transitioning from one level to another – be it from high school to college or from college to professional life, etc. A common problem or difficulty these students meet in this stage of their life is that of adjustment.
Most of the time, these students realize that they have new responsibilities to assume, new challenges and expectations to meet. Though many of them manage to cope with the new things, some find it hard and fall into crisis, sometimes grave, almost fatal or suicidal crisis.
These problematic cases often manifest a common feature – that of somehow being spoiled by privileges, entitlements, comfort and carefree lifestyle that they enjoyed and received from their parents and peers.
This time though, as they enter a new phase in their life, they notice that these perks are ebbing away for a number of reasons, and they find it hard to go on without them. While this phenomenon is quite normal and should be expected, some of these young ones do not know how to handle it. They are unprepared for these changes, or they simply refuse to make the necessary adjustments.
They continue to expect the same things, when circumstances have in fact changed, sometimes drastically. And so they get disappointed and frustrated, and from there more serious problems can be triggered.
They fail to realize that gospel indication of Christ: "Whoever exalts himself shall be humbled, and whoever humbles himself shall be exalted." (Mt 23,12) They fail to match their growth in their status with the corresponding growth in their sense of responsibility, in the tenor of what Christ himself said: "The greatest among you shall be your servant." (Mt 23,11)
This is where they have to be reminded – with patience and reassurance but with clear and strong admonition – that they have to know how to wean themselves from their previous lifestyle and start to get real with the objective changes of circumstances in their lives.
Part of this reminder should be the explanation that all the attention and affection lavished on them by their parents and others while they were growing up was meant for them to grow toward maturity and not for them to get spoiled.
Getting spoiled by all the attention, privileges and entitlements given to them can happen when they fail to realize this crucial truth about their life. They fail to act on what Christ himself said: "From everyone who has been given much, much will be required; and to whom they entrusted much, of him they will ask all the more." (Lk 12,48)
So this is where they have to be taught how to grow in responsibility, teaching them to be ever mindful and thoughtful of the others, and to realize that our life, like Christ's life, is meant to serve and not to be served.
In fact, all of us have to do everything to acquire, develop and enrich this attitude in ourselves and among ourselves, inspiring and inculcating it in others as much as we can, for it is what is truly proper of us all.
With God's grace, we have to exert effort to overcome the understandable awkwardness and tension involved in blending the natural and the supernatural aspects of this affair, as well as the expected resistance we can give, due to the effects of our sins.
We can make use of our daily events to cultivate this attitude. For example, as soon as we wake up from sleep in the morning, perhaps the first thing we have to do is address ourselves to God and say "Serviam" (I will serve). It's the most logical thing to do, given who God is and who we are in relation to him.
And "Serviam" is a beautiful aspiration that can immediately put us in the proper frame of mind for the day. It nullifies Satan's "Non serviam" and our tendency to do our own will instead of God's, which is what sin, in essence, is all about.
And as we go through our day, let's see to it that everything we do is done as a service to God and to others. Let's not do them merely out of self-interest or self-satisfaction. That kind of attitude is highly poisonous to us, ruinous to our duty to love. Sooner or later, we will find ourselves completely engulfed by self-centeredness.
For us to be able to do things as service of love to God and to others, we have to continually rectify our intentions. We should be quick to react when we notice that our intentions and motivations are already invaded by self-interest.
How long should homilies be?
By ABRAHAM V. LLERA
November 16, 2016
"Eight minutes, with 15 minutes as maximum," according to Abp. Malcom Ranjith who used to be the Prefect of the Congregation for Divine Worship (CDW) of the Vatican. "Eight minutes, the average time a listener can remain listening," agrees Abp. Nikola Eterovik, former Secretary General for the Synod of Bishops of the Roman Curia.
"Eight minutes," agrees Fr. Andre Headon, vice rector of the Venerable English College in Rome which prepares men to become priests. "There's a saying among clergy," adds Fr Headon, "'If you haven't struck oil in seven minutes, stop BORING.'"
"It should be brief," cautions #138 of Evangelii Gaudium, and should not be "a form of entertainment," [emphasis mine] as many priests, it seems, take it to be. If the homily goes too long, e.g., 45 minutes, it disturbs two characteristic elements of the liturgical celebration: its balance and rhythm," reminds Evangelii Gaudium. This means that "the words of the preacher must be measured, so that the Lord, more than his minister, will be the center of attention."
Unfortunately, some priests seem to think otherwise. Look at them sing. Or crack jokes. Or talk about last night's episode of a teleserye. Did they really intend the singing to help the faithful understand the need for sorrow for sin in these days leading to Advent? Or is it simply to call attention to their singing prowess?
Was the joke intended to make a wealthy business owner listener impatient to get home so that he can give the instructions that will give SSS and Philhealth coverage to his employees, long denied of this basic employees right? Or did Father oblige with a joke because that is what most Catholics, sad to say, come to church for: to be entertained?
And the teleserye. Did Father mention that in order to stir the congregation into such a fervor they would henceforth look at their wealth not as theirs, but as a good common to all, ready to be given to everyone in need? Or did Father do that for the "Okay si Father" comments that invariably come with it?
Homilies must be scrupulously prepared for one week in advance, and, as Pope Francis has said, must be limited to the Scripture readings of the day, avoiding sociologism, politics, or vainglory, the last one apparent the moment the priest starts talking about himself.
Especially to be avoided is useless chatter. To include in the homily the diocesan priests' retreat in Betania, Tagaytay, and how they would be going there on different flights to make sure there'll be priests left in case of a mishap is dangerously approaching "useless chatter," especially on a Sunday when St. Luke talks about persecution, and about the need to even speak all the more about Christ.
Homilies are difficult to prepare, because it takes a lot of effort to keep homilies short. But it doesn't require a 45-minute homily to whip the congregation to fervor and to specific and firm resolutions where they can apply the message of the day's readings in their lives.
In fact, precisely the opposite is bound to happen. Often along the way, the homily hits paydirt, and a firm resolution forms up in the heart of the listener. But instead of wrapping up, Father rambles on for another 10 minutes, so you listen, and finds out that Father is talking about Bato de la Rosa now and Pacquiao's all-expenses-paid-US-trip gift to him. Then Father suddenly ends his homily which leaves you wondering what it was Father was driving at. Worse, in the process, you have forgotten your firm resolution.
Finally, it'd help if the preacher checks his facts first. It wasn't Nero who destroyed the Temple of Jerusalem, and watched it burn from a distance. The Babylonians did the first time, and Titus (not the bishop of Crete) under orders from his emperor father Vespasian did the second time, but it was not Nero.
Something bereft of love cannot be pleasing to God. Long homilies, to the extent that they're often but not always the product of ill preparation, simply have no place in such a celebration as the Holy Mass.
Long homilies must end.
Pakistan: Will the judiciary bring back to life the two brothers who were declared innocent, following their execution?
A Statement by the Asian Human Rights Commission
November 4, 2016
Sadly, in an atrocious system where innocents spend decades behind bars awaiting justice to be served on them, instead death penalties are handed down as state sanctioned murder.
The lack of justice sector reforms coupled with near-collapsed institutions of criminal justice has yet again caused a grotesque miscarriage of justice. In a shocking revelation on year after two siblings have been hanged the Supreme Court declared them innocent of all charges. The Court finding several anomalies in several witness accounts acquitted and exonerated both brothers of all charges – to find, that they have already been hanged despite their appeal pending in the Supreme Court.
Ghulam Sarwar and Ghulam Qadir, were accused of murdering a woman in the year 2002, and the trial court handed down its verdict in 2005, finding them guilty of all charges following which the Lahore High Court upholding the said decision of the Trail Court, handed down the brothers' death sentences in 2010; they were executed on October 13, 2015.
On October 6, 2016, after one year of their hanging, a three-judge bench of the Supreme Court accepted their appeal, set aside the Lahore High Court verdict and ordered their release. No sooner the convictions were set aside, it transpired that the president of Pakistan had already rejected their mercy petitions and they were hanged in the Bahawalpur jail.
Sadly, in an atrocious system where innocents spend decades behind bars awaiting justice to be served on them, instead death penalties are handed down as state sanctioned murder. The legal axiom "justice delayed is justice denied" is sadly the norm in Pakistan where it takes an average of around 10 years for a litigation to be heard and many before the courts do not receive justice during their lifetimes. In many other cases innocent persons are hanged as they are unable to afford capable defence lawyers. The judiciary too is lax in sieving through the evidence of the cases which are concocted by the police against such poor accused, and often with the view to extorting bribes.
The Criminal justice system fails to meet even the basic standard of due process and fair trial. The judicial system in Pakistan has been mired by delays and indolence of judicial officers, including the police, the state lawyers as well as the judiciary. The entire system of administration of justice has virtually collapsed to the point that rule of law has become non-existent and the state has virtually no presence in remote parts of the country.
Calls for comprehensive reforms to this overall system of justice has been called for, time and again by the civil society activists, the intelligentsia and interested parties however, despite such repeated calls – except for a few half-hearted pledges by the government for reforms, no concrete measures have been taken so far.
A blatant miscarriage of justice of this magnitude – where two innocent lives have been taken away by the state machinery - is unprecedented in the history of Pakistan and amply demonstrates to the world the level of negligence on the part of entire system of the judiciary and the state to provide justice to its people. The two innocent victims cannot ever be compensated for their lives and for the 11 years behind bars.
Following the verdict, in 2016, the lawyers of the deceased brothers filed an application, stating that the Sessions judge, Home Secretary and the Interior Secretary had failed to discharge their duty mandated under Article 190 of the constitution, adding that despite having the knowledge of the pendency of the appeal, it is highly unprecedented and deplorable that both the brothers were so executed.
The Interior Secretary, Home Secretary, Additional District and Session's Judge, Hon. Sadiqabad and Superintendents of Rahim Yar Khan and the Bahawalpur Jail administration were also named in the application for having failed in their duty. The case exposes another dangerous aspect of the underling absence of coordination between the jail authorities and judiciary.
Each and every stage of the archaic and colonial criminal justice system including - the police, prosecution, and judiciary - is infested with loopholes that are used and abused by the officials, and the state itself for their own financial gains.
Ironically, the said colonial system has been dispensed with ages ago in its country of origin, yet it persists in its atrocious form in all Commonwealth countries including Pakistan. The Ghulam brothers' case should act as a reminder to the authorities to reinstate the moratorium on the death penalty given the macabre cases of miscarriages of justice. When criminal the justice system cannot guarantee a fair trial and due process – the enforcement of death penalties should be absolutely done away with.
This case is a textbook example of everything going wrong with Pakistan's archaic and inefficient criminal justice system that instead of meting out justice – punishes the poor and vulnerable while allowing the rich to get away with murder. The system is extremely stringent for the improvised while providing enough loopholes for those with deep pockets to go scot free. The selective application of the system has bought about utter disregard to rule of law making might becoming the right a social mantra for the politically well placed.
The lifting of the moratorium on the execution of death sentences since 2014 while its criminal justice system is mired in corruption and injustice is a complete travesty of justice and travesty of human decency. Exercising the death penalty in an already intolerant society is clearly a populist move rather than a deterrent to crime and terror. Blind to justice and international norms, these Courts have been awarding death sentences to minors and even the mentally and physically challenged as is the cases with Imdad Ali.
So far more than 425 people, within a span of 18 months, have been hanged to comply with the National Action Plan (NAP) to eradicate terrorism. However, the glaring facts are a glaring reminder enough to the state that these hardly have the deterring effect on crime and terrorism – all of which continue unabated if not, are on the increase.
Despite the constitutional guarantee under Article 9 of the Constitution the courts of the state dole out death penalties without following any due process nor fair trial. Right to life is a supreme and inalienable right, and any exception to it must be narrow and well -founded. The death penalty legitimizes an irreversible act of violence by the State and will inevitably claim innocent victims. As long as human justice remains fallible, the risk of executing the innocent can never be eliminated.
The Asian Human Right Commission (AHRC) deplores the alarming state of affairs in Pakistan's handling of the criminal justice system and calls for immediate measures, and policies to be put forth towards reforms to the entire system of justice in Pakistan ensuring the rights of all its citizens. The AHRC calls upon all stakeholders including the Government and international community to intervene in reinstating the moratorium on the death penalty given the fact that the system is extremely prone to gross miscarriages of justice.
Thinking with God always
By Fr. ROY CIMAGALA, roycimagala@gmail.com
October 26, 2016
"We are now entering a new phase in world development where error can look good and attractive, practical and profitable, and can have to power to assume a universal appeal and influence…"
PASSING by a school one day, I had second thoughts when I saw its billboard ad that was supposed to express the school's mission-vision. It said something to the effect that the school would make the kids independent thinkers.
I, of course, understood what the slogan wanted to say. The kids would be taught how to think without undue influence by unwelcome elements, like biases, prejudices and social trends, fads and other not-so-healthy conditionings.
I imagine that the kids would be taught how to think analytically and critically in a constructive mode. They would be guided to arrive at convictions on their own and must be responsible for them. There can be many other positive corollaries that can be derived from such catchy slogan.
But the second thoughts that came to my mind were: how far should the students' independence in their thinking go? We need to be clear about what the kids should be independent from in their thinking.
We cannot take this issue for granted, for many people nowadays think that to be independent in their thinking, they have to be independent from God, from teachings of our faith, from certain authorities, and that's where we can have big problems.
We are now familiar with those people who brand themselves as freethinkers. These are those who claim that they think freely and independently, without any influence from any opinion and especially from any religious beliefs. Many of these so-called freethinkers are actually atheists and agnostics.
This is the problem that we have these days. That's because if there is no belief in God who is supposed to be the creator and the very foundation of reality, then what would be our reference of what is true and false, what is good and evil in our life here on earth? If it's not God, then it can only be our own selves or certain things in the world. In the end, we can just be subjective about things.
Sad to say, this is what we are seeing in many places these days. We have people who are trapped in their subjective mode of thinking, practically incapable of transcending their purely human estimation of things. They fall for that Cartesian principle – the 'cogito ergo sum,' or I think therefore I am – such that their subjective thinking is prior to the objective reality of things.
In other words, things are the way we consider them to me, rather than the way they are. Said another way, things depend on how we think of them. It's the things that have depend on our thinking, rather than our thinking to conform to how things are as they are.
This is the danger that can come when we have an unclear understanding of what it is to be an independent thinker or a freethinker. We have to be wary of this danger because nowadays there are powerful groups that are promoting ideologies and isms that while having certain valid points are in the end essentially subjective, not objective.
We are now entering a new phase in world development where error can look good and attractive, practical and profitable, and can have to power to assume a universal appeal and influence. It can have a global network to spread itself and dominate the world.
Some of these ideologies and isms, which are all human constructs almost devoid of any reference to God, to faith, to piety, etc., have already been proven wrong in recent history, like communism, some aspects of socialism, etc.
Others, like capitalism and democracy that are mainly detached from the Christian spirit, are more tricky and deceptive. They look good and acceptable, but they have elements that are dangerous too. They can be sweet poisons.
We need to reinforce our belief that only in our Christian faith, in Christ can we find everything that we need to know and to be as we ought. In the gospel of St. John, there is a passage that bears this claim out: "He knew all men and needed no one to bear witness of man, for he himself knew what was in man." (2,25)
That, after all, goes without saying, since Christ as the Son of God is the perfect image of God, and since we have been made in God's image and likeness, then we are patterned after the Son of God. And since the Son of God became man to save us, we have to be with Christ to be saved, since he is "the way, the truth and the life" for us.
Statement of support of the World Association for Christian Communication - Asia Region to the ongoing peace negotiations between the GRP and the NDFP
October 24, 2016
"Blessed are the peacemakers, for they shall be called sons of God." - Matthew 5:9
"Let no corrupting talk come out of your mouth, but only such as is good for building up, as fits the occasion, that it may give grace to those who hear." - Ephesians 4:29
We in the World Association for Christian Communication (WACC) - Asia Region express our support and solidarity with the Filipino people as they walk the path to a just and lasting peace in the Philippines.
We are happy to know about the progress in the ongoing peace negotiations between the Government of the Republic of the Philippines (GRP) and the National Democratic Front of the Philippines (NDFP) and we are strongly supportive of it.
Establishing the lines for communication for the sole purpose of achieving just peace is both inspiring and meaningful. It lays down the foundation to converse and find solutions together to problems and hindrances.
Communicating peace is the same as creating space for communication rights for we can only attain genuine peace when the rights, lives and dignity of people are ensured, protected and upheld. When people can communicate their thoughts without fear of discrimination or retribution, we are steps forward in building a society with genuine freedom, dignity and just peace.
The people of the Philippines have borne witness to many decades of and suffered greatly from poverty, austerity and conflict. Many marginalized peoples have been silenced yet many groups continue to express solidarity with them, building communication lines, creating space for them to speak freely. The ongoing peace talks will help in facilitating and improving these lines and spaces.
We in the WACC - Asia Region look forward to the positive progress of the peace talks between the GRP and NDFP in the Philippines. May the Filipino people truly benefit from the fruits of these negotiations.
For just peace in the Philippines, we remain in solidarity!
Overcoming the 'tambay' lifestyle
By Fr. ROY CIMAGALA, roycimagala@gmail.com
October 17, 2016
IT'S all understandable, of course. Young people like to enjoy life. I was also like them when I was at their age. Even if they carry some heavy personal or family problems, they like to have fun every time they have the chance.
Outside of my chaplain's office, I see young students, all boys, sitting on the floor, invariably engaged in what I consider as mindless chatter, pulling each other's leg, laughing or simply idling away time, with looks that can only show purposelessness. I call this the 'tambay' lifestyle, very common in many places.
I presume it's their break time, and you just have to let them be. Like little children, they should not be over-supervised. Their classes would take care of that, since discipline and meeting the academic requirements would always be the order of the day there.
And yet, at the back of my mind, I worry that if they are not properly attended to, this 'tambay' lifestyle would harden and become the permanent feature of their character. When I was at their age, I already worried about how to fill up my time more fruitfully and meaningfully. I exerted some effort, though I must confess that the motivation was not quite right. Self-interest fueled most of that effort.
It was only later in life that I discovered the proper motivation for working or studying or simply filling time. Only God, the love for him and for neighbor, can be the appropriate motive. But how can you transmit this truth to these young ones?
I remember that in my case, I had a regular chat with a priest who taught me many things. I first went to see him because I had a problem with my philosophy classes in school. He was very helpful in clarifying my doubts and answering my questions.
But besides those, he taught me how to pray, to study the doctrine of the faith more deeply, to appreciate the value of sacrifice, the sacraments, the virtues, etc. What I learned was that I can only study and work properly if the motivation is precisely the love of God and neighbor.
That was when I could always find something to do, and I pressured myself to fight against my laziness, excessive love for comfort and pleasures, etc. I learned the importance of time – that it is the occasion for us to attain the ultimate purpose of our life. I realized it was a crime to waste time.
It was not easy. And even until now, I sometimes have to exert some extraordinary effort to do things properly and to fill up my time. All of us have to contend with our weaknesses and the many temptations around. One has to wage a constant struggle to be able to use time properly.
But how can I transmit these precious lessons to the young ones? Yes, as chaplain, I say Mass for them everyday. There I can say something in this regard during the homilies. But that would not be enough. I also give some talks and classes, conduct retreats and recollections, but then the effects and results are long in coming. These need a more personalized and abiding attention.
It's good that many of the students come for a personal chat with me. There I get to know them more closely and have the chance to encourage them. They need a lot of clarification and motivation.
Trying to explain what loving God and others is, what it involves and how it impacts on our use of time is not easy, especially when it has to touch on an essential part of it, which is suffering and the need for the cross. Christian charity has endless facets and practical implications.
We have instituted a mentoring system so that each student is followed up closely. And obviously, the task of monitoring the developments of this system can be demanding. I am more and more convinced that more than anything else, what are needed to keep things going are the spiritual and supernatural means.
Without these means and when we rely only our human resources and natural powers, we can only achieve so much. Worse, we can be deluded into thinking that we are doing right, when in fact we would be doing wrong.
I hope and pray that while the general character of the young – their attitude to take things easy and to have fun – should be respected, the seed of a more responsible use of their time, talents and other resources would be sown, take root and start to grow.
We need to experience God
By Fr. ROY CIMAGALA, roycimagala@gmail.com
October 14, 2016
IS it possible to experience God, to feel his presence, to know his will and to participate in his own life? To all these questions, the answer is a loud yes.
Not only is it possible, but also, first of all, it is God's will. Besides, he has endowed us with the power that would enable us to achieve these feats.
God as our Creator and Father always intervenes in our life. He is never away from us even if we fall into the state of sin. We only lose him definitively in hell. But in our whole earthly sojourn, he is in us, right deep in the core of our existence.
That's because he is the giver and maintainer of our existence. For as long as we exist, God is in us. Our existence does not depend on our biological constitution alone, nor on food and air and health only. Even before these things become indispensable to us, it is God who gives and keeps our existence.
And since we have been made in his image and likeness, he links with us through our intelligence and will, through our thinking and loving, and thus he comes to us as objects of our innate desire for truth, goodness and beauty.
That's why we have to be most careful in the exercise of our spiritual faculties – how we are thinking, judging, reasoning, loving, etc. These human operations have to be firmly grounded on God, and not just made to be mainly dominated by the twists and turns of our bodily and natural conditions.
Our thinking and willing, our knowing and loving should be properly engaged and not allowed to just drift anywhere, and especially when they are given only at the instance of our instincts, emotions and passions. They have to be properly inspired and directed.
The need to experience God has become an urgent necessity these days because the spiritual and moral health of our life, taken individually and collectively, depends on this fact and on no other.
Pope Emeritus Benedict emphasized this point sometime ago. In an address to some lay faithful, he said the following:
"How do we reawaken the question of God so that it becomes the fundamental question?...The question of God is reawakened in meeting those who have a living relationship with the Lord. God is known through men and women who know him. The way to him passes, in a concrete way, through those who have met him."
This is just but natural. God is not just an idea, a theory, a philosophical or theological term. Christ is not just a historical figure nor an object of curiosity. God is alive. In fact, he is the very foundation of reality and of life itself. It's not in his character to stay away from us or to hide from us or to play hard to get.
Thus, the Pope Emeritus said that God should be the central point of reference in our thinking and acting. He warned that ignoring God will harm our humanity. "A mentality that rejects every reference to the transcendent has shown itself to be incapable of preserving the human," he said.
"The spread of this mentality has generated the crisis that we are experiencing today, which is a crisis of meaning and of values before it is an economic and social crisis," he added. How true!
God actually engages us every moment of our life. This is what providence is all about. We have to learn how to correspond to that continual divine governance, by learning how to pray, how to know and follow his will, how to offer whatever we are doing to him, how to live in his presence all the time, how what we are doing at the moment fits in his plan, etc.
For this we need to study well the doctrine of our faith, to have recourse to the sacraments, to develop the virtues, and to commit ourselves to a certain plan of continuing piety so that whatever may be the circumstances of our life, we can manage to be with him always.
To live with God is not an impossibility. Nor is it meant only to some gifted if not strange people. It is for all, though we need to help one another, since to achieve that condition involves a lifelong process with endless stages, aspects and possibilities.
To experience God should be second nature to us. With the proper attitude and skills, with the relevant plans and virtues, this is always possible. Nowadays, the world needs people who have direct experience of God!
Be like an eagle, not a hen
By Fr. Roy Cimagala, roycimagala@gmail.com
October 10, 2016
YES, let's be like an eagle, soaring quietly high up in the sky, having a good, extensive view of the things on the ground, and not like cackling barnyard hen whose flight is low and is mainly done to escape something or to boast to the whole world that it has just laid an egg. The hen, of course, has a very limited view of things.
The other thing about the eagle is that in spite of the tremendous altitude that it can climb, it has a sharp vision that can see even a running rodent on the ground and has the agility to swoop down quickly to catch its prey. That's really quite a combination. This can never be said of the hen.
I know that it is unfair to compare a hen with an eagle. Each one has its own nature and purpose for being. But for our sake, we can compare ourselves to them because as human beings, we have the choice to assume the qualities of an eagle or those of a hen.
To be like an eagle can mean to think big instead of being contented with small, petty things. It can mean to take on more and more responsibilities, instead of being contented with what we are having at the moment.
We can always do more. With our spiritual nature, the possibilities for growth and improvement are infinite. This simply corresponds to the fact that the demands of our own sanctification and the needs of other people about whom we should always be concerned are also infinite.
To be like an eagle can mean expanding our generosity instead of simply being self-satisfied with our current state of charity. It can mean pushing ourselves up to the next level in every aspect of our life. We should never be contented with the status quo, no matter how good it already is. Let's remember the saying that "the good is the enemy of the best."
It can mean to be always zealous in any endeavor we do, instead of simply being complacent and lukewarm. It can mean to be a maximalist rather than a minimalist, contented with a passing mark.
That's what happens when one is in love. He is not contented with doing things just to get by. He does things to the best of his abilities, always seeking new frontiers of creativity, effectiveness and efficiency. That's simply because love is giving not only things but his own self without measure. That's love most intrinsic law. It's given without measure.
We need to learn to adopt this kind of lifestyle. It's not going to be easy, of course. Many things have to be resolved and mastered. We have to contend with our tendencies to be self-centered, to be attached to things, to be materialistic, complacent, cold or lukewarm, etc. But with God's grace, our full trust in God's ways matched with our efforts, we can enter and flow in this amazing dynamics of true love.
Truth is for this love to develop and grow, we do not need some special moments and opportunities to trigger it. Any occasion, any event, no matter how small and, humanly speaking, insignificant can be a golden privilege to live heroism that is inseparable from loving.
Another reason why we have to be like an eagle in our spiritual and moral life rather than just be like a chicken is that when we have an outlook and lifestyle that can be characterized as big-hearted, eager to do big things without neglecting the fine details, and magnanimous, we can more easily handle the many weaknesses and temptations that will always hound us.
A person stuck in petty things is an easy target of his own weaknesses and the temptations around. He tends to be lazy and narrow-minded, unable to develop the resistance to bear things and the strength to move forward.
A phenomenon that is getting common nowadays is that of many smart people with impressive accomplishments but who are unable to escape the bad allurements of the world and the subtle tricks of the devil.
And that's simply because they have stopped growing and moving forward. They get self-satisfied with what they have already accomplished, showing in effect that all that effort was not really for God and for others, but simply for themselves, a clear contradiction to what loving is supposed to be.
We need to alert everyone about this danger. That's why it's good to keep in mind this comparison between the eagle and the hen.
Let us journey together in support of the GRP-NDFP peace negotiations
A press statement by the Philippine Ecumenical Peace Platform (PEPP)
September 22, 2016
We, the 135 leaders of the clergy, religious and laity from the five federations that comprise the Philippine Ecumenical Peace Platform (PEPP)* have successfully convened the 5th Ecumenical Church Leaders Summit on Peace from September 20-22, 2016 under the theme "Celebrating God's Work for Peace: Journeying with the GRP-NDFP in the Continuing Struggle for Peace". We converged in Davao City from all corners of the country to draw strength from each other as we celebrated the first successful round of talks between the Government of the Republic of the Philippines (GRP) and the National Democratic Front of the Philippines (NDFP) after years of impasse. The positive atmosphere that resulted from the recent resumption of the formal peace talks was carried into the positive mood of our summit and our joy for the growing ecumenical participation in supporting the GRP-NDFP Peace Process.
In our gathering, Fr. Joel Tabora, SJ, President of the Ateneo de Davao University, reminded us in his keynote address of the Biblical imperatives and our Christian duty to work towards the common good and accompany the poor in seeking social justice.
Our optimism was strengthened by the sharing of Undersecretary Nabil Tan, Office of the Executive Secretary, on the government's renewed commitment to peace and to the GRP-NDFP negotiations and the negotiations with the Moro Islamic Liberation Front (MILF) and Moro National Liberation Front (MNLF).
We were also encouraged by the input of Attorneys Angela Librado and Antonio Arellano of the GRP Peace Panel regarding the serious commitment of the Panel to engage in principled dialogue with the NDFP. The clear commitment to peace has also been observed in the willingness of government to honor previous agreements and through the concerted effort invested in achieving the release of detained NDFP consultants.
Mr. Luis Jalandoni, NDFP Peace Panel Chair, reminded summit participants of the indomitable spirit of the Filipino people through the centuries to persevere in the struggle for a just and lasting peace in the country. The presence of the NDFP Consultants, Mr. Rey Claro Casambre, and the recently released Mr. Ariel Arbitrario, Mr. Lando Genelsa, Mr. Alfredo Mapano, and Mr. Porferio Tuna, Jr. brought depth to the discussions and strengthened the determination of participants to further support the peace process.
We admire the resolve of both the GRP and NDFP to transcend differences, willingly explore substantive issues and implement working methods that will accelerate the talks. We also appreciate the decision of both parties to declare indefinite unilateral ceasefires towards a possible bilateral ceasefire.
The Royal Norwegian Government and Caritas Norway through solidarity messages from the Special Envoy to the Peace Process, Elisabeth Slattum and Program Coordinator for Asia, Aron Halfen, reassured the Summit of their common resolve to persevere in the journey with the PEPP and with the GRP-NDFP Peace Process. They highlighted that a political settlement of the armed conflict through principled dialogue is both possible and attainable, even though difficulties and obstacles are to be expected along the way.
We were inspired and challenged by the presence of our Lumad sisters and brothers who kept us attentive to the reality on the ground. Their contributions have shown that peace must be tangible and manifest not only through the silence of arms but even more through food on the table, clothing, shelter, education and access to the means to meet other basic needs and for them to live in their communities without fear or threat. They also underscored the reality that the road to peace is long and arduous, fraught with dangers, but for the sake of the people, especially the most vulnerable, it must be pursued with all our heart and effort.
The Summit concluded with a workshop to consolidate the commitments and concerns of the PEPP, and plans for how these can be presented to both the GRP and the NDFP, and to the Filipino people:
• We support and affirm the intention of both the GRP and the NDFP to meet in Norway on October 6-10 for the Second Round of Formal Talks focusing on Comprehensive Agreement on Social and Economic Reforms, while also defining the terms for a common Ceasefire Agreement and General Amnesty for political prisoners.
• We invite support and goodwill from the Filipino people for the Peace Talks between the GRP and NDFP which we consider are sincere and thorough and that as a Nation we should stand vigilant against those whose intentions are to spoil the Peace Process to protect their personal or vested interests against the interests of the Filipino people.
• We call and demand both the GRP and NDFP to respect their existing agreement on Respect for Human Rights and International Humanitarian Law, putting a stop to the practice of manufacturing false charges against clergy, lay people, indigenous people and other human rights defenders who are serving the poor and marginalized.
• We call for the removal of all armed groups and the dismantling of existing para-military groups that divide and terrorize the communities of our Indigenous Peoples.
• We call on all our Christian communities – at the local, regional and national levels – to expand our peace constituency and to continue pushing for the completion of the peace talks and the implementation of any peace agreement.
• We offer and render our services and resources to both panels to help in attaining a just and lasting peace in the country.
"And with our feet fitted with the readiness that comes from the gospel of peace" (Ephesians 6:15), we will journey together till peace based on justice reigns in our land.
Davao City, Philippines, 22nd day of September 2016.
Morality and the rationalizations
By Fr. ROY CIMAGALA, roycimagala@gmail.com
September 15, 2016
IN the heat and passion of our political exchanges, as in the many other fields like in sports, entertainment, social issues, etc., we should try our best to be sober enough to keep a firm grip on what would constitute as moral and immoral views and to resist the strong temptation to fall into all kinds of rationalizations to justify certain positions that we hold, either individually or as a group.
Nowadays, especially in the political field, a lot of rationalizations are made. Many people are of the view that because of a certain problem that is widely considered as raging and harmful to a large sector of the populace, certain drastic measures can be made.
In theory, of course, these measures can and even ought to be done. Serious problems that affect the lives of many have to be met with forceful, vigorous and hopefully effective solutions.
But for all this theoretical practicality of this radical and even extreme approach to such problems, morality should never be sacrificed. We don't do evil so that a certain good may be achieved.
That the end never justifies the means is a classic moral principle that will never go obsolete. Violating this principle can only trigger a vicious cycle of hatred and revenge that would divide people into unfair and inhuman categories and would perpetuate the law of Talion, a tit-for-tat kind of culture where mercy has no place in the pursuit for justice. Violating this principle violates the very nature and the law of our freedom itself.
Nowadays, many people, including our leaders, appear to be unclear about what is moral and what would make a human act, personal or collective, immoral. In the case of the extrajudicial killings, for example, many would justify it because the intention is supposed to be good, or it has lowered down the rate of criminality, or it is supposed to be an expression of a strong and relevant political will, or that there were more EJKs in the past, etc.
Others mouth a new moral doctrine about a certain justifiable collateral damage when there is some kind of undeclared war.
These are pure rationalizations. Forgotten is the objective evaluation of the morality of the act itself. It seems that even our leaders do not know anymore where the sources of morality have to be taken. That one has to consider the object of the act, the intention and the circumstances is not anymore done.
Things now seem to depend only on a certain idea of political effectiveness based on some statistics, popularity and acceptance of at least a simple majority of the people, or profitability. It seems morality is now measured by these criteria.
Aside from EJK, other immoral acts are now being justified. Detraction is one, as shaming by exposing the hidden faults of some public figures is made. The Catechism says that especially in the media, "the information must be communicated honestly and properly with scrupulous respect for moral laws and the legitimate rights and dignity of the person." (Compendium 525)
Vengeance is another. And all forms of insults and personal derision are hurled. Fallacies are now the new logic. There are now all sorts of misinformation and disinformation glutting the media.
Among the collateral victims of this new culture are the very principle of human rights, the standing of God, Church and religion itself in society, basic decency and courtesy to all including offenders.
A certain build-up of fanaticism, a culture of simplistic black-and-white categorization of people, can be observed, with its corresponding wave of hatred against those who choose to be different from the majority.
We need to go back to the basics of morality. We have to assess human acts, especially those with public character, according to their objective morality before considering them in their political, social or economic contexts, etc.
As said earlier, the sources of morality are three: the moral object, the intention of the subject who acts, and the circumstances which include the consequences. As the Catechism would put it:
"An act is morally good when it assumes simultaneously the goodness of the object, of the intention, and of the circumstances...It is not licit to do evil so that good may result from it...On the other hand, a good end does not make an act good if the object of that act is evil...Circumstances can increase or diminish the responsibility of the one who is acting but they cannot change the moral quality of the acts themselves." (Compendium 368)
This is the new challenge we have.
Human life is sacred
By Fr. ROY CIMAGALA, roycimagala@gmail.com
August 28, 2016
Nowadays, when the value of human life has been greatly reduced, we need to recover its true worth by revisiting the pertinent Christian doctrine about it.
It cannot be denied that in many parts of the world, an open anti-life culture is taking place and it's slowly coming also into our country. Abortion is legal in many countries. Euthanasia is fast gaining ground. Summary and extra-judicial killings are getting rampant. Of course, there is now a creeping wave of terrorism in many places.
We need to reaffirm the truth that human life, no matter how deformed and depraved in its earthly condition, is always sacred, because it's a life that has a special and very intimate relation with God, its creator.
No one can just put it away on his own volition or that of another or even of the state. It's a life whose death can only come properly by God's will. This usually takes place through natural causes – sickness, old age, etc.
Though God can allow death to occur due to human volition, such event is clearly against his will and would constitute a grave sin. Our Christian faith also teaches that if some evil is allowed to happen, it's because a greater good can also be derived from it.
We should be quick to discern God's designs when some evil takes place, so we avoid falling into a vicious cycle that sin usually generates. In this, we should try not to be scandalized by evil, not by affirming that evil is not evil but rather by acknowledging evil in the context of God's merciful and wise providence.
From there, we can start to perceive the good God has in mind for it. This effort may be aided by our legal and juridical system, some conventional wisdom that we have accumulated through the ages, etc. But we should also be aware that these elements are never perfect.
At best, they can lead us to divine wisdom but can never replace it. In fact, the way things are now, we may have to do a lot of purging, since many distortions if not errors insofar as the moral law is concerned may already have contaminated these systems.
Human life is sacred because it is always a life intimately linked with the very life of God. And that's because we have been made the image and likeness of God, children of his, endowed with faculties that would enable us, together with his grace, to enter into the very life of God.
Thus, the Compendium of the Catechism of the Catholic Church teaches that "from its beginning human life involves the creative action of God and it remains forever in a special relationship with the Creator, who is its sole end." (466)
In another point of the Catechism, we are told that "of all visible creatures only man is able to know and love his creator.
He is the only creature on earth that God has willed for its own sake." (CCC 356) In other words, our life somehow reflects the life of God.
That is how each one of us is designed by God. The full realization of that original design may be thwarted by the many manifestations of our sinfulness. Just the same, in spite of such condition, we also know that God became man to save us and has given us all the means so we can be what we ought to be, according to God's providence.
This brings us to the conclusion that human life is always sacred no matter how sinful it is. God is so in love with man that he cannot abandon him. He will do everything to bring him back to him while respecting man's freedom. That's why in Christ, God is made to die, which is the greatest proof of one's love for another.
We need to counter the attack on human life by spreading this fundamental truth about us. That may sound quixotic, but with faith in God's powers and with our persistent effort, we know that the good and the truth will always prevail.
In this regard, St. Paul gave us a relevant piece of advice: "Purge out the old leaven, that you may be a new paste, as you are unleavened. For Christ our pasch is sacrificed." (1 Cor 5,7)
This will certainly take a lot of time, effort and suffering. But we need to convince ourselves that this is all worthwhile. We should pray, offer a lot of sacrifices, and do whatever we can, individually or with others, to do a battle of love to uphold that human life is sacred.
Statement on the President's campaign versus illegal drugs, criminality and corruption
By Ecumenical Bishops Forum
August 22, 2016
We laud President Rodrigo Roa Duterte on his serious campaign versus illegal drugs, criminality and corruption, his election campaign promise which he will do in three to six month-time of his term. The promise is getting fulfilled.
Even before President Rody formally assumed office, the Philippine National Police (PNP) has started rounding up known illegal drug users and pushers in Metro Manila. Today, more than one month after the President's inauguration on June 30, hundreds had been killed, hundreds more were arrested and jailed, and thousands voluntarily surrendered. All of them are said to be small time users and pushers, and, as human rights advocates say, are poor people.
However, on July 5, the President unexpectedly named five former and incumbent police generals who are illegal drug protectors. This was followed by an announcement on August 7 of 159 local government officials (mayors, former mayors, and former vice mayors) incumbent and former police and military officers, and incumbent and former judges who are linked to illegal drugs trade. He claims more names will follow.
The big time drug lords, the President says, are in other countries like China and Mexico from where they direct their operations, and it is difficult if not impossible to run after them.
The PNP chief, Police General Ronald "Bato" dela Rosa, claims that crime have gone down, indicating that most crime are drug related. Thus the war on drugs is also a war against criminality.
This may be true as far petty crime such as bag-snatching, child molestation, rape, rape with homicide and murder, "akyat bahay" theft, hold-ups and the likes are concerned. Big crimes such as bank robberies, pyramiding scam, illegal recruitment, cyber-crimes, break-in in malls and the likes continue unabated.
Steps in curbing corruption in government have been started. Among the measures are the signing of the Executive Order on Freedom of Information which covers the executive department and the order to shorten the processing of applications in government offices. More serious and lasting measures still have to be done.
Given the number of days in office of the new administration, its campaign against illegal drugs, criminality and corruption may be considered a success thus far. We congratulate the President for this, and pledge our support for his sincere efforts to address the present situation.
While we believe and support President Duterte's war on drugs, there is a need for deeper analysis why the drug problem is thriving and who benefit from this. There is also need for the present administration to examine the correctness of its approach in eliminating this menace. The extra-judicial killings that are happening, we believe, won't solve that problem but exacerbate it as most of those killed are small time and poor people. The suspected five police generals and government officials seem to be getting a special privilege; they remain very much alive.
We wish to caution the President, then, to respect the human rights of the people. Life which came from the Creator is precious; it has to be preserved as much as possible. The campaign can continue without violating people's rights and keeping all actions within the parameters of the law.
We bid the President success in his drug campaign in particular, and in his administration in general. His success is the Filipino people's success.
Issued and signed this 22nd day of August, 2016:
Very truly yours in Christ,
BISHOP ELMER M. BOLOCON, UCCP
Executive Secretary
MOST REV. DEOGRACIAS S. IÑIGUEZ, JR., D.D.
Co-chairperson
BISHOP FELIXBERTO L. CALANG, IFI
Co-chairperson
EJK and human rights
By Fr. ROY CIMAGALA, roycimagala@gmail.com
August 18, 2016
THE Cebu clergy had their monthly recollection the other day. The invited guest speaker, both a lawyer and journalist, among other things, was one known for her advocacy in human rights. We were given a drill on human rights, rule of law, due process and other related topics, all of them as some kind of reaction to the rise of extra-judicial killings (EJK) that we are hearing about these days.
From where I sat, I noticed that the priests were especially attentive, except of course for a few. There will always be exceptions, but this time, I noticed more rapt attention. The archbishop was around, together with the two auxiliary bishops. There were also all ears.
I was happy to note that the talk presented the nuances of human rights as articulated by institutions like the UN and, of course, our constitution, and other personalities of some standing. Since the speaker was a lawyer and not a theologian, there was hardly any theological explanation beyond the fact that human rights spring from man's being the image and likeness of God.
The reaction of the priests in general was mainly that of grave concern, since it cannot be denied that the drug problem we have is a first-class crisis. Recent developments have lifted the lid on this crisis whose scary dimensions are getting far worse than what are generally suspected.
Somehow priests get to know more details about this crisis because they preside over funerals of drug-related deaths in their parishes, they get to receive information from their parishioners, they hear confessions and they also are sought for some pieces of advice from people. They are near the frontline.
They have mixed feelings about this issue. While they are somehow happy with the current campaign against people involved in drugs, they are also alarmed at the rise of these extra-judicial killings whose perpetrators we cannot be sure of – whether they are done by some vigilantes, or the police, or drug people themselves in their own internecine conflicts.
What comes to my mind is that this development we are having at this time, provoked by the ascendance of our new president, has good aspects as well as poses new challenges that we have to tackle.
Definitely, the drug problem has to be tackled head-on before it gets any worse. As it is now, it is really ugly. But we need to further develop our systems – police, judicial, penal, medical, political, economic, social, etc. – to cope with this highly complex problem.
Let's hope that our lawmakers can craft better laws that are more effective in blending our need to get the culprits as well as our need for respect of human rights, rule of law and due process.
We obviously cannot remain at the current state of our laws that are now found to be ineffective or lacking in something necessary. We have to understand that our human laws need to evolve without abandoning their essential purpose. They need to be updated to adapt to current situations.
A more appropriate system of checks and balances among the different branches and agencies of our government should be put in place.
This should be a serious affair that should not be trivialized by too much politicking and grandstanding. Let's hope that we can choose lawmakers and public officials who are competent to carry out their responsibility.
As to the clergy, a great challenge befalls us. But before we start thinking of building rehab centers and the like, we should intensify our spiritual and pastoral ministry. We have to keep the priority of Mary over Martha. While the state and civil society aim at making people responsible citizens, we in the Church have to focus on encouraging people to be saints.
As one saint once said, today's crises are basically a crisis of saints. People are not praying anymore. They are simply guided by their emotions and instincts and some questionable ideologies. There's a lot of doctrinal ignorance and confusion, and religious indifference.
Today's drug problem is just a result of many previous crises that have not been effectively resolved: corruption, deceit, infidelity, lack of temperance, etc. There is little authentic spiritual life in many people.
If these basic problems in people's spiritual life are made to persist, then we can expect graver crises after the one on drugs. In other countries, this is what we observe. They are now into terrorism and massacres and mindless rampage.
Everyone has to be involved, but I imagine that the clergy has to focus more on strengthening the spiritual and moral lives of people. These aspects are basic and indispensable.
Ecumenical Bishops Forum supports the GRP and NDFP resumption of formal peace talks
Genuine and lasting peace has always been an urgent need as far as our country and people are concerned. The non-stop offensive and defensive armed conflict between the armed forces of the Government of the Philippines and the New People's Army led by the Communist Party of the Philippines and the National Democratic Front of the Philippines has been going on for more than four decades now, and has caused thousands of precious Filipino lives to perish.
Considering that life is God's gift, death is always senseless; it is not the Creator's will. God wants only the best for all. "Every good gift and every perfect gift is from above, coming down from the Father of lights with whom there is no variation or shadow due to change. Of his own will he brought us forth by the word of truth, that we should be a kind of first fruits of his creatures" (James 1:17-18, English Standard Version).
But delivering death and/or accepting death becomes meaningful and relevant to those who do it fighting for a cause against something and/or for something. A government soldier who truly believes that he is putting his life on the line because he is defending his country from those who seek to destroy it will be ready to kill a fellow Filipino. A brilliant young student who sees the vast difference between the ideal he/she learns from the university and the actual reality of life which is hellish, will not hesitate going up the mountains to make sure that his/her beloved country will be free from the rapacious greed of big foreign mining companies who ruin our land and destroy the future the next generations of our people in spite of his/her full consciousness of the danger of his/her decision. He/she is well aware that he/she is bound to face military people armed to the teeth to protect the violators of Mother Nature.
The factory worker who receives less than the minimum wage cannot use his most effective weapon to protest as the worker's unions have effective been defanged. Where will he to go and what is he to do? The poor peasants and the indigenous peoples whose small family farm and ancestral lands respectively had been taken away from them by rich businessmen protected by the military lost their livelihood. What will they do to regain their property and ensure the future of their children? Then small fisher-folks who can no longer catch fish as they used to because the lakes are full of fish pens of the wealthy and powerful politicians and because they are being driven away and threatened by the Chinese have nothing to support their families. They are among those to find meaning in taking up arms in order to simply live.
There are root causes to the armed conflict. Unless and until these root causes are addressed, armed conflict is bound to continue.
As far as the bible is concerned, "the love of money is the root of all evils; it is through this craving that some have wandered away from the faith and pierced their hearts with many pangs" (1 Timothy 6:10, Revised Standard Version). The love of money or the greed for it has led to all kinds of evil, including invading nations and oppressing and exploiting peoples, wrecking havoc to the whole of life that God has wonderfully formed.
How does this greed manifest in Philippine politics, economy and culture? How come that our officialdom is reserved to the rich and powerful? Why is the vast majority of Filipinos poor? Why are education, sports and mainline music being tailored to cater to the needs of the foreign and local elite? Won't the presence of all these things ensure the perpetuity of people's perplexity and strife?
Only an honest-to-goodness discussion to address the root causes of the armed conflict will resolve our age long situation of bondage. Rooting out these root causes will render the struggle meaningless and irrelevant. Fighting shall cease, death shall be avoided, life shall persist. And this state of things will be in accordance with the will of the Lord.
"And you shall eat your bread to the full and dwell in your land securely. I will give peace in the land, and you shall lie down, and none shall make you afraid…" (Leviticus 26:5b-6a, ESV).
We therefore appreciate the decision of the GRP and the NDFP to resume the formal peace talks. The return to the negotiation table and agree on how to bring peace to our people is most important. There may be obstacles to the talks. There may be lots of differences. But that is precisely why talking is made necessary.
Both claiming to represent the Filipino people and their interest, it is incumbent upon them to do all things in their power so that genuine and lasting peace will descend upon our land.
Issued and signed this 8th day of August, 2016:
BISHOP ELMER M. BOLOCON, UCCP
Executive Secretary
MOST REV. DEOGRACIAS S. IñIGUEZ, JR., D.D.
Co-chairperson
BISHOP FELIXBERTO L. CALANG, IFI
Co-chairperson
What politics needs most
By Fr. ROY CIMAGALA, roycimagala@gmail.com
August 1, 2016
The immediate answer is to humanize and Christianize it. Politics all over the world has been at the mercy of man's baser passions for so long that it now screams to high heavens for its humanization and Christianization.
And this can only mean that it is in dire need of charity. It has to be guided by the requirements of charity, which should not be considered as some kind of drag or hindrance but rather as the perfection and fulfillment of politics. It just cannot be left alone, fully under the power of our passions, brute force and worldly forces. In fact, it can and should be a massive way of sanctification of the people.
Politics ought to be pursued always in charity. It cannot be any other way, since charity is the mother of all virtues and good values. If we want justice, truth and fairness, charity has them all. If we want competence, order, discipline, etc., again charity has them. If we want objectivity, charity has it. And that's because charity covers all our needs.
Politics, as a human necessity and as a free act of man, is definitely subject to the moral law, and as such, should also have a proper spirituality to animate it. This is a truth of our faith that should never be lost in our mind, and much less, in our culture. The autonomy we enjoy in our politics is never to be taken to mean that God has nothing to do with it.
Politics just cannot be left to the raw forces of our human nature, which has the capability of detaching itself from its creator and his law. It just cannot be subject to the law of the jungle. Without God, politics would be left to our own ideologies, historico-cultural conditions, our own personal hunches of how things ought to be, etc.
The way politics is practiced today, we need nothing less than a revolution, a drastic, radical conversion of heart among our political leaders and the citizenry in general.
We need to redeem politics from being a devil's game and to recover its true lofty nature and character based on our innate dignity as human persons created in the image and likeness of God, and made children of his.
In many Church teachings, we are reminded that while the technical formation of politicians does not enter into the mission of the Church, the Church has the mission of giving "moral judgment also on things that pertain to the political order, when this is required by the fundament rights of the person and the salvation of souls…using only those means that conform to the Gospel and the good of all, according to the diversity of the times and situations" (Gaudium et Spes 76)
Commenting on this part of the above-cited Church document, Pope Emeritus Benedict XVI once said: "The Church concentrates particularly on educating the disciples of Christ, so that, increasingly they will be witnesses of his presence everywhere. It is up to the laity to show concretely in personal and family life, in social, cultural and political life, that the faith enables one to read reality in a new and profound way and to transform it"
He batted for a unity of life, a consistency in peoples' behavior based on faith that would go together with hope and charity. In fact, he added that "Christian hope extends the limited horizon of man and points him to the true of loftiness of his being, to God, and that charity in truth is the most effective force to change the world."
He also said that the "Gospel is the guarantee of liberty and message of liberation; that the fundamental principles of the Social Doctrine of the Church, such as the dignity of the human person, subsidiarity and solidarity, are very timely and of value for the promotion of new ways of development at the service of every man and of all men."
To translate all this wonderful doctrine about politics into reality, we should realize that all of us who are in different ways involved in politics should not avoid the cross, but rather look for it and embrace it. We need to realize that the cross would comprise the fullness of any political work, and indicate the authenticity of one's motives in politics.
Just as the cross is the summit of Christ's redemptive work, and also the life of every Christian believer, the cross has to be the crown of this human affair we call politics. It cannot be any other way.
Our reminders and challenges to President Duterte in light oh his State of the Nation Address
By Philippine Movement for Climate Justice
July 26, 2016
President Duterte said in his State of the Nation Address, that there are "a few concerns" that he wants to "convey to all" so that "these concerns will not dissipate or get lost along the way."
The Philippine Movement for Climate Justice would like to share its own concerns regarding several points in his speech – as reminders and challenges to the President – so that people's concerns will not dissipate or get lost in his administration.
1. ON CLIMATE POLICY – PMCJ welcomes the statement of President Duterte that addressing global warming will be a top priority and that he is committed to a "fair and equitable" solution. Indeed, current global targets to address global warming and climate change are still very far from equitable, with the rich industrialized countries pledging actions that are very short of their fair share. A serious consequence of this inequity is that the aggregate impact of all country targets will still condemn us to nearly 3 degrees Celsius increase in the earth's temperature. This is not consistent with the avowed goal in the Paris Agreement of limiting global warming to below 1.5 degrees.
However, we are worried by the President's qualifier to his global warming solution – that "it must not stymie industrialization." Is President Duterte advocating unhampered industrialization? We hope not. Industrialization must be pursued within the bounds of sustainable, rights-based and climate-friendly development pathways, and not the other way around. We believe there are ways to achieve development that is equitable and is in harmony with the welfare of the planet – that is the only kind of development that is in the interest of our people.
We are also alarmed by the President's reference to "clean coal." Is President Duterte falling for this dirty lie, this outdated and false information that coal is cheap? The cost of coal is more than the financial cost of mining coal and building and running coal plants. Even the most state of art in coal energy technology has huge harmful consequences to people's health and environment, that cannot be fully compensated for financially. President Duterte should know that Renewable Energy is not only clean and healthy, the financial cost of building and running renewable energy systems has already achieved parity with coal.
2. ON HUMAN RIGHTS – PMCJ's brand of climate justice is well founded in the defense, protection and fulfilment of human rights. We believe that human rights is central to the principle and goal of climate justice, just as we believe human rights is at the heart of the principle and goal of development.
We are gravely concerned about the President's qualifier to his commitment to human rights, that "human rights cannot be used as a shield or an excuse to destroy the country." Is President Duterte referring to the many calls and reminders for his administration to uphold human rights in the face of the significant increase in extra-judicial killings? Is this statement a defense is his defense of how his war vs. drugs is being carried out? Yes, we would like to see the illegal drugs industry end. But we are alarmed and condemn the fact that the war on drugs has already claimed the lives of more than 500 individuals without the benefit of due process, many of them from poor and marginalized communities.
President Duterte, you mentioned in your speech that you are going to "wage war against those who make a mockery of our laws." You also said that "equal treatment and equal protection" are what you ask for our people. We will hold you to your words, we will remind you and challenge you to practice what you preach.
While Philippine Movement for Climate Justice will be open to and welcome positive policies of the Duterte Administration, we will be vigilant and relentless in challenging him to pursue genuine change that will truly benefit the people and will be in harmony with environmental and climate justice.
Peace advocates hold high hopes for building a just and enduring peace in the Philippines
A statement by the Pilgrims for Peace on the possible resumption of the GPH-NDFP peace talks
June 25, 2016
Winds of hope continue to sweep the whole archipelago as the Government of the Philippines (GPH) and the National Democratic Front in the Philippines (NDFP) take steps in close coordination toward resuming the long-suspended, formal peace negotiations.
From parishes and churches to schools and local communities, peace advocates stir interest in and disseminate information about the GPH-NDFP peace talks. Excitement grows for the resumption of talks focused on forging the requisite agreements for building just and lasting peace for the Filipino people. Peace advocates, who steadfastly affirm that peace building must address the roots of armed conflict, enjoin the people to engage in meaningful discussions on what will make for peace in our land.
Significant positive changes in the new GPH leadership's commitment and readiness to continue and complete the peace negotiations have bolstered our hopes. Not only has it completed the new GPH negotiating panel, but it has also been demonstrating active leadership in resolving hurdles to clear the way for resuming the formal talks. Our ardent hope is that the new leadership will honor its commitment to release the political prisoners who are covered by the Joint Agreement on Safety and Immunity Guarantees (JASIG). In this regard, we urge President Rodrigo Roa Duterte to exercise political will.
The National Democratic Front of the Philippines has not relented on its commitment to pursue the peace talks. Sending a representative to personally meet with President-elect Duterte soon after his proclamation – which led to the holding of bilateral preliminary discussions and tentative agreements in Oslo on June 14-15, the NDFP has likewise demonstrated active leadership in resolving problems hindering the resumption of the talks. Beyond the peace talks, the NDFP responded positively to President Duterte's unilateral gesture of cooperation; endorsing progressive leaders for consideration as appointees to the Cabinet posts he had offered, appointments were made in due time.
With GPH-NDFP peace talks shaping up to resume on August 20-27, 2016, peace advocates foresee that the two parties will affirm previously signed agreements and proceed to hold negotiations on the next substantive agenda, namely Socio-Economic Reforms. There are positive signs that the two parties will seriously and steadfastly take up this important agenda, referred to as the "meat" of the peace negotiations. To be tackled are issues such as persisting inequitable and unjust control of land by the few and proposals to achieve national industrialization. Peace advocates encourage every Filipino to join the discourse and contribute ideas and positive energies to the formulation and crafting of Socio-Economic Reforms that will address the roots of armed conflict and build justice, peace, freedom and democracy in the Philippines.
In the immediate days ahead, we encourage peace advocates throughout the nation and around the world to support our just call for the release of the 22 JASIG-protected political prisoners, who have tasks to perform for the peace negotiations. Moreover, their immediate release – as well as most, if not all, of the political prisoners – is an issue of justice: they are charged with trumped-up common criminal offences, generally non-bailable and multiple counts to make it hard for them to be released on bail. In addition, JASIG-protected political prisoners should have been IMMUNE from arrest for as long as the peace talks, or the JASIG, have not been terminated.
Respect for the JASIG and the 11 other signed agreements is an obligation of the GPH. Peace advocates are confident that the release of the JASIG-protected NDFP peace consultants and the other political prisoners will contribute much in facilitating the resumption and earnest pursuance till completion of the GPH-NDFP peace talks!
Our life in public
By Fr. ROY CIMAGALA, roycimagala@gmai.com
July 22, 2016
WE need to give due attention to this aspect of our life. Our life in public is an integral and unavoidable part of us.
In the first place, to be born we need to have parents and a family, then a community, a school, a market, a church, etc. We can never be alone. Our life is at once private, individually ours, and public, always with others, if not physically then at least intentionally.
Thus we need to know the purpose of our life in public, what it involves, what it requires, what duties we have toward it, what benefits it can give us and what dangers it can pose.
I think that as we develop fast because of our technologies, we have to know how to pull the many levers at hand to reach our proper goal.
For example, how do we handle the many inter-generational and inter-cultural demands of our times? Our public and social life now has certain complexities unknown before. It now is much more diverse. And we need to master them, and not be their slaves or pawns.
It's a pity to see many people, especially the young, getting lost in the dizzying swirl of our life in public. Many of us are left badly equipped to tackle the intricacies involved. There's the pressure of the peers and "barkada," the pull of the mob, the lure of the entertainment world, the tricks and ambitions of business and politics, etc.
We often get stuck in the externals and appearances without getting into the essence of things. Our reactions are mainly knee-jerk and Pavlovian. We hardly think, we barely reflect and study things.
We generate a lifestyle based mainly on feelings and impressions, often fleeting and unstable, rather than on one that has a solid foundation, able to guide us consistently through the different phases and situations of our lives.
As a result, we enter into a spiral of a worldly way of life with barely any soul in it. We begin to treat each other merely as facades or masks, quite plastic. Pretensions and hypocrisy become salient features of our society, begetting the other forms of deceit and conceit.
Instead of being persons, we become simply as actors, performers or robots. Our heart is slowly turned from flesh to stone. We become users, manipulators and exploiters of others. The others become mere objects, products, statistics.
Subjectivity, where respect for everyone's spiritual character and personhood should be enhanced, ebbs away. Instead, objectification of persons takes place, drying us up to make us things instead of persons.
The dynamics created by this set-up allows people to swing from self-absorption to self-assertion, from self-seeking to self-promotion. Thus, the truly human ways to link us into communion with others start to disappear. It's all about the ego. The "we/us" vanishes.
The field gets littered with the remains of envy, greed, lust, sloth and other capital sins. And, sad to say, there are many exploiters and predators in this field who take advantage of the situation and the vulnerability of the weak and the gullible. We need to expose them and their tactics.
We have to put a stop to this vicious cycle, and reverse it to become a virtuous cycle. This will depend on whether we first establish and strengthen our personal relationship with God.
We have to be most wary of the rise of secularism and relativism in society. They come as a result precisely of setting God aside from our life in public.
And so, we can see in many countries today delicate moral issues that need to be resolved very clearly: abortion, confusion about sexual identity and human nature, divorce, disconnection of science and technology from morality, lack of respect for freedom of conscience, questionable educational thrusts in schools, etc.
These issues are slowly invading our shores, and we just have to strengthen our faith, especially that of our leaders, for this eventuality.
Faith and religion are always involved in these issues. While these issues have to be considered under many aspects, we have to understand that the considerations of faith and religion, being so basic in us, should be given priority.
It's in our faith and religion that the fundamental and ultimate meaning of the issues are given. It's where our ultimate common good is determined. The practical, the legal, the social, cultural and historical aspects have to somehow defer to them.
Contrary to some views, being consistent to one's faith and religion in public office does not make him a fanatic, a fundamentalist or detached from reality. Quite the opposite is true.