Muslim OFW breaks waves; Opens the first Japanese Halal resto in the PH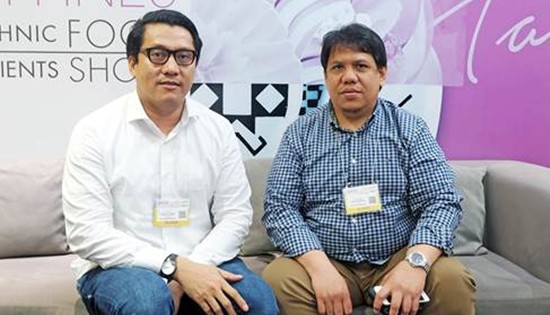 By CITEM
July 11, 2017
MAKATI CITY – The Filipino worker who has served among the longest at King Saud University as an administrative secretary and quality standard coordinator for over 20 years is a Mindanaoan, who at childhood would bravely cross islands by boat and alluvial plains on foot with his brother during summertime to collect coconut shells and make them into charcoal.
Coming from one of the minority tribes in Mindanao known as the people of the current, Hasim Salih Mammah conscientiously turned around an imminent tide of deprivation into waves of success in his various personal and professional engagements.
"I was raised by a disciplinarian teacher-mother and a business-trader father to value hard work, independence, and concern and respect for others at an early age. Joining reach-out activities in Mindanao's most impoverish communities at teen age, and eventually awarded as among one of the best scouts by the Boy Scout of the Philippines in Zamboanga City boosted my interest to make a difference in life," says Hasim.
Hasim was 18 years old and recuperating from the demise of his father when he found himself driving tamaraw jeepney along unpaved roads in outskirts of Zamboanga City to sustain his schooling at the Western Mindanao State University. He was a relentless working student throughout college, finishing a degree in Political Science.
The young man who dared to twist his fate in Metro Manila selling books and reading materials in offices and homes eventually landed a job in Riyadh as a salesman and one of the pioneering employees of a company that would become today's top retail franchise company carrying more than 80 of the world's best-known retail brands across global markets.
"Hard work and work-focus were my weapons to build the trust of my superiors," Hasim relates as he reminisced growing his career from being a salesman to becoming a retail supervisor and sales advisor. His two years of exposure in marketing top brands have built up in himself an incredible global market knowledge and marketing strategies.
An epitome of Filipino resiliency
When not at work during weekend, Hasim would delight his close Filipino friends in Riyadh with his Asian recipes that he casually prepared for their various special occasions. "I cooked 100 percent Halal in the variety of my Asian menus." Hasim's catering service, though limited to the Filipino community, was handled with quality standards.
Having had received a certification program with the Associate Chartered Quality Institute (ACQI) made Hasim very meticulous in his service detail. The significant learning he has accrued from his university research works on "Academic Quality Management" manifested in the way he manages his professional works and personal ventures.
Hasim became an epitome of Filipino resiliency when he dared break through the Japanese food business industry in Saudi Arabia. In 2012, about 12 years after a decade-long season of servicing the Filipino community with his home-based 100 percent Halal Asian food catering business, Hasim decided to learn the trade of food service. "I went to various places to learn the food service trade -- attending conferences and food expo in Dubai, Malaysia, Singapore, Indonesia and Japan." In his unyielding pursuit of more knowledge in food service, Hasim met a Filipino who has a lengthy experience as a Japanese chef.
Hasim manages the Samurai Japanese Cuisine Restaurant in Riyadh since 2013. The restaurant that employs mostly Filipino OFWs has been enjoying excellent reviews among multi-racial customers and Japanese food fanatics in the city.
"It is amazing that Japan, which has mere .05% Muslim population, enjoys numerous Japanese Halal eateries spread across all its cities and provinces. It is sad though that the Philippines has 11% Muslim population and yet has no Japanese Halal restaurant found anywhere across the country," reveals Hasim.
"It is this reality that prompted me to bring to the Philippines the first 100 percent Halal Japanese restaurant, called Samurai Halal Express."
Innovative and authentic taste at Samurai Halal Express
Located at a prime area in the Food Court of Terminal-3 in the Ninoy Aquino International Airport, the Samurai Halal Express is a cozy eatery for Muslims and non-Muslims who love Japanese cuisine.
Strictly using imported Halal meat and chicken and halal-authenticated ingredients, the first Halal Japanese restaurant in the Philippines is proudly manned by a Filipino sushi chef who has mastered the artistry of Japanese cuisine.
On top of the regular Japanese cuisine selections, the Samurai Halal Express unveils several innovative menus, such as the country's first new ramen in a bowl with choices of seafood, chicken and beef ramen – all in authentic taste.
"Everything is made to order with the freshest ingredients, making sure that every dish is prepared from scratch, and is cooked separately with secret flavor," claims its Sushi chef.
Samurai's tempura and furai (fried shrimp) are hand-picked and nicely coated with utmost care. Customers are free to watch Samurai's show kitchen. Customers can see the preparation of sushi side and food orders as they are done the traditional way – with not much fusion except for its authentic ingredients. Children who love sushi will surely bask in its beef and chicken roll designed with the fancy look.
Samurai Halal Express is said to be a "market tester" that will soon become a model for expansion to other places in the Philippines.
Like the daring young boy who wandered places to collect coconut shells to produce charcoal and who drove tamaraw jeepney around outskirts of Zamboanga City, and went far to work abroad and acquired quality international experience and education, the man of current will soon take Samurai Halal Express to the hearts of the Filipinos.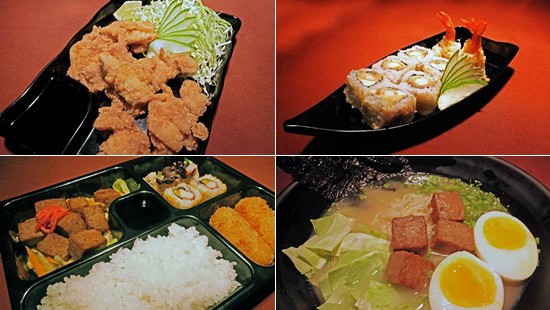 Cavite enterprise wins back-to-back Katha Awards at IFEX Philippines
Kapfer and Rivera United Inc. bags award for Processed Fruit and Vegetables with Puso ng Saging
By DTI-CITEM
May 23, 2017
PASAY CITY – Cavite-based Kapfer and Rivera United Inc., makers of the 'Island Gems' brand, won the 2017 Katha Award for Food for the Best New Product Award for Processed Fruit & Vegetables category for its ready-to-eat bottled Puso ng Saging at the recently concluded IFEX Philippines held at the World Trade Center Metro Manila (WTCMM) and Philippine Trade Training Center (PTTC).

Island Gem's Puso ng Saging – Processed Fruit and Vegetables 2017 Katha Award Winner.
The company's bottled Puso ng Saging, is an all-natural creation made of banana blossoms, coconut cream, salted shrimp fry, and spices that can be used as a spread, topping or the main dish. Consistent with the company's vision for the highest food standards, it contains premium ingredients, no preservatives, and no added flavoring.
The award is a back-to-back win for the Filipino-German company, having won the Katha Award in the same category in 2015 with their ready-to-eat bottled Laing or Taro Leaves in Coco Cream.
"Kapfer and Rivera deserves recognition for its consistency in delivering high-quality and inventive Filipino-inspired products, such as Laing and Puso ng Saging, which helps propel the Philippine in the international market as a source of premium healthy and organic food products," said Clayton Tugonon, Executive Director of Center for International Trade Expositions and Mission (CITEM), the organizer of IFEX Philippines.
A joint venture by Maria Rivera, who came home from Singapore in 2012 with German husband Chris Kapfer, the Kapfer and Rivera United Inc. started in 2012 with the creation of their fine mango jam using premium ingredients.
As a boutique company, it is committed to bringing new products to the market that are affordable and authentic, never cutting corners with the use of artificial additives like flavoring, coloring, and preservatives.
"I'm glad that our line of healthy products is recognize here in IFEX Philippines," said Kapfer. "For this year, we are hoping to get more high-quality buyers from Korea and Japan and this recognition in Katha is a big boost towards this endeavor."
Aside from tapping markets abroad, Kapfer and Rivera Inc. aims to focus growth on the local market, a segment that they believe has great potential and lacking in premium quality locally made food.
"The Philippine economy is doing well. More manufacturers are coming up with higher quality, because people are demanding it," said Managing Director Maria Rivera Kapfer. "The problem is we tend to serve cheap stuff, synthetic stuff for the Pinoys. Why give fruit-flavored jams? We give them real fruit."
Rivera added: "We deserve quality goods for our people and we want to make it mainstream and affordable. We could have chosen to go to go to gourmet shops but we said no, we must democratize good quality food and make it more affordable. You can't always say, pwede na yan, local naman yan eh. That's really bad. We deserve better than that."
Aside from Puso ng Saging and Laing, the Filipino-German company is selling single-serve fruit fillings, such as Strawberry, Calamansi, Guava, Mango and Pineapple, as well as Macapuno and Ube de Pastillas, under their Island Gems brand. The company is also offerings manufacturing and toll packaging services.
As of now, Kapfer and Rivera United Inc. have established retail stores in Urban Pantry (Green Hills Metro Manila), Connie's Kitchen Deli (New Manila, Quezon City), Real Food (Molito, Alabang), Landmark (Makati and Trinoma), Unimart (Green Hills, Metro Manila), Ritual (San Lorenzo Village, Makati), Shell Gas Mart (Slex to Batangas, after San Pedro Exit), Enchanted Kingdom (Agila - The Eksperience) Duty Free (Kalibo, Palawan), and selected stores of Robinsons Supermarket.
K&R United embraces the traditional values of integrity, reliability, quality and cost-effectiveness in dealing with its business partners and clients.
The company's facility is located in Cavite, an area in the southern region of Luzon in the Philippines. We are licensed to operate (LTO), with Good Manufacturing Practice (GMP) certifications, and registered in US Food and Drug Administration (USFDA).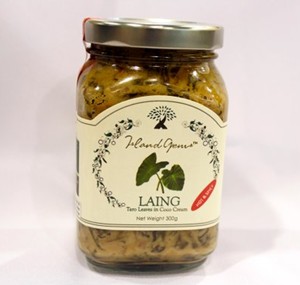 Island Gem's Laing – Processed Fruit and Vegetables 2015 Katha Award Winner.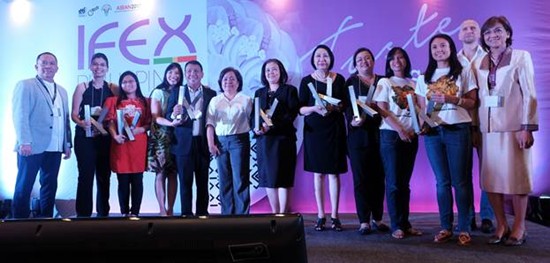 DTI-CITEM Executive Director Clayton Tugonon (leftmost) and DTI Undersecretary Nora K. Terrado (rightmost) introduces the winners of the 2017 Katha Awards for Food at IFEX Philippines.
Katha Awards for Food spotlights innovative, export competitive products at IFEX Philippines
By DTI-CITEM
May 20, 2017
PASAY CITY – The 11th edition of the International Food Exhibition (IFEX) Philippines, through the 2017 Katha Awards for Food, once again pays homage to newly developed Philippine food products and applications yesterday at the World Trade Center Metro Manila (WTCMM) and Philippine Trade Training Center (PTTC).
The awards aim to strengthen the reputation of the Philippines as a go-to destination for globally competitive Asian food and ingredients by recognizing companies that explore new galleries of flavors, original brand ideas, unique food fusions, and creative packaging methods.
The competition is open to all Philippine-based food manufacturers and suppliers participating in IFEX Philippines 2017. The winners are hailed from six different product categories: Food Ingredients, Marine and Meat Products, Snack Foods, Beverages, Processed Fruits and Vegetables, and Confectionery and Biscuits and Pastry. The company with the most creative booth exhibition is also recognized.
Katha Awards for Food was judged by SM Supermarket Senior Vice President for Marketing Millie Dizon, ZOMATO Philippines Country Manager Anton Ojeda, Philippines Airlines Manager for Food Planning and Standards Division Maria Criselda Abantao Rayos, and Food Packaging and Labeling Expert Abner Villahermosa. They chose the winners according to Market Demand, 25%; Packaging Design and Innovation, 35% and; Product Innovation, 40%.
Here are the category winners of the 2017 Katha Awards for Food:
Food Ingredients: FIERY LABUYO BARBEQUE MARINADE of Mama Sita's

Instilling innovation while keeping its century-old culinary tradition, Mama Sita's has newly concocted to perfection the Fiery Labuyo Barbeque Marinade for lovers of spicy food fusions.

Bold and fiery, the native labuyo chili pepper offers a truly unforgettable barbeque experience without the monosodium glutamate (MSG) and other preservatives.

Marine and Meat Products: FISH SAUSAGES of Fisherfarms, Inc.

Fisher Farms All Natural Fish Sausages are free from artificial ingredients and chemical preservatives. Made from 100% fish meat, they provide around 10% of the recommended daily allowance of protein, contain Omega-3, and have 0 trans fats.

Free from gluten, casein, nitrites, and MSG, Fisher Farms All Natural Fish Sausages are perfect for health-conscious gourmets and sausage aficionados.

Snack Foods: KALE CHIPS of Take Root Food Corner

Imagine a completely guilt-free, vegan chip that combines the taste of tangy sour cream with freshly cut chives!

Take Root Food Corner's Kale Chips is made with all-natural and organic ingredients. No oil, dairy, sugar or any preservatives. Made from nutritionally dense leafy greens available, these addicting kale chips are never baked or friend, but dried at low temperatures to preserve its essential nutrients and enzymes.

Beverages: TURMERIC TEA WITH CALAMANSI of Muy Bien

Turmeric Ginger Lemongrass is a sweetened tea drink made by the Negros Occidental-based Muy Bien Ventures Co. Inc. from the natural and organic extracts of turmeric, ginger, lemon grass and calamansi.

Turmeric comes from the root of Cucuma longa plant. Called in the Philippines as "Luyang Dilaw," turmeric has a tough brown skin and deep orange flesh. Curcumin, the main active ingredient in turmeric, has a powerful anti-inflammatory effect and a very strong antioxidant.

Processed Fruits and Vegetable: PUSO NG SAGING of KAPFER AND RIVERA UNITED INC.

Also known as "Ginataang Puso ng Saging," this ready-to-eat Philippine dish satisfies the cravings for a hearty and savory meal – perfectly served on a hot cup of rice or as an appetizer paired with toasted bread and melted cheese on top.

Puso ng Saging is high in fiber and rich in taste, while completely being pork and chicken free.

Confectionery, Biscuits and Pastry: 85% NATULE CHOCOLATE DARK of MALAGOS AGRI-VENTURES CORP.

Developed to cater the taste of the high-standard Japanese market, the 85% Natule Chocolate Dark is an all-organic treat lets you experience the true essence of cacao, enriched with the subtle sweet aroma of coconut nectar.

The product was made under Malagos Chocolate's single-origin chocolate production or what they call the "tree to bar" process, which involves the planting, harvesting, fermenting, solar drying, roasting, and processing of the cacao beans into fine-flavored chocolates.

Best Booth: Fisherfarms, Inc.

As a pioneer in aquaculture products processing, Fisherfarms, Inc. stages this year's IFEX Philippines with a bright and modern scenography, highlighting the interesting insights on the Philippines' seafood products, as well conducting on-site cooking and food sampling activities.

Fisher Farms, Inc, has one of the country's widest range of premium quality fresh, frozen, value-added, and completely processed seafood products to clientele and institutions such as supermarkets, groceries, fast food chains, restaurants, distributors, and hotels all over the world. The Philippine seafood innovator is currently present in key markets such as USA, Canada, Middle East, Asia, Africa, Australia, and Europe.
2017 labor day state of workers
Government, employers ignore workers' slide to poverty, inequality
By Associated Labor Unions (ALU)
May 1, 2017
DAVAO CITY – The country's biggest labor organization, the Associated Labor Unions (ALU) warned of uprising among the working poor as means to be freed from misery if government and employers continue to ignore worsening poverty and inter-generational inequality caused by joblessness, inadequate wages, insufficient social protection benefits and precarious short-term work arrangement.
"We have been witness to recent series of events where our poorest poor people were forced to raid rice warehouses, invade government housing units and claim ownership to lands that they felt was deprived from them. We do not condone nor tolerate these illegal actions but we attribute these series of lawlessness as symptoms of an irresponsive government and inhumane employers and capitalists," said Alan Tanjusay.
Diminishing value of wage vs. rising inflation
Despite of the country's consistent economic growth, the purchasing power of daily minimum wage fell significantly in the face of 3.4% inflation rate registered in March 2017.
In a monitoring made by ALU, the purchasing power, for example, of P491 daily minimum wage in the National Capital Region fell to P361 in February 2017. While the average purchasing power of daily minimum wages in regions outside NCR is P250 a day.
These rates are considered way below the 2015 standard poverty level of P393 required amount needed by a family of five for food and non-food needs to survive in a day.
"This condition needs immediate response from government and employers. Workers are now desperate and if this is met inaction many will resort desperate means to survive," Tanjusay said.
Tanjusay cited incidents in April last year where 300 farmers attempted to ransack a rice warehouse, the recent invasion of government housing units in Bulacan by hundreds informal settler families and last week's invasion of a portion of Hacienda Luisita in Tarlac by landless farmers.
Poverty
To back up his claims on growing poverty, Tanjusay cited the result of survey a few days ago by the Social Weather Station (SWS) estimating there are 11.5 million families or 69 million individuals who said they are impoverished compared to 10 million families or 60 million individuals in December 2016.
With a vast amount of wealth generated by a consistently growing economy, why does millions of families still feel deprived? Where does the money go?
Aside from 40 families of oligarchs still controlling the economy, Tanjusay specifically identified the drivers of poverty among workers and their families. These are growing unemployment, underemployment, and meager social amelioration benefits.
He said the drivers of poverty among working poor are the growing unemployment, widening underemployment driven by inadequate wages, precarious contractualization short-term contractual work arrangement, jobs-skills mismatch, inadequate social insurance, worsening traffic congestion and fire-prone workplaces.
Workforce
Government's Labor Force Survey released on March 14 this year, 39.4 million Filipinos are employed, out of which are 2.8 million without jobs while 6.4 million are underemployed of the total 69.4 million workforce as of January 2017.
"With only a few families controlling the economy, our government institution should function according to their mandates and enforce our laws and implement programs to make the money trickle down to benefit workers who helped built that wealth. But these are dysfunctional.
"Analyzing these numbers, the cause of concern out of this survey is not just on those jobless but we are monitoring the behavior of the underemployed as well or those who have jobs yet their income is inadequate to meet their needs," Tanjusay said.
Causes of unemployment and underemployment
He identified the causes of unemployment and underemployment as contractualization, jobs-skills mismatch, low minimum wage, rising prices of goods and cost of services, diminishing purchasing power of meager minimum wage and lack of jobs-creating investments due to expensive electricity, water and transportation cost, expensive but poor telecommunication and internet services.
Workers productivity at work and quality time at home are also hounded by tardiness, fatigue, stress, caused by worsening traffic congestion and poor mass transport system and inadequate and aging infrastructures such as airports, seaports, container ports, railways, roads and bridges.
The ALU also attributes unemployment and underemployment to high cost of doing business imposed by local government units, judicial proceedings, and government red tape, illegal smuggling, occupational safety and health, tedious labor cases, and meager social protection coverage including low pension benefit, rising crime incidents, and continuing peace and order problems.
Contractualization and wage
The issue of temporary contractualization work arrangement are among the top priorities when labor groups meets with Duterte in a Mayday dialogue with labor groups including ALU, Trade Union Congress of the Philippines (TUCP) and labor coalition Nagkaisa to be held 3p.m. today at People's Park in Davao City.
"These challenges are brimming burden for workers. But organized labor groups prioritized the order of battle by concentrating their energy on the issue of raising wages to cope rising cost of living and ensuring workers have security of tenure by banning contractualization and all fixed-term employment because they need to survive and cope with rising cost of living not just for today but the days after," Tanjusay said.
The unions fight to eradicate contractualization is even made difficult with many elected executive and legislative government officials through dummies are engaged in the business of manpower service providers in constantly providing workers to companies and locators in their areas of jurisdictions.
"This racket is working for both the politicians and business owners. This is profit and secured votes for politicians in exchange of no delays in permits to operate and for them turning blind eye on employers' non-compliance to local labor ordinances and standards including general labor standards and occupational safety and health standards," Tanjusay said.
Kentex and HTI fires
Seventy four workers perished in May 2015 Kentex factory fire while five workers were burned to death in HTI fire incident in February this year. These fatal incidents could have been prevented had there been routine local level inspections before the issuance of permits to operate.
May 1, 2017 dialogue agenda
Aside from the contractualization and wage issues, there are ten other issues that they expect action from Duterte in today's dialogue.
The ALU and Nagkaisa labor coalition have grounds to anticipate that Duterte would also certify House Bill 4444, an Act to Strengthen Security of Tenure sponsored by TUCP Party-list Rep. Raymond Mendoza as urgent administration measure. House Bill 4444 shall prohibit all forms of fixed term employment and criminalizes its violation.
Workers also requested the Duterte approval of International Labour Organization Convention 151 which empowers government workers to organize and create their own associations and unions; resolve once and for all the five-years-and-running dispute on outsourcing between Philippine Airlines and PAL Employees Association.
Labor groups also requested for the creation of a tripartite commission to review and revise guidelines on wage setting, ensure genuine labor representation to government tripartite bodies, establish a reform of power policy that will assure security of supply of electricity and its affordability to make our economy competitive.
They also seek Duterte approval of deputization of trade unions in the inspection of workplaces, regularize quarterly dialogue with labor groups, issue an order prohibiting the collection of recruitment and placement fees, and assign help desk where trade unions can report rogue cops who are using the crack down on illegal drugs as a camouflage in union-busting.
Emergency subsidy
The ALU proposed Duterte to provide through a P500 monthly subsidy for workers to cope with the rising cost of living. The proposal is called Emergency Labor Empowerment and Assistance Program of the Office of the President, Department of Labor and Employment (DOLE) and accredited trade unions.
Under the proposal, the Office of the President may initially appropriate and provide the subsidy amount with the DOLE as lead implementing agency with trade unions as conduit of the program in distributing cash vouchers after beneficiaries attended workers' orientation on fundamental workers' rights.
Forthcoming labor problems
Aside from ongoing challenges and problems facing workers, the ALU anticipate the influx of foreign workers to fill the shortage of skilled and professional workers due to the continuing flight of Filipino workers to work abroad in search of better wage and higher benefits and the possible uptick demand for more workers in the light of mega-infrastructure programs envisioned by Duterte administration's 'Dutertenomics" and 'build, build, build'.
Climate change
The ALU also identify climate change events as significant factor that impact workers. The devastation caused by El Niño and La Niña phenomenon not only threatens the life and limbs of working people but also displaces and breaks livelihood patterns.
"Extreme weather events are catastrophic to all Filipino. The sum effect is if workers are able to survive these events, they are unsure if they still have jobs and means of livelihood when their factories and offices are destroyed by natural forces," Tanjusay said.
He cited the post-Yolanda havoc and the recent decision of the government to shut down mining companies.
Decreasing union density
The narrative of workers struggle for decent work and shared prosperity in globalization age is made difficult by waning power if unionism.
The Bureau of Labor Relations of the DOLE estimated there are around 2.1 million workers registered as members of the union and only around 200,000 of which are covered by Collective Bargaining Agreements (CBA) as of December 2016, down from 4 million unionized workers and 400,000 covered by CBA in 2010.
Bright prospects
However, amid the brimming natural and man-made woes confronting workers, there are bright prospects that would somehow slow down the downward trend of unemployment and underemployment and mitigate its negative impacts to the labor force.
Tanjusay said the government's completion and operationalization of mass railway and utility bus system and the establishment of a national broadband nationwide spur direct employment in the construction and information, communication and technology sector.
Impending tax refund
The Bureau of Internal Revenue (BIR) owes each 600,000 minimum-waged workers nationwide with an estimated P9,000 "blood money" from the tax they collected for six months in 2008 amid a law exempting the workers from withholding tax.
In its decision released on February this year, the Supreme Court said minimum wage earners (MWEs) should not taxed because they are exempted from doing so by Republic Act 9502 – the law giving exemption to minimum waged workers from monthly salary tax deductions. The law became effective June 17, 2008. However, the BIR issued Revenue Regulation 10-2008 and only exempted MWEs six months later.
Tanjusay said they expect the Supreme Court finally decide on the manner of refund before the end of the year.
Compliance and enforcement
These challenges needs radical government interventions and serious reforms in the hearts and minds of employers and capitalists.
"The Associated Labor Unions is urging the government to consistently enforce labor standards and occupational safety and health standards. We call on employers and business-owners to faithfully comply to labor laws and policies," Tanjusay said.
If these remains unattended, poverty will continue to thrive and breed social problems. Ignoring inequalities will always evolve from one generation to another and create even more problems, he said.

Some of the members of the Magbinuligon Bayanihan Association-Women in Development Association (MBA-WIDA) pose with Municipal Agrarian Reform Program Officer Maritess Nacilla (extreme left). (Jose Alsmith L. Soria)
It takes a woman to do a man's job: The MBA-WIDA story
By JOHN CHRISTOPHER COLASITO
March 23, 2017
TACLOBAN CITY – Former British Prime Minister Margaret Tatcher, once said, "...that whenever you want things said, give it to a man, and when you want things done, give it to a woman." The women of Magbinuligon Bayanihan Association – Women In Development Association (MBA-WIDA) formerly the Opong MPC are proof that women can indeed bring change and make things happen.
Formed from the defunct Opong MPC, the MBA was organized with the help of DAR in 2009. According to DAR Agrarian Reform Program Officer I (ARPO I) Ma. Milagrosa Noveda, she spearheaded the reorganization effort of what is now the MBA, and has 379 members, 197 of which are females and 182 are males. It is a federation or network organization, with WIDA as its affiliate member.
The organization has a one (1) hectare communal farm planted to high yielding vegetable varieties, in addition to a less than a hectare tilapia fish pond. It is also engaged in rice production.
But the women of MBA-WIDA, have walked the extra mile. They may look comely, shy and pretty; but mind you, some of them are certified welders with NC II certificates from TESDA. Some have also received training in carpentry and masonry, and gentlemen, take a bow, these ladies constructed their warehouse from scratch. ARPO I Noveda says that these women actually built their warehouse, and it was a sight to see them holding hammers, welding tools and do construction work. Welding, carpentry and masonry, are traditionally the preserve of men. It is not every day that we find women in a rural community break the gender barriers, and the women of MBA-WIDA, have shown they can indeed make a difference.
In a rural community, the traditional occupational roles are very much emphasized between sexes. However, things were to change when super typhoon Yolanda came. It brought change at a rapid pace.
Several international non-government organizations, private agencies and donors, and government agencies poured assistance to calamity-stricken areas, Tolosa, included. There was also a serious shortage of skilled labor particularly for carpenters, masons, plumbers, electricians and the like. Soon, government agencies and civic-minded organizations started training those interested in these skilled occupations that were in short supply. These trainings included both men and women, and the members of MBA-WIDA. Together, they were a force in the rehabilitation and development of their community. After Yolanda, it opened several opportunities for livelihood and entrepreneurship.
But they did not stop there. They were able to access ILO funding worth P2M, more or less, for the construction of their building with provisions for an office and storage area. It was here that the women showed their carpentry, masonry and welding skills, and did traditional chores that used to be the preserve of men, a few years back. Yes, there were males who helped them along the way, but this was something new and it signalled a new chapter in the life of empowerment of women in local life.
They were also a beneficiary under the Partnership Against Hunger and Poverty (PAHP), ARPO I Noveda said. They also availed of the on-site training provided by DAR and from partners. Today, they are engaged in addition to their vegetable production where they produce bell peppers, they are in vermi-cast production, an organic fertilizer derived from African Night Crawlers earthworms with technology provided by the DAR. They produce green charcoal briquettes. They have also engaged in the production of red rice organically, which is in high demand for the wellness and health conscious market, particularly the diabetics.
They have diversified their interests: meat processing, and catering business. In line with this, they underwent trainings in food preparation and food handling, table skirting. They have also produced nuggets from vegetables. Their latest venture is the production of organic dishwashing liquid, which they started marketing in their area.
The MBA-WIDA is an epitome of empowerment, breaking traditional stereotypes. They have also learned to think of their future, access and mobilize resources to effect their plans. They may have to deal with challenges along the way. But after the storm, they have charted their lives in their hands, and blazed new trails.
Davao-made Malagos Premium Chocolates launched in the US
By DTI- Industry Promotion Group
November 18, 2016
MAKATI CITY – The Department of Trade and Industry's Philippine Trade and Investment Center Los Angeles (PTIC-LA) confirmed that Malagos Premium Chocolates, a chocolate produced in the Philippines, will now be available in the United States. This was further to the announcement made by the Davao-based Malagos Agri-Ventures during their recent participation at the North West Chocolate Festival in Seattle, Washington on November 12 -13, 2016.

Philippine Trade and Investment Center - Los Angeles and San Francisco Trade Representative Jojie Dinsay (L) with Mr. Rex Puentispina (R) of Malagos Agri-Ventures at the NorthWest Chocolate Festival. (photo by PTIC-LA)
The Malagos line of chocolates has received acclaim from international fine food and chocolate award-giving bodies in Europe for its premium qualities. The products are single-origin, having been manufactured fully on-site on its farm in Davao, Philippines.
Mr. Jojie Dinsay, Trade Representative of the Philippines for the US West Coast and Head of the Philippine Trade and Investment Centers in Los Angeles and San Francisco said that this is another success story for the promotions efforts of premium food products in the US market as a result of the partnership between government and the private sector. "We are very happy and proud to have another premium product from the Philippines enter this market" Dinsay said. "The Philippine Trade and Investment Centers as part of our mandate will continue to support companies like Malagos in promoting their products all over the world".
Featuring 110 exhibitors, the Northwest Chocolate Festival is known to be among the top shows for artisan chocolates in the world today with around 12,000 visitors. Malagos Premium Chocolates, a multi-awarded Philippine chocolate from Davao, was introduced not only to choco-loving consumers but to traditional and artisan chocolatiers, chefs and baristas present at the show.
Malagos Agri-Ventures' participation at the NW Chocolate Festival was supported by the DTI's Export Marketing Bureau (DTI-EMB). Prior to this, assistance from the DTI regional office in Davao was also recognized by Malagos.
The Malagos brand is also expected to be introduced by Ampac International Inc., its importer in the United States, to UNI-MART Niles in Niles, Illinois and UNI-MART Hoffman in Hoffman Estates.
According to Mr. Rex Puentispina, Sales and Marketing Head of Malagos Agri-Venture, joining the Festival validates his belief that their chocolates can match the quality and taste of US and other international brands. "We have received a lot of good feedback from chocolate lovers visiting our booth" said Puentispina. "There were even some who say that this is one of the best they have ever tasted," added Puentispina.
In 2015 at the International Chocolate Awards, Malagos 65% Dark Chocolate was named one of world's best drinking chocolates. In the same year, it won at the Academy of Chocolate Awards when its 100% Unsweetened Chocolate won the Bronze Award for Best Unflavored Drinking Chocolate.
In 2016, its Premium 100% Unsweetened Chocolate won the Silver at the Drinking Chocolate competition of the Academy of Chocolate's Eighth Golden Bean Awards in London. It also won that year a blind-taste competition when its Unsweetened Chocolate earned two of the maximum three stars awarded by Great Taste, the world's most prestigious food accreditation body.
The company continues to invest in equipment and technology, producing its premium, single-origin chocolate products such as Malagos 100% Pure Unsweetened Chocolate, Malagos Roasted Cocoa Nibs, Malagos 65% Dark Chocolate, Malagos 72% Dark Chocolate, and Malagos 85% Dark Chocolate.
With its expansion in the United States, Malagos is expected to generate more jobs for Filipinos back in the Philippines.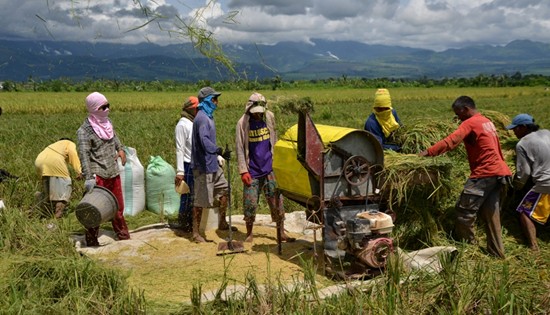 Members of the Bugho Farmers Association (BFA) savor their firs harvest after the Department of Agrarian Reform with the help of the RIGHTS and the Philippine National Police successfully installed the former to their awarded land under the Comprehensive Agrarian Reform Program in June this year. (Jose Alsmith L. Soria)
After 16-year struggle Ormoc farmers start harvesting
By JOSE ALSMITH L. SORIA
October 7, 2016
ORMOC CITY – Rosenda Apay could not hide her happiness as they started harvesting last week after having been deprived entry for 16 years to their awarded land under the Comprehensive Agrarian Reform Program's (CARP's) land acquisition and distribution component.
Apay, 56, was one of the 21 members of the Bugho Farmers Association (BFA) who were successfully installed by the Department of Agrarian Reform (DAR) in June to the 25-hectare lot within the Fran Farm in Barangay Matica-a in this city after several failed attempts.
"Masaya kami dahil nakabalik na kami pagtrabaho sa aming lupa. Tapos, sa ngayon nag-aani na. Mas lalo kaming masaya," (We are happy because we are back working in our farm. Now, we are already harvesting. The happier we are.) said Apay.
According to her, they will be harvesting rice in the 25-hectare lot until the last week of October. Their initial harvest produced 60 cavans.
She also disclosed that they decided not to sub-divide the 25 hectares covered under a collective certificate of land ownership award (CLOA) to keep it intact, preventing the sale of any portion of it by a member of their association. What they are going to divide is the produce, Apay added.
The members of the BFA were identified by the DAR in the late 90s to be the beneficiaries of lots 8667-47 and 8667-48 with a combined total area of 46 hectares.
But when CLOAs were registered in 1999 in the names of the BFA members, the Fran Farm Workers Association (FFWA) questioned in court as to who should be the rightful beneficiaries of the said lots which dragged on for 16 years resulting to animosity among them.
During this period, BFA was deprived entry into the contested landholding.
The case was resolved only when the BFA, in a rare gesture of magnanimity and grace, offered the 21-hectare lot to the rival group while retaining the 25-hectare lot to themselves leading to a compromise agreement in March this year.
Both groups were finally installed to their respective farmlots on June 13 and started cultivating.
Apay thanked DAR, the non-government organization RIGHTS and the Philippine National Police which continue to provide security in the area to maintain the peace and order situation.
Apay and FFWA member Medardo Cabahug, 59, admitted that their groups have already settled their differences. However, both also disclosed that another group entered into the scene bringing threats as the latter claims ownership of the once disputed area.
Meanwhile, DAR-8 Regional Director Sheila Enciso directed Assistant Regional Director Ismael Aya-ay to hasten the delivery of the necessary support services needed by these farmers.
Save the Children report: PH economy loses P328 billion a year due to malnutrition
By Save the Children Philippines
August 30, 2016
MANILA – A new report released today by Save the Children reveals that the Philippine economy is losing at least P328 billion a year due to the impact of childhood stunting on workforce productivity and education. Stunting is the most prevalent form of undernutrition, and has permanent effects on a child's growth and development.
The report entitled "Cost of Hunger: Philippines" suggests that, in 2013, childhood stunting cost the Philippines almost 3 percent of its GDP. The overall economic loss of P328 billion consists of:
1) P166.5 billion worth of lost income as a result of lower level of education achieved by the working population who suffered from childhood stunting;
2) P160 billion in lost productivity due to premature deaths among children who would have been members of our current working-age population;
3) P1.23 billion in additional education costs to cover grade repetitions linked to undernutrition.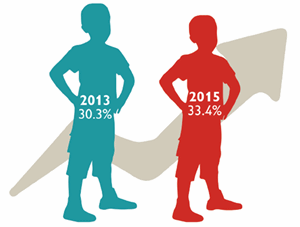 After more than 25 years of steady improvement, stunting prevalence among Filipino children below five years old increased from 30.3% in 2013 to 33.4% in 2015.
Ned Olney, Save the Children Philippines Country Director, said: "This study proves that undernutrition has a cost to all of us. In just a year, Philippines has lost almost 3 percent of its GDP in terms of education and productivity costs due to stunting. If we add up health costs, the likely impact would be an additional 0.05 - 1.6 percent."
The report shows that stunting is the best predictor of productivity and income, and that undernutrition is linked to lower human capital. Children who are stunted in the first two years of life are more likely to repeat grade levels, drop out of school, delay school entry and have lower income levels when they enter the workforce.
Olney added: "If stunting rates continue to rise, it would be difficult for families to break free from poverty. It is the poor and neglected sectors of society that carry the burden of stunting. Any investment in reducing childhood undernutrition will reduce suffering and poverty, and will ultimately stimulate economic growth for all Filipinos."
The report found, however, that Philippines' investment in nutrition programs is very low at only 0.52 percent of general government expenditures compared to the global average allocation of 2.1 percent. Citing the report findings, Save the Children highlighted the need to invest in nutrition programs during the child's first 1000 days, from pregnancy up to the second birthday, which is considered a critical period of care to avert stunting.
Olney said: "Nutrition is the cornerstone of all development efforts. This new report tells us that for every US$1 spent on programs to avert stunting in children below 2 years old, the Philippines could save over 100 US dollars in health, education, and lost productivity costs."
"It should outrage us that 95 children will die every day because of malnutrition."
Save the Children is raising the alarm on the nutrition crisis, and is calling the national and local government, private sector and the donors to end the appalling state of malnutrition in the Philippines:
• Support the "First 1000 Days Bill" to enhance the delivery of quality nutrition interventions in the first 1000 days of a child's life to prevent stunting among children.
• Push and sustain equitable nutrition policies and programs and ensure budgetary allocations that address the immediate, underlying and basic causes of malnutrition.
• Ensure security of tenure and sustained training of the community front-liners e.g. such as barangay health workers and nutrition officers and scholars. Health and nutrition workers are highly politicized, lack incentives and support for trainings, have no security of tenure.
• National and local governments provide clear and separate budget for nutrition-specific interventions to avoid confusion between health and nutrition budgets.
• Intensify health and nutrition-related training, research and extension support activities to support the First 1000 Days Program through the Barangay Integrated Development Approach for Nutrition Improvement (BIDANI) Network Program of the Rural Poor and other relevant approaches, thereby strengthening delivery systems in partnership with the LGUs.
• Scale up cost-effective and affordable high-impact nutrition interventions to prevent undernutrition that cripples the country, such as promotion of exclusive breastfeeding, complementary feeding, vitamin A and iron supplementation, treatment of acute malnutrition and maternal nutrition.
• Strengthen enforcement of the Milk Code (Executive Order Number 51), and the Expanded Breastfeeding Promotion Act (Republic Act Number 10028) to protect, promote, and support optimal infant and young child feeding, both in private and public facilities and spaces.
• We call for the strict and sustained implementation of nutrition-specific interventions, including infant and young child feeding (IYCF), micronutrient supplementation and the Community Management of Acute Malnutrition (CMAM), which is now required to be implemented nationwide.
• Revise conditionalities under the government's Pantawid Pamilyang Pilipino Program (4Ps) to include mandatory breastfeeding and education sessions on infant and young child feeding.
• Align health and nutrition programs to the priorities and directions of the Philippine Plan of Action for Nutrition and the Strategy for Women, Infant, and Young Child Nutrition.
• Increase the focus on water, hygiene and sanitation interventions for children by targeting child-related behaviors and risk factors, such as safe disposal of human waste, complementary food hygiene and handwashing and intensifying promotion of Philippine Approach to Total Sanitation (PhATS) program to reinvigorate our country's progress towards the national goals of eliminating open defecation.
Children of War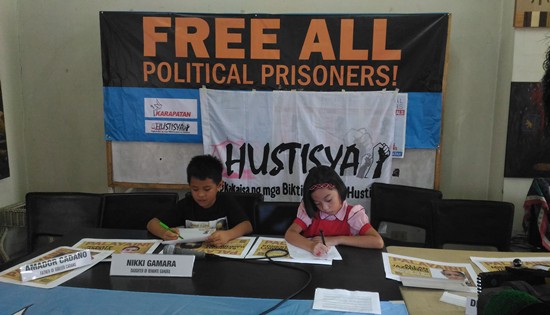 By KARAPATAN
June 24, 2016
QUEZON CITY – They are children of war, victims of a war their innocent minds cannot comprehend. But they know injustice has been to done their parents who did nothing wrong by helping the farmers, the workers, the poor.
Even adults cannot comprehend why launching a fight against the causes of poverty and unrest is a crime. And why one should be jailed for one's political beliefs.
Angel Lorenzo, 8 years old, studies at the Children of God Learning Academy; a child seemingly forsaken by man's folly.
She remembers when the bad guys came along, took her mother and left her with her one year old sister and their "yaya" to complete strangers. How she cried and cried together with her sister. Their "yaya", terrified and confused, would not know how to console them. They cried and cried until their grandmother arrived to take them.
That day, July 20, 2015, Joyce Latayan, 39, Angel's mother, has just arrived home after picking her up from school. She noticed two men in civilian clothes inside their compound. Then she saw other plain- clothes men went up the second floor of their house. They later came down with bags and a box of weapons, items which do not belong to Angel's family. They identified themselves as members of the Criminal and Investigation Detection Group (CIDG).
The men whisked Joyce away on the basis of a highly questionable and faulty search warrant issued from the Cabanatuan City Regional Trial Court and the box of weapons they were carrying. She was charged with trumped up cases of illegal possession of firearms and explosives, which were later dismissed by the Prosecutor's Office in San Jose del Monte, Bulacan where they reside.
At about the same time, Angelika's father, Ernesto Lorenzo, 59, was nabbed at the IT Center in Gilmore, Quezon City, by joint elements of the CIDG and members of the military intelligence group.
Lorenzo is a peace consultant of the National Democratic Front of the Philippines with JASIG ID No. ND978229 under the assumed name of "Lean Martinez". Lorenzo's arrest was based on a warrant for destructive arson filed in 2010 in Lucena City. He was among the activists and leaders of people's organizations in Southern Tagalog falsely charged with criminal offenses by President Gloria Macapagal Arroyo's Inter-Agency Legal Action Group (IALAG). In 2007, UN Special Rapporteur on extrajudicial killings Prof. Philip Alston had strongly recommended abolition of the IALAG and a stop to the practice of filing fabricated charges against activists.
Lorenzo was a youth leader of the Methodist Youth Fellowship and had been a long time pastor of the United Methodist Church after his studies. Later he engaged in organizing work in the peasant communities and in socio-economic and development work among urban poor and workers. He is currently detained at the Bureau of Jail Management and Penology's Special Intensive Care Area (BJMP-SICA) at Camp Bagong Diwa, Taguig City.
"Magpakabait, mag-aral mabuti. (Be good, study well)." This is Kennedy Bangibang's perennial advice to his only son, Diwin Jude Kenn Monte Bangibang, 8 years old, whenever he visits him in the confines of the Bureau of Jail Management and Penology in Tabuk, Kalinga, Cordillera.
A full-blooded Igorot who hails from a remote village in Cordillera, Kennedy was witness to the plunder of foreign corporations on their ancestral land and natural resources.
As a student activist in 1987, he had immersed with the peasant masses. He later became a full-time activist and revolutionary leader. He was illegally arrested on February 23, 1913 [sic] by elements of the RIU-14 of the Philippine National Police-Intelligence Group while on board a bus at a PNP checkpoint in Bangao Proper, Buguias, Benguet. Kennedy is a consultant of the National Democratic Front of the Philippines on Cordillera Affairs. His arrest is a blow to the national minorities as their concern is among the issues to be tackled in the next agenda of the peace talks – the drafting of a Comprehensive Agreement on Socio-Economic Reform (CASER).
Victim of a justice system that grinds exceedingly slow, Kennedy has been languishing in jail for the past three years and his case being transferred from one court to another, from Kalinga to Baguio.
While Angel would bubbly narrate the happy moments with his father as they frolic on the beach of Pangasinan, where he used to work, Diwin would just matter-of-fact share memories of his Papa and Mama – the walks in the parks, the visits to the malls and the one time they went swimming in the underground river of Palawan.
Diwin's Mama, Recca Noelle Monte, was a New People's Army (NPA) fighter, who was killed during a military operation of the 41st Infantry Battalion, 5th Infantry Division of the Philippine Army on September 4 and 5, 2014 at Guinginabang, Lacub, Abra. She was unarmed and bore no gunshot wound indicating from the looks of her remains that she was tortured while held captive, a clear violation of the International Humanitarian Law.
Diwin could tell the state of his Mama's remains without batting an eyelid – the traumatic injuries, crushed skull, unidentifiable face, broken leg bones. Asked if he actually saw this, he said only from the picture. The handsome, smooth pinkish face of the boy showed no emotion, but admitted he is sad and lonely.
Angel was loquacious and confident as she told her stories. Her mother said she regained her composure with the psycho-social counselling she underwent after the trauma from her experience.
Asked about her father's work, Angel quipped, "Natulong sa farmers at workers (helps farmers and workers)". Diwin has a similar impression of his parents work, "they were helping the farmers and the poor."
What do the children of war aspire to be when they grow up? Angel said she will be a heart surgeon to help the sick. Meanwhile, Diwin wants to be a lawyer, "so I could defend Papa and Mama. I could free Papa and give them justice."
Communities sustain climate action on 10th year of "An Inconvenient Truth"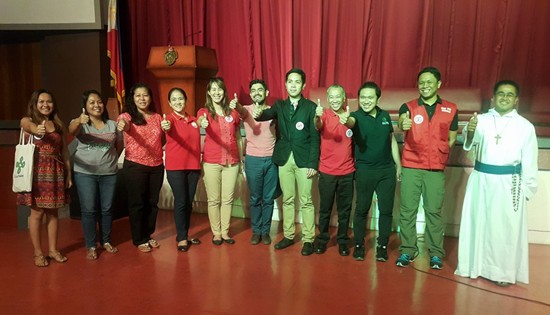 By Climate Reality Project Philippines
May 24, 2016
CEBU CITY – Commemorating the 10th anniversary of Academy award-winning film "An Inconvenient Truth", environment groups and climate vulnerable communities gathered in Cebu to call for the cancellation of approved coal-fired power plants proposals and just transition to renewable and cleaner energy source.
The Climate Reality Project Philippines in cooperation with the Office of Senator Loren Legarda, Dakila, Greenpeace, Pusyon Kinaiyahan, Foundation for the Philippine Environment and the University of San Jose de Recoletos organized an exclusive screening of An Inconvenient Truth and a multi-sectoral dialogue with students, the religious, and representatives from coal-fired power plant-affected communities in cities of Naga, Toledo and Cebu especially that of barangays Sawang Calero and Pasil.
When former Vice President Al Gore and Participant Media released An Inconvenient Truth in 2006, the effect was immediate and profound: people everywhere began talking about the climate crisis – to their friends, their family, and everyone in their lives – sparking a new kind of movement with millions demanding action all across the planet.
For so many of us, An Inconvenient Truth was a wakeup call. It was the moment we understood the reality of the climate crisis devastating our planet – and it was the moment we knew we personally had to do something. May 24 marks the 10-year anniversary of the film's release, and we want to acknowledge and thank you for the critical role you've played in making it a global phenomenon.
In 2006, An Inconvenient Truth inspired millions around the world to speak up about the climate crisis. Since then, we've made progress on many fronts. Just last December, 195 countries created the historic Paris Agreement to cut global warming pollution and accelerate the shift to clean energy. This was a turning point but there's still tremendous work ahead.
This is the challenge of our time. Our work to solve the climate crisis could not be more urgent or important. But today momentum is with us, and together we can solve it.
Quotes from key speakers:
Al Gore, Nobel Laureate and former US Vice President; and Chairperson of The Climate Reality Project (Video Message) -
When we released the "An Inconvenient Truth" in 2006, I knew we had an important message to share. But what I couldn't have known was that the countless people like you would hear that message and begin talking about the urgency of the climate crisis in persuasive ways – to their friends, their families, and their communities – and then, together, we would spark a new kind of movement with millions of people calling for climate action around the world.
So as we take a moment to celebrate the 10-year anniversary of An Inconvenient Truth, I just wanted to say "Thank You". Thank you for finding the moral courage to stand up, even when it wasn't easy, for taking action to protect our only home, and thank you for making a difference. We've made a lot of progress together. Just think, last year, 195 nations reach the historic Paris Agreement to cut global warming pollution and accelerate the shift to clean energy, a true turning point, but there's still tremendous work ahead. And that's why I'll be working with the Climate Reality Project to ensure that countries not only stick to their commitments but make those commitments even stronger in the years ahead. And I'm counting on you to continue helping to meet that challenge, the challenge of our time.
Our work to solve the climate crisis couldn't possibly be more urgent or important. But now the momentum is on our side. I know we can solve the climate crisis. And I know that thanks to you we will.
Senator Loren Legarda, Chairperson of the Senate Committee on Climate Change (Keynote Speaker) –
A lot has changed since that year when An Inconvenient Truth was launched, especially on how we perceive the climate change phenomenon. People now have a better understanding of the climate crisis and how it is linked to our survival. An Inconvenient Truth continues to ignite climate action.
As a developing nation, it is understandable that the Philippines needs more power, but it cannot be "we need power at all costs and we will develop at all costs."
They say that coal is cheap. I say, coal is not cheap. Coal affects our health, kills biodiversity and the environment, affects our waters and pollutes the air we breathe.
We are a country rich in renewable energy – the amount of sun and wind is more than enough to power our entire country many times over.
There is no reason to hesitate or delay action on a challenge so compelling, on a threat to humanity so clear and present. For every second that ticks away is but a second closer to the next calamity. We must lead the way towards meaningful change for our children and grandchildren, for all of humanity, for all species in the world, and for Mother Earth.
Rodne Galicha, Country Manager of the Climate Reality Project Philippines –
Looking back at the challenges of the film, we were reminded that our planet has all the means to make our lives convenient through sustainable utilization of resources within the carrying capacity nature. However, due to our excessive search for convenience, the long-term result becomes more inconvenient for our own species to thrive and others are in danger of extinction. Solving this biggest crisis the world is facing needs every individual's commitment and collective action to shift to a cleaner and livable future.
The Climate Reality Project in the Philippines will continue to work with communities and partners to collectively regain the power of the people to define the future they want for their children's children and the planet.
Screening the film in Cebu City after the communities' triumph against the proposed coal-fired power plant in Barangay Sawang Calero is both a celebration and a way to collectively reflect on why we do what we can to combat climate change.
Brother Jaazeal Jakosalem, Co-Convener of Pusyon Kinaiyahan –
Since 2006, Al Gore's Inconvenient Truth still echoes our planet's cry. The most vulnerable communities especially the poor call for justice. We are all impelled to take drastic action to bring back balance and harmony upon all of creation. Indeed, the cry of the earth is the cry of the poor. This is a moral and spiritual issue, the integrity of creation.
Gideon Lasco, Environment Champion for the Climate Reality Project Philippines –
It remains inconvenient to live up to the implications of climate change partly because for every inconvenient truth, there is a convenient falsehood. Today, we hear politicians talk about "clean coal", as if the word "clean" before coal can exorcise the havoc coal and other fossil fuels have wrought upon our planet (coal plants alone account for 1/3 of global carbon emissions). Today, we hear people talk about "responsible mining", which, while it may indeed be a possibility in the future, detracts from the fact that mining has been responsible for the environmental degradation in many areas - from Semirara to Surigao.
But perhaps the most convenient falsehood of all is the idea that we are too insignificant to make a difference. Indeed, if there is something we can draw inspiration from in the past ten years, it is the fact that no effort is too small not to count in our fight to save the planet.
Reuben Muni, Climate and Energy Campaigner for Greenpeace –
The film "An Inconvenient Truth" tells us this truth: there is no such thing as an insignificant act when it comes to solving the climate crisis. 10 years after Al Gore released his film in May 2006, this wisdom still remains. Every battle against coal is therefore a significant battle for the planet. Cebu is one of the most important battles for climate change in the Philippines. It is not just the country that is watching but the whole world. Unfortunately, what happens in Cebu does not stay in Cebu. If we allow another coal plant to be built in Cebu, then we are sending signals to the rest of the country that it is okay to build more elsewhere.
Hence, Cebu is one of the iconic fights against coal of our generation. We owe it to the next generation to ensure that there are no more coal plants that will be built in Cebu. This year, the people of Cebu City rejected a proposed coal plant right in the heart of the city. And this year, we declare that Cebu will break free from coal and other forms of dirty energy.
Ara Chawdhury, Creative Director of Dakila's Cebu Collective –
It is evident with An Inconvenient Truth what the power of film can be. It can be policy changing petition forming, mind changing. At its best, mind blowing. At its worst, mind numbing.
Film is supposed to shake you, to reel you out of your comfort zones. Advocacy filmmaking for me fails if it preaches to the choir. We aren't doing any favor by creating messages only we want to hear, or by alienating anyone who does not agree with us.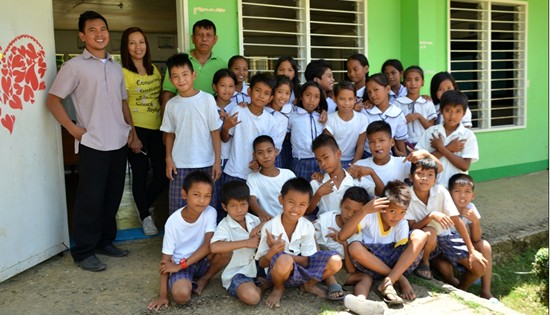 Former Presedent Diosdado Macapagal Agrarian Scholarship Program scholar, Samuel Guadalquiver Jr. (extreme left), pose with the writer, Clariza Estremera (second from left); Municipal Agrarian Reform Program Officer Romeo Castil (third from left); and his advisory class. (Jose Alsmith L. Soria)
Destiny: The Samuel Guadalquiver's story
By CLARIZA C. ESTREMERA
May 10, 2016
TACLOBAN CITY – "There were times when my parents would tell me, I might not be able to continue my studies next school year because the harvest is low or the price of copra had gone down. Every time I hear this, the uncertainty of getting a college degree dreads me. Thus, I applied for a scholarship to finance my college education."
These were the recollections of Samuel Guadalquiver when we visited him before the school year closed in Quezon Elementary School, where he is teaching for seven years now.
Samuel, or Boboy, to his family and friends was one of the President Diosdado Macapagal Agrarian Scholarship Program (PDMASP) recipients in Northern Samar.
His parents, Samuel Sr. and Amelita, are both agrarian reform beneficiaries (ARBs) so that he qualified for the said scholarship program.
PDMASP is a four-year college scholarship offered by DAR to deserving dependents of ARBs under the Program Beneficiaries Development component of the Comprehensive Agrarian Reform Program (CARP).
"It was only by accident that I discovered the PDMASP," Boboy said.
According to him, when he was in his first year in college at the University of Eastern Philippines, he applied for the Catarman Educational Scholarship Program offered by the local government unit so he could continue with his studies. But he was denied of the said opportunity. Or was it a blessing in disguise?
When he returned back to their school, Boboy read an announcement at the bulletin board about a scholarship program being offered by DAR.
He grabbed the opportunity and got the slot. Later, he learned that DAR just re-opened its search to fill-in a vacated slot. Boboy must have been destined to become a PDMASP scholar to reach his dreams. In 2008, he graduated with a degree of Bachelor in Elementary Education Major in Social Science.
The third in a brood of nine (two are now deceased), Boboy is the first to earn a college degree (the second is sister, Gloria, who was also a PDMASP scholar) in their family, and one of the handful of professionals in their village, which is situated in the mountains of Catarman, 27 kilometers away from the town proper.
He was the only one of the less than 20 pupils enrolled in grade 1 in 1994 who finished college. "He was so determined," his parents said proudly of him.
When I asked why his other classmates failed to continue their studies, Boboy said, it could probably be due to lack of motivation. He disclosed that their teachers rarely report to school then because of the distance. That is why his parents transferred him to the town proper when he was in grade four.
Barangay Quezon is one of Catarman's remotest villages. There was no road at that time. People had to walk 10 kilometers to and from Barangay Polangi by just passing through a trail. Now, this barangay could already be reached by motorcycles for P70. Very soon, when concreting of the road is completed, travel will be much easier and perhaps cheaper.
Boboy, who used to help his parents in the farm, said determination to escape from poverty pushed him to strive and find ways to reach his dream.
After graduation he took the licensure examination for teachers and passed it.
But why did he return to Barangay Quezon to teach, when there were better opportunities at the town proper or elsewhere?
Boboy humbly said he wanted to serve his fellow residents in their community. But to us he inspires the young and motivates them to take education seriously to have a better future.
According to Boboy, had he not taken his studies seriously and without the PDMASP, surely he would have also remained a farmer until today, carrying heavy loads of copra and other farm products.
As a teacher, his supervisor Annie Dulay said, he is a good one, while his pupils described him as strict when it comes to their lessons.
He taught his students to be industrious. The once idle surrounding in their school is now planted to pili nuts and bananas.
Presently, Boboy is planning to take up masters degree this coming school year.
Looking at him in his uniform and listening to his story, makes me proud to be part of DAR which was instrumental in helping this son of ARBs free himself from the bondage of the soil and find his destiny.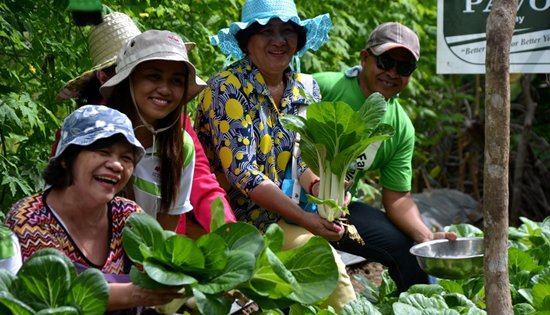 Officials from DAR and East-West Seed Philippines harvest organically grown pechay at the farm of Jose Dautil (right) in Barangay Hinabay, Inopacan, Leyte. (Jose Alsmith L. Soria)
Hello veggies, goodbye abaca!
By JOSE ALSMITH L. SORIA
April 19, 2016
TACLOBAN CITY – When we reached Barangay Hinabay, we were led to a vegetable farm of Jose Dautil, 54, that was ready for harvest. We picked some kilos of sweet pepper, and pechay, and paid him the corresponding price. Then we moved to Barangay Cabulisan to see more vegetables in other farms. These adjacent villages nestled on top of a mountain in Inopacan, Leyte are now known for organic vegetables.
Farmers here are now seriously pursuing high value organic vegetable production after the Department of Agrarian Reform (DAR) subjected last year the members of two agrarian reform beneficiary organizations (ARBOs) to a five-month training on high value crops production using the natural farming system.
Being covered by the second phase of the Agrarian Reform Communities Project (ARCP-II), DAR tapped the East-West Seed Philippines for the conduct of the said training under the Agricultural Enterprise Development to the Hinabay Upland Farmers Association (HUFA) and the Cabulisan Multi-Purpose Upland Farmers Association (CAMUFA).
When asked what they like about organic vegetable production, Marissa Bisnar, 38, an agrarian reform beneficiary (ARB) said the products are sold at a higher price than those grown the traditional way. Even if they are a little bit expensive, more consumers prefer to buy organic vegetables, she added.
From her last harvest, Marissa shared that she earned P8,350 from her four plots of sweet pepper, four plots of tomato and ampalaya, which became additional income for her family.
Cristita Abenoja, a merchant from Barangay Cabulisan who buys the farmers' harvests and sell them at the town's market disclosed that her products are easily sold out because consumers opt for organic vegetables.
Organic farming now becomes the trade mark of these two barangays. When buyers learn that the vegetables come from the said barangays, they already know that it's organic, Abenoja said. Further, "my customers increased," she added, because the information had spread to nearby towns like Hindang, Bato and Baybay City.
For that, these farmers living on top of the mountain, 18 kilometers away from the town proper are thankful they were taught organic farming.
Abaca used to be the major crop of the farmers here. But because of the bunchy top disease, farmers ceased planting abaca, and shifted to vegetable production in 2004. Last year, with the joint effort of DAR and East-West Seed Philippines, the natural farming system was introduced and changed the lifestyle of the farmers here.
With this method the farmers no longer sniff chemicals when spraying pesticides, according to CAMAFU president Edelito Merrano Sr., 51. Likewise, they can save more because they no longer buy fertilizers and pesticides, he added.
Instead, they use the vermicast their association is producing. Vermi-culture and vermi-composting have been introduced to them by DAR in 2015 as alternative sources of livelihood.
CAMUFA was among the 100 ARB organizations provided with a shredder and 30 kilos of African night crawlers last year.
At the moment CAMUFA is also selling vermicast at P350 per sack of 50 kilos. While African night crawlers are being sold by the association at P500 per kilo.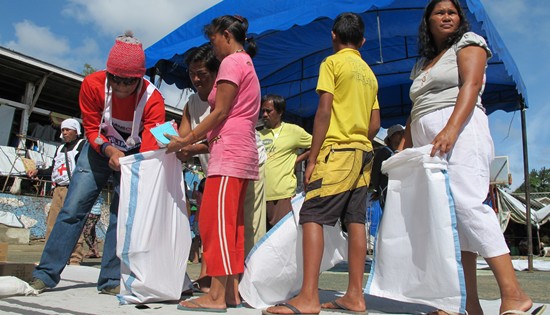 About 450 displaced families in Surigao del Sur each received food supplies good for one month - consisting of 50 kilograms of rice, 2 litres of oil, 2 litres of soy sauce, 1 kilogram of salt, and 2 kilograms of sugar - as well as a hygiene kit containing bath soap, shampoo, detergent, feminine hygiene products, toothbrushes and toothpaste for a family of six. (ICRC/L.Lagasca)
Continued support for people displaced by armed violence in Surigao del Sur
By ICRC
February 22, 2016
MANILA – Around 2,400 people displaced in Surigao del Sur received one-month food supplies and hygiene items to help them cope with their displacement since September 2015.
The International Committee of the Red Cross (ICRC), with its primary partner the Philippine Red Cross (PRC), distributed the relief items on February 18 to complement the aid already given by the authorities.
"Prolonged displacement is a challenge for both the affected families and the authorities. The displaced depend on aid as they still fear going back home," said Pascal Porchet, head of the ICRC delegation to the Philippines. "We are here to fill in gaps and ensure that the families get adequate support while they remain displaced."
The majority of the displaced have been living in the provincial sports complex in Tandag City for over five months now, after three civilians were killed in their community.
"We have been here since September 1, 2015, and we still fear for our safety," said Leonila Enriquez of Brgy. Diatagon, Lianga municipality. "We are very grateful to the ICRC for helping us since the early part of the displacement until today," said the mother of eight children.
While the general health situation in the sports complex is managed well by the Provincial Health Office, cases of stomach problems and diarrhea were reported. A probable cause is poor hygiene and sanitation in the evacuation center.
Between September 2015 and January 2016, the ICRC and the PRC already helped 3,500 displaced persons in Surigao del Sur with food, household and medical items, potable water supply, and construction of toilets in the evacuation center.
The ICRC is a neutral, impartial and independent humanitarian organization whose mandate is to protect and assist people affected by armed conflict and other situations of violence. It has had an established presence in the Philippines for over 60 years and a permanent presence in Mindanao since 1986.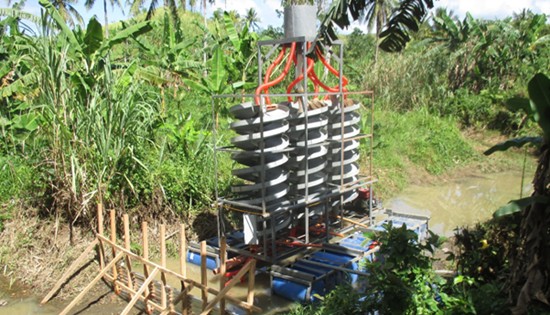 The spiral machine used for panning in the gold exploration.
Gandara officials deny pay-off over the Cobarrubias' "gold and silver exploratory work"
By GINA DEAN
February 18, 2016
CALBAYOG CITY – The Sangguniang Bayan of Gandara finally revoked and nullified the resolution granting Mrs. Cherry dela Cruz Cobarrubias to rehabilitate Gandara River by means of dredging. Said resolution was approved in 2014 under the administration of Mayor Eufemio Oliva and Vice Mayor Jonathan Isanan.
However, the municipal government discovered that the dredging operations funded by the Cobarrubias, has turned out to be an exploration work of gold and silver mineral deposits at Brgy. Gerali. Local officials were lambasted by concerned citizens over the social media and accused of receiving pay-off from said permittee (or holder of exploration permit).
In a public hearing held last February 10 at Gandara Cultural Center, Mayor Oliva denied the bribery issue imputed against them by the people. He clarified that the resolution was approved by the sanggunian in good faith without receiving any favour from Don Angelo C. Cobarrubias or his mother Cherry. The approval of the application for exploration is not under the municipal government but under the DENR-Mines and Geosciences Bureau Regional Office 8 after the applicant has completed all the necessary documents required by concerned government agency.
MGB-8 OIC Regional Director Nonita Caguida explained that Don Angelo C. Cobarrubias' application for Mineral Production Sharing Agreement (MPSA) was filed on April 2005 covering 808 hectares of land located at Gandara and San Jorge, Samar. In the process of application, a Notice of Posting was sent by MGB-8 to the provincial government of Samar which was automatically downloaded to the concerned municipalities for 30 days posting in conspicuous places.
The purpose of posting was to inform the public and concerned stakeholders for possible protests. Receiving no complaint within the reglementary period prescribed by law, the application of Cobarrubias proceeded smoothly with a Certificate of Posting allegedly issued by each municipality.
But while in the process of acquiring MPSA, Executive Order No. 79 or "Institutionalizing and Implementing Reforms in the Philippine Mining Sector Providing Policies and Guidelines to Ensure Environmental Protection and Responsible in the Utilization of Mineral Resources" was issued in June 2012. Pending the issuance of MPSA, the proponent amended their application into exploration and submitted it to MGB-8 for final validation and clearance.
Caguida clarified that all the application documents of Cobarrubias were scrutinized; and in fact the 808 hectares was reduced into 501 after the Department of Environment and Natural Resources Office conducted study in the covered areas.
For those who are under the "No Gold Zone" areas (tourist and agricultural areas), it could not be covered by the exploration work. Upon validation of application documents, the exploration permit covering 501 hectares situated in Gandara and San Jorge, Samar, was released by DENR's Mines and Geosciences Bureau Regional Office 8 on January 20, 2015 to Don Angelo C. Cobarrubias of 2711 B-Wack-Wack, Twin Towers, Wack-wack, Mandaluyong City.
Under the Mining Act of 1995, the exploration allowed the permittee to conduct exploration work within a period of two years from its approval, and subject for renewal on the same period up to 8 years for metallic and 6 years for non-metallic. Based on research, gold is considered metallic mineral while silver is a combination of different small elements which are found in gold, lead, zinc and copper ores.
People Cry, No to Mining!
Out of 69 barangays of Gandara, 41 have attended the public hearing with 924 registered participants coming from the different organizations like the church, business sector, senior citizens, youth, academe, government retirees, concerned citizens, local PNP and municipal and barangay officials. Citizens of said municipality were shouting as a sign of protest to the exploration work being conducted by the Cobarrubias at Brgy. Gerali since 2015.
The church under the Diocese of Calbayog cited the 50 year moratorium of mining operation issued by the government after the Bagacay Mines experience. Brgy. Gerali according to the Municipal Agrarian Reform Officer, Aida Gamba is an agrarian reform community along with other nearby villages.
In the absence of a map, Samar PENRO Elpidio Simon believed that the 501 hectares which was claimed by Cherry dela Cruz Cobarrubiasas a mining zone area is under Samar Island Natural Park. He added that the DENR have implemented the National Greening Program (NGP) and Community-Based Forest Management Program (CBMP) at Brgy. Gerali and nearby villages.
Who is Cherry dela Cruz Cobarrubias?
She claimed herself as a true-blooded Gandareño who hailed from Brgy. Gerali. Established connections in the circle and sponsored the rehabilitation of Gandara River. Received an award from the municipal government as the "Most Outstanding Gandareño in 2014". In a conversation with a reliable source, he disclosed that Cherry dela Cruz Cobarrubias' mother was from Matuguinao and her father was from Catbalogan, Samar. Contrary to her claim that her family originated from Brgy. Gerali where exploratory work is being conducted, the source revealed that Cherry's father used to teach at said barangay.
She had a colourful life in the film industry as she produced "Bulaklak ng City Jail" and many more. In the field of politics, she is still the president of Marcos Loyalists Movement.
According to the source, Gerali mineral deposits was then a long time project of Cobarrubias. She was able to persuade millions of investment from an Australian couple but their partnership was terminated when the couple has detected suspicion from said operation. It was also learned that Samar's former Vice Governor Jesus Redaja made an investment in a mining operation at Bagacay Mines, but the deal was cut short leaving the latter's equipment abandoned at the mining site.
To get Cherry Cobarrubias' comments, the writer requested her geologist for an interview but no feedback was received.
The National Law vs. People Power
Despite the strong disapproval of the people of Gandara, Cherry Cobarrubias is confident that the exploratory work will pursue.
MGB-8 OIC Regional Director NonitaCaguidasaid that the documents for the acquisition of exploratory permit have undergone a long scrutiny, and local ordinances or resolutions with the intention of revoking such permit cannot be allowed for it cannot supersede the national law as provided in RA 7942 or the Philippine Mining Act of 1995. Caguida was one of the witnesses in the Exploration Permit issued by MGB-8 to the Cobarrubias in January 20, 2015.
On the other hand, an insider of the Environment of Natural Resources Office advised that a written petition of the people may work by directly submitting the same to the central office. The absence of a public consultation prior to the exploration work could be one of the basis of the petition, he said.
New Greenpeace report estimates coal plant emissions could kill 2,400 Filipinos per year
By GREENPEACE
February 3, 2016
MANILA – While coal is king in the Philippines, a new Greenpeace Southeast Asia report has revealed for the first time the current health impacts of existing coal-fired power plants, as well as projected health impacts of operating and planned power plants in the Philippines.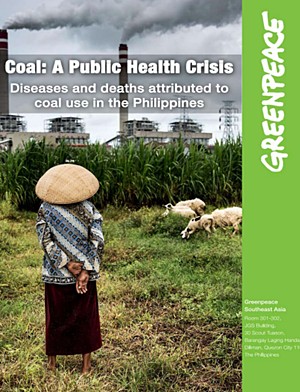 The report, Coal: A Public Health Crisis. Diseases and deaths attributed to coal use in the Philippines showed an estimated 960 premature deaths each year due to stroke, ischemic heart disease, other cardiovascular diseases, and respiratory diseases. If the new power plants are to be developed, premature deaths may rise up to 2,410 – more than double the current number of people dying from coal-related pollution in the Philippines.
"Results of the research show that coal-fired power plants expose everyone in the Philippines to toxic pollution, resulting in hundreds of premature deaths every year," said Lauri Myllyvirta, Senior Global Coal Campaigner at Greenpeace International and also one of the authors of the research. "Leading economies from the United States to China and Europe are already relaying on modern, renewable energy sources for their additional power needs, showing that this is a real option for Philippines as well."
More than one-third of the energy used to generate electricity in the Philippines comes from burning coal. Currently, the country has 17 operational coal plants, with 29 more approved by the Department of Energy (DOE), set to begin commercial operations by 2020.
The report is based on research carried out at Harvard University on the impacts of emissions coming from coal-fired power plants on the air quality of selected countries in Asia. For the Philippine version, Greenpeace collaborated with HealthJustice to write the report, with support from Health Care Without Harm – Asia and the Philippine Movement for Climate Justice.
Coal use harms the environment and public health at every stage of its life cycle. Coal-fired power plants emit sulfur dioxide (SO2), nitrogen oxide (NO2) and other gaseous pollutants in the air that can react chemically to form particulate matter that is 2.5 µm in diameter.
Aside from generating particulate matter, coal combustion also affects health indirectly by contributing to greenhouse gas emissions. Climate change can bring extreme heat, lead to natural disasters, and eventually increase diseases transmitted through insects such as malaria and dengue.
The study evaluated 13 operational coal-fired power plants in the Philippines with a combined installed capacity of 3,799.10 megawatts (MW), as well as the potential impacts of plans to build 29 new coal-fired power plants with a total capacity of 11,700MW, which could dramatically increase levels of sulfur dioxide (SO2), nitrogen oxide (NOx) and PM2.5 emissions.
"This pioneering study is an important addition to the growing body of health and scientific research on the adverse impacts of coal-fired power plants, not only to the environment, but to human health as well," said Reuben Andrew Muni, Climate and Energy Campaigner for Greenpeace Philippines. "We strongly recommend for the DOE, the DOH and other policy-makers to read it and take heed as it presents a strong case on why the Philippines should end its dependence on coal-generated electricity now, not only for economic, environmental and climate change reasons, but on public health grounds as well."
"This new study just confirms what we already know about the health effects of coal based on international evidence. For the longest time, we have been ignoring the environmental case for the phase out of coal. I hope that this time, the public health argument will convince us that coal is not the way to go towards a clean, sustainable and healthy energy future," said Dr. Renzo Guinto, Campaigner for the Healthy Energy Initiative, Health Care Without Harm-Asia.
"New coal plants are a lose-lose proposition for the public. Increasing dependence on coal will consign us to dirty air for 30 or more years, as coal gets more expensive and other countries abandon it as an energy source. There is a way out of this vicious cycle. We must embrace renewables through a strong, health-driven energy policy," said Atty. Ipat Luna, a Trustee of HealthJustice-Philippines.
"Coal burning is a proven nuisance to health and the climate. The more coal plants and mines are commissioned by the government, the more people and communities are placed in the direct path of perdition. Undoubtedly, it is a kiss of death to host communities and vulnerable nations like the Philippines. We thus demand for a moratorium on new coal plants, phase out of existing ones, and for a just transition to renewable energy options" said Atty. Aaron Pedrosa, SANLAKAS Secretary General and PMCJ Energy Working Group Head.
Considering the Philippines' rising population, poor health outcomes, and the scarcity of resources needed to adapt to the worst effects of climate change, Greenpeace recommends that the country should end its heavy dependence on coal as an energy source and accelerate initiatives involving renewable energy (RE) resources to meet its energy demands. RE is emerging as the energy of choice for an increasing number of communities and local government units (LGU). The report recommends that the government phases out of coal and fully embrace RE sources in the Philippines based on public health considerations.
Download the pdf version of Coal: A Public Health Crisis. Diseases and deaths attributed to coal use in the Philippines at http://www.greenpeace.org/seasia/ph/press/reports/Coal-A-Public-Health-Crisis/
"Sole for a Soul Project": PAREF Rosehill goes to the peripheries
By GLECY GAMBOA, PAREF Rosehill School
January 20, 2016
ANTIPOLO CITY – "The project helped me learn to fully go out of my comfort zone and open my eyes to the needs of others, and knowing this has helped me further understand and give meaning to our school's mantra, "I lead. I serve."
Betina Sales, PAREF Rosehill Student Council President, together with officers, Mika and Gabrie Cordero and teachers, Ms. Calai Clarino and Ms. Carmel Mendoza, represented the Rosehill students who donated black school shoes to 196 students of Doña Brigida Elementary School in Tolosa, Leyte on December 14, 2015.
Betina, Mika and Gabrie were very happy and fulfilled when they saw the smiles on the faces of the students as they received their early Christmas gifts. As Mika said, "I felt really glad because we were able to share our blessings and time with the kids."
Each pair of shoes was personally labelled and inside each shoe box was a letter from a Rosehill student. One of them, Angela, wrote: "Hope you like the shoes! Study hard to reach your dreams and never give up. Stay strong with any problems you will encounter and take care. God bless you always. Never forget to smile, Larabel."
To heed Pope Francis' call to go to the peripheries, the PAREF Rosehill Student Council launched its outreach project, "Sole for a Soul" in August 2015. This is one of the school's on-going relief efforts for Tolosa, Leyte residents who were severely affected by Typhoon Yolanda last November 2013.
The Student Council believes that giving a pair of school shoes to the beneficiaries will help them feel better about going to school.
Rosehill is grateful to parents, students and teachers who supported this project and to the Tindog Tolosa Foundation for this opportunity to reach out to Doña Brigida students and teachers.
Students from Grade 6 to Fourth Year High School donated P500 and they were encouraged to raise the money on their own.
Niki, a Grade 7 student said, "I saved up from my allowance and I was happy that I got to help someone who deserves much more."
Bea, who is in Grade 6, earned her P500 donation by playing the violin in an event. "I felt great to be able to help in my own little way," she said.
Indeed, it was worthwhile saving up for that 'soleful' cause. As Betina said, "Seeing the smiles on their faces and even some tears of joy upon getting the shoes really made me realize that the best things in life are free. In the end, it was as if the 500 pesos we each raised had a new "value" and it was, ironically, priceless.
Improved living conditions for inmates affected by Leyte prison fire
By ICRC
December 2, 2015
MANILA – Access to clean water, sanitation and overall health and living conditions have improved for 1,800 inmates affected by the fire that struck Leyte Regional Prison two months ago.
On October 8, the prison's Maximum Security Compound was completely destroyed by a fire that also claimed the lives of 10 inmates and injured several others.
"Since it would take some time before a permanent structure could be rebuilt, we supported the prison authorities in taking temporary measures so the inmates may have slightly better conditions," said Woody Assaf, head of the International Committee of the Red Cross (ICRC) office in Tacloban.
On October 25, the ICRC installed two rub halls or relocatable tent-like structures as emergency shelters. The affected prisoners were initially moved to the Minimum Security Compound or slept outdoors after the blaze.
"We continue to improve the rub halls by working on its concrete flooring. Elderly prisoners and those with ailments were prioritized to occupy the rub halls, which also helped decongest the Minimum Security Compound, where about 750 affected prisoners remain. The authorities could partly restore the segregation between compounds, which helps in prison management," said Assaf.
Two 10,000-liter water tanks, distribution lines, and water points were installed by the ICRC to increase the availability of potable water in the prison, benefiting all inmates. Twenty-four new toilets are also being built for their use.
Relief assistance for the prisoners, in the form of dressing kits, medicines and medical items, 2,000 hygiene kits, and 409 sleeping mats and blankets, were provided by the ICRC about a month ago, on top of other emergency items it distributed with the Philippine Red Cross a day after the fire. Support was provided to ensure that access to basic health services was maintained.
Within its confidential dialogue with the Bureau of Corrections, the ICRC shared its findings, coordinated its response plan, and will further support the authorities in January to develop a plan of action to restore optimum conditions of detention.
As part of its long-term support to the detaining authorities, the ICRC will soon complete the construction of a new infirmary in Leyte Regional Prison to enhance access to, and improve the quality of, medical care for the inmates.
Leyte Regional Prison is one of the places of detention being visited in the country by the ICRC, a neutral, impartial, and independent humanitarian organization, to monitor the conditions of detention and the treatment of people deprived of freedom.