233 new privates strengthen the army in Eastern Visayas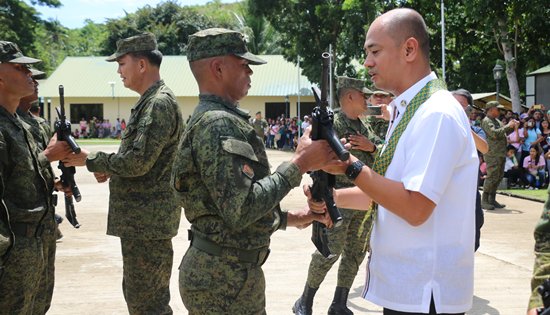 By DPAO, 8ID PA
October 17, 2018
CAMP LUKBAN, Catbalogan City – The Philippine Army Candidate Soldier Course Classes 552-2018 (Mandilaab) and 553-2018 (Matalahib) were formally closed today, October 17, 2018 at 10 A.M. at the 8ID Grandstand, Camp Lukban, Brgy. Maulong, Catbalogan City, Samar.
The closing ceremony was graced by a former Philippine Marine Officer himself, Dir. Henry Anthony M. Torres, Regional Director, Office of Civil Defense Regional Office VIII, Tacloban City as the Guest of Honor and Speaker who further led the ceremonial entrustment of firearms, distribution of certificates and awards of individual achievements. The entrustment of firearms to the 233 newly enlisted Privates symbolizes their responsibilities and commitment to the people and country.
Dir. Torres reminded the newly soldiers of 8ID to value their chosen career, and to put more emphasis in the execution of their duties with self-respect and decency in order to uphold the core values of the Philippine Army and the Armed Forces of the Philippines as a whole.
Meanwhile, Maj. Gen. Raul M. Farnacio AFP, Commander, 8ID in his inspirational message emphasized the importance of sacrifice in the military service.
"Sa mga nagsipagtapos ngayon, mahalin at alagaan ninyo ang propesyon na pinasok niyo. Sana naliwanagan kayo na ang trabaho natin ay higit pa sa ating mga sarili. Bilang mga bagong sundalo ng Republika ng Pilipinas, mas malalim na sakripisyo ang kinakailangan. Sakripisyo na mawalay sa inyong pamilya para sa mas maginhawang kinabukasan at ang mas higit pa ay ang sakripisyo para sa ating bayan. Lagi ninyong tatandaan, Bayan muna bago ang sarili," he added.
Likewise, the 8ID commander lauded the Division Training School personnel who were responsible for the training of these new privates and thanked the families, relatives and friends for their support and trust to 8ID.
Inflation rate in Eastern Visayas increases further to 6.5% in September 2018
By PSA-8
October 16, 2018
TACLOBAN CITY – The Inflation Rate (IR) of Eastern Visayas continued to increase at 6.5% in September 2018. This IR was 0.4 percentage point higher compared with the 6.1% IR a month ago, and 3.0 percentage points higher than the recorded 3.5% IR in the same period last year. The regional inflation rate was 0.2 percentage point lower than the 6.7% national average in September 2018.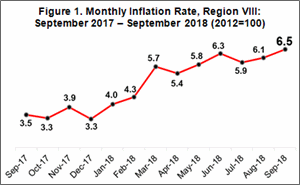 Southern Leyte, recorded the highest increase of 1.4 percentage points, from 1.8% in August 2018 to 3.2% in September 2018. It is still, however, the lowest IR among the provinces during the reference period. Eastern Samar, on the other hand, posted the highest IR at 8.9% (Table 1).
Among commodity groups, housing, water, electricity, gas and other fuels registered the highest increase of 0.8 percentage points. It was posted at 6.1% in September 2018 from 5.3% in August 2018. This can be attributed to the huge increase in the index of water supply and miscellaneous services relating to the dwelling.
The heavily weighted food and non-alcoholic beverages went up to 9.2% in September 2018 from its previous month's rate of 8.6%, an increase of 0.6 percentage point. This can be traced to faster price increases of corn, rice, non-alcoholic beverages, meat, and sugar, jam, honey, chocolate and confectionery products (Table 2).
Inflation rate for furnishings, household equipment and routine maintenance of the house slowed down to 2.6% during the reference month, 1.2 percentage point lower compared with the 3.8% IR in August 2018. Similarly, alcoholic beverages and tobacco went down by 0.6 percentage point but still recorded a double digit IR at 21.2%, the highest among all commodities.
Education and communication, meanwhile, retained their previous month's rate of -16.2% and 0.3%, respectively.
The Purchasing Power of Peso (PPP) of the region was recorded at P0.80 in September 2018. This PPP implies that goods and services worth 100 pesos in September 2018 only costs 80 pesos in 2012.
Southern Leyte registered a minimal decrease of 0.02 centavo in its PPP in September 2018 compared with its P0.83 PPP a month ago. Eastern Samar, Leyte and Samar each recorded a 0.01 centavo decrease in PPP from August 2018 to September 2018, while the rest of the provinces sustained their PPP from last month. Leyte recorded the strongest PPP at P0.83 while Northern Samar and Samar posted the weakest PPP at P0.75.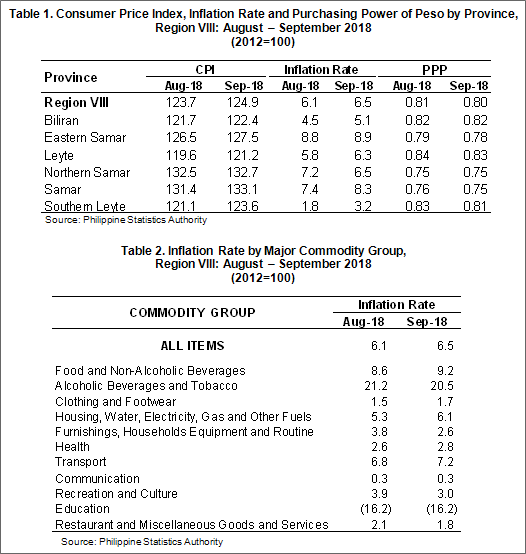 DPWH completes P100-M island road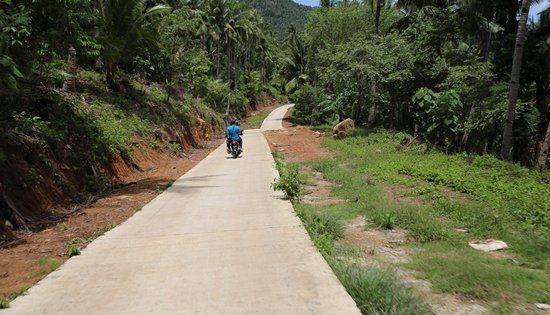 By JASON T. DELOS ANGELES
October 12, 2018
CALBAYOG CITY – Samar First District Engineering Office (SFDEO) completes the construction of two road projects in the municipality of Almagro, Samar with a combined appropriation of P100 million.
Almagro is an island municipality accessed only by motorboat from the port of Calbayog City, taking usually up to 2 hours of travel. It is composed of 23 barangays and has a land area is 51.36 square kilometers. It is well-known as the center of the goat-raising industry in the province, native ipil-ipil and coconut trees.
The only means of travelling from one barangay to another is through motorboats due to the lack of a road network within the island town. This hinders the trading of agricultural goods.
The first road project connects Brgy. Panjobjoban to Brgy. Poblacion, covering the construction of 1,919.92 meters of Portland cement concrete pavement (PCCP). The second road project links Brgy. Imelda to Brgy. Poblacion, covering the construction of 1,938.65 meters of PCCP with a thickness of 230 millimeters. Both projects are 3-meter wide half-lane roads.
With the completion of these road projects, local fishermen and farmers can now easily exchange produce without the need for motorboats. This makes travel and transport easier, safer and more convenient.
In 2019, SFDEO will propose the construction of a circumferential road project that will connect more barangays to the poblacion of Almagro.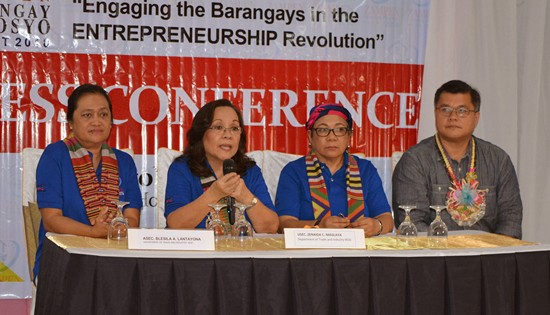 Usec. Maglaya, with DTI Asst. Secretary Blesila Lantayona (extreme left), DTI-9 Regl Dir. Sitti Amina M. Jain, and Zamboanga City Chamber of Commerce and Industry President and KMME Mentor Mr. Cholo Soliven answer questions from the media during the Barangay Negosyo Summit. (Photos by DTI-9)
Barangay officials should look at entrepreneurship with developmental mindset – Usec. Maglaya
By DTI-ROG
October 11, 2018
ZAMBOANGA CITY – Department of Trade and Industry Undersecretary Zenaida Cuison-Maglaya urged the barangay chiefs present during the Zamboanga Peninsula Barangay Negosyo Summit to look at entrepreneurship with developmental mindset to help their constituents in a long-term basis.
Gracing the said event held last Monday in this city, Usec. Maglaya said, "Entrepreneurship can bring revenue to their barangay. They should look at this as a help to their constituents and the barangay as a whole. The jobs it will create and capacitating their constituents. Imagine our barangay officials who will not be pestered late at night by their constituents asking for emergency financial assistance because they already have money. They are now capable".
Maglaya said barangay officials should treat this initiative as a help in empowering the people, creating economic activity in the barangays, with them being partners of DTI and their constituents.
"What we want is for our officials to look for those who are interested in entrepreneurship and who needs our help. They know better the people in their area. We, on the other hand, will come and talk to them and help them with their needs", she said.
Maglaya also pointed that with the surging prices of commodities, capacitating the public is essential.
"There are things that are beyond our control, like the increase in prices. We need to capacitate our people; give them livelihood, or business with market for them to earn and help in the community. That's what we want here. That's what this partnership with our barangay officials is for", Maglaya stressed.
The Barangay Negosyo Summit is the first in the country, and was conceptualized and initiated by DTI-9.
The summit's aim is to invite all barangay chairmen in the region together with at least one micro and small entrepreneur in their area. Over 1,500 barangay officials and MSMEs attended the activity and was also graced by DTI, Department of Interior and Local Government (DILG), Department of Labor and Employment (DOLE), and other local governments and national line agency officials.
Also present is Zamboanga City Mayor Ma. Isabelle Climaco-Salazar, who has vowed full support to DTI and DOLE in all its endeavors for the people of the city and the peninsula in general.
DPWH opens access road leading to Mapaso Hot Spring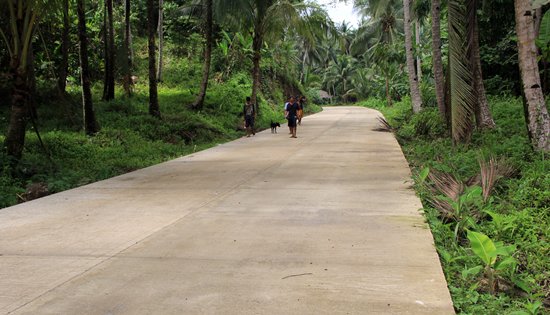 By ELENOR A. ANOLLADO
October 10, 2018
CALBAYOG CITY – The Department of Public Works and Highways (DPWH) Samar First District Engineering Office (SFDEO) completes the construction of the access road leading to Mapaso Hot Spring in Brgy. Rizal II, Oquendo District, Calbayog City.
The project has an appropriation of P30 million under the DPWH FY 2018 General Appropriation Act and is under contract with Victoria Development & Construction Supply Corporation.
The scope of works involves concreting of 3-kilometre road, construction of 770 linear meters of drainage structure with concrete stiffener every 5 meters and slope protection of 1,379.94 square meters.
This project aims to promote Mapaso Hot Spring as one of the frontier tourist destinations in the City of Calbayog, boosting economic activity beneficial to Calbayognons and to create a safer and more convenient road leading to the hot spring. With the realization of this project, convenience is elevated and travel time is cut in half from a 20-minute to a 10-minute ride boosting the expected tourist influx.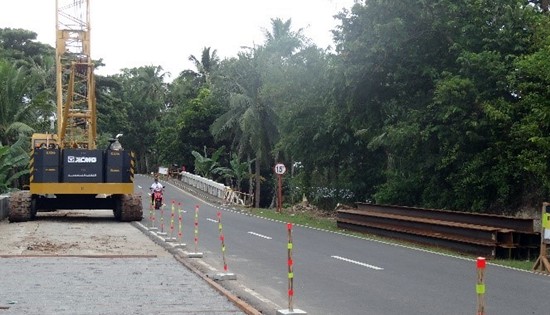 On-going fabrication of reinforced concrete piles at Looc Bridge Almeria, Biliran for bridge widening project.
Widening of Looc bridge in Almeria, Biliran starts construction
Press Release
October 10, 2018
NAVAL, Biliran – The very first bridge widening project implemented by the Department of Public Works and Highways (DPWH) Biliran District Engineering Office (DEO) has started its construction at Brgy. Looc, Almeria, Biliran along Biliran Circumferential Road (BCR).
Clearing of construction site is now on-going after mobilizing the equipments and materials for the said project.
The widening of the P21.9M Looc Bridge involves the construction of two additional lanes of the bridge with a width of 3.66-meter, one lane on each side of the 24-meter length existing bridge.
It was prioritized because the approach road of the bridge going to Kawayan, Biliran side was already widened.
The said network development project is designed to accommodate more traffic volume and provide a wider and safer roads for the increasing vehicular users along BCR.
When completed, at least 5,000 vehicular road users is expected to benefit on this project.
According to District Engineer David P. Adongay Jr., this will be fast-tracked for completion before its expiry date on January 29, 2019.
This is the second bridge widening project implemented in this province. The first bridge widening is Anas Bridge in Naval, Biliran which is presently implemented by the DPWH Regional Office under FY 2017 budget.


In the photo are (from L to R): SB Corporation's Head for Treasury Juliet Calimlim and Executive Vice President Melvin Abanto, Sec. Lopez, CARD MRI Founder and Chairman Emeritus Dr. Jaime Aristotle Alip, and CARD Inc's President Flordeliza Sarmiento and Executive Director Jocelyn Dequito.
DTI, CARD renew P3 partnership with another P100-M MSME loan fund
By DTI-OSEC-PRU
October 10, 2018
MAKATI CITY – The Department of Trade and Industry (DTI) widens the reach of Pondo sa Pagbabago at Pag-asenso (P3) program with another P100 million loan fund for micro, small, and medium enterprises (MSMEs) following its renewed partnership with Center for Agriculture and Rural Development (CARD), Inc. (a microfinance NGO).
The partnership between DTI and CARD signed through a Memorandum of Understanding (MOU) on 5 October 2018 will have an additional P100 million to the first P100 million allocated by CARD to augment P3 funds, for a total of P200 million-worth of loan funds now available for MSMEs nationwide.
According to DTI Secretary Ramon Lopez, CARD – being the biggest microfinance institution – can be a credit delivery partner (CDP) that can reach areas not usually covered by other P3 CDPs. Sec. Lopez also expressed his appreciation to the group in supporting government initiatives to empower micro entrepreneurs, especially in the countryside.
The loan fund is expected to benefit over 20,000 MSMEs, in addition to the current 41,800 MSMEs under the P3 program of CARD. The MOU also covered conduct of orientation, validations, microenterprise development trainings, livelihood, and financial literacy to clients.
Currently DTI, through SB Corporation, has assisted 50,500 unique micro enterprise borrowers. The P2 billion loan fund will be fully downloaded to the MSME borrowers through CDPs by February 2019 and will benefit a total of 80,000 borrowers.
In total, the partnership will be able to provide microfinancing assistance to over 140,000 MSMEs.
IACLA an instrument of political repression - Karapatan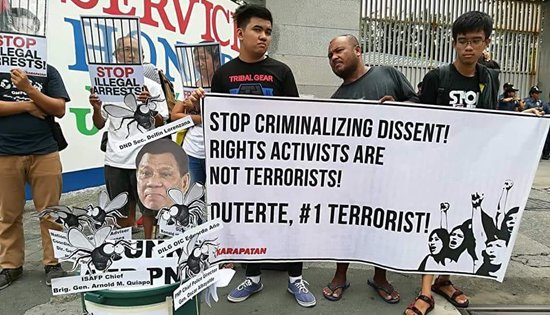 By KARAPATAN
October 9, 2018
QUEZON CITY – "Before the 'Red October' scheme was concocted by the military, the military and the police already had much time to practice their script-writing and story-telling stint through the filing of trumped-up charges against activists and critics. The formation of the Inter-Agency Committee on Legal Action (IACLA) is an extension of these imagined and supposed "crimes," used to legitimize the criminalization of dissent. Ultimately, IACLA is an instrument of political repression," said Karapatan Deputy Secretary General Roneo Clamor at a protest rally in front of Camp Crame in Quezon City on October 9, 2018.
IACLA is a joint committee formed by the AFP and the PNP on October 9, 2017, exactly a year ago. According to Karapatan, at least 221 individuals have already been filed with trumped-up charges since the start of Duterte's term, and this has merely been aggravated by IACLA's creation. Under IACLA, 178 individuals have already been arrested from October 9, 2017 to September 30, 2018.
Clamor explained that IACLA is a revival of Gloria Macapagal Arroyo's Inter-Agency Legal Action Group (IALAG), the agency responsible for fabricated charges against activists during Arroyo's term. The IALAG was eventually abolished in 2009, after recommendations from UN Special Rapporteur on extrajudicial killings Prof. Philip Alston, but government policy and practice of filing trumped-up charges against activists continued under the Aquino regime and exponentially worsened under Duterte's.
"Truly, Duterte draws inspiration from fellow fascists whom he has shown utmost favor," he added, citing cases of trumped-up criminal charges filed against development workers and trade unions organizers after the creation of IACLA.
Benito Quilloy and Rita Espinoza, two development workers of the Assert Socio-Economic Initiatives Network (ASCENT) were forcibly taken by elements of the Criminal Investigation and Detection Group (CIDG) on October 19, 2017. The two were alleged as ranking members of the Communist Party of the Philippines (CPP) and were charged with illegal possession of firearms and ammunition, as well as other criminal offenses; the two have strongly denied the allegations. Quilloy and Espinoza are currently detained at the Butuan City Jail.
Peace consultant Rafael Baylosis, trade union organizer Marklen Maojo Maga and public sector union organizers Juan Alexander Reyes and spouses Oliver and Rowena Rosales were illegally arrested this year. Baylosis and Maga were charged with trumped-up charges of illegal possession of firearms and explosives, with additional murder charges for Maga, while Reyes and the Rosales couple were also charged with illegal possession of firearms and explosives.
Karapatan also reported that at least 128 peasants and indigenous peoples have been victimised by these trumped up charges, which the military and police use in an attempt to impede their defense of their right to land and ancestral domains.
Clamor asserted that these cases are linked, and are by-products of IACLA, the regime's counterinsurgency drive and its campaign against human rights defenders and political dissenters.
"This is a systematic maneuver by the government to legitimize repression. It is the blatant subversion of laws, compounded by the collusion with the Justice Department, courts and other government agencies, to jail individuals and members of progressive organizations falsely labeled as "enemies of the State." It is, put simply, the mobilization of State forces and resources to sow injustice," he said.
"We call for the immediate abolition of the IACLA and the withdrawal of all trumped-up charges against activists and progressives. We likewise demand the immediate release of all political prisoners.
The Duterte regime keeps on adding to its list of repressive policies, and thus adds to the worsening rights situation in the country. This government is merely proving how hostile it is to resistance and dissent, even going to incredible lengths to discredit, silence, and persecute individuals," concluded Clamor.
Mass surrender of NPA fighters and supporters in Eastern Samar
By 14th Infantry Battalion, 8ID PA
October 5, 2018
BRGY. DAO, Oras, Eastern Samar – Eight (8) regular members of NPA, Nine (9) Milisya ng Bayan (MB), Twelve (12) members of Communist NPA Terrorist Mass base Organization or Underground Mass Organization of Brgy Boco, Can-avid, Eastern Samar voluntarily surrendered to the 14th Infantry (Avenger) Battalion, Philippine Army last October 01, 2018.
These NPA fighters and the members of Mass base organization and Milisya ng Bayan of Brgy Boco, Can-avid, Eastern Samar surrenders due to hopelessness and frustrations over unfulfilled promises of their leaders and upon learning of the Enhanced Comprehensive Local Integration Program and other livelihood programs of the government.
Lieutenant Colonel Jimmy V. Jimenez INF (GSC) PA, Commanding Officer, 14th Infantry Battalion, said that the surrender is a result of the on-going Community Support Program (CSP), enhanced civil military operations and intelligence operations being implemented by the unit in Barangay Boco – a known hotbed of communists insurgency in Samar Island. The mass surrender will surely destroy the chain of communists insurgents mass base support in the far-flung and isolated villages of the province.
"Barangay Boco is categorized as influenced village since the year 2013 and form part of the Guerilla Base of the Communist NPA Terrorists (CNTs) roaming in the area of Can-avid and its nearby municipalities in Eastern Samar. The clearing of Barangay Boco is one of the focus and has been the priority of the 14IB as part of its operational campaign to achieve its mission in degrading the armed components of the NPA in our area of operation" Lt. Col. Jimenez added.
CSP elements of Bravo Company of 14IB led by 2Lt. Dennis S. Carig (INF) PA were able to identify the members of the CNT mass organization and convinced them to end their support and break their ties with the NPAs.
"The collaborative efforts of the CSP team with the LGU, NGAs and NGOs in addressing issues on poverty and land ownership further gained the support and trust of the villagers and encouraged them to pursue lasting peace to ensure development in their barangay" said 2nd Lt. Carig.
In the conduct of peace rally, the people of Boco expressed their stand against the CNTs, condemned the abuses and deceitful activity of the NPA and call-out to stop using their Barangay as lair of insurgents.
Lt. Col. Jimenez also added that "The 14th Infantry 'Avenger' Battalion will continue to be relentless in the conduct of military operation to degrade the capability of the NPA rebels that continuously pestering and terrorizing the people of the towns of Can-Avid, Oras, Dolores, Arteche, Jipapad, Maslog and San Policarpio. However, we are always ready to receive those NPA members and their supporters who are willing to go back to the folds of the law and live normal lives with their families".

David P. Adongay Jr., (wearing jacket) District Engineer inspects on-going construction of Caraycaray flood control structure project in Naval, Biliran.
District engineer Adongay addressed slow implementation of projects of DPWH-Biliran
Press Release
October 4, 2018
NAVAL, Biliran – The Department of Public Works and Highways (DPWH) Biliran District Engineering Office (DEO) is urging contractors to fast-track the implementation of projects to meet the district's physical target accomplishment.
David P. Adongay Jr. District Engineer expressed his disappointment on the low performance of the district office for the month of September, 2018.
According to Adongay, Biliran DEO placed number 12 out of the 13 performing districts in Region VIII for the said month.
As of September 31, 2018, the district has reported a negative slippage of .70% and has an overall accomplishment of 59.69%.
Adongay emphasized that the physical accomplishment of the district from August to September, 2018 just increased to only .06% when it is supposed to increase at least 15% each month.
The district engineer is strongly asking for cooperation from the contractors to help Biliran DEO accelerate its project implementation.
"Hindi ibig sabihin pinabibilisan ang projects, macocompromise na ang quality," Adongay said.
Adongay also orders project engineers to closely monitor their projects from time to time.
In order to patch up the negative slippage and low accomplishment of the district, Adongay strictly orders project engineers not to approve any time extension or suspension requested by the contractor.
Under 2018 project implementation, Biliran DEO has a total of 60 projects. As of September 31, 2018, 31 projects are already completed, 26 are on-going and three are not yet started. Some of the big ticket projects are still on-going or just started, hence the low performance.
The district has completed four rehabilitation of bridges, two asphalt overlay projects, two access road projects leading to trades and industries and economic zones and 17 flood control projects under its 2018 regular infrastructure project implementation. While under 2018 local infrastructure project implementation, Biliran DEO has completed three multi-purpose buildings, one flood control project, one Farm-to-market road project, and one road widening project.
Student union to PNP: We owe our education to the people, will fight with them and resist attacks
By National Union of Students of the Philippines
October 4, 2018
QUEZON CITY – The Duterte administration resorts to troll-like comments in trying to invalidate the student movement. Philippine National Police (PNP) Chief Albayalde had the audacity to call out free education beneficiaries who are vocal and protest on Oplan Tokhang, Oplan Kapayapaan, Martial Law in Mindanao, sky-rocketing prices of basic commodities caused by the detested TRAIN Law, and policies that caused suffering on the Filipino people.
State scholars owe their free education to the Filipino people and not to this arrogant government. Hence they are expected to stand with the oppressed majority who suffer from the policies of the state. We believe that real education should remove our blindness to the social realities around us. Education is meaningful only if we use it to advance the interest of the exploited and promote genuine social change.
Albayalde boasts of free education as if it was given out of Duterte's generosity, stealing the credit from the decades-long struggle of the youth for their right to education. It must be noted that the Duterte regime tries to take back free education from the youth through maneuvers like impending budget cuts, stricter admission and retention policies, and the continued privatization of the country's education system.
To cripple activism among the youth, the regime exacerbates the attacks on students' democratic rights. No wonder Duterte, the military and police are trying to attack the freedom to express and organize in schools. The state advocates against critical thinking among students and teachers while it actively spreads fake news, fictitious plots, and other forms of disinformation.
Using the no-fee-collection policy to its advantage, the Duterte regime blocked student councils and publications from collecting funds from their fellow students, disabling their operations that ought to promote student interests. Also, the right to organize will be trampled upon by exaggerated monitoring and intelligence networks planted by the state within schools.
Duterte, AFP and PNP must be reminded that the allegiance of the Filipino youth is to the Filipino people, not to this mad tyrant Duterte. He should have learned from history that Filipinos do not tolerate dictators. We are honored to be tagged as enemies of the Duterte regime at the forefront of this struggle, no matter the gravity of the reactionary state's efforts to put out the blazing resistance of the youth.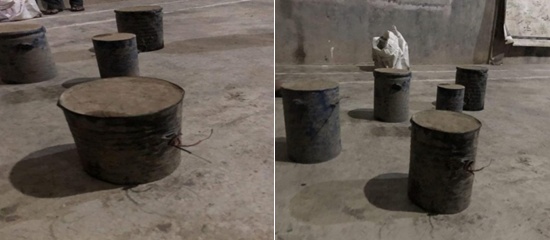 Five anti-personnel mines seized during operations of 87th Infantry Hinirang Battalion.
Hinirang troops seizes newly made anti-personnel mines
By 87th Infantry Battalion, 8ID PA
October 4, 2018
POLANGI, Calbiga, Samar – The 87th Infantry (Hinirang) Battalion seized five anti-personnel mines in Brgy. San Mauricio, Calbiga, Samar yesterday. The 87IB conducted strike operation on one identified Communist Terrorist safe house that resulted in the discovery of the newly made anti-personnel mines.
The safe house is under Sergio Rodante Ortiz Command, South Samar Committee Sesame, EVRPC. The explosives are contained in a cylindrical type can, four of which are estimated to be five kilograms each and the other is estimated to be two kilograms.
The discovery of anti-personnel mines saved the lives of the innocent civilians and their properties. It has been noted that the use of personnel mines has been banned by the international community. The Communist Terrorist has proven again that they will do anything to achieve their selfish desire even if it means endangering innocent civilians around.
"We will not allow any terroristic acts in sowing fear among the local populace of Calbiga, Samar, I encourage the remaining members of the Communist Terrorist to lay down their arms and avail the Enhanced Comprehensive Local Integration Program of the Government," says Lt. Colonel Rommel R Cabanayan, Commanding Officer of 87IB.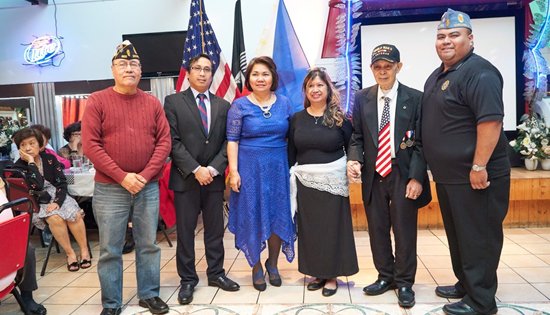 From L-R: Clement, Marine vet, AmLgn; DCG Israel, PCG; ConGen Jamoralin, PCG; Rose, FAVI; Cmdr Garcera, FAVI; Raymond, SAL (Photo by Tam Nguygen)
An annual tribute of remembrance to those fallen, in the battle for the Town of Balangiga during the Philippine American War
By ROSEMARIE SAN DIEGO
October 2, 2018
CHICAGO – The Filipino American Veterans of Illinois (FAVI), with its membership recently receiving the award of the US Congressional Gold Medal for their assistance during WWII that led through the horrific Bataan Death March, sponsored an Annual Tribute of Remembrance just days ahead of Philippine American History month in the US.
In collaboration with representatives from various groups of the Filipino community and from local veteran organizations, family and supporters gathered in a local restaurant, on Saturday, September 29, 2018 to once again pay tribute in a solemn ceremony to FALLEN US Army Soldiers and local Balangiganons who fought in the conflict on September 28, 1901 during the Philippine American War.
The ceremonial program included the Roll Call of the Fallen forty-eight Soldiers of Company "C" US Army 9th Infantry Regiment, a reading of names from a list personally supplied by Ms. Jean Wall, daughter of survivor Army Private Adolph Gamlin. Then the twenty-eight names of local townspeople (Balangiganons) supplied by current Mayor of Balangiga Randy Graza were sounded off. Following after each of the names were read a ringing from the striking of a bell in the distance, a total of 76 soft chimes in all could be heard.
The annual event held in Chicago since 1999 is the only program of its kind in the US which properly pays tribute to the fallen. We emphasize that this is not a celebratory event that pays honor for their acts of service that led to this encounter. We have done this in Chicago without church bells, commemorating all those that had fallen from both sides, since the conflict for the Town of Balangiga, during the Philippine-American War. While in other areas the memories of the fallen have remained idle by those who have claimed property of these church bells.
Malacañang Palace in a letter called upon the Philippine Consulate Chicago to represent the President of the Philippines. In attendance was Consul General Gina A. Jamoralin shared her remarks highlighting the brave Filipinos who gave of self for freedom, not being able to rewrite history but to learn from it, continued close alliance with the US noting the support of its people during WWII. ConGen Jamoralin also mentioned the daily contributions of Filipino Americans across the US as they begin to celebrate the upcoming month of Fil-Am history. Most importantly she wished to thank, and pass along the well wishes of President Duterte and DFA Secretary Cayetano to US-DOD Secretary James Mattis, for his recent intervention and tiresome support to secure from the US Congress, approval to repatriate the safe return of the bells from which they came, the church of San Lorenzo de Martir in Eastern Samar.
The FAVI group has been a staunch member of the Veterans Assistance Commission (VAC) of Cook County, a coalition of veteran organizations for nearly two decades and supporter of most veteran related issues. Our gratitude is owed to the Lions Club, Chicago Nightingales, Vietnamese Community of IL, the American Legion, and Chicago MARINES for their continued support in preparing this annual tribute to all who gave the ultimate sacrifice that early September morning. A special note of appreciation is extended to Malacañang Palace, the Dept of Foreign Affairs and the Philippine Consulate Chicago.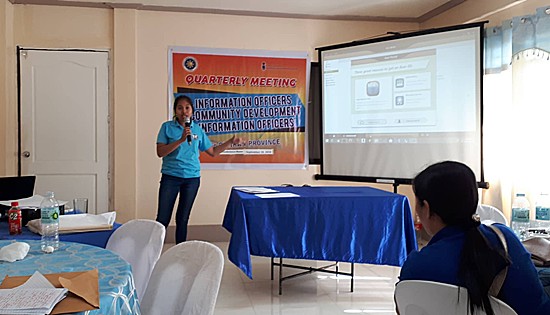 Ms. Chelsea Quijano-Salloman (standing front), Designated Information Officer of DPWH Biliran District Engineering Offices presents the best practices of her district office on the aspect of information dissemination during the 3rd quarterly meeting of Information Officers (IOs) and Community Development Information Officers (CDIOs) on September 18, 2018 held at Naval, Biliran Sangguniang Panlalawigan Conference Room.
DPWH-Biliran DEO strengthens information dissemination campaign
Press Release
October 2, 2018
NAVAL, Biliran – The Department of Public Works and Highways (DPWH) Biliran District Engineering Office (DEO) has strengthen its information dissemination campaign thru extending linkages among Information Officers (IOs) in the Province of Biliran.
Initiated by the Philippine Information Agency (PIA) Biliran Provincial Information Office, IOs and Community Development Information Officers (CDIOs) held a quarterly meeting on September 18, 2018 at Naval, Biliran Sangguniang Panlalawigan Conference Room.
The objective of the said meeting is to reorganize and strengthen the association of government communicators in Biliran Province.
Mr. Rodrigo S. Victoria, PIA Biliran Provincial Information Manager said that there is really a necessity to organize an association of government communicators in the province.
"If we don't have link from one agency to the other, information is distorted and information dissemination is not well-coordinated," Victoria said.
For effective and efficient public information dissemination, IOs and CDIOs came out with a template of a unified and simple flow of communication with an established feedback communication flow.
To successfully implement the said process of communication sharing, members of the association has elected set of Biliran Communicators Network (BilComNet) officers.
The suggestion of changing the name of the association from Biliran Association of Government Information Officers (BAGIO) to BilComNet was realized to be fair for IOs from the private sectors.
Information sharing among the IOs of the national government agencies, and the CDIOs of the local government units of Biliran Province is one of the highlights during the quarterly meeting.
Each IOs, CDIOs, including Chelsea Quijano-Salloman, PIO Designate of DPWH Biliran DEO presented the highlights of the major programs of their respective offices.
The information shared is expected to be disseminated by IOs and CDIOs to each respective offices upon returning to their workplaces.
Salloman also presented the best practices of her district office on the aspect of information dissemination to give ideas to other agencies on how public communication is shared by Biliran DEO.
Part also of the quarterly meeting of the IOs is the discussion of Mr. Victoria on responsible sharing of information and fake news. The discussion gave the participants a better understanding on the topics in which they can apply in their information dissemination job.
The gathering of Biliran Communicators is an avenue for building one network for a fast and credible information dissemination in the Province of Biliran.
Workers group slams Diokno anti-farmers statement
By ALU-TUCP
October 2, 2018
QUEZON CITY – The country' biggest labor group Associated Labor Unions-Trade Union Congress of the Philippines (ALU-TUCP) called on Budget Secretary Benjamin Diokno to retract his statement on a live televised interview implying that Filipino rice farmers can be sacrificed in the fight against inflation.
On ANC LIVE, Sec. Diokno said, "In policy, there are winners and losers. There are 100 million consumers. There are 2.5 million (rice) farmers. It's a no brainer." This was his reply to the ANC anchor when she asked if the importation of rice will negatively affect farmers. "This is not just moral insensitivity but intellectual arrogance of the highest order. It is provocative given the economic difficulties that our poorest people are facing. He is saying "drop dead" to our rice farmers in the name of feeding our people," said ALU-TUCP Vice President Luis Corral.
"While he mentioned that there will be a rice (competitive enhancement) fund for farmers, he seemed to regard it as a token gesture to the big losers – our rice farmers", said Corral.
ALU-TUCP Spokesperson Alan Tanjusay expressed anger at both the tone and manner of Diokno in the interview. "Our people are now going hungry and have no more money in their pockets. Even if he floods the markets with imported rice and vegetables our people have no money to buy these goods with. And yet Diokno can afford to say that the latest surveys indicating inflation as the top concern of Filipinos as just a mere "impression". He dismisses the survey as just a repetition of previous years' "impression", added Tanjusay.
"We warn our economic managers that for our people the price of rice, vegetables and fish are life and death issues. We have to find ways of surviving together as one nation rather than cavalierly and ruthlessly sacrifice 2.5 million Filipino rice farmers in what Diokno earlier described as a "cost-benefit" formula, explained Corral.
"We ask the Senate to ensure that the Rice Tariffication bill ensure that the rice competitive enhancement fund (RCEF) be given enough budgetary support to help our farmers survive. No one is speaking for our farmers and their families now. We need to bring up their productivity by helping them organize into cooperatives, go into other crops, acquire modern machinery, shorten and simplify the logistics train. Further we need to ensure farmer management of the fund lest we repeat the sad experiences of the sugar levy and coconut levy which were plundered," said Corral.
"On the demand side, ALU-TUCP calls for enactment of the proposed 500 peso monthly cash subsidy from government for 4 million minimum wage earners under SSS coverage. We call this the Labor Empowerment and Assistance Program (LEAP) and is intended to mitigate the economic miscalculations of TRAIN 1, the knock-on depreciation of the peso in the light of the US increase in its interest rates, and the on-going increase in international oil prices," added Tanjusay.
"There is a critical need to bridge the gap in the decline of real wages as inflation climbs. DOLE has signalled it is considering a mere pittance of P20.
"ALU-TUCP reiterates its call for a substantive wage adjustment to compensate workers for the productivity gains they have brought to the economy, and for patiently waiting for the trickle down from our growing economy. Now that times are hard workers and rice farmers are being made "sacrificial lambs" again. Let's get our economic policy right for once. Not "losers and winners" but "win-win" said Tanjusay.
DPWH advises to keep 20-meter parameter on national roads
By DPWH 2ndLED
October 1, 2018
CARIGARA, Leyte – The Department of Public Works and Highways (DPWH) Leyte Second District Engineering Office advises the public to keep the 20-meter minimum width requirement on national roads.
Maintenance Section Chief Francisco Robin, Jr. instructed that there must be proper information dissemination to the public to block the construction of residential, business, or other establishments within the 20-meter parameter to give way for the road right-of-way program.
"Let us inform our neighbors to preserve the 20-meter no building zone for the road widening and major flood control projects. Let us altogether help in the dissemination so when the time comes, investments would not go into waste," Robin said.
He added that obstructions within the established "right-of-way" of existing national roads that will be displaced by the projects will not be compensated by the government.
The Republic Act 10752 or "The Right-of-Way Act" states that "the government may acquire real property needed as right-of-way site or location for any national government for any national government infrastructure project through donation, negotiated sale, expropriation, or any mode of acquisition as provided by law." However, this act only applies to new construction or road opening projects wherein the road right-of-way has not been previously acquired.
The road widening project of DPWH aims to utilize the burgeoning number of vehicular population in the country which results to traffic congestion. This also intends to cultivate safety among motorists who go to and from places within the region.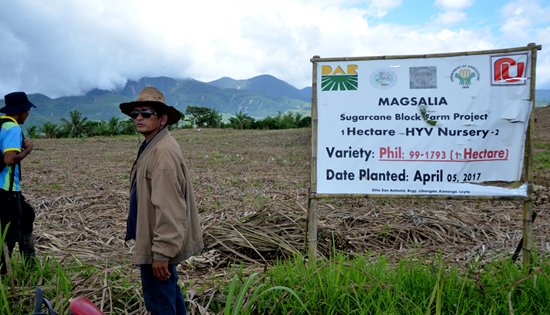 Magsasaka ng Libongao Farmers Association (MAGSALIA) President Reynaldo Francisco show their one-hectare demo farm after the harvest. According to him, they were able to harvest 73.1 tons of sugarcane, an increase of 28 tons under the sugar block farm.
Sugar block farm doubles the harvest
Press Release
October 1, 2018
TACLOBAN CITY – "Halos mag doble ang na harvest namo karon!" ("Our harvest now is almost double!"), said Reynaldo Francisco as he excitedly reported their harvest in sugarcane this season in their one-hectare demo farm.
Francisco, one of the 29 agrarian reform beneficiaries (ARBs) in the 30-hectare lot once owned by the Jonases, and president of the Magsasaka ng Libongao Farmers Association (MAGSALIA) in Kananga, Leyte, reported that they harvested 73.1 tons in their demo farm.
According to him, "MAGSALIA is now the envy of other sugar plantation owners in our town because of our very high return of investment in sugar production".
Before, like other sugar farmers, they could only harvest an average of 40 to 45 tons in a hectare lot.
But now, our production nearly doubled because of the Sugar Block Farm Project (SBFP) introduced to us in 2017 by the Department of Agrarian Reform (DAR), Francisco exclaimed.
SBFP is one of the projects under the Program Beneficiaries Development (PBD) component of the Comprehensive Agrarian Reform Program (CARP) that continuously provide farmers and farm workers, specifically the ARBs, with the opportunity to enhance their dignity and improve the quality of their lives through greater productivity of agricultural lands.
It is in partnership with the Sugar Regulatory Administration (SRA), per Republic Act No. 10659 or the Sugarcane Industry Development Act, as assistance provided to ARB organizations (ARBOs) in sugarland areas where small landholdings are consolidated to achieve economies of scale.
In Region-8, MAGSALIA is one of the only two ARBO-recipients of the SBFP.
Aside from SRA, DAR also commissioned the services of RU Foundry to provide the technology in sugar production that would lead to an increased income.
Francisco disclosed that RU Foundry; which is based in Bacolod City, another sugar producing area; taught them the tractor spike style of planting, which truly gave them higher production. "Tractor spike or clamp technology" was new to them as it was not practiced in Region-8.
They were also taught intercropping with crops such as peanut, corn, mongo and white beans, which no one does here. It gave them additional income, Francisco added.
They likewise spent less because they use vermicast instead of applying purely commercial fertilizer. The vermicast or organic fertilizer is produced by the association as additional livelihood introduced by DAR.
DAR also provided us with the necessary equipment like the 120-horse power four-wheel drive tractor and a 10-wheeler heavy-duty dump truck that are used in the land preparation and hauling saving us from high rentals, Francisco further shared. Instead, our association earn by offering the machines for rent, he added.
When asked how much they earned from this season in sugar block farm (SBF), Jimmy Dejon, MAGSALIA Farm Manager, disclosed that their grossed income reached P168,831 from sugar sales (P149,932), molasses (P10,780), intercrop (P3,000) and trucking allowance/incentive (P37,063).
Deducting the P128,768 they spent in their operation from the gross income, MAGSALIA gained P40,063 from SBF on a hectare plantation alone. How much more if the entire 30 hectares owned by the members intended for this project be utilized?
That is why, members of the association, who used to earn as low as P1.50 a day as sugar farmworkers in the 70s, are excited to go full blast on SBF.
Since the members, who are just ordinary farmers, don't have the capital, while the association neither could afford to finance the entire operation, MAGSALIA members are now availing of loan under the Agricultural Production Credit Program (APCP) from the Land Bank of the Philippines at 8.5 percent annual interest rate.
To other small sugarland owners, Francisco is encouraging them to join their association and double their harvest.
MAGSALIA started in 1990 with 32 members only. All of them were ARBs contributing P100 each to form their capital build-up (CBU).
Now, the association has expanded to 111 members where 58 are ARBs and with total assets reaching P9.6-million mostly derived from lending, the major service offered by them through the years.

Workers of poultry farm DBSN Farm Agriventures decry the criminalization of their legitimate grievances for regularization and proper compensation after they end up in jail for a cyber libel case filed against them by their employer, Mayor Ramon Oñate, Municipal Mayor of Palompon, Leyte.
Criminalization of legitimate labor dissent slammed
By Bukluran ng Manggagawang Pilipino
September 30, 2018
QUEZON CITY – Militant labor group Bukluran ng Manggagawang Pilipino (BMP) today denounced the arrest of thirteen officers and members of the DBSN Farm Agriventures Workers Union after they were picked up Wednesday evening by operatives of the Criminal Investigation and Detection Group.
The workers were charged with libel under the Cybercrime Prevention Act of 2012 or Republic Act 10175 after pictures of workers holding flags and placards taken before they left for Manila to hold a camp-out in front of the National office of the Labor department to seek an audience before Secretary Silvestre Bello were uploaded at Facebook.
"This is a classic case of harassment. The owner of DBSN could no longer deny the veracity of the accusations of rampant violations of labor standards in his farm as well as the legitimacy of the workers demand for regularization, the Labor department says so," claimed BMP president and union legal counsel, Luke Espiritu.
Of the thirteen arrested workers, ten are being detained at Camp Downes at Ormoc City including its union president, Ailieen Claros and spokesperson Josephine Jaballa. The remaining three are held at municipal police station of Albuera.
He explained that the case filed against the workers could not constitute online libel since both the DOLE regional office and the National Labor Relations Commission have found the company guilty of gross violation of labor laws and ordered the regularization of its employees, even if the management has filed an appeal before the agencies.
Workers at DBSN Agriventures are paid for P285 to work for 15-hour shifts, the regional minimum wage for workers in Region 8 for 8-hours of work, without overtime pay and premium among its many labor standard violation despite being is one of the biggest poultry dressing plants in the country. It was accredited by the National Meat Inspection Service and certified as an ISO company by TUV-Rhineland.
"The sub-human conditions of employees and the outright non-payment is already condemnable, to say the least. To add harassment and criminalization to salvage the owner's ill reputation and multi-billion profits is new low for an ISO-accredited company," he deplored.
Upon labor inspection early this year, the poultry farm was found guilty of: No proof of coverage or remittance of SSS contributions, non-payment of Overtime Premium Pay, non-payment of Service Incentives Leave Pay, non-payment of Holiday Pay, illegal deduction (personal protective equipment such masks, gloves, and aprons, and delivery and transport expenses by boat), non-payment of Night Shift Differential Pay; Labor-only contracting in violation of D.O 174, and non-payment of 13th Month Pay.
BMP maintained that the criminalization of labor struggles shall not make the workers cower in fear but will only reap a flurry of protests and ignite labor unrest further.
"The right to regular jobs and proper compensation are guaranteed by the constitution and no amount of criminalization could override these rights".
They likewise called on authorities to dismiss the trumped-up charges, free the detained laborers and expedite the implementation of regularization as ordered by state agencies.
DBSN Agriventures, the poultry supplier of the Magnolia brand of San Miguel Pure Foods Inc. and Jollibee's 'chickenjoy' is based in Albuera, Leyte and is owned Mayor Ramon Oñate, Municipal Mayor of Palompon town, also in Leyte.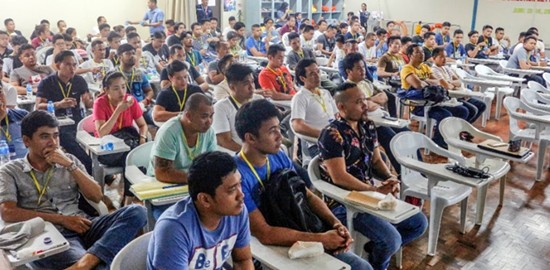 NMP seafarer-trainees participate in the series of Lectures-Symposia conducted on 25 September 2018 at the Room 109, NMP Training Building. Mr. Angelo E. Remandaban (Family Welfare Officer of OWWA), Ms. Heidi A. Hosillos (Overseas Workers Welfare Officer II of OWWA), and Mr. Andrew D. Soledad (Information Technology Officer I and Data Protection Officer of NMP) conduct the lectures.
NMP holds series of lectures-symposia on Maritime Week
Press Release
September 28, 2018
TACLOBAN CITY – In line with 23rd National Maritime Week Celebration, the National Maritime Polytechnic (NMP) conducted series of lectures-symposia on 25 September 2018 at the NMP Room 109, Training Building, Cabalawan, Tacloban City.
The lectures-symposia was attended by ninety-eight (98) participants composed of NMP seafarer-trainees. Invited Resource Persons were Ms. Heidi A. Hosillos, Overseas Workers Welfare Officer II and Mr. Angelo E. Remandaban, Family Welfare Officer both from the Overseas Worker Welfare Administration (OWWA) Regional Office No. 8 who conducted "Lecture on Financial Literacy for Seafarers".
The lecture was aimed to provide guidance to seafarer-trainees in ensuring that their finances are handled and managed well. It also intended to create awareness and appreciation to the participants on the importance of financial planning and the various savings and investment plans suggestions and ideas.
"Cut-down expenses relating to the things you want and retain expenses relating to the things you need" said Ms. Hosillos. She also encouraged the seafarers to avail of the OWWA's Seafarers' Upgrading Program (SUP) which is in a form of financial assistance. OWWA will assume the costs of training and the beneficiaries will get to choose their preferred training course that are accredited by Technical Education and Skills Development Authority (TESDA) and Maritime Industry Authority (MARINA).
Likewise, in order to raise awareness among seafarers of the risks of maritime cyber-attacks and how to avoid them, NMP also conducted a "Symposium on Cyber Security for Seafarers". Discussant was NMP's Information Technology Officer I, Mr. Andrew Soledad.
Mr. Soledad stressed that implementing effective security measures should be considered as a priority issue considering that vessels, ports, and facilities across the global maritime community are increasingly dependent on cyber systems and in order to ensure that the systems, networks, and programs are protected from cyber-attacks, which may pose significant security, safety and financial risks to shipping and offshore operations.
Likewise, as the NMP's Data Privacy Officer, Mr. Soledad also provided "Lecture on Data Privacy Act". Salient points of Republic Act 10173, otherwise known as the Data Privacy Act of 2012, was discussed. Said act seeks to protect the fundamental human right of privacy, of communication while ensuring free flow of information to promote innovation and growth.
"In this digital age, the Act is necessary and important precaution to protect all forms of information, be it private, personal, or sensitive, Mr. Soledad disclosed.
The lectures-symposia were conducted being one of the performance commitments contained in the NMP 2018 Office Performance Commitment Review (OPCR).
Meanwhile, NMP continues to upgrade its facilities and provide maritime trainings required pursuant to the STCW Convention as amended in 2010 including value-adding courses towards improving the qualifications of Filipino seafarers for their employment acceptability and enhanced competitiveness. It also regularly conducts maritime studies to come up with policies for the improvement of the manpower sector of the industry.

L-R: Assistant Regional Director Eric Ayapana and Region Director Nerie Bueno during the 9th Regional Monthly Coordination Meeting.
SFDEO hosts the regional monthly coordination meeting
By MAE ANGELICA R. COMOTA
September 27, 2018
CALBAYOG CITY – The Department of Public Works and Highways (DPWH) Samar First District Engineering Office (SFDEO) hosts the Regional Coordination Meeting on September 25 to 26, 2018. In attendance are key officials of DPWH Regional Office No. 8 and heads of the 13 district engineering offices of the region.
SFDEO's District Engineer (DE) Alvin Ignacio welcomes the newly installed Regional Director (RD) Nerie Bueno and presents to her an overview of the District as well as projects implemented and completed for 2018.
During the meeting proper, RD Bueno's priority is to improve region-wide performance in terms of physical accomplishment and absorptive capacity. She also issues various policy directives that will replace outdated systems and improve processes.
"We have the potential to be the best regional office, all we need is to follow the right direction towards our goal of becoming an effective and efficient government agency by 2030. I am appealing to you to be obedient in following instructions because we cannot move forward if there is resistance," said RD Bueno.
The planning division of the regional office also announces the breakdown per district of the allocation and projects under the 2019 regular infrastructure program. In line with this, RD Bueno directs the district engineers to complete all the plans and program of works by November 2018 and must be bid out before Christmas of this year.
The district engineers also discuss issues and concerns affecting their respective district offices.
The meeting concludes with RD Bueno's challenge to everyone to go beyond the ordinary call of duty in order to reach and surpass this year's targets; "As one region, let us help one another attain our goals, let us put Region 8 in the map."
Bill to institutionalize P3 Program filed in Senate
By DTI-ROG-SB Corp
September 27, 2018
MAKATI CITY – Senator Aquilino "Koko" Pimentel III filed on September 19, 2018 a Senate Bill that will institutionalize the Pondo sa Pagbabago at Pag-asenso (P3) Program to further strengthen the landmark micro loan program of President Rodrigo Duterte that will provide relief to micro enterprises through alternative source of financing.
The Senate Bill No. 2017 or "An Act Providing a Socialized Microfinancing Program for Micro Enterprises Thereby Promoting Entrepreneurship" aims to address financing concerns of micro enterprises throughout the country and help them sustain their businesses.
Trade Secretary Ramon M. Lopez welcomed the news, saying it will further ensure funds are made available for micro enterprises to veer them away from onerous loans, particularly the "5-6" money-lending system.
"This is another milestone as we continue our drive to empower our MSMEs and alleviate poverty. Through this bill, we will be able to assist more entrepreneurs to have easy access to P3 loans that come in one-form, one-day processing, and don't require any collateral, especially those in the countryside," said Sec. Lopez.
On the other hand, Small Business Corporation (SB Corp) President and CEO Ma. Luna E. Cacanando said the filing of the Senate Bill will strengthen the Corporation's mandate and will greatly contribute to the development of micro enterprises, which comprises the bulk of the micro, small and medium enterprise (MSME) sector.
Micro enterprises account for 90% out of the 99.6% from the MSME sector.
As the financing arm of the Department of Trade and Industry (DTI), SB Corp is tapped as the lead implementing agency of the P3 Program and is tasked to handle the fund delivery through direct lending to micro enterprises, wholesale lending to conduits that on-lend to micro enterprises.
Likewise, the House of Representatives in June 2018 also adopted a bill that will establish P3 Program as an affordable and easy access alternative source of financing for micro enterprises.
Under House Bill No. 7446 or the "Pondo sa Pagbabago at Pag-asenso" or "P3 Act," the House of Representatives seeks the creation of the "Pondo sa Pagbabago and Pag-asenso" or the P3 Fund, which will be made available for beneficiaries such as market vendors, agri-businessmen and members of cooperatives, industry associations, and cooperators.
As of September 9, 2018, the P3 Program has assisted over 50,000 micro enterprises throughout the country with a total of P1.5 billion of released loans.
Under the P3 Program, a micro enterprise can borrow between P5,000 up to P200,000 depending on its business need and repayment capacity with no collateral requirement. Interest rate and service fees, all in, do not exceed 2.5% monthly.
The P3 Program serves as an alternative to the P30 billion "5-6" money lending industry that charges 20% nominal interest rate to MSMEs.
"We thank Sen. Koko Pimentel for sponsoring this bill in the Senate and being our partner in strengthening the MSME sector," said Sec. Lopez.
New DPWH office building inaugurated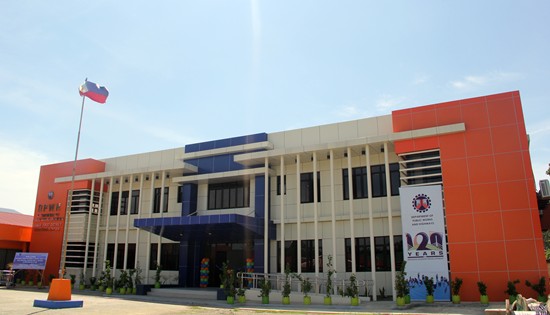 By JASON DELOS ANGELES
September 26, 2018
CALBAYOG CITY – DPWH Samar First District Engineering Office (SFDEO) completes the construction of the of a two-storey DPWH District Engineering Office building located inside the SFDEO compound at Brgy. San Policarpo, Calbayog City.
The inauguration is part of the 2-day itinerary visit of the newly-installed Regional Director Nerie Bueno. After her inspection of the district's projects along the national highway, she graces the blessing of the new building.
The P30 million project is in accordance with Department Order No. 81, series of 2012 which provides for a new uniform design that will easily identify DPWH buildings. The plan maximizes the use of the lot area providing ample parking spaces for both employees and visitors as well as meeting the necessary office space requirements.
The new building is in line with the District's policy to continuously improve the delivery of services.
"This inauguration of this new building is an important milestone, through the new design, we are able to achieve complete organization, cleanliness and standardization which is directly related to the improved productivity of our employees, thus resulting to a higher work which will greatly benefit our stakeholders. We are grateful that RD Bueno was able to attend this event," said District Engineer Alvin Ignacio.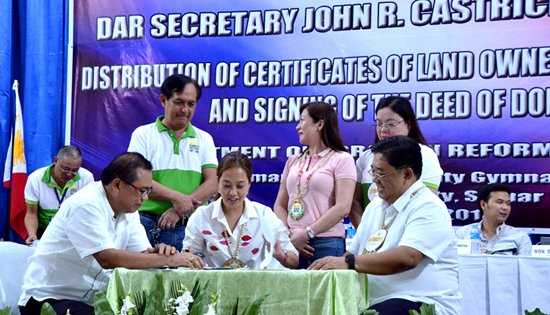 Paranas Mayor Eunice Babalcon (seated center) signs in the presence of Agrarian Reform Secretary John Castriciones (seated right) and Notary Public Atty. Medino Acoba (seated left) the deed of donation for the 300 square meter lot intended for the construction of the Samar DAR Provincial Office. Witnessing the event are (standing from left) Provincial Agrarian Reform Program Officer Enrique Granados III, Paranas Vice Mayor Yolanda Tan and Regional Director Sheila Enciso.
New DAR office soon to rise after lot donation
By JOSE ALSMITH L. SORIA
September 26, 2018
CATBALOGAN CITY, Samar – The provincial office of the Department of Agrarian Reform (DAR) currently situated in this city may soon be transferred to Paranas town after the local government unit (LGU) donated recently a lot for this purpose.
Paranas Mayor Eunice Babalcon representing her municipality as the donor and Agrarian Reform Secretary John Castriciones representing the DAR as the recipient, formally signed the Deed of Donation during the latter's recent visit to this province for the 300-square meter lot beside the Paranas evacuation center intended for the construction of DAR provincial office.
The two officials signed the document in the presence of Atty. Medino Acoba, a Notary Public, and witnessed by DAR Regional Director Sheila Enciso and Vice Mayor Yolanda Tan.
According to Babalcon, her municipality "is very much willing to give the property" considering the role DAR plays in improving the quality of life of the farmers.
Before the formal signing of the document at the Samar State University gymnasium, Castriciones dropped by the municipality of Paranas on his way to Catbalogan City from Tacloban City where his plane landed, per invitation of the Mayor and for the symbolic tree planting at the donated lot.
Provincial Agrarian Reform Program Officer II (PARPO-II) Enrique Granados III disclosed that the Samar DAR Provincial office used to occupy one of the offices at the provincial government center in this city until 2016.
Since the building they were occupying was to undergo renovation, the DAR provincial office transferred to another location.
From February 2016, they had been renting office space. At present, they are renting at the downtown area in this city at P140,000 a month which increases annually, Granados added.
Regional Director Sheila Enciso likewise shared that though Paranas is about 30 kilometers away from Catbalogan, the government would be able to save a big amount from rentals.
On the other hand, Spouses Rolando and Hideliza Tomalabcad likewise donated 7,000 square meters land intended for DAR employees home lots and dormitory. The couple though refused to issue a statement when asked for comments.
Signing of both documents coincided with the Secretary's distribution of certificates of land ownership award (CLOAs) to agrarian reform beneficiaries (ARBs).
In appreciation, the Secretary presented a plaque recognizing the donors act of goodwill.
DPWH Biliran DEO conducts axle load survey for the first time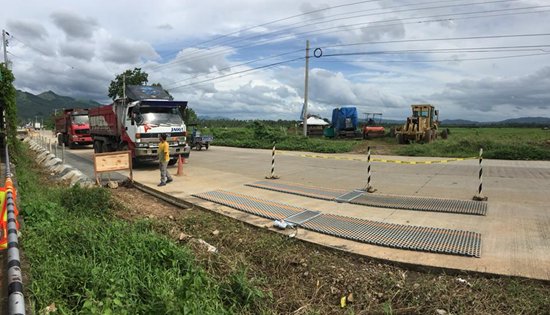 Press Release
September 25, 2018
NAVAL, Biliran – The Department of Public Works and Highways (DPWH) Biliran District Engineering Office (DEO) conducts a week-long axle load survey on large trucks passing through Biliran Circumferential Road (BCR) referenced at Sitio Riverside Brgy. Caraycaray, Naval, Biliran.
The operation was conducted 24/7 from September 4-12, 2018 on a rotational shifts spearheaded by Engr. Ian M. Lazarte, Regional Road Traffic Information Application (RTIA) Coordinator and Mr. Penny Lloyd E. Batoto, RTIA Coordinator of Biliran DEO.
According to District Engineer David P. Adongay Jr., the main purpose of the said activity is to collect data that will be used for appropriate design standards for the said road.
"It is done by weighing large trucks on a weighbridge installed on a national road" said Adongay.
In accordance with Republic Act 8794, trucks are prohibited from passing through national roads and bridges if their axle load exceeds the 13,500 kilograms per axle capacity limit and allowable computed gross vehicle weight (GVW).
The axle load surveys will also give information whether the roads are abused or not by the transporters, hence assist the Bureau of Design in deciding on appropriate corrective measures.
The summary of the data gathered is stored in the Road and Bridge Information Application (RBIA) and is used as one of the important inputs to the new planning and programming processes.
Axle load survey are part of the DPWH's mandate in ensuring road safety. This is the first time that Biliran DEO conducted the said activity in the province.
Regional youth leaders united to break cultural barriers for peace
By Sigaw ng Kabataan Coalition
September 25, 2018
QUEZON CITY – In line with the country's celebration of the Peace consciousness Month and in observance of the international day of peace, Sigaw ng Kabataan Coalition, an independent non-partisan national alliance of young leaders and youth organizations in the Philippines, together with the Rotary Satellite Club of Fort BGC Titans, Rotary Club of Fort Bonifacio Global City holds the Philippine Intercultural Youth Convention (PIYC) 2018, with the theme "Breaking Cultural Barriers, Empowering Young Leaders," on September 22-23, 2018 in Great Eastern Hotel, Quezon City.
The convention was opened with a keynote address from the former Department of Environment and Natural Resources Secretary, Ms. Gina Lopez, "It is not money nor staff that brings change in the society. It is the commitment to integrity and love, and the youth should know this as you will inherit the country."
Other distinguished speakers include DOLE Undersecretary Ciriaco Lagunzad delivering the message of President Rodrigo Duterte and DOLE Secretary Silvestre Bello III, Commissioner Teddy Co of the National Commission on the Culture and Arts, Director Mary Grace Pascua of the National Commission for Indigenous Peoples, Irish Inspirational Speaker and Best Selling author Mike Grogan, Landbank Director JV Hinlo, and Past President Oliver Alvarez of the Rotary Club of Manila Magic.
PIYC 2018 provides an opportunity for different ethnic groups in the Philippines to exchange knowledge of their culture and heritage, and for young leaders to engage and have a close encounter with government officials and experts in various development fields.
The convention had six sessions which discussed the youth's developmental priorities based on a national survey done by SKC in 2017. These includes Peace in Diversity with Ms. Jasmine Suleik of the United Nations Youth Advisory Board Philippines and Mr. Elmer Albacete of the AFS Intercultural Programs Philippines as speakers, moderated by SKC Sultan Kudarat Governor, Mr. Kaharudin Gumaga Dalaten. The Health and Social Welfare session had UN Youth Advisory Board Ph Chairperson Neil Lomibao, Dr. Dexter Galban National Chairperson of the Philippine Society of Health Advocates for Policy Engagement, NVAP President Engr. Emer Rojas, and DOH Director Dr. Rodolfo Antonio M. Albornoz as speakers.
Speakers for the Quality and Accessible Education for all session are DSWD Assistant Secretary Rhea Penaflor and Commission on Higher Education Director Joselito Alisuag. In-hand Abra Foundation Executive Director Carmelita Bersalona shared about youth opportunities in the bamboo industry while Mr. Rodne Galicha of the Climate Reality Project PH and Mr. Vermon Timbas of the DENR-EMB spoke during the Climate and Environmental Action session.
In a press conference held during the PIYC 2018, Datu Pax Ali Sanki-Mangudadatu, President of the Sultan Kudarat Association of Youth Organization said in his statement, "There can be unity in diversity. If every one of us with different backgrounds from different institutions can come together, we can do great things. Even the small things, we can do in the greatest ways." With this, Mr. Ramil Tolledo of the AFS Philippines added, "Peace should be achieved by having interaction among different cultures. It is what makes us relate with each other, promoting peace and our different advocacies."
Being among the latest personalities that symbolize the significance of embracing the diverse Philippine culture without any form of discrimination, Mr. Norman King, the first graduate of the University of the Philippines from the Aeta community delivered in his statement, "Alisin natin ang diskriminasyon; huwag tayong maglagay ng isang invisible barrier na naghihiwalay sa kayo at kami, palaging dapat mayroong tayo. Bigyan natin ng isang makulay na kwento ang ating henerasyon, gamit ang kaibahan natin bilang lakas sa pagkakaisa na maabot ang ating mga minimithi."
SKC National President and Rotary Satellite Club of Fort BGC Titans Chairman Mr. Ellirie Aviles on emphasizing the main purpose of PIYC 2018 said, "We encourage the youth to engage in their communities and take on leadership roles. We are not just the future – the youth is today. We should take action and not wait for tomorrow to come. Nananawagan po tayo sa lahat na makialam, makiisa, at makibahagi, at sama-sama nating palakasin ang sigaw ng kabataan."
"We need to be united to be able to do actions that will result to beneficial permanence. Let us unite by promoting better understanding of the various cultures in the country. By breaking these cultural barriers which hinder growth in our communities, starting among the youth, we are empowering our people and helping the country's efforts towards the achievement of the UN Sustainable development goals," he added.
Focused on discourses in culture and sustainable development, PIYC 2018 unifies the Filipino youth to define its role in building a better future while remaining rooted in Filipino heritage.
The convention was organized in partnership with the Department of Social Welfare and Development, Department of Labor and Employment, AFS intercultural Programs Philippines, and the Korean Cultural Center. And supported by SKC's advocacy partners, the Rotaract Clubs of Fort Bonfacio Global City, San Francisco Del Monte Malaya Achievers, and Zamboanga City West, and the GANAP QCPU.
EV registers second highest underemployment rate in the country at 27.2% in July 2018
By PSA-8
September 20, 2018
TACLOBAN CITY – Eastern Visayas registered the second highest underemployment rate in the country at 27.2% in July 2018. This translates to an estimated 506 thousand underemployed persons or those employed persons aged 15 years old and over who express the desire to have additional hours of work in their present jobs; or to have additional job; or to have a new job with longer working hours. This figure is 5.3 percentage points higher compared with the 21.9% underemployment rate registered in July 2017. Bicol Region posted the highest underemployment rate in the Philippines at 28.0 percent (Table 1).
Out of the estimated 3.2 million population 15 years old and over in July 2018, about 2.0 million were economically active or in the labor force. This number translates to a Labor Force Participation Rate (LFPR) of 61.8%. This figure is 1.1 percentage points higher compared with the 60.7% LFPR in the same period a year ago. Among the regions, Eastern Visayas recorded the sixth highest LFPR.
The Employment Rate (ER) in Eastern Visayas in July 2018 was estimated at 95.3%, ranking sixth among the regions with high employment rates in the country. This figure is slightly lower than the 96.0% ER recorded in July 2017. Employment rate is the proportion of employed persons to total labor force.
Meanwhile, about 92 thousand persons in the labor force were unemployed. This translates to an unemployment rate of 4.7%, slightly higher than the 4.0% unemployment rate recorded in the same period of 2017. Considered unemployed persons are persons in the labor force who are reported as without work; and currently available for work; and seeking work or not seeking work due to the following reasons: a) belief that no work is available, or b) awaiting results of previous job application, or c) because of temporary illness or disability, or d) weather, or e) waiting for rehire or job call.
Data were based on the preliminary estimates released by the Philippine Statistics Authority from the Labor Force Survey (LFS) conducted in July 2018.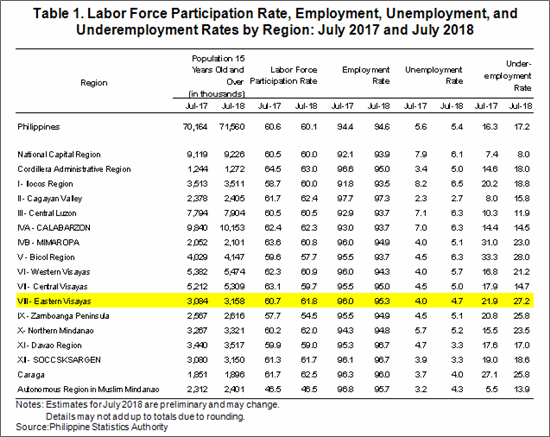 480 CAFGU trainees to boost Army strength in Arakan Valley Complex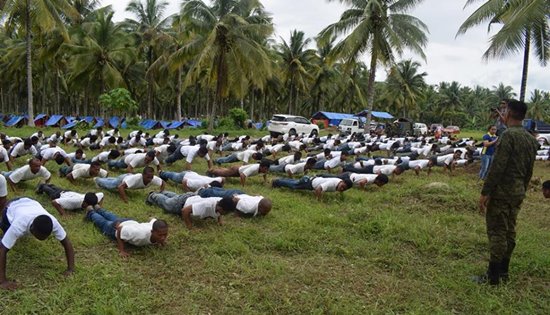 By 19th Infantry Battalion, 8ID PA
September 20, 2018
MAGPET, Cotabato – A traditional military reception rites tested the 480 recruits for the Citizens Armed Force Geographical Unit (CAFGU) during the first day of their training here, today, September 20, 2018.
The recruits who will undergo the 45-day CAFGU Active Auxiliary (CAA) Basic Training will be handled by the 72nd Infantry Battalion, to capacitate them with basic soldiery skills such as marksmanship and small-unit tactics.
Captain Alex Raposon, Commanding Officer of Hotel Company, 72IB said that upon completion of their training, recruits will be distributed to different battalions to serve as territorial forces and defend communities which are being threatened by the Communist New People's Army Terrorist (CNT).
In the past few weeks, the recruits underwent background, security checks and screening process in selected areas in North Cotabato Province. Some of them are Indigenous Peoples who came from the towns of Arakan, Antipas, Pres. Roxas, and Magpet or the so called Arakan Valley Complex where there is strong presence of the NPA.
Lt. Col. Ehrlich Noel Paraso, Commanding Officer of 19th Infantry Battalion whose unit assumed internal peace and security responsibility of the Arakan Valley Complex welcomed this recent development.
Paraso said that the territorial forces play significant role in preventing the NPAs from threatening Indigenous People's communities, recruitment of minors and extortion efforts.
Paraso hopes that there will be more people who will volunteer in the next batches of the training.
Inflation rate in Eastern Visayas increases to 6.1% in August 2018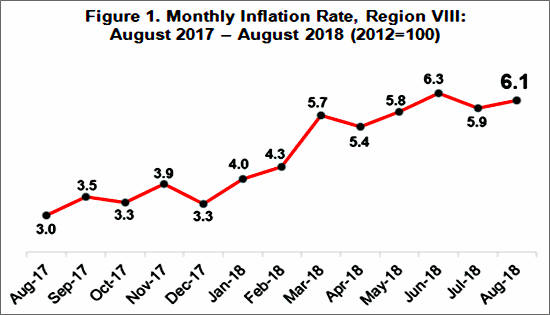 By PSA-8
September 19, 2018
TACLOBAN CITY – The Inflation Rate (IR) of Eastern Visayas increased to 6.1% in August 2018. This IR is 0.2 percentage point higher compared with the 5.9% IR a month ago, but 3.1 percentage points higher than the recorded 3.0 percent IR in the same period last year.
All provinces in the region registered higher inflation rates in August 2018 compared with their figures in the previous month, except Samar, which posted a decrease of 0.2 percentage point in August 2018 (7.4%) from 7.6 percent in July 2018. Eastern Samar, meanwhile, recorded the highest IR at 8.8% during the reference month. It has also registered the highest increase in IR of 1.0 percentage point. Southern Leyte posted the lowest IR at 1.8% (Table 1).
Majority of the commodity groups in the region exhibited higher IR from July 2018 to August 2018. Recreation and culture recorded the highest increase of 3.3 percentage points. It was posted at 3.9% in August 2018 from 0.6% in July 2018. This can be attributed to the huge increase in the index of recreational and cultural services.
The heavily-weighted food and non-alcoholic beverages went up to 8.6% in August 2018 from 8.2% in July 2018, an increase of 0.4 percentage point. This can be traced to higher IR among all food items, except meat and food products not elsewhere classified, which posted slower IR. Fish remained to have a double digit IR at 19.6%, the highest among all food items (Table 2).
Inflation rate for housing, water, electricity, gas and other fuels slowed down to 5.3% in August 2018 from 5.9% in July 2018, a decrease by 0.6 percentage point. Similarly, IR for alcoholic beverages and tobacco also went down by 0.4 percentage points but still recorded double digit IR at 21.2%, the highest among all commodities. Transport likewise registered a decrease by 0.4 percentage point, settling at 6.8% during the month in review.
Education, meanwhile, retained its negative IR at 16.2%.
The Purchasing Power of Peso (PPP) of the region remained at P0.81 in August 2018. This PPP implies that goods and services worth 100 pesos in August 2018 only costs 81 pesos in 2012. All provinces sustained their PPP from last month, except Northern Samar, which registered a 0.02 centavo decrease in the PPP compared with its P0.77 PPP in July 2018. Leyte recorded the strongest PPP at P0.84, while Northern Samar posted the weakest at P0.75 (Table 1).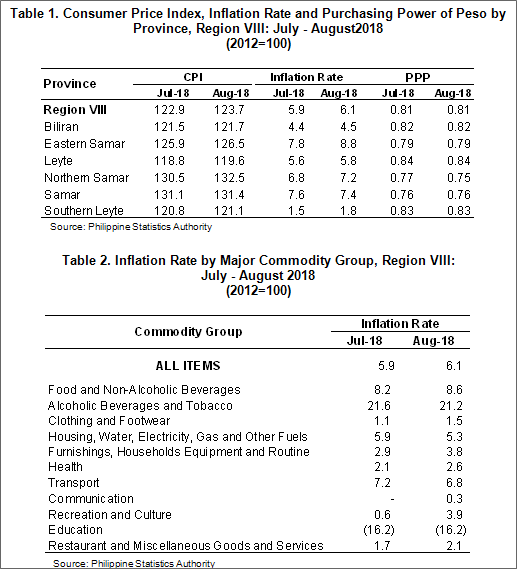 NPA medic escaped from sexually abusive leader; surrenders to military
By 19th Infantry Battalion, 8ID PA
September 18, 2018
MAGPET, Cotabato Province – A female member of Communist Party of the Philippines –New People's Army terrorist (CNT) escaped from her sexually abusive leader and surrendered to Alpha Company, 19th Infantry COMMANDO Battalion (19IB) at Magpet, Cotabato Province, yesterday; September 17, 2018.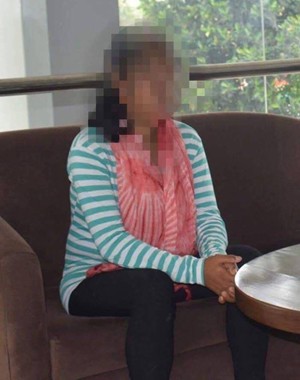 Alias Wilma, 20 years old, the designated medic of Pulang Bagani Command 2 (PBC2) escaped from her group while temporarily camped in a mountainous area between the province of North Cotabato and Davao City.
When her father, Bong (not his true name) knew his daughter's whereabouts, he asked assistance to the nearest Army detachment and was rescued immediately by troops of 19IB in Barangay Calinan, Davao City.
In an interview, Alias Wilma claimed that she was one of the five (5) teenage girls from Magpet, Cotabato who were forced to join the NPA terrorists last March. All of them experienced sexual harassment from their superior whom the group knew as Alias Botchoy.
"Misulod mi diri aron mawala ang mga pagpahimulos, apan naa ra man diay gihapon pagpanghimulos sulod sa armado." (We joined the NPA to stop the abuses, yet we suffer the same within the organization), Alias Wilma said.
Lieutenant Colonel Ehrlich Noel Paraso, Commanding Officer of 19IB said that NPA terrorist's act of preying on its own female comrades for sexual satisfaction only proved the communist organization's disrespect to women's rights.
"I call on to the local leaders of the NPA terrorists to stop the exploitation of women and minors and other forms of abuses they are committing against the people. NPA terrorists are continuously recruiting members to join their failed armed struggle, yet they have rotten ranks and system."
Early this year of 4th Infantry Division's campaign, there have been recoveries of war materials and medical supplies from encounter sites and encampment of NPA terrorists. Some of which were syringe, birth control pills and condoms.
"This is not the first time that NPA terrorists' leaders sexually abuse their female members. We have reports in some areas not only in 4ID that sexual exploitation have been happening in the ranks of the said terrorist group. Their leaders made sexual advances to their females by touching delicate body parts to the extent that these female feel molested and sexually abused. I call on the parents who have daughters that joined the NPA terrorists to reach them and ask them to come home before it will be too late." Major General Ronald Villanueva, Commander of Army's 4th Infantry Division said.
Last April 2018 in San Carlos, Negros Occidental, a journal was found in an encounter that contained confessions of how the owner and at the same time a member of the NPA terrorist was molested and almost raped by her comrades after she was recruited in 2011.
"Tayo ang Solusyon sa Polusyon"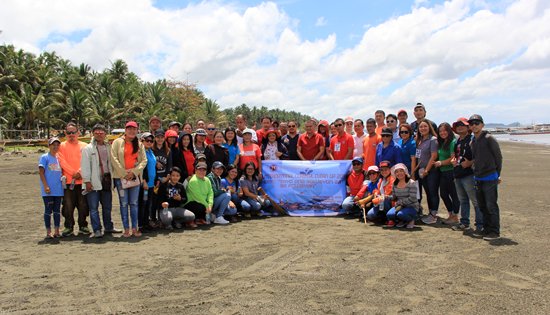 By ELENOR A. ANOLLADO
September 18, 2018
CALBAYOG CITY – Tons of trash get dumped on our coastlines every year. The garbage includes plastic bottles, plastic bags and packaging, food wrappers and cigarette butts – detracting from the natural beauty of the shore and harming wildlife. International Coastal Clean-up is part of an international campaign focused on keeping trash out of oceans, bays, rivers and lakes.
In line with this, the Department of Public Works and Highways- Samar First District Engineering Office (SFDEO) joins the 32nd International Coastal Clean-up (ICC) day on September 18, 2018 at Brgy. Burabod Sta. Margarita, Samar, with the theme "Tayo ang Solusyon sa Polusyon", to promote better ocean health and environmental consciousness. This is pursuant to Presidential Proclamation No. 470, series of 2003, declaring every third Saturday of September of every year as the International Coastal Clean-up Day.
Volunteers from every section pick and segregate trash and debris for item classification. They were able to collect 238 kilos of trash mostly consisting of plastic bottles and wrappers, used diapers, and soiled cardboard.
Trash accumulates in the ocean, threatens the health of every creatures in it and the ecosystem, at the same time endangering the life of people. What goes to the ocean goes back to us.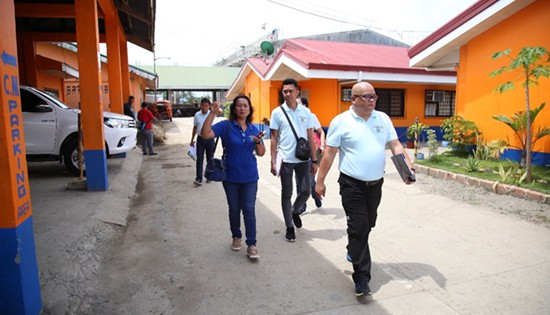 The Eco-Friendly Regional Assessors Team inspect the office grounds of DPWH Samar I last September 12, 2018.
DPWH: An eco-friendly government office
By MAE ANGELICA R. COMOTA
September 17, 2018
CALBAYOG CITY – With the recent global environmental issues and concerns such as global warming and climate change, various forms of environmental deterioration have reached a stage that require massive, orchestrated national effort.
In line with this, the Department of Public Works and Highways launches the 2018 Recognition Awards for the Most Eco-friendly District Engineering Office.
As part of this competition, DPWH -Samar First District Engineering Office (SFDEO) undergoes an assessment by the Eco-Friendly Regional Assessors Team (EFROAT) composed of representatives from the DPWH Central Office, led by Mr. Andro Santiago.
The assessment aims to review the Office's implementation of its Environmental Management Programs in terms of the following criteria: 1) Electricity Consumption; 2) Water Conservation; 3) Waste Management; 4) Greening Program; 5) Green Procurement Program; 6) Emergency Preparedness; 7) Air Pollution Prevention; and 8) Order and Cleanliness.
Under SFDEO's environmental management program, the wise utilization of office supplies and materials are religiously followed in order to avoid waste; construction materials such as asphalt containers are repurposed into plant holders; a compost pit is set up in order to contain biodegradable waste; a rainwater collection system is installed; fuel allocations are reduced; air-condition units are turned on within a specific time period; and the concept of carpooling is practice whenever there is field work.
All employees are also made aware in this campaign as their efforts and actions are critical towards achieving an eco-friendly office.
Based on the findings of the assessment conducted by the EFROAT, SFDEO is an above average, eco-friendly government office.
"After this assessment our environmental management program will not stop, we will continue to sustain and improve our current practices in order to gain more grounds in becoming a more eco-friendly office, not only for the recognition but more importantly to help in creating a better world for the next generation," said District Engineer Alvin Ignacio as he addressed all the employees of DPWH -Samar I during the exit conference with the EFDOAT.
PSA conducts 2018 Occupational Wages Survey (OWS) and 2017/2018 Integrated Survey on Labor Employment (ISLE)
By PSA-8
September 17, 2018
TACLOBAN CITY – The Philippine Statistics Authority (PSA) has started the conduct of the 2018 Occupational Wage Survey (OWS) and 2017/2018 Integrated Survey on Labor and Employment (ISLE) today, 17 September 2018, simultaneously nationwide.
The 2018 OWS is an establishment-based survey that aims to monitor the wage rates of 22 low-paid occupations in 21 non-agricultural industries. Its objective is to generate wage estimates to aid minimum wage determination.
The 2017/2018 ISLE, formerly BLES Integrated Survey (BITS), is a survey of establishments employing at least 20 workers which consists three modules covering topics on employment, conditions of work and industrial relations. It aims to provide inputs to studies on industry trends and practices, and bases for the formulation of labor policies.
A total of 185 establishments with employment size of at least 20 workers were selected as samples across the region. These establishments were extracted from the 2017 List of Establishments (2017 LE). Questionnaires will be delivered by hired Statistical Researchers to sample establishments. However, for Biliran and Eastern Samar, questionnaires will be delivered directly from PSA Central Office through mail since their sample size is less than ten (10) establishments. Accomplished questionnaires will be collected/submitted starting 1 October 2018.
The consolidated results of these surveys are expected to be released by November 2019.
The PSA appeals to the public, especially the business sector, to cooperate and support the conduct of this survey. The office also assures that all information gathered will be held strictly confidential and shall not be used as evidence in court for purposes of taxation, regulation or investigation as provided for in RA 10625.
Second quarter number of constructions in Eastern Visayas up by 4.8%
By PSA-8
September 17, 2018
TACLOBAN CITY – The region's total number of constructions in the second quarter of 2018 reached 1,244. This reflected an increase of 4.8% from the 1,187 constructions recorded in the same quarter of 2017.
By type of construction, the number of residential building constructions decreased to 843 constructions in the second quarter of 2018 from 894 constructions in the second quarter of 2017, a decline by 5.7%.
The number of non-residential building constructions went up by 14.5% reaching to 205 constructions in the second quarter of 2018 from 179 constructions in the same period of 2017.
The combined number for additions/alterations and repairs of existing structures significantly increased to 196 constructions during the quarter in review from 114 constructions in the second quarter of 2017, a surge by 71.9%.
Majority (67.8%) of the constructions were residential buildings. Non-residential buildings comprised 16.5%, while additions/alterations and repairs accounted for 15.8% of the region's total constructions.
The total value of constructions in the region during the second quarter of 2018 was estimated at P2.4 billion. This figure is 10.8% higher compared with the P2.2 billion total value of constructions in the same quarter of 2017.
By type of construction, the total value of additions/alterations and repairs more than doubled, posting an increase of 112.5%, from P87.2 million in the second quarter of 2017 to P185.2 million during the quarter in review.
Similarly, aggregate value of residential building constructions increased by 24.4%, from P911.5 million in the same period of 2017 to P1.1 billion in the second quarter of 2018.
On the other hand, total value of Non-Residential Buildings declined by 7.1% to P1.1 billion in the second quarter of 2018 from P1.2 billion in the second quarter of 2017.
Total value of Residential Building in the region comprised the largest share in terms of value at 46.9%. Value of constructions of Non-Residential Building contributed 45.5%, while Additions/Alterations and Repairs accounted for 7.7% of the region's total value of construction.
Average cost per square meter was estimated at P8,198 for Residential Building and P8,926 for Non-Residential Building.
Data were based on the preliminary results of construction statistics from approved building permits.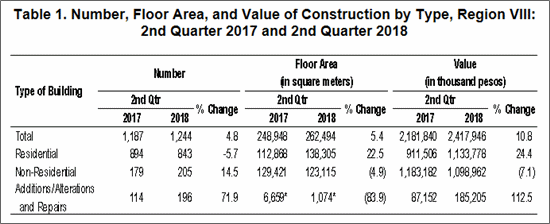 Rights victims file raps vs. Duterte at international tribunal
By KARAPATAN
September 17, 2018
MANILA – Various people's organizations led by the Bagong Alyansang Makabayan (Bayan) and Karapatan announced at a press conference today that victims of rights violations will testify before the International Peoples' Tribunal (IPT2018) on September 18-19 in Brussels, Belgium to indict Presidents Rodrigo Duterte and Donald Trump "for crimes against the Filipino people."
Upon the victims' plea, the Tribunal is being convened by the International Association of Democratic Lawyers (IADL), European Association of Lawyers for Democracy and World Human Rights (ELDH), Haldane Society of Socialist Lawyers, IBON International, and the International Coalition for Human Rights in the Philippines (ICHRP).
Its findings and verdict will be submitted to the International Criminal Court (ICC), the European Parliament and the United Nations Human Rights Council on September 21, 2018, anniversary of martial law in the Philippines.
"The continuing impunity of killings, state violence and other crimes against the Filipino people compel us to file these cases against the regime. The judicial system itself is under attack in the Philippines. Hence, an impartial tribunal recognized internationally can serve as moral suasion to stop the attacks and make the regime accountable for its crimes," Teddy Casiño of Bayan said.
Representatives of workers, peasants and women's groups joined Lumad leaders and victims of Duterte's "war on drugs" at the press conference. Rise Up for Life and Rights, a network of victims of the drug-killings, human rights advocates and church workers, filed a separate case against Duterte early this month before the International Criminal Court (ICC).
Pres. Duterte announced last March the unilateral withdrawal of the Republic of the Philippines from its ratification of the Rome Statute of the ICC, in reaction to the decision of the court's prosecutor to launch a preliminary examination on the on-going killings in the country.
Duterte's full-scale attacks on the people
Jigs Clamor of Karapatan explained that the cases filed before the IPT2018 illustrate the full-scale attacks of the Duterte government on the Filipino people.
He cited three broad categories on rights violations for the cases filed: 1) civil and political rights; 2) economic, social and cultural rights (ESCR); and 3) national sovereignty, development, and international humanitarian law.
Under the civil and political rights violations are the mass murder of more than 23,000 poor Filipinos through the brutal war on drugs, and more than 160 extra-judicial killings mostly of peasant and indigenous leaders.
In just one year of martial law in Mindanao, at least 49 victims of extrajudicial killings have been documented by Karapatan. There were also 22 documented cases of torture, 89 victims of illegal arrest and detention, and 336,124 victims of indiscriminate gunfire and aerial bombings.
Trumped-up charges against leaders, activists and critics, including that of Senator and former justice secretary Leila de Lima, media repression, the deportation of Sr. Pat Fox and other foreign missionaries, and the detention of more than 500 political prisoners are also included in the charges.
Among the ESCR violations are issues of labor-only contractualization and union busting; landlessness and harassment of poor peasants, misogyny and abuse of women; negligence of overseas workers in distress; imposition of anti-poor economic policies like the Tax Reform for Acceleration and Inclusion (TRAIN) Law; and the absence of decent housing for the urban poor.
Violations of international humanitarian law and the peoples' rights to national self-determination and development include the attacks on 226 indigenous peoples' schools in Mindanao by the AFP, PNP and the Department of Education; bombings and airstrikes of indigenous communities in Malibcong, Abra in March 2017; the massacre of seven personnel of the National Democratic Front (NDF) in August 2018; and the intervention of the US military and government in the Philippines.
International tribunal
Casiño said that the jurors of the IPT2018 form an international panel composed of eminent individuals from different disciplines with proven competence, integrity, probity and objectivity.
"The jurors are all experienced on issues on human rights, rights of peoples, and international humanitarian law," he said.
Composing the jurors' panel are: Mamdouh Habashi, head of the International Office of the Socialist Popular Alliance Party in Egypt and Vice-President of the World Forum for Alternatives (WFA) in Dakar; Monica Moorehead, co-coordinator of the International Working Women's Day Coalition in New York City and an executive board member of the International Women's Alliance; Ties Prakken, professor of criminal law at Maastricht University and practices criminal law and human rights; Sarojeni Rengam, Executive Director of Pesticide Action Network Asia Pacific (PANAP); Atty. Azadeh N. Shahshahani, prominent human rights lawyer, former President of the National Lawyers Guild; Dr. Gianni Tognoni, Secretary General of the Permanent People's Tribunal (PPT); Roland Weyl, founder and first Vice-President of the International Association of Democratic Lawyers, Dean of the Paris Bar; and Rev. Michael Yoshii, pastor of the Buena Vista United Methodist Church (UMC) in California and Chairman of the Advocacy & Justice Committee for the California Nevada Annual Conference of the United Methodist Church.
DPWH-contractors moves to reach target this month
By DPWH 2ndLED
September 17, 2018
CARIGARA, Leyte – The Department of Public Works and Highways (DPWH) Leyte Second District Engineering Office steps out to reach 66% target on Physical accomplishment for the month of September.
In the recent meeting, DPWH explains new terms on the Project Contract Management Application (PCMA) to the contractors.
According to Engr. Ma. Rosario P. Margallo, Monitoring Evaluation Section of the Regional Office 8, the PCMA has now an enterprise-wide application that allows updating throughout the month. She added that the application calculates the percentage completion and slippage based on the reported accomplished Work Items.
The system would recognize contractors with negative slippages and are subject for termination.
District Engineer Carlos G. Veloso requested for the cooperation of the contractors to go beyond the target.
"Our target for this month is 66%. Though, it is better if we go beyond this, so that if we fall short, we would still be able to reach the mark. We must aim high," Veloso said.
He added that once the Notice of Award is given, contractors must immediately start with the implementation. Moreover, as soon as they see possibility of negative slippage, contractors must file for time suspension and time extension to avoid termination and blacklisting.
The PCMA was made to supply the department's objective to effectively manage and monitor all infrastructure projects of the administration.


The founder and chairman emeritus of CARD MRI, Dr. Jaime Aristotle B. Alip, together with field staff were welcomed in the growing and glowing businesses of their CARD, Inc. clients in Tagum City and Koronadal City on September 3, 2018. These clients are among the beneficiaries of CARD, Inc. in its initiative to support the P3 of DTI.
39K MSMEs get support from CARD's P3 program
By DTI-OSEC-PRU
September 17, 2018
MAKATI CITY – More than 39,000 micro, small, and medium enterprises (MSMEs) of the country are now receiving financial services from the Center for Agriculture and Rural Development (CARD), Inc. (A Microfinance NGO) in support to the Pondo sa Pagbabago at Pag-asenso (P3) program of the Department of Trade and Industry (DTI).
In 2017, CARD, Inc. signed a memorandum of understanding with DTI to become the government's partner in strengthening the access of community members to the P3 program.
"This collaboration is part of CARD's commitment of ensuring the growth of MSMEs to eventually build a poverty-free country. Poverty is a complex issue, hence, working with like-minded organizations and the government is a significant factor in the process," said Flordeliza L. Sarmiento, managing director of CARD Mutually Reinforcing Institutions (CARD MRI) where CARD, Inc. is a member institution.
CARD's P3 initiative
For this program, Sarmiento emphasized that CARD is not receiving any financial support from the government. "We will be using our own funds for this program. In terms of policies, it will be aligned with the guidelines of the program accordingly," she added.
The program prioritizes to reach the market vendors and agri-businessmen in the 20 provinces under the government's P3 program namely, Sorsogon, Zamboanga Sibugay, Negros Oriental, Leyte, Catanduanes, North Cotabato, Western, Eastern, and Northern Samar, Mountain Province, Lanao del Norte and Lanao del Sur, Agusan del Sur, Siquijor, Zamboanga del Norte, Sultan Kudarat, Bukidnon, Maguindanao, Sarangani, and Sulu.
"These microentrepreneurs can avail a loan up to P100,000 maximum with an affordable interest rate," said Jocelyn D. Dequito, executive director of CARD, Inc.
The loan is payable in 12 months maximum on either a daily or weekly basis. "The program is consistent with our regular microfinance services. The terms are also flexible," added Dequito.
Potential clients may avail the loan and can be processed within 24 hours, following the guidelines of CARD. This, according to Dequito, is their way of fighting against usurious lenders who are very quick in providing loans to people. "We have streamlined our processes to be become relevant and respond immediately to the changing needs of our clients," added Dequito.
Growing businesses
On September 3-4, 2018, Dr. Jaime Aristotle B. Alip, the founder and chairman emeritus of CARD MRI, visited the P3 beneficiaries of CARD in Tagum City and Koronadal City, respectively.
CARD MRI, according to Dr. Alip, is in the business of poverty eradication. "Providing families with financial access is the first step towards poverty eradication. And we are happy to see our clients who are doing well in their respective businesses," added Dr. Alip.
Edlyn Soronez, P3 beneficiary from Tagum City, said the program helped her grow her flower shop business. "I am thankful to become one of the beneficiaries of the program. I can now buy enough stocks for my growing clients," shared Soronez.
Moreover, Nelly Pabillon said that she is thankful to CARD for granting her P28,000 loan for her vegetable trading in Koronadal City public market.
Dr. Alip also emphasized that these microentrepreneurs will be able to dictate the own course of their lives when and only given the access to asset ownership. "It is our hope that through our microfinance programs and this P3 initiative of the government, more families will have the capacity to own assets, invests in businesses, and saves for the future," said Dr. Alip.
CARD also guaranteed that this P3 initiative will continue to be reinforced. "Even if the agreement is only with CARD, Inc., we have also encouraged our three banking institutions to entertain potential clients for the P3 program," assured Dr. Alip.
As of July 2018, CARD, Inc. has already disbursed a total of P450.9 million loans to 39,384 clients.
CARD MRI is a group of 21 institutions that aims to eradicate poverty in the country. It has three banking institutions, the CARD Bank, CARD SME Bank, and Rizal Bank, Inc., which are operational in some of the concentrated areas covered by CARD, Inc.
"We are one with the government in fighting poverty in the country. Moving out from the claws of poverty can only be made when all the private and public sectors and the community itself work together as one," concluded Dr. Alip.
Army encounters CPP-NPA terrorists, incurs one casualty
By DPAO, 8ID PA
September 16, 2018
CAMP LUKBAN, Catbalogan City – Troops from the 63rd Infantry (Innovator) Battalion, 8th Infantry (Stormtroopers) Division, Philippine Army encountered CNT members at Barangay Mahayag, Matuguinao, Samar on September 14, 2018.
Sgt Daniel B. Silagan was reported to be killed in action during the said encounter, while it is undetermined on the terrorist group.
The troops led by two officers were on clearing operations when they encountered the terrorists as previously reported seen at said barangay when a 20-minute firefight ensued. The enemy immediately withdraws sensing the superiority of our forces.
Immediate appropriate actions will be undertaken to attend to survivors of Sgt Silagan including facilitation of due assistance and benefits. Meanwhile, pursuit operation is being conducted by our forces under the direction of the 803rd Infantry Brigade.
Maj. Gen. Raul M. Farnacio AFP, Commander, 8ID in his message said, "I would like to express my condolences to the bereaved family of our gallant soldier who offered the supreme sacrifice while performing his duty. This setback will not deter our resolve to continue our mandated task to safeguard the people of Eastern Visayas."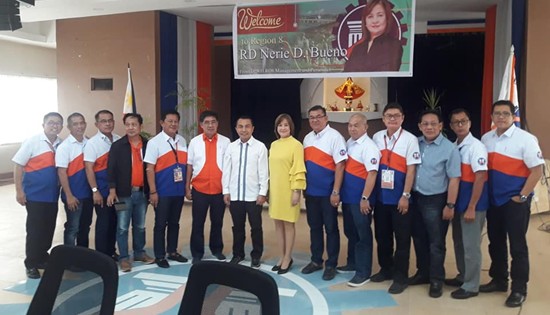 New DPWH Region 8 Regional Director (RD), Nerie D. Bueno (in yellow dress) meets district engineers of Region VIII during the turn-over ceremony of outgoing Regional Director Edgar B. Tabacon (left side of RD Bueno) on August 30, 2018 at DPWH Regional Office, Baras, Palo, Leyte.
DPWH Region 8 has new regional director
By DPWH-BDEO
September 6, 2018
NAVAL, Biliran – The Department of Public Works and Highways (DPWH) Region VIII warmly welcomes new regional director in the person of Engr. Nerie D. Bueno in a simple turn-over held on August 30, 2018 at DPWH Regional Office, Baras, Palo, Leyte.
Bueno replaced outgoing Regional Director Edgar B. Tabacon who now assumed post as new regional director of Region VII.
The lady regional director was the former regional director of DPWH-Cordillera Autonomous Region (CAR) prior to her assignment in Region VIII.
Bueno is one of the dynamic women executives in the Department who consistently attest that female engineers can rise as leaders in a male-dominated profession. With thirty-five (35) years of government service, she broke new grounds for Filipino women engineers pursuing leadership in widely known male-dominated technical organizations, through her appointment in key positions in the regional level.
She was officially appointed as Regional Director on November 23, 2015 in DPWH-CAR, shortly after assuming the post of OIC- Regional Director of DPWH Region II on September 18, 2016.
On September 19, 2016, she was reassigned to DPWH Region I, but after barely two months, she was transferred to DPWH-CAR on November 11, 2016.
In DPWH-CAR, she was the first woman to assume the positions, Assistant District Engineer (March 22, 2003), District Engineer (December 10, 2003), Assistant Regional Director (April 8, 2009) and Regional Director. Through the years, she remained steadfast to the values of discipline and diligence in her work, with a firm conviction that having high integrity and commitment to public service is always rewarding.
People regarded her as the "catalyst of change" and "game changer" when Region II achieved Second Rank nationwide in physical accomplishment in October 2016 when she was reassigned as Regional Director.
In 2017, Director Bueno turned the fate of CAR from being the worst to the most improved region, by bringing its regional ranking from 16th place in August 2018 to 3rd place by the end of the year, the highest rating that the DPWH-CAR has achieved since its creation in 1988.
Regional Director Bueno believes that life has no short-cuts through doing things right the first time. As a public servant, she conducts herself with simplicity, schedules meeting with the regional and district officers, provides venues for conflict resolution and promotes eco-friendly workspaces.
In her first day of office, Bueno holds a special meeting with district engineers of the 13 district engineering offices of the region tackling issues and various concerns especially in the implementation of infrastructure projects. On the second day, she meets the Assistant District Engineers from 8:00AM to 10:00AM and the Monitoring Engineers until 12:00PM.
89% of Filipinos demand a way out of dirty coal energy, slam DENR for continued permit issuance and approval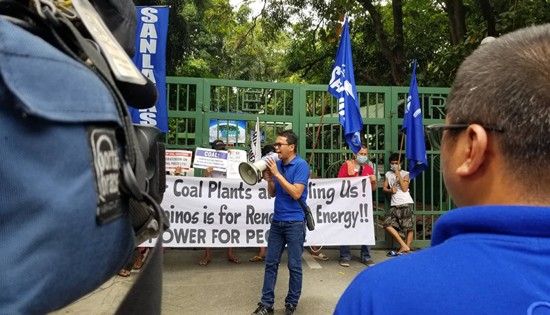 Press Release
September 6, 2018
QUEZON CITY – Members of coal-affected communities, electric consumers, climate justice and environmental groups stormed the Department of Environment and Natural Resources (DENR), conducted simultaneous actions in different areas in the country, to press Secretary Roy Cimatu and other local officials to put a halt on the country's 'coal obsession' and listen to the demand of the 89% of the Filipinos who do not want energy to be sourced from dirty coal.
This is based on the recently released Pulse Asia survey that says almost 9 out of 10 Filipinos want to shift to renewable energy source.
Currently, the Philippines houses twenty-eight (28) operational coal plants and twenty-eight (28) more coal projects in the pipeline. Said environment agency is expected to play a major intervention in the issuance of environmental compliance certificate (ECC) especially those projects waiting for approval for construction.
Groups participated in national day of action against coal said that the DENR's current position on the said issue does not only worsen the current state of our environment but also enables a rise in electricity prices all over the country.
"Nariyan na nga ang pagpapabaya ng Department of Energy sa patuloy na pagtangkilik sa mga korporasyon na nagpapahirap sa mamamayan. Dumagdag pa ang DENR sa pagpayag nang pagpayag sa pagpapatayo ng maraming planta ng coal sa ating bansa," said Mercy Donor of PIGLAS Kababaihan. "Patay na nga ang mga mamamayan sa polusyon, patuloy na pagtaas ng mga bilihin, patay pa sa mataas na presyo ng kuryente na hindi namin malaman kung saan namin kukunin ang pambayad," added Donor.
"The negative impacts of coal are being felt by every consumer and much more by the communities living in the coal sites," said Teody Navea of Cebu City. "The resistance against coal is growing in many parts of the country. Aside from killing us with every breath we take, these coal plants are stealing money from our pockets in the disguise of our electricity bills," added Navea.
Meanwhile in Mindanao, electricity prices soared up as new five (5) coal plants were recently inaugurated. Said rise in electricity prices convinced majority of the residents of the island to shift to renewable energy.
Currently, electricity cost in some parts in Mindanao is 1 to 3 pesos higher than the price in Metro Manila amounting to almost P13/kWh in Ozamiz City and around P11/kWh in South Cotabato.
"If people in Mindanao are paying electricity prices as expensive as those who are Manila, whose minimum wages are way higher than ours, what kind of lives do they expect to experience by the workers and their families here," said Roldan Gonzales of GITIB Inc. "These workers have families – children in particular who have special needs. This reliance on coal does not only damage our health and our pockets, it also kills the future of our children," added Gonzales.
Gerry Arances, Executive Director of the Center for Energy, Ecology and Development urges the government to execute what is being told by the numbers and by the communities affected by the said impacts.
"All stars are aligned. The rate of disapproval of using coal as our source of energy is clearly equal to the intensity of the impacts and sufferings of the people. It is about time that we shift to clean, affordable and renewable energy that can aid people to live their lives better free of high prices and worsening health conditions," concluded Arances.
Aside from the main action in front of DENR Main Office, sites from Sual, Pangasinan, Sariaya, Quezon, Atimonan, Quezon, La Union, Cebu City, Tacloban, and Ozamis also joined the said nationally coordinated protest.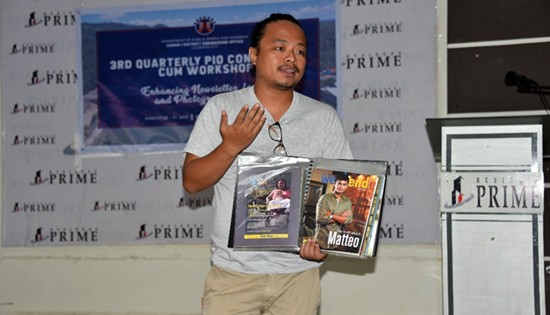 Mr. Alfred Bartolome, an experienced graphic artist and photographer shows sample of his work as a graphic artist and photographer during the workshop on Enhancing Newsletter Lay-out and Photography Skills of DPWH Public Information Officers held at Business Prime Events Center at Calbayog City on August 30-31, 2018.
DPWH public information officers enhance newsletter lay-out and photography skills
By DPWH-BDEO
September 5, 2018
NAVAL, Biliran – The Public Information Officers (IOs) of the Department of Public Works and Highways (DPWH) Region VIII continue to improve their knowledge and skills on their job under the Development Communication Program of DPWH.
Topics on Enhancing Newsletter Lay-out and Photography Skills were the focus of discussion during their workshop held at Business Prime Events Center at Calbayog City on August 30-31, 2018.
Hosted by Samar 1st District Engineering Office (DEO), Ms. Ma. Nenita Y. Gomez, PIO Designate of Samar 1st DEO said that the topics are very helpful considering that it is applicable on the day to day job of Public IOs.
"DPWH Public IOs have to admit that until today, we still lack the necessary skills and or expertise in lay-outing that is why we have this workshop," Gomez said.
Mr. Alfred Bartolome, an experienced graphic artist and photographer was invited during the workshop to impart his knowledge on the said topics.
According to Bartolome, newsletter lay-out are considered as a part of graphic design because it is a combination of image and letters. Bartolome briefly discussed on the history of design and its elements and imparts the basic techniques and principles of graphic design such as keeping it simple, embracing restrictions, avoiding trends, and focusing on results.
The speaker emphasized that a good designer follows the rules but a great designer breaks the rules. However, Ms. Gomez suggested that as an amateur in lay-outing newsletter she emphasized that it would be best to follow first or subscribe to the basic technique or principles of lay-outing and design.
"There is no hard and fast rule, because these rules will limit our movement but remember that we are not yet expert, we are still learning, so why not subscribe to the basic principles," said Ms. Gomez to co-Public IOs.
Newsletters is one of the requirements to Public IOs under the Development Communication Program to be submitted monthly to the DPWH Regional Office as part of the information dissemination campaign of the department.
Aside from the topic on enhancing newsletter lay-out, Mr. Bartolome also shared tips on how to be a good photographer. He shared that in taking photos three important things must be considered: the shutter, aperture and ISO of the camera. According to him, everyone can be a photographer rated either good, better, best or great if one invests time and resources to it.
Alvin A. Ignacio, District Engineer of DPWH Samar 1st DEO in his closing remarks said that the purpose of every seminar is enhancing one's capabilities including the knowledge, skills and everything.
"To enhance our capabilities, we need to give more, to serve more, and to think more quality into our work," the district engineer said.
P80-M Carayman-Naga-Cogon road rehab nears completion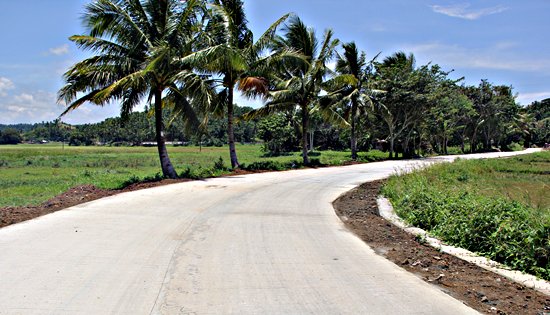 By MAE ANGELICA R. COMOTA
September 4, 2018
CALBAYOG CITY – The construction, rehabilitation, and improvement works, along the Carayman to Naga and Naga to Cogon road in Calbayog City, are at 87.67% and 65% actual physical accomplishment, respectively, as of this report.
Naga and Cogon are agricultural barangays mainly producing root crops such as cassava and sweet potato. These products are then transported to Carayman which lies adjacent to the National Highway and allows farmers access to Calbayog City's public market.
The two projects have a combined cost of P80 million sourced out from the General Appropriations Fund of 2018, both under contract with Victoria Development and Construction Supply.
The first project, costing P50 million, covers the rehabilitation and improvement of 4.5 kilometers of road connecting Brgy. Carayman and Brgy. Naga. The second project connecting, with an allocation of P30 million; includes the construction, rehabilitation, and improvement of 2.5 kilometers of concrete road between Brgy. Naga and Cogon.
These projects directly benefit the root crop farmers of the aforementioned barangays as it hastens travel time and allows for a speedier transport of agricultural products.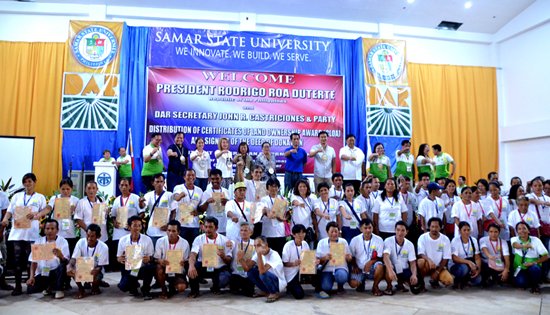 Agrarian reform secretary John Castriciones (back row, 5th from right) poses with recipients of certificates of land ownership award (CLOAs) from Catbalogan City.
1,233 Samar farmers receive CLOAs from DAR Secretary
By JOSE ALSMITH L. SORIA
September 4, 2018
CATBALOGAN CITY, Samar – Barely two weeks after his visit to Eastern Visayas, Agrarian Reform Secretary John Castriciones was back to distribute again certificates of land ownership award (CLOAs) this time in the province of Samar.
On Thursday, Castriciones distributed 1,439 CLOAs under the Comprehensive Agrarian Reform Program (CARP) at the Samar State University gymnasium in this city. The CLOAs covered 2,658.8 hectares of farmlands situated in 17 Samar municipalities and its two cities.
During the said occasion, Castriciones emphasized to the agrarian reform beneficiaries (ARBs) not to sell their awarded lands. According to him, "pag-ibinenta nyo ang lupa ay para nyo na ring ibinenta ang kinabukasan ng inyong mga anak".
Agrarian reform program provides land to the landless where they can get livelihood. This program of the government likewise liberates tenants from tyranny.
Castriciones also advised the ARBs to join ARB organizations (ARBOs) to be able to avail of the various support services extended by the Department of Agrarian Reform (DAR) and other government agencies under the Program Beneficiaries Development component (PBD) of CARP.
Former tenants from Paranas town Antonio Acosta Sr., 83, and his son, Antonio Jr., 38, were among the 1,233 ARBs who received CLOAs from Castriciones.
Antonio Sr. who worked as tenant for almost 60 years was awarded with 1.2 hectares of farmland, while his son was awarded with 0.8 hectare.
Both were thrilled to get hold of their respective CLOAs that would prove they are now the owners of the lands they till.
Antonio Jr. shared that they used to give two sacks of rice, 2 sacks of corn and P2,500 worth of copra to the previous landowner as rental.
Now, the earnings from the lands covered by the CLOAs will all be theirs.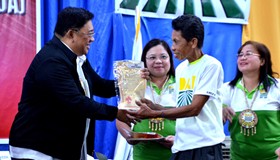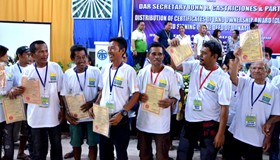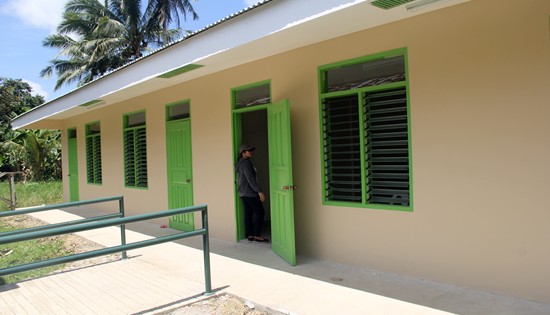 A recently completed one (1) storey two (2) classroom school building in Cagbilwang Primary School, Oquendo District, Calbayog City.
DPWH delivers 15 school buildings for DepEd Calbayog
By JASON DELOS ANGELES
September 4, 2018
CALBAYOG CITY – The Department of Public Works and Highways Samar First District Engineering Office completes 15 school building projects for the Department of Education, Division of Calbayog.
These one storey buildings range from 2 to 3 classrooms per building which are intended for primary schools all over Calbayog Division. Workshops are also included especially for sites welcoming senior high school students.
The 15 school building projects are as follows: construction of one (1) storey two (2) classroom school building for Calbayog City National High School - Carayman Campus, Calbayog Pilot Central School, Lonoy Elementary School, Amampacang Elementary School, Acedillo Elementary School, Oquendo Central Elementary School, Anislag Elementary School, Cagbilwang Primary School, Macatingog Integrated School, and Bagacay Elementary School; and construction of one (1) storey three (3) classroom for Carmen Elementary School, Sinidman Oriental Primary School, Nijaga Elementary School, and Malopalo Elementary School.
These projects have a combined appropriation of P45.4 million sourced out from the 2017 Basic Educational Facilities Fund from DepEd and is implemented by DPWH under its convergence program.
The construction of these school building projects come at an opportune time as it will allow schools to accommodate more students, providing them better and more conducive learning environment.