Samar I receives P5.4 billion allocations for 2018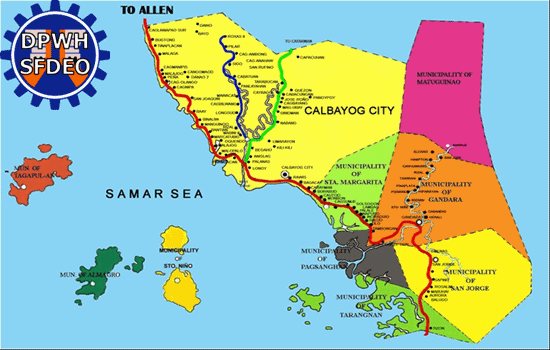 By MAE ANGELICA R. COMOTA
February 26, 2018
CALBAYOG CITY – The Department of Public Works and Highways Samar First District Engineering Office will implement 146 regular infrastructure projects worth P5.4 billion for 2018. This year's allocation is significantly higher to last year's 59 projects worth P2.8 billion.
The seventy-five (75) projects under Batch 1 and seventy-one (71) projects under Batch 2 will focus on the rehabilitation/ reconstruction of slips, slope collapse, and landslide along Daang Maharlika and Calbayog-Catarman Road, widening of major bridges, construction/ rehabilitation of flood control structures, construction of multi-purpose buildings as well as the construction/ rehabilitation of new and existing secondary roads within the District.
Among the district's big-ticket projects is the construction of the Calbayog Coastal Diversion Road costing P300 million which already started breaking ground last February 24, 2018.
"The increased budget also means that a higher responsibility is conferred to Samar I in maintaining project quality. The office will ensure that such quality is not compromised through close project monitoring and improved relations with our contractors," said District Engineer Alvin Ignacio.
PSA-EV conducts first ever CRVS jingle dance contest
By PSA-8
February 24, 2018
TACLOBAN CITY – The Philippine Statistics Authority - Regional Statistical Services Office 8 (PSA-RSSO 8) successfully conducted the first ever Civil Registration and Vital Statistics (CRVS) Jingle Dance Contest on 22 February 2018, at PSA-RSSO 8 Training Room.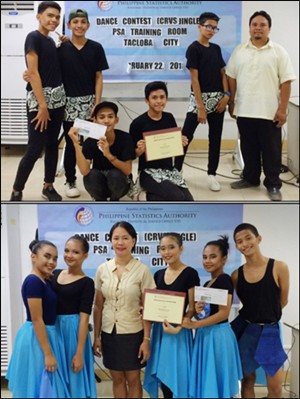 Contestants of the 2018 CRVS Jingle Dance Contest. Sagkahan National High School (above) and Leyte National High School (below).
Two (2) secondary schools from Tacloban City, Leyte National High School and Sagkahan National High School, showcased the dancing skills of their students to the tune of CRVS jingle and vied for the 2018 CRVS Jingle Dance Champ.
Sagkahan National High School emerged as winner after garnering an average score of 90.3 percent.
The CRVS Jingle Dance Contest was organized by PSA-RSSO 8 as part of the 2018 Civil Registration Month (CRM) celebration and the CRVS Decade 2015-2024. The contest aimed to encourage the youth to participate in the global advocacy of getting everyone registered and of promoting awareness on the importance of civil registration in the lives of every Filipino.
Ms. Zonia C. Salazar, OIC-SOCD of PSA-RSSO 8, Ms. Judith Joy D. Avila, Administrative Officer I of PSA-Leyte, and Ms. Matilde A. Dacullo, Administrative Officer IV of PSA-RSSO8, sat as board of judges. Criteria of the competition included, choreography (50%), execution (30%), costume (10%), and over-all impact (10%).
Winners were awarded with cash prizes, certificates, and PSA tokens. They will once again perform during the 2018 CRM Closing Ceremony.
The years 2015-2024 was declared as CRVS Decade pursuant to Proclamation 1106 issued on 20 August 2015 and signed by then President Benigno S. Aquino III.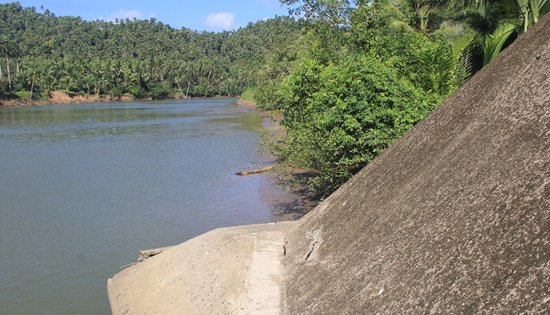 On this site, 586.00 lineal meters of flood mitigating structures will be constructed which will serve as an extension to the existing flood control in Oquendo, Calbayog City.
Samar I foresees flood-free district for 2018
By MAE ANGELICA R. COMOTA
February 23, 2018
CALBAYOG CITY – DPWH Samar I will soon construct twenty-one (21) flood control (FC) projects with a total appropriation of P520 million sourced out from the General Appropriations Act of 2018. Last year, the district office implemented ten (10) FC projects totaling P415.5 million.
Flood control structures are aimed to mitigate flooding caused by the fluctuation of water level in rivers and creeks. These projects are: Construction of Flood Control Structure along Jibatang River (Upstream and Downstream) in barangays Capacuhan, Mag-Ubay and Jose Roño; Construction/Extension of Oquendo Flood Control; Construction of Flood Control Structures in Brgy. Cautod; Construction of Flood Control Structure along Tagnao River (Upstream) in Brgy. Tagnao; Construction of Flood Control Structure along Gandara River in barangays Himay and Mancol; Construction of Flood Control Structure along Calbayog River in Brgy. Nijaga; Construction of Flood Control Structure in Brgy. Tinambacan Norte and Sur; Construction of Flood Control Structure along Binaliw River (Upstream) and Binaliw Creek in Brgy. Binaliw;
Rehabilitation/Improvement of Flood Control Structure along Caglanipao River in Brgy. Caglanipao Sur; Rehabilitation/Improvement of Flood Control Structure along Cagnipa River in Brgy. Cagnipa; Rehabilitation/Improvement of Flood Control Structure along Tangao River in Brgy. San Joaquin; Rehabilitation/Improvement of Flood Control Structure along Manguino-o Creek in Brgy. Manguino-o; Rehabilitation/Improvement of Flood Control Structure along Banti-an Creek in Brgy. Banti-an; and Rehabilitation/Improvement of Flood Control Structure along Gandara River (Upstream and Downstream) in Brgy. Ngoso, Gandara, Samar.
Plans and Programs of Work (POW) of the aforementioned projects have been approved, advertised and bid-out. According to the Secretariat of the Bids and Awards Committee, most of the notices of award and notices to proceed have been issued to contractors. All projects are expected to be completed within the year.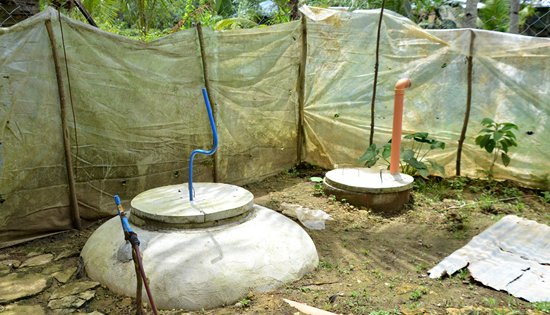 A closer look of the bio-gas digester.
Animal waste: An alternative fuel
By FEBE MARIE BERSABAL
February 23, 2018
TACLOBAN CITY – Three farming communities in Southern Leyte were relieved somehow from using expensive fuel in cooking.
This after the Department of Agrarian Reform (DAR) introduced to the residents of three remote villages in the City of Maasin and the towns of Hinunangan and Tomas Opus the Community-managed Potable Water and Sanitation Hygiene (CPWASH) project, a new approach in delivering water, energy, health and sanitation in the countyside by using available resources in the community.
CPWASH has four sub-projects – the rain water collector, the bio-sand filters, the iron removable filters and the bio-gas digester.
Under the last sub-project, no one in these villages ever thought that the wastes of their pigs can be transformed into an alternative fuel.
Virginia Dueñas, one of the recipients of the said project in Barangay Hantag, Maasin City, disclosed that they no longer use firewood or LPG (liquefied petroleum gas) in cooking after this project was introduced to them by DAR. According to her, they can now save around P700 a month for they no longer buy LPG.
Their income likewise has increased as they are forced to raise more pigs in order to gather sufficient organic wastes that would be turned into fuel.
CPWASH project coordinator Julius Monge explained that animal wastes are fed and collected in the bio-gas digester, that in turn, produce methane gas through anaerobic digestion.
Further, under the CPWASH project rural folks were also trained how to construct bio-sand filters and iron removable filters to make water from deep wells potable.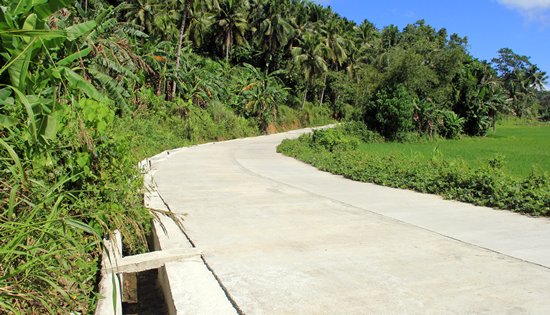 The farm to market road connecting Brgy. Panaruan and Brgy. Can-ipulan, Sta. Margarita, Samar.
P20 million FMR improves farmers' livelihood
By MAE ANGELICA R. COMOTA
February 23, 2018
CALBAYOG CITY – DPWH Samar I completes the construction of four (4) farm to market roads (FMR) within the district benefiting the farmers and residents situated in Barangays Cabunga-an and Sitio Mactang in Santo Niño; San Luis and Pange in Tarangnan; Santo Niño and Macugo in Gandara; and Can-ipulan and Panaruan in Santa Margarita.
These projects have a combined appropriation of P20 million and cover the concreting of 1.44 kilometers of road. In these communities where agriculture is the primary source of income, the concrete road provides the farmers direct access to neighboring barangays and their respective poblacions, establishing trade and income.
In Brgy. Panaruan, farmers had to endure walking on uneven and rocky ground while carrying heavy produce just to deliver it to Brgy. Can-ipulan and Brgy. Solsogon.
"We used to walk for more than an hour because even habal-habals and motorcycles would not ride through the bumpy old dirt road," explains Michael Catalan, a farmer from Brgy. Panaruan. "Now that this road is concreted, it is easier for us to transport our products using motorized tricycles."
Travel time and transport cost for agricultural products is reduced by 50%.
IFEX Philippines 2018 makes waves with exciting seafood edition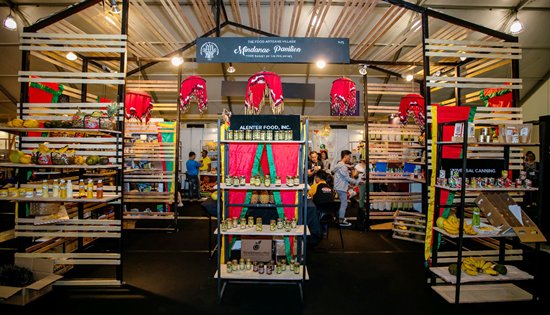 By DTI-TIPG-CITEM
February 23, 2018
PASAY CITY – Global buyers are up for an exciting showcase of the Philippines' premier seafood and other food segments in the International Food Exhibition (IFEX) Philippines, the country's biggest export-oriented food show, on May 25-27 at the World Trade Center Metro Manila, Pasay City.
Organized by the Department of Trade and Industry‐Center for Trade Expositions and Mission (DTI-CITEM), IFEX Philippines 2018 will stage its first special edition featuring "The Best of the Seas," focusing on the fast-growing seafood market in the Philippine regions and other Asian countries.
"Now an annual event, IFEX Philippines continues to be the largest and widely anticipated food trade event in the country," said Nora K. Terrado, DTI Undersecretary for Trade and Investments Promotion Group and CITEM Officer-in-Charge (OIC).
"For its 12th edition, we will highlight the Philippines' finest seafood to satisfy the growing global demand for marine product and coastal cuisines, along with other exquisite food products across the globe", added Terrado.
As one of the official business events during the country's hosting of ASEAN in 2017, last year's IFEX Philippines opened more trade opportunities and innovations around the world with the showcase of Philippines' best and overseas participation of the European Union (EU), China, South Korea, Brunei, Cambodia, Indonesia, Malaysia, Myanmar, Singapore, Thailand and other countries.
The three-day event was attended by nearly 11,000 international and local visitors, including 2,057 high-profile trade buyers from top global retail giants and supermarkets. These buyers came from different regions across the globe, such as Europe, China and SARs, Middle East, East Asia, America and Southeast Asia.
For its 12th edition, the IFEX Philippines will excite buyers with the country's top and emerging food export companies to promote Philippine food products and strengthen links with buyers, importers, and retailers in the global market. Meanwhile, the event will also put up an International Hall to host the top seafood and non‐marine products of leading companies and manufacturers from other participating countries.
Making a flavorful splash in its seafood edition, IFEX Philippines will also stage the Regional Seafood Pavilion, a regional showcase of world‐class seafood products and ingredients locally sourced from the coasts and diverse marine environments across the Philippine archipelago.
"We are tapping the country's most marine-abundant coastal regions from Luzon, Visayas and Mindanao. This is where we will bring key suppliers to make it easier for buyers to source in one pavilion the best fish and marine products, such as tuna, milkfish, prawns, tilapia, and other seafood from the Philippines," said Terrado.
The Coastal Culinary Cuisine will then complete the culinary journey in a dynamic presentation of the Philippines' most iconic and distinct regional seafood cuisines from top international and local experts to give an exquisite experience of the country's heirloom flavors and traditions.
The Marketplace is also open for a one‐stop retail experience of premium food products ranging from seafood products, fruits and vegetables, meat and poultry, processed foods, homemade regional delicacies, and many more.
For those in want of much more inspiration and adventure, visiting buyers and exhibiting companies can also attend export and investment seminars to get new ideas and updates on the latest regulations, trends, and innovations in the food industry from renowned experts, researchers, lecturers and members of the academe.
The 12th edition of IFEX Philippines is supported by the Department of Agriculture (DA) and the Bureau of Fisheries and Aquatic Resources (BFAR).
Interested companies/exhibitor may contact Ms. Alex Lucas at 831-2137, or send an inquiry at alucas@citem.com.ph.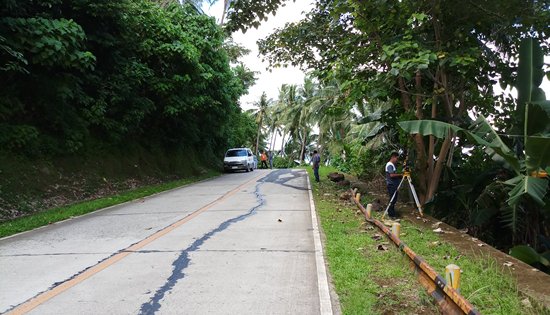 Survey team from the Planning and Design Section of Biliran District Engineering Office conducts survey of the site for the Construction of Slope Protection Project located at Brgy. Pinamihagan, Culaba, Biliran with an allocation of P 50,000,000.00. The section is prone to road slips and landslide posing danger to lives, properties and existing national structures, hence prioritization under FY 2018 DPWH Program. The completion of this project will provide a structure that will prevent road slips and landslides which will eventually prevent damage to the existing paved National Road.
P1.8B worth of infra projects allocated to DPWH-Biliran DEO for FY 2018 with additional projects
By CHELSEA QUIJANO-SALLOMAN
February 23, 2018
NAVAL, Biliran – The Department of Public Works and Highways (DPWH) Biliran District Engineering Office gets an additional budget for project implementation this year.
Biliran DEO has been allotted with a total budget of P1.8B worth of Infrastructure projects which comprises of 63 projects.
According to Engr. Rosario B. Rosete, Chief of Planning and Design Section, 61 of which are to be implemented by the District Office while two will be implemented by the Regional Office.
"Previously, we only had 57 projects, 52 are for Biliran DEO's implementation and five from the Regional Office with a budget amount of P1.584.224B [sic]. Out of the five Regional Office projects, three were requested by the District Office for authority to Bid and Implement amounting to P320.9M. It was just recently been approved by DPWH Secretary on January 29, 2018 including the P100M project funded under the Regionwide Congressmaen's Fund," revealed Rosete.
Rosete said that aside from the four projects added, the District Office will have another five additional projects for implementation amounting to P147.5M.
"The budget came from the Regionwide funds of Congressmen as per request by Biliran Province Local Government Officials," she said.
The additional projects are the construction of four seawalls, one multipurpose building, one baywalk and two slope protections.
As of February 15, 2018, Rosete said that 48 projects were already bid out, 2 are advertised and 11 are not yet started under pre-construction activities. Preliminary and Detailed Engineering (PDE) Activities are still on-going for these 11 projects.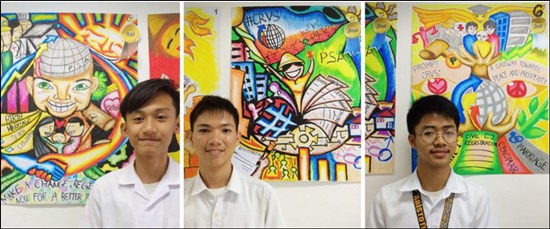 Winners of the 2018 CRM Poster Making Contest (L-R): Bradlee Vanz M. Porquez, 1st Place; John Patrick N. Casio, 2nd Place; and Michael Roy Eclipse, 3rd Place.
Boys dominate in the 2018 civil registration month poster making contest
By PSA-8
February 22, 2018
TACLOBAN CITY – Three boys bagged the highest awards in the 2018 Civil Registration Month (CRM) Poster Making Contest for secondary schools spearheaded by the Philippine Statistics Authority - Regional Statistical Services Office 8 (PSA-RSSO VIII) last 22 February 2018 at the PSA-RSSO VIII Training Room.
Among the nine (9) students from six (6) secondary schools in Tacloban City, Bradlee Vanz M. Porquez of Leyte National High School was awarded first place. Completing the top three winners were John Patrick N. Casio of Sagkahan National High School - second place and Michael Roy B. Eclipse of Leyte National High School - third place.
The poster making contest was one of the activities of PSA-RSSO VIII to celebrate the 2018 Civil Registration Month with the theme, "#napapanahongCRVS". This contest is conducted yearly to encourage the youth to participate in the global advocacy of getting everyone registered and of promoting awareness on the importance of civil registration in the lives of every Filipino.
Mr. Rodolfo R. Novillo, Jr., Statistical Analyst of PSA-Leyte,Mr. Venerando D. Lagrosa, Statistical Specialist II of PSA-RSSO 8, and Ms. Matilde A. Dacullo, Administrative Officer IV of PSA-RSSO8, sat as board of judges. Criteria of the competition included, creativity and concept (50%), originality and uniqueness (30%), and relevance to the theme (20%).
Winners were awarded with cash prizes, certificates, and PSA tokens.
The CRM is celebrated in February of every year pursuant to Proclamation 682 issued on 28 January 1991 and signed by then President Corazon C. Aquino.


Completed construction of Archives, Record Building inside Biliran District Engineering Office, Brgy. Calumpang, Naval, Biliran. The new facility has an allocation amount of P900,000 and funded under Biliran DEO's Engineering Administrative Overhead (EAO) of FY 2017.
DPWH-Biliran DEO's newly completed record archives, to help improve records keeping
Press Release
February 22, 2018
NAVAL, Biliran – The Department of Public Works and Highways (DPWH) Biliran District Engineering Office (DEO) has completed the construction of its Record Archives as one of the Quality Workplace Standards for effective implementation of ISO 9001:2015 Quality Management System.
Mr. Bern L. Calomadre, Chief of Administrative Section of Biliran DEO said that the building can accommodate more or less 3000 archival boxes for thousands of records from the different Sections of Biliran DEO for the last ten years.
"The Anglo-Japanese Americans (AJA) Registrars Inc. only requires us to keep files from the last two years however, there are some old files that are still retrievable like Department Orders that is why we still keep it" he said.
Calomadre also said that in order to keep the efficiency of record keeping, they have made a move to dispose documents which are not under litigation.
"Old files which does not have any issues/ problems were properly disposed with the permission from the National Archives and in coordination with the Commission on Audit (COA)," he said.
"With the new archives building, files will be easier to access in times of need. If our employees can find files faster, they can accomplish more work and deliver excellent services to our client," he added.
Biliran DEO was recently been certified with the International Organization for Standardization (ISO) 9001: 2015 last October, 2017. ISO 9001 is international standard that focuses its requirements for Quality Management System (QMS) including a strong customer focus, the motivation and implication of top management, the process approach and continual improvement.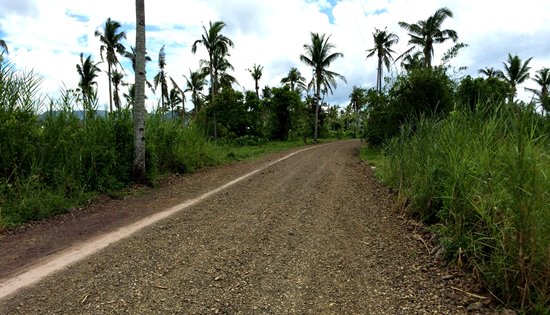 This P8.49M 3.55-kilometer all-weather road in Barangay Salvacion, Alangalang, Leyte was implemented under the second phase of the Agrarian Reform Communities Project (ARCP-II). (Photo by Engr. Ellen Dico)
The road to Salvacion and Langit
By JOHN COLASITO
February 21, 2018
TACLOBAN CITY – Nine months after the completed road project here was turned over, Alicia D. Josol, Barangay Captain of Barangay Salvacion in Alangalang, Leyte, remembers the time when the way going to her village was dangerous, as it was very slippery.
Accidents happened regularly. She even fell down one time from her ride on a motorcycle or "habal-habal," as it is commonly known in the area.
There was no decent road at all. It was an unpaved one, only a foot trail where pedestrians, animals and motorcycles could pass by.
The road was such in a terrible state that accidents are an accepted reality.
It was part of the price to pay when going to the village. It was also a reality that they would have to wade through waist-deep water every time it rains just so they could go to their place, Josol said.
Now, these are just memories of the past.
Josol thanked the Department of Agrarian Reform (DAR), the Asian Development Bank (ADB) that provided the funds under the second phase of the Agrarian Reform Communities Project, and the local government unit (LGU) of Alangalang.
Mayor Reynaldo Capon Sr. said that today, the road is made more comfortable.
People can already travel here and to the adjacent Barangay Langit using a bicycle, something that used to be unthinkable before, he added.
There are now more vehicles that ply this area. Motorcycle fare has gone down to P20 from the previous P80 to P100, Capon said.
The P8.49-million total project cost of the 3.55-kilometer road was shouldered by the LGU and a loan from the ADB by the national government.
Thus, Regional Director Sheila Enciso reminded the recipients during the turnover of the said road project to maintain it in good condition for 10 years. Otherwise, the LGU will have to pay the loan counterpart, equivalent to 40 percent of the total project cost.
Meanwhile, Leyte-Biliran Provincial Agrarian Reform Program Officer Renato Badilla advised the residents in the area to take this opportunity in improving their quality of life.
According to him, this project is aimed at increasing household income by improving farm production, thereby reducing poverty in the countryside.
TRAIN Law to worsen student fees hike
By National Union of Students of the Philippines
February 17, 2018
QUEZON CITY – The tax reform program by the Duterte administration will further drive increases in tuition and other school fees (TOSF) collected from students in private higher education institutions (HEIs).
"The annual burden of increases in TOSF in private HEIs will be aggravated by Duterte's tax reform which is now being cited to legitimize proposals to increase TOSF for the next academic year," said Raoul Manuel, Deputy Secretary General of National Union of Students of the Philippines, a nationwide alliance of student councils.
In Far Eastern University (FEU), the eighth largest private HEI in the country in terms of enrolment, the school administration used Republic Act 10963 or the Tax Reform for Acceleration and Inclusion (TRAIN) Law to justify the five-percent increase in semestral energy fee from P1,800 in AY 2017-2018 to P1,890 in AY 2018-2019.
From the hike in energy fee, FEU can earn an additional income of P3.4 million from its over 18,000-strong student population. In addition, the total miscellaneous fees charged from FEU students will rise to as much as P10,914 for AY 2018-2019, which will amount to around 400 million pesos in income for the school.
Energy fee, which is commonly collected from students both in state and private universities to cover the cost of consumption of electricity and other energy sources, is one of the many fees that school administrators want increased as they expect higher electricity bills due to the TRAIN Law.
Top regional schools set to increase fees
For NUSP, Duterte's tax reform law gives capitalist educators and private school owners more reason to justify their incessant fee increases to amass superprofits from their students. According to the reports they gathered, among the over 400 schools projected to apply for fee increases this February are those that take in the most number of students in their regions.
Saint Louis University in Baguio City, the country's second largest private HEI in terms of enrolment, has a student population of 32,725 as of 2017. This university will impose an eight-percent increase in tuition fees for the next academic year.
Located in Angeles City, Pampanga, Holy Angel University recorded an enrollment rate of 15,963 as of 2017, the highest in Central Luzon. Next academic year, this private Catholic university is set to raise tuition fees by six percent and all other fees by five percent.
In Northern Mindanao region, Capitol University stands as the private HEI with the fourth largest student population. This school will implement a five-percent across-the-board increase in tuition and other fees.
"Students and their families suffer from the rising cost of education and other daily necessities. Students will walk out of classes on February 23 to show their opposition to the TRAIN Law which will further drive Filipinos along the road to poverty and misery," said Manuel.
Eastern Visayas welcomes 2018 with 4.5% inflation rate
By PSA-8
February 13, 2018
TACLOBAN CITY – Eastern Visayas welcomed 2018 with a 4.5 percent Inflation Rate (IR). This January 2018 IR was 0.5 percentage point faster compared with its 4.0 percent IR a month ago and 1.7 percentage points faster than the recorded 2.8 percent IR in the same period last year. The regional inflation rate was 0.5 percentage point faster than the 4.0 percent national average.
Three provinces in the region – Northern Samar, Eastern Samar, and Biliran posted faster inflation rates in January 2018 compared with their figures in December 2017. On the other hand, Southern Leyte and Leyte registered decreases, while Samar had sustained its inflation rate from December 2017. Northern Samar registered the highest IR at 7.3 percent, while Southern Leyte posted the lowest IR at 1.5 percent (Table 1).
By major commodity groups, Transport, Food and Non-Alcoholic Beverages, Alcoholic Beverages and Tobacco, and Furnishings, Household Equipment and Routine Maintenance of the House exhibited higher annual growths from December 2017 to January 2018.
On the other hand, annual price changes in the Housing, Water, Electricity, Gas and Other Fuels, and Health slowed down from December 2017 to January 2018. The rest of the commodity groups retained their previous month's rates.
The Purchasing Power of Peso (PPP) of the region was recorded at P0.61 in January 2018. This is weaker compared with the P0.62 PPP registered in the previous month. This PPP implies that goods and services worth 100 pesos in January 2018 only costs 61 pesos in 2006.
Northern Samar, Biliran and Eastern Samar registered decreases in PPP compared with their figures in December 2017. The rest of the provinces had sustained its PPP. Biliran recorded the strongest PPP at P0.65, followed by Northern Samar and Leyte at P0.62 and P0.61, respectively. Eastern Samar, Samar, and Southern Leyte, meanwhile, posted the weakest PPP at P0.60 (Table 1).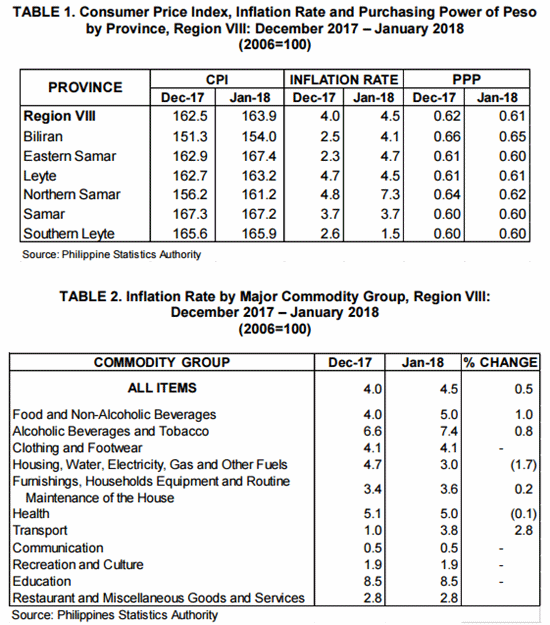 It's okay to fall in love with your boss, labor group says
By ALU-TUCP
February 13, 2018
QUEZON CITY – There is no government policy addressing workplace romance in the country but there is none that prevents an employee from falling in love with her/his boss either, claims the labor group Associated Labor Unions-Trade Union Congress of the Philippines (ALU-TUCP).
An employee falling in love with her/his boss is okay as long as it is exercised across-the-board, says labor group Associated Labor Unions-Trade Union Congress of the Philippines (ALU-TUCP) yesterday.
"Since there is no government policy governing workplace romance between co-employees or between a rank-and-file employee falling in love with her boss or vice versa for that matter, the matter of workplace romance issue is controlled by company's management prerogative. And some employers use or create such prerogative to lay off, demote, or transfer their employees," Tanjusay said.
That is why the ALU-TUCP is calling for the Department of Labor and Employment (DOLE) to step in and issue guidelines on inter- and intra-office workplace romance policy to prevent abusive employers from such oppressive management prerogatives.
"The law is vague and subject to many interpretations. Therefore, many employers tend to demote, transfer, or lay off their employee on the basis of having a relationship with their boss or with their co-employee – particularly those who are not unionized," he said.
"Though judicial jurisprudences had always been in favour of complainant workers, the DOLE regulation can help minimize employees and management from strained relations and physical, financial and emotional exasperation of going to the courts for those felt injustice," Tanjusay aid.
In its policy engagement with the DOLE, the ALU-TUCP, however, maintains that company policy should allow, not prevent, workplace romance, period. Workplace romance should not be the cause for dismissal, demotion, transfer, or diminution of wages and benefits.
"The management prerogative's policy on intra-office workplace romance should not be restrictive. While we respect such prerogative, the most extreme the policy can do is transfer an employee to another division or department," Tanjusay said.
The ALU-TUCP also maintains that workplace romance company policy only covers the couple's professional relationship from 8a.m. to 5p.m. office hour period.

(L-R) City Engr. Marlo Resulta, MPP Mario Balani, CCDHO Atty. Anthony Singzon, Cong. Edgar Mary Sarmiento, DE Alvin Ignacio, City Engr. Restituto Monsanto, RROW Coordinator Anthony Baltazar and Maintenance Chief Engr. Ramon Calagos.
Samar I intensifies road right-of-way acquisition
By APRIL FATIMA DIRA-VILLANUEVA
February 13, 2018
CALBAYOG CITY – A consultative stakeholders' meeting between Congressman Edgar Mary Sarmiento and representatives from Samar First District Engineering Office, City Engineering Office and Calbayog City Development Housing Office was conducted last January 25, 2018 at Rep. Sarmiento's District Office in Brgy. Payahan, Calbayog City. The main agenda for the said meeting was the strict implementation of the Right-of-Way (ROW) limit along National Roads.
During the meeting, District Engineer Alvin Ignacio informed everyone that SFDEO will implement a ROW patrol which will be directed to immediately remove or cause the removal of all obstructions and prohibited uses within the ROW of all national roads within the District and to prohibit the presence or occurrence of structures, objects and activities along our national roads as well as strictly disallow the building, erection, construction, planting and fabrication of any barricade.
Selected maintenance personnel will form the ROW patrol and will conduct routine roving activities in order to maintain the 10-meter ROW limit. If they encounter obstructions of any kind within said limit, its immediate removal shall be executed.
According to RROW Coordinator Anthony Baltazar, who presented the status of encroachers and RROW obstruction, "it was concluded then that pertinent laws, provisions and regulations has to be implemented in strict compliance in its enforcement with the help of PNP Calbayog."
Student union calls out CHED over free tuition funds
By NUSP
February 12, 2018
QUEZON CITY – A nationwide student union is calling to investigate the Commission on Higher Education (CHED) regarding the use of over eight billion pesos allotted to free tuition for calendar year 2017.
National Union of Students of the Philippines (NUSP), the broadest alliance of student councils in the country, expresses grave concern over the disbursement of the Higher Education Support Fund (HESF), which is supposed to cover the tuition of students enrolled in state universities and colleges (SUCs) for the first and second semesters of Academic Year 2017-2018.
"CHED should have already given each SUC its share of the free tuition funds. But up until now, CHED has not released any report as to how the funds have been disbursed," said Raoul Manuel, NUSP Deputy Secretary General.
Based on Joint Memorandum Circular 2017-01 released by CHED and the Department of Budget and Management, CHED must post on its official website the amount of HESF funds disbursed to each SUC within one month after the end of each enrollment period. However, no official documents pertaining to this have been released by the Commission to date.
Impact on student fees
For the NUSP, the delay in the release of funds has adversely affected students enrolled in SUCs. "We have gathered numerous reports from students who were compelled to pay tuition fees despite the existence of the free tuition policy. More stringent requirements were imposed on students so that many would be exempted from the policy and be forced to pay tuition," lamented Manuel.
"Others were not charged tuition but were compelled to pay higher miscellaneous fees in their schools. This is part of the measures taken by SUCs to secure their profits at the expense of the students," said Manuel.
He added that some schools like the University of the Philippines (UP) introduced new fees this academic year "to ensure their profits while CHED has not yet given them their share of the funds. In UP, students must pay hundreds to thousands of pesos simply for the use of classrooms, conference rooms or outdoor venues."
"Decades of implementation of government policies that commodity education, have pushed SUCs to become profit-oriented. Looking more deeply into the problem, it is not surprising that SUCs are doing this. Thanks to our commercialized educational system: it has become the instinct of schools to charge higher or new fees to keep their bank accounts filled to the brim." ended Manuel.
SANDUGO rejects and slams Pres. Duterte's P20,000 offer to kill NPA
By SANDUGO
February 11, 2018
QUEZON CITY – "Maaring naghihirap ang mga Lumad, pero hindi nila kultura ang maging bayaran, lalo't hindi ang pumatay!" Jerome Succor Aba, co-chairperson of Sandugo (Movement of Moro and Indigenous Peoples for Self-Determination) said today in response to President Rodrigo Duterte's offer to the Lumad of P20,000 for every NPA they kill.
"President Duterte's offer to recruit and train the Lumad to be members of the Civilian Auxiliary Forces Geographical Unit (CAFGU) and kill members of the NPA for money is the height of his desperation to eliminate the insurgency in Mindanao," Aba said. "This only means that his soldiers with all the new equipment, overflowing funds and the tacit support of the United States military, could not suppress of the intensifying civil war especially in Mindanao. Pres. Duterte has to resort to bribery to gain the support of the Lumad or forcebly recruit them to kill for him," Aba said.
"The Lumad survived centuries without much need of cash but by developing the land and resources in their ancestral territories. Their deep sense of community and identity impel them to protect themselves from outsiders who want to plunder their lands. By trying to divide and pit them against each other through military training and offer of money to kill is simply bastardization of their culture. Pres. Duterte reeks of the worst discrimination against the Lumad," Aba said.
"Many of the Lumad leaders, who were previously offered large sums of money to allow private corporations into their ancestral lands, were killed by CAFGUs or paramilitary groups after they refused the offer," Aba said. He cited the case of Datu Jimmy Liguyon who was killed in 2012 by paramilitary leader Alde Salusad. In 2016, Salusad led his group, the New Indigenous People's Army for Reform (NIPAR) that killed a pregnant woman and wounded five children in San Fernando, Bukidnon.
Aba also mentioned the infamous Lianga massacre on September 1, 2015 where Datu Juvello Sinzo, Lumad school director Emerito Samarca and Lumad leader Dionel Campos were murdered by the paramilitary group Magahat-Bagani led by Bobby Tejero and Loloy Tejero and elements of the 36th Infantry Battalion.
"The list goes on of the Lumad getting killed by their fellow Lumad who were trained, brainwashed and paid by the Philippine military and the government," Aba said. "President Duterte's offer to kill for money will further embolden the paramilitary groups, CAFGU and the Philippine military to kill anyone they label as NPA" Aba said.
"This is also the case of the Capion massacre," Aba said. On October 18, 2012, elements of the 27th Infantry Battalion and members of the CAFGU strafed the hut of the Capion family and killed the mother, Juvy who was pregnant and her two sons, Jordan, 13, and John Mark, 8. The father, Daguil Capion then led his community against the entry of mining in their ancestral lands. The AFP later announced it was a legitimate NPA-AFP encounter. The massacre exposed the Task Force KiTaCo (Kiblawan, Tampakan, Columbio) as a special unit created by the Philippine Army to protect SMI-Xstrata's mining interest in Tampakan, South Cotabato.
"The Lumad communities and their leaders do not need the money offered by Pres. Duterte but the respect of their right to their ancestral lands and resources that they can develop for the coming generations. Duterte can offer a bigger amount but the Lumad will always reject this and continue to defend their ancestral lands even if it takes to be labelled as NPAs and be killed by their own corrupted and trained to be mercenaries by the AFP and Pres. Duterte," Aba said. "This same corrupted line of thought and prejudice against the Lumad by the US puppet and fascist Pres. Duterte will only lead to further intensification of the legitimate resistance of the Lumad and the Filipino masses. His only way out of this social conflict is to pursue the peace talks and address the roots of the on-going armed conflict," Aba concluded.
Duterte creates task group to study P500 proposed subsidy as workers' lose P3,900 a month as daily wage buying power fell by 30% due to TRAIN inflation
By Associated Labor Unions
February 10, 2018
QUEZON CITY – President Rodrigo Duterte ordered the creation of a small task group that would set in motion the P500 monthly cash voucher government subsidy and concrete steps in bringing down electricity rates being proposed by the Associated Labor Unions-Trade Union Congress of the Philippines (ALU-TUCP) to help minimum-wage earners cope with the rising cost of living.
"During a dialogue with labor groups last Wednesday, the President ordered the creation of a small working group composed of four representatives from his cabinet and four representatives from the ALU-TUCP to discuss how to operationalize the subsidy and the proposed measures in bringing down the cost of power," said ALU-TUCP spokesperson Alan Tanjusay.
Duterte's order followed after the group discussed the matter in a dialogue with labor groups in Malacañang last Wednesday. The government's task group is made up of secretaries from the Department of Finance (DOF), Department of Energy (DOE), Department of Labor and Employment (DOLE) and the Department of Budget and Management (DBM). They are to meet with ALU-TUCP representatives on March 15, 2018.
The proposed subsidy came amid the country's highest daily minimum wage fell by 30% due to the inflation caused by the usual demand and supply hikes and by the implementation of Tax Reform Acceleration and Inclusion (TRAIN) excise taxes on fuel and sweetened beverages, the ALU-TUCP said.
In a monitoring being conducted by the group, as of February 10, 2018, the purchasing power of daily minimum wage of P512 in Metro Manila region fell to P360.31 a day – an remarkable erosion of P151.69 a day.
"In sum, workers' lose a total of P3,943.94 a month to inflation. With this amount, a family can buy additional food needed for them to stay healthy in our society and remain productive citizen in nation-building. But it looks like there is no immediate relief in sight coming from the Duterte government to extend government assistance to those who are immersed in poverty and no safety nets for those who are about to fall into poverty," said ALU-TUCP spokesman Alan Tanjusay.
The Bangko Sentral ng Pilipinas (BSP) noted the inflation rate nationwide at 4% in January 2018. The ALU-TUCP is proposing to President Rodrigo Duterte a P500 monthly cash voucher subsidy for an initial 4 million minimum wage earners to help them cope from rising cost of living and as safety net for them from falling into further poverty.
Students storm CHED to protest fee collection, hikes
By NUSP
February 9, 2018
QUEZON CITY – Youth and students led by the National Union of Students of the Philippines (NUSP) stormed Commission on Higher Education (CHED) on Friday to condemn the proposed increase in tuition and other school fees (TOSF) this year and the continuing collection of TOSF in State Universities and Colleges (SUCs).
"Due to this Commission's inutility, private Higher Education Institutions (HEIs) have freedom to increase TOSFI without any disapproval from the government, while SUCs still find ways to collect tuition and other school fees, despite having a Free Education law in place," NUSP Deputy Secretary-General Raoul Manuel said.
The Union exposed on Monday that around 400 schools will increase tuition and other school fees this year at an average rate of six to ten per cent.
"The increase in tuition and other school fees is indeed an added burden to students. We are talking about thousands of pesos in addition to the expensive cost of education in private schools," Manuel claimed.
'Maneuvers' in SUCs
NUSP also slammed the continuing tuition and other school fees collection in State Universities and Colleges.
According to the Union, several SUCs 'maneuver' RA 10931 or the Universal Access to Quality Higher Education Law to still collect fees from the students.
"In Polytechnic University of the Philippines (PUP), students were required to pay miscellaneous fees amounting to P1,500 to P6,000. Freshmen also paid the whole amount of tuition and other school fees," Manuel reported.
"In University of the Philippines (UP), some students were forced to opt-out of the free tuition policy. In the Manila campus of UP, freshies also paid tuition and other school fees," Manuel added.
NUSP also received complaints from Visayas State University where free tuition was implemented to cover all students on the first semester of Academic Year (AY) 2017-2018, but was withdrawn in the second semester and the school switched to limiting the beneficiaries of free tuition, similar to the discriminatory Socialized Tuition System of UP. Moreover, the school revised its grading scheme to automatically give a grade of 5.0 (failure) to students with INC (incomplete) standing.
"Under the deceptive law, students with failing grades will no longer be qualified for free education. This implies that the school can now collect tuition and other fees from them, regardless of the fact that some students fail their subjects because, in the first place, they work while studying to cope with the exorbitant school fees," said NUSP.
Education becoming a business
The student union likewise denounced the "profiteering" in private schools through tuition and other school fees increases.
"Private school owners lie through their teeth when they say that tuition hikes will lead to higher quality of education. Their historical financial data belie their own statements: fee hikes only result in higher profits for these capitalist-educators who see education as a good business venture," claimed Manuel.
According to the study conducted by the NUSP, among the schools with millions of revenues from tuition and other school fees last 2016, the University of the East (UE), Lyceum of the Philippines University (LPU), and Far Eastern University (FEU) topped the list with 600 million pesos each in gross revenue from tuition and other school fees.
"Duterte and his agencies should know what they are signing up for. The more expensive education gets, the bigger the protest actions will be outside their gates. They must brace up to face the students' rage if they continue being a protector of these capitalist-educators," ended Manuel.
NUSP called on to the students to join the National Walkout on February 23.
EVRAA 2018:

LEYTE'S PRIDE! Wrestling Team of #LeyteEVRAA2018 hauls 13 gold and 2 silver. Coaches: Ma'am Baby Salvacion Canamaque and Sir Jose Edgar Blones.
Leyte Wrestling Team hauls 13 gold, looks forward to Palaro
By FELIX ASIS
February 8, 2018
CALBAYOG CITY – Leyte Conquerors lived up to their stellar billing dominating the Wrestling Competitions with 13 gold medals of the 16 gold at stake and two silver medal in the Eastern Visayas Regional Athletic Association (EVRAA) Meet 2018 at the Rawis Covered Court, Feb. 6.
The win was four gold medals greater than the nine gold they have in last year's EVRAA to claim the championship in the event.
"The team will continue training for the Palaro as we want to surpass the six gold medals we got in Antique last year," said Jose Edgar Blones, coach of secondary girls.
Coached by Baby Salvacion Cañamaque, the secondary boys bagged 7 gold and 1 silver and the secondary girls capped six gold and 1 silver.
Gold medalists in the boys category were Joenil Lagarde, Crispin Cruzzel Caliguid, Diomel Hugo, Jesus Gabriel Raganit, Jonathan Berdida, Pedro Obias and Anthony Pangan.
"We are going to Vigan and hopefully we win gold also," said Lagarde.
In the girls division, the gold medalists were Zenith Gayas, Lovely Ann De la Cruz, Jane Erasmo, Veronica Ompod, Mariel Liwanag and Renalyn Claros.
The silver medalists were Joel Belecario and Marilyn Villaruel.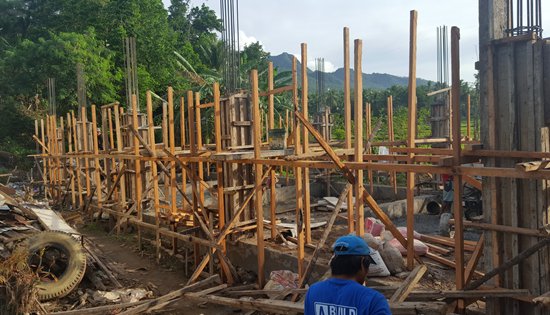 On-going construction of 1 storey, 2 classroom (toilet attached) at Balaquid Elementary School, Cabucgayan, Biliran. The project has a construction cost of P2.834.09M under contract with BNL Construction. As of January 31, 2018, it has an accomplishment of 10%.
DPWH-Biliran DEO starts implementing the next batches of school building projects
Press Release
February 7, 2018
NAVAL, Biliran – The Department of Public Works and Highways (DPWH) Biliran District Engineering Office implements 76 school building projects worth P367.6M funded under FY 2017 DepEd - Basic Educational Facilities Fund (BEFF) that is just released on the later part of FY 2017.
Engr. Salvador G. Regis, Chief of the Construction Section says that out of 76 projects, three of these have already started while 73 are Not-Yet-Started (NYS) because of the suspension of work activity due to the damaged caused by typhoon Urduja and other matters such as the perfection of contract.
Regis informs that that the on-going projects are the P2.8M Construction of 1 storey, 2 classroom (toilet attached) at Talibong Elementary School, Cabucgayan, Biliran; P2.8M Construction of 1 storey, 2 classroom (toilet attached) at Balaquid Elementary School, Cabucgayan, Biliran; and P4M Construction of 1 storey 3 classroom at Maurang Elementary School, Caibiran, Biliran, all under the supervision of Engr. Alberto V. Cañete, Project Engineer.
Engr. Cañete reveals that the said projects were started on December 5, 2017, however due to the onslaught of tropical storm Urduja on December 15-16, 2017, these projects were suspended.
"Work activity for these three projects were temporarily suspended after Urduja due to the difficulty in transporting the materials to the site. Construction will resume on February," says Cañete.
Based on Biliran DEO's physical status report, these three on-going projects have an overall actual physical accomplishment of 0.39%, hence still meets the target of only 0.19% as of January 31, 2017.
EVRAA 2018:
Callera, Labtic lead Billiard's squad in gold medal hunt
By FELIX ASIS
February 7, 2018
CALBAYOG CITY – Experienced players Jaymel Callera and Deanna Marie Labtic spearheaded Leyte's campaign in Billiard's 8-Balls competition at the Christ the King College on Monday.
The 17-year old Callera, who is a veteran in Billiards tournaments in the region, blanked James Howard Bertumen of Eastern Samar in his first match in the race-to-three elimination round in Bracket A.
Callera of Sta. Mesa NHS then outlasted Jade Las Piñas of Maasin City, 3-2 to advance into the quarterfinal round against the winner of the match between Jayvee Cayson of Tacloban City and Caesar Ian Valles of Catbalogan City.
"I want to have the gold medal for the cash incentive," exclaimed Callera in the interview along with his coach Melvin Calupaz of Cabacungan NHS.
In Bracket B, Rommel Damiles bested Francis Copada of Tacloban City after taking a bye in the first round. Damiles, who came from Puerto Bello NHS, will next face Mark Neil Rey Salas of Biliran.
In the distaff side, Palaro veteran Labtic, who came from San Isidro NHS, defeated Jonalyn Surio of Northern Samar to arrange a duel with Angel Yanga of Samar in the quarterfinals.
Labtic's teammate Beatemae Kate Ibarra also advance to the next round with a win over Christine Yero of Southern Leyte.
Hong Kong experienced haute couture on the ocean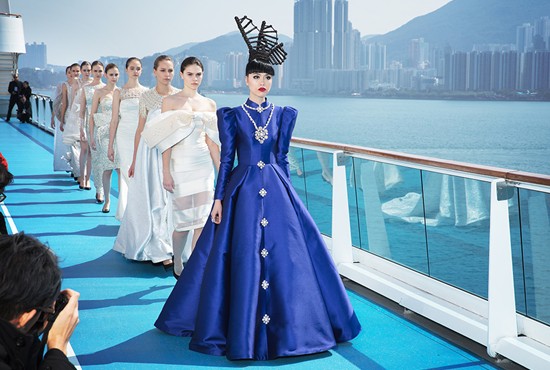 Jessica Minh Anh rose to fame after phenomenally turning England's iconic London's Tower Bridge, French pride the Eiffel Tower, and America's new symbol of hope and freedom One World Trade Center into a catwalk.
Jessica Minh Anh transformed Costa neoRomantica's sundeck into the world's newest runway
Press Release
February 7, 2018
PARIS – At 12:30pm yesterday, supermodel Jessica Minh Anh officially added Hong Kong into her famous catwalk series at the world's most iconic venues. Featuring the city's picturesque skyline, J Winter Fashion Show 2018 premiered 6 haute couture and pret-a-couture collections from Europe, Asia, South America, and America on the sky-high sundeck of Costa neoRomantica cruise ship. More than perfectly marrying fashion with the old and new Hong Kong, Jessica successfully celebrated the rise of a new generation of female creators.
Against the cinematic backdrop, Jessica Minh Anh appeared as a vision in an impressive royal red dress with gold embroidered geometric symbols. Reflecting sunlight in her every move, her elegance was dramatized by flowy chiffon and silk. Jessica's iconic look was complimented by a unique hair structure resembling a multiple-sail boat. Following the exotic beauty was a stunning model line-up, all dressed in Ani Alvarez Calderon's latest designs. The Peruvian artist used decorative border, multi-coloured cords, fringes made of textiles, and velvet ribbons to emulate Inca Empire and the spiritual world.
Pakistani representative Syeda Amera returned to Jessica Minh Anh's catwalk with structured jackets, flared pants, and fridge beaded dresses. Her expressive collection mixed gold embellishments with Swarovski crystals and ruby jewels against a deep colour palette of sunset red, forest green, and royal blue.
Adding femininity to the grand showcase, American designer Mimi Tran introduced a ravishing haute couture collection that mirrored endless variations of modern beauty. From immaculate detailing, texture, and luminosity, to dimensional patterns with depth, the designs portray majesty and complexity of an independent woman. Staying true to the brand's aesthetic, Mimi featured artisanal hand beading and utilize the colour palette to full effervescent effect.
A master at portraying the perfect silhouette, Patricia Nascimento's new collection was a mix of sensuality and boldness. Distinctive cuts, strategic transparency, and embellished crystals on fine fabrics defined her signature looks. After describing Jessica Minh Anh as "a visionary who can change the world" on the historic Hoover Dam catwalk, the Brazilian talent has certainly inserted another level of refinement onto her powerful and exceptional designs. The multi-colour mermaid collection exuded individuality and richness.
Next, Monaco-based label Nordic Angels presented a classic and timeless collection with clean cuts, avant-garde silhouettes, and contemporary patterns that would prevail through generations. Attaining an impeccable fit, the designs included red roses embroiled on transparent fabrics, structured dresses and suits with deep necklines, and a red-carpet touch.
Closing the show with ultimate glamour, Indonesian powerhouse XIAOFEN COUTURE created a fairy-tale moment with mostly soft colours, fine materials, big bows, and trained dresses. Advanced craftsmanship and great attention to details were seen in elaborate gowns, which were structured yet artistically dreamy. Saving the best for last, the finale blue-violet dress, which embodied Jessica Minh Anh's beauty and sophistication, is a quintessential example of advanced beadwork, original patterns, and intricacy. Symbolizing an East-meet-West enchanting presence, the supermodel ended the show with unattainable desire and supremacy.
The high-profile J Winter Fashion Show 2018 welcomed guests on board of the luxurious Costa neoRomantica cruise ship with a red-carpet entrance and a VIP after-party with Italian delicacy and live music. Hong Kong's finest Make Up For Ever, Daz Salon, Buccellati, Nirav Modi, Cristina Sabatini, Grand Hyatt Hong Kong, Pure Group, Ovolo Group, HK Branding, Camlux Hotel, Expo King, GOGOVAN, Roytal Tailor, and EAST Hong Kong were among the show supporters.
With an incredible track record of 3 iconic catwalks per year in 3 continents, Jessica Minh Anh redefined the unstoppable energy and creativity of a new generation of leaders. In her own words, Jessica described her motivation and hard work as "the air I breath, the only road I see, my way of life". With her history-making achievements at national symbols from the Eiffel Tower, London's Tower Bridge to Hoover Dam and Gemasolar plant, it's no doubt Jessica is an asset not only to the fashion industry, but many others. As she continues to expand her multi-faceted career and meet with country ambassadors, ministers, and CEOs of multinational corporation, one may wonder where she will head to next?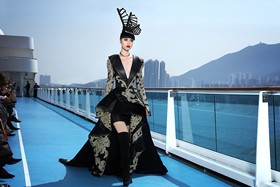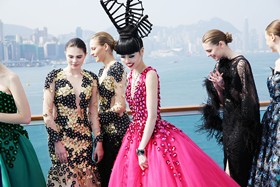 Karapatan hits House approval of bill restricting public assembly
Press Release
February 7, 2018
QUEZON CITY – The House of Representatives, voting 212-55, approved House Bill No. 6834 on its third and final reading yesterday, February 6, 2018. The said bill is set to replace the Batas Pambansa (BP) 880 or the Public Assembly Act of 1985.
Under HB 6834, in lieu of securing a permit, rally organizers would need to serve a notice to the mayor, three working days before the protest. The bill will impose graver penalties of 6 months to 6 years imprisonment for rallies without notice, or those held outside the notice's coverage.
"A permit or a notice should is not a prerequisite for the Filipino people to exercise their right to peaceably assemble. That is a basic right enshrined in the Philippine Constitution and international human rights instruments. It should take precedence over insidious attempts by a Duterte-controlled Congress to pass another repressive legislation that will further curtail people's rights," said Palabay.
Karapatan mentioned that it is explicitly stated in the Bill of Rights section of the Constitution that "no law shall be passed abridging the freedom of speech, of expression, or of the press, or of the right of the people peaceably to assemble and petition the government for redress of grievances."
"The use of BP 880 to file trumped-up charges against leaders have been tirelessly used by the police as basis for illegal arrests. No doubt that HB 6834 will be used to the same end," Palabay noted.
The Karapatan secretary-general cited the cases filed against Karapatan's own paralegal staff, Neil Legaspi, Bayan secretary general Renato Reyes and spokesperson Teddy Casino, and several other leaders of progressive groups who took to the streets on November 2017 during the visit of US President Donald Trump in the country. "The Duterte regime has caused and enabled systemic injustices that merits the people's indignation and protest. Yet here it is, working ways to further cripple measures for individuals and organizations to demand accountability," she added.
"HB 6834 was passed yesterday, along with the Supreme Court's decision affirming the constitutionality of martial law extension in Mindanao. Duterte is relentless in bombarding us with repressive policies, expecting other draconian measures to pass discreetly. We thus call for vigilance. If all this is indicative of something, it is that the Duterte administration holds the legislative and the judiciary by its neck, and is completing the recipe for a full-blown dictatorship," concluded Palabay.

8ID chief MGen. Raul M. Farnacio AFP, hand-over the unit symbol to LtCol. Hilarion G. Palma INF (GSC) PA, during the activation of the 93rd Infantry (Bantay Kapayapaan) Battalion, Philippine Army at 8th Battalion Retraining Facilities (8BRF) at Camp Eugenio Daza, Brgy Fatima, Hinabangan, Samar on February 5, 2018.
8ID activates new battalion to defeat CPP-NPA terrorists in Eastern Visayas
By DPAO, 8ID PA
February 6, 2018
CAMP LUKBAN, Catbalogan City – The 8th Infantry (Stormtroopers) Division, Philippine Army activated the 93rd Infantry (Bantay Kapayapaan) Battalion with Maj. Gen. Raul M. Farnacio AFP, Commander, 8ID as the keynote speaker at 8th Battalion Retraining Facilities (8BRF), Camp Eugenio Daza, Barangay Fatima, Hinabangan, Samar on February 5, 2018 at 10 o' clock in the morning.
The activation of this unit is purposely to prevent the spill-over of hostilities in the aftermath of Marawi crisis, destroy the CPP-NPA Terrorists (CNTs) the soonest possible time and assist the government agencies in addressing illegal drugs and Private Armed Groups (PAGs).
"Bantay Kapayapaan" Battalion is headed by Lt. Col. Hilarion G. Palma composed of brave and proficient Officers and Enlisted Personnel that will augment the Infantry units in Eastern Visayas.
In his message, Maj. Gen. Farnacio said, "I have every ounce of my confidence and high expectation of your capability as a unit to accomplish your mission. For one, most of you are seasoned officers and soldiers who have already accumulated trainings, experience and operational backgrounds of fighting our enemy in this rugged terrain of Samar and Leyte."
"Like any other battalion, I know that you would form your own culture and identity as a unit. I challenge you therefore to go beyond the brand, and instead strive to create the prestige of a unit that is known for its performance excellence, empowerment, commitment and accomplishments," Farnacio added.
Foundation for Media Alternatives issues briefing paper on SIM card registration
Press Release
February 6, 2018
QUEZON CITY – With efforts to establish a mandatory SIM card registration gaining steam in Congress, the Foundation for Media Alternatives (FMA) released a briefing paper on the subject this Monday, February 5, 2018.

FMA is a civil society organization whose aim is to assist civil society organizations and other development stakeholders in promoting and defending their right to information and communication.
In its brief, the organization presented an overview of the benefits and risks that come with a SIM card registration system, as evidenced by the actual experiences of other countries. It noted that the rationale behind most SIM card registration policies is their supposed ability to deter crime and terrorism, while at the same time increasing public access to mobile-based government services. Something that is inconsistent with the experiences of many jurisdictions that have such a system. In a number of instances, its weakness in curbing terrorism has been exposed due to the ability of criminals to circumvent regulation. It even caused the emergence of black markets where stolen or counterfeit SIM cards are sold, as well as an increase in handset theft incidents, as demand for untraceable phones spiked.
In the recent past, concerns about its effectiveness have already been raised by local stakeholders such as the Department of Information and Communications Technology and the telecommunications industry. Even the Office of the President of the previous administration had occasion to express its doubts about the measure.
The briefing paper highlights other issues surrounding the controversial measure, not least of which is its potential use for surveillance against those belonging to at-risk groups or sectors such as journalists, whistleblowers, witnesses, and victims of discrimination and oppression. Ultimately, it argues, an environment where intrusions to privacy become institutionalized and prevalent, inevitably poses a significant risk to other fundamental rights and freedoms, such as free speech, freedom of assembly, and right to information, just to name a few.
In conclusion, FMA declares that the promise of SIM card registration to help law enforcement and improve the delivery of government services has already been revealed as illusory, or at least significantly inflated. The group then enjoins the government to consider all things – particularly the dangers posed by the proposal – before rushing to pass a policy that can do more harm than good. For the public, they need to remain vigilant and resist any or all measures that attempt to narrow individual space for privacy and other related rights and freedoms.
New DPWH Samar I office building near completion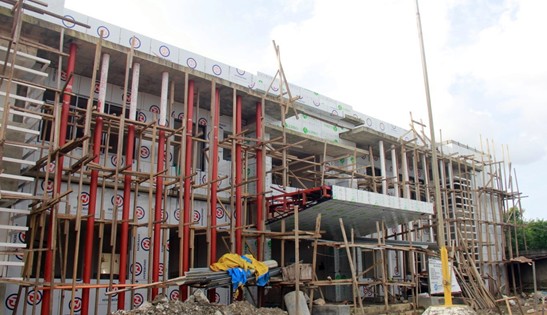 By JASON DELOS ANGELES
February 6, 2018
CALBAYOG CITY – DWPH Samar First Engineering District Office fast tracks the ongoing construction of a (2) two storey DPWH Engineering Office Building, located at Brgy. San Policarpo, Calbayog City inside SFDEO compound.
This project is implemented by SFDEO and is under contract with ADB Dynamic Builders and Supply JV NORSAM Builders and Construction Supply with a total appropriation of P30 million sourced out from the GAA Fund.
It is in accordance with Department Order No. 81, series of 2012 which provides guidelines for a new uniform design that will easily identify DPWH buildings. The plan maximizes the use of the lot area providing ample parking spaces for both employees and visitors as well as meeting the necessary office space requirements.
"The new building is in line with the district's policy to continuously improve the delivery of our services. Through the new design, we are able to achieve complete organization, cleanliness and standardization which will relate to the improved productivity of our employees, thus resulting to a higher quality of work which will greatly benefit our stakeholders," said Assistant District Engineer Denis Cagomoc.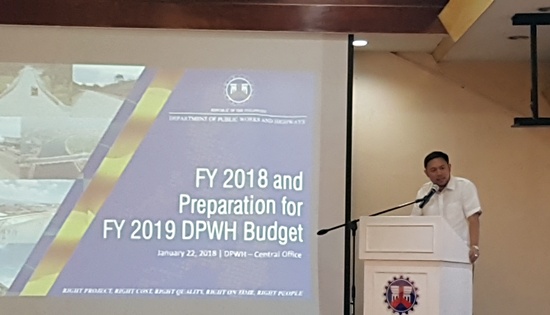 Sec. Mark Villar delivering his message during the instructional meeting held last January 22, 2018 at the DPWH Central Office in Manila.
DPWH Samar I to uphold integrity in 2018 project implementation
By MAE ANGELICA R. COMOTA
February 5, 2018
CALBAYOG CITY – On Monday, January 22, 2018, sixteen Regional Directors (RDs) and 183 District Engineers (DEs) from all over the country attended an instructional meeting regarding the FY 2018 and Proposed FY 2019 DPWH Budget conducted at the DPWH Central Office in Manila. Among them was Samar First District Engineer (DE) Alvin Ignacio.
Before the meeting proper, DPWH Secretary Mark Villar delivered his message by expressing his support to the RDs and DEs, "Huwag kayong matakot gumawa ng tama, susuportahan ko kayo. I'm aware of the pressures you are facing but in the end, it is our duty to protect the budget. I will make sure that under my watch, we will not sink but shine."
The instructional meeting mainly focused on the general and special provisions of the FY 2018 General Appropriations Act (GAA) as well as its modification and augmentation which was discussed thoroughly by DPWH Undersecretary for Planning and PPP Maria Catalina Cabral. Additionally, Usec. Cabral mentioned that 2018 will serve as a transition period because there will be a shift to annual, cash-based appropriation for the FY 2019 budget compared to the obligation-based approach used in the previous years.
Meanwhile, Project Monitoring Division Chief, Melrose Pailma, encouraged those in attendance to religiously update the projects in the Project and Contract Management Application (PCMA) which is a system used as a tool for inspection by reflecting the accomplishment of infra projects real-time in compliance with DPWH's transparency efforts.
DE Ignacio restated all of the important points made during the instructional meeting during the regular staff conference with Samar First's key officials and project engineers. He gave out instructions to use the lessons learned in 2017 as basis in the implementation of projects for 2018. He concluded the meeting by reiterating Sec. Villar's words of protecting the budget, "due to the increased budget for this year, the office [Samar First] shall put in place the necessary measures to speed up payment to contractors, reflecting an increased accomplishment rate while still upholding integrity in our project implementation so that the quality of our projects will not be compromised."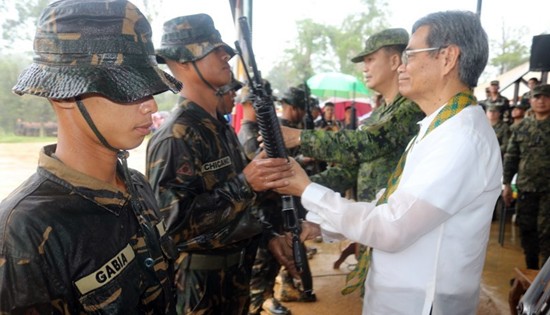 NEDA-8 regional director Bonifacio Uy hands over the M16 Rifle during the Ceremonial Entrustment of Firearms to the newly enlisted privates on February 3, 2018.
128 newly enlisted privates take their oath to serve Eastern Visayas
By DPAO, 8ID PA
February 3, 2018
CAMP LUKBAN, Catbalogan City – One hundred twenty eight (128) new breed of soldiers were enlisted into the ranks of the Army's 8th Infantry (Stormtroopers) Division during the Closing Ceremony of Philippine Army Candidate Soldier Course Class 488-2017 held at the 8ID Jungle Base, Camp Eugenio Daza, Barangay Fatima, Hinabangan, Samar at 10 am on February 3, 2018.
The closing ceremony was graced by Atty. Bonifacio G. Uy, Regional Director, National Economic Development Authority (NEDA) Regional Office VIII as the Guest of Honor and Speaker who further led the ceremonial entrustment of firearms, distribution of certificates and awarding of individual achievements. The entrustment of firearms to the new enlisted privates symbolizes their responsibilities and commitment to the people and the country.
In his message, Atty. Uy said, "To our new breed of soldiers, your journey has just begun. Always uphold the virtues of the army. Serve this nation and this region to the best of your ability. Remember that your fight in the battlefield is also a fight against the social ills in our society. Take courage to do what is right and just. Remain true to your Panata na Itaguyod at ipagsanggalang ang Saligang Batas ng Pilipinas. Nasa kamay niyo po ang katuparan na makamit ang isang mapayapa, panatag at progresibong Eastern Visayas at Pilipinas."
Major General Raul M. Farnacio, Commander, 8ID lauded the Division Training School personnel who were responsible for the training of these new soldiers, who will be later distributed to different line units of 8ID in Eastern Visayas.
The newly enlisted privates will boost the troops of 8ID that will go after the CPP-NPA Terrorists in the region and help establish an environment conducive for peace and development.
Groups challenge Duterte's sincerity in vow to make free tertiary education accessible to Lumad youth
By Samahan Ng Progresibong Kabataan
February 3, 2018
QUEZON CITY – Youth activists reacted to statements of President Rodrigo Duterte on Thursday to lumad parents of not needing to worry about sending their children to college now that free education will be provided under his administration's Republic Act 10931 or the Universal Access to Tertiary Quality Education Act.
In an emailed statement, the Samahan ng Progresibong Kabataan (Spark) together with KAISA UP claimed that the President "was merely weaving lies and giving false hopes to parents in order to douse the growing social discontent and frustration towards his administration which promised and deliberately failed to deliver lasting social change".
Under RA 10931, which is expected to be implemented by the upcoming academic year, tuition and other school fees in state and local universities and colleges (SUCs and LUCs) are to be subsidized by State for qualified students. There is also a Tertiary Education Subsidy (TES) to augment the other costs of tertiary education.
"Far from what state officials have been peddling, there is a huge disparity between the supposed intention of the law and its actual contents".
Spark's spokesperson, Jade Lyndon Mata said that under the law, "free education remains to be not free, inaccessible, and mentions nothing on the quality of education, totally unreflective of the law's title".
"The mere existence of the Student Loan Program (SLP) in the law attests that tertiary education remains to be not free, even profiting from students with long-term loans to be collected by the government through SSS and GSIS contributions," Mata added.
"These loans and the voucher system only reinforces the existence of private higher education institutions (HEIs) and ensure their profit while having no aim to further capacitate public learning institutions," he added. "Duterte even that Lumad youth can obtain free education in schools like Ateneo, La Salle and San Beda".
Student leader and chairperson of KAISA UP Shara Landicho also pointed out that a big percentage of students from poor families will be unable to access the perceived gains of the law.
She said that "given the current situation of the entire education system, those who came from private or science high schools are the ones most likely to be awarded free education. This scheme will not allow the students from poor families who need it most to avail of free tuition".
"Another glaring flaw of the law is the absence of an automatic appropriation provision to fund the law annually, it leaves its implementation unstable and questionable, similar to the Reproductive Health law. This inadequacy is a major and glaring flaw if it genuinely seeks to provide universal access to those who wish to pursue tertiary education," she asserted.
The groups concluded that without major amendments to the Free Education Law, Duterte's statement to the lumad parents "remains to be empty words meant to simulate his administration is reform-oriented and sincere.
"Come enrollment time, many will be staggered that they shall not be able to access the much-vaunted Free Education of Duterte".
They likewise called on all students to unite and challenge the veracity of Duterte's sincerity in providing "free tertiary education for all".
Rights groups mount dance protest vs. Cha-Cha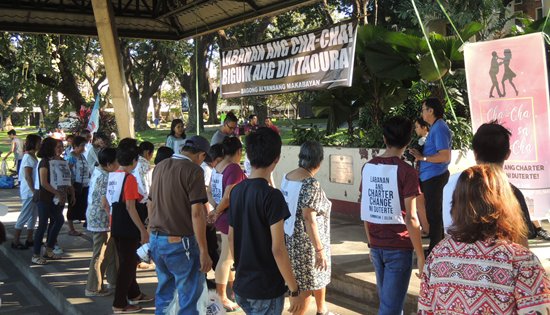 By KARAPATAN
February 3, 2018
QUEZON CITY – Karapatan and SELDA held a dance protest against charter change on February 3, 2018 at the Grandstand, Sunken Garden, UP Diliman, Quezon City. The event, dubbed Cha-cha laban sa Cha-cha, was attended by human rights advocates, martial law veterans, members of progressive organizations, and individuals who have expressed their opposition to Duterte's charter change.
"If the Duterte regime is inching the country closer to a full-fledged dictatorship to the tune of Cha-cha, the people will unhesitatingly dance to the tune of resistance," said Karapatan secretary general Cristina Palabay.
Karapatan explained that the current proposals in Congress which aim to change the constitution pose as dangers to the people's hard-won rights.
Palabay also noted that "these self-serving schemes will be the Duterte government's instrument to install a dictatorship, appropriate favors to his cohorts, and sell the country's sovereignty to imperialist powers by removing economic protections – all at the expense of the people's welfare."
The groups reiterated that several efforts to change the constitution have failed in the past because of resounding protests from the people. In past administrations, proponents of charter change have consistently peddled its passage, primarily targeting the removal of provisions in the current constitution which aim to protect the country's economy. "Now, a more treacherous version has seeped into the heads of power-hungry and greedy politicians, and it has found a perfect mascot in the form of a wanna-be tyrant," added Palabay.
"To frustrate such ambitious and self-serving efforts, we urge organizations and individuals to undertake different forms of actions to protest this anti-people charter change," concluded Palabay.
DE Adongay supports NIA's project implementations and speedy recovery of damaged irrigations caused by typhoons Urduja and Agaton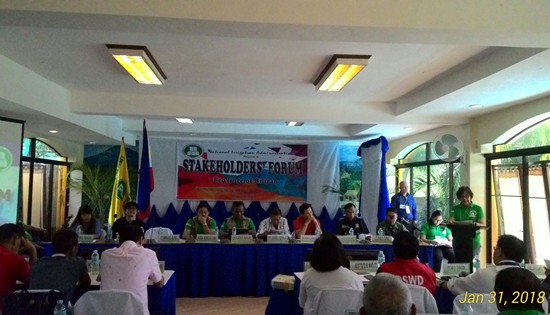 By CHELSEA QUIJANO-SALLOMAN
February 2, 2018
NAVAL, Biliran – In pursuit of the National Irrigation Agency's (NIA's) commitment to provide an efficient, effective and sustainable irrigation services in support of the farmer's livelihood and the government's program for food self-sufficiency and inclusive economic growth, the NIA Leyte Irrigation Management Office - Region 8 conducts a stakeholders forum on January 31 at Marvin's Seaside Inn, Brgy. Atipolo, Naval, Biliran.
Engr. David P. Adongay Jr., District Engineer of the Department of Public Works and Highways (DPWH) Biliran District Engineering Office participates the said forum on behalf of Engr. Edgar B. Tabacon, DPWH 8 Regional Director.
Engr. Fermina B. Aling, Acting Regional Manager, NIA 8 says that the rationale of the stakeholders' forum is to establish a covenant in support of faster and better implementation of irrigation projects and sustainable and reliable irrigation service and to solicit the assistance of the stakeholders for the immediate restoration of the communal irrigation systems and the speedy recovery of irrigation communities devastated by typhoons Urduja and Agaton.
During the forum, Engr. Estelita S. Sumile, Manager, Engineering and Operations Division shares the status of irrigation development of CY 2017 projects and the proposed CY 2018 projects of the region while Engr. Alejandro C. Culibar,D.M., Acting Division Manager, Biliran-Leyte del Norte- Leyte del Sur IMO tackles the province's status of irrigation development of CY 2017 projects and the proposed CY 2018 projects.
Engr. Conrado M. Samson, OIC, Operations and Maintenance Section also gives updates on the damages of typhoons Urduja and Agaton particularly on irrigation damages.
Adongay says that on the part of the rehabilitation assistance, DPWH is willing to provide equipment to be used for the immediate restoration of the communal irrigation systems and for the speedy recovery of irrigation communities devastated by the said typhoons.
He clarifies that the equipment should be requested from the Regional Director through the District Office to determine if the equipment to be borrowed is not currently used by the office because at present, Biliran DEO is prioritizing the restoration of all the damaged infrastructure facilities on the national roads and highways facilities and its national bridges.
"Be ensured that they can immediately avail the equipment in case the Regional Director will approve their request and whenever the equipment is available," says Adongay.
Adongay also says that the district office will support the implementation of NIA's projects particularly on the implementation of their drainage canals considering that most of the DPWH projects at present are road widening improvement so some of the canals constructed by the NIA will be affected during the road widening project.
"We are requesting NIA that before the start of their project implementation, they should coordinate with our office because if it crosses the national highway, we will be requesting from the Regional Office that we need to cut our national highways in order for the irrigation project to pass through the national highway," says Adongay.
The Stakeholder's forum ends with the signing of the covenant from stakeholders in irrigation development coming from NIA's Office, Bishop of the Diocese of Naval, the Representative of the Lone District of Biliran, the Provincial Governor, the Municipal Mayors and the Municipal Agriculturists of the Province of Biliran, the Regional Directors in Region 8 and the Provincial Heads in the said province of the various government instrumentalities and agencies like the Philippine Army (PA), the Philippine National Police (PNP), the Department of Agriculture (DA), the Department of Natural Resources (DENR), the Department of Health (DOH), the Department of Education (DepEd), and the Philippine Information Agency (PIA), the Chairman of the Kapisanan ng mga Broadcasters ng Pilipinas (KBP), Chiefs/ Representatives of selected non-government organizations (NGOs) and the Presidents of the IAs in the province.
DTI distributes livelihood packages, extends 0%-interest microfinance loans to Marawi IDPs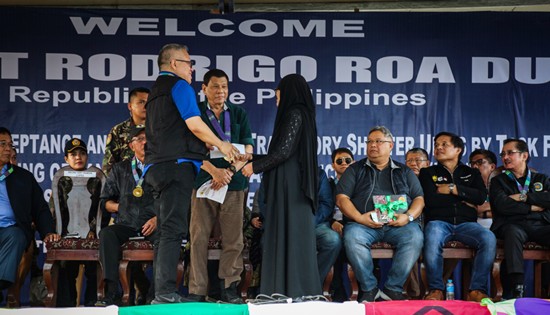 By DTI- OSEC-PRU
February 2, 2018
ILIGAN – The Department of Trade and Industry (DTI) awarded 1,500 livelihood packages as well as 0%-interest microfinance loans to the internally displaced people (IDP) of the Marawi siege during the DTI Negosyo Seminar Para sa Marawi on 30 January 2018.
"We want to assure the IDPs that President Duterte's administration continues to provide more business and livelihood opportunities through the DTI Negosyo Seminars being given to help them recover soon," said DTI Secretary Ramon Lopez.
There were 1,500 participants and beneficiaries who attended the Negosyo Seminar. One of them was Mr. Alikman Nata, who intends to share the benefits of the livelihood package to his group, the Lanao Muslim Youth Association.
As the head of Bangon Marawi's Subcommittee in Business and Livelihood, DTI had earlier distributed 588 livelihood packages and conducted Negosyo trainings to 1,963 IDPs as of December 2017. There were also 240 beneficiaries who were linked to financial institutions.
The Department also allocated P50 million this year to fund the Shared Service Facilities (SSF), providing Maranao entrepreneurs with facilities and knowledge that match their business needs. This is apart from the budget provision to support other Bangon Marawi programs in providing mobile rice mills, tricycles, vehicles, and the construction of public markets.
DTI flew in different business experts to teach business preparedness, opportunities spotting, product development and marketing, financial literacy, and franchising.
The beneficiaries were likewise briefed on the microfinancing loan programs of the government through the Small Business Corporation (SB Corp.), which developed a special 0%-interest microloan program for Marawi IDPs. This program has a grace period to help in the quick recovery of the IDPs. It started last December 2017 and has benefitted a total of 229 borrowers.
During the acceptance and distribution of transitory shelter units by Task Force Bangon Marawi (TFBM) with President Rodrigo Roa Duterte in Brgy. Sagonsongan, Marawi City, Sec. Lopez turned over the 0%-interest microfinance loan from SB Corp. to 150 beneficiaries, where 95 of them are public market vendors. The beneficiaries were represented by Ms. Rocaya Macabantog, Mr. Abbas Inidal, Mr. Allan Carimbaran, Mr. Acadon Macapundag, and Mr. Cosain Solaiman.
The 0%-interest microfinance loan program for the 150 beneficiaries amounted to P2.19 million. This is a part of the P100 million-fund under the Pondo sa Pagbabago at Pag-asenso (P3) loans allocated for Marawi entrepreneurs by SB Corp, an attached agency of DTI.
Eastern Visayas registers 95.6 percent employment rate in 2017
By PSA-8
January 30, 2018
TACLOBAN CITY – The annual employment rate in Eastern Visayas slightly increased to 95.6 percent in 2017 from 95.5 percent in 2016, ranking sixth among the regions with high employment rate in the country (see table below). Employment rate is the proportion of employed persons to total labor force.
Out of the estimated 3.0 million population 15 years old and over in 2017, about 1.9 million were economically active or in the labor force. This number translates to an annual Labor Force Participation Rate (LFPR) of 60.3 percent. This figure is 1.8 percentage points lower compared to the previous year's LFPR of 62.1 percent. Among the regions, Eastern Visayas registered the sixth lowest annual LFPR.
The underemployed persons or those employed persons who express the desire to have additional hours of work in their present job or to have additional job, or to have a new job with longer working hours was estimated at 402 thousand. This is equal to an underemployment rate of 22.6 percent, lower than the 28.3 percent recorded a year ago. The region had the fourth highest underemployment rate in the country.
Meanwhile, about 82 thousand persons in the labor force were unemployed. This translates to an unemployment rate of 4.4 percent, slightly lower than the 4.5 percent rate recorded in 2016. Eastern Visayas ranked sixth among the the regions with low employment rate.
The preliminary results of the Annual Labor and Employment Estimates for are based on the average of the four (4) Labor Force Survey (LFS) rounds (January, April, July and October).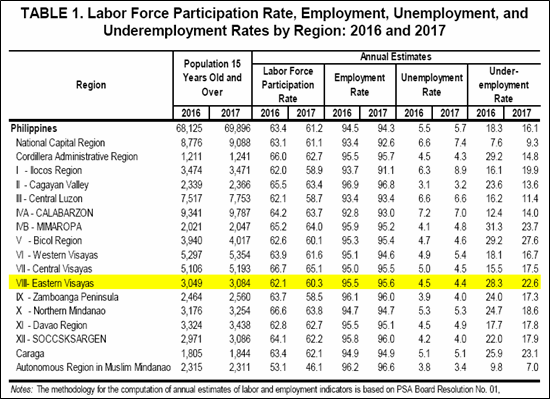 Año: Brgy tanods not allowed to carry firearms; Brgy captains liable for tanods under their supervision
Press Release
January 30, 2018
QUEZON CITY – Department of the Interior and Local Government (DILG) Chief Eduardo M. Año calls on Punong Barangays to ensure that no tanod under their supervision uses firearms even in the performance of their duties.
Año reminded all Barangays that tanods or community brigades composed of civilian volunteers appointed by the Punong Barangay upon recommendation of the Barangay Peace and Order Council are not allowed by any law to carry firearms even in maintaining peace and order in their communities.
"Bilang kayong mga Punong Barangay ang pumili, nagtalaga, at nangangasiwa ng inyong mga tanod, kayo rin ang may pananagutan sa paraan ng pagsasagawa ng katungkulan ng inyong mga tanod," he says.
Año said that tanods may only use nightstick with teargas (probaton) with belt and holster, handcuff with holster, whistle, flashlight, raincoat, rainboots, small notebooks and ballpens, first aid kits, and other non-lethal gadgets.
"Bagaman mahalaga ang papel ng mga tanod sa pagtulong sa pagbabantay at pagpapanatili ng kaayusan at seguridad sa mga komunidad, kailangan pa rin pong linawin at ipaalala na hindi sila otorisadong magdala at gumamit ng baril kahit pa ang armas ay personal nilang kagamitan at kahit pa mayroon silang permit to carry outside their residence," he adds.
"If our barangay tanods see themselves in a potentially dangerous situation, they should seek the help of their local police officers. That's the job of the police," he said.
The DILG chief explained that Republic Act (RA) No. 10591 known as Comprehensive Firearms and Ammunition Regulation Act enacted in 2012 has revoked the authority of police auxiliary units members such as tanods to carry firearms, which was previously allowed by Circular No. 2008-013 of the National Police Commission. "There is no longer any legal basis for arming barangay tanods," said Año.
The DILG chief called on all local chief executives to ensure compliance with this directive and to withdraw any firearm that has been issued by them to barangay tanods.
He stressed that registered firearms of local government units (LGUs) shall only be issued to a government official or employee with a permanent plantilla position as provided in Section 5.5.2 of the Implementing Rules and Regulations of RA 10591.
"Ang mga tanod ay hindi po permanenteng mga manggagawa ng gobyerno kaya hindi sila maaaring gumamit ng armas maging iyong mga nakarehistrong baril ng LGU," he says.
"Ayaw na po nating may mapabalita pang tanod na sangkot sa paggamit ng baril kahit pa ikatwirang dahil ito sa kanyang pagganap ng kanyang trabaho sa barangay peace and order. Gawin po natin ang ating trabaho ng hindi lumalabag sa batas," Año warns.
Punong Barangays, on the other hand, are entitled to possess and carry firearms within their territorial jurisdiction, subject to appropriate rules and regulations, as stated in Section 389 (c) of the Local Government Code but only in the performance of their peace and order functions.
Meanwhile, DILG Spokesperson ASec. Jonathan E. Malaya reminds the public that among the indications of a good punong barangay 'worth voting for' in the upcoming barangay elections are those knowledgeable of the powers and functions as well as limitations of barangay workers such as tanods.
"Unang-una, nananawagan tayo sa publiko na bumuto sa darating na barangay elections. Pangalawa, piliiin po nilang mabuti ang ating mga ihahalal nang sa gayun ay maging maunlad at mapayapa ang kanilang komunidad na ligtas sa kapahamakan ng iligal na droga, kriminalidad, at korapsyon," he said.
He said that the DILG will be coming up with a list of qualities of a good barangay official which will serve as a citizen's guide in the forthcoming Barangay and Sangguniang Kabataan elections. He said that they will encourage the people to vote for a new set of Barangay officials who are "Matino, Mahusay at Maaasahan."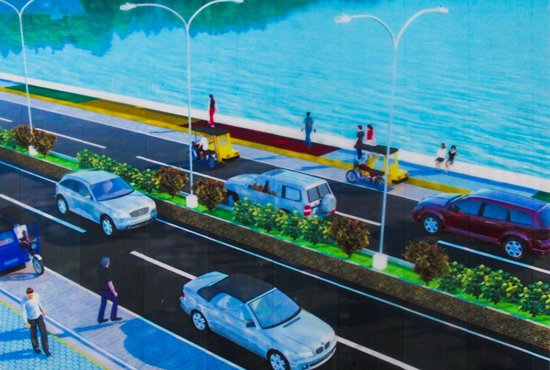 Perspective of the plan for Calbayog Coastal Diversion.
Samar First DEO soon to implement coastal diversion road
By BON JOSEPH N. ASTILLA
January 28, 2018
CALBAYOG CITY – A Coastal Diversion Road is slated to be constructed by the DPWH Samar First at the earliest possible time this year. The idea is conceived out an immediate need to provide an alternate route to decongest traffic in Calbayog City proper. The increasing volume of vehicles, mostly heavily loaded trucks plying along the National Road from Luzon to various destinations in the south including local motorists, congest the National Road in the City Proper of Calbayog.
Seen as a long-term solution to decongest traffic like the Calbayog Diversion Road, the Coastal Diversion Road is going to be implemented together with the idea of bringing economic development in the area. These two roads will serve as significant components of the road network in Calbayog City but with the latter being more accessible.
The road projects are divided in three points: the first where it starts in Brgy. San Policarpo, Calbayog City; the second that acts as a midpoint access in Brgy. Aguit-Itan; and the last one in Brgy. Rawis where it ends. The total length of the road is 4.6732 km. with 4 lanes. The diversion road covers bank and slope protection works and other structures. For FY 2018, the District has programmed for these road sections the total amount of P350 million.
This project aims to minimize traffic congestion in the city proper by diverting the vehicular traffic to the Coastal Diversion Road thereby, reducing traffic accidents or convergence in the busy city streets. Since the passage in the diversion road decongests traffic in Calbayog City's major thoroughfare, travel time will also be reduced. Inevitably, this will soon also spur economic activities in barangays traversed by the road projects.
Threats to go after legal, progressive organizations show Duterte's contempt for people's rights
By KARAPATAN
January 28, 2018
QUEZON CITY – "Duterte's nauseating hubris to target legal and progressive organizations which he brands as 'enemies of the state' shows his contempt for the exercise of the people's basic right to freedom of expression, association and assembly, among other civil and political rights, and to any and all forms of opposition to his anti-people policies," said Karapatan Secretary General Cristina Palabay, in response to Duterte's recent statement where he reiterated that he will go after so-called "legal fronts" of the Communist Party of the Philippines (CPP).
The Karapatan leader said "pea-brained fascists like him and his minions in the military and police, who made the very same threats and have employed numerous means to suppress these rights, are the very reasons why majority of the Filipino people strongly distrust government institutions."
"Making no distinction between armed combatants and civilians gives state forces carte blanche to kill, arrest, threaten, and harass any one, including free speech advocates, unarmed activists, peasants, workers, indigenous peoples, church workers, among others. These tactics, used by the Marcos dictatorship and subsequent regimes such as that of Benigno Aquino III and Gloria Macapagal Arroyo, are acts of desperation and paranoia," Palabay said.
Karapatan has recorded 84 human rights defenders killed under the Duterte administration, many belonging to local peasant and indigenous organizations working towards advocacies on genuine land reform and defense of ancestral lands from big landlords and businesses. Since 2001, 697 human rights defenders have already been killed. Many more have been illegally arrested and detained.
Palabay also challenged Duterte in his assertions of illegal financial transactions. "We are not facing reports of undeclared P100 million in investments, nor are our immediate family members implicated in smuggling $125 million worth of drug shipment. We are not befriending plunderers like Marcos and making compromise deals with thieves. Unlike Duterte and politicians in the same rotten basket, we are not the ones lacking accountability," she responded.
"Unlike the Duterte regime which has cowered to the dictates of US lackeys in his Cabinet and has shamelessly surrendered our sovereignty to US and China, progressive organizations have stood firm against State repression, fighting alongside the Filipino people throughout different administrations. The 126 victims of political killings and the thousands more killed in the course of the drug war, the many anti-people policies, compounded by the brazen submission of our territories justified by insulting the capacity of Filipino scientists are indications of the Duterte government's ineffectivity and inutility," concluded Palabay.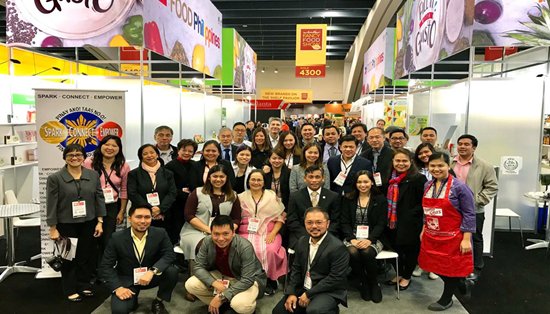 Consul General Henry S. Bensurto, Jr. with the Philippine food delegation at the 2018 Winter Fancy Food Show, Moscone Center, San Francisco.
Food Philippines wows visitors at Winter Fancy Food Show
By DTI-TIPG
January 26, 2018
MAKATI CITY – FoodPhilippines, the country's signature brand for food items under the Department of Trade and Industry's Center for International Trade Exhibitions and Missions (DTI-CITEM), surprised buyers and attendees of the recently concluded Winter Fancy Food Show (WFFS) held in San Francisco, USA from 21 to 23 January 2018.
Organized by the Center for International Trade Expositions and Missions (CITEM) in partnership with the Philippine Trade and Investment Center (PTIC) in San Francisco, FoodPHILIPPINES' showcased variety of specialty food product offerings by seventeen (17) of the best and biggest Philippine food exporters.
According to Specialty Food Association's Trendspotter panel, FILIPINO CUISINE is among the top food trends anticipated at the 43rd WFFS. Other top trends are Plant-based foods, Upcycled products, Goth food, Alt-Sweet, Product labeling 2.0, Root to stem, Cannabis cuisine, a (deeper) feast from the Middle East, and the rise of traditional bread.
The country's participation at the said food show is among DTI's major efforts for 2018 in advancing the promotion of Philippine specialty food products in overseas trade shows.
The participation attracted support from many Philippine exporters including Arko Foods, Bethany Sales, Inc. (Tamcor Mexim USA), Century Pacific Food, Inc., Hacienda Macalauan, Inc., Islamic Da'wah Council of the Philippines, JNRM Corporation, Magical Blend Marketing International, Magic Melt Foods, Inc., Mama Sita's (Marigold Manufacturing Corporation), Monde M.Y. San Corporation, Pasciolco Agri Ventures, Profood International Corporation, Sagrex Food Incorporation, San Miguel Pure Foods, Inc., Seabest Food Beverage Corporation, Subic Superfood, Inc., and Super Q.
Philippine Consul General Henry S. Bensurto, Jr., welcomed the delegation in their respective booths in the pavilion during the show opening on 21 January following a discussion with his economic diplomacy team about expanding trade opportunities between the West Coast and the Philippines on 22 January. He also hosted the delegates and their prospective business partners in a welcome reception providing an opportunity for Philippine companies to deepen their discussions with importers and buyers.
WFFS is the US West Coast's largest specialty and food beverage event, with an estimated 20,000 visitors annually, 1,500 exhibitors and showcases more than 80,000 different specialty food products and beverages from the US and across the globe.
During its 2017 participation in WFF, the delegation secured a total of US$ 48.73 million negotiated sales in 463 inquiries from trade buyers, exceeding targets and recording its highest sales in its four years of participation in the WFFS.
The US is one of the largest foreign investors in the Philippines and the country's third-largest trading partner. The Philippines has been among the largest beneficiaries of the US' Generalized System of Preferences (GSP) scheme for developing countries, which provides preferential duty-free access to the U.S. market.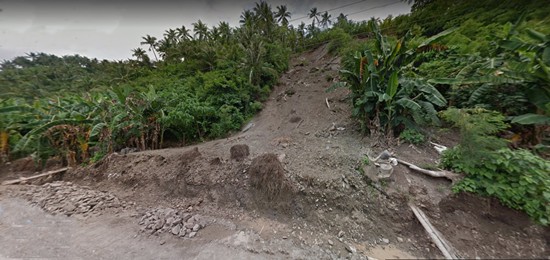 On this site in Brgy. Malayog, the catch wall will be constructed.
P187 million slope protection structures slated for CY 2018
By MAE ANGELICA R. COMOTA
January 24, 2018
CALBAYOG CITY – The Department of Public Works and Highways Samar First District Engineering office will soon implement two projects with a combined appropriation of P187 million sourced out from the General Appropriation Act (GAA) of 2018. It will focus on the rehabilitation/ reconstruction of roads with slips, slope collapse and landslide along Calbayog-Allen Road.
The first project will be divided into five sections and catch walls will be constructed on the following stations: K0691+(-250) to K0691+(-100) and K0691+100 to K0691+200 in Brgy. Caglanipao Sur; K0699+364 to K0699+460.7 and K0699+508 to K0699+535 in Brgy. Cagmanipis Sur; and K0700+075 to K0700+265 in Brgy. Malayog.Its total area is 2,683 square meters with a total length of 563.7 linear meters.
The second project will be implemented in Brgy. Malayog with a total area of 2,572.50 square meters, running a length of 525 linear meters which is divided into two sections: K0700+580 to K0700+790 and K0701+000 to K0701+315.
"The continuous rains brought about by Typhoons Urduja and Agaton caused a number of rockslides and landslides in these barangays, blocking the road and causing inconvenience to the travelling public. We are hoping that by implementing these projects, these incidents will no longer happen because the catch walls will prevent rock particles from sliding onto the road. Thus, ensuring the safety of our motorists and also the residents of the said barangays," said Engr. Alfredo Monsanto, Jr., the project engineer of one of the projects.
Both projects are expected to be completed within the year.
Bato's refusal to release police info on drug war, a disgraceful attempt to escape accountability
By KARAPATAN
January 24, 2018
QUEZON CITY – "PNP Chief Ronaldo 'Bato' Dela Rosa's refusal to release information on police operations regarding the drug war campaign is a disgraceful attempt to escape accountability, not that one can expect integrity from the Philippine National Police anyway.
Releasing information on the drug war would indeed endanger cops, in the sense that they will be legally prosecuted and made accountable for their murder spree in urban poor communities," said Karapatan secretary general Cristina Palabay.
According to the PNP, they have documented 3,000 casualties under the Duterte government's anti-drug campaign, though estimates from the media and human rights groups give out a much higher figure of at least 12,000. The Supreme Court ordered the PNP to provide the full documentation on the aforementioned deaths. On January 22, PNP Chief Dela Rosa appealed to the SC, citing the "sensitivity" of the information requested.
"Hiding behind the ambiguous and arbitrary keyword of "national security," police impunity has been blatantly tolerated by the Duterte regime. Despite the admission of police abuses by no less than the institution's Chief, the PNP still insists on what it calls 'internal cleansing', shielding cops from the full force of the law," said Palabay.
The Karapatan secretary general added that "allowing the police to mete out punishment to its own ranks is akin to allowing your barkada to lightly hit your back. This completely does nothing to exact accountability nor does it provide justice for the victims of police abuses. Honestly, who are they kidding?"
On January 12, the PNP Chief himself admitted that cops demanded money from alleged drug users and sellers to have their names removed from the drug list. Palabay also cited cases in 2017, including the killing of Korean businessman Jee Ick Joo inside the PNP headquarters in Camp Crame on February 2017 and the charade that followed the investigation of the killing of 17-year-old Kian delos Santos on August of last year, as indications of how police impunity have exacerbated in the country.
"The police is accountable to the Filipino people, lest they forget that. It is the mandate of the PNP to serve and to protect, yet in the current and past administrations, they have been among the main instruments of repression and abuses. The basic and simple fact of the matter is that releasing this information will jumpstart the independent investigation on the PNP's conduct in the war on drugs. Clearly, however steadfast the PNP may be in claiming that the 3,000 deaths were all cases of 'self-defense,' closer scrutiny may and will reveal deliberate rights abuses done at the expense of the poor's right to due process," concluded Palabay.
PH exports to EU grew by 31%
By DTI- OSEC-PRU
January 22, 2018
MANILA – The Department of Trade and Industry (DTI) welcomed another milestone for Philippines (PH) and European Union (EU) trade relations as export products hit a 31% growth wherein EUR 2 billion-worth of PH products were exported through EU's Generalised Scheme of Preferences Plus (GSP+).
"We are pleased to hear of the significant increase of our exports entering the EU market through the GSP+. This trade preference has benefitted several communities in the Philippines and opened opportunities for our Micro, Small, and Medium Enterprises (MSME). In the same manner, it has allowed our MSMEs to be more competitive in the local and foreign market," said Trade Secretary Ramon Lopez.
The 31% of total PH merchandise exports to the EU amounted to USD 8.4 billion in 2017. This made the EU the third largest export partner of PH.
In the EU Trade Preferences Monitoring Report released on 19 January 2018, the robust trade relations between the two parties was highlighted with EUR 2 billion-worth of PH exports in 2017 benefitting from the GSP+ compared to the EUR 1.66 billion in 2016.
A major increase was in food and agriculture exports such as animal products, fish and related products, prepared food, and edible fruits. Likewise, automotive parts, leather, textile, and footwear showed significant growth.
Since the beginning of the preferential treatment in 2014, both PH and EU have enjoyed the mutual benefits of GSP+ by letting Filipino MSMEs participate in a bigger value chain and giving the EU market more options for their consumers.
Local communities can take advantage of the export opportunities under the GSP+, like fishermen in General Santos and coconut farmers in Lanao del Norte, as their products can join those by other MSMEs in contributing to EU's dynamic market.
"We acknowledge that the GSP+ has been an important tool in making the country's economic growth more inclusive. It also encourages investors to come in and provide job opportunities to many Filipinos," Sec. Lopez said.
Meanwhile, dialogue on the expansion of the trade preference is ongoing between PH and EU, with both parties continuing to engage through relevant government agencies and other existing mechanisms.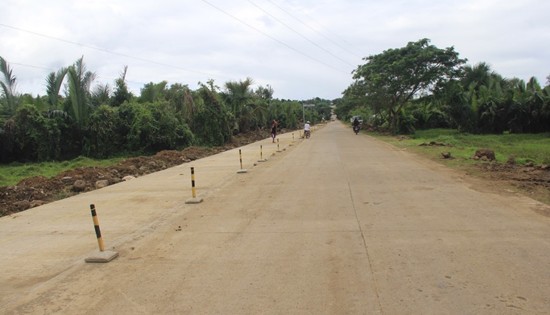 A widened portion of the Calbayog Diversion Road along K0729+400-K0732+400 in Brgy. Dagum.
P105 million diversion road widening project benefits travelling public
By JASON DELOS ANGELES
January 19, 2018
CALBAYOG CITY – Due to the increasing volume of vehicles in the city, traffic congestion has become a norm for the average Calbayognon motorists, whether they are travelling for their morning commute or going home after a long day at work or school.
This is the primary purpose why DPWH Samar I implemented the widening of Calbayog Diversion Road. The project covers the widening of the existing 3-km. road from K0729+400 to K0732+400, 5,945 lin. m. reinforced concrete canal and 1,116.80 sq. m. slope protection. It is under contract with RNMK Construction and Supply with a total appropriation of 105 million from the FY 2017 GAA Fund.
Widening the lanes on a curve can reduce the risk of head-on crashes by giving drivers more room to get around it without crossing into the opposing lane. Similarly, widening turn lanes can improve safety, especially for larger vehicles. It can also reduce sideswipe crashes.
Mr. Romeo Llauderes, a councillor in Brgy. Dagum, stated that since the widening of certain portions of the diversion road, motorists passing through the area have increased bringing along motorized tricycles which make travel more convenient for the local residents.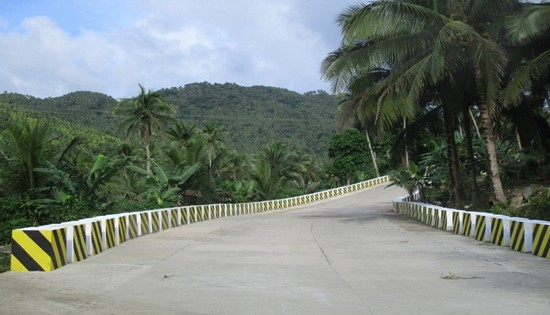 Among the projects completed is the construction/ improvement of access road leading to Bangon Falls in Brgy. Tinaplacan, Calbayog City with an appropriation of P100 million, it reached 100% completion on December 15, 2017.
Samar I registers 80.48% accomplishment of CY 2017 infra projects
By MAE ANGELICA R. COMOTA
January 18, 2018
CALBAYOG CITY – The Department of Public Works and Highways Samar First District Engineering Office closed the preceding year with an accomplishment of 80.48% on all its regular infrastructure projects under the General Appropriations Act (GAA).
As of December 31, 2017, Samar I surpassed the 77.57% physical target by a 2.91% mark. The office constructed, improved and rehabilitated 35.034 kilometers of roads; constructed 518.10 lineal meters of bridges; and undertook 8 flood control structures and drainage systems.
Projects with external funding under the convergence program, Samar I also improved and built 1.44 kilometers of farm-to-market roads under the Department of Agriculture; constructed 15 academic, secondary and senior high school buildings under the DepEd's Basic Educational Facilities Fund (BEFF); implemented a total of 20 projects funded from the Motor Vehicles Users Charge (MVUC); and constructed 5.54 kilometers of tourism road infrastructure projects.
District Engineer Alvin Ignacio gave assurance that he will continue to monitor and supervise the remaining projects under CY 2017 with the assistance of Construction Chief Engr. Carlos Rañola and the assigned project engineers.
Unionists press for TRAIN's revocation and living wages
By Bukluran ng Manggagawang Pilipino
January 16, 2018
QUEZON CITY – Militant labor groups Bukluran ng Manggagawang Pilipino (BMP) and Socialista held protest actions at Mendiola Monday and demanded the scrapping of the recently signed into law Tax Reform Acceleration and Inclusion (TRAIN) as it commences to take effect on all petroleum products Monday.
Workers also used the occasion to call for living wages to offset the impacts of TRAIN on their already constrained familial budget.
Both groups tagged Duterte's TRAIN as "ruthlessly anti-poor for placing them at the losing end as corporations merely transfer their tax obligations to the consuming public".
"The very character of this administration's revenue generating imposition is to liberate the already affluent economic elite of their duties and make the laborers and the poor bear the yoke of Duterte's infrastructure plan which we will not also directly benefit from," said BMP leader, Leody de Guzman.
The groups deplored claims made by cabinet members that workers shall benefit from the new tax measures.
Protestors lamented that despite not abolishing contractualization and failing to grant them decent wages, the Duterte government has the gall to tell workers that they too shall benefit even if prices of basic goods have already risen since the New Year.
They explained that the lower economic strata such as minimum wage earners shall not benefit since they are already tax exempt since 2008. The slum dwellers and farmworkers shall also not benefit because their income is erratic and their employment temporary.
Both the BMP and Socialista also demanded living wages.
De Guzman argued with the impacts of the new round of taxes taking effect, "it is not only timely but is also apt and justified. We have no other recourse but to pursue economic relief to keep their families economically buoyant".
"We shall rightfully claim what is ours," he declared. Referring to the much publicized the economic growth last year and projections for 2018. "All those gains were generated mainly on the workers' collective productivity. Besides, it is our constitutionally guaranteed right to receive our fair share of our labor".
The leaders claimed that their demonstration at Mendiola shall be the first of many escalating protest actions in various cities nationwide until the government concedes and grants them their demands.
The next protest is scheduled to take place on the twenty-third of January.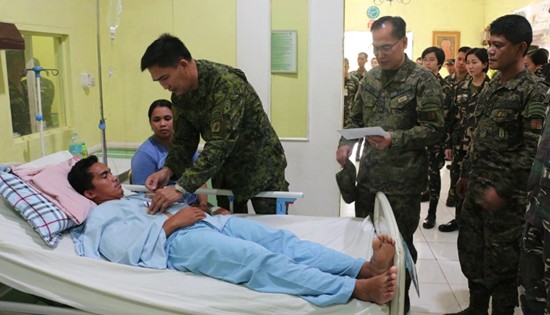 8ID chief MGen. Raul M. Farnacio personally pins the award of the Wounded Personnel Medal (WPM) to Corporal Artemio Bendo Jr. (Inf) PA on January 16, 2018 at Camp Lukban Station Hospital.
8ID commander pins award to wounded soldier
By DPAO, 8ID PA
January 16, 2018
CAMP LUKBAN, Catbalogan, Samar – The Commander of the 8th Infantry (Stormtroopers) Division Maj. Gen. Raul M Farnacio AFP pinned the award of the Wounded Personnel Medal (WPM) to Corporal Artemio Bendo Jr. (Inf) PA who was wounded during an encounter with undetermined number of communist terrorists (CTs) on January 16, 2018 at Camp Lukban Station Hospital.
Corporal Bendo along with his fellow soldiers from 43rd Infantry (WE SEARCH) Battalion were in the area of Barangay Somoroy, Lope de Vega, Northern Samar last January 14, 2018 to conduct humanitarian assistance to residents affected by torrential rains when the encounter with CTs transpired.
In his short message, Maj. Gen. Raul M Farnacio said that, "This award is a manifestation of the degree of sacrifice that a soldier has to pay in order for our fellow Filipinos to continue to live in peace. It is just fitting to commend personnel such as Corporal Bendo who risked his life in helping and protecting the less fortunate in the far-flung areas."
Since the beginning of the year, the 8ID has been intensifying its campaign to defeat the CTs as per marching order given by President Rodrigo Roa Duterte declaring the Communist Party of the Philippines-New People's Army as an identified terrorist organization.
It can be recalled that on January 4, 2018, two CTs were killed and two high powered firearms were recovered by the soldiers of 78th Infantry (Warriors) Battalion during an encounter at Barangay Hilapnitan, Baybay City, Leyte.
"The successful encounters of our government troops are the result of 8ID's effort to defeat the communist terrorists in support to President Duterte's campaign against the CTs who continue to extort money from communities and private businesses and employ atrocities against civilians." Farnacio added.
Joint Memorandum Circular (JMC) to speed up issuance of construction-related permits signed
By DTI-CEODBG
January 15, 2018
MAKATI CITY – The Department of Trade and Industry sees improvement in the ease of doing business in the country, with the implementation of the Joint Memorandum Circular (JMC) directing local government units (LGUs) to streamline the issuance of building permits and certificates of occupancy.
For the first time, the JMC 2018-01, which was issued by the Departments of Public Works and Highways (DPWH), Interior and Local Government (DILG), Information and Communications Technology (DICT) and DTI, sets service standards for processing simple applications for construction-related permits. This is in response to President Duterte's call to simplify the issuance of permits by LGUs in support of the Build Build Build! Program of the government.
The JMC covers single dwelling residential buildings of not more than three floors, commercial buildings of not more than two storeys, renovation within a mall with issued building permits and warehouses storing non-hazardous substances.
As prescribed in the circular, LGUs are enjoined to set up a processing system that will ensure that applicants follow a four-step procedure in securing building permits – submission of application with complete documentation, receipt of the order of payment, payment of fees and claiming of the permits.
Processing time by LGUs is reduced to five (5) working days maximum, while that for BFP permits is limited to not more than three (3) days for building permit applications. The same number of steps and processing time are prescribed for applications for certificates of occupancy.
The JMC also recommended a pre-formatted form and a uniform set of documentary requirements, and a one-time assessment and one-time payment of fees, with the latter eliminating the current practice of separately paying for different construction-related documentary clearances in different LGU offices and the BFP.
To be able to comply with the service standards, the government is mandating LGUs to establish one-stop shops that will consolidate the processing of clearances issued by LGUs related to construction permits, such as building permits, certificates of occupancy, locational clearances, tax declaration, tax clearances, certificates of final electrical inspection as well as those required by the Bureau of Fire protection – the Fire Safety Evaluation Clearance and the Fire Safety Inspection Certificate. To be able to do this, representatives from the Office of the Building Official (OBO), Treasury Office, Zoning Office, Assessor's Office of the LGU, and Bureau of Fire Protection (BFP) will be co-located in one area at the LGU. Joint inspection teams will also be organized to ease the burden of applicants in accommodating multiple inspections by different offices before their certificates of occupancy are released.
DTI Secretary Ramon Lopez, who chairs the National Competitiveness Council and Doing Business Task Force, is confident that the recently signed circular will bring significant results in the Philippines' ranking in Doing Business Report.
"We fervently support the implementation of this circular, as it strengthens our previous efforts to eliminate red tape. Now that JMC 2018-01 is in place, we look forward to improved ease of doing business and better performance in Doing Business rankings." Secretary Lopez said.
Last year, Philippines dropped 14 notches to No. 113 in Doing Business Report published by World Bank-International Finance Corp. Particularly, the country ranked No. 101 in Dealing with Construction Permits.
Following the drastic process re-engineering that LGUs will be undertaking as a result of the JMC, the Secretary is also persuading the cities, especially those in highly urbanized areas, to start developing a web-based system for online submission and processing of construction-permits similar to the processes already being implemented by some ASEAN countries. This is also in line with the JMC which enjoins LGUs to automate procedures, including the mode of payment, with the support of DICT.
Full-blown dictatorship looms to the tune of Cha-Cha - Karapatan
By KARAPATAN
January 15, 2018
QUEZON CITY – "From floating the bogus revolutionary government concept, to waving the banner of federalism as the end-all, be-all solution of the problems of Philippine society, the Duterte regime is once again peddling another scheme that will essentially benefit and strengthen political dynasties, open the country to more foreign exploits, and bring us closer to a full-blown dictatorship – Duterte's charter change," said Karapatan secretary general Cristina Palabay.
As early as 2016, proposals have already been filed in Congress seeking the revision of the 1987 Constitution. "The Resolution of Both Houses No. 8 (RBH 8) and the PDP-Laban Proposed Federal Constitution are dangerous proposals which disregard peoples' rights and introduces a shift that will worsen the current political and socio-economic problems of our society," added Palabay.
Among the transitory provisions of the RBH 8, Congress will be dissolved and legislative powers will be relegated to the President until the first Federal Congress is convened. In both versions, the new constitution will be designed to allow foreign corporations to further economic plunder by removing remaining protections that the 1987 Constitution has put in place, including the deletion of provisions that prohibit transnational corporations from owning and acquiring land, and prohibiting foreigners from fully operating and controlling public utilities.
Palabay noted that "there is an instance in our history where legislative powers were handed to the executive. That period proved to be a disaster, as martial law under Marcos gave rise to laws, decrees, and regulations that outrightly curtailed people's rights. Duterte, a self-confessed and crazed fan of Marcos, is expected to follow a similar path towards fullblown fascism and dictatorship. Checks and balances in government will be removed, leaving a chorus of inutile and power-hungry crocodiles controlling our affairs while restricting forms of dissent."
"Aligning himself with Marcos, his US lackeys in the security cluster, and imperialist nations such as the US and China, the Duterte regime has chosen a set of self-serving friends. Moreover, answering to the demands of his imperialist masters, Duterte obediently aims to remove protection for our already ailing and backward economy" the Karapatan secretary general said.
"The extent that this regime will go to to swindle its own people and forward its fraudulent agenda is revolting. With the current versions and changes proposed, charter change is far from justified, and is a mere instrument of the ruling elite to further their power and gain. Attempts at charter change failed to take hold in past administrations due to protests and resistance from the people who clearly and rightly saw it as a move that will benefit the wealthy few; this new deceptive scheme will be met with the same resistance," concluded Palabay.