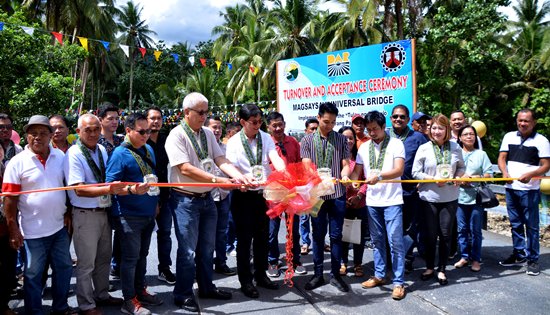 DAR Undersecretary, Bernie Cruz; OIC-Project Director of the DPWH, Rodrigo Delos Reyes; Javier Mayor, Michael Dragon Javier; and Leyte 5th District Representative, Carl Nicolas Cari (4th, 5th, 6th, and 7th from left, respectively) cut the ceremonial ribbon during the inauguration of the "Tulay ng Pangulo para sa Kaunlarang Pang-Agraryo" project. (Jose Alsmith L. Soria)
DAR turns over "Tulay ng Pangulo" in Javier
By JOSE ALSMITH L. SORIA
December 9, 2019
JAVIER, Leyte – Residents of Barangay Magsaysay and nearby villages in this fourth-class municipality applauded with joy as they witnessed the inauguration and turnover last week of the bridge that would eventually change their lives.
In his welcome message, Magsaysay Barangay Chairman Raul Abueva said school children would now be able to attend their classes regularly even during rainy days.
For Carmelita Mamalias, transporting of farm products would be a lot easier now.
Mamalias shared that prior to the construction of this bridge, residents in the area cross the stream thru a spillway which is flooded during heavy rains making it impassable.
Undersecretary Bernie Cruz of the Department of Agrarian Reform (DAR) led the inauguration and turnover of the first "Tulay ng Pangulo para sa Kaunlarang Pang-Agraryo" project implemented in Eastern Visayas.
Cruz disclosed that the P9.7-million project was funded under the French Government thru Compagnie Francaise d'Assurance pour le Commerce Extérieur (COFACE).
He further disclosed that the 28-linear meter bridge, implemented in coordination with the Department of Public Works and Highways (DPWH), used pre-fabricated materials imported from France.
Thus, Cruz reminded the recipients to take care of the project and maintain it to be in good condition always so it could still be used by the next generation.
According to him, the materials used in this project are the same materials used in the construction of the Eifel Tower. "Paghinawakan nyo ang tulay, parang nakarating na rin kayo sa France at tinitingnan yung torre," Cruz jokingly said during the occasion.
Meanwhile, OIC-Project Director Rodrigo Delos Reyes of the DPWH advised the residents in the area to report to the local government unit any damage seen in the project so it could immediately be repaired.
In acceptance, Mayor Michael Dragon Javier repeatedly thanked DAR and DPWH officials that finally the bridge, which according to him, was requested in 2013 by his father, the former mayor, Leonardo Javier Jr., is now being inaugurated.
Javier stressed the benefit this bridge would bring to his town. "This is a sign of progress, a sign of success for this town," he added.
About 10,000 residents from this barangay and five other nearby villages are expected to be benefited by this project, wherein 293 are agrarian reform beneficiaries.
With this bridge, this area becomes an alternate route in going to adjacent municipality, Abuyog.
Joining Javier in accepting the project was Leyte's fifth district representative, Carl Nicolas Cari, who also committed to help in the maintenance of the project.
Javier likewise acknowledged, during the said occasion, previous projects DAR poured in this municipality, which included six farm-to-market roads with a combined amount reaching P96.8-million.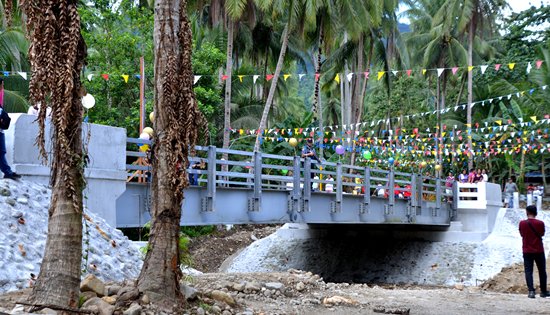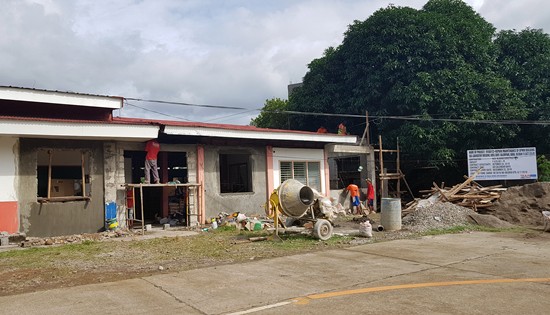 DPWH-Biliran DEO's repair/maintenance of Quality Assurance Section (QAS) laboratory testing building is on-going with 80% accomplishment as of November 30, 2019 under contract with W.B. Alagao Construction. The completion of this building will provide additional space for Materials Engineers to conduct more material laboratory testing and space for storage of additional equipments.
DPWH-Biliran DEO gears for two-star materials testing laboratory
By DPWH-Biliran
December 9, 2019
NAVAL, Biliran – The Department of Public Works and Highways (DPWH) Biliran District Engineering Office (DEO) is gearing for a two-star materials testing laboratory to further enhance its quality testing services.
David P. Adongay Jr., District Engineer said that they are slowly complying with all the requirements needed to qualify for a two-star rating, starting with the renovation of its laboratory testing building.
"At present, the Quality Assurance Section (QAS) laboratory testing is being renovated in order to expand its total floor area which is one of the requirements needed to be complied to qualify for a two-star materials testing laboratory," said Adongay.
The said project was allocated with a budget of P470,901.18 under contract with W.B. Alagao Construction.
"The renovation will also enable the district to procure additional testing equipment because of the additional area where the procured equipments can be stored. The increase in number of equipments will result to the increase of test being offered within the district," he added.
Engr. Ronald Sebios, Project Engineer reported that the project is on-going with 80% accomplishment as of November 30, 2019. It has a target completion date of December 22, 2019.
The system classifies testing laboratories into One-Star, Two-Star or Three-Star categories based on the following criteria: Availability of testing equipment and apparatus, Competence/Accreditation of Personnel, Observance of health and safety standards, Working area of the laboratory, Calibration of apparatus/equipment and Third-party certification.
On May 29, 2018, the DPWH QAS-Biliran DEO was given a Star Rating Certification for having satisfactorily complied with the provisions of Department Order No. 126, Series of 2016 Amendment to D.O. No. 11 Series of 2013 "Star Rating of DPWH Regional and District Materials Testing Laboratories" thereby classifying and categorizing it as a one-star materials testing laboratory.
The QAS of DPWH Biliran DEO is responsible for conducting various test of construction materials to ascertain that all materials incorporated into the work meet the minimum requirement by the DPWH.
Karapatan: Close to 400 political prisoners arrested under the Duterte regime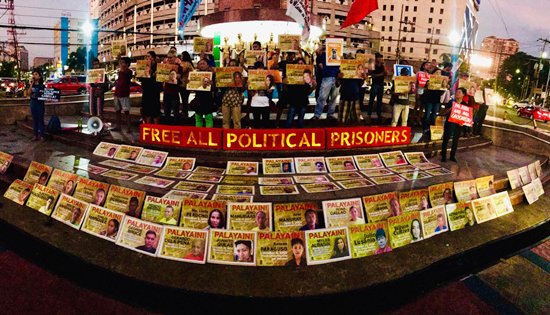 By KARAPATAN
December 6, 2019
QUEZON CITY – Today, December 6, human rights group Karapatan and Kapatid, along with other people's organizations, trooped to the Boy Scout Circle in Quezon City to call for the release of all political prisoners. The said mass action highlighted the plight of political prisoners and the ongoing injustices in jail, the issue of criminalization of activists and human rights defenders, and the weaponization of the law and legal processes to silence dissent.
According to data released by Karapatan as of November 2019, there are now 629 political prisoners in the country; more than half, or 382, were arrested under the Duterte government. Of this figure, there are 50 elderly, 93 women, 113 sickly, 11 peace consultants, and 5 were minors during the time of arrest.
Karapatan Deputy Secretary General Roneo Clamor said that these figures are staggering. "The numbers reflect the vindictive, militarist and repressive position of the Duterte government. Duterte has already arrested more activists in a span of three years than his predecessor's entire six years. This is also indicative that the situation has progressively worsened, and that our laws have been increasingly weaponized to criminalize dissent."
Clamor linked the high number of trumped-up charges and arbitrary arrests to the government's repressive policies, foremost Executive Order No. 70 (s2018), which created the National Task Force to End Local Communist Armed Conflict (NTF-ELCAC). The structures and partnerships orchestrated by the NTF, particularly its Legal Cooperation Cluster, is tasked to draw up and file legal offensives against activists and human rights defenders.
"We continue to call for the immediate and unconditional release of individuals who were arbitrarily incarcerated as a form of harassment and persecution for their relentless fight for social justice. We deplore the Duterte administration for maintaining its militarist policy of criminalizing defenders and social activists. On the other hand, amid these attacks against critics, the regime and its corrupt bureaucratic machinery have been freeing convicted plunderers and perpetrators of human rights violations, killings, torture, disappearances, and harassment," he said.
"The double standard in our justice system is infuriatingly ironic. While political prisoners are painstakingly suffering inside filthy and cramped jails, the likes of Imelda Marcos, the wife of the former dictator, is now roaming free despite her conviction. Others like Gloria Macapagal-Arroyo, along with her corrupt officials in Philippine Charity Sweepstakes Office and Commission on Audit, are now absolved from graft cases in the Ombudsman. Other corrupt and vile, but rich individuals such as infamous Calauan mayor Antonio Sanchez, find loopholes by trying to buy their way out of justice. This happens because jail management is focused on profiteering and further perpetrating injustices even behind bars," added Clamor.
The Karapatan official said that this reeks of the gruesome state of the justice system under the Duterte regime, in which criminals are being absolved one after the other from the crimes they committed against the Filipino people, while peace consultants, social activists, human rights defenders, and administration critics continuously face the wrath of state persecution.
Clamor also noted how this same fate is being experienced in other countries, including Hong Kong, Venezuela, and Palestine, where tyrants continue to circumvent laws and use state machinery to suppress dissent and pacify the legitimate calls of victims and various sectors. Issues raised include unjust laws and neoliberal policies which continue to disenfranchise the poor and marginalized – concerns that are similar to those being experienced and criticized in the Philippines.
"Karapatan expresses its solidarity with the brave political prisoners around the world who suffer the unjust and inhumane consequences of standing in the line of fire. We reiterate that political prisoners are not criminals. They are courageous and exemplary individuals who did not waiver in advancing their political beliefs, regardless of the powerful forces that they are confronting. They are farmers, peasant advocates, workers, trade unionists, teachers, agriculturists, health workers, pastors, peace consultants, freedom fighters, community leaders, human rights defenders, and citizens who struggle for a better and humane society," he explained.
"The rising number of political prisoners indicates the worsening tyranny and repression in the country. Free all political prisoners! Resist tyranny! We likewise enjoin everyone to join us in the December 10 protest, in commemoration of International Human Rights Day," ended Clamor.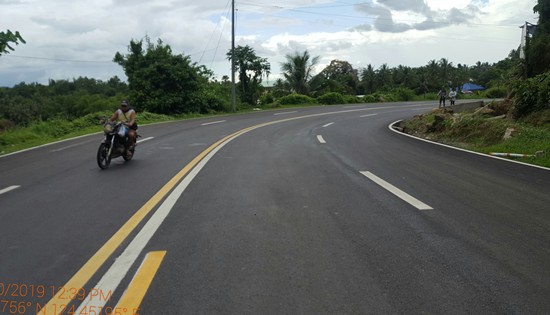 Completed P70.48M asphalt overlay project at Brgy. Lucsoon, Naval, Biliran along Naval-Caibiran Cross Country Road (NCCCR). The project was completed on November 09, 2019 under contract with B.M Marketing. It covers a total length of 5.276 lane km/ 2.6-kilometer. It also includes rehabilitation of damaged concrete road with a width of 3.05 meters, thickness of 0.28 m. and a total length of 0.117-kilometer.
P132.7M asphalt overlay project completed in Biliran
By DPWH-Biliran
December 6, 2019
NAVAL, Biliran – The Department of Public Works and Highways (DPWH) Biliran District Engineering Office (DEO) completes two asphalt overlay projects amounting to P132.7M.
David P. Adongay Jr., District Engineer said that asphalt overlays were implemented along the 2.2-kilometer road at Brgy. San Isidro in Biliran town along Biliran Circumferential Road (BCR) and at 2.6-kilometer road at Brgy. Lucsoon in Naval town along Naval-Caibiran Cross Country Road (NCCCR).
According to Adongay, the project entails the application of asphalt overlay on an existing concrete pavement with a width of 12.20 meters and a thickness of 50 mm. Rehabilitation of damaged concrete pavement was also included in the project.
Along BCR, Brgy. San Isidro, a damaged concrete pavement was improved with a length of 0.121-kilometer and 0.117-kilometer length along NCCCR, Brgy. Lucsoon, both with a width of 3.05 meters and a thickness of 0.28 m.
"The existing concrete roads paved many years ago already show signs of minor defects and when left unattended might deteriorate further," Adongay said.
The preventive maintenance project is designed to prevent further deterioration of the existing concrete pavement subjected to wear and tear of heavy equipment and vehicles.
"This project will earn the government savings in rehabilitating damaged pavement in the future," he added.
The completed project will provide a smooth riding surface for the traveling public as well as provide convenience in transporting agricultural and aquatic products to market.
NEC 2019 showcases top PH exporters, export enablers

By DTI-TPG-EMB
December 6, 2019
MAKATI CITY – The Department of Trade and Industry (DTI) through its Export Marketing Bureau (EMB), together with Export Development Council (EDC) and Philippine Exporters Confederation, Inc. (Philexport), recognized the top Philippine companies for their noteworthy export performance in 2018 during the National Export Congress (NEC) held at the Philippine International Convention Center (PICC) in Pasay City on December 06, 2019.
Also, DTI-EMB and Center for International Trade Expositions & Missions (CITEM) collaborated for the Export Enablers Exhibit which showcased trade regulatory government agencies, financial institutions, and private organizations.
The top exporters were acknowledged based on their track record, excellence, and innovation in the delivery of services. Their grit to achieve success and persistence to make Filipino products be globally competitive has contributed to the country's export revenue.
DTI Secretary Ramon M. Lopez, DTI-Trade Promotions Group (TPG) and Special Concerns Undersecretary Abdulgani M. Macatoman, DTI-EMB Director Senen M. Perlada, Philippine Exporters Confederation, Inc. (Philexport) President Sergio R. Ortiz-Luis Jr., Philippine Chamber of Commerce & Industry (PCCI) Chairman George T. Barcelon, and DTI Assistant Secretary Angelo B. Taningco presented the awards to 21 exemplary exporters of the country.
This year's Hall of Fame Awardee is Nestle Philippines, Inc. for Processed Food and Beverages. The Hall of Fame Award is given to exporters who were awarded consistently as Top Export Performers in the last three consecutive years.
The Top Sectoral Exporters Award were given to Amkor Technology Philippines Inc. for Electronics; B/E Aerospace B.V. (Philippine Branch) for Machinery and Transport Equipment; Lear Automotive Services (Netherlands) B.V. (Philippine branch) for Motor Vehicle Parts (Ignition Wiring Sets); Petron Corporation for Chemicals; Sumifru (Philippines) Corporation for Fresh Fruits; Platinum Group Metals Corporation for Minerals; and Cargill Oil Mills Philippines, Inc. for Coconut Oil.
Other awardees were L&T International Group Philippines, Inc. for Apparel and Clothing Accessories; Nestle Philippines, Inc. for Processed Food and Beverages; SCAD Services PTE. Ltd. for Woodcrafts (Builder's Woodworks); FPF Corporation for Travel Goods and Handbags; and Millenium Ocean Star Corporation for Fish Shrimps and Prawns/Fresh or Preserved.
Moreover, the Excellence Award for Services Sectors were awarded to Synergy88 Group of Companies for Animation Services; Suyen Corporation (Bench) for Franchising Services; GameOps, Inc. for Game Development Services; ADEC innovations, Inc. for IT-BPM Services (Knowledge Process Outsourcing); and Alliance Software, Inc. for IT Services (Software Development).
The Excellence Award for Services Sectors is given to exporters who were excellent in their respective fields and have shown a praiseworthy contribution to the industry.
Furthermore, the Most Outstanding Ripples Plus Awards were conferred to Primex Coco Products for Luzon; Profood International Corporation for Visayas; and PHILBEST Canning Corporation for Mindanao.
The Most Outstanding Ripples Plus Award was based on Philippine Statistics Authority's (PSA) ranking for micro, small, and medium enterprises (MSMEs). This is also a recognition of these exporters' remarkable success in penetrating global markets.
The exporters' recognition aims to inspire the country's exporting community to continuously innovate and improve. It is also to acknowledge their hard work and a testimony of the robust partnership of the government and the private sector in pursuing inclusive growth and improving the exports' development through innovation.
Meanwhile, in line with the NEC's theme "Driving Exports through Digital Transformation," the organizers featured the services of the following organizations during the Export Enablers Exhibition held simultaneously with the NEC at the Mezzanine of the Plenary Hall PICC: Bangko Sentral ng Pilipinas (BSP), Board of Investments (BOI), Bureau of Fisheries and Aquatic Resources (BFAR), Bureau of Import Services (BIS), Bureau of Internal Revenue (BIR), CITEM, Cobena, and DTI-EMB / 1Export Trade and Services Inc.
Also featured were FedEx Express, Food and Drugs Administration (FDA), Highly Succeed, Inc. Intellectual Property Office of the Philippines (IPOPHIL), Keepr Storage PH, Landbank of the Philippines (LBP), Optical Media Board (OMB), Philippine Coconut Authority (PCA), PHILEXPORT, Philippine Fiber Industry Development Authority (PHILFIDA), Philippine International Trading Corporation (PITC), Philippine Trade Training Center (PTTC), Small Business Corporation (SBCorp), Strategic Trade Management Office (STMO), UnionBank | UBX, Vesl, and World Trade Center (WTC).
The NEC is the highlight event of the National Exporters' Week (NEW). Every first week of December is the annual celebration of the NEW per presidential proclamation 931, Series 0f 1996 and House Resolution 33. It highlights the government and the private sector's commitment to continuously work together to sustain export promotion and development.
Villar's capitalistic views have no place in public service – ACT
ACT Press Release
December 6, 2019
QUEZON CITY – Appalled by Senator Cynthia Villar's statement yesterday about closing down small and 'underperforming' schools, the Alliance of Concerned Teachers (ACT) Philippines questioned the senator's 'integrity in holding a public post.'
"It is unbelievable for such irresponsible and anti-student comment to come from one of the top officials in the land who is expected to uphold the Constitution, which outrightly mandates the State's responsibility to provide free, quality education to all Filipinos," lamented Joselyn Martinez, ACT Chairperson.
Media reported that Sen. Villar gave the comment in reaction to the country's poor performance in the 2018 Programme for International Student Assessment (PISA). Martinez chided the senator, saying that such 'capitalistic view that reward is the ultimate driving force of man has no place in public service.'
"It is a big insult to our teachers who sacrifice daily to teach despite wanting state support, not because of what they will get in exchange, but out of their real love for Filipino children and genuine sense of public service," Martinez stated.
Martinez asserted that schools should be erected wherever Filipino children are as their right to education needs to be fulfilled by the state. In stark comparison to Villar's proposal, which Martinez said is 'tantamount to depriving Filipino children of their right to education, especially those in the far-flung areas.'
"Sen Villar's comment shows of her sheer ignorance of the problems that beset the public education system and her unfortunate refusal to be part of the solution. As a Senator, she could have pushed for higher budget to education, substantial pay hike for teachers, review of the education curriculum, and other reforms that would improve the quality of education," Martinez said.
Martinez stressed that the declining quality of education is not due to teachers' and students' lacking drive to excel but due to problems on government subsidy, efficient implementation of programs, creation of enabling environment, and the curriculum's orientation, content, and direction.
"We challenge Sen. Villar to spend a month teaching in a far-flung barrio for her to see the sacrifices of teachers and how eager our students are to learn. While at it, she can also join the communities in planting crops so that she may correct her many misconceptions on farmers," dared Martinez.
The comment referred to the remark Villar made at the heat of the protests over her authored Rice Tarrification Law about how farmers are asking too high a price for palay when a five-peso-per-kilo income should be enough for them.
New paved road connects 3 barangays in Almagro, Samar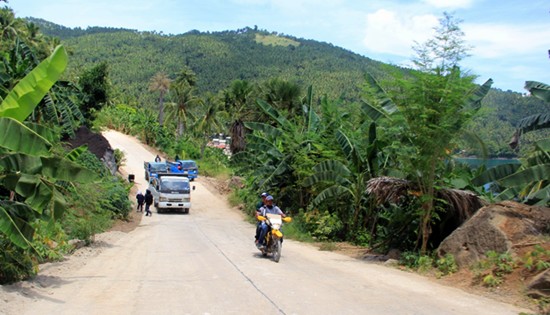 By CHENZI MAY D. UY
December 5, 2019
CALBAYOG CITY – The road construction project linking barangays Lunang I, Lunang II, and Talahid in Almagro, Samar, is now complete. The finished pavement extends over a total length of 2,469 meters, approaching the barangay of Costa Rica.
According to the Department of Public Works and Highways, the road is part of a bigger circumferential road construction project in the island municipality.
As it is built on the inner mountainous side of the island, riprap slope protection was built into the road for stability. Drainage canals were also built to keep the pavement flood free and safe to use even in heavy rainfall.
At six (6) meters wide, the new road offers greater mobility and ease of traffic for motorists. Although there aren't too many vehicles in Almagro at present, the provision of a wide road ensures the thoroughfare will accommodate future growth in vehicle population.
The road will also help local tourism. Some of the island's budding tourist attractions include an exotic diving resort in Keriketi, a museum of endangered species, caves, rock formation, and an iconic lighthouse.
The P50-million project benefits not only the barangays it covers but also the island municipality as a whole.
20IB and LGU Gamay, Northern Samar showcases resiliency against calamities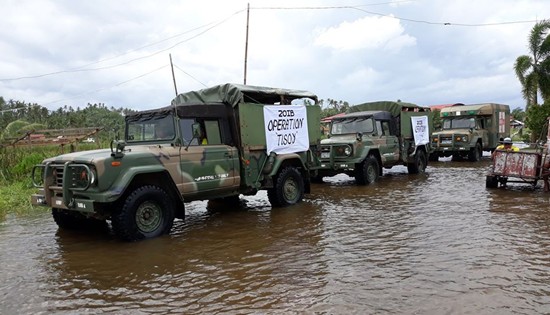 By DPAO, 8ID PA
December 5, 2019
CAMP LUKBAN, Catbalogan, Samar – The 20th Infantry (We Lead) Battalion of the 8th Infantry (Stormtroopers) Division once again demonstrated its being the protector of the people in its area of operations that include Northern Samar as the unit conducted Disaster Rescue and Relief Operations (DRRO) during the onslaught of Tropical Storm "Tisoy" on December 2, 2019.
"We Lead" troopers responded to the call of duty by augmenting the Municipal Disaster Risk Reduction and Management Office (MDRRMO) and Peace, Law Enforcement and Development Support (PLEDS) Cluster both of Gamay Municipal Task Force to End Local Communist Armed Conflict (MTF-ELCAC) in Northern Samar and rescued 216 families who were trapped by the flash floods caused by intermittent rains, thereby preventing any casualty in the area.
The Humanitarian Assistance and Disaster Response (HADR) operations of 20IB and Local Government Unit (LGU) Gamay, Northern Samar dubbed as "Operation Tisoy" includes rescue and relief operations as well as immediate road clearing operations which is still ongoing as of this report.
"The lessons taught by Super Typhoon "Yolanda" six years ago, made us more resilient, empowered and proactive to withstand disasters that might befall upon us anytime. The mitigation measures being implemented by the LGU through its Local Disaster Risk Reduction and Management Office and the military with the cooperation of the local residents prevented the loss of lives, limbs and properties" Major General Pio Q. Diñoso III, Commander of 8th Infantry (Stormtroopers) Division said.
DOLE gives early Christmas gifts to 100 child laborers
By NORMA RAE S. COSTIMIANO
November 29, 2019
TACLOBAN CITY – Christmas came early for one hundred child laborers as they received gifts from the Department of Labor and Employment Regional Office VIII through the Project Angel Tree conducted on November 28, 2019 in Hilongos, Leyte.
With the theme, "Children should not work in fields, but on dreams", DOLE RO VIII in coordination with the local government unit of Hilongos, gave away different school supplies as early Christmas gifts.
Mr. Virgilio A. Doroja, Jr., DOLE Senior Labor and Employment Officer and regional focal for Child Labor Prevention and Elimination Program (CLPEP) gladly shared during the occasion that Project Angel Tree, one of the components of CLPEP, aims to improve the economic and social conditions of child laborers and their families.
"Through this Project Angel Tree, we at DOLE are hoping to assist our child laborers and help them leave the bondage of child labor. Aside from these school supplies, we are also providing assistance to their parents in the form of livelihood", said Mr. Doroja.
Mr. Doroja likewise informed that the parents of the identified child laborers were organized as a group for them to avail livelihood grants from DOLE.
"The assistance doesn't end with the gift-giving. We have organized their parents into a group and provided them orientation on our livelihood program. With the provision of livelihood we hope to augment the income of their families, so that this children will no longer work but concentrate on their studies", Mr. Doroja added.
Project Angel Tree is a component of the DOLE Child Labor Prevention and Elimination Program which provides an array of social services that range from food, clothing, educational assistance or school supplies, and even work and training opportunities made available by sponsors or benefactors ('angels') to child laborers and their families.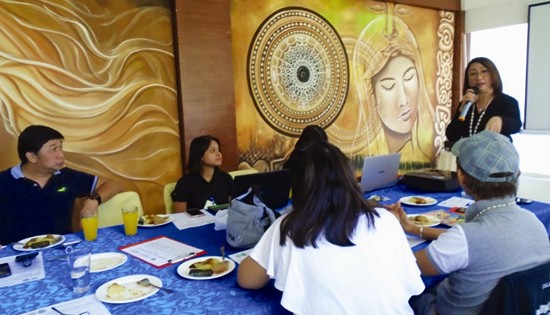 NNC-4A RNPC Carina Z. Santiago opens the technical rendezvous between CNN-4A and HIMSoG-8 by welcoming her team to Tacloban City and voicing out her expectations of the activity. Santiago once headed NNC-8.
CNN-4A wants MELLPI functions as HIMSoG-8
By JACK C. GADAINGAN
November 27, 2019
TACLOBAN CITY – To become members of their own Regional Nutrition Evaluation Team (RNET) doing Monitoring and Evaluation of Local Level Implementation Protocol (MELLPI Pro) was one of the Communicators Network for Nutrition of Region-4A members concerns to relate themselves as the members of the Harmonized Initiative for the Spread of Good Nutrition in Region 8 (HIMSoG-8), who are already active conducting MELLPI Pro region-wide as members of Region-8 RNET.
This developed during the Technical Exchange between the NNC-Calabarzon media-group partner CNN-4A and NNC-8 media-group partner HIMSoG-8 conducted on October 24, 2019 at the Leyte Park Hotel, here.
Ten CNN-4A members, guided by their Regional Nutrition Program Coordinator (RNPC) Carina Z. Santiago, visited Eastern Visayas Region, for an exchange of accomplishments and Sharing of Best Practices between the two nutrition advocate media-groups. Such technical rendezvous is second for HIMSoG-8 already, as on July 15-17 a contingent of 13 practitioners of quad-media from Region 1 who called themselves the Regional Organization of Nutrition Development Advocates of Region 1 (RONDA 1) of Ilocos Region also visited Region 8 for similar purpose, to widen the media-partner's horizon of accomplishments through exchanges of notes with the other regions' counterparts.
It was gathered that NNC-4A leadership and CNN-4A members were astounded to learn that all members of HIMSoG-8 are actually members of the Eastern Visayas RNET and/or members of nutrition evaluation teams in their respective localities. This is aside from the HIMSoG-8 leadership who is likewise sitting as member in Regional Technical Working Group (RTWG) and other nutrition bodies.
The only apprehension raised by the visiting group in regards the setup, was of "bias" coming into play should the media-group be doing evaluation of their own localities, which practically negated by the fact that MELLPI Pro is – a purely document-based evaluation, that leaves no chances for baseless-adjustments
It was learned, that Mach 6-7, 2019 36 Nutrition Stakeholders from Eastern Visayas including HIMSoG-8 members who were actively involved in the yearly conduct of Monitoring and Evaluation of Local Level Plan Implementation (MELLPI) on nutrition programs and services gathered for a two-day roll-out training on the updated monitoring and evaluation protocol on nutrition dubbed "MELLPI Pro" at the Commission on Audit (COA) Training Center, Palo, Leyte.
The MELLPI Pro replaces the traditional MELLPI, the nutrition programs implementation assessment tool for localities adopted in the 80s. The new upgraded system emphasis: a) assessment of LGUs' progress toward compliance to quality standards, b) evidence-based validation, and c) mentoring through joint discussion for learning and action discussion with LGU or nutrition worker assessed. An added feature (of MELLPI Pro) is the Performance Assessment of Nutrition Workers namely: Nutrition Action Officers, District/City Nutrition Program Coordinators and Barangay Nutrition Scholars (BNSs).
Said new protocol connoting professional, progressive, promotional, process, and profitable is for full implementation by year 2020 – with this year (2019) as the transition period. By then under MELLPI Pro all local government units (LGUs) and their corresponding lead nutrition workers nationwide shall undergo assessment and evaluation:
At the regional level, the Regional Nutrition Evaluation Team (RNET) shall visit all provinces and highly-urbanized and independent cities; at the provincial level, the Provincial Evaluation Team (PET) shall visit all municipalities and component cities; at the city and municipal level, the City/Municipal Evaluation Teams (C/MET) shall visit all barangays. Meanwhile the National Nutrition Evaluation Team (NNET) shall evaluate the National Honor Award (NHA), and the 1st and 2nd Year CROWN Maintenance Contenders.
NMP welcomes incoming OIC-DED Ligutom
By National Maritime Polytechnic
November 27, 2019
TACLOBAN CITY – Labor Attaché Ponciano M. Ligutom officially assumed his post as the new OIC - Deputy Executive Director (DED) of the National Maritime Polytechnic (NMP).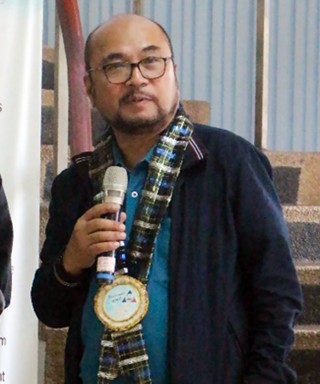 NMP OIC-DED Ligutom delivering his message.
Pursuant to Administrative Order No. 498, series of 2019 issued by the Department of Labor and Employment (DOLE), Labatt Ligutom will temporarily replace NMP's incumbent DED, Ms. Mayla N. Macadawan, who is on approved study leave in Malta.
During the "Meet-and-Greet" conducted this morning, NMP Executive Director Joel B. Maglunsod expressed his confidence that Labatt Ligutom would be of great help in steering the Agency in pursuit to the delivery of its mandates and functions. Likewise, Labatt Ligutom in his message expressed his warm acceptance as the newly designated OIC DED of NMP.
"I am happy to be assigned here. Training is not very new to me because teaching in academic institutions is part of my advocacies. I believe that the learnings, insights, experiences and practices of people should be shared to others because theory that has no practice is dead, and practice without theory has no direction. I am already old at the Department but I have not lost my interest and idealism because I always believe that we can always contribute something to any organization. I believe in portability of the person, because when you are a leader or a manager you can be assigned to any organization. You don't need to be a doctor in order to be a good hospital administrator" said OIC DED Ligutom.
With his experience from his previous assignments, OIC-DED Ligutom is confident that he will be able to share ideas towards NMP's commitment.
"I am looking forward to a very good experience for the days or months that I will be with you. I will always support the direction of the Department and I will share all my learnings, insights, and experiences with you. To me, a life that is not shared is a life that is not worth living", he ended.
OIC-DED Ligutom was formerly assigned in the Philippine Overseas Labor Office (POLO) in Oman and Rome where he took care of the concerns of the Overseas Filipino Workers (OFWs), looked for their work opportunities, and prepared them for their reintegration to the country.
He is a Career Executive Service Officer (CESO III) and preceding to his assignment as Labor Attaché, he had been the Regional Director of DOLE Regional Office X (Northern Mindanao), Regional Office XI (Davao City), Regional Office IX (Zamboanga Peninsula), Regional Office Caraga Region, and Regional Office VI (Western Visayas). He was also the Director of the Bureau of Local Employment in 2008.
Save the Children Philippines calls for humane, dignified treatment of children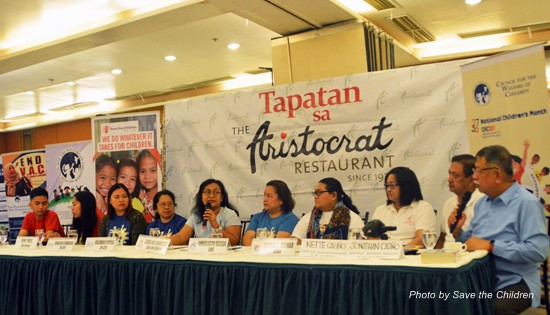 Press Release
November 26, 2019
MANILA – Every five minutes, a child dies of violence across the world, according to Save the Children's Ending Violence in Childhood Report in 2017. The report revealed a staggering 1.7 billion children who experience violence in many forms and 80 per cent of the incidents happen at home.
Save the Children, a global movement that advocates for children's rights in 120 countries called for an end to all forms of violence against children.
In the Philippines, three out of five children suffer one or two forms of violence at home and often, parents, siblings and relatives are the perpetrators according to the 2015 National Baseline Study on Violence against Children (NBS-VAC) conducted by the Council for the Welfare of Children (CWC).
Lawyer Alberto Muyot, Chief Executive Officer of Save the Children Philippines said violence takes place at home, in school, online platforms, in communities and in armed conflict and in disasters.
"All children have a right to a childhood without violence," said Muyot. "Physical and humiliating punishment violates a child's physical integrity, human dignity and equal protection of the law."
Save the Children Philippines reiterated the call for humane and dignified treatment of children in time for the World Children's Day celebration in November and the 30th year of ratification of the Convention on the Rights of the Child.
Muyot also lamented the prevailing culture of violence in schools. He said the NBS-VAC of CWC reveals that 3 out of 5 children experienced bullying. Of this figure, 14.3 percent of children experienced physical violence in school; 23 percent of children experienced psychological violence in school; and 5.3 percent of children experienced sexual violence in school.
Carolina Francisco, Child Protection Manager of Save the Children Philippines, said Positive Discipline establishes open communication and nurturing relationship between parents, carers and teachers and children.
"Corporal punishment have devastating impact on children," said Francisco, adding that "young children who experience corporal punishment are left with feelings of fear, shame, rage, revenge and hostility."
Francisco was guest at the weekly Tapatan in Aristocrat media forum on Monday where she emphasized the importance of practice of Positive Discipline at home, in schools and communities.
She also stressed that children who identified themselves as members of LGBTQI and children with disabilities are the most vulnerable to suffer from physical and humiliating punishment.
Save the Children Philippines partners with the Department of Education (DepEd), the Department of Social Welfare and Development (DSWD) and local communities to promote Positive Discipline to teachers and parents to end violence against children.
The Philippines is the 31st country to ratify the United Nations Convention on the Rights of the Child (UNCRC), a landmark legal document that highlights the rights of every child to:
• life, survival and development;
• protection from violence, abuse and neglect;
• education that enables children to fulfil their potential;
• be raised by, or have a relationship with, their parents; and
• express their opinions and be listened to.
The convention, now on its 30th year of ratification tasks governments to adopt legislative, social and educational measures to protect the child from all forms of physical or mental violence, injury or abuse, neglect or negligent treatment, maltreatment or exploitation, including sexual abuse, while in the care of parents, legal guardians and person who has the care of the child.
So far, there are 58 countries that have stepped up legislation to ban corporal punishment on children in schools, at home and in communities.
Save the Children founder Eglantyne Jebb wrote the Declaration of the Rights of the Child in 1923 and was adopted by the League of Nations, the forerunner of United Nations. The document became the basis of the UN Convention of the Rights of the Child.
DPWH completes 2 new school buildings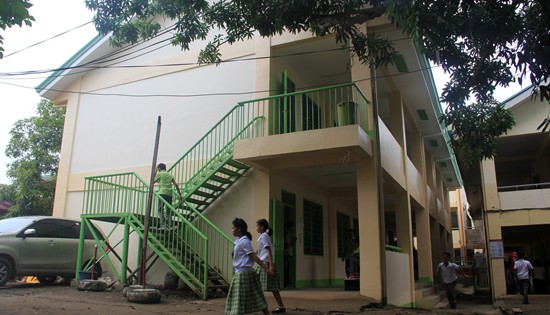 By BON JOSEPH N. ASTILLA
November 25, 2019
CALBAYOG CITY – New school buildings at Sta. Margarita National High School and Calbayog National High School (CCNHS) are completed through the Department of Public Works and Highways (DPWH) under 2018 Basic Education Facilities Fund (Batch 3).
The two-storey four-classroom school building at Sta. Margarita is being occupied at the present by the grades 11 and 12. Before the realization of the project, the school made use of their stage and TLE room as makeshift classrooms for senior high students. As such, their principal Gloria Begonte Tamidles is very thankful for the new building because as she further added both previous venues are not conducive for learning.
On the other hand, the two-storey four-classroom school building at CCNHS is also being commended by their principal, Dr. Calick Arrieta, for its very fast implementation. It took about less than 3 months to complete. Dr. Arrieta stated it's a big help to the institution considering the influx of students every year.
The DPWH, in partnership with the Department of Education, is always on the look-out on how to improve the educational facilities of every school. Towards this end, the community can very much expect more projects to come.
NTF is a dangerous superbody that imposes de facto martial rule in PH – Karapatan
By KARAPATAN
November 21, 2019
QUEZON CITY – Human rights alliance Karapatan said, after President Rodrigo Duterte's recent joint command conference with the National Task Force to End Local Communist Armed Conflict (NTF-ELCAC), that the "NTF's militarist whole-of-nation approach to the armed conflict in the country is nothing but a path that brings the nation into a black hole of authoritarian rule."
"The government is well-aware that armed conflicts are rooted on the decades-long injustices perpetrated by the State against Filipinos, including those who seek for genuine societal reforms that address poverty and countless forms of exploitation, yet it refuses to back down on programs and policies such as the Rice Tariffication Law, its Build-Build-Build program and TRAIN law that impact on the welfare of the people. Through the NTF, the Duterte government uses a counterinsurgency program that employs brutal forms of attacks against communities and human rights defenders to pacify their opposition to these anti-people programs. It continues to weaponize the courts and the whole judiciary to go after critics. It continues to militarize the civilian bureaucracy, including line agencies that should deliver social services and local governments," said Cristina Palabay, Karapatan Secretary General.
The NTF, Karapatan said, is a dangerous superbody that imposes de facto military rule in the country. "Its logframes and indicators of success are measured through a yardstick that disregards political rights and civil liberties while ensuring the smooth implementation of government programs and projects that benefit big business and corrupt actors in power," Palabay said.
Karapatan cited the smear campaigns and legal offensives against government critics, activists, development and humanitarian workers, the raids and arrests of human rights defenders in Negros and Manila, and the killings of farmers as among the by-products of the NTF's campaigns.
Even local government executives who champion the rights of their poor constituents are not spared, Palabay said. This week, Interior and Local Government Secretary Eduardo Año has called out Pasig City Mayor Vico Sotto for backing the arrested workers of Regent Foods Corporation and for bailing them out from jail. The arrested workers are part of those who went on strike last October 16, 2019 on the alleged physical and verbal abuses, non-implementation of the collective bargaining agreement, non-recognition of the new leadership within the union; and alleged contractualization schemes by the Regent Foods Corporation.
"The cries of the arrested workers are valid and can be considered as a concrete example of how ordinary Filipinos suffer from the injustices committed by the powerful. However, Año and the NTF discourage the likes of the young chief local executive Sotto from promoting a just and humane form of political leadership and governance," she said.
Karapatan also cited the killings of two barangay chairpersons in Samar, barangay captains Apolonio Lebico and Wilmar Calutan, by suspected military agents this year, when they aided their constituents in filing complaints against elements of the Armed Forces of the Philippines before the Commission on Human Rights on alleged violations in their communities.
"The actions of the NTF and Año only prove that this government has engendered rights violations. We reiterate our call to rescind Executive Order #70, which has resulted to the creation of the NTF, and for the Duterte administration to stop its attacks against the Filipino people," Palabay concluded.
Access road leading to Kawayan port in Biliran improved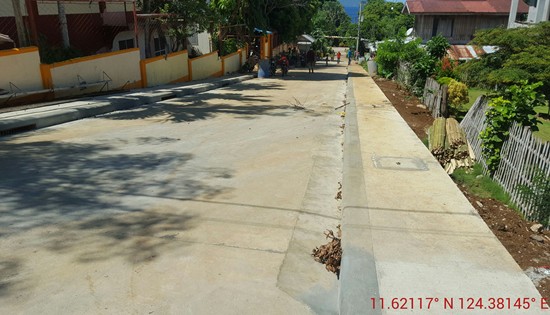 By DPWH-Biliran
November 18, 2019
NAVAL, Biliran – The construction/ improvement of access road leading to seaport in Kawayan town, Biliran Province has been completed by the Department of Public Works and Highways (DPWH)- Biliran District Engineering Office (DEO).
David P. Adongay Jr., District Engineer said that the damaged substandard local road was replaced with a new concrete pavement to provide a smooth surface and safe riding condition for the travelling public.
The project involves the rehabilitation of damaged substandard local road in Kawayan town proper with a width of 6.10 meters, a thickness of 0.23 m. and a length of 0.70 lane km with construction of 742.0 meters covered drainage.
The P12.35M project under contract with MB Ang Construction was completed on October 24, 2019.
According to Adongay, the newly completed road project leading to seaport complements the improvements done to Kawayan's port.
The Biliran Provincial Government and the Local Government Unit of Kawayan is already making its move in expanding the Kawayan port for future roll-on roll-off (Ro-Ro) port in the town.
Presently, the Naval port is the only seaport that is in service of transporting goods, commodities and passengers to and from Cebu.
The improvement of access road leading to Kawayan port will be a big help in economic development not only just in Kawayan town but also in the entire province.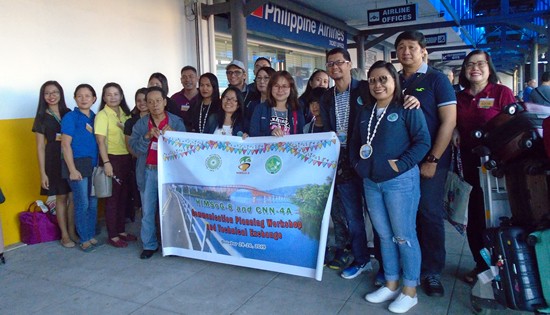 HIMSoG-8 headed by President Antonio Pueblos welcomed the officers of NNC-Calabarzon headed by RNPC Carina Z. Santiago (center) and contingent media-partner CNN-4A headed by its president Red Alano.
NNC-Calabarzon media-group partner CNN-4A visits Eastern Visayas for technical exchange with HIMSoG-8
By JACK C. GADAINGAN
November 17, 2019
TACLOBAN CITY – Carina Z. Santiago, Regional Program Coordinator of National Nutrition Council (NNC) Region-4A (Calabarzon) together with Lourdes B. Orongon and Ezra Minette B. Lasin, Nutrition Officer III and Nutrition Officer II respectively from the same region, headed a contingent of 10 practicing media from Calabarzon calling their group as the "Communicators' Network for Nutrition in Region 4-A" (CNN-4A) to a visit of Eastern Visayas Region for a Technical Exchange with NNC-8 media-group partner Harmonized Initiatives of Media for the Spread of Good Nutrition in Region 8 (HIMSoG-8) on October 24-26, 2019.
The CNN-4A was headed by its President Red C. Alano, Vice President (VP) for Print Antonio R. Antazo Jr., VP for Broadcast Emil Jun B. Delos Santos, VP for Social Media Kier Gideon Paolo Gapayao, Auditor Genielyn M. Tobias, Chairman of the Board of Directors Janet G. Buelo, and members Nanacy G. Quizon-Vidal, Maria Victoria A. Carino, Maricel Manza and Mayrenel C. Manalo.
A contingent from HIMSoG-8 likewise headed by its President Antonio C. Pueblos, VP Jacob C. Gadaingan, Broadcaster Cecelia P. Tibo, cable-TV broadcast providers Evelyn Bacol, Nelson Braga, and Mathew Manuel, and News Editor Albert Lesiguez, and two personnel from NNC-8 Novida B. Rico and Clytie Sta. Cruz welcomed the visiting party during their arrival 5AM at Tacloban City Airport.
Of common goal, as both media organizations are involved in the fight against hunger and malnutrition and in promotion of good nutrition – with CNN-4A the media-group partner of NNC-4A within its jurisdiction Calabarzon area. Meanwhile HIMSOG-8 in partner with NNC-8 for the Eastern Visayas Region. The two advocacy groups conducted their technical rendezvous after a brief breakfast at the Leyte Park Hotel, here.
The Technical Exchange consisted with presentations of each media-group's accomplishments and Sharing of Best Practices with both presidents doing the power-point presentation reporting, Pueblos for HIMSoG-8 and Alano for CNN-4A.
HIMSoG-8 Treasurer Ray Gaspay, publisher of Samar News.com and HIMSoG-8 member Sarwel M. Meniano, chief of Philippine News Agency (PNA) Region 8 joined the group for the technical exchange, and other activities.
In the afternoon, the Calabarzon group was escorted by the Eastern Visayas group to an Environmental Scanning to the Super Typhoon Yolanda Marker (Anibong Shipwreck), the Mat Weavers and Products in Basey town, the newly constructed Town Hall of Basey and Basey's Oldest Church, the 2.16 kilometers long "San Juanico Bridge" connecting Samar and Leyte Islands, and the newly upgraded MacArthur Park. The evening of the first day (Oct. 24, 2019) featured a fellowship, loaded with more bonding initiatives, exchanges of tokens, with good food and live music.
The following day NNC-4A and CNN-4A continued with their more serious tasks like "Communication Planning for CY 2020": consisting of Workshop Overview, Review of Print and Radio Placements and various IEC Material, the Philippine Plan of Action 2017-2022, Review of Calabarzon Communication Plan 2013-2015, and Actual Communication Planning Workshop.
For its last salvo, the CNN-4A gave way to its 3rd Quarter Meeting, consisting of review/approval of the highlight of the Previous Meeting, and other organizational concerns.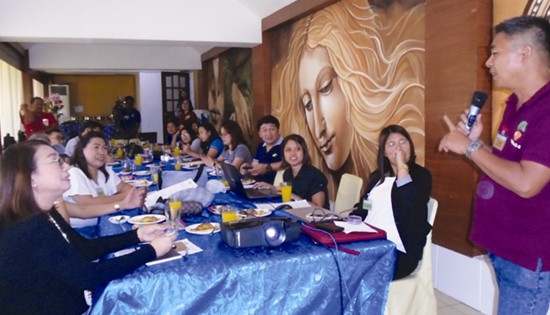 HIMSoG-8 President Antonio Pueblos makes the first presentation on the Technical Exchange with CNN-4A by presenting first the accomplishments of HIMSoG-8.
8ID identifies six soldiers who died at Borongan encounter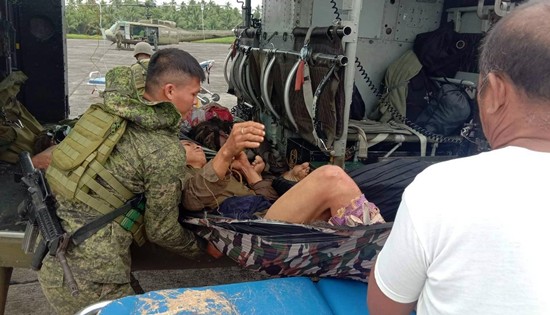 By DPAO, 8ID PA
November 13, 2019
CAMP LUKBAN, Catbalogan City, Samar – The 8th Infantry Division identified the six (6) soldiers who paid ultimate sacrifice during an encounter with the New People's Army (NPA) Terrorists at Sitio Bangon, Brgy. Pinanag-an, Borongan City, Eastern Samar in the late afternoon of November 11, 2019.
The troops were conducting a military operation in response for the persistent reports from the civilians about the presence of CNTs in the area. While the troops were on their way to their rebels' lair which is also being used as a bomb-making facility, they encountered the NPA terrorists who employed several improvised anti-personnel mines.
The valiant soldiers who sacrificed their lives against the NPA who used landmines as an attack are: Sergeant Rex C Jadulco; Corporal Ronaldo O Go; Corporal Limar L Banug; Private First Class Kent Loyd M Agullo; Private First Class Junmar D Buranday; and Private Charlie P Del Rosario.
The National Democratic Front (NDF) including the Communist Party of the Philippines (CPP) and the NPA are signatories, bans the use of landmines which they have neglected, the Comprehensive Agreement on Respect for Human Rights and International Humanitarian Law. In connection with the "Ottawa Convention" or "Mine Ban Treaty" that seeks to end the use of Anti-personnel Landmines (APLs) worldwide to end suffering and casualties.
Remains of the soldiers together with the deceased NPA rebel were immediately airlifted to Camp Vicente Lukban, Catbalogan City and were transported to a funeral home in Catbalogan for post mortem and proper funeral services while 20 wounded soldiers are still in the hospital at stable condition and undergoing treatment.
After the funeral services, the remains will be transferred to the 8ID headquarters.
The 8ID gave the assurance that immediate assistance be accorded to the bereaved families.
Save the Children Philippines steps up assistance to displaced children in earthquake-hit areas in Mindanao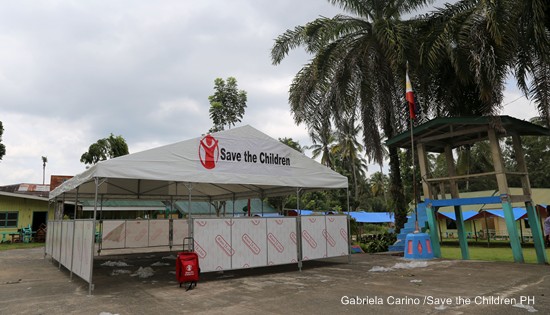 Press Release
November 13, 2019
MANILA – Save the Children Philippines has delivered family hygiene kits and plastic tarpaulins to ease the suffering of children and their families affected by the series of strong earthquakes in Mindanao.
A total of 1,051 family hygiene kits and 130 plastic tarpaulins have been distributed to children and their families in the most affected towns of Makilala and Magpet in North Cotabato to protect them from contagious diseases while in cramped evacuation centers and while temporary taking shelter in makeshift tents outside their damaged houses.
The humanitarian team of Save the Children Philippines will set up temporary learning spaces and distribute teaching kits starting this week to ensure displaced learners can resume classes.
Lawyer Alberto Muyot, chief executive officer of Save the Children Philippines said the resumption of classes is critical to address psychosocial stress of affected children because it re-establishes their routines.
"Keeping children safe inside learning spaces is critical in times of emergencies. Children know that education gives them power to build a better future," said Muyot in a statement.
Initial figures from the Department of Education (DepEd) showed that some 3.2 million school-age children have been affected by the series of earthquakes that hit four regions in Mindanao including the war-torn Bangsamoro Autonomous Region in Muslim Mindanao (BARMM) as well as Davao and SOCCSKSARGEN regions. Out of the 3.2 million children, at least 1.6 million of them are in Davao, SOCCSKSARGEN, and BARMM, regions that were affected by the earthquake.
Jerome Balinton, humanitarian manager of Save the Children Philippines, said the three temblors have caused massive destruction and damage to houses, schools, roads and infrastructure and it may take years to complete rehabilitation of the damaged infrastructure. Latest report from DepEd as of Nov. 11 also show that 1,046 classrooms were totally damaged, while some 1,274 classrooms sustained major damage.
"But children cannot wait. The need for psychosocial support, shelter, water, hygiene and sanitation and the resumption of classes in safe learning environments is immediate and crucial to the recovery of children and their families," said Balinton.
At the moment, more than 11,000 families remain in evacuation centers, with limited access to water and sanitation facilities. And with many schools being used as evacuation centers, children's learning is also affected. DepEd report also shows that there are 41 schools used as evacuation centers.
A total of 260,492 people were affected by the three strong earthquakes across Mindanao, with 24 dead. Of the affected population, over 103,000 individuals are in Makilala town.
"The numbers are expected to escalate as most of the affected families live in hard to reach areas," said Balinton.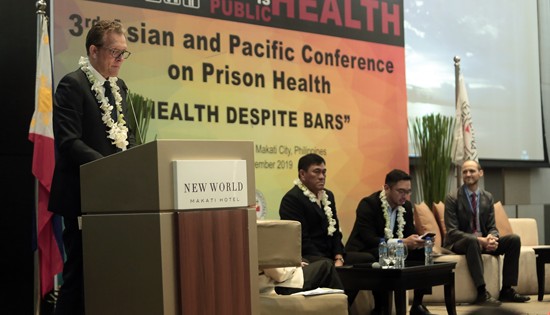 "To break the cycle of poor health outcomes in prisons, we need to go beyond curative care and examine the inmates' living conditions. We must look at prison health care from all angles. We must consider prison health as a public health issue if we are to break that cycle," said ICRC Head of Delegation Boris Michel in his opening remarks. In photo are (from left) Philippine Interior and Local Government Undersecretary Nestor Quinsay, Philippine Justice Undersecretary Deo Marco, and Thomas Hiatt, technical officer of the World Health Organization.
Health despite bars: Asia-Pacific region tackles state of prison health
By ICRC
November 13, 2019
MANILA – With the Asia and Pacific region having over four million prisoners – the highest in the world according to the latest World Prison Population List – tackling the need for quality healthcare among detainees is as complex as it is critical.
"Prisoners deserve the same standards of healthcare as are available to the community, as well as access to health services without discrimination. But often, the inmates' health needs cannot be fully met due to challenges in the coordination among authorities concerned, lack of coherence in policies and procedures, inadequate health staff and facilities, among other reasons," said Dr. Ziad Tohme, who works with the International Committee of the Red Cross (ICRC) as a regional specialist looking into the health-care needs in detention facilities in Asia and the Pacific.
Poor living conditions in many prisons across the world adversely impacts the health of inmates, worsening their pre-existing ailments or leading to new health concerns in prisons.
"Tuberculosis and other communicable diseases are significantly prevalent in prisons, and may spread to the community through staff, visitors and released prisoners who received inadequate treatment. Curative care must be supported by improving food and nutrition, water, sanitation and having activities for better health. It's also critical to recognize that prison managers and other staff are just as responsible for prisoners' health," Dr. Tohme said.
To support authorities in the region strengthen their prison health systems for the benefit of inmates, jail staff and communities at large, the ICRC organized the third Asian and Pacific Conference on Prison Health (APCPH) from 13 to 15 November 2019 in Manila, Philippines.
Titled "Health Despite Bars", the conference provides a platform to health and detention authorities, academics and public health experts, to share research and best practices, as well as challenges. The conference also aims to:
- promote a whole-of-government approach to prison health;
- increase awareness of international standards;
- encourage participants to be active members of the worldwide prison health research and engagement network.
Around 150 participants involved in prison health from 21 countries will discuss topics such as health needs of women and other vulnerable groups, mental health and drug addiction, international standards for prison health.
As a result of the conference, it is hoped that the participants will help improve the health outcomes of detainees through effective management and coordination, promote respect for fundamental rights protecting all detainees, and implement related standards and principles (including "equivalence of care"), contributing to a healthier society.
"We're all involved in providing care to people in custody. Coming to a conference allows us to find out what's working in some places, what's not working so well… share our experiences. The reason why we're all here is to improve care for people who are in detention. We are all passionate about that and so if we can learn from each other that can improve the care of people in custody, that's a great thing," said participant Fiona Montroy, clinical nurse consultant of Justice Health and Forensic Mental Health Network in New South Wales, Australia.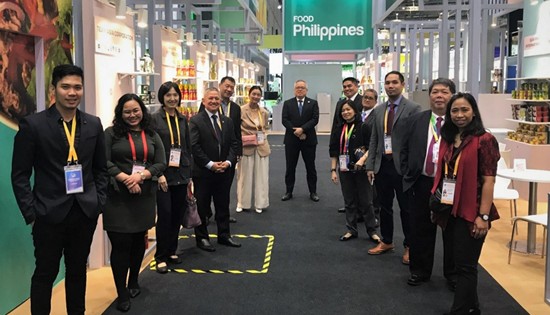 Secretary Ramon M. Lopez led the Philippine delegation to the second edition of the China International Import Expo. In the Photo DTI Secretary Ramon M. Lopez (center) from right of center, DTI-Trade Promotions Group Undersecretary Abdulgani Macatoman, Assistant Director Angelo Salvador Benedictos of the Bureau of International Trade Relations, Assistant Director Agnes Perpetua Legaspi of the DTI-Export Marketing Bureau, Commercial Vice Consul Mario Tani of PTIC-Shanghai, Commercial Vice Consul John Paul Inigo of PTIC-Guangzhou, Ms Rowena Mendoza of CITEM, from left of center, Executive Director Paulina Suaco-Juan of CITEM, Mr Jimmy Tang of Team Asia Corporation, Commercial Counsellor Glenn Penaranda of PTIC-Beijing, Tropicana Food Corporation Representative, Ms Michelle Pontilas of Bureau of International Trade Relations and Mr Rudolph Velasco of DTI-Export Marketing Bureau.
PH sales at Chinese expo more than double at US$300 million
By DTI-TPG-EMB
November 13, 2019
SHANGHAI, China – Philippine (PH) exhibitors booked around US$300 million in sales at the 2nd China International Import Exposition (CIIE), more than twice the US$124 million recorded sales last year. Top sellers were fresh bananas, pineapples, mangoes and durian; not to be outdone were processed fruits and nuts, and other coconut-based products.
"The big jump in sales since the last CIIE proves that the China sees the Philippines as a significant source of agricultural and other products. This motivates us to continue our efforts in getting more exhibitors to the CIIE, as well as improving trade relations and market access through the conclusion of the Regional Comprehensive Economic Partnership (RCEP). Suppliers, on their part, should increase their production to answer the demand of the Chinese market," said Department of Trade and Industry (DTI) Secretary Ramon Lopez.
Sec. Lopez led a 139-strong Philippine delegation, with 32 food exhibitors participating this year. With the huge opportunity in the Chinese food market, Sec. Lopez has advocated for continued, stronger and effective presence in the CIIE through strategic positioning of Philippine products to serve the upgraded requirements of Chinese consumers.
Since it began last year, the CIIE 2019 is a trade fair held in autumn in Shanghai and is the world's first import-themed national-level expo. The total exhibition area of the CIIE exceeds 240,000 square meters and attracts an average of 150,000 professional buyers, with more than 100 participating countries. Amidst these immense numbers, Philippine products – known to be of quality to foreign buyers – received overwhelming approval at the CIIE.
Many Chinese buyers and consumers lined up to try the various food products offered at the Philippine Food Pavilion consisting of 32 exhibitors, including premium tuna products recently launched in the Chinese market by Century Pacific and other products by Philippine global brands such as San Miguel, Monde Nissin, and Fisher Farms.
Chef Bea Nitard of Via Mare used Philippine ingredients to prepare dishes suitable to the Chinese palate. The chef observed that the Chinese are not afraid to try new things and the Philippines should introduce more premium food products to the Chinese consumers. The popularity of the dishes was apparent in the long lines seen at the Food Philippines Pavilion every day.
The Philippine pavilion was formally opened by the DTI Undersecretary Abdulgani Macatoman, with China's Ministry of Commerce Director General Peng Gang. In his opening remarks, Undersecretary Macatoman highlighted the role of the 32 Philippine exhibitors in contributing to the growth of Philippine exports in China's food sector, especially in the fresh fruits category. The Philippines currently exports mangoes, bananas, papayas, pineapples, and young coconuts. But Undersecretary Macatamon observed that with the stronger Philippine-China relations and through China's liberalization program and the CIIE, there will be more Philippine food products sold in China soon.
The Philippine participation was organized by DTI through the Center for International Trade Expositions and Missions (CITEM). It was supported by the Export Marketing Bureau (EMB) and the Foreign Trade Service Corp (FTSC) through the Philippine Trade and Investment Centers (PTICs) in Shanghai, Beijing, and Guangzhou in partnership with the Department of Agriculture (DA), the Agribusiness and Marketing Assistance Service (AMAS), and the Office of the Agricultural Counsellor in Beijing.
With the positive feedback and results generated from the Philippine participating companies and keen interest shown by Chinese buyers, DTI and DA expect a much bigger participation in the next edition of the CIIE in 2020.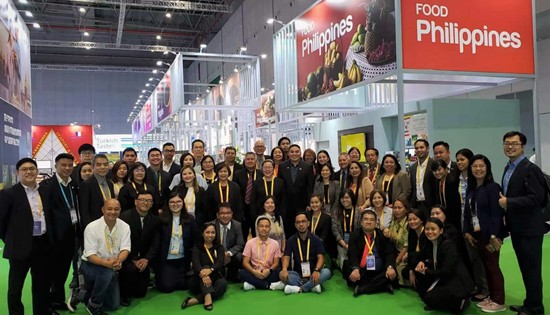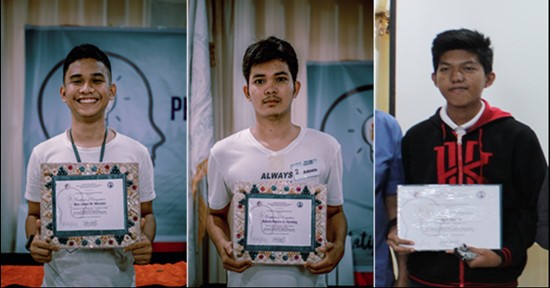 Winners of the 25th PSQ Regional Finals (L-R): Mr. Ben Julian M. Merales, Mr. Adonis Rancie G. Handog and Mr. Filbert M. Abalon.
UPVTC's Comp Sci student is the 25th PSQ regional champ!
By PSA-8
November 13, 2019
TACLOBAN CITY – Mr. Ben Julian M. Merales, BS Computer Science student of the University of the Philippines -Visayas Tacloban College (UPVTC), won the 25th Philippine Statistics Quiz (PSQ) Regional Finals conducted on 12 November 2019 at Leyte Park Hotel, Tacloban City.
Mr. Merales emerged as regional champion, besting 18 other contestants, after scoring 24 points in the three (3) rounds of questions and answers on statistical theories and problems. Completing the top three (3) were Mr. Adonis Rancie G. Handog of the Visayas State University Main Campus - second place, and Mr. Filbert M. Abalon of the University of Eastern Philippines - third place. Winners were given cash prize of P15,000, P12,000 and P10,000, respectively, and certificate of recognition. Likewise, respective winning coaches received cash prize equivalent to half of their contestant's prize aside from the certificate of recognition from the PSQ organizers.
The PSQ is a nationwide annual contest conducted by the Philippine Statistics Authority (PSA) in partnership with the Philippine Statistical Association Inc. (PSAI), in line with the National Statistics Month (NSM) Celebration. It is designed to test the knowledge in statistics of freshmen students enrolled in colleges and universities and to identify and nurture talents especially in the field of statistics. It also aims to contribute to the advocacy in the use of statistics for evidence-based decision making. The results of the contest can also provide indications of the effectiveness of the statistics component of mathematics as a subject in the secondary curriculum.
The 25th PSQ Regional Finals was conducted simultaneously with the 16 regions in the country. Mr. Merales will represent Eastern Visayas to the 25th PSQ National Finals which will be conducted on 29 November 2019 in Metro Manila.
Stakeholders laud DOLE's SPES program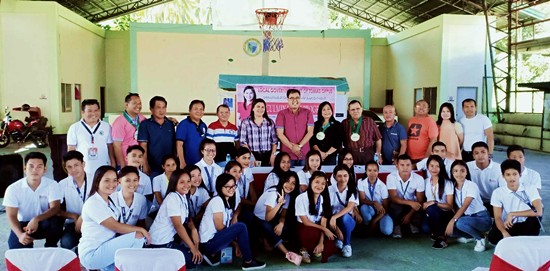 By NORMA RAE S. COSTIMIANO
November 7, 2019
MAASIN CITY – The students of Tomas Oppus, Southern Leyte lauded the DOLE's Special Program for Employment of Students (SPES) during the Culmination Activity conducted by the Public Employment Service Office (PESO) of the said local government unit on October 22, 2019.
Department of the Interior and Local Government Undersecretary Epimaco V. Densing III graced the program and delivered his inspirational message.
"With the DOLE's SPES program, I encourage you to value the opportunities being given by government and gain from it ," said Usec. Densing.
He likewise mentioned that SPES is indeed a very good program which provides students experiences before they actually immerse themselves in the world of work.
One SPES beneficiary cited her appreciation to the DOLE and the LGU led by Hon. Mayor Jessica Marie Excaño Pano. She was thankful for the experiences she gained as a SPES beneficiary which exposed her to the realities in the work setting, enabling her to learn office procedures and meet people of different orientations.
DOLE Southern Leyte Field Office (SLFO) Chief Marites Z. Viñas congratulated the student who have successfully completed their term and inspired them by providing valuable labor market information which can assist them in finding the right jobs.
"Aside from having the education, you need to possess soft skills which are nowadays being considered such as perseverance and time management. These are the current demands of the management in terms of hiring employees, so you must be a smart jobseeker," Ms. Viñas said.
Mr. Peter Edmar Tambis, PESO Manager of Tomas Oppus and an awardee himself during the Search for the 2019 Best PESO, expressed his warmest thanks to DOLE. He requested more funds for SPES implementation to cater for more deserving students.
A total of P156,377.00 has been released by DOLE-SLFO to thirty-nine (39) beneficiaries. Each SPES beneficiary received P4,012.91 as DOLE's counterpart together with their certificates of completion.
SPES is DOLE's employment bridging program during summer or Christmas vacation that aims to augment the family's income of poor but deserving student, our-of-school youth (OSY) or dependents of displaced or would be displaced workers who intend to finish their education. (with reports from Marites Z. Viñas)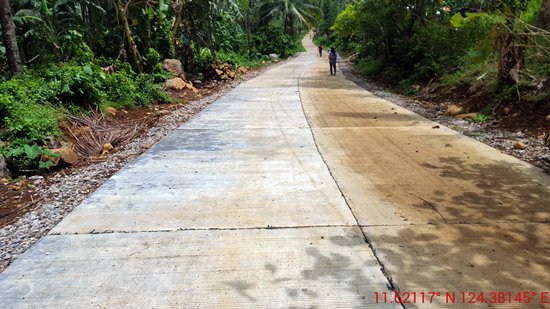 Completed P1.94M construction /concreting of barangay road, Sitio Ansay, Brgy. Union, Caibiran, Biliran under contract with LJPM Builders and Construction Supply.
DPWH-Biliran DEO's 2019 infra projects 61.14% done
By DPWH-Biliran
November 7, 2019
NAVAL, Biliran – The Department of Public Works and Highways (DPWH) -Biliran District Engineering Office (DEO) achieved 61.14% accomplishment of its 2019 infrastructure projects as of October 31, 2019.
With only few months left before the year ends, David P. Adongay Jr., District Engineer said that they are rushing the completion of its on-going projects to meet the district's target accomplishment.
Out of the 92 projects for 2019 implementation, Biliran DEO has completed 39 while 43 are on-going and 10 are Not-Yet-Started (NYS).
Adongay revealed that the district office posts a negative slippage of 6.07% as of October 31, 2019.
"We have already discussed this with the section chiefs and technical staffs and we are doing immediate actions. Hindi pwede pabayaan lang natin na magdecrease ang performance ng district kasi maaapektuhan ang future development ng Biliran," he said.
For 2019, DPWH-Biliran DEO has a total allotment budget of P1.28B.
According to Adongay, budget funding for next year will depend on the performance of the district office in terms of its physical and financial accomplishment.
"Less budget also means we will be forced to terminate few of our job orders which plays a vital role in our day to day operation," he said.
Despite of the haste in the implementation, Adongay ensures that quality of projects will not be compromised.
Adongay reported that 15 infrastructure projects have already been completed this October. These projects include the construction of P3.9M gymnasium at Brgy. P.S. Eamiguel, P1.95M completion of Boy Scout of the Philippines (BSP) building (Phase II) at Brgy. Larrazabal and P981,381.00 construction (completion) of multi-purpose building at Higatangan, all in Naval town.
DPWH-Biliran DEO has also completed the improvement of plaza at Brgy. Bariis in Caibiran town worth P969,350.00, renovation of fencing/ flooring plaza at Brgy. Bacolod in Culaba town worth P969,920.00, completion of senior citizen building at Brgy. Looc in Almeria town worth P945,400.00 and improvement of access road leading to Kawayan port in Kawayan town worth P12.356M.
Moreover, eight flood mitigation projects have also been completed. These projects are located along Bagongbong river in Almeria town (P18.99M), Santol river in Biliran town (P24.850M) and Kaulangohan river (P14.43M) and Binohangan river (P1.94M) both in Caibiran town.
Two flood control projects are also completed along Mainit river (Phase 2) worth P14.2M under Regular Infrastructure Program and P4.87M flood control at Sitio Mainit, Brgy. Villa Vicenta under 2019 local infrastructure program, both in Caibiran town.
Meanwhile, two flood control structures have also been completed at Sitio Anas, Brgy. Atipolo in Naval town worth P14.65M funded under regular infrastructure program and P4.88M funded under local infrastructure program.
Bugtong Elementary School gets new 4-classroom building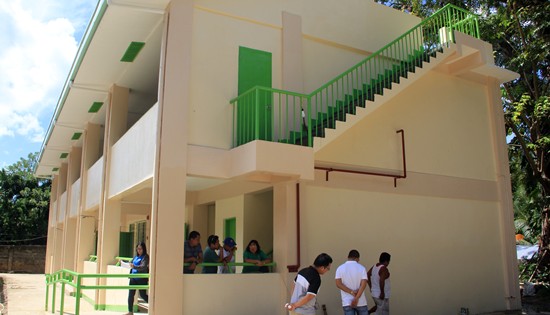 By CHENZI MAY D. UY
November 6, 2019
CALBAYOG CITY – Department of Public Works and Highways (DPWH) -Samar First District Engineering Office (SFDEO) has completed the construction of a two-storey, four-classroom school building in Bugtong Elementary School, Calbayog City. The project drew a total of P12.2 million from the Basic Educational Facilities Fund (BEFF) 2018.
For all 2018 school building projects, DPWH adopted the updated standards and specifications set by the Department of Education. This means the new building now two roof-mounted water tanks and a fire extinguisher in each room, in addition to the standard PWD ramp access, sanitary comfort rooms, and fire alarms. One of the water tanks will serve as a reservoir in case of fire, while the other is for normal water usage within the building.
As per request by the school head, DPWH introduced a volleyball court and a paved walkway into the original design. It can be recalled that the school's volleyball team won Gold in the Calbayog City Wide Meet 2019 and represented the city to the EVRAA Meet.
The provision of new learning spaces primarily aims to decongest existing classrooms so the ideal teacher-to-learner ratio can be achieved. This, in turn, helps to improve the safety, comfort, and learning success of students.
DPWH-Biliran DEO acquires new equipment to accelerate road marking application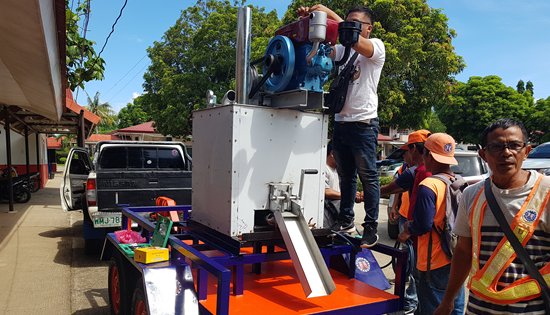 By DPWH-Biliran
October 31, 2019
NAVAL, Biliran – A thermoplastic paint pre-heater and paint applicator has been acquired by Department of Public Works and Highways (DPWH) -Biliran District Engineering Office (DEO) to accelerate work on road marking application along Biliran's national road network.
David P. Adongay Jr., District Engineer said that the procurement of these machines will fast-track the work of maintenance personnel compared to the manual road marking application.
"Using the machine, we can really expect a more quality result with less manpower needed," said Adongay.
Road markings are applied on paved roadways to provide guidance and information to drivers and pedestrians to avoid road accidents. Road surface marking can also indicate regulation for parking and stopping.
The newly acquired equipment has a total cost of P2.18M funded through Engineering Administrative Overhead (EAO).
DPWH-Biliran DEO regularly conducts routine maintenance activities to provide quality service to the public by implementing activities that maintains the quality, safety and integrity of the roads, bridges and other structures under their jurisdiction for the safety convenience of the traveling public.
Design Center's Pinyapel earns D&AD pencil
By DTI-TPG-DCP
October 31, 2019
PASAY CITY – The Philippine-made Pinyapel, a specialty paper made from discarded pineapple leaves, bagged a Wood Pencil at the D&AD Future Impact Awards 2019 in recognition of its potential to create a huge impact on environment and sustainability as it is proposed to be a food packaging alternative to single-plastic. The award will be presented in New York City, USA on November 6. Industry professionals consider the D&AD pencil as equivalent to "career knighthood".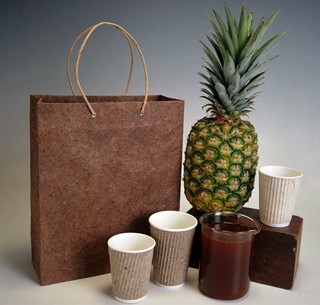 With this recognition of Pinyapel, it will receive a D&AD Wood Pencil, a place on the D&AD Future Impact Accelerator programme, especially designed to accelerate Pinyapel's development in order to deliver tangible impact in their category area within 12 months. The D&AD Future Impact Programme supports great ideas that have the potential to change the world.
Winning a Wood Pencil also provides an opportunity for the Philippine team behind Pinyapel to pitch at the D&AD Festival 2020 to gain support from venture capitalists (VCs) and creatives, a pass to the D&AD Festival 2020, a dedicated space at the Impact exhibition in London, 12-month membership and a year of exposure to a global audience through D&AD and third-party press.
Design and Art Direction (D&AD) is a British non-profit that exists to celebrate, inspire, and nurture excellence in design and advertising in the United Kingdom and worldwide. More than just awards, D&AD has world-class training programmes, accelerator platform, and festival to support the industry towards creative excellence.
"Pinyapel's recognition in the international scene is a big leap in our move to promote Philippine design and innovation excellence. It highlights the Filipino brand of design point of view that is anchored in 'malasakit' which brings an authentic Filipino design perspective on developing impact-driven solutions that address the problems of today and of tomorrow, while protecting the future generations and ensuring a better future for them," said Department of Trade and Industry Secretary Ramon M. Lopez.
Pinyapel was the result of a research and development initiative led by the Design Center of the Philippines on pineapple leaves. After its breakthrough research on developing the material, it collaborated with Nature's Fresh Pineapples for the supply of raw materials; CDO Handmade Paper, for paper sheet processing; and Ideatechs Packaging, Inc., for paper sheet conversion to food packaging applications.
The Pinyapel project was led by the Design Center's materials research and development program, which aims to produce sustainable, cost-effective and commercially viable materials and contribute to strengthening local businesses.
Pinyapel is reflective of Design Center's quadruple bottomline approach to circular design. The project began with the intent of maximizing the use of agricultural waste to improve the livelihood of farmers (prosperity), address concerns on dwindling natural resources and offer alternatives to plastic (planet); collaborate with local enterprises (people); and consequently, show the world what the creative and design mind of Philippines can do (purpose)," said Design Center of the Philippines Executive Director Rhea O. Matute. "With the country's desire for a more value creating economy, Design Center hopes to develop and unlock more commercialization opportunities for impactful ideas like Pinyapel," Matute further shares.
Pinyapel production and use
Pinyapel is a specialty paper that is reinforced and print-viable for secondary packaging applications. It may also be used for gift bags, paper cup sleeves, and corrugated paper.
Production involves harvesting the discarded leaves from pineapple plantation, drying the leaves under direct sunlight, pulping and rinsing the cut leaves, and pounding the rinsed pulp. Reinforcing solutions are used to improve the mechanical properties of the material. Once dry, the paper sheets are either run in corrugating machines for corrugated paper and cup sleeves or cut out for paper bag production.
Pinyapel leaves during production and after consumer use can be used as raw materials to produce brown bags and cardboards.
With the challenges faced by the pulp and paper industry in sourcing pulp locally, Design Center's move to develop Pinyapel and partner with local businesses provided an alternative and sustainable source for paper. It is also seen as an additional income source for farmers in the country's large pineapple production area, with a total hectarage of 63,904 according to the Philippine Statistics Authority's April -June 2019 Quarterly Bulletin on Major Fruit Crops; thus, providing new purpose and value to what was previously considered agricultural waste.
The Design Center's materials research and development program has explored the potential of agricultural waste and otherwise overlooked resources as raw materials for various product applications, impacting the design and value of Philippine products.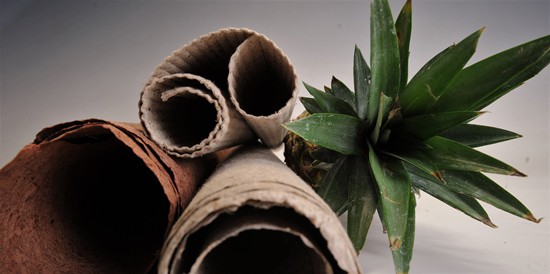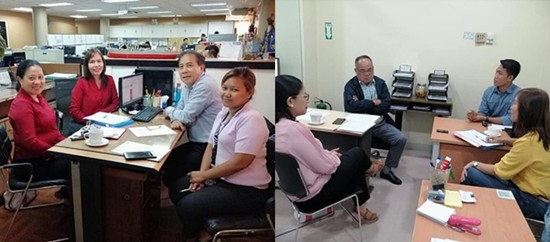 NMP maritime research personnel conducting data gathering activities.
NMP addresses industry needs through relevant researches
By National Maritime Polytechnic
October 29, 2019
TACLOBAN CITY – Pursuing its second mandate as a research institution of the government on maritime matters, the National Maritime Polytechnic (NMP) undertakes researches and studies that generate data and information integral in a dynamic maritime industry.
With its radar focused on maritime manpower development consistent with the workforce framework of its mother agency, the Department of Labor and Employment (DOLE), the NMP embarks on research initiatives and advocacy that relate to the Philippines as the world's largest provider of competent seafarers.
This year, NMP is undertaking four (4) researches as provided under the 2019 General Appropriations Act (GAA) and targeted to be completed by 31 December 2019, to wit:
Effects of Autonomous Shipping in the Philippine Maritime Industry
The study aims to identify and discuss how manning and shipping companies respond to this new development in shipping, the autonomous ship technology, and what interventions they will take to address the challenge to produce qualified seafarers for vessels of the future.
More specifically, the study aims to: (a) determine the possible effects of autonomous ship technology to the Philippines as a major crew provider to oceangoing vessels; (b) identify career options or alternative profession where displaced seafarers could possibly apply when full autonomous shipping is implemented; (c) document required competencies and skills and the interventions or measures being done by manning and shipping companies, as employer of the seafarers, in the light of the impending full implementation of autonomous ship technology; and (d) recommend strategies and approaches to address identified skills gaps / training needs in response to the full implementation of autonomous ship.
The Capacity of the Philippine Maritime Industry to Produce Officers-In-Charge (OIC) per Requirements of the 1978 STCW as Amended: Focus on cadet Onboard Training
The research undertaking aims to determine the capacity of the Philippine maritime industry to produce Officers-In-Charge in accordance with the requirements of the 1978 STCW, as amended, with focus on the Onboard Training Program as a mandatory requirement to obtain a degree in Bachelor of Science in Marine Transportation (BSMT) and Bachelor of Science in Marine Engineering (BSMarE) and a Certificate of Competency (COC) for officers.
The specific objectives of the study are: (a) to determine the outputs of individual Maritime Higher Education Institutions (MHEIs) in terms of graduates versus enrollees in BSMT and BSMarE, including the deployment rate of cadets under the Onboard Training Program; (b) determine the number of Philippine domestic ships, Philippine-flagged ships engaged in international voyage available for training berths and Philippine manning agencies that accommodate cadets on behalf of their international shipowners, as well as their policies on accommodating cadets; (c) identify issues and concerns in the implementation of the Onboard Training Program from the viewpoints of the stakeholders; and (d) recommend a plan of action to identified issues and concerns.
Employment Acceptability of Women in Philippine Domestic Shipping
The study intends to identify and analyze the gaps in the recruitment and selection process of domestic shipping companies when it comes to female seafarer employment. Primarily, the study aims to: (a) determine the level of domestic shipping companies in employing women; (b) gather information on the current policies and practices in the recruitment and selection process of domestic shipping companies with regards to the employment of seafarers; (c) identify the challenges faced by women when applying for shipboard employment in domestic vessels; and (d) recommend a plan of action for the improvement of female recruitment into domestic shipboard jobs.
Profile of Philippine Maritime Employment Laws
The study is designed to provide the Filipino seafarers with a supplemental tool in the understanding of the employment laws, related cases or jurisprudence, and the arbitration process related to their employment.
The research is grounded on the following objectives: (a) identify the Philippine employment laws and decided cases in relation to the employment of Filipino seafarers; (b) present the arbitration process in the Philippines regarding seafarers' labor cases; (c) identify the cases lodged in the Philippine arbitration routes; and (d) provide guidelines on actions to be taken by seafarers confronted with issues related to seafaring.
NMP, being the only government maritime research center in the country, responds to dynamic characteristics of the maritime industry and the consequent demand for timely, accurate, and relevant data as basis for program and policy development.
Findings of these researches will be disseminated next year to the industry stakeholders from the government, maritime education and training (MET) institutions, maritime associations, seafarers' organizations, shipping companies and manning agencies. Recommendations from the researches may serve as valuable inputs to policy making and program development that impact on the Filipino seafarers as a special workforce of the country.
Those interested in NMP research undertakings may visit the NMP website (www.nmp.gov.ph) and access the e-Research Information System Portal which is designed to disseminate NMP completed researches, present the Research Agenda and engage the industry stakeholders to collaborate in the research activities.
Aside from its research function, the NMP continues to upgrade its facilities and provide maritime trainings required pursuant to the Standards of Training, Certification, and Watch keeping for Seafarers (STCW) Convention as amended in 2010 including value-adding courses towards improving the qualifications of Filipino seafarers for their employment acceptability and enhanced competitiveness.
DOLE holds groundbreaking ceremony for future North Leyte Field Office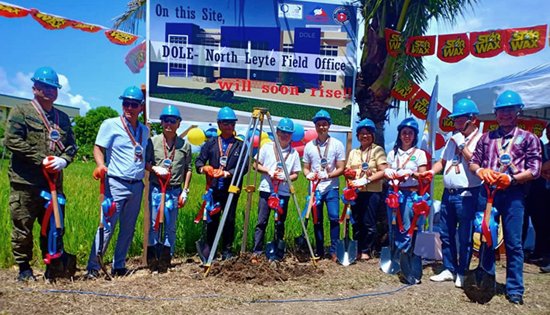 By NORMA RAE S. COSTIMIANO
October 28, 2019
TACLOBAN CITY – A groundbreaking ceremony was held by the Department of Labor and Employment Regional Office VIII for its future North Leyte Field Office last October 22, 2019 at Government Center, Candahug, Palo, Leyte.
The simple ceremony was witnessed by the different partners and stakeholders of DOLE RO VIII with Executive Director Noel C. Binag of Occupational Safety and Health Center as the keynote speaker.
Regional Director Yahya A. Centi in his opening remarks grabbed the opportunity to extend his heartfelt gratitude to the Province of Leyte headed by Governor Leopoldo Dominico L. Petilla and committed as well to continue providing labor and employment services as needed by the constituents of the province.
"My sincerest gratitude to our good governor Petilla for being so generous to the department. Let it be known today that we are inspired all the more to continue delivering public service in the field of labor and employment. This will forever be etched in the history of DOLE RO VIII", said Director Centi.
Meanwhile, Executive Director Binag congratulated DOLE RO VIII and hoped for a continued strategic partnership with its stakeholders for the benefit of the constituents.
"Let this ground-breaking ceremony spark a more harmonious partnership of DOLE and the province in the future. I know a lot is still to be done for the realization of the future DOLE-NLFO building, but we are now about to do the first step. As the quote says, A journey of thousand miles begins with a single step," said ED Binag.
In response, Atty. Edgardo Cordeño, Provincial Administrator, representing the good governor, assured that the provincial government of Leyte will remain as a supportive partner of DOLE in its pursuit to fulfill its mandate and eventually serve the people of Leyte effectively.
"As your fellow servants in the government, we have shared responsibility to help our people in need. We are one with you in remaining steadfast to the mission of uplifting the lives of the Leyteños", Atty. Cordeño said.
Other stakeholders who gave their messages during the turnover were Mr. Jaime Go representing Congressman Ferdinand Martin Romualdez of 1st District of Leyte and Mayor Michael Dragon Javier representing Congresswoman Lolita Karen Javier of 2nd District of Leyte.
Also present to witness the ceremony were heads of the DOLE-Regional Coordinating Council.
Last August 17, 2019, the signing of the contract of usufruct was conducted which entitled the DOLE RO VIII to a 1,000 square meter lot. Said lot is intended for DOLE-North Leyte Field Office catering to the clients of first and second districts of Leyte.
JTF Storm obliterates NPA's Northern Samar lair with surgical airstrikes
By DPAO, 8ID PA
October 27, 2019
CAMP LUKBAN, Catbalogan City – Joint Task Force STORM under the Central Command, Armed Forces of the Philippines destroyed a confirmed New People's Army (NPA) encampment in the hinterland of Barangay Caputoan, Las Navas, Northern Samar in the early morning of October 26, 2019.
Utilizing the Philippine Air Force (PAF) supersonic FA-50 jets to conduct surgical airstrikes to deliver 500-pound bombs, the JTF surprised the group of more or less 50 NPA terrorists operating in Northern Samar led by Ceriaco Jerusalem aka CADO.
JTF Storm and 8th Infantry Division, Philippine Army Commander, Major General Pio Q. Diñoso III orchestrated the joint operations to locate and annihilate the said NPA group which had been monitored doing extortion from the communities in the province. Thus, the AFP's modernization efforts had been put to effective use and will continue to be employed in the neutralization of the Communist Terrorist Group (CTG) in Eastern Visayas in adherence with Executive Order 70, otherwise known as Institutionalizing the Whole-of-Nation Approach in attaining Inclusive and Sustainable Peace, Creating a National Task Force to End Local Communist Armed Conflict (NTF-ELCAC).", said Diñoso.
Upon the conduct of bomb damage assessment in the impact area by ground troops yesterday, the surgical airstrike resulted to the obliteration of makeshift huts in the rebel camp and initial recovery of evidences of NPA activities and presence to include: 11 civilian backpacks, 3 military-type backpacks, 7 hammocks, 2 sacks of rice, assorted food supplies, 1 box of dried fish, 2 sacks of land mine, 3 cellphones with chargers, 1 ICOM radio, 1 laptop, 1 landline tester, 11 flash drives, 4 SIM cards, 2 external drives, assorted blasting caps, 1 roll of detonating wire, 4 live ammo for shotgun, 13 live ammo for M16, 1 empty magazine for carbine, 2 improvised grenades, 2 anti-tank land mines, assorted medical supplies, and subversive documents.
Ongoing search and pursuit operations by troops under the 803rd Infantry Brigade are being sustained to ensure that the CTGs are caught. Bloodstains along the path of the fleeing rebels indicate the heavy casualties inflicted on the communist terrorists.
JTF Storm conveys its gratitude to the relentless support of the civilians who fearlessly report the intimidation and extortion activities conducted by the CTG. "The communist rebels, however, are urged to voluntarily surrender by laying down their arms for them to enjoy the quality of life they deserve to live with their loved ones.", Dinoso added.
NMP and IMMAJ-PJMCC ink deal on IMO MC 6.10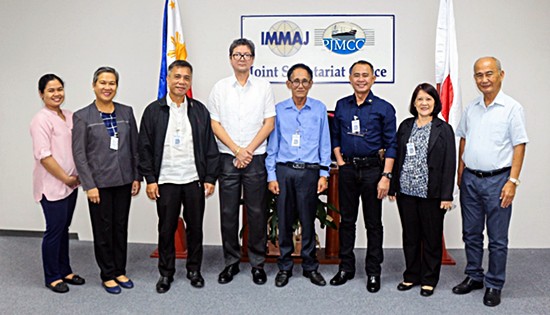 By National Maritime Polytechnic
October 25, 2019
TACLOBAN CITY – Recognizing the importance of advancing the instructional skills of maritime faculty in upgrading the qualifications of Filipino seafarers, the National Maritime Polytechnic (NMP) and the International Mariners Management Association of Japan - Philippine-Japan Manning Consultative Council, Inc. (IMMAJ-PJMCC) inked a Memorandum of Agreement (MOA) on the conduct of IMO Model Course 6.10 (Training Course for Simulator Instructors and Assessors) last 08 October 2019 at the 10th Floor, Ocean Breeze Building, Coral Way Drive, Pasay City.
The agreement involves the NMP's opening of additional batches of IMO MC 6.10 to accommodate IMMAJ-PJMCC scholars coming from their member-shipping / manning companies and faculty members of member-institutions of the Philippine Association of Maritime Institutions (PAMI). It is expected that the participants will be able to develop instructor traits through adoption of effective maritime simulator-based instructions in accordance with international standards.
"The IMMAJ-PJMCC recognizes our capability of providing a world class quality training and this partnership affirms the multiplier effect the training of instructors has on the overall skills education and training endeavor in the maritime industry", NMP Executive Director Joel B. Maglunsod said.
The signing was led by NMP Executive Director Maglunsod and IMMAJ-PJMCC Vice President, Capt. Teodoro B. Quijano.
It was witnessed by Engr. Ponciano V. Trinidad, Atty. Ruben Y. Maceda, Ms. Grace Marie T. Ayaso, Ms. Evelyn T. Futol and Ms. Geraldine S. Paduano-Fabila of NMP and Mr. Wenifredo G. Sola and Capt. Gerry T. Chan of IMMAJ-PJMCC.
The ultimate goal of the collaboration is to ensure the constant availability of competent Filipino seafarers in the world shipping market.
In CY 2018, NMP was able to train twenty-five (25) scholars endorsed by the IMMAJ-PJMCC.
Meanwhile, NMP continues to offer other Professional Development Courses, namely, Training Course for Instructors (IMO Model Course 6.09) and Training Course on the Assessment, Examination and Certification of Seafarers (IMO Model Course 3.12). Other offerings include Deck Courses, Engine Courses, Specialized Courses and Basic Courses.
Likewise in its sound efforts to fulfill and realize its mandate, NMP continues to upgrade its facilities and provide maritime trainings required pursuant to the STCW Convention 1978 as amended including value-adding courses towards improving the qualifications of Filipino seafarers for their employment acceptability and enhanced competitiveness. It also regularly conducts maritime studies to come up with policies for the improvement of the manpower sector of the industry.
DPWH Leyte 2nd DEO reports 71.36% completion of 2019 projects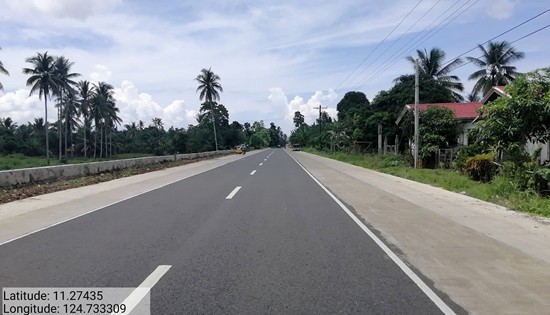 By DPWH 2nd LED
October 25, 2019
CARIGARA, Leyte – Infrastructure projects of the Department of Public Works and Highways (DPWH) -Leyte Second District Engineering Office under the "Build, Build, Build" has reached 71.36% completion as of October 21, 2019.
District Engineer Gerald Pacanan said that out of the 88 projects under the General Appropriations Act (GAA) of 2019, 47 are already completed, 38 are ongoing while three have not yet started.
"We are now ahead on our physical targets in preparation for the forthcoming FY 2020 Cash-Based Budgeting System," he added.
On top of regular projects, Leyte 2nd DEO also implements three school building worth P10.8 million under the Department of Education Basic Education Facilities Fund, and a total of nine projects amounting to P50 million worth of farm-to-market road under the Department of Agriculture fund.
DOLE RO-8 collaborates with Biliran, 1.6M livelihood aid awarded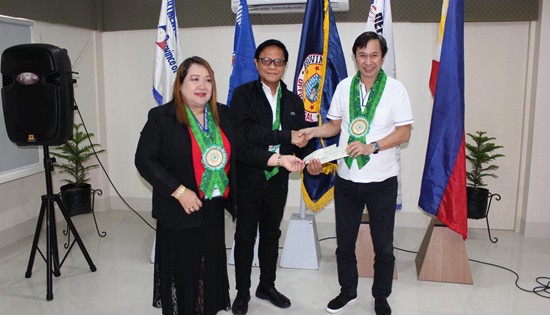 By NORMA RAE S. COSTIMIANO
October 23, 2019
TACLOBAN CITY – To bring the programs and services of the Department of Labor and Employment closer to its clients and stakeholders, a collaborative meeting, this time with the congressional district of Biliran, was conducted by DOLE Regional Office VIII last September 30, 2019 at A.R. Hotel in Naval, Biliran.
Regional Director Yahya A. Centi, whom the idea of the strategic meeting came from, was very determined to have the local chief executives and stakeholders of the lone district of Biliran as strong partners in the implementation of DOLE programs and services.
In his message, Director Centi highlighted the purpose of the activity and thanked Governor Rogelio J. Espina the officials for their positive response.
"This activity is aimed at establishing and maintaining a strong and reliable partnership with our LCEs, all for the welfare of our dear constituents here in Biliran. That's why I am overwhelmed with the response from Governor Espina and the different municipal mayors", said Director Centi.
The meeting was attended by twenty two (22) officials from the Province of Biliran and seventeen (17) from the DOLE's side including the head of the different member agencies of the DOLE-Regional Coordinating Council.
One of the highlights of the one-day meeting was the release of two (2) livelihood checks amounting to P1,675,000 for the two livelihood projects of LGU-Kawayan namely: (1) Provision of Motorboat Engines in support to Fishermen's livelihood, and (2) Provision of Sewing Machines in support to Women and Senior Citizens' livelihood.
Governor Rogelio J. Espina, M.D., was pleasantly surprised with the provision of livelihood assistance and expressed his gratitude to DOLE.
"Let me express my profound thanks to DOLE for being steady in helping our constituents. This is the kind of partnership we want here in the province of Biliran, one with solid evidence of words transformed into actions", said the good governor.
Presentation of the different programs and services of the DOLE-RCC agencies followed which was capped with an open forum.
Long overdue K-12 review must evaluate its attainment of education objectives
By ACT Philippines
October 23, 2019
QUEZON CITY – The Congress and the Department of Education's (DepEd) recent push to review the K to 12 program is five years late. The education agency is directed by the Implementing Rules and Regulation of the Enhanced Basic Education Act of 2013 to conduct a mandatory evaluation review of the program by the end of school year 2014-2015. The Joint Congressional Oversight Committee, on the other hand, is mandated to oversee, monitor, and evaluate the implementation of the K-12 program.
While long overdue, the Alliance of Concerned Teachers (ACT) Philippines expects that the DepEd and Congress will conduct an honest-to-goodness review that would expose the failures of the program in improving the access to and the quality of basic education in the country. Teachers, parents, and students suffer everyday the catastrophic experiment that is the K to 12 program as it has only managed to worsen the crises in the Philippine educational system.
The addition of two years in basic education has only resulted to worse shortages in the educational system given the government's consistent tack to scrimp on the education budget. Deficiency in classrooms now number to more than 100,000, which is the main culprit to ballooning class size and the adoption of class shifts in schools with big enrollments. DepEd's request for 40,000 new teaching items for 2020 reflects the grave shortage in the number of teachers. Worse is the inadequacy in the number of education support personnel in schools that force teachers to take on non-teaching duties.
Six years after, K-12 textbooks for a number of subjects and grade levels remain absent. Farther from reach is DepEd's illusion of attaining 21st century education through the extensive utilization of technology in pedagogy and learning. These glaring shortages, coupled with DepEd's pressure on teachers to deliver on the demands of the K-12 program have rendered the underpaid mentors more cash-strapped and overworked.
Privatization of basic education worsened as the government depended primarily on private schools to provide senior high school education. Instead of investing on the construction of public senior high schools, the government has expended heavily on the E-GASTPE program to send senior high school students to private schools under vouchers. As vouchers do not cover the whole cost of private school education, more and more seek to transfer to the limited number of SHS, while others are forced to become highschool dropouts.
The bid to produce 'holistically developed Filipino learners with 21st century skills' and 'employment-ready high school graduates' have caused the heavy experimentation of the curriculum. The purported 'integrated, spiral, and outcomes-based' design of the curriculum have actually resulted in a basic education curriculum that is rather muddled and fragmented. Teachers can attest to the growing number of non-readers among learners who are promoted to highschool. The results of the National Achievement Test or NAT can speak as well on the declining quality of education. Teachers are always blamed for this problem when it only reflects what and how the education agency has made them teach.
Misgivings on the effectiveness of K-12 program center on its failure to produce 'employment-ready' graduates. While the program obviously fell short of this avowed objective, it would be more meaningful to assess the program vis-a-vis the attainment of education objectives as set by the Constitution. The 1987 Philippine Constitution sets the ultimate objectives of education as "fostering nationalism and patriotism, accelerating social progress, and promoting total human liberation." K-12 program's push to produce an army of employable cheap and skilled labor that satisfies the demand of the global market sidelines the important role of education in nation-building and national development.
The study of Philippine History and social science was the first casualty in the K-12 curriculum restructuring. Study hours for Araling Panlipunan were shorter than those of other major subjects wile Philippine History was stricken off the junior high school curriculum and was downgraded to elementary level, split between Grades 5 and 6. The study of Mathematics and Natural Science, which is crucial in the development of analytical, scientific, and critical thinking, was rearranged in a manner that has fragmented the study of knowledge development. Outcomes-based approach translated to output-centric student evaluation that rely-heavily on submitted works, as how laborers are pressed to produce commodities.
Changes in the basic education curriculum equally hit tertiary education. Filipino language and Philippine Literature subjects were removed from the list of required subjects in tertiary education. Study of humanities and social sciences in college general education was weakened as the drive towards specialization and development of technical skills intensifies.
To be truly meaningful for the Filipino people and our aspiration for national development, the K to 12 review must question the program to its core. Has it served to foster nationalism and patriotism, accelerate social progress, and promote total human liberation?
DPWH builds classrooms for elementary schools in Leyte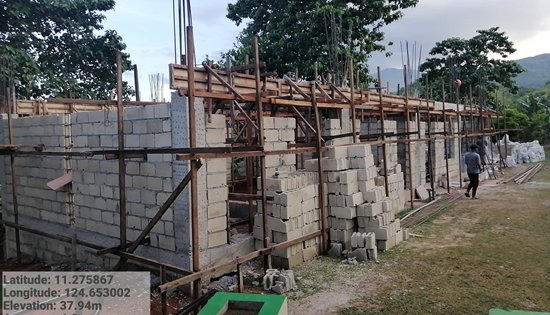 By DPWH-Biliran
October 22, 2019
CAPOOCAN, Leyte – Three elementary schools will benefit school building projects in Leyte towns, the Department of Public Works and Highways (DPWH) Leyte Second District Engineering Office reported.
District Engineer Gerald Pacanan said that the Department of Education (DepEd) -Basic Education Facilities Fund (BEFF) has alloted P10.8 million for the construction of one-unit one-storey two-classroom school building project each in Gen. Luna Elementary School in Mac Arthur, Leyte; Calutan Elementary School in Dagami, Leyte and Manloy Elementary School in Capoocan, Leyte.
Pacanan added that the office is fast tracking the implementation of these projects to accommodate the increasing number of pupils by school opening of 2020.
The engineering office guarantees that contractors will adhere to the standard design of the department for the safety of the pupils and teachers.
The school building projects are funded under the Department of Education (DepEd) -Basic Education Facilities Fund (BEFF), an annual budget for the school building program that covers the construction, site inspection, and the improvement and maintenance of school facilities.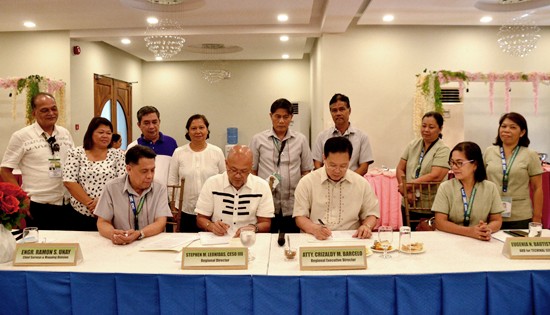 Regional Director Stephen Leonidas (seated, 2nd from left) of the Department of Agrarian Reform (DAR), and Regional Executive Director Atty. Crizaldy Barcelo (seated, 2nd from right) of the Department of Environment and Natural Resources (DENR) formally sign the agreement that would hasten approval of survey returns to fast track processing of land valuation by the Land Bank of the Philippines of lands covered under the Comprehensive Agrarian Reform Program (CARP).
DAR enters agreement with DENR
By JOSE ALSMITH L. SORIA
October 21, 2019
TACLOBAN CITY – Barely a month in office, Regional Director Stephen Leonidas of the Department of Agrarian Reform (DAR) entered another agreement, this time with the Department of Environment and Natural Resources (DENR) for the smooth approval by the latter of survey returns to fast track processing of land valuation by the Land Bank of the Philippines -Agrarian Operation Center (LBP-AOC) of lands covered under the Comprehensive Agrarian Reform Program (CARP).
DAR Regional Director Stephen Leonidas and DENR Regional Executive Director Atty. Crizaldy Barcelo formally signed the agreement recently at Hotel Costa Brava, in support to the agreement DAR previously entered with LBP-AOC.
Barcelo, during the said occasion, expressed his office's full support to the agreement between DAR and LBP-AOC specifically in the issuance of the needed survey returns.
Leonidas, on the other hand, thanked Barcelo and the entire DENR workforce for the cooperation and support of the said agency, which according to him is for the benefit of the agrarian reform beneficiaries.
In the agreement between the DAR and the LBP-AOC, the latter will accept only approved survey plan in requests for the conduct of joint field inspection leading to the issuance of Memorandum of Valuation (MOV) and/or Certificate of Deposit (COD).
To comply this requirement, DAR and DENR discussed on September 20 how to hasten the approval of survey returns, and on the 30th of the same month, the agreement was formally sealed by affixing the signatures of the heads of the two offices as well as witnesses which include Provincial Agrarian Reform Program Officers (PARPOs) Gilberto Apilado of Eastern Samar, Renato Badilla of Leyte, Nida Abelido of Northern Samar, Elisea Orapa of Southern Leyte, DENR's Assistant Regional Director for Technical Services, Dr. Eugenia Bautista; Chief of the Surveys and Mapping Division, Engr. Ramon Unay; Head of the Survey Verification Unit, Engr. Allan Vicentillo; Chief of the Original and Other Survey Section, Engr. Evelyn Amago; and Chief of the Land Records Section, Engr. Nila Castañares.
Among the agreements in the said document states that requests for approval of survey returns with complete attached documents should be acted upon by the verifier within a period of 15 days from receipt and immediately be submitted to the office of the Chief of Surveys and Mapping Division for recommendation, and subsequently to the Office of the Assistant Regional Director for Technical Services for the approval.
For those with pending patent application, DAR should secure first withdrawal of the said application at the Community and Natural Resources Office (CENRO).
Meanwhile, to ensure correct classification of lands during the preliminary projection of landholdings, DAR shall apply the Geo Referencing approach using the digital copy of land classification map provided by DENR.
In case of discrepancies of areas reflected in the land titles and the approved survey plans, DAR shall secure first imprimatur from the Register of Deeds (ROD) annotating the correct area based on record stipulated in RP (Republic of the Philippines) titles.
Further, for survey returns with "double survey", DAR shall file first request for cancellation of the approved survey plan before submitting the new survey returns.
Furthermore, ROD certification stating that no title has been issued yet, is no longer mandatory for those with "double survey". Instead, a certified copy of the latest title and CENRO certification as to the status of the landholding subject of second survey will be required.
It was also agreed that CENRO certification shall be released within a period of 15 calendar days from the receipt of the request.
Considering these agreements DAR entered recently with the two line agencies, Leonidas is anticipating CARP's land acquisition and distribution activities in Eastern Visayas will accelerate and eventually meet the 2022 deadline set by the President, when the latter's term of office ends.