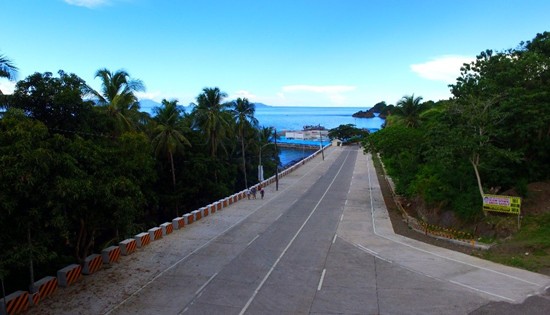 Road Widening along Manguinoo Seaport, Brgy. Manguinoo, Calbayog City.
P40 million road project completed
By JASON T. DE LOS ANGELES
December 12, 2017
CALBAYOG CITY – Samar First District Engineering Office completes the construction of widening/upgrading of access road project leading to Brgy. Manguinoo Seaport to Calbayog Airport, which covers ten barangays along national road.
The project covers the construction of 15 kilometers widening/upgrading of access road in Brgy. Trinidad, Brgy. Cagsalaosao, Brgy. Lonoy, Brgy.Amampacang, Brgy. Tinambacan, Brgy. Malopalo, Brgy. Malajog, Brgy. Marcatubig, Brgy.Bantian, and Brgy. Manguinoo.
This project will greatly benefit the motorists by reducing their travel time. Tourists, who are visiting the city for a short stop-over, can easily move from seaport to airport.
Calbayog City has long envisioned to be a center of commerce, trade, and industry in the province of Samar thus this project's completion will provide easy transport of goods to nearby barangays.
According to Project Engineer Rogelio O. Bonoan, the project is under contract with CDU Construction with an appropriation of P40 million from the CY 2016 Regular Infra Fund.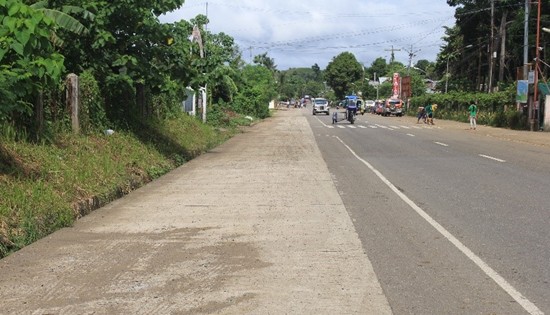 Road widening along Calbayog Airport, Brgy. Trinidad, Calbayog City.
Local coal get away tax-free in approved coal tax
Green groups slam DMCI for using 'sneaky tactics' to avoid regulation
By CEED
December 12, 2017
QUEZON CITY – Advocates for consumers, accountability, and the environment expressed dismay over the 'midnight exemption' accorded to local coal mining companies from the new coal tax approved by both Houses of Congress.
The coal tax hotly contested by local coal mining proponents, particularly DMCI and Semirara Mining and Power Corp. (SMPC)'s Isidro Consunji, was recently approved through a bicameral session held last December 12. The mechanism will levy a P50 tax on both local and foreign coal to be used domestically as both a mechanism for revenue generation and for helping drive the country's shift to renewable energy.
"Like a thief in the night, DMCI and SMPC have successfully influenced Congress to delete the approved provision including local coal in the coal tax," said Atty. Aaron Pedrosa, Secretary-General of the multi-sectoral coalition Sanlakas. "This goes against the spirit of the proposed law, which would supposedly rein in the country's continued reliance on coal for energy," he added.
Pedrosa pointed out that the exclusion of local coal from the tax will only encourage the expansion of coal mining in the country. "Exempting local coal producers will incentivize indigenous coal production in the Philippines, contrary to our commitment to curb our emissions and to the detriment of the health, security, and livelihood of affected communities," he emphasized.
Mining in Semirara, Antique is the oldest operating mine in the Philippines, and has invited resistance from local residents due to the destruction of environment and livelihood from the mining operations and expansion in the island. SMPC currently is the largest coal producer in the country.
"It remains to be seen whether the President will intervene in this blatant arm-twisting done by this coal company," said Pedrosa. "We challenge him yet again to deliver on his supposed strong stance against oligarchs," he stated further.
Gerry Arances, Executive Director for the Center for Energy, Ecology, and Development (CEED) noted how DMCI mogul Isidro Consunji was very vocal about coal tax, even threatening consumers with increased electricity prices if the mechanism should push through.
"The deletion of the provision proves the suspicion that Consunji, DMCI, and SMPC were not opposing the coal tax for the sake of consumers, but for their own business interests," said Arances. "For forty years, Consunji has enjoyed the lack of taxation on coal while his workers in Semirara island suffered dismal, even fatal, working conditions," he added, referring to the incident last July 2015 where nine (9) of the company's workers and last February 2013 where another five (5) miners were killed.
Arances discussed that SMPC has profited billions from the 40 years of untaxed mining activity through an unfair revenue-sharing scheme. At present, the coal industry enjoys one of the most lopsided revenue-sharing agreements in the country, with coal companies able to deduct as much as 90 percent of gross proceeds from coal as expenses, the highest recoverable cost among extractive industry," he added.
SMPC has also gained the ire of environmental groups due to its refusal to participate in the Extractive Industry Transparency Initiative (EITI) which aims to encourage accountability from the mining sector in terms of its operations and revenue.
"SMPC has never participated in the EITI despite calls from the Philippine EITI multi-stakeholder group, which includes the Department of Energy, the office mandated to regulate the company," said Tina Pimentel of Bantay Kita. "This sneaky tactic further shows SMPC's brazen disregard for government regulatory functions and its power to influence advocacy to serve their own interest," she added.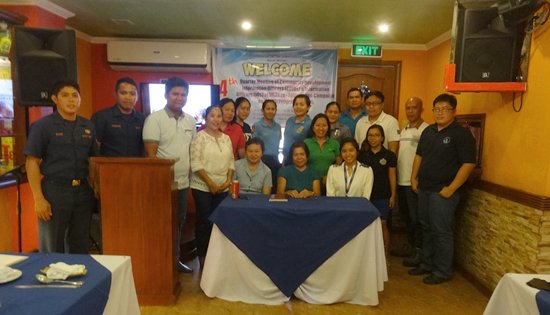 Information Officers of the different National Government Agencies together with Flordelis E. Jackson (middle, wearing blue-green blouse) of the Philippine Information Agency take time to pose at the end of their 4th Quarter Meeting held on November 22, 2017 at the D`Adaone Bar and Restaurant, naval, Biliran.
DPWH-BDEO PIOs participate in the 4th quarter meeting of CDIO
By CARL MARK D. PEDRERA
December 12, 2017
NAVAL, Biliran – The Philippine Information Agency (PIA) held its 4th Quarter Meeting of Community Development Information Officer (CDIO) / Information Officers (IOs) of National Government Agencies (NGAs) Re: Information Campaign on Health Programs of the Department of Health (DOH) last November 22, 2017 at the D'Adaone Bar and Restaurant, Naval, Biliran.
The said meeting was attended by representatives of different government agencies in Naval like the Philippine Coast Guard (PCG), Department of Education (DepEd), Bureau of Fire Protection (BFP), Organic Trading Post - Naval, Naval State University (NSU), Bureau of Jail Management and Penology (BJMP), National Food Authority (NFA), Department of Labor and Employment - Biliran Field Office (DOLE-BFO), Philippine National Police - Biliran Police Provincial Office (PNP-BPPO), Philippine Statistic Authority (PSA), Department of Environment and Natural Resources (DENR), Department of Science and Technology (DOST), Department of Trade and Industry (DTI), Technical Education and Skills Development Authority (TESDA), Department of Public Works and Highways - Biliran District Engineering Office (DPWH-BDEO), Biliran Provincial Health Office (BPHO) and Local Government Units (LGUs) of the different municipalities of the province of Biliran.
The meeting started with the introduction of the participants and their affiliated agency followed by their 4th Quarter Programs and Plans. Each were given ample time to discuss what their respective agency has been doing for the past months and their achievements.
Biliran DEO reported that as of October 2017, the district office has completed substantial number of projects for year 2016 and 2017. Furthermore, there are already projects in line for FY2018.
Flordelis E. Jackson, Information Center Manager, discussed about the evaluation of the ASEAN Tarpaulins for distribution/hanging in every municipality to commemorate the 2017 ASEAN Summit.
Afterwards, the DOH Representatives in the person of Rachel Pangan and Eduardo Estroso talked about the common diseases affecting the people in Biliran. They also discussed on the ten (10) leading cases of morbidity (e.g. Acute Respiratory Infection, Pneumonia, Hypertension, Urinary Tract Infection, etc.).
The meeting ended after majority of the participants voted that the election for the new set of officers of the Biliran Association of Government Information Officers (BAGIO) will be held on a later date due to absence of the current officers.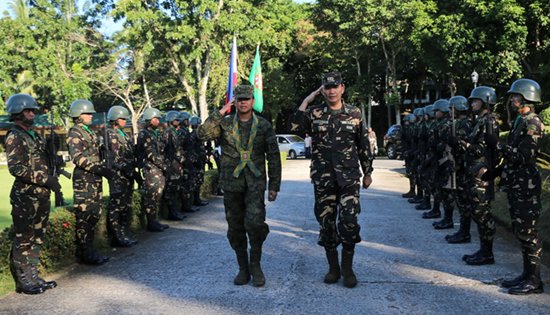 The Commanding General of the Philippine Army, Lt. Gen. Rolando Joselito D. Bautista was accorded foyer honors upon his arrival at the Openiano Field, 8th Infantry (Stormtroopers) Division on December 11, 2017.
Army Chief visits the Stormtroopers
By DPAO, 8ID PA
December 11, 2017
CAMP LUKBAN, Catbalogan City – The Commanding General of the Philippine Army, Lt. Gen. Rolando Joselito D. Bautista AFP rendered his traditional Pre-Christmas Visit to the home of the Stormtroopers on December 11, 2017.
Upon his arrival, the Commanding General was warmly received by Maj. Gen. Raul M. Farnacio, Commander, 8ID and was accorded with arrival honors by the Stormtroopers at the Openiano Field.
The traditional Command visit is an indication of a true leader's commitment to lead. But more importantly, this is the time to show his love and care to the 8ID family during this coming Yuletide season.
A gift-giving activity was also conducted by Lt. Gen. Bautista to the battle and non-battle casualties of this Command who are confined at Camp Lukban Station Hospital to help boost their morale.
In his message, Lt. Gen. Bautista expressed his appreciation to the men and women of the 8ID and challenged everyone by saying, "I challenge everyone to sustain the high acceptance rating of the Filipinos to the AFP after the Marawi crisis."
"Let us help each other, let us help the 8th Infantry (Stormtroopers) Division, let us help the Army, and let us help the AFP in effectively accomplishing its mission," Bautista added.
Likewise, the Commanding General thanked the 8ID leadership under Maj. Gen. Farnacio for being one of the first units to send augmentation forces to liberate Marawi.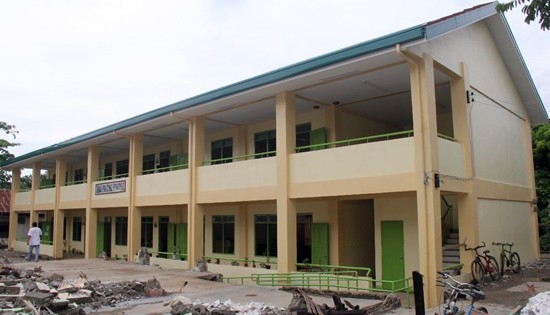 The CCNHS Senior High School building for Grade-12 students is now totally completed.
CCNHS's P8.2 million school building project completed
By JASON T. DE LOS ANGELES
December 11, 2017
CALBAYOG CITY – DPWH Samar First District Engineering Office completes the construction of two-storey, 6 classrooms for Calbayog City National High School (CCNHS) located at Brgy. Hamorawon near City Post Office which is 2-3 minutes ride from the city proper.
The project is implemented by Samar I and is under contract with CDU Construction with a total appropriation of P8.2 million under the Basic Educational Facilities Fund (BEFF).
Mr. Calick D. Arrieta, the school principal, said that this school building is now occupied by the Grade-12 senior high school students. Since the start of the senior high school operation, the Calbayog City National High School is faced with the lack of classrooms. He is very thankful that the said building was completed just this year and the students are no longer staying in different campuses.
This new school building will directly benefit the Grade-12 Senior High students. This project will answer the needs for more classrooms for the increased number of high school students of Calbayog City National High School numbering to 4,100 students.
200 LODIs vow to shine light on truth, fight for free expression amid Duterte's drive towards dictatorship
By LODI Philippines
December 11, 2017
MANILA – A broad and brilliant array of nearly 200 artists, performers, filmmakers, cultural and media workers, writers, journalists, photographers, and bloggers have signed up to be LODI.
A LODI delegation also attended the Movement Against Tyranny's Human Rights Day rally at Bonifacio Shrine in Manila.
LODI, which stands for Let's Organize for Democracy and Integrity, is a newly-formed arts and media alliance devoted to defending free expression in the face of thousands of extrajudicial killings and transparent moves to install a Duterte dictatorship.
"Today, Human Rights Day, we Filipinos in the arts and media rededicate ourselves to the cause of defending our people's right to freely think for ourselves and to freely express and to freely depict what's happening to the country," said stage and television artist Joel Saracho, one of LODI spokespersons.
Saracho said Duterte is not unlike the American colonial forces which banned the display of the flag, and the Marcos dictatorship that cracked down on free speech.
"Duterte is not only lying about drugs, so-called federalism and the elitist RevGov. He and his court jesters are misrepresenting the Filipinos' desire for authentic change with his drive towards one-man rule. He and his minions demonize and harass those who defy and expose the lies and who present the truth," explained Saracho, adding that "LODI won't allow this to go unchallenged."
Blogger and newspaper columnist Tonyo Cruz, also a LODI spokesperson, said the 200 artists and media personalities who have signed the LODI statement "is just for starters".
"We expect more people from the arts and media to sign this statement, join LODI and participate in activities. Many view Duterte and his rising dictatorship as clear and present dangers to their craft, industry and audiences," said Cruz.
"We are happy and excited to see members of the arts and media communities come out openly and bravely for free expression. The dictator and his minions are put on notice," Cruz added.
Playwright Bonifacio Ilagan currently heads the LODI steering committee, with members including director Joel Lamangan, journalists Inday Varona Espina and Raymund Villanueva, Walkie Mirana of the Concerned Artists of the Philippines ( CAP), and spokespersons Saracho and Cruz.
Various sectors raise alarm over 'deteriorating human rights situation' under Duterte
By Movement Against Tyranny
December 9, 2017
QUEZON CITY – On the eve of International Human Rights Day, concerned individuals from a broad range of sectors joined voices in decrying the worsening state of human rights in the country.
In a joint statement issued yesterday, Dec. 8, incumbent and former legislators, lawyers and doctors, artists and members of the media, academics and religious leaders, representatives of NGOs and peoples organizations, and prominent individuals warned of a "new and wider wave of killings and human rights violations in the country" under the Duterte government.
Among the signatories to the "Joint Statement of Concern on the Deteriorating Human Rights Situation" are: Sen. Francis Pangilinan and former senators Rene Saguisag and Wigberto Tañada; congressmen Edcel Lagman, Jose Christopher Belmonte, Sarah Elago, Carlos Zarate, Emi de Jesus, Antonio Tinio, France Castro, Ariel Casilao and Tom Villarin.
The statement reads:
"As December 10, International Human Rights Day nears, we decry the continuing deterioration of human rights in our country.
"On top of the premeditated killings by police officers of defenseless youth Kian delos Santos, 17, Carlo Angelo Arnaiz, 19, and Reynaldo "Kulot" de Guzman, 14, the recent killings of Catholic priest Fr. Marcelito Paez in Nueva Ecija. Pastor Lovelito Quinoñes in Mindoro Oriental, and human rights activist Elisa Badayos in Negros Oriental signal a new and wider wave of killings and human rights violations in the country.
"Such killings come on the heels of Pres. Duterte's closing the door on the peace talks with the NDFP, and his admonition to state security forces to shoot and kill suspected armed rebels. We are alarmed that just as Oplan Tokhang saw thousands of alleged drug users or peddlers mowed down based on mere suspicion and spurious claims of "nanlaban," the President's new order can also give state forces the license to kill unarmed civilians conveniently labelled as "rebels."
"The President's threat to crack down on activists, critics and all those whom he imagines are conspiring to topple his government has a chilling effect on the public and impinges on our people's exercise of their political rights and civil liberties.
"The continuing efforts to undermine the system of checks and balances in government – the impeachment proceedings against Chief Justice Ma. Lourdes Sereno, the threat to impeach Ombudsman Conchita Carpio-Morales, the bullying of the Commission on Human Rights and the continued detention of Sen. Leila de Lima – are equally worrisome. More so efforts of the President and his supporters to threaten and intimidate members of the media.
"And yet the greatest threat to human rights today is Pres. Duterte's moves toward authoritarian rule whether through charter change ostensibly to shift to a federal system of government, or an outright power grab through a so-called "revolutionary government."
"We call on our people to be critical and ever vigilant. Let us resist the erosion of our basic human and democratic rights. Let us unite in fighting tyranny and dictatorship."
Also among the signatories are: former cabinet members Judy Taguiwalo and Rafael Mariano, lawyers Pacifico Agabin, Ada D. Abad, Antonio La Viña, Jose Manuel Diokno, Pablito V. Sanidad, Arno V. Sanidad, Vicky Avena, Edre Olalia; former congressmen Lorenzo Tañada, Neri Colmenares and Teddy Casiño;
Catholic bishops Broderick Pabillo, Deogracias Iñiguez, and Arturo Bastes; IFI Obispo Maximo Rhee Timbang, UCCP General Secretary Bp. Reuel Norman O. Marigza, NCCP General Secretary Rev. Fr. Rex Reyes, Benedictine nun Sr. Mary John Mananzan, La Salle Brother Jose Mari Jimenez;
Artists Mae Paner a.k.a. Juana Change, Monique Wilson and Audie Gemora; filmaker Joel Lamangan, singer Chikoy Pura, UP Chancellor Mike Tan, activist RC Constantino, Dr. Margarita Holmes, former National Museum curator John Silva, anti-crime crusader Tessy Ang See, consumer advocate Raul Segovia, economist Men Sta Ana, advertising guru Yoly Ong, former CHR commissioner Mercedes Contreras Danenberg, and former general Guillermo G. Cunanan.
Massive protests against human rights violation under Duterte's violent presidency
By AHRC
December 9, 2017
HONG KONG – The Asian Human Rights Commission (AHRC) has been informed that different human rights groups across the country will hold protests and a series of other events tomorrow, December 10, to mark the International Human Rights Day.
Today, the Alliance for the Advancement of People's Rights (Karapatan), an alliance of human rights NGOs and people's organizations, holds demonstrations they dubbed as "What's cooking up in Malacanang?" Their protest is an attempt to satirized President Rodrigo Duterte's crackdown, not only of his political opponents, but constitutional bodies with powers to check his abuse.
In their statement, Karapatan said President Duterte's actions are recipes for a "full blown dictatorship", if he succeeds. One of these is Duterte and his political ally's ongoing action to impeach Philippine Supreme Court chief justice Maria Lourdes Sereno.
Also today, the Philippine Alliance of Human Rights Advocates (Pahra), another alliance of human rights groups, holds an "Alab ng Puso" concert, which aims to encourage Filipinos to stand up and defend human rights. Pahra's partner organization, iDEFEND (In Defense of Human Rights and Dignity Movement), said this event is meant to raise awareness on the importance of human rights, freedom and justice, and to stimulate outcry.
Tomorrow, Pahra and its partner organizations will hold protest actions in Metro Manila. Protest actions will also be held in major cities in Luzon, the Visayas and in Mindanao, including in Duterte's hometown, Davao. Pahra said these protests are meant to "counter the government's narratives of being pro-poor". They are meant to amplify a public outcry against human rights violations committed in the country.
Meanwhile, Karapatan's satirized protest is a prelude to a much bigger demonstration to mark the international human rights day, inside and outside the country. Outside the capital, Karapatan is expected to mobilize 7,000 demonstrators in Aklan, Capiz and Iloilo cities, all in Panay Island, in the Visayas. In Bicol region, about 30,000 demonstrators are expected to join.
Outside the country, the International Coalition for Human Rights in the Philippines (ICHRP), a coalition advocating for human rights and peace in the Philippines, will hold protests. In Japan, Hong Kong, South Korea and Australia in East Asia and the Pacific. In Italy, Belgium, France, Germany and the Netherlands in Europe, and in Canada. ICHRP is Karapatan's network of international organizations.
Meanwhile, the AHRC strongly supports these protests actions by local and international groups to draw attention to the worsening state of human rights in the country. The AHRC considers Duterte's presidency as the most violent and politically intolerant since Marcos. Duterte's crackdown on criminals and addicts, and the renewed killings of legal leftist after peace talks collapse with the communists, is a dangerous combination distinctive to his leadership.
"No president in Philippine history has ever combined, and still gets away with it, routine killings in national scale of supposed criminals and addicts, under drug war; and human rights defenders and leftists political activists, the supposed terrorists. Only Duterte has done that and continue to do so, as we speak", the AHRC said.
The Philippines attracted the world's attention in early 2016 with unprecedented level of killings by law enforcement agencies since President Duterte came to power. These killings are linked to his campaign to crackdown on drugs, which led to a wave of unlawful killings across the country. Many of these killings have amounted to extrajudicial executions, a persistent pattern in the country's long-standing problem of impunity by abusive state security forces.
The International Human Rights Day is an annual event to mark adoption of the Universal Declaration of Human Rights (UDHR).
Catbalogan songwriters top DILG-8 Federalism jingle contest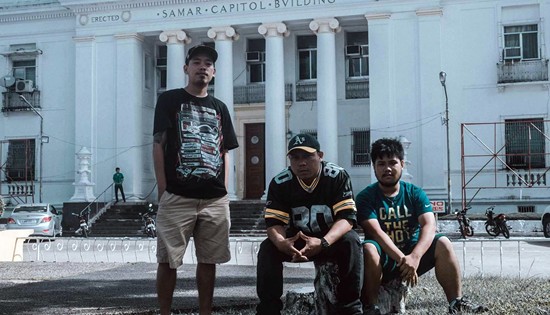 By MYLES JOSEPH E. COLASITO
December 7, 2017
TACLOBAN CITY – Three songwriters from Catbalogan City, Samar won the 1st Prize in the Federalism Jingle Writing Contest of the Department of the Interior and Local Government (DILG) in Region 8.
Louie Ebalde, Christopher Fermilan and Francis Rico Gonzales will receive the P15,000 prize as champions for their song, "Ito ang Pagbabago" as interpreted by Louie B. Chico.
Placing 2nd with a prize of P10,000 is the entry of Winston Jay C. Ladera of Brgy. Bito, Abuyog Leyte and Kristina Heights Tacloban City, for his song "Ora Mismo sa Federalismo", as interpreted by Jan Marc Pedrita, Leyte Idol Season 9 Grand Champion.
Rounding up the Prize Winners at 3rd Place and to receive P5,000 is Rolly Tagan of Libagon Southern Leyte, who himself sung his composition "Federalismo (Magkaisa)".
Regional Director Marivel Sacendoncillo lauded the winners and contestants for their active involvement and quality of work, saying, "The jingle will help raise awareness and discussion on federalism as a way to improve service delivery through greater local autonomy."
The members of the panel of judges which counted Dr. Dominador Pagliawan, composer/singer/social media expert Jerby Santo and Prof. Voltaire Oyzon during the evaluation meeting on December 6, 2017 at the DILG-8 Regional Office, likewise praised the maturity and sophistication of many entries.
The contest, which ended on December 1, 2017 was open to all amateur composers in Region 8 except for DILG employees and their immediate families. Contest pieces were judged based on Musical content (30%), Lyrical content (30%), Originality (30%) and Overall Impact (10%).
The winning song/s will be aired over radio stations as part of the federalism information campaign. DILG was mandated by President Rodrigo Duterte to lead the information campaign on federalism.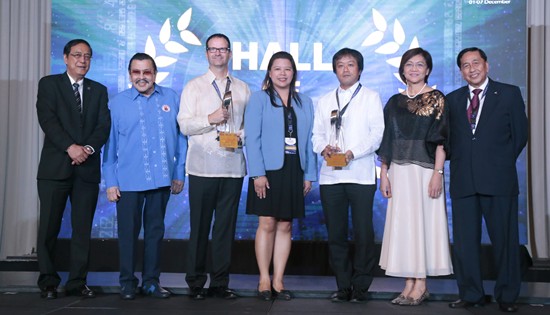 Hall of Famer awardees Texas Instruments (3rd from L) and Pilipinas Kao (3rd from R) with (from LR): DTI Export Marketing Bureau Director Senen M. Perlada, Former President Joseph Estrada, DTI Undersecretary Nora K. Terrado and PHILEXPORT President Sergio Ortiz-Luis Jr.
DTI honors outstanding exporters at 2017 NEC
By DTI-TIPG-EMB
December 7, 2017
MAKATI CITY – The Department of Trade and Industry through its Export Marketing Bureau (EMB) on 5 December awarded Philippine companies for their outstanding export performance during the National Export Congress (NEC) held at the Philippine International Convention Center in Pasay City.
Texas Instruments, Pilipinas Kao, and Metro Wear were conferred the Hall of Famer Award for posting the highest export revenues for the past three years in their respective sectors. Data from the Philippine Statistics Authority (PSA) in 2016 served as the basis for giving the awards to the companies.
Also recognized were top regional exporters from Luzon, Visayas and Mindanao, who stood out for their remarkable international success in penetrating global markets. Recipients were Peter Paul Philippines Corp. from Luzon, Profood International Corp. from Visayas, and Philbest Canning Corp. from Mindanao.
Honored for Top Sectoral Award were Texas Instruments Philippines Inc. (Electronics), Pilipinas Kao Inc. (Chemicals), Taganito HPAL Nickel Corp. (Other Mineral Products), Hanjin Heavy Industries and Construction Group (Machinery and Transport Equipment), Shin-Etsu Magnetics Philippines Inc. (Electronic Equipment and Other Parts), House Technology Industries PTE Ltd. (Woodcraft and Furniture), Nestle Philippines Inc. (Processed Food and Beverages), Dole Philippines (Fresh Bananas), Takata Philippines Corp. (Metal Components), Pilipinas Kyohritsu Inc. (Ignition Wiring Sets), Cargill Oil Mills Philippines Inc. (Coconut Oil), and Metro Wear Inc. (Articles of Apparel and Clothing Accessories).
Excellence Awards for Services Exports was also conferred on companies which have contributed significantly to their respective industries and exhibited excellence in their respective fields. Awardees were Advanced World Solution Inc. (IT-BPM), Affinity Express Philippines Inc. (Creative Services), Airworks Aviation Academy (Education Services), ExlService Philippines Inc. (Health Information Management), and Potato Corner (Franchising Services).
The awarding served as the highlight of the week-long celebration of National Exporters' Week (NEW) with the theme "Innovate. Collaborate. Export!." NEW is an annual event held during the first week of December organized jointly by the DTI's Export Marketing Bureau (EMB), the Export Development Council (EDC), and the Philippine Exporters Confederation Inc. (PhilExport).
"With this year's NEC, we hope to inspire more exporters to continue to innovate and collaborate with the government and private sector organizations in expanding their markets and contributing to the country's economy," DTI Undersecretary Nora K. Terrado said.
Also part of the celebration is the ongoing National Exporters' Week Bazaar, a retail selling event of Philippine products from the country's direct and indirect manufacturers, which started on December 4. About 20 exhibitors are participating by selling their products and services ranging from fashion accessories to food products in the DTI International Building along Gil J. Puyat Ave. in Makati City.
DTI announces next steps to implement i³S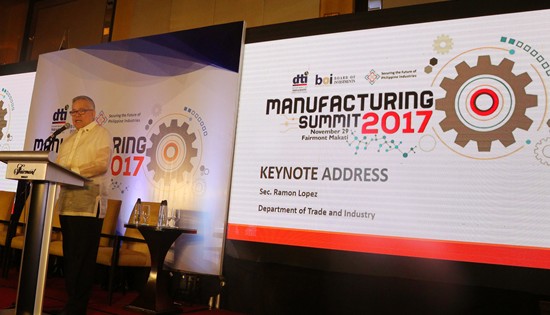 By DTI-OSEC-PRU
December 7, 2017
MAKATI – The Department of Trade and Industry (DTI) successfully conducted the Manufacturing Summit 2017 on 29 November 2017 at Fairmont Makati, bringing together more than 250 stakeholders from the private sector, industry associations, business chambers and stakeholders from the government and academic and research community.
Taking off from the 2016 Manufacturing Summit, which focused on "Trabaho at Negosyo" for inclusive growth, this year's Summit highlighted the remarkable performance of the manufacturing industry, the accomplishment of DTI's Manufacturing Resurgence Program, and the country's new industrial policy dubbed as Inclusive Innovation Industrial Strategy (i³S).
The i³S aims to grow and develop globally competitive and innovative industries with innovation at the front and center of industrial policies and programs supported by pillars consisting of building new industries, clusters, and agglomeration. These will also ensure Micro, Small, and Medium Enterprise (MSME) growth and development, human resource development, and improving ease of doing business and the business environment.
"With intense competition due to rising globalization, regional economic integration, and disruptive technologies, innovation is crucial for the inclusive and sustainable growth of the economy, particularly manufacturing," said Trade Secretary Ramon Lopez.
"Our vision is for the Philippines to have creative and connected communities of different stakeholders like innovators, start-ups, SMEs, and large enterprises that will collaborate to produce new products and services," Sec. Lopez said.
Moving forward, the Trade Chief indicated that DTI will focus on three major strategic actions: establish i3 zones or parks without walls, where universities and industrial hubs could work together and collaborate on innovation initiatives; using fiscal and non-fiscal support to promote local manufacturing of key products that are heavily imported like pharmaceutical products or medical devices; and continue the collaboration with industry, academe, other government agencies and stakeholders in building the inclusive innovation ecosystem.
To encourage more investments and change in mindset, i³S would provide incentives on R&D and innovation, as well as tax deductions on trainings and workers' skills upgrading. There will also be business matching, exhibits, and trade fairs.
Sec. Lopez shared that the establishment of domestic ecozones is vital in building industry clusters that can provide a fertile environment for innovation and inter-firm cooperation leading to competitiveness improvements. Incentives to be provided in domestic ecozones will be rationalized, with applicable domestic taxes like value added and excise will be paid by locators just like other companies located outside domestic ecozones.
"DTI will continue to fine tune the i³S, refine it to fully embed and integrate innovation, and ensure that new technologies can be applied to reduce poverty and promote shared prosperity for all," Sec. Lopez declared.
Gov't to set aside another P1-B for Pondo sa Pagbabago at Pag-asenso micro-loan program
By DTI-ROG
December 7, 2017
MAKATI CITY – Micro entrepreneurs throughout the country will get more aid to fund their businesses as the National Government, through the Small Business Corporation (SB Corp.), the micro-financing arm of the Department of Trade and Industry (DTI), will set aside P1 billion for year 2018 to continue the flagship program that will provide micro enterprises an alternative source of financing that is easy to access and made available at a reasonable cost.
"The President has vowed to provide affordable micro-loans for micro entrepreneurs and we are here to deliver this promise through the Pondo sa Pagbabago at Pag-asenso (P3)," DTI-Regional Operations Group Undersecretary Zenaida Maglaya said.
The Pondo sa Pagbabago at Pag-asenso (P3) program is a P1 billion financing program intended to give MSMEs better access to finance and to reduce their cost of borrowing and battle loan sharks preying on micro entrepreneurs. The fund will also give priority to the country's 30 poorest provinces.
Initially, the P3 Program was launched in Tacloban in Leyte on January 25, San Jose, Occidental Mindoro on January 27, and Alabel, Sarangani last January 30 and was launched nationwide in April, with an initial funding of P850.0 million, making available lower cost loans to Filipino micro entrepreneurs who are engaged in small business such as sari-sari stores and are vulnerable to usurious lenders in the absence of an alternative source.
Maglaya explained that through the P3, micro entrepreneurs can find relief from overly expensive borrowings and afford cost-efficient and affordable form of loan to add and expand their businesses.
"Through the P3, sectors can find relief from overly expensive borrowings as they pursue their livelihood activities," Maglaya said.
As of November 24, 2017, a total of 16,210 micro entrepreneurs have been aided by P3 with four national micro finance institutions (MFIs) and 90 local conduits assisting in delivering the micro-loans in the countryside while 45 MFIs are in the pipeline. A total of P485.41 million has been released to partner conduits and P307.80 million released to microfinance borrowers.
Following President Rodrigo Duterte's directive to replace the "5-6" money lending system, the P3 is also seen to help stabilize supply and cost of commodities in public markets, encourage small entrepreneurs to grow their businesses, and offer employment and generate income for Filipinos.
The P1 billion fund of the P3 program from the Office of the President will be coursed through the SB Corp., which will accredit partner institutions such as non-bank MFIs, cooperatives and associations to serve as conduit for the P3 funds. With borrowers identified through these, collection of repayments will be efficient.
"We're very grateful that this program has come into fruition, so we can help micro entrepreneurs who are at the bottom of the pyramid and create an entrepreneurial environment in the countryside that will also generate jobs for Filipinos," Maglaya said.
The primary beneficiaries of the P3 Program are microenterprises and entrepreneurs that do not have easy access to credit. These include market vendors, agri-businessmen and members of cooperatives, and industry associations.
P3 will also make it easy for borrowers since it will only require minimal documentation requirement; easy to access with only one (1) day processing of application; low cost interest at 2.5% per month; and easy payment with collection on a weekly or daily basis, as necessary.
Under the P3 Program, a micro enterprise can borrow between P5,000 up to P100,000 depending on its business need and repayment capacity with no collateral requirement. Interest rate and service fees, all in, do not exceed 2.5% monthly, which is a huge relief from the 20% monthly rate under the 5-6 loan system.
China's petrochemical company to expand in PH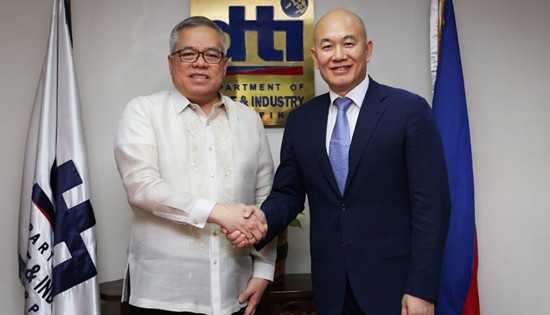 By DTI-OSEC-PRU
December 6, 2017
MAKATI – The Philippines (PH) continues to receive business intentions and expansion projects from large companies based in China (CN).
In a recent meeting between Department of Trade and Industry (DTI) Secretary Ramon Lopez and Handi Group President Hanling Wu, they discussed possibility of investments of the company in a petroleum refining and petrochemical manufacturing facility in the country.
"We welcome business intentions to strengthen our petrochemical industry, which the government actively supports. They expressed strong confidence on the business environment stability during the Duterte administration," said Sec. Lopez.
Handi Group is one of the largest and advanced private specialty oil producers in China. The conglomerate is based in Hainan Province and engages in multiple industries, including oil refinery, chemical industry, trading, investment, and financing.
The group, through its subsidiaries Hainan Handi Sunshine Petrochemical Co., Ltd. (HDS), Hainan Handi Petrochemical Co., Ltd. (HDP), Handi Lubricant Technology (China) Co., Ltd., Handi Sunshine Trading Co., Ltd., and Handi Investment, has established a full scale and long-term strategic cooperation with large international energy companies such as ExxonMobil, Total, Chevron, and BASF.
Sec. Lopez opened the discussion of putting up a facility in Mindanao, which will be suitable for the company's power, land, and accessibility requirements.
Mr. Wu conveyed the need of Handi Group for a pool of technical staff, specifically engineers, from PH and the availability of talents in Mindanao.
"There are a lot of universities in Mindanao that produce quality graduates and professionals in the field of engineering. We have good universities present in all parts of PH," the Sec Lopez said.
Terrorism is the massacre of eight Lumad in South Cotabato - SANDUGO
Press Release
December 5, 2017
QUEZON CITY – "The real terrorist is the one who sows terror in our communities, he who orders to massacre Lumad, threatens to bomb Lumad schools, orders to kill anyone who try to criticize him. For the national minorities, Pres. Duterte is the terrorist," Datu Jerome Succor Aba, co-chairperson of Sandugo said today at a press conference. During the press conference, the massacre of eight Tboli and Dulangan Manobo was announced to the public.
"This is by far the worst attack against the indigenous peoples," The incident happened last December 3, when, according to Karapatan-Socskasargen, 27th and 33rd Infantry Battalion shot and killed T'boli and Dulangan Manobo farmers at about 1pm in Sitio Datalbong, Brgy. Ned, Lake Sebu South Cotabato.
"The residents were about to harvest their crops in their farms that day. They have just claimed back their land from David M. Consunji Inc. (DMCI) who displaced the T'boli and Dulangan Manabo from their ancestral lands to plant coffee for Nestle. Around 300 hectares have already been replaced with corn and other sustenance food planted by the rightful owners – Lumad communities," Aba explained.
"DMCI attempted to again take the land but the Lumad residents resisted. The Philippine Army, a day before the massacre, told the media in Socsksargen that the Lumad should now surrender especially a certain commander Victor," Aba said. "Come December 3, Datu Victor Danyan, not a member of New People's Army but a community leader, was among those massacred by the soldiers," Aba continued.
Datu Victor's son, Victor Danyan Jr, was also killed along with Artemio Danyan, Pato Celardo, Samuel Angkoy, To Diamante, Bobot Lagase and Matend Bantal. Two others were wounded.
This came after Pres. Rodrigo Duterte announced the Pres. Proclamation 360, terminating the peacetalks with the National Democratic Front of the Philippines. "This was also after this tyrant President made pronouncements of targeting the NPAs next. The AFP took this as a cue to intensify counter-insurgency operations against civilians," Aba said.
"With the thousands of unaccounted lives during the fighting in Marawi, the hundreds of thousands of both Moro and indigenous peoples displaced from their communities, all because of Duterte's policy to wipe out his 'enemies,' this US puppet president has to be made accountable," Aba said.
"Just recently, 2,162 Lumad of Lianga and San Agustin of Surigao del Sur forcedly evacuated due to threats of bombing with the hovering of drones and a helicopter with missiles believed to be from the 75th IB of the AFP. The soldiers have imposed a food blockade to the evacuees, accusing it will be fed to the NPAs," Aba said.
"Tyrants and terrorists are one and the same. They sow terror to the common people because they are nothing but sell-outs to the big private corporations. They will try to hold on to their power by sowing more terror," Aba said. "We all know what happened to tyrants like Marcos, Pinochet – they were overthrown," Aba ended.
Quarterly PIO meeting cum workshop wraps up 2017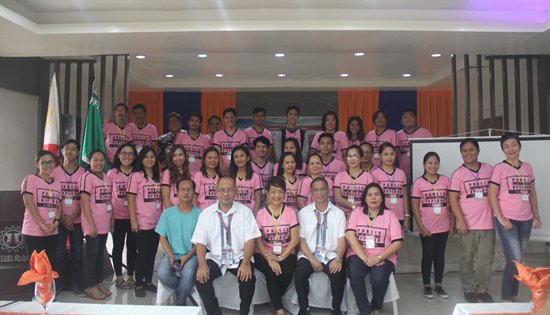 By BON JOSEPH N. ASTILLA
December 4, 2017
CALBAYOG CITY – PIO staff from DPWH Samar First District Engineering Office joins the 4th PIO Conference held at the Multi-purpose Hall in Baybay, Leyte on November 23-24, 2017 hosted by the joint forces of Leyte 4th, Leyte 5th, and Southern Leyte District Engineering Offices, popularly called as OBaMa Group (Ormoc, Baybay, and Maasin).
In line with the continuing capability-building effort for PIO designates and it's alternate, the quarter meeting cum workshop centers on updating writing skills, improving press releases and tackling Audio Visual Production (AVP).
The first speaker, Joey Gabieta of Leyte Samar Daily Express, instructs the public information officers that the latter's articles should be well organized and is written for the reader. This means it should be understood by the average newspaper readers and should attribute important statements and information.
Meanwhile, the basics of AVP was tackled by Jed Asaph Cortes, an instructor from Visayas State University. With the fast pace of the changing times, the PIOs know the value of using AVP, most importantly in making Communication Development Reports where presentation is a key factor.
The meeting culminated with updates from the Regional Public Assistance and Information Officer, Ms. Antonieta R. Lim. She emphasized the implementation of Communication Development Program as well as the formal designation of hotline and focal persons.
DILG warns public on fake OIC appointment scams under federalism and Revolutionary Government
Press Release
December 4, 2017
QUEZON CITY – The Department of Interior and Local Government (DILG) has issued a warning to all local government officials and the general public against scammers going around the country falsely claiming that they could have people appointed as OIC-barangay and local officials under a federal system of government and a revolutionary government (RevGov) and asking for money in return.
In a meeting with all DILG Regional Directors on Wednesday, DILG Officer-in-Charge Catalino S. Cuy said that numerous reports have reached the central and field offices regarding various groups masquerading to be affiliated or permitted by the government or by the DILG to campaign for federalism or RevGov and claiming that they could have people appointed to local positions.
Cuy directed all DILG field offices to issue a strong warning to all LGUs about this scam that has been going on for some time.
According to aggregated reports, scammers lure both incumbent and aspiring local government officials into being included in a supposed priority list of people to be appointed should the country shift to a federal form of government or undergo a RevGov. In exchange, unwitting victims give money to con groups for membership fees or donations.
Cuy says that President Rodrigo Duterte himself already made it clear during a November 21 event in Taguig City that claims that a Revolutionary Government will soon be established are all false.
"Sabi nga po ng Pangulo, huwag po tayong maniwala sa RevGov dahil wala tayong makukuha diyan and let us focus on building our country," Cuy says.
Newly installed DILG Assistant Secretary for Communications and Capacity Development Jonathan E. Malaya encourages the public to get in touch with his office or with the Local Government Academy (LGA) at telephone numbers (02) 6389649 or 6341906 local 116 or via email to lgamail@lga.gov.ph and rpdd@lga.gov.ph on concerns on the government's federalism campaign.
On Wednesday, Malaya has been assigned as the administrator of the DILG's federalism program as per DILG Order No. 2017-1212.
"I urge all DILG field officers to be vigilant and proactive and to immediately warn all barangay captains and local government officials in their respective jurisdictions of the scams being perpetrated by these unscrupulous individuals," he says.
"This scam is all over the country – from Cagayan Valley to Cotabato, from Metro Manila to Samar. The groups go by many names," he points out.
"Nakakalungkot na may mga kababayan tayong sumasakay sa pederalismo para makapanlinlang at nagpapanggap na inatasan sila ng DILG o ng Pangulo na mangampanya kaugnay sa pederalismo," he laments.
"Wala pong katotohanang magtatalaga ang DILG ng OICs sa kahit anumang local government positions. Kapag hiningan kayo ng pera o anumang bagay o pabor, magtaka na po kayo at agad ipaalam ang mga grupong ito sa pinakamalapit na DILG field office sa inyong lugar," he warns.
In September this year, the DILG announced the campaign dubbed as "One Nation, One Government: Transition to Federalism Project" which shall accredit civil society organizations (CSOs) as well as resource speakers as federalism advocacy partners.
Malaya says that only accredited CSOs are authorized to use the DILG logo or the DILG name in their respective activities.
He says that all federalism-related information campaign initiatives of DILG operating units, regional and field offices, as well as local governance stakeholders, are implemented within the standards and parameters set by the DILG in terms of content, activities, and resource management.
Activities include, among others, orientation sessions, seminars, knowledge exchange sessions, focus group discussions, forums, and symposia.
Further, the Local Government Academy, as the training arm of the DILG, is responsible for training resource persons on DILG's key messages and content parameters for all federalism information campaign activities.
Resource persons who successfully complete the training shall be issued certificates and their names will be included in the national database of resource speakers on federalism for the DILG's Transition to Federalism Project.
Local government units (LGUs) may also conduct their own federalism information campaign activities in coordination with DILG field offices whose staff will guide LGUs on the key messages and content to be delivered to ensure that these are consistent with those set by the Department.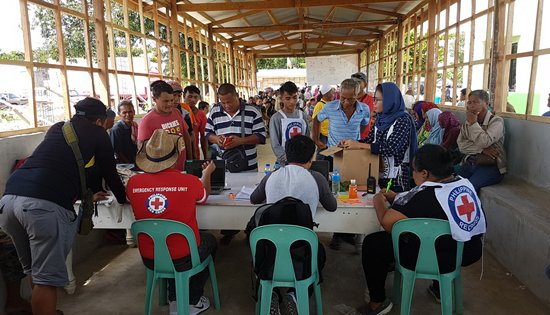 Undergoing verification process at the municipal hall in Shariff Saydona Mustapha, before the distribution.
Aid reaches thousands displaced by clashes in Maguindanao
By ICRC
December 4, 2017
MANILA – Thousands of displaced families in central Mindanao's Maguindanao province have been deprived of basic everyday necessities as intense fighting persists in the area. To help around 11,600 people in Shariff Saydona Mustapha municipality, the International Committee of the Red Cross (ICRC) has provided them with half-month food and other supplies along with household items in cooperation with the Philippine Red Cross.
"While the attention over the recent months has been mostly focused on the Marawi conflict, several communities in Maguindanao have also been seriously affected by armed clashes. We remain concerned about their plight as they have been displaced for more than three months," said Tomoko Matsuzawa, head of the ICRC's office in Cotabato.
Since early August, the Philippine military and various armed groups have been engaged in armed fighting in the area known as the SPMS Box (Barangay Salbu, Datu Saudi Ampatuan – Barangay Pagatin, Datu Salibo – Mamasapano – Shariff Aguak) in Maguindanao.
Over the past couple of months, though majority of the displaced families have returned home to plant rice and other crops, they're staying close to the main roads, ready to evacuate in case the fighting resumes. The remaining families, coming from areas more exposed to repeated armed encounters, have opted to stay in host communities.
"These families have reduced the number of meals to two per day, and also limited them in variety. It is important that as people try and restore their lives, they receive basic support to do so," Ms Matsuzawa said.
During the three-day distribution completed on December 2, each family from four barangays (villages) – who include those who have returned and those who remained – received 25 kg of rice, one litre of soy sauce, one litre of oil, 12 tins of 425 g of sardine each, 1 kg of sugar, ½ kg of salt, two jerry cans of 20 litre each and hygiene items for the household.
The ICRC is a neutral, impartial and independent humanitarian organization whose exclusively humanitarian mission is to protect the lives and dignity of victims of armed conflict and other situations of violence and to provide them with assistance. The ICRC also endeavours to prevent suffering by promoting and strengthening humanitarian law and universal humanitarian principles.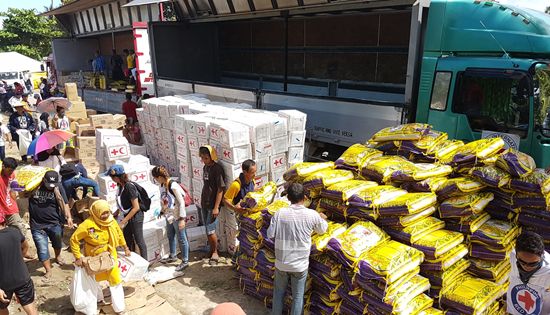 Around 2,300 families displaced by the armed clashes in Maguindanao received food, household and hygiene items from the ICRC last week.
5 NPA rebels surrender with firearms
By DPAO, 8ID PA
December 2, 2017
CAMP LUKBAN, Catbalogan City – Five members of the New People's Army surrendered to the different army units in Eastern Visayas last November 23 and 24, 2017 at Barangay Guirang, Basey, Samar and Sitio Canonghan, Barangay Osmeña, Palapag, Northern Samar, respectively.
The surrenderees were Alona Bojocan who turned-over a cal. 38 revolver and fragmentation grenade to Lt. Col. Arnel A. Floresca, Commanding Officer of 87th Infantry (Hinirang) Battalion; Tinny Laoreno Gerbon, Richard Albaseno, Mrs. Sheryl Rebay, and Arnel Aquino, all residents of Sitio Canonghan, Barangay Osmeña, Palapag, Northern Samar who turned over two .45 handguns, one .38 revolver and two 5.56 magazines to the soldiers assigned with 20th Infantry (We Lead) Battalion and 83rd Civil Military Operations Company.
They are now undergoing the process of enrollment under the Comprehensive Local Integration Program (CLIP) in order to avail of the financial and livelihood assistance from the government so that they can start a new and peaceful life.
In his statement, Maj. Gen. Raul M. Farnacio, Commander, 8ID said that "the surrender of the NPA guerrillas only shows that the intensified strategy of your Army to counter the insurgency problem in Eastern Visayas is effective. It is also the result of the pro-active cooperation of our stakeholders, above all the support given by the communities and local government units within our areas of operation."
He also encouraged the NPA rebels in Region 8 to lay down their arms voluntarily and live a normal life with their families thru reintegration programs of the government.
Karapatan files additional complaints on EJKs to UN experts
By KARAPATAN
December 2, 2017
QUEZON CITY – Karapatan submitted a letter of allegation concerning twenty-five (25) cases of extrajudicial killings perpetrated by State security forces in line with the Duterte government's counter-insurgency program to United Nations Special Rapporteur on Extrajudicial/Summary or Arbitrary Executions Ms. Agnes Callamard and UN Special Rapporteur on Human Rights Defenders Michel Forst today, December 2, 2017.
"From one counter-insurgency program to another, cases of extrajudicial killings against peasants, indigenous peoples, Moro, workers, women and youth continue to be committed with impunity under the murderous Duterte regime. Also, most, if not all, of the perpetrators of human rights violations under the administrations of former Presidents Gloria Macapagal-Arroyo and Benigno Simeon "Noynoy" Aquino III have not been brought to justice," said Karapatan secretary general Cristina Palabay in her letters of allegation to Callamard and Forst, adding that the current heads of the military, including AFP Chief Eduardo Año, are the same militarist brutes responsible for many rights abuses during past regimes.
On April 10 2017, Karapatan earlier submitted 47 cases of extrajudicial killings under the Duterte government's counter-insurgency program. Then Presidential Spokesperson Ernesto Abella said it was "not the policy of the Duterte administration" to violate human rights, adding that to attribute the killings to the government "is a serious allegation" and runs contrary to Duterte's stand of settling disputes in a peaceful manner.
"Eight months after and look where we are now. Any more claims from Duterte's mouthpieces regarding his so-called preference for resolving disputes through peaceful means will merely come out as a laughable and preposterous lie. Now that the masquerade is over, what we are left is a clearer view of State fascism," said Palabay, citing Proclamation 380 issued by Duterte which sought to terminate the peace talks between the government and the National Democratic Front, and his recent pronouncement and direct orders to crackdown on progressive groups.
From July 2016 to October 2017, Karapatan documented 104 victims of extrajudicial killings under Duterte's counter-insurgency program. "We allege that state security forces are primarily responsible for these killings that are all in the context of a government program that makes no distinction between armed and unarmed civilians, thus providing a pretext for the arbitrary tagging of individuals, groups and movements as "enemies of the state," the rights group added.
Karapatan earlier assailed Duterte for threatening to "slap" UN Special Rapporteur Agnes Callamard, repeating his hostility towards any plans of Callamard to officially visit the country to investigate the reported cases of extrajudicial killings in the country. Palabay commented that "this President acts like a spoiled child. The issue is that there is a growing number of State-perpetrated violations in the country, and thus he cannot begrudge Callamard for attempting to perform her mandate to investigate said violations. His feelings or tantrums are inconsequential to us because we are struggling for justice."
"We reiterate our challenge to the Duterte regime to introduce appropriate measures to stop these attacks and carry out impartial investigations on the cases submitted, to bring the perpetrators to justice. We will exhaust all means and all available mechanisms to hold the government to account for its fascist policies that have been the basis for these continued, intensifying attacks," Palabay ended.
DPWH equips engineers with traffic management techniques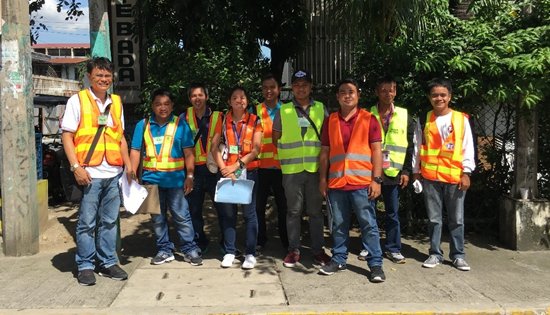 By APRIL FATIMA DIRA-VILLANUEVA
November 30, 2017
CALBAYOG CITY – In line with the DPWH efforts to build the technical capability of our frontline units in Traffic Engineering and Management, the Bureau of Quality and Safety conduct a workshop on the Fundamentals of Traffic Engineering and Management. The workshop was held on November 06-10, 2017 at the Central Office training room of the Human Resource and Administrative Service. SFDEO participants, Engr. Allan A. Lanuza and Engr. Idelberto M. Leopardas and their team, are awarded as the Best Performing Team for their case study presentation.
Traffic Engineering deals with the planning, geometric design and traffic operations of roads, streets and highways, their networks, terminals, abutting lands and relationships with other modes of transportation for the achievement of safe, efficient and convenient movement of persons and goods.
It is stated that the greatest obstacles a professional traffic engineer faces in applying sound principles of traffic engineering is the fact that "everyone is a traffic expert". The unfortunate result of this attitude of expertise is the creation of traffic hazards when false theories of individuals or groups are put into effect. "Without the training, the cure may be worse than the disease" said speaker Engr. Marites D. Reyes.
There are not enough roads to accommodate the growing volume of motor vehicles. That's why greater reliance must therefore be placed on traffic management techniques to increase the practical capacity of available space.
Special business lending program for Marawi
By DTI-OSEC-PRU
November 29, 2017
MANILA – Department of Trade and Industry's (DTI) financing and guarantee attached corporation, Small Business Corporation (SBCorp) attached micro-finance will be offering zero percent interest loans to help the constituents of Lanao del Sur, specifically Marawi micro entrepreneurs displaced by the war, starting early December 2017 up to April 2018 as part of government rehabilitation efforts of Marawi City.
"The recent events in Marawi raised the need to generate several programs that will aide in the rehabilitation of Marawi and the full assistance to affected residents. In support of government-wide efforts to help the people of Marawi, we will be working closely with our Maranao countrymen to ensure they have access to the needed funds to get their businesses back on their feet," said Trade Secretary Ramon Lopez.
After the interest free loan, we shall extend the Pondo sa Pagbabago at Pag-asesnso (P3) Program which is also the Microfinance program implemented by the SBCorp. This will be complemented by starter livelihood kits being distributed by the DTI.
For Micro Finance Institutions (MFIs) that want to start lending to the Lanao del Sur area in solidarity with the people of Marawi and the entire province, the P3 Program will provide credit risk support to MFIs in exchange for their timely and quick response. A DTI-SBCorp team has been assigned at DTI-Marawi to set up the P3 facility, which will also be supported by DTI-Cagayan de Oro.
To date, SBCorp – with the support of the DTI regional and provincial offices – has accredited a total of 94 MFIs, plus another 45 MFIs in the pipeline. Moreover, the P3 Program is now rolled out throughout the entire country from north to south except for a handful of provinces, with close to 40,000 borrowers to date.
Most of the MFIs that have signed up are cooperatives, i.e. self-help people's organizations that have a good grasp of the needs of their members to grow their businesses. Likewise, several large MFIs – including the Center for Agriculture and Rural Development (CARD) – have aired their support to the program for its timely scale up even in remote areas of the country.
"We laud SBCorp's untiring efforts to link up with finance institutions across the country to ensure conduits are in place for the P3 Program. We have the funds, and we now have the channels to help our MSMEs expand their businesses," said Sec. Lopez.
For 2018, the government will add another P1.0 billion to the P3 fund to support more micro enterprises in growing their small business.
The SBCorp will be accrediting least five local MFIs per province in the coming years to ensure that micro enterprises will have easy and reliable access to reasonably-priced credit within their own locality, with a total of 400 grassroots conduits targeted. The agency will also support these MFIs by way of capacity-building training.
Through the P3 program, the government hopes to encourage communities to organize themselves into cooperatives or other self-help units engaged in entrepreneurship.
DTI also opened the invitation to the rural banking sector to support the P3 Program, given the more than 2,000 branches nationwide that are mostly rural-based. These make the small banks a potent force for scaling up the P3 Program and for improving the fund-channeling system so that the fund reaches micro enterprises in a timely and judicious manner.
Launched last April 2017, the P3 Program supports micro entrepreneurs across the country with an initial funding of Php850 million via lower cost loans. The program is intended to help those people involved in micro enterprises and who are vulnerable to usurious lenders in the absence of an alternative source.
Under the program, a micro enterprise can borrow between P5,000 up to P100,000 depending on its business need and repayment capacity. Interest rate and service fees do not exceed 2.5 percent monthly as compared to the 20 percent monthly rate under the 5/6 system. Documentation is simplified and processing time is also reasonable.
Among those helped by the P3 Program were Rose Marie Obena of Tacloban City, Leyte and Hercolano Villasin of Calubian, Leyte. Obena was the sole survivor among her family after Typhoon Yolanda, and was among the first batch of market vendors that accessed a P3 loan to expand her store. The 78-year old Villasin, on the other hand, accessed the P3 Program through the Fatima Multi-Purpose Cooperative (FATIMA MPC) to support his dried fish business, which he had been doing since he was in his teens.
"Through the P3, our poor sectors can find relief from overly expensive borrowings as they pursue their livelihood activities," the trade chief said.
Members of factfinding mission in Negros shot; 2 dead, one wounded
By KARAPATAN
November 29, 2017
QUEZON CITY – Three members of the factfinding mission team were shot by unnamed men at around 2:40 this afternoon at Brgy. San Ramon, Bayawan, Negros Oriental.
Elisa Badayos, coordinator Karapatan Negros Oriental and Eleuterio Moises, a barangay tanod and member of local peasant organization Mantapi Ebwan Farmers Association, were pronounced dead-on-arrival after having been brought to a hospital in Bayawan. Carmen Matarlo, a 23-year-old member of Kabataan Partylist-Cebu was also reportedly wounded.
The 30-member FFM team were in the area to investigate and verify reported human rights violations in the area.
"The attack on human rights defenders are becoming more rampant, more brutal, more fearless. The perpetrators know they will be dealt with impunity, as human rights have lost force and meaning especially under this regime. Fact-finding missions are a mechanism for human rights organizations to confirm reports of abuses, and this incident has only proven how fascism works to outrightly kill those who dare to question," said Karapatan secretary general Cristina Palabay.
Palabay added that "the space for human rights defenders is fast shrinking, as the Duterte regime is finding more and more ways to cripple defenders on the ground who voice out the real situation experienced by marginalized communities victimized by militarization, landgrabbing, and other forms of repression and oppression."
She cited the Negros Oriental Provincial Ordinance no.5, s.2008, or known as "An Ordinance Regulating Outreach Activities Through Medical and Fact-Finding Missions in the Countryside of Negros Oriental and for Other Purposes," wherein non-government organizations and other cause-based organizations are prohibited to conduct any humanitarian mission in Negros Oriental without seeking permission from the governor, municipal government and municipal police. Violators are sanctioned with six months of imprisonment and a fine of P5,000 on participants on the said mission.
The 30-member FFM team arrived in the mission area in San Ramon, Bayawan on 11am. They were blocked and harassed by elements of the mayor's private goons. Armed men inquired as to their whereabouts and the purpose of the mission. They were eventually allowed to pass.
At around 2:30pm, while the rest of the FFM team conducted the case documentation, a team composed of Elisa Badayos, Patrick Torres, executive director of Farmers Development Center-Cebu (FARDEC-CEBU), Elioterio Moises, Angel Trocio, staff of Women's Resource Center in the Visayas, and Carmen Matarlo readied to leave to go to Nangka Barangay Hall, Bayawan City for a courtesy call, and subsequently to the police station to file a blotter report regarding the harassment incident earlier. They went on two separate motorcycles – Patrick and Angel were on board the first motorcycle while CJ and Elisa were on the second vehicle driven by Elioterio. The two vehicles were on a convoy, with the motorcycle boarded by Patrick and Angel in the front.
While on their way, they were shot at by unnamed gunmen, suspected to be the same armed men who blocked their entrance to the mission site. The shooting led to the death of Moises and Badayos. Matarlo was brought to the Bayawan District Hospital before being transferred to Dumaguete. As of this writing, she is now in a stable condition.
Elisa Badayos is the wife of former labor leader and desaparecidos Jimmy Badayos.
"We condemn in the strongest terms this recent attack on human rights workers. Even as human rights workers conducting factfinding missions in Batangas, Negros, Mindanao and elsewhere are being subjected to attacks by state forces, we will never relent in struggling alongside with the Filipino people in contending against this murderous Duterte regime," Palabay concluded.
Army troops clash with NPAs in Albuera, Leyte
By DPAO, 8ID PA
November 28, 2017
CAMP LUKBAN, Catbalogan City – Soldiers assigned with 78th Infantry (Warrior) Battalion clashed against more or less 10 communist terrorists this morning at Zone 5, Barangay Talisayan, Albuera, Leyte.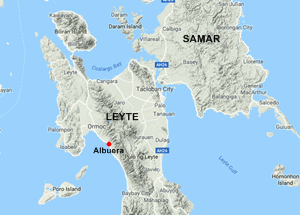 The troops conducted security patrol and confirmed the residents' reports about the presence of communist terrorists who were extorting food and money.
The firefight lasted for 15 minutes and resulted to the recovery of two Cal .45 pistols; four magazines of Cal .45 pistol; one hand grenade; more or less fifty live ammunition; five cellular phones; subversive documents with high intelligence value; and personal belongings. There are no reported casualties on the government troops while undetermined on the enemy side.
The successful operation of the Army is the result of the shared cooperation of the villagers in the said barangay about the presence of the NPA rebels that continue to engage in acts of violence and hostilities endangering the lives and properties of innocent people.
The 8ID under the leadership of Maj. Gen. Raul M Farnacio will remain committed to serve and protect the people in Eastern Visayas especially in the far-flung conflict affected areas and a partner for peace and development. He congratulated the troops of 78IB for a job well-done. The 78IB is the newly pronounced "Best Infantry Battalion" in Visayas for the year 2017 of the Central Command, Armed Forces of the Philippines last November 14, 2017.
Five days earlier on November 23, 2017, President Rodrigo Roa Duterte declared the termination of peace negotiations with the National Democratic Front - Communist Party of the Philippines - The New People's Army and all its adjuncts and organizational units through Proclamation No. 360 due to the latter's continued attacks against government troops and atrocities to civilians.
Energy research institution debunks clean coal myth, opposes global clean coal alliance
Press Release
November 27, 2017
QUEZON CITY – The Center for Energy, Ecology, and Development (CEED), an independent, think-do institution engaged in issues of energy, environment, and development in the Philippines, expressed opposition to the convening of a global clean coal alliance – a proposal made by the US Delegation to the Conference of Parties (COP23).
According to CEED Research, Policy and Advocacy Officer Arvin Buenaagua, "coal is the dirtiest of all fossil fuels. Its consumption emits sulfur dioxide, nitrogen oxide, mercury, and other particulate matters. It is a huge contributor to smogs, air pollution, and acid rain, which in turn causes respiratory and cardiovascular diseases. Calling it clean is oxymoronic."
The myth of "clean coal" is premised on the development of technologies that would supposedly reduce harmful emissions and their escape into the atmosphere. One of these technologies is the Carbon Capture and Storage (CCS), which aims to capture carbon dioxide emissions and subsequently store them in underground saline aquifers or depleted oil and gas fields.
However, these technologies come at exorbitant costs, and with a dismal track record. "According to the Global CCS Institute, it is estimated that $100 billion annually will be spent to develop CCS technologies. Retrofitting these to older coal plants would most likely cost even more," claims CEED Legal Officer Avril De Torres.
"The recent suspension of operations of the Kemper County plant in Mississipi shows that "clean coal" technologies are decades far from being fully developed and widely deployed. The Kemper County plant was envisioned to be a flagship, cutting-edge project that would pioneer coal gasification and CCS technologies. And yet, after years of delay and billions spent over its projected budget, Kemper County plant's operations lasted for only 200 days. Operations were abruptly suspended due to issues with its "clean coal" technologies," added De Torres.
Additionally, a recent research conducted by the Institute for Energy Economics and Financial Analysis and the Institute for Climate and Sustainable Cities predicts the imminent stranding of all existing and future coal plants in the Philippines. The stranding of coal plants will inevitably include "clean coal" technologies with it.
In the context of the urgent global climate action ushered in by the Paris Agreement, and the continuous drastic decrease in the cost of renewable energy, any talks of forming a global clean coal alliance is misplaced and illogical.
A new research from Morgan Stanley already states that numerous key markets have reached an inflection point, where renewables will become the cheapest form of energy in less than three years.
According to De Torres, the Philippines is already experiencing a drastic drop in the cost of renewables. "Just two months ago, a solar company entered into a power supply agreement with Meralco, the biggest distribution utility company in the country, at P2.99 kWh. This is a rate that is much lower than the average coal electricity production price of coal plants in the pipeline at P3.66 kWh," she explained.
According to government data, the Philippines has a vast untapped RE potential at 250,000 MW. If properly utilized, the country is set to be an RE leader in Southeast Asia. Thus, the claim that the Philippines has no choice but to generate electricity from coal cannot be farther from the truth.
"Coal is coming to its end. There is no need to further invest in and develop technologies that would "clean" an obsolete and dirty energy. Any talks of alliance should be focused on decarbonization and the advancement of renewables" concludes Buenaagua.
Entire 4.8 million agri-business workers in Mindanao affected by land review
By ALU-TUCP
November 25, 2017
QUEZON CITY – The entire 4.8 million workers in banana, pineapple, cacao, and palm oil including those jobs in the agribusiness value chain in Mindanao are jittery over their fate in the light of on-going congressional investigation into the Agribusiness Ventures Arrangements (AVAs), according to the country's biggest labor group the Associated Labor Unions-Trade Union Congress of the Philippines (ALU-TUCP).
"We respect the congressional inquiry on the AVAs but we cannot prevent Mindanaoan workers and their families whose lives have been anchored on and around the agribusiness in Mindanao for decades to feel anxious and uncertain over the fate of their livelihood in view of the investigation," said ALU-TUCP National President Michael Mendoza and chairman of labor coalition Nagkaisa.
"We urged our lawmakers to assure Mindanaoans and guarantee that the outcome of the query of the arrangements shall not alter the existing playing field. It should not result to job losses and displacements. The investigation should not result in uncertainty among stakeholders. It should rather send a message that government is reliable social and economic partner," Mendoza said.
The statement was made amid the consultation on the on-going investigation in aid of legislation by the Committee on Agrarian Reform of the House of Representatives led by committee chairman Rep. Teddy Brawner Baguilat, Jr. at a committee hearing held in CAP Grand Auditorium in Andas, Davao City yesterday (Thursday, Nov. 23).
Mendoza said ALU-TUCP supports measures that will strengthen the generation of quality jobs for all workers in the agro-food value chain and enhances the agri-entrepreneurship development and support mechanism for ARBs.
"It is our view that any proposed laws on the matter should focus on developing a genuine partnership between farmer beneficiaries and the agribusiness so as to enhance the dignity of the farmers and farmworkers, and promote their agricultural security of tenure. It must retain existing investors and attract new investors as well to broaden the development in Mindanao," he said.
The Agribusiness Ventures Arrangements (AVAs) and Joint Venture Agreements (JVA) are subjects of both House Bills 5085 and 919. Authored by Baguilat, HB 5085 aims to regulate AVAs while HB 919 was introduced by the Makabayan bloc to look into the concerns raised by agrarian reform beneficiaries.
The millions of workers depend on various agri-business ventures arrangements with Agrarian Reform Beneficiaries (ARBs) with agri-businesses engaged in pineapple, banana, cacao, palm oil and other fruits products in Mindanao including those workers involved in processing, packing, distribution and those jobs in the entire agro-business production value chain.
The AVAs, as of March 2014 Department of Agrarian Reform (DAR) record reached a total of 161 nationwide. DAR noted that the most common AVA is contract growing/growership which accounts for 72 or 45% of the total AVAs.
This was followed by lease agreement at 42 or 26%, leaseback at 21 or 13%. Joint Venture Agreements, meanwhile, is at 12 or 8%.
Duterte blocks progress of discussions on social and economic reforms
By JULIETA DE LIMA
November 23, 2017
UTRECHT, Netherlands – The National Democratic Front of the Philippines (NDFP) Reciprocal Working Committee on Social and Economic Reforms (RWC-SER) views with grave concern Pres. Rodrigo Duterte's sudden turn-about and unilateral cancellation anew of peace negotiations with the NDFP. It is the third time in six months that Pres. Duterte has obstructed the progress of the talks.
His latest scuttling of the talks comes at a time when unprecedented advances have already been achieved in forging agreements on urgently needed socio-economic reforms to alleviate mass poverty and resolve the roots of the armed conflict.
Just four days before Pres. Duterte cancelled the talks anew, the bilateral teams of the NDFP and the Government of the Republic of the Philippines (GRP) RWCs-SER initialed draft documents reflecting substantial agreements on agrarian reform and rural development, and on national industrialization and economic development. These were the result of a series of bilateral technical meetings by the NDFP and GRP RWCs-SER on October 26-27, November 9-11, and November 16-17.
The drafts include potentially significant reforms to benefit millions of Filipinos. These include the free distribution of land to tillers, farmers, farmworkers, agricultural workers and fisherfolks. Agrarian reform beneficiaries who have not yet been able to occupy the land awarded to them will be installed immediately, including those in contested lands and agricultural estates. The scope and coverage of agrarian reform will be expanded to include plantations and large-scale commercial farms covered by leasehold, joint venture, non-land transfer schemes like stock distribution option, and other such arrangements. There are also measures to prohibit and eliminate exploitative lending and trading practices.
The NDFP and GRP also agreed on the need for national industrialization and for planning to develop Filipino industrial capacity. Measures will be taken to ensure that foreign investments cease being one-sided and contribute to developing the national economy. Domestic industrialists and smaller enterprises will be protected and supported. The importance of nationalizing public utilities was affirmed. Both sides also agreed to identify key industries and priority industrial projects to jump-start industrialization. The importance of unions and workers' councils was also acknowledged.
Further measures of even greater significance were set to be tackled. The GRP and NDFP RWCs-SER were optimistic that they would be able to complete the Comprehensive Agreement on Social and Economic Reforms (CASER) for signing by their respective negotiating panels and approval by their principals by January 2018.
The NDFP RWC-SER regrets the unilateral cancellation of talks on such vital social and economic reforms which, if implemented, would have immediately benefited tens of millions of oppressed and exploited Filipinos. The NDFP at the same time recognizes that the people's continued daily struggles on these issues are unabated and, if anything, are made more urgent and will gain greater momentum. Pres. Duterte bears full responsibility for the failure of the talks on social and economic reforms because of his sudden turn-around and heightened hostility to the revolutionary forces and the people.
DILG lauds "Harvest of Good Governance" in Eastern Visayas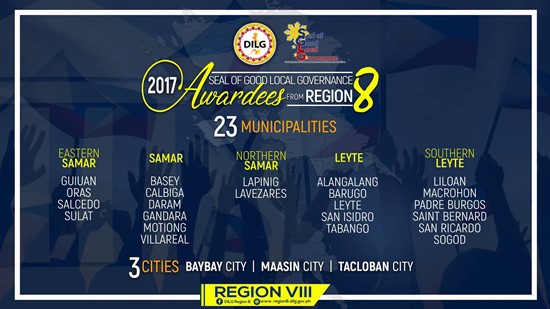 By Rena Fabilane & Myles Joseph E. Colasito
November 21, 2017
TACLOBAN CITY – "Good governance is everybody's business, not just that of local government units (LGUs), DILG or of national government. Good governance is equivalent to creating better life for the people," emphasized Regional Director Marivel C. Sacendoncillo of the Department of the Interior and Local Government (DILG) during a press conference on Popularizing and Sustaining the Seal of Good Local Governance (SGLG) Gains on November 20, 2017 at Ironwood Hotel, Tacloban City.
DILG launched the SGLG as an incentive program to encourage LGUs to embrace good governance. Twenty-six (26) of the 448 SGLG awardees nationwide are from this region, an increase from 12 in 2016 and seven (7) in 2015.
Three cities in the region (Baybay, Maasin and Tacloban) passed the SGLG. The 23 SGLG winner-municipalities are as follows: From Eastern Samar, Guiuan, Oras, Salcedo and Sulat. From Samar: Basey, Calbiga, Daram, Gandara, Motiong and Villareal. From Northern Samar the winners are Lapinig and Lavezares. From Leyte: Alang-alang, Barugo, Leyte, San Isidro and Tabango. From Southern Leyte: Liloan, Macrohon, Padre Burgos, Saint Bernard, San Ricardo and Sogod. The town of Barugo is the region's sole three-time SGLG winner.
Director Sacendoncillo lauded the LGUs for this "harvest of good governance" due to greater receptiveness among mayors of the SGLG. DILG-8 initiated a series of dialogs with LGUs and partner agencies and focused on closer mentoring to address the most challenging SGLG indicators. She sought the help of media and the public in creating a climate of good local governance by using SGLG indicators in demanding better performance from local officials.
The press conference led off with an overview of the SGLG by Pia Lovete, Chief of DILG-8 Local Government Monitoring and Evaluation Division, followed by the welcome remarks of DILG RD Sacendoncillo.
Present to share their insights were Mayors Ma. Rosario C. Avestruz of Barugo, Leyte; Ma. Luisa A. Menzon of Lapinig, Northern Samar; Atty. Melchor L. Melgar of Salcedo, Eastern Samar; Arnold James Ysidoro of Leyte, Leyte; Hermenigildo Culpa of Padre Burgos, Southern Leyte; as well as Atty. Irene Chiu representing Mayor Cristina G. Romualdez of Tacloban City.
In attendance were representatives of ABS-CBN, ATV24, Philippine Daily Inquirer/Leyte Samar Daily Express, Tacloban City Information Office, Philippine Star/Freeman, Business Mirror/EV Mail, Kaugop RTV, IBC 6, DYVL, Magik FM, Bombo Radyo, RMN Tacloban, and San Juanico Balita.
The mayors, who will receive the award in Manila on November 27, 2017, expressed gratitude to their hardworking employees and community for the SGLG award. They expressed resolve to sustain their efforts in complying with the expected new indicators in next year's SGLG evaluation.
The 2017 SGLG follows the "4+1 principle" where LGUs must pass all four Core areas: 1) Financial Administration, 2) Disaster Preparedness, 3) Social Protection, and 4) Peace and Order, which was added this year as a Core area. The areas considered Essential, which LGUs must pass at least one are: Business Friendliness and Competitiveness; Tourism, Culture and the Arts; and Environmental Protection.
SGLG winners can access the Performance Challenge Fund (PCF), which may be used for projects such as disaster risk reduction and management, local economic development, potable water and construction of local water impounding stations.
8ID opens another batch of recruits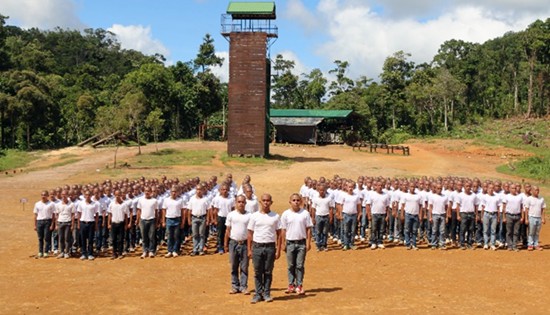 By DPAO, 8ID PA
November 20, 2017
CAMP LUKBAN, Catbalogan City – The Philippine Army Candidate Soldier Course Class 511-2017 composed of new aspirants from Visayas, Luzon and Mindanao was officially opened on November 19, 2017 at the 8ID Jungle Base, Camp Eugenio Daza, Barangay Fatima, Hinabangan, Samar.
Brig. Gen. Cesar M. Idio AFP, 8ID Assistant Division Commander, graced the Opening Ceremony as the Keynote Speaker. Also present to witness the oath-taking and reception rites were 8ID Officers, Enlisted Personnel and parents of the aspiring soldiers.
The majority of the newly selected batch of Candidate Soldiers came from Eastern Visayas region. On their educational profile, five (5) of them are board passers; 41 are college graduates; 60 are college undergraduates; and, 82 are high school graduates. They will be honed for the duration of four months in basic military training and will serve as additional soldiers that will beef-up the personnel strength of the Stormtroopers Division.
Brig. Gen. Idio in his message encouraged the aspiring soldiers to learn as much as they can during the training in order to become effective and efficient soldiers.
"Sa bagay na ito, kaisa ako ng inyong mga magulang na lubos na ipinagmamalaki ang bawat isa sa inyo sa desisyon ninyong tahakin ang buhay at hamon ng pagsusundalo. Sana ay huwag ninyong sayangin ang pagkakataon na ibinigay sa inyo. Marami ang naghahangad na makapasok pero kayo lamang ang iilan na pinalad na napili, ito ay pagkakataon na hindi naibibigay sa lahat kayat nararapat lamang na ito ay inyong pahalagahan," he said to the Candidate Soldiers.
We are sick of Duterte's shenanigans - Sandugo
Press Release
November 20, 2017
QUEZON CITY – "It is us who are sick of your shenanigans, Pres. Duterte," Datu Jerome Succor Aba, co-chairperson of Sandugo - Movement of Moro and Indigenous Peoples for Self-Determination said today in response to Pres. Rodrigo Duterte's threats to crack down on progressive organizations such as Bayan and declare the New People's Army (NPA) as a terror group.
"Such threats only expose Pres. Duterte's desperation to silence the growing discontent of the Filipinos. If Pres. Duterte thinks that the national minorities and the rest of the Filipino people will be intimidated to oppose his fascist and puppet government, he is gravely mistaken." Aba said.
"Declaring the NPA as a terror group will only intensify the attacks on national minorities in the Armed Forces of the Philippines counter-insurgency operations especially in far-flung communities. The possible crack down on progressive organizations will also target national minority organizations that include Sandugo. We are one of the first to declare the Duterte government a fascist regime and indicted the President for his crimes against the national minorities," Aba said.
"True enough, the fascist Pres. Duterte responds to legitimate opposition against his anti-people and pro-imperialist policies and programs by threat, intimidation and more violence," Aba said.
"We, the national minorities, have been subjected to repression and pacification for centuries. Our people in history survived massacres. We even survived the brutal attacks of the Marcos' martial law. Many of our kin and leaders sacrificed their lives to protect our tribes and ancestral lands and territories," Aba said. "As we speak, Lumad communities in Socsksargens are being bombed by the AFP while 10,000 have already evacuated in Maguindanao and North Cotabato due to ongoing aerial bombings," Aba said.
Sandugo calls the Duterte regime to spare more lives and put a stop on the rabid attacks on Moro and indigenous peoples' communities. "Instead, Pres. Duterte quit his shenanigans and start to address the roots of the armed conflict and people's discontent," Aba concluded.
DPWH-RO8 regional monthly coordination meeting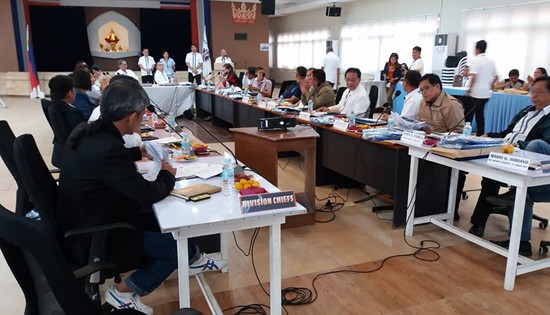 By MAE ANGELICA R. COMOTA
November 18, 2017
CALBAYOG CITY – District engineers from all over the region, including DPWH Samar First District Engineer Alvin A. Ignacio, attend the Regional Monthly Coordination Meeting hosted by DPWH Leyte Third on November 7, 2017 at 8:30AM in the DPWH Multi-Purpose Hall in Baras, Palo, Leyte.
Regional Director Edgar B. Tabacon and Assistant Regional Director Armando G. Estrella direct the district engineers to make an action plan on the unobligated allotment in anticipation of its expiration on December 31, 2017. They further instruct them to bid out all CY 2018 Infra Projects and remaining CY 2017 projects by the same date which should include approved POWs and plans and that the last day of posting is on November 29, 2017.
RD Tabacon and ARD Estrella give out orders to procure surveying instruments that will speed up the preliminary engineering activities and to improve the quality of warning signs being installed on project locations. Both also raise issues and concerns regarding the delays in the usage of PCMA. The district engineers share the various issues and concerns affecting their respective district offices.
The meeting concludes with RD Tabacon's challenge to everyone to go beyond the ordinary call of duty in order to reach this year's targets and to strive for more in the pursuit of a higher standard of public service.
Manufacturing surges, boosting GDP contributions by 22.4% in Q3 2017 - Lopez
By DTI-OSEC-PRU
November 17, 2017
MAKATI – "The Philippine economy smashed expectations to post a 6.9% growth as a robust manufacturing industry expanded by 9.4% and increased its share to GDP by 22.4% in the third quarter of 2017," Secretary Ramon M. Lopez of the Department of Trade Industry stated.
"This economic feat is creating meaningful and well-paying jobs for our people and providing a compelling environment for business to thrive. This is what the Department's Trabaho at Negosyo thrust is all about," the Secretary added.
The growth was one of the fastest in the region, outpacing other Asian countries, such as China (6.8%), Malaysia (5.8%), and Singapore (4.6%).
The services sector accounted for the highest share to GDP at 58.9%, followed by the industry sector (33.3%), and agriculture sector (7.5%). Manufacturing accounted for 69% of the total output of industry.
Among the three economic sectors, industry accelerated the fastest at 7.5%, while the services and agriculture sectors grew by 7.1% and 2.5%, respectively.
"We are closing in on our minimum target of growing the manufacturing industry to 25% of the country's GDP. The Department remains relentless in our efforts to revive our factories, expand production, generate employment, and enable industry to provide the catalyst that will build the seamless link between a productive agriculture and a strong services sector," Secretary Lopez added.
Food Manufactures, Top Manufacturing Sector
Food manufactures remained the main contributor with 23.6% of total gross value added (GVA) in manufacturing, followed by the manufacture of radio, television and communication equipment and apparatus with 18.6%, and chemical and chemical products with 15.9%.
Manufactures of fabricated metal products posted the fastest growth at 66.8%, followed by furniture and fixture (32.3%), and office, accounting and computing machinery (25.5%).
Retail Trade, Top Services Sector
The GVA of retail trade sector in trade and repair recorded a 6.9% increase in the third quarter of 2017. This was followed by wholesale trade (6.3%), and maintenance and repair of motor vehicles, motorcycles, personal and household goods (5.5%).
Secretary Lopez added that to enable retail trade to realize its full potential as a main contributor to the economy, the Department is supporting the proposed relaxation of foreign equity restrictions, particularly setting of a lower minimum paid-up capital for retail trade enterprises (from US$2,500,000 to US$200,000). This will spur investments into the country, stimulate economic growth, and create more quality jobs for the Filipinos.
Electronic products, Top Merchandise Export
Exports of goods have been growing steadily in 2017, rising by 22.8% and allowing the sector to contribute 54.0% to total GDP in Q3 2017. Electronic products, the country's top merchandise export, increased by 24.0%, accounted for bulk of total PH export of goods at 63.4%, and contributed 34.2% to the country's GDP.
Sustaining Manufacturing Resurgence through Innovation
"That efforts of the Department to expand exports, increase investments are finally bearing fruit is also due largely to the private sector's support," Secretary Lopez noted. "It is through the concerted efforts of Government and the Private Sector that an environment conducive to manufacturing and industry development can be created," he added.
Under the Manufacturing Resurgence Program, the Department in collaboration with business and industry champions have finalized 36 industry roadmaps that will pave the way for the development of priority industries.
"We are moving towards the next phase of MRP where strong linkages between large industries and MSMEs will be fostered. The challenge is to sustain the growth and trickle down the effect to smaller industries," Secretary Lopez said.
Secretary Lopez also emphasized the importance of innovation in sustaining manufacturing resurgence. "We are constantly reviewing our industrial strategy, as we enter the fourth industrial revolution. We are focusing our efforts towards innovation through the inclusive innovation industrial strategy or i3S."
"This will entail training and upgrading the capability of our people, developing our own or adapting available technologies, and striving towards operational efficiency, to enable us to meet global demands and opportunities and enter a level of inclusive economic growth driven by innovation," he added.
P40M road project connecting school to national road near completion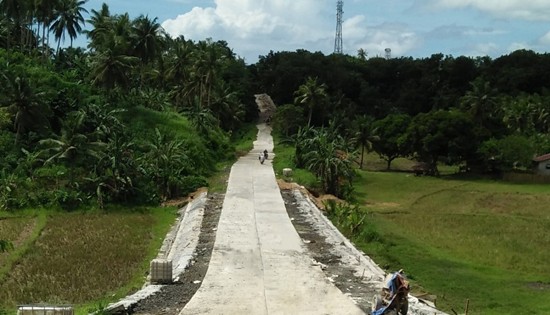 By JASON T. DE LOS ANGELES
November 17, 2017
CALBAYOG CITY – Samar First District Engineering Office substantially completes the Construction of the Missing Gaps connecting to National Road, including Road of Way (ROW), located at Rueda Extension near North West Samar State University (NWSSU) campus. It is accessible by a 2-minute motor ride from the City Proper.
The construction of 1.01 kilometer road project is implemented by DPWH-Samar I and is under contract with CDU Construction with a total appropriation of P40 million from the FY 2017 GAA Fund.
It is directly beneficial to the residents and the students from far-flung barangays because it serves as a shortcut when they go to work and school. Farmers and motorists no longer have to endure a longer travel time as they can expect better traffic condition from now on.
Mr. Renaldo Pactor, the caretaker of the NWSSU agricultural farm, said that this concrete road was a big benefit to them, because now their equipment and vehicle can pass through to transport their agricultural products and the students need not traverse through muddy land when going to school.
The newly paved roads ensure the robust economic growth in the city as the transfer of agricultural goods and other products is hastened.
BIR urged to return P5 billion tax refund it owes to poor workers
By ALU-TUCP
November 17, 2017
QUEZON CITY – Workers' group Associated Labor Unions-Trade Union Congress of the Philippines (ALU-TUCP) is demanding the Bureau of Internal Revenue (BIR) and Department of Finance (DOF) to return in cash an estimated P5 billion they unlawfully collected from minimum-waged workers nationwide for seven months back in 2008.
The group insists a cash refund including its legal interests the collected money earned from 2008 to 2017.
"We cannot understand why the BIR and the DOF is quick to squeeze money from the workers but it takes forever for them to return those. Mahiya naman kayo! Those are workers' blood money. Pinaghirapan na yan ng mga manggagawa, ibalik na ninyo! said Alan Tanjusay, ALU-TUCP spokesperson.
In its 56-page January 24, 2017 ruling, the Supreme Court nullified several provisions of BIR Internal Revenue Regulation 10-2008 that disqualify Minimum Waged Earners (MWEs) from tax exemptions on their wage, bonus, and other compensation benefits such overtime pay, hazard pay, holiday pay, and night shift differential pay including fringe benefits in excess of P30,000 including those who received their 13th month pay bonus.
In other words, the BIR continued to collect taxes on the basic wage, bonuses and other benefits from millions of minimum-waged workers nationwide from June to December 2008 despite of a law exempting minimum-waged workers from such taxes starting July 6, 2008.
The SC also directed the BIR to grant a refund or allow a refund through withheld tax adjustments or a claim for tax credits by those subjected by IRR 10-2008.
"Some minimum-waged workers who were subjected to tax may have remained a minimum-wage earner up to this day but they cannot claim for tax credit because they are exempted from income tax.
Some may have been promoted and some may have been unemployed. Some have become OFWs. Some are already deceased," Tanjusay said, adding: "In fairness to the workers subjected by the regulation, the best option here is a cash refund."
The SC ruling stemmed from petitions filed by lawmakers, individuals and labor groups including the Trade Union Congress of the Philippines (TUCP).
PH peoples' groups to Japan: "Say Sayonara to coal"
By SANLAKAS
November 16, 2017
QUEZON CITY – Environment advocates and members of people's movements marched to the Japanese Embassy to demand a stop to Japan's Asian push for coal.
Led by Sanlakas, the Center for Energy, Ecology and Development (CEED) and other groups, they denounced Japanese Prime Minister Shinzo Abe's promotion of fossil fuels and so-called "clean coal" to power ASEAN nations' growing economies. According to the groups, profit-seeking Japanese coal companies are riding on the ASEAN drive to further expand its economy by peddling dirty coal-sourced power as fuel for economic growth.
According to Center for Energy, Ecology and Development (CEED) Legal Research Officer Atty. Avril De Torres, Japan has been making strides in securing and financing coal projects across Southeast Asian nations amidst the ASEAN and East Asia Summits.
De Torres cited Japanese company Marubeni Corporation's recent concession contract with the Vietnamese government to build the new 1,200MW Nghi Son 2 coal-fired power plant in Vietnam. She also claimed that Japan is currently the biggest public financier of the Asian coal power plan – leading other major countries such as China, Korea, and Germany.
According to De Torres, the Japan Bank for International Cooperation (JBIC) has been making huge investments in the Asian coal expansion, financing, most recently, Vietnam's Nghi Son 2 coal-fired power plant and Indonesia's Cirebon 2 coal-fired power plant.
"Japan persists in its push for more coal in the region amidst peoples and civil society organizations' plea to cease carbonization," said Atty. De Torres.
"Vietnam and Indonesia – two of the most climate-vulnerable countries in Southeast Asia – are forced to host more Japan-backed coal. Indonesia's Cirebon 2, for instance, has recently received Japan's coal finance despite court revocation of its environmental permit," added De Torres. Sanlakas Secretary-General Atty. Aaron Pedrosa slammed Japan Prime Minister Shinzo Abe's aggressive campaign for coal, including the "clean coal" push, claiming that it is mired with lies about the true impacts of coal.
"'Clean coal' is an oxymoron and a dirty lie. Coal simply cannot be scrubbed clean of the long history of suffering it has caused on the people and environment," said Sanlakas Secretary-General Aaron Pedrosa.
Pedrosa cited 960 annual premature deaths found to be due to coal emissions in the Philippines alone, along with other economic and social issues stemming from the coal industry. He claims that "clean coal" has little difference with traditional coal.
"'Clean coal' technologies still produce the same damaging amount of emissions and pollution. Their only difference with traditional coal is that they are more expensive for the countries that can't afford them," said Pedrosa.
"Far from being a tool of development, any and all coal expansion within the region ensures profit only for the few coal companies, and traps climate-vulnerable regions like Southeast Asia into further poverty and climate change-induced suffering," he continued. According to Pedrosa, the energy demand of Southeast Asia's economic development must not be met through the use of dirty fossil fuel energy, given the losses that coal's environmental impacts entail.
"Whatever semblance of economic growth Southeast Asia currently enjoys will be undone by the climate change effects of continuous fossil fuel burning," said Pedrosa.
De Torres stated that severe global warming caused by the increase in coal burning significantly affects the region whose large proportion of the population and economic activity are concentrated along the coastlines and whose livelihood depends heavily on agriculture.
"Projections of climate change-caused economic losses in Southeast Asia include a decline of up to 50 percent of rice yield potential by 2100 and a loss of 6.7 percent of combined gross domestic product (GDP) each year by 2100," said De Torres.
Pedrosa stressed that Japan's coal push is regressive instead of spurring genuine development. "If a technologically advanced society like Japan truly cared for the development of the Southeast Asian peoples, it must divest from all support from coal and instead put its money and expertise on sustainable and accessible sources of energy like renewables," stated Pedrosa.
De Torres highlighted renewable energy's steady trend of decline in costs, citing it as a manifestation of renewables' increasing viability as the next energy source after an obsolete coal.
"Southeast Asia is ripe with renewable energy sources, like solar and hydro, which the most climate-vulnerable of its people have easier access to. Compared to a coal-backed economy, development that is founded on clean and sustainable energy is development that is sustainable and resilient," said De Torres.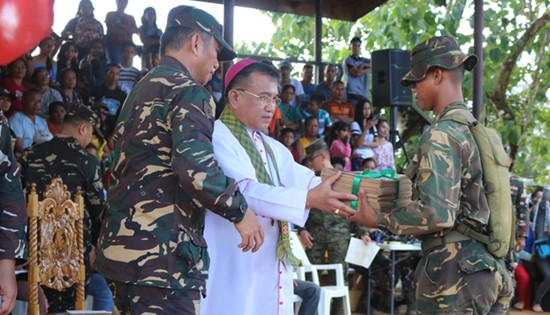 Most Rev. Isabelo C. Abarquez, D.D., Bishop Diocese of Calbayog hands over the certificates to the Class President of Class 463-17.
New breed of soldiers to serve in Eastern Visayas
By DPAO, 8ID PA
November 15, 2017
CAMP LUKBAN, Catbalogan City – The 8th Infantry (Stormtroopers) Division, Philippine Army spearheaded the Closing Ceremony of the Candidate Soldier Course Class 463-17 and the Ceremonial Entrustment of Firearms held at 8ID Jungle Base, Camp Eugenio Daza, Barangay Fatima, Hinabangan, Samar on November 15, 2017.
The closing ceremony was graced by Most Rev. Isabelo C. Abarquez, D.D., Bishop Diocese of Calbayog as the Guest of Honor and Speaker who further led the ceremonial entrustment of firearms, distribution of certificates and awarding of individual achievements. The entrustment of firearms to the newly enlisted privates symbolizes their responsibilities and commitment to the people and the country.
The majority of the new privates came from Eastern Visayas and Mindanao. On their educational profile, 19 of them are college graduates; 44 are college undergraduates and; 91 are high school graduates with skills training from TESDA.
The privates were declared graduates by Lt. Col. Alexander N. Salgado, Commandant, 8DTS for having completed the Basic Military Training (BMT) at the 8th Division Training School.
Bishop Abarquez also extended his profound congratulations to the proud parents who gave their all-out support to their sons in order to hurdle the training for enlistment to the regular force of the AFP.
In behalf of the Commander, 8ID, Col. Clifford Cyril Y. Riveral, Assistant Division Commander for Reservist and Retiree Affairs challenged the members of Candidate Soldier Class 463-17 to take advantage on the gains of their training and exert much effort, to achieve more towards accomplishment of their respective unit's mission thereby contributing to the overall mission of the Army.
In his message, Bishop Abarquez said that the progress and development of our country depends on what our attitude towards our work. We should see our work as a real service to our country, to be good citizens of our country. You just have to do well what is expected of you. Be good citizens, be good breed of soldiers. Use your profession for the greater glory of God and be productive for our country and community. He likewise reminded the new breed of soldiers that no matter where they may be assigned, they should never forget to pray and to ask guidance from the Almighty Father.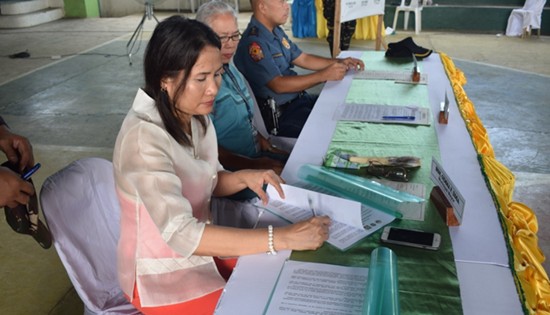 Hon. Gemma P. Zosa, Municipal Mayor of Sta. Margarita, Samar signs the Municipal Resolution #43, declaring Sta. Margarita, Samar as Stable Internal Peace and Security Condition.
Municipality of Sta. Margarita, Samar declared as "Stable Internal Peace and Security Condition"
By DPAO, 8ID PA
November 14, 2017
CAMP LUKBAN, Catbalogan City – The 803rd Infantry (Peacemaker) Brigade and the 43rd Infantry (We Search) Battalion in partnership with the local government of the Municipality of Sta. Margarita, Samar and Samar Police Provincial Office (SPPO) jointly declared the Municipality of Sta. Margarita, Samar as "Stable Internal Peace and Security Condition" on November 13, 2017 at the Municipal Covered Court, Sta. Margarita, Samar.
The highlight of the event was the reading of the declaration as stated in the Municipal Resolution #43, s2017, reading of the Memorandum of Agreement (MOA) and the signing of the Pledge of Commitment by Hon. Gemma P. Zosa, Municipal Mayor of Sta. Margarita, Samar.
Other present during the activity were: Brig. Gen. Mario G. Lacurom represented by Col. Emmanuel B. Magpayo, Deputy Brigade Commander, 803rd Brigade; PSSupt. Nicolas D. Torre III, Provincial Director, Samar Police Provincial Office represented by PCI Zaldy A. Cagampang, OIC, Sta. Margarita MPS and were witnessed by the following personalities: Hon. Simplicio D. Galidbo, Jr., Municipal Vice-Mayor; Rev. Fr. Dionesio M. Calderon, Parish Priest of St. James the Greater Parish; Maj. Jay C. Pascua, OIC, 43IB; Ms. Rhea T. Obeseñares, NGO; Mrs. Germana B. Mananguite, MLGOO; Hon. Ricardo C. Nerio, ABC President; and Mr. Carlito T. Arambala.
In their message, both invited guest speakers gave emphasis on winning the peace by strong collaboration with different stakeholders and community.
In his message, Brig. Gen. Lacurom called for unity and affirms their commitment to exert effort, cooperation, preserve and sustain the municipality as free from insurgents towards the attainment of peace and development.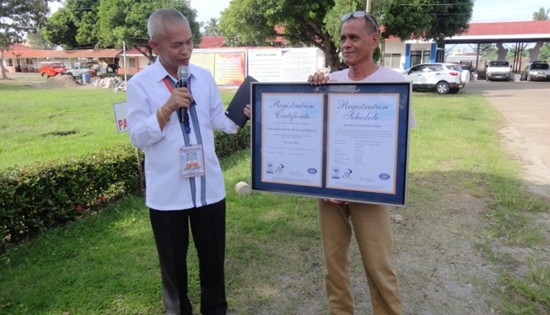 Assistant District Engineer Alfredo L. Bollido (left) as he shows the Registration Certificate and Registration Schedule to all employees during the Flag Ceremony last October 30, 2017.
DPWH-BDEO: ISO 9001:2015 certified
By CARL MARK D. PEDRERA
November 13, 2017
NAVAL, Biliran – The Department of Public Works and Highways - Biliran District Engineering Office (DPWH-BDEO) has recently been certified with the International Organization for Standardization (ISO) 9001:2015. Having been assessed by the AJA Registrar and found out to be complying to the requirement of the standardization process.
ISO (the International Organization for Standardization) is a worldwide federation of national standard-setting bodies (ISO member bodies). The work of preparing the International Standards is normally carried out through ISO technical committees. Each member body interested in a subject for which a technical committee has been established has the right to be represented on that committee.
International organizations, governmental and non-governmental, in liaison with ISO, also take part in the work. ISO 9001 is the international standard that focuses its requirements for a quality management system (QMS) including a strong customer focus, the motivation and implication of top management, the process approach and continual improvement. Organizations uses these standards to establish themselves as providers of quality products and services that meets the customers satisfaction.
According to Assistant District Engineer Alfredo L. Bollido, ISO 9001:2015 will be delivering many benefits to the office. These benefits are enhancing continuous improvement of the organization, leadership, managing risks, performance measurement and integrated approach. He also added the 6 Mandatory Documented Procedure (i.e. Control of Documents, Control of Records, Internal Audit, Control of Nonconforming Products, Corrective Action and Preventive Action) and the 5S Method (i.e. Sort, Straighten, Shine, Standardize and Sustain).
Through the leadership of our District Engineer, every Section Chiefs and its staff have cooperated with each other efficiently. The process on implementing projects has been improved and meets the deadline without compromising its quality.
Southeast Asian climate and energy working group urge ASEAN leaders to fight the coal push, fight for sustainable and people-centered energy
Press Release
November 13, 2017
QUEZON CITY – The Southeast Asian Working Group on Climate and Energy, composed of members of civil society organizations and people's movements across Southeast Asia, denounced what they claimed to be an evident collusion between leaders of ASEAN, East Asia, and the United States of America, in their push for the coal agenda within the climate-vulnerable region of Southeast Asia.
According to the Working Group's head convenor Gerry Arances, huge corporations and developed countries like the United States (US) and Japan, have zeroed in on the region as an economy ripe enough for hosting a number of their investments on the expansion of coal – an energy source long called out by environmentalists and affected communities as the dirtiest, most destructive energy source there is.
"The realities of destructive coal have not stopped ASEAN, US and East Asian leaders' ASEAN coal push," said Arances.
Arances said that ASEAN leaders, sanctioning the increase of coal use in their local region and welcoming more coal investments from across the globe, have branded coal as the key to further ASEAN's economic growth.
Meanwhile, according to one of the Working Group's convenors, Glenn Ymata, the US and East Asian countries, like Japan, ride on the ASEAN coal frenzy by promoting more coal projects within the region, echoing claims made by the region's leaders that coal is the key to power development.
"Corporations in the Donald Trump-led US have encouraged more coal mining on US lands. Coal extracted from these lands are to be marketed as 'cheap and reliable' energy for 'power-hungry' countries such as those in Southeast Asia," explained one of the other Working Group's convenors Atty. Aaron Pedrosa.
On the other hand, corporations in a Shinzo Abe-led Japan have successfully pushed for the Prime Minister to promote coal as the succeeding primary energy source within and outside of the country, as explained by Center for Energy, Ecology, and Development Legal Research Officer Atty. Avril de Torres.
"Supporting the US' Asian coal push and building on its reputation as a technologically-advanced society, Japan has recently peddled its clean coal technology to ASEAN countries," said de Torres.
WALHI's (The Indonesian Forum for Environment) Dwi Sawung stressed that the myth that coal could be clean is threatening to further boost coal's status as the region's main energy source.
"We stress that clean coal has time and again been debunked as a dirty lie. Clean coal is currently too expensive, especially for the poorer countries in ASEAN, and will take years before reaching a viable economic price," said Dwi.
According to Dwi, even at a competitive price, clean coal is inefficient with reducing the emissions that traditional coal combustion releases.
"Clean coal's air pollution control technologies, while promising to capture hazardous air pollutants released by coal, are merely stored in ash dumps or unlined waste ponds that poison surface and groundwater," continued Dwi.
Ymata states that these setbacks of "clean coal" do not even begin to account for the environmental degradation caused by all coal – whether "clean" or not – during the rest of the coal life cycle.
"Even "clean" coal implies environmental and social costs, taking into account the effects of coal mining, preparation and transport," said Ymata.
"We denounce these coal policies as an explicit and dangerous denial of the climate effects of coal and the urgency of responding to the issue of climate change," he continued.
"It is evident that the aggressive coal push being fed to an already climate-vulnerable Southeast Asia is nothing more than a crusade of corporate interests," added Atty. Pedrosa.
According to Pedrosa, this denial is poised to cost more lives from the people of a climate-vulnerable ASEAN, in service of the few corporate interests dominating the countries that insist on the proliferation of destructive and outdated coal.
"Coal-affected communities, environmental advocates, people's movements and organizations have repeatedly debunked the myth of coal as a "cheap", "reliable", and "clean" energy source," said Atty. De Torres.
"The simple reality is that coal as an energy source has long become a thing of the past. It is irredeemable in the environmental degradation that it causes," stressed Sawung.
According to Pedrosa, when an increasingly warming world is on a race to reduce its emissions, building new coal plants and developing technology to make coal more palatable provide little environmental and economic sense – especially in the face of abundant, more sustainable alternatives.
"There is already a solution to meet the world's energy needs without compromising the environment," explained Atty. De Torres.
"Development that resonates with the people, especially the most climate-vulnerable, is one that is powered by renewable energy sources," she continued.
"Unlike coal, renewable energy is sustainable and clean of carbon emissions that doom us into severe global warming. Renewable energy is also much more accessible to the people – making it more inclusive and responsive to the people's developmental needs, instead of huge corporations'," said Dwi Sawung.
"It is only a matter of whose interests our world leaders choose to serve," stressed Arances.
Arances said that the Working Group denounced President Donald Trump, Prime Minister Shinzo Abe, and other coal proponents for selling to climate-vulnerable countries the dangerous myths that surround coal which he claimed to have spelled and will continue to spell countless deaths of climate-vulnerable people.
"We call for these coal leaders to back off of Southeast Asia with their deadly coal agenda," said Arances.
"We denounce ASEAN leaders for colluding with rich coal proponents in promoting coal and neglecting the climate-related suffering that has mired the nations of their region throughout history," added Atty. Pedrosa.
The Working Group demanded ASEAN leaders to stop using, investing in, and financing coal as a means to power Southeast Asian economic development, to reject all coal projects offered by the US, East Asia and other prominent coal proponents, to use the Southeast Asian region's moral and political position as a climate-vulnerable region to call out and condemn developed countries' coal push, and to demand from these countries their equitable share in climate change mitigation.
Finally, the Working Group also stressed on their demand to invest in renewable energy as a path to a people-centric development, and to pursue a development that, "resonates with the people from the ground instead of that which only resonates with corporate and developed countries' interests."
ASEAN rights body not addressing killings and attacks vs. rights defenders in PH
By KARAPATAN
November 11, 2017
QUEZON CITY – "Since its establishment in 2009, the ASEAN Inter-governmental Commission on Human Rights (AICHR) has addressed a grand total of zero pressing concerns on human and people's rights in the Philippines such as the killings and attacks against human rights defenders and indigenous peoples, killings in relation to the drug war, bombings and forcible evacuation of communities especially with the martial law declaration in Mindanao," said Cristina Palabay, Secretary General of Philippine-based human rights organization Karapatan, in the sidelines of a parallel gathering of non-governmental organizations to the 2017 Summit of the Association of South East Asian Nations (ASEAN).
Palabay said that even after the Philippine government's signing of the ASEAN Human Rights Declaration in 2012, the human rights situation in the country has worsened. "It is foolhardy to expect concrete actions and strong recommendations from the ASEAN regarding the human rights situation in the Philippines, when, for a long time, its human rights body has been rendered inutile and toothless in the protection and promotion of international human rights principles in the region, especially at a time of worsening attacks against people's rights in South East Asia," she explained.
Numerous human rights and people's organizations have raised alarm and concern on the extrajudicial killings in line with Philippine President Rodrigo Duterte's drug war. Under Duterte, Karapatan has recorded 98 killings of peasants, indigenous peoples, workers and human rights defenders, in accordance with the counter-insurgency program of the military. Nearly half a million Filipinos have forcibly evacuated from their homes due to aerial bombings with the martial law declaration in Mindanao and the government's all-out war.
"Not a single critical word was heard from other ASEAN member states during the Universal Periodic Review of the Philippines at the UN Human Rights Council," she stated.
Karapatan said Duterte's latest remarks on holding a global human rights summit is one big joke. "All States, especially the Philippines and the US, are being made accountable by peoples in various arenas and platforms. Duterte's proposed summit may just be another laughable and yet sordid display of fascists and hypocrites spitting on people's rights," Palabay said.
"The AICHR should act decisively to address the urgent concerns of peoples in South East Asia now, lest it fully exposes itself as another inter-governmental body that deodorizes governments such the Philippines, which are among the most notorious human rights violators in the world," she concluded.
DPWH Samar I now ISO certified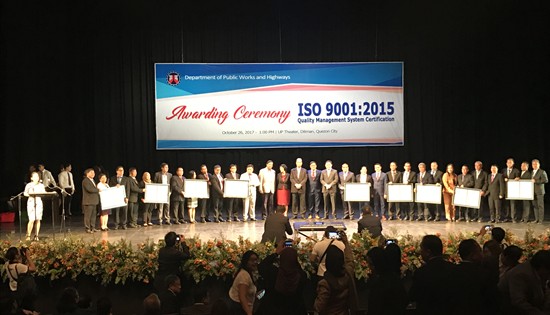 By MAE ANGELICA R. COMOTA
November 10, 2017
CALBAYOG CITY – Vice-President Paul B. Bagatsing of the Anglo-Japanese American (AJA) Registrars Inc., which conducted an audit on the DPWH Quality Management System, awards the ISO 9001:2015 certification to DPWH Secretary Mark A. Villar and heads of the Regions, Services and District Offices in a ceremony held last October 26, 2017 at the UP Theater in Diliman, Quezon City.
ISO Certification is an accreditation conducted by external certification bodies to ensure that the performance of an organization's inter-related processes and activities are in line with international standards.
During the event, Mr. Bagatsing delivers a congratulatory speech by quoting Thomas Isaac Robin, "happiness does not come from doing the easy work but from the afterglow of the satisfaction that comes after the achievement of a difficult task that demanded your best". He also gave a task to the DPWH to better their best for the future.
Secretary Villar then departs with a message encouraging the awardees to go further by creating a new standard that is beyond the accomplishments of the past in order to provide a higher level of service for the country.
District Engr. Alvin Ignacio receives the award on behalf of DPWH Samar First and presents it to the Section Chiefs during their regular staff meeting last October 30. He informs them that the ISO certification is an advantage since transactions and processes for customer and contractor relations will become faster and more streamlined through the improved system.
DE Ignacio reminds all to put into practice the words of Mr. Bagatsing and Sec. Villar in the aspiration to reach new heights in public service for the benefit and betterment of the life of every Filipino.