Army troops encounter CPP-NPA terrorists in Northern Samar
By DPAO, 8ID PA
May 7, 2019
CAMP LUKBAN, Catbalogan City – A CPP-NPA Terrorist (CNT) was killed during an encounter between the troops of 803rd Infantry (Peacemaker) Brigade and the Communist Terrorist Group (CTG) in the evening of May 6, 2019 at Brgy. Tagan-ayan, Las Navas, Northern Samar.
The Army troops received reports about the presence of the CNTs in the said barangay as a show of force to their illegal imposition of Permit-to-Campaign (PTC) and Permit-to-Win (PTW) fees to local politicians. The government troops responded and that resulted to an armed encounter with the terrorists.
The firefight lasted for about ten (10) minutes that resulted in one (1) enemy killed (body count) and the recovery of one (1) Ingram M10A1 with nine (9) rounds of ammunition and one homemade shotgun. There was no reported casualty on the government side.
Maj. Gen. Raul M. Farnacio, Commander, 8th Infantry Division and Joint Task Force STORM commended the troops for their steadfast action and likewise acknowledge the assistance of the residents for reporting the presence of the armed CNTs.
In his statement, Maj. Gen. Farnacio said that "Nakakalungkot isipin na isang kababayan natin ang namatay dahil sa pagsama sa teroristang CPP-NPA. Sana sumuko na lahat ang mga NPA para makakuha ng mga benepisyo galing sa Enhanced Comprehensive Local Integration Program o ECLIP at magbagong buhay na."
"Nakikiusap tayo sa ating mga kababayan na ipagbigay-alam agad sa pinakamalapit na himpilan ng kasundaluhan o kapulisan ang presensiya ng mga armadong grupo na nanamantala at nagpapagamit sa mga pulitiko para manlamang at manalo sa halalan."
"Magtulungan at magkaisa tayo upang maidaos natin ang halalan na ligtas at payapa," Farnacio added.
DE Adongay on planning and management on DPWH infrastructure projects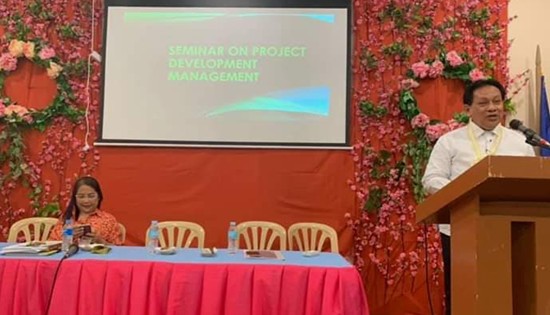 By DPWH Biliran
May 6, 2019
NAVAL, Biliran – District Engineer (DE) David P. Adongay Jr. of Biliran District Engineering Office (DEO) delivers a significant input on the topic: Project Planning and Administrative Management during a seminar-workshop at the University of Eastern Philippines (UEP) - Graduate School, Northern Samar at the UEP Plenary Hall on April 27, 2019.
DE Adongay, who earned a degree in Master of Arts in Public Administration and a Doctor in Public Administration on the said school was invited as one of the resource speakers to impart his knowledge on the said topic.
The seminar-workshop was participated by graduate students from classes of the Master in Public Administration and Master in Management Major in Public Management, in partnership with the Local Governance, Training and Research Institute, and in collaboration with the Public Administration Society and Community Development Society of the College of Arts and Communication and the College of Engineering.
With the theme: Trends and Updates in Project Planning and Management, Adongay highlighted his talk on the planning and administrative management on DPWH infrastructure projects.
In his presentation as a resource speaker, Adongay delved on four main characteristics of a project which is the objective, time duration, budget and resources. He also explained the 4Ms of a construction resources which is money, manpower, materials and machine.
During his discussion, Adongay emphasized the importance of the stakeholders especially the end users or the beneficiaries during the conceptual design and initiation of the project.
"By participation, they develop a sense of ownership that they are part of the project, if they are part of the project, they don't want that the project will fail," said Adongay. With this, the DE is encouraging its stakeholders to participate during the project's conceptual design and initiation stage.
Adongay also added that the department has created an Infrastructure Monitoring Advisory Group (IMAG), a committee composed of several discipline.
"These people can help us in monitoring and resolving issues that affects the implementation of the projects particularly on RROW and other issues concerning project implementation," said Adongay.
Aside from the IMAG, Adongay informed that all projects implemented by the department is reported through Project Contract and Management Application (PCMA), this was delved by the DE during his discussion on the topic to the participants.
"With PCMA, you cannot report on-going or completed projects unless the information or data together with the geo-tagged pictures are present," he said.
"As ISO 9001:2015 Certified, all processes in the office are under Quality Management System," he added.
On receiving complaint, the DE emphasized that the office adopts a client-focused center service culture in dealing with its clients.
According to Adongay, every time the office receives a communication complaint, it must be answered or acted upon immediately.
During the open forum, there were questions raised regarding the implementation of the projects particularly on the quality, the budget, and the time duration.
Adongay explained that on the part of the DPWH-Biliran DEO, the office is very much concern on the quality of infrastructure projects as well as the completion of the projects on time and in accordance with the budget allocated for the particular project.
The speech that DE Adongay delivered incorporates the years of his education in the field of engineering and public administration. In return, the participants are very much grateful to be imparted with such experience that will fuel their motivation to improve and succeed in their respective courses.
DPWH conducts walk-the-line inspection along major roads in Leyte 2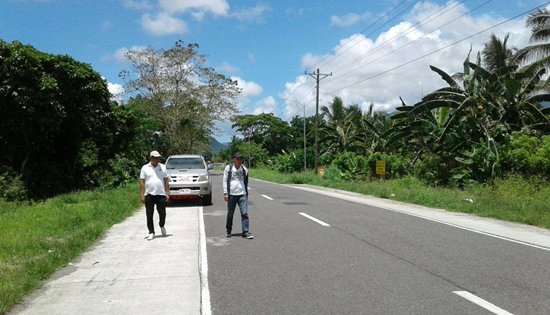 By DPWH 2nd LED
April 29, 2019
CARIGARA, Leyte – In anticipation to the upcoming regular field inspection of the Bureau of Maintenance (BOM), the Department of Public Works and Highways (DPWH) Leyte second district engineering district initiated a walk-the-line inspection along the national roads.
According to Gerald Pacanan, DPWH Leyte 2 district head, it is important to conduct this type of inspection to make sure that the maintenance works of the district are in strict compliance to the standards and requirements of the department.
During inspection, the office has noted several road sections particularly in Dagami town area affected by the excavation works and pavement breakings of a water utility company.
Immediately, the district has sent a notification to the utility provider for the restoration of the said road portions as it may cause accidents and inconvenience to the motorists.
"As the government's top agency in the maintenance of the national roads and bridges the safety of the travelling public is our utmost concern. Likewise, if these defects are not properly restored, it could affect the overall performance rating of the district," Pacanan said.
Upon his assignment as the new district engineer of Leyte 2, he initiated a dialogue with the maintenance point persons and field workers, seeking their full cooperation and commitment to improve the district's performance.
"I have seen a much-improved maintenance force in this district and I hope this would reflect in our standing with the inspection of BOM," said Pacanan.
BOM is primarily tasked with the maintenance of the nation's public works and highways facilities. Relative to this, it is engaged in the continuous conduct of field inspections to effectively monitor maintenance activities of the district engineering offices.
Leyte second district engineering office is tasked to maintain 206 kilometers of national road and 55 bridges.
DENR 8 and 8ID renewed commitments on Environmental Protection and Livelihood Enhancement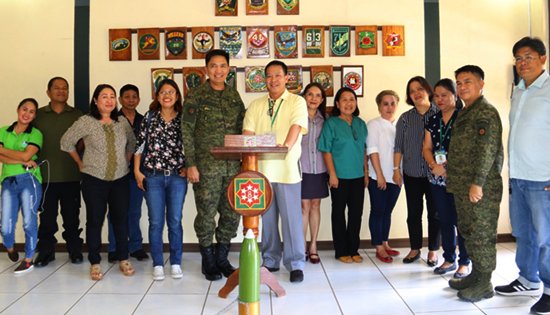 By DPAO, 8ID PA
April 27, 2019
CAMP LUKBAN, Catbalogan City – The officers of 8th Infantry (Stormtroopers) Division, Philippine Army led by its Commander, Maj. Gen. Raul M. Farnacio had a dialogue with the officials of the Department of Environment and Natural Resources (DENR) Regional Office 8 led by Atty. Crizaldy M. Barcelo, CESO III, Regional Executive Director on April 25, 2019 at Headquarters, 8ID and renewed commitments on mutual support towards Environmental Protection and Livelihood Enhancement of the communities in the region.
During the discussion, joint endeavors have been agreed upon, involving the local communities in the National Greening Program and in the protection and preservation of the environment to sustain ecological balance and biodiversity. These could be conducted through the Community-Based Forest Management scheme involving the residents of the mountainous areas in the protection and preservation of natural parks, reforestation of denuded areas and promotion of eco-tourism.
It can be recalled that during the 30th Founding Anniversary of the Stormtroopers Division, Secretary Roy A. Cimatu of DENR recognized the contribution of 8ID in the Environmental Protection of the region being one of the deputized agencies of the government.
Atty. Barcelo expressed his gratitude to 8ID for hosting the dialogue as a manifestation good working relationship between said government agencies as a showcase whole of the government approach in the pursuit of peace and development.
In his response, Maj. Gen. Raul M. Farnacio, who is also the Commander of Joint Task Force "STORM" said that "gusto lang naming tumulong na maipaabot ang kaukulang mga programa at mga proyekto ng gobyerno sa mga malalayong barangays na nangangailangan para ma-empower ang mga opisyales at residente doon."
Eastern Visayas' economy expands by 5.9% in 2018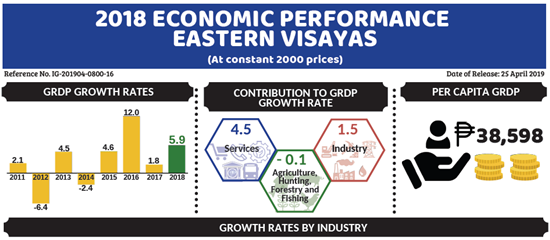 By PSA-8
April 25, 2019
TACLOBAN CITY – The economy of Eastern Visayas expanded by 5.9 percent in 2018 as compared with the 1.8 percent growth in 2017. Top three (3) industries that contributed to the growth were Construction, by 1.8 percentage points; Other Services, by 1.4 percentage points; and Transportation, Storage and Communication by 1.0 percentage point.
Services accelerated to 10.5 percent in 2018 from 6.2 percent in 2017. All the sub-industries grew faster: Transportation, Storage and Communication grew by 9.6 percent from 2.3 percent; Trade and Repair of Motor Vehicles, Motorcycles, Personal and Household Goods grew by 7.4 percent from 4.8 percent; Financial Intermediation went up by 10.8 percent from 10.3 percent, and Real Estate, Renting and Business Activities grew by 6.3 percent from 6.2 percent. Public Administration and Defense; Compulsory Social Security expanded by 14.2 percent from 7.7 percent and Other Services accelerated to 13.0 percent from 8.4 percent.
Industry rebounded from 1.8 percent contraction in 2017 to 3.5 percent growth in 2018. Industries that recovered from contractions were: Mining and Quarrying, which grew by 84.7 percent; Construction, 17.4 percent; and Electricity, Gas and Water Supply, 6.3 percent. Meanwhile, Manufacturing declined by 5.7 percent from the 13.3 percent growth in 2017.
Agriculture, Hunting, Forestry and Fishing (AHFF) declined by 0.5 percent in 2018 from the 0.1 percent growth in 2017. Agriculture and Forestry slowed down to 1.1 percent from the 2.8 percent growth in 2017. Meanwhile, Fishing continued to decline by 7.4 percent, although at a slower rate than the 10.1 percent contraction in 2017.
Services and Industry shared the bulk of the region's economy at 44.4 percent and 41.6 percent, respectively. AHFF had a share of 14.0 percent.
Among the three (3) major industries, Services contributed most to the region's overall growth rate at 4.5 percentage points, followed by Industry at 1.5 percentage points. AHFF pulled down the region's growth by 0.1 percentage point.
DTI spurs countryside growth with Negosyo Centers
By DTI-ROG
April 24, 2019
MAKATI CITY – The Negosyo Center Program continues to serve as the gateway to ease of doing business and countryside development, as it conveys its services to more local micro, small and medium enterprises (MSMEs) through its over a thousand Centers in the country.
For the first quarter of 2019, 1,068 Negosyo Centers have already been established nationwide, supplemented by the 16 Centers established in the Bangsamoro Autonomous Region in Muslim Mindanao (BARMM) since 2017. These Centers are situated in locations convenient for MSMEs and other clients, in which, 964 of these Centers are located at local government units (LGUs), 81 are situated in Department of Trade and Industry (DTI) Regional Offices, 12 in the academe, 7 in malls, and 4 at non-government organizations (NGOs). 821 or around 77% of the Centers were established under President Rodrigo Roa Duterte's term. This supports the mandate of the President to sustain and develop the MSME sector.
For the year 2019 onward, the Department aims to focus more on the enhancement of services provided by the Negosyo Centers. This shift in focus is to complement the continuous establishment of more Centers in the country and the increasing number of clients being served.
Services offered by the Negosyo Centers
The prime directive of the Negosyo Centers is to provide and facilitate access to various business development services for the MSMEs. Branched into three core components, the services being offered by Negosyo Centers entail Business Advisory, Business Registration Assistance, and Business Information and Advocacy.
Negosyo Centers provide potential and existing MSMEs with business advisory services that will cater their different needs through one on one consultation, focus group discussion and coaching and mentoring. Through the Business Registration Assistance, the Business Counsellors facilitate processing and documentation of necessary paper requirements such as the Business Name Registration. Complementing these, the Centers conduct trainings, seminars and dialogues to increase the MSMEs productivity and efficiency.
Negosyo Centers Business Counsellors, also serve as catalyst to other MSME-serving programs of the Department such as the Kapatid Mentor ME Program or KMME, Pondo sa Pagbabago at Pag-asenso (P3), Shared Services Facilities (SSF), and OTOP Next Gen Project, among others.
MSMEs assisted
Since the implementation of the program in 2014, with five pioneering Centers in the country, the number of MSMEs assisted ballooned over the years. In 2013, 70,647 MSME clients were assisted by the different existing programs of DTI. Fast forward to 2018, and since the program started in 2014, the figures multiplied several times, reaching a 1,141% percentage increase in MSMEs assisted. Based on the accumulated data from the Performance Governance System (PGS) and the Negosyo Center Monitoring System (NCMS), MSMEs assisted from 2013 to 2018 grew to 1,694,875 or a 2,299% increase.
Impact of Negosyo Centers
Undersecretary for Regional Operations Group Zenaida Cuison-Maglaya reiterated the importance of Negosyo Centers in the development of the MSME sector in the Philippines, saying that in the past, DTI has only reached 81 provinces, but the over a thousand Negosyo Centers to date, made it possible to reach more people.
The establishment of more Negosyo Centers serves as a way of empowering MSMEs, generating more jobs and livelihood opportunities for every Filipino, which is vital in the Administration's fight against poverty. DTI moreover, has a holistic list of programs aimed to assist the needs of the MSMEs, in terms of marketing, product development, finance, etc. These programs continuously sustain the development of the MSME sector and to connect them to ASEAN countries and the world.
Sugar supply and prices not covered by DTI
By DTI-CPG
April 24, 2019
MAKATI CITY – Trade Secretary Ramon M. Lopez clarifies that, "Much as we would want to manage the supply and regulate the price of sugar to ensure its availability and affordability to consumers, the law does not authorize DTI to perform such function. Sugar is a basic commodity under the responsibility and jurisdiction of the Department of Agriculture (DA).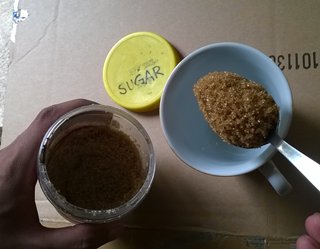 Under the Price Act (Republic Act No. 7581), sugar is a basic good under the jurisdiction of the DA. Monitoring and ensuring the affordability of sugar, and issuance of warnings thereof, all fall within the jurisdiction of said department.
Nevertheless, considering a whole-of-government approach, DTI has made arrangement to help the DA in the monitoring of the retail markets and refer to DA violations and adverse findings.
This pronouncement comes after a statement made by some Board Members of the Sugar Regulatory Administration (SRA) to the media that the DTI is not doing its job in monitoring sugar and ensuring that its price is not manipulated by retailers and wholesalers.
"We would like to clear once and for all that the DTI can regulate the retail price of sugar in the market only if we are given authority to do so by the DA or the SRA. Without this authority, DTI can only monitor its supply and availability. The SRA, as an agency directly supervised by the agriculture department, should know this very well. We thus strongly advise them to take caution in making pronouncements and ensure its accuracy. We assure the consumers that our agency remains faithful to our true mandate. We have success in managing prices for manufactured products that are in the list of basic necessities and prime commodities, even during the inflationary months last year, because these are under the mandate of DTI," says Secretary Lopez.
Nevertheless, the DTI has been assisting the DA in its price monitoring activities for sugar and other basic agricultural products following the directive of President Duterte in August of last year. As a matter of fact, DTI had already made a recommendation to the DA and the SRA as early as July 2018 to impose a suggested retail price on refined sugar at P50/kilo.
Meanwhile, the DTI initiated the Presyong Risonable Program (PRD) in August last year, enabling retailers to directly import sugar and sell these to consumers at prices not higher than P45.00 and P50.00 per kilo for brown and white sugar, respectively.
Currently, these reasonably-priced sugar variants are sold at Robinson's Supermarket and SM Supermarket branches nationwide. Puregold, meanwhile, is in the process of sourcing sugar for its house brand that will be made available to consumers at P50/kilo very soon.
To date, the SRA has not yet issued a suggested retail price on sugar but despite this, DTI continues to monitor this product and issues Letters of Inquiry to retailers found to be selling sugar at an enormous price higher than P50.00 to find out the trading layers and hope to minimize them.
"With offices and monitors stationed in all regions and provinces of the country, the DTI is highly capable and equipped in the area of price monitoring. Due to the volatility of prices of agricultural goods, it is necessary for the government to do a close watch on this. The DTI is most willing to complement DA´s manpower to include monitoring of sugar among the products under our mandate, as we have already included chicken and other agricultural products, all for the protection of our consumers," says DTI-Consumer Protection Group (CPG) Undersecretary Atty. Ruth B. Castelo.
6 soldiers paid the ultimate sacrifice for peace in Samar
By DPAO, 8ID PA
April 23, 2019
CAMP LUKBAN, Catbalogan City – The Community Support Program (CSP) team from 46th Infantry (Peacemaker) Battalion, 8th Infantry (Stormtroopers) Division, Philippine Army encountered CPP-NPA Terrorists (CNTs) at Brgy. Beri, Calbiga, Samar on April 23, 2019 at 2:45 a.m.
Based on the initial report from Lt. Col. Noel A. Cagasan, Commanding Officer of 46IB, his troops were conducting security patrol at the said vicinity to check the presence of CNTs conducting extortion at the adjacent barangay when they encountered undetermined numbers of CNTs.
Six government soldiers showed heroism by paying ultimate sacrifice by offering their lives in the name of service and welfare of the Samareños. Six (6) soldiers are also wounded. There were undetermined number of wounded on the enemy side as indicated by blood stains along the way of their escape.
Maj. Gen. Raul M. Farnacio, Commander, Joint Task Force "STORM" directed a pursuit operation against the fleeing CNTs and acknowledge the civilians for providing the information on the presence and activities of the CNTs.
In his statement, Maj. Gen. Farnacio said that "I convey my deepest condolences to the families, relatives, friends, and loved ones to our unsung heroes who paid the ultimate supreme sacrifice for peace and development in Eastern Visayas." The command ensures that the necessary assistance and benefits will be given to them.
"Itong pangyayaring ito ay hindi makakahadlang at hindi magiging rason para ihinto ng inyong kasundaluhan bagkus lalo pa nating paiigtingin at pag-iigihan ang pagseserbisyo sa ating mga mahal na kababayang Samareño."
"Hindi natin sila tatantanan, hindi natin hahayaan na mabalewala ang mga sugat at mga buhay na nasakripisyo ng ating mga magigiting na sundalo. Para sa bayan at sa ating mga kababayan," Farnacio added.
Cebu Pacific flight attendants' union pushes for agreement with management
By ALU-TUCP
April 20, 2019
QUEZON CITY – Millennial Cebu Pacific airline cabin crew and flight attendants are now preparing for the terms and conditions that they are going to negotiate with the management following a landslide 'yes to union' ballot turnout Tuesday, April 16th.
Promising Cebu Pacific Air Inc. cabin crews and flight attendants union the Juan Wing Regular Cabin Crews of the Philippines voted for the Associated Labor Unions (ALU), the country's biggest labor federation, as their sole and exclusive bargaining agent at the turnout of ballot count Tuesday, April 16, upon supervision by the Department of Labor and Employment (DOLE).
Final tally showed that out of the 1,135 crews and attendants who cast their votes, 1,124 employees voted 'yes to union', 3 voted 'no' while 8 ballots were declared by DOLE as spoiled. Overseen by DOLE regional officers, the elections among the employees were held on April 1 to 5 at Manila, Cebu, Clark and Iloilo airport terminals.
"With this certification, the next procedure is for members of the union to discuss among themselves what are the terms agreements of security of tenure, wages and benefits etc. that they intend to offer and negotiate with Cebu Pacific Air Inc. Management," said Raymond Mendoza, President of the country's biggest workers' group the Trade Union Congress of the Philippines (TUCP).
"The union will negotiate for better wages and benefits, better working conditions, and better terms under the existing labor policies and regulations to improve co-employees synergy and improve working climate that would benefit the interest of both the union members and the management," Mendoza said.
Aside from this, other possible areas for negotiation between union and management are the responsibilities of the parties, hours of work, leave benefits, health and dental benefits, incentives, and other forms of benefits such professional development benefits, and promotion of industrial harmony.
Mendoza said the aspiration of the cabin crews and flight attendants to form a union went through the legal step by step process mandated by the Labor Code and other labor regulations.
"The TUCP family of labor federations congratulates all members of the Juan Wing for sustaining their united struggle to form a union and for recognizing the TUCP's biggest affiliate ALU as their sole and exclusive bargaining agent. These Juan Wing members possessed a unique brand of principled young unionism and are professional, intelligent and diligent workers eager to make a difference in their career and for the company – a clear asset to the management of Cebu Pacific Air Inc. and a very welcome addition to the labor movement," said Mendoza.
For his part, ALU National executive Vice President Gerard Seno said they were overwhelmed by the strong determination of the young workers to form a union in this day and age when unionism is a hard sell.
"Congratulations to all Juan Wing Regular Cabin Crews of the Philippines-ALU! With the overwhelming 'yes to union' turnout today, each one of you have just demonstrated to the world – with boldness – how determined all of you to come together in achieving and creating genuine power for Juan Wing," Seno said.
"This unique brand of unity that young workers from Juan Wing expressed together is a timely infusion of a much needed young unionists to the larger struggle of the Philippine labor movement to be relevant amid globalization and the rampant incidence of modern-day abuse and slavery among Filipino workers," Seno said.
Meanwhile, ALU National President Michael Mendoza said: "this resplendent 'yes to union' victory that happened is also one of the beautiful gifts to happen to Juan Wing mother labor federation, the country's biggest labor unions the ALU as it renews its vows in being the forefront in promoting and advancing the workers' rights and welfare in celebrating its 65 years founding anniversary on April 17th."
Mendoza also said the ALU hopes that the unionization of Cebu Pacific cabin crews and flight attendants would embolden other young working people to organize and protect themselves in the face of additional and emerging forms of challenges in the world of work such as artificial intelligence, work from home and telecommuting scheme and freelancing.
"This rare display of young generation power coming together to create bigger power must be sustained and nurtured by Juan Wing as they strive on to the various challenges of achieving its full realization as a union. We will do our part for Juan Wing to grow and impact other young workers to organize as a union," Mendoza said.
With the affiliation of Juan Wing union into its fold, the ALU bolstered its position as the biggest labor federation in the country by managing a diverse range of local unions and collective bargaining agreements in air, land and sea transport sector, banking, mining, garment, electronics, hotel and restaurant, construction, media, logistics, food and condiments, tobacco, banana, and pineapple.
Eastern Visayas posts $211.36 million trade surplus in January 2019
By PSA-8
April 17, 2019
TACLOBAN CITY – The region posted a $211.36 million surplus in the total Balance of Trade in Goods (BoT-G) in January 2019, in contrast to the $41.77 million deficit in the same period in 2018.
The region's total trade in goods in January 2019 increased to $227.93 million from $203.72 million in the same period in 2018, an increase of 11.88 percent.
Total value of exports amounted to $219.65 million, almost three times (171.25 percent) higher compared with the $80.98 million in January 2018. Total value of imports, meanwhile, was recorded at $8.29 million, significantly lower by 93.25 percent compared with the $122.75 million imports posted in the same period in 2018.
The region's total volume of exports in January 2019 posted at 131.86 million kilograms was valued at $219.65 million. The commodity group of copper and articles thereof was the major export during the month in review with total revenue of $137.41 million. This accounted for 62.56 percent of the region's total export revenue in January 2019. Hong Kong was the top export market destination with $73.90 million total export revenue, which shared 33.64 percent of the region's total exports.
The region's total imports of $8.29 million in January 2019recorded a total gross weight of 58.50 million kilograms. Nuclear reactors, boilers, machinery and mechanical appliances; parts thereof commodity group was the major import during the month with total revenue of $1.47 million, this comprised 17.76 percent of the region's total imports in January 2019.The top import supplier of the region was Vietnam with total import bill of $2.35 million, which comprised 28.31 percent of the region's total imports.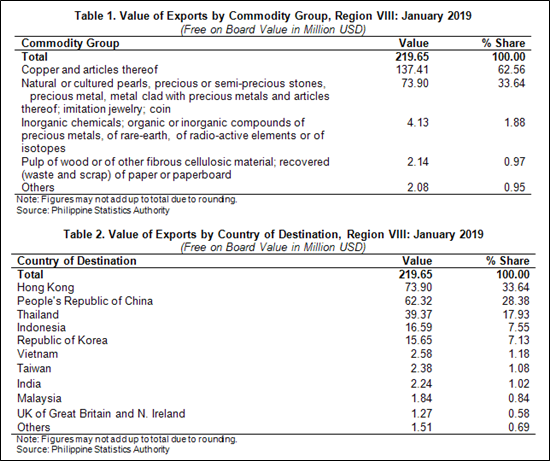 Communist NPA Terrorist sets off IED that killed one 9-year old boy in Northern, Samar during the Holy Wednesday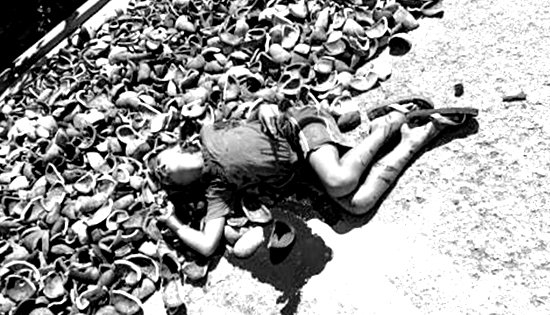 By DPAO, 8ID PA
April 17, 2019
CAMP LUKBAN, Catbalogan City – One 9-year old boy was killed when Communist NPA Terrorist (CNTs) lobbed an Improvised Explosive Device (IED) in Brgy San Miguel, Las Navas, Northern, Samar on April 17, 2019 Holy Wednesday at 9:40 o'clock in the morning.
The incident transpired when the troops of 20th Infantry Battalion were conducting security patrol in the said barangay to check on the reported CNTs conducting extortion, were harassed by undetermined number of suspected Communists NPA Terrorist (CNTs) by throwing Improvised Explosive Device (IED) that resulted to the killing of Armando Remolde, 9 years old and a resident of said barangay.
The 8th Infantry (Stormtroopers) Division, strongly condemn the terroristic act perpetrated by the Communist NPA Terrorist belong to Eastern Visayas Party Committee (EVRPC). The use of IEDs has long been outlawed by the Comprehensive Agreement on Respect for Human Rights and International Humanitarian Law (CAHRIHL).
Maj Gen Raul M Farnacio AFP, 8ID Commander in his message said, "This barbaric act of CNTs is a blatant display of total disregard of the lives of the Samareños. They are really Godless because they conducted terroristic act during the time when the people are having their reunions with family members from other provinces or abroad who are spending their vacations here to pray together and observe the Holy Week," Maj Gen Farnacio said.
"The 8th Infantry (Stormtroopers) Division extends deepest condolences to the bereaved family. 8ID will not falter and will stand firm in its resolve to bring justice for Armando and pursue all efforts towards lasting peace and development in Eastern Visayas." Maj. Gen. Farnacio added.
Inflation rate in Eastern Visayas drops continuously to 2.1% in March 2019
By PSA-8
April 17, 2019
TACLOBAN CITY – The Inflation Rate (IR) in Eastern Visayas continued to drop to 2.1 percent in March 2019. This IR is 1.0 percentage point lower compared with the 3.1 percent IR a month ago, and 3.6 percentage points lower compared with the 5.7 percent IR recorded in the same period last year. The regional inflation rate is 1.2 percentage points lower than the 3.3 percent national average in March 2019.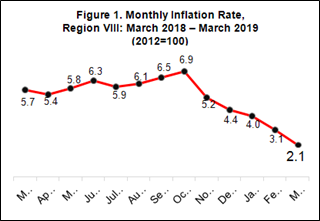 The provinces of Samar, Biliran, Eastern Samar and Leyte registered lower inflation rates in March 2019 compared with their figures in the previous month. Samar recorded the highest decrease of 1.5 percentage points, from 3.4 percent in February 2019 to 1.9 percent in March 2019. Meanwhile, increased IRs were noted in Southern Leyte and Northern Samar, settling at 2.1 percent and 1.3 percent, respectively in March 2019. Biliran posted the lowest with negative IR at 0.7 percent, while Eastern Samar recorded the highest IR during the month in review at 3.7 percent (Table 1).
Among the commodity groups, alcoholic beverages and tobacco registered the highest decrease of 5.8 percentage points, from 9.2 percent in February 2019 to 3.4 percent during the month in review.
Housing, water, electricity, gas and other fuels commodity group also went down by 1.8 percentage points, from 3.6 percent in February 2019 to 1.8 percent in March 2019. This can be traced to the deflation seen in the index for water supply and miscellaneous services relating to the dwelling, and slower IR in the index for electricity, gas and other fuels.
The heavily weighted food and non-alcoholic beverages declined to 3.0 percent in March 2019 from its previous month's rate of 4.0 percent, a decrease of 1.0 percentage point. This can be attributed to the slower price increases of majority of the food items. Fish registered the highest decrease of 1.7 percentage points, from 5.7 percent in February 2019 to 4.0 percent in March 2019. Fruits index continued to register a negative inflation rate at 4.7 percent. Non-alcoholic beverages, meanwhile, recorded a 2.7 percentage points decrease from its double digit IR last month, settling at 7.4 percent in March 2019.
Meanwhile, transport increased to 2.0 percent during the reference month, 1.6 percentage points higher compared with the 0.4 percent IR in February 2019. This can be traced to higher IR in the index for operation of personal transport equipment.
IR for restaurant and miscellaneous goods and services commodity group inched up by0.1 percentage point settling at 2.0 percent during the month in review.
The Purchasing Power of Peso (PPP) of the region remained at P0.80 in March2019. This PPP implies that goods and services worth 100 pesos in March 2019 only cost 80 pesos in 2012.
Biliran registered a 0.01 centavo increase in PPP compared with its figure in February 2019. The rest of the provinces sustained their PPP last month. Biliran recorded the strongest PPP at P0.83. Leyte and Southern Leyte ranked second at P0.82, followed by Eastern Samar at P0.78. Northern Samar and Samar posted the weakest PPP at P0.76.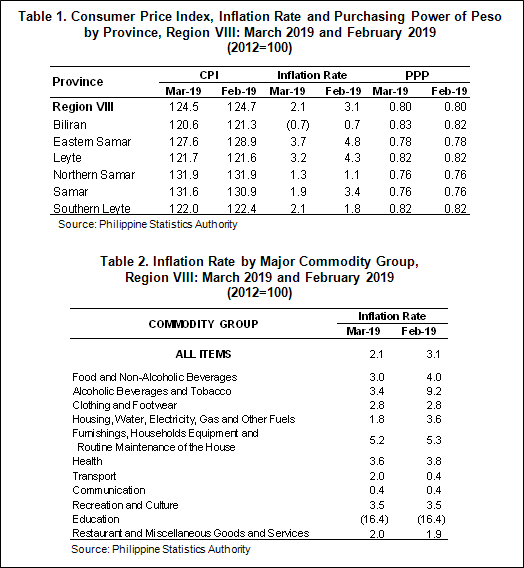 DTI implements online services for product certification, ICC sticker verification
By DTI-OSEC-PRU
April 15, 2019
MAKATI CITY – To facilitate ease of doing business through streamlining and automation of frontline service transactions, the Department of Trade and Industry (DTI) has started to process product certifications under the Bureau of Philippine Standards (BPS) through an online portal. The Product Certification Information Management System (PCIMS) features an end-to-end online and paperless processing of Import Commodity Clearance (ICC), Philippine Standard (PS) Safety and Quality Certification Mark License. It also provides an inventory management for Security Papers and ICC Stickers.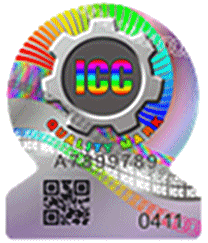 "DTI has made it easy for entrepreneurs and the business community to process certifications and avail of frontline services in the comforts of your home or anywhere. No need to be present at any DTI office," said DTI Secretary Ramon Lopez.
"However, we want to assure you that this does not end here. This will be a continuing process of reform and automation. We will continue to review and streamline processes in BPS as well as in other bureaus. The ultimate ease of doing business is enabling people to do things and all transactions online," he added.
BPS started implementing the use of PCIMS in its ICC processing in October 2018 parallel to the manual processing of ICC applications. By January 2019, PCIMS was fully implemented and BPS ceased its manual applications for ICC processing.
The PCIMS has the following features: 1) online and paperless filing of applications; 2) certification fees can be paid at any DTI office; 3) first-in, first-out processing; 4) real-time tracking of application status; 4) auto email of Statement of Account, Notice of Non-conformance, Show Cause Orders; 5) Certificates may be claimed at any DTI Office; and 6) auto reminder of surveillance schedules and PS license expiration.
To access the PCIMS, a registration form may be requested through email at bps.scd@dti.gov.ph. Application of product certification may be accessed through www.qualityproducts.dti.gov.ph.
"Businesses will definitely benefit with this shift to online transactions. Apart from the convenience and less time spent on application, it is also cost efficient. We've estimated about P3,600 in savings per application, from P4,170 spent per application down to P557. That's big savings for businesses," shared Sec. Lopez.
Likewise, DTI is shifting its ICC sticker verification through a mobile application to assist DTI market enforcers and monitors during market enforcement activities, as well as consumers in verifying a certified product.
This digital method using any smartphone will detect the fake ones from the real ICC and PS stickers.
The mobile application will be able to confirm legitimate ICC stickers in products sold in the market through the QR code accompanying each sticker. BPS started issuing ICC stickers with QR codes in July 2018.
Currently, the ICC Verification System is on its pilot testing and can be fully used by 24 April 2019. It will be available for download at Google Play Store on the same date.
Lawyers push back
Petition vs. AFP red-tagging filed before the Supreme Court
By Public Interest Law Center
April 15, 2019
QUEZON CITY – A group of human rights lawyers tagged by the Armed Forces of the Philippines (AFP) as a communist front filed today a petition before the Supreme Court seeking its protection from attacks and threats to life, liberty, and security. Petitioner the National Union of People's Lawyers (NUPL), through and with its national executive board, asked the Court to order the military to desist from threatening NUPL members and to disclose and destroy whatever information the military has illegally obtained against them.
The Public Interest Law Center (PILC), counsel for the petitioners, explained that the Petition for Issuance of the Writ of Amparo and Habeas Data, was sought by NUPL because of the continuing and escalating threats and harassment its members have experienced in relation to their duties as legal counsels in various cases they are handling.
According to Atty. Rachel Pastores, PILC managing counsel, "The right to counsel is one of the pillars of our justice system. And it is clear that this concept is totally lost on the military. By wrongly and maliciously branding the lawyers of activists, human rights violations victims who have spoken up against military and police abuses, and other critics of the Duterte administration as communist fronts, terrorist protectors, and even as NPA combatants, the military institution is showing its contempt not just for the legal profession but against the very foundation of our judicial system which is crucial in a supposedly democratic society."
Atty. Pastores further explained that "very few lawyers have taken up the cause of the marginalized and underprivileged. And those who have chosen to do so have become targets themselves. NUPL members have been harassed, intimidated, vilified and subjected to surveillance operations. We are now asking the Supreme Court to put a stop to all these."
Named respondents in the suit are President Duterte, National Security Adviser Hermogenes Esperon, Jr., National Defense Secretary Delfin Lorenzana, Chief of Staff Gen. Benjamin Madrigal, Brig. Gen. Fernando Trinidad, Maj. Gen. Erwin Bernard Neri, Lt. Gen. Macairog Alberto and Maj. Gen. Antonio Parlade, Jr.
"This petition is just a small step towards making the military and this administration accountable for its actions. This is only the first of many legal actions that we have planned. We will not stand idly and cower in fear. We will continue with our duty as people's lawyers", added Pastores.
A new milestone in Philippine Halal Industry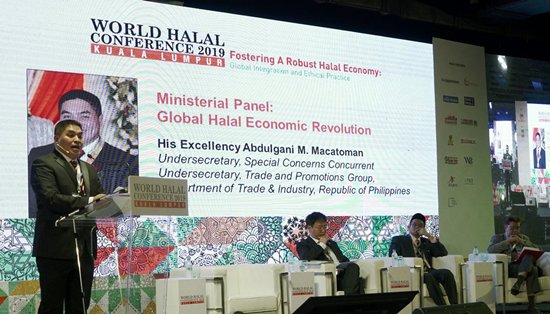 By DTI-TPG
April 11, 2019
MAKATI CITY – The Department of Industry Trade Promotions brought the Philippine Halal Industry in the map of the US$ 3.2 trillion world halal market. Speaking before the just concluded World Halal Conference (April 3-4, 2019) in Kuala Lumpur, Malaysia, Department of Trade and Industry (DTI) Undersecretary Abdulgani M. Macatoman told the conference that the Philippines is embarking on a massive policy revitalization to boost the Philippine Halal Industry in order to become a big player in the halal market in the areas of halal food, pharmaceuticals, tourism, and Islamic Finance.
Rather than falling behind in the Fourth Industrial Revolution where human capacity is greatly enhanced, he said that the global halal industry should initiate an economic revolution to maximize its benefits for the improvement of the standard of living of mankind. He further said that halal market is not only for the estimated 2 billion Muslims, some one-fourth of world population, but for every person who desires healthy food and ethical standards in food consumption and business relationships.
The DTI Trade Promotions and Special Concerns Group, headed by USec. Macatoman, seeks strong policy direction for international recognition of halal food products from the Philippines by seeking wider international recognition of Philippine halal certification with certifying bodies in other Muslim countries. At the moment, of the nine certifying bodies recognized by the Philippine Halal Board, only three are recognized in Malaysia. The Gulf countries are still selectively accepting halal foods, condiments, and pharmaceuticals made in the Philippines.
In this connection, USec. Macatoman obtained commitment from the Ministry of International Trade and Industry of Malaysia (MITI) to intensify halal trade between the Philippines and Malaysia. At the same time, he separately convinced the Halal Development Council of Malaysia to support efforts in improving acceptability of halal foods from the Philippines by improving local certification efforts in the country. Together with MITI, they will convince JAKIM, the central certification body of Malaysia, to recognize more certifying bodies from the Philippines. This entails providing training in certification and auditing procedures to prospective certifying bodies in the Philippines under the Philippine Halal Board to enhance unification of our halal certification standards with that of Malaysia.
A major implication of international recognition of halal certification from Philippine certifiers impinges not only on halal food trade but also in tourism. In order to tap Muslim tourists arriving in Malaysia to include the Philippines among their destinations, Philippine restaurants, hotels and other tourism facilities in the country should be convinced to obtain halal certification. Because of this, the DTI Second National Halal Industry Conference will be held in Clark this May 2-3 in order to heighten awareness to halal certification of food and tourism facilities to ensure more Muslim tourist arrivals in the forthcoming Asian Games in December of this year.
NMP holds Sportsfest 2019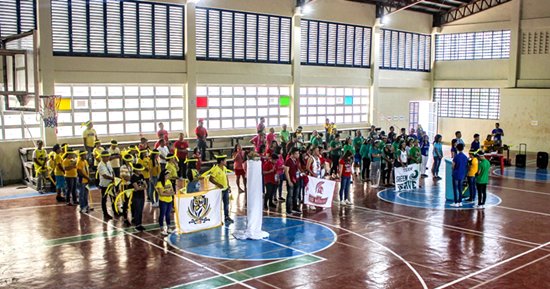 By National Maritime Polytechnic
April 10, 2019
TACLOBAN CITY – Considering that a healthy workforce is among the primary concern of the government, the National Maritime Polytechnic (NMP) thru its Sports Committee officially opened the NMP SportsFest 2019 on 05 April 2019, part of its slate of activities for the NMP's 41st Founding Anniversary.
The sportsfest was aimed to foster friendships and teamwork among NMP personnel which will ultimately translate into greater enthusiasm, efficiency and productivity in the discharge of their respective duties and responsibilities in the Agency.
Divided in four (4) teams, NMP employees and Job Order Workers (JOWs) spent the whole afternoon competing in a fun and joyful atmosphere. The different teams (Yellow Tigers, Red Warriors, Green Wave, and Blue Hounds) together with their gorgeous muses paraded in NMP grounds.
During its formal opening at the NMP Gymnasium, NMP Executive Director, Joel B. Maglunsod thanked the committee who organized the said activity.
"Bago natin simulan ang paligsahang ito, gusto ko munang pasalamatan ang mga tao o committee na nag organisa sa kasayahan na ito. Pinahahalagahan namin ang lahat ng iyong mga pagsisikap at bilang kapalit, ipinapangako namin na magkaroon ng kasiya-siya at friendly na kumpetisyon hangga't maaari!", said ED Maglunsod.
On a personal note, he also shared what he loves about events such as the SporstFest.
"Ang aking pinakagugustohan sa mga kaganapang tulad nito ay kapag umapak tayo sa larangan ng atletiko, lahat tayo ay nagiging pantay-pantay. Pinapasok natin ang isang larangan na kung saan ang opisyal na rango at ang estraktura ng organisasyon ay hindi kinakailangan, tayo ay nagiging pantay pantay na indibidwal na nagpapakitang gilas upang magbigay aliw at maaliw at higit sa lahat, upang subukin ang ating kakayahan sa pakikipagtagisan sa bawat isa.
The much awaited lighting of torch came next, symbolizing peace, unity, and friendship participated in by the heads of the four (4) organizational units of NMP, namely: Maritime Training ad Assessment Division (MTAD), Maritime Research and Development Division (MRDD), Administrative, Financial and Management Division (AFMD), and Office of the Executive Director (OED). It was followed by the participants' oath of sportsmanship led by Mr. Andrew D. Soledad, Chairperson of the NMP Sports Committee.
Under the sports program, all teams will engage in a friendly basketball men and volleyball mixed competition to be held at the NMP Gymnasium every Tuesday and Thursday from 3pm-5pm. The awarding of winners will be conducted during the 41stAnniversary Celebration of NMP tentatively slated on 03 May 2019.
Meanwhile, NMP continues to upgrade its facilities and provide maritime trainings required pursuant to the STCW Convention as amended in 2010 including value-adding courses towards improving the qualifications of Filipino seafarers for their employment acceptability and enhanced competitiveness. It also regularly conducts maritime studies to come up with policies for the improvement of the manpower sector of the industry.
DPWH-Biliran DEO completes access road project in Brgy. Agpangi connecting Sitio Pongon in Naval town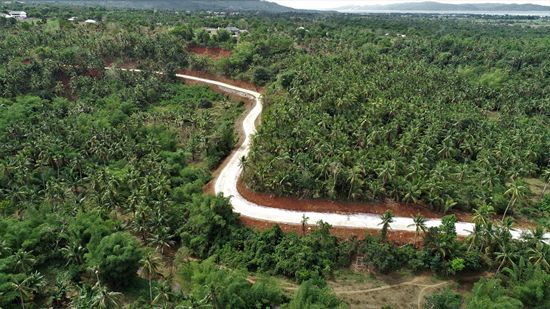 By DPWH-Biliran
April 10, 2019
NAVAL, Biliran – The construction of a two-lane access road project connecting the National Road Junction (NRJ) of Brgy. Agpangi to Sitio Pongon in Naval town is now completed.
The project is under the convergence program of the Department of Public Works and Highways (DPWH)- Biliran District Engineering Office (DEO) and the Department of Trade and Industry (DTI) in support of the agribusiness in the Province of Biliran.
District Engineer David P. Adongay Jr. said that the place has potential for coconut-based and cassava-based processing thus prioritized for implementation. This project includes the construction of 1-kilometer two lane road with slope protection and road opening.
According to Adongay, the construction and opening of roads is a necessity.
"One of the significance of the opening of the access road leading to industrialized zones is to ensure that the road facilities will aid the growth of trades and industries in the province where it has potentials for manufacturing in areas outside the urban center," said Adongay.
The completed P22.9M access road project under 2018 funding will provide a wider, safer and faster transport of the agricultural products.
Meanwhile, Engr. Rosario B. Rosete, Chief of the Planning and Design Section revealed that the office is conducting preliminary and detailed engineering activities for a road stretched in Sitio Pongon for possible funding under FY 2019 GAA.
DPWH-Biliran DEO implements a total of five projects leading to trades, industries and economic zones under 2018 funding. Four of these, were completed in 2018. These are the P17.2M access road Caraycaray-Cabungaan-Libtong, P23M access road Villa Caneja-Anislagan Ceramics Producers Association (ACPA), P27.8 NJR Villa Consuelo connecting to Libtong Road and P32.2M Villa Caneja connecting to Kahukaw, all in Naval town.
"With good roads already in placed leading to these trade centers plus good supply of waters, no doubt Biliran Province will become one of the industrialized province in Region VIII," Adongay said.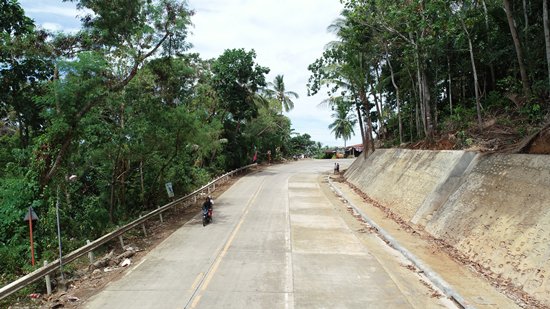 Completed covered drainage canal with slope protection structure at Brgy. Talahid Section. This project is under 2018 funding with a contract cost of P74.5M implemented at Brgy. Atipolo, Naval, Biliran and at Brgy. Talahid to Brgy. Matanggo, Almeria, Biliran. The project has an accomplishment of 90% as of March 31, 2019.
DPWH-Biliran DEO posts 90.36% accomplishment of 2018 infra projects
By DPWH-Biliran
April 10, 2019
NAVAL, Biliran – The Department of Public Works and Highways (DPWH) Biliran District Engineering office now posts 90.36% accomplishment of its 2018 carry-over projects as of March 31, 2019.
District Engineer David P. Adongay Jr. orders contractors to fast-track all these projects for completion on or before June, 2019 as his commitment to Regional Director (RD) Nerie D. Bueno during RD's visit to the Province on March 20, 2019.
Adongay always reminds project engineer to closely monitor their project so as to ensure that quality will not be compromised despite the haste in the implementation.
"Hindi ibig sabihin na pinabibilisan yung implementation ay mako-compromise na yung quality ng projects, dapat nandoon pa rin yung quality'' said Adongay.
With almost three months left to finish all its 2018 projects, Adongay reports 46 projects completed and 14 on-going out of its 60 projects.
Meanwhile, Adongay said that projects for 2019 implementation are all bid out and just awaiting for the approval of the FY 2019 General Appropriation Bill (GAB). DPWH-Biliran DEO allocates P1.2B fund for 2019 project implementation including region-wide projects based on National Expenditure Program (NEP).
Pre-construction conferences to heighten awareness on DPWH projects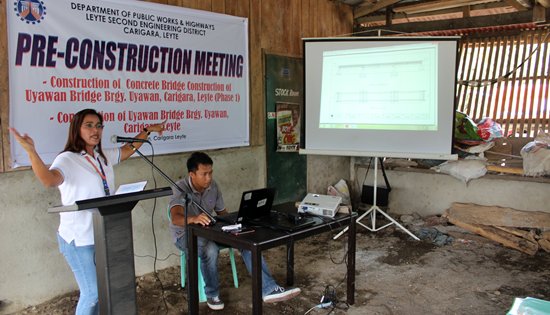 By DPWH 2nd LED
April 10, 2019
CARIGARA, Leyte – Intensifying the awareness of the residents on various infrastructure projects, the Department of Public Works and Highways (DPWH)-Leyte Second District Engineering Office conducts continuous pre-construction conferences within the second district of Leyte.
The pre-construction conference involves the introduction and discussion of the project design and overview.
"As we wait for the approval of 2019 budget, we are doing this activity to present our projects to the community," District Engineer Gerald Pacanan said.
Pacanan stated that the pre-construction activities such as conferences must be part of the implementation to get the public be aware and involved in the process.
"This would be an avenue to air concerns and issues of the residents in order to avoid future problems that may arise during the project implementation," he added.
Representatives from Local Government Units (LGU) and Barangay Officials where the project will be implemented, and other stakeholders are invited to get involved and raise their concerns and issues on the projects.
The district engineering office targets to conduct pre-construction conferences on all infrastructures under the General Appropriations Act for 2019, particularly the high-impact projects.
The district will implement a total of 54 projects amounting to P1.5 billion under the 2019 infrastructure program.
SFDEO sponsors NSHCA's Medical, Optical and Dental Mission in N. Samar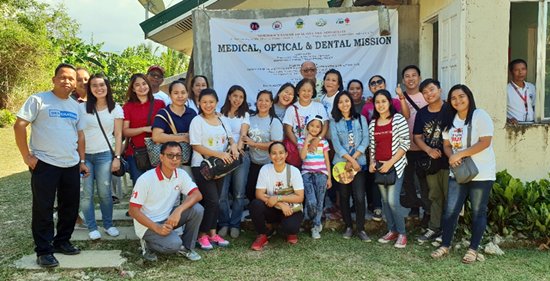 By CHENZI MAY D. UY
April 10, 2019
CALBAYOG CITY – The Northern Samar Health Care Advocates (NSHCA) have once again conducted their annual medical, optical and dental mission last March 23, 2019 (7:30AM-3:00PM), in behalf of marginalized people in Northern Samar.
The NSHCA is a partnership of church, government and socio-civic organizations for health care advocacy. For this year, they have chosen the St. Anthony of Padua Parish in San Jose, N. Samar as its partner-beneficiary.
As this year's main sponsor, DPWH Samar First Engineering Office raised funds to cover the medicines and dental supplies needed.
This was made possible through the voluntary contributions of District Engineer Alvin A. Ignacio, OIC-Assistant DE Denis C. Cagomoc, section chiefs, unit heads, and other DPWH employees.
The activity was spearheaded by the Diocese of Catarman, through the Diocesan Social Action Center - Caritas Catarman Foundations, Inc (DSAC-CCFI).
Beyond infrastructure and public works, SFDEO supports community programs and extension services wherever possible.
Army encounter CNTs anew in Pinabacdao, Samar
By DPAO, 8ID PA
April 9, 2019
CAMP LUKBAN, Catbalogan City – Troops from 46th Infantry (Peacemaker) Battalion, 8th Infantry (Stormtroopers) Division, Philippine Army encountered CPP-NPA Terrorists (CNTs) at Brgy. Canlobo, Pinabacdao, Samar on April 08, 2019 at 3:15 p.m.
Based on the initial report from Lt. Colonel Noel A Cagasan, Commanding Officer 46th Infantry Battalion, his troops were conducting security operations to check the presence of CNTs in the outskirts of the aforesaid barangay.
While approaching a forested portion in the area, the troops encountered undetermined number of CNTs believed to be the fleeing rebels encountered by the troops of 87th Infantry Battalion on April 7, 2019 at Brgy. Manlilinab, Basey Samar. Firefight ensued for about five minutes.
The troops recovered live ammunitions and empty shells for M16 rifles and one (1) sack of potato. No casualty reported on the government side.
Maj. Gen. Raul M. Farnacio, Commander, Joint Task Force "STORM" ordered a pursuit operation against the running CNTs/rebels, "Nasusundan na natin sila, di natin sila titigilan para sa kapakanan ng mga kababayan natin". MGen Farnacio said.
"I am calling the families, relatives and friends of our misguided brothers to persuade their family members turned NPAs, to return to the mainstream society, to go back to their respective families and feel the warm embrace and comfort of their loving sons and daughters. Encourage them to avail the Enhanced Comprehensive Local Integration Program (E-CLIP) of the government," Farnacio added.
Army encounter CNTs in Basey, Samar
By DPAO, 8ID PA
April 9, 2019
CAMP LUKBAN, Catbalogan City – The operating troops from 87th Infantry (Hinirang) Battalion, 8th Infantry (Stormtroopers) Division, Philippine Army encountered CPP-NPA Terrorists (CNTs) at Brgy. Manlilinab, Basey Samar on April 07, 2019 at 3:00 p.m.
The troops were confirming information provided by a concerned citizen on the presence of an armed group conducting extortion at the said area when they chanced upon the CNTs.
The firefight ensued and lasted for about five minutes that resulted to the wounding of two government soldiers namely, Sgt Rolando M. Erilla (right arm) and Pfc Marvin F. Llena (groin area). Some of the CNTs were also wounded as indicated by blood stains along the way of their escape.
The wounded personnel 87IB were immediately given first aid by trained medical aidmen of the unit and were evacuated to the hospital using the municipal ambulance of Basey, Samar, for proper medical treatment.
Maj. Gen. Raul M. Farnacio, Commander, Joint Task Force "STORM", 8th ID, PA appreciated the efforts of the populace in providing the relevant information and expressed his gratitude to the Local Government Unit of Basey, Samar for the assistance extended during evacuation of the wounded soldiers.
Likewise, Maj. Gen. Farnacio ensures that the wounded soldiers were given necessary support and assistance to recuperate and continue to serve the Filipino people.
"This is a clear example that the communities have already recognized the security efforts of the government and the populace now rejects the Communist NPA Terrorists who are conducting propaganda and extortion in the far-flung villages", Farnacio added.
TUCP proposes in-city tenement housing for minimum-waged earners in dialogue with Pag-IBIG
By Trade Union Congress of the Philippines
April 4, 2019
QUEZON CITY – The workers group Trade Union Congress of the Philippines (TUCP) is going to propose an affordable in-city tenement housing for minimum-waged earners (MWEs) in its forthcoming dialogue with state housing fund PAG-IBIG officials' plan to increase in members' monthly contributions.
"We are not closing our doors to an increase in contributions in Pag-IBIG as we have yet to see the proposal from them. We shall wait for their presentations before we make the decision to support it or not," said TUCP President Raymond Mendoza.
Mendoza stressed that any increase should redound to lower home loan interest rates, higher maturity savings returns for members, increased efficiency in Pag-IBIG operations, greater accessibility to home loans particularly for minimum wage earners and low income workers.
"In the light of growing inadequate mass transport problems and worsening traffic congestion, we shall also demand that Pag-IBIG expand its services and benefits to members by initiating development of an affordable in-city tenement housing for lowly-paid workers and develop housing projects for workers in the regions and the countryside, in the export processing zones, Overseas Foreign Workers, and government employees," Mendoza said.
Mendoza said they are looking at utilizing idle government-owned lands in the National Capital Region to build tenement housing units similar to tenement housing in Taguig and Tondo, Manila to reduce workers' daily expenses in the face of their meager daily salary.
The in-city housing program for workers will help working people and their families cope with rising cost of living in metropolis and minimize a range of stress-related disorders and diseases caused by travelling and commuting in a problematic mass transport system environment, Mendoza explained.
"We also acknowledge that the dividends that they have been giving out to members have improved in the past several years which is good for the workers and their families because their contributions is considered forced savings and Pag-IBIG should sustain this," Mendoza said adding: "We also understand from their last Chairman's report that the number of home loan borrowers have increased substantially and it is important to ensure the sustainability of Pag-IBIG".
The current each member's contribution rate is at P100 employee share plus P100 employer counterpart, total of P200 per month. By law, the contribution rate is set at 2% of a member's salary, with a cap of P5,000 Maximum Fund Salary (MFS) of P5,000 per month. This was set way back in 1986. The present value of P200 then is now P12.75.
Contributions of members, including employer's counterpart contributions are returned to Pag-IBIG members upon reaching membership maturity of 20 years. The average total savings of a member for 20 years is approximately P80,000.00. There are members who voluntarily increase their contributions.
Members are also able to borrow 80% of their total savings with the Fund under Pag-IBIG's multi-purpose loan program.
Members are able to borrow from the Fund housing loans which they can use to purchase their own homes. The maximum housing loan a member can borrow is up to P6 Million depending on capacity to amortize the loan. They can use the loan to purchase a house and lot, construct a house, a condo unit, or house improvement.
Members are also entitled to Calamity Loans equivalent to 80% of their total savings with the Fund during times of natural disasters and declaration of state of calamities in their areas of residence.
Higher contribution rates will result to higher savings, higher MPL and Calamity loan entitlements and low housing loan interest rates.
BilComNet conducts training-workshop on basic journalism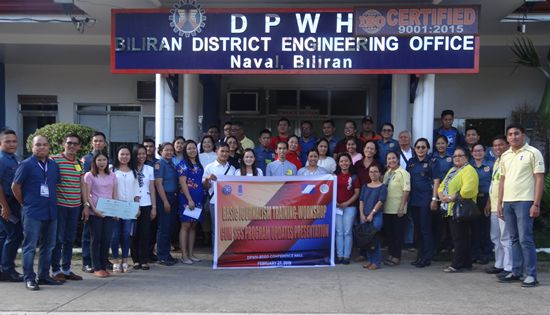 Press Release
April 2, 2019
NAVAL, Biliran – The Biliran Communicators Network (BilComNet) in coordination with the Philippine Information Agency (PIA) - Biliran Provincial Information Center conducts its first ever training-workshop on basic journalism on February 27, 2019 at the Department of Public Works and Highways (DPWH)- Biliran District Engineering Office (DEO).
About 50 BilComNet participants attended the said training eager to learn on basic journalism that will be useful in their information dissemination job.
BilComNet is composed of Information Officers (IOs) from government and private offices, media practitioners and Community Development Information Officers (CDIO) from 13 municipalities in the Province of Biliran.
According to Mr. Dionisio Oliva, BilComNet President, the purpose of the workshop is to improve one's technical capabilities.
"This workshop endeavors to give us a better tool on how we put across the message from our agencies to the people we serve," said Oliva.
"This is a good opportunity for all of us and take advantage of it and hopefully this will provide us the strength and insight personally as member of the BilComNet, professionally as information officers or the like in your agencies and with patriotism as we strive to do better in our jobs for the benefit of majority of us Biliranons," he added.
Ms. Ninfa Illuminada Quirante, PIA 8 Regional Editor and Ms. Alicia E. Nicart, PIA 8 Assistant Regional Head were invited as resource speakers for the workshop.
In the morning, Ms. Quirante gave lecture on news and feature writing and photo journalism. She briefly discussed on the elements of news, picture captioning, grammatical structure, news gathering and tips in writing a good news article.
"In writing a news article, first write all the facts, know your readers and answer all the questions which are unanswered then add facts," Quirante said.
"Make it accurate and simple," she added. After her lecture, a workshop on news writing was conducted.
Based from the submitted news articles from the participants, Quirante chooses the best "lead". The "lead" is the opening statement of the first paragraph of the news article.
Among the participants, Quirante rewarded Mr. Felix Carcellar, CDIO of Kawayan, Biliran for having the best lead. She also recognizes those participants who have submitted a good news articles. Before the morning session ends, Ms. Judith O. Precato, Junior Analyst of SSS Ormoc Branch presents their agency's programs and updates.
In the afternoon, Ms. Nicart conducted a lecture on media ethics and responsibilities. According to her, media ethics creates guidelines for journalists to follow and helps maintain a sense of equality. The lecture on media ethics draws lots of questions from the participants which make the discussion interesting.
The one-day training workshop ended with the distribution of certificates and pictorials of the participants with the resource speakers.
DPWH-Biliran DEO conducts quality control preparation for FY 2019 infra projects implementation
By NIKOLAI ANGELO MERACAP
April 2, 2019
NAVAL, Biliran – The Department of Public Works and Highways (DPWH) Biliran District Engineering Office (DEO) prepares to undertake full blast on its first quarter quality control implementation of FY 2019 regular and other infrastructures projects.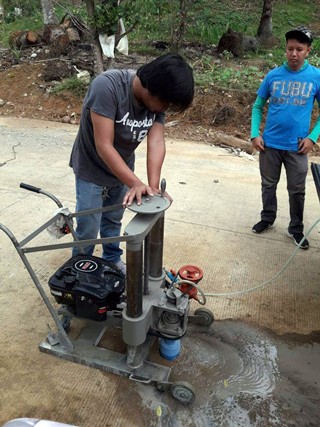 Employee of Quality Assurance Section of DPWH-Biliran District Engineering Office (DEO) drills Portland Concrete Cement Pavement (PCCP) for t-core test.
Various activities were in lined and handled by the Quality Assurance Section (QAS) personnel headed by Engr. Reynaldo P. Peñaflor, D.M. to ensure that quality will be the primary concern when it comes to the construction of projects. Contractors and assigned technical workforce were reminded of quality control as projects will commence as soon as the Fiscal Year (FY) 2019 General Appropriation Bill (GAB) will be approved.
Testing of the quality of construction materials played a vital role in attaining the designed strength and structural integrity of proposed infrastructure projects. Minimum number of quality tests for all construction materials were listed in the quality control program (QCP). This served as guide for the contractors to carry out quality control activities efficiently. Materials that failed to meet the minimum requirements were subjected for rejection thus, the contractors were advised to seek new source and provide another set of sample for quality testing.
Assigned materials engineers conducted series of field testing, quality control monitoring and inspections of accomplished item of work during construction. Field Density Tests (FDTs) were conducted on embankment, subgrade and base course preparation for farm to market and road widening projects.
Sampling of fresh concrete during pouring activities were followed by casting sets of concrete beam/cylinder as representative sample that were subjected to compressive and flexural strength determination. T-core test was also performed on Portland cement concrete pavement (PCCP) to determine its actual thickness compared to the designed thickness of a completed pavement on a lot basis.
At present, the assigned materials engineers and materials in-charge continue to perform consistent supervision of quality control activities and conducts timely testing of materials for on-going projects funded by Calendar Year (CY) 2018 General Appropriations Act (GAA).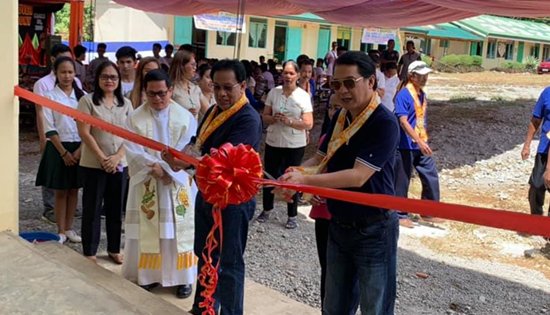 District Engineer David P. Adongay Jr. (left) and Congressman Rogelio J. Espina lead the ribbon cutting during the blessing and turn-over ceremony of the P24.7M 2-storey, 10-classroom school building at Western Biliran High School for the Arts and Culture (WeBHSAC) in Brgy. Tamarindo, Almeria, Biliran on March 28, 2019.
DPWH-Biliran DEO's P24.7M school building project turned-over to WeBHSAC
Press Release
April 2, 2019
NAVAL, Biliran – The Western Biliran High School for the Arts and Culture (WeBHSAC) in Brgy. Tamarindo, Almeria, Biliran receives a 2-storey, 10-classroom school building facility that will benefit over 400 students of the said school.
Department of Public Works and Highways (DPWH)-Biliran District Engineering Office (DEO) turned-over the said school building facility on March 28, 2019.
Congressman Rogelio J. Espina graced the turn-over and blessing ceremony together with DPWH Officials headed by District Engineer (DE) David P. Adongay Jr.
The event was also graced by Almeria Mayor Richard D. Jaguros, DepEd Biliran Schools Division Superintendent (SDS), Dr. Pedro T. Escobarte and School Governance Operations Division (SGOD) Chief Lucille C. Roa. Also present were the barangay officials, school teachers, students, PTCA Officers, members and parents.
In a short message delivered by DE Adongay, he emphasized that good school buildings and classrooms like in WeHBSAC motivate students and teachers to perform well in their studies and teachings.
The P24.7M worth of 2-storey, 10-classroom school building facility is equipped with toilets and electric fans.
"Having schools in good condition, like this 10 classroom is decisive for the students to achieve the expected academic results and improve their performance," said DE Adongay.
The DE added that schools and classrooms are as indispensable and important as roads and bridges.
"That is why our office is always in constant link with local leaders and schools for a better education of our children," he added.
With the rapid increasing of students every year, DE Adongay said that the need for school buildings also increases. Thus, the adequacy and inadequacy of school buildings affects the education of the students.
Adongay assures that there will be more good classrooms to be implemented by DPWH to make possible for children and youths to study especially those living in the remote areas.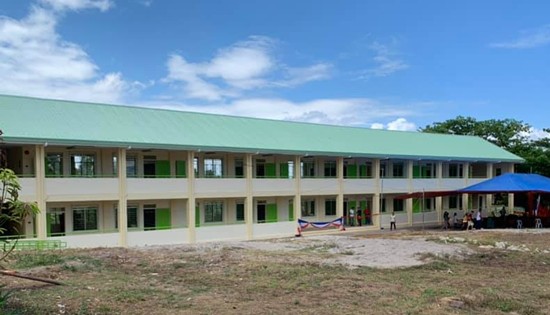 CNTs will remember their 50th Anniversary as "Golden Debacle"
By DPAO, 8ID PA
April 1, 2019
CAMP LUKBAN, Catbalogan City – The Communist Party of the Philippines-New People's Army Terrorists (CNTs) in Eastern Visayas celebrated their 50th Anniversary with back to back debacles: a failed attack and the surrender of one of their top rank leader.
On 28 March 2019, a day before their 50th Anniversary, a failed attack was launched by the CNTs against the Municipal Police Station (MPS) of Victoria, Northern Samar.
Thru close coordination between the Philippine National Police and Armed Forces of the Philippines and with the information from the community, the fifteen (15) police personnel were able to defend their station and repelled the attack of more or less eighty (80) CNTs. The Victoria Police Station personnel were reinforced by the elements of 543rd Engineering Construction Battalion and 43rd Infantry Battalion.
This deceitful attack resulted to three (3) CNTs killed, three (3) CNTs arrested, four (4) High Powered Firearms (1 M60 machine gun, 1 M14 rifle, 2 M16 rifles) and several ammunition recovered. In the desperation of these terrorists, a passing motorists on board a black Toyota Vios were also fired upon at the road blockade the CNTs had set-up, wounding four (4) innocent civilians who are senior citizens.
On the eve of 29 March 2019, which is supposedly the CNT's Golden Anniversary, one (1) of their top rank leaders, Mr. Liberado Tarong Bungato alias Rolando Tarong/Tiyong/Biyong, Executive Committee member, and Commanding Officer of an NPA Platoon voluntarily surrendered and handed-over his Caliber .45 pistol with ammunition to Brig. Gen. Lope C. Dagoy, Commander, 802nd Infantry (Peerless) Brigade, 8th Infantry Division. The CNT leader revelations led to the recovery of four (4) M16 rifles, one (1) Caliber .45 pistol, Improvised Explosive Devices (IEDs), assorted magazines, ammunition and subversive documents with high intelligence value.
In his statement, Maj. Gen. Raul M. Farnacio, Commander, Joint Task Force "STORM" said that "we, the men and women in uniform, strongly condemn the attack on the innocent civilians perpetrated by these Godless CNTs. This action proves that the CNTs are not pro-people since they are not concern for the well-being of the civilians who are non-combatants and it is a clear manifestation that CNTs do not abide to the Human Rights, International Humanitarian Law and the Rule of Law."
"Nasaan na ang mga kababayan at mga kabataang masisipag sumigaw sa kalye at maghain ng reklamo sa Human Rights kapag nadadamay ang ating mahal na mga inosenteng kababayan? Nasaan na sila, bakit ang tahimik nila? I challenge them to take-up their megaphones and microphones and shout out loud on the streets against these crystal clear Human Rights violations of the CNTs… Kung wala silang pinapanigan o kung talagang pro-people sila! To the CNTs, your armed struggle had brought enough suffering, death and misery sa ating bayan at sa ating mga kababayan, sa inyo at sa inyong mahal na pamilya. If you continue taking up arms against our government, dalawa lang pagpipilian ninyo, kulungan lang o sementeryo! Sa mga kapatid naman nating rebelled na tulad ni Kumander Biyong na pagod na sa armadong pakikibaka at gusto ng magbalik loob sa gobyerno at nasasabik ng makapiling ang kanyang mahal na pamilya, ang pintuan ng kapayapaan ay laging bukas para sa inyo. May nakalaan na Enhanced Comprehensive Local Integration Program (E-CLIP) mula sa gobyerno para sa inyo," Farnacio added.
Gen. Farnacio was also thankful to the local populace for the timely and accurate information in helping the government forces fight the CNTs. Likewise, the Commander, JTF "STORM" lauded the brave personnel of Victoria MPS for successfully defending their station with 543rd Engineering Construction Battalion, 43rd Infantry (We search) Battalion and other reinforcing PNP units same praises goes to the 802nd Brigade, specially to the troops who gave their best efforts that resulted to the surrender of Mr Liberado Tarong Bungato.
"Job well done!" Farnacio said to the government forces in Eastern Visayas in his closing statement.
ACT denounces terrorist-tagging of people's orgs to EU, calls for international solidarity
Press Release
April 1, 2019
QUEZON CITY – The Alliance of Concerned Teachers (ACT) called the Duterte government 'anti-democracy' after it again wrongly accused several organizations as fronts of the Communist Party of the Philippines and the New People's Army (NPA) before the European Union (EU). The teachers' federation called for support from the international community amid state attacks against people's democratic rights.
"This is part of the militaristic Duterte regime's bogus counterinsurgency program, which in reality is a crackdown and vilification campaign against groups critical of its anti-people and fascist policies. But the Filipino people know best our record of genuine public service and unwavering dedication to democracy, peace, and justice," says ACT National Chairperson Joselyn Martinez.
The teachers' federation says that this desperate and failed attempt by the administration to discredit ACT and other organizations among its members, partners, and the public at large. They further asserted that the state will be held accountable for its irresponsible slandering and baseless accusations of legal and legitimate organizations.
Martinez also pointed out the irony in the government's claim that there is no human rights crisis in the Philippines but carries out a crusade to impede the international community from assisting local peoples' organizations efforts to better the lives of the people. These efforts, added Martinez, should be encouraged by a government known to fall short on its duty to the people, such as the provision of free, quality, and accessible social services, among others.
"The very move to brand us as CPP-NPA fronts in their recent visit and correspondence with EU is testament to the persecution suffered by people's organizations who forward just demands to the government, which adds to their growing and intensifying attacks in the form of imprisonment and downright killing of farmers, unionists, and 'drug suspects'," added Martinez.
ACT, however, asserts that the Filipino people continues to fight amid worsening political and economic crisis in the country. The group urged the global community to side with genuine representatives of the sovereign Philippines and not with the repressive Duterte government.
"The Filipino people is steadfast in its commitment to resist the increasingly fascist and tyrannical Duterte regime, and we call on all democracy-loving citizens of the world to join our struggle for the upholding of human rights, peace, and democracy in the Philippines," called Martinez.
Karapatan challenges gov't anew: Do not block UN and ICC efforts to investigate PH
Press Release
March 30, 2019
QUEZON CITY – "Amid the false and malicious accusations hurled against organizations like Karapatan, we have been openly addressing these issues as we ask for dialogues with the European Union and other governments to directly talk to us.
We are confident that these red-tagging schemes, taken to the international arena by a government who wishes to discredit us, will be sufficiently refuted by years of our human rights advocacy for marginalized communities. We echo the same challenge to the Duterte government and its rabid gang of militarists: If indeed human rights organizations are merely spouting lies to defame the government, then do not block efforts by the International Criminal Court (ICC) and United Nations Independent Experts to investigate these human rights violations that we have reported and exposed," said Karapatan Secretary General Cristina Palabay.
Karapatan made the challenge to the Duterte government after a delegation called the National Task Force to End Local Communist Armed Conflict (NTF) made rounds in diplomatic missions in Europe, maliciously red-tagging several organizations. On March 29, the government has made moves to formally ask the European Union and the Belgian government to stop funding organizations which they allege are fronts of the Communist Party of the Philippines and the New People's Army (CPP-NPA).
"It is clear to us why there are very persistent efforts to undermine our work and discredit our organization. We are being singled-out, harassed, and our work criminalized because of our advocacy to continuously expose human rights violations and initiate efforts and campaigns to hold the Philippine government accountable as the primary duty-bearer of human rights promotion and defense.
Instead of directly addressing the issue, the Duterte government and the NTF plan to resolve the matter by simply maligning organizations who refuse to be mouthpieces of this government. Their plan is to harass every critic, call them terrorists, communists and enemies of the State, incite violence against them, move to defund their organizations, and ultimately silence those who challenge their narrative," added Palabay.
Palabay further assailed the government for flagrant hypocrisy, telling critics that they have nothing to fear if they have done nothing wrong, while also withdrawing from the Rome Statute and blasting any attempts at investigating allegations against the administration. "We echo the bold statement of this government, and hurl it right back at them. If you have done nothing wrong, you have nothing to fear. We repeat our call for the Duterte government to welcome national and international investigations on alleged human rights violations in line with the war on drugs and the government's counterinsurgency program," she emphasized.
The Karapatan official said that "despite the threats and continuous red-tagging, human rights defenders are here to stay and confront these desperate lies against us, unlike this cowardly government." She dared the Duterte government to issue official invitations to UN independent experts who have long-standing requests to visit the country, including UN Special Rapporteurs Agnes Callamard, Michel Forst and Victoria Tauli-Corpuz.
"The NTF and the Duterte government are now seeking to defund us by promoting smear campaigns and parading lies. We reiterate that the human rights violations we have raised are based on actual reports from communities, leaders, sectors, and human rights workers on the ground. We likewise call on the EU and other governments to also review the funding that they give to the PH government and its arms deals with the Armed Forces of the Philippines and the Philippine National Police, as these maybe used to fund State terrorism and kill more Filipinos in line with Duterte's war on drugs and counter-insurgency program. We enjoin the Filipino people to demand accountability with regard to our taxes amid the corruption, ballooning debt, and human rights atrocities being committed by this regime," Palabay concluded.
DPWH adds new classrooms in Burauen, Leyte school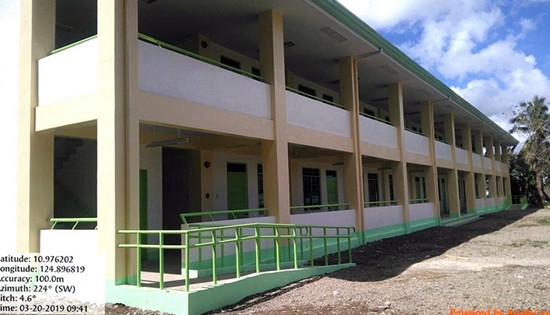 By DPWH 2nd LED
March 29, 2019
CARIGARA, Leyte – Eight new classrooms were recently completed in Burauen Comprehensive National High School, Burauen, Leyte, the Department of Public Works and Highways (DPWH) Leyte Second district engineering office reported.
The district and the Department of Education (DepEd) allocated P17.59 million for the construction of this one unit eight-classroom two-storey school building.
According to Gerald A. Pacanan, DPWH Leyte district engineer, school building projects are one of the top priorities of the department as it aims to catch-up the demand of more learning facilities with the implementation of K-12 program.
"This is part of the government efforts to improve the quality of education in the country by providing conducive learning environment for students," Pacanan said.
He highlighted the increasing number of population in schools particularly in the secondary level, prompting the government to allocate more funds for school facilities.
Overall, the district is tasked to implement a total of 25 school building projects amounting to P368 million funded under the DepEd Basic Educational Facilities Fund for 2018.
DPWH and COA tie up to oversee infra projects
By DPWH 2nd LED
March 29, 2019
CARIGARA, Leyte – Directing to a transparent implementation of infrastructure projects, the Department of Public Works and Highways (DPWH) Leyte Second District Engineering Office fortified relationship with the Commission on Audit (COA).
According to District Engineer Gerald Pacanan, auditors would now join the inspectorate team in the regular inspection of the district's infrastructure projects.
"With the help of COA, we would be able to expedite and enrich the quality of our projects through their recommendations for more efficient and effective operations," Pacanan said.
It is the primary function of COA to examine, audit and settle all accounts and expenditures of the funds and properties of the Philippine government.
Pacanan added that the department is closely monitoring the infrastructure programs of the government as per mandate of President Rodrigo Duterte to expedite the implementation of DPWH projects.
To quote Duterte's statement, "As an important part of the Build, Build, Build Program, I expect you to fast track the implementation of all infrastructure projects already in the pipeline".
Since Pacanan's post, key officials of the district engineering office are conducting weekly regular inspection in order to ensure that plans and specifications are adhered in the implementation of projects.
The two agencies are working closely together to come up with accurate and competent standards of projects for a more efficient government service.
CNTs celebrate their 50th anniversary in Samar with a big loss
By DPAO, 8ID PA
March 28, 2019
CAMP LUKBAN, Catbalogan City – The Municipal Police Station (MPS) of Victoria in Northern Samar successfully repelled an attack staged by more or less 50 CPP-NPA Terrorists (CNTs) on board two trucks at around 3: 50 a.m. today, March 28, 2019.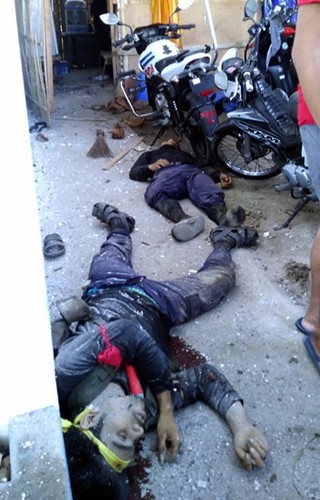 This resulted in three (3) CNTs killed (body count), three (3) CNTs captured, and the recovery of one (1) M60 machine gun, two (2) M16 rifles, and one (1) M14 rifle. Two (2) PNP personnel were reported slightly wounded during the said incident.
Further, a passing motorist on board a black Toyota Vios was also fired upon on the road blockade set-up by the CNTs wounding a certain Mariquel Sanchez, 52, Shai Sanchez, 17, Welta Tejero, 74, and Samuel Elustre, 52. They were immediately brought to the nearest hospital for treatment.
In his statement, Maj. Gen. Raul M. Farnacio, Commander, Joint Task Force "STORM" said that "due to the close coordination between the Police Regional Office 8 and 8ID and with the help of civilian informants, the Victoria MPS has prepared during the time of attack and on a heightened alert."
"The 8ID strongly condemns the attack on the innocent civilians perpetrated by the CNTs in Victoria, Northern Samar. This only manifests that the CNTs are not pro-people since they are not concerned about the people's welfare and safety," Farnacio added.
He was thankful to the local populace for giving timely and accurate information in helping the government forces fight against the CNTs. Likewise, the Commander, 8ID lauded the personnel of Victoria MPS for successfully defending their station with reinforcements from the 43rd Infantry (We Search) Battalion.
DPWH builds slope protection along landslide prone highway in Leyte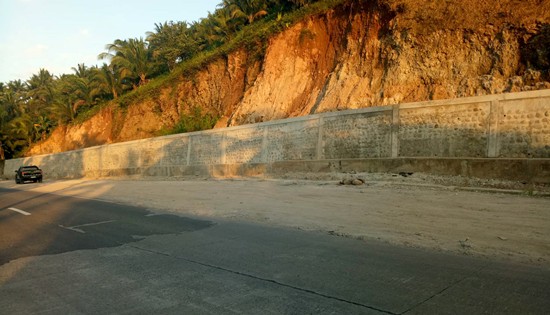 By DPWH Leyte 2nd LED
March 28, 2019
CARIGARA, Leyte – The Department of Public Works and Highway (DPWH) has completed the P49 million slope protection project along a landslide prone road section in Lemon village, Capoocan, Leyte.
The concrete wall protecting the national highway from landslide covers a total length of 350 meters and a height of 8 meters. The department also rehabilitated the canal along this structure.
According to Gerald Pacanan, DPWH Leyte 2 district engineer, this section along Palo-Carigara-Ormoc road accommodates a huge number of motorists and travelling public everyday as it connects to major cities in the province.
"This will prevent major soil erosions that could endanger the properties and lives of the people utilizing the highway," he added.
The permanent concrete structure will provide slope stability, thus avoiding abrupt collapse of weakened slope brought upon by heavy downpour and natural ground movement.
In December 2017, one lane of this particular road section was left impassable to traffic due to a landslide and after a portion of the road collapsed during the onslaught of Tropical Storm Urduja.
"In the recent years, the country has experienced series of strong typhoons and earthquakes that have caused major damages and casualties. That is why the department continuously implements quality infrastructure projects that could safeguard the life of every Filipino," said Pacanan.
In Leyte 2, Capoocan is among the high-risk towns susceptible to landslides, along with some inland villages in Burauen, La Paz, and Mac Arthur based on the geohazard assessment conducted by the Mines and Geosciences Bureau.
DPWH intensifies maintenance works in Leyte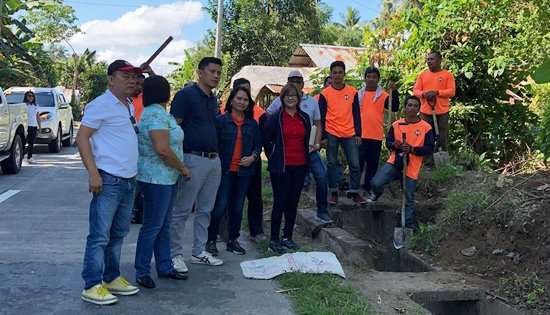 By DPWH Leyte 2nd LED
March 28, 2019
CARIGARA, Leyte – The Department of Public Works and Highways (DPWH) Leyte Second district engineering office intensifies maintenance works as it aims to improve overall road performance rating.
In a recent visit, DPWH Region VIII director Nerie Bueno commended the district for the clean road sides and carriageway along the national highway and noticed a major improvement compared to her previous inspection.
According to district engineer Gerald Pacanan, this is a manifestation of the much-improved maintenance force, as seen in their works and performance.
It can be noted that upon his assignment as the new district engineer of Leyte 2, he initiated a dialogue with the maintenance point persons and field workers, seeking their full cooperation and commitment to improve the district's performance.
Maintenance section chief Francisco Robin, Jr. expressed his commitment to efficiently supervise the maintenance works of the district and keep up with the targets through strict and outright compliance to the standards and requirements of DPWH.
During the coordination meeting with public utility companies on March 6 this year, Robin appealed to the utility providers to do their part in maintaining their distribution lines as the district is the one being sanctioned.
He suggested to the electric cooperatives to provide permanent support structure to their sagging transmission lines in some road sections.
Furthermore, Pacanan instructed all the employees of the district traversing the national highway under its area of jurisdiction, to note observations on road defects such as potholes, alligator cracks, major scaling, shoving and corrugation, pumping and depression, faded road markings, inverted shoulder, lush vegetation, clogged drains, and open manholes.
He added that this is important for the maintenance workers so that they could immediately take appropriate actions on restoring these defects.
"The works of our maintenance people mark the impression of our office. Let us sustain our momentum and work hand in hand to attain our goals," he concluded.
Leyte second district engineering office is tasked to maintain 206 kilometers of national road and 55 bridges.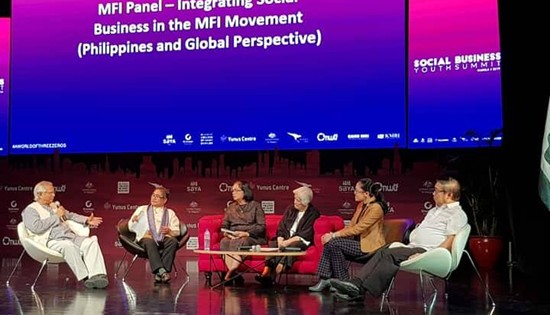 From L-R: Prof. Muhammad Yunus, Dr. Jaime Aristotle B. Alip, CARD MRI Managing Director Flordeliza L. Sarmiento, Dungganon Bank, Inc. President Corazon Henares, ASA Philippines Senior Director Maria Regina Pacifico, and Taytay sa Kauswagan (TSKI) Chairman Angel de Leon, Jr.
CARD MRI joins the 2019 Social Business Youth Summit
Press Release
March 26, 2019
SAN PABLO CITY – CARD Mutually Reinforcing Institutions (CARD MRI), led by its founder Dr. Jaime Aristotle B. Alip joined by its key leaders and CARD-MRI Development Institute Students, participated in the 2019 Social Business Youth Summit on March 23, 2019 at the De La Salle-College of St. Benilde, Manila.
Dr. Alip opened the breakout session entitled Microfinance Forum. He shared the contribution of MFIs in the fight against poverty in the Philippines.
"As microfinance institutions, we are tasked to ensure that more Filipinos have access to financial services. One Filipino family with access to finance is one family moved out of the poverty line. This is our duty to fulfill. This is our mandate as catalysts for social change and our contribution to the eradication of poverty," he said.
Nobel Peace Prize Awardee – Professor Muhammad Yunus is the keynote speaker of the Microfinance Forum. He said that in microfinance nobody should have personal gain. As what he espouses in all his years of working in micro credit and microfinance, the ultimate goal is zero poverty. "Poverty should be in the museums," he reiterated.
Speaking before Professor Yunus are Bangko Sentral ng Pilipinas Managing Director Pia Bernadette Roman Tayag and Microfinance Council of the Philippines Chairperson Fr. Jose Victor Lobrigo both sharing the contribution of MFIs in the country as it evolves.
Tayag said that BSP will not stand in the way of MFIs to reach more poor Filipinos but through proper governance and strict implementation of policies adding that BSP will also enable technologies that will ensure its success.
Meanwhile, Fr. Lobrigo not only highlighted the evolution of MFIs in the country but also identified challenges it faces now and in the future especially the smaller MFIs in the country.
One critical part of the forum, with Dr. Alip as the discussion catalyst, is the panel discussion on the integration of social business with MFI movement.
Panelists Professor Yunus, CARD MRI Managing Director Flordeliza Sarmiento, Taytay sa Kauswagan (TSKI) Chairman Angel de Leon, Jr., Dungganon Bank, Inc. President Corazon Henares, and ASA Philippines Senior Director Maria Regina Pacifico all shared that integration is possible since MFIs are already doing social businesses within its institutions and through the institutions it created.
Professor Yunus said that the seven principles of social business must be implemented in the way of doing business. He shared that in order to prevent one from being greedy, a social business audit must be done regularly and secure a social business certificate every year.
The 2019 SBYS, which is a two-day event, is the leading youth forum where youth across borders get the exclusive opportunity to learn from and interact with experts in the field of social business.
About 400 delegates from the Asia Pacific Region gathered for the said event. The said summit also opened more doors for MFIs to be known as a tool for the eradication of poverty in the country and how it integrates with social business.
This is the 6th edition of SBYS, which showed the continuous global commitment of the youth in connecting with social business and in achieving the "Three Zeroes" - Zero Poverty, Zero Unemployment, and Zero Net Carbon Emissions.
Perception of NMP female trainees towards seafaring career evaluated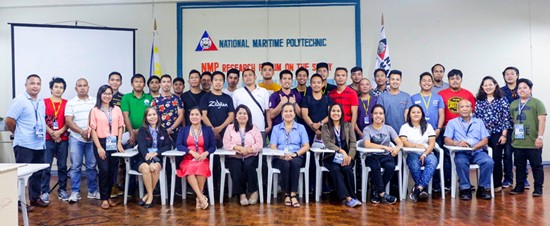 By National Maritime Polytechnic
March 24, 2019
TACLOBAN CITY – In answer to the resounding call of the International Maritime Organization (IMO) for empowering women in the maritime industry, the National Maritime Polytechnic (NMP) being a gender and development (GAD) advocate and a maritime training and research institution, conducted in CY 2018 through its Maritime Research Section (MRS) a research study entitled "Perception of NMP Female Trainees towards the Seafaring Profession".
The study aimed to determine the attitudes and views of women, specifically NMP female trainees who had already shipboard experience and those who are planning to go on board, towards the seafaring career. Respondents of the study were all NMP female trainees enrolled during the data-gathering period, 16 July 2018 to 11 October 2018.
The research was conducted to evaluate how NMP female trainees perceive the seafaring profession. Specifically, it aims to: (a) determine the motivating factors why women choose a seafaring career; (b) determine problems/challenges encountered or most likely to be encountered onboard; (c) determine the length of time women are willing to stay on shipboard jobs; (d) determine the reasons why women tend to quit their shipboard jobs; (e) determine other maritime-related occupations which women are interested in; and (f) recommend priority actions.
Findings of the said research advocacy found venue through the conduct of Research Forum on 14 March 2019 at Room 109, NMP Training Building, Cabalawan, Tacloban City which was attended by forty-six (46) trainee-participants.
"The international and national maritime organizations had now recognized the potential and balance that women can make in the maritime industry. In fact, the International Maritime Organization (IMO) launched the World Maritime Day Theme for the year 2019, putting great value to women saying, "Empowering Women in the Maritime Community." Binibigyan natin ng puwang sa maritime ang mga kababaihan dahilang pagsisilbi ay talaga namang wala sa kasarian kundi nasa pusong handang maglingkod para sa propesyong kanyang pinasukan", said NMP Executive Director, Joel B. Maglunsod in his Welcome Remarks.
Research proponent, Ms. Karen C. Pailago presented the major findings of the study which revealed that most of the respondents learned about seafaring from their families (35.21%), school (25.35%) and friends (25.35%). Their main motivation for pursuing a seafaring career were because of their love for travel and/or adventure (39.44%) followed by the prospect of a high salary/income (38.03%).
The major problems/challenges that they encountered or expect to encounter on board would be accidents/accident risks (67.61%), sexual harassment (63.38%) and discrimination (61.97%). Yet despite these problems/challenges, more than half of them (53.52%) were willing to stay in shipboard jobs for five (5) to ten (10) years. The top reason why they would quit would be because of family (57.14%).
In addition, they were aware of other maritime-related occupations and were mostly interested in specifically two (2) of them, namely eco-tourism guide and maritime professor/instructor.
In conclusion, NMP female trainees view seafaring as a positively possible career where women may be able to thrive in the future despite several challenges and where certain gaps need to be addressed.
During the open forum some participants shared their thoughts about the research.
"What male seafarers can do, we can also do onboard. We have earned the acceptance of our male co-workers that we are part of the crew. We wish that all male seafarers will do the same for their co-workers who are women – to embrace and accept us as part of your world", OICNW Jascha Mae Roman remarked.
OICNW Serge Joseph Navarroza also gave words of encouragement to all seafarers, especially women.
"Being a ratings is a difficult job onboard the vessel. But we should not lose our guts whenever we go onboard. We should aspire to become officers and not be satisfied with just being ratings. If we become officers, the work gets easier as it is mostly paperwork and the salary is higher. We should not think negatively because negative minds will never give us a positive life. So just work hard and let your success make your noise" he disclosed.
NMP Deputy Executive Director, Mayla N. Macadawan during her closing remarks emphasized that men and women should complement one another.
"Women were created from the rib of man to be beside him, not from his head to top him, nor from his feet to be trampled by him, but from under his arm to be protected by him, near to his heart to be loved by him", she quoted.
Based on the evaluation instrument gathered, 96% (44 out of 46) and 98% (45 out 46) rated the research report and conduct of forum very satisfactory or excellent, respectively.
Seafaring profession was well known as a male-dominated profession for centuries. The acceptance of women onboard always being an issue, as they are constantly being questioned whether the seafaring career fits women very well.
However, there are still women facing the wave of resistance. Women became more courageous, determined and challenged to equal men in the seafaring profession instead of being disappointed and discouraged to pursue the career. In fact, from CY 2016-2018, NMP records showed that there were three thousand four hundred fifty-two (3,452) female trainees who availed of the different courses offered by NMP.
In its efforts to uphold its mandate, NMP continues to upgrade its facilities and provide maritime trainings required pursuant to the STCW Convention as amended in 2010 including value-adding courses towards improving the qualifications of Filipino seafarers for their employment acceptability and enhanced competitiveness. It also regularly conducts maritime studies to come up with policies for the improvement of the manpower sector of the industry.
Those interested in NMP research undertakings may visit the NMP website (www.nmp.gov.ph) and access the e-Research Information System Portal which is designed to gather inputs for NMP's research, dissemination of NMP completed researches and other articles pertaining to maritime research.
For more information about NMP trainings viewers may visit the agency's facebook page (www.facebook.com/nmptrainingcenter) where all related information on NMP trainings are available.
Further, NMP encourages seafarers to avail of the NMP-OWWA (Overseas Workers Welfare Administration) Seafarers' Upgrading Program (SUP) which entitles the beneficiary to receive financial assistance for training costs from the OWWA.
Elementary student with eye problem gets help from army dentists
By DPAO, 8ID PA
March 23, 2019
CAMP LUKBAN, Catbalogan City – A total of 166 pupils coming from Palanog Resettlement Elementary School, Brgy Palanog, Tacloban City availed free dental services provided by the Pacific Partnership 2019 contingents last March 13, 2019 at 09:00 A.M.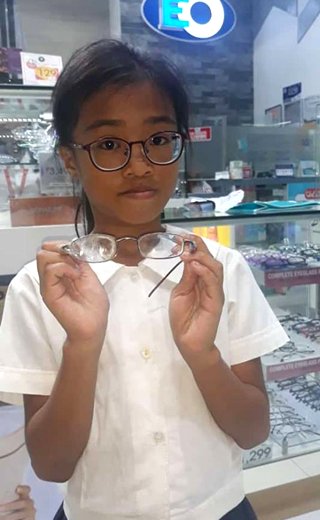 The 8ID Dental Team led by Lt. Col. Ranulfo O. Espera, Commanding Officer of 1368th Dental Detachment, Camp Lukban Station Hospital noticed that one of their patients was wearing a broke pair of eyeglass. Without hesitation, Lt. Col. Espera extended help to Micaella Silmar, 8 years old, a grade 3 pupil from Palanog Resettlement Elementary School by accompanying her to an ophthalmologist for check-up and after which buy her new pair of eyeglasses.
Micaella had been using her broken eyeglasses for more than a year, because her parents can't afford to buy her a new set of eyewear due to their meager income. In spite of that predicament she has preserved in her studies and is a consistent honor student at her school.
On her part, Micaella was thankful to those who extend help to her "Daku an akon pasasalamat nga nabalyu-an an akon daan nga salamin, ine in daku nga bulig ha akon pag eskwela; An ira ginpakita nga pagbulig ha akon in magin usa nga inspirasyon para ha amon nga mga kabataan." (These new eyeglasses will inspire me to study more in setting my sights in life; their generous act in helping children like me will serve as an inspiration to younger generation).
Maj. Gen. Raul M. Farnacio, Commander, Joint Task Force "STORM" lauded the compassionate act of the said Officer. "The 8ID is pleased that we provided a little help for Micaella for we know that this is a big comport on her part as she continues her studies."
"Truly, such generosity of our soldier exemplifies our sacred oath to serve the people of Eastern Visayas," Farnacio added.