P5.1 million livelihood grants to benefit 314 Leyteños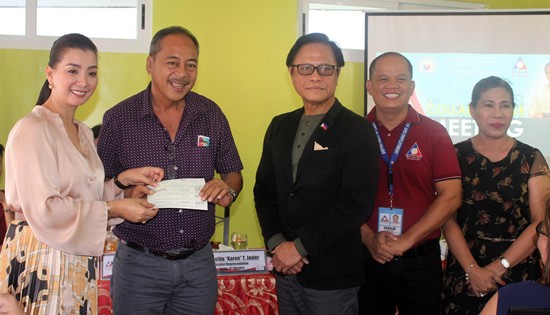 By NORMA RAE S. COSTIMIANO
August 27, 2019
TACLOBAN CITY – The Department of Labor and Employment Regional Office VIII has released a total of P5,135,882.00 livelihood funds to the local government units of Barugo and Jaro last August 16, 2019 during its collaborative meeting with the local chief executives of the 2nd Congressional District of Leyte at Haiyan Hotel and Resort, Tanauan, Leyte.
Aiming to strengthen the existing collaboration with the LGUs in the implementation of DOLE programs in the region, Regional Director Yahya A. Centi, along with the management committee of DOLE RO VIII and heads of DOLE-Regional Coordinating Council (RCC), discussed with the new representative, Congresswoman Lolita Karen T. Javier and the LCEs of the said district the various programs and services of the department.
"It is with great pleasure that we are able to meet all of you for a significant purpose. We believe this meeting will produce positive results which will put us in a win-win situation – us being able to deliver our programs and services successfully and you being able to address the needs of your constituents especially in the reduction of poverty", said Director Centi.
Congresswoman Javier expressed her gratitude for all the essential information shared by the DOLE-RCC relative to programs and services which can be availed by her constituents.
"It inspires me a lot to know that we have people like you in the government to partner with in terms of helping our people. Personally, I'd like to thank Director Centi and his entire team for giving us, especially our new LCEs, the opportunity to know what DOLE is all about," said Cong. Javier.
During the said meeting, DOLE RO VIII grabbed the chance to award livelihood grants for the beneficiaries of LGU-Barugo and LGU-Jaro.
Ma. Rosario Avestruz and Rigo Arbas, mayors of Barugo and Jaro, respectively, were both happy to receive the livelihood checks.
Charged under the DOLE Integrated Livelihood Program (DILP) funds of the region, LGU-Barugo received a total of P3,323,487 for the implementation of three (3) projects for the 187 beneficiaries Pedicab Drivers of Barugo and Barugo Integrated Carpenters & Fisherfolks Association.
On the other hand, LGU-Jaro availed livelihood funds for its three projects amounting to P1,812,395 with 127 beneficiaries from the informal sector, Macanip Integrated Farmers Association and BARRACO Agricultural Cooperative.
Mayor Avestruz, who delivered the closing remarks, challenged her co-LCEs to maximize the programs and services offered by the national government agencies such as the labor department.
"I'd like to encourage my fellow chief executives to be more active in accessing the various programs of our partner organizations. We should be happy that we have DOLE and other agencies to assist us in catering to the different issues and concerns of our clients", said Mayor Avestruz.
Mayors of the following municipalities were present during the collaborative meeting: Barugo, Burauen, Capoocan, Dagami, Dulag, Jaro, Julita, Pastrana and Tunga.
Also in attendance during the half-day meeting were the following DOLE-RCC Heads: Executive Director Joel B. Maglunsod of NMP; Atty. Amelia B. Docena of NLRC; Director Gemma R. Poloyapoy of NCMB; Mr. Reynaldo Soliveres of RTWPB; Ms. Juliet Z. Tan of OWWA; Ms. Catherine D. Dasigan of NRCO; and Ms. Michelle C. Basal of ECC.
Save the Children Philippines ambassador Katarina Rodriguez run for children at #RunWithMe2019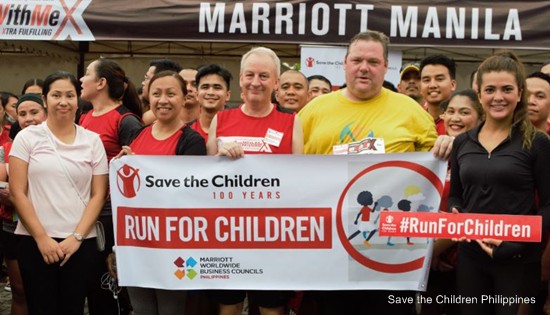 Press Release
August 25, 2019
MAKATI CITY - Save the Children Philippines is proud to be the beneficiary of Manila Marriott Hotel in today's #RunWithMe2019. Run With Me is Resorts World Manila's annual celebrity-led fun run for charity that brings people from all walks of life together in a race for charity. Save the Children Philippines is the beneficiary of Manila Marriott Hotel.
The funds raised by Manila Marriott Hotel during the #RunWithMe2019 will support the programs of Save the Children Philippines.
Katarina Rodriguez, Save the Children Philippines ambassador lead more than a thousand runners who believe every child deserves to celebrate birthdays and grow healthy, educated and safe from violence.
August 25 is a special day for the organization also as it marks the birthday of Save the Children's founder Eglantyne Jebb, a remarkable woman who drafted the Declaration of the Rights of Children that became the basis for the United Nations' Convention on the Rights of the Child (UNCRC).
"Birthdays are special events for children, we should make sure every child, especially those in the deprived and marginalized situations have a healthy start in life," said Rodriguez.
Save the Children Philippines is a lead child-rights organization in the Philippines in development and humanitarian work.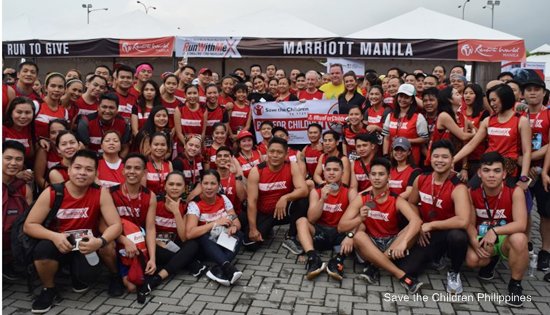 The completed widening of Looc Bridge in Almeria town amounting to P21.898M.
Widening of Looc bridge in Almeria town completed
By DPWH Biliran
August 23, 2019
NAVAL, Biliran – The first bridge widening project implemented by the Department of Public Works and Highways (DPWH)- Biliran District Engineering Office (DEO) is now complete.
The widening of Looc Bridge in Almeria town worth P21.898M is now serving the travelling public with at least an average of 500 vehicular users per day in this part of Biliran Circumferential Road (BCR).
According to David P. Adongay Jr., District Engineer, the said project is designed to accommodate more traffic volume and provide a wider and safer road for the increasing vehicular users along BCR.
"The completed project will increase the capacity of the existing roads and improves the safety aspect of said sections," he said.
The said road section also leads to the only Provincial Hospital and to the Port of Naval.
The widening of Looc Bridge involves the construction of two additional lanes of the bridge with a width of 3.66-meter, one lane on each side of the 24-meter length existing This is funded under the FY 2018 DPWH Infrastructure Program.
Major scope of work of the project includes sealing, application of tack coat, asphalt overlay and thermoplastic stripping materials.
The project was prioritized because the approach road of the bridge going to Kawayan, Biliran side was already widened.
This is the second bridge widening project implemented in this province. The first bridge widening is Anas Bridge in Naval, Biliran which is presently implemented by the DPWH Regional Office under FY 2017 budget.
DPWH-Samar I completes flood control structures along Panlayahan Creek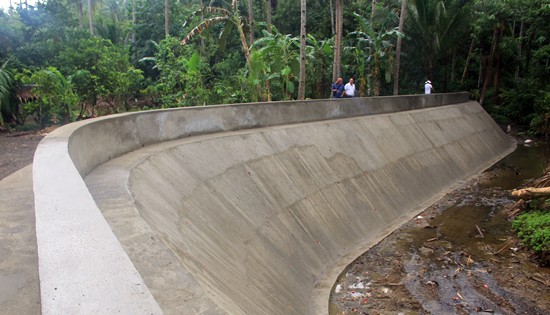 By CHENZI MAY D. UY
August 23, 2019
CALBAYOG CITY – Torrential rains cause surface water to overtop the channels of Panlayahan Creek, which spill onto the adjacent road and nearby settlements.
Needless to say, the flooding is a perpetual problem for some of the residents of Barangay Panlayahan in Calbayog City, Samar.
To address the plight of Calbayognons in this part of the city, DPWH-Samar First District Engineering Office (SFDEO) has constructed reinforced concrete flood control structures along said creek, totalling 213 linear meters.
The project, amounting to P20 million, was completed way ahead of schedule. It is one of the first projects awarded under the General Appropriations Act (GAA) of 2019 completed by the DEO.
4 perish in Calbayog City encounter
By DPAO, 8ID PA
August 23, 2019
CAMP LUKBAN, Catbalogan City – A total of four (4) combatants consisting of two (2) soldiers from 43IB and two (2) terrorist New People's Army died in an encounter at the vicinity of Brgy Olera, Calbayog City, Samar, today, 7:15 A.M.
Seven (7) members of the terrorist NPA led by Salvador Nordan aka Badok/Gahi under Sub-Regional Committee Emporium while collecting extortion money and food stuff from the populace, armed with high powered firearms were caught in the act by troops of 43IB which resulted to the encounter that lasted for almost two (2) hours.
Government troops held their ground thereby prompting NPA terrorists to run away in different directions leaving behind their two (2) dead comrades. The troops recovered in the scene, two (2) dead NPA terrorists and two (2) M14 Rifles, while the 43IB troops initially sustained three (3) Wounded-in-Action (WIA) who were immediately evacuated for proper treatment. Two of the WIAs were later declared dead on arrival at the nearest hospital. With the consent of their next of kin, their remains will later be interred after being accorded due honors for their heroism. There were also other NPA terrorists who were wounded from the encounter.
Meanwhile, troops coordinated with local officials and PNP-SOCO for the identification and proper disposition of dead bodies of NPA terrorists. The Tactical Operations Wing Central (TOWCEN), Philippine Air Force provided air support and casualty evacuation to the entire operation.
Maj. Gen. Pio Q. Diṅoso III AFP, Commander, 8ID, Philippine Army in his statement said, "It is very sad to note that with the sacrifice of two soldiers, two more NPA terrorists who are victims of deception also died for a senseless cause, wasting their lives in their failed armed revolution. I encourage the remaining New People's Army to abandon their armed struggle, lay down their arms and return to the mainstream of society in the comfort of their families and friends. The Stormtroopers Division is willing to help NPA terrorists who wish to surrender and avail the Enhanced Comprehensive Local Integration Program (E-CLIP) being offered by the government."
"In the pursuit of Executive Order 70, the Regional Task Force to End Local Communist Armed Conflict in Eastern Visayas focuses on its effort to address the root causes of insurgency through the Whole of Nation Approach" Diṅoso added.
P92-M revetment protects coastal community in San Joaquin, Calbayog City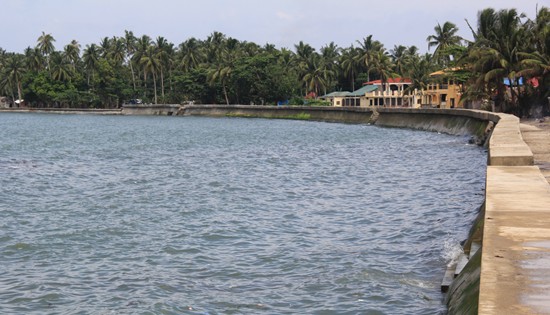 By CHENZI MAY D. UY
August 23, 2019
CALBAYOG CITY – The coastal community of Barangay San Joaquin in Calbayog City, Samar are now better protected against strong waves and floods with the completion of an 872-linear-meter revetment. The structure was erected at a height of about three (3) meters to arrest the strong waves that hit the shore.
The newly constructed revetment, which amounts to P92 million, provides coastal erosion defense and protection of lives and properties along the coast, according to the Department of Public Works and Highways Samar First District Engineering Office.
San Joaquin is home to over 6,100 people or around 1,200 households, many of whom are situated near the sea.
One of the coastal residents, Willie Alvarez Francisco, 67, says the high tide brings seawater inside their home and their situation becomes more precarious whenever there's a weather disturbance.

District Engineer Gerald Pacanan, Construction Chief Norberto Boco and Quality Assurance Section OIC-Chief Cielo Barcelo discuss with the representative of the contractor about the project implementation.
P39.2 million road networks to link Leyte villages
By DPWH 2nd LED
August 23, 2019
BARUGO, Leyte – A total of P39.2 million has been allocated for the construction of Minuhang (Baluarte)-Balud and Balud-Duka road in Barugo, Leyte, the Department of Public Works and Highways (DPWH) Leyte Second district engineering office reported.
With the 154.8 meters bridge with a width of 7.32 meters, residents of Minuhang, Balud, and Duka could easily transport their agricultural and marine products.
According to District Engineer Gerald Pacanan, the construction of this project aims to support the Barugo Eco Zone and improve trade, investment, employment, education and overall progress in the said town.
"Once completed, this road network would provide access to all kinds of vehicles, thus, transportation of commodities will be easier and cheaper. Moreover, this would also grant safer and shorter travels for students in going to and from their schools," he added.
This road network is located along the Bagahupi-Babatngon-Sta. Cruz-Barugo-Carigara national highway.
Moreover, the project will also serve as an alternate route in the event that Palo-Carigara-Ormoc road is not passable.
The access road is targeted to be completed before the year ends.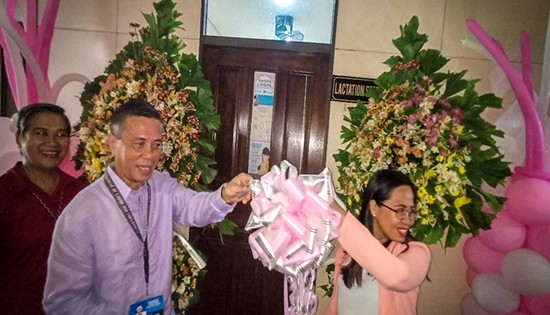 NMP Key Officials lead the launching of the NMP Lactation Station.
NMP launches new lactation station
By National Maritime Polytechnic
August 22, 2019
TACLOBAN CITY – Pursuant to Republic Act No. 10028, also known as the Expanded Breastfeeding Promotion Act of 2009, mandating the establishment of breast feeding facility in public places and facilities, as well as in government and private workplaces, the National Maritime Polytechnic (NMP) launched its lactation station located at the 2nd Floor of the NMP Administration Building, Cabalawan, Tacloban City on 19 August 2019.
A perfect gift for NMP's working mothers and female clients, just in time for the observance of the National Breastfeeding Awareness Month this August, the launching of the NMP's lactation station intends to highlight the importance of breastfeeding which has proven to have a lot of beneficial effects not only to babies but also to mothers.
The institution of the lactation station is in support of the State's policy to protect working women by providing safe and healthful working conditions, taking into account their maternal functions, and such facilities and opportunities that will enhance their welfare and enable them to realize their full potential in the service of the nation.
It is also part of the localization of the Magna Carta of Women (MCW) which aims to address the practical gender needs of working mothers. NMP lactation station is adequately provided with the necessary equipment and facilities, such as comfortable seat; refrigerator for storing expressed breastmilk; lavatory for hand-washing; purified water for drinking; and electric fan for ventilation and is open during weekdays from 8AM to 5PM.
Moreover, in order to raise public awareness on the importance of and to further promote breastfeeding, a Seminar-Lecture on Breastfeeding was facilitated by the NMP Gender and Development (GAD) Committee. Resource Speakers were Ms. Felecita R. Borata and Ms. Kristel Agote from the Department of Health (DOH) Eastern Visayas.
Ms. Borata expressed her appreciation on NMP's effort of establishing a mother-baby friendly workplace and for promoting, protecting, and supporting breastfeeding.
The lecture highlighted the many benefits of breastfeeding to women and children and the proper positioning and attachment for effective breastfeeding. It was also emphasized that one of the factors that contribute to the success of breastfeeding is the existence of mother's support group (husbands, relatives, and friends).
The activity was attended by NMP personnel and some residents and barangay officials of Brgy. Cabalawan, Tacloban City.


Equipment and facilities inside the NMP Lactation Station.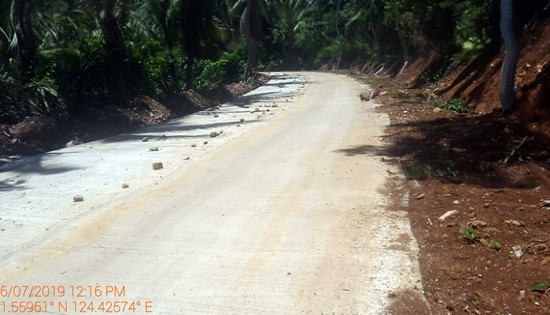 P18.29M improvement of access road leading to trades, industries and economic zones CarayCaray-Cabungaan-Libtong Road in Support of the Agribusiness: Food and Resource-Based Processing in Brgy. Libtong, Naval, Biliran is on-going with 60% accomplishment as of June 30, 2019. The project was started on July 31, 2019 [sic] under contract with MB Ang Construction and Supply. Its completion date is on January 05, 2020.
Road connectivity for industry and trade in Biliran underway
By DPWH-Biliran
August 21, 2019
NAVAL, Biliran – "More road projects leading to trades, industries, and economic zones in Biliran are underway", David P. Adongay Jr., District Engineer of Biliran District Engineering Office (DEO) reported.
The Department of Public Works and Highways (DPWH) in convergence with the Department of Trade and Industry (DTI) has identified and prioritized six road connectivity for industry and trade in the province.
According to Adongay, three projects under 2019 Regular Infrastructure Program are now on-going.
The head of Biliran DEO said that among the prioritized projects for road improvements are the access roads in Villa Caneja connecting to Sitio Kahukaw in support of its cassava, kamote, and ginger food and resource-based processing (P19.29M), the road from the National Road Junction (NRJ) in Villa Consuelo connecting to Libtong Road in support of its coco sugar, turmeric, banana chips, cacao, and ginger-based processing products (P17.35M) and the improvement of access road from Caraycaray-Cabungaan-Libtong Road in support of its cassava, kamote and curioso-based processing (P18.29M), all in Naval town.
"These projects will be implemented under multi-year funding from 2018-2022, except for the improvement of access road in Villa Caneja connecting to Sitio Kahukaw which will be implemented from year 2018-2019," Adongay revealed.
Moreover, three projects in lined under 2019 Local Infrastructure Projects (LIP) are soon to be implemented. These projects are the P9.6M Road Concreting from Brgy. Masagaosao Core Road connecting to Masagaosao Community Based Forest Management (CBFM) Farmers Association in Kawayan town in support of its food and resource-based processing (coconut, cacao and coffee), the P9.6M Rehabilitation/ Improvement from Sitio Buri to Brgy. Ungali Core in Kawayan town in support to its banana and coconut food and resource-based and the P30M Road Concreting of P.S. Eamiguel to Brgy. Imelda Road in Naval town in support of their native delicacies such as puto cheese, sampilo, moron, and empanada.
Adongay said that these projects will be monitored for fast completion in accordance with DPWH quality and standards.
"With better roads leading to trades and industries, more locals will be encouraged to do business that in return will create an additional livelihood and income," said Adongay.

Ongoing construction of Multi-Purpose Building in Brgy. Saljag, Calbayog City.
P31-M multi-purpose buildings to rise in Calbayog
By JASON DELOS T. ANGELES
August 21, 2019
CALBAYOG CITY – Thirteen multi-purpose buildings are set to rise in Calbayog City, with a combined allocation of P31 million under the 2019 DPWH infrastructure program of DPWH Samar First District Engineering Office.
These MPBs are located in the following barangays: Rawis, Bagacay, Hamorawon, Cagboborac, San Joaquin, San Rufino, San Policarpo National High School, Saljag (Phase I), Matobato (Phase I), Caglanipao Sur (Phase II), Basud (Phase II), Capoocan (Phase II), Jose Roño (Phase II).
MPB projects in Calbayog will provide a decent venue for all community-based, socio-cultural and economic activities within the aforementioned barangays. On the other hand, it will serve as temporary shelter to the families affective during times of man-made and natural calamities.
As of August 2019, the Multi-Purpose building projects in Calbayog are near completion based on data gathered. All projects are estimated to be accomplished within the year.
Karapatan: Intensified police presence in campuses, an attack on academic freedom & prelude to military take-over of schools
By KARAPATAN
August 21, 2019
QUEZON CITY – Rights alliance Karapatan rejects former Philippine National Police (PNP) chief and Senator Roland "Bato" dela Rosa's proposal to enact a law that will allow intensified police visibility in campuses, as well as the PNP's calls to review the Soto-Enrile Accord which, if invalidated, pose grave threats to academic freedom and democratic rights.
"Bato does not want critical students. He wants robots like leaders of the Duterte Youth who follow orders without questions, and he proposes to do this by terrorizing schools," said Karapatan secretary general Cristina Palabay, in response to Bato's proposal to allow police elements inside schools.
"After miserably failing to turn public opinion in relentlessly attacking and demonizing activists for encouraging the youth to join the struggle for human rights and social justice, the state forces now want to infiltrate schools in order to suppress dissent. We at Karapatan strongly oppose Bato's proposal to allow intensified presence and visibility of the state forces in schools. A law of such kind will provide the groundwork for the wholesale violation of academic freedom and the constitutionally-granted rights to organize and free expression, and the placement of campuses in the country under a de facto martial law. It seems that the only thing that this government knows is to perpetrate fear mongering and relentless militarization, rather than addressing the legitimate grievances of the people which lie at the root of dissent," added Palabay.
Dela Rosa expressed his intentions to push for the heightening of police presence in campuses to supposedly protect minors and the youth from the "communist indoctrination" and recruitment of "left-leaning" organizations in schools. Furthermore, according to PNP spokesperson Brigadier General Bernard Banac, the PNP's call for heightened presence in campuses is part of the counterinsurgency operations of the National Task Force to End Local Communist Armed Conflict.
According to Palabay, by using the very pretext of counterinsurgency, the PNP is explicitly stating its intentions to violate international humanitarian law which prohibits armed elements from operating in schools and using them as bases for armed conflict while they are being used for educational purposes – thereby exposing the state's willingness to endanger the lives of the youth and commit human rights violations to just achieve its fascist ends.
"It doesn't come as a surprise, however, that Bato proposes a measure which violates human rights and international humanitarian law. Let us remind him that his hands are bloodied with countless human rights violations, with the blood of students and young Filipinos such as Kian Loyd Delos Santos, Myka Ulpina, Skyler Abatayo, and thousands more who have been killed under this regime's drug war. Bato cannot pretend to care for the lives of the youth when he has perpetrated the arbitrary killing of our Filipinos. He and this government have caused irreparable damage to the lives of Filipino families," reminded Palabay.
The Karapatan official expressed that "the fascist state doesn't even distinguish unarmed activists and armed combatants in its communist witch-hunt. By red-tagging activists and legal mass organizations, the state is maliciously designating unarmed activists and human rights defenders as terrorists and parties to armed conflict, therefore legitimizing state violence against activists. This is dangerous as we all have seen this regime's bloodlust and readiness to kill, violate rights, and arbitrarily dismiss the dignity of Filipinos," Palabay stated further.
Along with calls to revive the Anti-Subversion Law, the Karapatan official also warned that the proposal to allow the police to freely enter campuses sends a chilling effect to schools, students, faculty, and administrators who are critical of the regime's anti-people policies.
"Allowing the police to freely enter and infiltrate campuses places the lives of student activists and organizations, faculty members, and administrations at risk of being placed under massive surveillance, intimidation, and harassment from state forces – even if state forces have been known to conduct such even without the approval of school administrations. Coupled with an Anti-Subversion Law, it is the perfect recipe for a de facto martial law situation in schools. It really is meant to silence dissent. A student criticizing the fascist regime or a professor teaching Marx and critical texts in a class can be tagged as a subversive and be expelled, or worse, abducted, arbitrarily arrested, even killed, by state forces," Palabay said.
Karapatan instead urged the government to uphold academic freedom and democratic rights rather than resorting to campus repression by addressing the concerns of activists, as well as the root causes of armed conflict.
"Activism and social unrest thrive because the government refuses to listen to the demands of the people; activism thrives because the government answers the people's legitimate demands with guns and bullets. Duterte, Bato, and their lapdogs in the AFP and PNP should not wonder, then, why more and more youth are joining the ranks of activist groups. Repression begets resistance, and Duterte's fascist policies are only giving the people more reasons to fight back," the Karapatan official ended.
New wage hike for Eastern Visayas workers takes effect
By DOLE-8
August 20, 2019
TACLOBAN CITY – As Wage Order No. RB VIII-21, "Prescribing New Minimum Wage Rates for Eastern Visayas", takes effect on August 18, 2019, the Department of Labor and Employment Regional Office VIII urges employers to immediately comply.
Director Yahya A. Centi, DOLE RO VIII Director and Chairman of the Regional Tripartite Wages and Productivity Board (RTWPB), happily announced in an interview with media practitioner the effectivity of the new wage order.
"After all the region-wide consultations with different sectors, I am happy to announce that the wait is finally over. Our new wage order is now effective", said Centi.
Director Centi informed that the regional wage board has done its best effort for the welfare of the workers while still considering the employers' side.
"As chairman of the board, I can say that we have done what's best for both our labor and management sector in so far as wage-fixing is concerned. Having considered the current socio-economic indicators in our region, we are able to derive the new minimum wage", Centi added.
With the effectivity of Wage Order No. RB VIII-21, workers in the private sector in Region VIII shall receive a basic wage increase of P20.00 per day to be given in two tranches as follows: P10.00 per day for the first six months from effectivity and additional P10.00 per day starting on the seventh month from effectivity.
Effective August 18, new minimum wage rates for Region VIII for the first six (6) months will be as follows: P315.00 for workers under Non-Agriculture and Retail/Service establishments employing 11 workers and above; P285.00 for workers in Cottage/Handicraft, Agriculture and Retail/Service establishments employing 10 workers and below.
After successfully issuing the new wage order, Director Centi urged all private employers to comply.
"We in the labor department are now calling all our employers in the private sector to adhere to the new order. This is our gift for our minimum wage earners who significantly contribute to your respective businesses here in Eastern Visayas, so please comply immediately", Centi said.
The wage order was approved on July 22, 2019 by the RTWPB VIII, composed of Director Centi (Chairman), NEDA VIII OIC-Regional Director Meylene C. Rosales (Vice-Chairperson), DTI VIII OIC-Regional Director Celerina T. Bato (Vice-Chairperson), Mr. Orlando C. Uy (Employers' Representative), Atty. Miguel T. Tezon and Mr. Efren M. Gabriola (Workers' Representative). It was published at Leyte Samar Daily Express last August 3, 2019.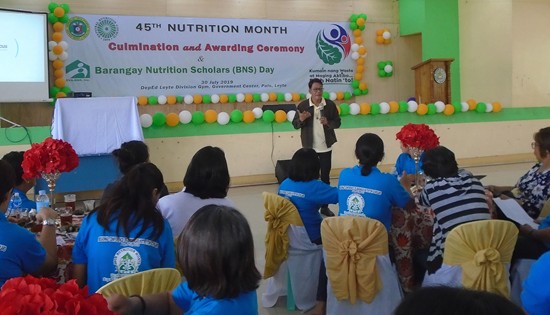 RNPC Dr. Catalino P. Dotollo Jr. delivers an inspirational message to the frontline workers of nutrition during a Barangay Nutrition Scholar (BNS) Day on July 30, 2019.
BNS Day caps 2019 Nutrition Month celebration
By JACK C. GADAINGAN
August 19, 2019
GOVERNMENT CENTER, Palo, Leyte – About 200 Barangay Nutrition Scholars (BNSs) from around Eastern Visayas' six provinces gathered here at the Department of Education (DepEd) Leyte Division Gymnasium to mark their being front-liners in the battle against malnutrition in Region 8 on July 30, 2019.
The half-day activity capped the Nutrition Month celebration of July carrying the theme: "Kumain ng Wasto at Maging Aktibo…Push Nation 'to!" And as the theme directed the serious discussions of the gathering was mixed with more fun activities – all involving physical activity.
Ullasini J. Pangan, Nutrition Officer II of National Nutrition Council Region VIII (NNC-8), tackled a brief discussion on the Nutrition Month Key Messages, wherein she emphasized for everyone to have ONE hour or more of physical activity every day, to reduce screen time (use of gadgets, TV and computers) to TWO hours or less each day, and to eat the THREE food groups every day for variety;
Niño Archie S. Labordo, NNC-8 Nutrition Officer III, the Outstanding Barangay Nutrition Scholar Journey where he revealed that this year Region 8 has a contender to the national level for the Outstanding BNS, as he urged the congregation to strive to become as well; and
Dr. Catalino P. Dotollo Jr., NNC-8 Regional Nutrition Program coordinator, the inspirational message – during which he congratulated each one for a successful event and for their efforts in uplifting the regional nutrition situation.
Lydia O. Nuñez, Eastern Visayas Association of Barangay Nutrition Scholars (EVA-BNS) president, welcomed the BNSs and thanked them for their attendance and continued support of the BNSs Body as well in the fight against malnutrition in the region; Patrocenia De Cadiz, EVA-BNS treasurer provided the closing message.
The fun games of the BNS Day – highly entailing physical activities were divided into Solo Game, Group Game, and 3N1 Dance Contest: the Solo Game were Sipa, Limbo Rock, Hula-Hoop Defying Gravity, Piko, Tsato and Sangkayaw; the Group Game were Patintero, Sack Race, Dodgeball and Tug of War; and the 3N1 Dance Contest were Cha-cha, Boogie and Tango.
First quarter fishery production in Eastern Visayas grows by 15.7%
By PSA-8
August 19, 2019
TACLOBAN CITY – The fishing industry in Eastern Visayas' expanded as the region's total fish production went up to 30,907 metric tons (MT) during the first quarter in 2019 from 26,704 MT in the same quarter in 2018, posting an increase of 15.7 percent.
In the first quarter of 2019, Eastern Visayas ranked sixth among the regions with low fishery production in the country with 3.0 percent contribution to the country's total fishery production.
Among provinces, Samar recorded the highest volume of fish production at 13,675 MT, comprising 44.2 percent of the total fishery production in the region. Leyte ranked second at 7,520 MT, accounting for 24.3 percent of the region's total fish production. Southern Leyte, meanwhile, had the lowest volume of production at 1,219 MT which shared only 3.9 percent.
Volume of production in commercial fishing went up by 44.8 percent, from 3,684 MT in the first quarter of 2018 to 5,336 MT in the same quarter of 2019. Samar and Biliran contributed to the increase in the production in commercial fishing with growths posted at 102.1 percent and 24.8 percent, respectively.
The rest of the provinces registered decreases with Southern Leyte posting the biggest decline of 52.8 percent. Northern Samar, meanwhile, retained its volume of production in the first quarter of 2018 at 477 MT.
Similarly, the region's total volume of production in municipal fishing (marine and inland) registered an increase of 31.4 percent, from 14,776 MT in the first quarter of 2018 to 19,416 MT in the same quarter of 2019. All provinces registered increases in municipal fishing, except Northern Samar, which recorded a slight decline of 0.5 percent. Leyte recorded the highest increase of 156.5 percent, from 2,272 MT in the first quarter of 2018 to 5,829 MT during the first quarter of 2019.
Among provinces, Leyte posted the highest contribution to the total municipal fishery (marine and inland) production in the region with 30.0 percent share or 5,829 MT. Samar ranked second with 5,463 MT accounting for 28.1 percent. Southern Leyte, meanwhile, registered the lowest contribution with 5.8 percent share or 1,127 MT during the first quarter of 2019.
Meanwhile, volume of production in aquaculture recorded a decline of 25.3 percent, from 8,244 MT in the first quarter of 2018 to 6,155 MT in the same period of 2019. Eastern Samar and Northern Samar exhibited growths in production with Eastern Samar registering the highest increase of 28.6 percent. The rest of the provinces registered decreases with Leyte recording the highest decline of 49.2 percent.
More than three fifths or 62.8 percent (19,416 MT) of the total fishery production in the region were from municipal fishing. Aquaculture contributed 19.9 percent (6,155 MT), while commercial fishing accounted for 17.3 percent (5,336 MT).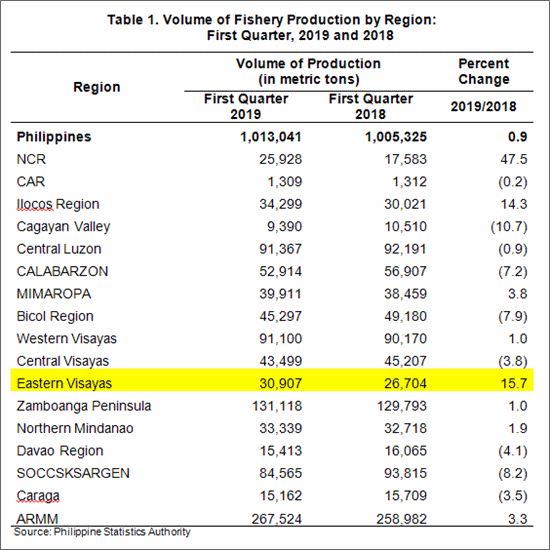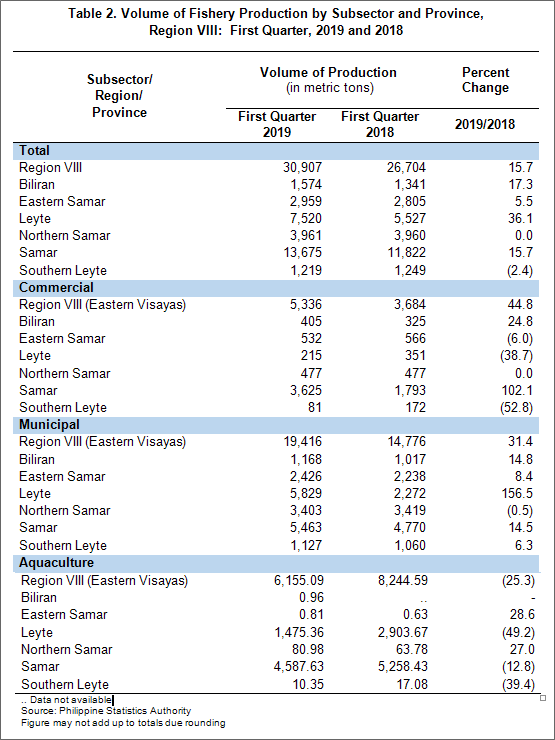 Inflation rate in Eastern Visayas remains at 1.5% in July 2019
By PSA-8
August 18, 2019
TACLOBAN CITY – The Inflation Rate (IR) in Eastern Visayas remained at 1.5 percent in July 2019. This figure is 4.4 percentage points lower compared with the 5.9 percent IR recorded in the same period last year. The regional inflation rate is 0.9 percentage point lower than the 2.4 percent national average in July 2019.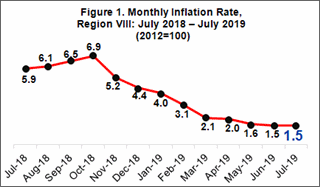 The provinces of Biliran, Southern Leyte and Samar registered lower IRs in July 2019 compared with their figures in the previous month. Biliran recorded the biggest drop of 2.1 percentage points, from 0.2 percent in June 2019 to -1.9 percent in July 2019.
On the other hand, Leyte registered a 0.5 percentage point increase in IR, from 3.2 percent in June 2019 to 3.7 percent during the reference month. Eastern Samar inched up by 0.1 percentage point, from 1.0 percent a month ago to 1.1 percent in July 2019.
Northern Samar, meanwhile registered zero inflation rate during the month in review. Among the provinces, Biliran posted the lowest with negative IR at 1.9 percent. Leyte, meanwhile, recorded the highest IR during the month in review at 3.7 percent (Table 1).
Majority of the commodity groups in the region exhibited higher IR in July 2019 compared with their rates in June 2019. These were however offset by the decreases recorded in housing, water, gas, electricity and other fuels; food and non-alcoholic beverages; and transport commodity groups.
Housing, water, gas, electricity and other fuels commodity group registered the biggest drop of 2.4 percentage points, from 1.1 percent in June 2019 to -1.3 percent during the month in review. This can be attributed to the huge decrease in the index for electricity, gas and other fuels.
The heavily weighted food and non-alcoholic beverages declined to 0.7 percent in July 2019 from its previous month's rate of 1.5 percent, a drop of 0.8 percentage point. Lower IRs were noted in majority of the items. Fish and vegetables registered the highest decrease of 2.1 percentage points pushing their IRs to 0.6 percent and 6.5 percent, respectively. Fruits and rice indices continued to register negative IRs at 5.0 percent and 3.4 percent, respectively.
Transport commodity group eased down to 3.3 percent during the reference month from 3.7 percent in June 2019.
On the other hand, education commodity group increased to 5.3 percent during the month in review, 21.7 percentage points higher compared with the -16.4 percent IR in June 2019. This can be traced to higher IRs in the indices in all levels of education: pre-primary and primary education; secondary education; and tertiary education.
IR for alcoholic beverages and tobacco commodity group went up to 5.0 percent in July 2019 from 4.1 percent in June 2019.
IR for restaurants and miscellaneous good and services commodity group also increased by 0.8 percentage point, pushing its IR to 4.0 percent during the month in review.
Increased IRs were also noted in the commodity groups of furnishings, household equipment and routine maintenance of the house; recreation and culture; clothing and footwear; and communication, with IRs posted at 6.7 percent, 4.5 percent, 3.4 percent, and 1.3 percent, respectively.
The Purchasing Power of Peso (PPP) of the region remained at P0.80 in July 2019. This PPP implies that P100.00 in 2012 (base year) is worth P80.00 only in July 2019.
Biliran posted a P0.03 increase in PPP compared with its figure in June 2019, while Northern Samar and Samar's PPP strengthened by P0.01. The rest of the provinces sustained their PPP last month. Biliran recorded the strongest PPP at P0.84. Southern Leyte ranked second at P0.82, followed by Leyte at P0.81 and Eastern Samar at P0.79. Northern Samar and Samar posted the weakest PPP at P0.77.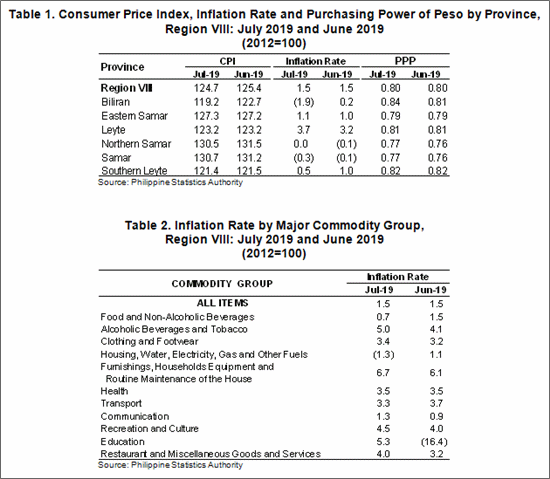 8ID condemns killing of barangay captain in Hilongos, Leyte
By DPAO, 8ID PA
August 18, 2019
CAMP LUKBAN, Catbalogan City – A certain Virigilio Loquias, of legal age and married, Barangay Captain of Brgy Sto Niño, Hilingos, Leyte, was killed by three (3) Communist NPA Terrorist (CNTs) while fishing at locally known as "Pahubas" together with his wife and father-in-law on August 15, 2019 1:30 p.m.
The said barangay captain suffered multiple gunshots that caused his instantaneous death. According to the witnesses, the group of CNTs ordered him to lie on his stomach and declared judgement to the said victim saying "Dako kayo ni sala kay mao ni nagpa-raid sa among Kampo" (This person has a grave offense to our organization as he is the cause that our camp has been raided).
The killing of barangay captain Loquias is another proof of desperation of Communist NPA Terrorists that they resorted in this barbaric act to terrorize the communities that are no longer supportive to their dying movement.
Maj. Gen. Pio Q Diñoso III AFP, Commander 8ID, Philippine Army in his statement said that, "The 8ID strongly condemns the murder of Barangay Captain Virgilio Loquias perpetrated by the members of CPP-NPA Terrorists and a clear manifestation of gross violation in Human Rights."
"Your Philippine Army together with the Philippine National Police will be objective in its investigation to ensure that justice is served. We extend our condolences and prayers to the bereaved family in this difficult time," Diñoso added.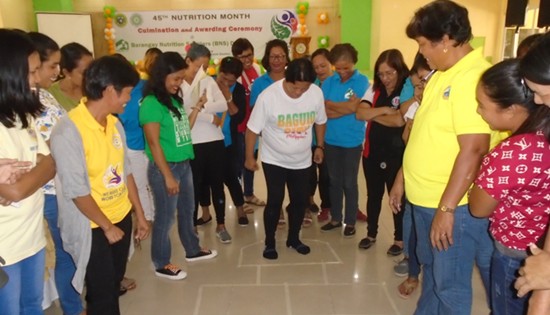 SANKAYAW. Expectators shrill in excitement watching the BNS Solo-Game Sankayaw, a contest won by Lylanie Pamapor of Samar Province.
Nutrition Month contests and winners
By JACK C. GADAINGAN
August 17, 2019
TACLOBAN CITY – Marking of the 45th Nutrition Month with the theme: "Kumain nang Wasto at Maging Aktibo…Push Natin 'to!" encouraging to eat healthy diets and espousing active lifestyle by disengaging sedentary behavior, inspired the frontline nutrition managers in Eastern Visayas headed by the National Nutrition Council Region VIII (NNC-8) to list a number of contests – all entailing physical activity as among the highlights of the month-long July celebration.
The recognition and awarding of the contest winners was conducted during the "45th Nutrition Month Culmination and Awarding Ceremonies" on July 30, 3019 held at the Department of Education (DepEd) Leyte Division Gymnasium, Government Center, Palo, Leyte.
NUTRIMAZING RACE, a team contest of eight stations conducted during the Nutrition Month launching on July 5 result: First Place - Leyte Metropolitan Water District, team members John Paul Go, Ranulfo Gamba and Joanne Pacunla, bagging a plaque and P3,000 cash; 2nd Place - Department of Budget and Management 8, team members Neuman Gallardo, Arnel C. Yboa and Carl Patrick Bernardo, bagging a plaque and P2,500 cash; and 3rd Place - Eastern Visayas Regional Medical Center, team members Weinona M. Ligason, Maria Dyna Rose Abrenio and Rolan Jose M. Fua, bagging P1,500.
NUTRIVIDEO CONTEST, a month-long video contest posted on social media: Most Liked and Shared (1077) - Commission on Audit, bagging a plaque and P1,000 cash; Best in Choreography - Land Transportation Office 8, bagging a plaque and P1,000.
NUTRIJNGLE CONTEST, likewise a month-long contest posted on social media: First Place - NUTRISONG by Ginataan Medley, bagging P2,000; 2nd Place - Gulay Sensation by Burauen National High School, bagging P1,500; 3rd Place - PUSH NATIN TO! By Promiseland Educational Academy, bagging P1,000; and Most Liked and Shared - Guly Sensation by Burauen National High School.
BNS LARO NG LAHI, conducted as among the activities during the Barangay Nutrition Scholar (BNS) Day on July 30, 2019.
Individual Games each game bagging P300: SIPA - Southern Leyte Province by Fedelina Mendiola, winner; LIMBO ROCK - Leyte Province by Wilma Sumaste, winner; HULA-HOOP DEFYING GRAVITY - Southern Leyte by Shirley Candelaria, winner; PIKO - Samar Province by Analiza Salamida, winner; TSATO - Eastern Samar by Val Cabus, winner; and SANKAYAW - Samar Province by Lylanie Pamapor, winner.
Group Games with each game bagging P1,200: SACK RACE - Leyte Province, winner; DODGEBALL - Eastern Samar, winner; and TUG OF WAR - Leyte Province, winner.
BNS DANCE CONTEST: First Place - Leyte Province, bagging P4,000; 2nd Place - Catbalogan City, bagging P3,000; and 3rd Place - Baybay City bagging P2,000; non-winning contestants bagged P500 each pair as consolation prize. Judges for the NUTRIVEDIO, NUTRIJINGLE and BNS DANCE contests were: Mr. Eulogio A. Plameran Jr., PLTCOL Anabel Roche and Ms. Winderose Oliverio.

Personnel of the Department of Agrarian Reform orient members of various agrarian reform beneficiary organizations (ARBOs) and Pantawid Pamilya recipients throughout Eastern Visayas about the Convergence on Livelihood Assistance for ARBs Project (CLAAP).
DAR seeks funding for 102 livelihood proposals of ARBs in EV
By JOSE ALSMITH L. SORIA
August 16, 2019
TACLOBAN CITY – The Department of Agrarian Reform (DAR) in Eastern Visayas in now waiting for the downloading of funds after it has submitted more than a hundred livelihood proposals from agrarian reform beneficiaries (ARBs) throughout the region for funding under the Convergence on Livelihood Assistance for ARBs Project (CLAAP).
DAR Regional Director Sheila Enciso disclosed that a total of ₱55.450-M is needed to finance the 102 various livelihood or micro enterprise proposals to be benefited by no less than 2,218 ARBs, smallholder farmers and farmworkers from the six provinces of Region 8.
Once the requested fund is downloaded from the Central Project Monitoring Unit, the DAR provincial offices can start with the procurement process and at the same time conduct the identified appropriate capacity development trainings specified in the respective project proposals, she added.
Enciso explained that the fund will be taken from the Department of Social Welfare and Development's (DSWD's) Sustainable Livelihood Program (SLP) wherein ₱1-B has been allocated for the successful implementation of the CLAAP.
Early in 2018, the two government agencies entered a partnership agreement to provide livelihood assistance to ARBs through ARB organizations (ARBOs) by clustering them with members of the Pantawid Pamilya recipients of the DSWD who have not availed yet of any assistance under the SLP.
Each cluster member, Enciso clarified, will be provided with a seed capital of P15,000 to start a micro enterprise based on the submitted livelihood proposal by his/her cluster. A separate P10,000 will be provided for the capacity development trainings to prepare the recipients in their livelihood venture.
This project is expected to improve household income of the farmers particularly the agrarian reform beneficiaries by expanding and increasing their access to economic opportunities.
Meanwhile, Assistant Regional Director for Agrarian Reform Beneficiaries Development and Sustainability Program, Ismael Aya-ay, further disclosed that among the micro-enterprises the 102 clusters would like to engage in are: hog raising, swine production, broiler and layer poultry production, fertilizers and pesticides trading, and rice trading.
He also shared that of the 2,218 who signified interest to avail of the said government assistance, 1,371 ARBO members and pantawid pamilya recipients divided into 63 clusters are from Leyte.
While 248 ARBO members and pantawid pamilya recipients divided into eight clusters are from Biliran; 135 ARBO members and pantawid pamilya recipients divided into eight clusters are from Southern Leyte; 139 ARBO members and pantawid pamilya recipients divided into seven clusters are from Eastern Samar; 195 ARBO members and pantawid pamilya recipients divided into 10 clusters are from Northern Samar; and 130 ARBO members and pantawid pamilya recipients divided into six clusters are from Western Samar, Aya-ay further shared.

ASIN SUMMIT. Felecita R. Borata, DoH-8 Regional Nutrition Program Manager, tackles the "Iodine Prevention and Control Program," during the Asin Summit on July 26, 2019.
'Asin' Summit conducted in Eastern Visayas region
By JACK C. GADAINGAN
August 16, 2019
TACLOBAN CITY – Iodine deficiency remains the single greatest cause of preventable brain damage and mental retardation. Insufficient intakes of iodine during pregnancy and early childhood result in impaired mental development of young children. So that iodization of table salt is mandated by law as it is one of the best and least expensive methods of preventing micronutrient malnutrition in the country, particularly Iodine Deficiency Disorder (IDD).
Felecita R. Borata, Department of Health Region VIII (DoH-8) Regional Nutrition Program Manager, revealed this during the "Asin Summit" conducted on July 26, 2019 at the Department of Education (DepEd) Leyte Division Gymnasium, Palo, Leyte.
The one-day event, a part of July 2019 Nutrition Month celebration activities, was attended by municipal health officers (MHOs), provincial, city and municipal nutrition action officers (P/C/MNAOs), nutritionists/dieticians and rural sanitary inspectors (RSI) from around Eastern Visayas region. Also in attendance were a group of salt-traders from Tacloban City, representatives from government nutrition-partner agencies, nongovernment nutrition organizations, and the media.
Borata tackled the subject "Iodine Prevention and Control Program," where she scrutinized and explained to the audience the intentions of Republic Act No. 8172 or: "An Act Promoting Salt Iodization Nationwide and for Related Purposes (Asin Law)." Saying that Salt Iodization strategy has been implemented in most countries where iodine deficiency is a public health problem.
The law (RA 8172) intends to ensure that only iodized salt shall be available in the market for human and animal consumption, thereby it requires salt producers/manufacturers, importers, to iodize from 30 to 70 (mg/kg) or parts-per-million (ppm) the salt they manufacture, produce, distribute, trade and/or import, as well as the law further requires salt re-packers to repack and sell only iodized salt.
In Eastern Visayas, the Regional Bantay Asin Task Force (RBATF) is the body mandated to ensure the sustainability of the ASIN Law implementation – as well as to guarantee the iodization of all salt being produced, sold or traded, and utilized in the region. The body is composed of the DOH, NNC, DOST, DTI, PNP, DENR, FDA, PPA, PIA and LGUs among others.
The RBATF for the summit, reported that during a Post Marketing Surveillance on Iodized Salt from seven establishments conducted on November 6, 2018, result of the analysis of salt-samples taken from seven salt establishments in the region failed; and again from another Post Marketing Surveillance on Iodized Salt conducted on November 7, 2018 on salt-samples taken from six establishments, only two passed while the rest failed again.
Considering the volatile characteristics of iodine, the RBTAF engrained some reminders to the congregation, particularly the asin traders, distributors and sellers – that in order to minimize avoidable losses of iodine, iodized salt should not be exposed to any of the following conditions during storage, transport and display: 1. direct sunlight or near source of strong light, 2. high temperature and humidity, 3. contamination with moisture (e.g. rain, flood, etc.), and 4. contamination with dust or filth from the environment.
Social ills, not teachers, to blame for student activism - ACT
Press Release
August 16, 2019
QUEZON CITY – The Alliance of Concerned Teachers (ACT) slammed Senator Bato dela Rosa and police chief Oscar Albayalde for "blaming teachers" for the "anti-government" sentiments of students and the youth, citing that "it is not the teachers' fault that poverty, corruption and human rights violations intensifies under the current administration."
News reports quoted Dela Rosa and Albayalde chiding teachers to 'just do their jobs and not make students turn against the government."
Dela Rosa in a senate hearing went as far as ask for the termination of employment of teachers who encourage students to join rallies. "The two officials are not in the position to lecture us on our jobs. Their stances show that they have very little appreciation of the objectives of education," said Joselyn Martinez, ACT National Chairperson.
Martinez explained that the constitution mandates schools to "teach patriotism, love of humanity, human rights, role of national heroes and history, rights and duties of citizens, ethical and spiritual values, moral character and personal discipline, critical and creative thinking, scientific and technological knowledge and vocational efficiency."
"It is not the teachers' fault if the government leadership acts in contrast to the values upheld by education. They should not blame us if the youth calls out the government for the ills that they see in the society. We are only doing our job," expressed Martinez.
Martinez hit dela Rosa and Albayalde for "demonizing activism and rallies which are basic constitutional rights of the people, including students and teachers."
"In the guise of attempting to curb armed rebellion, dela Rosa and Albayalde are in effect discrediting the fundamental rights of the people to free expression, self-organization and to protest. It is them who are not doing their jobs as being government officials, their constitutional duty is to respect and uphold such rights," said Joselyn Martinez, ACT Chairperson.
Martinez said that the government should not "find fault in teachers encouraging students to attend rallies" as rallies are "real-life events that hold many learnings for the students."
"It exposes our students to people from different walks of life who have grievances that are worth hearing. It helps broaden the youth's view of our society and offers education that cannot be learnt inside the classroom and from textbooks," said Martinez.
Martinez concluded by saying that "Rallying is not a crime. It appears that dela Rosa's and Albayalde's rants all boil down to this administration's intolerance of dissent. They should stop in their desperate bid to silence critics. We're in a democracy after all."
DOLE-8 trains SAMELCO II workers on OSH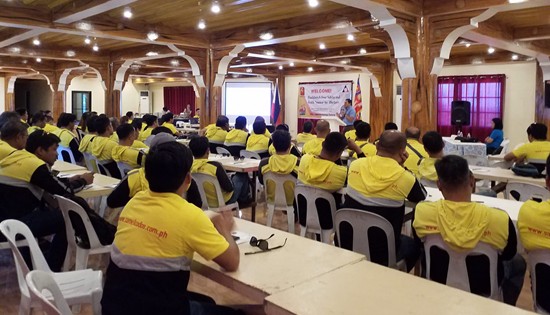 By NORMA RAE S. COSTIMIANO
August 15, 2019
TACLOBAN CITY – The Department of Labor and Employment Regional Office No. VIII through its Samar Field Office conducted a capacity-building activity for one hundred seventy-nine employees of Samar Electric Cooperative II (SAMELCO II) last July 25-26, 2019 at SAMELCO II, Paranas, Samar.
Under the Workers' Organization Development Program (WODP) of the agency, the participants availed of an 8-hour mandatory training on Safety and Health. Engr. Aleksei Ceasar D. Abellar, Senior Labor and Employment Officer and Officer-in-Charge of DOLE-SFO, discussed about the Introduction to Occupational Safety & Health and Department Order 198 or the Implementing Rules and Regulations of Republic Act No. 11058 entitled "An Act Strengthening Compliance with Occupational Safety and Health Standards and Providing Penalties Thereof".
Other important topics such as General Concept on OSH, Basic Safety Rules and Measurements for Workplace Hazards, Hazard Identification, Risk Assessment and Control and Defensive Driving were presented by Mr. Dominador B. Balagon, Jr., OSH Practitioner.
Participants were participative during the training and shared their real experiences on electrical works-related accidents. Ms. Olivia D. Cabaliza, Finance Manager and Officer-in-Charge of SAMELCO II, expressed her gratitude to DOLE for initiating and funding the activity.
"In behalf of SAMELCO II, I would like to thank DOLE for this training. I am so glad to share to you that we are the first to have undergone this kind of training among the power distribution cooperatives in Region VIII", said Ms. Cabaliza.
Ms. Cabaliza likewise committed that SAMELCO II will comply with all the safety rules and regulations. She said "We will do our best to implement and adhere to all the mandated safety and health standards".
On the second day, Ms. Maria Chulla B. Corpuz, Labor and Employment Officer I of DOLE-SFO, gave the SAMELCO II workers an orientation on Strengthening the Family Welfare Program in the Workplace. Participants were pleased to note that they can benefit from the said program.
Ms. Marilou C. Agbon, Human Resource Officer, happily informed that the Multi-Purpose Clinic of SAMELCO II is already being constructed and is intended to cater to the emergency medical needs of its workers and other concerns of women. She likewise mentioned that they plan to negotiate with the management for incentives to be awarded to workers who will practice family planning. (with reports from Engr. Aleksei D. Abellar)
Comeback of anti-subversion law, anti-terror law amendments add to Duterte gov't arsenal of repressive laws
By KARAPATAN
August 14, 2019
QUEZON CITY – "The restoration of the Anti-Subversion law will merely add to this government's arsenal of repressive laws. It will add another moniker to the Duterte government's many labels against critics and activists. From destabilizers, demons, enemies of the State, terrorists, here now comes the newest recycled label: subversives. All these serve the same goal – to legitimize repression and box critics into dangerous labels that lays down the pretext for state forces to persecute them," said Karapatan vice-chairperson Reylan Vergara on the proposal of Department of Interior and Local Government (DILG) Sec. Eduardo Año to restore the Anti-Subversion Law.
DILG's Año has cited the said measure as among the three most dangerous laws and policies that pose extreme risk to the democratic rights and freedoms of the Filipino people, with the amendments to the Human Security Act and Duterte's Executive Order No. 70. "Will these alleviate poverty and the worsening job crisis in the country? Will these resolve the cases of human rights violations committed by state forces in rural and urban areas? Will these lead to respect and defense of our national patrimony? No. These policies are all meant to silence critics who raise the aforementioned issues and demand accountability," said Vergara, adding that such measures do nothing to solve the causes of dissent and unrest in the country.
The Karapatan vice chairperson also slammed Año for continuing to push for the amendments to the Human Security Act, or Republic Act 9372. The DILG head said the HSA has not been used because "honest mistakes of law enforcers" are met with stiff fines and imprisonment. "Well, this so-called "honest mistakes" have severe repercussions to the lives of those wrongly accused. This law has been used to wrongly accuse farmers and activists, and in our documentation, previous cases using the HSA were all dismissed. More often than not, human rights and civil liberties are violated, and they expect law enforcers to simply walk away without any consequence? This adds to the arbitrariness and impunity that is the hallmark of state forces and their conduct. We will definitely continue to resist this dangerous law that gives more power to state forces – power to corrupt," responded Vergara.
Vergara also shrugged off Año's claims that there are no "subversive organizations" in the United States because it has not repealed its Communist Control Act of 1954, using this as a justification to support the restoration of the Anti-Subversive Law in the country: "There is widespread resistance by people in the United States, and it is mired by several bouts of terroristic acts perpetrated by white supremacists and vindictive rhetoric peddled by no less than their President. We do not know what Año means by subversive organizations, but if he means organizations that challenge government to abide by their obligations, then there are such groups led by civil rights activists and social movements. If he meant there are no acts of terrorism in the United States because of its current laws, then he should start reading the news," explained Vergara.
Vergara called on Filipinos to be critical: "Let us be reminded that all-powerful governments, especially those that is manned by militarists, are abusive, arbitrary and corrupt to the core. Giving the Duterte government these additional powers will lead to further political persecution and repression. The Duterte government and his cohorts will try to slyly legitimize this, but when all else fails, Duterte is waiting to formalize a nationwide martial law."
"These efforts will nonetheless be instrumental to the establishment of a tyrannical regime. They can call those who defiantly resist as subversives or what-not, but the reality of rights violations, poverty, and the shameless affront to our sovereignty will remain a resounding truth. These are the very same issues that the so-called "subversives" are fighting for," said Vergara.
Vergara concluded with a quote from 'El Filibusterismo' by Dr. Jose Rizal, which roughly translates to 'The Subversive': "The just and the worthy have to suffer in order to spread their ideas and let them be known. One has to shake and break the glass in order to scatter the perfume. One has to scratch the surface of the rock to release the light. There is something providential in the persecution of tyrants..."
NMP partners with LGUs in EV in the conduct of Basic Safety Training for Motorboat Handlers / Operators and Fisherfolks
By National Maritime Polytechnic
August 8, 2019
TACLOBAN CITY – With the noted occurrence of many maritime incidents and loss of lives of the local motorboat operators and fisherfolks in the course of carrying out their livelihoods and with the Agency's aim of promoting safety of life at sea, the National Maritime Polytechnic (NMP) partners with the interested local government units (LGUs) of the Eastern Visayas in the conduct of Basic Safety Training for Motorboat Handlers/Operators and Fisherfolks (BSTMHOF).
The 3-day training includes topics on Personal Survival Techniques (PST), Fire Prevention and Fire Fighting (FPFF), Elementary First Aid (EFA), Personal Safety and Social Responsibility (PSSR), Rules of the Road, Marine Pollution Prevention and Environmental Protection, STD/HIV/AIDS Prevention in the Maritime Sector (SHAPIMS), Prevention of Alcohol and Drug Abuse in the Maritime Sector (PADAMS), Marine Safety Regulations and Typhoon Preparedness. However, the modules / topics may be modified dependent on the knowledge, skill, and attitude needed by the participants.
NMP Head of the Information and Marketing Section, Mr. Andrew D. Soledad together with NMP Instructor, Mr. Telesforo M. Sambalilo presented NMP's proposal on the conduct of the said training to the local government of Ormoc City during the Public Safety and Disaster Management and Laws and Ordinances Joint Committee Meeting held last 31 July 2019.
The proposal underwent the committees' extensive review and after all concerns were answered by the team, it gained the committee's endorsement to the Sangguniang Panglungsod (SP) with minor amendments. It will further be discussed during the SP session slated on 13 August 2019 and a resolution will be issued granting authority to the Ormoc City Mayor to enter into a Memorandum of Agreement (MOA) between the NMP, Maritime Industry Authority (MARINA) Region 8, and the Philippine Coast Guard - Coast Guard District Eastern Visayas (PCG-CGDEV).
Also present during the meeting were Mr. Santiago M. Acera of MARINA RO 8, Lt. Christopher Michael Angelo Dulnuan of PCG Coast Guard Station (CGS) Western Leyte, PO2 Jaime M. Los Baños of PCG CGS Ormoc City, and the chairpersons of the different fisherfolk associations of Ormoc City.
Under the MOA, the LGU will be responsible for identifying and inviting participants, providing the training venue, meals and snacks, and submitting the necessary qualifying documents such as medical certificate and 1.5 x 1.5 ID pictures of the participants.
NMP, as the training provider, designs the training course tailored to the training needs of the participants in consultation with external entities. It also provides support staff to assist in the duration of the activity, as well as the necessary handouts, supplies and materials, and issue a Certificate of Completion to the complying participants.
The certificate issued by NMP is a requirement of MARINA prior to the issuance of Certificate of Marine Profession (CMP) such as boat captain license, motorman license, and marine diesel mechanic license. These licenses are in turn requirements before a seafarer can go on board passenger or cargo motor bancas / motorboats and even commercial fishing vessels.
The project began in the 1990s when the NMP developed the Safety of Life at Sea (SOLAS) Course for fishermen as an extension service. It was initially designed for deep-sea fishermen in Albuera, Leyte, as more and more fisherfolks were becoming involved in the deep-sea fishing thus exposing them to hazards at sea. The training was then extended to representatives from the Barangay Coastal Resource Management Council (BCRMC).
LGUs that are interested on the said training may email us at info@nmp.gov.ph or call or send a message to Mr. Jay Arr Bryan U. Margallo, Administrative Officer IV at mobile no. 0926-135-8823 for more details.
Meanwhile, NMP continues to upgrade its facilities and provide maritime trainings required pursuant to the STCW Convention as amended in 2010 including value-adding courses towards improving the qualifications of Filipino seafarers for their employment acceptability and enhanced competitiveness. It also regularly conducts maritime studies to come up with policies for the improvement of the manpower sector of the industry.
Palay production in Eastern Visayas increases by 5.2% during the first quarter of 2019
By PSA-8
August 8, 2019
TACLOBAN CITY – Palay production in Eastern Visayas exhibited a 5.2 percent growth, from 279,728 metric tons (MT) in the 1st quarter of 2018 to 294,402 MT in 2019.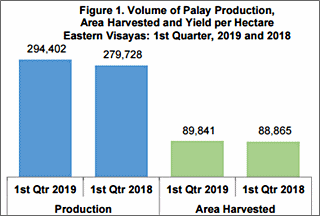 The province of Leyte posted the highest palay production in Eastern Visayas at 148,212 MT in the 1st quarter of 2019. It comprised more than half (50.3 percent) of the total palay production in the region. Samar ranked second with 51,813 MT, accounting for 17.6 percent of the region's total palay production. Northern Samar followed with 49,097 MT production contributing 16.7 percent share to the total production. Eastern Samar and Southern Leyte shared 8.2 percent (24,076 MT) and 4.4 percent (12,862 MT), respectively. Meanwhile, Biliran had the least contribution with only 2.8 percent and only 8,342 MT of palay produced.
Area harvested for irrigated palay in the region went up by 5.0 percent, from 30,713 hectares in the 1st quarter of 2018 to 32,249 hectares in the 1st quarter of 2019. All provinces, except for Northern Samar, exhibited increases in area harvested of irrigated palay. Northern Samar posted a decline of 0.6 percent.
The province of Leyte, being the biggest contributor of irrigated palay, has also registered the highest area harvested for irrigated palay with 77.4 percent share to the total area harvested. Meanwhile, Eastern Samar posted the least area harvested for irrigated palay with 0.01 percent share.
Among the provinces, Southern Leyte recorded the highest yield per hectare at 4.49 MT per hectare during the 1st quarter of 2019. However, this figure was lower by 0.3 percent compared with the 4.50 MT per hectare in the 1st quarter of 2018.
Biliran closely followed at 4.41 MT per hectare. This figure was lower by 2.4 percent, from 4.52 MT per hectare of the same quarter in 2018. Leyte ranked third with 4.28 MT per hectare, which was slightly higher by 0.3 percent from its figure in same quarter of 2018.

On the postponement of the May 2020 Barangay and Sangguniang Kabataan Elections (BSKE)
By NAMFREL
August 7, 2019
MANDALUYONG CITY – The National Citizens' Movement for Free Elections (NAMFREL) encourages Congress to allow the conduct of the May 2020 BSKE as scheduled. To do otherwise contravenes the principle of regularity in the conduct of an election and deprives the electorate of seeking accountability from elected officials by submitting themselves to a fresh mandate.
Moving the date of elections set by law can only be justified when any of the conditions mentioned in Section 5 of the Philippine Omnibus Election Code exist: any serious cause such as violence, terrorism, loss or destruction of election paraphernalia or records, force majeure, and other analogous causes of such a nature that the holding of a free, orderly and honest election should become impossible in any political subdivision. It is the task of the Commission on Elections (Comelec) to make such determination, which in turn should be through public hearings.
The planned deferment of the May 2020 BSKE to May 2022 (Sen. Go version) / May 2023 (Sen. Marcos version), unwittingly or not, extends the term of incumbent barangay and SK officials without a clear mandate from their constituents.
Periodic elections are an institutionalized governance feature in countries that have chosen democracy as their form of government. Upholding the conduct of periodic and genuine elections becomes an obligation under international law. These are articulated in both Article 21 of the 1948 Universal Declaration of Human Rights (UDHR), and Article 25 of the 1966 International Covenant on Civil and Political Rights (ICCPR). Both can be described as foundational legal commitments that require free and fair elections to be held on a regular basis.
Regular and periodic elections are part of universal principles and guidelines to promote genuine democratic election processes. These international election standards can be traced back to the cardinal principle that citizens have a right to take part in the governance and public affairs of their countries. Article 21, Section 3 of the United Nations (UN) UDHR enshrines this cornerstone precept: "The will of the people shall be the basis of the authority of government; this will shall be expressed in periodic and genuine elections which shall be by universal and equal suffrage and shall be held by secret vote or by equivalent free voting procedures."
Further, the ICCPR stipulates that every citizen must be provided the right and opportunity, without discrimination, based on distinctions of "race, color, sex, language, religion, political or other opinion, national or social origin, property, birth or other status" and without unreasonable restrictions, to "vote and to be elected at genuine periodic elections."
Thus, the regularity of elections is important to establish the mandate, legitimacy and moral authority of elected leaders. Not holding elections regularly could undermine the democratic process of ensuring the citizens' right to choose their leaders and make them accountable.
Meanwhile, NAMFREL commends the Comelec for pushing through with the continuing registration of voters and for actively promoting citizens' participation in the electoral process. NAMFREL urges the public, especially the youth, to heed the calls to register or to have their registration records updated or transferred before the deadline. As of today, the Barangay and SK Elections are still scheduled to take place on May 11, 2020: ensure that your registration records are in order to avoid disenfranchisement.
DPWH opens new classrooms in Jaro, Leyte
Press Release
August 7, 2019
JARO, Leyte – Eighteen (18) new classrooms was recently completed by the Department of Public Works and Highways (DPWH) Leyte Second district engineering office in Granja-Kalinawan National High School (GKNHS), Jaro, Leyte.
The classrooms amounting to P34.4 million funded under the DepEd Basic Educational Facilities Fund are divided into three two-storey units each with six classrooms.
These will be utilized by the senior high school students taking up Science, Technology, Engineering and Mathematics (STEM), Information and Communication Technology (ICT), Shielded Metal Arc Welding (SMAW) and other strands offered by GKNHS.
"This is part of the government's efforts to provide a conducive learning environment for students, as each year, enrollees continue to rise with the implementation of K-12 program," District Engineer Gerald Pacanan said.
He added that the engineering office is conducting regular ocular inspections on the projects to ensure that the program of works, plans and specifications are strictly followed by contractors.
Nicerato Gonzaga Jr., the school principal said that with the construction of these school buildings, students and teachers will have a better interaction during classes.
"I am grateful that we are one of the recipients of the school building projects and for the fast implementation of DPWH," he added.
For 2019, the school has a total of 128 teaching and non-teaching staff and accommodates 3, 271 students from grades 7 to 12.
Save the Children Philippines to mothers: Breastfeed infants exclusively on first 6 months
Press Release
August 6, 2019
MAKATI CITY – Save the Children Philippines is urging mothers to breastfeed infants exclusively during the first six months to protect them from diseases such as diarrhea and pneumonia – the world's leading causes of child death.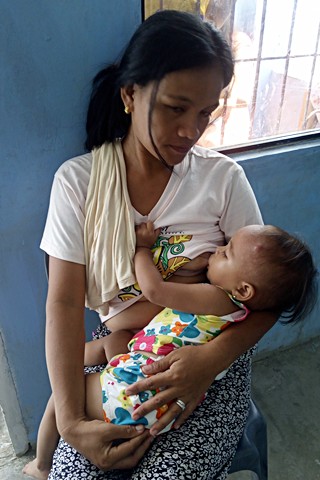 The group raised concern on the steady decline of exclusive breastfeeding in the Philippines with 65 to 68.6 per cent of mothers breastfeeding exclusively for the first two months but declining to 29 percent as babies turn 5 months. The figure was reflected in the 2018 Expanded National Nutrition Survey of the Department of Science and Technology - Food and Nutrition Research Institute.
The call was made in time for the World Breastfeeding Week, celebrated from August 1 to 7 with the theme: "Empower Parents. Enable Breastfeeding" to raise awareness on the many benefits of breastfeeding.
Despite known benefits of breastmilk, 60 per cent of the world's total infants including those in the Philippines are not getting the recommended six months of exclusive breastfeeding.
Lawyer Albert Muyot, Chief Executive Officer of Save the Children Philippines said existing laws including the Milk Code and First 1,000 Days mandate local governments and hospitals to facilitate exclusive breastfeeding for newborn babies up to six months.
He said local health and nutrition workers have a critical role to allow the infant to be breastfed in the first hour after birth and assist mothers to breastfeed exclusively in the first six months and to continue up to two years with complementary feeding.
"Local leaders should invest in health and nutrition of children by hiring adequate number of skilled health and nutrition workers to ensure mothers breastfeed immediately after birth and exclusively up to six months," said Muyot.
In a research study of Save the Children Philippines, it cited the decline in breastfeeding practice due to the lack of skilled health workers in maternity clinics in the communities.
The study also noted rampant violations of the Philippine Milk Code or Executive Order 51, National Code of Marketing Breast Milk Supplements and Other Products that prohibits the promotion of milk products as breastmilk substitutes.
It also blamed aggressive promotions of giant manufacturers of breastmilk substitutes or milk formula targeting mothers and putting health claims in the packaging that misinform the public that the benefits of breastmilk can be gained from infant formula.
The study noted that there are still milk companies that sponsor trips and conventions of doctors and health workers to encourage them to promote milk products to mothers of infants and young children.
Save the Children Philippines implements a Maternal, Newborn and Child Health and Nutrition program in the most deprived communities in Caloocan, Navotas and Malabon in Metro Manila as well as in the provinces of Sarangani and North Cotabato conflict-affected areas in Mindanao.
Dr. Amado Parawan, Health and Nutrition Advisor of Save the Children Philippines said besides exclusive breastfeeding for six months, mothers should ensure continuous breastfeeding up to two years to guarantee optimum health of their babies.
Save the Children Philippines advocated the passage of the Republic Act No. 11148 or Kalusugan at Nutrisyon ng Mag-Nanay Act that ensures optimum care of a child from conception up to two years or the first 1,000 days of life to reduce malnutrition and child deaths due to preventable causes.
The law, now passed as ordinance in the cities of Malabon, Caloocan and Navotas, and the municipalities of Magpet and Arakan in North Cotabato and Alabel in Sarangani mandates exclusive breastfeeding for babies during the first six months.
More than 30 studies worldwide have shown that breastfeeding provides optimum benefits to both mothers and babies that include:
• Reduces the risk of dying for infants and young children. At least 840,000 neonatal deaths can be prevented annually if breastfeeding is initiated within an hour after birth.
• Boost immune system for infants and young children living in areas with poor sanitation and unsafe drinking water.
• Reduce cases of respiratory tract infections, gastrointestinal infections, urinary tract infections and otitis media among babies and children.
• Reduce rates of Sudden Infant Death Syndrome within the first year of life.
• Decrease incidence of both insulin-dependent and non-insulin-dependent diabetes mellitus among children
• Reduce possibility of lymphoma, leukemia, and Hodgkin's disease, obesity, and allergic conditions in children.
• Reduce risks of mothers getting breast cancer, ovarian cancer and type 2 diabetes.
NUSP: Underutilized funds prove CHED, gov't insincere to make college free
Press Release
August 2, 2019
QUEZON CITY – CHED was unable to utilize P20.3 billion or half of the P39.9 billion budget for RA 10931 in 2018.
CHED cannot argue that this is a natural outcome of newly implemented laws. Right from the start, we can observe that the Duterte administration has been insincere in providing free education to the Filipino youth.
For instance, President Duterte signed the law on August 3, 2017, but the final version of the implementing rules and regulations (IRR) was released only on March 26, 2018. This seven-month delay was caused by the insistence of the government to "make best use of funds" and "target the most needy students" by inserting layers of restrictions as to who can avail of free education.
CHED has even gone so low that it ordered SUCs and LUCs to tighten their admission and retention policies, thereby limiting the number of students who can benefit from free education. As the report of the Commission on Audit (COA) reveals, there is more than enough funds to cover all students in SUCs and LUCs. On top of that, all students of public higher education institutions essentially deserve the right to free and quality education.
Also, the law already has funding for January to December 2018. Yet the Duterte administration stubbornly pushed that funds be used starting June 2018. This has deprived students enrolled in SUCs and LUCs of one semester of waived fees: not just tuition, but also other school fees.
While CHED has not fully utilized the funds for free education, it permits continued charging of fees in SUCs and LUCs. It was quick to release a list of around 140 other school fees that may be collected from students, contrary to the spirit of the free education law.
Even associations of private higher education institutions decried the very late implementation of the Student Loan Program and the Tertiary Education Subsidy, which are two other components of RA 10931. These programs could have provided immediate relief to students in private schools who suffer from annual school fee increases approved by the government itself through CHED.
The COA report confirms the cry of many students nationwide: that CHED has been making it very difficult for the youth to gain access to scholarship funds and subsidies of the government. In the case of the Student Financial Assistance Programs (StuFAP), only P18 million out of P342 million, or a tiny 5.27 percent, was utilized for fiscal year 2018.
CHED and the Duterte government implemented RA 10931 only because of strong pressure from students, youth and advocates of accessible education for all. Unfortunately, after President Duterte has taken credit for the law, his administration is now dozing off in its task to make sure that collection of school fees stops.
The various excuses of CHED for underutilization of funds cannot hide the reality that it has been functioning as Duterte's agency for inaccessible and market-driven education.

GCL players in Tacloban promote the keychains.
FundLife and Toby's Sports join forces to empower girls through access to football and education!
Press Release
August 1, 2019
TACLOBAN CITY – FundLife are excited to announce a new partnership with Toby's Sports – the Philippines' largest multi-sports retailer. The effort will aim to protect, educate and empower marginalised girls through the retailing of special keychains to support FundLife's work in communities. The limited-edition designs will sell across 10 Toby's Sports branches, including its Flagship store in BGC. All proceeds from the sales will go directly to help more girls access safe spaces to play sports and further their education through FundLife's sports-based educational programs.
The announcement comes after FundLife launched its Girls Community League (GCL) movement at the World Football Summit in Kuala Lumpur on 29th April. The regional movement, which started in Tacloban in 2018, aims to give equitable access to 23,000 marginalised girls and boys across the Philippines by 2023, through the creation of community-led football leagues.
The partnership with Toby's Sports will allow consumers to stand with girls and support them through equitable access to play, education and opportunity. Under the banner of 'Rock the chain, let them play,' socially-conscious consumers will be given a chance to purchase the stainless steel, engraved keychain for only P129, which is the cost to keep one girl in the GCL program for two weeks.
"We want to show people that a small contribution goes a long way – by giving up just one Starbucks coffee every month, it can keep one girl enrolled in the GCL program – buying a keychain is a great way to start a conversation with friends and family about supporting girls to have access to sports and education," said Kimberly Lopez, FundLife Operations Manager.
"We are extremely happy to partner with Toby's Sports in this campaign. Toby's Sports has long been a champion of helping children through sports and this collaboration is very exciting for FundLife," added FundLife Program Director, Marko Kasic.
GCL is supported through global partners, which includes Common-Goal, a global movement of professional football who have chosen to donate 1% of their wages to supporting football for good programs.
"We're excited to partner with FundLife in this amazing initiative. At Toby's Sports, we believe in harnessing the power of sports to change lives, and we applaud FundLife for doing what they can to make sports accessible to these girls," said Toby Claudio, President of Quorum International Inc., the parent company of Toby's Sports.
The proceeds of sales from the GCL keychains will be used to support FundLife's football for good projects that currently reach over 5,000 children in Tacloban, Cebu and Northern Mindanao and to bring the Girls Community League to even more aspiring football players.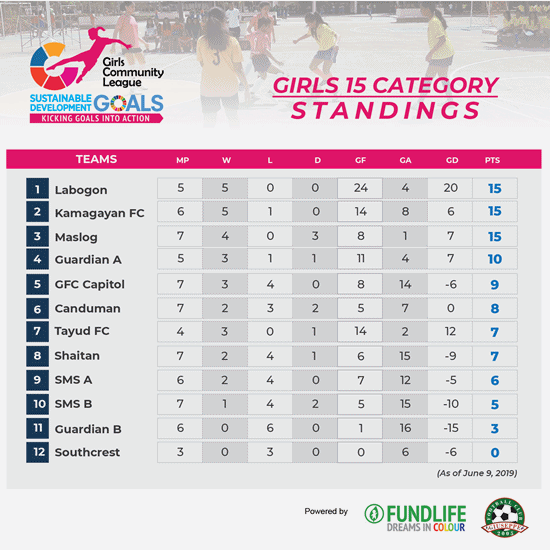 GCL Cebu has over 300 players playing in U15 and U17 age groups. (A table showing league standings of GCL - Cebu.)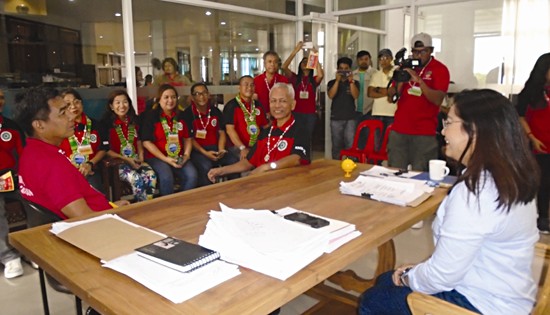 Palompon Mayor Myra Georgina L. Arevalo (right) interacts with media personalities from RONDA 1 headed by Pres. Bernie Errasquin (center) and HIMSoG-8 headed by Antonio C. Pueblos (left) during a visit to Palompon on July 15, 2019.
RONDA 1 media group visits Eastern Visayas, exchanges notes with counterpart HIMSoG-8
By JACK C. GADAINGAN
July 30, 2019
TACLOBAN CITY – A contingent of 13 practitioners of the quad-media from Ilocos Region (Region 1) visited Eastern Visayas for a technical rendezvous with National Nutrition Council Region VIII (NNC-8) media-group partner Harmonized Initiatives of Media for the Spread of Good Nutrition in Region 8 (HIMSoG-8) on July 15-17, 2019.
The media personalities are members of the Regional Organization of Nutrition Development Advocates of Region 1 (RONDA 1), the media-group partner of NNC-Ilocos Region. Like HIMSoG-8, RONDA 1 is also into the fight against hunger and malnutrition in Region 1, through the persuasive use of media power.
RONDA 1 contingent was headed by its President Bernie Errasquin, with him were gentlemen Romeo Umipig, Harry Peralta, and Cesar Obar; with ladies Celestina Paz, Maricel Fonda, Charity Frianeza, Milagros Abuan, Gina Mae Villanueva, and Gloria Tuazon; and escorts from NNC-1 headed by Regional Nutrition Program Coordinator (RNPC) Ma. Eileen B. Blanco together with Kendall Pilgrim A. Gatan and No Wyli.
A contingent from HIMSoG-8 headed by President Antonio C. Pueblos welcomed the media-visitors on their arrival at the Tacloban City Airport, and after a whistle-stop breakfast in Palo town, in a two-van convoy the two media groups proceeded on a three-hour journey to Palompon town, west coast of Leyte Island where the serious activities were scheduled to transpire.
In Palompon, NNC-8 RNPC Doc. Catalino P. Dotollo Jr., joined the congregation for the courtesy call and interaction with newly installed Palompon Mayor Myra Georgina L. Arevalo. Then the nutrition advocates from Region 1 and Region 8 proceeded to the Polompon Institute of Technology (PIT) for the scheduled nutrition promotion activities, and to observe the operations of NNC stablished FM station Radyo Kausbawan, a Nutriskela Radyo run by the academe.
After lunch, RONDA 1 and HIMSoG-8 tackled the main agenda of exchanging accomplishments – with each group making presentation of each's achievements, that was followed with questions and answers, and finding common grounds to share and adopt strategies to combat the common enemy, malnutrition! After which the media groups examined the broadcast booth of Radyo Kausbawan, which provided some the opportunity to air to local listeners their visit intentions to Region 8.
The following day, July 16, RONDA 1 with some members of HIMSoG-8 together with NNC-8 media conduit Novida Rico, proceeded to the town's Tabuk Marine Park Fish and Bird Sanctuary, a five-minute boat ride distance from the town center, where RONDA 1 conducted a scheduled Program Implementation Review (PIR).
On the third day, July 17, RONDA 1 contingent with Novida Rico for a guide, got the chance to tour Tacloban City tourist and historical sites, and observe the local nutrition situation first hand – prior their flight back home the flowing day to Ilocos Region.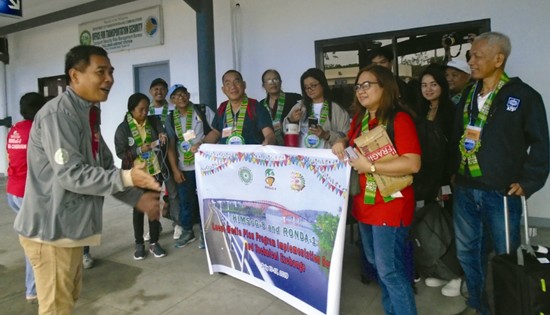 RONDA VISIT. HIMSoG-8 Pres. Antonio C. Pueblos welcomes the RONDA 1 contingent to Eastern Visayas on their arrival at the Tacloban City Airport on July 15, 2019.
DOLE-8 assists bakers, dressmakers in Tacloban City
By NORMA RAE S. COSTIMIANO
July 29, 2019
TACLOBAN CITY – Some fifty (50) bakers, dressmakers and entrepreneurs receive a total of P724,400.00 worth of livelihood assistance from the Department of Labor and Employment Regional Office VIII last July 25, 2019 at Tacloban Training Center, USAID Building, this city.
Charged against the agency's DOLE Integrated Livelihood Program (DILP) funds, DOLE RO VIII downloaded the said amount to LGU-Tacloban for the implementation of three (3) approved individual and group projects namely: "Dressmaking", "Bread & Pastry" and "Souvenirs & Giftshop".
From the total of P724,400.00, P150,000.00 were utilized for the procurement of ten (10) units of sewing machines and P176,400.00 were spent for ten (10) ovens.
Meanwhile, the Tacloban Entrepreneurs Association Marketing Cooperative received a total of P398,000.00 worth of assistance for their proposed Souvenirs & Giftshop Project.
DOLE RO VIII Regional Director Yahya A. Centi was present to personally turn over the livelihood tools and equipment to the beneficiaries. In his message, Director Centi congratulated all the beneficiaries for their resiliency and expressed continued commitment to delivering public service in the region.
"I am now facing Taclobanons whom I know are resilient people. Let me congratulate all of you for being our beneficiaries. Today is a classical proof that we are doing our very best for you, our dear clients. As long as we are complying with the rules, we will continue our engagement with you", said Centi.
Director Centi likewise challenged the beneficiaries to grow their respective businesses and not settle for what they have at present.
You know, it is my dream to see you in the future having your respective businesses reaching even the foreign market. And that will start by you being so dedicated to your crafts", Centi added.
Also present to grace the simple turnover ceremony were Tacloban City Councilors Jom Bagulaya and Leo Bahin and PESO Manager, Ms. Emilia Cruz.
Honorable Leo Bahin thanked DOLE for the usual support and even recalled how the agency assisted them when he was still a barangay chairperson few years back when super typhoon Yolanda devastated the city in 2013.
"I can really testify how we are able to avail emergency employment program from the DOLE during the Yolanda. As a barangay chairman that time, I was so thankful for all those help for our constituents who were trying to cope with the challenging situation. Sincerely, I am grateful to DOLE for all the help", Hon. Bahin said.
The program ended with a photo opportunity wherein the genuine smiles of the beneficiaries were captured, a manifestation of their joy and excitement for the blessings received.
Tanauan farmers get 500k worth of poultry business from DOLE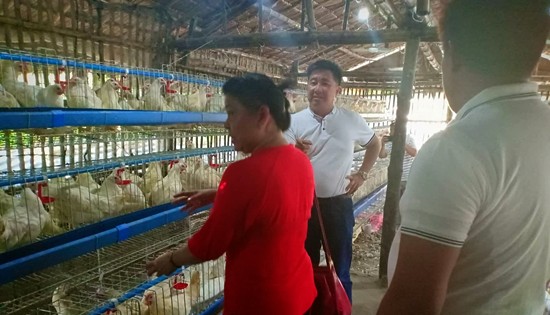 By Norma Rae S. Costimiano, DOLE-8
July 29, 2019
TACLOBAN CITY – A total of P500,000.00 worth of poultry business had been turned-over by the Department of Labor and Employment Regional Office VIII through its North Leyte Field Office to the local government unit of Tanauan last July 22, 2019 at Brgy. Cabuynan, Tanauan, Leyte.
Direct beneficiaries of the project entitled "Layer Poultry Farming" are some thirty-five members of the Cabuynan Small Coconut Farmers Organization of LGU-Tanauan.
Honorable Pelagio R. Tecson, Jr., Mayor of the municipality, graced the turnover ceremony together with Ms. Gemma D. Dela Cruz, Senior Labor and Employment Officer of DOLE-North Leyte Field Office representing Director Yahya A. Centi. He sincerely thanked DOLE for the assistance it extended to the municipality.
"I am so grateful to our labor department here in Region VIII for assisting us in terms of augmenting the income of our constituents here in Tanauan. It is indeed a big help not just for the LGU but most importantly to the beneficiaries and their families", said Mayor Tecson.
Ms. De la Cruz urged the LGU and the association to really look into the business so that it will become sustainable.
"We hope that through the coordinated efforts of the Cabuynan Small Coconut Farmers Association and the supervision of the LGU, this project will be a successful one. We are happy that you now have this business but we will be much happier if this will become sustainable", de la Cruz said.
The beneficiaries were so happy that finally they now have their own business. Per approved livelihood proposal, the association was granted ten (10) egg laying units equivalent to 480 chickens.
Considering there is no existing layer farmer in the locality, the association saw it as an opportunity for them to venture in. With the help of the DOLE and LGU, their plan is now a reality.
Seawall project to protect residents in Leyte town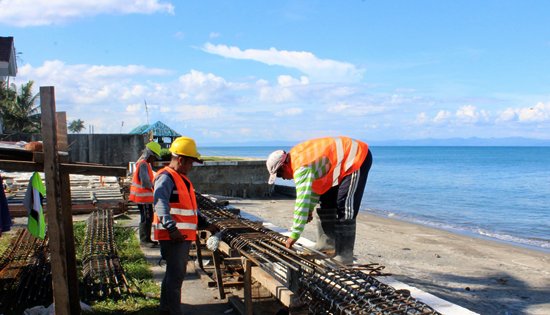 By DPWH 2nd LED
July 26, 2019
DULAG, Leyte – Intending to protect the residents along coastal villages, the Department of Public Works and Highways Leyte Second District Engineering Office geared up a total of P17 million worth of flood mitigation project in Dulag, Leyte.
District Engineer Gerald Pacanan said that the embankment project involves the installation of 120 meters prefabricated concrete pile sheet that would absorb and lessen the force of waves and redirect the water towards the sea.
The project will alleviate the problems of erosion along the coastline and reduce the hazards of storm surge to the residents of Brgy. Luan during the occurrence of typhoon.
"It is always the top priority of our office to protect and ensure safety of the people and of the community, especially those that are greatly susceptible to the dangers of flooding during inclement weather conditions," Pacanan added.
The project started on June 07, 2019 and will be completed on or before November 21, 2019.
For 2019, the district has carried out a total of twelve flood mitigation projects amounting to P286.74 million.
DPWH rehabilitates Daang Maharlika to Magsaysay Blvd. exit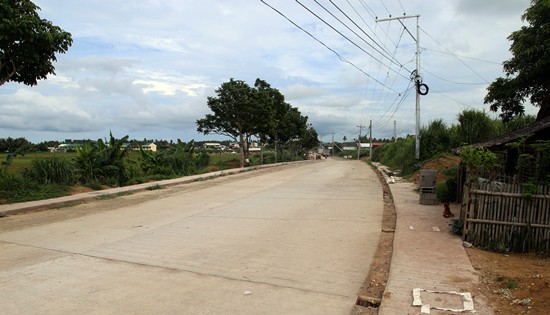 By MAE ANGELICA R. COMOTA
July 25, 2019
CALBAYOG CITY – The Department of Public Works and Highways Samar First District Engineering Office completes the P80 million road improvement project from Daang Maharlika (Toyota Calbayog) to Magsaysay Boulevard exit.
The project covers the rehabilitation of 2.64 lane kilometers of road including the construction of drainage structures. The previously 2-lane road is widened into four lanes to accommodate a continuous, smooth flow of traffic.
The travelling public can now enjoy a safer travel environment as some elevated parts of the road were also downgraded.
The road serves as an alternate route, allowing motorists to by-pass the traffic congestion along Daang Maharlika and providing them with direct access in and out of the city proper for motorists.