SFDEO foresees flood-protected areas in Calbayog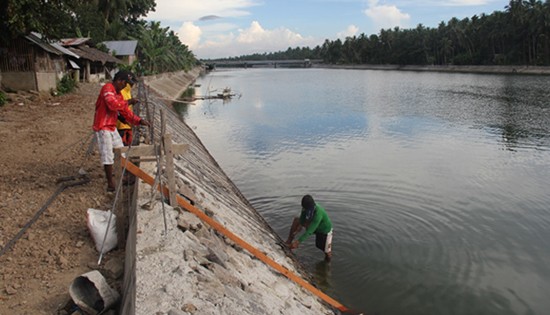 By ELENOR A. ANOLLADO
July 23, 2017
CALBAYOG CITY – The Samar First District Engineering Office (SFDEO) of the Department of Public Works and Highways (DPWH) is eyeing on the ongoing construction of the flood control structure along Jibatang River at Brgy. Lonoy, Calbayog City which is appropriated P100m under the DPWH 2017 regular infrastructure fund.
Jibatang River is a stream and is located in Calbayog City, province of Samar. The estimate terrain elevation above sea level is 45 meters knowing that excessive heavy rains cause flooding, Jibatang River is described as one of the low-lying areas of the Calbayog District where in nearby Barangays particularly Brgy. Lonoy is greatly affected when water level rises. With this, safety and health conditions in here are jeopardized that is the reason behind the construction of flood control structure along Jibatang River (upstream) is highly recommended.
The construction covers the drainage and slope protection structure with a project duration of 180 calendar days. The project is under GAA 2017 with 701.25 linear meters reinforced concrete river protection works on steel sheet piles foundation. It is under contract with B. Vicencio construction.
This project is beneficial to the residents of Brgy. Lonoy and the other occupants who live near Jibatang River. It prevent flooding caused by heavy rains and changes of weather and it provides a safe living for the residents.
One of local even said, "Malaki ang maitutulong ng proyektong ito para sa amin, kundi dahil dito palagi kaming inaabot ng mataas na baha tuwing may mga kalamidad na dumarating".
The project intends to prevent flooding along the river side of the area especially during rainy seasons and high tide. This will surely provide safety towards the residents of Brgy. Lonoy.
Bombardier delivers the first dual-class, 86-seat Q400 aircraft to Philippine Airlines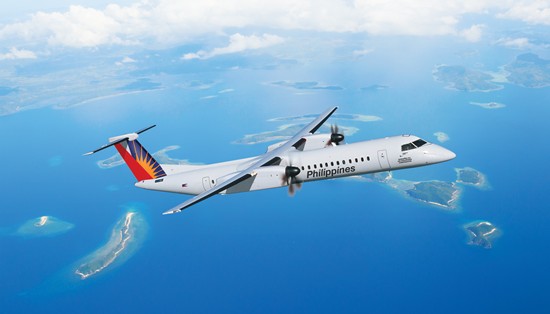 Via MARKETWIRE
July 21, 2017
TORONTO, Ontario – Bombardier Commercial Aircraft delivered the world's first dual-class, 86 seat turboprop aircraft to Philippine Airlines at its facility in Toronto, Canada, where the aircraft is manufactured.
"We congratulate Philippine Airlines for taking delivery of the world's first dual-class, 86-seat Q400 aircraft, and are confident that the airline will continue to benefit from the outstanding performance of Bombardier turboprops," said Fred Cromer, President, Bombardier Commercial Aircraft. "This delivery is an example of how Bombardier's Q400 is an ideal solution for airlines that require higher-performance and larger turboprops as they develop regional routes to meet increasing passenger demand. Bombardier is proud to have the only commercial turboprop available today to offer up to 90 seats."
"With its superior performance capabilities, unmatched profitability advantages and exceptional passenger experience, the new Q400 aircraft will enable Philippine Airlines to increase its competitiveness and set a new standard for turboprops in the region," said Jaime J. Bautista, President and Chief Operating Officer, Philippine Airlines. "We are excited to bring this new aircraft back to the Philippines, and are confident that the Q400 aircraft will continue to play a significant role in positioning Philippine Airlines as a five-star airline and in regaining its dominance in the domestic market."
Philippine Airlines' new Q400 aircraft is configured with 86 seats in economy and premium economy classes with a 29-inch and 33-inch seat pitch respectively. The aircraft delivered today is scheduled to enter into service in two weeks.
This milestone aircraft is part of Philippine Airlines' purchase agreement announced on December 8, 2016 - which included a firm order for five Q400 aircraft and purchase rights for an additional seven. Following the exercise of the purchase rights announced at the 2017 International Paris Air Show, Philippine Airlines now has firm orders for 12 Q400 aircraft.
About Philippine Airlines
Philippine Airlines (PAL) is the flag carrier of the Philippines. Headquartered in Manila, PAL celebrates its 76th anniversary this year as the first commercial airline in Asia. Operating out of its hubs at Ninoy Aquino International Airport of Manila and Mactan-Cebu International Airport of Cebu with a fleet of 81 aircraft, PAL serves 30 destinations in the Philippines and over 45 destinations internationally.
About Bombardier
Bombardier is the world's leading manufacturer of both planes and trains. Looking far ahead while delivering today, Bombardier is evolving mobility worldwide by answering the call for more efficient, sustainable and enjoyable transportation everywhere. Our vehicles, services and, most of all, our employees are what make us a global leader in transportation.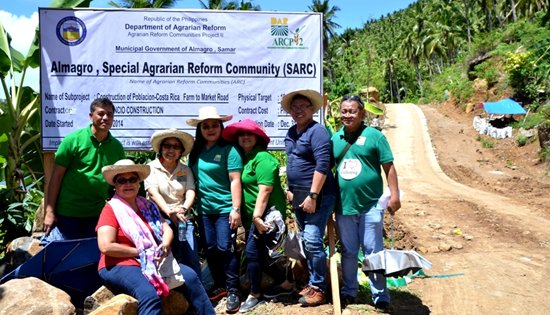 DAR officials from the central, regional, provincial and municipal offices pose near the billboard of the newly-inaugurated 12-kilometer farm-to-market road implemented under the second phase of the Agrarian Reform Communities Project in the island-municipality of Almagro, Samar. In the photo are (right to left) Engr. Cresencio Misagal, Rosario Regalado, Undersecretary Sylvia Mallari, Regional Director Sheila Enciso, Assistant Regional Directors Ma. Fe Malinao and Ismael Aya-ay, and Municipal Agrarian Reform Program Officer Pedrito Dejarlo.
DAR-8 turns over most expensive project
By JOSE ALSMITH L. SORIA
July 20, 2017
ALMAGRO, Samar – At P72-million, the 12.7-kilometer farm-to-market road turned over here recently by the Department of Agrarian Reform (DAR) makes it the most expensive single infrastructure project this agency has ever implemented in Eastern Visayas.
DAR Undersecretary Sylvia Mallari led the inauguration and turnover of the said project in this island-municipality to the local government unit (LGU), a day after she turned over a similar project in another island-municipality in this province.
Mayor Kathleen Prudenciado in her acceptance of the project implemented under the second phase of the Agrarian Reform Communities Project (ARCP-II) said "I believe development and progress (in this island paradise municipality) is so near for us to achieve".
According to her, the Almagrohanon had long been dreaming for a road that would cross this island.
Further, Association of Barangay Captains President Jenesa Tomamak said "mararating na natin mula puno hanggang dulo na hindi dumadaan sa karagatan", as villagers used to travel around the island through the sea that surrounds it using a motorboat.
With this more than 12-kilometer road passing through the barangays of Poblacion, Malobago, Roño, Tonga-Tonga, Lunang, Talahid, Costa Rica-I and Costa Rica-II, Tomamak disclosed that not only farmers and fishermen's products could be easily transported now, but these once remote areas could already be penetrated in the delivery of other government services as well.
About 8,000 residents in these areas with 450 agrarian reform beneficiaries (ARBs) are expected to benefit from this project.
To the unending thanks from the Almagrohanon, Mallari's response was "Salamat sa pagbibigay sa amin ng pagkakataon na kayo ay aming mapaglingkuran. Sa amin ang karangalan na makapaglingkod sa inyong lahat."
With this road, no place is isolated anymore, Mallari added, and hoped quality of life in this town, identified as a special agrarian reform community, would continue to improve.
Meanwhile, Regional Director Sheila Enciso explained the reason why the cost of the project was so high was because of the excavations that took place in the opening of the road.
The cost was shared by the LGU and the national government thru a loan from the Asian Development Bank.
Thus, Enciso reminded the recipients to maintain it in good condition for 10 years. Otherwise, the loan portion comprising 40 percent of the total cost will likewise be shouldered by the LGU.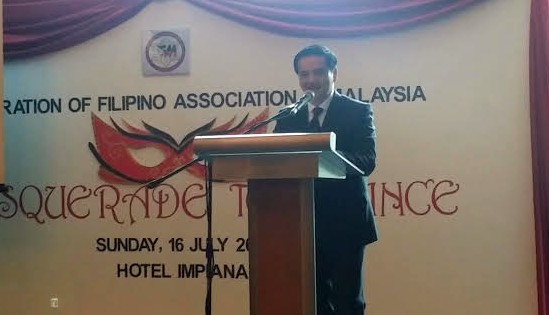 Ambassador Charles Jose delivers his remarks during the masquerade tea party, attended by Filipino community organization leaders and representatives.
PHL Embassy, Filipino community hold fundraising, letter writing for Marawi
Press Release
July 20, 2017
KUALA LUMPUR – The Philippine Embassy in Kuala Lumpur and the Federation of Filipino Associations in Malaysia (FFAM) mounted a fundraising and a letter-writing effort for those displaced and the soldiers in Marawi during the FFAM's Masquerade Tea Party held on July 16 at the Impiana Hotel in Kuala Lumpur.
Philippine Ambassador to Malaysia Charles C. Jose lauded the FFAM's initiative in helping out those affected by the conflict. "I commend FFAM for initiating this event to raise funds to help out our brothers and sisters in Marawi, as well as for your letters of support to boost the morale of our soldiers there," he said.
The tea party featured performances by Filipino-Malaysian singer Aloysius Cornelius Sisek and Malaysia-based Filipino band Harmony and Rhythm, raffle draws, a fashion show and auction featuring creations by Filipino accessories designer Gina Frias and a Best Dressed contest to award those who came to the party in their best attire.
During the event, the community raised RM5,500 (around PhP65,000) in raffle ticket sales alone, with the proceeds going to those displaced by the conflict. The Embassy will send the letters and postcards from the community to the Department of Foreign Affairs for onward transmittal to the frontlines.
Present during the event were FFAM officers led by its president Vergie Alvaro, members of the Filipino community and Embassy officers and staff.
The event is the first of a series of fundraising efforts to be undertaken by the Filipino community in Malaysia for those affected by the Marawi conflict.
19 Improvised Explosive Devices (IEDs) recovered in Basey, Samar
By DPAO, 8ID PA
July 19, 2017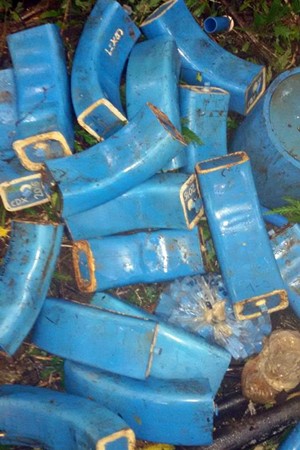 CAMP LUKBAN, Catbalogan City – Combined efforts from 801st Infantry (Bantay at Gabay) Brigade and 87th Infantry (Hinirang) Battalion with other intelligence units recovered 19 anti-personnel Improvised Explosive Devices (IEDs) technically known as CDX-2016 and other IED paraphernalia during a strike operation on Monday afternoon July 10, 2017, between km. 14 and km. 15 at Barangay Guirang, Basey, Samar.
Gathered information revealed that these IEDs will be used by the communist terrorists in launching their tactical offensives before and after the State of the Nation Address (SONA) of the President on July 24, 2017 to cause alarm and catch attention against the administration and use against military and PNP troops operating in area of Basey, Samar.
The successful recovery was the result of the community effort against these terrorists who were already tired from threats and extortions in their barangays.
Maj. Gen. Raul M. Farnacio, Commander 8ID said in his message: "We condemn the communist terrorists in their continuous manufacture and use of IEDs against humanities which is a clear violation on the provisions of the Comprehensive Agreement on Respect of Human Rights, International Humanitarian Law and rule of law. We commend the community of Basey for helping us recover these IEDs and we are looking forward for continuous partnership that could help us in preventing the evil activities of these terrorists towards the attainment of peace and development in whole Eastern Visayas," Farnacio added.
DPWH auditors assess Samar I's ISO compliance
By ELENOR A. ANOLLADO
July 18, 2017
CALBAYOG CITY – In line with the department's thrust to standardized processes in the District Engineering Offices, the District Offices nationwide are directed to prepare for the ISO certification complying to the requirements of ISO 9001:2015.
After a series of ISO Awareness Activities starting with the benchmarking in the pilot district of the region, the launching of Samar I's ISO journey and various orientation and readings, the Samar First District Engineering is subjected to an Internal Quality Audit (IQA) by Auditors from DPWH-Central Office together with other district offices nationwide this July to August 2017.
The IQA will determine conformance to the DPWH documented quality management system and to the requirements of ISO 9001:2015; verify legal compliance, and determine area for improvements in all processes.
IQ Auditors do an extensive auditing of all processes and requirements in all sections and units of the district trying to point out conformities and present areas for improvement. The audit wind up with the discussion of the auditors and key officials of the recommendations made to fully conform to 2017-19 ISO 9001:2015 which will be conducted by the third party second semester of this year.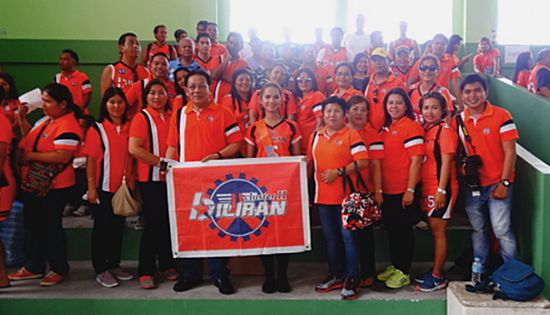 Participants of Biliran District Engineering Office (BDEO) together with Engr. David P. Adongay Jr. (3rd from L), District Engineer pose with BDEO Muse Representative, Ms. Malou A. Bernadas (4th from L) before the start of the sportsfest activities.
DPWH-Biliran joins 119th DPWH anniversary and sportsfest celebration
Press Release
July 17, 2017
NAVAL, Biliran – The employees of the Department of Public of Public Works and Highways (DPWH) – Biliran District Engineering Office (BDEO) actively participated on the DPWH Sportsfest activities in commemoration of the 119th DPWH Anniversary Celebration with this year's theme: "Kapayapaan ay Bigyan Daan, Upang Kaunlaran ay Makamtan".
Various activities were lined-up on a two-day event from June 22-23, 2017. It was kicked off with a grand parade from 13 District Engineering Offices including the Regional Office en route from DPWH RO passing through DepEd-DOH-Leyte Provincial Hospital – Pawing Elementary School and to DPWH Equipment Management Division (EMD) where a thanksgiving mass followed.
Director Edgar B. Tabacon, CESO IV formally opened the celebration as he warmly welcomes the delegates of the sportsfest activity.
Participating Engineering Offices were clustered into four categories. Cluster 1 were composed of Regional Office, Tacloban DEO, and Leyte 1st DEO; Cluster 2 were Biliran DEO, Leyte 2nd and 3rd DEO; Cluster 3 were composed of Southern Leyte, Leyte 4th and Leyte 5th DEO; while Cluster 4 were composed of the Northern Samar 1st and 2nd DEO, Eastern Samar, Samar 1st and Samar 2nd DEO.
The Presentation of Participants and Muses by each clusters sets the fun and excitements from all the participants followed by the Raising of Colors by cluster head and their muses which was won from Cluster II. The Oath of Sportsmanship followed led by Mr. Chito Nelson O. Eusores, President of Leyte 1st RFEA.
By Regional Directors Choice, Ms. Maria Efrason Pereña from Leyte 4th DEO bested other district contestants for the Best Muse.
The awarding of the Best Muse was done by the Regional Director followed with the ceremonial toss of the basketball at the covered court of Leyte 1st DEO by Director Tabacon together with Assistant Director Armando G. Estrella, CESO IV which signals the start of the sportsfest activities.
Among the games played on the opening day were basketball, volleyball (men and women), badminton, table tennis, dart and chess which were held from different venues.
On the same day, Photo Exhibit Booth Contest and Food Trade Fair open at the Multi-purpose hall of the Regional Office and a Laro ng Lahi Game Competition was played.
The second day of the celebration starts with the 4th Unity Run at 4:00 AM which directly followed with the awarding of prizes for the Fun Run activity.
Championship games also continue on the second day for the basketball, volleyball (men and women), badminton, table tennis, dart and chess until afternoon.
The Search for Ms. DPWH 2017 competition which is one of the highlight of the celebration started at 3:00 PM which holds until evening. Winners in the different competitions such as the photo exhibit contest and the overall sportsfest champion were also announced during the said pageant. Before the night ends, the muse from Southern Leyte District Engineering Office was hailed Ms. DPWH 2017.
The 119th Anniversary and Sportsfest Celebration ended with a fellow ship night and a Curatcha Dance Competition.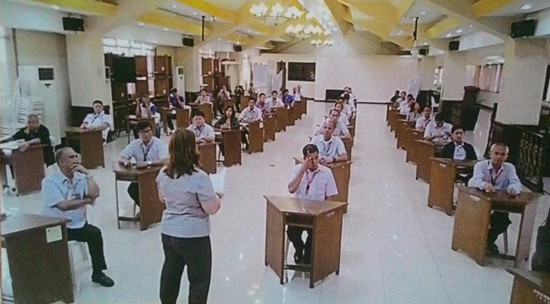 To gauge the effectiveness of the training, a comprehensive exam was conducted to the participants on the last day of the District Engineer Candidate training Course on June 9, 2017 at the DPWH Central Office Training Room, Manila. Engr. Alfredo L. Bollido, (sitting front most right) OIC-Assistant District Engineer of Biliran District Engineering Office is one of the examinees of the training.
ADE Bollido attends district engineer candidates training course
Press Release
July 14, 2017
NAVAL, Biliran – Engr. Alfredo L. Bollido, OIC-Assistant District Engineer of Biliran District Engineering Office (DEO) attended a 24-day District Engineer Candidates Training Course from May 9- June 9, 2017 at the Department of Public Works and Highways (DPWH), Central Office, Manila.
The seminar workshop was participated by 38 incumbent OIC-District Engineer, Assistant District Engineer and OIC- Assistant District Engineer of the DPWH from different Regions of the country.
Considering the very delicate and vital task of the department, Engr. Bollido said that the 24-day course for District Engineers is designed to equip them with all the knowledge and skills that would make them competent and effective in their roles and responsibilities in various stages of project implementation.
Due to the nature of the course, a variety of specialist resource personnel were invited within and outside DPWH with expertise in the design, construction, maintenance, materials quality control, project management, legal, financial and administrative discipline.
Engr. Bollido said that the training courses were divided into seven modules which cover the whole 24-day of training from 8:00AM - 5:00PM inclusive of one Saturday for Project Evaluation an Assessment (Field).
Discussed under Module I are the Principles of Management which mainly focuses on the Overview: Management and Functions Planning, Organizing, Leading and Controlling; Module II - Planning and Design which focuses on the Environmental Impact Assessment and Detailed Feasibility Study; Module III Contract and Resource Management which focuses on Communication Management: The Importance of Stakeholders Relations and Communications in Infrastructure Projects; Resources Management- Equipment Utilization/ Allocation and Financial Management and Control; Module IV- Construction Methods; Module V-Materials Quality Control; Module VI – Project Monitoring and Control and Module VII – Administrative and Legal Discipline which highlights the Accountability of Public Officials.
Bollido revealed that the methodologies employed during the training include lecture-discussion, audio-visual presentation, workshop, case studies and project evaluation and assessment.
"After every discussion, an intellectual exercise were given at the end of every module and before graduation, a comprehensive exam was given to us on the last day of the training to gauge its effectiveness," said Bollido.
At the end of the course, participants were expected to enhance their managerial skills in project implementation through following procedures for various project categories, design data, criteria and standards; undertake and evaluate the planning, design, construction, and schedules of projects; undertake project evaluation and supervision of maintenance of such local roads, and other infra projects; apply quality control measures in project implementation; acquire the necessary know-how on effective and efficient utilization and management of manpower, materials and equipment; acquire effective communications in project management; apply the latest and innovative approaches/ techniques in project management; and be aware of the values that a District Engineer should possess and internalize in their roles and responsibilities.
The 24-day training ended with the giving of certificates to all participants who successfully completed the requirement of the course for the District Engineer Candidates Training.
Coconut association clarifies AHA's advisory on coconut oil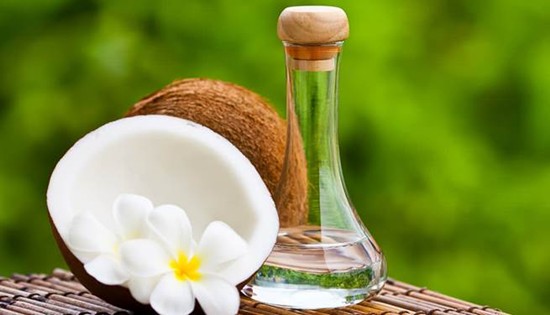 By DTI-TIPG-EMB
July 12, 2017
MAKATI CITY – United Coconut Association of the Philippines (UCAP) recently issued a statement clarifying the American Heart Association's (AHA) advisory against the consumption of coconut oil.
In the statement, UCAP mentioned that the advisory has gone viral with adverse effect on the coconut oil since it is considered a saturated fat. UCAP called on readers and users of coconut oil to be discerning of the said advisory and news articles drawing conclusion that coconut oil is unhealthy.
According to Dr. Fabian M. Dayrit of the Ateneo De Manila University, the AHA adopted a position that ignores the distinction between medium-chain fatty acid (MCFA) and long-chain fatty acid (LCFA) despite the numerous advances in this certain field of science. Coconut oil is mostly medium-chain saturated fats, the healthy type of fat. Detailed comparison of the fatty acid composition shows that coconut oil is very different from animal fat. Hence, studies that assume they are similar are consequently in error.
Furthermore, Asian and Pacific Coconut Community also highlighted in their recent statement the words of Dr. Bruce Fife, a USA Certified Nutritionist and Doctor of Naturopathy Medicine, "You cannot say LDL is bad and HDL is good." He explained the two types of LDL: one small and dense, while the other is large and soft. The large LDL is the type that is used in making bile, hormones, and Vitamin D, which are all good for one's health. Dr. Fife further concluded that, "Eating coconut oil (and other saturated fats) increases both HDL and the "good" LDL, thus, lowering the risk of heart disease. This is one of the reasons why populations that eat a lot of coconut oil have the lowest heart disease rates in the world."
Department of Trade and Industry's Export Marketing Bureau (DTI-EMB) concurs with the stand of industry associations such as United Coconut Associations of the Philippines, Inc. and the Asian and Pacific Coconut Community that the advisory is misleading as AHA based its findings on limited studies on saturated fats.
"This is not the first time this kind of negative publicity against coconut oil has happened. If we will look closer to historical accounts, this has happened before. It was magnified this time due to social media and technology," said DTI Export Marketing Bureau Director Senen M. Perlada.
By and large, DTI will continue to support the industry in sharing the good news about coconut and its economic contribution to millions of Filipino farmers and exporters.
Backed by recent studies and firsthand experiences of its consumers around the globe, DTI will help sustain the impressive health and economic contribution of coconut products such as coconut oil, virgin coconut oil, coconut water, coconut sugar, among others, by continued promotion through roadshows in various markets which will eventually bring additional jobs and income opportunities for Filipinos especially in the countryside.
American Heart Association (AHA) issued a Presidential Advisory on Dietary Fats and Cardiovascular Disease (CVD) on 15 June 2017 which recommended a decrease in consumption of products high in saturated fat such as dairy fat (butter), lard (pork), beef tallow, palm oil, palm kernel oil, and coconut oil.
Lumad forced to evacuate anew for fear of aerial strikes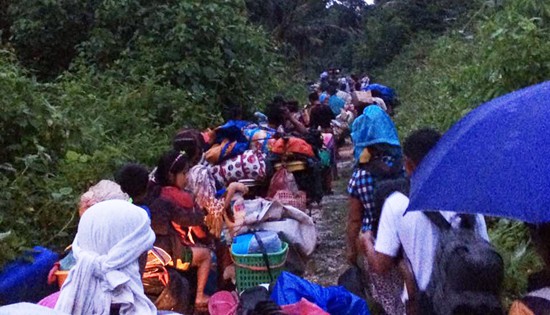 Press Release
July 7, 2017
SURIGAO DEL SUR – "Hindi naman kami terorista pero kami ang inooperasyon ng militar" (We are not terrorists yet we are targeted by military operations), Josephine Pagalan, a Lumad council member of Sandugo – Movement of Moro and Indigenous Peoples for Self Determination said a day after 2,047 Lumad residents of Lianga, Surigao del Sur left their homes for fear of airstrikes. This came after the Supreme Court upheld Pres. Duterte's martial law in Mindanao due to the terrorist threat of ISIS in Marawi City.
On July 5, 2017 at around 1am, a bomber plane of the Armed Forces of the Philippines (AFP) hovered around the mountains in the nine communities of Lianga, including Han ayan, where two years ago Lumad leaders Datu Juvello Sinzo, Dionel Campos and school administrator Emerito Samarca were massacred by Magahat-Bagani paramilitary group with the 36th Infantry Battalion. The 75th IBPA, 36th IBPA and 6th Special Forces Battalion have been conducting military operations in these areas since July 3, 2017.
Pagalan also represents Malahutayong Pakigbisog Alang sa Sumusunod (MAPASU), a Lumad organization based in the Caraga region.
"Hindi pa nga kami nakakabangon sa pagbabakwit namin, nagbabakwit na naman kami" (We have yet to recover from being dislocated, and now we are again forced to evacuate), Pagalan said. The Lumad from Lianga spent more than a year in an evacuation center in Tandag City after the massacre on September 1, 2015. They returned in 2016 to find their homes and fields ransacked and wrecked.
"Ang mga Lumad at Moro ang binibigwasan ng batas militar. Nasisira ang buhay at kinabukasan ng aming mga anak dahil hindi makapag-aral," (The Lumad and Moro bear the brunt of martial law. Our lives and our children's future our destroyed with their schooling interrupted) Pagalan said. "Military approach has never been an effective solution to the country's problems. Martial law and All-Out war only impacts their way of life and culture, thus driving them to fight back," Pagalan said.
"Kung gusto talaga ni Pres. Duterte na matigil ang rebelyon o maging ang terorismo , kailangang malutas niya muna ang mga dahilan ng armadong tunggalian. Sa aming mga pambansang minorya, ito ay kahirapan, pang-aagaw sa lupang ninuno at teritoryo at daang taong karahasan," (If Pres. Duterte truly wants to end rebellion or even terrorism, he first needs to resolve the roots of the armed conflict. For us national minorities, this is poverty, land grabbing of ancestral lands and territories and hundred years of violence) Pagalan said.
A total of 633 Lumad students including 43 volunteer teachers from the Alternative Learning Center for Agricultural and Livelihood Development (ALCADEV), Inc. and five community schools run by the Tribal Filipino Program of Surigao del Sur are affected with the suspension of classes due to the evacuation. The evacuees, are curently staying at the Simowao Tribal Community School.
16 PH firms bag US$23.4 export sales in major Taiwan food show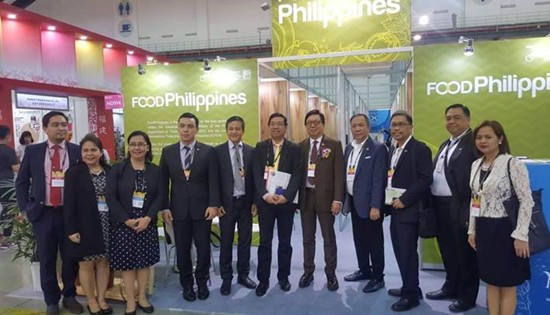 By CITEM
July 5, 2017
MANILA – Sixteen (16) Philippine food companies generated US$23.4 million worth of export sales in the recently held Taipei International Food Show (TIFS) at the Nangang Exhibition Center Hall 1 in Taiwan last June 21-24.
Led by the Center for International Trade Expositions and Missions (CITEM), the Philippine delegation in TIFS 2017 surpassed the target sales of US$22 million and exceeded the previous US$21.58 sales generated in 2016 by 8.4 percent.
"The Philippines had a successful participation in Taiwan. We surpassed our sales goal and actually brought 16 companies under the Philippine banner from an initial target of 12 companies," said CITEM Executive Director Clayton Tugonon. "We were also able to share necessary information to these companies so that they can capitalize on the promising market opportunities in Taiwan."
Part of the Philippine delegation are Celebes Canning Corporation, CJ Uniworld Corporation, DMI Medical Supply Company, Inc., Fitrite Inc., Greenlife Coco Products Philippines, Inc., JNRM Corporation, Malagos Agri-Ventures Corp., Mama Tina Pasta Company, Inc., Pasciolco Agri-Venture, Prosource International Inc., Raw Brown Sugar Milling Company, Inc., Team Asia Corporation, Tropicana Food Products, Inc., Weambard International Traders, Inc., and Yearluck Food and Industrial Food Corporation. Also included is the Department of Science and Technology-Industrial Technology Development Institute (DOST-ITDI).
Among the Philippines' best-sellers in the event were ready-to-drink tropical fruit juices and preserves; canned tuna; coconut products, such as virgin coconut oil, coconut cream, sugar and medium chain triglycerides (MCT); muscovado sugar in powder form and rock form; banana chips; soft-served ice cream mix, cones and waffles; and herbal tea, MX3 coffee and food supplements.
Other products showcased in the Philippine pavilion included unsweetened chocolate powder, roasted cacao nibs and dark chocolates; bagoong; noodle pasta; canned meats; vacuum-fried vegetables and fruits; and premixed rice cakes and other food flavorings.
"Through our benchmarking and market visits, we observed that the Taiwanese market has a huge demand for health and organic food and beverages. There is also a big market potential for exporting high value fresh/frozen high-value fish, shrimps and prawns, abalone, scallops, and other seafood products," said Tugonon.
"We also surveyed that the major international competitors for the Philippines' best-selling products were China, Vietnam, and Thailand because of their price and packaging. Sri Lanka was also found as one of the toughest competitor for coconut products, while European countries, such as Switzerland, are also seen as a major competitor for chocolate products," he explained.
The TIFS, or popularly known as FOOD TAIPEI, is an annual food fair that links the entire food industry supply chain in Taiwan and other countries – from agriculture and aquaculture, refrigeration, processed food, food machinery, packaging and packaging equipment.
The four-day event was held in conjunction with Taipei Pack, Foodtech & Pharmatech Taipei, Taiwan Horeca and Halal Taiwan. It was participated by 1,717 exhibitors with a total of 4,011 booths, including participating representatives from 36 countries, to cover every link of the supply chain in Taiwan.
"CITEM looks forward to its next participation in FOOD Taipei next year. Hopefully, our participation this year has helped Philippine companies benchmark themselves in the international market to better improve their packaging, product labeling, and secure the necessary food standards and certifications to expand their reach on the Taiwanese export market," said Tugonon.
According to the show organizer, the Taiwan External Trade Development Council (TAITRA), the local revenue of the Taiwan food industry has already reached NT$ 618 billion (US$ 20 billion), and it is expected to increase to NT$ 620 billion (US$ 21 billion) by the end of 2017.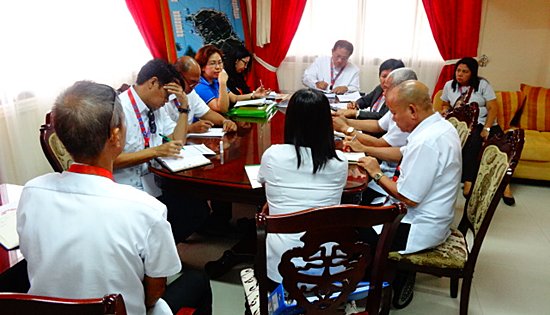 Department of Public Works and Highways (DPWH) – Internal Audit Service (IAS) conducts exit conference for ISO 9001:2015 Certification with Biliran District Engineering Office (BDEO) key officials headed by District Engineer, David P. Adongay Jr. on June 28, 2017 at BDEO's Conference Room.
DPWH-IAS conducts management audit at Biliran DEO for ISO 9001:2015
Press Release
June 30, 2017
NAVAL, Biliran – The Department of Public Works and Highways (DPWH) - Internal Audit Service (IAS) conducts its first management audit at Biliran District Engineering Office (BDEO) for the ISO 9001: 2015 Certification.
According to Engr. David P. Adongay, Jr., District Engineer, the main objective of the auditing process is to ensure that all the processes in the office are in accordance with the standard of the department.
"The auditing process makes sure that what we are doing here in the Department of Public Works and Highways district office follows the principles of quality management system", said Adongay.
The auditing process took two days from June 27-29, 2017 which started with a conference with key officials of BDEO and from the auditing team.
DPWH-IAS from the Central Office represented by Ms. Ma. Cristina Suyom and Ms. Erlyn Caguiroa scrutinized BDEO of its different processes in the office.
According to Adongay the audit process for the ISO 9001:2015 was focused on leadership, engagement of people, evidence-based decision making, relationship management and improvement.
The auditing process ended with an exit conference where the audit team discusses their findings and assessment of BDEO and the areas that need improvement.
Adongay said that the result of the audit process is satisfiable.
"If I would round it in the scale of 1-10, I think we scored nine because based from our exit meeting with IAS, most of the findings can be immediately corrected," said Adongay.
Adongay also revealed that the next auditing process for BDEO's journey to ISO 9001:2015 Certification will be in the month of August.
According to Adongay, the office is preparing audit by the third party, Anglo Japanese American (AJA).
"We just had our meeting and we discussed about the inputs of the management review and we are expecting that our section chiefs, unit heads as well as other employees will follow the Quality Management System as far as the operation of our office is concerned. So everything that we had discussed, needs their immediate action and we are going to follow it up in a weeks time," Adongay disclosed.
A New Book - Torture: as an entrenched part of Cruel, Inhuman & Degrading Legal Systems
By Asian Human Rights Commission
June 30, 2017
A Study on the use of torture as a routine part of criminal investigations in developing countries; lessons from the situation in Sri Lanka
HONG KONG – The Asian Human Rights Commission is happy to present its latest publication which is now available in print and as an e-book. The book is based on over 20 years of work attempting to expose glaring flaws of criminal justice systems in particular and the overall legal systems in general of the developing countries which prevents people living in these countries from actual achievement and enjoyment of basic human rights. This is done by way of selected study on the widespread use of torture and ill-treatment in these countries, which is a direct result of the defects that exists in the systems of justice. The flaws in the policing systems, prosecution systems and judicial systems which instead of protecting the rights of people, in fact becomes an obstacle to their achievement – is being analyzed in detail in this book.
Detailed studies on the defects of Sri Lanka's justice systems are used in this book as illustrations of common problems that exist in almost all developing countries.
The book uses details of actual stories documented over a long period to illustrate various questions and issues highlighted in the book. Then a detailed analysis is made of these narratives to explain the root causes for the prevalence of such extremely defective systems and the unwillingness of the Governments to improve or to reform these systems.
In one instance, the story of a young man who made a complaint against a few police officers of a particular police station, regarding illegal arrest and torture is used as an illustration. The result of the complaint was that he, his mother and his father were made to disappear as a way to erase all evidence against the police officers who allegedly violated his rights. Nearly 30 years have passed since this incident which is well-known, but the state has made no attempt at all to investigate this heinous crime. This illustrates that despite of widespread knowledge about very serious crimes, the Governments can ignore them as matters of no consequence. When serious crimes become matters of no consequence, it is an indication that no amount of legislation would be of ant use if the state neglects the enforcement of such laws. When law itself becomes irrelevant, can human rights be regarded as relevant and important in these societies - is the question that the book poses, quite poignantly.
The Book consists of four parts; first part deals with the impact of a bad system of justice on judges, lawyers, law enforcement officers, civil servants and all citizens in the country, who all suffer by way of a deterioration of their intellect and capacity for rational living; second part deals with the consequence of introducing what was called "constitutional autochthony", which in Sri Lanka meant displacement of separation of powers and other basic tenants of liberal democracy; the third part deals with the manner in which the deterioration of the Legal System affected the entire political system; the last part gives graphic details of how the crisis of justice system is manifesting itself in contemporary Sri Lanka.
The aim that the book is pursuing is well summarized is its dedication. This book is dedicated to the hope that a better understanding may emerge of the wrongs that people who live in countries with broken justice systems suffer, giving rise to a heightened level of concern and a drive to undo such wrongs through local and international strategies and actions, all to create environments where the life and liberties of people are protected.
The foreword to the book has been written by Dr. Sunil Coorey, Senior Counsel and author of the monumental work, Principles of Administrative Law in Sri Lanka, who writes that the "biggest obstacle to the eradication of the practice of torture by the Police is the apathy with which the State machinery as a whole and those in the higher strata of society (including judges, lawyers and the comparatively well to do), look upon it".
Copies of the book can be obtained from the Asian Human Rights Commission based in Hong Kong and will soon be available in book shops as well as an e-book.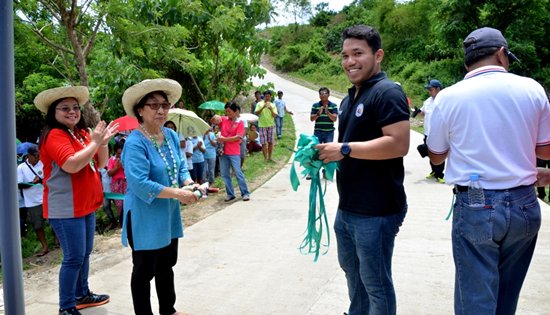 DAR Undersecretary Sylvia Mallari (2nd from L) and Mayor Philip Martin Astorga (2nd from R) cut the ceremonial ribbon during the inauguration and turnover of the 12.4-kilometer farm-to-market road implemented under the second phase of the Agrarian Reform Communities Project (ARCP-II) in the island-municipality of Daram, Samar. Assisting them are DAR Regional Director Sheila Enciso (L) and Provincial Agrarian Reform Program Officer Enrique Granados III (R).
DAR turns over third FMR in Daram
By JOSE ALSMITH L. SORIA
June 28, 2017
DARAM, Samar – As the Department of Agrarian Reform (DAR) commemorates this month the 29th year of implementation of the Comprehensive Agrarian Reform Program (CARP), said agency turned over on Monday to the local government unit its third and longest farm-to-market road project constructed in this island-municipality.
Undersecretary Sylvia Mallari led the turnover rite of the 12.4-kilometer all-weather road held in Barangay Birawan, some seven kilometers away from the town proper.
"This is in line with the President's pronouncement, Build! Build! Build!" Mallari said referring to the road project. "Upang patuloy ang pag-unlad ng kabuhayan, at magkaroon ng kapayapaan sa kapaligiran" she added.
In his acceptance message, Mayor Philip Martin Astorga stressed the benefits this project would bring to his town. According to him, this would serve a faster way to travel across the island, and further spur development through agriculture.
Residents of this municipality used to travel around the island by motorboat in the absence of a road.
Implemented under the second phase of the Agrarian Reform Communities Project (ARCP-II), this road, according to Municipal Agrarian Reform Program Officer Alfonso Jalalon, passes through seven barangays; Mabini, Ubo, Birawan, Astorga, Marupangdan, San Vicente and Bono-anon that would be benefited by the more than 5,600 residents in the area wherein about 500 are agrarian reform beneficiaries.
Regional Director Sheila Enciso disclosed that the total cost of this project, where critical portions of five kilometers are concreted, reached P48.9-million being shared by the LGU and a loan from the Asian Development Bank by the national government.
Thus, Enciso reminded the recipients to maintain it in good condition for 10 years. Otherwise the loan portion comprising 40 percent of the total cost will likewise be shouldered by the LGU.
Vice Mayor Lucia Astorga, who was the mayor during the planning stage, never forgot to mention in her welcome message former ARCP-II National Project Director Homer Tobias for considering this municipality and became a recipient of three farm-to-market roads making almost all barangays not only accessible, but opening livelihood opportunities as well.
According to her, the 40 percent share of the national government is of big help in the realization of this town's dream of building road networks.
Meanwhile, aside from the convenience they now experience in hauling farm products for trading, Birawan Kagawad Leonardo Papawran enumerated other benefits they are now enjoying with the existence of this road.
He disclosed that the road provided many residents another source of livelihood as motorcycle drivers.
It also serves as an alternate route during bad weather when not safe to travel on waters.
Likewise, Papawran emphasized, the youth from other barangays would now be encouraged to enroll at the Birawan National High School.
1 NPA captured during a brief fire fight
By DPAO, 8ID PA
June 27, 2017
CAMP LUKBAN, Catbalogan City – A platoon from Samar Provincial Public Safety Company (SPPSC) and a team from Alpha Company, 87th Infantry (Hinirang) Battalion while conducting Focus Military Operation (FMO) at Sitio Opong, Barangay Veloso, Marabut Samar encountered about 15 fully armed communist terrorists on June 26, 2017 at 5:00 o' clock in the morning.
A five-minute fire fight ensued which resulted to the capture of a certain Jojo Gerilla and the recovery of one (1) .45 pistol with one (1) magazine; assorted cartridge of M-16 5.56mm and M-14 7.62 mm empty shell; IED power source and triggering device with 200 meters of firing wire and five (5) kilograms of rice.
The forewarning on the presence of an armed group from concerned villagers in the area shows a good rapport between the military and civilian populace which is a shared responsibility in preventing the communist terrorists to conduct atrocities that could impede the peace and development in the region.
This NPA terrorist group shows how desperate and inconsiderate they are despite of the on-going tension in Marawi City. Henceforth, they cannot stop our military troops in pursuing security operations until their presence is still in Eastern Visayas. We encourage everyone to follow the path of peace and condemn those terrorist whose advocate is to bring violence and threat in the whole region.
Likewise, Maj. Gen. Raul M. Farnacio, 8ID Commander commended the combined team from the Army and PNP for their efforts and dedication in the performance of their mandated duty. The 8ID is providing support to the Philippine National Police and other concerned government agencies in creating a concept and understanding that security is a shared responsibility not just among security forces and government institutions but also of civil-society and the community.
First of its kind: Fashion show atop hydroelectric megastructure
Jessica Minh Anh added Hoover Dam into the world's most iconic runway venues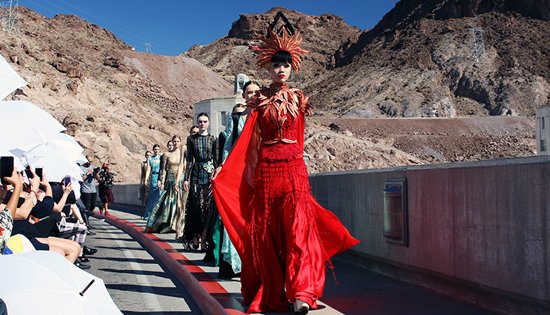 Press Release
June 27, 2017
NEVADA – Earlier today, producer of the world's most innovative runways transformed American engineering masterpiece, Hoover Dam, into a sky-high catwalk. Matching the unstoppable strength of a new daring generation with the hydroelectric power, Jessica Minh Anh's Summer Fashion Show 2017 premiered design excellence while redefining a series of modern standards. The extraordinary production, which stopped traffic atop the iconic megastructure, showcased 9 exquisite haute couture, ready-to-wear, and jewelry collections from 4 continents.
A perfect portrait of modern beauty with endless sensuality, Jessica Minh Anh opened the highly-anticipated catwalk in a mesmerizing mermaid red dress by Brazilian haute couturier Patricia Nascimento. Her striking royal look was complimented by an artistic crown-shaped architectural hairpiece by Mirror Mirror Vegas and uniquely designed crystal and gold jewelries from artist Cristina Sabatini. Against the cinematic backdrop of the Black Canyon and the dreamy Lake Mead, the exotic beauty was followed by a gorgeous model lineup in nude, white, pink, gold, and ocean blue gowns made of fluid fabrics. A master at stand-out waistline and elongated silhouette, Patricia and her new collection 'Realize' successfully inserted mystery and seduction onto the epic catwalk.
Returning to Jessica Minh Anh's grand production for the fifth time, Pakistani award-winning designer Syeda Amera celebrated femininity and elegance with a colorful floral collection inspired by the beautiful nature. Featuring over-sized shoulders, extravagant maxi dresses, and uniquely-cut jumpsuits, the radiant designs brightened up the catwalk while demonstrating special print technique on luxurious fabrics. Poppy, daisy, lily, and rose print were certainly part of the summer charm.
On the contrary, newcomer Kine Dione chose beige and white color pallet for her creatively embroidered collection. Focusing on refinement and craftsmanship, each piece was distinctively cut and handcrafted with gold flowers and pearl details on tulle, lace, silk, and organza. The gold regal designs played a significant role in adding the sun-kiss glow on the lavish looks.
Turkish representative Gulnur Gunes rejoined Jessica Minh Anh's exclusive runway with a powerful collection influenced by the beauty and intelligence of the Greek goddess Métis. Using special crystal embellishments on lilac, gold, and silver fabric mixed with daring cuts, the talented designer created ultimate glamour while effectively reflecting a woman's personality.
Next, South American designer Christian Zerrá gave audience a sense of solemnity and modernity through his exciting new collection which used baroque art on red, black, and white velvet and fine cotton. Perfectly blending traditional elements of the great Cuzco heritage with contemporary cuts and original embroideries, Cristian's designs cleverly revealed the alluring side of practical but by no means simplistic garments.
The ultra-charismatic and bold collection by Hong Kong-based brand Kaprice was a harmonious fusion of the East and the West. Bringing together ambience of texture and designs influenced from across the world, each piece infused freshness with vibrant colors and lightness from soft fabrics such as silk, satin, and chiffon. Imaginative and lavish, the "Kouture" collection, which included exclusive prints and Swarovski and sequins embellishments, gave out a dramatic appeal.
Adding class and sophistication to Jessica Minh Anh's summer catwalk, Malaysian powerhouse Emmanuel Haute Couture premiered a romantic bridal collection using luxurious fabrics, hand-beaded embellishments, and couture craftsmanship. With deep necklines and polished silhouettes, each design conveyed effortless elegance and edge.
An expert at fabric manipulation, three-dimensional embellishments, and technological cuts, Peruvian designer Ani Alvarez Calderon put the traditional crafts into a new context in the finale collection of the grand show. Inspired by famous architectural shapes of the pyramids, huacas and royal tombs, Ani's wearable arts were made of gold, turquoise, green, and black colour pallet. Saving the best for last, Jessica Minh Anh appeared as a goddess in a brilliantly crafted royal red dress and an impressive golden feather crown. Symbolizing the ancient beauty with both fragility and power, the supermodel closed the show with unattainable desire and supremacy.
The iconic J Summer Fashion Show 2017 was supported by industry best Joy Mangano, AVP Nationwide Productions, Saks Fifth Avenue Las Vegas, Arrow Stage Lines, Fred's Bakery, Alexis Park All Suite Resort, Hoover Dam Lodge Hotel & Casino, Body in Mind Pilates Studio, JB Pro Graphics, Icelandic Glacial, and Haas-Jordan. The show marked Jessica Minh Anh's 20th highly successful productions since her history-making catwalk on England's famous London's Tower Bridge. The catwalk queen is now ready for her next step: producing original series to share her inspiring journey of conquering the most challenging venues.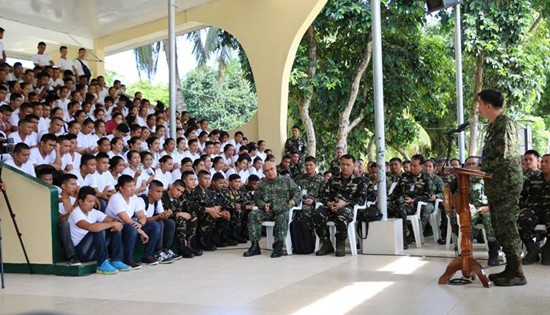 8ID commander MGen. Raul Farnacio AFP delivering his message during the Opening Ceremony of the 38th National Reservist Week at 8ID Grandstand on June 24, 2017.
8RCDG celebrates the 38th National Reservists Week
By DPAO, 8ID PA
June 24, 2017
CAMP LUKBAN, Catbalogan City – The 8th Regional Community Defense Group (RCDG) celebrates the 38th National Reservist Week with the theme, "Laang Kawal: Laging Handa sa Pagtugon sa Pangangailangan at Kusang Loob na Naglilingkod Para sa Kaunlaran ng Bayan," on June 23-25, 2017 at Camp Lukban, Maulong Catbalogan City.
The three-day activity held at Headquarters 8th Infantry Division, PA is a Provincial Assembly Test to the 1st Western Samar Ready Reserve Battalion in order to determine the completeness of the Reserve Force fill-up; to account the actual number of AFP reservists in the area; disseminate awareness of the AFP Policies; improve their Humanitarian Assistance and Disaster Response (HADR) capabilities; and to disseminate the direction of ROTC to the school administrators and cadets.
The activity focuses on the significant contributions and roles of the trained and equipped reserve force of the country and its people through maintaining internal security and stability, participation in disaster/emergency response, community development activities and humanitarian assistance.
Maj. Gen. Raul M. Farnacio AFP in his message said: "I am pleased with your presence because the spirit of volunteerism is still in our youth today. Volunteerism is one of the many ways to show our patriotism to our country. You've chosen the right path to be among the selected few who served our country without expecting anything for return."
"Our constitution recognizes the role of the Citizen Armed Force as protector of the country and its people. In particular, the reserve force, in tandem with the regular counterparts, has played a significant role in maintaining internal security and stability by actively participating in humanitarian assistance, disaster response and community development activities. Let us all continue to work together for peace and progress in our country. Congratulations to all of us and Mabuhay Tayong Lahat!" Farnacio added.
DTI backs electronics industry development
Calls for closer industry-academe ties towards innovation
By DTI-OSEC-PRU
June 22, 2017
PASAY – Relevant industry players should continue partnering with the Philippine government in developing further the electronics industry, being one of the primary sources of economic growth today, the country's trade chief said.
Stressing the robust Philippine economy and a booming global market, Department of Trade and Industry (DTI) Secretary Ramon Lopez outlined government initiatives to strengthen the electronics industry, as well as DTI's partnership with industry stakeholders.
Said initiatives include projects that will move the industry's capabilities to higher value activities, as well as help identify products and technologies in the developing sectors of electronics in the next five years. DTI and the Board of Investments (BOI) also have active partnerships with other institutions to forward capacity-building programs and exchange of best industry practices.
In his keynote speech at the 14th Philippine Semiconductor and Electronics Convention and Exhibition (PSECE) on 21 June, Sec. Lopez said that closer industry-academe linkages can lead to a stronger electronics industry that will later on "generate inclusive economic growth, reaching those at the bottom of the pyramid."
As one of the pillars of the country's industrial growth and one of the top 12 industry priorities of the current administration, the electronics industry is a top export performer with a 51.3% share of total exports in 2016 (worth USD 28.8 billion). The industry has also generated about 2.6 million direct and indirect employments as of 2015.
He also mentioned that as the Philippines chairs ASEAN 2017, the government's priority is to lead an inclusive, innovation-led growth, which means working to create an enabling environment to develop micro, small, and medium enterprises (MSMEs), and prepare them to become globally competitive, innovative, inclusive and resilient.
"There is a very strong role that innovation plays in helping and enabling a lot of our countrymen to develop an innovation mindset, culture and capability, for them to also have equal chances to success and move up in life," Sec. Lopez said.
The trade chief noted the need to focus on key areas affecting MSME growth, including the promotion of productivity, technology, and innovation, as well as making these available and accessible to MSMEs.
"If we are able to broaden the capacity and innovation culture to a larger percentage of our population, then we also increase peoples' chances of becoming successful," he added.
Sec. Lopez reiterated that Pres. Duterte's Dutertenomics aims to narrow development gap and widen the gains of economic growth through creation of jobs and income opportunities for all.
Led by the Semiconductor & Electronics Industries in the Philippines Foundation, Inc. (SEIPI), the 14th PSECE provides an avenue, wherein public and private stakeholders gather to strategically identify possible areas of cooperation and to learn best industry practices.
"As we gain insight and appreciation on the issues affecting the electronics industry, we are confident that whatever we learn will help us in our efforts to create broad-based growth that generates jobs, fosters entrepreneurship, and gives Filipinos more opportunities," Sec. Lopez said.
'Now, a perfect time to expand' – Lopez to IT-BMP players
By DTI-OSEC-PRU
June 20, 2017
TAGUIG – The government intensifies its support for the continuous development of the information technology-business process management (IT-BPM) industry, following the industry's generated revenue of around US$23 billion and direct employment of 1.3 million last year.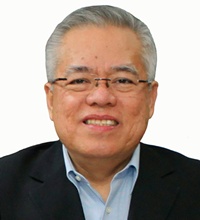 Speaking at the office opening of financial institution ING Business Shared Services BV on 20 June, Department of Trade and Industry (DTI) Secretary Ramon Lopez said that ING's expansion comes at a perfect time when the Philippines is considered the global leader in IT-BPM, having an annual growth rate of 30% over a decade.
Sec. Lopez also mentioned that IT-BMP's economic contributions surpass remittances of overseas Filipino workers, making the industry more competitive and growth-driven.
"The industry benefits from an enabling policy environment under the administration of President Rodrigo Duterte. I encourage the IT-BMP industry players to continue expanding and specifically take advantage of this moment, when the Philippines is experiencing an economic breakout, as further intensified by efforts to improve ease of doing business," he said.
The trade chief also highlighted that the country has a qualified, highly-trainable, hardworking work force, with notable English proficiency and fast learning curve.
"Filipinos' adaptability to universal cultures and their high level of commitment and loyalty prove that the country's greatest asset has always been its people, who will bring inclusive growth to the rest of the country," he said.
Globally, the Philippines is competitively positioned in terms of talent, costs, and risks relative to established and emerging offshore destinations. Cities from Metro Manila to Clark, to the cities of Cebu, Davao, Santa Rosa, Bacolod, Iloilo, Dumaguete, and Baguio are listed in the 2016 Top 100 Outsourcing Destinations as reported by Tholons.
While the Philippines is the number one global provider of voice BPM services, it is also rapidly expanding in the value-driven non-voice, complex services segments of the industry.
Non-voice services included range from engineering, health care, legal, financial, creative, and software services for the energy, banking, investment, insurance, shipping, media, and other industries.
DTI has set up Training for Work Scholarship Program (TWSP) for IT-BPM, wherein the government invests on training for students to work in the industry.
DTI also has a partnership with the Commission on Higher Education (CHED) and the IT & Business Process Association of the Philippines (IBPAP) to run the Service Management Program (SMP), a specialized track for business and IT schools to develop skills in students needed to work in the IT-BPM industry.
The first foreign bank that transitioned into a universal bank in the country, ING offers banking insurance, retirement and investments services with global presence in 40 countries.
NPA harass troops while conducting community service
By DPAO, 8ID PA
June 20, 2017
CAMP LUKBAN, Catbalogan City – A squad of Task Group Alpha of 78th Infantry (Warrior) Battalion while conducting Community Service at Barangay Paglaum, Carigara, Leyte was harassed by undetermined number of NPA terrorist group on June 19, 2017 at around 9:10 o'clock in the evening.
This activity is intended to deliver basic services to interior barangays that will promote economic development and will address the problems affecting peace and security.
Initial result of the harassment disclosed that PFC Reynaldo C. Llemos, suffered a gunshot wound on the left side of his stomach. He was immediately brought to Saint Paul's Hospital, Tacloban City for immediate medical treatment while undetermined casualties on the enemy side.
Maj. Gen. Raul M. Farnacio, 8ID Commander ensures that no matter what conflict may arise that needs to be addressed, the soldiers are ready to dedicate their lives. Your Army in Eastern Visayas will still pursue and continue its mandated duty to protect the welfare of the populace in the far flung areas. The 8ID is calling the massive support of the communities to report any presence of armed group in their barangays to help stop violence that hinders the fast development of the region.
Philippine Airlines orders seven more Bombardier Q400 aircraft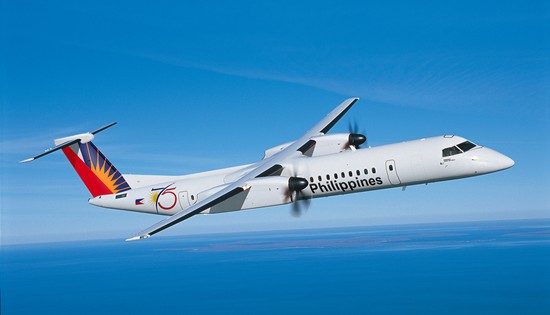 Via MARKETWIRE
June 19, 2017
TORONTO, Ontario – Bombardier Commercial Aircraft announced today, from the International Paris Air Show, that it has signed an agreement with Philippine Airlines, Inc. for the exercise of its seven Q400 aircraft purchase rights. This latest rights exercise brings Philippine Airlines' total firm order to twelve Q400 aircraft. The original firm order for five Q400 with purchase rights for an additional seven was previously announced on December 8, 2016.
Based on the list price of the Q400 aircraft, the firm order is valued at approximately US$235 million.
"The Q400 aircraft have helped airlines around the world expand their networks, and capture new opportunities" said Fred Cromer, President, Bombardier Commercial Aircraft. "We are delighted that Philippine Airlines is growing its fleet with more Q400 aircraft, and are confident that the airline will benefit from the aircraft's outstanding economics and performance."
"As we position ourselves for growth, we are pleased to be adding more Q400 to our fleet," said Jaime J. Bautista, President & Chief Operating Officer, Philippine Airlines. "We are thrilled about the opportunities that lie ahead, and we look forward to offering more capacity and improving connectivity in the region with comfortable, fast and efficient regional aircraft like Bombardier's 86-seat turboprops."
The flag carrier of the Philippines is expected to take delivery of the world's first dual-class, 86-seat Q400 aircraft in July 2017.
Including this latest order, Bombardier has now recorded a total of 585 Q400 aircraft on firm order.
Big labor group ALU lauded Lorenzana and Año for sophisticated and careful generalship of Maute and Martial Law in Mindanao
By Associated Labor Unions
June 15, 2017
QUEZON CITY – The country's biggest labor group the Associated Labor Unions-Trade Union Congress of the Philippines (ALU-TUCP) today calls for recognition for the nuanced sophisticated leadership of both Defense Secretary Delfin Lorenzana and Armed Forces of the Philippines (AFP) Chief of Staff General Eduardo Año in this difficult hour of our nation's history.
The ALU-TUCP lauds Lorenzana and Año for their adherence to the highest standards of professionalism and patriotism in the fight against the Maute terrorist group and in the deliberate and measured tenor of their administration of martial law in Mindanao.
"We warrant full confidence that Secretary Lorenzana and General Año will make the courageous, careful and deliberate moves to counter the seriousness of the Maute threat. The Maute group is the new generation of Muslim youth disgruntled with the failed strategies and tactics of their MILF and MNLF elders and who are now adopting the new social media as the new political fashion for organizing their struggle," ALU vice president Louie Corral said.
While the Maute's are seeking to legitimize by identifying themselves as ISIS, Secretary Lorenzana and General Año are systematically reducing their military capacity and annihilating their political potential.
"Let us take our cues from these officers and gentlemen rather than listening to the siren calls of opportunists trying to make political hay of the conflict. We know that both Lorenzana and Año are running an intelligent and intelligence-based interdiction to minimize both troop losses and civilian casualties. We also feel that that their leadership of the military effort is taking proper heed that both the MILF and MNLF secessions can be taken advantage of to evolve into something more sinister and evil. Thanks to their appreciation of the facts on the ground and political sophistication, they are drawing the bounds and scope of both military and political intervention," Corral said.
We encourage support for both Lorenzana and Año in their difficult task. They have avoided reckless warmongering and irresponsible scaremongering of those wrapping the Philippine flag around themselves while engaging in self-promotion and aggrandizement.
This war against the Maute will not be solved by political adventurism or politicos. Let us fight the fire in one room intelligently now, lest by incautious calculation we destroy the whole house. Let us support our troops in this struggle. Let us support the political and military maturity of Lorenzana and Año to seeing us through this crisis soonest, he added.
Lopez to sari-sari store owners: gov't is your expansion partner
By DTI-OSEC-PRU
June 15, 2017
MANILA – Filipino sari-sari store owners can count on the government to finance their dream expansion through the Pondo para sa Pagbabago at Pag-asenso (P3), the country's trade chief said.
Department of Trade and Industry (DTI) Secretary Ramon Lopez encouraged sari-sari store owners, who belong to the sector of micro, small and medium enterprises (MSMEs), to consider expansion plans through the P3 program, a direct alternative to the "5-6" lending scheme.
"Sari-sari stores form part the economic backbone of the country. Providing them more opportunities can only mean greater economic development," said Sec. Lopez during the appreciation and awarding ceremonies of supermarket chain Puregold on 14 June.
President Rodrigo Duterte's P1 billion financing program offers an affordable, MSME-friendly micro-financing system, whose priority beneficiaries include microenterprises and entrepreneurs that do not have easy access to credit, or are accessing credit at very high cost, such as, micro-entrepreneurs, market vendors, agri-businessmen and members of cooperatives, industry associations and co-operators.
"Loanable amount has interest rate ranging from 20 to 25% per annum with no collateral requirement. This rate is substantially lower than what is being charged by 5-6 loan sharks," he said, adding that the government hopes that through the P3 Program, it will be able to reach and help even the smallest of entrepreneurs in the countryside.
The trade chief expressed hoped that Puregold continue its advocacy of assisting sari-sari store owners increase their potential earnings through the Tindahan ni Aling Puring program, as it complements DTI's grand objective of helping MSMEs level-up and contribute to national development.
Meanwhile, reading Pres. Duterte's message for the event, Philippine National Police Chief Gen. Ronald "Bato" dela Rosa urged stakeholders to make MSMEs "globally competitive through sustainable and innovative business practices."
Puregold's Lucio Co highlighted the significance of sari-sari stores as the immediate go-to pantry of the common Filipino household, adding that establishing one has likewise become "the business of choice" of returning overseas Filipino workers.
"The shared vision to address inequality and reduce income gaps is the thrust of the Durtertenomics. The current growth story of the Philippines can only matter more to our countrymen if it reaches the bottom of the pyramid," said Sec. Lopez.
"As we strengthen the industries to create more jobs, DTI's programs are available to encourage and to inspire Filipinos to give entrepreneurship a good try," he added.
Puregold, which currently caters to about 10 million Filipino households and employs 52,000 and growing, recognized its top 20 gold members, as well as those with highest sales, highest growth and best merchandise.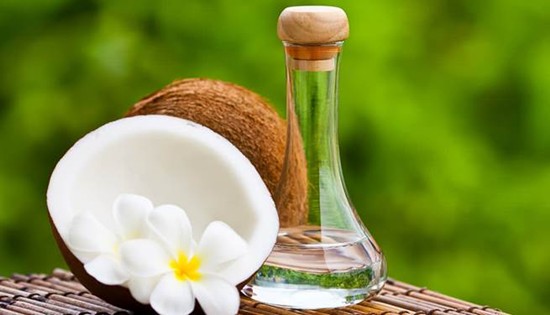 Virgin Coconut Oil from ProSource International Inc. is one of the products to be featured in Taipei International Food Show this coming June.
16 top PH firm joins major Taiwan food show
DTI-CITEM targets US$22M export deals in Taiwan food market
By CITEM
June 15, 2017
PASAY CITY – Sixteen Philippine companies are set to exhibit at Taipei International Food Show or popularly known as Food Taipei this June 21-24 June 2017, held at Taipei Nangang Exhibition Center. Organized by the Taiwan External Trade Development Council (TAITRA) and considered as one of Asia's leading food shows, the show will coincide with five events and over 1,500 exhibiting companies.
The FoodPHILIPPINES exhibition is part of the efforts of the Department of Trade and Industry, through the Center for International Trade Expositions and Missions (DTI-CITEM), to strengthen the position of Philippines as a leading source of premium, natural, healthy, and ready-to-eat processed food and beverages in the Taiwan food market. Exhibitors will be representing the Philippines' Premium Products such as Coconut, Banana, Cacao, and Tuna and other healthy products.
Tagged as one of Asia's "Four Tigers," Taiwan has a vibrant economy and is considered as one of the richest in Asia.
"Our aim is to increase market share of Philippine food exports to Taiwan by achieving at least USD 22 million worth of export sales. For the longest time, Taiwan has been increasingly reliant on food and agricultural imports due to the country's limited arable land and agricultural production. This factor enhances the market opportunities for the Philippines, to penetrate the Taiwan food market," says Clayton Tugonon, Executive Director of CITEM, or the Center for International Trade Expositions and Missions.
The exhibitor team is composed of manufacturers and exporters of products from the southern regions, focusing on a mix of fresh and processed healthy/natural products, Halal, ready-to-eat food, and industrial ingredients.
Exhibitors includes: Raw Brown Sugar Milling Co., Inc. for organic muscovado sugar, Prosource International Inc. for virgin coconut oil, nectar, amino; Pasciolco Agri-Ventures for virgin coconut oil, coco sugar, coco jam, and coco sap vinegar; Malagos Agri-Ventures Corporation for unsweetened chocolate, roasted cacao nibs, and dark chocolate; Fitrite Inc. for fruit juices, noodles, mixes, bagoong; Year Luck Food And Industrial Corporation for soft-serve ice cream powder, as well as ice cream cones- waffles and wafers.
Also participating are Tropicana Food Products Inc. with their virgin coconut oil; CJ Uniworld Corp. for banana chips, Celebes Canning Corporation for canned tuna, pouched tuna, and frozen tuna; DMI Medical Supply-Food Div. for the MX3 Food Supplement, MX3 coffee and MX3 tea which uses xanthone from mangosteen; JNRM Corporation with native pre-mixed delicacies and flavor syrups.
DTI-CITEM also partnered with DTI-Export Marketing Bureau (DTI-EMB) to feature in the Taiwan the export-ready products of companies under the Regional Interactive Platform for Philippine Exporters (RIPPLES) Plus Program. Under the RIPPLES Plus Program, participating are Mama Tina Pasta with their Noodles, Pasta, Canned Meat; Green Life Coconut Products Philippines, Inc. with their coconut butter, organic coconut cider vinegar, organic coconut spirit; Team Asia Corporation with their coconut oil, VCO, and other coconut related products, coconut products, vegan coconut powder; and Weambard International Traders, Inc. with their canned fruit products in light syrup, mango slice, mango bits with nata de coco bits, banana (whole saba) mango puree with sago, young coconut strings.
The Department Of Science And Technology - Industrial Technology Development Institute (DOST-ITDI) will also exhibit the products made using the Philippines' state-of-the-art food technologies and equipment.
The food and drinks sector is the fifth largest industry in Taiwan and one of the market's fastest growing sectors. Attendees are expected to range from local supermarkets, hypermarkets, and convenience stores as these increase range of imported foods to meet demand.
The Food Taipei 2017 visitor profile includes importers/wholesalers, distributors, hotel owners/representatives, restaurant and bakery owner, online retailers coming from China, Japan, and Hong Kong as well as Malaysia, USA and Singapore.
Philippine products to be exported to Taiwan must adhere to the requirements specified by Taiwan's Food Safety and Sanitation Act (FSSA), a new and improved food safety system. As such, products have complied with their requirements for quality and package labeling.
The retail sector and consumer foodservice industry in Taiwan continue to emerge as lucrative markets for Philippine products, due to Taiwan's busy lifestyle. Substantiating this is the rapidly expanding foodservice industry, which is forecast to reach sales of US$21.6 billion by 2017 (AAFC, 2014). The Taiwan food industry thus poses an attractive destination for the high-quality products of Philippine manufacturers, suppliers, and exporters.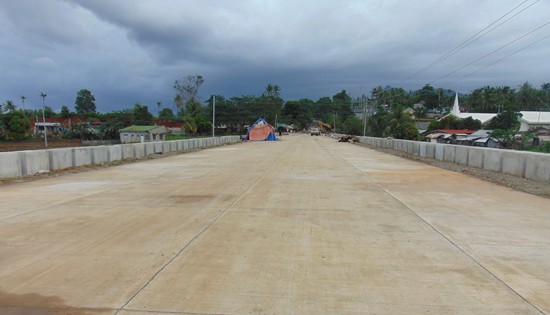 On-going Construction of Biliran Diversion Road, Biliran, Biliran with an accomplishment of 60% as of May 31, 2017.
Biliran diversion road project to resume construction work
Press Release
June 15, 2017
NAVAL, Biliran – The P43M Construction of Biliran Diversion Road project will resume its construction activities after problem on Road-Right of-Way (RROW) has been settled. This is revealed by Engr. David P. Adongay Jr., District Engineer of the Department of Public Works and Highways (DPWH)- Biliran District Engineering Office (BDEO).
"We can now issue resume work order to the contractor because the permit to enter was signed by the affected landowner," said Adongay.
According to Adongay, the construction of Biliran Diversion road was hindered to proceed with the implementation because one of the landowners affected in the road opening refused to sign the "Permit to Enter".
Ms. Edwina N. Tan, RROW agent revealed that the problem on diversion road was settled by paying the affected landowner the exact amount as computed based on the assessed value of his lot.
Engr. Albert Cañete, project engineer said that once the resume work order will be issued, contractor will be advised to render over time work 24/7.
"The construction of Biliran Diversion Road at Biliran, Biliran has accomplished 60% as of May 30, 2017 and if weather condition is good, hopefully we can finish it by August or September this year," Cañete said.
The completion of the project will provide the traveling public coming from Tacloban City, Ormoc City, Baybay City and from other neighboring municipalities going to the northern and eastern part of Biliran Province and vice versa in a much safer and faster transport of goods and services and at a reduced travel time by 20 minutes. The population to be served by the road ranges from 120,000 to 135,000, 7 Municipalities and 50 Barangays.
MSME receives 5th International award in chocolate competition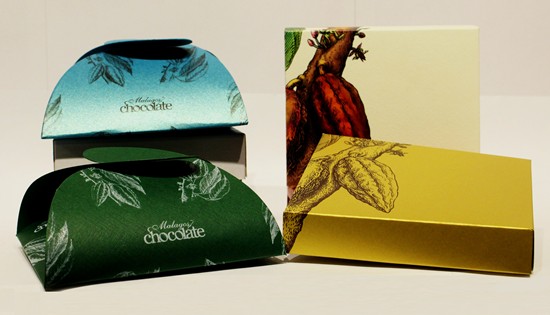 By DTI-TIPG
June 9, 2017
MANILA – It's another Silver for the cacao farmers from Davao City! Malagos Unsweetened Chocolate won its 5th International award in a Chocolate Competition recently held at the Academy of Chocolate in London, United Kingdom – a group of industry professionals promoting excellence in fine chocolate-making. The announcement was made on June 5, 2017 on the Academy's website (http://acadofchoc.com).
Malagos Chocolates has been an active participant and supporter of all trade fairs/events organized by the Department of Trade and Industry (DTI). Malagos Chocolates is also one of the MSMEs participating as Partner-Supplier of DTI in the Go Lokal! Stores Project. For interested chocolate lovers, product samples will be available at the Go Lokal! Concept Store@DTI slated to open for June 30, 2017.
Malagos' Dark Collection is 100% pure cocoa liquor – chocolate in its purest form – and a five time winner of international awards: Silver in the Drinking Chocolate Category and Two Stars (out of Three Stars) at the 2016 Academy of Chocolate and Great Taste Awards in London, United Kingdom respectively; won the Silver in the 2015 World Drinking Chocolate Competition organized by the International Chocolate Awards in Hannover, Germany and in April of the same year, Malagos 65% Dark Chocolate won Bronze for Best Unflavored Drinking Chocolate at the 2015 Academy of Chocolate Awards in London, UK.
Increased health risks feared among people displaced by Marawi fighting
By ICRC
June 8, 2017
MANILA – The start of the rainy season in the Philippines may add burden to the thousands of people displaced by the fighting in Marawi City in Lanao del Sur, southern Philippines.
The International Committee of the Red Cross (ICRC) has observed an increase in the number of reported cases of diarrhea, upper respiratory infection, hypertension and fever in different health facilities providing medical assistance to the displaced residents, particularly those who are staying in evacuation centers.
"We may have survived the fighting in Marawi, but I'm still concerned for the children and old people like me. Now that we're here at the evacuation center, everything seems so uncertain. The rains are so strong and many are getting sick," said Alimpay Macaagir, a 64-year-old evacuee at a covered court in Saguiaran, Lanao del Sur.
More than 200,000 people have been displaced by the fighting in Marawi City. Majority of the evacuees are temporarily seeking shelter with their relatives. On the other hand, thousands of them who have nowhere to go are cramped in evacuation centers, within and outside the city, for more than two weeks now.
According to Jose Amigo, Health Coordinator of the ICRC in the Philippines, the increase in the number of cases is due to the displaced population's current living condition. "They – particularly children and the elderlies – become at risk to water-borne diseases because of their limited access to basic water and sanitation facilities. They also become prone to communicable diseases because of the limited space in evacuation centers."
Amigo added, "The health situation is not yet critical at this point, but we fear that this may worsen in the coming days with prolonged displacement."
In support of the local health units' efforts to address this concern, the ICRC has been working closely with hospitals and other health facilities within and around Marawi City to augment their existing capacity.
To date, the ICRC has provided additional medicines and medical supplies to 11 hospitals and health facilities in Iligan and Balo-i in Lanao del Norte, and Tamparan, Balindong, Piagapo, Saguiaran and Marawi in Lanao del Sur.
The ICRC has also supported the mini-hospital setup by the rural health unit of Saguiaran by providing 10 folding beds for patients, and a supplementary kit of essential medicines and medical supplies that can serve 10,000 individuals for three months.
"We have been working closely with the Department of Health (DOH) since the fighting in Marawi broke out, and we commend the good job that they have been doing on the ground despite all the challenges that they face. The ICRC will continue to be one of the active partners of DOH, supporting its efforts in providing the much needed medical assistance to the people affected by the conflict," said Amigo.
The ICRC is a neutral, impartial and independent humanitarian organization that protects and assists victims of armed conflict. It has a mandate to promote knowledge on and respect for international humanitarian law.
Mondragon Declared as Stable Internal Peace and Security Condition Municipality in Northern Samar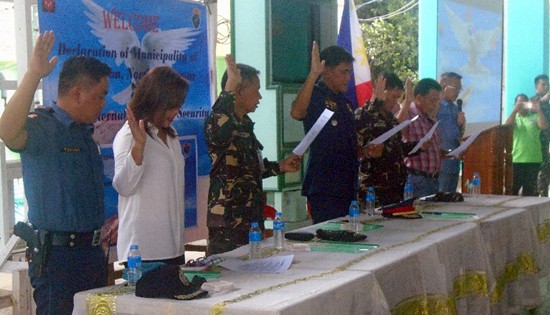 By DPAO, 8ID PA
June 7, 2017
CAMP LUKBAN, Catbalogan City – The 20th Infantry (We Lead) Battalion together with the Northern Samar Police Provincial Office declared the Municipality of Mondragon, Northern Samar as Stable Internal Peace Security Condition on June 6, 2017 at the Mondragon Municipal Hall, Northern Samar.
The highlight of the event was the signing of the Memorandum of Agreement (MOA) between the AFP represented by Brig. Gen. Mario G. Lacurom, Commander 803rd Infantry Brigade, PSupt. Cezar Zafiro Tannagan, Provincial Director of Northern Samar Police Provincial Office and Hon. Mario M. Madera after which the Oath of the Pledge of Commitment followed.
Mayor Madera was thankful to the AFP as well as to the NSPPO for the unending support given to them. He likewise emphasized that the solution to the countless problems can never be achieved through the barrel of guns but through the oneness of the community of Mondragon.
Meanwhile, Lt. Col Noly F. Lapizar, Commander 20th Infantry (We Lead) Battalion encouraged the participants to do their role to preserve the security gains and development of their community.
Further, Brig. Gen. Lacurom, lauded that this declaration is one-step toward the continuous growth and development of Mondragon. "Let us affirm our commitment to adhere to our common goal of achieving a peaceful and sustainable development in the whole province of Northern Samar," Brig. Gen. Lacurom added.
ABAC Philippines to focus on MSMEs in pursuing inclusive growth agenda
Press Release
June 7, 2017
MAKATI CITY – MSME Development. This is the main thrust of the APEC Business Advisory Council (ABAC) Philippines as it presented the priority work areas in the meeting with Department of Trade and Industry (DTI) Secretary Ramon Lopez following the second ABAC meeting for 2017 last 25-29 April in Seoul, Korea.
"This is a very welcome development and a boost to the MSMEs that comprise 99.5% of the establishments in the country," said Sec. Lopez. "The DTI has already been laying the ground work for strengthening MSMEs, especially with the participation of the youth and women. Now as we chair ASEAN this 2017, we likewise put the spotlight on MSMEs and entrepreneurship, as well as the sector's integration in the global value chains."
APEC Philippines, through DTI, is working on the development of an APEC SME Marketplace as a one-stop shop for SMEs in the region. This online portal is envisioned to provide useful information such as the MSME policies and regimes in different economies. Ultimately, the project aims to serve as a platform for SMEs to access and tap into global markets and transact with other players in the region.
According to ABAC Philippines Chair Tomas Alcantara, it is important to take advantage of this opportunity and ensure that SMEs in the country will optimize use and benefit from the system. "ABAC PH's first project will help advance MSMEs interests by developing a pilot Philippine SME Marketplace. We are trying to make concrete outcomes by facilitating linkages between SMEs and domestic market first, then to two or more international markets. After that to ASEAN, eventually to APEC, and then finally, the global market."
With the very broad and varying interests of the 21 APEC economies, the Philippine team will be keen in realizing its key priority areas. Aside from MSMEs, the group has also expressed interest in Infrastructure Investment. A specific initiative being discussed in ABAC is related to the Islamic Infrastructure Investment Platform (I3P). ABAC Philippines will look into how the Philippines can tap into the available funds from the Islamic banks in the region. Mr. Alcantara added, "With guidance and support from the DOF, ABAC Philippines will help develop a viable Islamic financial regime to benefit Islamic banks and investments in the country, ultimately to contribute to the development of Mindanao."
"ABAC Philippines will work on identifying and enhancing the country's comparative advantage and unique proposition so we can optimize and at the same time add value to our participation in APEC – now and on a continuing basis for the long term," the chair concluded.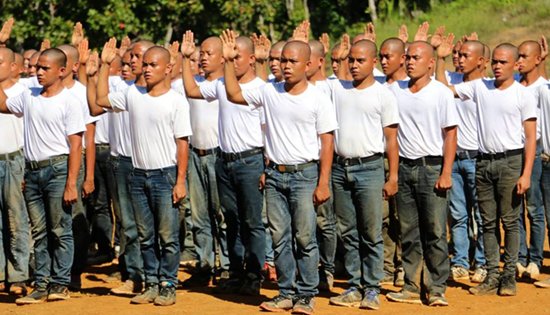 Members of Candidate Soldier Course Class 462-2017 take their oath during the opening ceremony at Camp Eugenio Daza, Barangay Fatima, Hinabangan, Samar on June 1, 2017.
135 Candidate Soldiers take oath
By DPAO, 8ID PA
June 1, 2017
CAMP LUKBAN, Catbalogan City – The Candidate Soldiers Course Class 462-2017 composed of 135 new aspirants was formally opened on June 1, 2017 at Stormtroopers Jungle Base, Camp Eugenio Daza, Barangay Fatima, Hinabangan, Samar with Brig. Gen. Francisco F. Mendoza,Jr, Commander, 802nd Infantry (Peerless) Brigade, Philippine Army as the Keynote Speaker.
The majority of the newly selected batch of Candidate Soldiers came from the island of Samar 76; 32 from Leyte and Southern Leyte; four from Bohol; eight from Luzon; and 15 from the island of Mindanao. Three of them are licensed professionals; 18 are college graduates and mostly reached in high school level with TESDA schoolings.
They will be honed for the duration of six months in basic military training and tactics and will serve as additional soldiers that will beef-up the personnel strength of the whole 8th Infantry (Stormtroopers) Division to include the Infantry Battalions deployed in Mindanao.
Brig. Gen. Francisco F Mendoza, Jr. in his message said, "Inaasahan ko na kayong lahat, pagkalipas ng anim na buwan ay kumpleto kayong magtatapos at taas noong ninyong haharapin ang inyong graduation at ang inyong panunumpa bilang mga newly enlisted privates ng Hukbong Katihan ng Pilipinas.
"At inaasahan ko rin, kapag kayo ay naging ganap na sundalong Philippine Army, ay matatapos ninyo ang inyong serbisyo ng buong husay at nang buong katapatan. Yan ang hamon na iiwan ko sa inyo bilang mga susunod na magigiting naming sundalo," Brig Gen Mendoza added.
Thousands of lives at stake in Marawi City fighting
By ICRC
June 1, 2017
MANILA – Ten days into the hostilities in Marawi City in Lanao del Sur, southern Philippines, civilian lives are at stake as the number of casualties continue to grow and nearly 2,000 residents remain trapped in the city.
"We are extremely concerned about the residents who could not leave their homes because of the fighting, and also those who are reportedly being held against their will. We are also deeply worried about reports of civilians being killed," said Pascal Porchet, Head of Delegation of the International Committee of the Red Cross (ICRC) in the Philippines.
"Targeting civilians is prohibited by international humanitarian law (IHL), and all feasible precautions must be taken to protect them in military operations. We urge all those involved in the fighting to protect civilian lives, and are hopeful that those held against their will are being treated humanely and will be released. We stand ready to serve as a neutral intermediary to evacuate civilians caught between the fighting," he stressed.
The ICRC has been actively supporting authorities in the management of dead bodies. It has donated 160 body bags, as well as gloves and masks, to help the authorities with the proper retrieval of the bodies.
The ICRC has also been negotiating for safe access to trapped civilians in Marawi by engaging in a constant dialogue with all parties to the conflict. However, the current security situation does not yet allow the ICRC to bring them all to safety. It has however transported nearly 600 people from Marawi City to the Saguiaran evacuation center or even as far as Iligan.
International humanitarian law (IHL) limits the means and methods of warfare and protects people who do not take part in the fighting (i.e. civilians, medics, aid workers) and those who can no longer fight (i.e. wounded, sick, captured or detained fighters). These limits are particularly meaningful when military operations are conducted in populated areas where the risk of harm to civilians and civilian objects, including essential infrastructure, increases.
Since the onset of the fighting, the ICRC has been on the ground assisting the population affected by it. It has also been reminding parties to the conflict to spare the lives of those who are not participating in the hostilities. Together with the Philippine Red Cross (PRC), the ICRC has distributed relief items to more than 10,000 displaced people, provided an equal number of people with access to clean water, and enhanced the capacity of six local health facilities to provide basic health care to thousands of people through the donation of medical supplies.
"We have started conducting full assessment of the conditions of displaced people in hard-to-reach evacuation centers, to give us a better picture of the humanitarian needs. We hope to also assess the western and eastern parts of Lanao Lake once the security situation allows us to do so," said Porchet.
The ICRC is a neutral, impartial and independent humanitarian organization that protects and assists victims of armed conflict. It has an international mandate to promote knowledge for and respect of IHL.