99 N. Samar farmers receive CLOAs from DAR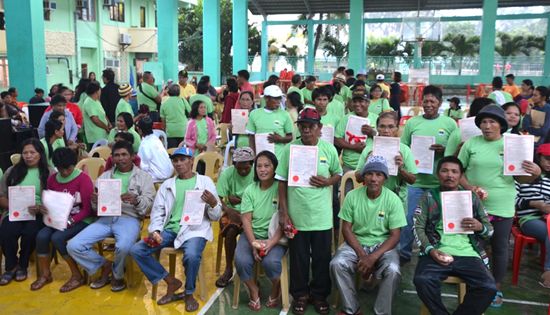 By JOSE ALSMITH L. SORIA
December 22, 2016
MONDRAGON, Northern Samar – Ninety-nine farmers from remote vilages in this town braved the heavy rains on Friday afternoon to receive their certificates of landownership award (CLOAs) from the Department of Agrarian Reform (DAR).
DAR Assistant Regional Director Ma. Fe Malinao assisted by Mayor Mario Madera handed to the beneficiaries the 118 CLOAs covering a combined area of 123.8 hectares of farmlands situated in Barangays Talolora and La Trinidad in this town.
The distribution was held at the covered court of the municipal hall amid heavy rains.
Malinao, Madera and DAR Northern Samar Legal Chief Atty. Edsel Ballicud repeatedly stressed to the agrarian reform beneficiaries (ARBs) not to sell or mortgage their awarded lands under the Comprehensive Agrarian Reform Program (CARP) as stated in the CLOA.
Moreover, Ballicud explained to the ARBs their roles, obligations and responsibilities as recipients of the land transfer program.
Malinao added that DAR also provides support services to ARBs to improve farm production that would eventually lead to increased income.
Ailing political prisoner finally released, but on bail, wishes freedom for the rest of PPs
By SELDA
December 19, 2016
QUEZON CITY – Ramon Argente, now 57, was all smiles when he met human rights workers upon his release on December 15, 2016. Upon arrival in Manila, he went straight to the Philippine Heart Center for a check-up. This is where he underwent a heart bypass surgery in 2013. Argente was happy, but has one wish: that the rest of the political prisoners be released soon.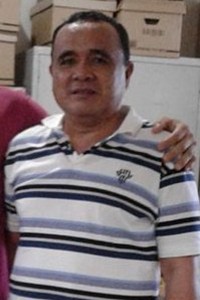 "Hanggang sa kasalukuyan ay hindi pa rin ako ganap na nakaka-recover sa karamdaman. Sa tagal nang maysakit ay kahapon lang nakalaya, sa bisa pa ng pagpiyansa. (Until now, I have not yet fully recovered from my illness. I have been sick for a long time, but I was only released yesterday, but through bail)," said Argente, who was granted bail by the RTC Branch 64 in Labo, Camarines Norte.
One of the 130 ailing political prisoners, Argente was detained for more than three years on the basis of trumped-up charges of multiple counts of murder, theft and frustrated murder. Hehad a triple heart bypass operation in 2013. After the surgery, he was brought back to detention at the PNP Custodial Center in Camp Crame, Quezon City.
"Nananawagan (ako) sa administrasyong Duterte na tuparin ang kanyang pangako bago pa siya makapanumpa. Nagpahayag na siyang handang palayain ang mga bilanggong pulitikal ganoon din ang pagpapalaya sa mga maysakit katulad ko, at iyong mga bilanggong matatanda...mga bilanggong pulitikal na matagal nang nakakulong maging iyong mga kababaihan. (I call on President Duterte to fulfill his promises before he swore into office. He said he is ready to release political prisoners including those who are ill like me, and the elderly prisoners...and political prisoners who have spent a long time in prison, even the women)," said Argente.
Now 57, Argente is a peasant organizer from San Pablo, Del Gallego, Camarines Sur. He has coronary artery disease and was undergoing medication when he was arrested in February 18, 2013 in Brgy. Muson, Bauan, Batangas.
He remained in a fragile condition while in jail, experiencing difficulty in breathing and chest pains. Argente was undergoing medication when he was arrested. His health worsened while detained at the Camarines Norte Provincial Jail. It took six months before his motion for hospitalization was granted.
At least 400 political prisoners remain in detention, the recent political prisoners released after the courts ordered them released, or granted bail. None has been released by the Duterte administration through general amnesty, after the courts granted temporary release on bail to 19 NDFP consultants.
"Sana po suportahan din natin ang pagpapatuloy ng usapang pangkapayapaan sa pagitan ng gobyerno ng Pilipinas at National Democratic Front. (I hope we also support the continuation of the peace talks between the government of the Philippines and the National Democratic Front)," Argente added.
Armed clashes in Basilan displace nearly 7,000 people
By ICRC
December 13, 2016
MANILA – Nearly 7,000 people have been displaced for more than a month following armed clashes between government security forces and armed groups in Basilan province, southern Philippines.
"These families left their homes and sources of livelihood after the hostilities started in November. The residents of six villages in the conflict-affected municipalities of Al-Barka and Tuburan chose to stay with relatives or in evacuation centers for fear of being caught in the crossfire. The ICRC's distribution is in response to their basic needs for food," said Nezar Tamine, deputy head of the ICRC sub-delegation in Mindanao.
To support their needs, the International Committee of the Red Cross (ICRC) provided food rations and hygiene items on December 7 and 9 for the affected families in Al-Barka and Tuburan, with the support of the Philippine Red Cross (PRC) Basilan chapter.
Each family received 25 kilograms of rice, 2 litres of oil, 1 kilogram of sugar, ½ kilogram of salt, 12 tins of sardines, 1 liter of soy sauce, and a hygiene kit containing shampoo, bath and laundry soaps, toothbrushes and toothpaste. In July, the ICRC through the PRC provided essential household items and hygiene kits to 17,000 displaced people in Tipo-Tipo, Al-Barka and Ungkaya Pukan municipalities.
Also recently, the ICRC arranged for 12 emergency health kits to be delivered to hospitals and rural health units in Sulu and Basilan provinces to support the medical needs of the affected civilians. These kits also contain dressing materials to treat the weapon-wounded.
Together with the PRC Zamboanga City chapter, 113 health workers from six rural health units of Basilan were trained on first aid and basic life support from August to October to boost the capacity and readiness of health workers and the community to help save lives during armed fighting and other emergencies.
As part of its mandate to raise awareness of and respect for international humanitarian law, the ICRC continues to remind all parties to the conflict about the need to protect civilians and those who are not or no longer participating in the hostilities.
The ICRC is a neutral, impartial, and independent humanitarian organization whose mandate is to protect and assist people affected by armed conflict and other situations of violence. It has had an established presence in the Philippines for more than 70 years and a permanent presence in Mindanao since 1982.
Labor group sees increase in employment in 2017 but expresses concern on rising underemployment
By Associated Labor Unions
December 13, 2016
QUEZON CITY – Labor group Associated Labor Unions (ALU) attributes the high employment rate to the optimism created by President Duterte's repeated promise to seriously address the worsening problems on peace and order situation, graft and corruption in government bureaucracy, drastic cutting on red tape specifically the setting up of business operations and on his promise to build unprecedented number of strategic infrastructures.
In a Labor Force Survey released by Philippine Statistics Authority (PSA) showed unemployment reached its lowest level 4.7% in 11 years.
"We are also seeing Mr. Duterte's aggressive pro-China diplomacy initiatives, peace talking with the communist movement actors, separatist entities and personalities in Mindanao and his leadership sincerity helped magnify the optimism for local and foreign investors to put up jobs-creating investments," said Alan Tanjusay, ALU spokesperson.
Feeling secured and assured of their investments, he said these investors set up shops early to anticipate the fruits of reduced graft and corruption, capitalize on the ease of doing business, and increased mobility due to improve peace and order situation.
"Plus, they also anticipate and directly and indirectly participate to take part as Mr. Duterte is hell-bent to spend big money on building mega infrastructures. All these combined to create jobs which what we have now in anticipation of the bigger things to come," Tanjusay said.
Tanjusay said if Mr. Duterte's leadership momentum is not interrupted, construction allied services would emerge and help create jobs.
However, the underemployment scenario should be a cause of concern for government and employers, he said.
"It could mean that though there are jobs available but their wages and benefits are inadequate for them to cope with rising cost of living particularly the increasing prices of basic goods and costs of services," he said.
Government and employers, therefore, should act simultaneously in addressing this underemployment rate. Employers should raise their wages and improve direct and indirect benefits to workers to help mitigate the rising rate of underemployment. Government should improve social protection benefits and insurance, enforce labor laws and safeguard predatory increase of prices of basic commodities.
"With all of these, we see an unprecedented increase in domestic employment in the year ahead. But if employers and government ignore underemployment solutions, economic growth will continue to be non-inclusive and inequitable with the very few upper class people racing to the top while the working people are racing to the bottom," Tanjusay said.
Youth group questions CHED's drug test proposal
By Samahan ng Progresibong Kabataan
December 13, 2016
QUEZON CITY – Youth activists criticized the proposal of CHED's executive director Julito Vitriolo to make drug testing, (1) a requirement for admission of all incoming Higher Education Institutions' (HEIs) students and, (2) the retention of those currently enrolled.
The Samahan ng Progresibong Kabataan (SPARK) strongly denounced the proposed policy as promoting a discriminatory, stigmatizing and skewed approach to solving the drug problem, in line with the current administration's bloody War on Drugs.
They observed how the current administration has been carrying the massive anti-drug campaign while condoning the culture of impunity, the wholesale violation of human rights, and classifying the stockpiling corpses in drug-infested and poverty-stricken areas as collateral damage.
Armed with the scalding pronouncements of President Rodrigo Duterte against all drug users, Vitriolo assumed a prerogative to declare the crafting of a policy of sweeping mandatory drug testing to be administered as a requirement in college admissions.
The youth group however SPARK concurs that the youth are vulnerable to drug dependence, but it maintains that bringing the War on Drugs in the campuses will not solve anything, for evidently the drug war is unwinnable. Whereas SPARK finds drug testing founded on randomness ingenuous because it does not incriminate students tested with positive results, the group says that the new policy proposed by Vitriolo is "outright unjust and discriminatory."
The group interjects that while random drug testing is crucial to prevent further drug dependence, a non-random mandatory one administered before a student's admission to the school could be used as the sole benchmark on whether or not a student should be retained in school. This prevents the very victims of attaining a chance and exercising their primary right to education.
"Even with the rehabilitation, the stigma it would pose for the students who tested positive is also not reflective of the student's actual drug problem," says Clarissa Villegas of SPARK.
This is, according to SPARK, characteristic of the prevailing attitude of Filipinos towards the horrid War on Drugs.
SPARK believes that drug addiction should be treated as a solvable public health issue and cites that "addiction – or compulsive drug use despite harmful consequences – is characterized by an inability to stop using a drug; failure to meet work, social, or family obligations; and, sometimes (depending on the drug), tolerance and withdrawal. These students who are just applying for school admission may not really be exhibiting these excessive symptoms."
Villegas suggests that if the current administration really wants to tackle the youth's drug problem, they should also start focusing on out-of-school youths by waging a war on poverty instead.
"The right to education and the overarching need to eliminate poverty and other forms of exploitation should not be trumped by what it falsely seen as the worst problem in the status quo – the drug crisis," she asserted.
Though schools have the right to impose distinctive requirements on students for admission, Villegas maintains that it must be just and non-discriminatory.
In relation to such a measure, SPARK fears that with Vitriolo's proposal and the pending bill before Congress seeking to lower the age limit of criminal liability from 15 to 12 would be the "perfect combo to destroy the youth's chances of being a productive member of society".
The group says that the claim that this mandatory drug testing for college admissions will safeguard the HEIs incumbent students from drug use is far from established. "In addition, student applicants may not have extensively waived their rights to privacy as to be subjected to such punitive measures of the HEIs. This over-inclusive and non-random mandatory drug testing program proposed by CHED is not an effective means of dealing with the drug menace. The manifestation of reasonableness of this testing is questionable. It should not be a measure for disciplinary action as in the case when it is used as a standard for a college student's retention, for it to be fair," she concluded.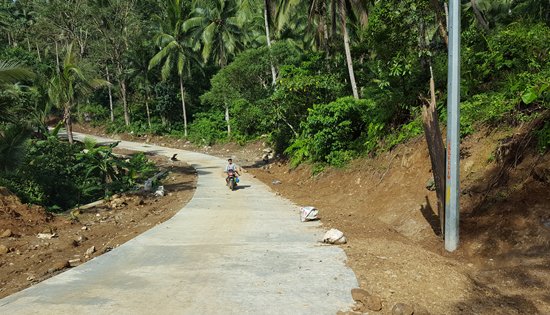 Completed Concreting of Brgy. Caucab-Sitio Palayan Phase II. The project is under contract with BNL Construction with a contract cost of P4.925M which involves the concrete paving of 0.384 lane Km., construction of RCBC, installation of Pipe Culverts and stone masonry. The completed project will lessen the walking distance of the residents in Sitio Palayan in transporting their agricultural product to the market centers thus, providing them a safer and faster transport of abaca and "palay" which are abundant on the said mountain serving more or less 1,800 residence.
DPWH construction of Palayan FMR project in Almeria, Biliran completed
Press Release
December 9, 2016
NAVAL, Biliran – The newly completed Road Opening and Construction of Farm to Market Road (FMR) project from Brgy. Caucab to Sitio Palayan, Almeria, Biliran, will slowly pave way to new opportunities and development for the local community.
Sitio Palayan, Caucab, Almeria, Biliran is found at the foot of Mount Panamao and is abundant with abaca and "palay" thus, derived the name "Palayan ng Bayan," as rice terraces were carved in the mountains.
The people in Palayan lived in a small village and survive mainly with their agricultural crops. Back then, they would travel their products to the municipality of Almeria by foot and it would take them long hours just to deliver their crops.
"Kung daghan ang among da', hinay ang among lakaw, mga duha ka-oras ang lakaw igbaw sa Caucab (If we carry a bulk of abaca, our walk is slow and it would take us 2 hours walk in transporting our product to Upper Caucab.)," said JR Kalinawan, 32, a manubo settler and one of the abaca farmers who would greatly benefit from the project.
Previously, earth road from Caucab-Sitio Palayan was rutted and sometimes become un-passable and bringing their hard-earned products to the urban community was a struggle.
"Kasagaran magkatumba-tumba me labi na ingon ana pa karon ang dan, labi na ug mag-uwan-uwan lisud gyud! Kasagaran namo dili gyud me magsakay dire ug sakyanan, magbaktas gyud me kutob dinha sa may maayong dan (We often stumble on the rutted sections of the road especially during rainy days when the road is slippery. Most of us here don't take a ride because of the rutted road, instead we walk until we reach to the concrete paved road)", Kalinawan added.
The Department of Public Works and Highways (DPWH), Biliran District Engineering Office completed two FMR projects in Brgy. Caucab-Sitio Palayan (Phase I and Phase II), which involves concrete paving of 0.447 lane km. for phase I and concrete paving of 0.384 lane km. for phase II with a contract cost of P9.85M funded under the Department of Agriculture (DA).
"Sa karon, nakabati-bati man pud ko sa gobyerno nga kini nga ilang giproject karon, gikan daw kuno ni sa DPWH, ang among kuan ani, dako ning among pasalamat labi na kung kining kalsada, maderetso kini ngari kay aron ang among ginagmay nga baligya, gaan na jud ang among pagda. (I heard that the road project was implemented by DPWH and I am really thankful to them but if they can stretch the road all the way up here to Sitio Palayan, we would be really happy because we can already transport our products to market centers without the burden of carrying it)", said Kalinawan.
Nieves Dacunes, 52, who owns a small sari-sari store in Sitio Palayan also shared her difficulties in transporting her grocery items for her store although she owned a motorcycle.
"Ako mulakaw man kay di man ko musalig anang dan, siya (husband) musakay (motor), kay mahadlok man ko ana, kasunog-sunog na gani ni among mga batiis sa tumba-tumba, mao nang mulakaw ko kutob atong buyod-buyod usa ko musakay, maayo gane run kay gamay nalang baktason. (I am afraid to ride in our motorcycle because we had experienced so many accidents in that road that's why I'd rather walk than ride in our motorcycle. My husband drives the motorcycle up to a portion of the road with a flat surface, that's the time that I will ride the motorcycle. That is the reason why I am thankful for the road project because the walking distance was lessened)", Dacunes said.
The completion of the road project up to Sitio Palayan will greatly lessen the burden of farmers in transporting their farm products to market centers and residents in travelling to the neighboring towns. This project will serve more or less 1,800 residence.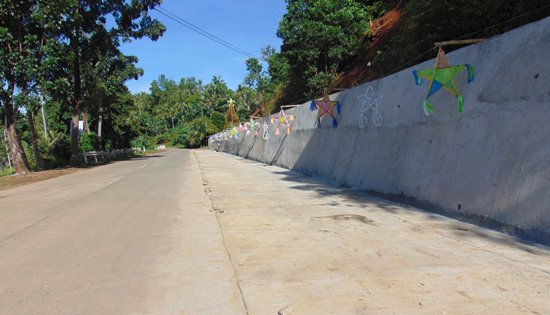 Completed portion of the Construction of Slope Protection Structure along Biliran Circumferential Road (Brgy. Sabang Section). Other than the slope protection structure, concrete paving of widened shoulders and construction of concrete canal are included in the project. As of November 30, 2016, it has an accomplishment of 58% under contract with MAC Builders with a contract cost of P41,782,330.92. Completion of the project will provide a structure that will prevent further landslide along this road section and contain run-off water during rainy days to prevent future damage to existing paved National Road.
DPWH-Biliran DEO accomplished 90.41% of 2016 infra projects
By CHELSEA C. QUIJANO
December 9, 2016
BILIRAN – The Department of Public Works and Highways (DPWH) - Biliran District Engineering Office (DEO) is fast-tracking the implementation of its 2016 infrastructure projects before the year ends.
Engr. Luisito Filemon A. Abad, Head of Procurement and Monitoring Unit during their guesting at Kapihan: Pulong-pulong ng Bayan on Radio Natin Fm reported that the district has already posted 90.41% accomplishment as of November 30, 2016.
Out of 66 projects implemented by Biliran DEO, 60 were already completed while remaining six projects under Regular Infrastructure Program are on-going.
These on-going projects includes P45M Construction of Access Road Leading to Declared Tourist Destination at Higatangan Island, Naval, Biliran, P43M Construction of Slope protection along Biliran Circumferential Road and P43M Slope Protection along Naval-Caibiran Cross Country Road, P43M Road Opening/ Concreting of Biliran Diversion Road, P8M Replacement of Banlas Bridge along Maripipi Circumferential Road and P5M Repair of Biliran bridge along Leyte-Biliran Road.
Abad revealed that the contactor have already started full operation in the Repair of Biliran bridge to complete the project the soonest time.
"It is only repair works on the rusted steel components under the bridge that is undertaken on Biliran Bridge hence there is no need to use barge in transporting the traveling public from Biliran Island to mainland Leyte," explained Abad when asked if people will be transported through barge during the repair of the said bridge which happened few years back.
Biliran Bridge is the only structure that connects the province of Biliran to mainland Leyte, thus, Biliran DEO is fast-tracking the implementation of this project along with other remaining projects.
"Hopefully we can complete two or three projects by December, parang tatlo lang ata ang may mga problema especially sa Diversion road na may problema sa road right of way," Abad said.
Abad also revealed that the district has been allocated with P911.4M worth of Project for 2017 Infrastructure Projects with a total final list of 44 infra projects composed of National Roads and Bridges (MFO1) amounting to P741.8M, Flood Controls (MFO2) costing 60M; Access Road and Airport to sea port (MFO3) amounting to P54.6M and additional 19 Local Infrastructure Projects (LIP) costing P55M projects excluding school buildings and Department of Agriculture projects.
Philippine Airlines and Bombardier finalize order for up to 12 Q400 aircraft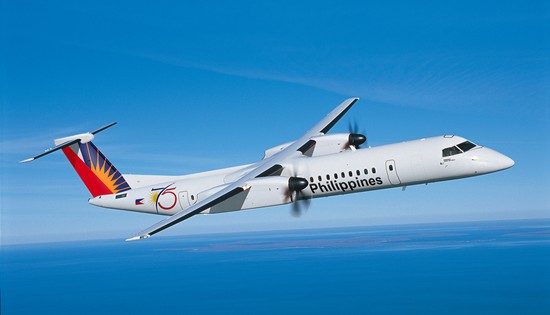 - Order confirms airline as launch customer of two-class, 86-seat Q400 aircraft
Via MARKETWIRE
December 9, 2016
TORONTO, Ontario – Bombardier Commercial Aircraft announced today that it has finalized a firm purchase agreement with Philippine Airlines, Inc., flag carrier of the Philippines, consistent with the Letter of Intent announced on October 14, 2016. The purchase agreement includes a firm order for five Q400 aircraft and purchase rights for an additional seven Q400 aircraft.
Based on the list price of the Q400 aircraft, the firm order is valued at approximately US $165 million and could increase to US $401 million, should Philippine Airlines exercise all its purchase rights.
"With the lowest seat-mile costs in the regional aircraft market, the extra-capacity, two-class Q400 aircraft will offer Philippine Airlines significant opportunities to differentiate itself competitively," said Fred Cromer, President, Bombardier Commercial Aircraft. "The Q400 aircraft is the ideal solution for the airline as it develops its domestic operations network from secondary hubs and increases intra-island connectivity."
"As we strive to become a top-rated airline, the Q Series family of aircraft has enabled us to develop our business model into one which efficiently meets our domestic route requirements while providing our passengers with a full service onboard experience", said Jaime J Bautista, President and Chief Operating Officer, Philippine Airlines. "We are proud of our collaboration with Bombardier and welcome the first modern and innovatively configured two-class, 86-seat Q400 aircraft to our growing fleet."
The five firm-ordered Q400 aircraft are expected to be delivered throughout 2017.
Bombardier's customer support network for commercial aircraft in the Asia-Pacific region includes Regional Support Offices in Singapore, Narita (Tokyo), Sydney, Beijing, Shanghai and Mumbai, as well as Parts Depots in Sydney, Beijing and Singapore. Operating from the company's regional office located in Singapore, Bombardier Commercial Aircraft's sales and marketing team is well positioned to provide industry-leading solutions to its current and prospective customers.
About the Q400 Aircraft
Designed as a modern, 21st-century turboprop, the Q400 aircraft is the most recent development in the Q Series family of aircraft. It provides unmatched performance, operational flexibility and passenger comfort. In addition to the standard single-class configuration, Q400 aircraft are available with a two-class interior for enhanced passenger comfort; in an extra-capacity configuration offering up to 90 seats for higher-density markets; and in a cargo-passenger combi configuration.
Thanks to its combination of turboprop attributes, jet-like features, industry-leading passenger experience and environmental footprint, the Q400 aircraft is exceptionally versatile and can be adapted to a variety of business models. By offering a 30 per cent reduction in fuel burn over the jets it often replaces, the Q400 aircraft radically reduces carbon emissions and increases cost efficiency. Its high-speed cruise – 160 km/h faster than conventional turboprops – places the aircraft's flight time within minutes of jet schedules, at the same seat cost as larger single-aisle jets. Its large propellers operate at a lower RPM, generating more power with less noise and making it a friendly option for city centres.
The Q400 aircraft family includes over 60 owners and operators in almost 40 countries. The worldwide fleet has logged more than 6.9 million flight hours and has transported more than 429 million passengers. Long recognized as a high-value asset by operators, the Q400 aircraft is now also attracting growing interest from the leasing community.
Bombardier has recorded firm orders for a total of 571 Q400 aircraft.
About Philippine Airlines
Philippine Airlines (PAL) is the flag carrier of the Philippines. Headquartered in Manila, PAL celebrates its 75th anniversary this year as the first commercial airline in Asia. Operating out of its hubs at Ninoy Aquino International Airport of Manila and Mactan-Cebu International Airport of Cebu, Philippine Airlines serves 30 destinations in the Philippines and over 43 destinations in Southeast Asia, East Asia, Middle East, Oceania, North America and Europe.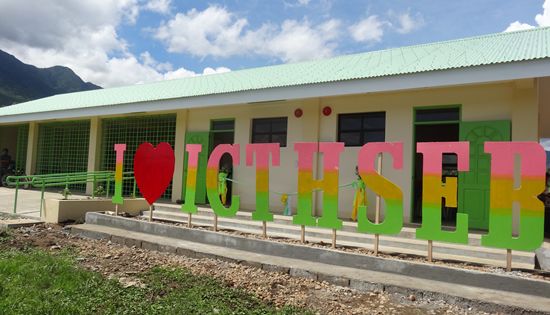 First Technical Vocational and Livelihood (TVL) Workshop Building in Information Communication Technology (ICT) High School of Eastern Biliran in Caibiran, Biliran. The project has a contract cost of P8M under CY 2016 Basic Educational Facilities Fund. The completed project will give proper educational training to senior high school students of the school for the courses: cookery, carpentry, and electrical isolation and maintenance.
Biliran DEO's CY 2016 school building projects accomplished 33.20%
By CHELSEA C. QUIJANO
December 8, 2016
BILIRAN – Department of Public Works and Highways Biliran District Engineering Office (DPWH-Biliran) is on-going on the construction of school building projects with an accomplishment of 33.20% as of November 30, 2016.
This was informed by Engr. Luisito Filemon A. Abad, Head of Procurement and Monitoring Unit through Kapihan: Pulong-pulong ng Bayan on Radyo Nation FM together with Engr. Alfredo L. Bollido, OIC-Assistant District Engineer and Engr. Reynaldo P. Peñaflor, Chief of Quality Assurance Section (QAS).
DPWH-Biliran is tasked to implement 16 school building projects with a program amount of P130.7M under CY 2016 Basic Educational Facilities Fund (BEFF) of the Department of Education (DepEd).
Out of 16 school building projects, 4 were already completed, 10 are on-going, and 2 are Not Yet Started (NYS).
"These two not yet started projects are located in ICT, Caibiran because there was a failure in soil exploration, so we have to redesign the foundation, and it needs additional funding," explained Abad.
Engr. Abad added that they have already requested for an additional fund to the DepEd but until now there was still no release of fund.
"We have already bid out this project, the project will not be awarded unless this funding will be received, so hopefully we can award this project on the later part of December, and by January, we can proceed with its implementation," Abad informed.
When asked if school building projects will be spilled over until first quarter of 2017, Engr. Bollido explained that they are pressuring the contractor to complete the school building projects funded under the FY 2015 BEFF before end of the year.
"Ang contractor, nagpasalig man pud sila na on or before this year ma-kompleto gayud nila ang ten school buildings before end of the year," Bollido said.
However, Bollido emphasized that he is still unsure when the two NYS Projects will start because he cannot tell when the Department of Budget Management (DBM) will release the budget. He added that the budget was requested last October 3 of this year.
On the other hand, the four completed projects which are the P5.3M construction of 2 units Technical Vocational Bldg. at Biliran National High School and Construction of three Senior High School Unique Workshop at Cabucgayan NSAT (P2.5M), ICT High School of Eastern Biliran (P2.5M) and Naval School of Fisheries (P2.4M) are now ready for occupancy which will cater the needs of the students for a better learning.
Furthermore, Abad also informed that 20 units of rain water collector project of Biliran DEO amounting to P3.2M were also completed. These rainwater were installed to accumulate rainwater from the roof of school buildings and is used to flush on toilets and in watering plants, rather than allowing it to run off.
Regular use of ibuprofen may lower lung cancer risk among high-risk subgroups of cigarette smokers
Via MARKETWIRE
December 7, 2016
VIENNA, Austria – Regular use of ibuprofen may lower the risk of lung cancer among those with a history of cigarette smoking, according to research presented at the IASLC 17th World Conference on Lung Cancer (WCLC) in Vienna, Austria.
It has been established that chronic inflammation appears to increase the risk of lung cancer, and medicines that reduce inflammation have been shown to reduce this risk. However, few prospective studies have examined associations between lung cancer and non-steroidal anti-inflammatory drugs.
To test whether a common NSAID can reduce the risk of lung cancer, Dr. Marisa Bittoni and her colleagues from The Ohio State University in Columbus, Ohio, examined data from 10,735 participants in the Third National Health and Nutrition Examination Survey, or NHANES III.
Baseline data on smoking, NSAIDs and other lifestyle variables were collected for 10,735 participants starting in 1988-1994, and cause-specific mortality status was ascertained through probabilistic record matching using the National Death Index through 2006. Cox proportional hazards regression models were used to estimate hazard ratios (HRs) to quantify associations between NSAID use and lung cancer death, with adjustment for current smoking and other variables.
Over 18 years of follow-up, 269 individuals died from lung cancer, of which 252 (93.6 percent) reported a history of cigarette smoking. Since all but 17 of the 269 fatal lung cancer cases occurred among current or former smokers, estimates of NSAID effects were ascertained from a sub-cohort of 5,882 individuals who reported a history of past or current cigarette smoking.
Bittoni found that prospective data from NHANES III showed that among adults with a history of past or current smoking, ibuprofen intake was associated with a substantial (48 percent) reduction in the risk of dying from lung cancer. Effects of aspirin and acetaminophen were not statistically significant.
"These results suggest that regular use of certain NSAIDs may be beneficial for high-risk subgroups of smokers as a lung cancer prevention strategy," Bittoni said.
The IASLC 17th WCLC is the world's largest meeting dedicated to lung cancer and other thoracic malignancies, attracting more than 6,000 researchers, physicians, and specialists from more than 100 countries. For more information on the IASLC 17th WCLC, visit: http://wclc2016.iaslc.org/.
Negosyo Centers now 403; DTI to add more
By DTI-ROG
December 6, 2016
MAKATI CITY – The Department of Trade and Industry (DTI) have already surpassed its target of 150 Negosyo Centers for 2016 after continuously launching centers nationwide - with the centers now totaling at 403.
For 2016, there have been 203 Negosyo Centers launched after the Department set a supposed target of 150.
DTI Regional Operations Group Supervising Undersecretary Zenaida Maglaya said that the launching of these Negosyo Centers is in line with the Republic Act No. 10644 or the Go Negosyo Act.
Maglaya said MSMEs or entrepreneurs can visit these centers for access to information, business name registration, access to finance, access to market and access to training.
"We are proud that we have established more Negosyo Centers more than what we have expected to establish. We did not expect to surpass our target of 150 centers for 2016 but we did to support the growth of MSMEs in the country," Maglaya said, adding that NCs will help in achieving job generation and inclusive growth.
The Republic Act No. 10644 or the Go Negosyo Act aims to help micro, small and medium enterprises (MSMEs), promote ease of doing business, facilitate access to grants and other forms of financial assistance, Shared Service Facilities (SSF) and other equipment, and other support for MSMEs through national government agencies (NGAs), ensure management guidance, assistance and improvement of the working conditions of MSMEs; and facilitate market access and linkaging services for entrepreneurs.
Meanwhile, the DTI National Capital Regional Office will launch its eight (8th) Negosyo Center in the metropolis, and first Negosyo Center in the City of Malabon on December 6, 2016. Thus, hiking the number of Negosyo Centers to 403.
The center is located at Malabon City Hall Annex Building F. Sevilla Boulevard, San Agustin in Malabon City.
The presence of the Negosyo Center in cities, municipalities and provinces aims to provide better access and more efficient services to MSMEs.
As of December 2, 2016, there are 403 Negosyo Centers nationwide since its inception in 2014. Of the total number of centers, 225 are located in Luzon, while Visayas and Mindanao have 90 and 88 Negosyo Centers, respectively.
With the Negosyo Centers, the Department has assisted a total of 483,711 clients and conducted a total 6,002 seminars for MSMEs and potential entrepreneurs nationwide.
Meanwhile, a special lane is open to Overseas Filipino Workers (OFWs) at Negosyo Centers to help OFWs who want to stay in the country for good and start a business, with DTI noting the current situation of OFWs, especially those who were repatriated from Saudi Arabia.
Maglaya said these special desks will help OFWs and their families start a business and have the option to either pursue it and remain in the country for good or continue working abroad and leaving the business to their families or relatives.
Global public health advocates open new fronts in war on tobacco
Via MARKETWIRE
December 6, 2016
VIENNA, Austria – Efforts to control tobacco as a public health threat have escalated as clinicians and public health advocates have coalesced to beat back threats from tobacco companies through public advocacy, public health, and pension reform. Today, public health advocates from Brazil, Malaysia, Ireland, Australia, and Uruguay presented different strategies that have effectively reigned in the global threat of tobacco companies at a press briefing held at IASLC 17th World Conference on Lung Cancer (WCLC).
As a young doctor treating lung cancer patients at the Peter MacCallum Cancer Centre in Melbourne, Australia, Dr. Bronwyn King was dismayed to see the impact of cigarette smoking on her patients – many of whom had started smoking as children. However, her surprise grew when she discovered that her hospital's pension fund had invested her money in the very tobacco products that were killing her patients.
"Once I discovered that through my compulsory pension fund, I was invested in and actually owned a part of several tobacco companies, I couldn't just do nothing – I had to take action," she said.
To accomplish this, Dr. King founded Tobacco Free Portfolios to collaboratively engage with leaders of the finance sector to encourage tobacco-free investment. She soon found that finance executives were also alarmed at the scale of the tobacco problem and have deeply re-considered the role they can play in addressing this pressing global issue.
"Because of this, there are now 35 tobacco-free pension funds in Australia – just over 40 percent of all funds. Many more will soon follow and each tobacco-free announcement is met with resounding public support," she said.
In Ireland, the tobacco industry claimed that environmental tobacco smoke was not harmful to public health, but the Irish government rejected this claim and instituted a comprehensive workplace smoking ban that included bars, restaurants, bingo halls, and casinos, according to Dr. Luke Clancy of the TobaccoFree Research Institute in Dublin, Ireland. Ireland was the first country to enact a country-wide ban.
"The 2004 smoking ban in Ireland has shown a positive impact on public health and has served as a model for other European countries to follow," said Dr. Clancy of the TobaccoFree Research Institute in Dublin, Ireland.
Clancy reported that the planning and investment paid off, as the national Irish smoking ban was associated with reductions in early mortality. Studies on the effects of the smoking ban demonstrated a 13 percent decrease in all-cause mortality, a 26 percent reduction in ischemic heart disease, a 32 percent reduction in stroke, and a 38 percent reduction in chronic obstructive pulmonary disease.
While King and Clancy battle tobacco interests in their countries, Dr. Zarihah Zain of Lincoln University College Malaysia is carefully examining global trade agreements to make sure tobacco products are treated like the dangerous, addictive products they are.
"The main objective of any global trade agreement is to encourage the free movement of goods and service between countries by removal of any forms of tariff and non-tariff barriers. However, when this principle is applied to tobacco products, public health may suffer in the countries governed by these very agreements," Dr. Zain said.
"Tobacco is not like any legal commodity, it is highly addictive, causes deaths, precipitates serious debilitating morbidity, and accounts for about 30 percent of all cancer incidence. An industry such as the tobacco industry should not be given any privileges and should not be allowed to benefit from trade agreements to gain hefty profits at the expense of public health," Dr. Zain said.
The control of tobacco is one of the most cost effective public health strategies, and tobacco is the only legal consumer product that has an international law to curb its supply and demand via the WHO Framework Convention on Tobacco Control (FCTC). However, Zain pointed out that there are clauses in many free trade agreements that can override the WHO Framework.
Vera da Costa e Silva from the WHO Framework Convention on Tobacco Control began the press briefing by providing a global perspective on tobacco control and initiatives to counter tobacco company efforts to create trade treaties that are bad for public health.
"I hope everyone in the world is soon free of tobacco smoke and that people encounter bars, restaurants, and public facilities that are smoke-free," she said.
Tobacco control plays an important role in the IASLC 17th World Conference on Lung Cancer. The IASLC is proud to have a committee comprised of world-renowned tobacco control experts from so many countries.
Cayetano: PH's AIIB membership crucial to sustaining economic growth
By Office of Senator Alan Peter S. Cayetano
December 6, 2016
PASAY CITY – Senate foreign relations committee chair Senator Alan Peter S. Cayetano thanked his colleagues in the Senate for supporting the treaty that would make the Philippines a founding member of the Asian Infrastructure Investment Bank (AIIB).
The Senate on Monday (December 5) passed on third and final reading Senate Resolution No. 241, or the Articles of Agreement of the Asian Infrastructure Investment Bank, which formally ratifies the country's AIIB entry documents. The measure got 20 affirmative votes, one negative vote, and no abstention.
Cayetano's Foreign Relations Committee submitted last November 22 Committee Report No. 11 recommending the approval of the resolution of concurrence.
Cayetano said the Senate's concurrence with the treaty formalizing the country's membership into the China-led multilateral institution will allow the Philippines access to funds for major infrastructure projects to sustain the momentum of economic growth that was started by the Duterte government.
"Any institution that will promote human development, accelerate economic and social progress, and further good relations with neighboring nations should be embraced and supported," said Cayetano.
He expressed his gratitude to the Department of Finance led by Sec. Carlos Dominguez III and their counterparts in the Chinese government for their assistance, stressing how the treaty could foster a stronger relationship between the two countries. He also thanked Senator Loren Legarda, sponsor of the resolution, for making possible the passage of the measure.
Cayetano explained that, like the Asian Development Bank (ADB) and World Bank (WB), the AIIB is a multilateral funding agency owned by sovereign member-countries, which specifically aims to promote economic development and strengthen regional cooperation and partnership in the Asian region.
"Our economy has been cited recently as the fastest growing in the Asian region. We posted a robust 7.1% growth in the third quarter are on target to achieving a 7-percent full-year GDP growth this year," he said.
The administration earlier expressed its plan to raise the government's share in infrastructure spending to the gross domestic product (GDP) to 7 percent before President Rodrigo Duterte's term ends.
Following the Senate's concurrence, the executive branch now has the chance to access US$500 million annually from the Bank to finance infrastructure projects in the country. This, he said, is apart from over $20 billion that China is prepared to extend to the Philippines after the President's historic visit to China.
"AIIB's role as a major player in infrastructure development in Asia in the future is inevitable, and the timing of our membership in AIIB cannot be more perfect as the Philippines is at the point of development where increasing our infrastructure capacity can no longer be set aside," Cayetano said.
"As Asia's fastest growing economy, we surely cannot afford to pass up on this opportunity to be able to tap an additional fund source to help sustain the economic progress we have started to gain under the leadership of President Rodrigo Duterte," he added.
Drug-related killings must stop and the perpetrators should be held accountable
By KARAPATAN via the Asian Human Rights Commission
December 6, 2016
Karapatan today joined RISE UP!, a campaign initiated by faith-based groups, institutions and people's organizations against the drug menace and for the protection of human and people's rights against drug-related extrajudicial killings, in a protest action in front of the Department of Interior and Local Government office in Quezon City.
"Drug-related killings must stop and the perpetrators should be held accountable, whether government officials, police officers, or drug cartel operatives. It is unacceptable that the killings are justified or merely explained as 'killed in legitimate police operations,' 'nanlaban' or 'killed by unidentified assailants,'" Clamor said.
"Majority of the victims of drug-related killings come from poor communities. Their families chose not to pursue investigation and prosecution against the perpetrators out of fear and lack of resources. Thus, the climate of impunity reigns," Clamor said. Karapatan called on the public "to uphold people's and human rights amid a system that breeds the existence and proliferation of the illegal drug trade."
"We will support efforts to educate the general public on the roots and impact of the global drug on the Filipino people, to document cases of drug-related killings, and to advocate against the brazen impunity by which these killings are conducted in direct violation of the right to due process," said Jigs Clamor, Karapatan Deputy Secretary General.
Karapatan previously reported the use of President Rodrigo Duterte's war against drugs in the conduct of counter-insurgency operations of the Philippine National Police in San Jose Del Monte, Bulacan, where four farmer activists were illegally arrested and detained last October on charges related to the Comprehensive Dangerous Drugs Act of 2002 (Republic Act RA 9165).
The farmers' personal belongings were taken and their families were traumatized. They were wrongly accused as members of the New People's Army (NPA) and one of them was mauled. The four are members of the Karahumi Farmers Association (KFA), an organization that has long been resisting the landgrabbing of more than 1,000 hectares of agricultural lands in Bulacan. Police authorities planted evidence against them. "Batak kami sa trabaho, hindi kami batak sa droga," said one of the arrested farmers.
Three of the farmer activists were released from detention, while another KFA member, Romy "Nonoy" Gaitero, remains in jail.
"We are also receiving disturbing reports that the Armed Forces of the Philippines, even while the GRP has declared a unilateral ceasefire in relation to its peacetalks with the NDFP, continues military operations under Oplan Bayanihan by encamping in civilian communities, threatening and harassing civilians suspected of being members of the NPA and conducts census of residents in the guise of Oplan Tokhang," said Clamor.
Karapatan reiterated its call to Duterte to stop drug-related killings and to respect the people's rights to due process.
"The drug menace can be eliminated without curtailing the basic rights of the people, especially of the poor. In fact, it is through upholding the rights of the people, especially social and economic rights, that the people can repudiate the use and trade of illegal drugs. The government should instead strive to improve the living conditions of the Filipinos, especially the marginalized, by providing them secure jobs with living wages, free education and health care, and land to cultivate," Clamor concluded.
8ID welcomes gov't disater response chief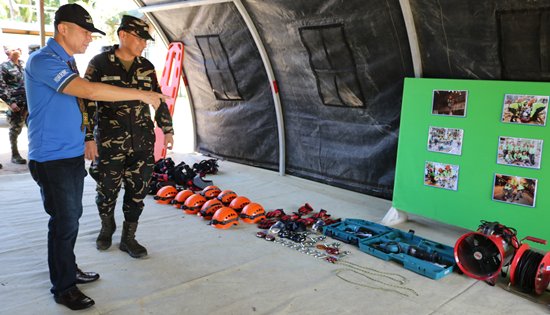 By DPAO, 8ID PA
December 2, 2016
CAMP LUKBAN, Catbalogan City – The 8th Infantry (Stormtroopers) Division welcomed Usec. Ricardo B. Jalad, Executive Director, National Risk Reduction and Management council (NDRRMC) and other representatives from the regional, provincial and local government units and agencies last December 02, 2016.
Usec Jalad's visit to 8ID is part of his itinerary to check the recovery of Eastern Visayas from the devastation of previous super typhoons and the local governments and other agencies' preparedness for upcoming calamities. During his remarks, Usec Jalad recognized the peculiarity of Region 8 as "highway of typhoons" of the Philippines.
8th ID Assistant Division Commander Brig. General Cesar Idio assured that "the men and women of the 8th Infantry Division are committed in working hand in hand with various government, non-government, civil sector and private sector organizations in ensuring the protection and welfare of the people during disasters or emergencies."
The conference yielded discussions on how to increase interoperability among members of the regional and local DRRMC and capacitate each other in terms of equipment especially in redundancy of communications and training.
"For our part, we are looking forward for more capacity-building programs that we can work together as we prepare for the unknowns of tomorrow," Idio added.

The "Trabaho, Negosyo at Kabuhayan: A Blueprint for Decent Employment and Entrepreneurship 2017-2022" prioritizes decent job creation, entrepreneurship, creativity and innovation, formalization and growth of micro, small, and medium-sized enterprises (MSMEs), youth unemployment reduction, education and training.
New gov't blueprint for decent employment envisions 7.5 million jobs by 2022
By DTI-OSEC-PRU
December 2, 2016
TAGUIG CITY – A new government blueprint for decent job creation through employment and entrepreneurship from 2017 to 2022 was adopted at the conclusion of the two-day Trabaho, Negosyo at Kabuhayan (TNK) - Employment and Livelihood Summit on December 2.
Signed by Secretaries Ramon Lopez of the Department of Trade and Industry (DTI) and Silvestre Bello III of the Department of Labor and Employment (DOLE), the "Trabaho, Negosyo at Kabuhayan: A Blueprint for Decent Employment and Entrepreneurship 2017-2022" prioritizes decent job creation, entrepreneurship, creativity and innovation, formalization and growth of micro, small, and medium-sized enterprises (MSMEs), youth unemployment reduction, education and training.
"By 2022, we want to achieve full employment at 5% unemployment rate by creating 7.5 million jobs, mainly in key employment generating sectors (KEGS) such as manufacturing including food processing, construction, tourism, Information Technology-Business Process Management (IT-BPM), transportation and logistics, and retail trade," Sec. Lopez said.
The commitment is in line with the 2030 Agenda for Sustainable Development, particularly Goals 8 and 9, on the provision of decent work and economic growth, and on building resilient infrastructure, promoting inclusive and sustainable industrialization and fostering innovation, respectively.
The 2017-2022 livelihood agenda envisions the transition of informal and economic units to the formal economy with full respect to fundamental rights and principles at work. It also reiterates the implementation of the Comprehensive National Industrial Strategy to upgrade selected industries that generate employment, integrate manufacturing, agriculture and services, address supply chain gaps, and deepen industry participation in global value chains.
The TNK Summit, participated in by the public and private sectors and some members of the academe wrapped up policy recommendations from previously held sectoral summits to chart a new employment agenda, in line with the administration's development path.
Sec. Lopez strongly encouraged Summit participants to invest in the Industry and Services sector, as well as in the country's human capital to help address the perennial problem of skills mismatch and to sustain the growth of Philippines industries.
Policy recommendations from sectoral summits on MSME, manufacturing, construction and IT-BPM fed into the TNK Summit, which carried the theme, "Malasakit at Pagbabago Tungo sa Kaunlaran at Katiwasayan," preparing the workforce for the industry's current and future needs.
Senate panel includes casinos in AMLA to fortify law
By Office of Senator Escudero
December 1, 2016
PASAY CITY – The Senate is giving more teeth to the Anti-Money Laundering Act (AMLA) by amending its current provisions to include the casino industry under the scrutiny of the law.
Senator Chiz Escudero, chairman of the Committee on Banks, Financial Institutions and Currencies which is sponsoring the measure, said a panel report to further amend Republic Act No. 9160 or AMLA of 2001 has already been filed and is due for sponsorship on Monday next week.
The inclusion of casinos in the AMLA coverage is one of the recommendations of the Financial Action Task Force (FATF), a global anti-money laundering and anti-terrorism watchdog, to avoid the potential blacklisting of the Philippines.
Senate Committee Report No. 13, however, has now expanded its coverage to include casinos as part of the reporting bodies to the Anti-Money Laundering Council (AMLC), which was left out in the amendments made in 2012.
Escudero said the country is rushing to comply with prescribed global legal and regulatory framework on anti-money laundering before FATF's assessment of the country in June next year. The Philippines was last assessed three years ago by the international body, which noted strong concerns on the exclusion of the casino sector from the law.
In the amended act, the cash threshold for any covered transactions is now anything exceeding P500,000.00 or US$10,000.00 or other equivalent monetary instrument. Also covered by the expanded law are money services business or money transfer companies, dealers of precious stones, jewels and metals, dealers of high-value items or goods and real estate developers, brokers and sales agents.
"We are talking of dealers or those entities, like lawyers and accountants acting in behalf of clients whenever they receive cash for profit or gains, exceeding P500, 000.00. So if they don't want to be covered by the AMLA law, then they should transact or act in behalf of their clients with checks, not cash. Then again, checks are already covered by the reportorial requirements of banks under AMLA," Escudero said.
Considered high-value items under the measure are the following goods or items which value exceeds one million pesos (P1,000,000.00): motor vehicles, including land, air and water vehicles; art and antiques; and other luxury items such as jewelry, watches and bags.
"We put a generic and catch all terms. In the original act, it simply states jewelry, with 50 percent of its value coming from the precious stone used. But this is ambiguous and evasive, what if you are paying for the luxury brand itself and not the stones? Then that's already left out. There are strong calls to include luxury car dealers, but those who deal choppers and planes and yachts will also be left out, so we phrased the inclusion as high-value goods to cover all," the senator pointed out.
C.R. No. 13 also strengthens the power of AMLC to investigate motu propio or upon the request of appropriate departments or agencies transactions deemed suspicious for possible money laundering-activities.
It is already being empowered to file, directly through the Office of the Solicitor General, before the Court of Appeals petition for a freeze order against any monetary instrument or property deemed laundered.
The AMLC can also already subpoena any person and compel his/her attendance to produce information for verification and investigation in compliance with AMLA.
Escudero scored the importance of complying with the country's commitments to the FATF action plans and to earn its approval after its review next year as millions of our overseas workers will be the front liners to receive the impact of a positive or negative review.
"We are rushing to sponsor this and hopefully pass the measure first quarter next year, to comply in time for the review. Otherwise, global remittances of our millions of overseas workers will go through scrutiny and difficulties," Escudero said.
8ID supports 18-day campaign to end VAW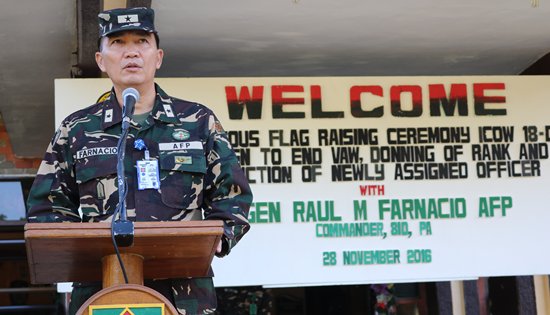 By DPAO, 8ID PA
November 29, 2016
CAMP LUKBAN, Catbalogan City – The Philippine Army in Eastern Visayas joins the nation's call to end violence against women (VAW) during the flag-raising ceremony at Camp Lukban last November 28, 2016.
In all countries of the world, women and girls are exposed to violence because of their gender. Its long term effect from physical, sexual and psychological abuse, oftentimes lead to death. Despite the fact that different social, cultural and political backgrounds give rise to different forms of violence, its majority and its patterns are remarkably endless as it prevents women from fully participating in society.
As enshrined in the 1987 Constitution, the Philippine government is committed to protect the human rights of women and to address all forms of violence against them. As this year's campaign theme, "Violence-free community starts with me", 8th ID is actively participating in the quest to achieve a VAW-free community through everyone's obligation and participation.
8ID has instituted the gender-based violence (GBV) referral system by handling GBV cases within the organization and by providing the necessary assistance and services to survivors and victims of this kind of violence.
In his message, Brig. Gen. Raul M Farnacio encouraged every female personnel of this command to empower themselves, to know their rights and available courses of actions if their rights are violated. Women in the service are also empowered to speak out and report to authorities and inspire others to fight for their rights.
On the other hand, Brig. Gen. Farnacio also directed every male personnel within the organization to respect women, especially girls in their homes, in their workplace and community. Male soldiers are encouraged to be a good role model and enlighten other men not to condone or commit violence against women and girls.
As he emphasized during his message, everyone must contribute to the total eradication of violence in our organization, family and the community.
Duterte inaugurates mega drug rehabilitation center
By Presidential News Desk
November 29, 2016
MANILA – President Rodrigo Duterte led the inauguration of the mega Drug Abuse Treatment and Rehabilitation Center (DATRC) at Fort Magsaysay in Nueva Ecija on Tuesday, November 29, as part of the administration's efforts to solve drug problem in the country.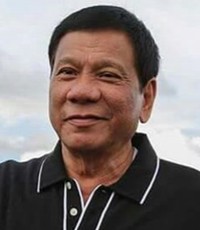 In his speech, President Duterte said he would fulfill his campaign promise to eliminate illegal drugs and create a safer environment for the Filipinos.
"Let me warn you, drugs is a very virulent agent in any society. The campaign against drug will continue 'till the last day of my term. I will not stop until the last drug pusher is out of the street and the last drug lord or king killed," he said.
The President said the drug lords have invested on the lives and sanity of the Filipinos.
"Kaya maraming property, mga hotel, barko, lahat na nandiyan sa kanila," Duterte said.
He said there will be no let up in the campaign against illegal drugs and the only compromise is for the illegal drug users and pushers to surrender.
"The only compromise that's acceptable to me is you surrender," Duterte said.
"If you continue, I said, you might end losing not only your funds but your life," he added.
Duterte meanwhile thanked Chinese philanthropist Huang Rulun who donated the first large scale drug rehabilitation center in the country, which can accommodate 10,000 drug addicts.
For his part, Huang stated that the donation was his way of showing support to the administration's war against drugs and as a sign of goodwill for the President's efforts to strengthen the country's ties and friendly relations with China.
Huang is an honorary chairman of the Federation of Filipino-Chinese Association of the Philippines Foundation, Inc. (FFCAP) and chairman of the board of directors of Century Golden Resources Group.
During the event, the President unveiled the marker of the rehabilitation center together with Huang and the administration's top officials.
DATRC is located in Fort Magsaysay, a military camp that occupies a land area of hectares divided by four zones. It has a total construction area of 60,000 square meters with 172 building units.
Huang first met with the President in Davao last June 28 before he donated an amount of about P1.4 billion to construct two drug rehabilitation centers inside Fort Magsaysay.
In expressing his appreciation for the assistance extended by Huang to the government, the President stressed that those whom he consider as the country's allies should also help him solve the country's drug problem instead of criticizing his administration in its war against drugs.
In his speech, the President also mentioned the ambush that happened in Lanao del Sur wherein seven members of the Presidential Security Group (PSG) and two soldiers were wounded. The PSG personnel were part of the advance team of the President who is set to fly to Marawi City on Wednesday to visit wounded soldiers fighting the Maute group.
Duterte said he would push through with his visit despite ongoing conflict in the province.
Hong Kong maintains top spot in freedom index, United States drops to 23rd
Via MARKETWIRE
November 29, 2016
TORONTO, ON – Hong Kong is once again the freest jurisdiction in the world while the United States continues its decline, dropping to 23rd in the Human Freedom Index, released today by the Fraser Institute and a network of international public policy think-tanks.
The index – which uses 76 indicators of personal, civil and economic freedoms to rank 159 countries and jurisdictions around the world – includes rankings from 2008 to 2014, the most recent year of comparable data.
"The Human Freedom Index measures civil liberties, economic freedom, the rule of law, freedom of movement, women's rights and much more," said Fred McMahon, Dr. Michael A. Walker Research Chair in Economic Freedom at the Fraser Institute and editor of study.
Hong Kong again ranks number one, followed by Switzerland, New Zealand, Ireland and Denmark. Canada, the United Kingdom and Australia are tied for sixth. Other notable countries include Germany (13), the U.S. (23), France (31), Japan (32), Russia (115) and China (141).
Hong Kong's place atop the list is largely because of its high scores in economic freedom.
"While the freedom index doesn't measure democracy, democracy remains the best safeguard of personal freedoms. If China encroaches on its one-country, two-system relationship with Hong Kong, we can expect Hong Kong's ranking to drop," McMahon said.
By region, the average rankings on the index were highest for Western and Northern Europe, followed by North America. And they were lowest for South Asia, Sub-Saharan Africa, the Middle East and North Africa.
The complete index, a joint project of Canada's Fraser Institute, the Cato Institute in the U.S., and the Liberales Institut of the Friedrich Naumann Foundation for Freedom in Germany, is available as a free PDF download at www.fraserinstitute.org.
McMahon is the project editor. Ian Vasquez of the Cato Institute, and Tanja Porcnik of the Visio Institute in Slovenia are the co-authors.
The 10 freest jurisdictions (from top)
1. Hong Kong
2. Switzerland
3. New Zealand
4. Ireland
5. Denmark
6. Canada
6. Australia
6. United Kingdom
9. Finland
10. Netherlands
The 10 least free countries
150. Angola
151. Democratic Republic of Congo
152. Algeria
153. Myanmar
154. Venezuela
155. Central African Republic
156. Syria
157. Iran
158. Yemen
159. Libya
Gov't accountable for death of political detainee
SELDA to Duterte: Release the 400 now!
By SELDA
November 28, 2016
QUEZON CITY – SELDA (Samahan ng Ex-Detainees Laban sa Detensyon at Aresto) demanded the Duterte administration the immediate release of 400 political detainees following the death of Bernabe Ocasla, Monday afternoon.
"The Duterte administration is accountable for the death of Ocasla, who should have been released along with more than a hundred ailing political detainees as soon as it assumed office. This is the tragic result of the government's deliberate delays and excuses in the release of political prisoners," said Fr. Dionito Cabillas, SELDA spokesperson.
Selda and other rights groups have been calling for the release of Ocasla, 66, who went into a coma after suffering a heart attack on Friday, November 25. He has been languishing in jail for seven years, and was detained at the Manila City Jail on trumped-up charges of 15 counts of multiple murder. Calls for the immediate release of more than a hundred political prisoners who are ailing and elderly on humanitarian grounds is continuously denied by the government.
He is one of the co-accused of NDFP peace consultants Benito Tiamzon, Wilma Tiamzon, Randall Echanis, Rafael Baylosis, Vicente Ladlad, and Adelberto Silva on trumped up charges of multiple murder cases filed by the Armed Forces of the Philippines pending before Manila Regional Trial Court Branch 32.
"Ocasla just came from his court hearing the day before he suffered a heart attack, optimistic and hopeful for their freedom. He, however, is a ticking time bomb since, with his hypertension and partial blindness. There are more Bernabe Ocaslas who are suffering inside detention centers. Their health conditions are rapidly deteriorating for lack of proper medical attention and subhuman jail conditions. Most importantly, they should not be in jail in the first place," said Cabillas.
More than one-thirds of the 400 political prisoners are sick, a number of them are already old. In previous years, political prisoners like Alison Alcantara, Benny Barid and Eduardo Serrano died while under the custody of the state. Serrano, who died last January, would have been one of the released NDFP consultants this year, after formal peace talks between the GRP and the NDFP resumed in July.
Office of the Presidential Adviser on the Peace Process Secretary Jesus Dureza and GRP panel chairman Secretary Silvestre Bello III have been announcing the release of political prisoners since they assumed office.
"Sec. Dureza even has the gall to say they've released 70 political prisoners while those with life-threatening illnesses like Ocasla gamble with death. This is far from truth. We don't need their empty grandstanding, what we demand is the release of all political prisoners, alive and granted amnesty. Release the 400! Amnesty now!" said Cabillas.
Firecrackers industry should be developed not destroyed, labor group says
By Associated Labor Unions
November 27, 2016
QUEZON CITY – Big labor group Associated Labor Unions (ALU) is calling for convergence between local government units, national government agencies, industry players and workers to developed the firecracker and pyrotechnic manufacturing rather than shut the entire industry in the country.
"We are urging the government not to destroy the entire industry. What the industry workers and businesses needs now is help and support from the national and local government for them to evolve, modernize and flourish. Life and property destructions can be averted or greatly minimized if the available new and safe technologies are infused into the industry," said Alan Tanjusay, ALU spokesperson.
He said the local government units or the government agencies such as the Department of Trade and Industry (DTI), Department of Labor and Employment (DOLE) and Department of Science and Technology (DOST) to call for a summit and lead stakeholders in discussing ways toward modernizing.
The summit could also be a forum for the introduction of more stringent and consistent application of safety and health regulation in the manufacturing, selling and use of firecrackers and pyrotechnics.
The labor group made the proposition amid a work stoppage order issued by the DOLE after a factory blast happened in Sta. Maria, Bulacan Wednesday killing three persons and left several others injured.
"If the government suppress the industry, thousands of workers and their families will suffer. Besides, if the industry is banned unsafe firecrackers and unregulated pyrotechnics from foreign countries will be smuggled and proliferate anyway. So rather than destroy, why not develop and make it thrive," Tanjusay said.
He estimated there are around 400,000 workers, employers, retailers and allied industry workers are dependent in the industry.
8ID conducts Stakeholders Fellowship in Eastern Samar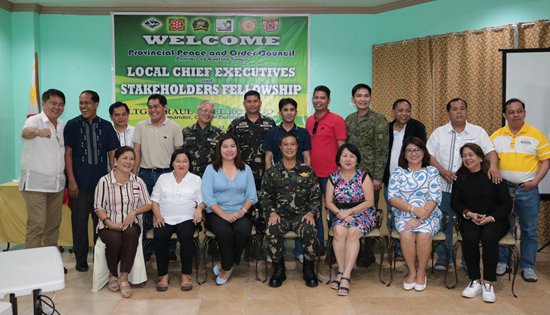 By DPAO, 8ID PA
November 24, 2016
CAMP LUKBAN, Catbalogan City – The Army in Eastern Visayas joined in the Provincial Peace and Order Council Meeting with the local chief executives and stakeholders of the whole province of Eastern Samar with Lieut. Gen. Raul L Del Rosario AFP, Commander Central Command, AFP held at Doña Vicente Hotel, Borongan, Eastern Samar on November 22, 2016.
The activity aims to unite the Local Chief Executives and stakeholders towards progression and addressing the poverty problems of the province. Further, it also advocates President Rodrigo Roa Duterte's thrust against illegal drugs and other lawless violence that arises in the province. The meeting was called to order by the PPOC Chairman, Hon. Marcelo Ferdinand A. Picardal, Vice-Governor of Eastern Samar.
Present during the activity are: Lieut Gen Raul L Del Rosario AFP, Commander Central Command; Brig Gen Raul M Farnacio AFP, Commander 8ID; PSSupt Tranquilino A Araral, PD, ESPPO; Mr Virgilio Capon, Provincial Administrator representing Governor Conrado B Nicart Jr; Hon. Marcelino Ferdinand A Picardal, Vice-Governor and mayors of 1 city and 19 municipalities of Eastern Samar; Rev. Fr. Leroy Geli, Rector, College of Seminary, Our Lady of Nativity; and members of Provincial Peace and Order Council of Eastern Samar.
During the activity, the Local Chief Executives were given a time to present their actual situation especially in the far flung areas. Accordingly, the CPP-NPA movement affects the peace and order that hinders the progression of their municipalities especially on the delivery of basic services.
Brig Gen Raul M Farnacio AFP emphasized that through the assistance from the Local Chief Executives in addressing the needs of the people is the key to win their trust. "Kailangan nating magkaisa at ibigay kung ano ang kelangan ng ating mga mahihirap na kababayan. Problema sa lupa at kahirapan ang hinaing ng ating mga kababayan. Kaming mga kasundaluhan ay handing tumulong sa inyo para puntahan ang mga malalayong barangay na mas nangangailan ng inyong serbisyo", Farnacio added.
Also, Lieut Gen Raul L Del Rosario AFP said in his message, "Natutuwa ako at nag-open up ang ating mga LGUs, you really presented the situation base on the briefing or reactions and I believe we have identified some problem areas. I hope that from CENTCOM view ay talagang pursigihin natin ito hanggat hindi natin makamit yung lasting peace na talagang deserve nating lahat para umunlad na ang ating Bansang Pilipinas," Del Rosario added.
DTI's outstanding small scale businesses receive first-ever 'Kapatid Awards'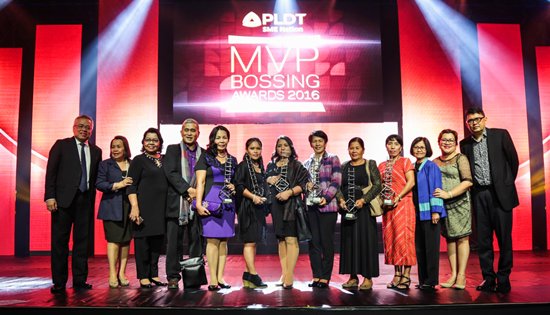 By DTI-OSEC-PRU
November 24, 2016
TAGUIG CITY – DTI's shared service facilities (SSF) beneficiaries on coffee processing, native bag making, and fiber marketing were the recipients of the first-ever Kapatid Awards at PLDT's MVP Bossing Awards 2016 on November 23.
SSFs on coffee processing from Mountain Province, Cordillera Administrative Region (CAR), on pandan and bariw bag making from Leyte, Region VIII and on fiber marketing expansion from Agusan del Norte, CARAGA received awards for exhibiting sustainable and inclusive growth models that contribute to the improvement of the quality of lives in said communities.
Receiving the awards were representatives from SSF cooperators Dangdang-ay di Ibila Cooperative from CAR, Sto. Niño de Plaridel Parish Multi-Purpose Cooperative from Region VIII and San Isidro Upland Farmers Multi-purpose Cooperative from CARAGA.
The SSF Project is a key component of the Department of Trade and Industry (DTI)'s initiative to capacitate micro, small and medium enterprises (MSMEs) by providing them appropriate machinery, equipment, tools, systems, skills and knowledge under a shared system.
As backbone of the Philippine economic growth, composed of 99.6% of locally registered businesses, generating over one million job a year, MSMEs have become the government's current priority, with the DTI placing MSME development at the forefront of regional development and at the front and center of the trade agenda.
"Aside from keeping the country moving towards a more strategic direction at the backdrop of regional development, the government, through the DTI, vows to pursue meaningful growth that is truly inclusive, the one that reaches the bottom of the pyramid," said DTI Secretary Ramon Lopez, who was also one of the recipient of the MVP Bossing Awards in government service.
DTI's thrust towards MSME development is anchored on President Rodrigo Duterte's 10-point socio-economic agenda to attain a quality of growth that will result in shared prosperity among Filipinos, according to the trade chief.
As of October 2016, a total of 2,099 SSFs have already been established across the country.
In partnership with Go Negosyo and DTI, the Kapatid Awards is an offshoot of the Kapatid Program, which has advocated MSME development through training and partnering with big businesses to mainstream and integrate MSMEs and their products and services into the bigger value chains.
"Across the country, there are already successful micro, small and medium scale players who, even in advance of the Government's call, have created sustainable growth models that bring employment to the sectors of society that need it," PLDT Vice President Mitch Locsin was quoted in a statement.
8ID Intensifies the Bayanihan Team Activity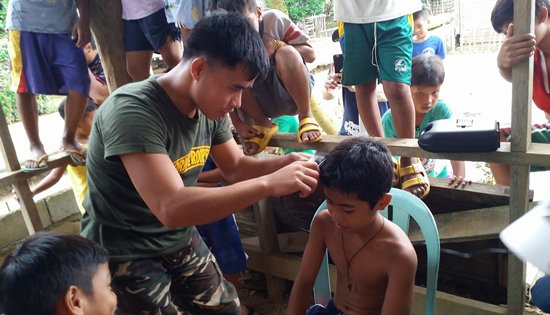 By DPAO, 8ID PA
November 23, 2016
CAMP LUKBAN, Catbalogan City – The Army in Eastern Visayas headed by Brig Gen Raul M Farnacio AFP, intensifies its Internal Peace Security Plan "Bayanihan" that encourages all the Government Agencies and Non-Government Organizations in working together to end up the socio-economic problems of this region.
One of these efforts was the 3-day Bayanihan activity from November 7-9, 2016 conducted by the 14th Infantry (Avenger) Battalion in the barangays of Agsaman, Poblacion, and Cagmanaba, all of Jipapad, Eastern Samar in partnership with the AGAPE Rural Health Program, that delivers basic services such as medical/dental assistance, free medicines, free hair-cuts, film viewing and distribution of slippers, clothes, and reading glasses. AGAPE is a Non-Government Organization composed of Christian volunteers from Asia and US whose mission is to help the less fortunate that cannot afford to sustain their medications and basic needs.
As a result of the activity, the people of Jipapad benefited from a total of 1,078 medical check-ups with free medicines, 78 tooth-extractions, 30 hair-cuts, 330 reading glasses, and 340 pairs of slipper.
In ensuring the safety of the volunteers of AGAPE, the Avenger Battalion served as their security all throughout the activity. The security effort of the troops was not made against the CPP-NPA but rather to prevent any lawlessness violence that may arise in the area during the activity.
Brig Gen Farnacio says in his message, "Your Army in Eastern Visayas have not committed any violations against the observance of ceasefire. We only wanted to make sure that these good Samaritans will be safe all throughout the activity against lawlessness. Instead of criticizing and making false story against the military troops, let the people receive such services and stop preventing them away from the government. Moreover, we are encouraging more kind and whole hearted people especially the Local Government Units to support and help these people living in far flung areas."
"This is the time to be united in our desire of addressing the poverty problem of the region. Let's help together in building a peaceful and developed Eastern Visayas", Farnacio added.
Network Against Drug War Killings urges probe, fears gov't cover-up
NAKPhilippines says Duterte has brought human rights crisis to new, more dangerous level
Press Release
November 22, 2016
MANILA – The Philippine government should hold accountable members of law enforcement agencies implicated in the extrajudicial killings of civilians in its "war on drugs," the newly formed Network Against Killings in the Philippines (NAKPhilippines) said today. At the same time, the Duterte administration should thoroughly and credibly investigate the thousands of summary killings attributed to unidentified gunmen since June 30, 2016.
Since the start of Duterte's war on drugs, not a single law enforcer has been brought to court to answer allegations of extrajudicial executions during so-called "legitimate police operations." "What the police and President Duterte himself have done is to defend the actions of police officers involved in these operations even though a credible investigation has yet to take place. We fear not only a lack of accountability but possible government cover-up for these crimes," said Father Amado Picardal, one of the group's convenors who also serves as its spokesperson.
The government has likewise failed to launch any meaningful investigation into the more than 3,000 so-called "death under investigation" killings, indicating a serious failure to fulfill its responsibility and duty to investigate crimes – particularly crimes of this brutal nature with no semblance of due process – and bring the perpetrators to justice. "The Duterte administration's failure to investigate these summary killings is a serious lapse in its human rights commitment but at the same time also indicates complicity in these atrocities," Father Picardal said.
Several human rights advocates and civil society organizations, concerned about human rights, civil liberties and rule of law in the Philippines, formed NAKPhilippines early this month. "We organized ourselves because civil society needs to take a firmer, stronger and principled stand against extrajudicial killings and the continued erosion of universal human rights in the Philippines," the group said in its launching statement released today. "Like the human rights advocates that have campaign against death squad killings since 1999, we are outraged by these violations and are committed to do what we can to stop the killings, demand accountability from government, assert human rights for all, and protect human rights defenders."
NAKPhilippines said the administration of President Duterte has not only made the human rights situation in the Philippines worse – it has brought it to a whole new and more dangerous level as the killings in its war on drugs continue. "It is time for these killings to stop and for the killers to be brought to justice," it said.
Unlike previous administrations that have denied complicity in past extrajudicial killings, the Duterte government "encourages these abuses and even promises protection to the perpetrators, taking an already egregious human rights situation to a whole new and more dangerous level," it said.
In the first five months of the Duterte administration, nearly 5,000 people have been killed in its brutal war on drugs, with the police saying that more than 2,000 of that died in police operations while the rest were killed by unidentified assailants, what the police calls "deaths under investigations" that appear to be death squad killings. A number of children were among those killed.
NAKPhilippines will hold its launching activity on Nov. 23, which is also the 7th anniversary of the Ampatuan Massacre. It will hold a "National Day of Prayer and Solidarity for Victims of Extrajudicial Killings and Their Families" through a Mass to be celebrated by Bishop Broderick Pabillo at 4:45 PM at the Shrine of Mother Perpetual Help, Redemptorist Church in Baclaran, Manila. Families of victims of the drug have been invited to attend the Mass and the solidarity activities that will follow. Convenors and supporters of NAKPhilippines will also be present. A press conference by Bishop Pabillo and the group's representatives will also be held at the Sinirangan Café inside the church compound.
The group's launching statement is supported and endorsed by several groups from the Philippines and abroad, among them the Asian Human Rights Commission (Hongkong), Bahay Tuluyan (Philippines), Bawgbug Advocates for Peace and Human Rights (Philippines), Coalition Against Summary Execution (Philippines), Cross Cultural Foundation (Thailand), Human Rights Watch (USA), Human Rights Office (Sri Lanka), Jagaran Media Center (Nepal), Justice and Peace Commission of the HK Catholic Diocese (Hong Kong), Katilingbanong Pagtambayayong (Philippines), LBH Padang (Legal Aid) (Indonesia), Mindanao Peoples Caucus (Philippines), Sentro (Philippines), Terai Human Rights Defenders Alliance (Nepal), Interfaith Cooperation Forum in Hong Kong (Hong Kong), Janasansadaya - Panadura (Sri lanka), Conectas Human Rights (Brazil), Community Development Foundation Pakistan (Pakistan), Centre for War Victims and Human Rights (Canada), Odhikar (Bangladesh), and Sedane Labour Resource Center (Indonesia). Dozens of individuals have also signed up and the group expects more in the coming days.
Bayanihan Team Activity (BTA) send-off ceremony - first time in Catarman, LGU ready to support!
By 43rd Infantry Battalion, 8ID PA
November 21, 2016
LOPE DE VEGA, Northern, Samar – The Local Government Unit of Catarman, Northern Samar together with the 43rd Infantry (We Search) Battalion, 8th Infantry (Stormtroopers) Division, Philippine Army and other stakeholders conducted Send-Off Ceremony of Bayanihan Team Activity (BTA) on November 18, 2016, 9:00 o'clock in the morning at the Municipal Gymnasium.
Some Guests from other stakeholders such as the Philippine National Police, Department of Agrarian Reform, Department of Agriculture, Department of Environment and Natural Resources and Department of Labor and Employment participated and witnessed the send-off of the BTA operators.
Moreover, the two (2) barangay captains from Brgy. Quezon and Brgy. McKinley, both of Catarman, Northern Samar where the BTA Team will be deployed also attended the send-off ceremony.
The activity was designed to show to the people that the Bayanihan Team Activity is not a military activity alone, but it is a convergence of effort from other agencies of the government as stated in the IPSP "Bayanihan" wherein other stakeholders are involved from planning, implementation and evaluation phase.
Major Edgar A Gabia (INF) PA, officer-in-charge, 43rd IB said: "This activity will remind everyone that IPSP "Bayanihan" is a convergence of efforts to WIN the PEACE from other stakeholders or line agencies of the government, wherein the efforts are geared towards convincing the CPP-NPA-NDF to abandon the armed struggle and engage in Peace Talks/negotiations." He also encouraged the other line agencies specially the LGUs to do their share and give their whole hearted support for the successful conduct of the Bayanihan Team Activity".
Executive Assistant Arielyn L. Fernandez also said that: "In the absence of Mayor Franciso Rosales, I am representing on his behalf, pinapasabi ni Mayor na ang LGU ay handang tumulong at sumuporta sa mga gagawin ng mga BTA operators sa mga barangay na pupuntahan nila para maipaabot din ang programa namin".
"Actually, this is the first time na nagkaroon ng ganitong activity dito sa Catarman, on behalf of the Office of the Mayor, we express our thanks to the 43rd IB who exerted the effort to make this event become successful, and we hope that through them, the people of Brgy. Quezon and McKinley will be enlightened and stop their support and alliance with the NPA so that the said barangays will become more progressive and well developed." Fernandez added.