Army troops scores against NPA rebels in Northern Samar
By DPAO, 8ID PA
February 15, 2017
CAMP LUKBAN, Catbalogan City – Troops of 43rd Infantry Battalion, 8ID, PA led by 1Lt. Edsel Ryan B. Celebre engaged NPA rebels under their leader Salvador Nordan a.k.a "Badok" while conducting combat operations against lawless elements at Sitio Cabaywa, Brgy. Santander, Bobon, Northern Samar on February 14, 2017.
The fire fight lasted for about five minutes that resulted to one (1) NPA killed identified as Bernadette Lutao a.k.a. "Kakan", the wife of "Badok," and the recovery of one (1) improvised explosive device (IED) and three (3) cellular phones.
The use of IED is restricted under the United Nations Geneva Convention because of its indiscriminate effects and humanitarian harm it can cause to innocent civilians as well as a violation of the Comprehensive Agreement on Respect for Human Rights and International Humanitarian Law between the Government of the Republic of the Philippines and the CPP-NPA-NDF.
In a statement by Maj. General Raul M. Farnacio, he said that the NPAs have been using IEDs as of their weapons of choice without consideration on the welfare of the civilian populace. "The NPA has been deliberately violating the human rights with their production and employment of IEDs and their continuous disruption of the peaceful lives of our fellow Filipinos especially those in the far-flung barangays," he stated.
"This accomplishment is a triumph for the collective effort of the local government unit and agencies, 8ID, and our civilian constituents to attain just and lasting peace in Northern Samar. Filipinos want peace and it is high time for our fellow Filipinos who were misled to join the NPA to lay down their arms and lead their lives away from armed struggle," Farnacio urged.
Since the lifting of the ceasefire by President Rodrigo Roa Duterte, 8ID troops have been conducting security operations in the region as part of their mandate. "Rest assured that your Army in Eastern Visayas are tirelessly committed to serve and secure the people within the bounds of respect of Human Rights, International Humanitarian Law, and Rule of Law," Farnacio added.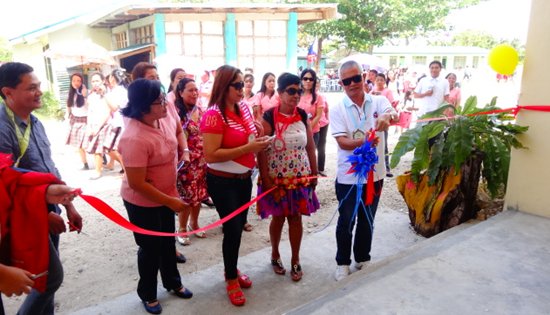 Turn-over of the 2-storey, 6-classroom School Building in Higatangan National High School, Naval Biliran on Feb. 13, 2017. The project has a contract cost of P8.2M under RT Morabe Construction. The project would benefit 240 Senior High School Students of the said school and will provide an environment conducive to learnings.
Higatangan NHS, turned-over
Press Release
February 14, 2017
NAVAL, Biliran – The Fidel M. Limpiado Sr. National High School in Higatangan Island, Naval Biliran received their newly 2-storey 6 classroom building in a turn-over ceremony by the Department of Public Works and Highways (DPWH) and Department of Education (DepEd) on Monday, February 13, 2017.
"This marks another success in the pursuit of the government to provide quality education for the students by constructing additional school buildings", said Engr. Alfredo L. Bollido, DPWH OIC-Assistant District Engineer in his turn-over message on behalf of District Engineer, David P. Adongay Jr.
The occasion was also graced by the presence of Hon. Brigido Caneja III, Sangguniang Panlalawigan Member who attended on behalf of Congressman Rogelio J. Espina; Dr. Rodulfo Pabilada, Supervisor of Kindergarten on behalf of DepEd District Superintendent Dr. Carmela R. Tamayo; Dr. Allan Paul U. Tubis, DepEd Administrative Officer; RT Morabe Contractor representative, teachers and students.
The Higatangan National High School has more or less 200 enrollees for this year for the K-12 program with 14 teaching force.
Engr. Bollido added "We expect that this facility would encourage more students to come to school as this will provide them a facilitative space to learn and be inspired to study harder and reach their highest potential".
Mrs. Leonora S. Mission, Head Teacher II also expressed her gratitude of the new school building in her acceptance message saying "Ang gusaling ito ay kapaki-pakinabang para sa maayos na pagkatuto ng mga estudyante dahil po dito, lubos po akong nagpapasalamat. At bilang tagapamahala ng paaralang ito, ako po'y nangangako na pangangalagaan ang gusaling ito kasama ang internal at external na stakeholders. Nawa'y tulungan at suportaan ninyo ako para sa mga adhikain at programa ng paaralan, dahil ang lahat ng pagsisikap ng paaralan ay para sa mga bata at dahil sa mga bata".
The ceremonial key turn-over and ribbon-cutting ceremony highlighted the occasion. After the turn-over, DPWH headed by Engr. Bollido, together with the DepEd representatives, Contractor and School Heads inspected the newly turned-over school building.
Prior to their inspection, there are minor defects/deficiencies found that needs to be corrected by the contractor. According to Engr. Bollido, contractor needs to correct these defect deficiencies to fully collect the payment.
The two-storey, 6-classroom school building projects in Higatangan National High School, Naval, Biliran is under contact with RT Morabe Construction with a contract cost of P8.2M. The Higatangan Island is only a few minutes ride by small boat from Biliran's capital town, Naval.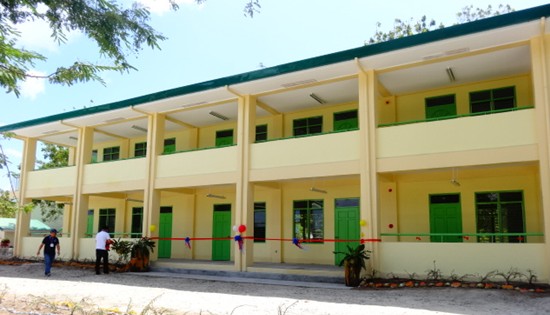 SMC don't beat around the bush!
By Philippine Movement for Climate Justice
February 13, 2017
QUEZON CITY – The Philippine Movement for Climate Justice (PMCJ), its member Nuclear Free Bataan Movement (NFBM) and the people of Limay, Bataan told SMC Global Power Holdings Corp. to stop avoiding the real issue and refrain from misleading the people in what is actually happening in the ground.
Mr. Ramon Ang, President and COO for San Miguel Corporation released a statement yesterday saying that they are using the Circulating Fluidized Bed (CFB) technology which makes their coal-fired power plant emits sulphur oxide, nitrogen oxide carbon monoxide and particulate matter lower than the current standard set by DENR and World Bank.
PMCJ maintains that while it is possible for CFB technology to lessen the emissions, it seems that the real issue of bottom ash is deliberately avoided. While it is true that coal plant that uses CFB technology emits the above mentioned emissions lower than the prevailing standards it does not address the production of bottom ash.
The real issue behind is the huge pile of bottom ash that the 140 MW coal plant of Petron dumps in the designated temporary ash pond of San Miguel, the very same area where the 300 MW coal plant own by San Miguel currently conducting its test run dump their bottom ash. It is this huge accumulation of bottom ash allegedly resulted to rise in respiratory related diseases and skin diseases as well.
Coal plant which utilizes CFB technology produces more coal ash than conventional ones, since it add limestone to pulverize coal during combustion process. Both the 140 MW and the 300 MW employs the CFB technology hence resulted to a huge pile up of bottom ash near the area where the community lives.
Hence we strongly call on SMC to face the music and stop beating around the bush, the real problem is your bottom ash and the question of the legality of your ash pond, so long as it is not properly address the sufferings of the people continues. And the only way to comprehensively address it is to stop the operation of both coal plants since as long as they continue to operate there will be accumulation of bottom ash.
Our demand is for the Department of Environment and Natural Resources (DENR) to immediately order a shut down the coal plants operation, indemnify the affected community, suspend incompetent regional DENR officers and include both coal plants as priority in the ECC audit to be conducted by the Department.
The 8ID Stakeholders Fellowship in Northern Samar
By DPAO, 8ID PA
February 9, 2017
CAMP LUKBAN, Catbalogan City – In order to address and strengthen the aspirations of peace and order in the region, your Army in Eastern Visayas together with the Provincial Government of Northern Samar came up with a Provincial Peace and Order Council Meeting and Stakeholders Fellowship with the Local Chief Executives and Stakeholders of the whole province of Northern Samar with Maj. Gen. Raul M. Farnacio AFP, Commander 8th Infantry (Stormtroopers) Division held at the Governor's Residence, Catarman, Northern Samar on February 8, 2017.
This activity also aims to unite the Local Chief Executives and stakeholders in addressing the poverty alleviation; peace and order update; and support the government's drive against illegal drugs and lawless violence in the area.
Present during the activity were: Maj. Gen. Raul M. Farnacio AFP, Commander 8ID; Brig. General Mario G. Lacurom AFP, Commander 803rd Bde; PCSupt Elmer P Beltejar, RD, PRO8; PSSupt Ceazar Zafiro L. Tannagan, PD NSPPO; Hon. Raul A. Daza, Representative, 1st District; Hon. Jose L. Ong Jr, Governor of Northern Samar; Hon. Gary M. Lavin, Vice Governor of Northern Samar; Mr. Valente P. Bajet. DILG, Provincial Director; Atty. Efren J. Sabong, Provincial Administrator; Hon. Don. L. Avalon, LCE San Jorge; Ms. Imelda Bonifacio, Regional Area Manager, OPPAP; Head of Local Government Agencies; 24 mayors of different municipalities of Nortnern Samar; church leaders; media personalities and members of Provincial Peace and Order Council of Northern Samar.
During the open forum, the Local Chief Executives were urged to deliver the basic social services needed especially to the far flung areas. Further, on the discussion of the lifting of unilateral ceasefire, MGen Raul M Farnacio, Commander 8th Infantry Division rest assured to the people of Eastern Visayas that they will be highly protected by the military troops against any atrocities that will be brought by the CPP-NPA-NDF. Further, as per guidance by President Rodrigo Roa Duterte to the NPA members who would like to surrender to the fold of government, the AFP will humbly welcome them and rest assured that they will receive remuneration to start a new and better living. Hon. Jose L. Ong, the Provincial Governor of Northern Samar stressed-out that it's about time to remove the root cause of poverty and to destroy the CPP-NPA influence in their respective barangays. They must be united to end up the insurgency and function as reliable public servants to the people.
MGen Farnacio also highlighted the Armed Forces of the Philippines new campaign plan dubbed as Development Support and Security Plan (DSSP) "Kapayapaan". This is the continuance of Internal Peace and Security Plan (IPSP) "Bayanihan" that was terminated last year. This campaign will focus on sustained military operations to defeat the foreign and local terrorist organizations; contribute to the promotion of peace active support to law enforcement in war against drugs; and contribute to nation-building.
Gov't to provide transition period to end '5-6' lending scheme
By DTI-OSEC-PRU
February 9, 2017
MAKATI CITY – In line with government's drive to reform the micro-financing system in the country, the Department of Trade and Industry (DTI) recently called for an inter-agency meeting to work on the transition to allow illegal foreign money lenders to legalize their resident status and register with the Securities and Exchange Commission (SEC) their lending business. The transition period is needed to prevent undue harassment of concerned lenders.
DTI Secretary Ramon Lopez with SEC Chair Tess Herbosa and representatives from the Departments of Justice and Foreign Affairs, Immigration Bureau, National Intelligence Coordinating Agency, Bangko Sentral ng Pilipinas, Philippine National Police, Small Business Corporation (SB Corp.) and the Indian Chamber of Commerce, gathered to discuss legitimization of lending businesses and initial steps to put a stop on the said lending scheme.
The total operation value of the "5-6" lending system sums up to a total of P2.4 billion, with 30,000 operators across the country, according to the Indian Chamber of Commerce Philippines. A transition period will be provided to lending operators, giving them ample time to register their businesses with SEC.
"After the prescribed transition period, 5-6 scheme must stop and micro-businesses must shift to P3 and other legal micro-financing facilities," said Sec. Lopez, referring to the government's flagship micro-financing initiative Pondo Para sa Pagbabago at Pag-asenso or P3, initiated by President Rodrigo Duterte.
Launched in Tacloban, Occidental Mindoro and Sarangani, the P1-billion micro-financing program aims to provide micro, small and medium enterprises (MSMEs) with easy access to finance with no collateral and minimal interest, through micro-financing institutions (MFIs) and cooperatives accredited by DTI and the SB Corp.
"We should be seeking the frontiers, these people who have not been reached by the MFIs are the same people targeted by the '5-6'," Sec. Lopez added.
A Technical Working Group (TWG) on the matter will provide specific guidelines on the compliance and registration of lending businesses.
Indian Chamber of Commerce Philippines President Rex Daryanani expressed hope that term "5-6" would eventually be eradicated and be replaced by the term "micro-financing."
San Agustin-Pagsanghan Road completed
By DONNA C. DEBUTON
February 8, 2017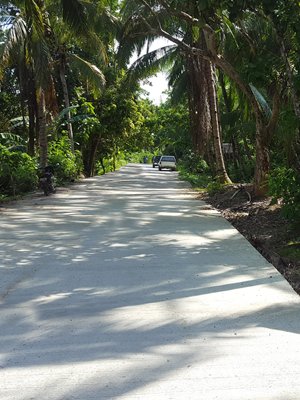 CALBAYOG CITY – Samar First District Engineering Office has finally completed the construction of San Agustin-Pagsanghan Road under the General Appropriation Act (GAA) of 2016. The project includes the concreting of 3,150 linear meters of road covering Brgy. San Agustin to Pagsanghan, Samar.
The construction of San Agustin-Pagsanghan Road is one of the high impact projects of Samar I having a contract amount of 50 million pesos under B. Vicencio Construction.
The Municipality of Pagsanghan can be reached by a river boat or an intermittent concrete road where gravel road are hardly passable at times during continuous heavy rains. However with the completion of this project, residents can travel from the municipality to Gandara and elsewhere anytime conveniently.
The project provides a wide range of benefits to the local citizens of said areas which includes a significantly reduced time of travel and boosted economic activities. Various types of vehicles can now pass along this road section not only "habal-habal" and single motorcycles.
Phinma Energy Corporation told: Don't just defer, cancel the project!
By Philippine Movement for Climate Justice
February 8, 2017
QUEZON CITY – The Philippine Movement for Climate Justice (PMCJ) lauds the decision of Phinma Energy Corporation to defer their planned 900 MW coal-fired power plant in Sual, Pangasinan. However, the group advises Phinma to totally cancel the project and, instead, invest in renewable energy projects.
Yesterday, Phinma announced that they are considering constructing the coal plant in the year 2023 to 2025 because right now, there are already a lot of coal plants operating and being constructed in the country.
According to Mr. Ian Rivera, National Coordinator of PMCJ, presently there are 25 existing and operational coal-fired power plants all over the country including the 1,294 MW coal plant in Sual, Pangasinan. In addition, 35 coal plant projects are in the pipeline aside from the planned 900 MW project of Phinma.
"Phinma has to decide to delist coal projects in their investments as this will turn out to be a stranded asset as renewable energy (RE) becomes more viable. Business-wise, investing in RE will yield far more returns because it is now cheaper, safer and with no negative externalities. On the other hand, coal is dirty and costly considering the harm and danger it poses to people and environment as evidenced by what is happening now in Limay, Bataan where host barangays are suffering from ill effects of the bottom ash produced from the operation of two coal plants in the area: the 140MW of Petron Refinery and the 300MW of San Miguel Global Power Corporation which is currently running on a series of tests", Rivera added.
Recent news shows that a significant population in the host barangays in Limay, mostly senior citizens and children are experiencing respiratory-related health problems and skin diseases. These problems were caused by ashes being spewed during coal combustion of the said two coal plants.
Chiz resolution calls on senate to probe AI report
By Office of Senator Chiz Escudero
February 7, 2017
PASAY CITY – Sen. Chiz Escudero has filed a resolution pushing the Senate to investigate the allegations of Amnesty International that killings related to the government's war against illegal drugs were extrajudicial executions carried out by gunmen hired by police officers to kill and plant evidence.
Escudero, former chair of the Senate Committee on Justice and Human Rights, filed Senate Resolution No. 282 directing the appropriate Senate committee to probe into the report by AI, saying it must not be simply set aside as it raises serious allegations that can undermine the Philippines' reputation as a democratic country that fundamentally recognizes and upholds human rights.
"I found AI to be radical at times if you look into our history. The filing of resolution is really not meant to give AI a platform. It is to allow AI to prove their allegations because by that report, they besmirched the reputation of the country."
He also added that the legislative inquiry would be an avenue to verify the accuracy of the report and give the people and institutions involved an opportunity to respond to the findings.
"It is not only a matter of necessity but public accountability as well that AI substantiate and present its evidence before the Senate for public scrutiny to confirm the report's veracity and to hold, or otherwise clear, the Philippine government of any responsibility," Escudero said.
"Sure or not, they already besmirched the name of our country by saying that these violations are committed by the state itself," the senator said.
According to the report released by the international human rights watchdog, "the police paid killers on their payroll, and unknown armed individuals have slain more than a thousand people a month under the guise of a national campaign to eradicate drugs," adding that the administration's war on drugs is actually a "war against the poor."
AI also alleged the use of a mere "watch list," which contents are based on hearsay, community rumor or rivalry, with little verification.
In their report, AI also detailed the story of a police officer with the rank of Senior Police Officer 1, who served in the PNP for a decade and is currently part of the anti-illegal drugs unit in Metro Manila. According to the source, the police paid per "encounter" – the term used to mask the extrajudicial killings as legitimate operations conducted by the authorities. The police officer claimed that the amount paid by the police ranges from P8,000 to P15,000 per person, per encounter.
"The logic it presents is that this money is coming from the government, that is a serious allegation that would immediately connect the state to what is happening outside the EJKs (extrajudicial killings) and that would mean it is already state sponsored. That is a very serious allegation and AI cannot simply make that allegation and say 'sorry all of our sources are confidential, we cannot reveal it.'"
Since the Duterte administration came into power, the Philippine National Police has conducted almost 41,000 drug-related operations from July 2016 to January 2017.
According to AI, more than 7,000 people have been killed in the drug war, with the police directly killing at least 2,500 alleged drug offenders.
Furthermore, Escudero cautioned the administration against giving too much power to the police force and treating erring officers with kid gloves.
"The worst fear of many people already happened. It went into the head of the policemen. Not all, but some," he said. "We want to see the PNP leadership pursue with the same vigor as drug suspects the scalawags, misfits and erring policemen."
DTI chief to entreps: go digital
Calls for digital empowerment in PH
By DTI-OSEC-PRU
February 6, 2017
MAKATI – Newly-confirmed Department of Trade and Industry (DTI) Secretary Ramon Lopez has called for digital empowerment in the Philippines to continue fueling the development of the country's digital commerce or e-commerce, a key priority in the current trade agenda.
"I urge our micro, small, and medium enterprises (MSMEs) to welcome digital integration," said Sec. Lopez, adding that now is the perfect timing to rally towards digital empowerment as the Philippine economy experiences strong macro-economic fundamentals, renewed investor confidence and good governance.
During the recent office opening of Google in Taguig, the trade chief said that "digital integration is a great equalizer, as it allows MSMEs to gather product ideas and concepts, do market tests and do promotions and selling at practically no cost."
He also said that MSMEs can make use of programs in partnership with companies like Google, so that the sector "can take advantage of opportunities that go with going digital.
With vast interest infused in the demography of the Philippines as the world's social media capital and with 50 million Internet users, accounting for 50% of the country's total population today, the Philippines can be a model country for digital empowerment, according to him.
"I hope that more effective web services, improved search experience and effective advertising platform will be delivered to all stakeholders. With Google officially in the country, we can only expect production of meaningful local contents," he added.
Citing Statista, it is projected that by 2021, 81% of the country's population will be Internet users. For the Southeast Asian region alone, the country has the fastest growing Internet audience at 22% growth rate, according to the 2014 Global Web Index, which also found Filipinos having the highest total screen time spent in social networking globally at 3.2 hours.
Sec. Lopez also hoped that digital companies can be more inclusive in its business operations and assured that DTI will support initiatives that proactively promote digital inclusion among Filipinos through digital literacy and digital accessibility.
"I urge tech companies to spearhead programs that will empower Filipino consumers with skills to harness the benefits of technology to improve their quality of life," he said, adding that forging multi-stakeholder partnership among the government, the civil society, the private sector and the academe is an urgent need.
Google's expansion in the Philippines also means creation of more jobs for Filipinos, as country manager Ken Lingan has promised to hire local talents. In addition, with the population getting more connected and easily more engaged, an ecosystem of startups can have more strategic venue, in view of Google's commitment to grow small businesses online.
Environment, climate advocates laud DENR closure of mining operations, call for continuous action against destructive large-scale mining industry
By SANLAKAS
February 3, 2017
QUEZON CITY – Environment and climate advocates, as well as members of grassroot communities, lauded the Department of Environment and Natural Resource's (DENR) closure of 23 mining operations situated in functional watersheds and suspension of 5 mining firms, as of Tuesday, January 31, 2017.
"This action by the government has finally brought into the forefront the long history of suffering inflicted by the country's large-scale mining industry on our environment and our mining-affected communities," said Concerned Citizens of Sta. Cruz (CCOS) Chairman Dr. Benito Molino.
Molino referred to DENR Secretary Gina Lopez's findings on the grave environmental degradation and disruption of community lives that have been occurring in the mining capital regions of the country.
"The campaign that calls for holding accountable destructive mining firms and for the halt of these recently closed mining operations has been left unheeded for years until now," said Molino.
"It takes bold and concrete actions to put an immediate stop to the environmental degradation and community life destruction that have long been the mark of large-scale mining industries in this country. The DENR amply stepped up to this challenge with its closure of a number of mining operations," continued Molino.
Sanlakas Secretary-General Atty. Aaron Pedrosa hoped that this paves the way for more empowered communities in their fight to reclaim their home and their proper way of life from destructions caused by the large-scale mining industry.
In lauding the DENR closure of a number of mining operations, Pedrosa expressed the need for continuous action, both by the state and its citizens, against possible retaliatory measures to be undertaken by huge mining companies.
"Stronger safeguards need to be installed in our institutions to truly break away from the current state of affairs of our environment where only a handful from the mining industry dominate in extracting and benefitting from the country's natural resources," stated Pedrosa.
In concurring with the observance of Secretary Lopez during the DENR mining audits, Center for Energy, Ecology and Development (CEED) National Convenor Gerry Arances noted that farmers and fishers from mining-affected communities are often stripped of their health and their livelihood due to the disruptive presence of mining operations in affected areas.
According to Arances, compunded with statements from Molino, in Sta. Cruz, Zambales alone, the visible environmental impacts of mining operations by BenguetCorp Nickel Mines Incorporated, Eramen Minerals Incorporated, LNL Archipelago Minerals Incorporated, and Zambales Diversified Metals Corporation, included air pollution, biodiversity loss, floods, food insecurity, loss of landscape/aesthetic degradation, soil contamination and erosion, waste overflow, deforestation and loss of vegetation cover, and surface water pollution.
"It is high time that we realize and act on the fact that we put so much burden on our environment and our fellow Filipinos in mining-affected areas for the sake of accommodating a large-scale mining industry that empties and irreversibly damages our resources without having ever contributed to our economic growth as a country," said Arances.
Arances noted how the country's current legal framework on mining allows the entry and the long-term and large-scale destruction by mining corporations of communities and ecosystems in exchange for few and insignificant portions of the revenue gained by these corporations.
"Large-scale and profit-driven mining industries have long gotten away with encroaching upon and fully exhausting natural resources that are meant for the use and proliferation of our present and future communities," concurred Molino.
"In order to instigate a full stop to the destruction caused by mining operations, we have to shift our way of appropriating our natural resources and make it fully attuned to the needs of our own communities rather than that of corporations," said Molino.
Pedrosa cited The Philippine Mining Act of 1995, the current law governing mining activities, as one of the major impediments to a truly pro-people and pro-environment national utilization of land resources.
"A law that allows mining corporations to own 100% of mineral ores and land covered in claimed mining areas has no place in our genuine pursuit of reclaiming our natural resources for our people," said Pedrosa.
CCOS, Sanlakas, and CEED have long supported the passage of bills like the Alternative Minerals Management Bill (AMMB), a bill that champions the adoption of a sustainable, rational, needs-based minerals management, geared towards effective utilization of mineral resources for the goal of attaining an ecologically-sound national and modernized agriculture.
"The closure by the DENR of major mining operations is a step forward to relinquishing the hold of corporations over this country's natural resources," said Pedrosa.
"To make this move more meaningful, however, we have to continue creating more avenues, formal or otherwise, for our communities to assert their rights over the utilization and management of their resources and the environment in which they live," concluded Molino.
Former DILG secretary Mel Sarmiento mentors Mayor Richard Gomez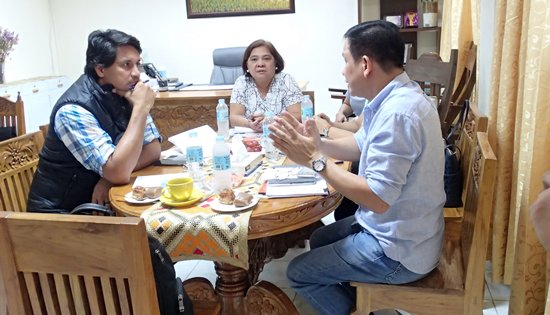 By MYLES JOSEPH E. COLASITO
February 2, 2017
TACLOBAN CITY – Former DILG Secretary Mel Senen Sarmiento, an award-winning former mayor of Calbayog City, had a productive mentoring session with Ormoc City Mayor Richard Gomez last January 31, 2017 at the DILG-8 Regional Office in Tacloban City.
The conference was facilitated by DILG Local Government Academy (LGA) and DILG-8 under the Mentoring for Optimal Leadership and Development for Newly Elected Officials (MOLD the NEOs) program. The mentoring relationship is bound by a contract by the two parties with DILG and LGA, which aligns the mentor and NEO's expectations and guides them throughout their mentoring time together.
According to Mayor Gomez, he is thankful to DILG for this program is a good tool to validate how his administration is performing. Among the topics the two discussed in this session was long-term planning, resource mobilization, peace and order and the environment.
Mayor Gomez seeks to pursue initiatives they started in 2016 that involved crafting new ordinances as part of a road map to make Ormoc a liveable, business friendly, competitive and peaceful city.
Former Secretary Sarmiento belongs to a pool of recognized experts in local governance tapped by LGA to guide new mayors. He also mentors Maasin City, Southern Leyte Mayor Nacional Mercado and Dulag, Leyte Mayor Mildred Que, with possibly more to follow.
Sarmiento helped design MOLD the NEOs process with LGA Executive Director Marivel Sacendoncillo (also concurrent DILG-8 OIC-Regional Director) when he was still DILG secretary. After his term ended, he was asked to help guide the new mayors due to his wide experience as a Galing Pook winner and congressman, among others.
MOLD the NEOs was crafted with the realization that local officials are more receptive to advice from their peers who have the credibility and experience in resolving relevant problems.
Under MOLD the NEO, both parties shall agree on the objectives, types of knowledge and skills to be imparted, duration, basis, regularity, communication and their forms of interaction, making the relationship dynamic.
Chiz seeks senate probe into AI allegations
By Office of Senator Escudero
February 2, 2017
PASAY CITY – Sen. Francis "Chiz" Escudero wants the Senate to look into the report released by Amnesty International (AI) alleging that Philippine National Police (PNP) officers have paid individuals to kill thousands of drug offenders in the country.
Escudero told a press conference on Thursday that he would file a resolution next week for the Senate to investigate into what he described as serious allegations by the international human rights watchdog.
In the report, Amnesty International claimed that the police had "systematically targeted mostly poor and defenseless people across the country while planting 'evidence' recruiting paid killers, stealing from the people they kill and fabricating official incident reports."
"Ito'y seryosong alegasyon na galing pa sa isang international body na marapat at dapat alamin, hindi lamang nating lahat, pero pati na rin makita kung may basehan nga ba o wala kaya dumudungis ito sa imahe ng bansa sa daigdig," Escudero said.
The veteran lawmaker said he also wanted Amnesty International to explain their findings and present their sources at the legislative inquiry.
According to Escudero, who once chaired the Senate Committee on Justice and Human Rights, he was alarmed by the claim that hired killers were being engaged by the police force to help in the war against drugs of the government.
The Senate investigation, he added, will give the PNP a chance to convey their side of the story.
"Yung basehan ng AI sa kanilang report nais naming ipaliwanag nila, at pangalawa yung mga pulis na na-mention, at kung sinumang nais maglabas ng ebidensiya kaugnay nito. Dalawa ang pakay naming dito: Una, mapatunayan kung totoo nga ba yung alegasyon ng AI, at pangalawa, mabigyan din naman ng pagkakataon ang PNP na harapin ang AI, magpaliwanag sa harap ng publiko at ibigay ang panig nila sa publiko at sa AI," the senator said.
Furthermore, Escudero assured procedural safeguards for sources of AI and all the other witnesses who will be invited to the Senate probe.
"We can always call for an executive session in order to hear the testimony of witnesses. Nagawa na namin yan noon at napatunayan naman ng Senado na hindi namin nilalabas anumang pinag-usapan sa executive session maliban na lamang kung pagbotohan ito ng mayorya ng mga senador kung ganyan ka-sensitibo. Nakahanda naman ang Senado na tumanggap ng mga ika nga mga sekretong testigo para mapangalagaan ang kanilang seguridad," Escudero said.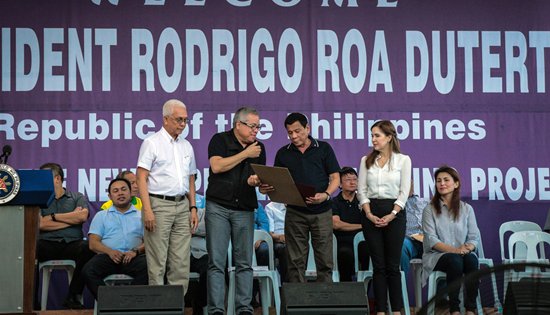 P3 micro-financing fund launched in Tacloban. As part of Administration's commitment to provide affordable micro-financing program for the micro, small and medium enterprises (MSMEs), President Rodrigo Duterte (middle right), along with Department of Trade and Industry Secretary (DTI) Ramon Lopez (middle left), Housing and Urban Development Coordinating Council (HUDCC) Secretary Jun Evasco (leftmost), and Mayor Cristina Gonzales-Romualdez (right) led the ceremonial launching of the Pondo sa Pagbabago at Pag-asenso (P3) on January 25 in Tacloban.
Pondo sa Pagbabago at Pag-asenso launched in Tacloban, Mindoro, Sarangani
By DTI-ROG
February 1, 2016
MAKATI CITY – The Department of Trade Industry (DTI) formally launched the Pondo sa Pagbabago at Pag-asenso Program or P3, a micro financing program intended for small entrepreneurs, in Tacloban City in Leyte on January 25; San Jose, Occidental Mindoro on January 27; and Alabel, Sarangani Province on January 31, to help eradicate poverty, and promote business and employment among Filipinos.
Following President Rodrigo Duterte's directive to replace the "5-6" money lending system and provide an affordable micro-financing for the country's micro, small and medium enterprises (MSMEs), the P3 funding program provides microenterprises an alternative source of financing that is easy to access and made available at a reasonable cost.
"The P3 program is one way of helping the underprivileged by giving better chances to elevate from poverty. Aside from the fund, the DTI thru the Negosyo Centers will assist the MSMEs with programs suitable to their needs such as access to market, access to financing, and mentorship," DTI Secretary Ramon M. Lopez said.
The identified areas are considered among the 30 poorest provinces poorest in the country.
A total of 92 micro borrowers where initially identified to receive loan grants ranging from P5,000.00 to P100,000.00.
Sec. Lopez also reiterated the administration's desire to provide livelihood to those who are at the bottom of the pyramid.
"Why micro entrepreneurs? The desire and mandate of our president is to help those who do not have much. If they fail to be employed, we help them to start a small business," he said.
The primary beneficiaries of the P3 Program are microenterprises and entrepreneurs that do not have easy access to credit or accessing credit at a very high interest cost. These include market vendors, agri-businessmen and members of cooperatives, industry associations and co-operators.
The Small Business Corporation, an attached agency DTI shall administer the P3 Program. Aside from creating a Program Management Office to oversee the management and monitoring of the P3 Fund, SB Corporation will make use of its lending network and the DTI Negosyo Centers in reaching out to P3 beneficiaries.
Loan amounts to end-borrowers will be in the range of P5,000 to P100,000, at a maximum interest rate of 2.5% per month, with no collateral requirement.
Catwalking on water in haute couture
Jessica Minh Anh stunningly opened 2017 with her iconic Seine river's floating runway
Press Release
January 27, 2017
PARIS – An innovative catwalk concept was created 5 years ago when a young model and entrepreneur decided to transform Seine River's giant glass boat, Le Jean Bruel, into a 100-metre floating runway. Yesterday, the world witnessed the 5th outstanding installation of Jessica Minh Anh's infamous river catwalk as J Winter Fashion Show 2017 premiered 5 exquisite haute couture collections from various continents. Having added many international successes into her impressive portfolio, including the Eiffel Tower and Grand Canyon Skywalk's phenomena, the multi-talented catwalk producer has maintained her magic on Paris' water.
The concept
With an extraordinary vision, Jessica Minh Anh created an illusion of models walking on water by having guests seated facing the multifaceted glass windows and watch models walking in front of them while the boat was cruising. As a result, architectural wonders such as the Eiffel Tower, Notre Dame, Louvre, and the 37 bridges became the natural backdrop for the unique catwalk.
The fashion collections
The breath-taking opening saw Jessica Minh Anh appeared in a Princess Diana inspired haute couture dress made of white lace with a classic high neck, big shoulders, and a 2-metre long trail. Following the flawless beauty is a stunning model lineup in black, gold and white intricate designs with an emphasis on mermaid silhouettes. The "Retromantic" collection is a masterpiece of Indonesian talent Fetty Rusli, who brought class and elegance to Jessica Minh Anh's theatrical catwalk.
Next, Malaysian fashion house Emmanuel Haute Couture unveiled 15 looks full of embroideries, transparency, layers, and floral ornamentation. A master at hourglass silhouettes, Samantha Chua's exceptional designs portrayed a new level of charm, seduction, and opulence. The couturier successfully mixed handmade beadwork and extravagant embellishments with floor-length silky softness in classic black and red.
With a modern take on classic silhouettes, American designer Johanna DiNardo premiered a distinctive collection influenced by the beauty of the Seine and Paris. The alluring looks included pleated brocade skirts, water-like sleeve drapery, bias-cut panné velvet, and contoured metallic lace veils, edged in Swarovski crystals. Focusing on precision, handcraft, and detailed tailoring, Johanna's collection exuded powerful individuality.
Adding femininity and glamour to the grand catwalk, Maria Ruth Fernanda from Jarkata presented a timeless haute couture collection which revealed meticulous fabric manipulation and advanced embellishment techniques. Using colour pallets such as deep red, royal blue, gold, and earthy beige on tulles, jacquard, silk, and taffeta, her designs perfectly accentuated a women's body.
Closing the show with modern luxury and a bold statement, Filipino representative Sari Lazaro introduced her "Royal secret garden" collection, which celebrated impeccable craftsmanship, beadwork, and embroidery techniques. Marrying dramatic laser cut details on luxurious silks and soft flowing tulles and laces, the designer stirred up romance, mystique, and new age flairs. Saving the best for last, the finale design worn by Jessica Minh Anh was every inch portraying modernised royalty. With a special 3-dimension skirt, the striking couture dress highlighted Jessica Minh Anh's perfect waistline while enhancing her charismatic and powerful presence. The collection triumphed the Far East's captivating and enchanting fashion, which has been penetrating and harmonising with the Western world.
The beauty looks
To compliment Jessica Minh Anh's extraordinary vision, American luxury cosmetics and skincare brand Elizabeth Arden joined force with UK's salon ESHK to create an exclusive modern chic beauty look. The catwalk models appeared radiant with flawless and youthful skin, strong contours and highlights, and sophisticated one-side braided low bun hairstyle. The creative team accentuated Jessica Minh Anh's exotic beauty with Elizabeth Arden's brand new eye-popping red lipstick and a custom-made architectural hair structure mimicking a futuristic flower. Jessica Minh Anh is known for her signature stand-out look, previously seen wearing artistically made Eiffel Tower, Burj Al Arab, Sydney Harbour Bridge, and One World Trade Center hair pieces.
Getting over the flooded 2016
The great success of J Winter Fashion Show 2017 was even more rewarding and well received considering Jessica Minh Anh's 2016 river catwalk was affected by a heavy flood on the Seine. "We informed her 3 days before the show that she had to move it to a week later, and again 3 hours in advance on the new date that the boat would not move. She was calm, positive and very decisive. She impressed us all." said Marco Goncalvez, Director of Operations, Bateaux Mouches. The model had the boat positioned at the angle where the Eiffel Tower was the most visible, and went on to produce one of the best catwalks to date. It was not the first time Jessica Minh Anh was proved an effective problem solver, as she also saved her epic catwalk at Gemasolar power plant the year before after an unexpected and destructive storm. As Madame Figaro stated "With Jessica Minh Anh, nothing is impossible"
J Winter Fashion Show was supported by Montblanc, Elizabeth Arden, ESHK UK, Bateaux Mouches, DOT Laser UK, ProPress UK, and Belmont Hotel Paris. The high profile event included a VIP red carpet entrance, the iconic runway, and the VIP party with drinks, canapés, and live music on board Le Jean Bruel. The flawless production marked a new era in Jessica Minh Anh's fashion world domination, as she increases her number of shows per year to 4. We shall wait with excitement for her next catwalk announcement, expected in April 2017.
The producer
The Vietnamese born, Russian raised, and Paris-based fashion model and catwalk producer gained her formal education in IT in Malaysia and PR in the United Kingdom before transforming London's Tower Bridge into the world's newest catwalk. Besides her mind-blowing productions at iconic monuments including the Eiffel Tower, PETRONAS Twin Towers' Sky Bridge, Grand Canyon Skywalk, One World Trade Center, and Gardens by the Bay's Skyway, Jessica Minh Anh is known for her "catwalks on water" on the Hudson river and Seine river, as well as her "sky-high ocean catwalks" on the sun deck of international cruise ships in Sydney, New York, and Dubai. Jessica Minh Anh's most visually attractive project, besides the Grand Canyon Skywalk, is her runway in the middle of a solar power plant in Spain as she added technology into her long list of catwalk elements.
Google Philippines opens new home
Announces grant for digital literacy program for one million Filipinos in VisMin
By DTI-OSEC-PRU
January 26, 2017
MAKATI CITY – Google Philippines is supporting the growth of digital economy in the country with a Google.org grant to Digibayanihan, a nationwide digital literacy program that promotes digital inclusion among Filipinos.
This was announced on Thursday when Google Philippines opened its new home, four years after it launched its first office in the country in 2013. The support from Google is expected to extend Digibayanihan's program to one million Filipinos in Visayas and Mindanao.
Google.org is the charitable arm of Google that supports and champions people and projects that are combatting the biggest human challenges of the 21st century. One of its key focus areas has been the improvement of education, particularly ICT enabled literacy.
"This step is part of our continuing effort to create a stronger, more inclusive digital economy in the Philippines. While our internet penetration has improved the last five years, 2 out of 5 Filipinos are still missing out on the huge opportunities that come with being online. We want to empower them with digital know-how so that they can make the most of the Internet," said Ken Lingan, Google Philippines country manager.
DTI Secretary Ramon Lopez who was guest of honor at the launch said, "With the population getting more connected and engaged every day, it is necessary for individuals, businesses, and communities to have the right skills to thrive in today's modern economy. That's why we welcome Google's commitment to promote digital inclusion and empower every Filipino online, and in effect, drive the country's economy forward."
Google also highlighted the importance of developers in the digital economy of the country with the launch of the Launchpad Accelerator program in the Philippines. The program provides equity-free support to help start-ups scale into thriving companies.
Citing the recent Google-commissioned report by Temasek, Google said that the Philippines' online market value is set to reach US$19 billion by 2025, making e-commerce a major economic driver in the next 10 years. "Our local developers and start-ups are instrumental in creating impactful businesses that are tackling tough local and global issues. We see the importance of their role in what will be a booming e-commerce in our country in the very near future because what they do have direct impact in people's lives," Ken said.
Innovative real-estate start-up Zipmatch, which uses 360° technology to differentiate itself, is the first Filipino participant in Google's accelerator program. Secretary Lopez recognized the program as a potential boost in the e-commerce industry, and encouraged micro, small, and medium enterprises (MSMEs) to take advantage of the digital space and digital training provided by Google and DTI agencies nationwide.
"SMEs still account for more than 90% of our enterprises, and Filipinos rely heavily on them for goods and services. I think it is just right for the SMEs to embrace digital integration now and make use of programs like what we provide working with tech companies like Google so they can take advantage of opportunities that go with going digital," Sec Lopez added.
DTI bares year-long plans as chair of ASEAN's business and investment promotion committee
By DTI-OSEC-PRU
January 24, 2017
MALACAÑAN – Department of Trade and Industry (DTI) Secretary Ramon Lopez revealed year-long plans that aim to complement and heighten the impact of the country's strategic priorities and deliverables for the ASEAN Economic Community (AEC), following DTI's chairmanship of the ASEAN Economic Ministers (AEM) meeting and the ASEAN's Committee on Business and Investment Promotion (CBIP).
Speaking at the formal launch of the ASEAN 2017 Business and Investment Program on 24 January, Sec. Lopez expressed confidence on ASEAN as an economic powerhouse, citing that the region is now the third largest market in the world with over 620 million people, the third largest economy in Asia, and the seventh largest economy in the world with a combined Gross Domestic Product (GDP) of 2.3 trillion dollars.
He also called on maximizing the opportunities and benefits from the AEC, and reiterated the four pillars of AEC as landscape for the dialogue with ASEAN partners in realizing the ASEAN 2025, starting with the 23rd AEM Retreat.
AEC's four pillars are the establishment of a single market and production base, a highly competitive economic region, a region of equitable economic development, and a region fully integrated into global economy.
This will solidify our priorities for the 50th ASEAN Ministerial Meeting (AMM), the 49th AEM Meeting and the Leaders' Summit, to be chaired by President Rodrigo Duterte, according to him.
"As we host the ASEAN 2017 Summit, the Philippines is one with the ASEAN in increasing trade and investments in the region; in integrating micro, small, and medium enterprises (MSMEs) in the digital economy for greater access to trade information, global market and value chain, and finance, promoting youth and women entrepreneurship; and in increasing cooperation within the region and connectivity to the rest of the world," Sec. Lopez said.
The trade chief said that coinciding with the Leaders' Summit in April is the holding of an ASEAN MSMEs-Mentors Conference, bringing together ASEAN mentors who can equip ASEAN local community enablers with the necessary information on access to capital, markets, ASEAN industries and innovation.
An ASEAN Creative Cities Forum and Exhibit will also be held, showcasing initiatives of 10 ASEAN Member States (AMS) in making culture and creativity a driving force for sustainable development and urban regeneration, according to Sec. Lopez.
"Taste ASEAN as the Philippines holds International Food Exposition (IFEX) in May. IFEX will showcase the best food brands from Southeast Asia and its partner countries," he said, adding that DTI's aim is to increase ASEAN SME participation in the global production and value chains, through participation of 10 AMS and ASEAN Dialogue Partners (DPs) in the country's biggest international trade exhibition on food and food-related products.
Aside from these, an ASEAN Women's Business Conference in August will be held to provide strategic dialogue among ASEAN, the private sector and DPs in addressing issues and concerns on women entrepreneurship, focusing on market access and finance and the identification of innovative business models which supports the ASEAN's vision of a stronger, more inclusive, and integrated economic community.
In September, Sec. Lopez said that an Inclusive Business Summit, emphasizing the role of the government in sharing best practices on implementing inclusive business strategies and in recognizing exemplary inclusive business models through the ASEAN Inclusive Business Awards.
Meanwhile, the 2nd ASEAN Young Entrepreneurs Carnival will strengthen the network among young entrepreneurs from ASEAN and other countries capturing the fast-paced developments on key sectors such as food, agriculture, information technology, logistics, business process outsourcing, start-ups, and Internet of Things (IOT). Through the formal launch of ASEAN Young Entrepreneurs Association (AYEA) Charter, Sec. Lopez hoped to commit young entrepreneur towards strengthened ties, cooperation and linkages.
In October, driven by the goal to promote innovation across the ASEAN region, DTI will spearhead the annual Slingshot event, helping create a regional network of ASEAN ecosystem players including startups, investors, incubators, mentors, academe, co-working spaces, and industry experts.
"It shall showcase investment-ready startups for potential local and international investors as well as facilitate easy access of information between governments running start-up development programs in the region," he said.
Before the year closes, another MSME Summit will be held, featuring inspiring MSMEs including those that have benefited from the mentoring program of the Philippines and other AMS. The Summit, which is in conjunction with the concluding ASEAN Leader's Summit, will be an occasion to formally introduce the establishment of the ASEAN Mentors Network, an organization of mentors from AMS.
"We shall work hand-in-hand in creating paths that will lead our people and our communities towards a truly inclusive, innovation-led shared prosperity," Sec. Lopez concluded.
Claims Board agrees to Selda demand for early distribution of reparation and speed up processing of applications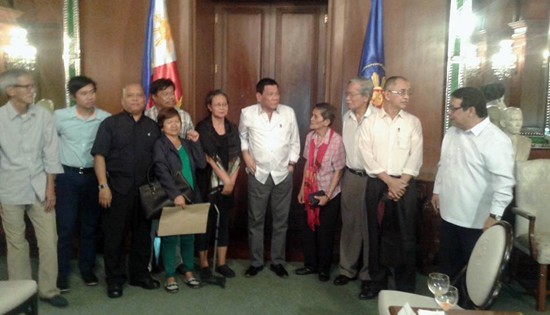 By SELDA
January 22, 2017
QUEZON CITY – The Human Rights Victims Claims Board (HRVCB) agreed to the demand made by SELDA (Samahan ng Ex-Detainees Laban sa Detensyon at Aresto) and human rights victims to start distributing the reparation and speed up the processing of claims of martial law victims during a meeting with Pres. Rodrigo Duterte on January 19 in Malacanang.
SELDA sought Pres. Duterte's intervention to expedite the process of recognition and indemnification of thousands of victims who toppled the Marcos dictatorship in 1986. Leaders and officials of SELDA met with the President for the first time on Jan. 17 at the Palace. They told the President that despite the passage of the reparation law four years ago the victims, many of whom are old and ailing, have yet to receive recognition and compensation. Worse, the Board has processed only 30,000 applications, not even half of the total 75,000 applications.
"This snail-paced system that has been the practice of the Claims Board for the last three years which could remain unfinished until the sunset year of the Board's tenure in 2018 is victimizing the already-victimized victim," commented Marie Hilao-Enriquez SELDA Chair who attended the said dialogue.
Pres. Duterte agreed that indeed the processing is to slow and summoned the Board to speed up the processing and distribution of the compensation funds for the victims.
At the January 19 dialogue called by President Duterte between the HRVCB and SELDA, human rights victims scored a victory when the HRVCB agreed to expedite the reparation and recognition of Martial Law human rights victims.
The HRVCB will partially award in advance the indemnification of the already approved applicants of human rights violations victim claimants numbering in thousands as of January 18, 2017. It is also agreed that the partial indemnification shall be done within a sixty days period. Consequently, non-monetary reparation will also be made available for the victims who seek assistance from Department of Health (DOH), Department of Social Welfare and Development (DSWD) and TESDA.
"Though the victory is incomplete and partial, it gives hope to the victims who are already old and ailing. SELDA will continue to press for the speedy processing of the remaining forty-five thousands applicants so that justice and indemnification to the victims will be rendered", said Enriquez.
Also, SELDA assures to help the HRVCB in the processing of the partial payment and other requirements that entail coordination.
SELDA expressed deep concern on the high fall rate of invalid applicants out of the initially processed 30,000 of which only 9,000 were approved. Likewise, it will also look in to the validity of the Claims Board statement that only 3,000 Hawaii claimants had applied for reparation and recognition out of the original 9,539 class action suit members. It must be recalled that the Hawaii Claimants were accorded conclusive-presumption according to the law (RA 10368).
Justice must be served to all Martial Law victims who were recognized by law when the Republic Act 10368 was signed and approved into law in February 2013. However, the Human Rights Victims Claims Board(HRVCB), takes a slow pace in processing the 75,730 applicants since it was created in 2014.
No less than the President Duterte himself, during the January 17 dialogue with SELDA officials and leaders stated that the slow paced reparation process and recognition is a violation of the law itself and an injustice to the thousands of victims of Marcos martial law. He also promised to expedite the process.
Likewise, President Duterte and SELDA agreed that there should be an immediate and advance reparation for the already approved claimants.
During the last dialogue, the HRVCB agreed to write the Commission on Audit (COA) to seek for an exemption on the publication of the accredited claimants to hasten the advance and partial compensation. According to the law, it is required that only after processing all the total claimants and its approved list in order that the awarding of monetary and non-monetary compensation could commence, there should be publications of accredited lists of claimants in three consecutive weeks on broadsheet newspapers.
At present, the Claims Board had already spent P136.17 M for its operations from the P10 B allotted fund for reparation. It has fifteen (15) remaining months to complete its tasks and implement the law.
SELDA shall also look into the matter of Human Rights Violations Victims' Memorial Commission which is according to the law should be created which until now is never implemented. The law also stipulates the "The lessons learned from Martial Law atrocities and the lives and sacrifices of HRVVs shall be included in the basic and higher education curricula, as well as in continuing adult learning, prioritizing those most prone to commit human rights violations (n, 27)." SELDA is looking forward to the day that all victims of Martial Law by a dictator, plunderer and human rights violator Ferdinand Marcos will be recognized and given reparation.
Army chief visits Stormtroopers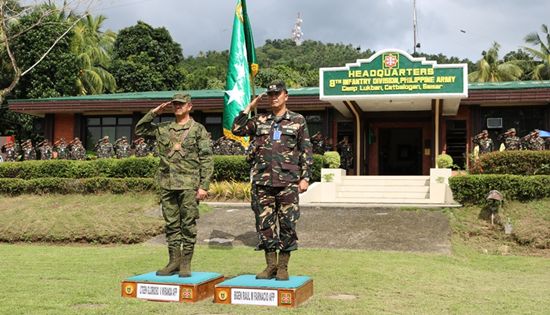 By DPAO, 8ID PA
January 20, 2016
CAMP LUKBAN, Catbalogan City – The Army's highest ranking officer together with his staff has officially visited the home of the 8th Infantry (Stormtroopers) Division, Philippine Army on January 18, 2017.
A full military honor was accorded to Lieut. Gen. Glorioso V. Miranda AFP, Commanding General of the Philippine Army upon his arrival at the Openiano Field and was warmly welcomed by Brig. Gen. Raul M. Farnacio AFP, Commander, 8ID, together with the officers, enlisted personnel and civilian employees of this Command.
This was his first visit to 8ID which boosted the morale of the troops to pursue development support to foster the foundation for inclusive and human development in Eastern Visayas.
"The strength of the Philippine Army rests on each and every one of us. My function as your Commanding General, or the function of your Division Commander, your Assistant Division Commander or your Battalion Commander is no more important than the function of an individual soldier out there in the squad. Every component of the organization has a vital role in accomplishing the mission. Strength is being defined the way we work together, the way we synchronize our effort, the way we harmonize our skills. Let's help together to win the peace and prosperity in our country." Lieut. Gen. Miranda added.
ALU lauds Duterte for approval of SSS pension hike; urges SSS to cut fat bonuses to improve fund
By Associated Labor Unions
January 10, 2017
QUEZON CITY – Labor group Associated Labor Unions (ALU) lauded President Rodrigo Duterte for approving the other day a one thousand peso increase of pension for 2.3 million pensioners of Social Security System (SSS).
"We thank President Duterte for listening to the needs of pensioners. We welcome this as it is an answer to the promise he made to pensioners during the campaign. It will help pensioners to cope with some but not all of the burdens caused by rising prices of basic commodities and cost of services," ALU spokesperson Alan Tanjusay said.
However, the ALU argued that the government should have fixed the system first and institute reforms within SSS before requiring new contributions from 14 million paying members out of the 34 million registered members.
Tanjusay said they urge SSS management to institute reforms within the system by trimming down excessive bonuses and introduce reasonable perks to all its top executives, improve its collection efficiency by pinning down non-remitting employers, stop corruption within and act on 7,000 delinquent employers now pending in the courts.
"There would be significant improvement in the life fund of SSS if these reforms are enforced. Resorting to quick fix and the path of least resistance raises doubts about ability of SSS commissioners ability to trim corporate fat. We suggest that President Duterte to direct the SSS open their books and consult with workers since its workers money that the SSS is doing placements on," Tanjusay said.
He said the workers' daily wage purchasing power is reduced by at least 30% in the face of prices of basic commodities and cost of services. There are also impending bigtime increases in the cost of electricity and water utilities.
ACCRALAW deploys iManage for document and email management
Leading Philippines law firm experiences streamlined workflow and greater efficiency with iManage work product management
Via MARKETWIRE
January 9, 2017
CHICAGO, IL - iManage today announced that the Angara Abello Concepcion Regala & Cruz Law Office (ACCRALAW), a top tier Philippines-based firm servicing local and international clientele, has chosen iManage Work for document and email management. Since its establishment in 1972, ACCRALAW has grown into a celebrated and multi-awarded service organization with over 140 lawyers today. True to its vision of "setting the pace in excellence in the practice of law," ACCRALAW has pioneered the use of technology in the legal profession.
"The delivery of legal services should leverage technology. We believe in taking advantage of the latest technology not only to improve the efficiency of rendering legal services but also to reduce cost for the benefit of our clients and to ensure our lawyers have a more conducive environment within which to work," said Atty. Leland Villadolid Jr., litigation senior partner with primary field of practice in Telecommunications and IT and Head of the Firm's MIS Department. "The Firm recognizes the advantages of today's technological advancements. Technology is used exhaustively in ACCRALAW to improve the skills of its lawyers and to render the best legal services to clients at a managed cost. In iManage, ACCRALAW has deployed a sophisticated Work Product Management system that encompasses document management, email management, knowledge management, analytics, process automation and more."
In the first few months of going live with iManage Work, ACCRALAW has already experienced significant benefits. iManage Work integrates seamlessly with ACCRALAW's existing practice management system, so that when a new matter is created, a workspace is automatically generated in iManage Work, without the need of manual intervention. Within minutes, users can start saving and publishing documents to this centralized repository, allowing anyone connected to the matter to search, access, and view the related files -- saving valuable time and enabling more efficient collaboration.
iManage Work has been rolled out across all of the Firm's practice departments. As a result, the Firm can better carry out work on behalf of its clients in areas ranging from Litigation and Dispute Resolution, Corporate and Special Projects and Intellectual Property, to Labor, Tax and other specializations.
Before deciding on a Work Product Management system, ACCRALAW exercised due diligence by visiting several legal firms in neighboring Malaysia that were iManage customers, to hear their opinions first-hand. "We talked to our peer firms about iManage, and the feedback we got was very positive," said Atty. Emerico O. De Guzman, the Firm's Managing Partner. "As we got deeper into the evaluation process, we saw for ourselves what iManage Work could do and the way it could make our professionals more efficient."
iManage partner Business Network Solutions (BNS) – headquartered in Malaysia, and serving Southeast Asia – assisted ACCRALAW with their implementation of iManage Work. The entire process – from information gathering, to go-live date -- was completed in approximately four months.
"Forward-looking firms like ACCRALAW pay attention to what other firms are using to help their busy professionals get work done more effectively," said Dan Carmel, iManage chief marketing officer. "With iManage Work, ACCRALAW is now using tools designed for the modern workforce to improve productivity, make better decisions, and work smarter."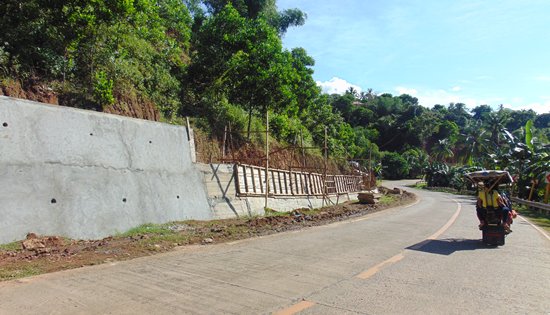 Completed Construction of Slope Protection along Naval-Caibiran Cross Country Road (NCCR). The project is under contract with Chu Construction with a contract cost of P41,600,000.00. The above road section is prone to flooding hence drainage structure was included in the Slope Protection project. Other than the slope protection structure and drainage, concrete paving is also included in the project. The completed project will provide a structure that will prevent further landslide along this road section and contain run-of water during rainy days to prevent future damage to existing paved National Road.
DPWH-Biliran DEO ending the year with 91.84% accomplishment of 2016 infra projects
By CHELSEA C. QUIJANO
January 9, 2017
NAVAL, Biliran – The Department of Public Works and Highways (DPWH), Biliran District Engineering Office (BDEO) ends the year with high accomplishment posting 91.84% surpassing the 85% district target set by the DPWH Central Office.
Biliran DEO has been allotted P683.745M under FY2016 DPWH Infrastructure Program with 66 projects.
David P. Adongay Jr., District Engineer revealed that out of the 66 lined-up projects, Biliran DEO completed 62 projects, with four remaining projects on-going under the Regular Infrastructure Program.
Adongay previously reported that these remaining projects encountered delay due to inclement weather condition in the Province of Biliran that hinders the contractors to smoothly perform their operation, and other problems such as the acquisition of Road-Right-of-Way (ROW).
These projects are the P45M Construction of Slope Protection along Biliran Circumferential Road (BCR); P45M Construction of Biliran Diversion Road including Slope Protection and ROW; P8.7M Replacement of Banlas Bridge along Maripipi Circumferential Road; and the P5M Repair of Biliran Bridge along Leyte- Biliran Road.
Adongay said that those remaining projects will be spilled over on the 1st quarter of 2017.
"We need to fast-track on our implementation of projects pero hindi ibig sabihin na pag' inii-speed natin yung ating implementation ay mawawala na yung quality, speed and quality of projects should go together," Adongay reminded during the last day of work on December 29, 2016 during the flag retreat.
Adongay was recently awarded as Best District Engineer at DPWH Regional Office Baras, Palo Leyte on Dec. 21, 2016 for his invaluable support and high degree of commitment in all the undertakings of the Regional Office and for consistently rendering his superior performance in the attainment of the Department's Mission, Vision and Strategic Objectives.
Moreover, Biliran DEO ends the year garnering the awards as Best in Planning and Design Section (PDS), Best in Financial Management Section (FMS) and Overall Best District Engineering Office out of 13 District Offices in Region VIII.
Bayan to AFP: Disclose contents of new Oplan
Press Release
January 9, 2017
QUEZON CITY – The AFP and DND should disclose the actual contents of its new campaign plan, Development Support and Security Plan Kapayapaan, that was launched last week at a top level command conference.
If it is a sequel to Oplan Bayanihan, claiming to put primacy on the peace negotiations and so-called non-combat "development" work, but continuing the militarization of communities, then it is not new nor will it succeed.
Will DSSP Kapayapaan cause the pullout of troops from Lumad and other occupied areas? Will this cause the suspension of military operations masquerading as non-combat, development operations in civilian communities? Will this end the "IP-centric" approach adopted by Oplan Bayanihan that has resulted in human rights violations in indigenous communities? Will this make the AFP stop targeting legal activists, whether through trumped-up charges or by extrajudicial killings? Will the AFP disband paramilitary groups especially those most notorious for rights abuses such as massacres?
If the answer to all these questions is NO, then we are in for more of the same. Maybe even worse.
Oplan Bayanihan of Aquino also claimed to recognize the primacy of the peace process but instead unleashed war on the people. It was an utter failure as the peace talks were stalled while the AFP failed to stop the advance of the revolutionary forces. It is this reality that served as the basis for the Duterte government to enter into peace talks with the NDFP. Government cannot defeat the revolutionary forces because the social, economic, political and historical basis for the armed conflict remain. The root causes of armed struggle must be addressed.
The AFP should upload and make available the new DSSP Kapayapaan to allow its scrutiny by all stakeholders and interested parties, including human rights groups, peace advocates, and members of Congress. Kapayapaan's predecessor Oplan Bayanihan was made available to the pubic by the previous regime and can be found at the AFP's website.
The people continue to call for the pull-out of AFP troops operating in civilian communities. These AFP operations undermine even the government's own ceasefire declaration, exposing it as a sham as far as affected communities are concerned. Affected communities have raised many complaints versus the AFP and hope that these will be discussed during the 3rd round of formal peace talks that will begin on January 19, 2017.
PRRD's micro fund program to pilot-run this month - DTI
By DTI-OSEC-PRU
January 9, 2017
MAKATI CITY – Following President Rodrigo Duterte's directive to replace the "5-6" money lending system and provide an affordable micro-financing for the country's micro, small and medium enterprises (MSMEs), the government's Pondo sa Pagbabago at Pag-asenso (P3) program pilots this month in Mindoro, Sarangani and Leyte, among the top 30 poorest provinces, to represent Luzon, Visayas and Mindanao, the country's trade chief said.
"The P3 is designed to bring down the interest rate at which micro-finance is made available to micro enterprises," said Department of Trade and Industry (DTI) Secretary Ramon Lopez.
The 2017 General Appropriations Act has included an initial funding of P1 billion for financial assistance, a part of the planned P19 billion financing initiative for micro and small businesses in the next five years.
Helping the poorest
The program's fund will be lent out in the business centers of the poorest provinces (based on poverty incidence), where the participating microfinance institutions (MFIs) and the Small Business Corporation (SB Corp.) can operate.
An attached agency of DTI, SB Corp. shall administer the P3 Program, including the creation of a Program Management Office (PMO), which will open a separate back account for the P3 Program, to oversee the management and monitoring of fund.
"Fund delivery to microenterprises shall be carried out in either by wholesale lending to non-bank financial institutions like MFI-NGOs, and cooperatives which shall on-lend the fund to beneficiaries or by direct lending by SB Corp," Sec. Lopez said.
Beneficiaries
Priority beneficiaries include microenterprises and entrepreneurs that do not have easy access to credit, or are accessing credit at very high cost, such as, micro-entrepreneurs, market vendors, agri-businessmen and members of cooperatives, industry associations and co-operators.
Loanable amount per end-borrower can range from P5,000.00 for start-ups to P300,000.00, with maximum interest rate of 26% per annum with no collateral requirement. This rate is significantly below the 20% per day/ week/ month charged by "5-6" lenders. It is also lower than what is charged by most MFIs.
MFIs may opt for portfolio guarantee cover of up to 15% of their P3 loan portfolio from SB Corp at a guarantee fee of 0.4%. The guarantee feature is seen to help MFIs address the P3 Program's inherent risk. The guarantee fund will be sourced from the P3 fund.
P3 allocates P100 million for direct lending by SB Corp. Target loan beneficiaries are the small enterprises in priority and emerging industries, start-up businesses and technology innovators.
Minimum loan amount will be P300,000.00 with interest rate capped at 10% p.a., with or without collateral cover.
"This alternative funding dedicated for micro and small enterprises is meant to discourage the 5-6 money lending system in our country," said Sec. Lopez, adding that through the established MFIs, the government will reach even the smallest of entrepreneurs in the country.
President Duterte visits victims of Hilongos, Leyte blast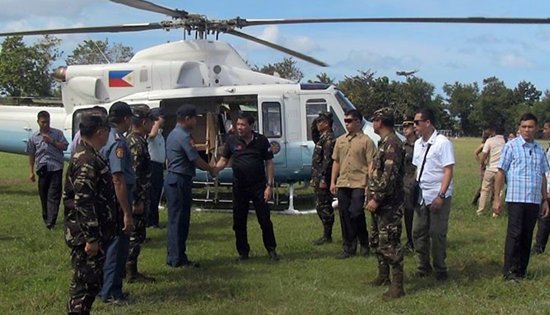 By DPAO, 8ID PA
December 30, 2016
CAMP LUKBAN, Catbalogan City – It was December 28, 2016 at 9 o'clock in the evening, while the residents were enjoying a boxing match in connection with the town fiesta celebration, when two improvised explosive devices from 81mm mortar ammunition exploded at the municipal plaza, Central Poblacion, Hilongos, Leyte that eventually injured 32 residents of the said town.
On December 30, 2016, two days after the Hilongos, Leyte Bombing, Pres. Duterte arrived at Ormoc City Airport at around 9:40am and was warmly received by Maj. Gen. Oscar T Lactao AFP, CENTCOM Commander; Brig. Gen. Raul M Farnacio AFP, 8ID Commander; PSSupt Roberto T Badian, PRO8 Deputy Regional Director for Admin; Secretary Michael Dino, Presidential Assistant for Eastern Visayas; Hon. Lucy Torres-Gomes, 4th District Representative of Leyte; Hon. Richard Gomes, Ormoc City Mayor, and other members of Sanguniang Panlungsod of Ormoc City.
President Duterte immediately flew to Hilongos, Leyte via presidential helicopter and arrived in the area at around 10:21am at Hilongos district hospital to visit the victims of the bombing. He gave financial assistance worth P10,000.00 pesos and cellphone to every victim, and promised a scholarship for every graduating student who became a victim of the bombing incident.
He likewise ensured that PhilHealth will assist the victims in paying their hospital bills. Any excess hospital bills that cannot be shouldered by PhilHealth will be shouldered by DSWD while the crutches and wheelchairs will be provided by DOH, the President said.
During his message before the people of Hilongos, the President said, that the bombing incident in that town is part of the plan of the enemy of the state to destabilize the government. Hence, he reminded the local PNP & AFP units to be more vigilant of terrorist's plan in the days ahead especially bombings of the Maute group.
In this regard all local AFP unit commanders are advised to proactively coordinate with their PNP counterparts to increase joint patrols and check points in urban centers, ports, churches and other critical infrastructures. The visit of President Duterte in the municipality of Hilongos, Leyte culminated at about 12 o'clock noon and he immediately returned to Ormoc City airport and boarded the presidential private plane going to Davao City.
Youth groups: Duterte's 6-month contract failed to bring change
Contractualization, corruption and killings still rampant despite Digong's statements
By Sanlakas Youth
December 29, 2016
QUEZON CITY – Student activists from Luzon, Visayas and Mindanao castigated President Rodrigo Duterte given the absence of genuine change six months under his administration.
"While the contracts of contractual workers who started their jobs with the President last July have already ended, contractualization still persists under the President's administration," said Rara Ada of Sanlakas Youth - Mindanao. "It is quite a shame that already, Sec. Bello of the Department of Labor and Employment (DOLE) is boasting that 'endo' has already been abolished, when in fact, regular employment and benefits are still far from the reach of workers of companies who circumvent rules and laws through the use of agencies," she said.
Ending contractualization is one of the promises showcased by the Duterte administration. DOLE has since come up with a so-called 'win-win' solution, where employees will be considered 'regular,' but under the agencies which employ them. "Under this scheme, the hiring company would still be able to relieve a worker from employment after a given period without giving them the benefits they are due," said Ada. "It is obvious who lost in the win-win solution posed by the Department of Labor and Employment: the workers," she added.
Ada also blasted Duterte for his 'two-faced' stance regarding corruption. "During his campaign, the President has also promised ending corruption in the government. And yet, in under six months, we have seen the release of former President Gloria Macapagal-Arroyo and a hero's burial for the late dictator Ferdinand Marcos, two of the most notorious plunderers in our country's history," she stated.
Youth groups also condemned the upsurge of drug-related killings under the administration. "Already, more than 6,200 Filipinos have died under the reign of terror brought about by the administration's war on drugs," said Zaira Baniaga of KAISA-UP Diliman. "Instead of an atmosphere of security, the lawless killings of suspected criminals and innocent citizens has left Filipinos in greater fear for their own lives and the security of their families," Baniaga added.
Baniaga said that the continuation of unlawful killings is a statement that the drug war is failing, not succeeding.
"On top of this, the President's allies in the Congress are scrambling to pass death penalty and lowering the age for criminal liability, blind to the failure of the law to secure innocents, especially children, from the discriminatory flaws of the justice system and the sociological roots of crime," she said.
Seemingly positive developments in the realm of education have been criticized by the youth sector as well.
"Until this administration ceases to insitutionalize automatic appropriation for education, accessible and quality education for Filipinos will remain as an illusion," said Aivan Lloyd Calonia of Sanlakas Youth - Visayas. "Problems and faults exist in all levels of education, from the poor implementation of the K to 12 program, the lack of quality facilities in public schools, the poor wages of teachers, as well as the curricula designed to make cheap overseas workers or contractual workers domestically," Calonia continued. "While increasing the budget for education alone will not solve all its problems, raising the standard for spending on the sector to the international standard of 6% Gross National Product will be a step in the right direction," he noted.
Calonia also criticized the proposed embankment project in Tacloban as part of the rehabilitation and development program in Yolanda-affected areas.
"The proposed project will only bar small fishing communities from reaching their source of livelihood, not far from the massive displacement experienced by poverty-stricken communities under the rehab efforts of the previous administration," he said.
Calonia urged the President to distinguish himself from predecessors by refraining from the neoliberal path of development. "In the six months that have passed, we are only seeing more of the same policies: privatizing public services, catering to business interests and keeping wages low," he said.
Calonia also warned the public of questionable shortcuts which may be undertaken by the President and his administration in solving perceived problems.
"We cannot afford a repeat of the wasted trust and optimism from the part of previous administration," he stressed. "Especially with voices inside and surrounding the administration who threaten to steer its popularity for their own interest," he stressed.
"While a large number of Filipinos remain optimistic about this administration, being vigilant and critical of the obvious shortcomings from the administration is essential for the People to truly lead the changes they want to see in our society," he concluded.
99 N. Samar farmers receive CLOAs from DAR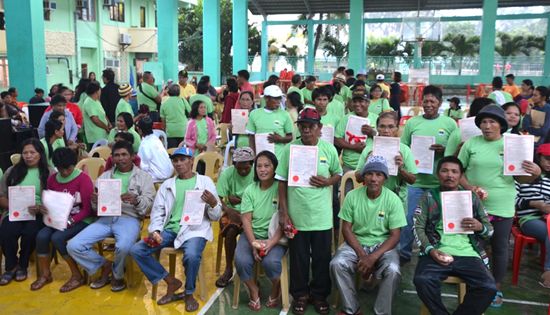 By JOSE ALSMITH L. SORIA
December 22, 2016
MONDRAGON, Northern Samar – Ninety-nine farmers from remote vilages in this town braved the heavy rains on Friday afternoon to receive their certificates of landownership award (CLOAs) from the Department of Agrarian Reform (DAR).
DAR Assistant Regional Director Ma. Fe Malinao assisted by Mayor Mario Madera handed to the beneficiaries the 118 CLOAs covering a combined area of 123.8 hectares of farmlands situated in Barangays Talolora and La Trinidad in this town.
The distribution was held at the covered court of the municipal hall amid heavy rains.
Malinao, Madera and DAR Northern Samar Legal Chief Atty. Edsel Ballicud repeatedly stressed to the agrarian reform beneficiaries (ARBs) not to sell or mortgage their awarded lands under the Comprehensive Agrarian Reform Program (CARP) as stated in the CLOA.
Moreover, Ballicud explained to the ARBs their roles, obligations and responsibilities as recipients of the land transfer program.
Malinao added that DAR also provides support services to ARBs to improve farm production that would eventually lead to increased income.
Ailing political prisoner finally released, but on bail, wishes freedom for the rest of PPs
By SELDA
December 19, 2016
QUEZON CITY – Ramon Argente, now 57, was all smiles when he met human rights workers upon his release on December 15, 2016. Upon arrival in Manila, he went straight to the Philippine Heart Center for a check-up. This is where he underwent a heart bypass surgery in 2013. Argente was happy, but has one wish: that the rest of the political prisoners be released soon.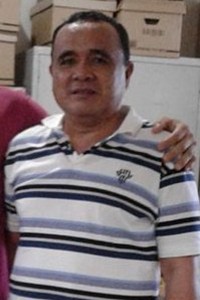 "Hanggang sa kasalukuyan ay hindi pa rin ako ganap na nakaka-recover sa karamdaman. Sa tagal nang maysakit ay kahapon lang nakalaya, sa bisa pa ng pagpiyansa. (Until now, I have not yet fully recovered from my illness. I have been sick for a long time, but I was only released yesterday, but through bail)," said Argente, who was granted bail by the RTC Branch 64 in Labo, Camarines Norte.
One of the 130 ailing political prisoners, Argente was detained for more than three years on the basis of trumped-up charges of multiple counts of murder, theft and frustrated murder. Hehad a triple heart bypass operation in 2013. After the surgery, he was brought back to detention at the PNP Custodial Center in Camp Crame, Quezon City.
"Nananawagan (ako) sa administrasyong Duterte na tuparin ang kanyang pangako bago pa siya makapanumpa. Nagpahayag na siyang handang palayain ang mga bilanggong pulitikal ganoon din ang pagpapalaya sa mga maysakit katulad ko, at iyong mga bilanggong matatanda...mga bilanggong pulitikal na matagal nang nakakulong maging iyong mga kababaihan. (I call on President Duterte to fulfill his promises before he swore into office. He said he is ready to release political prisoners including those who are ill like me, and the elderly prisoners...and political prisoners who have spent a long time in prison, even the women)," said Argente.
Now 57, Argente is a peasant organizer from San Pablo, Del Gallego, Camarines Sur. He has coronary artery disease and was undergoing medication when he was arrested in February 18, 2013 in Brgy. Muson, Bauan, Batangas.
He remained in a fragile condition while in jail, experiencing difficulty in breathing and chest pains. Argente was undergoing medication when he was arrested. His health worsened while detained at the Camarines Norte Provincial Jail. It took six months before his motion for hospitalization was granted.
At least 400 political prisoners remain in detention, the recent political prisoners released after the courts ordered them released, or granted bail. None has been released by the Duterte administration through general amnesty, after the courts granted temporary release on bail to 19 NDFP consultants.
"Sana po suportahan din natin ang pagpapatuloy ng usapang pangkapayapaan sa pagitan ng gobyerno ng Pilipinas at National Democratic Front. (I hope we also support the continuation of the peace talks between the government of the Philippines and the National Democratic Front)," Argente added.
Armed clashes in Basilan displace nearly 7,000 people
By ICRC
December 13, 2016
MANILA – Nearly 7,000 people have been displaced for more than a month following armed clashes between government security forces and armed groups in Basilan province, southern Philippines.
"These families left their homes and sources of livelihood after the hostilities started in November. The residents of six villages in the conflict-affected municipalities of Al-Barka and Tuburan chose to stay with relatives or in evacuation centers for fear of being caught in the crossfire. The ICRC's distribution is in response to their basic needs for food," said Nezar Tamine, deputy head of the ICRC sub-delegation in Mindanao.
To support their needs, the International Committee of the Red Cross (ICRC) provided food rations and hygiene items on December 7 and 9 for the affected families in Al-Barka and Tuburan, with the support of the Philippine Red Cross (PRC) Basilan chapter.
Each family received 25 kilograms of rice, 2 litres of oil, 1 kilogram of sugar, ½ kilogram of salt, 12 tins of sardines, 1 liter of soy sauce, and a hygiene kit containing shampoo, bath and laundry soaps, toothbrushes and toothpaste. In July, the ICRC through the PRC provided essential household items and hygiene kits to 17,000 displaced people in Tipo-Tipo, Al-Barka and Ungkaya Pukan municipalities.
Also recently, the ICRC arranged for 12 emergency health kits to be delivered to hospitals and rural health units in Sulu and Basilan provinces to support the medical needs of the affected civilians. These kits also contain dressing materials to treat the weapon-wounded.
Together with the PRC Zamboanga City chapter, 113 health workers from six rural health units of Basilan were trained on first aid and basic life support from August to October to boost the capacity and readiness of health workers and the community to help save lives during armed fighting and other emergencies.
As part of its mandate to raise awareness of and respect for international humanitarian law, the ICRC continues to remind all parties to the conflict about the need to protect civilians and those who are not or no longer participating in the hostilities.
The ICRC is a neutral, impartial, and independent humanitarian organization whose mandate is to protect and assist people affected by armed conflict and other situations of violence. It has had an established presence in the Philippines for more than 70 years and a permanent presence in Mindanao since 1982.
Labor group sees increase in employment in 2017 but expresses concern on rising underemployment
By Associated Labor Unions
December 13, 2016
QUEZON CITY – Labor group Associated Labor Unions (ALU) attributes the high employment rate to the optimism created by President Duterte's repeated promise to seriously address the worsening problems on peace and order situation, graft and corruption in government bureaucracy, drastic cutting on red tape specifically the setting up of business operations and on his promise to build unprecedented number of strategic infrastructures.
In a Labor Force Survey released by Philippine Statistics Authority (PSA) showed unemployment reached its lowest level 4.7% in 11 years.
"We are also seeing Mr. Duterte's aggressive pro-China diplomacy initiatives, peace talking with the communist movement actors, separatist entities and personalities in Mindanao and his leadership sincerity helped magnify the optimism for local and foreign investors to put up jobs-creating investments," said Alan Tanjusay, ALU spokesperson.
Feeling secured and assured of their investments, he said these investors set up shops early to anticipate the fruits of reduced graft and corruption, capitalize on the ease of doing business, and increased mobility due to improve peace and order situation.
"Plus, they also anticipate and directly and indirectly participate to take part as Mr. Duterte is hell-bent to spend big money on building mega infrastructures. All these combined to create jobs which what we have now in anticipation of the bigger things to come," Tanjusay said.
Tanjusay said if Mr. Duterte's leadership momentum is not interrupted, construction allied services would emerge and help create jobs.
However, the underemployment scenario should be a cause of concern for government and employers, he said.
"It could mean that though there are jobs available but their wages and benefits are inadequate for them to cope with rising cost of living particularly the increasing prices of basic goods and costs of services," he said.
Government and employers, therefore, should act simultaneously in addressing this underemployment rate. Employers should raise their wages and improve direct and indirect benefits to workers to help mitigate the rising rate of underemployment. Government should improve social protection benefits and insurance, enforce labor laws and safeguard predatory increase of prices of basic commodities.
"With all of these, we see an unprecedented increase in domestic employment in the year ahead. But if employers and government ignore underemployment solutions, economic growth will continue to be non-inclusive and inequitable with the very few upper class people racing to the top while the working people are racing to the bottom," Tanjusay said.
Youth group questions CHED's drug test proposal
By Samahan ng Progresibong Kabataan
December 13, 2016
QUEZON CITY – Youth activists criticized the proposal of CHED's executive director Julito Vitriolo to make drug testing, (1) a requirement for admission of all incoming Higher Education Institutions' (HEIs) students and, (2) the retention of those currently enrolled.
The Samahan ng Progresibong Kabataan (SPARK) strongly denounced the proposed policy as promoting a discriminatory, stigmatizing and skewed approach to solving the drug problem, in line with the current administration's bloody War on Drugs.
They observed how the current administration has been carrying the massive anti-drug campaign while condoning the culture of impunity, the wholesale violation of human rights, and classifying the stockpiling corpses in drug-infested and poverty-stricken areas as collateral damage.
Armed with the scalding pronouncements of President Rodrigo Duterte against all drug users, Vitriolo assumed a prerogative to declare the crafting of a policy of sweeping mandatory drug testing to be administered as a requirement in college admissions.
The youth group however SPARK concurs that the youth are vulnerable to drug dependence, but it maintains that bringing the War on Drugs in the campuses will not solve anything, for evidently the drug war is unwinnable. Whereas SPARK finds drug testing founded on randomness ingenuous because it does not incriminate students tested with positive results, the group says that the new policy proposed by Vitriolo is "outright unjust and discriminatory."
The group interjects that while random drug testing is crucial to prevent further drug dependence, a non-random mandatory one administered before a student's admission to the school could be used as the sole benchmark on whether or not a student should be retained in school. This prevents the very victims of attaining a chance and exercising their primary right to education.
"Even with the rehabilitation, the stigma it would pose for the students who tested positive is also not reflective of the student's actual drug problem," says Clarissa Villegas of SPARK.
This is, according to SPARK, characteristic of the prevailing attitude of Filipinos towards the horrid War on Drugs.
SPARK believes that drug addiction should be treated as a solvable public health issue and cites that "addiction – or compulsive drug use despite harmful consequences – is characterized by an inability to stop using a drug; failure to meet work, social, or family obligations; and, sometimes (depending on the drug), tolerance and withdrawal. These students who are just applying for school admission may not really be exhibiting these excessive symptoms."
Villegas suggests that if the current administration really wants to tackle the youth's drug problem, they should also start focusing on out-of-school youths by waging a war on poverty instead.
"The right to education and the overarching need to eliminate poverty and other forms of exploitation should not be trumped by what it falsely seen as the worst problem in the status quo – the drug crisis," she asserted.
Though schools have the right to impose distinctive requirements on students for admission, Villegas maintains that it must be just and non-discriminatory.
In relation to such a measure, SPARK fears that with Vitriolo's proposal and the pending bill before Congress seeking to lower the age limit of criminal liability from 15 to 12 would be the "perfect combo to destroy the youth's chances of being a productive member of society".
The group says that the claim that this mandatory drug testing for college admissions will safeguard the HEIs incumbent students from drug use is far from established. "In addition, student applicants may not have extensively waived their rights to privacy as to be subjected to such punitive measures of the HEIs. This over-inclusive and non-random mandatory drug testing program proposed by CHED is not an effective means of dealing with the drug menace. The manifestation of reasonableness of this testing is questionable. It should not be a measure for disciplinary action as in the case when it is used as a standard for a college student's retention, for it to be fair," she concluded.