8ID celebrates the 120th Philippine Army Anniversary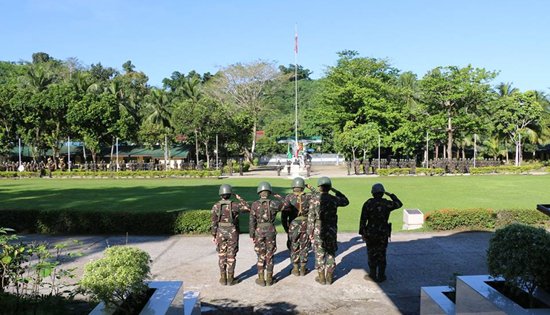 By DPAO, 8ID PA
March 23, 2017
CAMP LUKBAN, Catbalogan City – The 8th Infantry (Stormtroopers) Division, Philippine Army celebrates the 120th Philippine Army Founding Anniversary at Openiano Field on March 22, 2017.
The celebration started with a flag raising ceremony and followed by re-affirmation of oath of allegiance and reading of anniversary message by the Commanding General, Philippine Army which was delivered by Brig. Gen. Cesar M Idio, Assistant Division Commander of 8ID.
Brig. Gen. Idio quoted, "Kabayanihan, kagitingan, at kahusayan sa paglilingkod – mga katangiang nagsilbing mga haligi ng kadakilaan ng Hukbong Katihan sa nagdaang labindalawang dekada. Ang mga katangiang ito ang siya ring pinagkukunan natin ng lakas upang higit pang mapagbuti ang ating paglilingkod para sa bayan. Patuloy din nating gawing inspirasyon ang ating mga ninuno at mga kasamahang nag-alay ng kanilang buhay sa pagtupad ng tungkulin.
"Kung kaya't sa ating pagsasariwa ng ating pangako ng katapatan sa ating bandila, sama-sama nating pagtibaying muli ang paninindigang paglilingkuran ang sambayanan, ipagtanggol ang bansa, at dalhin ang ating bayan tungo sa isang mapayapa at masaganang kinabukasan."
50 million pesos tourism funded project completed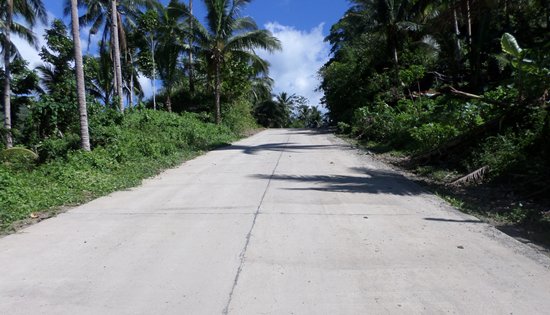 By LEVIRESA GETIGAN-BARNIZO
March 20, 2017
CALBAYOG CITY – The Department of Public Works and Highways (DPWH) - Samar First District Engineering Office (SFDEO) completed the Access Road Project leading to Bangon Falls in Brgy. Tinaplacan, Tinambacan District, Calbayog City, Samar.
The project is appropriated P50 Million under the DPWH FY 2016 Infrastructure Fund thru the DPWH – DOT Convergence Program.
Scope of works of the project involves concreting of 1,200 linear meters road with 768.20 linear meters Reinforced Concrete Lined Canal that is intended to prevent clogging and water ponding in the area which may eventually cause early deterioration of the structure.
The concreted road reaches at the farthest area where base of Bangon Falls is a few steps away. Following its completion, the influx of guests visiting the three waterfalls namely Larik Falls, Bangon Falls and Tarangban Falls increased from 2,075 in 2015 to 14,413 in 2016 based on the data provided by the Calbayog City Tourism and Information Office.
SFDEO is set to implement the Construction/Improvement of Access Road Leading to Bangon Falls (Slope Protection) under the DPWH FY 2017 Infrastructure Program amounting to P100 Million before the end of March 2017.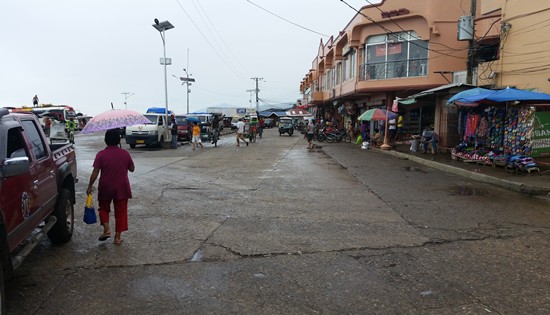 The above road is an access road leading to Naval Port in Naval, Biliran. It is proposed for rehabilitation with an appropriation of P54.939 Million. The proposed project on above road is Rehabilitation of Access Road leading to Naval Port. The project covers rehabilitation of 2.78 Lane Km. roadway and construction of drainage on some section.
Status of FY 2017 Biliran infra projects
By CHELSEA C. QUIJANO
March 17, 2017
NAVAL, Biliran – The Department of Public Works and Highways - Biliran District Engineering Office (DEO) has been allocated almost P1B for the FY 2017 Infrastructure Program with a total final listing of 57 projects based on the General Appropriation Act (GAA).
Out of the allocated amount, P940.730M is to be implemented by Biliran DEO, while P65M is to be implemented by the Regional Office, the widening of the Anas Bridge along Biliran Circumferential Road.
Biliran DEO's FY 2017 Infra Program consists of twenty (20) projects under the National Road Network Services; five (5) under the Flood Management Services, one (1) project under the Maintenance and Construction Services of other Infrastructure; and thirty-one (31) projects under the Local Infrastructure Program with a total of 57 projects based on GAA.
Major projects for 2017 includes the P128.667M Concrete/Reconstruction of Maripipi Circumferential Road, P61M Slope protection project along Naval-Caibiran Cross Country Road, and P54.939M Rehabilitation including drainage and Right-Of-Way (ROW) Acquisition of Access Road Leading to Naval Port, Naval, Biliran.
Another major project prioritized for FY 2017 is the road widening including drainage of Biliran Circumferential Road of road sections in Brgy. Tucdao, Kawayan, Brgy. Virginia, Culaba, Brgy. Bool, Culaba, Sto. Riverside to Sto. Sagrada, Naval, Brgy. Burabod, Biliran and Brgy. Balaquid Cabucgayan, Biliran costing P172.192M with total length of 5.940km and another P125.588M road widening project of road sections in Brgy. Lumbia, Biliran, Brgy. Burabod, Kawayan, Brgy. Mapuyo, Kawayan, Brgy.Tucdao, Kawayan, and Brgy. Kaulangohan,Caibiran, Biliran with a total length of 4.281km.
As of February 28, 2017, the district had already advertised and bid-out 49 projects while eight (8) projects are scheduled to be bid out on a later date.
Construction of bid-out projects will start on early March 2017.
Carmudi PH holds first financial seminar as part of CSR Roadshow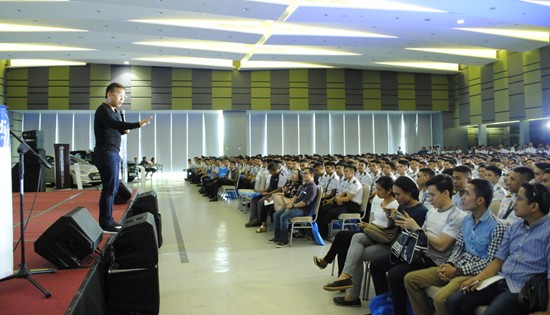 Press Release
March 14, 2017
TAGUIG CITY – To uplift and educate financial awareness in the country, online car sales platform Carmudi conducted a financial literacy seminar in the Queen City of the South, Cebu. Held last March 7 at the Sky Hall of SM Seaside, the event – which is part of the Carmudi Philippines' CSR Road Show – aims to help and empower graduating students on how to financially secure their future.
In partnership with University of Cebu, University of Cebu-Maritime Education and Training Center, and SMX Sky Hall, the financial literacy seminar for students is part of Carmudi Philippines' way of helping every Filipino in making the most out of their hard-earned money. The CSR road show, meanwhile, is a series of events that will be held in key areas around the country and tackle various issues that concern the public.
For the Cebu leg, the main speaker for the day-long program was wealth and life coach Chinkee Tan.
During the event, Tan discussed the importance of having a healthy financial mindset and how students can utilize their hard-earned money through savings and increasing its cashflow. According to Tan, good investments and the improvement of one's financial standing starts when they make the right decisions with their finances.
Meanwhile, Abhi Mohan, managing director of Carmudi Philippines, expressed optimism that the 1,500 students that attended the event learned to be more financially literate.
Mohan said that they impart their knowledge to future leaders and developers of the country so that they could maximize the potential of their hard-earned money.
"As part of our role as a responsible corporate citizen, this is our way of helping improve the financial literacy of the future young overseas Filipino population. Seafarers are particularly vulnerable since, unlike the gradual rise in income (in relative terms) of traditional jobs in the Philippines, they experience a faster rise in their financial net worth. Financial literacy becomes critical to level out the lack of life experience in order to ensure they are able to retain most of what they have earned," he said.
Further, Mohan said that the financial literacy program for students is just the start of their grand idea in making every Filipino financially-stable.
He cited that in the Philippines, owning a motor vehicle is a sign of financial stability. "We are in the Philippines for the long haul and when they are stable enough financially, they could tap us when they are ready to purchase their preferred vehicle that is within their budget," explained Mohan.
Late last year, the company made its debut CSR program in Manila with the Road Safety Caravan – with hundreds of students in attendance – that was successfully made in partnership with Turbo Zone. Students from STI-BGC came to listen and participate in the healthy discussions about road safety education. The seminar was led by award-winning journalist Jiggy Manicad and Oscar Oida.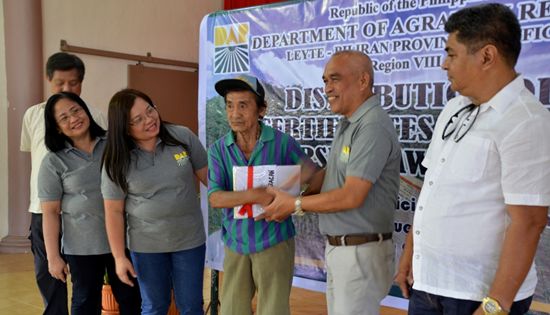 Angel Cabello (3rd from right), a 78-year old farmer from Jaro, Leyte, is being congratulated by Provincial Agrarian Reform Program Officer Renato Badilla (2nd from right) after receiving his certificate of land ownership award (CLOA) from DAR Regional Director Atty. Sheila Enciso (3rd from left). Others in photo from left are: CARITAS country coordinator Jess Agustin, Assistant Regional Director Ma. Fe Malinao and Leyte Registry of Deeds Head Atty. Emeterio Villanoza. (Jose Alsmith L. Soria)
A septuagenarian farmer among DAR's beneficiaries
By JOSE ALSMITH L. SORIA
March 10, 2017
SAN MIGUEL, Leyte – A 78-year old widower was among the 658 farmers from three Leyte towns who received their long awaited certificates of landownership award (CLOAs) from the Department of Agrarian Reform (DAR) last week at this town's auditorium.
Angel Cabello from Jaro could only say he was so happy after receiving the land title to the 2.1-hectare coconut land he is tilling.
DAR Regional Director Sheila Enciso led the distribution of the 344 CLOAs covering a combined area of 689.6 hectares of farmlands situated in 21 barangays within this town and in the municipalities of Jaro and Barugo.
But before the CLOAs were handed to the recipients, Agrarian Reform Program Officer Wendell Ariza gave a lecture first to the former their rights as well as their obligations as agrarian reform beneficiaries (ARBs).
Enciso, assisted by Assistant Regional Director Ma. Fe Malinao, Leyte Provincial Agrarian Reform Program Officer Renato Badilla, Head of the Leyte Registry of Deeds (ROD) Atty. Emeterio Villanoza, RIGHTS National Coordinator Danny Caranza, CARITAS Country Coordinator Jess Agustin and Vice Mayor Atilano Oballo, explained why it took long for DAR to distribute the CLOAs.
According to her, after the release of the titles at the ROD there is a need for DAR to validate the CLOAs to check whether the information in the said documents are still correct.
She likewise advised the ARBs not to sell their CLOAs nor convert their farmlands into another uses to ensure food security.
Further, Enciso disclosed that DAR has P288-million additional budget for support services. Her office, she added, received instructions from Undersecretary for Support Services Rosalina Bistoyong to submit project proposals for funding until Friday. In relation to this she directed the Program Beneficiaries Division to discuss with the ARBs in identifying projects that would help increase the farmers' production and income, and submit project proposals before Friday.
Meanwhile Badilla acknowledged the partnership that has been established between DAR and the RIGHTS, the non-government organization assisting these farmers, which resulted to the release of these CLOAs that were pending at the ROD since 1994.
PH exports surge 22.5% in January 2017
By DTI-IPG
March 10, 2017
MAKATI CITY – The Department of Trade and Industry sees exports recovering in 2017 as numbers surged in January 2017 with an increase of 22.5 percent with total sales of $5.130 billion from $4.187 billion recorded value in the same period last year according to the Philippine Statistics Authority (PSA) report.
"We are positive that we will continue to drive growth and recovery for the export sector as we increase our efforts in promoting Philippine industries throughout the year in various key markets. We take the consistent growth since the last quarter of 2016 as a sign for positive outlook in the coming months," said DTI Industry Promotion Group Undersecretary Nora K. Terrado.
Eight out of the top ten Philippine exports reflected growth with articles of apparel and clothing accessories with 270.1% increase as the highest gainer. Other gainers include: coconut oil includes oil and refined (229.6%), chemicals (104.7%), metal components (66.3%), electronic equipment and parts (64.8%), other manufactures (58.8%), machinery and transport equipment (27.9%), and electronic products (10.4%).
Electronic products remain to be the top Philippine export comprising almost 46 percent of the total Philippine exports with total receipts of $2.365 billion for January. On the other hand, non-electronic goods which accounts for 54 percent of exports likewise increased by a hefty 35.19% for that same month.
In terms of commodity groups, manufactured goods went up by 23.1 percent with total export sales of $4.505 billion, accounting for 87.8 percent of the total export receipts while exports from Total Agro-Based Products, with a 7.5 percent share to total exports in January 2017, amounted to $386.46 million. It increased by 33.7 percent compared to $289.12 million in January 2016.
Japan is still the top Philippine export destination with 17.3 percent share to total exports while United States ranks second with 16.5 percent share.
By economic bloc, exports to European Union member countries posted the highest growth with 82.5 percent increase from $491.34 million recorded in January 2016 to $896.69 million for the same period in 2017.
"The increase in our shipments to European Union member countries could be attributed to the impact of EU GSP+ which continues to gain traction for our exports. We wish to further build on this by integrating new strategic measures in promoting the Philippines and our products and services," explained Undersecretary Terrado.
On the other hand, countries in East Asia received most of Philippine exports accounting for 45.1 percent share to total exports valued at $2.315 billion. It increased by 11.1 percent from $2.085 billion of January 2016.
Exports to ASEAN member countries comprised 14.7 percent of the total exports in January 2017 and was valued at $751.54 million also posted growth which went up by 19.3 percent.
P19.4M worth of school buildings turned-over to Caibiran, Biliran
Press Release
March 6, 2017
NAVAL, Biliran – The Municipality of Caibiran, Biliran receives two 2-storey school buildings worth P19.4M for the K-12 program in a turned-over ceremony by the Department of Public Works and Highways (DPWH) and Department of Education (DepEd).
The recipient of the new buildings are the Union Elementary School in Brgy. Union, Caibiran Biliran with its P8.2M 2-storey, 6 classroom building and the Manlabang National High School in Brgy. Manlabang, Caibiran, Biliran with its P11.2M 2-storey, 8 classroom school building, turned over on the same day on February 24, 2017.
In a turn-over ceremony of the Union Elementary School, Mrs. Teresita Mocorro, School Principal, revealed that the school has already proposed for the establishment of a National Special High School in Union Elementary School renaming it as Union Integrated School that will soon cater the elementary and high school students.
The announcement made one of the parents, Mrs. Rachel Sinanggote, resident of Brgy. Union, Caibiran, Biliran to be grateful with the news.
According to Sinanggote who has a student in Grade 6 in Union Elementary School and Grade 8 student studying in other school of the neighboring barangay: "Maiban-ibanan na ang gasto ha pamasahi" (Transportation expenses will be lessen), she said because of the rise of the senior high school building in Brgy. Union.
The Union Elementary School teachers, students and parents also showed their gratefulness to Congressman Rogelio J. Espina, Biliran Lone District Representative, for giving P25,000 cash from his personal pocket to purchase sacks of cement for the school to widen the road in going to the school campus.
The turned-over ceremony were graced by Congressman Rogelio J. Espina, Engr. Alfredo L. Bollido, OIC-Assistant District Engineer, Dr. Ronico Y. Amistoso, Division Senior High School Coordinator, Hon. Rosario Sinangote, Brgy.Captain, Hon. Antonio Lim, Committee of Chairman, teachers, parents and students of Union National High School.
Another school building turned-over was the Manlabang National High School which started with the cutting of ribbon-ceremony led by Cong. Espina and Hon. Naricris Go, Acting Municipal Mayor of Caibiran.
The ceremonial turn-over of symbolic Key also highlights the occasion.
According to Amistoso, the construction of the senior high school buildings will give the students an environment conducive to learning.
In his message, he emphasized that: "They deserve this facility and this is for them."
Samar I still No. 1 in quality assurance nationwide
By Ma. NENITA Y. GOMEZ
March 6, 2017
CALBAYOG CITY, Samar – Out of the 234 district engineering offices nationwide, the Department of Public Work and Highways, Samar First District Engineering Office (DPWH-SFDEO) maintains its place as ranked 1 in the implementation of quality control.
The annual rating of quality assurance implementation for 2016 reveals Samar I to be still on top besting other district engineering offices nationwide.
Both District Engineer Virgilio C. Eduarte (now Asst. Regional Director of Region VIII) and DE Alvin A. Ignacio (then the Asst. District Engineer who was installed as District Engineer after the former's promotion) shared the honor as they effectively implemented the quality control measures in projects and providing the required laboratory equipments gaining the One Star Rating status in 2015.
District Engineer Alvin A. Ignacio commends the effort of the Chief of the Quality Assurance Section, Engr. Raquel Y. Sumayo for her relentless efforts in project monitoring to effectively come up with quality projects and the presence of laboratory equipments in her section.
Evaluators or the Assessing team looks into the quality of completed projects, the adherence of the district to quality control policies, construction materials sampling and testing procedures and personnel competence.
The DPWH Central Office conferred the One Star Rating to Samar I in 2015 for satisfactorily complying with the requirements and provisions stipulated in Department Order No. 11, series of 2013 and still remains on the same rating in 2016 based on the amended Dept. Order # 126, Series of 2016.
8ID administers blessing and hand over of KIA KM450 truck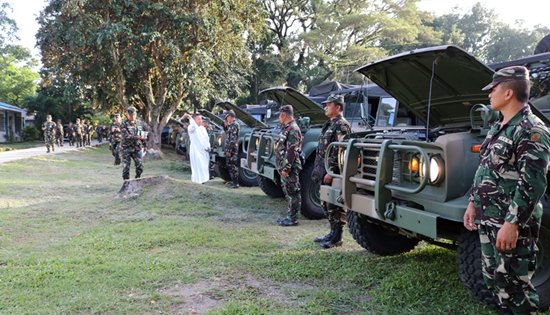 By DPAO, 8ID PA
March 6, 2017
CAMP LUKBAN, Catbalogan City – The 8th Infantry (Stormtroopers) Division administered the blessing of 51 units of brand new 1 1/4 ton KIA KM450 truck held at 8ID Basketball Court and Samar Police Provincial Office ground last March 3, 2017.
This multipurpose all-terrain military truck was first introduced in 1998 as part of the AFP Modernization Program. It is powered by a 3.9 liter diesel engine and can run a maximum road speed of above 100 kilometers per hour.
Out of the 51 units of KM450 received by this Command, 17 of which were issued in advance to line units in Mindanao to boost and strengthen their mobility assets in support to the intensive military operation against the terrorist groups.
Capt. John O. Geronimo, the Division Chaplain blessed the newly issued vehicles to keep the driver and the troop's safe at all times while rendering their duties. The ceremony was led by Col. Clifford Cyril Y. Riveral, the Assistant Division Commander for Retiree and Reservist Affairs together with other officers and enlisted personnel of the division.
In his message, Col. Riveral urged the respective military truck drivers to take good care of the vehicles for the higher headquarters provided these to enhance the Command mobility assets in support to the tactical operations both in the region and in Mindanao. "May the Almighty God bless you along your journey in securing and serving our nation," Riveral added.
PH's economic priority deliverables in ASEAN reaffirm inclusive growth agenda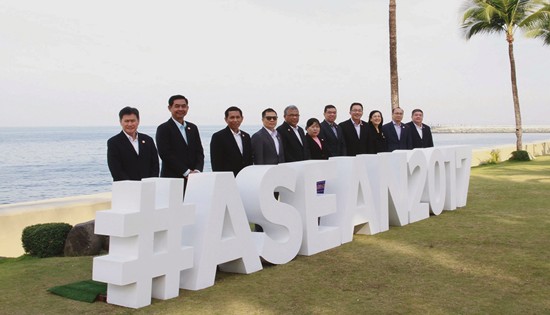 By DTI-IDG-BITR
March 3, 2017
MAKATI CITY – The 31st High-Level Task Force on ASEAN Economic Integration (HLTF-EI) convened on February 15-16 in Manila, gathering high-ranking ASEAN trade officials to discuss the implementation of the ASEAN Economic Community (AEC) Blueprint 2025.
HLTF-EI Chairperson and Permanent Secretary of the Ministry of Foreign Affairs and Trade of Brunei Darussalam Dato Lim Jock Hoi said that ASEAN needs to remain strong and united as the region navigates and charts its course ahead "collectively as ASEAN."
Representing the Philippines, Undersecretary for Industry Development and Managing Head of the Board of Investment Ceferino Rodolfo laid down the Philippine priority deliverables for 2017, highlighting the country's agenda on inclusiveness and innovation with a focus on increasing trade and investments, integrating micro, small, and medium enterprises (MSMEs) in the digital economy, and developing an innovation-driven economy.
"Inclusiveness should be intrinsic to the ASEAN agenda. The AEC Blueprint 2025 development framework will be most effective if it results from inclusive and open multi-stakeholder participation, one that is informed by the perspectives of people, especially the marginalized," Undersecretary Rodolfo said.
The Philippines is taking the lead in seeking new policy interventions that are practical from the MSME perspective. These are expected to contribute towards helping MSMEs harness the opportunities presented by open and increasingly integrated markets. These initiatives range from free trade and trade facilitation, trade in services, investment, connectivity, and innovation:
- Maximizing the benefits of free trade agreements (Self-Certification for MSMEs, and Substantial Conclusion of the Regional Comprehensive Economic Partnership [RCEP]);
- Fostering a more facilitative and transparent trade in services regime and harnessing the contribution and global competitiveness of the ASEAN services sector (Conclusion of the ASEAN Trade in Services Agreement);
- Strengthening the investment linkages between MSMEs and Multinational Enterprises or MNEs (FAST Action Agenda on Investment, Inclusive Business, Women and Youth Entrepreneurship);
- Enhancing intra-regional connectivity and bolstering socio-economic growth in the regions (Launch of the Davao-General Santos-Bitung route of the ASEAN Roll-on Roll-of Network);
- Supporting an ecosystem of entrepreneurship based on technology and innovation (ASEAN Declaration on Innovation); and
- Introducing more systematic and robust method for AEC compliance monitoring (ASEAN Trade Facilitation Indicators, Review Mechanism for AEC).
Said priorities are in line with the Duterte Administration's 10-point socio-economic agenda. In particular, these will leverage the global competitiveness of the Philippines' services sector in order to generate jobs and growth, as well as bring development to the South through rural and value chain development.
The Philippines also delivered to HLTF-EI the collective statement of the ASEAN Civil Society Conference/ASEAN Peoples' Forum (ACSC/APF) Philippines National Organizing Committee, reflecting the people's aspirations for an ASEAN that asserts peace and security, human rights, democratization, and broad-based economic, social and ecological justice.
Undersecretary Rodolfo highlighted the potential of civil society organizations as strategic and responsible partners in the process of ASEAN community-building, given their knowledge and reach at the grassroots level and cohesive international network.
Recommendations of the 31st LTF-EI will be the focus of discussions at the 23rd ASEAN Economic Ministers' Retreat and Related Meetings to be held on March 8-10 in Manila.
Composed of Trade Vice Ministers from the ten ASEAN Member States (AMS), the HLTF-EI functions as an advisory body to the economic ministers of the AMS, ensuring that all 10 AMS are on-track and on-time with the plans and programs intended to realize regional economic integration and achieve the vision of an AEC.
The AEC Blueprint was crafted to further advance ASEAN economic integration, envisioning a community characterized by the following: a) a highly integrated and cohesive economy; b) a competitive, innovative, and dynamic ASEAN; c) enhanced connectivity and sectoral cooperation; d) a resilient, inclusive, and people-oriented, people-centred ASEAN; and e) a global ASEAN.
ASEAN economies are expected to hold up reasonably well amidst the slowing of global growth, and the uncertain and shifting geo-political and economic landscape.
Forecasts from the Asian Development Bank and the International Monetary Fund place the region as the most dynamic part of the world with strong economic outlook for 2017 at 4.6% to 4.9% of GDP growth rate, vis-à-vis the 3.4% projected for the growth global GDP. The Philippines leads the region with a growth forecast of 6.8% for 2017.
11.9 million pesos calamity funded project completed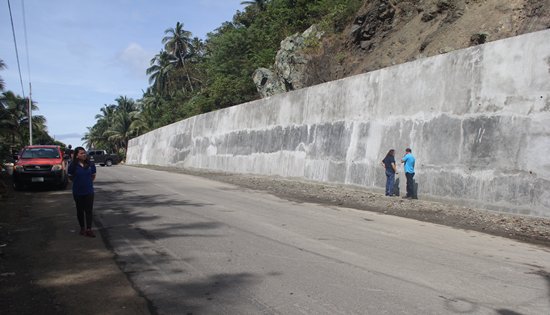 By LEVIRESA GETIGAN-BARNIZO
March 2, 2017
CALBAYOG CITY – The Samar First District Engineering Office (SFDEO) has completed the Rehabilitation/Improvement of slope protection structure along Daang Maharlika (S00062SM) K0692+300 - K0692+500, Brgy. Bugtong, Tinambacan District, Calbayog City, Samar.
This project is appropriated P11,909,700.00 under the 2016 Calamity Fund of the Department of Public Works and Highways (DPWH) and is under contract with B. Vicencio Construction.
The old structure was damaged by the yet strongest typhoon that struck the Samar provinces in 2014, Typhoon Ruby. Several typhoons, tropical storms and continuous heavy rains occurred which resulted to landslide while the implementation of the project is ongoing that apparently caused the delay of its completion.
Scope of works of the project involved structure excavation, installation of reinforcing steel and construction of structural concrete for the drainage canal, and construction of grouted riprap.
Significance of the project is of great impact especially to the residents of the said village and motorists passing along the said road section since possible soil erosion, landslides or rock slides are already prevented by the said undertaking.
14IB conducts info drive to 200 youths of Maydolong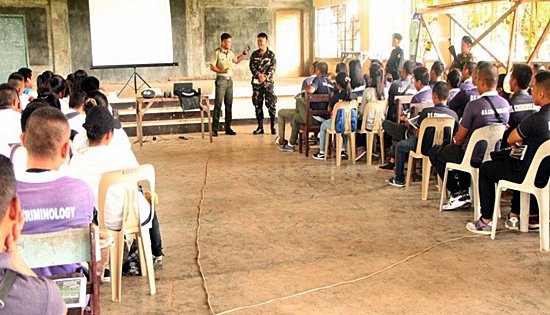 By DPAO, 8ID PA
March 1, 2017
ORAS, Eastern Samar – Your Army in Eastern Visayas thru personnel of 14th Infantry (Avenger) Battalion, Philippine Army facilitated an Information Awareness Drive to two hundred (200) youths from the Eastern Samar State University Maydolong Campus, Maydolong, Eastern Samar last February 23, 2017.
The topic discussed was the Career Guidance on how to apply to become an officer and soldier in the Philippine Army.
This Information Awareness Drive was initiated by the 14th IB to encourage more applicants to join the profession of arms to supplement the needs of the Armed Forces of the Philippines.
2Lt. Dennis S Carig, CMO Officer of 14th IB, emphasized that, "being a soldier is a noble profession, that each individual dedicates their lives for his/her love of the country." Leaflets about the Army recruitment were also distributed to the youths for their reference.
Commanding Officer Lt. Col. Manuel Leo Gador reaffirms the commitment of 14th IB in reaching out to the academe and youth sector in order to bring inspiration on their role on nation-building. "We hope that our partners from the academe followed suit and also be our active partners in molding the youth as agents of peace and development of our country," Gador said.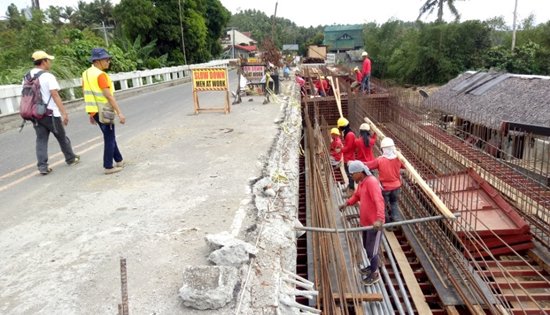 During the QAU assessment, construction workers are installing steel bars for the widening of Sapinit Viaduct.
DPWH Samar I upgrades bridges within the district
By MARIANETTE GOMEZ
March 1, 2017
CALBAYOG CITY – DPWH Samar First District Engineering Office (SFDEO) has programmed five (5) bridges for upgrading this year.
A total of P415 million projects which involves retrofitting and strengthening, and widening to more than two (2) lanes is soon to be implemented under GAA CY 2017.
Bridges scheduled for upgrading include: Oquendo Bridge (B00370SM) along Calbayog-Catarman Rd., P20 Million, for widening to more than two lanes; Sapinit Viaduct (B00337SM) along Daang Maharlika, Phase II - P40 Million; Binaliw Bridge (B00337SM) along Daang Maharlika - P155 Million; Jibatang Bridge (B00342SM) along Daang Mahalika - P130 Million; and Rosales Bridge (B00345SM) along Daang Maharlika - P70 Million.
The detailed engineering works for four (4) projects are almost completed while the widening of Sapinit Viaduct Phase II has started already.
The upgrading implemented is in keeping with the demand of a widened road, therefore, a widened bridge to lessen accidents and provide safe road.
8ID renders send-off ceremony to newly enlisted privates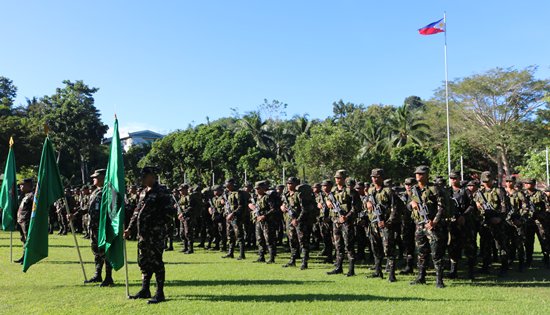 By DPAO, 8ID PA
February 28, 2017
CAMP LUKBAN, Catbalogan City – A send-off ceremony was rendered to the 242 newly enlisted privates of this Command during the Monday Flag Raising at Openiano Field on February 27, 2017.
The newly enlisted privates will report to the line units of the 8th Infantry Division in Eastern Visayas and units deployed in Mindanao to carry out their mandated task in sustaining operation against any lawless elements that disturbed the peace and development of our nation.
The newly enlisted privates were blessed by Capt. John O. Geronimo, the Division Chaplain to keep them safe all the time while performing their duties.
Brig. Gen. Cesar M. Idio, the 8ID Assistant Division Commander, in his message reminded the newly enlisted privates the difficult process they went through before they became part of the AFP.
"As new soldiers, love and take care of your profession. Your job will bring a better life not only for you but also for your family. Likewise, respect each human rights, rule of law and international humanitarian law. Always remember, the security of the people lies on you. May the Lord bless you every day to bring you success in your chosen profession," Idio added.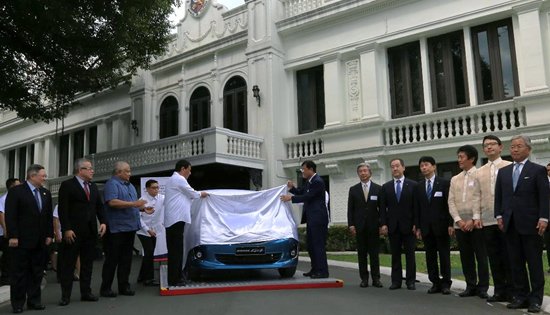 In photo: President Rodrigo Duterte (center L), DTI Secretary Ramon Lopez (2nd from L), Executive Secretary Medialdea (3rd from L), Department of Finance Secretary Carlos Domiguez (leftmost), Mistubishi Motors Corporation President Osamu Masuko (center right).
Additional 1,000 in jobs rolls-off in auto manufacturing industry
By DTI-OSEC-PRU
February 28, 2017
MANILA – Following the Presidential visit of President Rodrigo Roa Duterte and the signing of the Memorandum of Understanding between Mistubishi Motors Corporation (MMC) President Osamu Masuko and Department of Trade and Industry (DTI) Secretary Ramon Lopez last October in Tokyo, Japan, President Duterte, Secretary Lopez together with Executive Secretary Salvador Medialdea and Finance Secretary Carlos Dominguez, led the launching ceremony of the Philippine manufactured Mirage G4 under the Comprehensive Automotive Resurgence Strategy (CARS), February 27, in Malacañang.
The production of the Mirage G4 in the Philippines is in line with the initiative of the government to revive and develop the auto manufacturing industry in the country, making it as a regional manufacturing hub for auto parts.
"The CARS Program will bring in more investments, better paying and high productivity jobs that will lead to spill-over effects by stimulating economic activities in related manufacturing and services. It will create employment and require local sourcing of auto parts up to 70 percent local content, that will develop more SMEs and generate more jobs," said Secretary Lopez.
Over 200,000 units are to be produced under the program for 6 years which will require additional manpower of 1,000 workers including direct and indirect sales and general administration employees from Mitsubishi and Auto parts suppliers. The program will furthermore serve as an opportunity for technology transfer to local micro, small and medium enterprises (MSMEs) through joint ventures and technical licensing agreements.
"This is important to enable us to maximize the trade and investment opportunities arising from the ASEAN Economic Community and take advantage of our growing domestic market" said Secretary Lopez highlighting the significance of building the domestic auto market base to attain the necessary scale economies that would bring down costs of auto manufacturing in the country.
"The implementation of the CARS Program signals government's vigorous support and focus on industries with auto as platform for manufacturing take-off," said Secretary Lopez.
"This will maximize the trade and investment opportunities arising from the ASEAN Economic Community (AEC) and take advantage of our growing domestic market," he concluded.
Re-imposition of death penalty, a return to barbarism - Spark
By Samahan ng Progresibong Kabataan
February 28, 2017
QUEZON CITY – With the expected approbation of House Bill 4727 in the lower chamber of Congress this week, SPARK-Samahan ng Progresibong Kabataan commands the youth to rise up against the re-imposition of death penalty in the Philippines.
According to the group, rationalising the current administration's show of terror will cause the country to capsize very low, as they maintain that the absolute measure is not preventive of future crimes, and will only inflict injustices to those who may be innocent and who are socially marginalized.
House Bill 4727 or "An act imposing the death penalty on certain heinous crimes, repealing for the purpose Republic Act No. 93446, entitled 'An act prohibiting the imposition of death penalty in the Philippines,' and amending Act. No. 3815, as amended, otherwise known as the 'Revised Penalty Code and other special penal laws" is expected to pass in the House of Representatives this Tuesday, February 28, as predicted by House Speaker Pantaleon Alvarez.
In an interview on CNN Philippines, Alvarez said, "Tomorrow or Wednesday…Mangyayari na po."
The group views the measure as repulsive and characteristic of a corrupted and insecure regime whose depressing morality is still nurtured with feudal if not barbaric instincts. Henceforth, reminding the public that the Philippines is a signatory to international treaties proscribing death penalty.
They declared that, "This administration have founded justice on retaliation instead of law and reason. The promised constructive changes were supplanted with the pursuit of an increasingly fascist tendency of those elected on bureaucratic seats."
The group vehemently insisted that "for as long as we live under a political system wherein an elite minority reigns over a destitute majority and a blindfolded and impartial Lady Justice is all too familiar with the scent of currency, then there could be no guarantee that justice will truly prevail.
Furthermore, SPARK asserted that Congress should as an alternative, focus its attention on earlier interventions in the life of a citizen before he/she commits a crime.
"It is broadly feasible and logical to invest in, and prioritize matters such as increasing the accessibility of education, improving the juvenile justice system and uplifting the economic conditions of the Filipino people, than intervening when it's irrevocably too late," the group's spokesperson Joanne Lim said.
14IB with 1368th Dental Company joins Eastern Samar State University for Dental Mission in Maydolong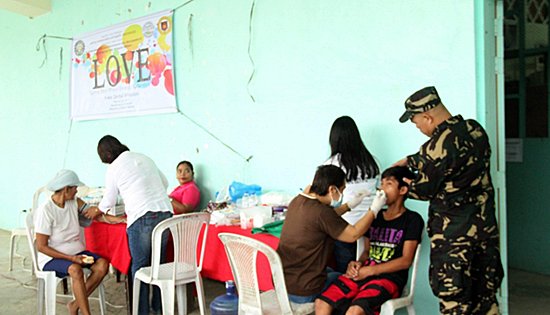 By DPAO, 8ID PA
February 27, 2017
ORAS, Eastern Samar – A dental mission spearheaded by Eastern Samar State University (ESSU) in partnership with 14th Infantry (Avenger) Battalion and the 1368th Dental Company 8th Infantry Division was conducted last February 23, 2017 at ESSU-Maydolong Campus in connection with the National Dental Month of its BEED Program.
The dental services were rendered by the 1368th Dental Detachment under Lt. Col. Edelberto R Tacad with the civilian dentist from the Rural Health Unit of Maydolong headed by Dr. Aurora B Borja, Dentist III.
Faculty and staff of ESSU Maydolong also distributed medicines to the recipients. More or less sixty local populace of Maydolong, Eastern Samar and its barangays benefited from the dental mission.
Lt. Col. Manuel Leo Q Gador, Commanding Officer, 14th IB, said that the unit will continue its endeavor of helping partner LGAs, NGOs and other institutions in conducting such activities in which the people, especially the less fortunate families, are given the opportunity to avail of the free dental services.
Meanwhile, Dr. Vicky Myril G. Yadao, Ph.D., College Administrator of ESSU Maydolong expressed gratitude to the officers and men of the Philippine Army who had helped them in making the event a success.
Sueno: Change is coming in barangays thru Seal of Good Local Governance
Press Release
February 26, 2017
QUEZON CITY – Heydays are coming for barangay local government units (LGUs) as the Department of the Interior and Local Government (DILG) is bringing its Seal of Good Local Governance (SGLG) program down to the barangay-level.
DILG Secretary Ismael 'Mike' D. Sueno said, "Just like the SGLG for provincial, city and municipal LGUs, the SGLG for Barangays will also have an incentive after being conferred the Seal."
The incentive, he said, will come in the form of cash reward to be used for development projects in the barangay.
"Ang malinis na pamamahala, sa barangay ang simula. Barangays are the bedrock of the government. The national government is uplifting and strengthening barangays by assisting and encouraging them towards the practice of good governance which comes with a reward," he said.
The SGLG for Barangays, he said, aims to make barangay governments accountable, transparent, participative, and effective.
Akin to the current SGLG, the barangay SGLG will assess barangays based on the following key areas: peace and order, financial administration, disaster preparedness, social protection, business friendliness and competitiveness, and environmental management.
On Peace and Order
Barangays will be assessed on their maintenance of peace and order in the community through the implementation of the Katarungang Pambarangay (KP) or Barangay Justice System (BJS), an alternative and community-based mechanism for dispute resolution of conflicts between members of the same community.
Barangays will also be monitored on their creation and mobilization of their Barangay Peace and Order Council (BPOC) and Barangay Anti-Drug Abuse Council (BADAC), prevention of the proliferation of illegal drugs, and provision of support mechanisms to ensure the protection of constituents from threats to life and security.
"For the sub-indicator on BADAC, a barangay gets perfect score if the barangay is drug-free. If there is no data on drug-affectation as well as presence of mild, moderately up to severe affectation, a barangay gets zero score," Sueno emphasized.
Barangays must also be able to maintain their Records of Barangay Inhabitants (RBIs) or any similar document.
On Financial Administration
To measure the performance of barangays on financial administration, they will be evaluated on their adherence with the accounting and auditing standard and compliance with the Barangay Full Disclosure Policy (Good Financial Housekeeping); and sound fiscal management (Financial Performance) based on the percentage increase of their local resources.
The Barangay FDP aims to eliminate graft and corruption in all government transactions at the barangay level by directing all barangay officials to post the following documents in a conspicuous area inside the barangay hall and on the barangay's official website: Annual Budget, Summary of Income and Expenditures, utilization of the 20 percent component of the Internal Revenue Allotment, Annual Procurement Plan, Itemized Monthly Collections, and List of Notices of Awards.
On Disaster Preparedness
Sueno said that the indicators of disaster preparedness of barangays are: the functionality of the Barangay Disaster Risk Reduction and Management Committee (BDRRMC); accomplishment rate of the activities/projects reflected in the BDRRM or community-based DRRM plan; extent of risk assessment and Early Warning System (EWS); and extent of preparedness for effective response and early recovery.
On Social Protection
To gauge the social protection being done by barangays, the DILG will consider the indicators of the functionality of their Violence against Women and their Children (VAWC) Desk; accessibility to health services in the barangay; participation rate of children 0 to 4 years old in their Day Care Center; functionality of their Barangay Development Council (BDC); and representation of civil society organizations (CSOs) in the barangay-based institutions (BBIs).
On Business Friendliness and Competitiveness
A barangay's business friendliness and competitiveness, on the other hand, will be determined based on the indication of their enactment of a barangay tax ordinance; and issuance within a week of a barangay certificate as a requisite of setting up new business in their area.
On Environmental Management
Barangays would also have to do good in environment management based on the functionality of their Materials Recovery Facility (MRF); percentage of households practicing segregation of waste at source; and functionality of their Barangay Ecological Solid Waste Management Committee (BESWMC).
After 31 years, people still clamor for fundamental change - Karapatan
By KARAPATAN
February 25, 2017
QUEZON CITY – Targeted political killings, the slate of illegal arrests of leaders and members of progressive organizations, intensified military operations in communities, a justice system that favors the rich and powerful, the continuing oppression of peasants and workers and the domination of US interests in the country remain as palpable realities, thirty one years after Edsa 1.
Has this country really achieved change when repressive state policies continue? Have we really seen change when farmers remain landless, rights continue to be violated, and the Filipino people's interest remain subjugated to imperialist powers?" asked Karapatan secretary general Cristina Palabay on the 31st commemoration of the EDSA people power.
"What we have seen in the years following the Marcos dictatorship are forms of repression, masked under the banner of democracy. Killings in the name of the war on drugs, the possible reimposition of the death penalty, the revival of the Philippine Constabulary and the military's involvement in the war on drugs under the Duterte administration are more recent worrisome issues," she stated.
"Scores of activists and revolutionaries who work for radical change continue to be targeted and the number of political prisoners remains on the rise," Palabay continued.
Karapatan has documented 402 political prisoners in the country as of February 2017, 30 of them arrested under Duterte and 283 under BS Aquino III. "Even this practice of jailing activists and political dissenters has continued throughout the administrations after Marcos, tolerated and enabled by people who, given recent developments, are now at the end of this repressive State maneuver," said Palabay.
Sen. Juan Ponce Enrile's statement that there are no political prisoners is not surprising, coming from the mouthpiece of government narratives since Martial Law. "His efforts to delegitimize the struggles of activists and progressives through these kinds of statements are classic examples of the elite's disdain for genuine change. His release on the basis of humanitarian grounds should have been accorded to the people who most deserve it – the political prisoners who have fought hard alongside the marginalized in this country," Palabay said.
Karapatan also recounted that the conferment of hero's honors on former dictator Ferdinand Marcos Sr. is a betrayal of what the EDSA "people power" stood for. "The Filipino people toppled a dictator but the Supreme Court and Pres. Duterte allowed him a hero's burial. On the other hand, the victims of the Marcos dictatorship have yet to be indemnified and the Marcos' stolen wealth yet to be returned. This can only be the result of the shameless accommodation of the ruling elite to stay in power,' said Palabay.
Aside from allowing a hero's burial for Marcos, Duterte also cancelled the peace talks on February 3, 2017, ramped up the implementation of counter-insurgency program Oplan Kapayapaan with the military's declaration of an all-out-war, and subsequently terminated the Joint Agreement on Security and Immunity Guarantees (JASIG). "Duterte won with his catchphrase 'change is coming.' We should thus demand and protest the Duterte administration's unfulfilled promises. We strongly call on the President to stop the fascist attacks against the people and to continue the peace talks with the National Democratic Front of the Philippines,' Palabay added.
"EDSA 1 showed how a dictator was ousted through the people's collective strength and actions. As long as interests of imperialists, landlords and political clans continue to dominate, there is no doubt that the people will continue to struggle in all forms to achieve fundamental change," Palabay concluded.
1st Joint AFP-PNP Media Fellowship conducted in Eastern Visayas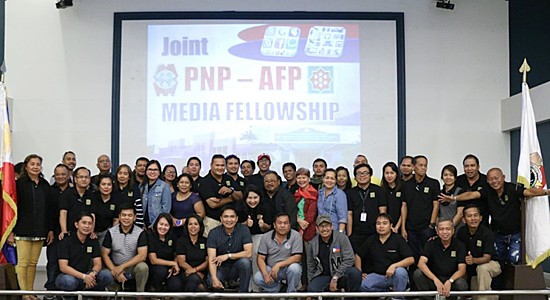 By DPAO, 8ID PA
February 23, 2017
CAMP LUKBAN, Catbalogan City – Envisioning the role of media in the society as one of the pillars of democracy, the 8th Infantry (Stormtroopers) Division together with Police Regional Office Region 8 organized the pioneering joint AFP-PNP Media Fellowship to all media members in Eastern Visayas held at Matapat Hall, PRO8, Camp Ruperto Kangleon, Palo, Leyte last February 22, 2017.
The activity which was attended by 56 media practitioner from different outlets in Region 8 aimed to strengthen the relationship of the AFP and PNP to the press. It also gave an opportunity for the officials of 8ID and PRO8 to discuss with the media about the AFP Development Support and Security Plan "Kapayapaan" and the PNP's program and effort in cleansing and exercising disciplinary actions to any police members that violate the policies and directives especially those who are involved in any illegal activities, respectively.
PCSupt Elmer C Beltejar, said in his message: "The PNP in Region 8 looks up to the media as our partner in the pursuit of genuine change. Undeniably, the media possesses an immense power needed for the country to function well as a democracy."
Maj. Gen. Raul M Farnacio AFP appreciated the time and efforts of the press in taking part of the fellowship. "I want to personally thank 8ID Press Corps for continuing to play an integral role in bringing the Army in Eastern Visayas, its accomplishments, and its development projects to the consciousness of the Filipino people. And I know we can now count on the members of the PNP Press Corps to give additional voice for our call for peace and unity in Region 8," Farnacio said.
SFDEO to build P402M worth of flood control projects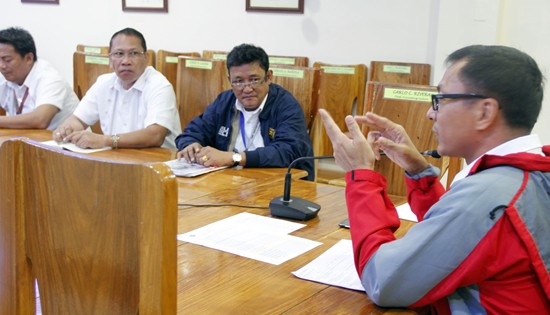 By DONNA C. DEBUTON
February 21, 2017
CALBAYOG CITY – DPWH Samar First District Engineering Office to construct an appropriated amount of P402 million worth of Flood Control Projects under GAA CY2017.
The District Office has a total of 7 Flood Control Projects for this year: Construction of Flood Control Structures along Jibatang River (upstream), Brgy. Lonoy, Calbayog City costing P100M; Construction of Flood Control Structures along Gandara River (upstream) Brgy. Ngoso, Gandara, Samar amounting P80M; Construction of Flood Control structures, Labuyao River Control (Sta. 0+000-Sta. 0+352), Calbayog City costing P45M;
Construction of Flood Control structures along Calbayog River (upstream) Brgy. Hamorawon, Calbayog City amounting P50M; Rehabilitation/Improvement of Flood Control Structure upstream of Jibatang River (Sta.0+348.6-Sta.0+697.2) at Brgy. Lonoy, Calbayog City amounting to P50M; Construction of Flood Control structures along Binaliw River (Phase II) Brgy. Binaliw, Calbayog City costing P28M; and Construction of Flood Control structures along Arapison River, Brgy. Cagsumje, Sta. Margarita having an appropriation of P50M.
These Flood Control Projects will mitigate floodings in the above-mentioned barangays and will prevent further damages to lives and properties.
Approved Plans and Program of Works (POW) are already advertised for procurement. According to implementing section, notices of awards and notice to proceed will be issued anytime this week for contractors to implement these Flood Control Structures to beat the deadline set for completion.
Care for your kasambahays, register them in barangays - Sueno
Press Release
February 18, 2017
QUEZON CITY – The spirit of love is still up in the air this February as Secretary Ismael 'Mike' D. Sueno of the Department of the Interior and Local Government hovers the welfare of domestic workers or kasambahays in the country.
In a directive to local chief executives, Sueno urges them to ensure the implementation of Republic Act (RA) No. 10361 or Batas Kasambahay which requires every employer to register all domestic workers under their employment in the Registry of Domestic Workers in the barangay also called as Barangay Registration of Kasambahays.
"Kasambahays have a big role in keeping socioeconomic activities running. They take care of households and look after their employers' children in order for their bosses to go to work or attend to their enterprise," he said.
"Their wellbeing ought to be taken cared of just like workers in the formal public and private sectors," he added.
The DILG Secretary also called on all punong barangays through a directive to enact local ordinances in support of the Batas Kasambahay and to implement the Barangay Registration of Kasambahays in their area of jurisdiction.
"Registering kasambahays is both beneficial to kasambahays and their employers," he emphasized.
"I also encourage barangay officials to discuss your implementation of the Batas Kasambahay during the coming law-mandated conduct of Barangay Assembly Day this first semester of the year, which will be on March 25," he said.
Under Batas Kasambahay, a domestic worker or kasambahay is any person engaged in domestic work within an employment relationship such as, but not limited to: general househelp, nursemaid or "yaya", cook, gardener, or laundry person, but shall exclude any person who performs domestic work only occasionally or sporadically and not on an occupational basis.
The term does not include children who are under foster family arrangement, and are provided access to education and given an allowance incidental to education, i.e. "baon", transportation, school projects and school activities.
Barangay Kasambahay Desk
In July 2013, the DILG directed barangays to have Kasambahay Desks. Barangay chairpersons were ordered to devise a system to ensure the registration of all kasambahays in their barangays including an on-line registration through their official website or e-mail.
The KR Form 1 and the Kontrata sa Paglilingkod sa Tahanan are available at the barangay and city or municipal Public Employment Service Office (PESO). Both forms are also downloadable at www.dilg.gov.ph and www.dole.gov.ph.
In case of termination of the contract, employers ought to immediately notify the Kasambahay Desk for updating purposes.
The disclosure of information about the kasambahay and the employer by the barangay and the local PESO is subject to compliance with the requirements of RA No. 10173 (Data Privacy Act of 2012) and other existing laws, otherwise, violators shall be subjected to fine or imprisonment.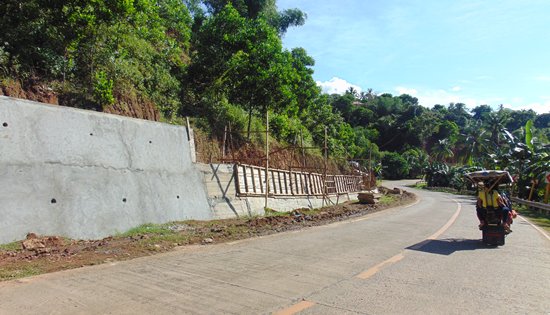 Construction of Slope Protection along Biliran Circumferential Road is on-going with 62% accomplishment as of January 31, 2017. Other than the slope protection structure, concrete paving of widened shoulders and construction of concrete canal are included in the project. The above road section is prone to landslide hence slope protection structure is recommended to prevent recurrence of landslide which happened during the onslaught of typhoon Henry on July 20, 2014 that caused closure of the road.
DPWH-Biliran DEO fastracks on-going FY 2016 high impact projects
Press Release
February 15, 2017
NAVAL, Biliran – Above P40M remaining FY 2016 projects implemented by the Department of Public Works and Highways (DPWH) - Biliran District Engineering Office is being fast-tracked for completion until first quarter of 2017. As of January 31, 2017, Biliran DEO reports 63 projects completed with three projects on-going with an accomplishment of 92.64%.
The District has been allotted P683.745M under FY 2016 DPWH Infrastructure Program. Out of the allotted amount, P135M was implemented by DPWH Regional Office 8 which involves the Rehabilitation of a section of Maripipi Circumferential Road, while 66 projects are implemented by Biliran DEO.
Some District Offices including Biliran DEO has only been allowed to implement projects below P50M, projects above of the said amount are undertaken/implemented by the DPWH Regional Office.
Adongay reported that two projects of the largest amount allotted to Biliran DEO is still ongoing which is the P45M slope protection project along Biliran Circumferential Road (BCR) and P43M construction of Biliran diversion road with an accomplishment of 62% and 58%, respectively as of January 31, 2017.
According to Adongay, the Construction of Slope Protection along Biliran Circumferential Road encountered some problems caused by lapses of the contractor and unfavorable weather conditions that hinders the contractor to smoothly perform the project implementation.
Meanwhile, the Construction of Biliran Diversion Road was hindered to proceed with the embankment activities due to continuous heavy rains. Furthermore, one of the landowners affected by the road opening refused to sign "Permit to Enter" for the reason that the amount offered per current market value of his parcel of land is below of what he is expected. The landowner is asking for P2,000 per sq.m. of his land that is affected by the Road-Right-Of-Way (RROW), however, the current market value of an agricultural land is P21.45 only.
The office is on the process of negotiations with the concerned land owner with regards to the value of the affected parcel of land.
The completion of the diversion road project will serve the traveling public coming from Tacloban City, Ormoc City, Baybay City and from other neighboring municipalities going to the northern and eastern part of Biliran Province and vice versa in a much safer and faster transport of goods and services and at a reduced travel time. The population to be served by the road ranges from 120,000 to 135,000, 7 Municipalities and 50 Barangays.
Another FY 2016 project eyeing for completion is the on-going P8.7M replacement of permanent weak bridge-Banlas bridge along Maripipi Circumferential Road.
Adongay revealed that the delay was attributed due to unavailability of sand and gravel aggregates in Maripipi Island. Adongay explained that hauling it by barge with the quantity required is impractical and will only entail higher cost. Hence, the contractor suggested to have the delivery together with the delivery of the sand and gravel for the concreting of Maripipi Circumferential Road.
Adongay said that the contractors of each projects were advised to render over time work 24/7 to complete the projects on the target date.
PH exports yield growth in December 2016
By DTI-IPG
February 15, 2017
MAKATI CITY – The Department of Trade and Industry sees sustained growth for exports in 2017 as Philippine exported goods yielded a 4.5% growth in December 2016 with a total of $4.71 billion in export revenues from $4.660 billion in the same period in 2015.
"As we implement new strategies in diversifying our markets and upscaling our products and services amidst the slowdown in global trade, we hope that our exports will continue to improve in the next quarters" said DTI Industry Promotion Group Undersecretary Nora K. Terrado.
In a report released by Philippine Statistics Authority (PSA), increase in the top five (5) major export commodities contributed to the growth which include coconut oil (crude and refined; 146.5%), other mineral products (104.5%), metal components (66.4%), chemicals (42.1%), and other manufactures (35.8%).
While electronic products experienced a 2.8% decrease in total receipts as compared to 2015 data, these remained to be the top export product of the country with total receipts of $2.451 billion, accounting for 50.3% of the total exports revenue in December 2016. Other Manufactures ranked second with 7.2% share to the total export receipts. It recorded an increase of 35.8% from December 2015 value of $257.32 million. It is followed by Machinery and Transport Equipment with export revenue of $227.05 million, Woodcrafts and Furniture with total sales of $202.14 million, and Ignition Wiring Set and Other Wiring Sets Used in Vehicles, Aircraft and Ships with $153.72 million export sales.
"Notable 67.5% increase in the exports of our Agro-Based Products in December 2016 is a good indication that our agrisector will be up in the coming months. We hope to see more of this trend to fully boost our exports," added DTI Export Marketing Bureau Director Senen M. Perlada.
Agro-based products shared 7.7 % of the total exports in December 2016 which amounted to $377.30 million.
Total exported goods to East Asia increased compared to other top Philippine exports destination such as ASEAN member countries, USA, and European Union member countries. Merchandise exports to East Asia increased by 9.4% with total revenue of $2.556 billion million from $2.337 billion recorded in the same month in 2015. Japan remained to be the country's top export destination, with revenue amounting to $946.28 million, comprising 19.4 percent share of the total exports.
Army troops scores against NPA rebels in Northern Samar
By DPAO, 8ID PA
February 15, 2017
CAMP LUKBAN, Catbalogan City – Troops of 43rd Infantry Battalion, 8ID, PA led by 1Lt. Edsel Ryan B. Celebre engaged NPA rebels under their leader Salvador Nordan a.k.a "Badok" while conducting combat operations against lawless elements at Sitio Cabaywa, Brgy. Santander, Bobon, Northern Samar on February 14, 2017.
The fire fight lasted for about five minutes that resulted to one (1) NPA killed identified as Bernadette Lutao a.k.a. "Kakan", the wife of "Badok," and the recovery of one (1) improvised explosive device (IED) and three (3) cellular phones.
The use of IED is restricted under the United Nations Geneva Convention because of its indiscriminate effects and humanitarian harm it can cause to innocent civilians as well as a violation of the Comprehensive Agreement on Respect for Human Rights and International Humanitarian Law between the Government of the Republic of the Philippines and the CPP-NPA-NDF.
In a statement by Maj. General Raul M. Farnacio, he said that the NPAs have been using IEDs as of their weapons of choice without consideration on the welfare of the civilian populace. "The NPA has been deliberately violating the human rights with their production and employment of IEDs and their continuous disruption of the peaceful lives of our fellow Filipinos especially those in the far-flung barangays," he stated.
"This accomplishment is a triumph for the collective effort of the local government unit and agencies, 8ID, and our civilian constituents to attain just and lasting peace in Northern Samar. Filipinos want peace and it is high time for our fellow Filipinos who were misled to join the NPA to lay down their arms and lead their lives away from armed struggle," Farnacio urged.
Since the lifting of the ceasefire by President Rodrigo Roa Duterte, 8ID troops have been conducting security operations in the region as part of their mandate. "Rest assured that your Army in Eastern Visayas are tirelessly committed to serve and secure the people within the bounds of respect of Human Rights, International Humanitarian Law, and Rule of Law," Farnacio added.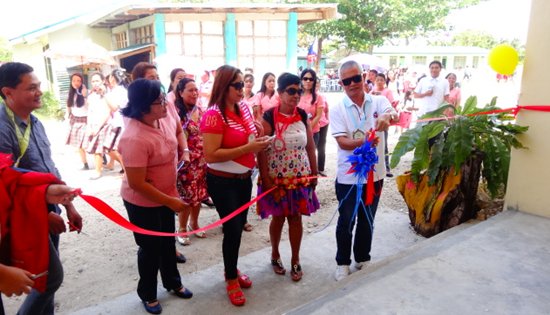 Turn-over of the 2-storey, 6-classroom School Building in Higatangan National High School, Naval Biliran on Feb. 13, 2017. The project has a contract cost of P8.2M under RT Morabe Construction. The project would benefit 240 Senior High School Students of the said school and will provide an environment conducive to learnings.
Higatangan NHS, turned-over
Press Release
February 14, 2017
NAVAL, Biliran – The Fidel M. Limpiado Sr. National High School in Higatangan Island, Naval Biliran received their newly 2-storey 6 classroom building in a turn-over ceremony by the Department of Public Works and Highways (DPWH) and Department of Education (DepEd) on Monday, February 13, 2017.
"This marks another success in the pursuit of the government to provide quality education for the students by constructing additional school buildings", said Engr. Alfredo L. Bollido, DPWH OIC-Assistant District Engineer in his turn-over message on behalf of District Engineer, David P. Adongay Jr.
The occasion was also graced by the presence of Hon. Brigido Caneja III, Sangguniang Panlalawigan Member who attended on behalf of Congressman Rogelio J. Espina; Dr. Rodulfo Pabilada, Supervisor of Kindergarten on behalf of DepEd District Superintendent Dr. Carmela R. Tamayo; Dr. Allan Paul U. Tubis, DepEd Administrative Officer; RT Morabe Contractor representative, teachers and students.
The Higatangan National High School has more or less 200 enrollees for this year for the K-12 program with 14 teaching force.
Engr. Bollido added "We expect that this facility would encourage more students to come to school as this will provide them a facilitative space to learn and be inspired to study harder and reach their highest potential".
Mrs. Leonora S. Mission, Head Teacher II also expressed her gratitude of the new school building in her acceptance message saying "Ang gusaling ito ay kapaki-pakinabang para sa maayos na pagkatuto ng mga estudyante dahil po dito, lubos po akong nagpapasalamat. At bilang tagapamahala ng paaralang ito, ako po'y nangangako na pangangalagaan ang gusaling ito kasama ang internal at external na stakeholders. Nawa'y tulungan at suportaan ninyo ako para sa mga adhikain at programa ng paaralan, dahil ang lahat ng pagsisikap ng paaralan ay para sa mga bata at dahil sa mga bata".
The ceremonial key turn-over and ribbon-cutting ceremony highlighted the occasion. After the turn-over, DPWH headed by Engr. Bollido, together with the DepEd representatives, Contractor and School Heads inspected the newly turned-over school building.
Prior to their inspection, there are minor defects/deficiencies found that needs to be corrected by the contractor. According to Engr. Bollido, contractor needs to correct these defect deficiencies to fully collect the payment.
The two-storey, 6-classroom school building projects in Higatangan National High School, Naval, Biliran is under contact with RT Morabe Construction with a contract cost of P8.2M. The Higatangan Island is only a few minutes ride by small boat from Biliran's capital town, Naval.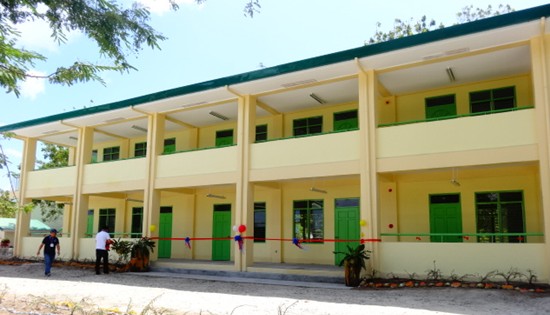 SMC don't beat around the bush!
By Philippine Movement for Climate Justice
February 13, 2017
QUEZON CITY – The Philippine Movement for Climate Justice (PMCJ), its member Nuclear Free Bataan Movement (NFBM) and the people of Limay, Bataan told SMC Global Power Holdings Corp. to stop avoiding the real issue and refrain from misleading the people in what is actually happening in the ground.
Mr. Ramon Ang, President and COO for San Miguel Corporation released a statement yesterday saying that they are using the Circulating Fluidized Bed (CFB) technology which makes their coal-fired power plant emits sulphur oxide, nitrogen oxide carbon monoxide and particulate matter lower than the current standard set by DENR and World Bank.
PMCJ maintains that while it is possible for CFB technology to lessen the emissions, it seems that the real issue of bottom ash is deliberately avoided. While it is true that coal plant that uses CFB technology emits the above mentioned emissions lower than the prevailing standards it does not address the production of bottom ash.
The real issue behind is the huge pile of bottom ash that the 140 MW coal plant of Petron dumps in the designated temporary ash pond of San Miguel, the very same area where the 300 MW coal plant own by San Miguel currently conducting its test run dump their bottom ash. It is this huge accumulation of bottom ash allegedly resulted to rise in respiratory related diseases and skin diseases as well.
Coal plant which utilizes CFB technology produces more coal ash than conventional ones, since it add limestone to pulverize coal during combustion process. Both the 140 MW and the 300 MW employs the CFB technology hence resulted to a huge pile up of bottom ash near the area where the community lives.
Hence we strongly call on SMC to face the music and stop beating around the bush, the real problem is your bottom ash and the question of the legality of your ash pond, so long as it is not properly address the sufferings of the people continues. And the only way to comprehensively address it is to stop the operation of both coal plants since as long as they continue to operate there will be accumulation of bottom ash.
Our demand is for the Department of Environment and Natural Resources (DENR) to immediately order a shut down the coal plants operation, indemnify the affected community, suspend incompetent regional DENR officers and include both coal plants as priority in the ECC audit to be conducted by the Department.
The 8ID Stakeholders Fellowship in Northern Samar
By DPAO, 8ID PA
February 9, 2017
CAMP LUKBAN, Catbalogan City – In order to address and strengthen the aspirations of peace and order in the region, your Army in Eastern Visayas together with the Provincial Government of Northern Samar came up with a Provincial Peace and Order Council Meeting and Stakeholders Fellowship with the Local Chief Executives and Stakeholders of the whole province of Northern Samar with Maj. Gen. Raul M. Farnacio AFP, Commander 8th Infantry (Stormtroopers) Division held at the Governor's Residence, Catarman, Northern Samar on February 8, 2017.
This activity also aims to unite the Local Chief Executives and stakeholders in addressing the poverty alleviation; peace and order update; and support the government's drive against illegal drugs and lawless violence in the area.
Present during the activity were: Maj. Gen. Raul M. Farnacio AFP, Commander 8ID; Brig. General Mario G. Lacurom AFP, Commander 803rd Bde; PCSupt Elmer P Beltejar, RD, PRO8; PSSupt Ceazar Zafiro L. Tannagan, PD NSPPO; Hon. Raul A. Daza, Representative, 1st District; Hon. Jose L. Ong Jr, Governor of Northern Samar; Hon. Gary M. Lavin, Vice Governor of Northern Samar; Mr. Valente P. Bajet. DILG, Provincial Director; Atty. Efren J. Sabong, Provincial Administrator; Hon. Don. L. Avalon, LCE San Jorge; Ms. Imelda Bonifacio, Regional Area Manager, OPPAP; Head of Local Government Agencies; 24 mayors of different municipalities of Nortnern Samar; church leaders; media personalities and members of Provincial Peace and Order Council of Northern Samar.
During the open forum, the Local Chief Executives were urged to deliver the basic social services needed especially to the far flung areas. Further, on the discussion of the lifting of unilateral ceasefire, MGen Raul M Farnacio, Commander 8th Infantry Division rest assured to the people of Eastern Visayas that they will be highly protected by the military troops against any atrocities that will be brought by the CPP-NPA-NDF. Further, as per guidance by President Rodrigo Roa Duterte to the NPA members who would like to surrender to the fold of government, the AFP will humbly welcome them and rest assured that they will receive remuneration to start a new and better living. Hon. Jose L. Ong, the Provincial Governor of Northern Samar stressed-out that it's about time to remove the root cause of poverty and to destroy the CPP-NPA influence in their respective barangays. They must be united to end up the insurgency and function as reliable public servants to the people.
MGen Farnacio also highlighted the Armed Forces of the Philippines new campaign plan dubbed as Development Support and Security Plan (DSSP) "Kapayapaan". This is the continuance of Internal Peace and Security Plan (IPSP) "Bayanihan" that was terminated last year. This campaign will focus on sustained military operations to defeat the foreign and local terrorist organizations; contribute to the promotion of peace active support to law enforcement in war against drugs; and contribute to nation-building.
Gov't to provide transition period to end '5-6' lending scheme
By DTI-OSEC-PRU
February 9, 2017
MAKATI CITY – In line with government's drive to reform the micro-financing system in the country, the Department of Trade and Industry (DTI) recently called for an inter-agency meeting to work on the transition to allow illegal foreign money lenders to legalize their resident status and register with the Securities and Exchange Commission (SEC) their lending business. The transition period is needed to prevent undue harassment of concerned lenders.
DTI Secretary Ramon Lopez with SEC Chair Tess Herbosa and representatives from the Departments of Justice and Foreign Affairs, Immigration Bureau, National Intelligence Coordinating Agency, Bangko Sentral ng Pilipinas, Philippine National Police, Small Business Corporation (SB Corp.) and the Indian Chamber of Commerce, gathered to discuss legitimization of lending businesses and initial steps to put a stop on the said lending scheme.
The total operation value of the "5-6" lending system sums up to a total of P2.4 billion, with 30,000 operators across the country, according to the Indian Chamber of Commerce Philippines. A transition period will be provided to lending operators, giving them ample time to register their businesses with SEC.
"After the prescribed transition period, 5-6 scheme must stop and micro-businesses must shift to P3 and other legal micro-financing facilities," said Sec. Lopez, referring to the government's flagship micro-financing initiative Pondo Para sa Pagbabago at Pag-asenso or P3, initiated by President Rodrigo Duterte.
Launched in Tacloban, Occidental Mindoro and Sarangani, the P1-billion micro-financing program aims to provide micro, small and medium enterprises (MSMEs) with easy access to finance with no collateral and minimal interest, through micro-financing institutions (MFIs) and cooperatives accredited by DTI and the SB Corp.
"We should be seeking the frontiers, these people who have not been reached by the MFIs are the same people targeted by the '5-6'," Sec. Lopez added.
A Technical Working Group (TWG) on the matter will provide specific guidelines on the compliance and registration of lending businesses.
Indian Chamber of Commerce Philippines President Rex Daryanani expressed hope that term "5-6" would eventually be eradicated and be replaced by the term "micro-financing."
San Agustin-Pagsanghan Road completed
By DONNA C. DEBUTON
February 8, 2017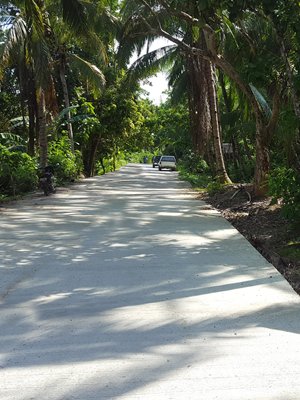 CALBAYOG CITY – Samar First District Engineering Office has finally completed the construction of San Agustin-Pagsanghan Road under the General Appropriation Act (GAA) of 2016. The project includes the concreting of 3,150 linear meters of road covering Brgy. San Agustin to Pagsanghan, Samar.
The construction of San Agustin-Pagsanghan Road is one of the high impact projects of Samar I having a contract amount of 50 million pesos under B. Vicencio Construction.
The Municipality of Pagsanghan can be reached by a river boat or an intermittent concrete road where gravel road are hardly passable at times during continuous heavy rains. However with the completion of this project, residents can travel from the municipality to Gandara and elsewhere anytime conveniently.
The project provides a wide range of benefits to the local citizens of said areas which includes a significantly reduced time of travel and boosted economic activities. Various types of vehicles can now pass along this road section not only "habal-habal" and single motorcycles.
Phinma Energy Corporation told: Don't just defer, cancel the project!
By Philippine Movement for Climate Justice
February 8, 2017
QUEZON CITY – The Philippine Movement for Climate Justice (PMCJ) lauds the decision of Phinma Energy Corporation to defer their planned 900 MW coal-fired power plant in Sual, Pangasinan. However, the group advises Phinma to totally cancel the project and, instead, invest in renewable energy projects.
Yesterday, Phinma announced that they are considering constructing the coal plant in the year 2023 to 2025 because right now, there are already a lot of coal plants operating and being constructed in the country.
According to Mr. Ian Rivera, National Coordinator of PMCJ, presently there are 25 existing and operational coal-fired power plants all over the country including the 1,294 MW coal plant in Sual, Pangasinan. In addition, 35 coal plant projects are in the pipeline aside from the planned 900 MW project of Phinma.
"Phinma has to decide to delist coal projects in their investments as this will turn out to be a stranded asset as renewable energy (RE) becomes more viable. Business-wise, investing in RE will yield far more returns because it is now cheaper, safer and with no negative externalities. On the other hand, coal is dirty and costly considering the harm and danger it poses to people and environment as evidenced by what is happening now in Limay, Bataan where host barangays are suffering from ill effects of the bottom ash produced from the operation of two coal plants in the area: the 140MW of Petron Refinery and the 300MW of San Miguel Global Power Corporation which is currently running on a series of tests", Rivera added.
Recent news shows that a significant population in the host barangays in Limay, mostly senior citizens and children are experiencing respiratory-related health problems and skin diseases. These problems were caused by ashes being spewed during coal combustion of the said two coal plants.
Chiz resolution calls on senate to probe AI report
By Office of Senator Chiz Escudero
February 7, 2017
PASAY CITY – Sen. Chiz Escudero has filed a resolution pushing the Senate to investigate the allegations of Amnesty International that killings related to the government's war against illegal drugs were extrajudicial executions carried out by gunmen hired by police officers to kill and plant evidence.
Escudero, former chair of the Senate Committee on Justice and Human Rights, filed Senate Resolution No. 282 directing the appropriate Senate committee to probe into the report by AI, saying it must not be simply set aside as it raises serious allegations that can undermine the Philippines' reputation as a democratic country that fundamentally recognizes and upholds human rights.
"I found AI to be radical at times if you look into our history. The filing of resolution is really not meant to give AI a platform. It is to allow AI to prove their allegations because by that report, they besmirched the reputation of the country."
He also added that the legislative inquiry would be an avenue to verify the accuracy of the report and give the people and institutions involved an opportunity to respond to the findings.
"It is not only a matter of necessity but public accountability as well that AI substantiate and present its evidence before the Senate for public scrutiny to confirm the report's veracity and to hold, or otherwise clear, the Philippine government of any responsibility," Escudero said.
"Sure or not, they already besmirched the name of our country by saying that these violations are committed by the state itself," the senator said.
According to the report released by the international human rights watchdog, "the police paid killers on their payroll, and unknown armed individuals have slain more than a thousand people a month under the guise of a national campaign to eradicate drugs," adding that the administration's war on drugs is actually a "war against the poor."
AI also alleged the use of a mere "watch list," which contents are based on hearsay, community rumor or rivalry, with little verification.
In their report, AI also detailed the story of a police officer with the rank of Senior Police Officer 1, who served in the PNP for a decade and is currently part of the anti-illegal drugs unit in Metro Manila. According to the source, the police paid per "encounter" – the term used to mask the extrajudicial killings as legitimate operations conducted by the authorities. The police officer claimed that the amount paid by the police ranges from P8,000 to P15,000 per person, per encounter.
"The logic it presents is that this money is coming from the government, that is a serious allegation that would immediately connect the state to what is happening outside the EJKs (extrajudicial killings) and that would mean it is already state sponsored. That is a very serious allegation and AI cannot simply make that allegation and say 'sorry all of our sources are confidential, we cannot reveal it.'"
Since the Duterte administration came into power, the Philippine National Police has conducted almost 41,000 drug-related operations from July 2016 to January 2017.
According to AI, more than 7,000 people have been killed in the drug war, with the police directly killing at least 2,500 alleged drug offenders.
Furthermore, Escudero cautioned the administration against giving too much power to the police force and treating erring officers with kid gloves.
"The worst fear of many people already happened. It went into the head of the policemen. Not all, but some," he said. "We want to see the PNP leadership pursue with the same vigor as drug suspects the scalawags, misfits and erring policemen."