Leyte to resort to legal means to take back Balyuan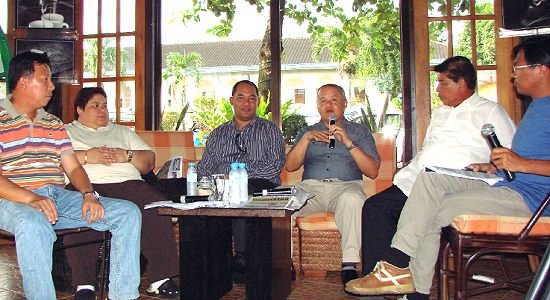 Leyte 1st district board member Atty. Roque Tiu (holding microphone) helps shed light on the action taken by the provincial government of Leyte on the issue of taking back the property owned by Leyte province now still being occupied and used by the city government of Tacloban. Looking on (clockwise) are PCL-EV president Wilson Uy, Leyte 2nd district Board Member Annlie Apostol, 4th district Board Member Rolando Piamonte and media host Roy Moraleta, publisher of Headlines. Sitting at the right side of Atty. Tiu is Leyte 5th district Board Member Carlo Loreto. (Victoria/Tiozon-PIA 8)
By Provincial Media Relations Center
July 8, 2011
TACLOBAN CITY – The provincial government of Leyte will just have to resort to "legal remedies" in taking back the Balyuan Property.
This was the statement made by the governor as the questioned property still sits further in court and with the city government of Tacloban still maintaining its stand to contest the court's ruling.
"We just have to go through all the legal process in taking back the property," Gov. Petilla said in an interview as he arrived here Friday together with Presidential sister Kris Aquino who was in a visit to Ormoc to formally turn over a classroom she donated to Leyte's fourth district.
He said that the matter could just have been "plain and simple" if the memorandum forged between the two parties in 2004 were adhered to and if only a court ruling recently issued was respected and obeyed.
"If it's a property that's borrowed, it has to be returned. If it's not yours, do not own it kay makaarawod," Gov. Petilla said.
The governor added that the province is at the moment being given the option to battle the issue in court and resort to legal actions as the city further questions the ownership in court instead of peacefully turning over the property.
The Regional Trial Court Branch-8 here dismissed the case filed by the city government of Tacloban against the provincial government of Leyte which called for the declaration of nullity of a Memorandum of Agreement (MOA) entered into by the city and the province and questions the ownership of the Balyuan Property.
The 16-page decision issued on June 1, 2011 by RTC Branch 8 Judge Salvador Apurillo dismissed the case filed by the city for "lack of merit".
"If they cannot respect a court decision, why take matters into court when diri man la ngahaw susundon and respetuhon," Gov. Petilla disclosed.
Earlier, several members of the provincial board expressed their interests that the row between the two local government units could be settled.
The board members were saying that while going to legal process is one option of the provincial government, settling the row peacefully could be the best way to do to end this row.