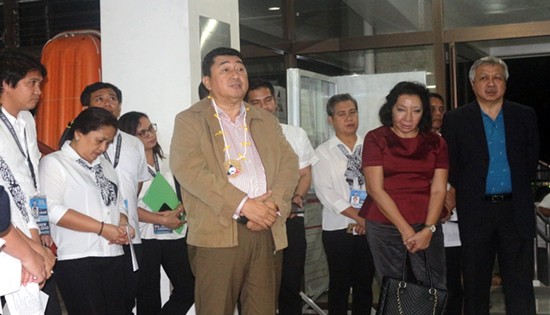 Usec. Paras delivering his message during the Meet and Greet with the NMP employees on 23 April 2018.
NMP remains with the Department of Labor and Employment (DOLE)
Press Release
April 30, 2018
TACLOBAN CITY – "We have heard in the past that there was an attempt on the part of the Department of Transportation (DOTr) to absorb NMP but fortunately with the charm of Assistant Secretary Joji V. Aragon we were able to convince the DOTr through Undersecretary Felipe A. Judan that NMP should remain as part of the human capital development rather than as part merely of the shipping and transportation or whatever the DOTr has planned", says Undersecretary Jacinto V. Paras of the Human Capital Development, Legislative and Media Affairs, and Administrative Services Cluster of DOLE.
This was the categorical statement of Usec. Paras during the Meet and Greet with the employees of the National Maritime Polytechnic (NMP) on 23 April 2018.
Usec. Paras stressed that NMP should continue to remain with DOLE, as the NMP's clientele, the Filipino seafarers, are part of the workforce of the country. The NMP contributes to the attainment of the DOLE's agenda on Human Capital Development, with the training and research it conducts that ensures the Filipino seafarers to acquire the knowledge and skills required of them to become globally competitive in the international maritime labor market.
He also emphasized the need for NMP to move forward and to be true to its mandate as underscored in Presidential Decree No. 1369. NMP has to focus in offering specialization and upgrading courses for both licensed officers and ratings and conducting researches and studies on the latest maritime technologies and other related matters for the maritime industry.
Based on the above premise, a paradigm- shift is needed from NMP to come up with a new and true direction as mandated by the law. As such, a series of strategic planning and workshop will be conducted in May 2018.
Meanwhile, NMP continues to upgrade its facilities and provide maritime trainings required pursuant to the Standards of Training, Certification, and Watchkeeping for Seafarers (STCW) Convention as amended in 2010 including value-adding courses towards improving the qualifications of Filipino seafarers for their employment acceptability and enhanced competitiveness.
Those interested to take NMP training programs may visit the NMP website (www.nm.gov.ph) and its facebook page (www.facebook.com/nmptrainingcenter) where all related information on NMP trainings are available.
K-12 recipients utilizes new school buildings
By DPWH 2nd LED
April 30, 2018
CARIGARA, Leyte – Recipients of the K-12 program of the Department of Education (DepEd) can now utilize the 27 school building projects that have been completed by the Department of Public Works and Highways (DPWH) Leyte Second District Engineering Office.
A total of P466.48 million has been allocated for the construction of these school buildings under the Basic Educational Facilities Fund (BEFF) of the DepEd.
These school building projects were built in the towns of Barugo, Burauen, Capoocan, Carigara, Dagami, Dulag, Jaro, Julita, La Paz, Mac Arthur, Mayorga, Pastrana, and Tunga.
According to District Engineer Carlos G. Veloso, these projects were implemented to support the education program of the government and accommodate the increasing number of enrollees in the different towns of Leyte's second district.
He added that it is guaranteed that the quality standards of these new school buildings comply with the National Structural Code of the Philippines that ensures reliability and calamity resiliency of the infrastructures.
Moreover, the BEFF is an annual budget of the DepEd for its School Building Program to address classroom shortage, improvements and maintenance of school facilities.


JICA donated equipment for the conduct of PFRB (left) and ERS (right).
NMP's two additional training courses accredited by MARINA
Press Release
April 27, 2018
TACLOBAN CITY – Two (2) additional training courses of the National Maritime Polytechnic (NMP), a government controlled and operated maritime training and research institution with principal address located at Brgy. Cabalawan, Tacloban City, have been duly accredited by the Maritime Industry Authority (MARINA), namely: Proficiency in Fast Rescue Boats (PFRB) and Engine Room Simulator (ERS).
It can be recalled that NMP submitted its application for accreditation of the said courses last 20 July 2017. MARINA conducted its initial inspection last 23-24 October 2017 and issued a corresponding Notice of Deficiencies on 13 November 2017.
NMP submitted its compliance to the deficiencies noted by the MARINA on 22 December 2017. In order to validate if indeed the deficiencies noted were been duly rectified, MARINA conducted a re-inspection on 23-24 January 2018.
As per formal letter received from MARINA dated 10 April 2018, NMP was granted full course approval of two (2) additional courses valid for a period of three (3) years along with the accreditation of instructors, assessors and supervisors who will be handling the said courses.
During the said period, announced and unannounced visits will be made by MARINA STCW Office or its duly authorized representatives to ascertain NMP's compliance with the MARINA's rules and regulations.
NMP is required to submit the records of review and validation of the aforementioned courses within six (6) months from the date of its conduct. Moreover, the records of implementation of corrective actions for audit results both internal and external, records of review and validation of the courses including the assessment and statistical record of trainees enrolled / certificated must be made available during the conduct of monitoring.
Further, NMP is required to revise and align the course package of the above-mentioned courses to the new standards once same have been duly issued by MARINA.
MARINA's approval ensures that the courses are designed and structured in accordance with the standards of competence prescribed under the Standards of Training, Certification and Watchkeeping for Seafarers (STCW 1978), as amended in 2010.
PFRB is open to all seafarers who have completed the Basic Training course while the ERS is open to both operational and management level marine engine officers.
Upon successful completion of the above courses, the seafarer-trainees will be able to:
1. Proficiency in Fast Rescue Boats (PFRB) - Understand the construction, maintenance, repair and outfitting of fast rescue boats; take charge of the launching equipment and appliance as commonly fitted, during launching and recovery; take charge of the fast rescue boat as commonly fitted, during launching and recovery; take charge of a fast rescue boat after launching; and operate a fast rescue boat engine.
2. Engine Room Simulator (ERS) - Familiarize the use of instrumentation and controls extensive use in the engine rooms of modern merchant ships; understand and be aware of the correct watchkeeping procedures; understand the way in which machinery units are interdependent; identify operational problems and techniques in troubleshooting; make decisions to promote the safety and efficiency of an operational plant; improve managerial skills particularly in voyage planning, machinery systems and time and resource management; and recognize the importance of value-added qualities to carry out and lead a harmonious engine room teamwork.
Meanwhile, NMP continues to upgrade its facilities and provide maritime trainings required pursuant to the STCW Convention as amended in 2010 including value-adding courses towards improving the qualifications of Filipino seafarers for their employment acceptability and enhanced competitiveness. It also regularly conducts maritime studies to come up with policies for the improvement of the manpower sector of the industry.
Those interested to take NMP training programs may visit the NMP website (www.nm.gov.ph) and its facebook page (www.facebook.com/nmptrainingcenter) where all related information on NMP trainings are available.
ESSU wins over LNU in the DILG-8 Federalism Debates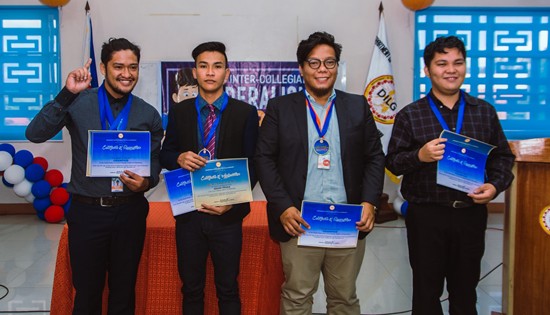 Press Release
April 26, 2018
TACLOBAN CITY – A team from Eastern Samar State University (ESSU) bested their counterparts from the Leyte Normal University (LNU) in the championship match of the Intercollegiate Federalism Debates led by the Department of the Interior and Local Government (DILG) on April 24, 2018 at the DILG-8 Regional Training Center, Tacloban City.
DILG Regional Director Marivel C. Sacendoncillo bared that ESSU's Jeric Ueno Montes also won as Best Debater and Best Speaker. Aside from Montes, other team members were Wences Alfon Café as first speaker, Joseph Jay Ayon as second speaker and Christian Daniel Campomanes as Researcher, with Ma. Teresita Quillo and Minerva Acedillo as coaches.
LNU which was tasked with the affirmative side of the proposition, "Resolved that the country shall adopt a federal form of government", was represented by Raymond Enriquez (1st Speaker), Larry Mark Orbong (2nd Speaker), Kay Ann Torre (3rd Speaker) and Ave Maria Elizabeth Nacman as Researcher with Charles Abanilla and Ara Joy Pacoma as coaches.
The Integrated Bar of the Philippines (IBP) Leyte Chapter led by Atty. Leo Giron as program partner brought in its big guns, with Judge Tarcelo A. Sabarre Jr. (Regional Trial Court Branch 30), Judge Wenifredo C. Cuaton (RTC Branch 11) and Judge Mario O. Quinit (RTC Branch 17) as adjudicators for the championship.
According to Director Sacendoncillo, the Tacloban leg of the debate series was broadcast live over DYVL AksyonRadyo 819 KHz and streamed live over DILG Region 8 Facebook Page. A delayed broadcast is set for showing over IBC 6 Leyte. The championship culminated a series of 10 provincial elimination matches, 4 quarterfinals matches and 2 semifinal matches that were joined by some of the biggest colleges and universities in the region.
The champion team received a plaque, medals, certificates and P20,000 cash, while the 1st runner-up team likewise received a plaque, medals, certificates and P10,000 cash. A plaque of appreciation was presented to IBP-Leyte chapter as program partner. Certificates of appreciation were presented to DYVL and Prof. Arvin de Veyra, the moderator.
Meanwhile each team of semifinalists from Visayas State University (VSU) and Samar College (SC) was awarded medals, certificates, and P5,000 cash prizes during the previous day's awarding rites. The debate series was made possible through the support of the DILG Central Office and DILG Local Government Academy.
DILG initiated the collegiate debate championship as part of its information and education campaign on federalism. It aimed to explain the concept of federalism and related issues on constitutional change among young people who compose majority of voters.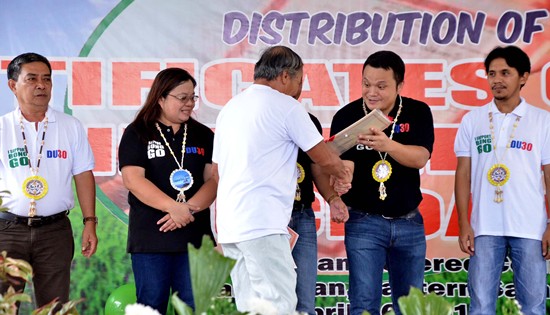 DAR Undersecretary Karlo Bello hands certificate of land ownership award (CLOA) to an agrarian reform beneficiary (ARB) during CLOA distribution in San Julian, Eastern Samar. Assisting him from left are Provincial Agrarian Reform Program Officer Gilberto Apilado, Regional Director Sheila Enciso and Mayor Dennis Estaron.
320 "Estehanon" farmers receive CLOAs from DAR
By JOSE ALSMITH L. SORIA
April 23, 2018
SAN JULIAN, Eastern Samar – Three hundred twenty farmer-tillers from 11 Eastern Samar municipalities gathered at this town's covered court on Monday, April 16, to receive their certificates of land ownership award (CLOAs) from the Department of Agrarian Reform (DAR).
DAR Undersecretary for Field Operations Office Karlo Bello handed the 350 individual CLOAs to the 320 agrarian reform beneficiaries (ARBs) as proof of ownership to the land they are tilling.
Bello, speaking in Cebuano, said to the ARBs, "you are now landowners. You are lucky because the land (covered by the CLOAs) is a government-owned land (GOL). You are not going to pay amortization." But he stressed to them their obligation to pay taxes being the owners now of the land.
The CLOAs covered an aggregate area of 617.9 hectares of agricultural land situated in the municipalities of Lawaan (32.3 hectares), Balanggiga (19 hectares), Giporlos (27.7 hectares), Quinapondan (19.2 hectares), Salcedo (22.8 hectares), Dolores (33.8 hectares), Can-avid (18.7 hectares), Borongan (6.4 hectares), Maydolong (76.5 hectares), Balangkayan (3.9 hectares) and San Julian (357.2 hectares).
Regional Director Sheila Enciso advised the ARBs to take care of their awarded land because the DAR personnel risked their lives in covering these lands under the Comprehensive Agrarian Reform Program (CARP) so they could be distributed to them.
Brothers Geronimo and Tomas Batula Jr. from Maydolong, both received CLOAs, could not hide their happiness. According to them they had been waiting for their land titles for the past 10 years. They can't believe that the document is already in their hands.
Spouses Argie and Maureen Osias from San Julian, brought with them their two children to celebrate the occasion. According to Argie, they derive income from the 2.5 hectares planted to rice and coconut that was awarded to them.
Remedios Guardiana from San Julian though thankful for finally receiving her CLOA, asked that they also be blessed with support services which is part of the implementation of CARP; while 89-year old Delfina Apita from Dolores was just silent but obviously happy with the sweet smile in her face.
DAR-Eastern Samar chief of the Legal Division Atty. Brian Lassiter reminded the ARBs during the said occasion of their obligations, responsibilities and prohibited acts as well as rights and privileges, emphasizing not to sell their awarded lands within 10 years.
Further, Provincial Agrarian Reform Program Officer Gilberto Apilado encouraged them to join agrarian reform beneficiaries organizations (ARBOs) to be able to avail of the various support services extended by DAR.
Meanwhile, Mayor Dennis Estaron thanked DAR not only for choosing this municipality to be the venue of this activity but for uplifting the quality of life of the farmers wherein San Julian has the most number of recipients.
Likewise, He thanked DAR for the rural infrastructure projects implemented in his municipality. This town has been a recipient of four farm-to-market roads and an agricultural warehouse, all implemented under the Agrarian Reform Communities Project (ARCP).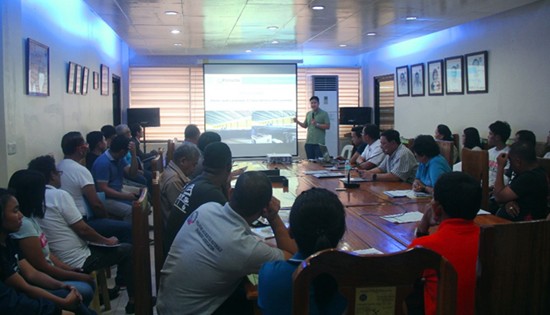 Polyvinyl Chloride (PVC) Sheet Piles Orientation held at Samar First District Engineering Office (SFDEO) conference room.
DPWH-Samar 1 welcomes eco-friendly innovation in infrastructure projects
By BON JOSEPH N. ASTILLA
April 20, 2018
CALBAYOG CITY – Samar First District Engineering Office (SFDEO) held an orientation on a new innovative material called Polyvinyl Chloride (PVC) sheet piles at the Samar First conference room, on April 19, 2018.
Attended by representatives from District Engineering Offices (DEOs) of Samar First, Northern Samar First and Second, and construction firms such as B. Vicencio Builders Inc., ACME Builders Corp, Victoria CSDC, and ESD Cruz Construction and Supply, the orientation ushers the use of Polyvinyl Chloride (PVC) sheet piles as an excellent alternative to steel sheet piles used in infrastructure projects.
District Engineer Alvin A. Ignacio of Samar First invites people from Pietrucha Manufacturing Philippines Inc. to talk about this innovation. Mr. Raymond Tenchavez, Business Management Manager of Pietrucha, claims that PVC sheet piles come with a variety of applications as well as its own advantages.
It is light, easy and simpler to install with the use of standard tools compared to other sheet piles of this type thanks to the unique flat surface project. The product contains material obtained from the recycling of structural PVC with the possibility for further processing serving as an ecological solution. Long term protection is guaranteed without the need of maintenance due to the material is completely resistant to bio-corrosion, rust, cracking, seawater and uv rays. The total savings in material and installation reach more than 30% relative to steel sheet piles.
PVC sheet piles can be used in the regulation of beds of rivers, canals (i.e. irrigation, channels) or reservoirs; as retaining walls, for securing excavations, landslides and slopes; as leakproof walls, for shielding limiting groundwater infiltration; building and improving dykes; and securing places with a variable water level and flood banks.
PVC sheet piles prove to be an ecological and cheap, maintenance-free solution, designed for many years of use.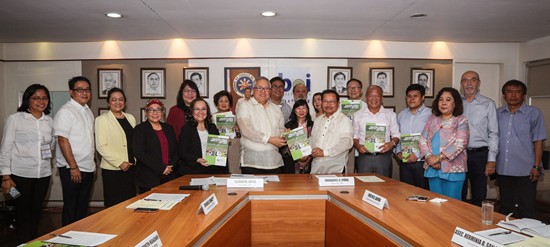 DTI Secretary Ramon M. Lopez and DA Secretary Emmanuel F. Piñol sign the Philippine Rubber Industry Roadmap 2017-2022.
DTI, DA lead efforts to strengthen PH rubber industry
By DTI- OSEC-PRU
April 17, 2018
MAKATI – The Department of Trade and Industry (DTI) and the Department of Agriculture (DA) led the inter-agency signing of the Joint Statement of Commitment for the "Philippine Rubber Industry Roadmap 2017-2022" on 16 April 2018.
"The cluster approach [that addresses the gaps and opportunities in the entire value chain from the rubber production to processing and manufacturing of finished products] is the way to go," said DTI Secretary Ramon M. Lopez. "This industry is critical in helping achieve President Duterte's vision of real inclusive growth since the rubber production sector involves over 55,000 small farmers/growers."
Ninety percent of the rubber farmers in the country are small growers, most are from the Mindanao region – Zamboanga Peninsula, SOCCSKSARGEN, and ARMM.
"DTI is committed to expand market and processing opportunities for their products by bringing in more investors on rubber processing and rubber-based products, like tire companies, and linking them with the local rubber suppliers," the trade chief added. He also said Philippine (PH) rubber can be used for rubberized asphalt for road projects in the government's "Build Build Build" program.
Meanwhile, DA Secretary Emmanuel F. Piñol said that rubber has a crucial role in the reformatting of the PH agriculture plan.
"The agricultural areas I've visited suffer from the same problems: soil erosion and landslides. These are indications of poor agricultural planning – where farmers are planting crops where we should be planting rubber trees," Sec. Piñol said.
The roadmap outlines steps in the following aspects of rubber production: (1) Production & Productivity Improvement; (2) Processing and Manufacturing; (3) Domestic and Export Marketing, (4) Research, Development and Extension; (5) Finance and Investment Promotion; and (5) Information, Policy Formulation and Advocacy.
Aside from the DTI and DA, the inter-agency cluster consists of the departments of Science and Technology (DOST), Environment and Natural Resources (DENR), and Agrarian Reform (DAR), as well as the Technical Education and Skills Development Authority (TESDA), the Mindanao Development Authority (MinDA), the Philippine Rubber Industries Association (PRIA), the Philippine Rubber Farmers Association (PRFA), and the University of Southern Mindanao (USM).
PH is currently a minor producer of rubber, yielding 1% of the natural rubber in the world as compared to top producers Indonesia and Thailand that produce 25% and 34% of global production, respectively. Despite this, the PH rubber industry is steadily growing – for the last quarter of 2017, rubber production grew by 8.9% to 138.24 thousand MT from 126.94 thousand MT in the same quarter of 2016.