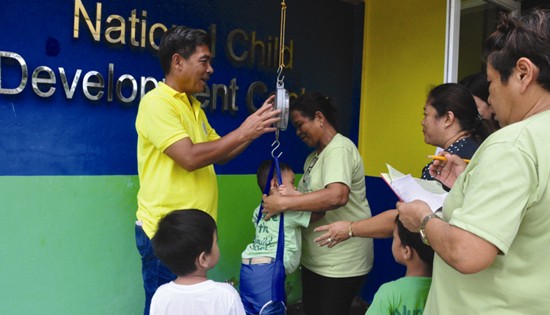 Data gathered during Operation Timbang Plus (OPT+) like weight and height measurements of children are among the parameters in determining the Nutrition Status of a locality. Photo shows the weighing of children in Bobon, Northern Samar.
Eastern Visayas nutrition situation reported
By JACK C. GADAINGAN
September 18, 2019
TACLOBAN CITY – Based on 2018 Operation Timbang Plus of pre-school children aged 0-59 months Samar province ranks first in the provincial ranking on underweight and severely underweight with a prevalence of 13.7%, followed by Northern Samar province in second with a prevalence of 9.5%, and by Eastern Samar province in third with a prevalence of 8.4%. In fourth is Leyte province with 8.3%, fifth Biliran province with 7.5%, and Southern Leyte province in sixth with 5.9%.
Among the cities in Region 8, Baybay City ranks first with a prevalence of 11.9%, Calbayog City in second with a prevalence of 10.3%, and Borongan City in third with a prevalence of 9.3%. This is followed by Ormoc City in fourth with 7.3%, Catbalogan City in fifth with 6.9%, Maasin City in sixth with 3.5%, and Tacloban City in seventh with 3.4%. A child is underweight when his/her weight is lower or below the normal weight for his/her age.
Dr. Catalino P. Dotollo Jr., National Nutrition Council Region VIII (NNC-8) Regional Nutrition Program coordinator, detailed this in a presentation of Local Nutrition Situation during the conduct of "Asin Summit" at the Department of Education (DepEd) Leyte Division Gymnasium in Palo, Leyte on July 26, 2019.
In terms of stunting Samar again ranks first in provincial ranking with a prevalence of 29.1%, followed by Leyte in second with a prevalence of 18.7%, and Northern Samar in third with a prevalence of 18.5%. Biliran province follows in fourth with 18.5%, Eastern Samar in fifth with 17.1%, and Southern Leyte in sixth with 14.1%.
Among the cities Baybay City again ranks first in stunting with a prevalence of 24.5%, likewise followed by Calbayog City in second with a prevalence of 21.4%, and Ormoc City in third with a prevalence of 19.2%. Borongan City comes in fourth with 18.7%, Tacloban City in fifth with 17.7%, Catbalogan City in sixth with 16.7%, and Maasin City in seventh with 7.4%. Stunting is a condition when a child's height is lower or below the normal height for his/her age.
On wasting or Weight for Length/Height, Biliran province topped in first with a prevalence of 5.4% (1,122 magnitude), Northern Samar follows in second with a prevalence of 5.4%, Leyte in third with prevalence of 5.1%. Samar province in fourth with 4.9%, Eastern Samar in fifth with 4.2%, and Southern Leyte in sixth with 4.0%.
Among the cities Baybay City ranks first with a prevalence of 7.1%, Calbayog City second with a prevalence of 6.4%, Ormoc City third with a prevalence of 5.3%. Borongan City fourth with 5.3%, Catbalongan City fifth with 5.2%, Tacloban City sixth with 4.9%, and Maasin City in seventh with 1.4%. Wasting is when a child's body weight in proportion to his/her length, height or thinness is low relative to the standard weight-for-length/height.
In terms of overweight and obesity, Northern Samar ranks first in provincial ranking with a prevalence of 4.3%, Samar ranks second with a prevalence of 4.2%, Eastern Samar in third with a prevalence of 4.1%. Leyte in fourth with 3.9%, Southern Leyte in fifth with 3.9%, and Biliran in sixth with 3.5%.
Among the cities, Baybay City again ranks first with a prevalence of 6.3%, Catbalogan City in second with a prevalence of 5.3%, Ormoc City in third with a prevalence of 5.0%. Borongan City in fourth with 4.6%, Tacloban City in fifth with 3.7%, Calbayog City in sixth with 3.1%, and Maasin City in seventh with 1.8%. Overweight and obesity is when a child's body weight in proportion to length/height or fatness is high relative to the standard weight for his/her weight-for-length/height.
The OPT+ was conducted in six provinces, seven cities and 134 of 136 municipalities of Eastern Visayas region covering 61.3% of 0-59 months Preschool Children.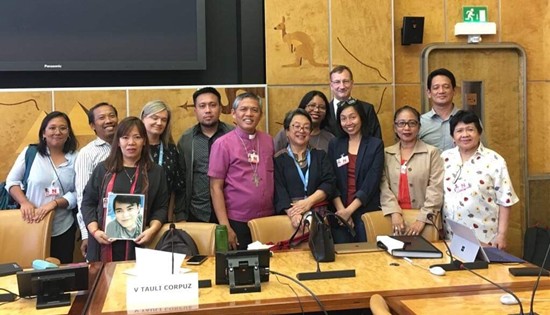 Ecuvoice and the World Council of Churches of the Philippines with UN Special Rapporteur Victoria Tauli-Corpuz.
Ecuvoice calls on the Philippine government to stop deflecting issues, cooperate with UNHRC process
Press Release
September 18, 2019
QUEZON CITY – The World Council of Churches (WCC) together with the Ecumenical Voice for Peace and Human Rights in the Philippines (Ecuvoice) sponsored a side event in Geneva, Switzerland on the Philippine human rights situation, entitled "War vs. the Poor and Indigenous Peoples: Duterte and Human Rights Council."
Joining human rights defenders, church leaders and victims of human rights abuses from the Philippines were representatives from the missions at the UN Human Rights Council, international NGOs and human rights organizations from the Philippines.
The side event was held at Palais Des Nations during the 42nd session of the UN Human Rights Council (UNHRC). Peter Prove and Jennifer Philpot-Nissen of the Commission of the Churches on International Affairs of the WCC served as moderators for the event.
Large-scale murder
Among the panelists who shared their real life stories was Marissa Lazaro, a mother whose son was slain in 2017.
"There is a large-scale murder of the poor," said Marissa Lazaro.
"The police killed my son, Christopher. He is not a drug user. He is innocent," she added. Just like the many other mothers who lost their loved ones from the Duterte government's murderous war on drugs, Marissa continues to be strong amidst grief.
Lazaro is a member of Rise Up for Life and Rights' (Rise Up), a network of families of victims of the government's war on drugs. Her son, Christoper, was killed in a police anti-drug operations in 2017 after authorities claimed he refused arrest and fought back. She later found Christopher dead in a morgue in Bulacan, with nine (9) fatal bullet wounds in his body.
"The war on drugs is a sham," Lazaro said. "We come to the United Nations Human Rights Council seeking help in putting a stop to the large-scale murder of poor people in the Philippines," she added.
The UN HRC passed a resolution in July 2019 on human rights violations in the Philippines.
Attacks against indigenous people
"While urban poor communities are experiencing bloodbath through anti-narcotics police operations, our tribal communities endure long-term militarization," said Bishop Antonio Ablon, a Mindanaoan and a long-time advocate of indigenous people's rights.
"The Lumad people in Mindanao have long been ravaged by the government's counter-insurgency war," Ablon said. "The government brands them as communist-terrorists and wages war against them to force them off their ancestral land and hand it on to giant mining companies," he added.
Ablon, a Bishop of the Iglesia Filipina Independiente, himself is a victim of red-tagging and other threats on Mindanao.
Ablon called for support for the Lumad people's right to their ancestral land against corporate plunder and militarization. "The violence Lumad people suffer at the hands of military is wrong and immoral, we must take it as our own collective responsibility to defend them and uphold their rights," he added.
Villification, killings of human rights defenders
Cristina Palabay, Karapatan Secretary General and head of Ecuvoice delegation, said that the government's war on drugs and counter-insurgency operations only resulted to the death of innocent civilians. "These are state instruments of an all-out war against the poor," Palabay said.
Palabay lamented how those who defend human rights equally suffer vicious attacks. She noted that at least 155 human rights defenders across the country have been killed under the Duterte administration, including Karapatan human rights workers.
Supporting Palabay's claim was Budi Tjahjono of the international NGO Franciscans International. "There is an exponential increase in the number of attacks against human rights defenders in the Philippines," he observed. Tjahjono was part of a WCC delegation to the Philippines that met with human rights victims and defenders in August 2019.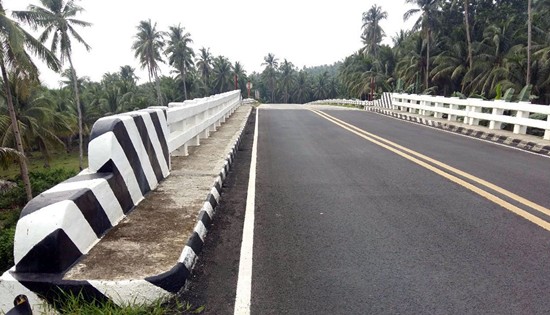 Completed rehabilitation of Talibong Bridge in Cabucgayan town worth P1.9M.
DPWH-Biliran DEO's FY 2019 projects posts 28.78% accomplishment
By DPWH-Biliran
September 18, 2019
NAVAL, Biliran – The Department of Public Works and Highways (DPWH) Biliran District Engineering Office (DEO) has achieved 28.78% of its 2019 infrastructure projects as of August 31, 2019.
The district office is currently implementing 92 projects for this year with a total amount of P1.28M [sic] funded under 2019 General Appropriations Act (GAA).
David P. Adongay Jr., District Engineer reported that six projects are already completed, 69 are already on-going and 19 are still not yet started due to unfavourable weather conditions and some modification on the project.
Recently completed projects are the rehabilitation Talibong bridge in Cabucgayan town and Mainit Bridge in Caibiran town with a budget cost of P1.9M and P2.8M, respectively. These projects are implemented under 2019 Regular Infrastructure Program.
Meanwhile, four projects under 2019 Local Infrastructure Program are also completed.
These projects are the P7.18M construction of Flood Control in Sitio Lomboy, Brgy. Calumpang in Naval town and P1.9M construction /concreting of Brgy Road at Sitio Ansay, Brgy. Union, Caibiran, Biliran, P4.88M rehabilitation and Expansion of Brgy. Road, Brgy. Busali to Brgy. Pinangomhan and construction (completion) of Multi-Purpose Building at Brgy. Cabibihan in Caibiran town worth P978,870.00.
"Despite the delay in the approval of the budget, the district will deliberately and strictly monitor the implementation to attain timely completion of the projects, and of course within the standards." said Adongay.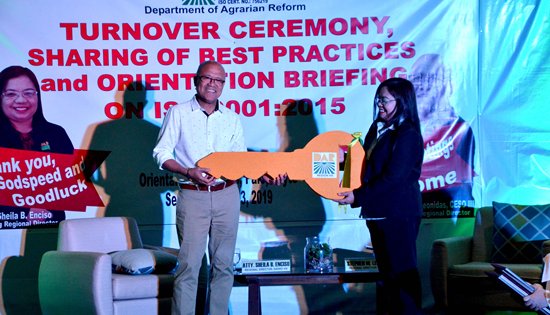 Regional Director Stephen Leonidas (left) officially assumed his new assignment as the incoming regional director of the Department of Agrarian Reform (DAR) in Eastern Visayas after accepting the symbolic key of responsibility from his predecessor Atty. Sheila Enciso (right) during the turnover ceremony on September 3, 2019 at the Oriental Hotel in Palo, Leyte. Enciso was transferred to Western Visayas. (Jose Alsmith L. Soria)
New DAR-8 regional director installed
By JOSE ALSMITH L. SORIA
September 13, 2019
TACLOBAN CITY – Regional Director Stephen M. Leonidas officially assumed office as the new head of the Department of Agrarian Reform (DAR) in Eastern Visayas following his installation on Tuesday, September 3 this year.
RD Leonidas accepted his new assignment when his predecessor, Atty. Sheila Enciso, formally turned over to him the symbolic key of responsibility, as well as the ISO 9001:2015 and the PRIME-HRM Level 2 manuals during the said occasion at the Oriental Hotel.
On August 13, Agrarian Reform Secretary John Castriciones issued Special Order No. 504 transferring Leonidas to Region VIII, while on the same document Enciso was re-assigned to Region VI. Both regions are considered high-LAD regions (regions with still high balances on Land Acquisition and Distribution).
A resident of Bacolod City, Leonidas, the 19th regional director to serve DAR in this region since the agency was created in 1971, disclosed that this is already his 16th transfer in 15 assignments as a third level official.
He added that this also completes his Visayan Region tour for he has already been assigned to Regions VII and VI, his last assignment prior to his transfer to Region VIII.
According to him, in order to exist in a situation where he is not familiar, he always expect for the worst-case scenario.
Leonidas said, he is not new to Region-8. He shared that during the time of then Secretary Virgilio de los Reyes, he was invited to work with the Provincial Agrarian Reform Officers (PAROs) here on claim folder review.
After Typhoon Yolanda hit this region, "RD Shee invited me also as one of the speakers to give lectures to the MAROs (Municipal Agrarian Reform Officers) of this region, which was conducted in Cebu", he added.
An expert in solving contentious landholding problems, Leonidas inherited more than 62,000-hectare balance for distribution to qualified farmer beneficiaries in the provinces of Leyte, Western Samar, Northern Samar, Eastern Samar and Southern Leyte under the Comprehensive Agrarian Reform Program (CARP), which the President wants to be completed by 2022 when his term ends.
For this year, DAR Eastern Visayas is tasked to distribute 2,050 hectares of agricultural lands.
P8.2B budget of Office of the President to escalate killings, attacks vs. Filipinos
By KARAPATAN
September 11, 2019
QUEZON CITY – Human rights group Karapatan questioned and opposed the P8.2 billion budget of the Office of the President (OP) for the year 2020, which was swiftly approved in less than 7 minutes.
On Friday, September 6, 2018, at a hearing before the House of Representatives Committee on Appropriations, even without a presentation detailing its specifics, the Office of the President's budget was approved because of "traditional courtesy."
"Our checks and balances are failing. The parasites in Congress would rather pass such a critical and enormous budget for "courtesy," rather than asking the right and necessary questions. The OP budget is classified as discretionary funds, which make it vulnerable to corruption and other irregular transactions. Knowing this government, such a huge sum will fuel repression, disinformation, and all-out attacks against the Filipino people. It will fund the guns and weaponry that will aggravate the killings and attacks in communities," said Karapatan Secretary General Cristina Palabay.
"The spike in Duterte's budget, which is 21% higher than his office's P6.77 billion budget in 2019, should have prompted lawmakers to question it. The increase alone is already alarming, made even more daunting by the confidential and intelligence funds which are almost doubled. Our coffers will yet again pay for the riding-in-tandem gunmen, the bombs that will raze communities, the rewards for fake surrenders, the blabbermouths that will twist the stories, and the whole structure of impunity that will leave perpetrators off the hook," she added, citing reports that more than half of the Office of the President's budget for the year 2020 consists of confidential and intelligence funds which amounts to P4.5 billion. With this approved budget, Duterte's office will receive the biggest share of confidential and intelligence funds out of all agencies.
Palabay also raised that this is the danger of having a Duterte-allied supermajority in Congress. "Is "traditional courtesy" even an acceptable excuse? Those in Congress are not thinking about their constituents, but are deciding on the basis of what makes their President happy – no doubt to boost their own political career. They are complicit to the killings and violations, and they expose the rotten core of our legislative system."
The Karapatan official expressed that the misallocation of funds have been an issue, time and again. "Duterte is a populist, yet the budget reveals his talk about universal healthcare, free education, and other populist measures are mere rhetoric. In a latest report, the budget for the Department of Education's Government Assistance Subsidies has been decreased by 2.93% – from P32.12 billion in 2019 to P31.18 billion in 2020. Meanwhile, the Department of Health revealed that there could not be a national roll-out of the Universal Health Care as it would need about P257 billion, but will likely be given a P166.5 billion proposed budget. The Department of Science and Technology will likewise be getting a mere P20 billion, a small sum in comparison the PNP's P185 billion in 2020," Palabay explained.
"Social services are constantly non-prioritized while the budget for the PNP and the military are beefed up annually. Clearly, we can see what is valued and what is intentionally left behind. This is where money goes when you have militarists in government. The socio-economic ills of our country are being ignored while people who raise legitimate demands about poverty and injustice are shot and illegally arrested. The government plans to dazzle Filipinos with infrastructures that have resulted to an outstanding external debt of P7.49 trillion, from last year's P7.3 trillion and 2017's P6.7 trillion. The situation on the ground has gone from worse to worst as majority are bearing the brunt of unemployment, lower wages, criminal neglect of the agricultural sector, contractualization, and inaccessible social services – piled on top of State terrorism in urban and rural communities," Palabay said.
"Truly, there is less and less for the Filipino people in this regime. A life of security and dignity is not afforded to Filipinos, unless one is a kumpadre of those in Malacañang; they even give you an additional bonus and free pass to be absolved of whatever crime you commit. We see an exacerbation of the political and economic crisis, given the 2020 budget and the Duterte regime's policy thrusts. As the deliberations on the 2020 budget are expected to be completed before the 18th Congress takes a break in October, we enjoin everyone to remain vigilant. There is no transparency and accountability in this government, and the people are once again called to task," concluded Palabay.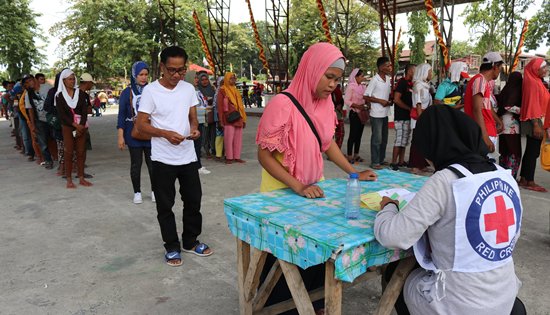 Thousands of families in Maguindanao province in southern Philippines have been facing repeated and prolonged displacement for six months now due to the clashes between government forces and armed groups. To support them, the ICRC with the Philippine Red Cross provided two-week food rations to 1,280 displaced families (approximately 6,400 people) on Sept. 4-5. (ICRC/ Baipulo Sultan)
Civilians bear the brunt of recurrent fighting in Maguindanao
By ICRC
September 6, 2019
MANILA – Thousands of families in Maguindanao province in southern Philippines have been facing repeated and prolonged displacement for six months now due to the clashes between government forces and armed groups. They are in need of support, as the return home to their villages remains uncertain.
"It's the second time that thousands of families in Shariff Saydona Mustapha and Datu Salibo towns have had to stay in cramped evacuation sites for over a month. They are afraid to return home as the situation there remains volatile," said Roberto Petronio, interim head of the International Committee of the Red Cross (ICRC) subdelegation in Cotabato.
The ICRC teams from Cotabato assessed the condition of these affected communities over the past few weeks, identifying the needs and listening to their concerns.
Displaced and unsure about the immediate future, these families have been unable to earn a steady income as their access to farms remains restricted. Though various government agencies promptly distributed food items among those displaced, other basic needs have persisted.
"Living in a tent is very difficult, especially when it rains. We have no choice but to endure it. Both my children are in elementary school but they haven't been able to attend classes due to the clashes. I hope we can return home soon without any fear and go back to leading a normal life," said Yahiya Alabay of barangay Ganta in Shariff Saydona Mustapha.
Yahiya's family is among the 1,280 households (approximately 6,400 people) in barangays (villages) Ganta, Bakat, Inaladan and Dasawao in Shariff Saydona Mustapha and Penditen in Datu Salibo who collected ICRC food rations during the distribution held on Sept. 4 to 5.
With the support of the Philippine Red Cross (PRC), the ICRC's operational partner, each family received two-week rations consisting of 25 kg of rice, 2 litres of cooking oil, 1 kg of sugar, ½ kg of salt, one litre of soy sauce and 12 tins of sardine.
After the clashes first broke out in March, the ICRC with the PRC provided food, household and hygiene items to around 6,700 displaced people in Datu Saudi Ampatuan, Datu Unsay, Shariff Aguak and Datu Salibo.
From April to July, regular trucking of potable water was done for almost 5,500 people living in evacuation sites. Rural health units in eight Maguindanao towns and three hospitals were also supplied with medicines and medical material to cater to over 11,000 people in April and in August.
"We will continue to monitor the situation and extend our help based on the needs. Ultimately, we hope that these displaced families can safely return home to a stable life," Petronio said.
The ICRC is a neutral, impartial and independent organization whose exclusively humanitarian mission is to protect the lives and dignity of victims of armed conflict and other situations of violence and to provide them with assistance. It has an international mandate to promote knowledge for and compliance with the international humanitarian law.
As civilians continue to bear the brunt of fighting, the ICRC reminds all parties to the conflict of their obligation to protect civilians and civilian properties, and those who are not or no longer participating in the hostilities.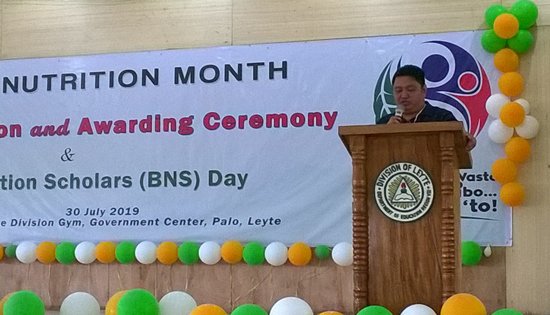 Dr. Ronelio Al K. Firmo, Leyte Schools Division superintendent, reveals DepEd health and nutrition interventions in "Oplan Kalusugan" during the 45th Nutrition Month celebration culmination on July 30, 2019.
Schools Division chief bares 'Oplan Kalusugan'
By JACK C. GADAINGAN
September 4, 2019
GOVERNMENT CONTER, Palo, Leyte – The Department of Education (DepEd) has consolidated all its health programs, plans, policies, and activities for their effective and efficient implementation at the school level into "Oplan Kalusugan."
Included in this convergence of interventions are five flagship programs namely: 1. The major school health and nutrition program specifically the School-Based Feeding Program (SBFP); 2. National Drug Education Program (NDEP); 3. Adolescent Reproductive Health Education (ARH); 4. Water, Sanitation, and Hygiene (WASH) in Schools (WinS); and 4. Medical, Dental, and Nursing Services; and 5. Mental Health Program.
Dr. Ronelo Al K. Firmo, Leyte Schools Division superintendent, revealed this in his welcome address during the 45th Nutrition Month Celebration Culmination and Awarding Ceremonies held at the DepEd Leyte Division Gymnasium, here on July 30, 2019.
According to Firmo, in regards to school-based feeding program the agency funds public schools for a 120 feeding-day period, and the Leyte Division has already released funds for the first 120 days feeding program of schools under its jurisdiction, further asking the BNSs present to provide guidance to school principals on what healthy foods to cook, when they can.
He said that part of the school-based feeding program is the Gulayan sa Paaralan, where pupils are introduced early to learn on vegetable and food production; as well as ensuring that only healthy foods are made available in school canteens through DepED Order No. 13, s. 2017 or "Policy and Guidelines on Healthy Food and Beverage Choices in Schools and in DepEd Offices," Firmo added.
It was further gathered that the National Drug Education Program (NDEP), is included as among the health interventions as problems on illegal drugs pose as a bigger threat to the security and welfare of the youth and students; the Adolescent Reproductive Health Education (ARH), to address the burgeoning problem of teenage pregnancies, where many misguided youths are enticed into risky sex behavior – resulting on unwanted pregnancies causing the girls to drop-out of school, lessening their chances of a better future;
Water, Sanitation, and Hygiene (WASH) in Schools, aims to provide children with clean water to use, as well as to teach them the importance of being clean and on cleaning by themselves; Medical, Dental, and Nursing Services is to maintain and improve the health of schoolchildren and school personnel through the prevention and control of diseases; and Mental Health Program, due that it was observed a number of children are actually suffering from mental problems.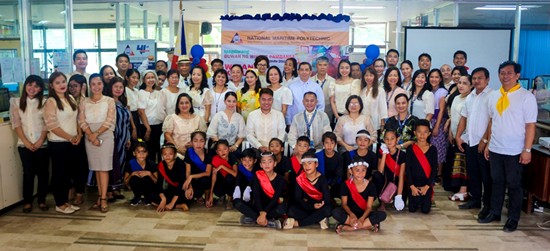 NMP Officials, guests, employees and Job Order Workers during the celebration of Buwan ng Wikang Pambansa.
Sustain native language, NMP says
By National Maritime Polytechnic
August 30, 2019
TACLOBAN CITY – The National Maritime Polytechnic unites with the Philippine nation in honoring the Filipino and native languages in celebration of the 2019 Buwan ng Wikang Pambansa.
In order to preserve and promote the native language, NMP added activities related to this year's Buwan ng Wika theme: "Wikang Katutubo: Tungo sa Isang Bansang Filipino", during its Flag Raising Ceremony last 27 August 2019 at the NMP Administration Building.
Executive Director Joel Maglunsod conveyed his thoughts on the celebration anchoring his speech on the proclamation of the United Nations General Assembly declaring 2019 as the International Year of Indigenous Languages. According to him, the nation was colonized by different countries but nonetheless, the Filipinos must revitalize and sustain the native language especially our seafarers as the Philippines' sailing ambassadors to different countries around the world.
The program was made meaningful with spoken poetry, indigenous songs and traditional dance participated by NMP employees and Job Order Workers.
Selected Cabalawan Elementary School students also presented an interpretative dance entitled Tagumpay Nating Lahat and a hand-over ceremony of donated books to the said school from S & A Learning Solutions and Books For A Cause also took part in the program.
The Buwan ng Wika is commemorated every month of August in accordance to the Proclamation No. 1041 signed by then President Fidel Ramos on 1997 which goes with the celebration of the birth of the Father of National Language, late President Manuel Quezon.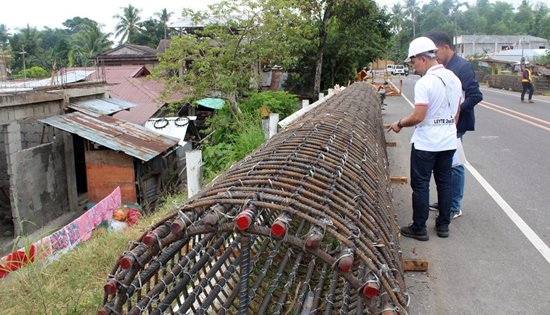 DE Pacanan ensures that fabrication of reinforcement cages of bored piles conforms with the plans and program of works during his visit to the project site.
DPWH implements widening of Tunga bridge
By DPWH 2nd LED
August 30, 2019
TUNGA, Leyte – The Department of Public Works and Highways (DPWH) Leyte Second District Engineering Office (L2DEO) has started its construction works for the widening of Tunga bridge in Poblacion, Tunga along Palo-Carigara-Ormoc road section.
"The widening of Tunga bridge measures a width of 4.98 meters each on both sides and length of 31.6 meters in the amount of P29.1 million," District Engineer Gerald Pacanan said.
"Traffic will not be affected, considering that the project will only expand the bridge and the existing bridge can still be utilized. Proper signage and warning signs are installed to ensure safety for the travelling public," he added.
The bridge is within the primary highway that connects Tacloban City to Ormoc City, the commercial hub in western Leyte and the region's major gateway to Cebu City.
The construction started last July 11, 2019 and is targeted to be finished on or before January 22, 2020.
For 2019, Carigara bridge is now undergoing major repair while Barugohay bridge in Carigara town and Hibuga bridge in Mayorga town will be retrofitted.
Moreover, new permanent Ibawon bridge in Mac Arthur will be built and Atipolo Daco in Capoocan will be widened.
P20 million river wall project to protect residents in Carigara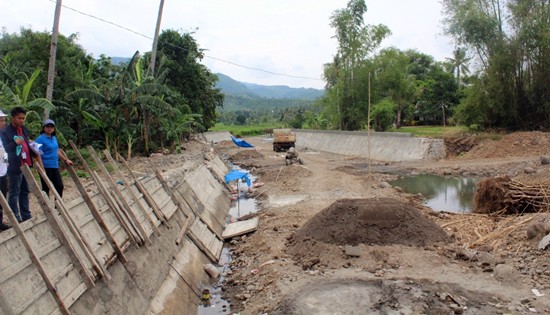 By DPWH 2nd LED
August 30, 2019
CARIGARA, Leyte – Twenty million worth of flood control structure underway in the stretch of river in Barangay Manloy. The Department of Public Works and Highways (DPWH), Leyte Second District Engineering Office, Carigara, Leyte now builds retaining wall to fasten water flow and prevent flooding in the nearby areas.
"One of the mandates of the DPWH is to build flood control structures to protect lives and properties from force majeure," said District Engineer Gerald Pacanan.
During his inspection, Pacanan urged the contractor to fast track the project implementation to avoid delays on the operations when rainy season comes.
A total length of 438 lineal meter and height of 2.5 meters will be built in Manloy river.
Manloy has a land area of 419.62 hectares of which 20% are irrigated with rice lands, as farming is the main source of livelihood of the populace.
It traverses the barangay of San Juan, Caghalo, Barayong in Carigara and Manloy in Capoocan which are known as the big rice producer in the municipality.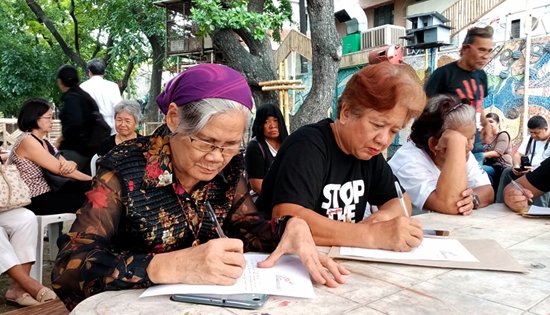 Erlinda Cadapan and Concepcion Empeno, mothers of missing UP students Sherlyn Cadapan and Karen Empeno, write their letters to UN high commissioner Bachelet.
"Hear us", families of the disappeared write to UN High Commissioner for Human Rights Michelle Bachelet on Int'l Day of the Disappeared
By DESAPARECIDOS
August 30, 2019
QUEZON CITY – Members of Desaparecidos, an organization of families of the disappeared in the Philippines, wrote letters addressed to UN High Commissioner for Human Rights Michelle Bachelet on the International Day of the Victims of Enforced Disappearances, August 30, 2019. The initiative was in line with the recent passage of the Iceland-led resolution which was adopted by the UN Human Rights Council and tasked the said UN chief to write a comprehensive report on the human rights situation in the country.
"Ang paggunita, pag-alala at ang patuloy nating paglaban ay ang diwang magmamarka ngayong Pandaigdigang Araw ng mga Nawawala. Marami ang gustong makalimot na tayo, marami ang gustong baguhin ang katotohanan, ngunit andito tayo ngayon para magpatotoo sa mga buhay ng ating mga minamahal na sapilitang iwinala ng estado. Sumusulat kami kay UN High Commissioner Michelle Bachelet para umapila na tingnan din niya ang kaso ng mga biktima ng sapilitang pagkawala, at kung papaanong magpasahanggang ngayon ay mailap pa rin ang hustisya.
"(We mark the International Day of the Disappeared as we continue to remember and fight for our loved ones. Many would want us to just forget, many would want to distort the truths, but we remain steadfast in serving witness to the horrible truth that our loved ones were taken away from us by the State. We write to UN High Commissioner Michelle Bachelet to appeal to her that she looks into the plight of the disappeared and as to how justice continues to evade us and our loved ones)," said Erlinda Cadapan, chairperson of Desaparecidos and mother of desaparecido Sherlyn Cadapan.
Sherlyn, along with Karen Empeño, was abducted in 2006 by military men under the command of now retired general Jovito Palparan Jr. Horrendous accounts of Sherlyn and Karen's detention surfaced after a witness detailed the students' ordeal. Karen and Sherlyn remain missing, but Palparan and two other military officials were convicted in 2018.
"We are respectfully and directly addressing UN High Commissioner Michelle Bachelet: Activists are still forcibly disappeared. This horror has not stopped, and even if we have isolated victories in court, this does not equate to our loved ones coming home to us. Please investigate the cases of enforced disappearances and also listen to the families of the victims; hear us," Cadapan stated.
Among the recent cases of enforced disappearances involve a longtime activist and peasant organizer in Central Luzon. Joey Torres Sr. was last seen in Quezon City before he disappeared without a trace on September 22, 2018. The family recounted that prior to his disappearance, uniformed policemen visited the victim in his house in July 2018. Torres' family went around various military camps in the region to look for Joey Torres, but to no avail. He remains missing as of this writing.
"Our entire family waits for him. We will continue to shout his name, to call for the military to surface him. Joey is an activist, a compassionate individual and a loving father. Only truly heartless men would tear apart families by killings and enforced disappearances. Miss na miss ka na namin, Papa (We miss you, Papa)," Ching Torres appealed. As of June 2019, there are already 10 victims of enforced disappearances under the Duterte government.
Cadapan also hit efforts to whitewash Palparan's crimes and rehabilitate his image. She likened this to the government's effort back in February 2019 to delist the 625 victims of enforced disappearance in the Philippines between the years 1975 to 2012 at the United Nations Working Group on Enforced or Involuntary Disappearance (UN WGEID).
"UN High Commissioner Michelle Bachelet also survived a dictatorship – that of Chile's Augusto Pinochet. She was a political prisoner and she has seen the extent of repression that governments are capable of. We humbly ask her to stand alongside us in our fight for remembering, for justice," added Cadapan.
"Our grieving continues. Yet we are continuously being assaulted by attempts to free those who have been convicted for these truly atrocious crimes. I still think of Sherlyn, and I still remember the details of how she was tortured. I want to know where my daughter is; we want our loved ones surfaced. We appeal to UN High Commissioner Bachelet to talk to us, for the stories of the disappeared will underscore the gravity of the human rights situation in the country," Cadapan ended.