Malacañang's response to Callamard: An indication of disrespect for human rights
A Press Statement by EcuVoice Philippines
June 3, 2020
On 01 June 2020, the Duterte government tried to discredit the observations made by UN Special Rapporteur on Extrajudicial, Summary or Arbitrary Execution Agnes Callamard on law enforcement officials in countries such as the Philippines acting 'beyond international law' and allowing the use of force in implementing government strategies to deter the spread of COVID-19. Her observations were among those aired by independent experts and rights defenders during a webinar organized by the Ecumenical Voice for Human Rights and Peace in the Philippines (EcuVoice) last 29 May 2020.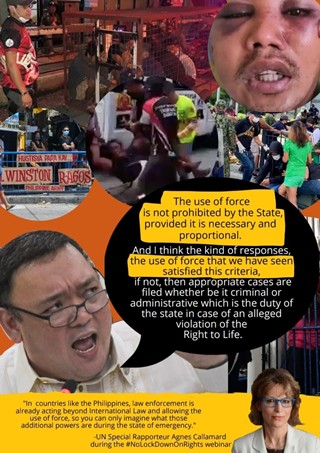 The presidential spokesperson justified police abuse and brutality by invoking that "(t)he use of force is not prohibited by the State provided it is necessary and it is proportional" under international law and that the government's responses satisfy the criteria of necessity and proportionality. However, we at EcuVoice see nothing proportionate nor necessary in the use of force by state agents in the implementation of COVID-19 measures in the past three months. The observations raised by Callamard are all warranted and reasonable, based on the numerous cases reported before the public.
Photos and videos published on the internet and in various media reveal how the Philippine National Police and local government officials employed excessive force in questionable and baseless arrests. These state agents have also imposed degrading, humiliating, and inhumane punishment to supposed violators of quarantine protocols.
According to the PNP, there have been more than 57,177 individuals arrested for allegedly violating the government's enhanced community quarantine such as not wearing face masks or foraying immediately outside one's homes for valid reasons. Many were subjected to arbitrary arrests and cruel, degrading and inhuman treatment such as beatings, being put in dog cages, being made to kiss, sing and dance before authorities, forced to do strenuous physical exercises, made to march or put under the scorching heat of the sun, or being placed in coffins to teach them a lesson, or forced to have sex with police officials in exchange for money or quarantine pass, or outrightly murdered.
Also appalling is the apparent misuse and abuse of legal processes, as police continuously cite laws which do not specifically define nor penalize the alleged violations committed by those arrested and detained who are thrown in already impossibly congested and even subhuman jails. How these actions can be deemed necessary and proportionate escape us.
EcuVoice also condemns the disrespect shown by the presidential spokesperson to the UN Special Rapporteur in his attempt to rebuff her observations. His inappropriate debasement of Callamard's credentials is consistent with how the President has shunned and rejected international human rights protection mechanisms by resorting to ad hominem attacks. Such action has underscored the current administration's utter and obvious disregard of well-established human rights mechanisms and standards.
God, freedom, love

By Fr. ROY CIMAGALA, roycimagala@gmail.com
May 28, 2020
HOW important it is that we have a clear idea of the relationship between God and freedom, and between freedom and love. Given our very confusing times, when the distinction between truth and falsehood, good and evil, moral and immoral is blurred, it's very urgent that we get hold of this distinction, if we wish to be on the right track in our life!
Everything true, good and beautiful comes from God. There's no question about that. Nothing can be true, good and beautiful if God is not at the core of it. Anything that is not true, good and beautiful does not come from God, even if it has appearances of what we subjectively consider as truth, goodness and beauty. And sad to say, we often get caught in this trap of an anomaly.
Of course, in the rough and tumble of our actual life in this world, truth and falsehood, good and evil, beauty and ugliness can get mixed up in us but never in the same aspects. One may be good in looks but bad in manners, to cite an obvious example. So we have to be extremely discerning to be able to distinguish, since this mixing can be very subtly confusing. We may not even realize we are confused, let alone, wrong.
We have to realize more deeply then that our freedom, if it has to be real freedom, has to come from God. It has to be related to him, to his will, to his laws and commandments. Freedom is not real freedom if it would just be a matter of doing our own will. Our will has to conform to God's will for us to enjoy true freedom.
We need to strengthen our conviction about this essential relationship between God and our freedom. This is the truth about freedom. This is the truth referred to when Christ told the Jews who believed him, "If you hold to my teaching, you are really my disciples. Then you will know the truth, and the truth will set you free." (Jn 8,31-32)
From here, we can already realize that our living and true relationship with God is very indispensable. Without this relationship in place, we simply would be left to our own devices. And that realization should already egg us to really take care of our relationship with God, knowing how limited and prone to confusion and error our unguided human powers can be.
With the relationship between God and freedom clarified, we have to realize next that freedom is what enables us to love, just as God's love for us and all of his creation was an act of freedom on his part. He was not forced to create anything or anyone. There absolutely was no necessity for him to create us. But He did it just the same, out of freedom.
In other words, he created us and the whole universe out of pure love, a total self-giving that can never be reciprocated equally by his creatures. This is the essence of love which, according to the First Letter of St. John, is the very essence of God: "God is love." (4,8)
In short, for us to truly love, it has to be an act of freedom. And to be able to love in true freedom and not false freedom, it has to be based on God, rooted on his will and commandments, and empowered by his Spirit. Thus, Christ said, "If you love me, you will keep my commandments." (Jn 14,15)
So, we should know where we can find true love and what would constitute as authentic love, and not fake love. This is the love that Christ himself has shown us. It's a love that culminated in his passion and death in total obedience to the Father's will so our sins can be forgiven. This is the love that he commands us to do!
Freedom of the Press belongs to the people
A statement of unity on the closure of ABS-CBN by the Freedom for Media, Freedom for All (FMFA) Network
May 6, 2020
As the country battles a pandemic, the government has found it more important to press on its assault on media freedom through the cease and desist order issued by the National Telecommunications Commission (NTC) against broadcast network ABS-CBN.
The timing borders on the bizarre when on May 3, World Press Freedom Day, Solicitor General Jose Calida warned of graft charges against the NTC if it allowed the network to operate beyond May 4, the date its 25-year franchise expired.
It is doubly despicable that it happens as our people battle a deadly pandemic, which they will need timely and accurate information to defeat. To take away a network with a reach so broad there are areas where it is the only source of information could prove fatal during this plague.
While Congress professed surprise and reacted with anger at what it saw as the NTC's disregard for its sovereign authority to decide on franchises, it cannot wash its hands of this travesty. Lawmakers themselves had the whole time to deliberate on the bills to renew ABS-CBN's franchise but did not.
But let us not forget where the ultimate responsibility for the silencing of ABS-CBN lies: President Rodrigo Duterte. Irked by the network's failure – since explained – to air his ads during the 2016 presidential campaign, he personally and repeatedly vowed in public to block the renewal of ABS-CBN's franchise.
And now ABS-CBN has gone dark. The message is clear: What Duterte wants, Duterte gets.
It is just as clear that Duterte's real intent is to silence the critical media and intimidate everyone else into submission. And this we should not and cannot allow.
As a people, we must understand and recognize that this goes beyond ABS-CBN. Government's decision to close a major media network places the narrow personal and political interests of those in power over the welfare of the people. The fourth estate under attack, the silencing of dissent, are symptoms of a virus that has found its way inside a weak system of governance.
Whatever complaints have been lodged against the network, there are agencies in which these should be threshed out. If anything needs to be corrected, these can and should be undertaken with a greater respect and without violation of the fundamental protection provided in the Constitution for freedom of expression and press freedom.
While we expect the matter to be brought before the judiciary and hope for a just resolution, we must go beyond clearly damaged institutions to defend our rights and liberties.
In this period of crisis, when there is worsening poverty and hunger, we must all work together, set aside differences, ease the lines of communication and resist, condemn and speak out against government's attempt to trample on our freedoms. Our people's lives could well depend on this. For sure, democracy does.
We, the community of independent Filipino journalists, call on all Filipinos who cherish democracy and liberty to stand with us. This is our common cause.
Freedom of the press does not belong to us, the media, but to you, the people. It is a freedom we wield in the service of the people's right to know and to help ensure that you enjoy your right to free expression.
We triumphed once over a tyrant who thought he could silence our collective voices for long. We can do so again.
IPAGTANGGOL ANG MALAYANG PAMAMAHAYAG!
IPAGTANGGOL ANG MALAYANG PAGPAPAHAYAG!
MABUHAY ANG PILIPINO!
Beware of the Legion

By Fr. ROY CIMAGALA, roycimagala@gmail.com
May 2, 2020
I'm referring to that episode in the gospel where Christ was accosted by a man possessed by many devils who called themselves, Legion, precisely because they were many. (cfr. Mk 5,1-20)
It is said that the possessed man was so unwieldy that no chain nor fetters nor man was strong enough to control him. And that was because he was so dominated by many devils that nothing and no one could help him. Only Christ could.
That gospel story somehow demonstrates what can happen to us individually or collectively as a society. If we are not careful, we can allow the devil to enter and possess us. And things can get worse when, God forbid, a demonic infestation can occur.
We should always be wary of the devils and be ready to handle them properly. They exist. And their only purpose in their existence is to do evil, to go against God and to everyone and everything that God loves. They were originally good angels who rebelled against God upon their creation.
Being pure spirits and therefore are free and intelligent beings, the devils misused their intelligence and freedom by choosing to replace God upon their creation. That choice has plunged them, being pure spirits, into an irreversible eternal state of enmity against God and against everything else that comes from God and is still with God.
Many if not all the temptations that come our way originate or are being orchestrated by devils. The proper attitude we should have when temptations come is to reject these temptations immediately, never giving them a chance to advance in their plot by dialoguing with them, and to go to God immediately.
Let's remember that when temptations come, it is because we have let down our guard. It means that our union with God has loosened, if not completely broken, often without even our noticing it.
Thus, when temptations come, we really should intensify our prayers and presence of God, since with God can we resist them. We should also submit our body to some severe discipline because when tempted the body easily falls and drags our spirit with it.
And given the way the world is now, we can readily say that the devil is having a heyday. That's because with all the developments we are having today, we often are easily intoxicated by them and we become quite worldly, a perfect condition for the devils to pull their tricks.
That is why we have a lot of disorders around – people into addictions, violence, terrorism, suicide, envy, greed, laziness, pride, vanity, etc.
We should try our best not to be swallowed by the worldly allure of these developments. While these developments are good and serve a good purpose, we have to see to it that they are always offered to God. Their use should be an expression of our belief, love and thanksgiving to God. Otherwise, they can only take us away from God.
In fact, we have to figure out how these new developments play in the abiding providence of God over us. They just cannot be allowed to flow according to worldly laws and values. That is why we have to spend time praying and asking God for enlightenment and strength.
There is also a need for constant purification, since we cannot deny that in spite of our good efforts, we cannot avoid some moral and spiritual dirt. Not only should we rectify our intentions constantly. We should also purify our thoughts, memory and imagination, our feelings and passions, and our senses.
From time to time, we may have to have recourse to some extraordinary corporal mortifications like fasting, abstinence, denying ourselves some comfort, etc., since the body really needs to be properly subdued.
Lastly, regular and frequent recourse to the sacraments of confession and the Holy Eucharist would do a lot of wonders for us.
Securing the future of our agri heroes

Dr. JAIME ARISTOTLE B. ALIP
CARD MRI Founder and Chairman Emeritus
May 1, 2020
Not all heroes wear capes; many of them spend days under the heat of the sun ensuring that every family in the country can have enough food on the table.
In this time of COVID-19 pandemic, every Filipino household face an equalizing basic need: enough and steady supply of food so that their families will not go hungry. More than ever, the important role of our farmers now is highlighted as they serve as one of the frontline heroes in this trying time.
However, not all agricultural workers and businesses have the capacity to run their livelihood during this crisis. From Day 1 of the community quarantine, farmers are deeply distressed by the health threat and hampered by the necessary measures laid out by the government in containing the virus. The agricultural sector, which is heavily reliant on transportation facilities, faces the challenge of transferring goods from farms to markets.
Additionally, peddlers and vendors cannot simply roam around to sell their products due to restricted movement. They encounter financial losses even as their perishable products could not be sold, hence were either consumed, given away to the neighbors and sadly, left to rot. If not for institutions and organizations who protected our food security frontliners, the agricultural sector would have been on the brink of collapse.
Fortunately, the government has timely put in place programs that support the sector. On the forefront is the Department of Agriculture who has been implementing initiatives in order to respond to the needs of agricultural and fisheries workers. DA has announced the provision of cash subsidies and other financial assistance to farmers which can be used for farm inputs or their families' basic needs. In partnership with TESDA, DA is offering online training on the "new normal" in terms of food production and food value chain. Another important initiative is Kadiwa, an online shop for agricultural produce. Through this, the general public has greater access to cheaper and healthy food supplies. This approach will directly connect the farmer-producers to the consumers which will lessen the cost of the agri-products.
On the other hand, a number of LGUs have started distributing seeds to encourage residents to plant in their backyards. In addition, they have been buying produce from local farmers to include in the package of relief goods that they are distributing to their communities.
These initiatives to support farmers have greatly inspired us in CARD Mutually Reinforcing Institutions (CARD MRI) to implement similar meaningful programs for our clients in the agricultural sector.
Rebuilding small agri-businesses
CARD MRI has long recognized the significant contributions of farmers from the time it initially provided its services to landless farmers during its establishment in 1986. The COVID-19 pandemic has called us to go back to our roots and come up with innovative solutions to the challenges our farmers are facing now.
It all started with one CARD MRI client who supplied agricultural products as part of relief packages to a local government unit in Panabo, Davao del Norte. It sparked the idea of consolidating all CARD MRI clients with on-going businesses through a Facebook buy and sell group. As CARD MRI strives to create impact on a bigger scale, CARD MRI partnered with DA to serve as a consolidator to the Kadiwa online shops through our network of microfinance and SME clients all over the Philippines. With the accreditation, our clients will be indirectly supplying commercial volumes of agri-products to local government units (LGUs. Through this, CARD MRI hopes to support many microfinance and SME clients.
As the health crisis greatly changes our buying habits, we also saw an opportunity to ease the delivery and distribution of food supply more locally. We recently launched Likha ni Inay Palengke on Wheels to help our farmer-producers and vendors earn during the pandemic while providing the general community greater accessibility to basic farm products while on quarantine. The food lane pass granted to CARD MRI allows us to bridge several producers and vendors to consumers. This virtual initiative is hoped to significantly help in reducing the spread of the virus. The Palengke on Wheels is now available in San Pablo City in Laguna, Lipa City in Batangas, San Fernando City in Pampanga, Bais City in Negros Oriental and Mati City in Davao Oriental.
Securing the Future of our Agri Frontliners
As many of our farmers, vendors and peddlers are crippled by the crisis, they will need greater assistance to help their family and the whole nation in taking small steps forward towards the "new normal" way of life.
While 'high-risk' areas in Luzon remain on lockdown until May 15, CARD MRI will gradually bring back its normal operations on May 4 in some areas in Luzon, Visayas, and Mindanao to help its clients slowly restart their business after more than a month of confinement and amidst financial difficulties.
The financial institutions under CARD MRI will resume offering agricultural loans to its clients to use as capital as they start the planting season. Looking at the picture holistically, this will help the agricultural sector address food security of the country especially those in lockdown areas. As Department of Agriculture Secretary Dar correctly points out, "While improving our food adequacy level, we should aim for food security. If no action is done, the threat of hunger is as real as the threat of the virus."
Microinsurance, the key to strengthening resiliency

By Dr. JAIME ARISTOTLE B. ALIP
CARD MRI Founder and Chairman Emeritus
April 14, 2020
While the global community seeks for ways to stop the COVID-19 outbreak, keeping free from the virus is just one of several anxieties faced by the low-income sector in their everyday lives these days. Accidents, illness and deaths remain a reality for the poor.
Ninfa E. Beraminde has been a client of CARD, Inc. for almost five years in Isabela, Basilan. When her husband died on March 23, 2020, she did not expect to be able to claim her death benefits as mobility was hampered with the imposition of community quarantine. Likewise, CARD MRI members or their dependents get sick, figure in a fire, or die even in the midst of the pandemic. Four of our clients are now part of the statistics of COVID-19 positive patients who succumbed to the disease.
Clients of CARD MRI automatically become members of CARD Mutual Benefit Association (CARD MBA), which enables them and their families to become covered under its life insurance. From Aparri to Zamboanga, Ninfa's story mirrors every poor families' struggles amidst the pandemic.
Traditionally, beneficiaries are required to submit documents for claims settlements in the Mi-MBA offices. However, through online claims validation by fellow members who serve as Claims Processor right there in their communities and submission of death and marriage certificates through the Messenger app, members' survivors were able to receive from P30,000 to P55,000, depending on length of membership.
Combined data from CARD MBA and CARD Pioneer Microinsurance Inc. (CPMI), which are both microinsurance companies that are part of CARD MRI, show an average of 161 claims payment made amounting to P6 million per day from March 16 to April 3, 2020. Industry-wide, the 18-member Mi-MBA Association in the Philippines, RIMANSI, also pay claims in this time of crisis Without microinsurance, less fortunate families will plunge deeper into poverty due to the lack of safety nets from unexpected perils.
Response to the pandemic
Resiliency is a common theme for microinsurance companies. As such, member-institutions of RIMANSI has been showing its flexibility to cater to the needs of its members even during the COVID-19 outbreak. Since members of Mi-MBAs are mostly from the bottom of the pyramid, the industry declared a moratorium on the weekly insurance payments until April 12, 2020. During this period, the members will remain covered under the life insurance offered by the Mi-MBAs. As the ECQ was declared extended up to April 30, 2020, the microinsurance industry is compelled to extend the moratorium until the ECQ is lifted.
Further, Mi-MBAs vows to continue to provide fast claims settlements. The process is relaxed such that claims validation are made through phone calls while documentary requirements can be submitted online through messenger platforms. As one member's survivor from Batangas attested through a text message, "Gusto ko lang pong magpasalamat sa CARD MBA sa benepisyong nakuha ng aking ina na si Joy Austria. Napakalakingtulong po nito para samen lalong lalona at wala kami financially. Sa kabila po ng COVID nanararanasan ng bansa naten ngayon, di ko po inaasahan na mabilis na mapaprocess ng CARD insurance ang benepisyong ito ng aking ina through online. Madale namen itong na claim… kaya nagamit naming ito pangbayad sa lote na paglalagyan ng aking ina."
Using technology and available remittance services, claims payments are done within 24 hours, where physical barriers allow, a feat that is especially appreciated by the survivors.
A tool for empowerment
With the emergence of COVID-19, not only health but also the livelihood of small entrepreneurs are jeopardized. The Mi-MBA industry with the microinsurance industry plan to formulate new policies to address the needs of the poor during a pandemic. The industry aims to improve its regulation to provide a wider range of insurance products for the poor in protecting them not only from death, injury, and illnesses but also to the potential losses of their income due to a national crisis.
To be able to do so, the help and support of the national government will be much needed by Mi-MBA and other microinsurance players to fulfill their duty in providing extensive protection coverage to the most vulnerable sectors in the country. The industry recognizes the current efforts of the Insurance Commission headed by Commissioner Dennis B. Funa to enable Mi-MBAs to be as responsive to clients' needs under normal times as the regulations allow. However, the industry's services need to be more proactive in times of national emergencies and crisis and it will happen if other government agencies adopt policies that will strengthen the Mi-MBAs and microinsurance companies in the country. For example, tax exemption for Mi-MBAs owned by the communities should be upheld so that they can have adequate funds to create better products that will address the insurance needs of the marginalized sectors during extraordinary times.
In the case of non-life insurance (i.e. disaster insurance, agriculture insurance, and property insurance among others) for the poor, a 2% reduction in tax on premium will be a welcome development. In addition, a calamity fund to assist its millions of members in times of national state of emergency should be established.
As CARD MBA and CPMI, together with the rest of the microinsurance industry, provide affordable and relevant risk protection to more than 27 million poor and low-income individuals in the country, they have become a partner of the government in empowering the poor and creating resilient communities. With the government's continued support, microinsurance will remain a beacon of hope in this time of distress and uncertainty.
About the Author:
Dr. Jaime Aristotle B. Alip is the founder and chairman emeritus of CARD Mutually Reinforcing Institutions, a group of 23 institutions that envisions to eradicate poverty in the Philippines. He also serves as the chairman emeritus of RIMANSI, the MI-MBAs Association in the Philippines. He is the recipient of the 2019 Ramon V. del Rosario Award for Nation Building.
Christ's 7 last words

By Fr. ROY CIMAGALA, roycimagala@gmail.com
April 8, 2020
IN case you will miss the broadcast of the seven last words of Christ, given our present condition, I am repeating them here with some commentaries for whatever it is worth.
Indeed, I must say that the seven last words of Christ have a special and unique importance, and are always relevant to all of us, since they represent the ultimate desire of Christ for us, summarizing everything that he did and said that were all meant for our redemption.
They have the power to instantly bring us back to the most fundamental reality about our life from whatever man-made Lalaland we have gone. Or they can correct our tone-deaf religiosity.
These are words that simply drip with pure and completely gratuitous love, a love that is meant also for us to learn and live. They speak of God's mercy for us, his assurance and guarantee of our salvation, the comfort we can have by providing us with the care of Our Lady, Our Mother, the cost involved in saving us, etc.
The first one, "Father, forgive them for they know not what they do," (Lk 23,34) cannot but be a sheer show of magnanimity, of unmitigated goodness. Not only is he asking for forgiveness for those who crucified him, who in the end are all of us. He looks for an excuse for all of us. There we can already see how much he loves us.
This supreme goodness is reiterated in the second one, "Today, you will be with me in paradise," (Lk 23,43) addressed to the good thief who just had the audacity to ask for a favor, never mind what he had been accused of. This word simply validates what is said of God, that even if he can get angry due to our sin, he is always ready and quick to forgive.
The third one, "Woman, behold thy son…Behold thy mother," (Jn 19,26-27) is a very endearing one where even in the middle of extreme pain, Christ has that mindfulness to give us whatever would provide with some comfort in this vale of tears of ours. He gives us his own mother to be our own mother too, a mother who will always be a mother to us all throughout time.
Mary will not only be a temporal and earthly mother to us, whose motherhood is subject to time. She will be a mother to us even beyond time. And her motherhood would not be confined only to our earthly needs, but also and most especially to our spiritual needs.
The fourth one, "My God, my God, why hast thou forsaken me?" (Mt 27,46) speaks to us of the depth of suffering Christ had to undergo to save us. He feels that God, the source of all goodness, has abandoned him, and that therefore all the pain as the consequence of all the evil of this world is what he is experiencing.
Try to imagine a situation where all is dark, all is pain, all is evil, without a dot of goodness! If we suffer in some way, just remind yourselves of this word of Christ. For sure, somehow we would feel lightened.
The fifth one, "I thirst," (Jn 19,28) to be sure is not an expression of physical thirst, but rather of his thirst for souls, his ardent desire to fulfill his mission to save mankind.
The sixth one, "It is finished," (Jn 19,30) simply expresses that he has fulfilled his mission, whatever it cost him. This word should remind us that we should finish what we have begun, though we know it is God who started everything and it will also be him who will complete and perfect everything.
The last one, "Father, into thy hands I commend my spirit," (Lk 23,46) shows the proper way of ending things, especially when we see our life ending.
It would be good if each of us makes his own personal considerations from Christ's seven last words!