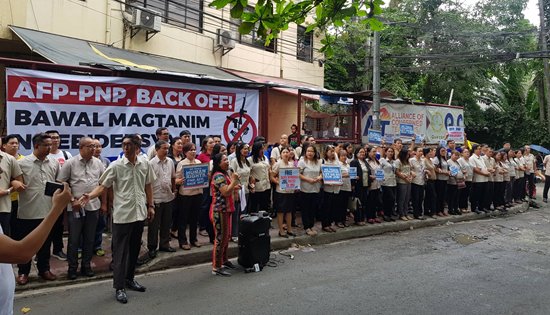 Teachers form human barricade outside their office vs. threat of AFP-PNP office raid. Tarp behind them says, "AFP-PNP, Back Off! Bawal magtanim ng ebidensya rito!"
Stop state terrorism! Defend rights and freedom! Uphold democracy!
A Press Statement by the Alliance of Concerned Teachers (ACT) Philippines on the AFP-PNP crackdown on activists
November 7, 2019
The Alliance of Concerned Teachers (ACT) Philippines condemns the Duterte administration's intensifying attacks on the Filipino people who continue to struggle for peace and democracy in the country. The series of raids and arrests of progressive organizations in Negros and Metro Manila aims to sow terror among dissidents and to quell the growing unrest of the people who have long been suffering due to state neglect.
The crackdown on civilian, unarmed, and legitimate activists and organizations expose the sham that is President Duterte's Executive Order No. 70 which supposedly aims to end local armed conflict in the country, but is a mere cover-up for the administration's more vicious attempts at establishing a tyrannical rule. This is further exemplified by the exposed connivance between the state's machinery for war, the Armed Forces of the Philippines (AFP) and the Philippine National Police (PNP) – particularly the NCRPO – and a member of the judiciary, the Quezon City RTC Executive Judge Cecilyn E. Burgos-Villavert. Such proves that Philippine democracy is under attack.
We, as teacher-unionists, are not spared from these state attacks. Two teachers have been gunned down, 2 more were attempted to be killed, and one ACT coordinator is jailed on a trumped-up charge in a period of less than a month. Offices and homes of teachers' organizations as well as leaders who are vocal in advancing their rights and welfare face the threat of raids, harassments, and other rights violations. Mouthpieces of the state mock legal and legitimate teachers as 'teacher-actors' while they hurl us with red tags and despicable lies that only aim to smear the teaching profession and our rightful unionism. These have persisted since the state launched the illegal nationwide profiling against ACT late last year, upon the signing of EO 70 or the whole-of-nation approach on counterinsurgency.
As educators, it is our duty to uphold democracy and defend people's rights and freedoms. We teach our students to practice critical thinking for the pursuit of social justice. Our fight for livable wages, better working conditions, and better social services is an exercise of all that we espouse in class. It is therefore imperative that we continue to stand our ground and assert our rights. We shall continue to build unities within our ranks and forge solidarities with other sectors as we jointly register our strong resistance and defiance of the increasingly fascist Duterte regime.
We likewise call on all freedom- and democracy-loving members of the local and international community to join us in this fight. An attack on one of us is an attack on all of us. We must stand together and fight back against oppressive and tyrannical regimes. Stop state terrorism!
Fear the cross no more

By Fr. ROY CIMAGALA, roycimagala@gmail.com
October 15, 2019
WE have to learn to lose any fear of the cross. That instinct of ours to be afraid and to flee from the cross has to be reversed, and made into an instinct of love for the cross.
This may take time and effort, this may require a lot of thinking and discipline, this may involve some drastic and even painful adjustments in our understanding of things, but it is all worthwhile to do so.
When we lose the fear of the cross and develop the love for it instead we would have the proper light to guide us in our life here on earth. Not only that, we can have the invincible peace and joy that is proper to us as persons and as children of God.
Opus Dei founder, St. Josemaria Escriva, often repeated the motto, "Lux in cruce, gaudium in cruce, requies in cruce," (light in the cross, joy in the cross, peace in the cross), to remind himself and everybody else that it is in the cross of Christ where we have the path and the instrument of our human salvation.
Again it's good to be theological in our understanding of the cross because the mere human attitude toward the cross can never fathom the crucial and indispensable significance the cross of Christ possesses.
Christ's cross, which Christ himself told us to carry (cfr. Mt 16,24), converts that tree of death that led to the downfall of our pristine humanity in Adam and Eve into a tree of life that brings us back again to God, our Father and Creator.
It is this cross that assumes all the sins of men and destroys them. It is this cross that reopens the gates of heaven to us after it was closed due to our sins. We need to engrave these theological truths of the cross so we can be guided properly.
In other words, this cross enables us to handle the worst condition that can happen to us in this life, and to convert that condition into a means of our salvation. Thus, whenever we have the cross, in whatever concrete form it comes – whether physical, moral or spiritual – we have to bear it with Christ always. It would then become Christ's cross, and not just any cross, and as such it is a redemptive cross.
It would also be a cross that is not simply ours, borne only by our own selves. It becomes the cross of Christ who has assumed all the sinfulness of men without committing sin. (cfr. 2 Cor 5,21) Somehow it is a cross that is not as heavy as when it is simply ours, carrying it without Christ carrying it for and with us.
We obviously have to adapt our attitude, thinking and reactions towards the cross according to what our faith teaches us. We have to go theological in this, not merely physical, emotional or mental. Thus, we have to be ready to follow what Christ told us whenever we encounter crosses in our life.
Like, we have to learn to love our enemies, to pray for them. We have to offer the other cheek when we are slapped in one cheek. We have to learn to be charitable and magnanimous when we are misunderstood, mistreated, insulted, offended. We have to learn to be patient and humble when humiliated. We have to regard others as better than us, always concerned about their interest rather than focusing simply on ours.
There are many more forms of how to bear our cross the way Christ bore his, and thus make our cross also the cross of Christ, a cross that is redemptive and worthy of being loved and exalted.
We should not only lose fear of the cross, but rather love it, and actively look for it, since that is the only way to our salvation, given our wounded and sinful condition.
Postponing the May 2020 Barangay and Sangguniang Kabataan Elections (BSKE) remains inadequately justified, and will extend terms of office without voters' consent
A press statement by the National Citizens' Movement for Free Elections (NAMFREL)
September 24, 2019
The National Citizens' Movement for Free Elections (NAMFREL) reiterates its position that the May 2020 Barangay and SK Elections be held as scheduled.
Moving the date of the BSKE:
• Contravenes the principle of regularity in the conduct of an election;
• Extends the terms of elected officials without a fresh mandate from the electorate;
• Deprives the electorate of seeking accountability from elected officials through the ballot.
Periodic elections are an institutionalized governance feature in countries that have chosen democracy as their form of government. The Philippines has an obligation under international law to conduct periodic and genuine elections, as articulated in the 1948 Universal Declaration of Human Rights and the 1966 International Covenant on Civil and Political Rights (ICCPR). Further, the ICCPR stipulates that every citizen must be provided the right and opportunity...to "vote and to be elected at genuine periodic elections." Thus, the regularity of elections is important to establish the mandate, legitimacy and moral authority of elected leaders. Not holding elections regularly could undermine the democratic process of ensuring the citizens' right to choose their leaders and make them accountable.
On postponing BSKE to save P5 billion to P6 billion: Recent reports said that the country loses P700 Billion annually due to corruption, P50 Billion annually due to illegal wildlife trade, P105.7 Billion annually due to road crashes, and P3.5 Billion daily due to traffic congestion in NCR alone, among others. These reports indicate that the government can source enough funds by addressing several key issues. Why do so at the expense of a Constitution-mandated process?
On postponing BSKE due to election fatigue and not having enough time to prepare: The May 2020 BSKE comes a full year after the May 2019 elections. Preparations for a manual election is not as complex and as time-pressured as that of an automated one. The Comelec has acknowledged that they are implementing the 2020 BSKE calendar and are in the thick of preparations (ie. voter registration, outreach to IPs, voters' education, etc.). Comelec's request is just to not conduct the BSKE at the same time or less than a year before or after national elections.
On postponing BSKE because terms of office will be cut short: When the sitting barangay and SK officials filed for their candidacy for the May 2018 BSKE, they were fully aware of and accepted a shortened term, itself brought on by a previous postponement of BSKE. NAMFREL believes that, instead of length of term, a major determinant of success besides qualified and committed elected local officials is the existence and proper execution of concrete plans for the barangay, guided by established guidelines and implementing rules and regulations. In the absence of these, no amount of term extensions would ensure accomplishment of expectations and deliverables. If they do a good job in their shortened term, let their constituents judge them through the election.
Moreover, moving the date of elections set by law can only be justified when any of the conditions mentioned in Section 5 of the Philippine Omnibus Election Code exist: any serious cause such as violence, terrorism, loss or destruction of election paraphernalia or records, force majeure, and other analogous causes of such a nature that the holding of a free, orderly and honest election should become impossible in any political subdivision. It is the task of the Commission on Elections (Comelec) to make such determination, which in turn should be through public hearings. None of these conditions exist, and no such consultations with the voting public ever took place.
End Duterte's martial law! Resist dictatorship and attacks on people's rights!
A Press Statement by KARAPATAN on the 47th anniversary of martial law
September 20, 2019
47 years ago, darkness reigned, but it did not prevail against the force of a united people.
Darkness may reign now, but it will be defied.
47 years ago, the Filipino people went through one of the darkest and bloodiest periods in our nation's history. With the declaration of martial law on September 21, 1972, the late Ferdinand Marcos unleashed the horrors of a brutal fascist dictatorship: civil liberties and people's rights were brazenly attacked and violated; democratic institutions were dismantled in consolidating authoritarian rule; the free press was shut down; millions were plundered from the country's coffers to fatten the pockets of the Marcoses and their corrupt cronies as the nation suffered under extreme poverty; and hundreds of political opponents and critics along with thousands of activists, organizers, and unionists were illegally abducted and detained, tortured, killed or forcibly disappeared – some of whom are still missing to this day.
Today, September 20, on the eve of the 47th anniversary of the declaration of martial law, Karapatan joins the Filipino people in remembering all the victims and martyrs of the Marcos dictatorship. We remember their lives, we remember their sacrifices, and we remember their struggle for democracy, freedom, and justice – culminating in the toppling of the Marcos regime by a united Filipino people against tyranny and dictatorship. However, the fight for a just and humane society is far from over.
Today, we are confronted yet again with the horrors and brutalities of Marcos' martial law, as we see a creeping dictatorship taking form, helmed by dictator wannabe Rodrigo Duterte.
Duterte is an altogether different monster. He has coddled the Marcoses and enabled them to shamelessly return to power and escape accountability, with Imee Marcos even securing a seat in the Senate while Imelda Marcos was able to walk free despite being convicted of 7 counts of graft. Duterte, like a true Marcos fanboy, is now eagerly following the Marcosian playbook of repression and oppression. We are once again promised a golden age, no doubt marked by a ballooning debt and worsening economic crisis.
Martial law and de facto martial law have been put in place. Martial law in Mindanao has been repeatedly extended without basis, and has enabled State forces to commit more atrocities with astounding impunity. The Lumad and Moro people have been subjected to killings and intensified militarization, justified by the military through scare tactics and feeding public paranoia. Transparency is not the priority of fascist regimes. This same arrangement, sans the formal declaration, is also creating havoc in the regions of Negros, Samar, and Bicol under Memorandum Order No. 32. Whatever the name, the impact of formal and de factor martial law remains salient – unhampered human rights violations.
Alongside this, the Duterte regime is preparing a long list of repressive policies. Under Executive Order No. 70, coupled with efforts to revive the Anti-Subversion Law, mandatory Reserve Officers Training Course (ROTC), death penalty, and plans to amend the Human Security Act, the fascist Duterte regime is parroting the Marcosian tactic of propping up a McCarythite communist hysteria to justify its draconian measures and crackdown on opponents and critics. To the greedy who want to tighten their grip on power, every resistance is akin to sedition and all – including church leaders and workers, journalists, youth activists, and human rights defenders – are tagged as terrorists.
This is all under the framework of Oplan Kapanatagan. The bloodbath happening in all regions of the country are systematic and orchestrated attacks. This "whole-of-nation" approach seeks to penetrate the core of government, to blur civilian and military functions, to remove civilian and combatant distinctions.
Despite these draconian measures, the people, who have been long suffering under extreme poverty, joblessness, and landlessness only find more reason to fight and resist with the exposition of the regime's corruption and brazen abuse of power – from the freeing of big-time criminals convicted of heinous and drug-related charges to the increase in pork barrel funds of Duterte's allies in Congress, as well as his own pork and P2.5 billion worth of confidential intelligence funds. Moreover, in the face of anti-poor economic policies, Duterte's puppetry and surrender of national sovereignty to the interests of China and the United States, and the ballooning infrastructure debt with his billions worth of loans from China, plunges the country deeper and deeper into an economic crisis. This regime is a sham, a sell-out, and a failure.
The people are made to suffer for speaking out. As the people grow more and more disgruntled with the fascist regime every day, we are moving closer to the tipping point.
We have been here before, and we are treading dark times once again, with our hard-won freedom under threat of being taken away from us. In these trying times, we are once again called to stand united in resisting the new dictatorship and its attacks on people's rights. On September 20, on the eve of the 47th anniversary of the declaration of martial law, we return to the streets with our clenched fists raised in defiance. We march as one to Luneta once more, united in the call to demand accountability and justice from the plunder and atrocities of the Marcoses and Duterte, and to resist the darkness of tyranny and dictatorship under Duterte's de facto martial rule.
Darkness may reign now, but it will never prevail against the force of a united people.
Judge not to judge

By Fr. ROY CIMAGALA, roycimagala@gmail.com
September 3, 2019
JUDGING, of course, is basic and indispensable to us. It is the first step we do to know things. As soon as our senses apprehend certain things, our intelligence is immediately activated and starts to make judgments so we can start knowing. From there, we can make many other intellectual operations – like more judgments and reasoning – to be able to know more things and in a better way.
We have to take this basic fact of life into consideration whenever we try to understand Christ's words when he said, "Judge not and you shall not be judged." (Mt 7,1) He did not mean that we should not judge at all, because that would be inhuman, that would be against the very nature God designed for us.
In fact, the succeeding passages of those words of Christ presume that we make judgments as a natural thing we do. "For with what judgment you judge, you shall be judged," he said. "And with what measure you mete, it shall be measured to you again." (7,2)
From these words, what we can conclude is that we should be careful with our judgments. We should see to it that our judgments are in accordance with our dignity as children of God who have to judge people and things the way God judges them, that is, full of charity and everything else that flows as a consequence of charity. Most prominent in these consequences of charity would be prudence and discretion.
This can mean that there must be times when we have to judge not to judge because we have no basis for making such judgments. Otherwise, we would commit what is called rash judgments. In other words, there are times when we have to withhold our judgment, or at least make only a tentative one that has to be handled with a lot of discretion.
Of course, we can have suspicions, which are already a form of judgment. We can also theorize and hypothesize, if only to understand something to a certain extent or to be able to deal in some practical way with a certain issue. These are already forms of judgment, albeit tentative and not definitive.
We have to be always wary of the need to judge not to judge when the occasion calls for it. We should not be "trigger-happy" with our judgments. We need to study and weigh things first before we make any judgments or we decide to withhold making any.
This is especially so when we are fed only with gossips and hearsays, or when we are confronted with questions and issues that are beyond our competence. Especially in the area of politics, where there is intense bias and prejudice because of its extremely partisan character, the need to judge not to judge should be deeply felt.
At best, we can only make tentative judgments that, as said above, should be handled with discretion. We need to have a good grip of our emotions and passions, because otherwise, they would usually lead us to make rash judgments.
We also have to be careful with our "small talks" that usually are none other than gossips and other inane, frivolous chats that cause harm on the name of others.
What is most important is that we fill our mind and heart with the spirit of Christ so that in everything that we think, judge and speak, there is always charity and prudence and discretion.
Let's remember what St. Paul said about having the spirit of Christ in this regard: "The spiritual man judges all things, but he himself is not subject to anyone's judgment. For who has known the mind of the Lord, so as to instruct Him. But we have the mind of Christ…" (1 Cor 2,15-16)
In other words, the only way we can judge properly is when we are truly identified with Christ, animated by the same spirit, having the same mind as he has.
Stepping into the supernatural world

By Fr. ROY CIMAGALA, roycimagala@gmail.com
August 21, 2019
WE need to realize more deeply that everytime we participate in any liturgical act, we are actually stepping into the supernatural world of God. We are made contemporaries with Christ as he continues his work of human redemption until the end of time.
And that's simply because in the liturgy, as in the celebration of the sacraments, especially the Holy Eucharist, Christ is made present and continues to act. The liturgy is a divine initiative, not ours. It's God who brings us to his supernatural world. Ours is simply to express and articulate in human forms this divine initiative as commanded by Christ, and to participate in its supernatural dynamics.
This is why we should develop and keep a very special consideration, attention and devotion to the liturgy, especially the Holy Mass. In it, we have to give our all, carrying out what Christ commanded us to do: to love God with all our might, and our neighbor as ourselves, which he later perfected by saying that we have to love one another as he himself has loved us.
If this truth about the liturgy is understood and upheld properly, you can just imagine how we ought to behave when we participate in a liturgical act! We can never exaggerate the intensity of our devotion, prayer and worship to God. Our best will always be found wanting. But the point is that we just have to do our best even if our best can still be made better.
We need to do a more effective and abiding catechesis on this very important aspect of our Christian life. We cannot deny that there are many things that indicate that the people's understanding and attitude toward the liturgy is inadequate, marked by ignorance, confusion and error.
This sorry state about how the liturgy is understood can even start among the clergy. Though we cannot generalize, neither can we deny that in many instances the sacredness of the liturgical acts appears to be missing due to the way they are celebrated. More than faithful ministers of Christ, some clerics reduce their status into simply being performers and actors.
Being a divine initiative, the liturgy, as in the celebration of the sacraments, derives its supernatural effectiveness more from God's power (ex opere operato) rather than from our dispositions (ex opere operantis). Just the same, it will always demand of us the best dispositions that we can give. So we cannot overemphasize the need for the appropriate preparation we ought to have before celebrating or participating in a liturgical act.
Our participation in it can be likened to the most pliable clay in the hands of the potter (God) so that we can be as God wants us to be. We need to be as malleable as possible to God's will and ways. He is very eager to make us like him.
Our participation in it can also be likened to the relation that good labourers have toward God, the owner of the vineyard or faithful servants in God's household. We need to work with the will of God as owner always in mind.
We therefore cannot overemphasize the need to participate in the liturgical acts as actively as possible. In this regard, it would be helpful if we familiarize ourselves with the prayers and the different parts involved in the liturgy. We need to spend time for this purpose so that hopefully we can go along with the liturgy actively aware of what is happening and not just coasting along passively.
The prayers involved usually are most inspired prayers that will always be helpful to us. They express the proper attitude and sentiments we ought to have toward God. They are always worthwhile to be internalized so that we can truly enter into the spirit of the liturgy and not just get entangled in its externals.
The pro-choice position

By Fr. ROY CIMAGALA, roycimagala@gmail.com
July 10, 2019
WE have to be familiar with the so-called pro-choice position that is now becoming the prevalent ideology affecting many countries and especially the young ones, the so-called millennials. We need to be familiar with it so that we can be better prepared to deal with it, since it is now invading our own country. In fact, there is now a strong foreign-funded pressure to instil this kind of liberal pro-choice view on us.
The pro-choice position, of course, refers to the so-called life-issues, like abortion, population control, same-sex marriage, divorce, euthanasia, etc. It has an eminently moral question that we need to be clear about.
We need to understand that there are moral principles that derive from the very nature of things, and especially of our own. And they have a universal applicability, going beyond our natural and artificial differences in race, culture, religion and other categories.
In a nutshell, the pro-choice position can be expressed in the following words as expressed by many of its advocates and followers: "I am pro-choice, even if that means abortion. I am also for same-sex unions, and I also support legalizing divorce. What people want to do with their lives and their body should not be controlled by other people's religious beliefs.
"If you do not want abortion, don't get one. If you don't want to marry one of the same sex, by all means, don't. Don't divorce if that's what you prefer. But to take away other people's choices because you don't agree with them is evil and wrong. The terrible thing is that many people can only imagine a world where their religion is absolute. What tyranny!"
It's incredible that this view can be held even by very educated people, and people who are even products of Catholic schools and other very prestigious centers of learning.
At least two possibilities can explain this disturbing phenomenon. One is that these schools are not anymore teaching morals and are just focusing on technical things. And two, that the students may be taught morals but are not internalizing them. Of course, there are still many other possible explanations.
With this pro-choice position, one is practically saying that there are no absolute moral principles with a universal applicability, that everyone is absolutely free to do whatever he wants to do. In other words, one makes himself his own lawgiver, if not his own god. He cannot be told and taught anything. He has to be left alone. He can do anything he likes.
It is amazing that many people with this position do not realize that they are going against even the very basics of common sense. We are never alone. We can never be alone. We have to live by certain laws. We cannot escape the fact that we have to submit to certain do's and don'ts.
Abortion is not about exercising the right over a woman's body. Whether one is a believer or not, abortion is simply killing a human person. A fetus inside the mother's womb is not just a clump of cells. A fetus just cannot be but a baby.
And the so-called same-sex marriage is a contradiction since marriage can only be between a man and woman. It is not meant only for good-time, for giving in to what our flesh desires. It is meant for procreation, for education and upbringing of children and family, and the good of society.
Divorce simply goes against the very nature of marriage. It is rejecting one's commitment of love however the marriage may go. The concerned parties in marriage promise "to have and to hold, from this day forward, for better, for worse, for richer, for poorer, in sickness and in health, until death do us part"
Let's hope that families, churches, schools, offices and the government units help in clarifying these moral life issues both with clarity and charity always. Hardly anything is gained when we start fighting.