Tortured doc performs free surgery, gives away medicines to poor patients
By Asian Human Rights Commission
February 19, 2010
HONG KONG – Necta Montes, the niece of Dr. Alex Montes, speaks of her uncle's compassion of helping poor patients during a demonstration at the Philippine Consulate on Thursday (February 18). Alex is one of the 43 health workers whom the military and police have illegally arrested, tortured and falsely charged on February 6, 2010.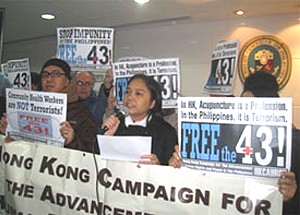 Necta Montes (in the middle) speaking at the Philippine Consulate in Hong Kong.
"My uncle has often asked me to assist him in simple surgical procedures when poor families from nearby slum communities would come to our home to seek for his help, he would (also) send the patients with medicines ", Necta recalls helping her uncle.
Necta, presently the regional secretary of the World Student Christian Federation Asia-Pacific Region (WSCF AP) here in Hong Kong, was joined by several regional and local groups calling for the unconditional release of the 43 health workers.
All of the 43 health workers, two of whom have already been illegally arrested, tortured and falsely charged in September 2008, are being held at the Camp Capinpin, a military camp in Tanay, Rizal.
"My family and the families of the 42 illegally arrested health workers strongly deny and condemn the Military for spreading malicious accusations and making-up false charges against our loved ones. We are enraged by this incident and angered by the physical torture and the mental anguish that our loved ones have been subjected to", added Necta regarding the soldier and the police charges on him and the 41 others.
Sixty-two-year old Alex, a graduate of medicine at the University of the East Ramon Magsaysay Medical Center in 1975, has spent nearly 40 years of his life visiting poor rural communities organizing Medical Missions together with the members of the United Church of Christ in the Philippines (UCCP's) Healing Ministry.
He has been accused by the military and police of being member of a rebel group, the New People's Army (NPA). He was also accused of supposedly taking part in a plan to assassinate General Jovito Palparan, a retired military general who had been accused of being involved in the killing of activists.
Palparan is now a member of the House of Representatives, a lawmaking body of the Philippines.
Alex was reported to have been electrocuted and subjected to psychological torture following their arrest on February 6, 2010. He and his companions have all been blindfolded and subjected to continuous interrogation in absence of their legal counsel. During the first few days of their detention, their relatives and loved ones visiting them in jail had difficulty of having free access to him.
The Asian Human Rights Commission (AHRC) has issued an appeal on this case, to read and support the appeal please read: AHRC-UAU-003-2010; AHRC-UAU-005-2010.
THE FULL TEXT OF NECTA'S STATEMENT AND THE BRIEF PROFILE OF DR. ALEX MONTES CAN ALSO BE READ BELOW:
Magandang Umaga po sa inyong lahat! Good morning to all of you! Thank you for giving me this chance to express my indignation on the illegal arrest, detention, and torture of the 43 health workers in the Philippines.
My name is Necta Montes, I am a niece of one of the illegally arrested health workers, Dr. Alexis Montes. My uncle was accused by the Military of being a member of the New People's Army and taking part in a plan to assassinate General Jovito Palparan, also known as the Butcher of Activists and a favorite general of Gloria Macapagal-Arroyo. Not able to find substantial evidence to prove these ridiculous accusation against my uncle and the 42 health worker, the Military charged them with Criminal offences and illegal possession of firearms. Using the guns and explosives they themselves, the Military, have planted as evidences during the raid and arrest they conducted last February 6.
My family and the families of the 42 illegally arrested health workers strongly deny and condemn the Military for spreading malicious accusations and making-up false charges against our loved ones. We are enraged by this incident and angered by the physical torture and the mental anguish that our loved ones have been subjected to by this fascist Military.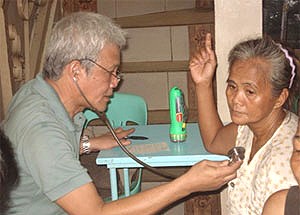 Dr. Alex Montes is seen in this undated photo in one of his free consultations (contributed photo).
As doctors, nurses, midwives and community health workers they commit themselves to an oath to provide medical care and attention to ANYONE, and I repeat ANYONE needing their help at all times and in any place. In fact, when the illegal arrest was conducted on February 6, they were undergoing a First Respondents Training, NOT to build explosives as this stupid military accused them, but to equip community health workers to SAVE LIVES and NOT TO DESTROY LIVES!
My Uncle Dr. Alexis Montes is a 62 year-old licensed medical doctor. He has used his professional training and skills to heal the sick among the poor in my country. He has tirelessly devoted his service to people who cannot afford to go to the hospital for all sorts of ailment and treatment. He has spent nearly 40 years of his life visiting poor rural communities organizing Medical Mission together with members of our the Healing Ministry of our church, the United Church of Christ in the Philippine. As his eldest niece, my uncle has often asked me to assist him in simple surgical procedures when poor families from nearby slum communities would come to our home to seek for his help. He would not only do the surgical procedure for free, but he would send the patients with medicines and oftentimes give them few pesos for their ride home.
In a country where half of our population have no access to basic health care, where 40% of our people cannot afford basic medicines even to treat a simple cold and where 10 women die every day because of childbirth related complications, health workers like my uncle and his 42 co-workers are the only HOPE and lifeline for the poor people.
Now I ask our government, Is it a CRIME to heal the sick poor people? Is it a crime to take on the responsibility of the failure of this government to provide basic medical care to its people? Is it a crime to be motivated by your faith to follow the example of Jesus Christ to heal and serve the people?
The illegal arrest of Dr. Alexis Montes and 42 health workers is a miscarriage of justice! It is an act of blatant disregard of human rights and the ideals of any democratic society! The arrogance of the Military establishment indicates a direct approval of the president Gloria Macapagal-Arroyo of these actions!
If the Philippine government will not act to stop the Military's wanton disregard of people's rights and welfare and continue to commit crimes against the people, WE WILL ACT!
Justice to all the victims of human rights violation of the Gloria Arroyo Regime!
Free the 43 Health workers Now!
BRIEF PROFILE OF DR. ALEXIS MONTES:

He was born on January 29, 1948 at the Philippine General Hospital Manila
Father: Atty. Valentin G. Montes (deceased)
Mother: Amparo Solinap-Montes (deceased)
Wife: Evelyn Tayag-Reyes from San Simon Pampanga
Children: Dr. Conor Jan, 30 years old; Vencer (dentist), 28; Allyn, 24; Christian, 22

Elementary: Silliman University Elementary School, 1960
High School: Silliman University High School, 1963
Pre Med: Silliman University, 1971
Medicine: University of the East Ramon Magsaysay Medical Center, 1975
Philippine Board Exam: 1976

PRC Board Examination (Medicine): 81% grade average
Finished Medicine: 4years
Excelled in Opthalmology

Work Experience:
1. Martinez Memorial Hospital- 1976
2. Oil Rig Physician- 1981
3. Calamba Medical Center- 1982
4. Capitol Medical Center- 1982 – 1986
5. Private Practice
6. United of Church of Christ in the Philippines- 1986
7. Medical Missions
8. Alpha Sigma Phi Fraternity
9. Church Network (Presbyterian Church, USA, etc.)
10. Director, Health projects of UCCP Church Related Projects – 1986 to 2006
11. Coordinator Community Ministries Program, VCMC 2005-2008

Certificates:
1. Rotating Intern, Mary Johnston Hospital- 1975-1976
2. Rural Health Practice Program, Department of Health- 1977
3. Hydrogen Sulfide Safety and Survival, National Safety Engineering- 1982
4. Post-graduate training course, MCU-FDT Medical Foundation Hospital, 1986
6. Post-grad course, Cancer of the Esophagus, Stomach, Liver and Biliary Tract, 1983
Surviving descendant graces the 8ID's wreath laying ceremony in honor of Gen. Vicente Lukban
By DPAO, 8th Infantry Division, PA
February 14, 2010
CAMP LUKBAN, Catbalogan City, Samar – The Army's 8th Infantry Division's wreath laying ceremony in honor of Gen. Vicente Lukban Thursday morning was charmed by the surviving descendant Atty. Hubert Lucban who traveled all the way from Pambujan, Northern Samar just to add meaning with the celebration.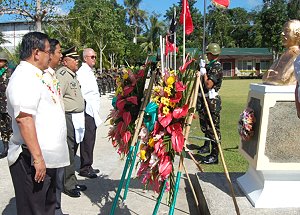 (L-R) Mayor Coefredo Uy of Catbalogan City, Gen. Lukban's 6th generation descendant Atty. Hubert Lucban from Pambuhan, NSamar, 8ID's Assistant Division Commander for Administration Col. Alexander Cabales and a representative from Mount Huraw Mason lodge lay wreath during the ceremony conducted by the 8ID in honor of late Gen. Vicente Lukban, February 11.
Atty. Lucban a practicing lawyer and the Clerk of Court in Lao-ang Municipal Trial Court traced his origin by citing some of the historical background of his great great grand father Gen. Lukban and gave his stories on why and how the Lucban is spelled either "c" or "k" in it.
He also mentioned in his eloquent speech how his great grand father became well known and greatest as he led the revolutionary in Samar and Leyte against the Americans to include one of the victorious feats of the Filipino-American war, the "Balangiga Massacre".
Atty. Lucban conveyed his great appreciation to the men and women of the said division for giving due recognition and made the death of Gen. Lukban very significant not just because it carries the name of the late general but because of its contribution to the liberty and freedom of the province.
"I would like also to extend my sincerest gratitude for the heroism being demonstrated by the 8th Infantry Division in performing their mission because in doing so, it's just doing the same thing as the late Gen. Lukban did for this province", he uttered.
The ceremony was also attended by all officers, enlisted men and women and civilian employees of the Division, members of the Mason Mount Huraw Lodge, Mayor Coefredo Uy of Catbalogan City and Barangay officials where the Division is nesting.
In his message read by Col. Alexander Cabales, the Assistant Division Commander of Administration, Gen. Arthur I. Tabaquero stressed out the heroism of the soldiers before that still being demonstrated by the present breed of soldiers. Gen. Tabaquero attended the internal security operations (ISO) of Bohol province to Provincial Peace and Order Council (PPOC) during the said ceremony.
Gen. Tabaquero also encouraged his men to maintain the high standard of discipline and professionalism as they perform their mission particularly in the performance of their traditional role.
"By doing what we ought to do and by professing the spirit of duty and service, we can follow and revive the heroism that once showed by Gen. Lukban when he saw the first light in Samar and Leyte", Gen. Tabaquero added.
Meanwhile, the said ceremony was the subsequent activity of the command following the "Unity fun run for honest, orderly and peaceful elections 2010" early morning at 5 which was hosted by the PNP.
Said fun run categorized into 3K, 1K and 500 meter run which was participated by more than 800 individuals that came from 8ID, PNP, clergies, peoples' organizations, students, media and ROTC cadets were headed by the 8ID's Assistant Division Commander and SPPO Provincial Director.
Signing of "Unity Manifesto" of the different participating agency culminated the said ceremony.
Enrile cites Senate accomplishments
Press Release
By Office of Sen. Juan Ponce Enrile
February 4, 2010
PASAY CITY – Nine crucial legislation awaiting approval of Malacanang have been approved by the Senate to improve the plight of senior citizens, disabled persons and migrant workers, and address concerns on health, economy and investment as Congress adjourned its session Wednesday for the official campaign starting this weekend.
Senate President Juan Ponce Enrile reported yesterday that aside from passing these counterpart measures, the upper chamber also ratified six bicameral conference committee reports, passed on third reading 10 proposals and approved on second reading four other bills during the three-week session that started on January 18.
"With urgency and commitment, we have approved legislation dealing with the needs of our senior citizens and disabled persons, as well as the nation's concern for the environment, media and telecommunications, economics, investments, civil service and transparency in government," Enrile told the Kapihan sa Senado.
The veteran lawmaker also took pride in adopting the findings and recommendations of the Senate Blue Ribbon Committee reports on the P728 million fertilizer fund scam involving President Gloria Arroyo's former agriculture secretary Jocelyn "Joc-Joc" Bolante, who is now running for governor in Capiz under the Nacionalista Party of Senator Manuel Villar, "to inform the people about the excesses in government."
The multi-million fund was intended to help farmers but was diverted to finance Arroyo's allies to boost her political campaign.
Enrile, however, lamented the failure of the Senate to act on a committee report which sought to censure Villar for his unethical conduct after he failed to declare ownership of a vast swath of land that was acquired by the government for a massive road extension project, after senators allied to Villar boycotted the last day of session.
The committee also asked Villar to return P6.23 billion to the public coffers, P141.1 million of which represented the overprice done on his properties.
"Sadly, the awaited vote on Committee Report No. 780 on the ethics case against Senator Villar, which I sponsored and which was undergoing the period of interpellation, did not materialize," Enrile said. "As you very well know, there was no quorum in yesterday's session. With the absence of the Minority, the deliberations were aborted."
The important legislation approved by the Senate and is now up for Arroyo's signature are the Expanded Senior Citizen's Act that will exempt the elderly from the 12 percent value added tax, the Legal Assistance to the Poor Act, creation of the Mindanao Economic Development Authority, Amending the Magna Carta for Disabled Persons and Business Recovery and Insolvency Act, among others.
The senators also acted on the bicameral conference committee reports on the Philippine Immigration Act, Freedom Information Act, the Philippine Disaster Risk Management, the Anti-Cable Television and Cable Internet Services Pilferage, and the Organic Agriculture Act.
Enrile likewise pointed out the approval on second reading of the resolutions extending the term of the Congressional Commission on Science and Technology, and Engineering (COMSTE), as well as the bills establishing the Philippine Tax Academy and Special Education Centers, and the proposal prohibiting racial discrimination against persons on account of ethnic origin and religious beliefs.
Two other key bills passed on third reading by the Senate are the proposals to grant civil service eligibility, under certain conditions, to casual and contractual government employees who have rendered five years of efficient service, and provide payment of survivorship benefits to the surviving legitimate spouse of a deceased retire member of the Commission on Audit, Civil Service Commission, Commission on Elections and the Ombudsman.
Overall, the Senate has passed a total of 34 crucial national bills on third and second readings during its three-week session. It has also acted on either third or second readings on 58 House bills establishing national high schools and hospitals and converting roads, among others.
Since it began sessions in July 2009, the Senate has acted on 496 House bills, 289 of which have been enacted into law. Approved by the Senate and the House are 131 House bills, which are awaiting the approval by the President.
The Senate and the House will reconvene on May 31.
Pia: Bicam report on VAT exemption for senior citizens hurdles Senate, House
By Office of Sen. Pia S. Cayetano
January 28, 2010
PASAY CITY – Senator Pia S. Cayetano on Thursday hailed the bicameral approval of the proposed "Expanded Senior Citizens Act of 2010," the measure which seeks to provide relief to the elderly by exempting them from the 12-percent value added tax (VAT) in their purchase of medicines and other services.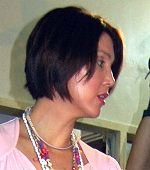 Senator Pia Cayetano
The bicameral conference committee report on the disagreeing provisions of SB No.3561 and HB No.5987 was ratified late afternoon on Wednesday by both the Senate and the House of Representatives.
The measure is expected to be transmitted to Malacañang next week for the President's signature.
Senators had earlier agreed for a ceasefire on fiery debates over the controversial C5 report to focus on important legislation pending before the chamber.
Cayetano, Chairperson of the Senate Committee on Social Justice and principal sponsor of the measure, thanked her colleagues for choosing to prioritize ratification of the proposal.
Reacting to opinions that the bill will result in foregone revenues for the government, Cayetano described the lost income as a "loss that is well-lost."
She explained that whatever losses the government absorbs would eventually result in increased purchasing power for our senior citizens, which will have a positive impact on the economy in general.
During the public hearings on the measure, the Department of Finance had estimated that foregone revenues from VAT and income taxes for the full effective discount of 20 percent would amount to P54.4 million in the first year of implementation.
But Cayetano stressed: "The limitation with the DOF's projections is that it fails to reflect the overall benefits to society, and the government itself, of better healthcare and increased economic activity because the capacity of our senior citizens to purchase medicines and other services will be improved."
Some salient features of the Expanded Senior Citizens Act:
Tax exemption: Purchases made by senior citizens will be exempted from the 12% VAT such that the senior citizens shall enjoy their full 20% discount. Coverage: medicines, influenza and pneumococcal vaccines, and other medical supplies, accessories and equipment; professional fees of attending physicians and licensed professional health workers, medical and dental services, and diagnostic and laboratory fees; actual fare for land transportation travel in public utility vehicles; actual transportation fare for domestic and air transport services and sea shipping vessels; utilization of services in hotels and similar lodging establishments; admission fees in theaters, cinema houses, concert halls; funeral and burial services for the death of senior citizens.
- Sharing of burden: The Department of Health shall establish guidelines and mechanisms of compulsory rebates in the sharing of burden of discounts among retailers, manufacturers and distributors, taking into consideration their respective margins.
Health benefits.
- Free medical and dental services, diagnostic and laboratory fees in all government facilities;
- All indigent senior citizens shall be covered by the National Health Insurance Program of Philhealth; and
- The DOH shall administer free vaccination against the influenza virus and pneumococcal disease for indigent senior citizen patients.
Other privileges. The grant of a minimum of five percent (5%) discount relative to the monthly utilization of water and electricity supplied by public utilities: Provided, That the individual meters for the foregoing utilities are registered in the name of the senior citizen residing residing therein: Provided, further, That the monthly consumption does not exceed one hundred kilowatt hours (100 kWh) of electricity and thirty cubic meters (30 m³) of water. Provided, furthermore that the privilege is granted per household regardless of the number of senior citizens residing therein.
Penalties. Any person who violates any provision of this Act shall suffer the following penalties:
- For the first violation, imprisonment of not less than two years but not more than six years and a fine of not less than P50,000 but not exceeding P100,000;
- For any subsequent violation, imprisonment of not less than two years but not more than six years and a fine not less than P100,000 but not exceeding P200,000;
- Any person who abuses the privileges herein shall be punished with imprisonment of not less than six months and a fine of not less than P50,000 but not more than P100,000; and
- If the offender is a corporation, partnership, organization or any similar entity, the officials thereof directly involved such as the President, General Manager, managing partner or such other officer charged with the management of the business affairs shall be liable therefor.
8ID gives blood on Christmas day
Press Release
By Office of the Division Public Affairs, 8ID PA
December 18, 2009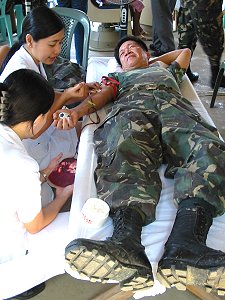 CAMP LUKBAN, Catbalogan, Samar – The Army's 8th Infantry (Stormtroopers) Division pre-celebrated Christmas by giving blood instead of gift in a bloodletting activity partnered with the Philippine National Red Cross (PNCR) Region 8 in the morning of December 18, 2009 in furtherance of the 74th Anniversary celebration of the Armed Forces of the Philippines in December 24.
The PNRC which was led by Ms. Desiree Pamonag has their usual goal of filling 150 bags of blood, each having a capacity of 500cc of blood. Unlike in any other blood letting activities wherein the toughest part is to find those who are willing to donate their blood, Pamonag proudly said that "not in 8ID". "8ID has been our very good partner in this kind of endeavor", she added.
This endeavor, which is simultaneously conducted by the different units of the AFP is focused on saving lives thru sharing of blood from the soldiers. As the agency who primed to do the said cause, the activity was also conducted to replenish the stocks of the PNRC's blood bank to assure that blood will be available in Samar and Leyte for the next three (3) months should emergency arise.
Lt. Col. Armand Rico, the 8ID's spokesman said, "Christmas is the most meaningful ever compared to other holidays we had celebrated. Not because gifts or presents, new clothes for children, bountiful foods, carols, parties and many more are expected to enjoy, but because this day commemorates the fulfillment of prophecy that a boy will be born from the grace of God who will save us from all of our sins through his own blood"
"Over-all, this simple act of charity and generosity is what makes us truly human and for the human", Rico added.