ICRC gives water-supply kits and trainings to Philippine Red Cross to enhance disaster response
Press Release
By ICRC
September 14, 2010
MANILA – Four water-supply kits for emergencies were recently donated by the International Committee of the Red Cross (ICRC) to the Philippine Red Cross (PRC), as part of continuing efforts to build the national society's capacity to respond to natural disasters.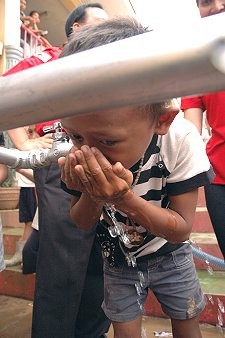 A child, one of thousands forced to flee floods brought by tropical storm Ondoy, drinks clean water supplied by ICRC and PRC to evacuation sites in Marikina City. The ICRC donated water-supply kits and provided training to the PRC so they can better respond to such disasters.
The four "water-supply kits for emergency," which would be prepositioned in four areas at high risk for climate disasters, were turned over to the PRC on Sept. 7 and will be received by four PRC chapters in Luzon and Visayas this week.
Each kit can purify raw water into safe drinking water – supplying liters for up to 10,000 people, said Andres Casal, the ICRC's water and habitat coordinator. A water-supply set includes a pump, water treatment unit, storage bladders and tap stands for distribution.
"One of the first problems you have to address during a disaster is access to drinking water because in most cases, the structures attached to drinking water are damaged. The high concentrations of people in one place, also leads to degradation of sanitary conditions, so you have to ensure water of good quality and quantity," said Casal.
The Philippines, he pointed out, was extremely prone to disasters especially now that it is experiencing the rainy season.
"With the kits in place, trained PRC volunteers would be able to install them in as short as half a day. These kits will be stored by PRC chapters in Dagupan, Legazpi, Roxas and Tacloban cities until such time that it is needed by the population," he said, adding that water-supply kits have been prepositioned in Mindanao.
Supplying clean water, added Casal, also prevents the outbreak of water-borne diseases like cholera.
He said the donation, along with this year's training of around 70 PRC volunteers on water and sanitation, were aimed at improving disaster response since the experience of Tropical Storm Ondoy in 2009.
The ICRC had supported the PRC's efforts to distribute clean drinking water to families affected by the massive flooding caused by Ondoy. In flooded jails, the ICRC worked with the Bureau of Jail Management and Penology to restore water supply and disinfect the water.
The trainings conducted by ICRC engineers will ensure that identified PRC volunteers would know how to install, operate and maintain water and sanitation facilities during emergency situations.
"We taught them techniques on purifying water to make it proper for human consumption, building latrines in emergency situations, and also hygiene promotion. The trainings came before the donation because people who receive the kits must know how to use them," said Casal.
Over a hundred volunteers have undergone water and sanitation training since 2006, according to Iris Von Birgelen, the ICRC delegate in charge of cooperation with PRC.
"We do a lot of preparedness activities as part of our capacity-building for the PRC, and our long-term commitment to support the national society. We are not only there when things have happened. There's a whole lot of work beforehand to support PRC in further enhancing their capacity to respond to disaster," she said.
Though the ICRC's task consists mainly in serving people affected by armed conflict, Von Birgelen stressed that the organization is prepared to support and work with the PRC during major natural disasters, particularly in water and sanitation and restoring family links.
DENR and partners test run Cuatro Islas Adventure Tour
By PURIFICACION S. DALOOS
September 10, 2010
TACLOBAN CITY – In a bid to promote ecotourism in the Eastern Visayas region, an island hopping tour package for the Cuatro Islas Protected Landscape and Seascape has recently been pilot tested.
The test run was jointly undertaken by the Department of Environment and Natural Resources, Department of Tourism, Regional Ecotourism Council, the local government units of Hindang and Inopacan, Leyte, and the Protected Area Management Board (PAMB) of Cuatro Islas.
The package offers a one day tour around Himokilan Island within the jurisdiction of Hindang, Leyte and the islands of Mahaba, Apid and Digyo of Inopacan which comprises the Cuatro Islas Protected Landscape and Seascape.
Jump off point of the tour is a short trip to Bontoc Cave in Hindang which offers a unique spelunking experience amidst a natural backdrop of flora and fauna. Next stop would be Himokilan Island, approximately an hour's pump boat travel from the port of Hindang. The island is haven to the nut cracking coconut crabs locally known as "tatus". Visitors may want to go spelunking and bat watching at Tahod Cave or explore the island through a nature trek.
Mahaba Island offers crystal clear waters teeming with live corals and other marine life which makes for an exciting snorkeling or boating adventure. During high tide, treat yourself to a Pasayan (shrimp) Foot Spa, with the gentle nibbling of red shrimps to soothe and massage your tired feet. Meanwhile, on Apid Island, locals will show off their skills at mat weaving using pandan leaves which is an abundant resource in the island. Mat weaving is likewise considered as their main livelihood.
The Cuatro Islas Island Hopping Tour is capped with relaxation activities at Digyo Island, the smallest of the Cuatro Islas. Here, the package tour offers buko refreshment upon arrival of tourists and serenade by local residents. For a fee, one can avail of massage services or rest on hammocks while enjoying the fresh sea breeze. Swimming and sunbathing along the fine white beach sands of Digyo Island are irresistible treats which can be had for free.
DENR Regional Executive Director and PAMB Chair Primitivo C. Galinato, Jr. reveals that for a group of twelve (12) persons, the one day tour of Cuatro Islas costs roughly PhP1,200.00 per person, inclusive of lunch and two (2) snacks.
"While the test run proved to be successful, there is still a lot of room for improvement to really make the Cuatro Islas Island Hopping Tour a one-of-a-kind tourism experience not only in region 8 but the country as well," RED/PAMB Chair Galinato says.
Cuatro Islas Protected Landscape and Seascape is an identified emerging ecotourism destination in the region. The Island Hopping Tour Package has been developed as part of the Ecotourism Business Plan for CIPLS in support to the implementation of Executive Order No. 111 signed by then President Joseph Estrada providing "Guidelines for Ecotourism Development in the Philippines."
The test run was intended to assess and evaluate the viability of the Island Hopping Adventure for the CIPLS and to make the necessary improvements after its evaluation.
Even before the test run of the Island Hopping Tour Package, Cuatro Islas is already frequented by both local and foreign tourists. It boasts of white sands and beaches which are at par or even surpass the beauty of Boracay's beaches in the Philippines. Its pristine, crystal clear waters, abundant live corals and a bounty of fresh catch of fishes and other crustaceans may be more than enough to entice picnickers or those who simply want to bask in nature's beauty. This is on top of the warm hospitality offered by the locals in the community.
A declared Protected Area under the National Integrated Protected Areas System (NIPAS), the Cuatro Islas is within the control and administration of the Department of Environment and Natural Resources (DENR). It is managed on-site by a Protected Area Superintendent (PASu) and governed by the PAMB under the National Integrated Protected Areas System in accordance with Republic Act 7586 or the NIPAS Act of 1992.
Leyteña shines at Beverly Hills
By Philippine Information Agency (PIA 8)
September 9, 2010
TACLOBAN CITY – It is always heartwarming to receive news about Filipinos abroad doing well, upholding the Filipino mark as competent global employees. Here's one from a good friend Carol Montilla.
Leyte-born Arlene Montilla Dorffi Vargas captured the eyes of Beverly Hills, California and the Filipino community at 2:30 p.m., California time on September 1 when the Beverly Hills City Mayor Jimmy Delshad awarded the Leyteña as one of the two outstanding city employees with a plaque for their great customer service attitude. Terry Wagner of Los Angeles was the other awardee.
This is the first award handed out by the city as it launched the "Friendly City Awards" to recognize and honor those individuals who have not only "provided great customer service, but have done so with a warm and friendly attitude."
Mayor Delshad said the Friendly City Awards is part of the Smart City initiatives to show that "being friendlly can make an experience memorable and special – and make people want to return. What I have learned during my years as a businessman and in community service is, after a while, people forget what you said or did, but they never forget how you made them feel," he stressed.
Arlene, as an employee "has always been there for us," the Mayor said.
For her part, Arlene said she truly loves working for the City of Beverly Hills, having been with the city for over ten years. She migrated to the United States after a short stint at Holy Infant Academy (now College) in Tacloban and St. Theresa's College in Manila.
Arlene is the first of four children born to Lolita Montilla and Robert Dorffi at Bethany Hospital in Tacloban in the 50's.
To watch her receive the award on the internet, go to www.beverlyhills.org – then on the bottom of screen, click the icon "videos on demand," click on City Council then click on City Council Study Session 2:30 or the Archives section.
Congratulations Ms. Arlene. May your tribe increase. Congratulations are also in order for her family, her aunties, uncles and relatives both here and in the United States.
Eastern Visayas coco industry plan completed, elates An Waray
By CHITO DELA TORRE
September 4, 2010
TACLOBAN CITY – AN WARAY Party-List first representative Florencio "Bem" Noel has assured the passage of the Philippine Coconut Industry Development Act in the current Fifthteenth Congress but underscored the pressing need for all coconut industry stakeholders in Eastern Visayas to translate to action the Regional Coconut Industry Development Plan (RCIDP) that was completed during the September 2-3 Third Regional Coco Summit at Hotel Alejandro here. Representative Noel declared: "Now, we have a plan. The solutions – the technologies – are available. The next important thing is not only to 'walk the talk', but more importantly is, as they would say, to 'work the talk'."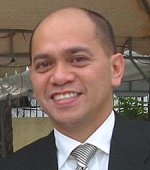 Congressman Bem Noel
The youthful AN WARAY congressman who is serving his third term as party-list representative, was the summit's closing program speaker at yesterday's end of the convergence technology sharing and dialogue of coconut farmers, officials of Philippine Coconut Authority, Department of Agriculture, Department of Agrarian Reform, Department of Science and Technology, and other important industry players, such as the GTZ, Kaisampalad Inc., and Department of Industry.
For Congressman Noel, even as they had discussed for two days "how pivotal the role of technology is" in the development of the entire coconut industry, "we must not forget that there are solutions that can be achieved only by working together".
"Our coconut farmers cannot do it alone, nor can traders or processors do it by themselves. Not even PCA, AN WARAY, GTZ or any of our partners can do by their own efforts."
Noting that the Eastern Visayas region's common journey towards revitalizing its local coconut industry is now on its third year, Rep. Noel took note of the fact that while the task of development the industry's potentials did not turn out to be as easy as first thought out to be, many of the current summit participants, including the industry's partners, have "continued to patiently and relentlessly do their share in crafting lasting solutions to the decade-old problems that confront the coconut industry".
He said that on September 2, he was told that among the 17 regions in the country, only Eastern Visayas and the Davao region have an annual gathering of the different stakeholders, but "only the coconut industry players of Eastern Visayas have reached the level of drafting the Regional Coconut Industry Development plan – a clear blueprint of what we want to achieve and what we will do to make it happen".
"Without a plan in mind, even our best efforts can lead us nowhere. But with this roadmap at hand, then I am pretty sure that together we can meet our goals. Thanks to you, we have this coconut development plan, which I would consider to be the most significant output of our yearly Coconut Summits. Congratulations to all of you!"
He said it is important to underscore that whatever gains achieved in the summit is not simply because there are industry enablers like PCA, GTZ, DA, DAR, Kaisampalad, DTI and DOST by whose efforts, gathering like this happen. "Whatever progress the annual Coconut Summit has attained is not even simply because there is AN WARAY Party-List in Eastern Visayas to sponsor it. Our best efforts and good intentions alone would not amount to the success that we have altogether achieved."
He pointed out: "The truth of the matter is that whatever we have accomplished together – including the growing awareness and stronger advocacy for the betterment of the coconut industry – is because the local coconut industry in Eastern Visayas has players like you – farmers who would want to break away from mediocrity and aspire for higher productivity; traders who do not only content themselves with simply doing business but actually help empower our rural communities; and, millers and processors who pay it forward and are always ready to give back to building of better and more progressive communities as a form of social responsibility. The success of the coconut industry is primarily your achievement."
Rep. Noel was joined at the executive table yesterday by An Waray second party-list representative Neil Benedict Montejo who gave the welcome remarks at the summit's opening on Sept. 2.
An Waray staff and personnel provided the secretariat to the summit that was also able to open the eyes of the participants to the vast opportunities of increasing the coco farmers' income via technologies that were introduced, presented and demonstrated during the two days forum.
'Letter of apology' writer hails from Samar
By NINFA B. QUIRANTE
September 1, 2010
CATBALOGAN, Samar – Reigno Jose Dilao wrote his 'Letter of Apoloy' on the vesper night of the Catbalogan town fiesta, while all households were teeming with guests, dining, wining and dancing.

Reigno Jose Dilao
Some guests though were glued to their TV sets, monitoring updates on the 'hostage crisis' unfolding at the Quirino Grandstand in Luneta, Manila.
The "hostage crisis" involves a dismissed policeman Rolando Mendoza to hostage a bus full of Hongkong tourists, demanded a review of his case, but due to some circumstances, the negotiations turned sour and brought his life and some five other tourists to an end in all gore.
What drove this young lad to write?
"I was in the internet, as won't every teen-ager and among the message exchanges was the 'hostage crisis," Reign told this writer.
As the night wore on and the hostage crisis left some casualties, Reign or Daboy to family and friends started to write his letter.
For Daboy, it was just one of those things, blogging, pouring out his emotions to a one and thousand concerns, after an hour of seriously considering his 'hurt emotions' by the effects the crisis may bring to the tourism industry in his beloved country, he posted his 'letter of apology' to tumbler.
He then forgot about it as he went his way assisting his parents entertain their guests, after all it was the Feast Day of San Bartolome, Catbalogan's patron saint.
The letter is printed here:
August 23, 2010
"A letter from a teenage Filipino to the WHOLE WORLD"
As you are reading this letter, I bet that you have seen/heard about what happened earlier in our country.
Tourists were hostages of a policeman here, Rolando Mendoza. After a few hours of the horrible crime, some of the victims were dead including the hostage-taker.
I wrote this letter not just to apologize but also to let everyone know that we Filipinos are not all like Mendoza. We are loving and good-hearted people.
For so many years, our country has been standing tall and surpassing every dilemma; be it small or big. Years ago (back when I wasn't born yet), you have watched us fight for what we think is right. We fought for the democracy of our nation…The EDSA revolution. But that's just one out of many.
Second. We Filipinos have been serving other countries for our families and we treat you as our own as well. With all due respect, I thank you all for giving us the trust through the years. For helping us to become what we are now.
The Philippines is more than just a group of islands. We are a nation of strong and remarkable people. A country of beauty and love known to be hospitable and well-valued. I humbly apologize for what happened tonight. No one in this world would want something like that to happen for life should be valued.
I politely ask the attention of the world. Please do not judge and mistreat us just because of what happened tonight. I have been searching the net and found terrible things. Hong Kong advices to avoid travels here, China and HK bans Filipinos and that Philippines is the worst place to go.
I can't blame you for what you have decided but I hope that you could understand. Our country is now in a sea of problems. And I know for sure that we helped you in a way or another. Let peace and understanding reign this time.
I know that this letter will just be trash but I wish that you would understand. On behalf of the Philippine population…WE ARE SORRY.
As a song puts it…
And I believe that in my life I will see an end to hopelessness, giving-up and suffering. And we all stand together this one time then no one will get left behind. Stand up for life. STAND UP FOR LOVE.
Sincerely yours,
Reigno Jose Dilao
Catbalogan City, Samar
(End of Letter)
Little did Daboy know, that the whole world rave about his letter.
The following day, the fiesta, his Mom, Socorro was all agog entertaining visitors and looked for him for help, Daboy was upstairs talking to someone.
"He sounded serious and even signalled me to stop," Mom Socorro who works at Land Bank of the Philippines - Catbalogan branch told PIA-Samar.
As Daboy put his phone down, he told the unbelieving mom his 'story'. "Medyo overwhelmed ako Ma'am," the proud Mama told PIA over the phone.
Dad Ilde who also works at LBP-Catbalogan also felt proud about what his son did.
"You would say, Ma'am that my countenance may not beam the pride, but deep inside I feel so proud," he was almost in tears.
Principal Tony Caveiro of Samar National School said he could not remember the number of reporters looking for him, but when he learned why, he could not help but feel the pride for this young boy whom everybody thinks is just an ordinary and typical high school senior.
His teachers from the school said that Daboy is a good student and writes good essays, but they all agree with Ms. Loretta Basa, the Filipino department head – that this was the best, after all, he is the school paper associate editor.
After all, the letter came when no one in his country would ever think of such a feat moreso in his town in Catbalogan as all were busy with the fiesta and all its attendant festivities.
Daboy, is an ordinary student, who even claims that as a leader he lacks the influence to mobilize his peers to action, made waves not only in Asia but in the cyberspace where his letter was posted many times and got some five thousand views (as of this writing).
So many interviews has left this young man preoccupied ever since the letter broke into cyberspace, there is Pia Hontiveros of ANC, QTV, Radio Veritas and others and this bubbly 15 year-old lad accommodates them all.
The incidence is slowly sinking in and he himself could not believe it happened.
Before trudging back to his classes, after the interview, Daboy shared his plan to enroll in communications arts or mass communication and hones his writing some more.
The boy hailed by some as a hero has only one fervent wish: That Hongkong and the world truly forgive, after all, he said in his letter "Let peace and understanding reign this time". (PIA-Samar)
Cabueños' arrest was mandated by law justified Hubilla
By GINA DEAN-RAGUDO, Samar News.com
August 24, 2010
CALBAYOG CITY – I would presume that the Honorable Mayor realized that there was nothing personal in the arrest. It was without discretion and purely work related, says Samar PNP Provincial Director Pancho Adelberto Hubilla in an interview conducted by Samarnews.com the day after the arrest of Gandara Mayor Antonieto Cabueños.
Hubilla underscored the mandate of the organization in enforcing the law – that it is without fear or fervor. He also said that the reason why Cabueños was elected as mayor in order to serve his constituents, same obligation with Gandara Police who initiated in implementing the warrant of arrest issued by Judge Manuel F. Torrevillas of RTC Allen Branch 23 in coordination with the Sta. Margarita Police led by PSInsp. Angelo Pueblos who was manning the area in the afternoon of August 18, 2010.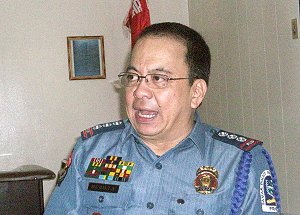 Samar Police director Pancho Adelberto Hubilla (photo by Gina Dean-Ragudo)
He admitted that in coordination of all municipal police offices in Samar, they really hovered in the area within 4 days upon receipt of the arrest order.
Cabueños was arrested last February 22, 2010 by police check point at Lavezares, Northern Samar in violation of the Omnibus Election Code due to unauthorized carrying of firearms and unauthorized security which involves 3 Gandara PNP members namely PO3 Jonathan Rama, PO3 Edgar Delector and PO2 Perfecto Merilles.
Sec 32 of Republic Act 7166 states that "during election period, no person shall bear, carry or transport firearms or other deadly weapons in public places, including any building, street, park, private vehicle or public conveyance, even if licensed to possess or carry the same, unless authorized in writing by the Commission. The issuance of firearms license shall be suspended during the election period."
COMELEC Resolution also provides "the rules and regulations on the bearing, carrying or transporting of firearms or other deadly weapons; and employment, availment or engagement of the services of security personnel or body guards during the election period for May 10, 2010 National or Local Elections."
By virtue of a release order issued by Calbayog RTC Judge Reynaldo B. Clemens, he was temporarily freed and allowed to go home.
The PNP escorts implicated in the same case were also apprehended on that day while reassigned at Northern Samar Police Office, and now under the custody of the Regional Police Office 8 after posting bail. They would be presented before the court along with Gandara Mayor Cabueños for the hearing of the case.
2 hollow grave sites in Gandara
2 hollow grave sites were allegedly discovered by Gandara PNP forces lately. This was in addition to the previous 6 excavated by local authorities whose remains were retrieved; autopsy and other forensic examinations were already conducted.
Dir. Hubilla revealed that this has been a welcome development in the area. The police are gaining back the trust and confidence of the people. There are volunteer witnesses who are willing to testify before the court. In fact, complaint-affidavits of both the aggrieved party and its respective witnesses are undergoing review.
"Witnesses can identify the perpetrators as well as the victims, the grave sites and where the crimes were committed. So I would say, they are competent witnesses," says Hubilla.
He accounted the 5 remains exhumed by PNP forces such as Benedicto Padac (August 11, 2009 crime committed), Benigno Oreta (November 29, 2008), Anthony Aregon (December 1, 2006), Luis Docong (December 28, 2005) and Allan Torres.
There are 2-3 target grave sites which are still subject for excavation.
Since the investigation is on the verge of evaluation, the PNP provincial director has yet to disclose names of suspect/s implicated in the unsolved killings of said municipality.
Because of the trend… in a very, very short time magiging kalmado na ang Gandara, assured Hubilla.
Selection, recommendation of PNP Chief outside LCE control
Hubilla believed that lawmakers of PNoy's administration are mandated to study the proposed autonomy of the PNP in the selection and choice of chief of police in all cities and municipalities.
He is however amenable to the present set-up that the choice of COP be still subject to the recommendations of the local chief executive.
"Sa tingin ko naman, kahit na ganito ang sistema pwede naman pagandahin. So long naklaro ang gusto nating mangyari. Wala naming masama kung mamili ang LCE kasi in the first place, siya ang responsible sa area niya. Siya ang elected ng tao and he represents the sentiments of the constituents. So dapat suportahan natin ang LCE", he justified.
When asked about the support of Gandara LCE extended to the PNP, he candidly disclosed that it ceased to continue (electric and water allowance) few months ago and the provincial office has included under the MOOE.
His office has organic resources provided to all units, and the support of the local government unit is just an "add-on".
"I want to underscore that the local government is there for one reason only – to serve the constituency. The police is there for the same purpose. I cannot find any sane reason kung bakit pag nag tratrabaho ang pulis ng tama…magagalit ang local government. So, this must be something wrong", Hubilla said.