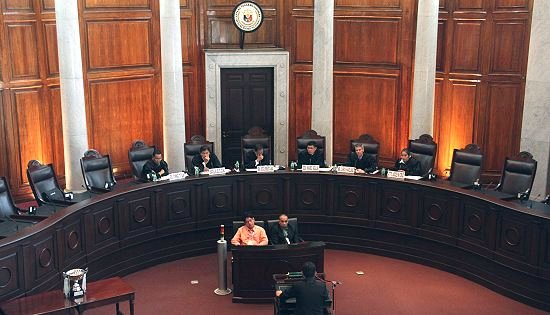 A mooter argues his case during the final round of the 2012 National Moot Court Competition, the only moot court competition being held at the Supreme Court's en banc session hall. (ICRC / S. Velasco)
University of St. La Salle regains moot court cup in 2012 finals
By ICRC
September 7, 2012
MANILA – It was worth the wait for University of St. La Salle to regain the championship cup in the 2012 National Moot Court Competition on International Humanitarian Law.
USLS-Bacolod faced Ateneo de Manila Law School in the finals held today at the Supreme Court en banc session hall but they were hailed the winner of the annual competition that aims to promote knowledge and appreciation of international humanitarian law (IHL) among Philippine law students. USLS and Ateneo argued over the fictional case of Colonel Jones who was facing charges in the International Criminal Court for alleged violations of IHL, also known as the law of armed conflict.
"All the efforts that we put into the preparation became worth it when we finally got here, because the last time our school team won was five years ago. In the succeeding years, we worked hard but we didn't make it. Finally, this year we reached the (finals at the) Supreme Court and won the cup," said Nadine Abenoja of USLS, who won best mooter for the final round.
As the winning team, the USLS students will represent the Philippines in the Asia-Pacific regional finals in Hong Kong in 2013.
Competition was extremely fierce during the final round, which was judged by an esteemed panel composed of Supreme Court Associate Justice Roberto Abad, Dr. Mario Aguja of Mindanao State University-General Santos City, Philippine Judicial Academy Chancellor Adolfo Azcuna, Brigadier General Domingo Tutaan Jr., chief of the Armed Forces of the Philippines-Human Rights Office, ICRC Regional Legal Advisor for Southeast Asia Christopher Harland, and De La Salle University School of Law Vice Dean Jocelyn Cruz.
"It's been a very positive competition. I think it's pretty clear that mooting, in general, suits universities in the Philippines very well," said Harland, a veteran judge of moot court competitions. "The presence of IHL in curricula, the discussion of this law in the media, and the commemoration of IHL month annually in August itself, show that this competition finds a very good home in the Philippines."
The runner-up team from Ateneo Law School did not go emptyhanded, winning both awards for best memorials, which contain prepared written arguments from the perspective of the prosecution and of the defense.
Pauline Gairanod from the University of the Philippines College of Law school team won the Justice Ines Luciano Best Mooter Award as the highest-ranking oralist in the elimination rounds. This award, given for the first time, pays tribute to the Court of Appeals associate justice and chairperson of the IHL Committee of the Philippine Red Cross who passed away last year. The UP team also won the role-play challenge, during which teams acted in roles in a simulation aimed at showcasing practical applications of the body of law that seeks to limit, for humanitarian reasons, the effects of war.
Students from 10 law schools took part in this year's event organized by the International Committee of the Red Cross (ICRC), the Philippine Red Cross (PRC), and the Supreme Court of the Philippines. This year's competition was hosted by De La Salle University Manila.
Other participants came from Far Eastern University-Manila, San Beda College of Law-Manila, Southwestern University, Saint Louis University, University of Batangas, University of the Cordilleras, and Cor Jesu College Law School.
The moot court contest began in 2005 with only six participating schools but it is now considered a prestigious event for law students, being the only moot court competition that holds its finals in the en banc session hall of the Supreme Court. This year's competition was hosted by De La Salle University in Manila.
The Tulawie case: Activist's wife talks about how his arrest changed her and her children
By Asian Human Rights Commission
September 6, 2012
HONG KONG – Mussah Sherian, the wife of the falsely accused human rights activist Temogen "Cocoy" Tulawie, thought she would just be "behind the scenes taking care of (their) children," but it all changed after his arrest.
Mussah now looks after their five children, namely Iman, 19; Imir, 15; Carrey, 12; Jihad, 8 and Tasmin, 6; by herself since her husband's arrest on January 26, 2012. In a 30-minute interview by the AHRC, she tells how her husband's arrest and detention affected her and her children, and why she must now be "in the frontline".
"I don't want them (the oppressors) to feel that they are successful. So I continue with the human rights work. That is why I am still continuing," Mussah told Rasika Sanjeewa Weerawickrama, a staff member of the AHRC. She refers to the impact of Temogen's arrest and detention which resulted to a "chilling effect" to "all the human rights defenders" in the province of Sulu.
Mr. Weerawickrama, a human rights lawyer from Sri Lanka, appeared in court to observe Temogen's arraignment for murder charges in Davao City on August 3.
Mussah thought the fear amongst activists after Temogen's arrest was so deep that "human rights workers just stopped their work". Her resolve to come out, taking on her husband's work, was to remind the importance of the work that her husband started: "Who will document the human rights violations now?"
Temogen, as mentioned in our previous appeals and statements, was instrumental in cultivating complaints and documentation in Sulu. His and his colleagues work had helped to draw attention to the human rights situation in a place where social control by power and political influence is deeply embedded.
However, the cost of Temogen's arrest and detention has been heavy, not only on his children and his family, but now as to how the people close to them are treating them. "They put a wall between you, they don't want to talk to you, (they) don't want (you) to be friends," Mussah said.
On Temogen's relationship with his children now, Mussah said "the hardest time, he said, is when we say goodbye and go home and he sees us turn our backs and he (Temogen) is left there alone (in jail)".
When Temogen was arraigned on August 3, his daughter Tasmin was seen with other siblings "very teary eyed," which adds on to her earlier shock when "she saw her father wearing handcuffs" for the first time. Mussah said the 'handcuffing' of her husband did not only shock her children, but created a barrier between him and his children.
Mussah said her daughter would only come to her father only when "police removed one of the cuffs".
After the first court hearing, Mussah said of the murder charges: "everything they read to him is the exact opposite of what Cocoy really is". For her, she knows of her husband as "peace loving (person) and I know that he is a person who values life".
The next court hearing on Temogen's case in Davao City is scheduled on September 19, 20 and 21, 2012.
Telecommunications company embarks on key initiatives to accelerate operations in Eastern Visayas
By Philippine Information Agency (PIA 8)
August 27, 2012
TACLOBAN CITY – As the local economy continues to grow, one telecommunications company operating in Eastern Visayas has embarked on several initiatives to further accelerate its dynamic operations in the Region.
Among the key initiatives are the opening of new point-of-presence at Barangay Bagacay, creation of a Senior Citizens Lane and the establishment of a Day Care Center.
Bayan Chief Operating Officer (COO) Rafael T. Aguado said these initiatives are being rolled out in line with the company's thrust to provide its customers in Eastern Visayas with efficient, reliable and value-for-money telecom services and connectivity services, qualities that customers nowadays, look for when choosing their service provider.
The Bayan COO, who was recently in Tacloban City, accompanied by members of his executive management team from the Quezon City head office, for the local operations annual business review, led in the groundbreaking rites for the expansion of its service coverage in a new location in Tacloban particularly in Peerless Subdivision located in Barangay Bagacay, some 12 kilometers away from the downtown area.
For this expansion phase, Bayan is looking at opening up an initial 500 new lines for the residents of the private and exclusive Peerless subdivision, who will now be given the opportunity to get to try the telco provider's various DSL internet packages and landline telephone service based on what is best suited for their particular usage requirements and budget.
Alongside the expansion of its service availability in the city, Bayan EV is also relentless in its efforts to continuously improve the level of customer service it provides to its subscribers.
Along this line, Bayan Tacloban office is blazing the trail in the telco business by being the first to create a senior citizens lane at its customer center that would exclusively service senior citizens when they pay their bills or if they have service inquiries and/or requests to process.
Thelma G. De Leon, Bayan Vice-President and Head of Customer Service, said this may be considered a relatively simple endeavor but she is proud of the fact that Bayan is the first one in the business to initiate such an undertaking.
The City Government of Tacloban thru the Office of the Senior Citizens Affairs (OSCA) headed by Ms. Crisanta Co, commended Bayan for this initiative of providing a special lane for senior citizens customers, which she said should be widely adopted as a standard practice by other businesses.
Meanwhile, in support for its employees' welfare, Bayan's Tacloban office has set another trail-blazer by being the first Bayan office to put up a day care center to serve the needs of its parent employees.
Established in partnership with the employees union, the day care center, housed within the premises of the office building, now provides Bayan EV employees in Tacloban with a safe and nurturing place to temporarily house their young children as they go about with their daily work. Volunteer employees will be manning the day to day operations of the center that will be opened during office hours of the weekday work week.
Mr. Aguado said all these initiatives that Bayan is rolling out in EV is a testament to the company's steady commitment to grow and sustain its leadership position in the market by constantly being in touch with the pulse of their customers and employees, and continuously offering them products and services that are relevant to their needs.
Triumph of East Visayas' e-loading machine at national invention contest, a boost to region's inventors
By Philippine Information Agency (PIA 8)
August 20, 2012
GOVERNMENT CENTER, Palo, Leyte – The triumph of Eastern Visayas' entry, the Smart e-loading machine, at the National Invention Contest and Exhibits (NICE) held recently at SMX Convention Center, Seashell Lane, Mall of Asia Complex, Pasay City, is a big boost to the region's inventors, Department of Science and Technology Region 8 Director Edgardo Esperancilla informed.
Director Esperancilla said the NICE which was conducted in line with the Department of Science and Technology's celebration of the 2012 National Science and Technology Week, was a contest where all first place winners from the Regional Inventions Contest and Exhibits in the different regions of the country were gathered together to vie for awards in various categories.
The main feature of the celebration was the National Invention Contest wherein talented Filipinos compete for awards and prizes in the six categories – the Outstanding Invention (Tuklas Award), Outstanding Utility Model, Outstanding Industrial Design, Outstanding Creative Research (Likha Award); and Outstanding Student Creative Research (Sibol Award) for High School and College Levels.
NICE, Director Esperancilla said, provides support to Filipino Inventors by bringing their inventions / innovations for public and potential investors' appreciation and possible commercialization prospects. It serves as venue to stimulate and encourage inventiveness and ingenuity of the Filipino youth and other interested sectors of society.
This year's NICE was participated in by a total of 63 entries from different regions of the country, in the different categories.
The Smart E-Loading Machine was invented by then Samar State University students Remnan R. Piczon and Jason G. Arroyo, now BSECE graduates, was the official entry of the Region in the Sibol Award - College Level Category.
The researchers from SSU in Catbalogan City, Samar, bagged three (3) awards for the Sibol Award - College Category from three award giving bodies.
Smart E-Loading Machine won Second Place and a cash prize of P3,000 from Federation of Filipino Chinese Chamber of Commerce and Industry, Inc. (FFCCCII).
It bagged First Prize with a cash award in the amount of P50,000.00 from the Philippine Development Alternatives Foundation (PhilDAF).
Finally, it won Second Prize as Outstanding Student Research (SIBOL-College Level) with a cash prize of P25,000.00 from no less than the Undersecretary for S&T Services, USEC. Fortunato T. Dela Peña.
Aside from the cash awards, the winners also received plaque of recognition.
The winning of the entry will surely encourage students and inventors in Eastern Visayas to enter their research in the coming Regional Inventions Contest and Exhibits, Director Esperancilla said.
The Smart Loading Machine was first conceptualized in 2009 and become a thesis project of Piczon and Arroyo. Together with its project adviser Engr. Mirador Labrador, the two students received SSU funding support to enhance the project.
The enhancement included expansion of its capabilities such as accommodating other networks, a database system, a printer for transactions/receipt, a bill acceptor and other features.
The university is now in the process of coming-up with a business plan to fully exploit the project. An Intellectual Property protection has been submitted to IPO-Phil (Intellectual Property Office of the Philippines) in 2011. Certificate from IPO-Phil is expected to be released soon.
Abandoned Iloilo City Housing Project: Lost battle vs. corruption?
By FLORENCE F. HIBIONADA / PNS
August 10, 2012
ILOILO CITY – Nine years in the Office of the Ombudsman. 10 years in the Commission on Audit (COA). P87.3M in wasted taxpayers' money. Three different city mayors and three City Councils. A visible sorry sight along a main highway to and from the Iloilo Airport. A daily reminder of what an unfinished and abandoned government project is.
What has since happened to Iloilo City Government's housing project? Where are the key figures involved? Has anybody been made to pay for the validated reports of massive irregularities that led to the project's demise? Will justice ever be served to the Ilonggo taxpaying public? Will justice be served to numerous COA reports calling to salvage whatever is left of the project? Is there justice to years pored in by Ombudsman investigators who found probable cause to indict top Iloilo City officials?
COA, the Philippines' supreme audit institution has since dubbed the project "an investment failure." Conceptualized in November of 1999, vigorously pursued in 2000, implemented in 2001 and abandoned in 2002, total government money spent was P87,364,819.21. The amount, COA validated, was used as payment for the project's contract cost of P62,599.557.69 and loan interests of P24,765,261.52.
Incidentally, the botched housing project was initially funded out of the city's bond flotation scheme as pushed by a group of financial advisors hired by the Iloilo City Government. That was the time and administration of former Mayor Mansueto Malabor with housing project cost pegged at P125,304,356.65.
When his successor, former Mayor now Lone District Congressman Jerry Treñas took over, project cost was revised to P137,787,499.56. The bond flotation was also scrapped and funds sourced through a 5-year loan with the Philippine Veterans Bank (PVB).
Original loan with PVB was P130 Million yet by end of December 2002, only P80,399,000.00 was actually released to the City Government, fully paid in 2007 with interests of a little over P24.7 Million.
Of the said P80.3 Million, P50.3 Million was directly paid to Philippine National Bank (PNB) Trust Banking Group to partially redeem the bonds issued by the City.
Yet what really happened at the start, during and after the project? Documents secured through the years reconstructed an ugly picture of local government and governance at its worst. In fact, the Office of the Ombudsman in resolving the cases as filed had this to say: "The amount involved in the ICHP which is a whooping...(P125,000,000) surely could not escape the attention of a well-meaning citizen, whether or not he or she is a beneficiary thereof," excerpts of the 110-page Consolidated Resolution stated. "Today, as the records of the case will show, the project site is a virtual ghost town. And there is no semblance of interest among the officials concerned of Iloilo City to salvage what is left of the project nor is there any effort to compel the contractor to perform its part in the contract."
Background
The project was called "Iloilo City Employees Housing Project" (ICEHP) that would have been home to 413 City Hall worker-recipients. Total land area for development was 56,669 square meters with the area for socialized housing covering 9,890 square meters.
The city lots are covered by Lot No. 293-A and Lot No. 293-B-TCT No. T-36832 at Barangay Ungca I in Pavia, Iloilo.
Signs of trouble happened at the earliest months of the project's conception as it surrounded the City's hiring of financial advisors, the bright minds of Preferred Ventures Corporation (PVC). Irregularities too in the earliest housing project activities of the Pre-Bids and Awards Committee (PBAC).
For instance, the "Design and Construct" scheme pushed for the project. It divided the PBAC with objections posed on the scheme as being disadvantageous proving now to be prophetic. The City Council of 2003 through its Committee on Good Government heard testimonies and gathered documents that virtually proved how "Design and Construct" was pushed – at all costs. Never mind that it was also beyond PBAC's mandate to come up with such decision.
Decisive state action key to end torture and ill-treatment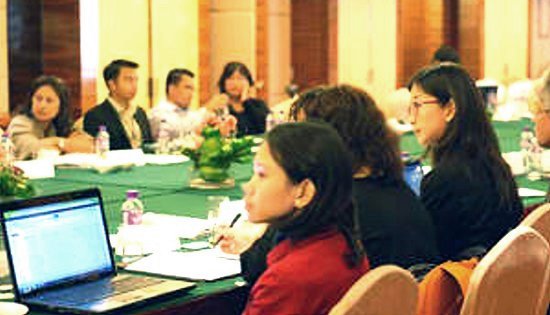 By Asian Human Rights Commission (AHRC)
July 25, 2012
HONG KONG – Parliamentarians from eight Asian states and civil society representatives, who met at Hong Kong for the first Asian parliamentarians' meeting organised by the Asian Alliance against Torture and Ill-treatment (AAATI), demanded firm actions from Asian states to end torture and ill-treatment in the region.
Along with civil society representatives, dignitaries that attended the historic meeting include, Honourable: Mr. Eran Wickramaratne (Sri Lanka), Mr. V. T. Balram (India), Mr. Mohammad Fazlul Azim (Bangladesh), Ms. Pushpa Bhusal (Nepal), Ms. Abbasi Nusrat Bano and Mr. Saeed Ghani (Pakistan), Mr. Sayed Muhammad Muliady (Indonesia), and Mr. Raymond Palatino (Philippines). Also in attendance were human rights activists from Burma, Thailand and Denmark.
The four-day meeting concluded on July 24. Parliamentarians and civil society representatives called for similar initiatives and consultations in every country in the region to tackle the prevailing widespread practice of torture.
The human right against torture and ill-treatment is absolute and non-derogable, affirmed the participants. In states where laws criminalising torture exist, these laws must be effectively put to use, and in states where such laws are yet to be legislated, or remain under consideration, initiatives must be fast-tracked, demanded participants.
The parliamentarians affirmed that they would take-up this issue with their respective governments as a priority concern. Participants urged Asian governments to ensure the creation of effective criminal justice framework in all jurisdictions, realised through adequate institutional reforms, without which combating entrenched torture and ill-treatment would be impossible in the region.
The participants unequivocally affirmed that key to this is the allocation of adequate monetary, infrastructural, and human resources to local policing. This is essential so that policing can evolve into a service-oriented and modern agency, able to meet the needs of the time, rather than an institution forced to be just a uniformed organ of the state that enforces legitimate and illegitimate state writs. Essential, radical, reforms in policing would contribute substantially to end the culture of corruption and impunity opined the participants.
The participants visited Hong Kong's Independent Commission Against Corruption (ICAC) and also spent time speaking with senior members of the Hong Kong Bar Association. Out of the numerous insights gained from these visits, the necessity of an independent and corruption free judiciary, as it exists in Hong Kong, was iterated by participants.
Threats to state security are real in the region, just as they are in the rest of the world. However, dehumanising and demonising political opponents, and reducing spaces for public discourse on concerns of personal liberties, augmented by arbitrary and state-sponsored violence, is not the way ahead affirmed the participants. This tendency – to disregard the absolute nature of human rights in the ruse of national security – is not only dangerous but could reduce the notion of democracy, stated participants in the course of the four-day discussion. The rule of law, and uncompromising adherence to democratic practices and norms, is the best instrument to fight security threats, was the all-round affirmation.
Fundamental to open public consultations is the guarantee of freedom of expression and opinion. Parliamentarians and civil society representatives urged governments in the region to promote media freedoms and end circumscribing the same by law and practice.
The legislators in Asia, together with the civil society, can generate enough momentum to give rise to requisite popular debate against torture, was another consensus from the historic meeting. Participants agreed that similar gatherings should be organised again and that they would hold such sessions in their constituencies and countries to end torture and ill-treatment.
In the mean-time, similar discussion forums in the countries and constituencies, in consultation with the AHRC, the RCT, and most importantly local human rights organisations, would be organised, stated the participants.
The Asian Human Rights Commission (AHRC), Hong Kong, and the Rehabilitation and Research Centre for Torture Victims (RCT), Denmark constituted the AAATI in July 2011. This four-day historic meeting of Parliamentarians, marking the one-year anniversary of the AAATI initiative, is another step towards the final goal of ending torture and ill-treatment in Asia.