Detained artist is finalist in international art award
Press Release
By FREE ERICSON ACOSTA
November 14, 2011
QUEZON CITY – Artist and political detainee Ericson Acosta is one of the three finalists in the prestigious 2011 Imprisoned Artist Prize.
The other two finalists are musician Win Maw of Burma and filmmaker Dhondup Wanchen of Tibet.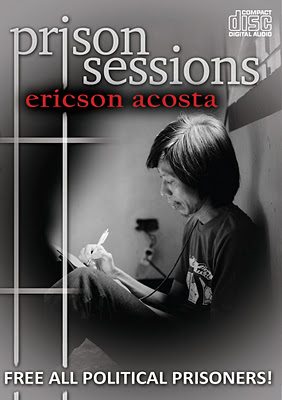 The Imprisoned Artist Prize is one of the awards given by Freedom to Create, an international award-giving body launched in 2008 aimed to "celebrate the courage and creativity of artists and the positive influence of their work to promote social justice and inspire the human spirit".
Acosta is the sole Filipino finalist in the Freedom to Create Awards.
The Imprisoned Artist Prize is presented to artists who are incarcerated "because of their courage and creativity in pursuing their art, and the role of their work in highlighting injustice". One winner will be awarded USD$25,000, which will then be utilized in securing the artist's release, and advocacies and campaigns for his or her freedom.
"In 2011, we have received over 2000 prize entries from more than 145 countries around the globe. A total prize fund of US$100,000 will be awarded to the winning artists and their nominated advocacy organisations to further the cause their artwork has highlighted," the group's website said.
Among the judges for the Prize are actress Daryl Hannah, novelist Salman Rushdie and danseur Mikhail Baryshnikov. Winners will be announced on the Freedom to Create Award Festival on November 19 in Cape Town, South Africa.
Acosta is an artist, journalist and cultural worker who was illegally arrested by members of the Armed Forces of the Philippines on February 13, 2011 in Barangay Bay-ang, San Jorge, Samar province in the Eastern Visayan region. He faces trumped-up charges of illegal possession of explosives and is currently detained at the Calbayog City sub-provincial jail. Acosta's counsel filed a Petition for Review of his case before the Philippine government's Department of Justice (DOJ) last September 1.
Even in jail, Acosta continues to make his art and music heard despite and in spite of the most pressing of circumstances. A raw recording dubbed "Prison Sessions" featuring Acosta singing his original compositions in jail instantly enjoyed thousands of hits and followers online. He also maintains an online journal, Jailhouse Blog.
Acosta's supporters call on DOJ Sec. Leila de Lima to immediately withdraw fabricated complaints against him. Among his supporters are officials of the National Commission for Culture and Arts (NCCA), National Artists for Literature Bienvenido Lumbera and F. Sionil Jose, Philippine Center of International PEN (Poets & Playwrights, Essayists, Novelists), Concerned Artists of the Philippines, University of the Philippines National Writers' Workshop fellows and panel, and artists from the USA, Canada, Europe and Asia who attended the International Conference on Progressive Culture last July.
'Outstanding Pinoy' entrepreneur, 70 yr old ma in $10M drug cartel, money laundering raps
By FLORENCE F. HIBIONADA
Senior Reporter, Philippine News Service (PNS)
November 13, 2011
A 42-year old "Emerging Asian" awardee honoured as "Outstanding Entrepreneur" of the Asian Business Association of Orange County is back in the news. From the pages of Filipino newspapers, this time his entrepreneurship made it really big with news landing in the pages of major newspaper throughout United States.
This as the former awardee was indicted on conspiracy to launder money and conspiracy to structure financial transactions. The co-accused – his 70 year old mother dubbed in the news as the "ringleader" of a bigtime drug cartel.
Both are of Filipino-Chinese descent facing Federal charges directly linked to what US authorities have dubbed a narcotics ring involved in illegal drug trafficking of a controlled substance.
Arrested yet out on $75,000 (Php 1.8M) bail is Lucita Uy and son, Lemuel Uy Libunao whose bond was $150,000 (Php 3.6M). Uy has been named and tagged by US authorities and the US media as the "ringleader" and the son, a co-conspirator.
The duo is assisted by the Glenn K Osajima Law Offices in Santa Ana, California with Court trial set on November 29, 2011. Pending the Court date, mother's and son's passports have been confiscated with further Orders out on travel restrictions.
Local follow ups confirmed that Libunao along with his Ilongga wife and two children made at least two trips to her hometown in Iloilo. The young couple is also known to relatives and friends to have an opulent lifestyle in the US with regular foreign vacations. In fact, the wife was reportedly set for another hometown visit for a school reunion prior to her husband's arrest.
The US Drug Enforcement Agency (DEA) confirmed the charges versus Uy and Libunao and two others who were similarly arrested. Said confirmation was subject of an official news release obtained by Philippine News Service (PNS).
Uy and Libunao when arraigned pleaded not guilty. US authorities in pursuing the charges against mother and son established a four-year buying and selling spree of controlled substance Promethazine. A cough suppressant, use of Promethazine is known to be habit-forming and has since been commonly-abused. "Diverted" Promethazine has street value of $150 to $200 in Los Angeles while price is more than doubled at P$300 to $600 a pint of bottle in Houston, Texas.
Being a controlled-substance, only authorized and registered doctors or pharmacists can avail of wholesale Promethazine purchase. Mother and son are now charged to have elaborately planned the illegal drug trafficking in two US states by setting up three pharmacies. Incidentally, all areas of Uy and Libunao's pharmacy have predominant presence of Filipino-American communities.
Promethazine as abused and illegally sold is known to cause a "high" to users similar to what Heroine would cause. If taken with alcohol, the results are often fatal.
In a 36-paged indictment obtained by PNS, established were wire transfers in hundreds of thousands of dollars and at least 10 bank accounts that were opened through the years by Uy and Libunao. Two of the questioned seized accounts included "nominee accounts" under the name of Libunao's Ilongga wife with initial deposits of $10,000 and $5,000.
"More than twice as many Americans abuse prescription drugs than those using cocaine, hallucinogens, heroin, and inhalants combined," said Timothy J. Landrum, DEA Special Agent in Charge in an official DEA News Release. "DEA is committed to working with our law enforcement partners to ensure those who endanger our communities by distributing these dangerous drugs are brought to justice."
"According to court documents, Uy acquired three pharmacies – Plaza Pharmacy in Santa Ana, Value Plus Pharmacy in Long Beach, and Blue Rose Pharmacy in Buena Park – so she could obtain promethazine from wholesale distributors," the DEA news release continued.
The indictment further stated deposits of more than $6.9 million in cash and more than $2.7 million in money orders into bank accounts courtesy of the 'drug money.'
"In conjunction with the indictment, the IRS - Criminal Investigation is seeking to forfeit property allegedly obtained with the proceeds of the illegal distribution scheme. The property to be forfeited includes seven real properties located in Monrovia, Claremont and Houston; $64,500 in cash; a 2007 Mercedes Benz S550; a 2007 Honda CRV; a 2007 Toyota Tundra; and 11 luxury watches including a Rolex trimmed in diamonds," the DEA said. "The allegations against Uy and her co-conspirators indicate they intended to enrich themselves by engaging in conduct that put the lives of others at risk," said IRS-Criminal Investigation Special Agent in Charge Leslie P. DeMarco. "One of the government's most powerful weapons is the ability to seize through asset forfeiture the property obtained through this illegal distribution scheme, including real estate, cash, vehicles and jewelry. By taking away their assets and profits, we deprive them of the proceeds of their criminal activity."
If convicted, Uy and Libunao would face a statutory maximum sentence of 25 years in federal prison while two others similarly charged would each face up to 20 years in prison.
US blogger and culture writer Brande Victorian in a post wrote, "I had really hoped the purple drank trend would die out, but thanks to Lil Wayne and a Houston grandmother from the Philippines, the sizzurp supply and demand chain lives on. Seventy-year-old Lucita Uy reportedly raked in at least $10 million by purchasing 97,000 pints of prescription-strength cough syrup and smuggling it from California to Houston to make the purple stuff. According to the Houston Chronicle, the going price is $300-$600 per pint, and granny had enough to make 1.5 million doses. If you think perhaps her kids and grandkids are the mastermind behind the scheme and she's just an innocent bystander, don't. Uy once served 20 months in federal prison a decade ago for money laundering. I can only imagine what she was up to in her heyday."
Another post by Danielle Pointdujour wrote an article titled "When Old Folks Go Bad: Grandma charged with running $10 Million "Purple Drank" Ring.
"Whose granny is this??," he asked. "A 70 year-old Houston grandmother from the Philippines has been charged with being the ring leader of a multi-million dollar codeine distribution ring. Lucita Uy apparently felt like President Obama was taking too long to up her social security payments and decided to form her own criminal enterprise instead. The grandmother along with her son Lemuel Libunao and two others, banked at least $10 million and used pharmacies that she owned to purchase 97,000 pints of prescription-strength cough syrup and smuggle them from California to Houston."
Remembering Leyte Gulf Landings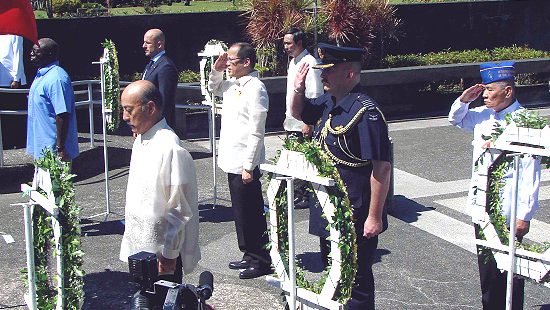 President Benigno S. Aquino III (center 2nd row) leads dignitaries (clockwise) H.E. Toshinao Urabe of Japan, US Ambassador Harry Thomas, James Cristoff of Canada, Leyte governor Carlos Jericho Petilla, Veterans Federation of the Philippines executive vice-president Francisco San Miguel and Capt. Craig White of Australia during the wreath laying ceremony in connection with the 67th Leyte Gulf Landings anniversary at Candahug, Palo, Leyte, October 20. (VINO R. CUAYZON)
By ALICE NICART, PIA Samar
October 20, 2011
PALO, Leyte – As a young adult, he was merely a fisherman, a vocation he opted to choose in order to elude the unkind treatment of the Japanese who ruled in their community, in Tanauan, Leyte.
Yet, there were times when he could not escape the cruelty of the invaders. Sometimes, when he would get ashore, the Japanese would ask, "Sakana nay?" (Is their fish?) and when he would answer "Nay" (none) he would be slapped in the face.
Thus recounted Mr. Leovigildo Azucena, 88, in a brief interview shortly before the formal commemorative program today for the 67th Leyte Gulf Landings or the famously known MacArthur Landing.
The fondly called Lolo Gil narrated, that he was fishing one night in October when he heard of sounds, which he dismissed instantly, could not be the sounds of bombs.
Not long after, however, what he rejected as sounds of, became an ultimate and a sheer reality, as more and more ships appeared his very eyes, which were firing to the direction upshore.
"Move out!, move out!" a crew shouted at him repeatedly.
"No, sir! Please! I am a Filipino", he cried and he gave them his boiled banana for dinner.
In an instant, he was picked up from his tiny boat and found himself in the middle of American soldiers. Still frightened for any harm the armed men could do to him, he chilled in fear.
But a small table was arranged in his front and his fear turned to joy for he imagined an American food is about to be served him. But no. The Americans laid wide a map on the table, pointing at some angles and questioned him, "Where are you?", "Where are we?", "Where is Tolosa?", "Where is the mountain where the Japanese hide?"
Because he believed in the intentions of his new found friends, and fed-up by the cruelty of the Japanese, the young gentleman faithfully answered the questions.
This writer asked why he spoke good English then, "I was a Grade VII pupil when the war broke, and there were even times when I would be the substitute of our teacher", he replied.
As he continued his recollection, he said that after the friendly interrogation, he was allowed to eat with a Chorizo which according to him was as big as his legs with matching pack of Lucky Strike cigarette.
At dawn he was told to disembark the ship and go to the civilians as far as 20 miles and informed them of another bombing that was to happen any day soon.
And the bombing did occur, but he stressed there was no Filipino civilian found dead. Sooner, Gil was hired as an interpreter by the American soldiers and a member of the ship's crew until he was registered as a US Scout. Yes, he maintains his claim, that he was the only Filipino who was able to board the American ship during the Leyte Landings.
Now at 88, and already a Lolo, the young Gil, (some 67 years ago), assured he is still vibrant specially, he said, when he sees ladies in mini skirts. He has since enjoyed his benefits as a US Veteran and all his six sons who entered the US Navy are now living in the States, the others have already retired. He promised though he is no longer returning to the US because it is in the Philippines where the real paradise is.
Filipino seafarers most sought after by ship owners worldwide
By Philippine Information Agency (PIA 8)
September 25, 2011
TACLOBAN CITY – The Filipino seafarers are the top choice by ship owners all over the world, Atty. Manuel Portus, Regional Director of Marina in Eastern Visayas, informed during the Harampang Ha PIA media forum that launched this year's National Maritime Week celebration on September 26 to October 1.
It is a fact that one-third of the world's 1.5 million seafarers are Filipinos, Director Portus said.
Director Portus' statement was backed up with data, the Philippine Information Agency found out. For one, a report mentioned that the chairman of International Mariners Management Association of Japan (IMMAJ) has stated that Filipino seafarers are the top choice of Japanese ship managers and owners.
Data from the Philippine Overseas Employment Agency (POEA) shows that 266,533 Filipino seafarers were deployed all over the world in 2007. Out of this, more than 50,000 Filipino seafarers work in Japan's 3,000 merchant ships. This indicates that roughly 65 percent of Japan's maritime personnel are Filipinos.
Hellespont, an European shipping company with a manpower agency in Manila, has been hiring all-Filipino crews for its tanker fleet since 2004.
This is another confirmation that Filipino seafarers are the most sought seafarers in the global shipping industry. In fact, Filipinos are in demand to man ships at sea – from luxury cruise ships to giant tankers and container ships.
There are many reasons why the world wide shipping industry seeks to employ Filipino seafarers.
One of the foremost reasons mentioned was that Filipinos are seafarers by nature. The Philippines is an archipelago with vast coastline of 36,289 kilometers, more than USA's 19,924 kilometers, UK's 12,429 kilometers, China's 14,500 kilometers, France's 4,668 kilometers, and is almost equal to Russia's 37,653 kilometer coastline.
As the Philippine archipelago is made up of 7,107 islands, Filipinos have natural mariner's instincts and always work cheerfully despite months of separation from their families. They never show that they are homesick. While on shore leave, instead of going to the nearest bars to waste their earnings, they prefer to spend their time more at Internet cafes, writing e-mails or chatting online with their loved ones in the Philippines.
Another reason why shipping industry worldwide prefers Filipino seafarers is because of their dedication and discipline. Filipino seafarers work with dedication and are much disciplined. They are also very conscious about their conduct especially while on shore leave.
Filipino seafarers are hard-working. Filipino seafarers have more stamina and work physically more on board the ships. Filipino seafarers are also reliable and loyal. They are also are flexible and willingly perform duties that are not part of their contracts. They highly trainable and adapt to changing environment, and have problem-solving capability.
Perhaps, one of the most important reason why Filipino seafarers are preferred is they are fluent in English. They have good command of the English language and have good communication skills.
World Rabies Day message: "Register and vaccinate you dogs"
By Philippine Information Agency (PIA 8)
September 22, 2011
TACLOBAN CITY – The Department of Health Region Center for Health Development in Eastern Visayas is set to spearhead the commemoration of World Rabies Day on September 28.
DOH Region 8 Director Edgardo Gonzaga said that the highlight this year's celebration in Eastern Visayas is the Mass Dog Vaccination at the Barangay Hall or Basketball Court in the respective cities and municipalities in the six provinces of the Region.
Director Gonzaga said that the objective of the activity is to vaccinate at least 70 to 80 percent of the total dog population of every municipality.
The theme for this year, "Register and Vaccinate your dogs," underscores the importance of registration and vaccination of all dogs as a crucial key in controlling the incidence of rabies in the Philippines and reducing the number of resulting deaths.
With over 700 Filipinos seeking emergency treatment for dog bites each day last year, dogs are clearly the primary source of rabies in the country, according to latest records from the Department of Health (DOH).
Less known to the public is that 88 percent of rabies infection is acquired from pet dogs, shattering the myth that stray dogs are the primary source of rabies transmission.
Official count of incidence of dog bites reached roughly 266,000 last year, resulting in 257 deaths due to rabies infection, the DOH National Rabies Prevention Control Program said.
Separate records obtained from the DOH also showed that from January to May 21 this year, the health agency has so far monitored 76 deaths due to rabies, with Central Luzon registering the highest number with 13 fatalities. Almost 50 percent of these cases affected children aged 5 to 14.
Still not very many are aware that the incubation period or the time for the infection to develop, for rabies can be as short as a few days, but can also last as long as five years. About 95 percent of people who have been infected by a rabid animal, however, develop the disease within one year.
The tragedy is that once a patient starts to show symptoms, there is no treatment and he or she usually dies within 10 days.
People also need to be made aware that transmission is not only limited to actual animal bites. Anyone handling a dead animal that has acquired the virus can be infected if they touch their eyes or lips if they have traces of the animal's fluids on their hands.
Dispelling myths about rabies can also help reduce incidences of deaths due to the deadly virus. Many people still believe that rabies should be handled by traditional healers using folk medicine such as "tandok," which is done by placing a deer horn over the wound. Such procedure is believed to suck out the rabies virus from the injury.
Health records have shown that patients who received "tandok" treatment died either of rabies or tetanus. Dog bites must always be seen by a medical expert.
Rabies is a viral disease in mammals which animals and people can get through exposure to saliva or nervous tissue of a rabid animal. It spreads from the exposure site through the nervous system to the brain, eventually causing death if not immediately treated with medical care.
More than 55,000 people die from rabies each year, mostly in Africa and Asia where little medical care exists. The largest source of rabies in humans around the world is due to uncontrolled rabies in dogs, and children are most at risk for being bitten.
This is why it is so important to educate the public on how easy it can be to prevent rabies through animal vaccinations, being aware of the surroundings, and having available medical treatment nearby.
Responsible adolescent sexuality education module pilot-tested at Palo school
By Provincial Media Relations Center
September 22, 2011
TACLOBAN CITY – A module on responsible adolescent sexuality education is being pilot-tested by the provincial government of Leyte through the Provincial Population Office to curb premarital sex and teenage pregnancy.
The special module, carefully crafted by the Leyte PopCom, was piloted at the Palo Central School over the week with Grade 5 & 6 pupils as participants.
Leyte Governor Carlos Jericho Petilla, who was in hand to evaluate the whole presentation of the module, tells teachers at the Palo Central School that this education has undergone close scrutiny and will be further refined before the same module will be introduced in all public elementary and high schools in the province.
"The main purpose in coming up with this module was brought about mainly by a survey which placed Eastern Visayas second in rank in terms of teenagers engaged in premarital sex," Gov. Petilla told teachers after the whole module was presented to the pupils.
Also, the governor disclosed, that he was quite alarmed of the number of teenage mothers delivering babies in various birthing clinics in the province.
"Pregnant mothers are getting younger and younger these days. The youngest of whom we have encountered is only 12 years old, which is very alarming," the governor added.
Further, Gov. Petilla said children and adolescents need accurate and comprehensive education about sexuality to practice healthy sexual behavior as adults in the future. He warns that early, exploitative, or risky sexual activity may lead to health and social problems, such as unintended pregnancy and sexually transmitted diseases, including human immunodeficiency virus infection and acquired immunodeficiency syndrome.
For teenagers and young adults, sexuality education can provide a welcome opportunity to get correct answers to burning questions. Research among teens has shown that young people want and need more information about reproductive health, sexuality and the environment. Information usually comes "too late" and does not include enough detail.
The module piloted by the province consist mainly of a puppet show discussing major physical and emotional changes among adolescents, as well as friendly and interactive discussions on sexuality behaviour and open forum where the students can openly ask questions.
After the pilot-test, the module will still have to undergo minor revisions before it can be shown in all public schools in the province. The module would also be made available to freshman and sophomore students where most students are starting their teenage lives.
The same module has also been screened both by the Department of Education and the church.