Rock Oyster Processors' Association inaugurates pilot processing center in Samar
By EMY BONIFACIO, Samar News.com
March 15, 2011
CATBALOGAN CITY – A P180,000 worth of processing center for rock oyster production has recently been inaugurated at Brgy. Majaba, Catbalogan City. The facility which was constructed within a 150 square meter lot area will service at least 38 families who are active members of the Majaba-Basiao Sisi Processors Association (MABASI).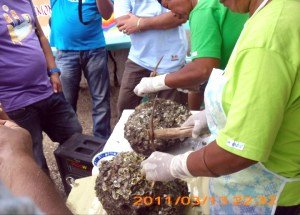 Rock oyster production is a primary source of livelihood for the two mentioned barangays. At least 40 to 100 botlles of processed "sisi" sold at 25 to 40 pesos are being produced locally. Rock oyster can also be processed as chips and can be mixed with flour, egg and spiced to taste as crispy "baduya".
MABASI has been formally organized to venture into rock oyster processing. Initially, it was learned that the Social Action Center of the Diocese of Calbayog through its Director, Fr. Cesar Aculan, has been helping the community after it was greatly devastated by a typhoon, years back. He considers the turned-over infrastructure a dream-come-true and a symbol of cooperation among members of the MABASI and the community folks.
The organization is headed by its President, Ms. Vangielyn Tambalogan. Other Officers include Francisco Cabaguing - Vice President; Madelyn Abrigo - Secretary; Jenelyn Arnoco - Treasurer; Anita Rojo - Auditor; Jovelyn Cabaguing - Bookkeeper and Dennis Rojo as Business Manager. The Board of Directors are Lilian Tambalogan, Teresita Arnoso and Rosalia Tabotabo. The Mass Media Officers are Nestor Tambalogan and Ernesto Bendo.
On the government side, the Department of Trade and Industry extended assistance to the group in terms of their expertise in capacitating its members. Various trainings were geared towards a standardized processing, uniform and sanitary production, packaging and marketing of rock oysters which were provided by VICTO National, an NGO which is based in Tacloban. In effect, the Samar State University has been contracted to provide the necessary trainings. This assistance materialized under the DTI's Rural Micro Enterprise Promotion Project (RuMEPP) that provided funding assistance amounting to P350,000 for aquaculture development.
Other groups like the Samar Chamber of Commerce and Industry (SCCI), Samar Bankers' Association, the Local Government of Catbalogan and the media has also been in touch with the DTI and the Social Action Center for other support services in line with this undertaking.
On the other hand, the newly constructed building, equipped with its processing facilities, was made possible through Dr. Stephan Kunz of the AFOS We can. Dr. Kunz is the Country Director for Justice F, a foundation that is closely coordinating with the Cebu Chamber of Commerce and Industry (CCCI) in enhancing Small Medium Enterprise (SME) promotion and MSME improvement in particular areas.
Dr. Kunz, a social scientist by profession, has been in the Philippines since the 1990s and has been working with Filipinos communities particularly in the Visayas and Caraga. In Samar, the rock oyster processing in Majaba is a pilot project which he hopes to be replicated in other depressed areas in the near future.
According to Kunz, uplifting the lives of the people is a passion and working with the Samareños is part of the group's mission. His focus on the environmental issues at the Smokey Mountain in the '90s gave him the opportunity to see the living conditions of most Samarnons and Leyteños in the slum areas.
"I can see that the Philippine soil is a potential capital for agricultural development which has long been neglected in Samar. I do not understand why people prefer to stay in squatter areas in Manila when there are so much resources waiting to be developed here", says Dr. Kunz.
Having worked with the Filipinos for several years, he considers extended families, pakikisama, jealousy, competition even among government agencies, corruption and inability to work together as challenges that hampers personal growth and development. He sees the urgency for public and private partnerships to oversee the sustainable implementation of programs and projects that would improve the quality of life of the people.
However, he stressed his disappointment on dole-outs. Instead, he encourages participation and cooperation among the parent-beneficiaries.
In his inaugural speech, Dr. Kunz assured the MABASI members to bring more expert people to conduct continuous trainings geared towards increasing the volume of their production, improving the quality of their products and considering the hygienic aspects of processing as a priority. He expressed his thanks to the community for allowing them to share a little effort that would bring impact to the lives of its members. He was so happy over the completion of the center and for personally turning it over to the community. He ended his message by cautioning people to stop engaging in dynamite fishing and consider the protection of the environment as a must. "The environment, the fishing grounds and the rock oysters should be protected. You should always consider the effects of dynamite fishing to the environment," was his final statement.
The turn-over activity was started by a ribbon-cutting and blessing of the processing center by Rev. Fr. Cesar Aculan. Hon. Stephanie Uy Tan did the ribbon-cutting with the assistance of Dr. Stephan Kunz; DTI Provincial OIC, Engr. Meilou Macabare; Samar Chamber of Commerce and Industry (SCCI) President, Dr. Dominador Cabanganan; Bankers' Association of Samar President, Mr. Bong Abobo and other guests. An actual demonstration on the rock oyster processing was done immediately after the short program which was facilitated by its local members.
As of now, MABASI is already producing quality packaged and labeled "sisi" with export quality in several identified outlets like Monterey in Catbalogan City. "Other orders come through text messages", says Ms. Vengielyn Tambologan, the association's President. She further informed that the licensure of their products is now being processed by BFAD.
Hon. Verginia A. Tabon, the Chairwoman of Brgy Basiao, was very hopeful that the project would somehow bring a change to their community. She repeatedly expressed her personal thanks to Dr. Stephan Kunz and all the other sectors that have been helping her constituents. All together, they have committed to take care of their facility and promised to cooperate with one another in accomplishing their goals, improving their craft and becoming productive citizens of the community.
In a related development, Hon. Stephanie Uy Tan committed for a construction of a day care center in the barangay that would help mothers and children alike.
It was gathered that Brgy. Basiao is also encountering problems on their potable water supply as there is only one water pump that services everybody.
'IPPF pride'
Leading int'l RH advocacy group shares RP honor as world cites 2 Filipinas as world's 'most inspiring'
By FLORENCE HIBIONADA, Philippine News Service
March 14, 2011
The International Planned Parenthood Federation (IPPF), a leading advocate for sexual and reproductive health and rights (SRHR) joins the Filipino pride as the world honors two Filipinas as among the world's best.
Included into the list of "Women Deliver 100: The Most Inspiring People Delivering for Girls and Women" were Iloilo First District Representative Janette Loreto Garin and Sister Mary John Mananzan.
The lady solon is Deputy Majority Leader in the Philippine House of Representatives and known champion of reproductive rights in the country.
Sister Mananzan on the other hand is Prioress at St. Scholastica's Priory, Founder and Executive Director of the Institute of Women's Studies at St. Scholastica's College. Sister Mananzan is cited for integrating feminism into faith in the Philippines
Both are IPPF stalwarts and longtime IPPF allies alongside 8 more others likewise honored and cited for exemplary SRHR advocacy.
As such, IPPF is most proud with the recognition for Zainah Anwa of Malaysia, founding Member of Sisters in Islam and Director of Musawah. Anwa is instrumental in setting the record straight on women's rights within Islam.
Also in the renowned list is Guo Jianmei of China, Founder of the Women's Legal Research and Services Center and Qian Qian Law Firm. Guo, the IPPF said, has since provided crucial legal aid to women in China.
There is also Ban Ki-moon of South Korea, Secretary-General of the United Nations who has pushed for global efforts to meet the Millenium Development Goal 5, the reduction of maternal deaths.
Other IPPF stalwarts in the list of "Most Inspiring" people are Xie Lihua also of China, founder of Rural Women Magazine and the Cultural Development Center for Rural Women and champion of China's rural women.
Marina Mahathir of Malaysia, a journalist, columnist and blogger honored for speaking out on Islam, gender equality and HIV/AIDS in said country.
Somaly Mam of Cambodia, Founder of AFESIP (Agir Pour les Femmes en Situation Precaire) and the Somaly Mam Foundation who worked not only to end sex-trafficking but support its survivors.
Catherine Hamlin of Australia, Doctor and Founder of the Addis Ababa Fistula Hospital who cares for women disabled in childbirth.
And finally, IPPF is equally proud of Mu Sochua of Cambodia, Member of Parliament and human rights advocate for championing gender equality in the Cambodian parliament.
IPPF is in the forefront of the literacy drive on SRHR with sustained efforts throughout the East and South East Asia and Oceania Region.
To note, a list of 100 women was drawn by Women Deliver, a global advocacy organization that brings together "voices from around the world to call for action against maternal death."
The list highlighted this year's worldwide celebration of the 100th year of International Women's Day.
And for Romeo A. Arca Jr., IPPF Manager for Advocacy and Public Affairs, it was one big reason for the IPPF and the world to indeed celebrate.
Women Deliver, Arca shared, gave due recognition to "women and men, both prominent and lesser known, who have committed themselves to improving the lives of girls and women around the world."
The honorees, he pointed out, came from the fields of health, human rights, politics, economics, education, journalism, and philanthropy, "and represent a great diversity of geographic and cultural backgrounds."
With the shortlist of 100 came hundreds more whose contributions made a great impact to the continued battle against maternal and infant deaths alongside women's sexual and reproductive health and rights.
"We are quite excited about this list because many IPPF stalwarts made it to this list. Further, you will see women and men from our region who showed exemplary models of what it means to defend women's sexual and reproductive health and rights," Arca said.
Incidentally, the Philippines played host in September to Women Deliver Philippines, the country's biggest multi-sectoral conference that worked for the delivery of solutions for girls and women.
IPPF for its part also made possible the visit of lawmakers and international media from some six Asian countries last November. The four-day exchange of ideas focused on the need to invest in SRHR with the sharing of respective experiences among said key stakeholders.
As IPPF maintains, "from choice, a world of possibilities."
Maasin City walks the talk on RA 9211
By BONG PEDALINO, PIA Southern Leyte
February 24, 2011
MAASIN CITY, Southern Leyte – There is a law against smoking, especially in public places. Or there was a law about it, Republic Act 9211, since it was already signed by the President nearly eight years ago, on June 23, 2003.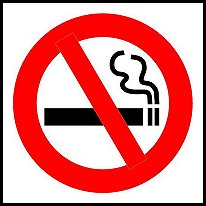 The long title of RA 9211 is this: An Act Regulating the packaging, use, sale, distribution and advertisements of tobacco products and for other purposes. Its short title, however, is really short: Tobacco Regulation Act of 2003.
Whether we go by the long or the short title, the fact remains that implementation of RA 9211 has been alive and well, in spirit and in letter, here in Maasin City, Southern Leyte province.
In less than two years since this law was introduced in this city, on April 19, 2009, several landmark activities have been undertaken by the city government to show it is serious in the campaign to rid the city of smokers, or at least to regulate their puffing of cigarettes and tobacco in selected, designated areas – under pain of reprimand or citation tickets once caught by enforcers doing so in public places.
But what are "public places"? Section 4 of RA 9211 provided a categorical definition: these refer to enclosed or confined areas of all hospitals, medical clinics, schools, public transportation terminals and offices, and buildings, such as private and public offices, recreational places, shopping malls, movie houses, restaurants, and the like.
So, on May 31, 2009, less than two months since RA 9211 was first introduced, the city government launched its no-smoking program (NSP) and thus banned for good smoking habits in the locations mentioned earlier.
What followed was a tremendous information drive on the NSP, with implementers invariably interacting with local businessmen, motorcab drivers, potpot drivers, with matching posting of stickers on these vehicles, and stringing tarpaulins with graphic ill effects of smoking – a scare campaign, if you will – in many points around the city where people usually converged.
The Police's patrol car with its public address system was also utilized in roving around the city, informing people of the law and the city's response to it, the NSP.
Those who want to quit smoking on their own or with expert advice will have someone to teach them, as the city embarked on a week-long training, from August 23-28, on smoking cessation.
On September 28, 2009, a Smoke-free Task Force was created, intensifying efforts at rounding violators, with Healthy City Initiatives (HCI) Enforcers issuing citation tickets to those caught in the act.
By February 26, 2010, City Memorandum Order 099 banned the sponsorship of events by any tobacco or cigarette company and, before long, advertisement posters and billboards anywhere around the city were removed.
Then by December 30, 2010, City Mayor Maloney Samaco issued Memorandum Order 373 which required all casual and job order employees to get a certificate of non-smoker from the City Health Office as a mandatory requirement for renewal of employment.
Smoking employees were forced to quit or reduce their habit in this manner by sheer need, but many also were happy it was imposed that way, saying the NSP program really works, aside from the health benefits an individual can enjoy by simply following the law.
Still, "total vigilance is needed," Samaco said, hopeful that in the end people can appreciate that what the city has been doing is for their own good.
Indeed, his efforts have been noticed, with the city awarded as the Urban Health Champion for 2010 and a Red Orchid Award, also in 2010, by the Department of Health (DOH).
Samaco, a non-smoker himself, pledged to continue his advocacy on anti-smoking even beyond the expiration of his full nine-year term as local chief executive, saying that even in his personal capacity he will forever push for a smoke-free Maasin City.
And Samaco has walked his talk, even this early, judging by the Maasin City experience in implementing RA 9211.
Daram go full blast in Nutrition Program bringing OFCI's SHNP
By MYRA M. TAMBOR
February 22, 2011
DARAM, Samar – A no let up nutrition program of the Local Government Unit of Daram, Samar was formally launched by Mayor Lucia Latorre-Astorga of this island municipality. Sighting the importance of proper and balanced nutrition as key to the development of a dignified person as well as the progress of the community where they live, the Mayor personally attended and served a nutritious meal to 10 identified severely undernourished children in Barangay Buenavista, Daram.
Mayor Astorga in her message before the children's dining, emphasize the importance of an effective nutrition program that should be implemented to ensure development growth in the community and a remarkable health status of the children, hand in hand with the parents, families, barangay governance and the local government unit as well.
"An immune system han aton mga anak in magigin makusog kun tama an nutrition han mga iginpapakaon ha ira, kun makusog an immune system hirayo ha sakit an mga bata", the Mayor said. She patiently explained the advantages of a well-nourished child such as good health, good performance in school and eventually good environment in the locality. The local government unit according to Mayor Astorga will shoulder 2 meals in a day for the children while the parents will take care of the remaining meal as their counterpart. She further said that the undernourished children will be provided nutritious meals everyday for 3 months of which a constant weight monitoring will be done by the barangay health workers assigned in the area to gauge the success of the program.
A concrete nutrition program is one of the goals of Daram's current administration. Being a medical doctor, Mayor Lou as she fondly called by her constituents and friends, is trying to take in hand various health related concerns with meager funds of a 4th class municipality. In these efforts, she found OFCI (Overseas Filipino Council International) an international organization of Filipinos living in various countries all over the globe whose objective is to help and serve the Filipinos in every manner possible in any place where they may be in the world. OFCI's primary mandate is presently directed to poor urban and rural neighborhoods in the Philippines that accept their challenge for self-reliance and self-sufficiency through community development programs. Daram's lady Mayor shares the same passion in terms of public service. In this activity, she used OFCI's tarpaulin as backdrop in recognition of their valuable contribution to the nutrition program.
OFCI's Anita's Kitchen and Self-help nutrition project chaired by Ms. Anita Sese-Schon initially runs a roll-out in the municipality of Daram. Ms. Schon is a Filipina based in Brementon, Washington DC, USA. She is the chairperson and founder of OFCI. Her project inspired the Mayor who immediately organized women organizations dub as Mobile Kusina, popularly known as MK, whose task is to conduct OFCI's roll-out along side with other women empowerment efforts of her administration. MK through its team leader James Gornot is also task to implement the nutrition program and coordinate MK's efforts with the different related activities of the Municipal Social Welfare and Development Office, Municipal Health Office and the Municipal Agriculture Office among other agencies whose mandate goes along with the programs of Mobile Kusina.
The nutrition program in Barangay Buenavista is inspired with the aims of Anita's kitchen and self-help nutrition program for health conscious diet as a way of promoting wellness and healthy mind and body of the constituents by introducing well balanced and nutritious meals which are affordable by even a below average income families.
Moreover, Daram LGU as a Plan International Philippines recipient municipality also enjoys the intervention of the said non-government organization. As such, Plan Phils is also conducting child-friendly programs in the locality one of which is collaboration with the Mayor's office specifically and the LGU generally on their efforts towards child development programs in some identified barangays.
"I hope more partners will come our way as we try to make a difference in the every day lives of our constituents in Daram", the Mayor said over a simple lunch with those who attended the launching. She also instructed her staff to enhance the project, sighting the possibilities and probabilities as the project continues and the full implementation of the Municipal Nutrition Action Plan for the next three years. "Focus and appropriate monitoring should also be implemented correctly" she advises her staff. "Nutrition is perceived to be a minor program but for me it should be a major one because of its impact to the community. It is actually a big program with components on water, sanitation, child and maternal health as well. There are still a lot more we should think or conceptualize, this could even be one of our contributions to realize the millennium development goals", the Mayor adds as she prepares to check the gardening demo as part of the activity.
The Municipal Agriculture Officer Ms. Dolly Mustacisa distributed vegetable seedlings to the MK members present. Enhancement of MK vegetable garden in the said barangay is going on to compliment the nutrition project. Mothers are encouraged to plant vegetable where they can easily harvest for the nutritious meals of their children but the Mayor hopes that the gardens will also turn out to be a sustainable livelihood for women given the demand of vegetables in the locality and the nearby municipalities. The activity was attended by barangay officials, Municipal Agriculture Officer, Plan Phils, MK Team, barangay officials and barangay folks.
Seven couples say "I do" on Valentine's Day
By FLOR JACKSON, PIA Biliran
February 15, 2011
NAVAL, Biliran – Seven couples from the Philippine National Police - Biliran Police Provincial Office said "I do" on Valentine's Day, February 14, 2011 during the mass wedding sponsored by PNP-Biliran through Police Senior Superintendent Alfredo Sabornido, PNP Provincial Director of Biliran in a grand ceremony at the PNP chapel located inside the headquarters.
The couples whose partners were members of the PNP in the province were PO2 Jose Bacalla and Clemencia Dimaslan; PO3 Sebastian Dagalea and Evelyn Brazil; PO2 Ramil Velasco and Jennelyn Orias; PO2 Raul MOnterola and PO3 Lynn Conge; PO2 Ryan Bunani and Irene Ponferrada; PO2 Felmin Regir and Cheryl Raga; and PO1 Jimmy Regir and Mary Jane Sabuya received the sacrament of matrimony officiated by Police Major Ricardo Piañar, Regional Chaplain of PNP in Eastern Visayas.
The wedding sponsors were Congressman Rogelio Espina who was represented by former Director of the Department of Agrarian Reform in Region 8, Tiburcio Morales who also represents the private sector in the province of Biliran; Governor Gerardo "Gerryboy" Espina, Jr. also represented by Brigido Caneja, III, SP Member of Biliran; Police Senior Superintendent Alexander Ignacio, PNP-8 Chief Directorial Staff who represented PNP-8 Regional Director Arnold Revilla; PSSupt Alfredo Sabornido and Atty. Lolita Casas-Nueve, Provincial Director of the National Police Commission (NAPOLCOM) in Biliran, among others.
The crowd which was composed of relatives and friends of the couples, heads of some national government agencies, men and women of PNP-Biliran, the media and other guests were touched by the solemnity of the mass wedding.
The setting at the reception area within the compound of the PNP provincial headquarters was so festive. Fresh flowers artistically arranged outside the chapel along the center aisle going to the altar added life, joy and color to the occasion.
One couple, PO2 Raul Monterola and PO3 Lyn Conge assigned at the PNP Police Station in Naval, the capital town of Biliran province and the PNP-Biliran headquarters respectively wore the PNP uniform together with the rest of the grooms who were PNP members, while the non-PNP brides wore formal ecru-colored dress.
PO3 Conge wore a nice ecru headress with an almost 10-meter long train.
The baptism of the eight month old son of PO2 Monterola and PO3 Lynn Conge was an added highlight after the wedding rites.
The couples were married in civil rites ranging from two months and a few years until they decided to be married in church.
According to PSSupt. Saborndio, the plan to have a mass wedding was conceived when the PNP in the province had their Christmas party in December last year.
Since then, he said, members of the PNP in Biliran province who were not yet married in church started to signify their intention to receive the sacrament of matrimony until a group of seven couples were gathered.
He added that in one of their staff meetings, they decided, that instead of the usual get together on Valentine's Day, they might as well hold the mass wedding on February 14, 2011, so that the wedding anniversary of the couples will be well remembered on this very significant day of families and lovers.
Furthermore, he said that PNP-Biliran foot the bill for the wedding reception and other incidental expenses relative to the mass wedding.
"The mass wedding was part of my program to strengthen the spiritual life of the PNP men and women in the province," he said.
For their part, the seven couples who availed of the mass wedding for PNP-Biliran personnel who just received the sacrament of matrimony through the mass wedding thanked PSSupt. Sabornido for making their life complete by being blessed in church as they received the sacrament.
Maasin City opens its doors for sponsors to marathons
By BONG PEDALINO, PIA Southern Leyte
February 15, 2011
MAASIN CITY – Long before the successful holding of the first city-organized "Run for your Heart" marathon Friday, City Mayor Maloney Samaco has invariably aired his willingness to welcome sponsors to this running activity.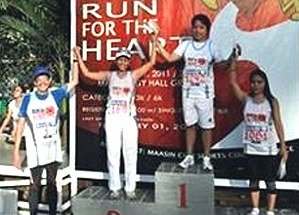 In a brief chat with Philippine Information Agency (PIA) at his office two hours before Friday's run, Samaco reiterated his desire for organized groups to hold running events in the city, saying the city government will always backstop the group's efforts.
He, however, cited two conditions for the city to allow such hosting. One is that there must be a noble purpose for which the run is to be dedicated and, two, there must be proper accounting of funds generated to establish accountability.
Last Friday's run was aimed at helping disaster victims in Saint Bernard, as participants chipped in P100 in order to join, and accounting for the funds can be expected to be out soonest.
Already, at least three more marathon events have been lined up to be undertaken within the year, with the next one slated to be held on Saturday, February 19, sponsored by Pope Paul VI Minor Seminary.
Simply called "Fund Run", the proceeds of its P150 registration fee has been intended for improvements of the seminary building in barangay Asuncion.
Right after last Friday's grueling run, many runners were seen already registering to join anew for the February 19 exercise.
Earlier, Samaco announced after giving the awards that next month, during the First Mass anniversary at Limasawa, he and provincial Tourism Officer Nedgar Garvez were contemplating of having a Limasawa-wide marathon, covering the whole six barangays around the historic island.
Then sometime in May this year, the city government has already set a "Takbo kontra Tabako", although no specific date or schedule has been set for this yet, but this was in reference to the month of May when one day has been devoted by United Nations as No Tobacco Day.
Aside from these mentioned dates and plans for marathon runs, many of the months still remained open, and so Samaco enticed sponsors to come in, stressing that this has been part of the city's enhanced sports tourism program.
In the first place, why run? Or to be more location-specific, what motivated the almost 2,000 souls last Friday – Maasinhons, visitors (the winner was from Tolosa, Leyte) and foreigners, male and female, young and old – to jog, run, and walk around the city streets?
"Studies have shown the health benefits of running to be tremendous, reducing your chances of everything from the common cold to cancer," reports a website devoted to running.
"Running is among the best aerobic exercises for physical conditioning of your heart and lungs. It helps ensure the efficient flow of blood and oxygen throughout the body, things that are proven to help to decrease the risk of a heart attack.
"Running – like other types of exercise – is a great stress reliever and may even relieve mild depression. Many runners enjoy reaching the 'runner's high' – that euphoric, clear, and calm state they feel after a long run… As a runner, you'll likely to feel more energetic and creative…running also increases bone density, which can fend off osteoporosis."
Then there's this some sort of a spiritual benefit, with the thought that the money you contributed in an organized marathon would go to a charitable act or a worthy cause.
Thus, when you join the run, you are in good company, literally and figuratively.
And when you, or your group, your company, would sponsor a marathon, Maasin City in Southern Leyte is the ideal place for you.
You are certainly most welcome.