Biliran Mayor prioritizes the "intangibles"
By LANIE PITAO-TUPAZ, PIA Biliran
January 17, 2011
NAVAL, Biliran – Unlike other politicians who prefer to give their constituents concrete projects to prove their performance, Biliran Mayor Leandro B. Enage of the province of Biliran, took the unconventional by prioritizing the intangible projects which his constituents cannot see but feel in the long run.
Since his assumption to office in June 30 last year, Mayor Enage first started his job within the very organization he is facing everyday – the municipal employees and officials – where he continuously holds dialogues with the town's legislators to come up with practically significant ordinances and resolutions, and held their executive budget hearing open to the public in order to know the real sentiments of each employee and official of the local government unit.
Employees were consulted as to their demands for benefits and working conditions where Mayor Enage granted them the extra cash gift as mandated by law, and assured the second phase of salary increase based on the Salary Standardization Law.
Mayor Enage also required LGU employees to undergo a reorientation seminar to reexamine and rehash their conduct as they deal with their clients to be more effective in the delivery of their services.
As a tyro local chief executive who wants to bring progress to the town he calls his home, Mayor Enage is reviewing and studying the resolution and ordinances passed by the Sangguning Bayan so that they will be strictly implemented by the concerned departments. He also has to learn to say "NO" to demands which are detrimental to public service.
Biliran being a fifth class municipality with an annual budget of more or less P33 million and a population of 14,947 as of August 7, 2007, Mayor Enage made representations with various government agencies in both local and national levels for assistance to fund tangible projects so as not to deplete their meager budget.
The municipality of Biliran received medicines in the amount of P1.6 million from the BANAT Partylist in November last year and was assured to be continuously given medicine donations.
The Department of Social Welfare and Development (DSWD) also funded the repair of Brgy. San Isidro Day Care Center. The repair of Brgy. San Roque will also follow soon with funds from the same source.
The town's health center is also subjected to renovation and expansion once Senator Zubiri fulfills his commitment to fund the project.
All these efforts may not be tangible to the people but they will soon feel the benefit these "intangible projects" will bring them.
Since all these endeavors are not seen by the naked eyes, the LGU came up with a newsletter so that the general public may know what their local executive is doing and planning for what is good for them.
Calbayog City bares preparations as 2011 EVRAA Meet host
By EMY C. BONIFACIO, Samar News.com
January 17, 2011
CATBALOGAN, Samar – In a recently held media conference, DepED School Division Superintendent, Dr.Edita Y. Paculan, announced the city's preparedness to welcome more than 5,000 delegates in the forthcoming EVRAA Meet that will be held from January 31 to February 4, 2011 in Calbayog City.
Dr. Paculan, who is the over all vice-chairman of the 2011 EVRAA Meet Organization and Management Structure, bared the details of the preparation that is being undertaken by Calbayog as its host city. Paculan guested in the regular weekly media conference aired live at DYOG Radyo ng Bayan which was held at the City Tourism and Information Office last January 11.
EVRAA Meet is a yearly sports development activity which is being participated by the different public elementary and secondary schools in Eastern Visayas, held in different venues. This year's theme is "School Sports: an avenue for values development towards transformation."
This will be the second time that Calbayog City will be hosting the EVRAA, the first of which was in 2003 during the 1st term of former Mayor, now Cong. Mel Senen Sarmiento. Paculan stressed the importance of a very well planned activities to live up with the expectations of being undefeated in the EVRAA history for its "best hosting" in 2003.
Under its organization and management structure, several working committees have been organized. Hon. Reynaldo S. Uy is its over all chairman. Concerns on technical and games administration; ceremonial/socials and cultural; billeting; logistics, security & safety measures; publicity/promotion; civic participation and games, venue, facilities, grounds and equipment will be taken cared by the respective committee members.
The Executive Committee has submitted a proposed budgetary requirement amounting to P7 million for the entire activity period. However, it was learned that the amount has been trimmed down from to P5 million where P3.369 million will be spent for the hosting expenses and P1.7 million will be for the actual delegation expenses. They, however, expect for further reduction of the said amount depending on the availability of funds.
Provision of comfort rooms, bathrooms, security and repair of school buildings that will be utilized in housing the delegates will be a few of the major items that will be considered under the hosting expenses. This will be in addition to the P100,000 financial assistance released by the DePED for the repair of various schools which will be used in the four day activity. On the other hand, meal expenses, uniforms, equipment, incidental expenses and honoraria will be charged to the P1.7 million appropriated for the delegation expenses.
Billeting of contingents will be drawn by lots. Each billeting venue will be provided with 50 complete sets of beddings. Expected contingents will come from Leyte, Ormoc City, Biliran, Maasin City, Samar, Southern Leyte, Calbayog City, Northern Samar, Eastern Samar and Tacloban City.
For this year, Calbayog will be having 549 delegates composed of 366 athletes (157-elementary and 209-secondary); 52 coaches; 38 trainers; 60 officials and 32 LGU officials. Paculan explains that in the past, Calbayog has limited delegates because of the financial constraints on transportation.
In terms of performance, Calbayog ranked 3rd in the 2003 EVRAA meet. However, it was learned that last year's performance was very poor due to lack of training resources.
The delegates are expected to arrive on the 27th where athletes will be interviewed at their billeting quarters. Submission and screening of athletes' documents will start on January 14-20. The athletes coming from both the elementary and secondary levels should present NSO certified live birth certificates. In order to qualify, athletes from the secondary level should be born on 1993 and elementary level participants should be born on 1998.
A grand parade around the city will signal the start of the activities on January 30 at 1:00 p.m. The formal opening will be held at Northwest State University immediately after the parade. A field demonstration which will be joined by at least 400 students from various schools will be presented to include the famous performance of the SARAKIKI.
Dr. Paculan was optimistic that the weather improves soon. However, in case the rain continues, the committees laid down contingency plans A and B to ensure that events will not be disrupted. "Games will continue as scheduled whether it rains or shines", she further stressed.
In the entire duration of the EVRAA Meet, classes will be suspended to ensure that all concerned teachers can actively participate.
Gov. Tan teams up with DA, offers P1.95 million counterpart seed subsidy
By EMY C. BONIFACIO, Samar News.com
January 15, 2011
CATBALOGAN, Samar – The Office of the Governor of Samar, represented by Gov. Sharee Ann T. Tan, partnered with the Department of Agriculture Region 8 in its Rice Self Sufficiency and Productivity Program by providing a P1.95 million worth of counterpart subsidy. The amount will reduce the amount of certified seeds for rice farmers in the 1st and 2nd districts of Samar.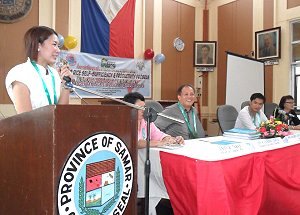 More than 70 participants from the 26 local government units of Samar witnessed the launching activity last January 5, 2011 at the SP Session Hall of the provincial capitol. It was spearheaded by DA-8 Regional Director Leo P. Cañeda and witnessed by Governor Sharee Ann T. Tan, Vice-Governor Stephen James T. Tan and NFA Provincial Manager Ms. Francisca Mercado. The assembly was attended by farmer beneficiaries, seed growers, Municipal Agricultural Officers and DA/OPA officials and personnel.
The Rice Self-sufficiency and Productivity program aims to increase the utilization of certified seeds through cost reduction; to attain 10% increase in yield from 2.42 metric tons to 2.66 metric tons per hectare in 6,500 hectares program area and to increase palay outputs of 1,573 metric tons for September 2010 to March 2011 cropping season.
DA Officer-in-charge, Ms. Anita T. Taran, announced that a total of P1.95 million has been allocated by Gov. Tan to support the seed requirements of about 6,500 farmers in Samar. To qualify as a farmer beneficiary, inclusion in the master list of farmers in the RaSSFIP program is a must.
For every bag of certified seeds which amounts to P1,200, the DA provides a 50% subsidy, lowering the farmer's equity to only P600. However, instead of paying P600, farmers will only be paying P300 because of the additional subsidy from the provincial government.
All farmer beneficiaries who would want to enroll in this program should register with the Agricultural assigned in the LGU, pay his equity of P300 to DA authorized representative and affix his signature to acknowledge the receipt of the seeds. On the other hand, the MAOs will prepare the submission of a complete list of farmer beneficiaries to DA-RFU8 and collect the P300 farmer's equity. The provincial government will in turn set aside a special fund of P1.95 million for the counterpart seed subsidy and make the fund ready for disbursement. It will be the NFA's responsibility to issue receipts for the P300 provincial subsidy and P300 farmer's equity.
Governor Tan was happy over the passage/approval of the provincial Annual Budget for CY 2010 because it made her possible to implement pro-poor programs. Tan announced an ongoing P19 million worth of a farm to market road construction in Sto-Niño to Rawis, Gandara and the provision of a 5% counterpart amounting to P2 million for an P8 million irrigation project in Jiabong. She calls on the need for solidarity among stakeholders. She also commits to give fertilizers and farm implements to farmers. "Dara han pagkamay-ada naton hin aprobado nga budget, an gugma ngan ngan serbisyo tikang han akon administrasyon maipa-aabot ko na ha iyo. An gobyerno andam pagbulig ha iyo ngan naglalaum ako nga ini an magin tinikangan han maupay nga mga relasyones", were the exact statements of the governor.
Tan further stressed on the importance of having sustainable programs on agriculture. She hopes that the program will not end at its launching activity only, but a start of more developments in Samar that will lessen or ease poverty among her constituents. She ended her speech with an appeal to all provincial legislators to pass the Annual Budget for CY 2011 the soonest possible time in order to deliver the proposed programs contained in the proposed budget.
On the other hand, Dir. Cañeda tagged the launching activity as "a day of victory for our farmers, signaling a new era for agricultural development." He expressed his appreciation to Gov. Tan for being one of those governors who responded to his call for partnership in the certified seeds subsidy program.
As part of the program, rice subsidy coupons and souvenir t-shirts were distributed to farmer-beneficiaries. The activity was highlighted by the turn-over of the Provincial Rice Sufficiency Blue Print from DA Director Leo P. Cañeda to Gov. Share Ann T. Tan. This was facilitated by OPA Officer-in-charge, Ms. Anita Taran.
It was further learned that Calbayog City Mayor Reynaldo S. Uy and Sta. Margarita Mayor Alfredo Serrano have also expressed their commitment to support the certified seeds subsidy program to be immediately implemented at their respective local government units.
DILG works for transparent, full disclosure of LGU finances to help curb corruption
By BONG PEDALINO, PIA Southern Leyte
January 13, 2011
QUEZON CITY – A remarkable initiative of the Department of Interior and Local Government (DILG) under the new management of Secretary Jesse Robredo has enlisted the efforts of local chief executives as part of the process in finding a lasting solution to an age-old problem of corruption.
We are all part of the problem so we should all be part of the solution as well – or so this first-ever step in a journey of a thousand miles to eradicate corrupt practices tried to say in simple terms.
But the terms of engagement here are not simple, and it has yet to show if this endeavor makes waves.
To be sure, many innovative approaches to lessen corruption in a country known as the only Christian nation in this part of the world, has already been done in the past, yet those moves were just like square pegs on round holes, as illegal acts to squeeze public funds went on, took many forms and faces, and carried out in seemingly legal maneuvers at that.
What makes this one any different then?
According to Feliciano Regis, the OIC-Office of Public Affairs at the DILG Central Office, this has been a novel approach to a lingering illness, even swearing that nothing like this comes close in previous administrations.
This was also the very first pronouncement Sec. Robredo made shortly after assuming his new post, and he was a former Mayor himself, so he knows whereof he speaks about nuances in LGU operations.
Not only that: the idea actually developed out of President Benigno Aquino's inaugural speech on June 30, 2010 when he stressed the now familiar line "kung walang corrupt, walang mahirap," Regis added in an interview at his office.
It was an idea whose time has come, an idea that acquired flesh on August 31, 2010 as Memorandum Circular Number 2010-83 on the subject, "Full disclosure of local budget and finances, and bids and public offerings."
Sure enough, the directive was addressed to "all provincial governors, city mayors, municipal mayors, presiding officers of sangguniang panlalawigan, sangguniang panlungsod and sangguniang bayan, ARMM regional governors and DILG regional directors."
That translates to an imposition for 80 provincial governors, 122 city mayors, 1,512 municipal mayors and, since October 2010, including 42,021 punong barangays to "faithfully comply with the provisions of laws and existing national policy" to inform the general public by posting "budgets, expenditures, contracts and loans in conspicuous places within public buildings in the locality, or in print media of community or general circulation and their websites" – all for a noble and lofty purpose of promoting good local governance.
And, by extension, discouraging attempts of corruption, as the concerned, reading public would be duly aware and informed and, hopefully, these documents can serve as basis for spotting irregularities, then eventually to filing of cases, either in the Ombudsman or the Courts, if needed.
Specifically, twelve (12) documents, with their corresponding information details, are mandatory to be let open, let known to a scrutinizing, often skeptical public purportedly to gain their trust and confidence.
For posting this year, 2011, these are: CY 2011 Annual Budget, Quarterly Statement of Cash Flows, CY 2011 Statement of Receipts and Expenditures, CY 2011 Trust Fund (PDAF) Utilization; CY 2011 Special Education Fund Utilization, CY 2011 20% Component of the IRA Utilization, CY 2011 Gender and Development Fund Utilization, CY 2011 Statement of Debt Service, CY 2011 Annual Procurement Plan or Procurement List, Items to Bid, Bid Results on Civil Works, and Goods and Services, and Abstract of Bids as Calculated.
Coincidentally, serving as a booster to the DILG-led direction, the 2011 General Appropriations Act, or RA 10147 that contained the National Budget for the current year, has a rider provision which makes full disclosure mandatory, reported Regis.
He also pointed out that to sustain the initiative, DILG partnered with NGOs and civil society groups, in addition to their regional structures, for monitoring compliance both in form and substance, not just for the sake of compliance.
By the end of 2010, those who had complied were not much – 18 out of 80 provinces, 34 out of 122 cities. But with NGO assistance, Regis was confident the figures would increase this year. But more than expecting a higher compliance rate, Regis said Sec. Robredo was particular on impact, on effects, if at all this has transformed the long-entrenched culture of corruption, replacing it with a culture of honesty which, in turn, will become a habit.
A long shot, definitely, Regis humbly admits. But somehow there is hope.
And hope, in the end, is something we have to cling to, like faith. Indeed, to turn an abstract concept into tangible, visible, and positive results requires a bottomless reserve of hope. Lots of it, actually, and discipline, too, especially the inner kind.
8th Infantry Division mourns over ambush comrades, NPA rebels commend success
By GINA DEAN-RAGUDO & ELADIO PERFECTO
December 26, 2010
CATARMAN, Northern Samar – The successive ambush incidents in Northern Samar have boosted the NPA rebels' strength. This part of the island where a regional operational command is situated has a strike force with more than 100 fully equipped, said a former military commander. The latest explosion of a landmine on December 14, 2010 has killed 10 soldiers belonging to the 63rd Infantry Battalion, a 9 year old boy and wounded 2 other military combatants. Said incident happened when the troop was heading back to their camp traversing the remote area of Brgy. Sta. Fe, Las Navas, Northern Samar where they were confronted by more or less 50 heavily armed men believed to be members of the CPP/NPA/NDF.
The fatalities were identified as Sgt. Antonio P. Imperial (39), Catbalogan, Samar; Cpl Rey Villagracia (38), Borongan, Eastern Samar; Cpl Richard J. Maximo (32), Palawan; Cpl Nathaniel Colima (31), Hernani, Eastern Samar; Cpl Allan Rafinian (32), Brgy. Dalakit, Catarman, Northern Samar; Pfc Juanito Millagracia (34), Mondragon, Northern Samar; Pfc Jarold Vergara (22), Lanao Del Norte; Pfc Nathaniel Mamerto (25), San Agustin, Surigao Del Sur, Pfc Jayson Alcala (23), Oras, Eastern Samar; and Pfc Roy Cascano (33), Brgy. Dalakit, Catarman, Northern Samar.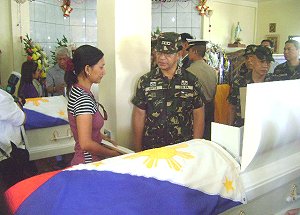 The nine (9) year old boy hit and killed during the incident was identified as Joven Cabe, a resident of Brgy. Perez, Las Navas town.
The two combatants who have survived from gunshot wounds were Cpl Ricardo Gabral and Pfc Hezer Pabillion.
In a visit to St. Francis Chapel at Camp Juan Ponce Sumuroy in Catarman Northern Samar, top military officials have paid tribute to the slain soldiers. Defense Secretary Voltaire Gazmin, OPPAP (Office of the Presidential Adviser on Peace Process) Sec. Teresita "Ding" Deles, Government Peace Panel Chief Atty. Alexander Padilla, AFP Chief of Staff Ricardo David, Army Chief Lt. Gen. Arturo Ortiz, 8ID Chief Maj. Gen. Mario Chan and others expressed their sympathies to the immediate families and gave financial assistance as well as AFP Educational Benefit System through scholarships.
In a text message released by 803rd Deputy Brigade Commander Rolando Malinao it says that "these Christian soldiers died a glorious death for God, Country, and People. They fought it out to the last and they have won over evil! They have won in protecting you, for you to continue in enjoying the fruits of democracy and freedom. We thank you all, in behalf of their families, your silent prayers and sympathies. But we will honor them more if we turn that silence into a loud voice of support to their heroism and condemnation of the CPP/NPA/NDF. Let's now translate this into resolutions and mobilization, and once and for all let us make a stand for the sake of our children and our children's children."
Earlier, a series of ambush incidents were reported from the same town of Las Navas. A group of soldiers while taking a bath in a river along Brgy. Del Pilar, was sniped by NPA rebels, and on December 9 while on board a motorized banca en route to Brgy. Poponton, Brgy. Taylor was trapped by another terrorist act of deception by the same group.
On the other hand, a press statement issued by the Efren Martires Command (EMC) entitled "Successful Las Navas ambush a punishment of the military in response to the people's demand" dated December 18, 2010 has commended the NPA in Northern Samar for heeding the people's demand to punish the military, killing 10 fascist troops of the 63rd IB and confiscating 11 high-powered firearms.
It accused the 8th Infantry Division for committing many human rights abuses in the second half of this year through widespread military operations in Samar Island.
It further stressed that the people have long been seething and demanding the punishment of 8th ID troops who were responsible for bombing their communities, killing suspected NPA supporters, destroying crops, looting and burning houses, torturing and harassing the people, forcing mass evacuations and other human rights violations.
The militarization of Samar and the consequent abuses were glossed over by 8th ID chief Gen. Mario Chan, with his meaningless boasts of having "captured" 43 NPA camps and that the NPA was finished. Now Gen. Chan is eating his own words and the people are rejoicing at the sterling victory of the NPA and the punishment of the fascist tormentors."
EMC spokesperson Ka Karlos Manuel expressed regret at the reported death of a child in the ambush but pinned responsibility on the military. "News reports state the child was not inside the ambush area but swimming in a nearby river. The NPA had defined targets within the ambush area, so how could the child be hit when he was not even inside the danger zone? The EMC instead believed the child was either hit by the ambushed soldiers firing indiscriminately to save themselves, or else deliberately shot afterwards by enemy reinforcements for anti-NPA black propaganda. The NPA certainly welcomes any investigation that would strengthen the Comprehensive Agreement on Respect for Human Rights and International Humanitarian Law and the prospects for peace negotiations."
The Ka Karlos also said that the NPA offensive occurred before the mutual ceasefire between the NDFP and the Philippine government on December 16 with which it is now complying. "The NPA views with disdain the comments by Gen. Chan that the Las Navas ambush is an act of treachery, even though it happened before the ceasefire, and furthermore implying that the NDFP is insincere about the peace talks. Gen. Chan is contemptible for accusing the NPA of warmongering when it is the 8th ID that has been mounting massive military operations in Samar Island for the past months and causing untold suffering to the people. The ambushed 63rd IB troops were in fact on their routine combat operation, the reason why the NPA had correctly anticipated their movements and prepared to do battle. And if insincerity should be cited, it is on the part of the 8th ID and the Aquino government who has militarized Samar is preparing a fresh offensive next year to supplant Oplan Bantay Laya."
Manuel however assured the officials and members of the military and police who have no serious crimes that they will not be arrested or punished during the NPA's ceasefire from 00:01H of Dec. 16, 2010 to 23:59H of January 3, 2011. "They may also individually visit their friends and families inside the territory of the people's democratic government. At the same time, the EMC calls on all NPA units to actively defend themselves only if there is a clear and present danger, and to closely monitor enemy movements and immediately report any ceasefire violation by the enemy. Violations that may be reported include operations by the military, paramilitary and police; fascist violence such as harassments and road blockades; and other hostile actions within and around guerrilla zones and fronts. Any ceasefire violation by enemy forces should be immediately reported to the Information Bureau of the Communist Party of the Philippines."
Northern Samar representative condemns NPA attacks
Northern Samar 2nd District Representative Emil Ong violently condemned the use of landmines and other terrorist acts of the NPA rebels. As one of the negotiators during the time of President Cory Aquino, he appealed before the group and convinced them to join the government by running in any position to convey their grievances.
He admitted of having gained support from the underground movement during campaign period but he never tolerated any kind of atrocity committed by the group whom he suspected that said act of terrorism was not tolerated by the real NPA hierarchy.
He added that the victims of the latest ambush in his area are considered heroes.
Ong who also gave financial support to the widows and immediate families of the slain soldiers said that lives cannot be measured by money but his act is a form of sympathy.
He said that he was very disappointed on the series of ambush incidents in his district as it would definitely affect his attempt to promote their tourism industry, and the effect would defeat the purpose of improving the economic progress of the people.
"Any single incident is a block mark to tourism", he said.
In his efforts to recognize the real causes of these incidents, he disclosed that he could not understand the demands of the CPP/NPA/NDF for the latter would only tell him that they have profound basis for instituting offensive attacks against the government troops. He however hoped that the peace talk on January 2011 will be fruitful.
Cong. Ong appealed to PNoy's administration to allocate bigger budget to agriculture for he believed that one way of solving insurgency problem in the area is by providing "food sufficiency than military sufficiency" as it will lessen the susceptibility to join the rebel group.
"I am not threatening the new administration but appealing to increase the budgetary support for agriculture like other departments," he added.
He further said that as an agriculture country, other industries will also benefit if all the lands in the area are irrigated for it will have good productions which will result good income in the form of taxes.
Basaynon shares honor with "Andok's" 25th Anniversary
By EMY C. BONIFACIO, Samar News.com
December 15, 2010
CATBALOGAN, Samar – A 57 year old Basaynon, who now resides permanently and comfortably in Magdalena, Laguna, made it as an awardee in the 25th anniversary of "Andok's" held at its main office in Quezon City last Dec. 9, 2010.
Mrs. Lavinia Gravoso Articona, a native of Brgy. Bacubac, Basey, Samar, bags the award as one of the most outstanding suppliers of dressed chicken and "liempo" for the prestigious food chain, Andok's.
Mana Vinia, as popularly known by the Basaynons, went to Manila in 1981 for a greener pasture. She recalled having a meager starting or seed capital in the amount of P12,000 to initially engage in meat processing at home, upon the death of her husband.
"Meeting Ms. Ligaya Dycoco, the production manager of Andoks, made a whole lot of difference in my business career. A friend, who was an Andok's supplier, got messed up in her business dealings and introduced me to Dycoco. It started this partnership" says Articona.
Getting connected with Andok's changed her life. At present, "Mana Vinia" contributes the biggest supply of dressed chicken regularly to the said food chain. She delivers 6,000-7,000 dressed chicken regularly. Other than being an Andok's supplier, her own business enterprise known as La Vinia Marketing, branched out to rice retailership and other grocery items.
La Vinia Marketing, a family business venture, is being joined by Mana Vinia's children Marjorie, a 32 yr. old accountant; Cesar, 30 yrs old and an Electronics Communication Engineer and Mercedes, 26 yrs old and is presently enrolled in a law school. Its office is within their residential compound in the town of Magdalena, Laguna.
Andok's, owned by Mayor Sandy Leonardo Javier of Javier, Leyte turned 25 years in existence. The food business is known for its natural taste chicken. It has no preservatives. In its 25th year, it maintains 71 dine-in outlets and more than 200 kiosks or rolling stores nationwide. Its first dine-in outlet was in Iloilo.
The establishment's name "Andok's" was in memory of Mayor Javier's father. He mentioned about the sacrifices that he went through to sustain the business. In his speech, he especially thanked the people behind the whole organization who sincerely worked with him as well as the clients, whose trust and patronage continue and keep Andok's growing. They assured the public to maintain the excellence and even improve their services and be a partner in the country's development.