DA turns over to Calbayog Social Action Center the biggest organic farming enterprise in the region
By EMY C. BONIFACIO, Samar News.com
October 18, 2010
CATBALOGAN, Samar – A 9.7 million worth of agricultural package that includes installation of greenhouse facilities as well as the conduct of a farmers' capacity building program was formally handed-over by the Department of Agriculture during its blessing and turn-over ceremony held at the Sustainable Agriculture Learning Center (SALC) in Brgy. Limarayon, Calbayog City on October 13, 2010.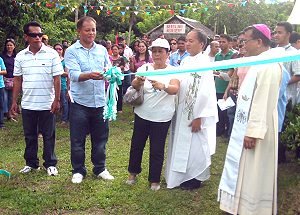 The facility was blessed by Bishop Isabelo Abarquez of the Diocese of Calbayog. He was assisted by DA Director Leo Cañeda, Ms. Maricar Constantino of the National Agri-business Corporation (NABCOR), Ms. Marivic Manaligod of Manna-lig Agri Industrial Corporation, WESA DEF, OCCI, Ms. Gina D. Yulo of the UCPB, other guests and barangay residents.
The Greenhouse Facility Project was provided to the Social Action Center of Calbayog City by the Department of Agriculture (DA) under the leadership of then Sec. Arthur Yap, as part of the department's "Gulayan sa Parokya Project". The facility serves as a model for farmers in organic farming. Each of the 16 greenhouses occupies a 120 sq. meter area within the 5.6 hectares agricultural land owned by the Diocese of Calbayog. Its nurseries have 80 sq meters area.
According to the SAC Director, Fr. Cesar Aculan, 10 dioceses in the country have been identified and selected by the Department of Agriculture to pilot a mass production of organically-grown high value vegetables in a modern green house facility. "However, even before we became a recipient for the project, we were already implementing an Organic Agriculture Program", the SAC director explains. He recalls having started in 2002 with 50 MASIPAG varieties, brought by Fr. Pio Ignacio. Using organic farming, they tried planting the varieties in a ¼ hectare trial farm that became productive.
DA Regional Director, Mr. Leo Cañeda, considers the project the "Biggest Organic Farming Enterprise in Eastern Visayas". He mentioned that out of the 143 local government units in the region, the SAC facility in Brgy. Limarayon is the biggest that he had known. He did not fail to extend his thanks to the Social Action Center for spearheading the project implementation, the partners such as the UCPB, OCCI, CIIF, NABCOR and the Manna-Lig Agri-Industrial Corporation for the support in the realization of the project. He especially thanked Calbayog Mayor Reynaldo S. Uy for being a prime mover in sustainable agriculture efforts. According to him, Calbayog always offers good news with either a farmer's congress or a new project where he frequently gets invited. He encouraged the barangay folks to maximize the use of the said facility and expressed hopes that this intervention will not only be helping the local residents but the entire region, as well, in attaining sustainable development of organic agriculture towards food security. "There will be no food security without sustainable agriculture, no sustainable agriculture without organic farming" Cañeda adds.
The City Agriculturist, Ms. Adelina Ocenar, who represented Mayor Reynaldo S. Uy, conveyed the mayor's support on sustainable farming. She shared Mayor Uy's vision for food sufficiency in Calbayog stressing that no Calbayognon would suffer from hunger in the next few years. Ocenar assured the farmers that a Bagsakan Center has been provided jointly by the Department of Agriculture and the City government for their products. The freezers and coolers bought offered a big help to the members of the 1st Fruit and Vegetables Association in the city.
In the same manner, 1st District of Samar Representative, Congressman Mel Senen Sarmiento, sent a personal note to Fr. Cesar Aculan apologizing for his inability to respond to the invitation. He congratulated the SAC for concentrating on innovative ways to address global poverty before the Millennium Development Goals (MDG) deadline.
In a short welcome remarks, Brgy. Chairman Manuales of Brgy. Limarayon cited a 2009 statistic where the barangay, has been ranked to be one of the highest number of cases on malnutrition. The project was instrumental not only in improving the nutritional status of most of their children but in generating self-employment among the local residents.
Meanwhile, 28 farmers received their Certificates of Completion after successfully acquiring the skills and expertise from a Seminar workshop on Organic Farming and Training on Greenhouse Operation and Management that they attended last August 1-18, 2010 at the SALC.
In a related story, the SAC is now preparing for the Annual Farmers Day Celebration on October 28-29 in Calbayog where a mini fair trade, farmers' forum and turn-over of equipments to farmer-beneficiaries identified by the Office of the Presidential Adviser on Peace Process (OPAPP) as armed conflict areas will be witnessed by at least 150 to 200 farmers gathered on that occasion.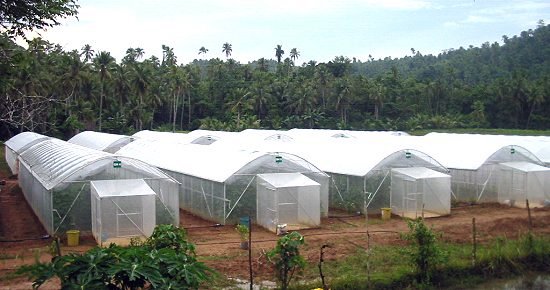 Leyte festival bagged Best Tourism Practice Award
By Provincial Media Relations Center
October 11, 2010
TACLOBAN CITY – The provincial government of Leyte bagged the Best Tourism Practice Award under Festival Category during the recently concluded Association of Tourism Officers National Convention 2010 at the Subic International Convention Center, Subic, Zambales.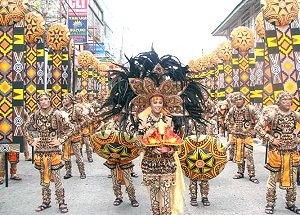 The Pintados Kasadyaan Festival of Festivals won the Grand Prize with Magayon Festival, Albay as 4th runner up, Hudyaka Festival of Zamboanga del Norte as 3rd runner up, Anilag Festival of Laguna as 2nd runner up and Panaad Festival of Negros Occidental as 1st runner up. Criteria for judging were based on achievement of the project 20%, contribution to the community 25%, continuity and sustainability of the event/project 20%, involvement and participation of the stakeholders 35%.
Distinguished judges were Mr. Sofronio Jon Lingatong Jr. - Program Officer Center for Social Involvement, Assumption College Manila, Mr. Casimiro Villarosa, Jr. VP - The Philippine Premier Theatrical Family Show: Amazing Show, Ms. Ellen Fullido VP-HR & Admin Services, Manila Broadcasting Company and Star City member and founding and organizing committee of the Aliwan Fiesta.
Chairman of the Committee on Awards for ATOP was Mr. Kenneth Benignos, Tourism Officer of Negros Occidental and Ms. Grace Marzan of DOT Manila served as Adviser.
Board Member Nico Villasin was on hand to receive the award.
ATOP National convention is a yearly event that provides an avenue discuss pressing issues on the country's tourism industry and the role of local government units (LGUs), the local tourism officers and stakeholders in the promotion of domestic tourism.
It was organized in 2000 with the end-in-view of promoting sustainable community tourism programs in partnership with local chief executives who advocate tourism development in their respective LGUs.
It was formally established in October 2001 during its ever national convention held in Cagayan de Oro, with DOT Region 10 Regional Director Catalino Chan III as its founding president.
DOT Secretary Alberto A. Lim was the keynote speaker of the convention who expressed his unwavering support to the initiatives of the association of tourism officers, who are at the forefront in promoting the different Philippine tourism destination.
Leyte Pintados-Kasadyaan Festival is the province premiere twin festival celebrated during the fiesta celebration of Tacloban in June in honor of the city and the province's patron saint Sr. Sto.Niño. The festival brings together the diverse, vibrant and colorful festivals from the towns in the province of Leyte and other festivals from the other provinces in Eastern Visayas.
Youth group WARAYA covets two project grants from international donors
Press Release
By WARAYA
October 10, 2010
CATBALOGAN, Samar – Waray-Waray Youth Advocates (WARAYA), the leading youth organization in Catbalogan City and in the Province of Samar is in full throttle after winning two youth projects from International Planned Parenthood Federation (IPPF) and from Family Planning Organization of the Philippines (FPOP).
Alongside FPOP-Samar Chapter, WARAYA's mother organization, it was one of the few organizations who bagged the small scale project grant of IPPF for its project entry entitled "G.E.T. Peers Project or Girls Education Through Peers" to be implemented from July to December 2010 in Catbalogan City and Basey, Samar. WARAYA's project aims to form a peer counselors' group (PCG) consisting of young girls in both the school and community level and use counseling to impart information on Adolescent Reproductive Health (ARH) to their counselees. A different counselors' group shall be formed in the school and the community in anticipation of differences in issues confronting those in the schools and those who are more immersed in community life.
Apart from the young girls to be trained on ARH, Peer Education and Peer Counseling, a separate group of adults will also be trained during the project duration. Community-Based Volunteers (CBVs) and In-School Volunteers (ISVs) will be tapped to give technical and auxiliary support to the community and in-school PCGs especially in situations wherein the provision of contraceptives is already deemed necessary. For these circumstances, the CBVs and ISVs will also serve as the mediator between the young client and her family and might also be required to perform counseling for them. Because of this, the CBVs and ISVs, along with the identified peer counselors, will also have to undergo training on counseling and advocacy.
The project areas are Basey National High School (BNHS) and Barangay Mercado in Basey, Samar and Catbalogan National Comprehensive High School (CNCHS) and Barangay Silanga in Catbalogan City.
GET Peers was first submitted as an entry to the "Girls Decide: Stand up for choice on sex and pregnancy", a competition initiated by IPPF for small scale projects or activities that seek to empower young women and girls.
It was part of IPPF's efforts to show that their work on young women's and girls' pregnancy respects the sexual rights of young people, and to demonstrate its commitment to help and support young women and girls in their decisions related to sexuality, whatever their choices may be.
IPPF is a global service provider and a leading advocate of sexual and reproductive health and rights for all. It is a global network of Member Associations (MAs), working in over 170 countries - providing and campaigning for sexual and reproductive health care and rights. FPOP is the sole member association in the Philippines with over 25 Chapters and Clinics all over the country.
The second project that WARAYA won was the project entry "In Our Eyes: A Youth Documentary and Film Festival Project" for the Youth Innovation Fund of FPOP. The Youth Innovation Fund is a grant competition that seeks to develop the capacity of FPOP through its youth volunteer leaders in promoting adolescent reproductive health. The competition was made open to Chapter Youth Groups of FPOP, which awarded maximum of P40,000 to innovative, creative and original small scale activities with a minimum target beneficiary of 50 young people.
The September 2010 to February 2011 project aims to conduct a youth documentary cum film festival that'll focus and explore the different aspects of RH and observe closely how the aforementioned issues play in a family set-up. It seeks to address the absence of ample information about RH and also in response to the prevailing media which is directed more towards the general public rather than the concerned sectors, resulting to materials limited in scope and content, often leaving out other important angles. The project will serve as a contest cum film festival, open to young people aging between 15-24 years old. Groups of 6 members with equal gender distribution will be considered eligible. Each group must choose a family with a minimum of 10 family members not including extended family members. The videos must only be within 4-5 minutes and will be judged during the Film Festival on February 2011.
The "GET Peers Project" and the "In Our Eyes: A Youth Documentary and Film Festival Project" awarded WARAYA $9,600 or more than P400,000 and P40,000 respectively.
Waray-Waray Youth Advocates or WARAYA is the youth arm of Family Planning Organization of the Philippines - Samar Chapter (FPOP-Samar). It was established on July 2004 from a group of young volunteers of the chapter after a series of trainings and workshops. It envisions a society that understands, respects and nurtures the rights of young people to sexual and reproductive health. These can be achieved through orientations and workshops to raise their level of awareness; through information, education and communication activities; and through trainings aimed in creating a youth that is informed, decides on choice decisions, and acts responsibly.
It is the only youth organization represented in the region-wide FP coalition, the Coalition of Family Planning and Reproductive Health Advocates 8 (COFPRHA-8) and in Samar Reproductive Health Advocacy Network (SRHAN), a multisectoral network of reproductive health advocates from NGOs, government agencies and media formed to advance RH concerns in the Province of Samar. WARAYA currently sits as the Advocacy and Networking Committee Chair of the Samar Provincial AIDS Council (SPAC); a member of Catbalogan City AIDS Council WARAYA; and a proud member of UNFPA Philippines Youth Advisory Panel (UNFPA YAP) and Y-PEER Pilipinas.
It has received numerous citations and acknowledgement from different organizations like Visayas Reproductive Health Institute (VRHI) and Eastern Visayas Reproductive Health Council (EVRHC) and from different Local Government Units in Samar for initiating youth responsive programs. WARAYA has been consistently a Regional Finalist for the nationwide search for the Ten Accomplished Youth Organizations (TAYO) of the National Youth Commission for 2005 and 2007, and has recently become a National Finalist for 2008 6th TAYO Awards – the first community youth organization in the Province of Samar to make it that far.
WARAYA has continuously inspired the youth that anything is possible when all is in one direction. It has shown that the youth has a voice, and that is WARAYA.
MCC, RPMT and community stakeholders dialogue in Paranas
By EMY C. BONIFACIO, Samar News.com
October 8, 2010
CATBALOGAN, Samar – Barely a week ago, President Noynoy Aquino in his recent visit to the US announced that he is bringing home to the Philippines a substantial amount of pro-poor projects that identified Samar as a beneficiary. Immediately, the MCC team visited the project sites and conducted dialogues with its stakeholders in Samar. The Local Government of Paranas hosted the Millennium Challenge Corporation (MCC), Regional Project Management Team (RPMT) and Community Stakeholders Dialogue last October 3, 2010. Paranas has been considered as a recipient of the KALAHI-CIDSS project that will be implemented by the MCC.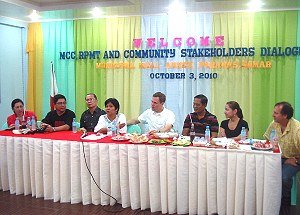 The Millennium Challenge Corporation (MCC) is an innovative and independent U.S foreign aid agency that is leading the fight against global poverty. It has formed partnership with some of the world's poorest countries who are committed to good governance, economic freedom and investment in their citizens by providing large-scale grants to fund country-led solutions for reducing poverty through sustainable growth. In order to qualify as beneficiary, a compact-eligible country has to undergo a competetive selection wherein the MCC Board examines its performance on 17 independent and transparent policy indicators based on performance. Countries should likewise identify their priorities in achieving sustainable economic growth and poverty reduction and set up its own local Millennium Challenge Account (MCA) to manage and oversee all aspects of implementation.
The MCC Board of Directors has approved a five-year $434 million compact with the Government of the Republic of the Philiipines aimed at reducing poverty through economic growth. It is intended to support reforms and investments to modernize the Bureau of Internal Revenue (BIR), expand and improve a community-driven development project, KALAHI-CIDSS and rehabilitate a secondary national road in Samar province. This compact was signed last September 23, 2010.
The Millennium Challenge Corporation (MCC) Team headed by its Country Director, Mr. Matthew Bohn visited Paranas and parts of Eastern Samar. With him were Ben Campbell, Director for Environmental and Social Assessment and Jozefina Cutura, a Senior Program Officer and Gender Specialist. Also with the team are Benilda Redaja, National Deputy Project Manager, Cesario Tingzon, National Infrastructure Engineer, Jaime P. Eclevea, DSWD 8 ARD and Regional Project Manager. They conducted a dialogue and focused group discussions with men and women, separately, who will be involved in the implementation of the MCC and the Philippine Government compact for the Samar Road Project of DPWH and KALAHI-CIDSS of DSWD under the grant agreement of the US. They, likewise, inspected the 222kms road network connecting 16 Municipalities of Samar for a proposed $214.4M road project which will be implemented soon.
Mayor Babalcon shared a "journey with KALAHI-CIDSS" experience in his municipality to stress its success in human resource development using the KC (KALAHI-CIDSS) process. "One good thing about KC is that from the inception of the program, ordinary people are being capacitated and trained in the simplest way, thereby enhancing their knowledge as they go further and further in the learning process. At the end, one can see the real transformation of these ordinary citizens becoming resource persons and have mustered confidence in themselves. They participate and decide matters affecting their welfare. KC instills value formation among barangay folks and they become ready to render volunteer work. Capacities to plan for their own development are enhanced and safeguards are put in place so that resources are not wasted or lost," were just a few learnings that Mayor Babalcon shared. He was proud to have successfully implemented KC programs in his locality where they got cited for a regional award and nominated in a KC national competition in Manila.
The Secondary National Road Development Project is expected tol reduce transportation costs and bring about savings in vehicle operating costs, road maintenance costs, increase investment in and between provinces of Samar and Eastern samar and ultimately increase incomes while the Adminsitration Reform Project with the BIR will address the need to raise tax revenues, reduce tax evasion and revenue agent-related corruption.
The MCC Team encouraged Samarnons to actively participate in the monitoring of its implementation. Mr. Matthew Bohn emphasized that the resources should be responisbly used in order to bring impact to the lives of the people. "We have a lot to do. Concentrate on preparatory works, strengthen gender participation in economic activities and implement projects transparently and effectively. This is a joined effort. We would like to help you, learn from you, so that every peso is transparently used and with end results. Let's take this forward and let's make this the best development journey in the Philiipines," were the final words of the Country Director.
As counterpart of the identified beneficiaries, various organizations have signified their commitment to take part in the monitoring. The Multi-sectoral Alliance for Transparency and Accountability (MATA-Samar), a SIPPAD sub-organization, has offered the voluntary technical services of its engineer-members to oversee that the project implementation will be in accordance with the MCA policies and guidelines. In the same manner, women organizations such as the Katungod han Samareña Foundation, Inc. (KSFI) through its Executive Director, Ms Myra M. Tambor assured the mobilization of women's organization in various related activities.
The MCC assured the stakeholders that the MCA is hurrying up with its preparatory works for the immediate implementation of the project.
LP straight voting "Hapros Magic" dominates Samar PCL election
By EMY C. BONIFACIO, Samar News.com
October 2, 2010
CATBALOGAN CITY – The Philippine Councilor's League, Samar Chapter, elected its new set of Officers last September 27, 2010 at the Samar State Univeristy. As mandated under DILG Memorandum Circular No 2010-63, all Sangguniang Bayan Members within their respective provinces are required to convene within 90 days from assumption to elect from among them the Provincial Federation Officers who will be serving a term of office until 2013.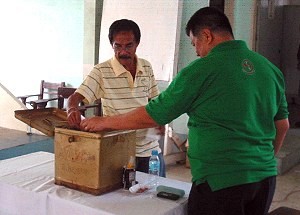 To oversee the orderly conduct of the elections, Mr. Brian Baena, the Island Treasurer for PCL Visayas; Mr. Wilson Uy, Leyte PCL President; Mr. Raul Rivera, Kabankalan City, Negros Occidental; Atty Alan Zulueta, National chairman based in Tagum, Davao del Norte and Ms. Vicky Cayao, the PCL National Accountant were present, while the DILG Provincial Secretariat headed by its Director, Mr. Artemio Cañeja acted as facilitators. This was the 76th PCL election conducted nationwide, with four more provinces soon to hold its election to complete the national PCL Officers.
From among the 266 Sangguniang Bayan Members of the entire Samar, 261 actively installed Calbayog City councilor Atty. Roger Casurao as its Provincial President, who ran against Jiabong councilor Mr. Lucio M. Pacli Jr. with 249-110 garnered votes, respectively. All the other winners were under Casurao's slate which is indicative of the strong party discipline that the Liberal Party in the locality is popularly known. The "hapros" magic, meaning a straight vote for the complete line-up, is most common in the 1st district of the province of Samar. "The Uy magic has already invaded the 2nd District of Samar", says an SB member from Paranas.
The winning of Atty. Casurao was anticipated with an expected 172 vote turn-out based on his own survey. However, he ran short of 23 votes in the end. Similarly, Mr. Pacli was expecting for an 11-vote advantage against Casurao with 144 warm bodies identified to be on his favor. Only 110 votes turned out after the results were counted. Out of the 266 PCL members in Samar, only 261 members of good standing were qualified to vote.
Completing Casurao's line-up were Atty. Ernesto Arcales (Catbalogan), Vice-President; Hon. Julius Mancol (Calbayog), Secretary General; Hon. Raymund Uy (Calbayog), Treasurer; Hon. Jesus Calutan (Hinabangan), Auditor; Hon. Alfredo Amantillo, PRO; Hon. Erdi delos Santos (Sta. Margarita), Business Manager; Hon. Amado Abria (Sta. Rita), Hon. Rene Friginal (San Sebastian), Hon. Jesus Gabon (Paranas), Hon. Leonardo Repol (Pagsanghan), Hon. Reynaldo Romano (Villareal), Hon. Ronnie Casiano (Daram), Hon. Nary Casurao (San Jorge) and Hon. Teodoro Ilagan (Catbalogan) as Board of Directors.
"In the history of PCL elections in Samar, this was the most controversial one" says a media observer from Tacloban. The venue was tightly secured with police authorities all over the place and a military vehicle with its personnel were seen on guard until 11:30 o'clock in the evening. The proceedings started hours later than the 9:00 o'clock scheduled time, with members coming in groups obviously being guided by leaders of both camps. Off limits sign for non-PCL members were posted at its doors, thus, most Municipal Mayors were seen just outside the premises, monitoring and patiently waiting for their SB members to come out from the venue. The media were not exempted from being thrown out of the session hall which has got adverse reactions from those present. "The practice was not in accordance with DILG Sec. Robredo's pronouncements supporting the transparency policy in all government activities and transactions. They could have provided for a media corner for us to just sit down and observe the proceedings, but not to be forcibly directed to step out of the room," a tri-media correspondent commented. However, the group did not fail to inform the Office of the DILG Secretary regarding the incident for comment.
The determination as to whose camp the emerging winner will come was very crucial as it will fill up the slot of an ex-officio member in the Sangguniang Panlalawigan. Casurao's winning completed the 2/3 majority votes requirement in deliberating major legislative actions. It may be recalled that the number game in the SP played so much role in the recent budget controversy. Thus, various strategies were allegedly resorted to by candidates to ensure the winning. Reports reaching this team revealed that there were SBs who were housed in Tadjao, Tolosa, Leyte for several days prior to the elections. Likewise, text messages that offer 30 to 50 thousand pesos in exchange for a single vote were believed to have come from a candidate. An estimated total amount of more or less 11 million was allegedly spent as campaign funds for that PCL election alone, told an insider. On the other hand, the support of at least 18-21 mayors of Samar gave Casurao an edge over Pacli. A victory party, led by Calbayog Mayor Reynaldo S. Uy and other LP personalities, waited for Atty. Casurao and party at the Flaming Hat Restaurant.
In a short interview, the newly elected PCL Federation president assured its members of programs that will professionalize them through the Legislative Academy of the Philippines. He intends to elevate the status of legislative councils as independent bodies and co-equal with the executive branch. "With my election, I will try to make a difference for the Samarnons. I will encourage my colleagues to learn the art of lawmaking and let them recognize the important role that legislators play in development", ends Atty Casurao.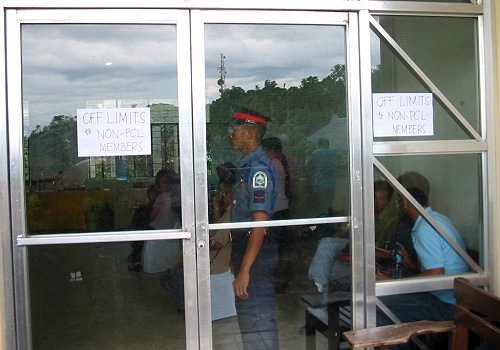 OFF LIMITS. A police officer was assigned at the entrance of the venue to ensure non-entry of non-PCL members during the voting proceedings. Even the media covering the event were not allowed inside to witness the proceedings.
Hidalgo shifts Avenger's Battalion Command to Lt. Col. Demafiles
By JAZMINE ODYSSA C. BONIFACIO
September 19, 2010
ORAS, Eastern Samar – The 14th Infantry (AVENGER) Battalion welcomed its new Commanding Officer in a simple turn-over ceremony held within its camp premises at Barangay Dao, Oras, Eastern Samar last September 7, this year. A mass was celebrated to start the activity.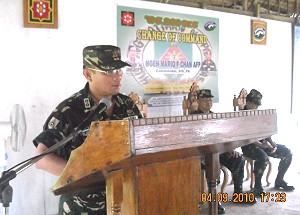 Col. Jaime Fernando R. Hidalgo served the "Avengers" as its 18th Commander for one (1) year, seven (7) months and two (2) days since his assumption last February 05, 2009. His leadership gained much recognition and respect from its stakeholders because of the many remarkable accomplishments he has achieved through good rapport with local chief executives. In a brief interview, Hidalgo is proud to have left his troops a simple legacy of guiding spiritually and physically motivated men in uniform that excelled in serving the interests of the populace in accord with that of the higher headquarters. He humbly gave credit to the collective effort of every men and women in his unit and appreciated the formal working relations that he has established with the civilian benefactors and friends, as factors in attaining the sustained peace and development in his area of responsibility.
In his relinquishment speech, Hidalgo went teary-eyed as he expressed his gratitude to the Estahanons for their unwavering support. "Walang katapusan ang aking pagpupugay at pagpapasalamat sa inyong lahat sa suporta na binigay nyo sa akin. Nagawa ko lahat ito dahil sa inyong walang sawang suporta," quips the outgoing commander. In addition to the Meritorious Medal that was awarded to him by the Division for his exemplary service as the 14thIB Battalion Commander, Hon. Emiliana P. Villacarillo handed over a Plaque of Appreciation, for and in behalf of all the people of Eastern Samar, who were the direct recipients of the peace efforts that the battalion has achieved under his stint. The mayors serenaded Col. Hidalgo with the famous friendship song, "Auld Lang Syne", a gesture reflecting a sincere and deeper friendship with the Estehanons. This, according to the mayors, made the occasion more memorable.
The 14th IB leadership was turned-over to Lt. Col. Hermilo Demafiles, a native of Antique. He was the G7 at the 4th Infantry Division before Assumption Order No.643 directed him to replace Col. Hidalgo. Just like MGen. Mario F. Chan, the new 8ID Commanding General, Demafiles is proud to have come from a battalion that has been awarded nationwide, as the Best Division for the past two successive years.
Col. Arnulfo Atendido, the Assistant Division Commander of the Stormtroopers Division presided the Change of Command Ceremony and acted as the guest speaker in behalf of MGen. Mario F. Chan, the 8ID commanding General. The activity was witnessed by Col. Alex Albano, 801st Brigade Commander; Lt. Col. Virgilio D. Magaway, OIC Division Adjutant; Lt.Col. Quilana, CO of the 543 Engineering Brigade; former Northern Samar Congressman Wilmar Lucero; former BID Commissioner Marcelino Libanan and PNP Provincial Director P/Sr. Supt. Felixberto Castillo.
Furthermore, the League of Mayors of Eastern Samar led by Oras Mayor Neil Alvarez was in attendance to deliver a message. Other guests present were Dolores Mayor Emiliana P. Villacarillo; Can-avid Mayor Alicia Cesista; Dolores Vice Mayor, Aquilino Mejica; Maslog Mayor Septemio "Boc "Santiago; Board Member Jojie Montallana; Sulat Mayor, Virginia Sacate, Can-avid Vice Mayor Gil Norman Germino; Giporlos Mayor Mateo Biong, Llorente Mayor Tito Dindo Cudoy; San Policarpio Mayor Rolando Evardone; Arteche SP Member Floro Balato; Oras Vmayor Franklin; ABC President of Eastern Samar, Hon. Daniel Lucero; Dolores Vice Mayor Raul Tan and Dr. Rumuar.
"Am happy to commend the outgoing commander, despite the constant demands of the battalion, there is still part where the welfare of his men was his priority-essential for every commander", was Atendido's reaffirmation on Hidalgo's mission of providing incentives for every productive soldier that are morally and spiritually focused. "Accomplishment bespeaks of you as a commander. You are a leader in your own right and there is no better tribute today as the commander who is leaving the Estehanons with a legacy", were the final inspiring thoughts of the ADC for Col. Hidalgo. As of press time, Col. Hidalgo was reassigned as CG's staff to oversee the tactical operations of the entire Division.
On the other hand, Col. Demafiles has assured everyone that he will continue building on what were initiated or established by his predecessor. He congratulated the Avengers for maintaining the excellence of the battalion which has been maintained for years. He ended his assumption speech by issuing his operational guidelines centered on the following: focus to neutralize the insurgents; enhance linkages with support groups; support the thrusts of the government; uphold the rights of the citizens by following the AFP rules of engagements; and make sure that all policies and guidelines issued by the battalion will remain in effect until appropriately rescinded.