Human rights activists go to UN to dispute PNoy's human rights claims before international community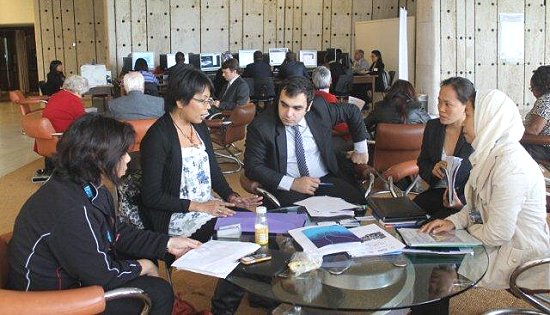 By Philippine UPR Watch
May 24, 2012
CEST GENEVA – Philippine human rights activists have arrived in Geneva, Switzerland in time for the second cycle of the United Nations' Human Rights Council Universal Periodic Review (UPR). The Philippines is scheduled to be reviewed on May 29. The UPR will review the national report of the Philippine government and measure it against its pledges and commitments during the 1st cycle of the UPR and when it applied for membership in the UN Human Rights Council.
Fifteen civil society groups belonging to the Philippine UPR Watch are represented by leaders and members of mass organizations in the Philippines while Filipino expatriates came from the United Kingdom, United States and The Netherlands from the International Coordinating Committee for Human Rights in the Philippines (ICCHRP).
The Philippine UPR Watch continued to vigorously lobby with the 71 countries that have signed up to question the Philippine government with its compliance to implement the recommendations put forward by 14 countries during the first cycle of the UPR held in 2008. The group has also been raising the government's other unfulfilled commitments and ignored recommendations particularly put forward by the former UN Special Rapporteur Philip Alston.
The various Missions that the Philippine UPR Watch spoke with so far have expressed keen interest and serious concern on the continuous human rights violations committed by the state security forces and its paramilitary groups including extrajudicial killings and forced disappearances, torture, intense militarization in the farmers' and indigenous people communities to pave way for mining operations, migrant and children's rights and the curtailment of other civil and political rights that are perpetrated alongside violations of economic, social and cultural rights.
Karapatan chairperson Marie Hilao-Enriquez, co-head of Philippine UPR Watch, said that under the administration of President Benigno Simeon C. Aquino III, the human rights situation in the country has not essentially improved. The human rights violations committed by the previous government of President Gloria Macapagal-Arroyo have not been addressed and worse, it continues to occur under Aquino's administration as institutionalized by the government's counter-insurgency program Oplan Bayanihan.
Hilao-Enriquez assailed the Aquino government downplaying of the human rights cases and misleading claims of compliance to the recommendations of the countries since the UPR meeting in 2008.
She also scored Malacanang in its reported plan to create another task force purportedly to address the continuing violations, saying that the victims do not need another task force on top of the multiple others already existing. These task forces have not concretely resolved the abuses but turned out to be passive yet inaccurate collators of information, formal deodorizers and elegant smokescreens for the government's utter failure to stem impunity after all these years, she added.
The Philippine UPR Watch delegation in Geneva is made up of Marie Hilao-Enriquez (Karapatan), Cristina Palabay (Tanggol Bayi), Renato Reyes (Bagong Alyansang Makabayan), Atty. Edre Olalia (National Union of Peoples' Lawyers), Nardy Sabino (Promotion of Church People's Response), Garry Martinez (Migrante), Beverly Longid (Cordillera Peoples' Alliance), Argee Malayao (Kalipunan ng mga Katutubong Mamamayan ng Pilipinas), Bai Ali Indayla (Kawagib/Moro Christian People's Alliance), Jaquiline Ruiz (Children's Rehabilitation Center), Melona Daclan (Defend Job Philippines), Ernan Baldomero (Hustisya), and Rev. Fr. Jonash Joyohoy (Ramento Project for Rights Defenders).
They are joined by Dr. Angelica Gonzales (International Coordinating Committee for Human Rights in the Philippines), Melissa Roxas (Bayan-USA), Maribel Mapanao (Campaign for Human Rights in the Philippines-Switzerland), and two other delegates from the Campaign for Human Rights in the Philippines-UK.
Garin believes country not ready for new Kasambahay Act, some provisions need to be reviewed - should be grounded in reality
Press Release
May 17, 2012
QUEZON CITY – According to one of the top leading advocates for the Rights of Women and Children, Congresswoman Janette Loreto Garin (1st District in the Province of Iloilo) House Bill 454 otherwise known as "The Kasambahay Act" which introduces policies that govern the household employment industry need to be studied thoroughly before congress passes it.
Citing that certain provisions fail to acknowledge some of the positive benefits involved in the family dynamics of a Filipino household, Rep. Janette Loreto Garin, points out one detail as a prime example; this is the prohibition of employing "minors" meaning any person below eighteen (18) years of age as a domestic worker or as referred to in the Act a "kasambahay".
She believes that citing eighteen (18) as indeed the most reasonable limit a young person can be permitted to work as "kasambahay" must be established with factual evidence and it must be proven that indeed Filipinos families are agreeable to the age limit specified in the provision.
Rep. Janette Loreto Garin believes that by making the act of employing a young person below 18 years of age, who may be born in poverty and with no means of being able to go to school but capable of doing reasonable household duties while residing in another's home as an unlawful act fails to recognize the realities of how majority of Filipino households are run.
The practice of taking in high school age children between the ages of 15 to 17 into ones household has long been done by generations of Filipinos and is still being practiced today for the opportunities and positive advantages they provide a young person and members of his immediate family.
Filipino culture allows for the nurturing of the young sometimes even from birth up to adulthood by people other than one's own parents. Such is the reality of our world and taking this reality into consideration reveal how even if one is not of one's own blood, he or she can still be properly cared for while learning about the responsibilities of having household chores. Doing work that is assigned to "kasambahays" should not be seen as a form of exploitation nor considered child labor when requested or tasked to a young person but viewed in a more positive light, seen as an occasion to develop positive Filipino values that may lead to brighter prospects for the future.
Housed, clothed, fed, educated and paid for their contributions in their role as "kasambahays" can be much likened to what parents of other families (even affluent ones) give and expect from their own children. The belief that if one does his chores well, one's effort will be rewarded has often proven to be a good way to teach our own children about life skills we all need to know in the first place. When kindness, respect and consideration exist in similar arrangements, this proves to be beneficial to all persons involved.
Picture these real life events:
A young person who comes from a very remote and impoverished part of a community where no real schools are established except perhaps a four-walled room with a blackboard and no chairs and where the nearest high school is located miles away. The young person, determined to learn, willingly walks even barefoot to the nearest elementary or high school under harsh weather conditions imaginable. His kind-hearted teacher sees the child's desire for knowledge and potential to do more offer assistance to the family by taking in the child into her household. Her home is a stone's throw away from the school and she can provide free board and lodging while the child attends school. In return, the child helps with chores around the home and learns about responsibility, self-reliance and inner satisfaction of living a life that is productive and fruitful.
A well-loved "nanay" of the household brings in her child or grandchild during the summer. The child shows an eagerness to learn and expresses desire to go to school or to finish his studies. However, the child's parents can barely make ends meet with 6 other children to consider. The grateful employers of "nanay" decide to welcome the child into their home and send him to school. The child studies, finishes his education while he helps around the household perhaps running simple errands, assisting others in the household and basically learning how to live life with diligence, self-discipline, a sense of responsibility and dignity.
There is nothing shameful or unlawful about working ones way through school. This has long been recognized as a way to a better life away from hunger, poverty and deprivation. It is seen as a gesture of kindness and generosity that opens doors for everyone involved. When a person is taught about responsibilities, diligence, even self-discipline the person is given a chance to receive proper education, is provided with a good opportunity to start ahead and forge his way into realizing his own dreams. He gains self-confidence and in turn his self-esteem grows a hundredfold.
Real life situations show that living with others as "kasambahays" help build character and add to ones sense of belonging. The young person is led away from a life of crime and vices, away from temptation and boredom. He is motivated to do well by others and inspired to look towards the future. The arrangement being advantageous to both, provide the generous employers with a household that is well run and a chance to give back and share their own blessings to others. For both sides, hope for a better and peaceful life continues.
Circumstances may vary but the bottom line is the same, by calling the act of welcoming a young person into one's home and teaching him or her how to be responsible citizens and allowing him or her to "earn her keep" as an "unlawful act" deprives that person from experiencing life and all its wonderful possibilities.
By refusing the acknowledge the current situation in our Filipino household, the sweeping generalization in some of the provisions in the "Kasambahay Act" might in the long run prove to be more harmful rather than beneficial.
Parents who want these opportunities for their children are forced to hide the truth. Some children will be forced to lie about their ages and will remain misinformed, unfulfilled and uneducated. Those who are bolder than others will be tempted to attempt risky behaviors resulting in unwanted and unplanned pregnancies or led to a world filled with vices such as gambling, alcoholism, sex, and drug use.
"Do we really want this for our youth? Do we want them to dwell on lost opportunities that will forever hold them down into a life of servitude and poverty or should we strive to be more proactive and pragmatic in order to assure them of a good future?" asks Rep. Janette Loreto Garin.
She further warns that if congress is not careful about what it passes into law, the consequences will be many. First thing to do, Rep. Janette Loreto Garin suggests in order to remedy the situation, is to ask. Ask the majority of Filipinos if this is indeed what they want for their families, if this is indeed a change they want for themselves. Let us ask first and after such only then can we finally decide.
Congresswoman Janette Loreto Garin clarifies, "I welcome the passage of a bill that advocates for the welfare of our "kasambahays" and by extension their families. In fact, I truly believe that "kasambahays" hold a well-respected position in a Filipino household. They are already members that make up a Filipino family. The role of "kasambahays" is given to those who not only exhibit the skills to do their duties but possess the dignity and integrity expected of anyone. Therefore, a thoroughly studied and properly researched bill that benefits and protects them is expected of us. Most have "kasambahays" in their households – their ages should not prevent them from being welcomed into our homes."
Because of mining ops, Lake Bito in Leyte turns brown
By ALYANSA TIGIL MINA
May 14, 2012
MACARTHUR, Leyte – At 7:00 o'clock in the morning last Saturday, fishermen in Lake Bito, Brgy. Villa Imelda fell down on their knees after seeing that the lake that provides livelihood for them turned brown like a 3 in 1 coffee. This was after Nicua mine operations opened their settling pond where silt flowed straight to the lake.
"We saw right in front of us how the mine waste muddles up with our water. We were caught in shock. The water runs fast from the mining site to Pangunawan Creek to Lake Bito. The lake now looks dead" said Jesus Cabias, president of Unahin Lagi ang Diyos - Bito Lake Fisherfolks Association (UNLAD-BLFA).
The incident happened after Bureau of Fisheries and Aquatic Resource (BFAR) Region VIII almost cleared NICUA mining company for the fish kill incident last April despite traces of oil and grease in the lake water. Following the fish skill that cause the death of more than 22 tons of tilapia, the community decided to block mining barges last April 30.
"Now, we no longer need any test. Just the mere sight of the lake is horrifying. They just have to come here, smell the water and feel it. We are just controlling our emotion at this time; people are crying out of frustration, we are angry. The fish kill and this is very hard for us because this is about our livelihood, our life," Cabias added.
For his part, Fr. Edwin Perito, Social Action Center Director of the Archdiocese of Palo, said that 'the Catholic Church's position is clear – it is to preserve the integrity of creation – thus, protecting the environment and the people who depend on its bounties.'
'The basic right of the villagers to survive is being trampled down, what the mining company is doing is very unchristian, the rights to food and to live are not respected. We will continue supporting the struggle of the faithful until they succeed,' said Fr. Perito.
"This is a grave offense to people and to the environment," said Jaybee Garganera, national coordinator of Alyansa Tigil Mina. "MacArthur magnetite mining is a clear threat to food security wherein fishery industry in Lake Bito is at stake as well as rice production in the area,' he added.
The Aquino administration must not delay anymore its new mining policy. Mine catastrophe like this in Lake Bito adds to the growing evidence that there is no life in mining". Garganera added that Aquino must distinguish himself from the previous government, whose mining legacy is still impacting negatively to Filipinos.
Garganera claimed that magnetite mining in prime agricultural lands as well as in other areas such as in coastlines and offshore should be stopped considering the present threats of climate change and disasters.
'The Mining Act of 1995 is not clear on the protection of our agricultural areas – mining is being permitted adjacent to productive farms or within ricefields. It gives mining companies full right over our water resources,' claimed Garganera.
In a phone interview, Provincial Fisheries Officer Jose Siervo said that they will do their best to send an investigation team within the day to look over the matter.
Alyansa Tigil Mina (ATM) is an alliance of mining-affected communities and their support groups of NGOs/POs and other civil society organizations who are opposing the aggressive promotion of large-scale mining in the Philippines.
Save Lake Bito! Protect the people's source of food and livelihood, not mining!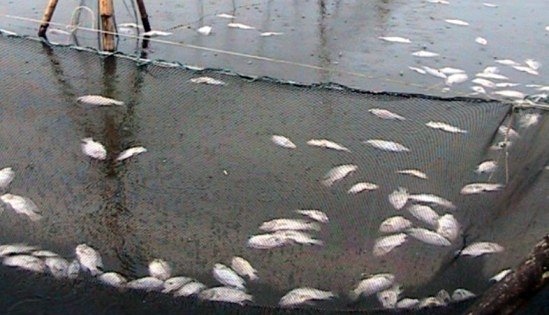 By Eastern Visayas Ecumenical Forum
May 7, 2012
"You care for the land and water it; you enrich it abundantly. The streams of God are filled with water to provide the people with grain, for so you have ordained it." Psalm 65:9
TACLOBAN CITY – Livelihood and food for the people of VillaImelda MacArthur, Leyte and its neighboring villages are the ones brought about by Lake Bito. It sustains the lives of almost 90% of the Villa Imelda populace.
When the fish kill occurred last March 14, 2012, the income of the people were suddenly paralyzed, because, not just that there had been a fish kill, there also had been a scare on the buyers, in eating the fish catch, with the fear of acquiring capillarasis, which is an ailment said to be seen on the dead tilapias.
Government agencies, particularly the Mines and Geosciences Bureau (MGB) and Bureau of Fisheries and Aquatic Resources (BFAR) have issued statements over the tri-media with the confirmation from the local government of Mac Arthur, Leyte that the identified causes of fish kill were the over-crowding of fish that resulted to the depletion of dissolved oxygen on the lake, the presence of the Capillaraphilippinensis and the improper waste disposal of the local residents and the neighboring barangays.
Insistently, the residents of Brgy Imelda and the other affected barangays contended that the magnetite or black sand mining operation which is only less that 100 meters away from Lake Bito was the cause of the fish kill. This was further substantiated by the circumstantial evidences that would implicate the mining operation to such dreadful incidence when the dike that separates the mine tailing pond from the entrance of the lake collapsed with the allegedly crude/oil spill that back flows to the lake.
The findings of the ocular investigation by the EVEF during the conduct of its Environmental Investigative Mission, and the result of the independent investigation conducted by the Visayas State University which was reported to the constituents of Barangay Villa Imelda last May 5, 2012 that, the mining site is three meters elevated from the lake, supports respectively to the people's claim that the back flow of the water from the mining site could possibly be the cause of the fish kill which recorded to 22 tons of tilapia or amounted to 1.87 million pesos of loss from their income.
The entry of the contaminated water from the mining site to the lake, the use of chemicals, the dredging and suctioning activities were considered as the possible causes of the fish kill. The representative from BFAR 8 had expressed in an interview that the possible contribution of mining as to the cause of the fish kill can never be repudiated until the result of the scientific investigation through the water analysis would prove to the contrary.
Moreover, to absolve the Nicua Mining Corporation (NMC) from any liability relative to the fish kill incidence, through the approval of the Municipal Mayor without due consultation to the affected barangay, the latter conducted dredging activity to allegedly show their social responsibility to the community. That on April 29, 2012 three dredging barges of NMC entered into the lake that caused the increase of turbidity of the water instead of rehabilitating it.
Was it, indeed, dredging or mining? Such act of dredging for the purpose of rehabilitating the lake has marred the situation considering the fact that based on some studies and researches conducted, magnetite mining utilizes dredging method that would result to the changes in the turbidity of the water, and that mine wastes and dredged spoils cause the death of benthic animals. Aside from the high grade magnetite deposits from the lake, they can freely extract it from there in the guise of dredging as part of the rehabilitation process. Further, the Municipal Mayor of Mac Arthur, Leyte even shared to the EVEF Environmental Investigative Mission Team in their visit to his office that, they will rehabilitate the lake and develop it into an eco-tourism area to encourage local and foreign tourists to visit the place.
EVEF reiterates "the appropriateness of acquiring a growing awareness of the fact that one cannot use with impunity the different categories of beings, whether living or inanimate – animals, plants, the natural elements – simply as one wishes, according to one's own economic needs at the expense of the environmental destruction and economic dislocation of the people in the affected villages. On the contrary, one must take into account the nature of each being and of its mutual connection in an ordered system, which is precisely the cosmos." EVEF further affirms that, "the misuse of the world's resources or appropriation of them to foreign corporations betrays the gift of creation since 'whatever belongs to God belongs to all'."
Due to the inaction of the concerned agencies of the government, particularly the LGU of Mac Arthur, Leyte to prevent the "dredging" activity of the Nicua Mining Corporation, the residents of Villa Imelda together with the members of UNLAD Fisherfolks Association barricaded the entrance of the lake adjacent to the dike to manifest their resistance to the entry of the dredging barge to the lake for its operation.
For this cause, the residents of Barangay Villa Imelda are appealing to the people of Mac Arthur, Leyte, individuals and organizations, church and government agencies to be with them in their struggle to protect Lake Bito by exposing to the public the real situation and by conducting a thorough scientific investigation so as to arrive to a more precise findings as to the cause of fish kill, and consequently, to provide viable solution to the problem.
"Let us help save the source of food and livelihood of the people of Mac Arthur, Leyte! Let us protect our environment! Save Lake Bito, No to mining! No to corporate plunder of our natural resources", EVEF concluded.
Ten ordinary women with remarkable achievements awarded
By VIGIE BENOSA-LLORIN
April 20, 2012
QUEZON CITY – Despite scarcity of resources and amid challenging conditions, ten women strived to engage in laudable projects that improved the lives of other women and girls in their communities. These ordinary women were given recognition for their remarkable achievements during the Unsung Women Heroes Awards 2012 held 19 April 2012.
A yearly event spearheaded by Soroptimist International of the Philippines Region (SIPR), Unsung Women Heroes Awards recognizes women who made it their life's work to uplift the well-being of other women and girls in the communities without fanfare but with great fervor.
Vivian Mausisa Bańados called the "barangay mother" is available 24/7 to everyone in need. Despite having seven children of her own to support, she found time to enhance her capacities by attending seminars and joining the Ladies Brigade. She has evolved into an effective health worker and trusted community organizer.
Sulficia Delgado was abandoned by her husband. With strong determination and faith in God, she rose up to the challenge and was able to support her five children. Equipped with the knowledge and skills she learned from the community organizing training that she attended she founded an organization of 80 abandoned women whose mission is to improve their lives and to empower them.
Nerissa Aloot Gonzales got out of prostitution and set up the organization that educates women survivors of prostitution and helps them find other sources of livelihood. Determined and unafraid, she became the brave face of women survivors of prostitution that helped push for the passage of the anti-prostitution bill in Congress.
Emma Leynes Atendido, a farmer's wife and sari-sari store owner in Cabanatuan City, assists sick neighbors and helps them get hospitalization and welfare aid.
A woman from an indigenous tribe in Bontoc, Mountain Province, Mary Jane Fag-Ayan Lisking exemplifies the best volunteer worker in the Philippines. Her interest is focused on health services; primary eye care, children's health and childhood diseases, the blind and the deaf-mute and serious citizens suffering from various health problems.
Eleanor de Lara Nicolas was born with myopic degeneration or the gradual loss of eyesight. She went completely blind in 2006 but despite her condition, works as massage therapist and is the sole breadwinner of the family. On top of that, she still finds time to teach catechism to children in the nearby school.
Others find teaching children with disabilities an impossible task, but Wilhelmina Nuestro took up the challenge. Others may embrace the job for fabulous fee, but Wilhelmina works only as volunteer. She finds satisfaction when the children respond to her teachings.
Angelina M. Reyes was voted president of the National Council of Women in Plaridel. She spearheaded a livelihood program that helped many women become financially independent.
Juliet Versoza devoted the past twenty-one years of her life helping a community in San Jose, Navotas City. By organizing a group of mothers, Juliet helped them learn reading and writing. Another organization she spearheaded is the Samahan ng Mahihirap ng Bagong Silang that raised funds and helped improve their barangay road and provided the street lights.
Blecenda Miranda-Varona chose to leave her lucrative job in US to share her expertise as a nutritionist and dietician to her countrymen. She gives free seminars, lectures and workshops on nutrition and healthy living. She has written books and educational materials on healthy living and continues her work for free so that her countrymen will attain healthy mind, body and soul.
Paying tribute to many selfless volunteers, working at the grassroots level and the disadvantaged sector, SIPR Unsung Women Heroes Awards hope to inspire other women to pursue similar paths of leadership, commitment and creativity to make this world a better place.
Education continues to top mayor's agenda
By ALICE NICART, PIA Eastern Samar
April 19, 2012
BORONGAN CITY, Eastern Samar – San Julian Mayor, George N. Erroba has again found inner joy as a person, knowing that in years, he has helped in the education of his least fortunate constituents.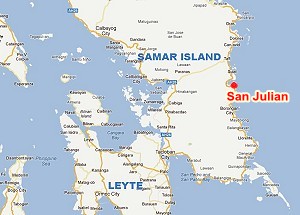 In a pep talk, Erroba revealed that as Mayor, it has always been his dream to educate the children coming from the 16 different barangays of his town, knowing that this is a powerful weapon in winning over poverty.
As observed by many, in the 60's, the 5th class San Julian town used to be a sloppy place that children's education took the least agendum in prioritizing programs and projects, until came the current leadership.
Recently, education took center stage in the municipal development plans such that parents do not bother so much on the financial aspect of their children's education. It had been noticed that the municipal LGU has shouldered the major expenses of the many poor children, e.g. school fees, allowances, even providing them free transportation service to and from the school.
Many poor pupils coming from interior barangays used to walk the narrow trails, rain or shine but recently, the LGU did not only give them better roads, it also provided them a transportation service. This facility is not only a big help to them but also a moral booster, considering that in years, they felt government was beyond their reach.
"Yana la ine namon kakarawat nga sugad nga tambulig," [This is the first time that we have availed of such LGU assistance], Mrs. Godelia Barros of barangay Tawid proudly confirmed. As a mother of five, who works as a family help, with her husband who decided to go on his own, Barros said her daughters could probably have not even reached high school.
Today, at least a number of youths have completed their secondary education which used to be an impossible dream for many families in many poor farming villages.
In addition, the young Mayor further revealed that for the coming school opening some 200 elementary pupils, 200 high school students, and all Day Care children stand to benefit LGU assistance. This is on top of a special room for Special Children, another special room for Persons with Disabiltiies (PWD) which is furnished with three computers.
Mayor Erroba likewise said there are 30 units of desktop computers which are to be distributed to central elementary schools, this is because of his concern that the children have to be computer literates before they enter high school.
Asked why he focuses on education, Erroba replied that it is only one of his priorities. Education, maybe because, during his boyhood, he said, he knew early then, from some of his friends, how sad they were not being able to attend school, despite their eagerness.
"That is why, since then, I have always thought of helping the needy and deserving youths. It might be ambitious of me, but I dream that, 25 years from now San Julian will have a new breed of people, well-educated, productive, self-reliant who are living in a peaceful community.
The Mindanao Power Summit: It's the power cartel, stupid!
By TUCP Partylist
April 12, 2012
QUEZON CITY – "It is time for the Mindanao power summit to call a spade a spade – the cause of the power crisis – present and near future – is a power cartel. They are made up of six families: Aboitiz, Lopez, Pangilinan, Ang and Cojuangco, Alcantara, and Sy," said Trade Union Congress Party (TUCP) Rep. Raymond Democrito C. Mendoza. "These families have definitively carved up specific areas of the country so that all three island grids are now in thrall of an electricity monopsony," explained Mendoza.
"The real question that should be posed in the Mindanao power summit is: Why has government compromised national energy policy and national energy security to the greed of the few? Ten years after the Electric Power Industry Reform Act (EPIRA) was supposed to bring in private players with deep pockets to invest in needed capacity, there is now a looming undercapacity. With most of National Power Corporation (NPC) assets in private hands, competition was expected to drive down rates but instead there are threats of brownouts and the endless upward spiralling of electricity rates. But instead the oligarchs and their friends would have us believe that it is the fault of Mindanao for trying to hold on to its policy regime of cheap hydropower," explained Mendoza.
"Now we would have their agents and apologists in high places further add to the disinformation by blaming what is happening to Mindanao on the Mindanaoans being "spoiled" and by convincing all that Mindanaoans should now bite the bullet," said Mendoza, referring to the Department of Energy (DOE)/National Electrification Administration (NEA)-sponsored power supply contracts between the Aboitiz-Therma Marine power barges selling electricity at P14 per kilowatt hour (kWh) to eight (8) electric cooperatives.
"Unfortunately, contrary to the truly best intentions of Mindanao Development Authority (MinDA) Secretary Luwalhati Antonino, the DOE would have the Mindanao power summit transformed into a footmark in history to sweep the inconvenient truth under the rug. By coming up with the grand plan of forcing electric cooperatives to buy expensive diesel power from the Aboitiz-owned Therma Marine power barges, the DOE would want the summit to legitimize the de facto power of oligarchs to control our access to power and its resultant costs," said Mendoza.
"High-ranking officials are saying let us stop trying to hold people to account for the brownouts. Somehow they miss the point that you cannot provide a technical answer – power barge-provided electricity – to a political question – the cartelization of the power industry. We must definitely demand accountability for those bringing up our power rates so that we are now the highest in Asia while not investing in additional capacity to prevent power shortages," said Mendoza.
TUCP points out that these families frequently control the industry through the vertical integration of the power production and electricity distribution functions. Power is generated by the Aboitiz group and sold to the Aboitiz-held Davao Light and Power and Visayas Electric Corporation. In like manner, Pangilinan-owned plants sell power to the Pangilinan-owned MERALCO to distribute. "So within the areas carved out by each oligarch, there is no competition at all and instead we have "sweetheart deals" which drive rates up between the generator and the distributor," said Mendoza.
"TUCP predicts that the power crisis will extend to Visayas and Mindanao because it is not in the interest of the power cartel to build additional capacity. They will wait fully knowing that growing demand will bring about a shortage in supply. Then they will step in pretending to be a white knight with expensive stop-gap measures based on coal or bunker fuel," explained Mendoza.
"The Board of Investments (BOI) has now moved to remove tax holidays from those endeavouring to put in new fossil fuel baseload plants. We believe that this move was lobbied for by the power cartel. It means that the mobilization costs for new players will be so prohibitive that it will discourage them from coming in. Also, the six families are signalling that if new players want to come in, they must partner only with one of the cartel," said Mendoza. "They are tinkering around with our tax laws and customs codes to rob our consumers and workers," he said.
TUCP explained that the removal of tax holidays will bring up the cost of existing coal plants by an additional P280 million annually which will be borne by workers and consumers as part of the pass-through charges of the generating plants. Because there will be no real competition in the generating sector, the bias will be to rely on building additional coal plants which will further bring the costs of tariffs up. TUCP and the Philippine Chamber of Commerce and Industries (PCCI) have jointly warned that the Philippines now charges the fourth highest power rates in the world which may drive investors away.
"The President – if the DOE Secretary does not have the will to do it – can immediately order the Energy Regulatory Commission (ERC) to reform the rate-making formula known as performance-based ratemaking so as to moderate the overly generous rates of return we allow the cartel," explained Mendoza. TUCP pointed out that some generating corporations are making over 50% return on rate base and siphoning their respective earnings to stock dispersal, dividends, bonuses, foreign expansion or diversification instead of investing in additional capacity. TUCP also lamented that the rate of return is based not on the investment cost of the plant but on the replacement cost which may be twice or thrice that of the original cost of plant.
"TUCP will also introduce legislation to once more bring down power costs by classifying the power generation sector as a utility under the Public Utility Law. That way we can provide a cap of 12% return on investments," said Mendoza. TUCP will also introduce legislation to compel the power generation corporations to divest up to 30% of their shares to individual stakeholders to ensure greater public ownership. "We know that aside from democratizing the ownership, spreading the gains, it will also create a greater element of transparency in their books and stockholders meetings and discourage 'sweetheart deals'", said Mendoza.