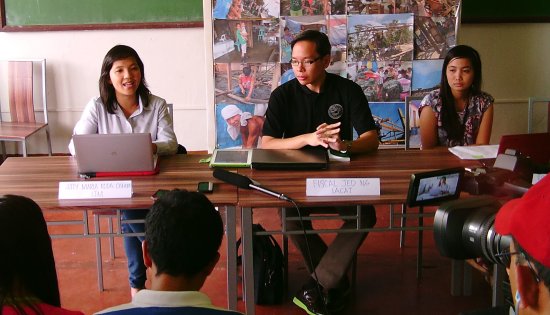 Human trafficking press conference. From L-R, Atty. Maria Roda Cisnero (IJM), Asst. City Prosecutor Jed Ng (IACAT) and DSWD-8 officer Charis Rosal.
Human trafficking activities more likely to increase in EV
By RAY P. GASPAY
September 2, 2014
TACLOBAN CITY – Anti human trafficking groups in the country feared that human trafficking activities might increase in eastern visayas after super typhoon Yolanda hit the region in November last year.
In a press conference held in this city today attended by anti-trafficking groups International Justice Mission (IJM) and Inter-Agency Council Against Trafficking (IACAT) and with the Department of Social Welfare and Development in the region (DSWD-8), the group stressed that it is a common occurrence for human trafficking activities to increase in a highly devastated area considering that the affected people are in immediate needs for survival.
In a status report of human trafficking in the region by the social department, DSWD officer Charis Rosal said that there was a significant increase of the total cases reported from 38 as of 2013 to 44 as of the 2nd quarter of 2014. "Most of the recent victims are from the Yolanda affected areas because of the need for money. Victims are even aware that they will end up in prostitution, and yet parents are even pushing their children for recruitment", Rosal stressed.
The DSWD in the region is now campaigning hard against human trafficking thru the conduct of forums and awareness programs in every locality up to the barangay level. "The increase in cases reported for trafficking could be the result of our massive campaign. People are now starting to report suspected trafficking", said social worker information officer Vina Aquino.
The Inter-agency Council Against Trafficking Regional Task Force headed by city prosecutor Ruperto Golong reported that the total cases now filed in court is 45 as of August 2014.
The fight against trafficking in the region is still in its early stage. "As of date, there's still no conviction in human trafficking cases filled in our courts in the region. Some cases were even dismissed due to non-appearance of the victim for 3 consecutive court hearings", city prosecutor Golong said. The national figure from the IACAT shows that indeed there was low conviction of human trafficking in the country with only 29 from year 2005-2010 though drastically increased to 93 from year 2010 to April of 2014, totaling 122 convictions.
Human trafficking refers to the recruitment, transportation, transfer or harboring, or receipt of persons with or without the victim's consent or knowledge, within or across national boarders by means of threat or use of force, or other use of coercion, abduction, fraud, deception, abuse of power or of position, taking advantage of the vulnerability of the person.
The anti-trafficking law, Republic Act No. 9208 was enacted into law in 2003.
IACAT national officer Atty. Jed Ng, in the press conference, informed that an inter-agency, with the funding support of the UNICEF, is now in its effort in establishing Help Desks in various sea ports and bus terminals in the region in a move to prevent trafficking activities, especially that Yolanda affected areas are now very much vulnerable.