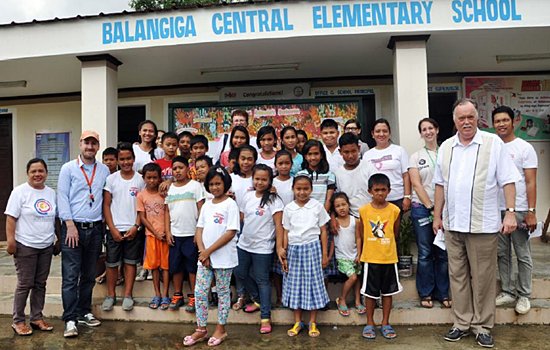 Justin Morgan (second from left) and Canadian Ambassador to the Philippines Neil Reeder (first from right) visited the students of Balangiga Central Elementary School in Eastern Samar.
Canadian Ambassador witnesses resilience of Haiyan-hit communities in Eastern Samar
By RIZZA J. SACRA
August 10, 2015
GUIUAN, Eastern Samar – Canadian Ambassador to the Philippines Neil Reeder recently visited Eastern Samar, a province devastated by Typhoon Haiyan (local name: Yolanda) nearly two years ago. The Canadian government was among the first countries to pledge and support the Philippines after the super typhoon hit the country.
Ambassador Reeder visited Lawaan and Balangiga, two of the five municipalities in Eastern Samar which received the Canadian government-supported Sanitation Repair Kit Project which helped repair toilets of households in the communities. In Balangiga, Reeder met with the "hygiene ambassadors" of Balangiga Central Elementary School, who regularly teach the students the importance of proper hygiene by leading them in regular hand-washing and tooth-brushing activities in the school and in the community. Portion of the Canadian funding aid received by the Balangiga Central Elementary School also went to the rehabilitation of its jetmatic pump that was destroyed during the typhoon. These projects provided the school with good water connection. It also supported the construction of communal latrine in several barangays.
Reeder also visited the declared Zero Open Defecation and G1 (households that already have individual latrines) communities in the municipality of Lawaan as well as the beneficiaries of the cash for asset recovery program, an unconditional cash grant to inject cash into the market for their immediate recovery. During the visit, Reeder met Larry Gacho, one of the recipients of the program. Larry is a proud member of the LGBT community who started a parlor home service after Yolanda.
"With the P3,000, I bought my own parlor kits and essentials, and started offering home service such as haircuts and hair coloring to my neighbors. And now, I am proud to show to all people who are helping Yolanda victims like me that the assistance they provided was not put to nothing," said Gacho.
"The building back better of Yolanda-affected communities lies in the support and cooperation of different sectors, whether government and INGOs. We are hoping to continue this good partnership with our donors like the Canadian Government so that we can reach more people and create lasting impact in their lives even after emergencies, towards economic justice," said Justin Morgan, Country Director of Oxfam in the Philippines.
The Canadian Government, through the International Humanitarian Assistance and the Department of Foreign Affairs, Trade and Development, supported Oxfam's Water, Sanitation and Hygiene (WaSH) programme in Eastern Samar, ensuring 8,500 of the most vulnerable families have access to safe water, sanitation, and hygiene. The funding support enabled Haiyan-affected families, most especially women and children, to protect themselves from public health risks and received life-saving needs related to WaSH in the aftermath of the typhoon.