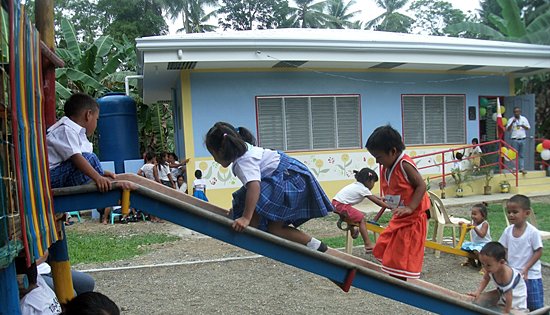 Children of Tag-amakan, Asturias, Cebu enjoy their new indigenous playground that came along with their new day care center.
RAFI turns over 13 day care centers in Cebu
By Ramon Aboitiz Foundation Inc.
August 31, 2015
CEBU CITY – In partnership with the concerned local government units, the Ramon Aboitiz Foundation Inc. (RAFI) turned over 13 day care centers and child-friendly indigenous playgrounds in several Cebu towns July and August this year.
Through the Dolores Aboitiz Children's Fund (DACF), RAFI handed new day care centers to officials of Barangays Owak, Manguiao, San Isidro, Tag-amakan, and Lunas in Asturias town last July 1 and 2; Barangays Punay, Tampaan, Saksak, and Zaragosa in Aloguinsan town last July 22 and 23; Barangay Cansojong in Talisay City last July 24; and Barangays Bulasa, Talaga, and Usmad in Argao town last August 24.
"RAFI donated only a portion in this project. The bulk of the expenses was shouldered by your town and your barangay. I hope that before 2016 we are already done with all these projects," said RAFI Chief Operating Officer Chua during one of the turnover ceremonies in Asturias.
DACF supports early childhood care and development, as 80 percent of the child's brain development happens between ages three to six.
Maria Iris Andrino, RAFI-DACF executive director, also thanked the town and barangay officials for spending time and effort to realize the partnership.
"I am glad nga nagtinabangay ang tanan (all did their part to help)", she said.
The classrooms were painted with light colors and the wall outside showed different cartoon characters and flower designs. Always, after every turn over, the children would rush inside their classroom and sit on their little chairs, a smile painted on their faces.
But what pupil Ma. Khyshagen B. Adlawan of Brgy. Talaga loved about her new classroom is that there is a playground where she could spend time with her friends after their class.
"It is not a case of giving money but how to give it. It's really a great feeling seeing the big happy smiles in children's faces," also said Romy Ronquillo, RAFI Board of Trustees member.